The ROG Harpe Ace is one of the very first collaborations between ASUS and Aim Lab. Fitting enough that it is a gaming mouse, the Harpe Ace comes loaded with features baked in with competitive gaming in mind.
Such includes a small to medium sized semi-ambidextrous form factor, 54 gram weight, an in-house optical sensor capable of reaching 36K DPI, and triple connectivity options to name a few. Now this wireless gaming mouse comes with a price point of 149.99 USD. A little steep so let us check out if it does fit the bill.
Disclosure: ASUS sent the ROG Harpe Ace for the purpose of this review. As usual, the company did not ask me to say anything particular about it.
Technical Specifications
Mouse
Design
Semi-ambidextrous
Lighting
RGB
Profile
Yes
Macro
Yes
Polling Rate
1000 Hz
Connectivity
2.4 GHz, Bluetooth, USB Type-C
Switch
Type
ASUS ROG 70M
Mount
Soldered
Dimensions
Length
127.5 mm
Width
63.7 mm
Height
39.6 mm
Weight
54 g
Packaging and Accessories
The ROG Harpe Ace comes in the usual ASUS packaging – and when I said usual, I meant what's pictured below.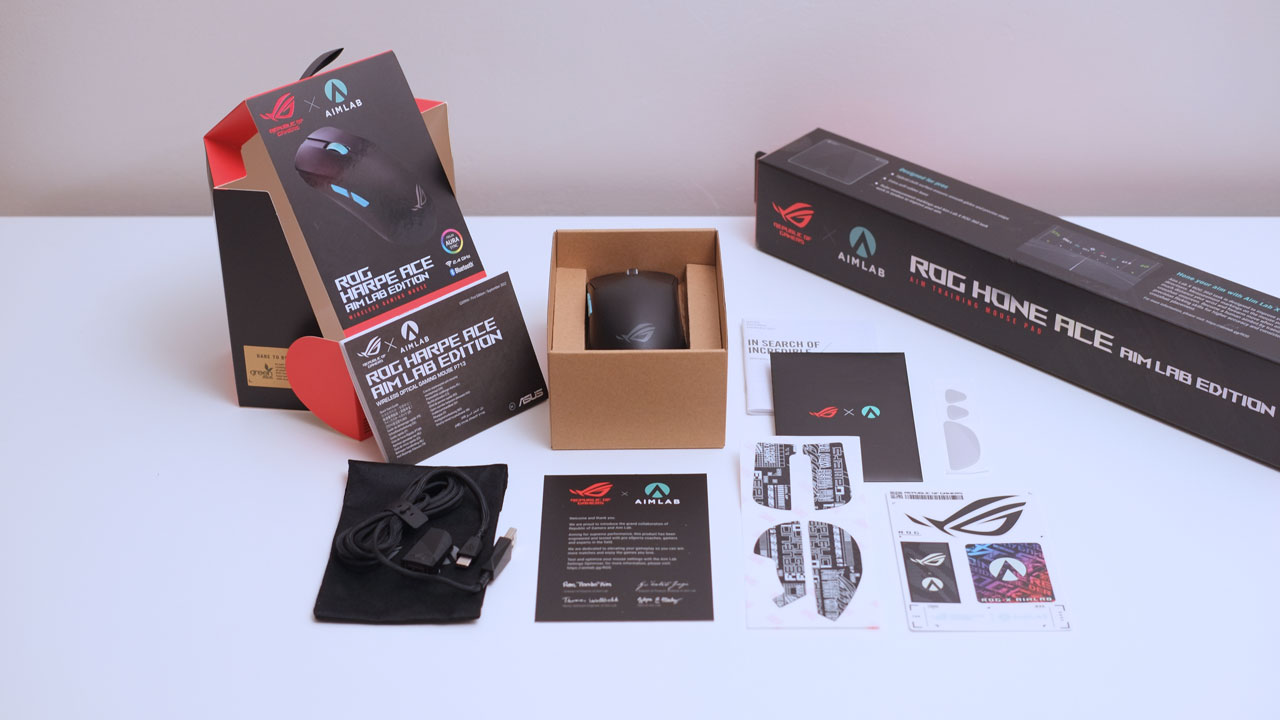 Scope of delivery are as follow:
ASUS ROG Harpe Ace Aim Lab Edition gaming mouse
USB Dongle
USB Dongle Extender
ASUS ROG Paracord (Type-C to Type-A)
Quick start guide
Warranty Booklet
ASUS ROG x Aim Lab Sticker
3x Mouse feet
Thank you card
Mouse Grip Tape Set
Like many ROG devices before it, ASUS stuffed the Harpe Ace with accessories and tons of freebies.
Design, Build and Connectivity
Streamlined with simplicity in mind is the name of the game for the ROG Harpe Ace. That said, it doesn't look bloated nor extravagant compared to other ROG pointing devices I have tested. Another thing we noticed initially is its weight or lack thereof. This is truly a featherweight mouse at 54 grams with no holes required.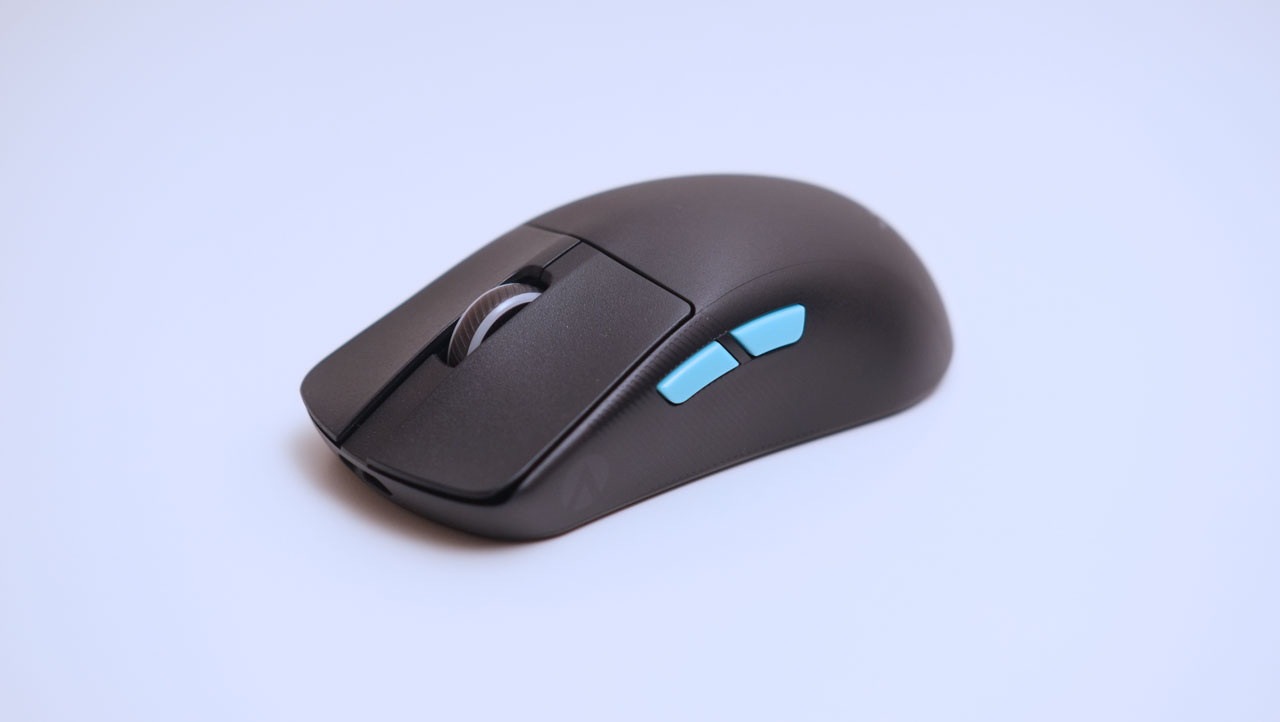 There are 5 programmable buttons found within the Harpe Ace – excluding the power switch, pairing and DPI buttons. Expectedly, this is not a high-back gaming mouse with a tapered rear-end – appropriate for most grip types and hand-sizes.
Skates are made of triangular PTFE which means proprietary but easy enough to replicate. Aside from the skates and ROG's in-house optical sensor, this side of the mouse also houses the power/connectivity switch, Bluetooth pairing and DPI buttons. There is also a latch here for the wireless dongle.
Now the Harpe Ace comes with a USB Type-C to Type-A cable for both data and charging. Material is paracord and it appears to glide well along with the mouse. ASUS even added a clip-on adapter for the dongle which is something that you could easily clip into your mouse pad of choice.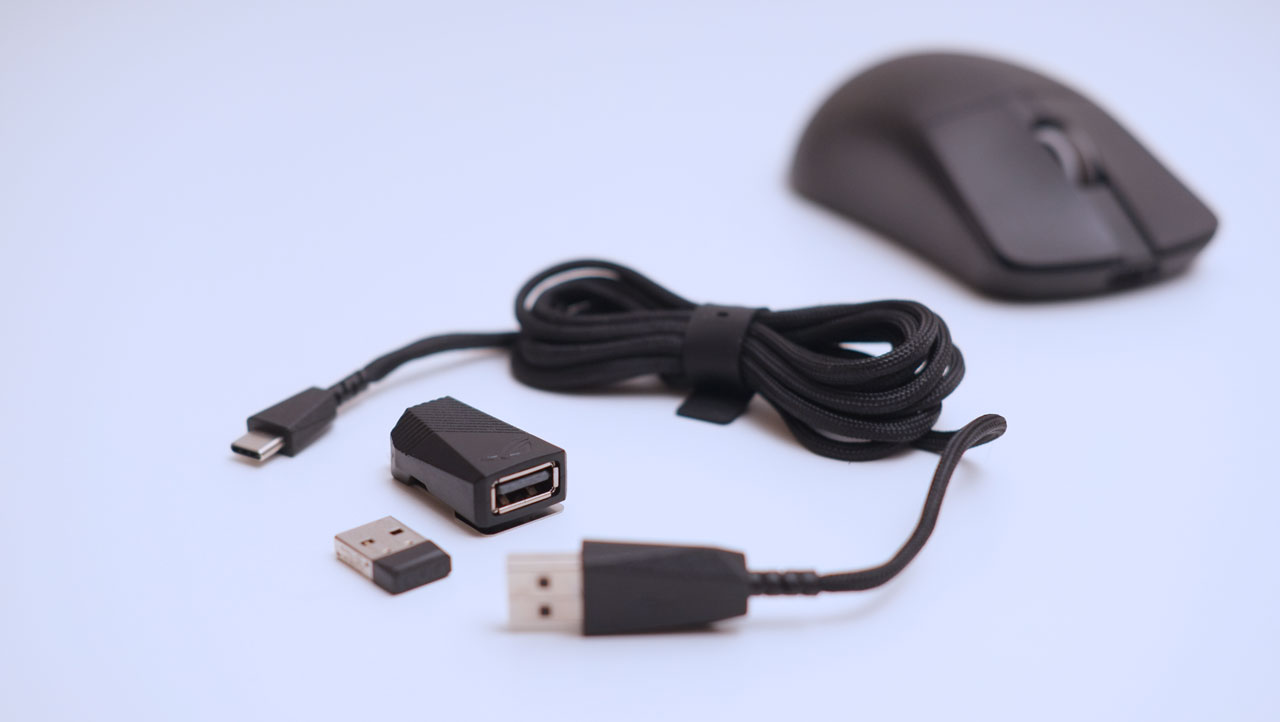 Ergonomics
Based on my measurements, the ROG Harpe Ace  has a length of roughly 127 mm, a grip area of around 60 mm and a height of about 38 mm at its peak. Those measurements fits your typical medium sized hands.
Regardless, this is a fairly safe shell design for the majority of hand sizes and grip types. Now if you are a wrist aimer, uses fingertip grip, and has a smaller hand size compared to the norm, you have to accept that it will be a bit challenging to use. Worst combo I could think of but not really that bad due to its weight and design.
Features
To maximize the ROG Harpe Ace, you have to install the ASUS Armoury Crate. This lets you play with a multitude of settings – that includes button mapping as seen below.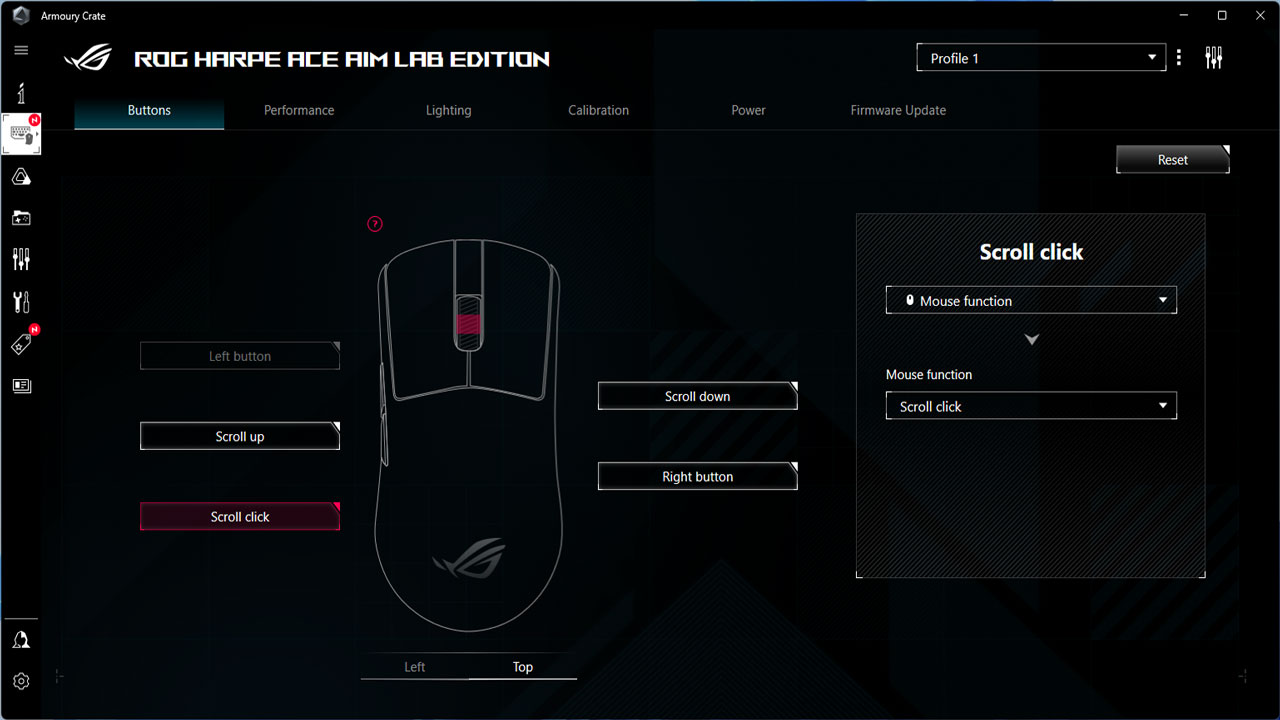 Performance is where DPI, polling rate, angle snapping, and angle tuning could be configured. Angle tuning is basically the sensor's angle compensation. This is particularly useful if you find yourself lifting the mouse at an angle. This is typically associated with palm gripping and arm aiming.
Lighting is of course also configurable even though the only thing you could change here is the scroll wheel's effects.
Calibration is basically what it says here. You may manually calibrate the mouse or use presets for a more optimal sensor performance based on the surface you use. The lack of Hone Ace preset is baffling though. I mean its a match for the Harpe Ace.
Lighting effect is simple since we are dealing with a single source. This is what it looks like in Battery Mode with a capacity of around 50%.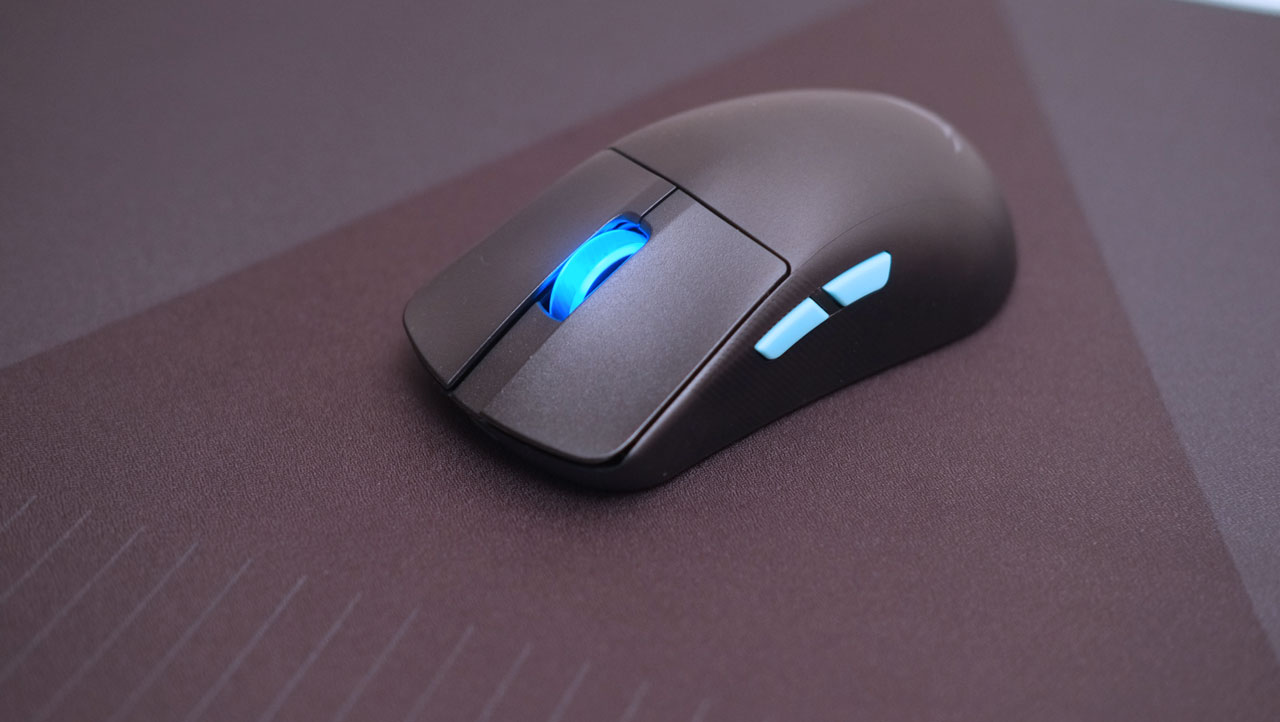 ASUS also sent the Hone Ace for testing. This is yet another collaboration with Aim Lab so it is truly a matching surface for the Harpe Ace. On that note, there is a specific training mode for this combo at Aim Lab.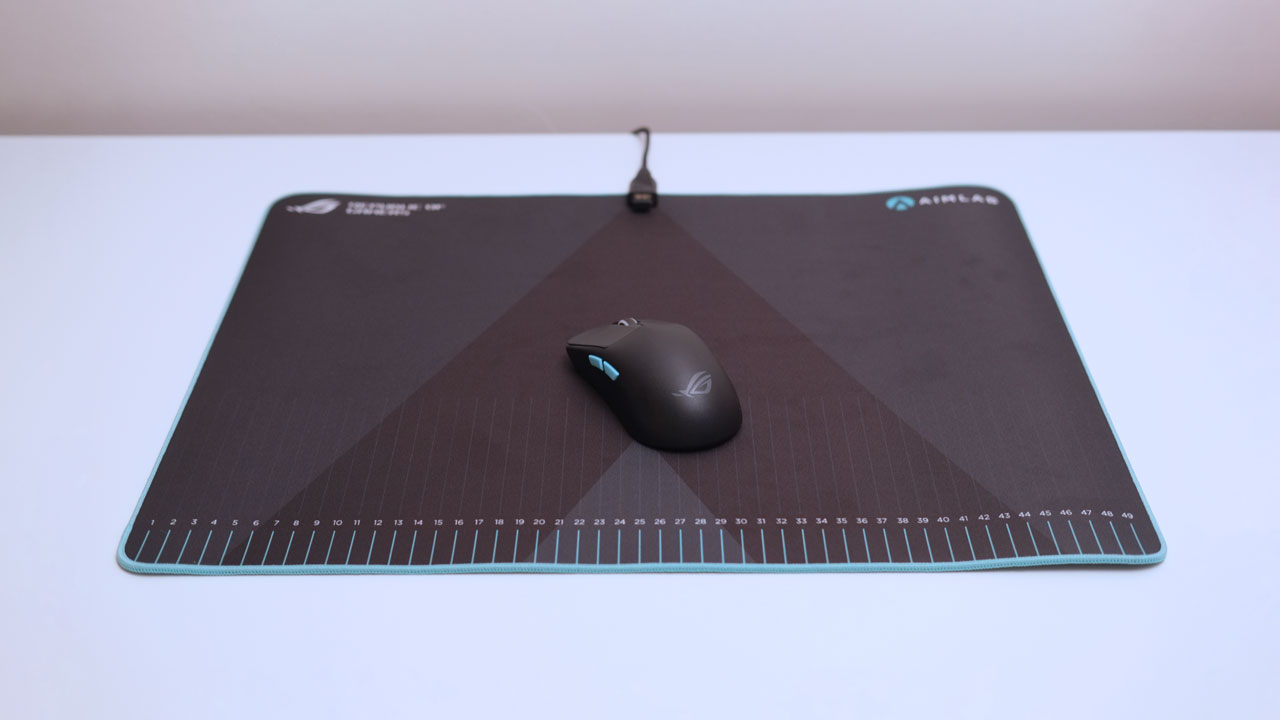 The bundled accessories also deserves a special mention here. I mean aside from the ROG decals, you'd also get a nice set of extra skates and grip tapes.
Final Thoughts
Due to its fundamentals – I.e., its size, shape, sensor, and set of features, the ASUS ROG Harpe Ace is an easy product to recommend – that is if you have the money to spend. I also find it hard to fault except for that one omitted feature that the high-end ROG gaming mouse models are well known for.
Now the said feature is the ROG Push-Fit Switch Socket design. I have no exact idea why they removed it but a theory would be the added weight required for the design to work. For your reference, the ROG Keris Aimpoint has a 75 gram weight featuring the Push-Fit II design.
Anyway, ASUS had Harpe Ace fitted with the ROG 70M switches which is able to withstand 70 million strokes. That said, the move to the more conventional soldered switches is mighty fine for the Harpe's lifetime.
ROG tax and that one omitted feature already considered, the Harpe Ace is one excellent competition grade gaming mouse.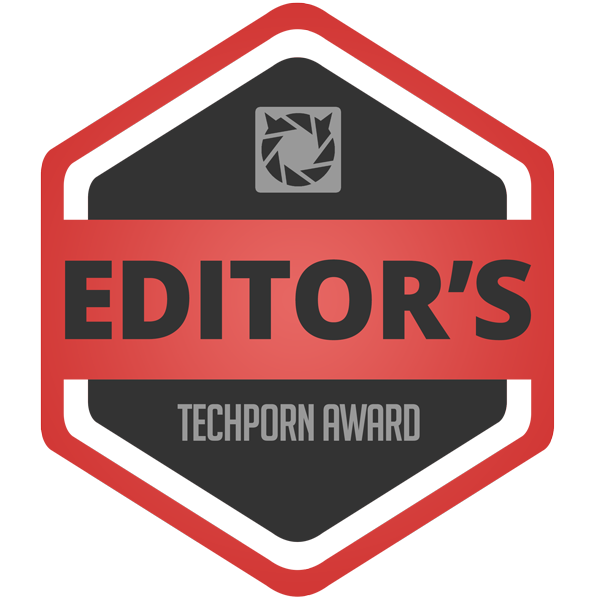 ASUS ROG Harpe Ace Aim Lab Edition
Summary
The ASUS ROG Harpe Ace Aim Lab Edition is close to perfection. It is that good even with the slated $150 USD price point.