With the year ending soon, ASUS managed to sneak in a new model of the venerable Chakram family of gaming mouse. That said, what we have here is the ROG Chakram X – the third in the series packing some serious next-gen hardware inside.
Specification wise, the Chakram X comes with the all new ROG AimPoint optical sensor which is 36K DPI capable topped with a polling rate of 8000 Hz via USB interface. Battery life and wireless charging features are also improved compared to the older model but not so when it comes to weight.
Disclosure: ASUS sent the ROG Chakram X for the purpose of this review. As usual, the company did not ask me to say anything particular about it.
Technical Specifications
Mouse
Design
Non-ambidextrous, ergonomic, right-handed
Lighting
RGB
Profile
Yes
Macro
Yes
Polling Rate
8000 Hz
Connectivity
2.4 GHz RF, Bluetooth, USB Type-C
Switch
Type
ROG Micro-Switch, Omron D2F-01F
Mount
Hot-swappable
Dimensions
Length
132.7 mm
Width
76.6 mm
Height
42.8 mm
Weight
127 g
Packaging and Accessories
The ROG Chakram X comes in the usual ASUS packaging.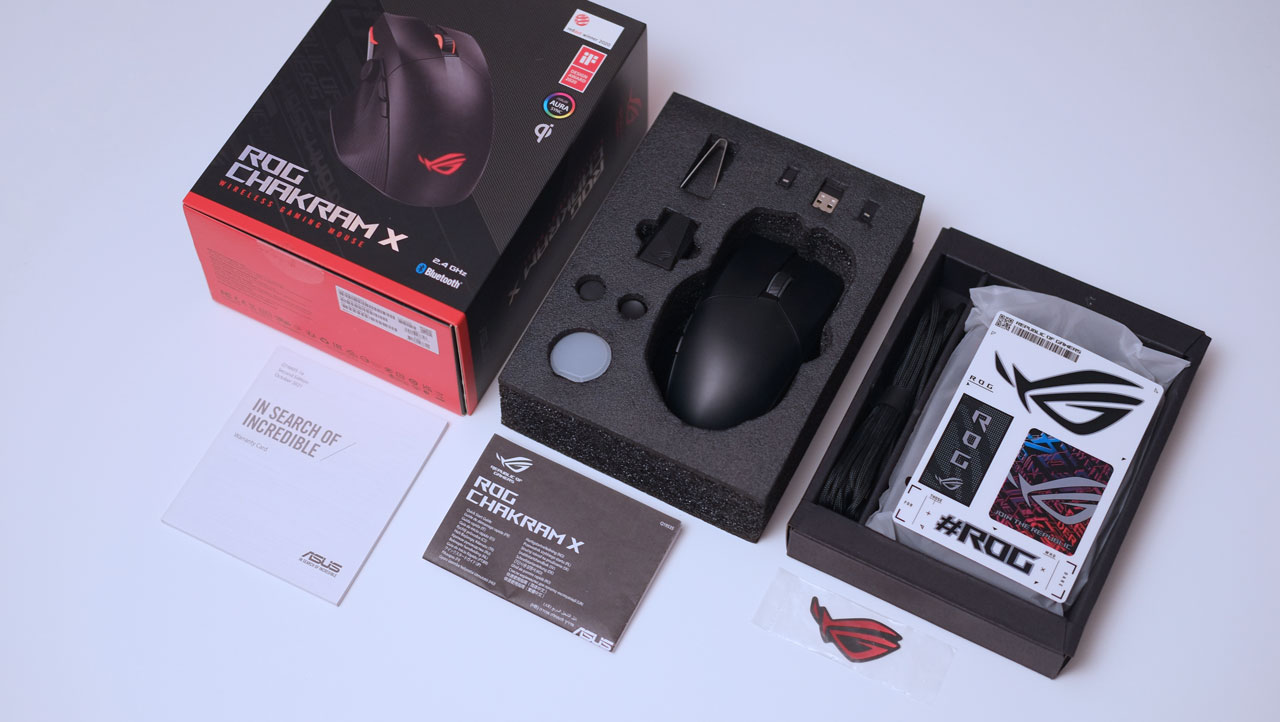 The following items should be located inside:
ASUS ROG Chakram X Wireless Gaming Mouse
2x ROG 3-pin Micro-Switches (installed)
2x Spare Micro-Switches
2.4 GHz RF Wireless Receiver
2 m Paracord Cable (Type-A male to Type-C male)
USB RF Extender Adaptor with mousepad clip (Type-A female to Type-C Female)
Carry Pouch
Long Joystick (installed on mouse)
Short Joystick
Joystick Cover
Switch Remover
Customizable Logo Badge Sheet
ROG Logo Stickers
Quick Start Guide
Warranty Booklet
ASUS really stuffed the Chakram X with accessories and tons of freebies.
Design, Build and Connectivity
Compared to its predecessor, nothing much has changed with the Chakram X as far as the overall design is concerned. Of course there are obvious changes such as the additional side buttons (+2) but there are also minute ones – like the more pronounced curvature around the right grip's rear end. This is definitely a thicker mouse and with a weight to match at 127 grams – about 5.4 grams heavier in comparison.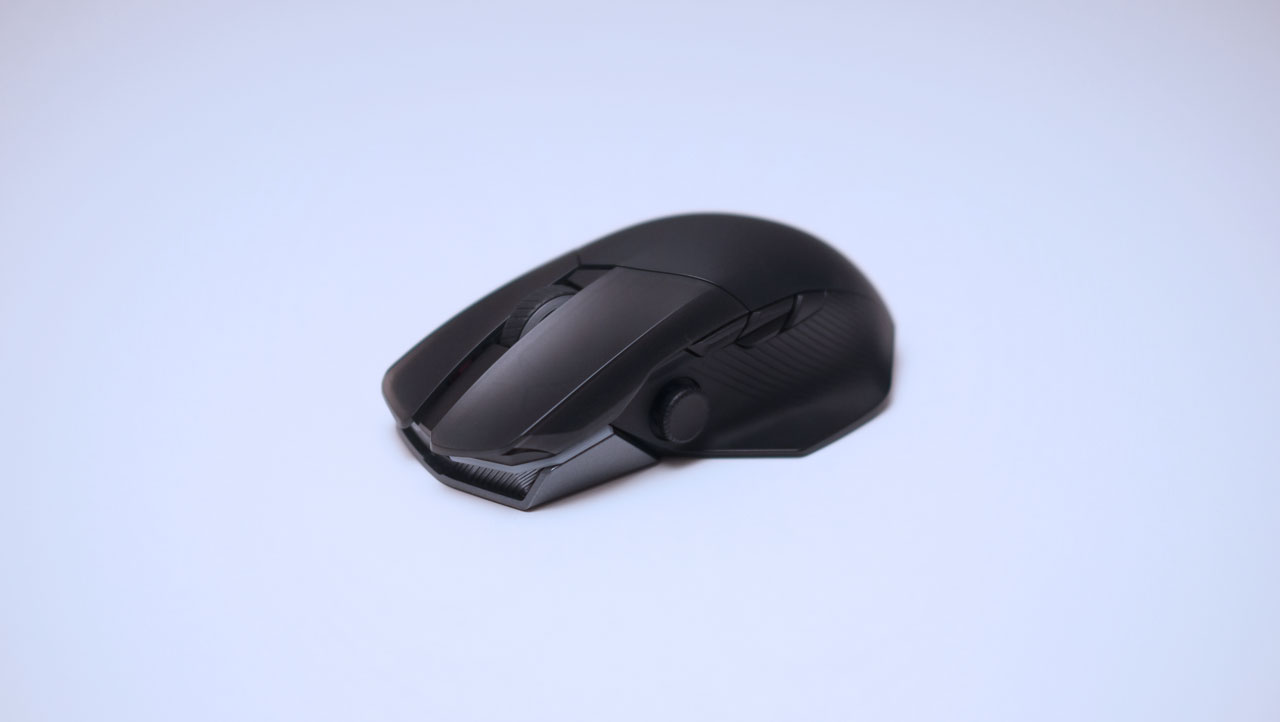 There are 11 programmable buttons found within the mouse – excluding the power switch, pairing and DPI buttons. It is a high-back design but with an asymmetrical side profile. Rear end is tapered so it should still aid claw or fingertip aimers when moving in the Y-axis.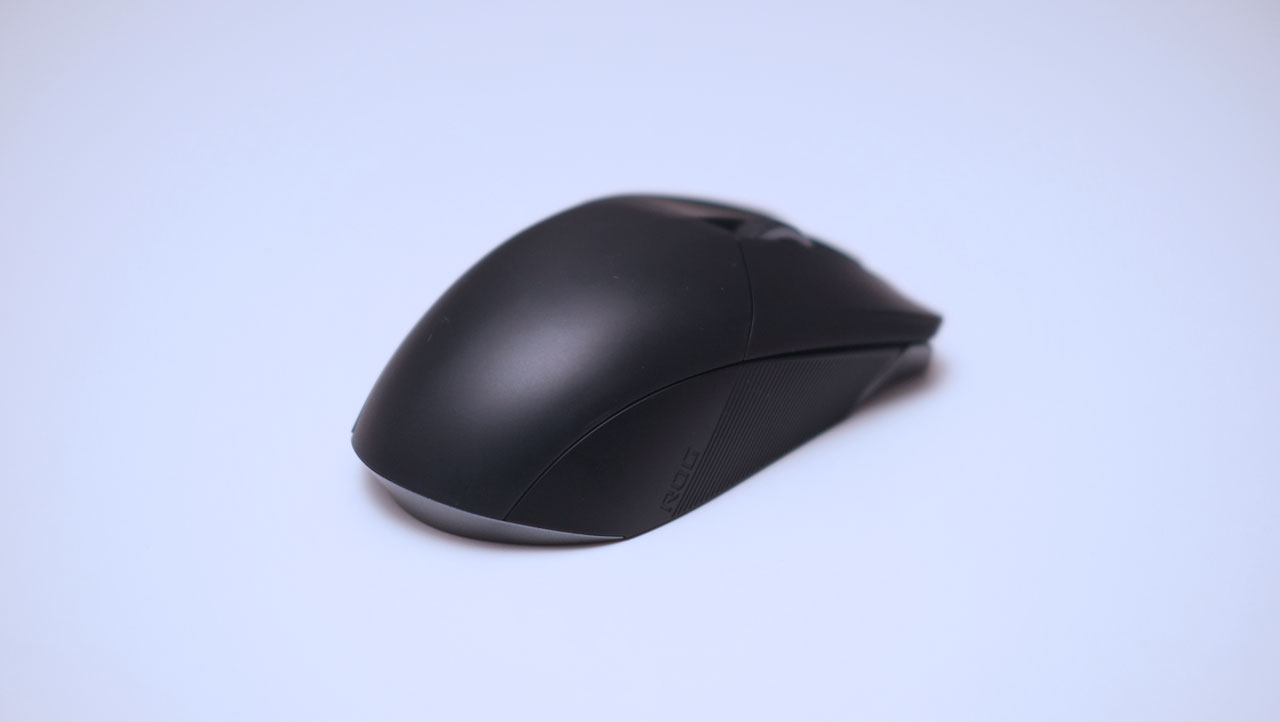 Skates are made of large PTFE cuts but they are proprietary. Aside from the skates and the sensor, this side of the mouse also houses the power switch, pairing and DPI buttons. Now this comes with a braided USB Type-C to Type-A cable for data and charging. Material is paracord and it appears to glide well even though it takes a bit of shape. By the way, in order for you to utilize the 8000 Hz polling rate feature, the Chakram X has to be in wired mode.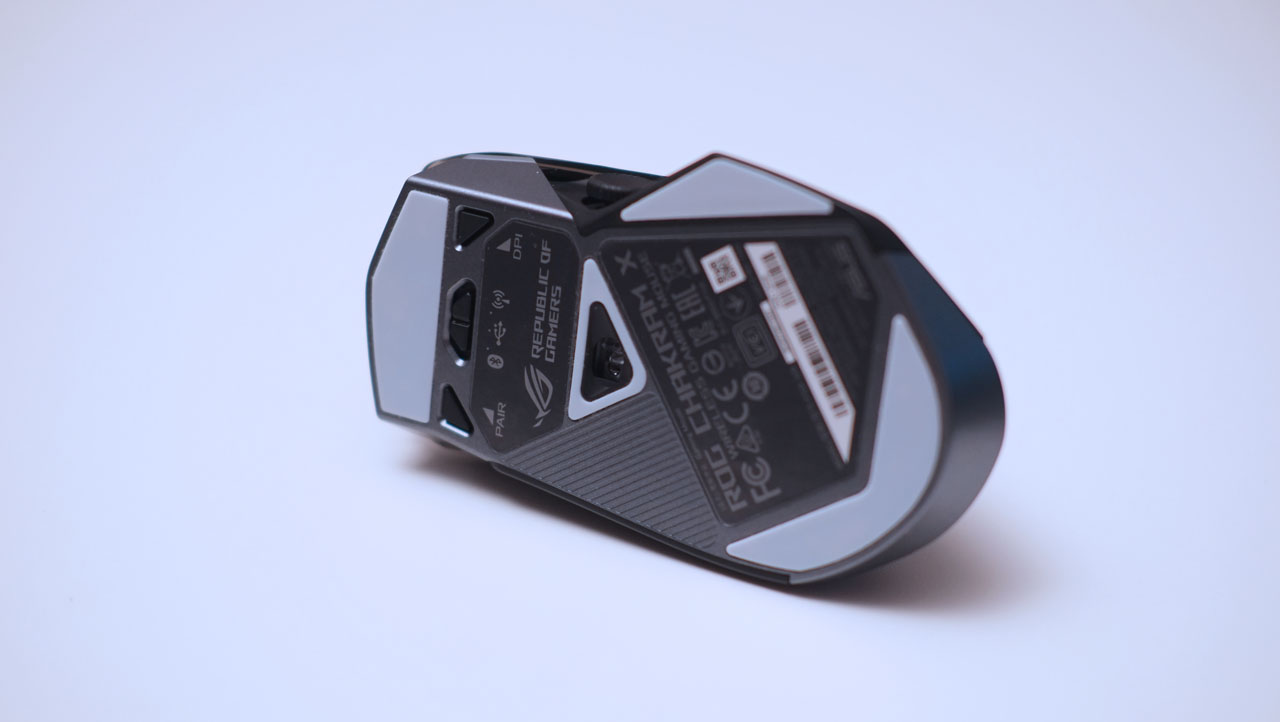 Over all build quality is proper for the price. I just wish it is a little bit lighter and has a more malleable cable.
Ergonomics
Based on my measurements, the ROG Chakram X  has a length of roughly 132 mm, a grip area of under 60 mm and a height of about 42.8 mm at its peak. Those measurements fits your typical medium to large sized mouse.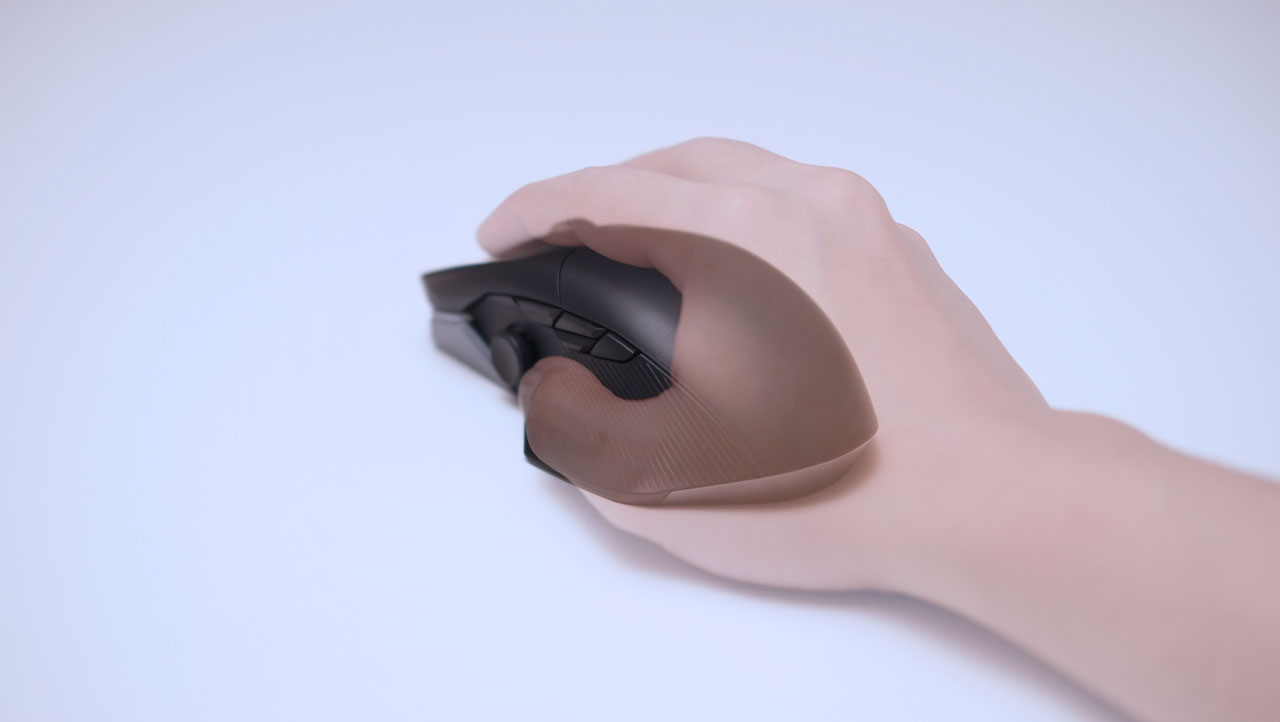 Measurements were actually misleading to an extent – especially the ones provided by ASUS. With a width under 60 mm along the grip area, this is actually good even for gamers with smaller hand sizes. Its weight could be bothersome though but it has a low center of gravity so it felt really planted versus being annoyingly top heavy.
Features
To maximize the ROG Chakram X, you have to install the ASUS Armoury Crate. This lets you play with a multitude of settings, including button mapping and how the joystick behaves – i.e., analog or digital mode. The latter allows you to remap or bind the axis.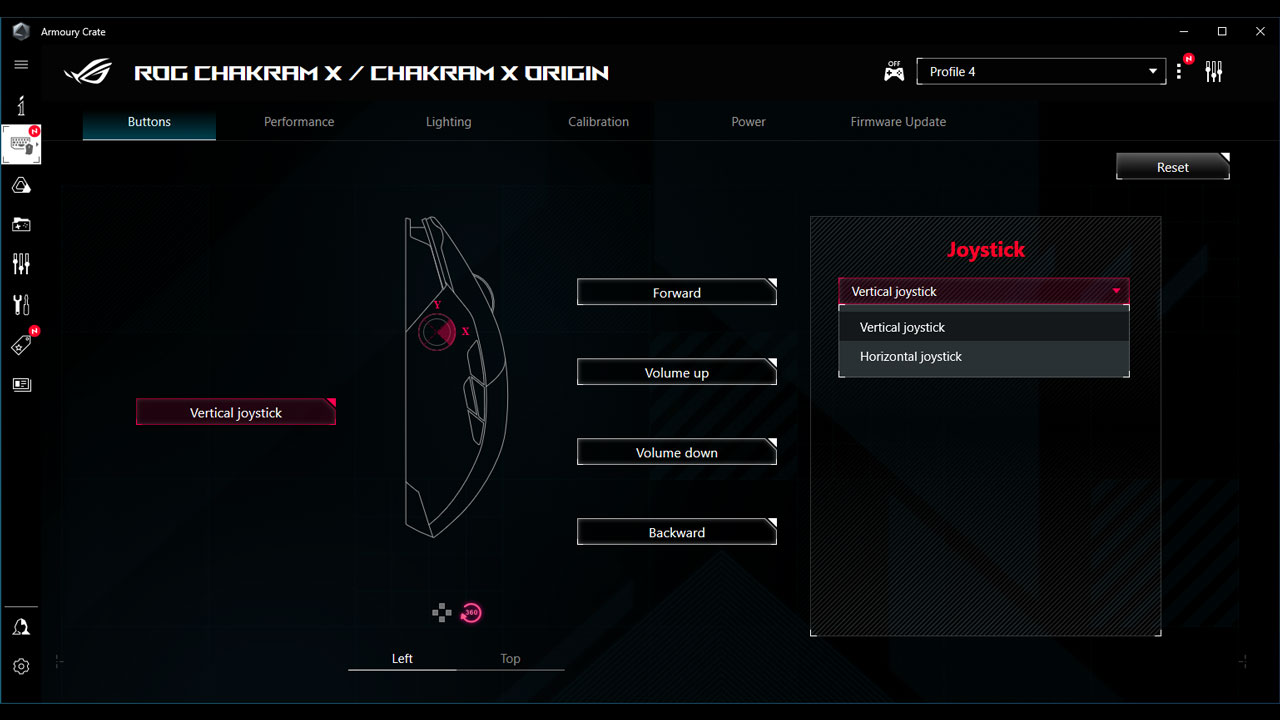 Performance is where DPI, polling rate, angle snapping, angle tuning and even the joystick's sensitivity. Angle tuning is basically the sensor's angle compensation. This is particularly useful if you find yourself lift the mouse at an angle. This is typically associated with palm gripping.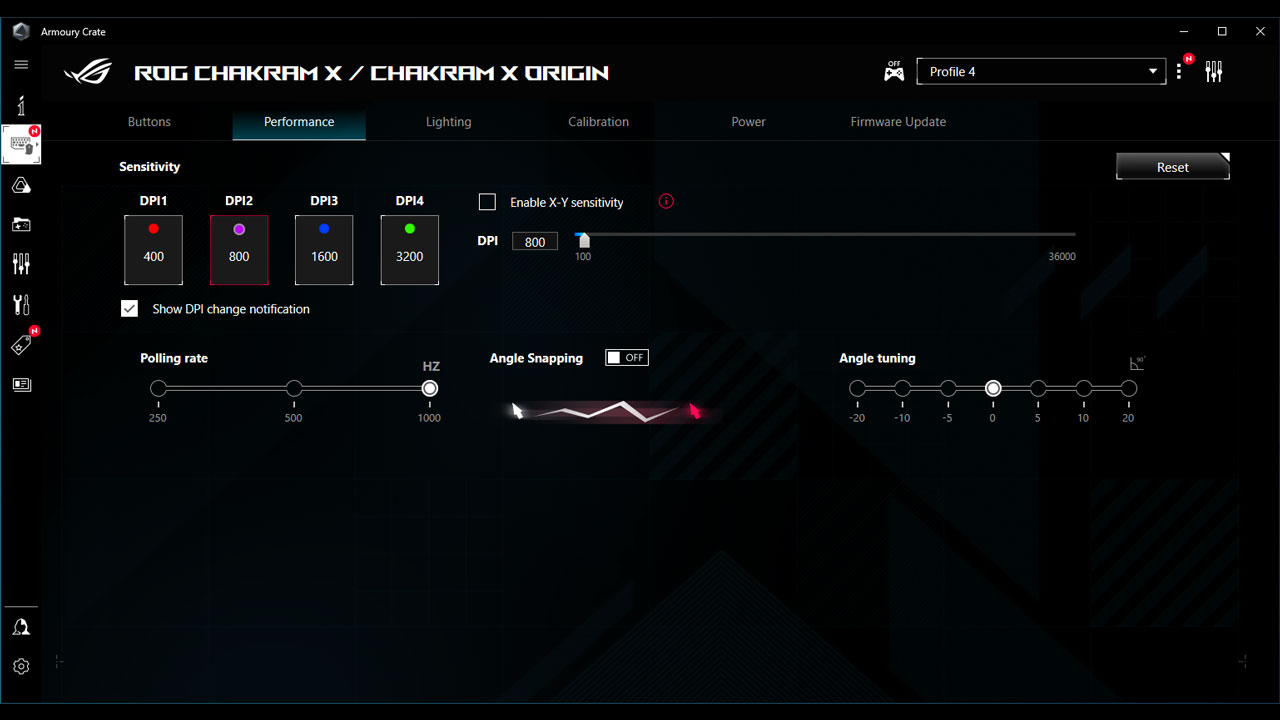 Lighting is of course also configurable. There are 9 effects here accompanied by their respective sub options.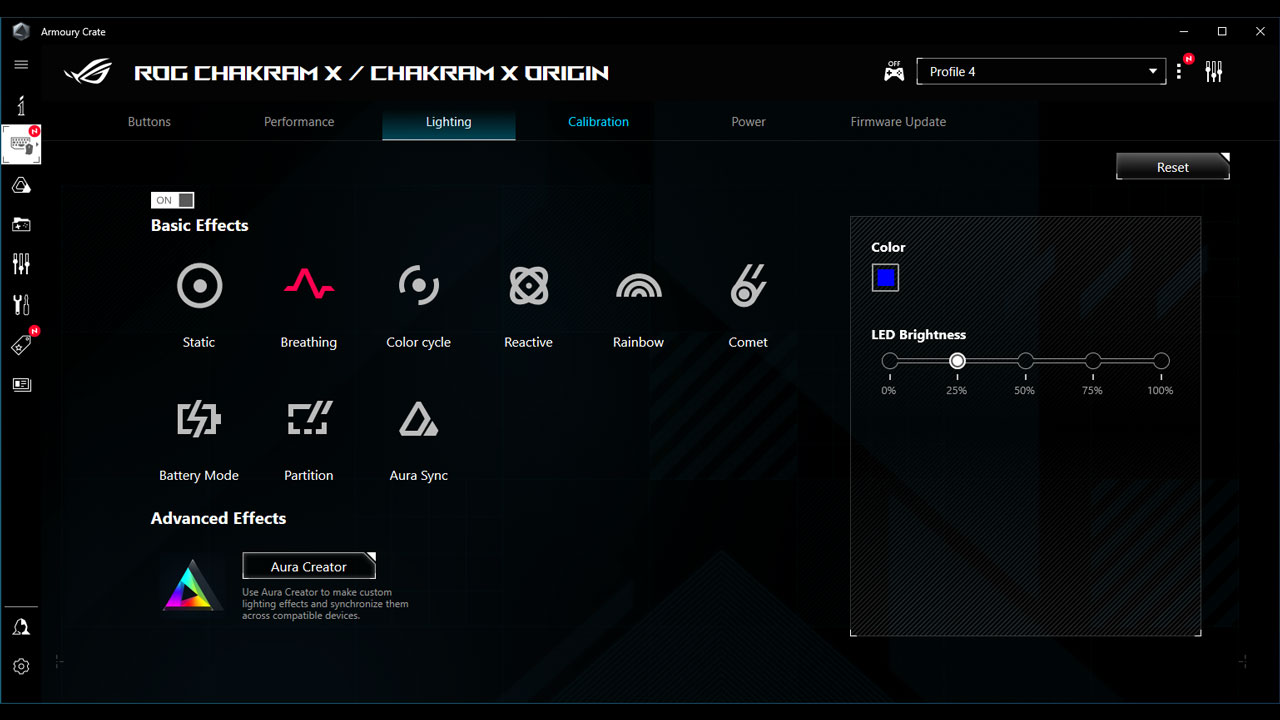 Calibration is basically what it says. You may manually calibrate the mouse or use presets for an optimal sensor performance. LOD could also be adjusted here.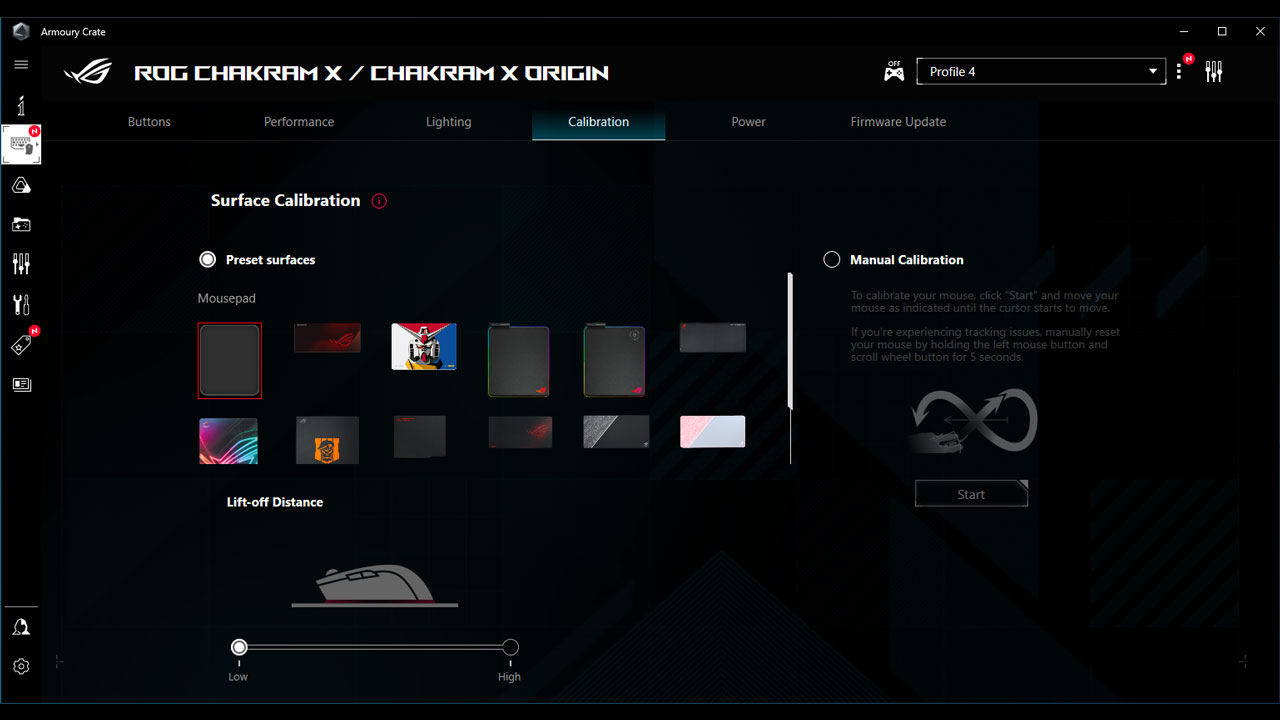 Lighting effects are awesome like many ASUS gaming gears. Nothing more to say here though since I do not find RGB lighting and such appealing for wireless devices due to its adverse effect on battery life.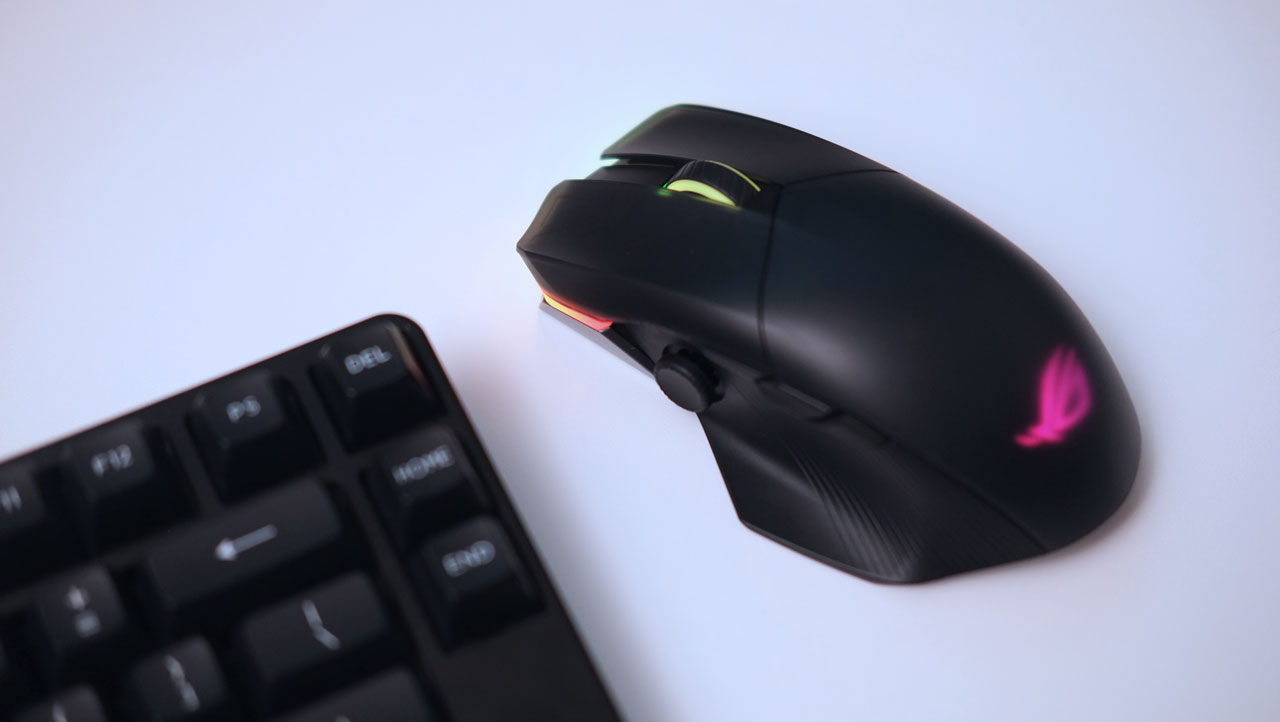 Now what sets this mouse apart from the competition are its push-fit sockets for the left and right mouse buttons along with the ability to change the lighting badge and the joy stick itself.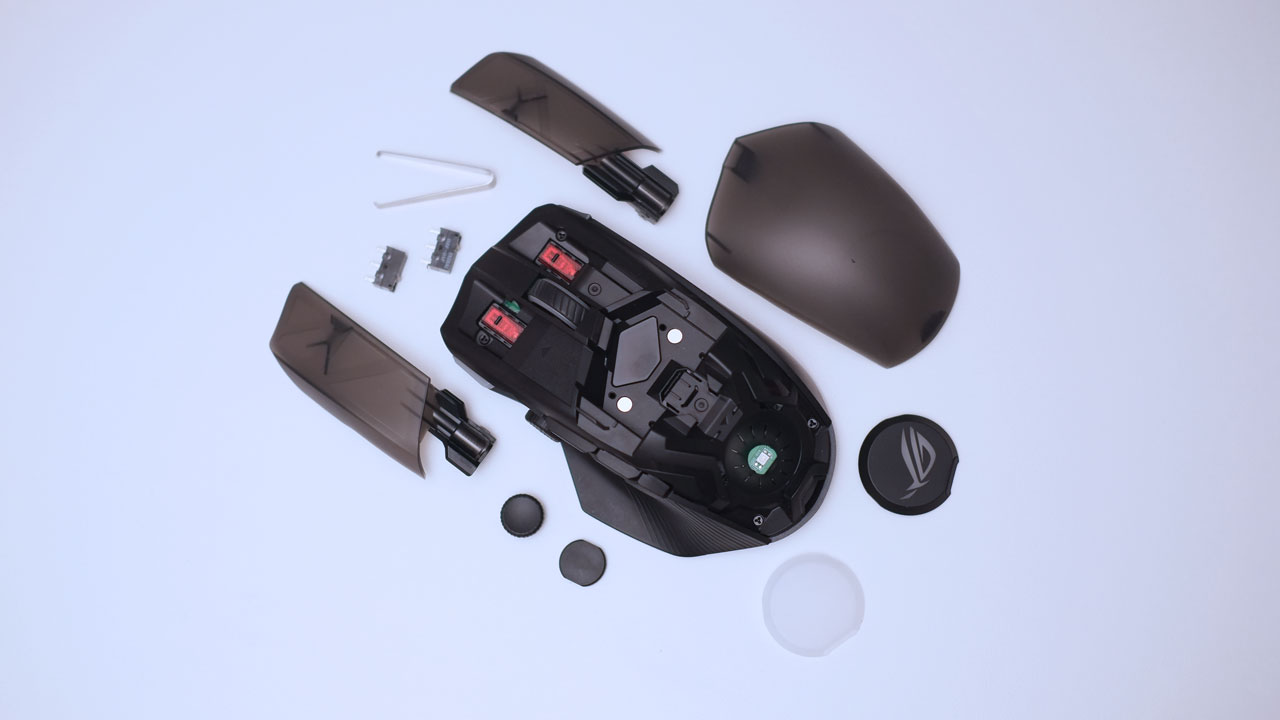 On that note, the joystick is pretty useful and is far from being a gimmick at all. As for the experience using a polling rate of 8000 Hz, it is actually noticeable but not a huge leap compared to lets say going from 125 Hz to 1000 Hz. This has been tested on Overwatch 2 and a 240 Hz display so your mileage may vary. Anyway, do not stress on it since I find that sensor reliability, shape and weight are still the most important ones to check out.
Final Thoughts
The ASUS ROG Chakram X is a heavy mouse in comparison to the recently released gaming mouse models from various brands and or manufacturers. That doesn't make it bad though since I find its features really useful for certain demographics. Yes, there are gamers who likes heavier mouse, wireless charging, more side buttons to play with and more importantly, an actual joystick. I actually find this excellent not just for games but for productivity as well.
Perhaps what could be improved upon are its weight – for those who likes everything about this mouse minus that one. The paracord cable is also stiffer compared to what I'm used to from the other brands so that's another front to consider should you wish to utilize its "wired only" 8000 Hz polling rate feature.
As for the price, I think it is a good option at 8,395 Pesos – all features considered.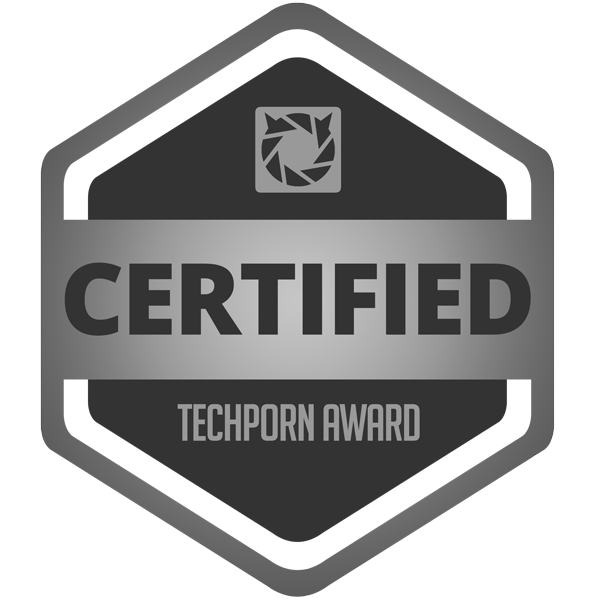 ASUS ROG Chakram X Wireless Gaming Mouse
Summary
The ASUS ROG Chakram X Wireless Gaming Mouse is a heavy mouse by today's standards but it is also heavy on features. At ₱8,395 PHP, I would consider this as a daily driver if it checks out everything I need.