What we have here for review is the ASUS ROG Ryujin III 240 ARGB. This is an all-in-one CPU cooler with a price of $269.99 USD (Amazon) or ₱16,950 PHP (local) as of this writing.
The Ryujin III 240 ARGB is among the latest premium CPU coolers at ASUS' disposal, featuring a fully customizable 3.5-inch display panel, a VRM cooler and two 120 mm ROG magnetic daisy-chainable fans. It also comes with Asetek's 8th generation pump design.
Disclosure: ASUS sent the ROG Ryujin III 240 ARGB for the purpose of this review. The company did not ask me to say anything particular about it.
Technical Specifications
Cooler
Compatibility
Intel 115X, 1200, 1700; AMD AM5, AM4
TDP
N/A
Pump
Speed
800-3600 RPM
Noise
N/A
Airflow
21.08 CFM (fan)
Fan
Speed
600-2200 RPM
Noise
36.45 dBA
Airflow
70.07 CFM
Dimensions
Length
279.5 mm
Width
120 mm
Height
30 mm
Weight
N/A
Packaging and Accessories
Like many ASUS ROG products, the Ryujin III 240 ARGB comes in a jewel box style packaging.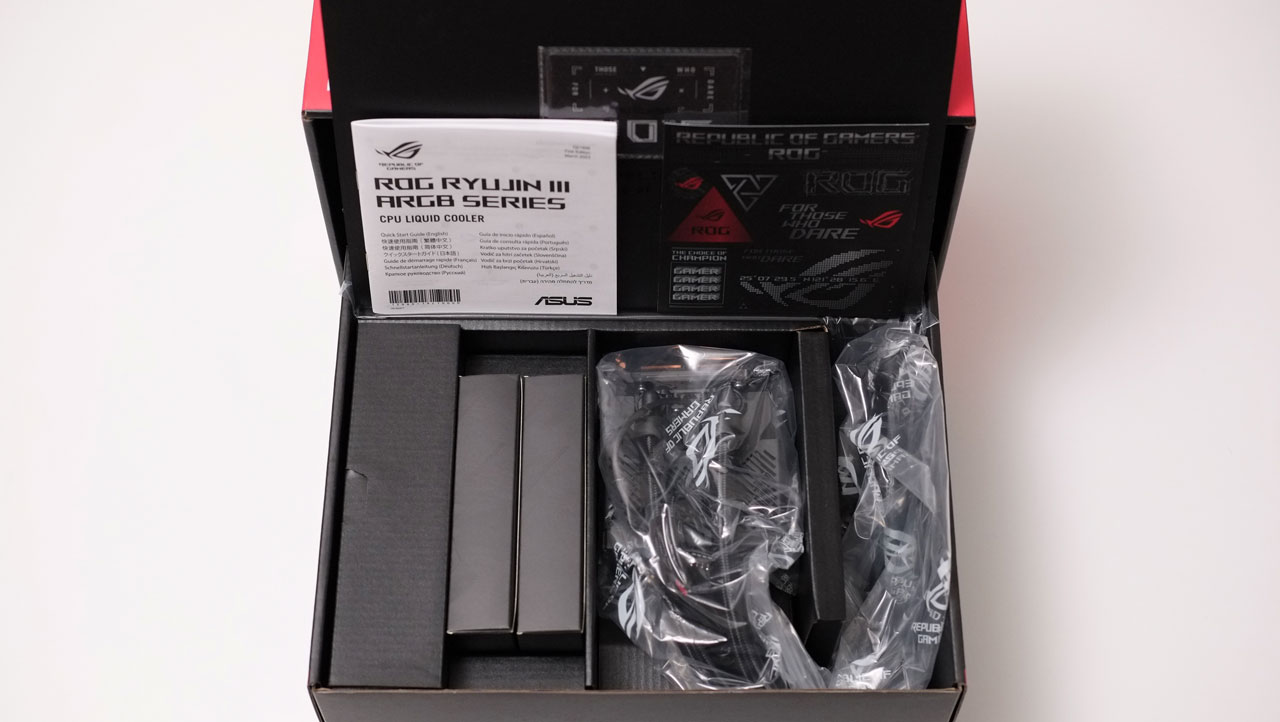 Scope of delivery are as follows:
ASUS ROG Ryujin III 240 ARGB
2x 120 mm ARGB radiator fan
Male cable for daisy-chainable fan
Female cable for daisy-chainable fan
Accessory pack of screws and brackets
Quick start guide
ROG Sticker
ROG cable organizer
ROG VIP card
ASUS stuffed the cooler with a lot of extras which is typical for an ROG product. No extra thermal paste here though.
Design, Layout and Build Quality:
The Ryujin III 240 ARGB sports a balance between the edginess and sophistication; an ongoing trend with the latest ROG products released this year.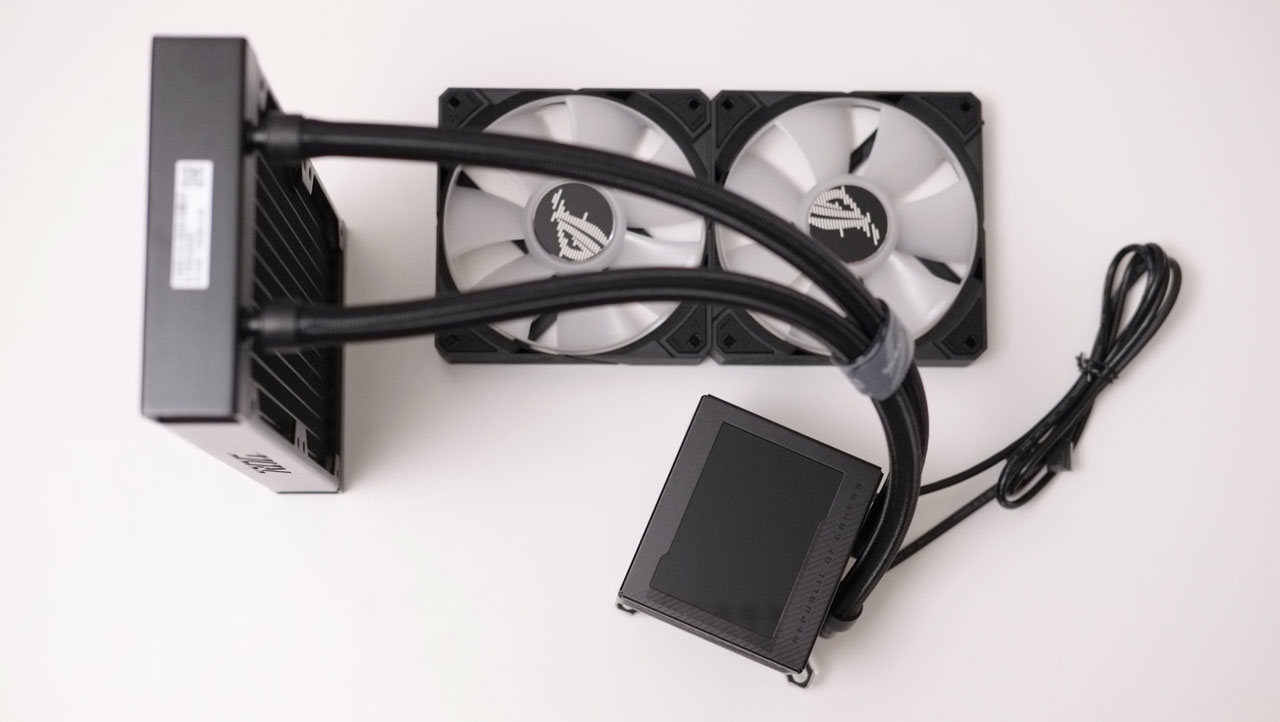 The radiator ASUS used is a custom made one for this certain model, complete with what appears to be a stamped ROG logo – one of those things that you pay for a premium. This is a 30 mm thick radiator with braided yet non-user serviceable tubes or design rather; an area where ASUS could improve upon considering the price-point.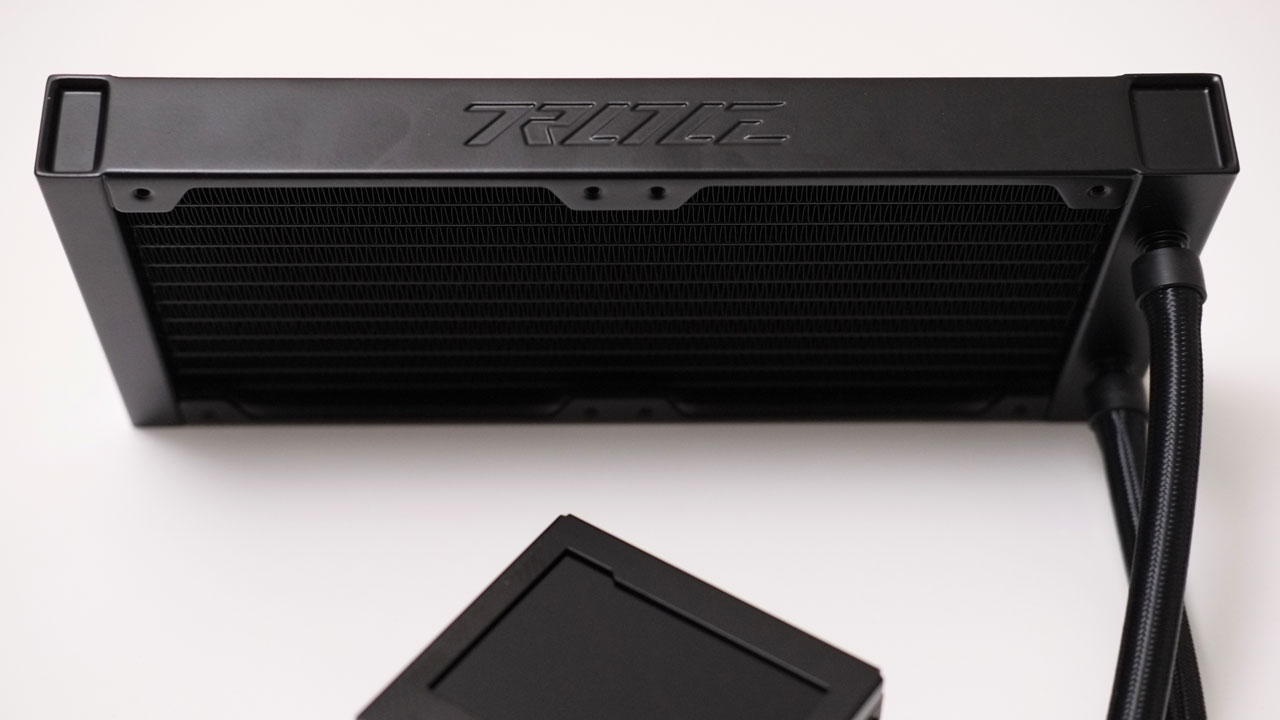 The pump is the most interesting aspect of this cooler, featuring a 3.5-inch LCD housed in a magnetic housing. It also comes with an axial fan complete with ducts that directs air towards the VRM area.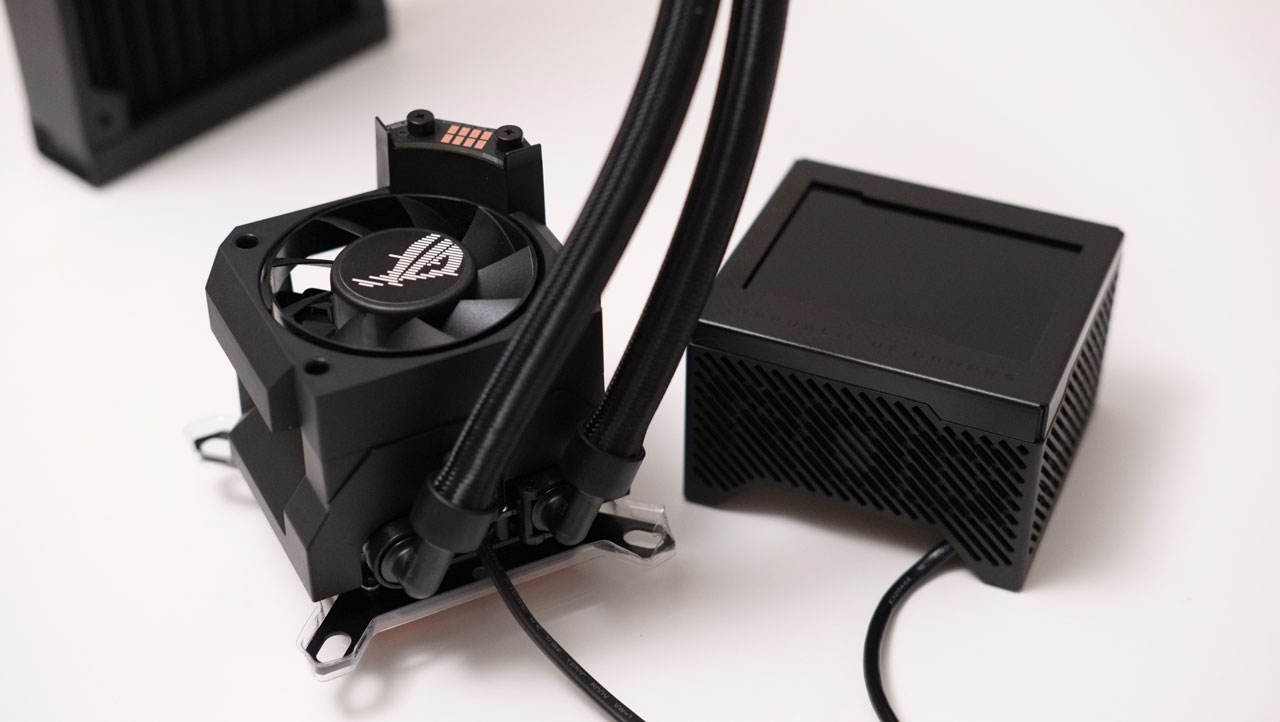 The baseplate is made out of copper and comes with a pre-applied thermal paste.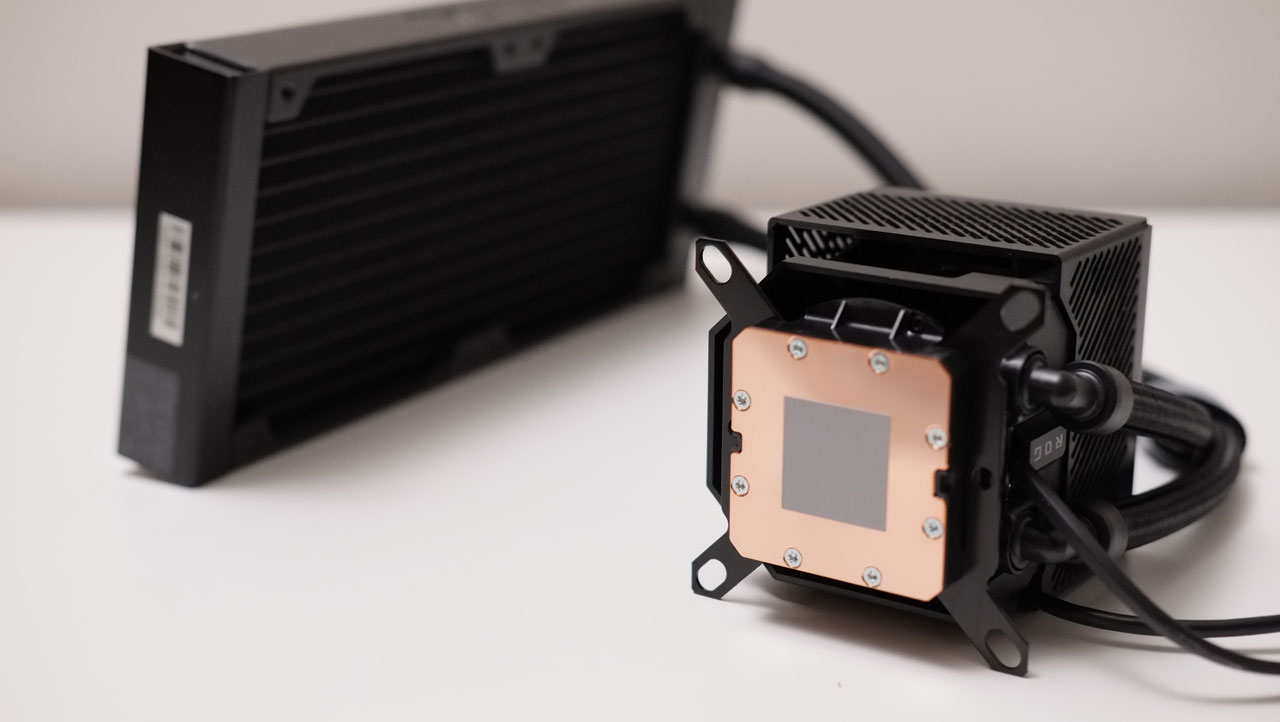 ASUS opted for a cable-free axial fan design with the ARGB model, whilst the standard one comes with Noctua fans. This one is of course RGB enabled and is magnetically attached for an extra mile of convenience. I prefer the Noctua iPPC fan but this design has its appeal.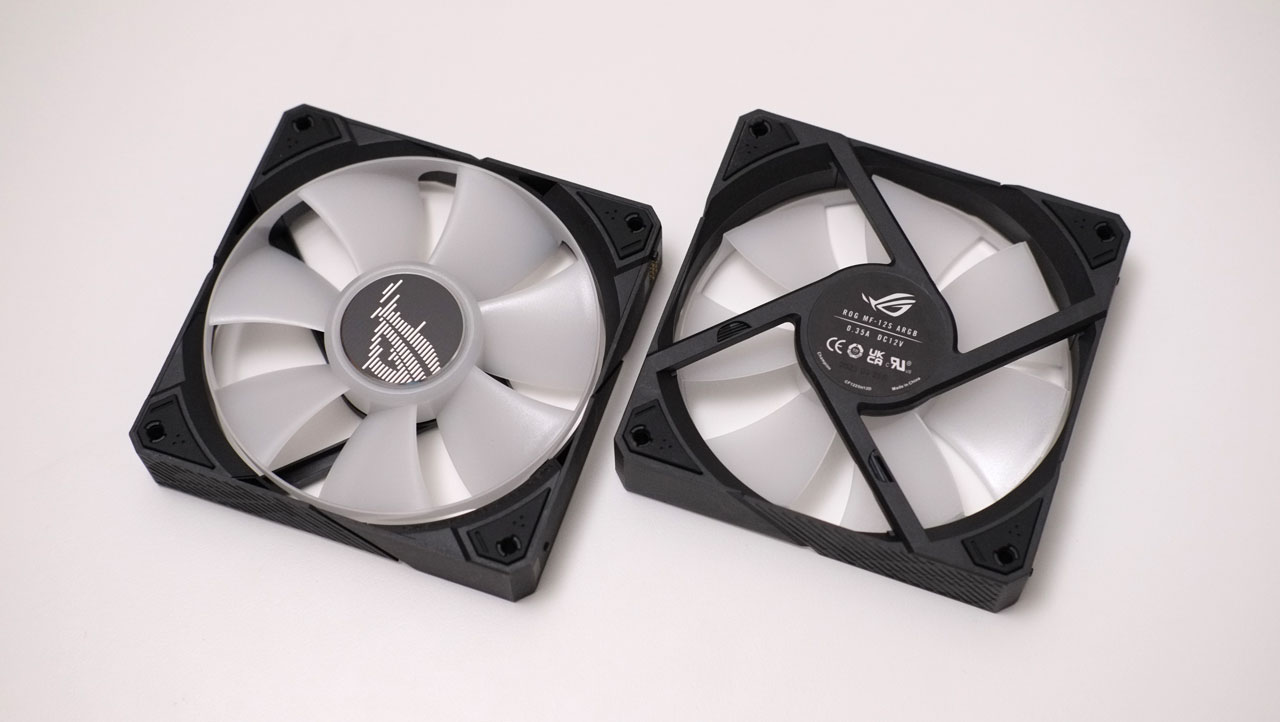 Overall, the unit felt and look built to last – like many ASUS ROG products. I have no major complaints here really.
Temperature
Thermal performance with the AMD Ryzen 5 7600 is excellent, as shown with the PWM levels tested. Now what's surprising is the cooling performance at 100% fan speed. This is unexpectedly lower compared to both the 50% and 75% PWM results. I have done everything I could to re-check this – even with my older AMD Ryzen 5 3600 based system but it points out to the same conclusion. Perhaps it has something to do with the axial fans and or the radiator's design.
Power
Sustained CPU clock speed is yet another important area to check as the latest CPUs now comes with sensor managed boost clock capabilities. In the case of AMD, we have PBO's ability to maximize performance as long as the temperature, SoC power and VRM permits. The results below indicates just that with a higher average frequency and power attained at each PWM levels.
With the results at hand, I would strongly suggest maxing out at 50% PWM if you are keen to own this cooler. That is more than enough to enable the Ryzen 5 7600 to maintain its 88 W TDP at load with reasonable noise levels in tow.
| PWM | Average Effective Clock (Idle) | Average Effective Clock (Load) |
| --- | --- | --- |
| 25% | 197.00 MHz | 4867.47 MHz |
| 50% | 193.02 MHz | 4875.91 MHz |
| 75% | 211.59 MHz | 4874.28 MHz |
| 100% | 208.94 MHz | 4868.55 MHz |
Noise
Now the lowest noise level we could attain is 32.4 dBA at 25% PWM while the highest is at an obnoxious 52.2 dBA so I would really suggest limiting the speed to 75% PWM or even at 50% PWM if your enclosure permits.
Note that the fans are actually inaudible at 25% PWM. I tried them on their own and they are definitely lower than our 30 dBA threshold. That said, the noise we are picking up here is actually the pump itself.
Final Thoughts
The ASUS ROG Ryujin III 240 ARGB is not a cooler for the faint hearted, with its slated price of $269.99 USD. Naturally, we got a higher local price at ₱16,950 PHP which is well above $300 USD at the current foreign exchange rate.
At those prices, what you'd get though is more than just a cooler. Like many ROG products, the Ryujin III comes loaded with features. Be it for performance, customization or showmanship's sake. For an instance, the 3.5-inch display is customizable with support for hardware monitoring, wallpapers and animations. It is also magnetic, together with the ARGB axial fans. Speaking, the VRM fan actually works – though not as claimed by ASUS. We only saw about 2.54 °C of difference on average here which is actually not bad for our compact ROG Strix X670E-I Gaming Wi-Fi motherboard.
Now as usual, this cooler is not perfect. I for one would love to see a desktop capable display here even considering its size. That way, you do not have to fiddle with its software for customization. That will also allow you to output whatever you want on it in real time. Another point of discussion her is the closed loop design. I would love to see a pair of detachable tube here for maintenance and longevity. Though to be fair, it comes with a 5 year warranty so there's that for peace of mind.
In closing, the ASUS ROG Ryujin III 240 ARGB is one premium cooler with emphasis on aesthetics, customization and performance. If what it could provide checks your requirements then you are most welcome to spend your cash on it.
ASUS ROG Ryujin III 240 ARGB
$269.99 USD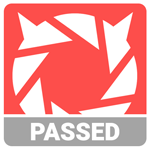 Product Name: ASUS ROG Ryujin III 240 ARGB
Product Description: Go cooler than cool with the Ryujin III. An expansive 3.5-inch LCD screen displays live system stats, animated GIFs or even your own custom artwork.
Brand: ASUS
Summary
The ASUS ROG Ryujin III 240 ARGB is a mid-size CPU cooler with all the bells and whistles you should expect from the premium line-up.