The Intel Pentium G3258 "Anniversary Edition" microprocessor ushered this generation's budget yet capable builds. You could pair it with any LGA 1150 socket Intel based motherboards and enjoy proper performance for your money. Intel wants you to get the best board for  it, so a Z97 chipset based motherboard is their recommended for maximum performance or overclocking – but, it negates the budget friendliness of the board should you go with that approach.
And when you don't need the best of the best, there's always the H81 boards from Intel. While it does not support overclocking on paper, Biostar have managed to get around it, and thus their very own H81MHV3 motherboard was born. This mainboard, which is competitively priced at 1, 995 Pesos (39 USD Int'l), doesn't only feature overclocking capabilities at an affordable price, but also supports the essential features found on most motherboards nowadays. That includes 2 x USB 3.0 ports, 5.1 channel audio, and a PCI-E 2.0 at full speed as opposed to Intel's standard at x4 max. In addition, this board is almost ITX with regards to its form factor, so it might be compatible with some ITX cases. Without further ado, let us check it out!
FEATURES & SPECIFICATIONS:
Chipset
Intel H81
CPU SUPPORT
Intel® LGA 1150 Processors
Maximum CPU TDP (Thermal Design Power) : 95Watt
MEMORY
Support Dual Channel DDR3 1600/1333/1066 MHz
2 x DDR3 DIMM Memory Slot
Max. Supports up to 16GB Memory
EXPANSION SLOT
1 x PCI-E x16 2.0 Slot  + 1 x PCI-E x1 2.0 Slot
STORAGE
2 x SATA3 Connector + 2 x SATA2 Connector
USB
2 x USB 3.0 Port + 2 x USB 2.0 Port + 2 x USB 2.0 Header
LAN
Realtek RTL8111G – 10/100/1000 Controller
CODEC
Realtek ALC662 6-Channel HD Audio
DIMENSION
Micro ATX Form Factor Dimension: 19cm x 17cm ( W x L )
OS SUPPORT
Support Windows 7 / 8 / 8.1
BUNDLE SOFTWARE
BIO-Remote2
Smart Speed LAN
ACCESSORIES
2 x SATA Cable
1 x I/O Shield
1 x DVD Driver
1 x Quick Guide
FEATURES
Windows 8 Ready
Supports Solid capacitor
Supports Charger Booster
Supports BIOS Online Update
UNBOXING THE BIOSTAR H81MHV3:
The Biostar H81MHV3 came in a nice, well padded packaging with the usual Biostar "+ Experience" themed design that speaks of the product's main features.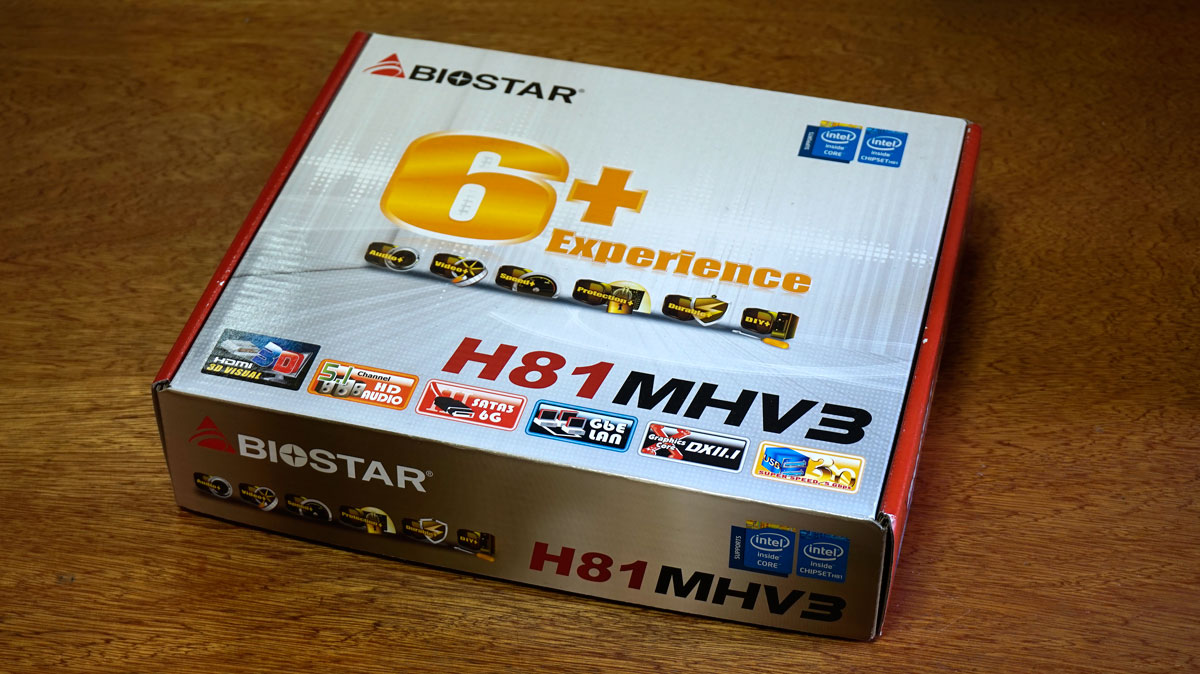 The back houses more information about the board with regards to its features, specifications, and certifications. The board's ESD Protection feature is certainly the star here.
Biostar's H81MHV3 strictly conforms to its budget approach – by offering only the necessary accessories with the board. That includes 2x SATA III cables in Black, the backplate, the driver disc, and an installation guide on a diet.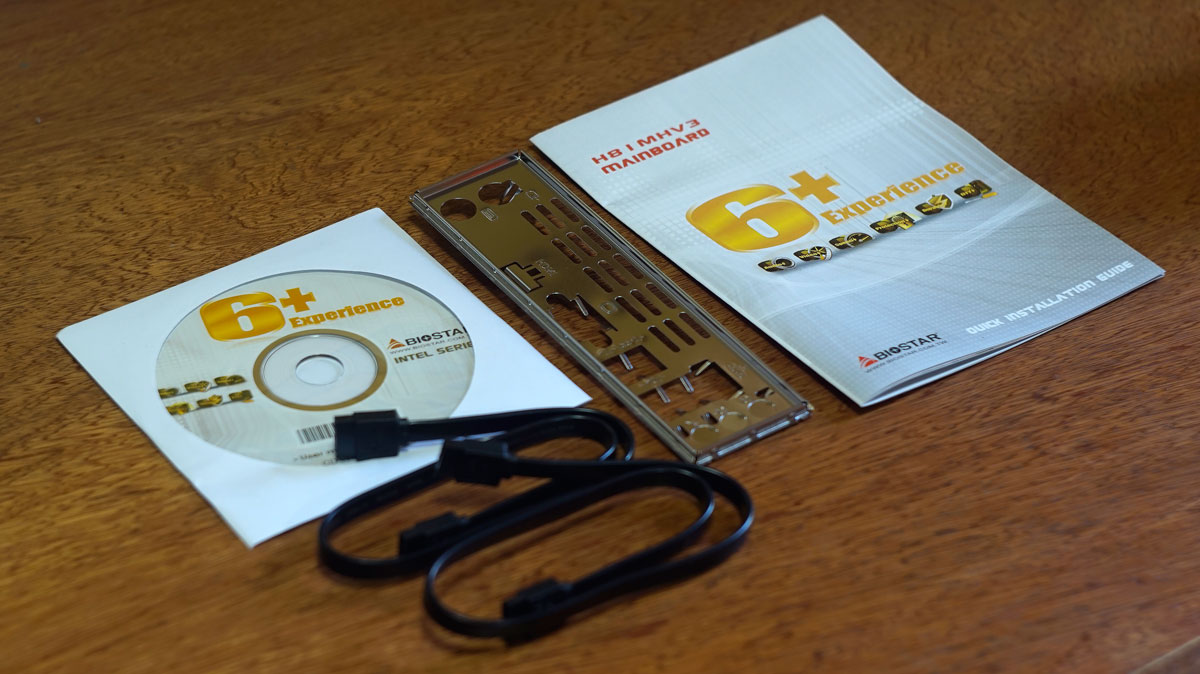 A LOOK AT THE MOTHERBOARD:
For a mATX board, the Biostar H81MHV3 is certainly one of the smallest – measuring at only 19cm x 17cm. If you're an Imperial folk, that's 7.5 " x 6.7″ in length & width . It's just that small, and it's only 2 " longer than the ITX standard.
Board's pretty neat & clean everywhere we look at it, as there are no traces of bad or fugly soldered components – everything is straight up, and lined according to their legend prints. The back is also clean, and speaks of quality build. It's nice to see Biostar boards in this shape.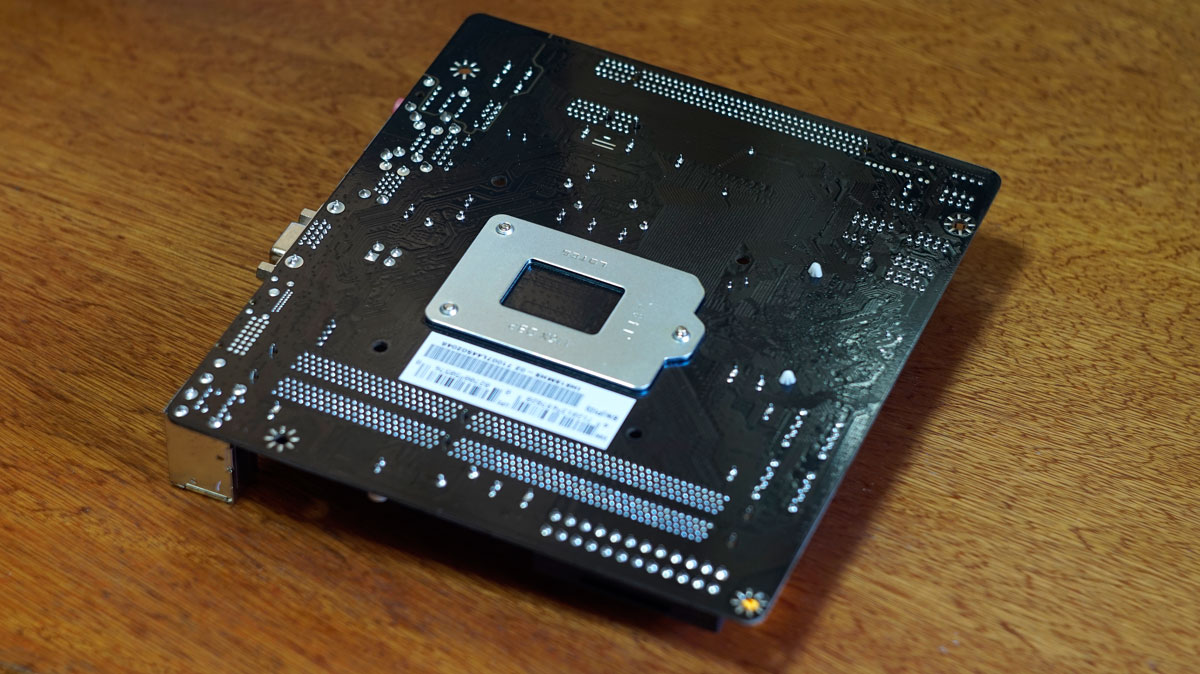 The board features 2x DIMM slots that supports Dual Channel DDR3 1600 MHz memory and below. 16GB is the maximum capacity, so a dual 8 GB RAM configuration is possible. The RAM slots are peculiarly situated at the top though, along with the 24 pin PSU connector. The SATA ports are also situated here comprising of 2x SATAII and 2x SATAIII ports.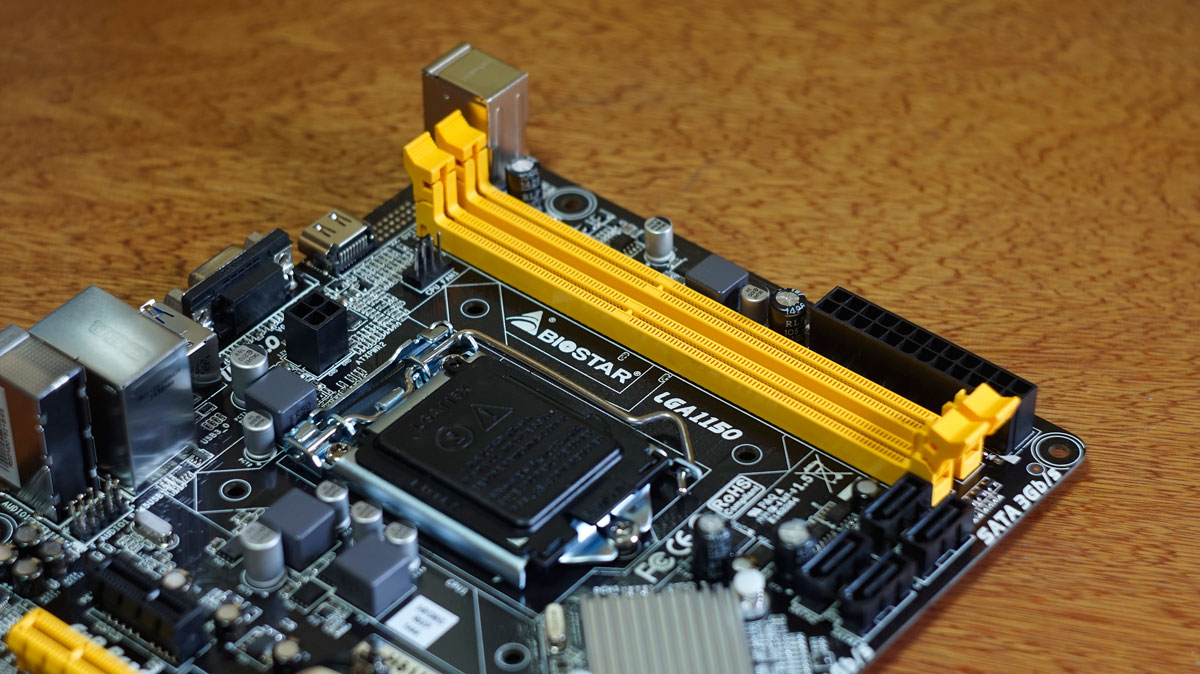 Looking a little closer, we could see that Biostar implemented a 3+1 power phase design to feed power to the CPU and RAM. The socket is LGA 1150, so it supports the latest Pentium & COre Series processors with a maximum of 95W TDP. The 4-pin CPU power connector is also situated here, along with the front panel audio header.
The expansion slot area houses the 1 x PCI-E x16 2.0 and 1 x PCI-E x1 2.0 Slot which is responsible for the board's extra 2 Inches. The main headers are well placed at the edges, but we were kinda disappointed with the lack of a USB 3.0 header, and an extra fan header to complement the 3-pin fan header located in this area.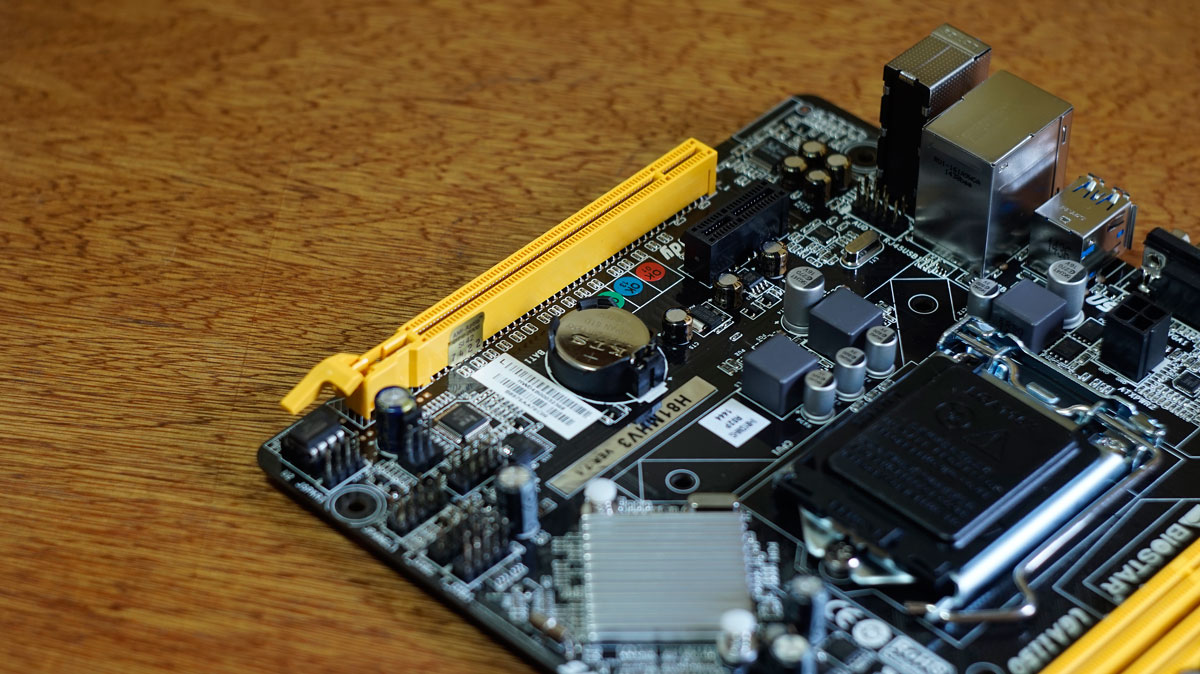 A missing USB 3.0 header could be easily remedied with Two ready to utilize USB 3.0 ports at the I/O panel. These ports are accompanied by another pair of USB port (2.0), a 3 port audio I/O with 5.1 surround capabilities, a legacy VGA port, an HDMI port, LAN, and PS/2 mouse and keyboard ports. Basic stuffs that will do the work.
UEFI / BIOS WALK THROUGH:
The Biostar H81MHV3's UEFI / BIOS is as basic as the board itself, but it does allow a little bit of headroom to tinker with. There are 7 main menus present, with the "Main" one as a default once you entered the BIOS for the first time. You could change it later, which is a plus.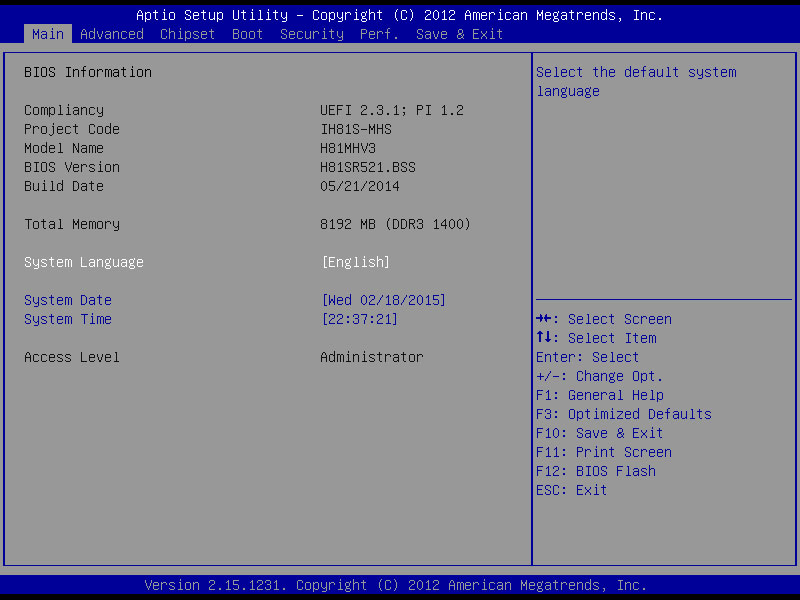 The Advanced menu features most of the the PCH's settings, which you could use to change CPU, power settings, SATA configurations, and so much more.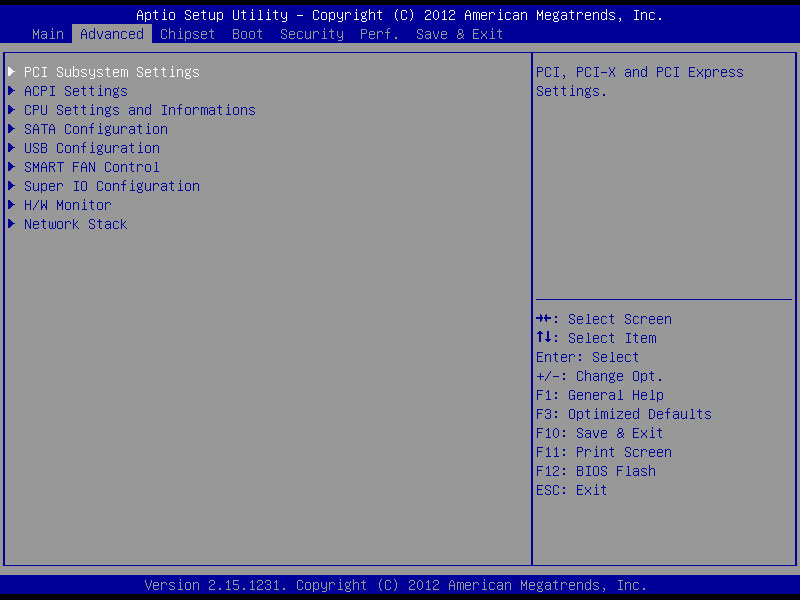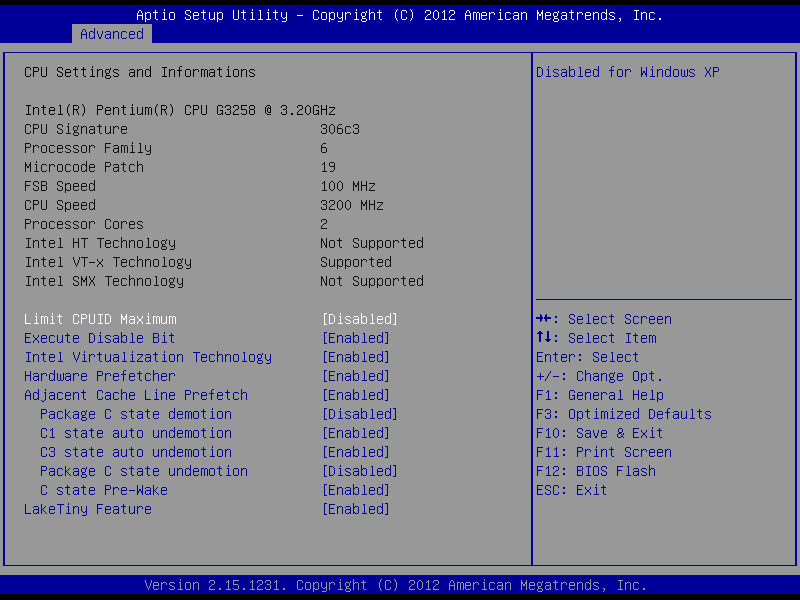 The Chipset menu is where you could tinker with most of the main components of the mainboard such as the PCI-E slot's speed, LAN, and Audio.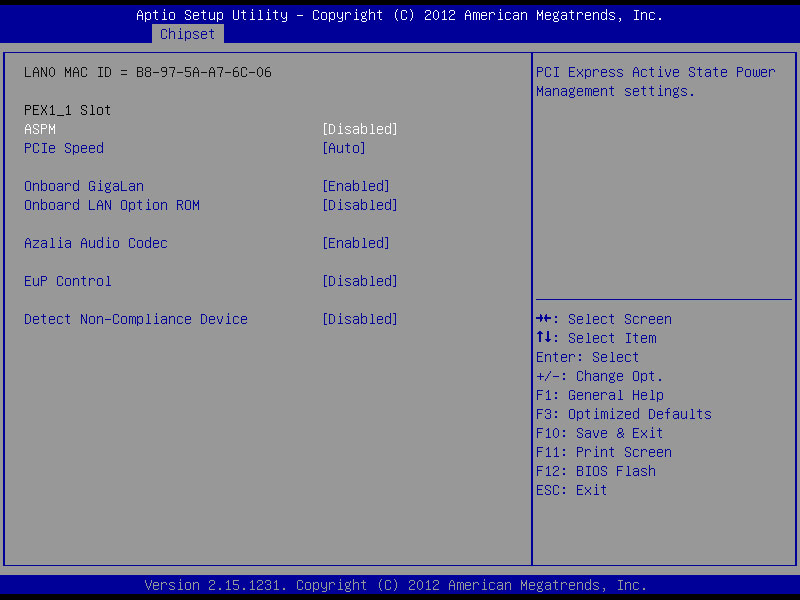 There's also a separate menu for the Boot options, which could be used to configure a number of features. I'm glad to see a Launch CSM feature here so you could actually boot with legacy OS that does not support EFI.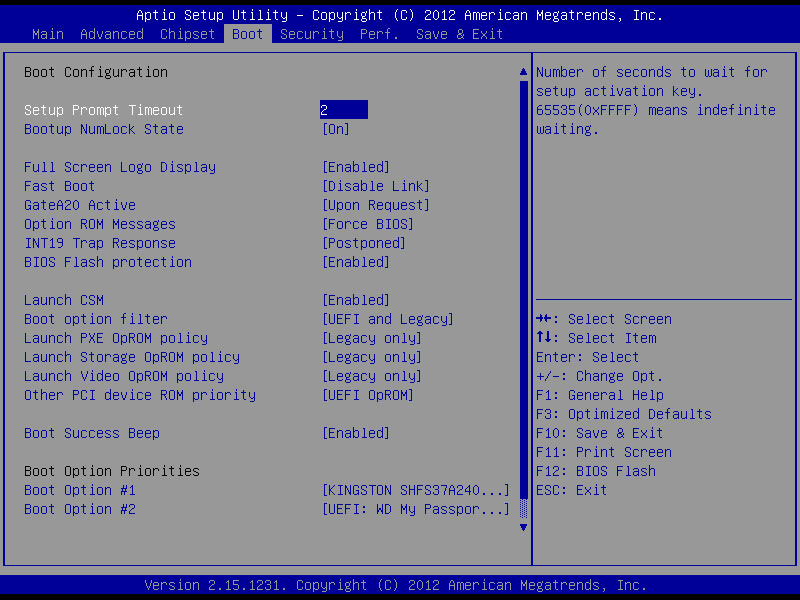 The Security menu is self explanatory, but do note that the User Password is more powerful than the Administrator one based on Biostar's settings.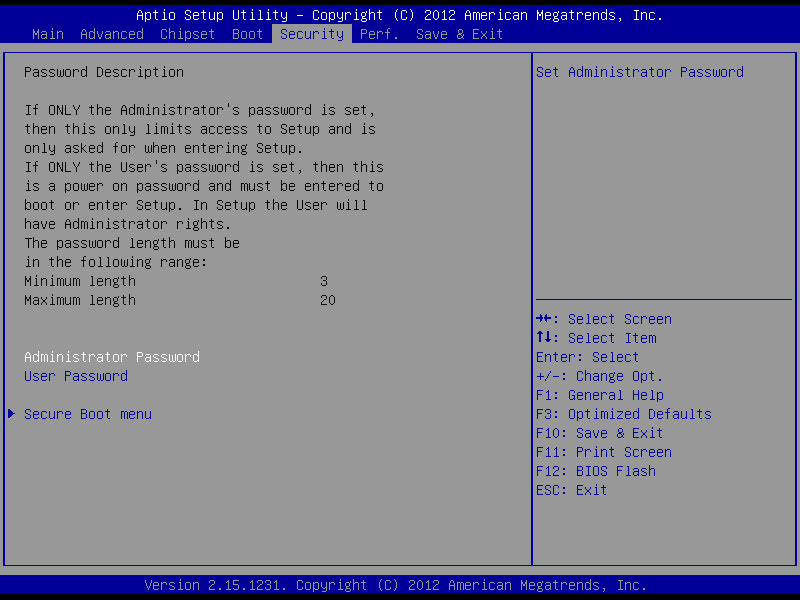 Now this is where the magic happens – The Performance menu. Although it isn't much compared to higher end boards, the Biostar H81MHV3 offers the necessities to overclock an Intel Pentium G3258 via CPU Ratio, the ability to override PLL Voltage settings, Power Limit settings, and the ability to disable C States for better overclocking stability.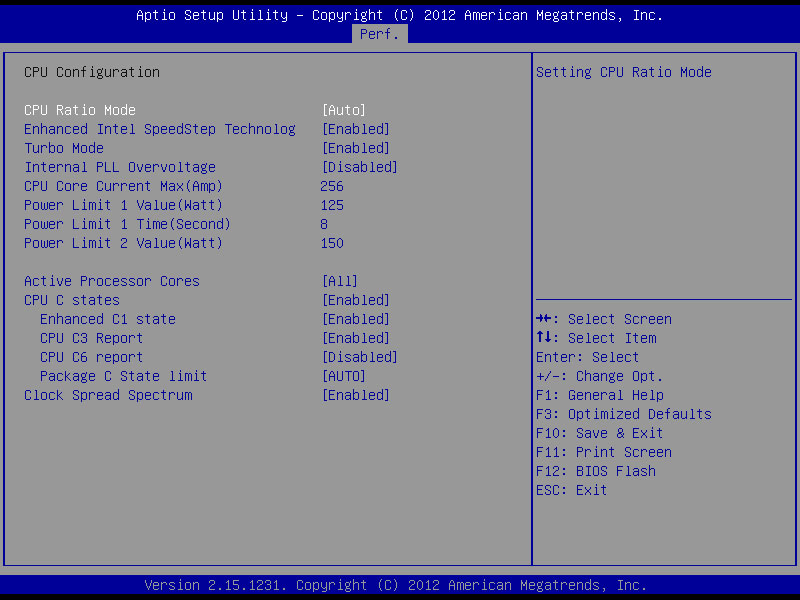 The H81MHV3 features XMP support with a maximum of XMP Profile 2. Maximum frequency could be adjusted up to 1600 MHz if the CPU supports it, so it's all good. I'm surprised that we could tinker more about the memory timings more compared to the CPU configuration. It is also surprising that I could squeeze more juice out of my DIMMs (1400MHz), as the Intel Pentium G3258 could only support 1333 MHz of memory frequency by default.
Last but not the least, we've got the voltage configuration sub menu where we could play with the voltage options via offset values which we will use to overclock our Pentium K Anniversary Edition processor later.  Overall, I like the simplified BIOS of the Biostar H81MHV3. It's fast, easy to work with, and it just… works!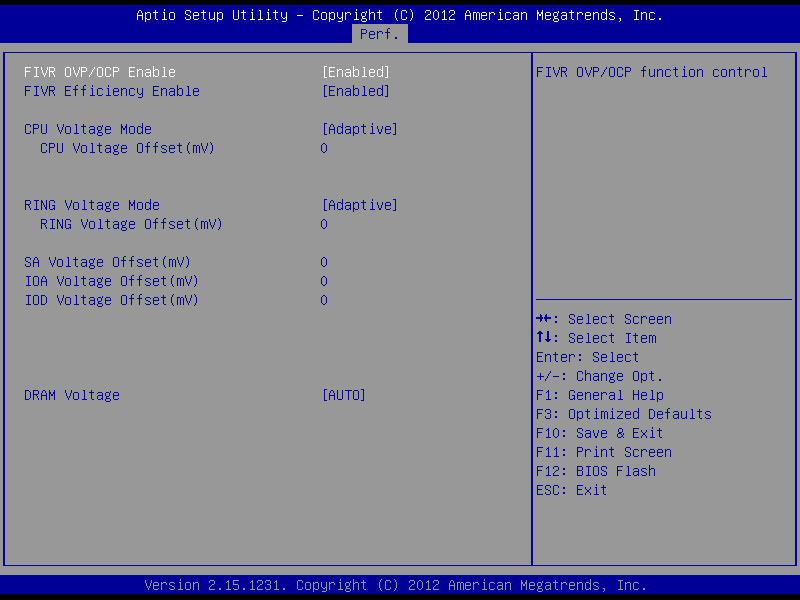 HOW WE TEST MOTHERBOARDS:
Motherboards are one of most unforgiving components to test due to their sheer complexity. It's like testing a whole system just to properly test a motherboard of any shape & size. To provide precise test results, it is important to install a fresh copy of the Operating System, have it updated along with the BIOS and drivers for it and the other components. Benchmark(s) should be executed every after a 5 minute cool down from start-up upon a system cold boot. This is to ensure a uniform scoring.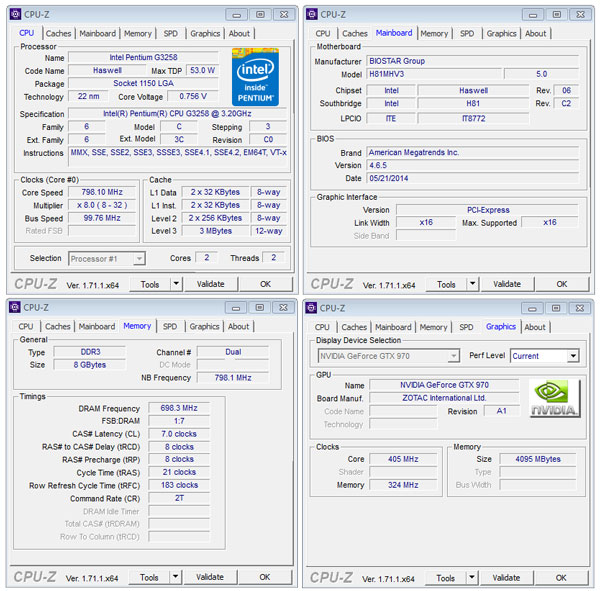 Our usual test system utilizes an Intel Core i5 4670K, but this time around, we deviated from the old formula by using an Intel Pentium G3258 "Anniversary Edition" CPU. The H81 is, I believe, had a special relationship with the said processor, able to overclock it even though it is not a high end overclocking mainboard to begin with. Precisely, a match made in PCB heaven.
| | |
| --- | --- |
| CPU | Intel Pentium G3258 |
| MOTHERBOARD | Biostar H81MHV3 w/ BIOS version H81SR123 |
| CPU COOLER | Intel Stock Cooler |
| MEMORY | ADATA XPG V2 @1400MHz 8GB |
| GRAPHICS CARD | ZOTAC GTX 970 4GB |
| INT. STORAGE | Kingston HyperX Fury SSD 240GB |
| PSU | BitFenix Fury 650W |
| DISPLAY | DELL S2340L 23″ IPS |
| OS | Microsoft Windows 7 Ultimate x64 SP1 (Updated) |
| SOUND CARD | Realtek ALC662 |
| EXT. STORAGE | Kingston HyperX Fury USB 3.0 Flash Drive |
CPU & OVERALL SYSTEM PERFORMANCE:
AIDA64 is a streamlined Windows diagnostic and benchmarking software for home users. We'll use the built-in CPU benchmarking tools of the AIDA64 to determine the system's CPU performance.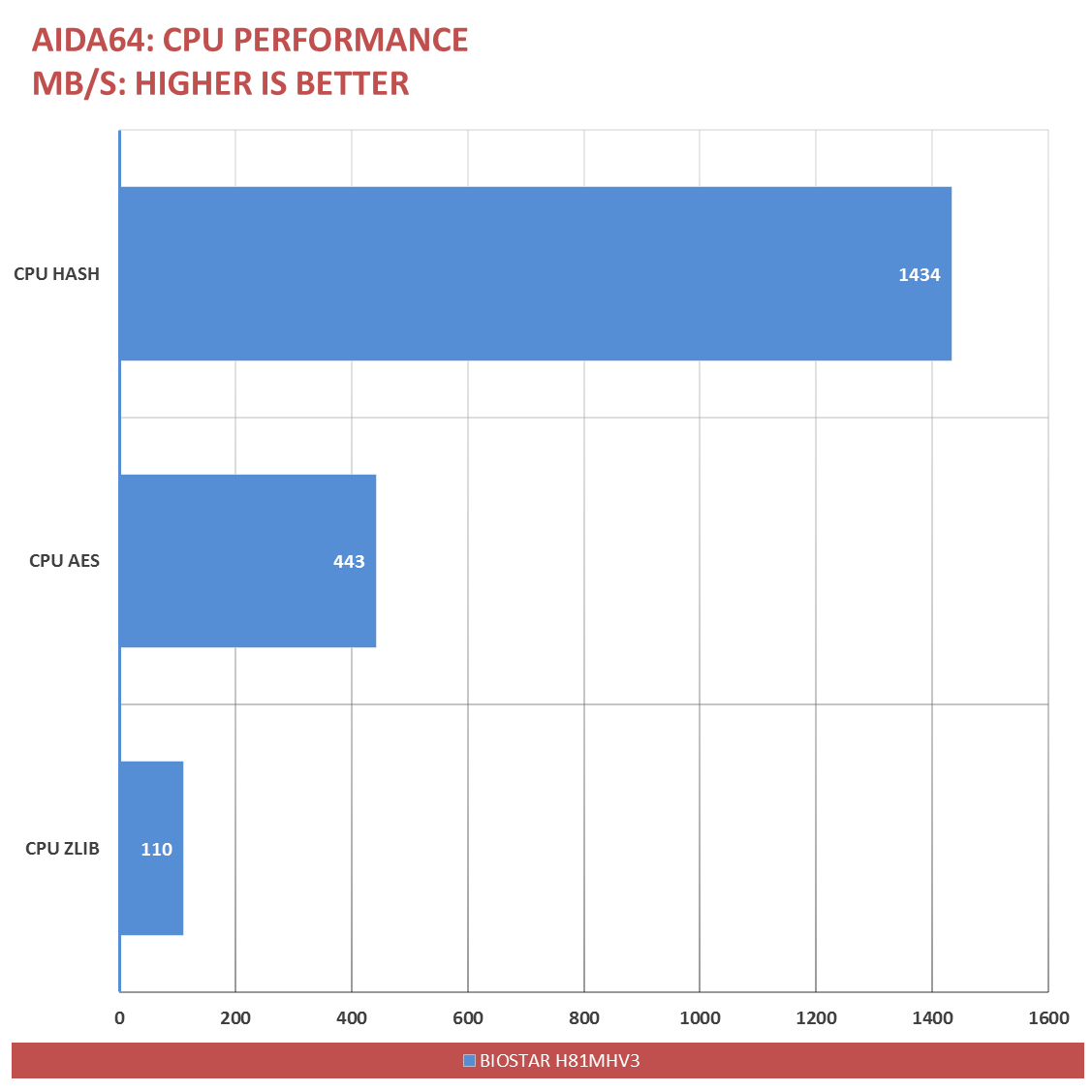 CINEBENCH R11.5 is a real-world cross-platform test suite that evaluates the computer's performance capabilities. CINEBENCH is based on MAXON's award-winning animation software CINEMA 4D, which is used extensively by studios and production houses worldwide for 3D content creation.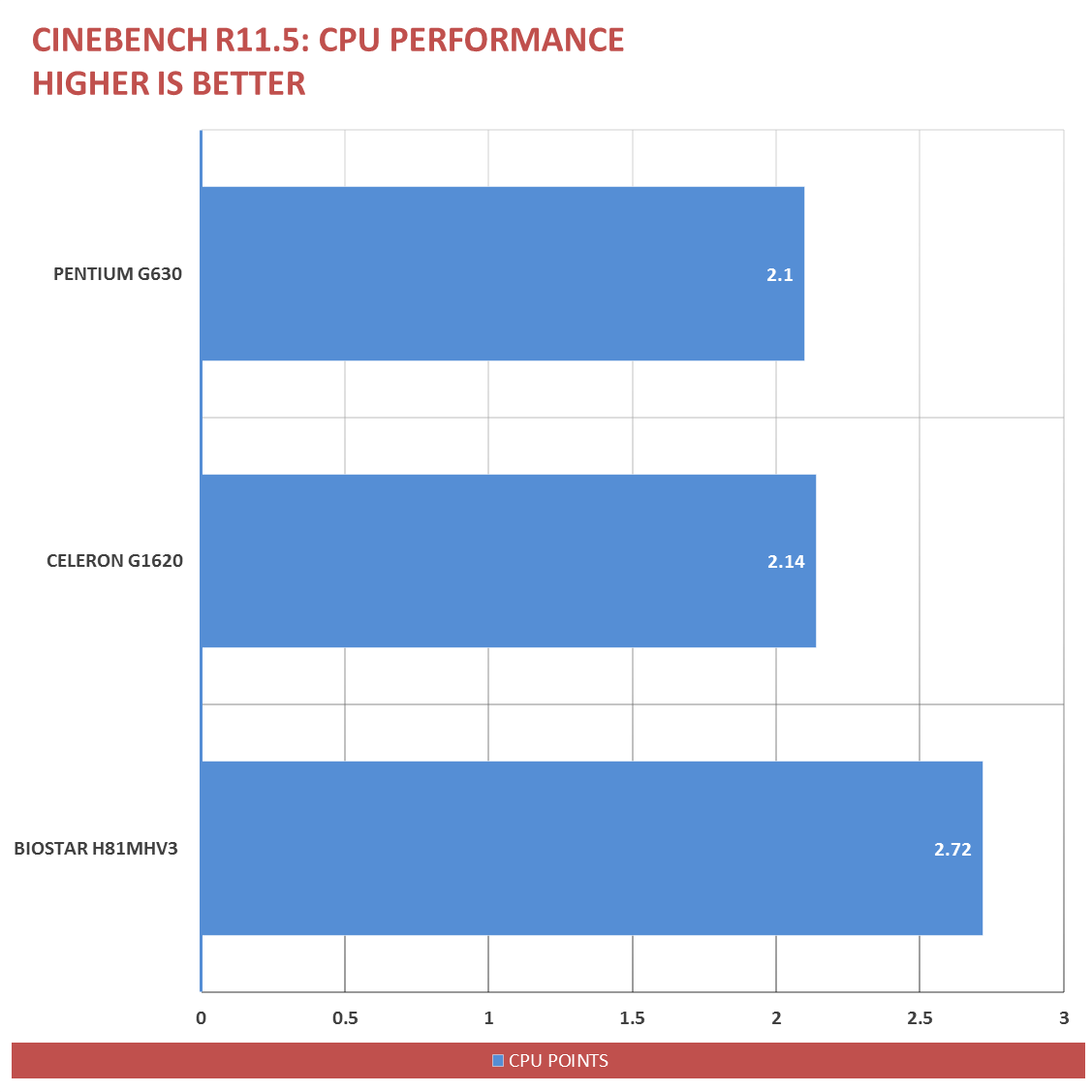 wPrime is a multi-threaded benchmarking application designed to measure the raw computational power of a CPU. It can be configured to run on a custom number of threads to accommodate multi-core CPUs.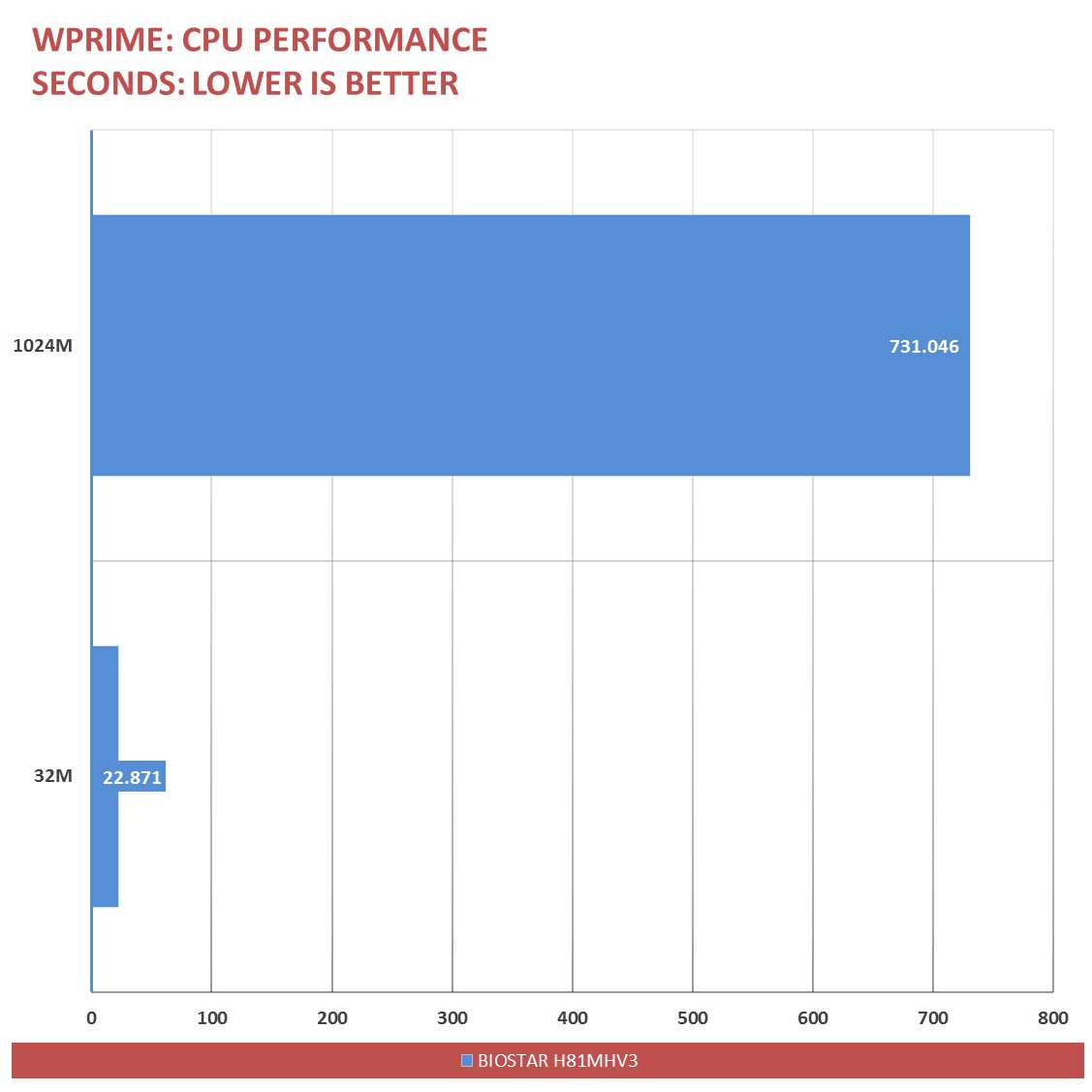 MEMORY PERFORMANCE:
AIDA64 is a streamlined Windows diagnostic and benchmarking software for home users. We'll use the built-in memory benchmark tools of the AIDA64 to determine the memory's performance.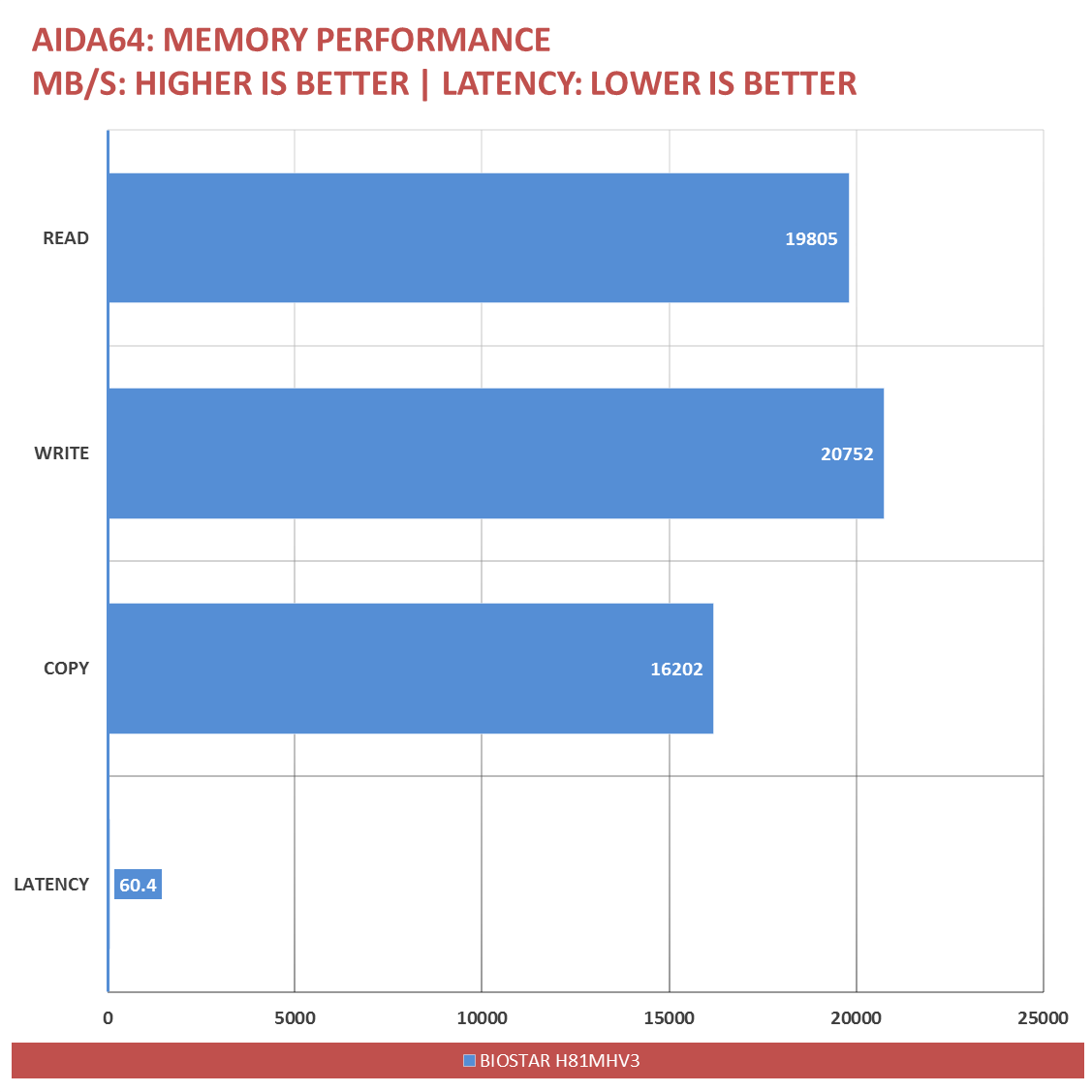 SATAIII STORAGE PERFORMANCE:
Crystal Disk Mark measures the sequential reads/writes speed of your storage devices. It also measures random 512KB, 4KB, 4KB (Queue Depth=32) reads/writes speed.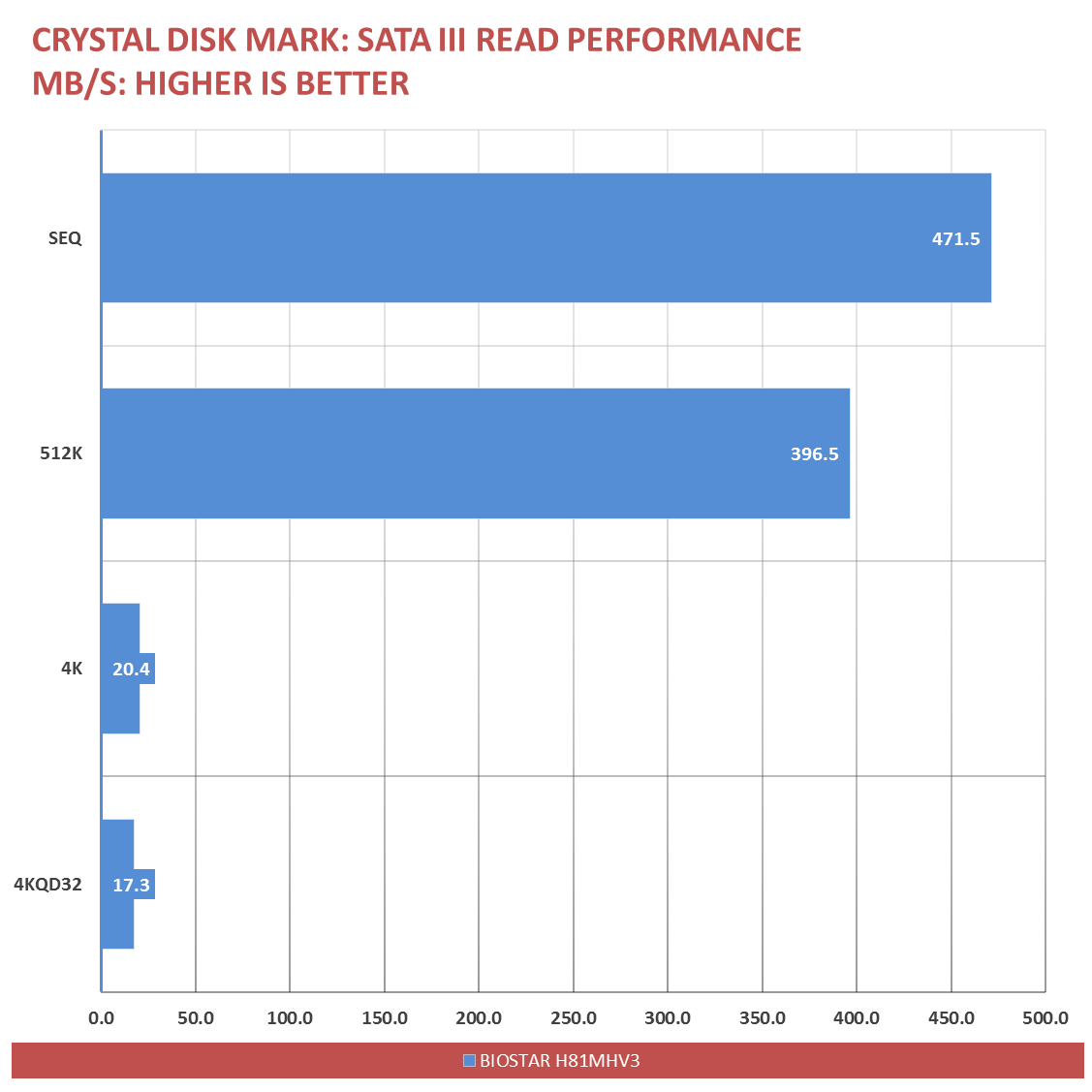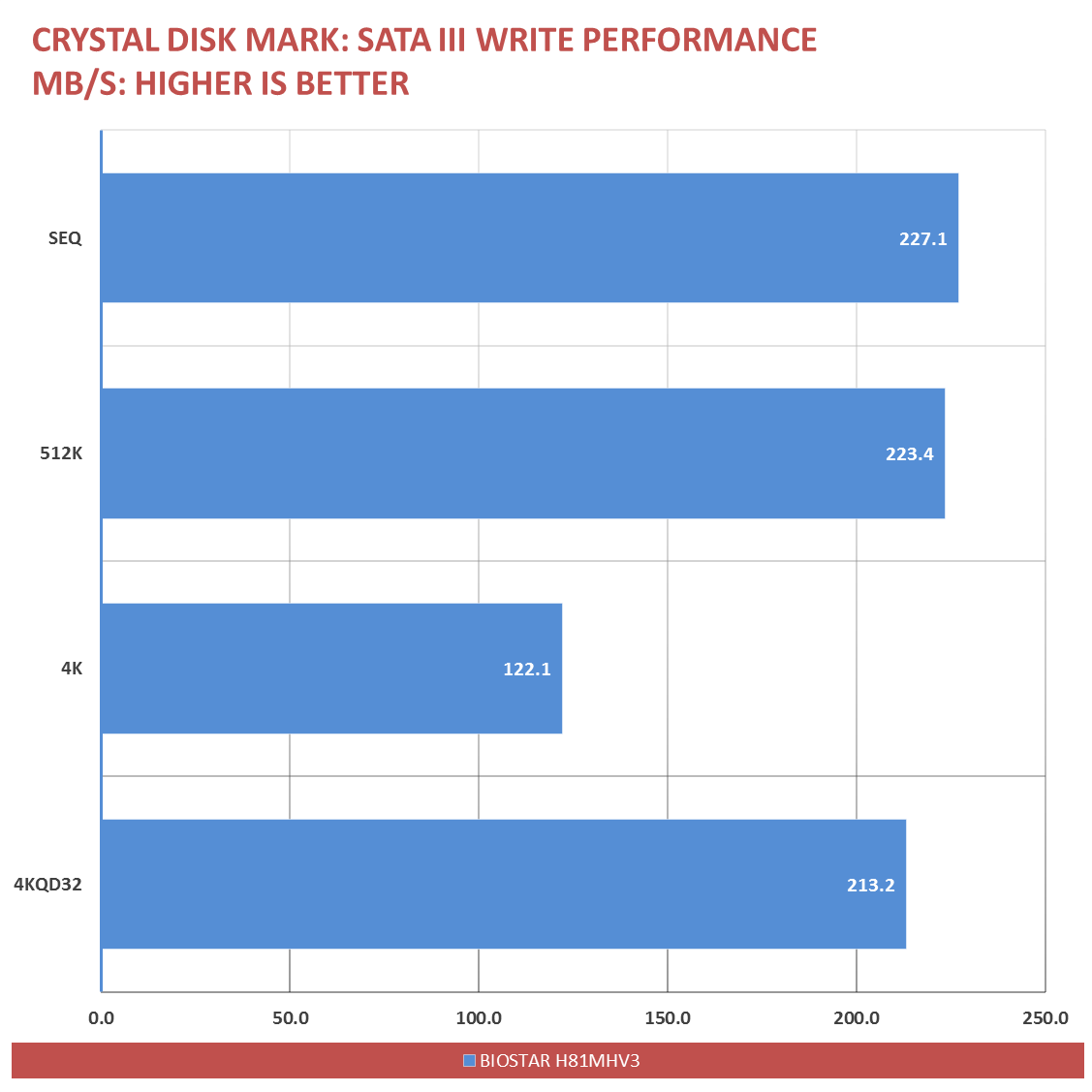 USB 3.0 STORAGE PERFORMANCE:
Crystal Disk Mark measures the sequential reads/writes speed of your storage devices. It also measures random 512KB, 4KB, 4KB (Queue Depth=32) reads/writes speed.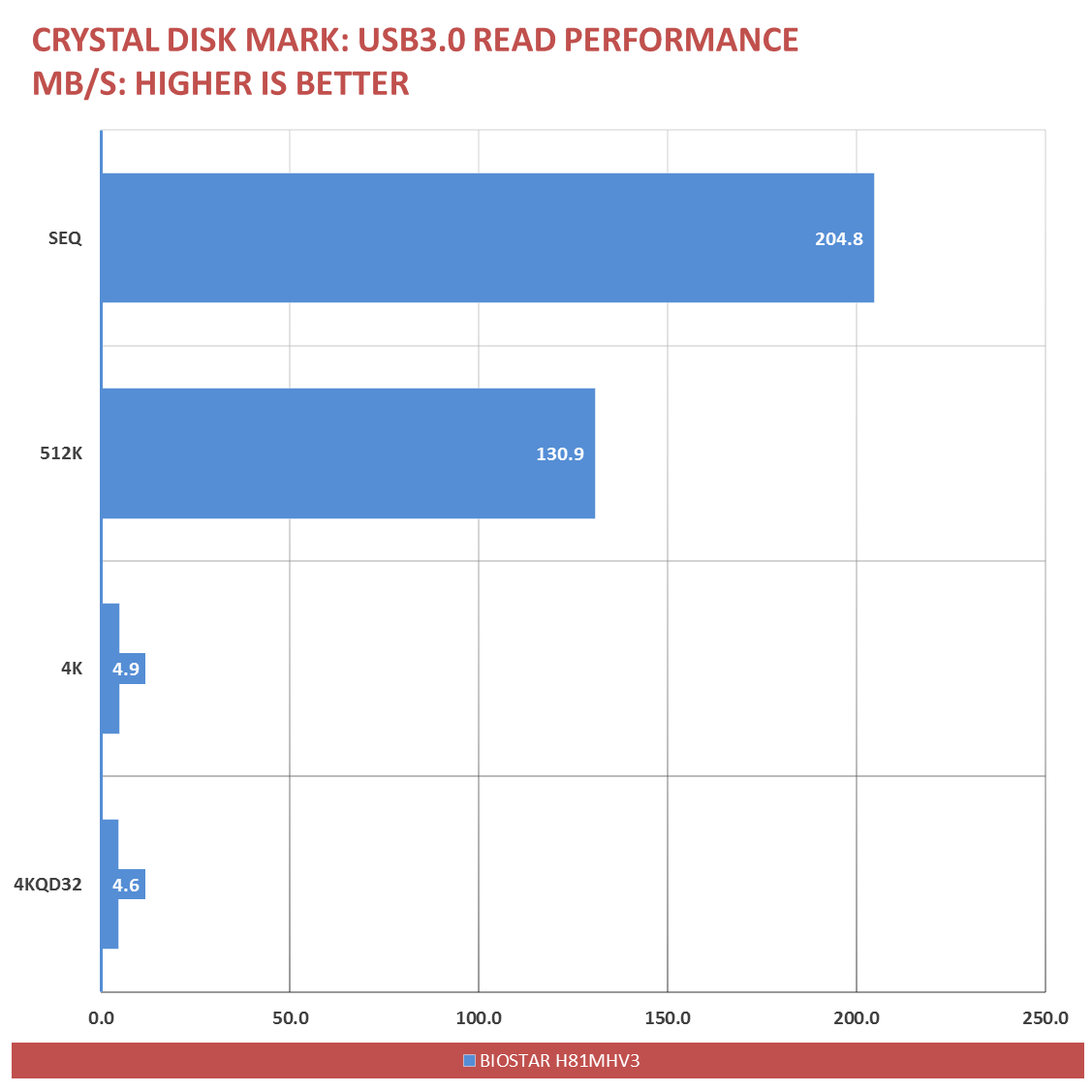 OVERCLOCKING WITH THE PENTIUM-K ANNIVERSARY EDITION:
With Intel blabber-mouthing their partners to discontinue overclocking support for non-K Intel based chipsets, since it is "not" intended for those chipsets to do it anyways according to them which is contradicting to the core reason why the Pentium-K exist. Biostar is among those manufacturers who disabled overclocking with an updated CPU Micro Code via BIOS update. This unit has been shipped with the said BIOS (H81SR521.BSS), but you could actually download the older one with Pentium G3258 overclocking support and have it flashed.
Flashing isn't difficult, but we were surprised to see new/deleted options in the CPU performance menu of the BIOS for overclocking. With the latest BIOS, we cannot tamper with the multiplier, and cannot even set the CPU Ring Bus manually, nor accurately set the CPU's voltage. With the older H81SR123 BIOS, we could play with the multiplier even at x80, set the Ring Bus speed, and have the CPU vCore set manually with precision.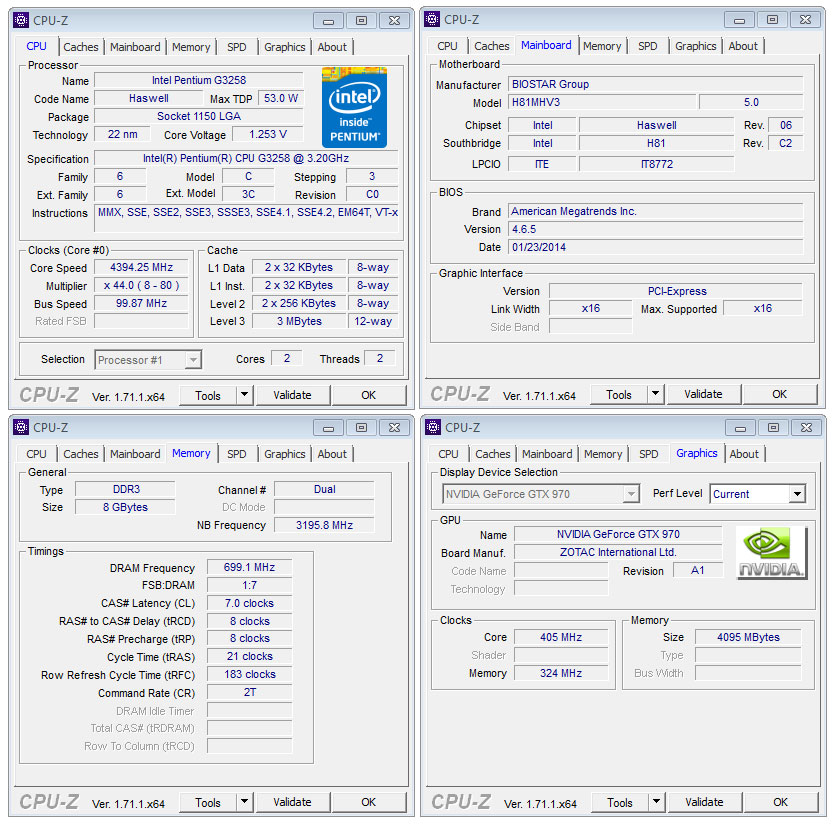 4.5GHz is possible, but 4.4GHz is cool enough not to throttle down the CPU with the stock cooler
We achieved a maximum of 4.5GHz (40.6%) with our Intel Pentium G3258 "Anniversary" edition CPU with minor tweaks using the Biostar board. These includes bumping up the vCore to 1.270v, and setting up the multiplier for all cores at x45. That's some fine overclocking headroom we got there but the processor's stock cooler can't just stand the heat, as the CPU throttles itself down, so we decided to nudge the multiplier down to x44 and had the vCore set to 1.250v for performance & stability  purposes.  Check out the scores we got below.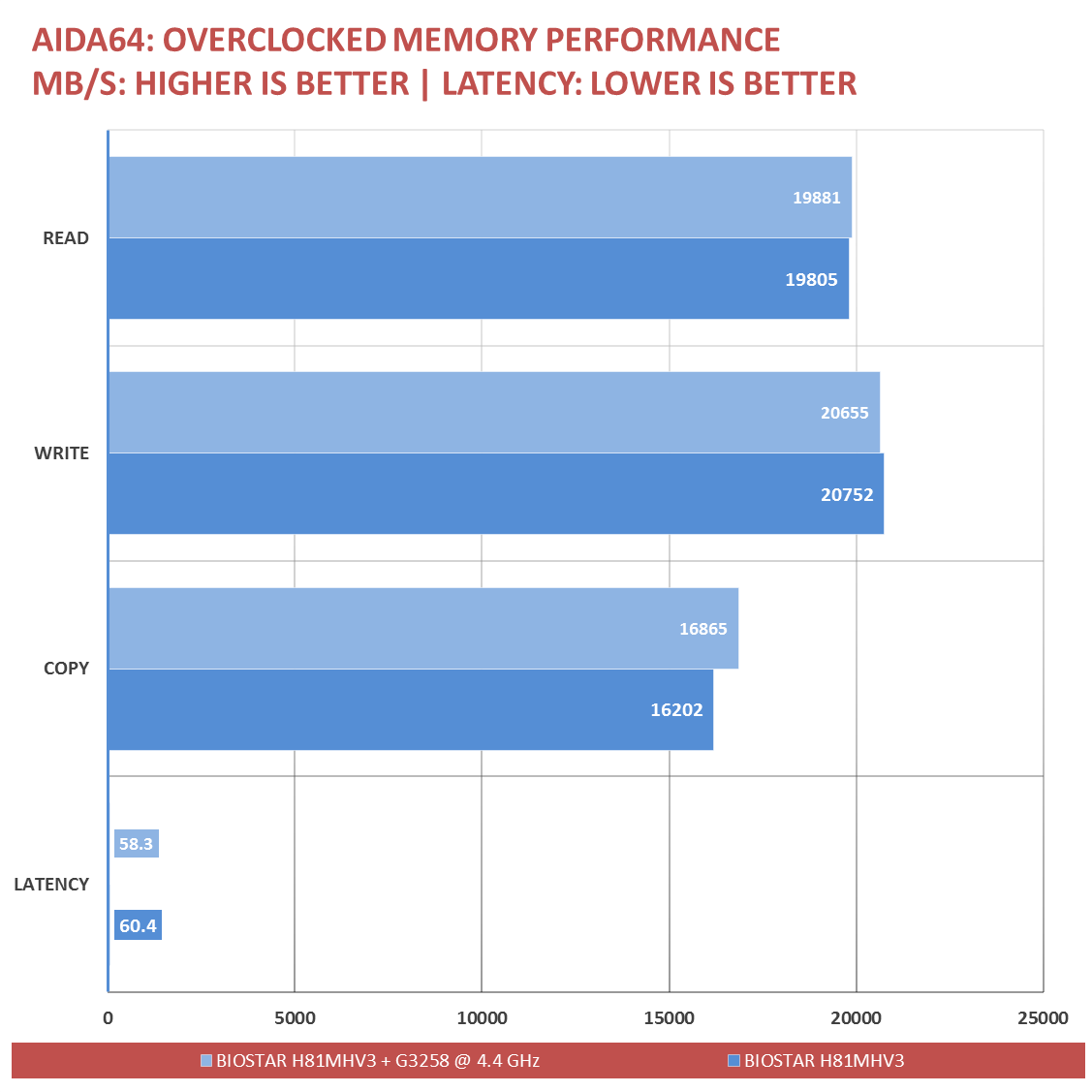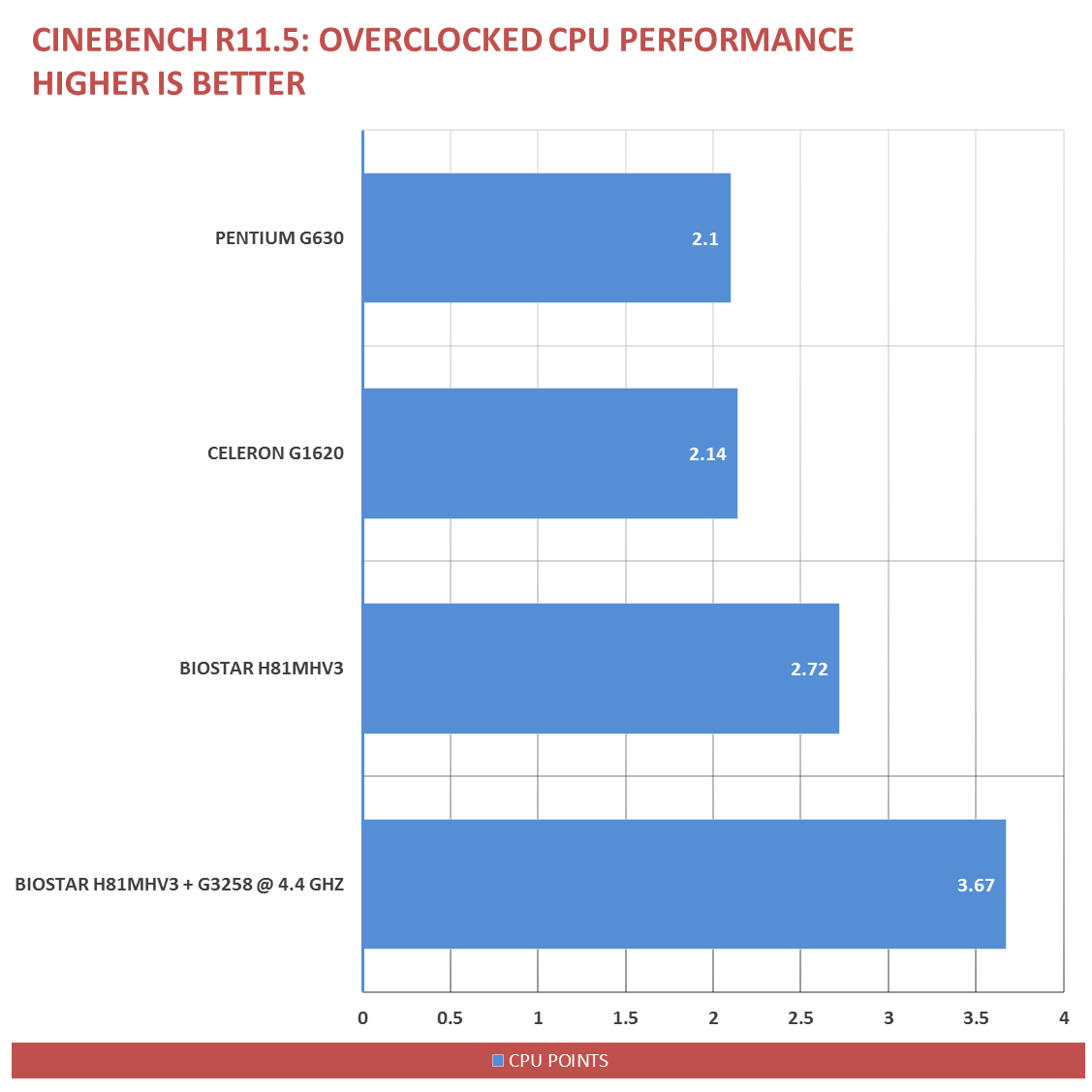 POWER CONSUMPTION:
We check to see how motherboard makers tune their default BIOS settings and see how it impacts power consumption. The system is left to idle for 30 minutes before readings are taken, and load data is taken 30 minutes while AIDA64 Stress Test is running. Power readings are taken for the entire system from the socket.
PERFORMANCE ANALYSIS & CONCLUSION:
The Biostar H81MHV3 is an entry level, budget oriented motherboard but it does not mean that it's no performer. With the Intel Pentium G3258 inside, this motherboard is certainly one of the best budget boards so far, able to sate us when it come to raw computing performance. Storage device performance certainly isn't bad either, as the board supports SATA III and USB 3.0 devices flawlessly.
Aesthetics and build quality weren't bad too, and we're glad too see that Biostar is heading to right direction with the layout of the board's components – Although another fan header, a better front panel audio position, and an internal USB 3.0 header is much appreciated. To make things better, Biostar made the right choice to put the PCI-E x1 slot at the top for maximum usability, even though that may hinder the board from being installed inside an ITX case with a graphics card (latest ITX cases supports boards with 2 extra slots max). Intalling it inside an ITX case is just an extra, since Biostar made sure that you could install any complementary expansion cards of your choice even if you have a graphics card installed.
Going back to the performance, there is no reason not to pair the Biostar H81MHV3 with the Intel Pentium G3258 as both will offer any users, and even gamers a great mileage under 100 USD combined. Overclocking made that point clear, as reaching 4.4 GHz is as easy as 1-2-3 even with a stock cooler.  Performance benefits from overclocking the G3258 is awe inspiring with this H81 board so it's just proper to get a G3258 and overclock it with the board. Just make sure to use the older H81SR123 BIOS and have the H81MHV3 flashed back rigth away.
At 1, 995 Pesos, the H81MHV3 is hard to neglect – In fact, you should put it on your short list of budget friendly components to buy. It is an inspiring motherboard if you're looking to build a small but capable PC. For its great merits and purpose, it deserves a gold.
THE VERDICT
PROS:
GREAT VALUE FOR MONEY
OVERCLOCKS PENTIUM-K LIKE A CHARM
GOOD LAYOUT & BUILD QUALITY
COULD FIT ON SOME ITX CASES
3 YEAR WARRANTY
CONS:
COULD USE AN EXTRA USB 3.0 & FAN HEADER
BARE BUNDLE
Biostar H81MHV3
PERFORMANCE -

8/10

BUILD QUALITY -

8/10

FEATURES -

8/10

AESTHETICS -

7/10

VALUE -

9/10
Summary
At 1, 995 Pesos, the H81MHV3 is hard to neglect – In fact, you should put it on your short list of budget friendly components to buy. It is an inspiring motherboard if you're looking to build a small but capable PC. For its great merits and purpose, it deserves a gold.