The BX100 series from Crucial is one of the well respected budget oriented offering from the said company, which actually started the era of 2015's budget oriented SSDs and placed Crucial on a great position inside the industry. Ultimately, the BX100 is a Multi-Level Cell NAND, and that speaks of the drive's great price to performance ratio like no other. Now that the BX100 is effectively a "legacy product", the BX200 takes its place at Crucial as the company's latest high capacity, yet budget oriented SSD for the masses.
What we're talking about here is the Crucial BX200 480GB variant of the BX200 series. A series with models ranging from 240GB, 480GB, and 960GB capacities. The BX100 is an MLC based SSD, yet the successor uses a more budget friendly, yet lower performance yielding TLC NAND flash. By lower performing, we mean lower Random Read & Write speeds as opposed to a better Sequential Read & Write performance compared to its predecessor. At the time of this writing, the BX200 with 480GB of capacity retails at around 128 USD at Amazon, with a local pricing around 5, 999 Pesos which is not bad if all we consider is the price and of course, the capacity.
FEATURES & SPECIFICATIONS: CLICK HERE
Capacity
240GB
480GB
960GB
Part Number
CT240BX200SSD1
CT480BX200SSD1
CT960BX200SSD1
Box Contents
Crucial BX200 2.5-inch (7mm) SSD, 7mm to 9.5mm spacer, Data migration software key
Sequential Read MB/s

540

Sequential Write MB/s

490

Random Read IOPS

66k

Random Write IOPS

78k
UNBOXING & CLOSER LOOK AT THE CRUCIAL BX200 480GB:
The Crucial BX200 comes in a professional looking packaging with an image of the BX200 on its metallic glory up front. The back of the packaging houses little info about the SSD, with only the listing of the contents printed, as well as some certifications, and the serial / barcode of the product. Nothing is listed about the speed of the SSD, with the exception of the capacity which is this SSD is all about.
The Crucial BX200 came with a small number of accessories – just one in fact, and it's the 7mm to 9.5mm bay bracket should you require the use of it on notebooks that supports 9.5mm drive clearance. The BX200 also comes with a software for easy migration, in the form of Acronis True Image HD's serial key.
Immaculate isn't exactly the best word to describe this drive's petite appearance, but it sure has a nice appeal due to its aluminum housing draped in Crucial blue theme. The drive conforms to the standard 2.5″ form factor, with a 7mm z-height, and mounting holes for vertical and horizontal chassis mounting.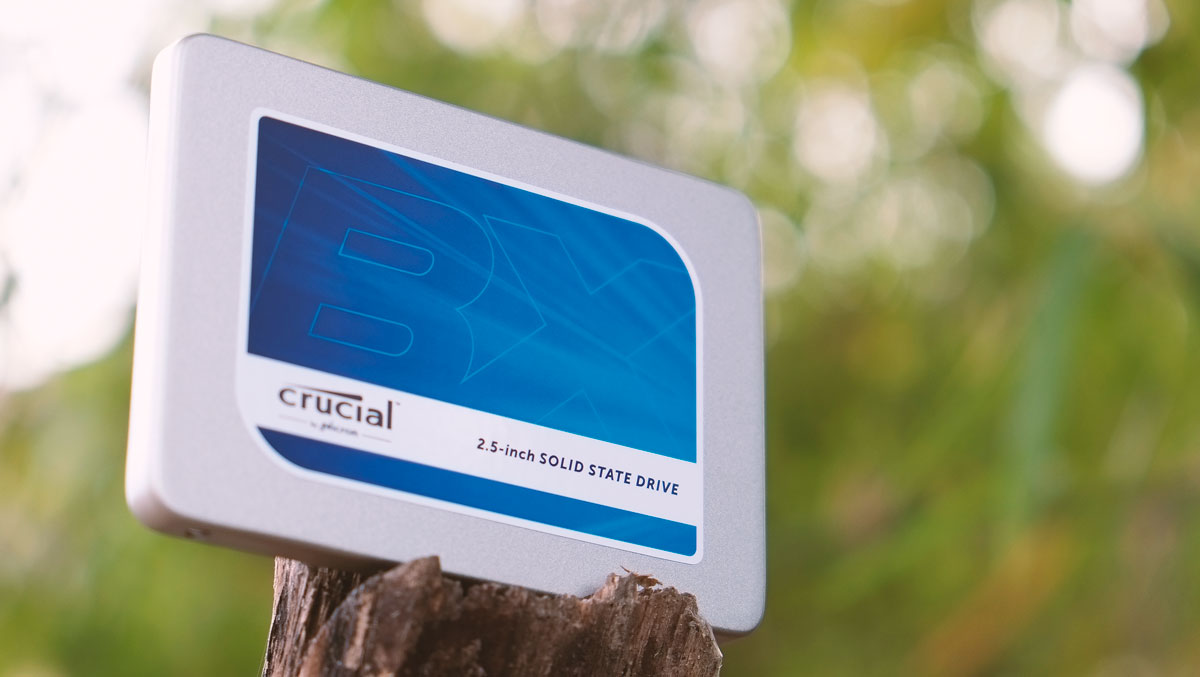 At the back lies the BX100's serials, certifications, and the latches to keep the top shroud in place. The drive has an imprint of F/W: MU01, meaning that it has the first consumer firmware inside. We updated it to MU02 that has been released last 1/12/2016 using the Crucial Storage Executive.
The Crucial BX200 480GB is powered by Silicon Motion SM2256 controller, which is basically the Silicon Motion SM2246EN's successor used by the BX100. Together with Micron's 16nm 128Gbit TLC NAND and a 512MB SLC NAND cache, Crucial is taking budget into account, while still maintaining the SSD's capacity into great consideration. The drive is also rated at 72TB TBW (Total Bytes Written), which should equate to 40GB of writes per day up to 5 Years.
TEST SYSTEM & PROCEDURES:
Storage devices, unlike motherboards, revolves around the use of various storage benchmarking tools to test their performance. It is important to note that we have a pre-made Test OS on a 256 GB Kingston HyperX Fury SSD for consistency purposes. In addition, we are always aiming to fill up the test drive to atleast 50% of its capacity, as well as to negate the FOB (Fresh Out the Box) performance by using the currently in-review storage drive for a week. This is to ensure that we are testing the drive according to its real world usage. All tests should be done with the drive attached to the native ports found on our motherboard to ensure that the system is on its optimal storage testing state.
The Crucial BX200 480GB comes with a 480 Billion Bytes of capacity, roughly translating to 447 GB of available space to play with. The test system's specifications are as follows:
TEST SYSTEM SPECIFICATIONS

CPU
INTEL CORE I5 4670K
MOTHERBOARD
ASUS Z97-PRO WIFI AC
CPU COOLER
COOLER MASTER SEIDON 120XL
MEMORY
CORSAIR VENGEANCE PRO @2133 MHZ 16GB
GRAPHICS CARD
ZOTAC GTX 980 TI AMP! EXTREME 6GB
INT. STORAGE
CRUCIAL BX200 480GB SSD
PSU
COOLER MASTER SILENT PRO HYBRID 1300W
DISPLAY
27″ DELL U2715H WQHD IPS PANEL
OS
MICROSOFT WINDOWS 7 ULTIMATE X64 SP1 (UPDATED)
SOUND CARD
REALTEK ALC1150
EXT. STORAGE
2TB WESTERN DIGITAL MY PASSPORT
SYNTHETIC STORAGE PERFORMANCE:
Crystal Disk Mark is a standard storage benchmarking software and is widely used through the industry. Test size is set to 1000 MB, with 3 Test Runs. Results from the Sequential and 4K Queue Depth 32 benchmarks will be taken for both Read and Write.
AS SSD is another well-regarded synthetic storage benchmarking tool in the industry, offering 4K Queue Depth 64 test, access time results, and even synthetic copy performance tests. Results below are from the Sequential and 4K Queue Depth 64 benchmarks for both Read & Write.
AS SSD's Copy Benchmark should provide us a quick look at how the SSD behaves with certain files (ISO) and applications. Basically, AS SSD will take Two 500 MB files and then copy it to another folder on the same drive, gauging both the storage medium's read and write speed at the same time.
REAL WORLD STORAGE PERFORMANCE:
Our first real world performance test is a courtesy of 24 GB uncompressed files consisting of images, PSDs, and other file formats within a single folder. To gauge a storage drive's performance, we will copy them inside the current in-review drive using TeraCopy and will take the results from the said software's log. Results are in seconds.
Our next benchmark is another file copy test, but this time, we are copying 12 GB of compressed files. Similar to the uncompressed file copy benchmark, we will copy the compressed files inside the current in-review drive with TeraCopy and will take the results from the said software's log. Results are in seconds and as always, the lower time it took, the better.
Now Image Editing would be most likely suitable for CPU and RAM performance gauging, but truth is, with SSDs becoming a standard cache drive for professionals adept at Photoshop and other related softwares, there is a benefit in using them instead of our clunky mechanical drives. Our test consist of resizing 8GB worth of images, selecting the test drive as a cache as well as the dump where the resized images will be stored. The lower time it took the system to perform the task, the better.
PERFORMANCE ANALYSIS & CONCLUSION:
Alright, let us start off with the performance of the drive, and try to understand this SSD's strong points and weakness. First and foremost, if you are looking for a drive that could be used to transfer or write 4GB of files and above on a daily basis, then you should consider looking for other options. This SSD isn't actually meant to be a workhorse for file transfer services or should I say, a storage for your daily "science" activities especially with its 512MB cache which equates to a slow 4GB and above file size transfer performance. It's so slow, it even matches mechanical drives on this department as seen from the graphs below and on our real world benchmarks.
Moving on, the drive still works just as fine as any other SSDs on other departments, especially when it hits the advertised read speeds and just digits away from the advertised write speeds. That said, you could enjoy fast application start up time, fast boot up time, and pretty much anything you want that wont exceed the BX200's write buffer limit. Had the buffer limit been extended to lets say 1GB, then the shabby 4GB+ transfer size write performance could be mitigated for a proper result. This had us thinking that the BX200 is primarily for application storage, rather than a mass file transfer drive where application start-up is the utmost importance for an individual.
Should you buy this? A resounding yes, if you want a value oriented drive that is purely for application storage or gaming. No, if you want a balanced performance across all sectors where SLC NAND, and MLC NAND are still the kings and queens of the market. But then again, with a 5, 999 Pesos current market price, this drive is hard not to look at.
Crucial BX200 480GB
PERFORMANCE -

8/10

BUILD QUALITY -

8/10

FEATURES -

8/10

AESTHETICS -

8/10

VALUE -

9/10
Summary
Should you buy this? A resounding yes, if you want a value oriented drive that is purely for application storage or gaming. No, if you want a balanced performance across all sectors where SLC NAND, and MLC NAND are still the kings and queens of the market. But then again, with a 5, 999 Pesos current market price, this drive is hard not to look at.