ITX cases are one of the most popular topics in recent PC gaming history. It's a fact, as PC components continues to shrink in size while performance stays the same or even better. We have seen the NCASE M1 before achieving this feat but the case that managed to appear on our radar is on a whole different league. The A4-SFX is the brainchild of Daniel Hansen, and with Lian Li's help, it became a reality.
While the M1 features 240 radiator and water cooling loop support, the A4-SFX prides itself on form factor alone with a dual chamber separating the PCI-E area from the motherboard tray. It does this by simply utilizing a PCI-E riser with an expansion slot that is able to accommodate dual slot cards such as the GTX 780 on its full NVTTM stature.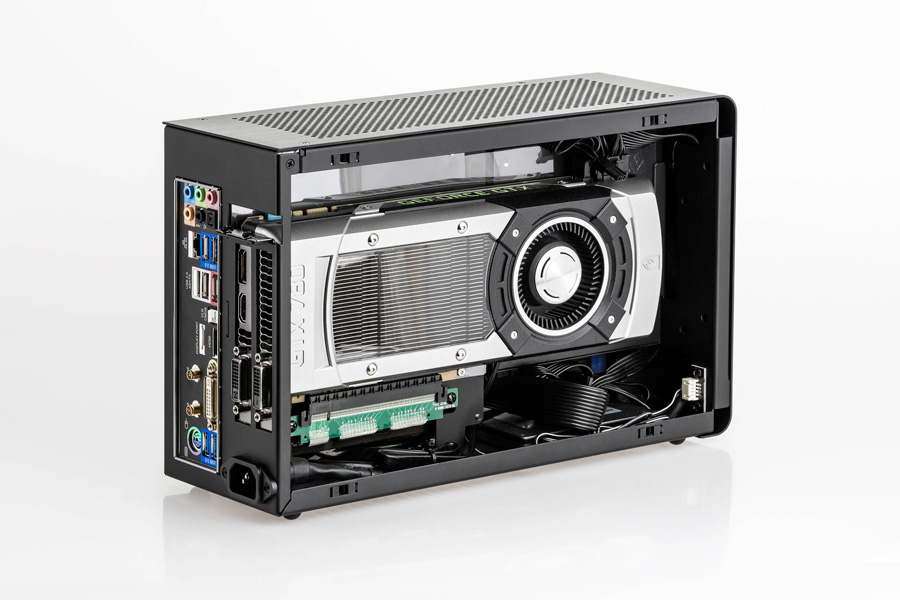 "The A4-SFX is the first case developed by DAN-Cases and forged by Lian Li. It is the smallest ITX gaming case in the world, with the ability to mount full-size graphics cards, an internal power supply, mini-ITX motherboards and multiple 2,5″ drives. A completely radical layout of the standard components make all of this magic possible."
The case supports ITX motherboards, with a good amount of space for the board and cooler to breathe. Supporting SFX and SFX-L form factor PSUs, the A4-SFX should have plenty of power to supply your needs (SX500-LG on the picture below). Even Silverstone's 600W SFX should be plenty enough especially for a case with a 7.25  liter capacity to boot.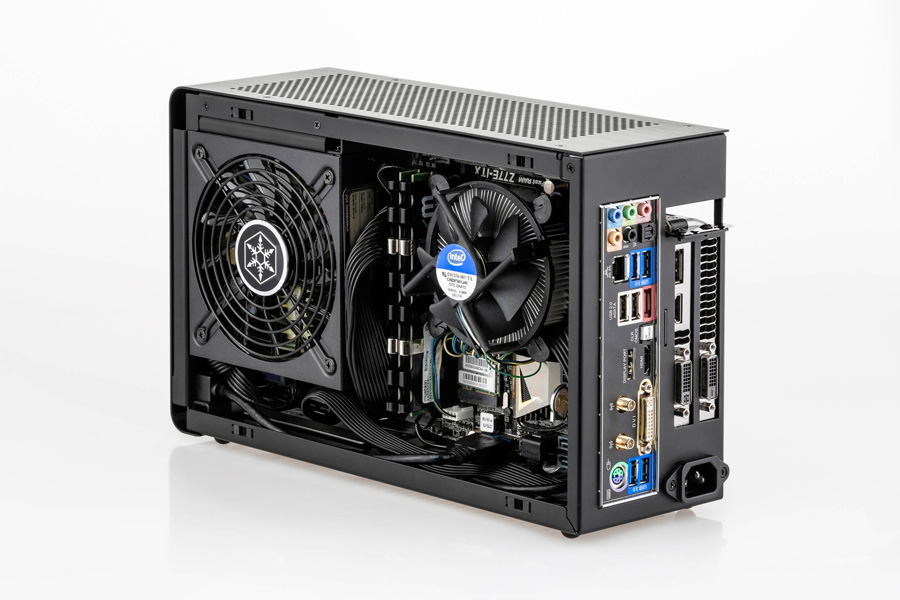 The case is made out of aluminum (1.5mm thick) – the side panels, front bezel, and even the frame are aluminum as expected from a Lian Li made chassis. The PCI-E riser is no slouch too, as it is 3M's Twin Axial 300mm length riser with
PCIe Gen3+ support. So far, there are 2 color options to choose from –  Anodized black or silver exterior, with a matte black painted interior.
Daniel Hansen, the father and engineer behind the A4-SFX said that it will be available at the end of 2015. Pricing, and availability are yet to be divulged. For more information, check out Dan Cases.