The LIVA series took off 2 years ago, with the LIVA Mini PC and LIVA X spear heading the Mini PC models of ECS into the consumer market. We've taken a look into it, and while it is not perfect – ECS is on the right path by introducing a Mini PC that could pretty much do any simple task without requiring you to spend a good amount of cash on a full sized PC. Fast forward to 2017, and we now have the latest in ECS' line-up of Mini PCs. That of course, is the LIVA Z Mini PC.
The LIVA Z Mini PC is just one of the many models that ECS launched this year. They've got the higher end LIVA Z Plus which caters to a more power hungry crowd with the Intel Kaby Lake CPUs backing it up. There's also the LIVA ZE which is a taller LIVA unit with support for an internal 2.5″ storage drive. The Mini PC we got here is more in line with the LIVA ZE model, without the extra drive bay but featuring the same Apollo Lake CPUs inside per variant.
THE INTEL APOLLO LAKE 14NM FAMILY:
While the LIVA Z family is fairly new, the Apollo Lake family has seen light by Q3 of 2016. It's not that old however, utilizing Intel's 14nm manufacturing process with loads of multimedia codec support built right in. This made the architecture a good choice for low power HTPCs. The Apollo Lake family of SoC CPU also features Intel's 9th generation HD Graphics architecture.
Codename
Bay Trail-M/D
Braswell
Apollo Lake
CPU Microarchitecture
Silvermont
Airmont
Goldmont
Core Count

Up to 4

Graphics Architecture
Gen 7
Gen8
Gen9
EU Count
unknown
16/12
12/18
Multimedia Codecs
MPEG-2
H.264
VC-1
WMV9
MPEG-2
H.264
VC-1
WMV9
HEVC (hybrid)
VP9 (hybrid)
H.264
VC-1
WMV9
HEVC
VP9
Process Technology
22 nm
14 nm
14 nm
Launch
Q1 2014
Q1 2015
Q3 2016
The LIVA Z is available in many configurations, with ours bearing the Intel Celeron N3350 SoC. It features 2 cores and 2 threads, has a maximum frequency of 2.4 GHz, and features the 9th generation Intel HD Graphics 500. It's the lowest end LIVA Z configuration, but should be sufficient enough for multimedia needs.
Intel Celeron N3350

# of Cores

2

# of Threads

2

Processor Base Frequency

1.10 GHz
Burst Frequency
2.40 GHz

Cache

2 MB L2

TDP

6 W

Scenario Design Power (SDP)

4 W
ECS LIVA Z FEATURES & SPECIFICATIONS:
The LIVA Z we got features the Intel Celeron N3350, with a 4 GB of DDR4 SO-DIMM, and a 32GB of storage capacity via an embedded SSD. It sure doesn't look like a powerful combination, but ECS make up for its lack of power with an arsenal of connectivity options. Visit ECS for more details.
| | |
| --- | --- |
| Platform | Intel® Apollo Lake Pentium® N4200 SOC, Intel® Apollo Lake Celeron® N3450 SOC, Intel® Apollo Lake Celeron® N3350 SOC |
| Memory | 2 x SO-DIMM Memory – DDRR3L Up to 8GB |
| Expansion Slot | 1 x M.2 for SSD |
| Storage | Support 1 x eMMC 32GB/64GB |
| Audio | 1 x Combo Jack, 1 x Digitial Mic |
| LAN | 2 x Gigabit LAN |
| USB | 3 x USB3.0 Ports, 1 x USB3.0 Type-C port |
| Video Output | 1 x HDMI Port (HDMI 1.4), 1 x mDP Port |
| Wireless | Intel® WiFi 802.11ac & Bluetooth 4.0 |
| PCB Size | 115 x 111 mm |
| Dimension | 117 x 128 x 51 mm |
| VESA | Supports 75mm / 100mm |
| Adapter | Input: AC 100-240V,Output: DC 19V / 3.42A |
| OS Support | Ubuntu 16.04 LTS, Windows 10 |
| Accessory | 1 x Power adapter, 1 x VESA Bracket, 6 x VESA Mount Screws, Quick Guide & Driver DVD |
The ECS LIVA Z also comes with a bundled Windows 10 Home operating system. Not bad for 199 USD!
PACKAGING & BUNDLED ACCESSORIES:
The LIVA Z comes in hot via a 2 part packaging, consisting of a soft color box, and a harder 2 piece carton box. It is a rather classy packaging with underlying information set aside to feature the LIVA Z in all of its glory.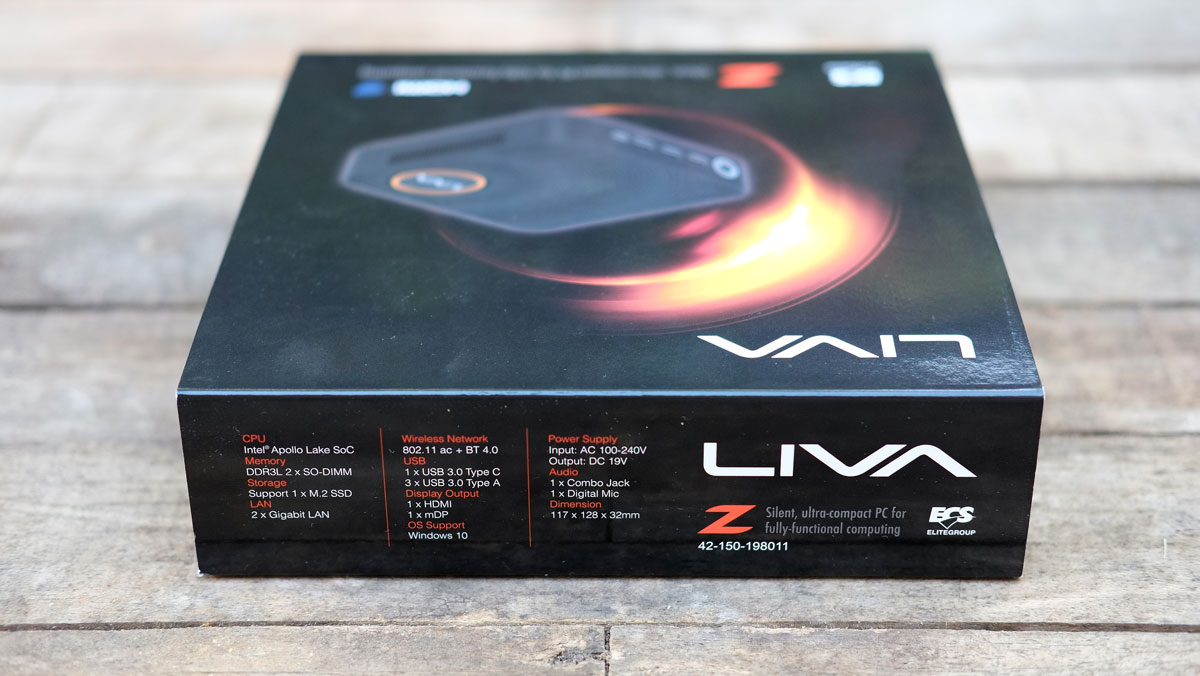 Once opened, you'll get to see the VESA mounting kit, the power cord, and the power adapter. This comes with a manual and a driver disc too, but our unit is an early sample so we never had the chance to check them out. Since the LIVA Z doesn't feature any optical drive, we've love to see a USB drive included for the software and drivers. It ain't expensive, ECS.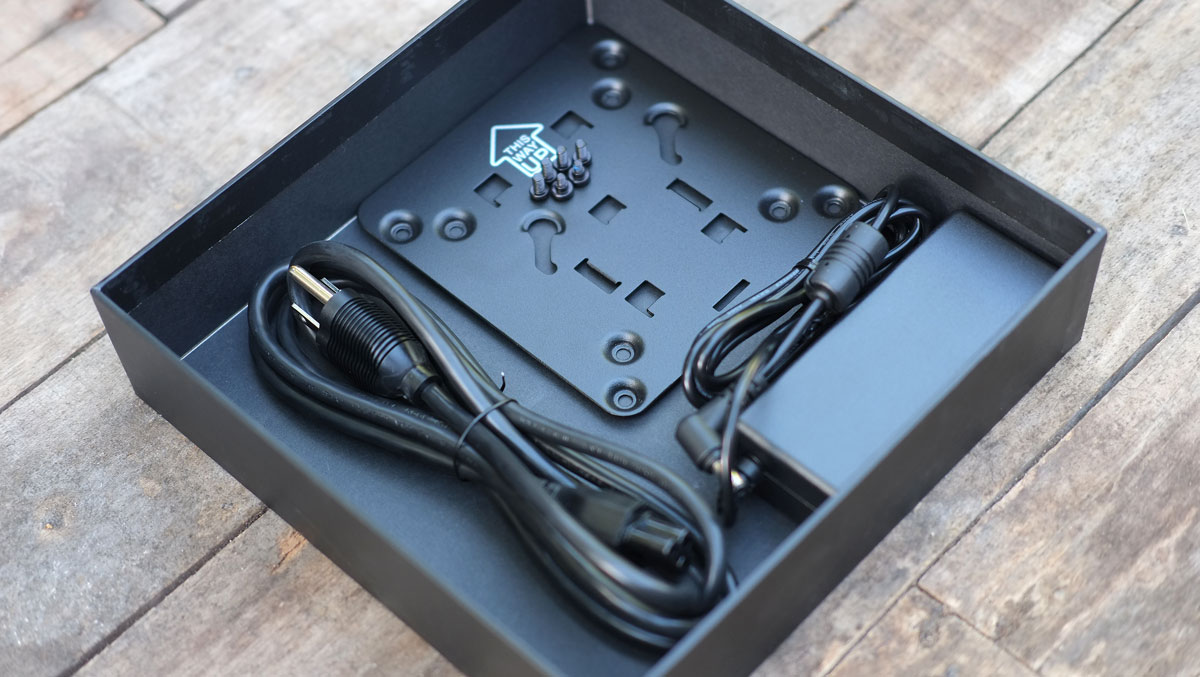 THE ECS LIVA Z:
The ECS LIVA Z is a compact and classy looking HTPC. It's light enough at 362 grams, with a dimension of 5 x 4.6 inches, and a height of 1.4 inches. It is curvy, and has an offset circular pattern with the LIVA insignia at its center. Ventilation holes are located on each side to aid the fanless cooling solution.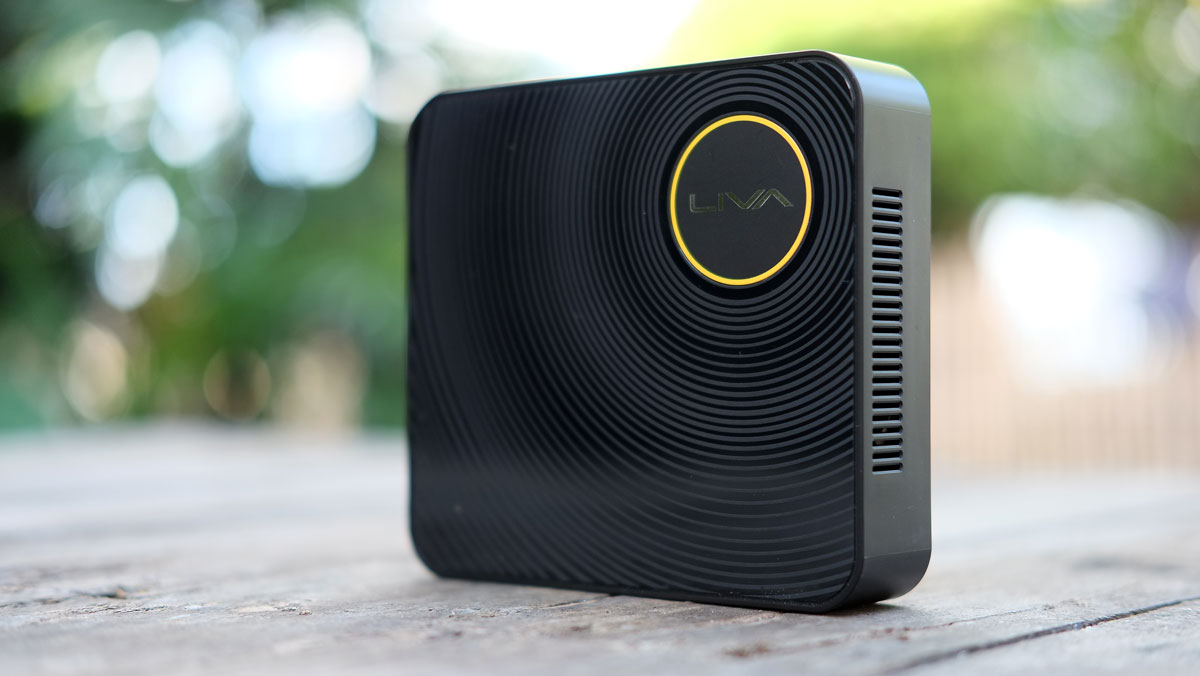 The back features a circular rubber footing that should put the LIVA Z in a full stop. The VESA mount for both the 75mm and 100mm is also attached on this side.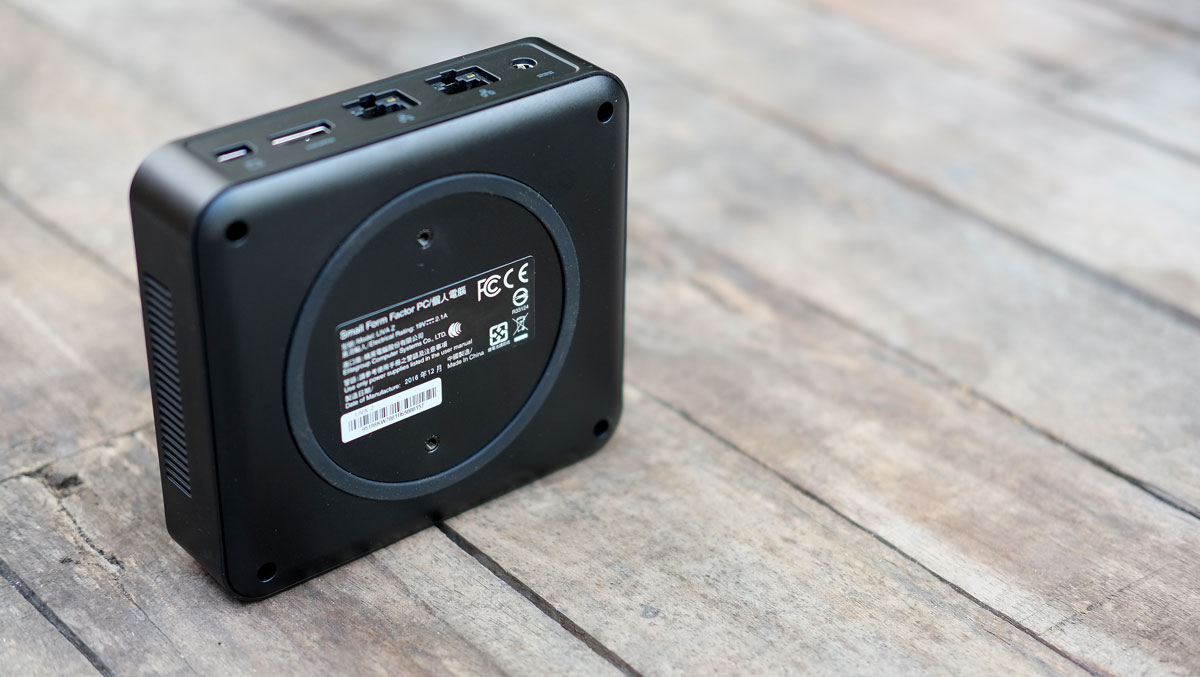 The front features a huge LED lit power button, with 3x USB 3.0 Type-A ports, a single USB 3.0 Type-C port, and a combo headset jack. There's also a microphone just above the headset port which is a plus.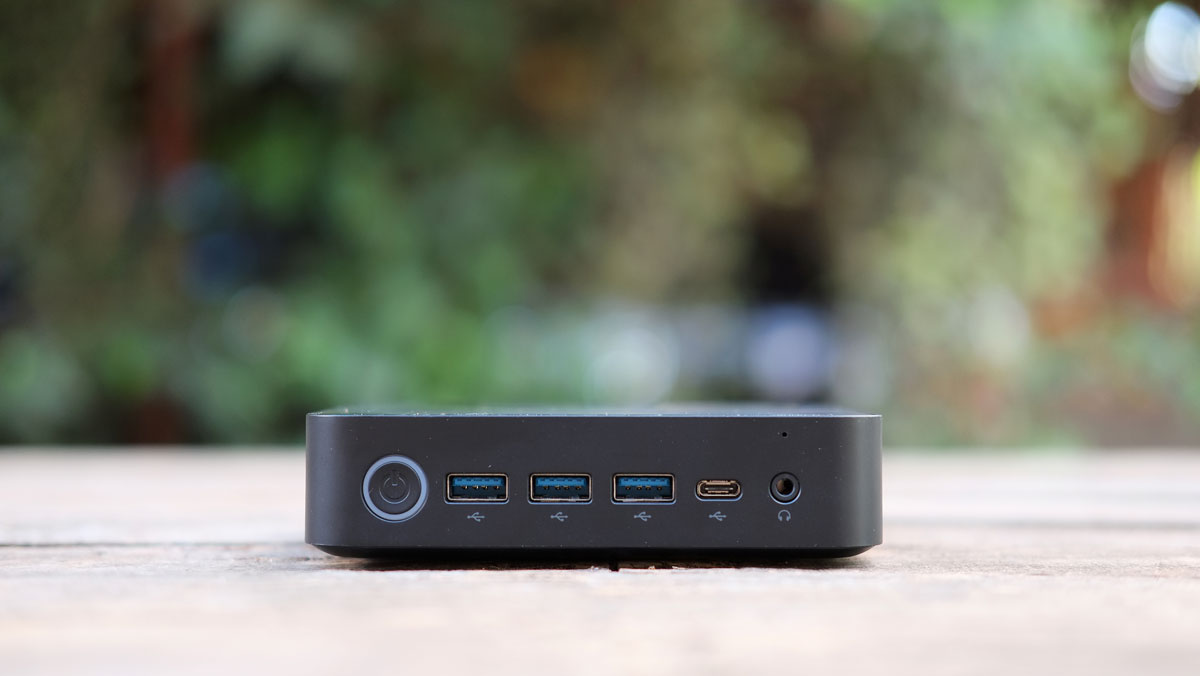 The back features your AC power port, 2x Gigabit LAN ports, a full sized HDMI 1.4 port, and a MiniDP. HDMI 1.4 is not enough to push 60 Hz on a 4K UHD panel so the inclusion of a DisplayPort is acceptable.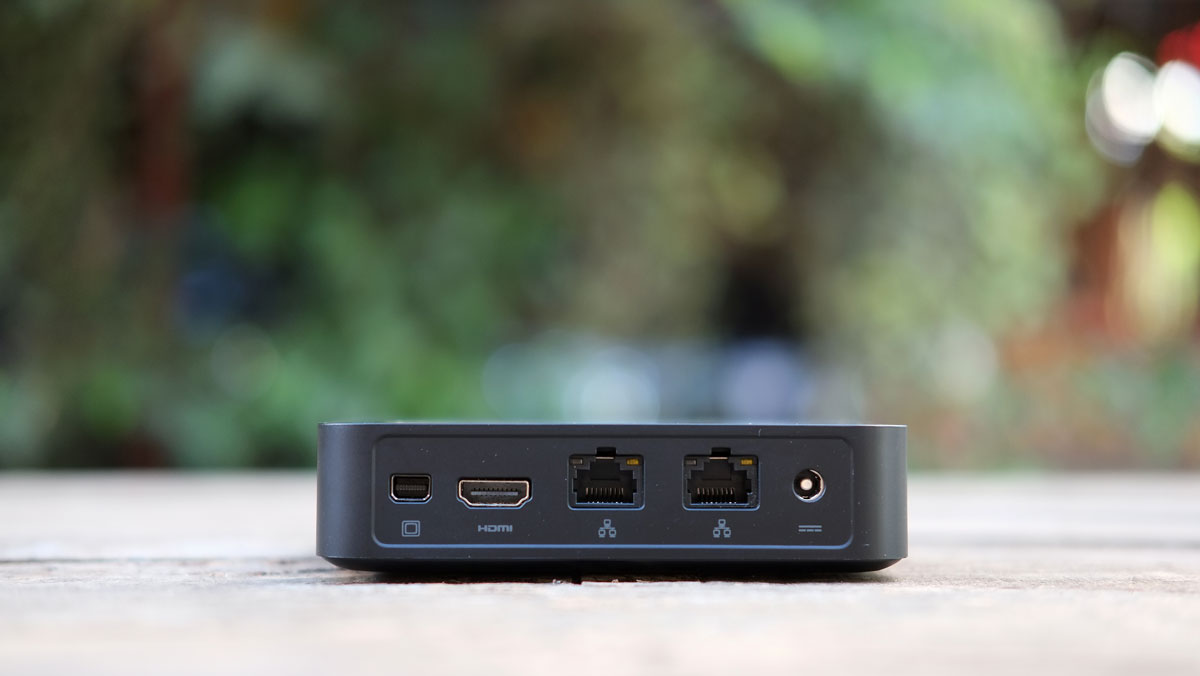 Maintenance and upgrades are easy enough with the LIVA Z, although you're limited to an extra M.2 slot, and SO-DIMM upgrade options. The CMOS battery is also situated here, so you could easily replace it if it happens to dry out. The 32GB SSD is courtesy of SanDisk, and the Memory is a 4GB DDR3 Kingston SO-DIMM.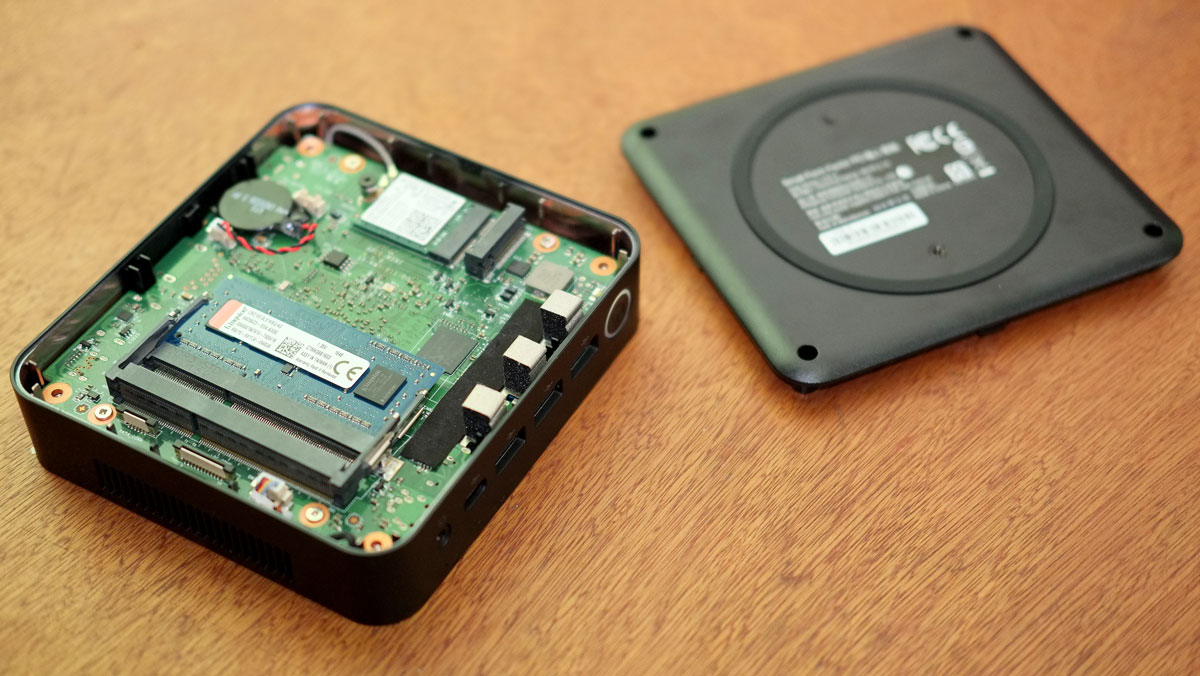 The power brick is rated at 19V, able to output 40/65W of power. That's to much for the Apollo Lake SoC, but there are connectivity options that might require that much amount of power. It is made by FSP by the way, so there's your extra peace of mind.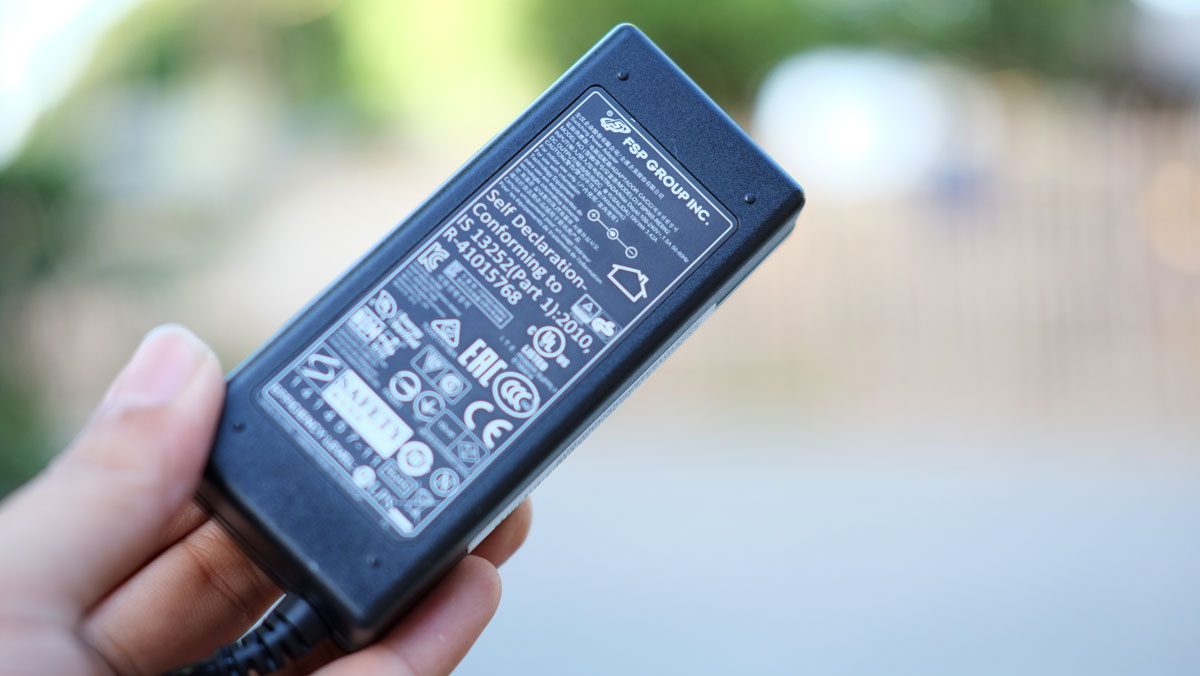 TEST SETUP & METHODOLOGY:
The system performance will be evaluated by various benchmarking tools, and applications – with the CPU, memory, storage, video, and audio performance being the focus of the tests. We are testing this Mini PC with the high performance settings enabled at the OS, with the default UEFI configuration. No extra softwares or applications are installed and running during the benchmarking process.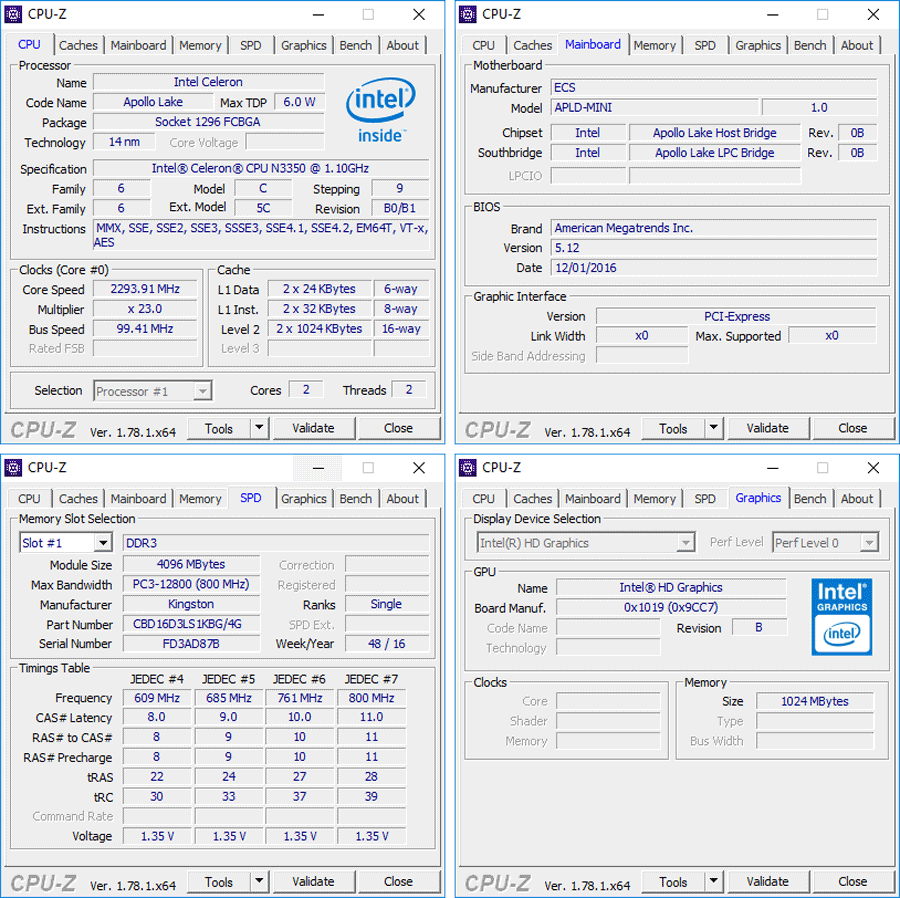 TEMPERATURE NOISE & POWER:
The AIDA64 Extreme Edition System Stability Test is used to stress our system. We selected all the the stability test's options including the storage drives. AIDA64 has been chosen due to its inclusion of AVX, AVX2 and FMA – 3 important instructions that will help us push our CPU to its limits.
The ambient temperature is 27°C (±1°C), and the ambient sound level is 34dBA (±1dBA). The temperature of the system is logged with HWiNFO64, and is cross referenced with AIDA64. The sound level is measured by a sound level meter with a foot of distance from the cooler.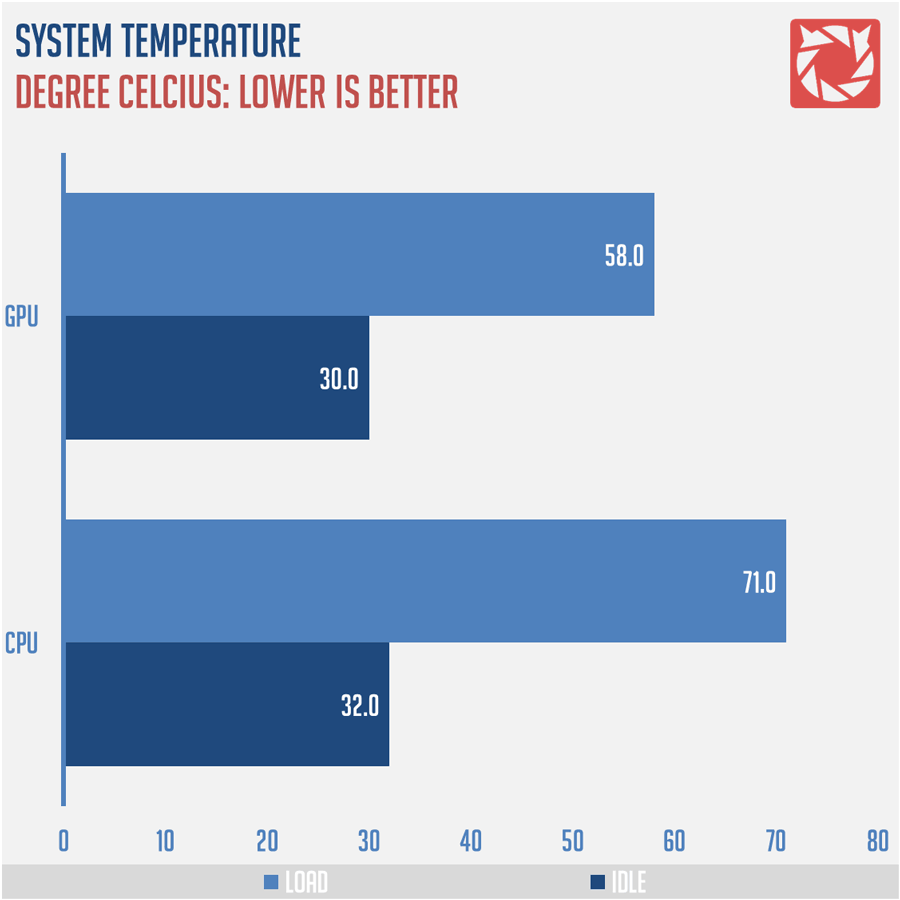 Power figures are excellent for this HTPC – able to output just a little less than 10W at full load. Temperature levels aren't bad either for a fanless HTPC design. This being an HTPC with a power efficient SoC requires a simple cooling solution – thus it is even more silent than a notebook.
CPU & MEMORY PERFORMANCE:
Super PI is a single-threaded benchmark that calculates pi to a specific number of digits. The 32M calculation is used to to gauge the system performance.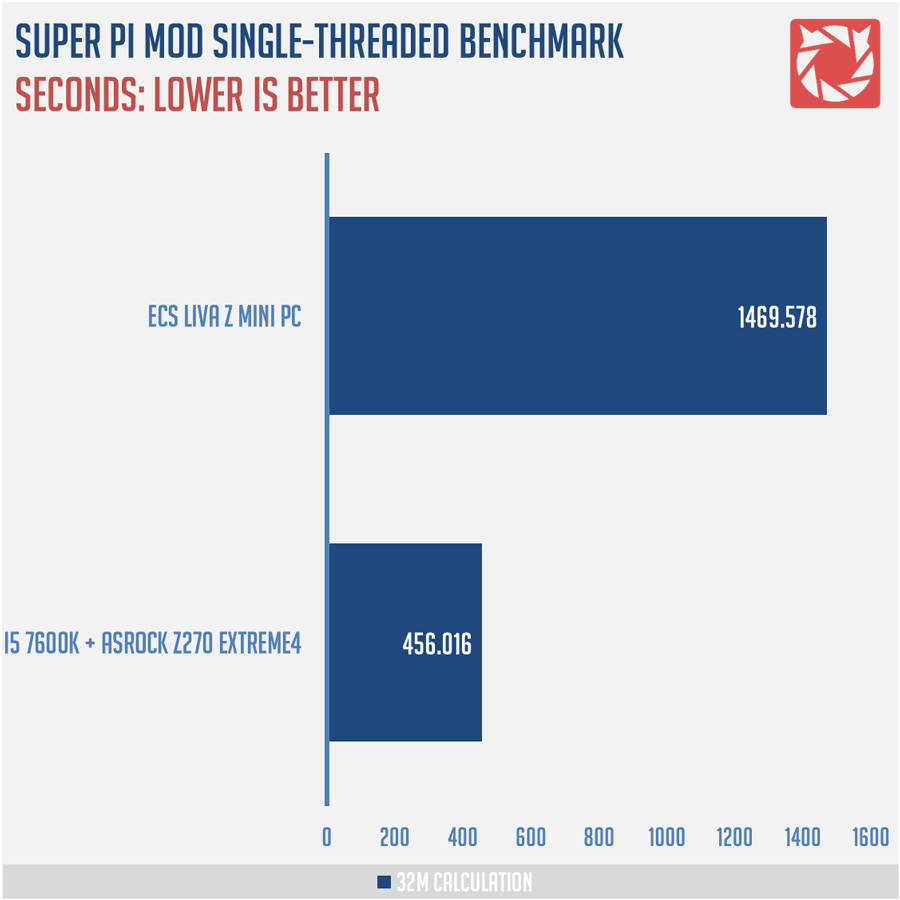 wPrime is a multi-threaded benchmarking application designed to measure the raw computational power of a CPU. The 32M and 1024M calculations are used to to gauge the system performance.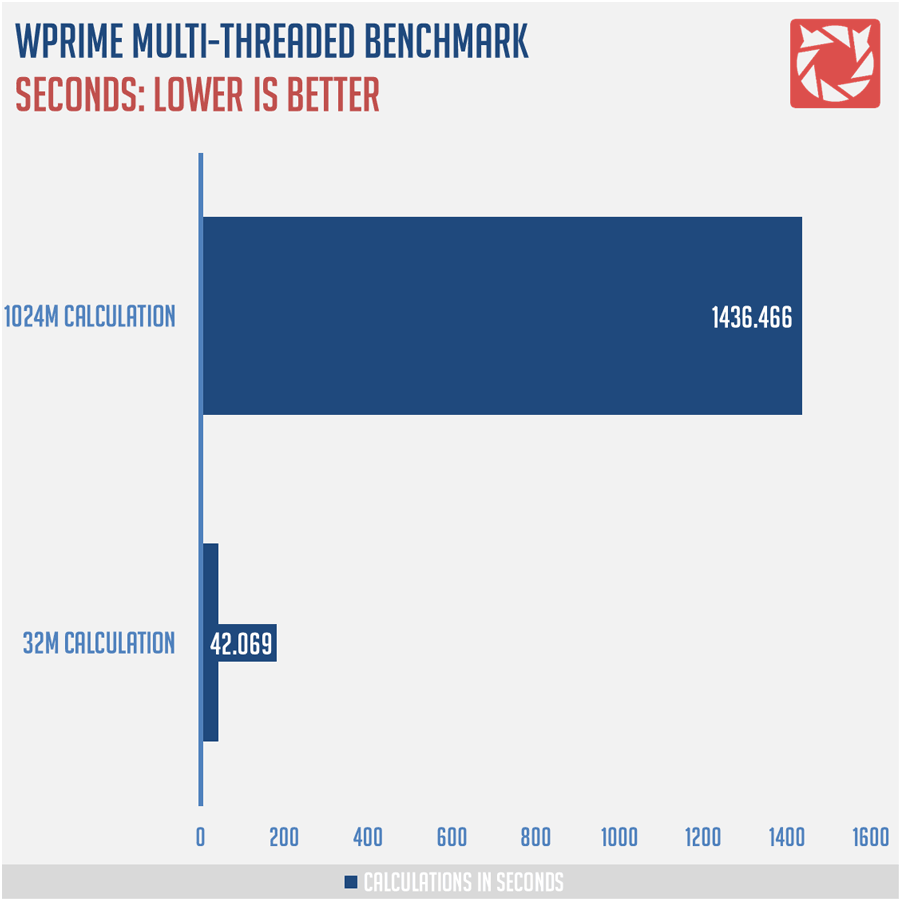 AIDA64 Extreme Edition is a streamlined Windows diagnostic and benchmarking software. We are going to use the built-in memory benchmark tool to gauge the system performance.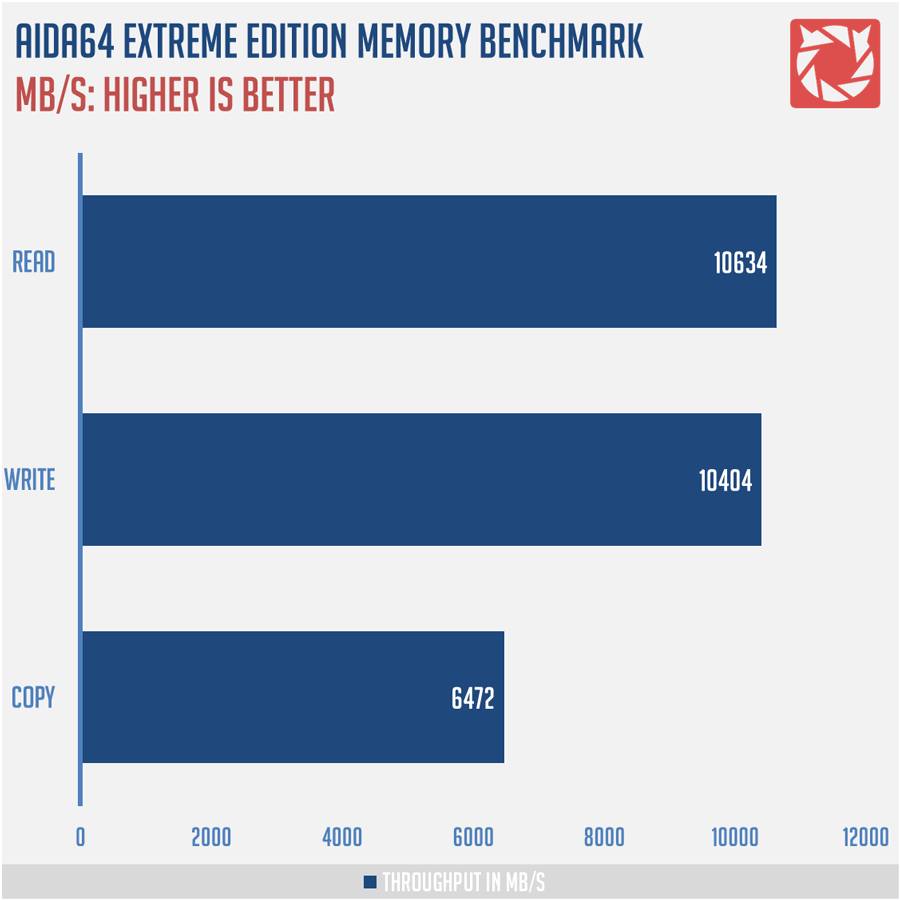 Computational performance is as expected – a tad slower than what most mid-range systems could output nowadays. With a single channel 4GB DDR3 slapped on it, together with a low power SoC, don't expect miracles when it comes to raw processing power.
APPLICATION PERFORMANCE:
GIMP is a free and open-source raster graphics editor used for image retouching, drawing, editing, and conversion. A 7 MB worth of images will be processed, and converted to gauge the system performance.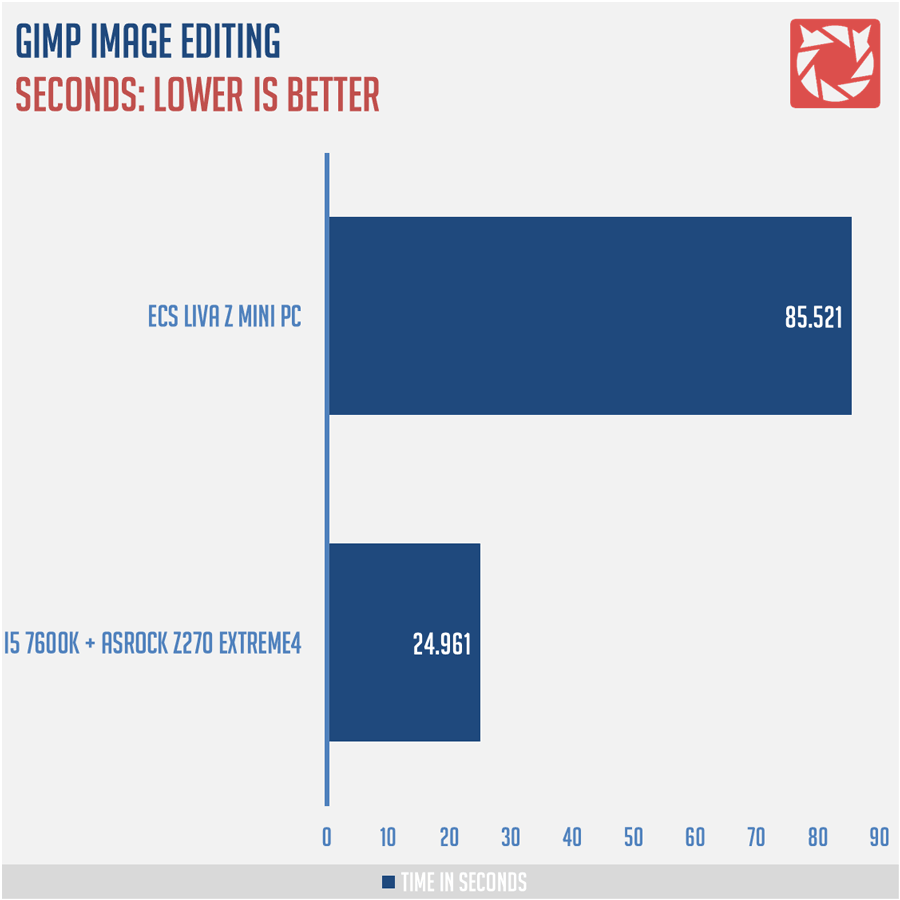 HandBrake is a free video encoding tool that supports a wide variety of media codecs. A 150MB worth MP4 video will be converted using the H.264 codec to gauge the system performance.
WinRAR is a file archive utility for Windows. It can create, view archives in RAR or ZIP file formats, and unpack numerous archive file formats. We are going to use the software's built in benchmark tool to gauge the system performance.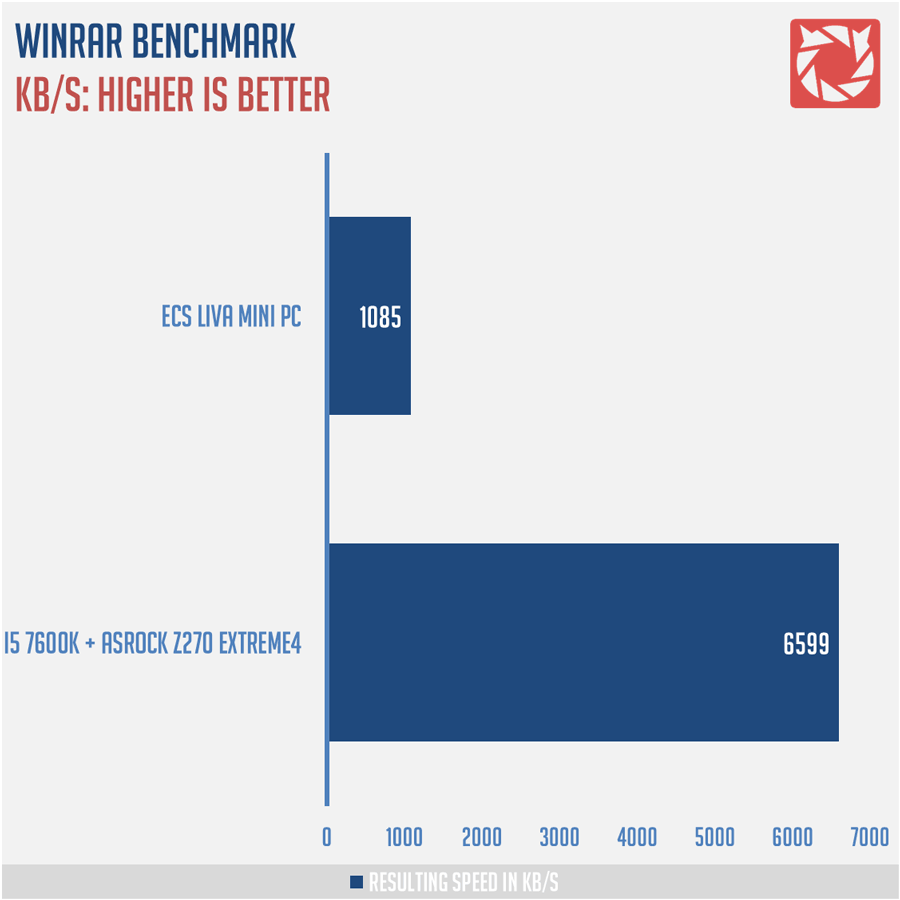 The ECS LIVA Z also fell short on our application based benchmarks but again, this has to be expected with an Intel Celeron N3350 SoC inside. I'm glad that we can use GIMP even with a not so stellar SoC. Finally something that I could use to work in an emergency.
STORAGE PERFORMANCE:
Crystal Disk Mark is a storage benchmarking software widely used through the industry. We are going to use the software's sequential read and write benchmark to test the system I/O performance.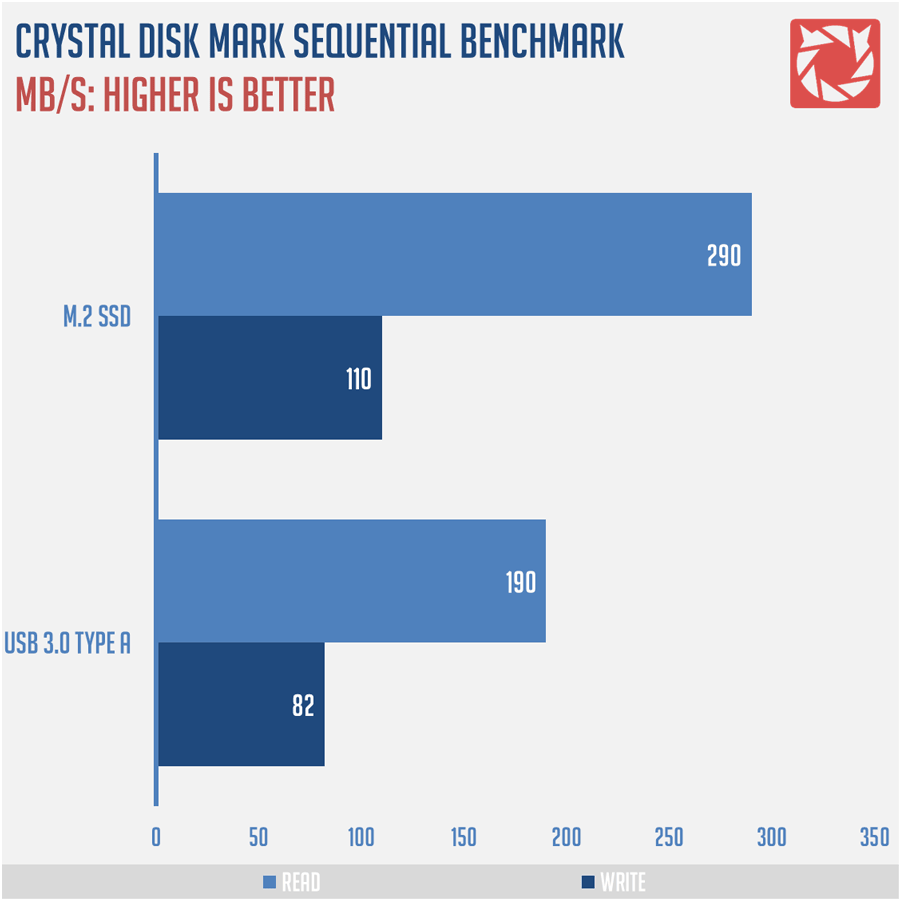 The onboard 32GB SSD is not an excellent storage device as far as raw performance goes but it is enough to ensure a fast boot up time at around 27 seconds. That's from pressing the power button up until the system reaches the desktop.
VIDEO PLAYBACK PERFORMANCE:
Our HTPC tests consists of 1080P and 4K UHD sample files encoded in HVEC and H.264. The average CPU and GPU loads are taken via HWiNFO, together with the system's overall power consumption via a watt-meter. Our media player of choice is the 64-bit VideoLAN VLC media player.
Video playback is where we expected the LIVA Z to shine the most and it sure did. We've got no problem running both 4K and 1080P contents under HVEC and H.264 but be aware of the playback issues with VLC player at the moment. The benchmarks above are taken from VLC with an abnormally high CPU usage.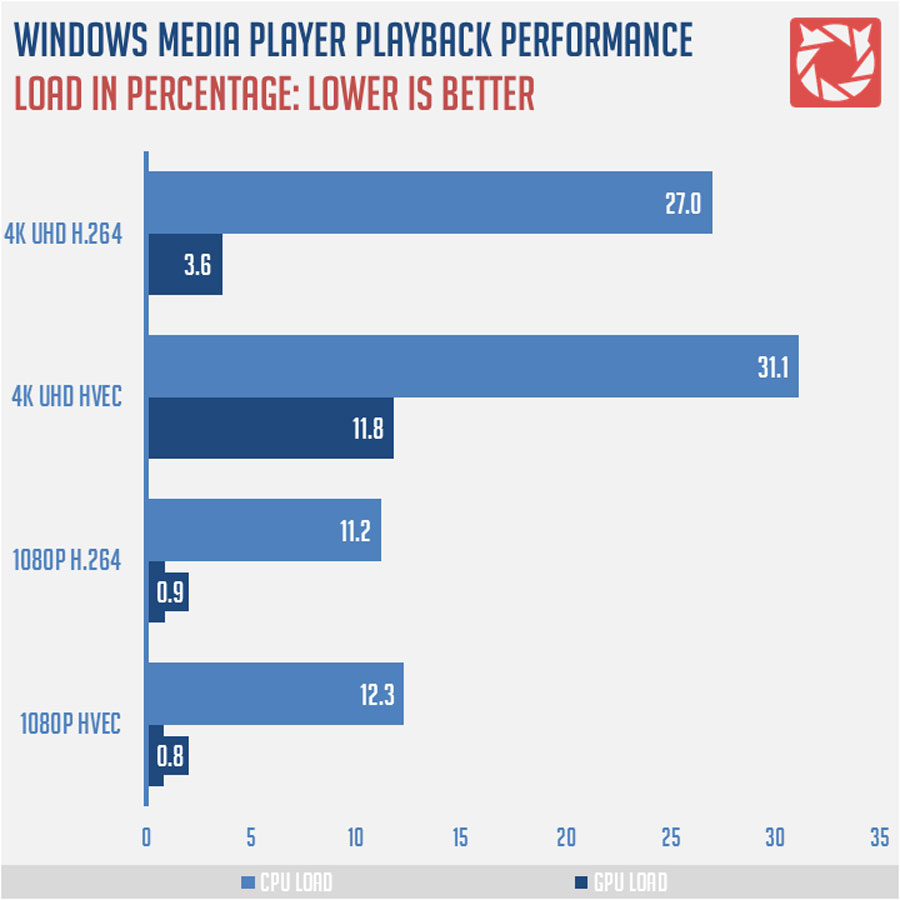 Using Window's Media Player, the 5K Player and KODI on the other hand never introduced such issues with great CPU and GPU utilization even at 4K video playback. I am a VLC guy, but I am considering other players to include on the benchmarks with the emergence of these results.
AUDIO PERFORMANCE:
RightMark Audio Analyzer (RMAA) is a suite designed for testing quality of analog and digital paths of any audio devices. The results are obtained by playing and recording test signals passed through the tested audio path by means of frequency analysis algorithms. For this HTPC, a  3.5mm headphone mic cable is used to loop both the line-in and line-out of the system with a sample rate of 24-bit at 48 kHz. The recording level should be around -1dB if possible, with software audio enhancements disabled.
| | | |
| --- | --- | --- |
| Frequency response (from 40 Hz to 15 kHz), dB | +0.03, -0.10 | Excellent |
| Noise level, dB (A) | -42.0 | Very poor |
| Dynamic range, dB (A) | 82.9 | Good |
| THD, % | 0.0091 | Very good |
| THD + Noise, dB (A) | -29.5 | Very poor |
| IMD + Noise, % | 3.538 | Poor |
| Stereo crosstalk, dB | -100.8 | Excellent |
| IMD at 10 kHz, % | 0.0095 | Very good |
| General performance | | Good |
There isn't much of a marketing stuff surrounding the LIVA's onboard audio and there's no reason to do it either with a Realtek ALC283 behind it. The general performance is good but there's nothing special or noteworthy about it. This being an HTPC benefits more with the use of the Intel Broxton HDMI audio controller so there's no reason to use the combo jack unless you want some personal space.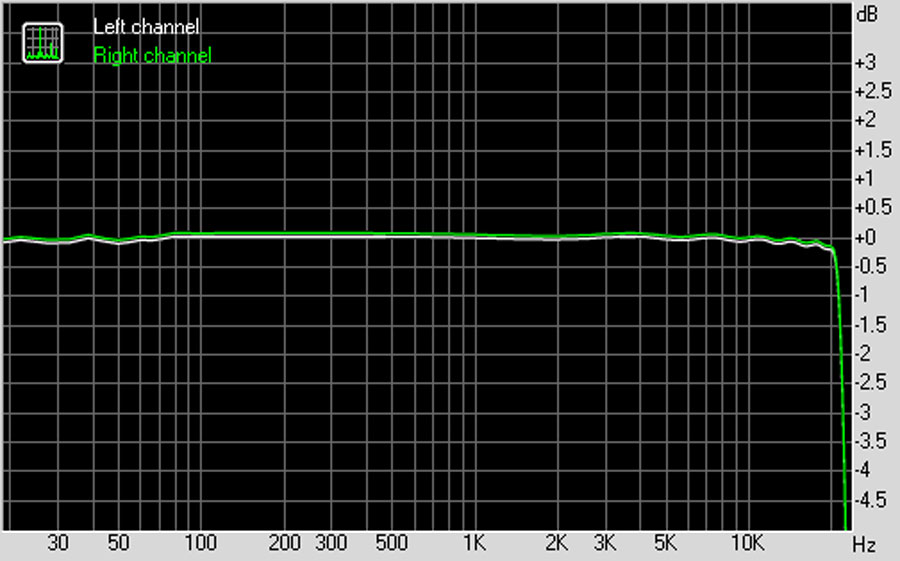 WRAPPING IT UP:
The ECS LIVA Z is an excellent, low foot print Mini PC. It is more than enough to deliver a smooth video playback – even 4K content with ease. General performance wise, it is not a show stopper with an average budget desktop capabilities. I am not complaining with this setup, since the Apollo Lake SoC inside managed to do what it needs to, and that is to deliver its promises as a capable solution for low power HTPCs. This thing could also work well within the digital signage industry – but it is better off at home I must say.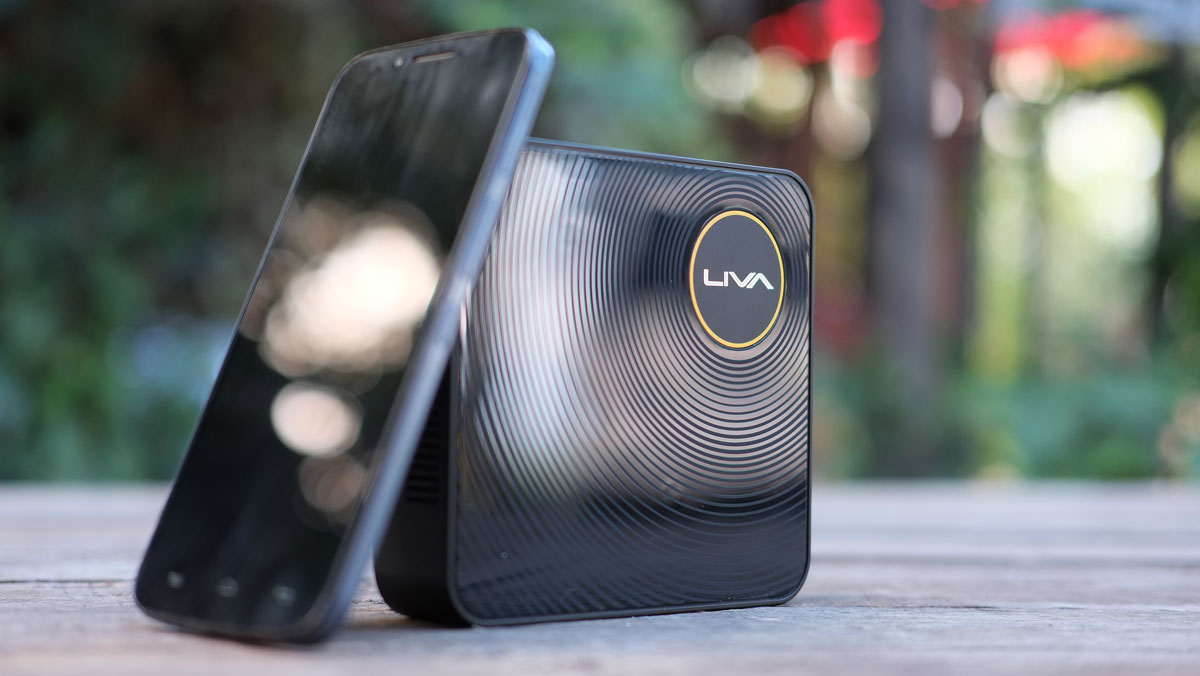 Build quality is top notch, and the styling is not bad either – enabling it to fit and blend at any living room setups with ease. It's huge departure from ECS' LIVA X design and I welcome this approach with both hands.
Connectivity for its size is great. You will get dual Gigabit LAN ports for blazing fast ethernet connectivity, together with an AC WiFi + Bluetooth combo. Since this one comes with a rather small 32GB SSD,  ECS made sure to include 4x USB 3.0 ports, with one of them being a Type-C port so you're still good as far as storage goes. Display on the other hand could be a little better. HDMI is 1.4 only, meaning it can support 4K UHD displays at only 30Hz. The MiniDP offsets this one, so you are required to check if your display supports MiniDP for maximum compatibility. Ideally, you'd want an HDMI 2.0b and a full sized DisplayPort as a combination. Still, the appearance of a MiniDP ensures that you could enjoy 4K content on your UHD display at their fullest.
The LIVA Z is available in many models and configurations to choose from, with this one being the lowest end of them all. That said, it is still able to do its job just fine with extra headroom to spare for your needs. As for pricing, this little box of awesome features an MSRP of 199 USD – which is roughly equivalent to around 9, 900 PHP. It is not a bad pricing especially if we're considering the fact that this one comes with a Microsoft Windows 10 Home as a part of the deal.
The ECS LIVA Z lives up to its name as a silent, ultra-compact PC able to utilize the Intel Apollo Lake platform at its fullest.
GREAT HTPC GEARED PERFORMANCE
SUPERB IO CONNECTIVITY
CLASSY AESTHETICS
COMES WITH WINDOWS 10 HOME AT 199 USD
REALLY SMALL FOOT PRINT
TOTALLY SILENT
TRULY A LOW POWER SOLUTION 

4GB DDR3 RAM IS A LITTLE LOW FOR TODAY'S STANDARDS
HDMI 1.4 IS NOT ENOUGH TO DRIVE 4K DISPLAYS AT FULLEST
ECS LIVA Z Mini PC
PERFORMANCE -

7/10

BUILD QUALITY -

9/10

AESTHETICS -

9/10

VALUE -

8/10
Summary
The ECS LIVA Z lives up to its name as a silent, ultra-compact PC able to utilize the Intel Apollo Lake platform at its fullest.