What we have here for review is the HIKSEMI FUTURE PCIe 4.0 NVMe SSD in its 1 TB model with a retail price of about ₱4,299 PHP. HIKSEMI sent this shortly after we tested the 512 GB variant.
The HIKSEMI FUTURE in its 1 TB model has a 7,450 MB/s and 6,600 MB/s of read and write speed. It also has higher read and write IOPS and twice as much lifetime (TBW) compared to the 512 GB model.
Disclosure: HIKSEMI sent the FUTURE PCIe 4.0 NVMe SSD for the purpose of this review. As usual, the company did not ask me to say anything particular about it.
Specifications
Storage
Capacity
1 TB (also available in 512 GB, 2 TB and 4 TB)
Cache
N/A
Flash Controller
N/A
Flash Memory
N/A
Form Factor
M.2 2280
Interface
PCIe 4.0 x4
Sequential Read
7,450 MB/s
Sequential Write
6,600 MB/s
Random 4 KB Read
860 K
Random 4 KB Write
670 K
Endurance
MTBF
2,000,000 Hours
TBW
1800 TB
Dimensions
Length
80 mm
Width
22 mm
Height
2.2 mm
Weight
7 grams
Packaging and Accessories
The HIKSEMI FUTURE comes in a simple packaging.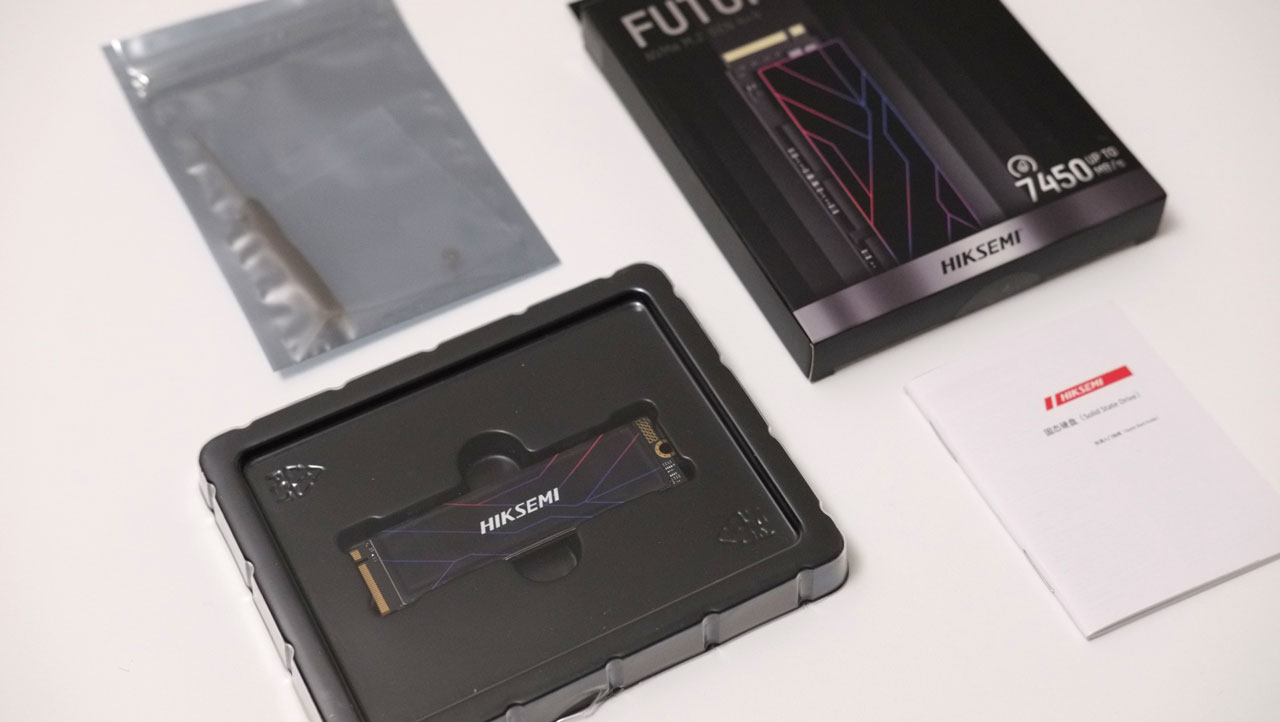 Scope of delivery are as follows:
HIKSEMI FUTURE PCIe 4.0 NVMe SSD
Screw Driver and screw set
Documentation
Pretty much the same bundle with the 512 GB model.
Design, Build and Connectivity
The HIKSEMI FUTURE 1 TB looks exactly like its 512 GB variant – down to its graphene sheet and graphics. I think this is where HIKSEMI could improve, especially with their new FUTURE ECO series sharing the same design.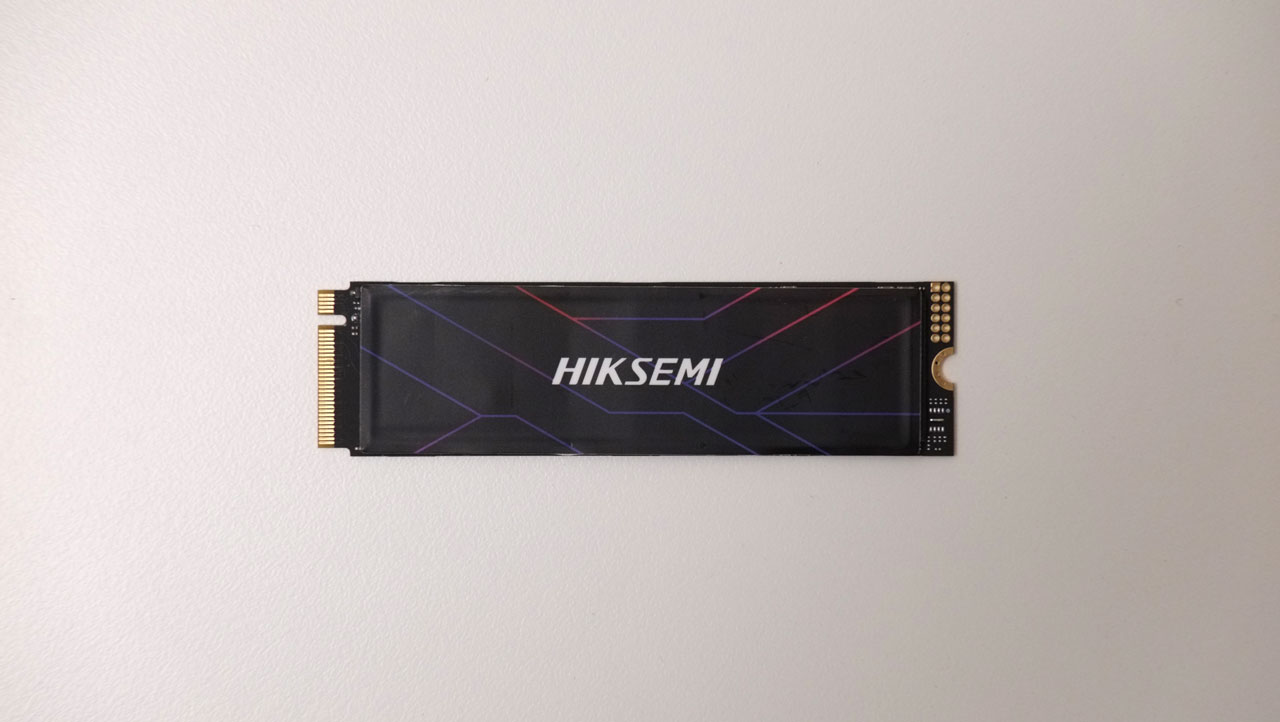 The rear houses the SSD's label. Nothing much to see here as the 3D NAND and its controller are located at the front-facing side of the unit.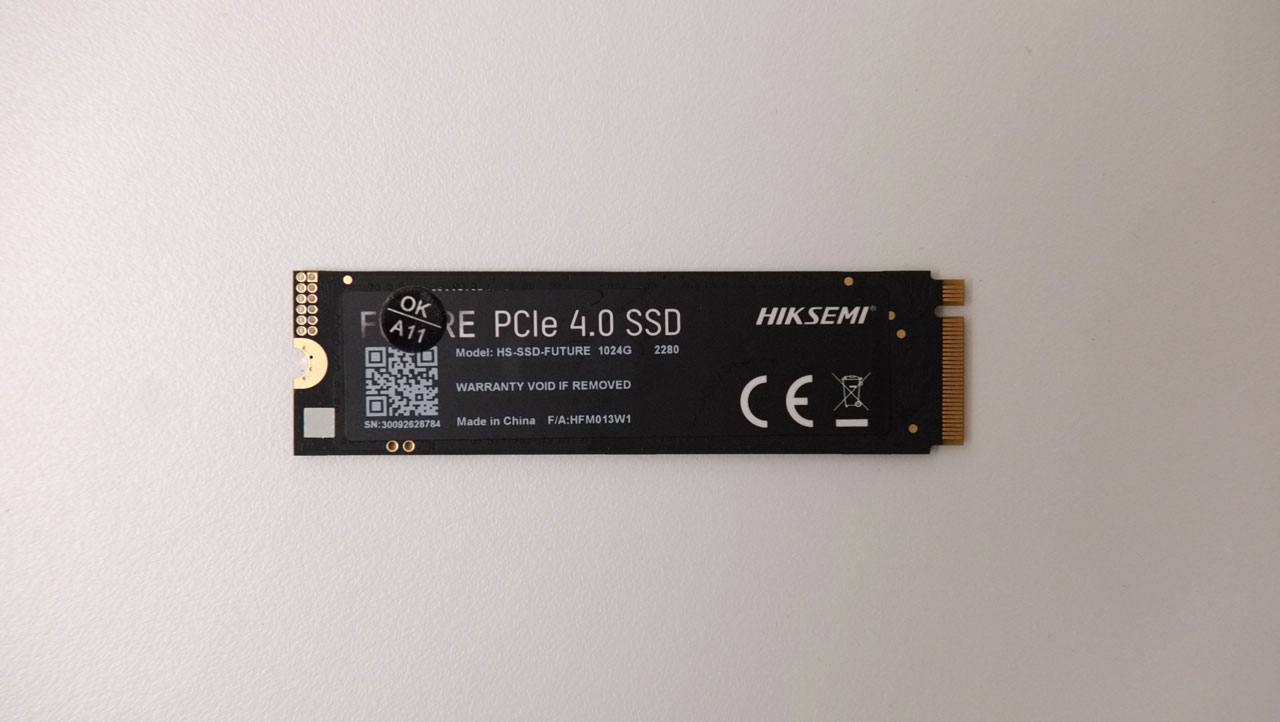 This is a PCIe 4.0 x4 NVMe SSD keyed in M.2 2280 form factor. This is not a hot SSD, in fact it is better compared to the 512 GB model when it comes to thermal output. More about that later.
Throughput
The 1 TB HIKSEMI FUTURE SSD is definitely faster compared to its 512 GB variant, pulling a 7458 MB/s read and a whopping 6638.35 MB/s write at the CrystalDiskMark sequential benchmarks. The Random 4K performance interest me the most, with the drive showing a throughput of 4381 MB/s read and 2833 MB/s write respectively. Shallow queue depth performance could be better though.
AS SSD results are also higher compared to the 512 GB variant.
IOPS
Now I/O operations per second from CrystalDiskMark also breached the manufacturer specifications, featuring 1,069,597 read and 691,615 write IOPS results respectively.
AS SSD is a little different though, featuring lower IOPS results.
Access Time
These are pretty good access time results. Actually a few milliseconds faster versus the 512 GB model.
File Copy
Now file copy performance is also better. We have a 3545 MB/s output here when copying an ISO, 1345 MB/s when copying something similar to a program and 3288 MB/s with a game – in theory.
Above translates to 0.3, 1.05 and 0.42 seconds. This drive will keep your game library happy especially with its capacity.
Compression
The 1 TB HIKSEMI FUTURE showed strong results at AS SSD's compression benchmark. Overall I am impressed with the drive's performance.
Temperature
Thermal output is even better compared to the smaller capacity model. I am not entirely sure how HIKSEMI did this but the NAND, controller or both could very well be the reason.
Final Thoughts
Like the 512 GB model before it, the 1 TB HIKSEMI FUTURE is a winner. It exceeded my expectations at just about any benchmarks we've tested it with. What also surprised me is its operating temperature. That's something I never expected from a higher performing model. Usually you'd get higher thermals with denser NAND and higher throughput combined.
The HIKSEMI FUTURE is a fairly simple NVMe SSD apart from its graphene sheet. That said, there isn't much to talk about its extra set of features. What I could tell though is that it supports S.M.A.R.T., TRIM and Volatile Write Back Cache. It also has 2,000,000 hours of MTBF and a pretty good lifespan at 1800 TBW. Warranty is also at 5 years which is unheard of from a relatively new brand in this space.
Now price, like the smaller capacity model is also excellent – even better with its lower GB per dollar value over the 512 GB version. If you are looking for a high capacity value oriented NVMe SSD, then this should be included on your checklist.
HIKSEMI FUTURE (1 TB) PCIe 4.0 NVMe SSD
₱4,299 PHP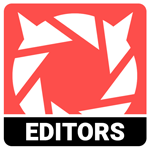 Product Name: HIKSEMI FUTURE (1 TB) PCIe 4.0 NVMe SSD
Product Description: Just as the name FUTURE, this series is born to break limits and embrace the future. FUTURE SSD has faster speed, stronger performance, larger capacity, making users even more powerful in the world of game entertainment and content creation.
Brand: HIKSEMI
Summary
The HIKSEMI FUTURE series has once again showed us great performance across the board with its 1 TB model.