Haswell out, and Skylake is in – as more and more system builders are leaning towards the latest Intel Chipset supporting the latest CPU and DRAM technology which is DDR4. This brings us to MSI's B150M BAZOOKA motherboard, a "gamer friendly" named product suited for those who wants all the necessary features of an Intel B150 chipset with gamers in mind. For starters, the MSI B150M BAZOOKA supports the current generation of Intel CPUs, supports Four 2133 MHz DDR4 DIMMs in Dual Channel Mode, USB 3.1, SATA Express, and so much more, in a mATX form factor. LEARN MORE
The MSI B150M BAZOOKA is somewhat an entry to mid-level gaming oriented motherboard priced at around 85 USD (5, 000 PH MSRP), with noteworthy features included such as the Gaming LED Effect, Audio Boost, Gaming Hotkey, LAN Manager, and many more. The board is a part of MSI's ARSENAL GAMING Series of products – aimed for gamers as it suggests. Let us take a look and see how this board fare on our review.
FIRST LOOK AT THE MSI B150M BAZOOKA:
The MSI B150M BAZOOKA motherboard features a Black PCB, and White accents to accommodate system builders who wants a clean slate for their next build. It's a clean, semi-standard mATX board with dimensions around 9.3 x 9 respectivelyso case selection is abundant especially if you're looking for a compact case to go with it.
The board features a 6 phase VRM for the 1151 socket based Skylake CPUs, with 4x DDR4 DIMM slots that could support 2133 MHz RAM and 3x 4-pin fan headers – adequate, but we'd love to see at least Four. As far as internal expansion goes, the board comes with 2x PCI-E 3.0 x1 ports, a single PCI-E 3.0 x16 port for the graphics, and an array of 6x SATA III ports plus another SATAe port should you need the latter. Now internal USB headers consists of 2x USB 2.0 ports, and a single USB 3.0 port – which is basically what I expected to see. Overall, a nice combination of expansion slots, and ports for such a mATX form factor.
External ports are abundant as well – with 6x USB ports (4x USB 3.0), HDMI 2.0 + DVI port, and legacy PS/2 connectors for both the mouse and keyboard – nice, if you have an old mechanical keyboard around or if compatibility is the most important thing to you especially when setting this up the first time and with Windows 7 to boot.
UEFI / BIOS WALK-THROUGH:
MSI's venerable UEFI based Click BIOS – which is now on its 5th installment, is implemented on the B150M Bazooka. Up front, we could see the UEFI's 7 main tabs for menu navigation, with the first one tackling the most basic BIOS information and function.
The advanced tab offers more advanced features, which is usually related to the functions of the board's components such as control over expansion slots, power options, peripheral settings, and LAN.
Overclocking is an option to the MSI B150M, yet since Intel updated the microcode of their processors, it would be impossible to OC processors to an extent. Those who are looking forward to OC their K series Skylake processors with this board should need not to apply.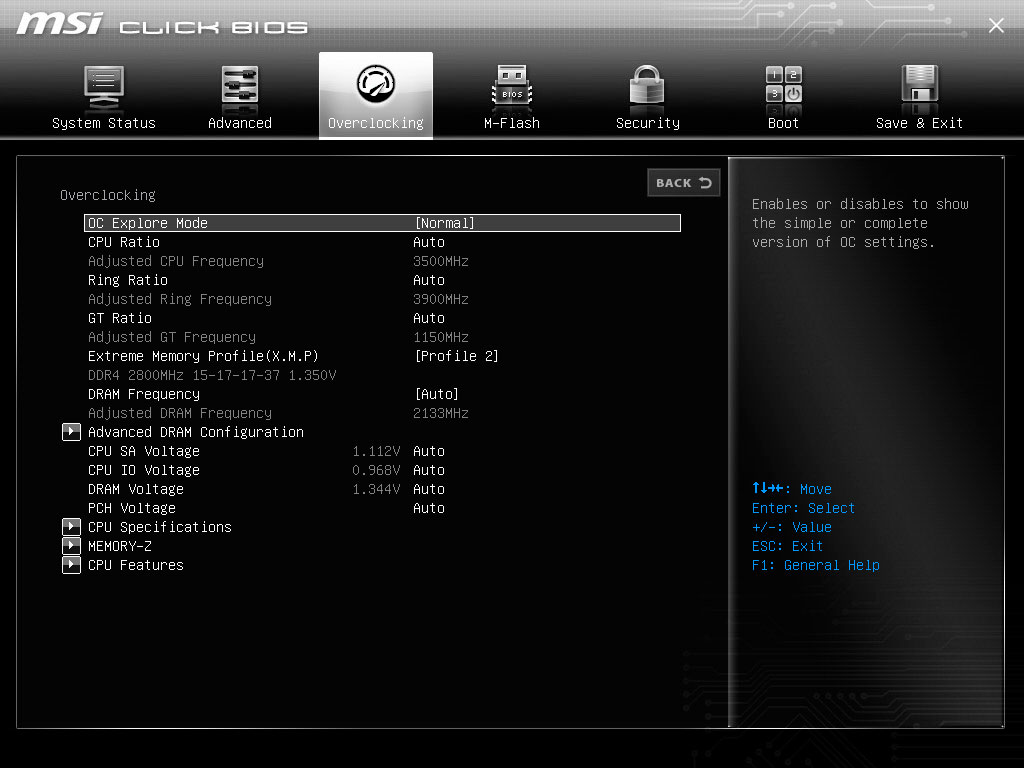 The security menu offers the chassis intrusion option – which could be used with compatible cases should you require it, as well as both admin and user passwords for extra UEFI protection. Next up would be the boot menu options, with full control over boot device priorities.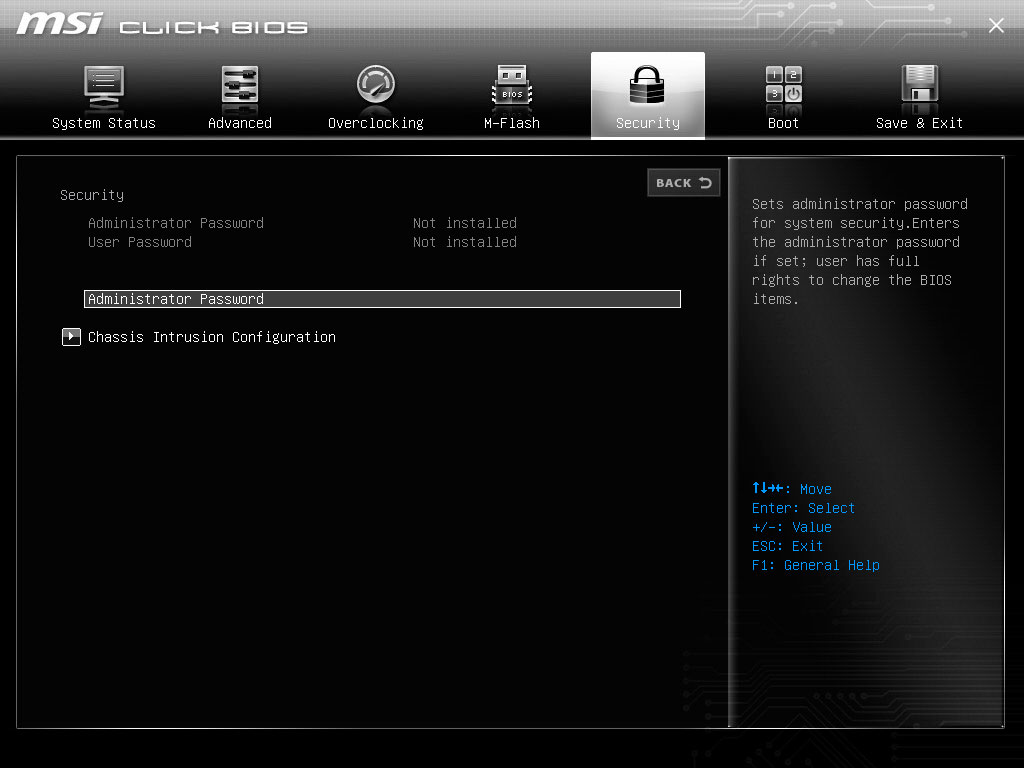 Last but not the least, we've got the save & exit menu which is self explanatory. You could save or discard the changes you've made here, and even override boot options while inside the UEFI.
Even presented as a basic UEFI, the Click BIOS 5 offered on the B150M Bazooka is snappy and is very nice to use. It never hiccuped or displayed any problems thus far but it has a bug with a certain USB 3.0 device specifically with the 64GB HyperX Fury USB 3.0 thumb drive I've got which when inserted, would render the BIOS freezing for a few seconds upon entering. Other USB devices do work flawlessly though so we'll take this issue a minor one.
BUNDLED SOFTWARES:
The board came bundled with myriads of softwares specifically meant to aid you – as a gamer. There's the Gaming Hotkey which enables you to use sorts of command easily that would normally be possible with a combination of keys. Along with it, comes the Eye Rest display color profile changer, an app for the mouse – that could be use to fine tune your device's DPI and add hotkey functionality, and an OSD feature that enables you to see the status of your PC while gaming. All of these are available within the main MSI Gaming App center.
Next up is the MSI Command Center – where you could tinker with the CPU, RAM, and Motherboard's configuration. You could also change the fan curve of your internal fans here, and see the real time temperature of the components in a graphical manner.
The Gaming LAN Manger enables you to make use of the network prioritization feature – that could block, and prioritize applications based on your personal preference.
TEST SYSTEM & HOW WE TEST:
It's not always as easy as 1, 2 & 3 to compare components, as we do our best to provide results with less than a 3% margin of error. In order to do that, and as usual, all the components used are the same from CPU down to DIMMs & other devices. External devices are plugged on the same USB type too (e.g. keyboards should be plugged at USB 2.0 ports) to minimize discrepancies if there's any, and softwares used has to be exactly the same except for vendor exclusive applications. Now onto the test system itself, we'd like you to know that it's actually a loaned unit from MSI – which has been modded by Tanric for the good company. Since we don't have a Skylake system yet of our own to compare it with, results are quite vague and we'd like to address this in the near future.
| | |
| --- | --- |
| CPU | Intel Core i5 6600K |
| MOTHERBOARD | MSI B150M Bazooka |
| CPU COOLER | XIGMATEK Night Hawk |
| MEMORY | Corsair Dominator Platinum @2133 MHz 16 GB |
| GRAPHICS CARD | Intel HD Graphics 530 |
| INT. STORAGE | PLEXTOR PX-128M6S 120 GB |
| PSU | XIGMATEK 500W |
| DISPLAY | DELL U2715H |
| OS | Microsoft Windows 8.1 |
| SOUND CARD | Onboard Audio |
| EXT. STORAGE | Kingston HyperX Fury USB 3.0 Flash Drive |
CPU & OVERALL SYSTEM PERFORMANCE:
CINEBENCH R15 is a real-world cross-platform test suite that evaluates the computer's performance capabilities. CINEBENCH is based on MAXON's award-winning animation software CINEMA 4D, which is used extensively by studios and production houses worldwide for 3D content creation.
wPrime is a multi-threaded benchmarking application designed to measure the raw computational power of a CPU. It can be configured to run on a custom number of threads to accommodate multi-core CPUs.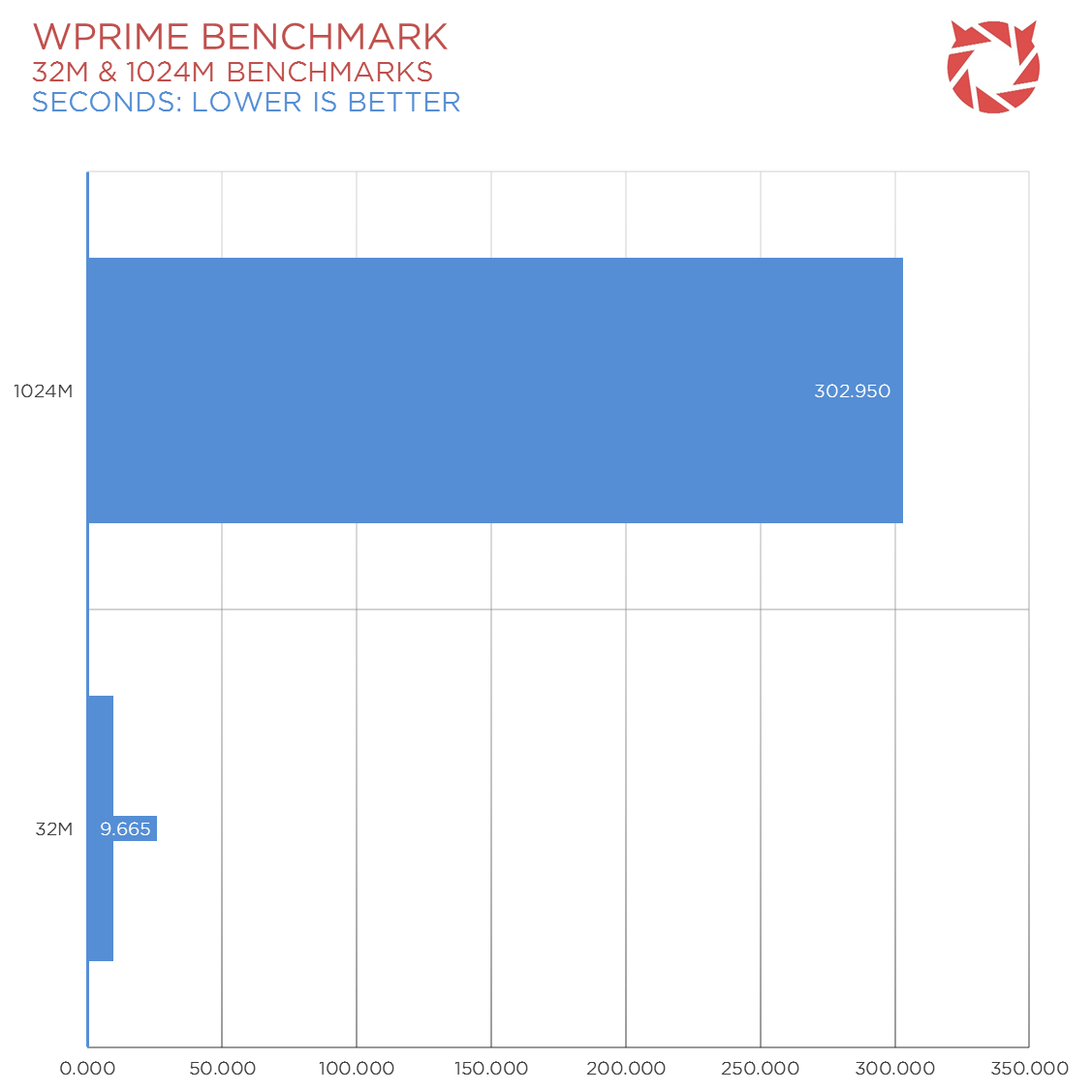 The MSI B150M Bazooka, together with the Intel Core i5 6600K is a little beast on their own, featuring a tangible difference in performance compared to older generation of processors both from Intel and AMD.
MEMORY PERFORMANCE:
AIDA64 is a streamlined Windows diagnostic and benchmarking software for home users. We'll use the built-in memory benchmark tools of the AIDA64 to determine the memory's performance.
DDR4 is in and DDR3 is out. Well, that's at least what the DDR4 system has to say, and they speak the truth especially if compared to out Dual Channel DDR3 based system. Granted, the speed of the system compared is just 1600 MHz, with 8GB of RAM – yet the difference between read, write, copy & latency performance is just phenomenal.
STORAGE PERFORMANCE:
Crystal Disk Mark measures the sequential reads/writes speed of storage devices. It also measures random 512KB, 4KB, 4KB (Queue Depth=32) reads/writes speed. We're going to use Crystal Disk Mark's sequential benchmark to mesaure our USB 3.0, HDD, and SSD devices.
Storage performance seems nice especially with the USB 3.0 interface. There isn't much to complain here, except for the shabby SATA HDD performance, which has to be expected since we tested the SATAIII conforming board with a SATAII HDD at 5400 RPM.
POWER & TEMPERATURE:
Idle results were taken after a 15 minute break, with power options set to balanced and without enabling standby mode at the OS. As for load, the AIDA64 Stress Test is used and is left to run for an hour, taking notes of the consistent maximum load results after every 5 minutes for average load power consumption. A socket based power meter is used to achieve the results.
AUDIO PERFORMANCE:
RightMark Audio Analyzer (RMAA) is a suite designed for testing quality of analog and digital paths of any audio devices. The results are obtained by playing and recording test signals passed through the tested audio path by means of frequency analysis algorithms. A more common mark is also provided for those unfamiliar with measured technical parameters. – https://audio.rightmark.org
| | | |
| --- | --- | --- |
| Frequency response (from 40 Hz to 15 kHz), dB | +0.02, -0.04 | Excellent |
| Noise level, dB (A) | -91.8 | Very good |
| Dynamic range, dB (A) | 91.8 | Very good |
| THD, % | 0.644 | Poor |
| THD + Noise, dB (A) | -41.5 | Very poor |
| IMD + Noise, % | 0.619 | Poor |
| Stereo crosstalk, dB | -91.8 | Excellent |
| IMD at 10 kHz, % | 0.519 | Poor |
| General performance |   | Good |
The MSI B150M BAZOOKA together with the ALC887 from Realtek isn't the best option when it comes to onboard audio solution. Although we like this audio controller, MSI had done something different to it as far as the this board is concerned. Performance is not bad, but THD and IMD performance seems lacking, and will most likely feature audio output inaccuracy. This is far from what the MSI Audio Boost should offer with CHEMI-CON capacitors, & Isolated Audio PCB. Still far from the worse though.
THE VERDICT:
The MSI B150M BAZOOKA is a nice little board that boasts the basic features that comes with the latest Intel chipset for the Skylake family of micro-processors. Compared to the older generation systems, the Intel Core i5 6600K equipped B150M BAZOOKA sliced through our benchmarks with ease, although performance of the board's audio department had me wanting, objectively. Don't get me wrong though, as audio performance is good – yet we thought it could be better – especially if you're going to pair this thing up with a capable solution.
The board also features MSI's Mystic Lighting which is probably going to be a mainstay for MSI's gaming motherboards. This B150M BAZOOKA only features an array of white LEDs at the far right end of the board. It's no where near obtrusive, and is actually a calming sight to see. As for the BIOS, it seems that MSI is still one of the top UEFI designers out there, able to implement a responsive and snappy interface. The Intel B150 chipset is catered for businesses in mind with its bare features, yet MSI showed that they could create a gaming oriented board based on business centric features which is no easy task for any vendors. That's nice, but still – SLI and CrossFireX support leaves me wanting.
The MSI B150M BAZOOKA retails for around 5, 000 Pesos in the Philippines. That's 1K above the SRP outside the country and there's a serious competition around this price point especially when there's a Z170 motherboard just a hundreds of Pesos above it. Regardless, the B150M BAZOOKA features all the necessary tools to gain the upper hand over the most basic boards out there swinging its full Gaming DNA with a twist here and there to appeal for this generation's gamers on a budget. If all you're looking for is a board for gaming with overclocking out of the equation, and tickles all your needs then this board might for you.
THE VERDICT
PROS:
GOOD OVERALL PERFORMANCE
GOOD LAYOUT & BUILD QUALITY
LOADED WITH GAME CENTRIC FEATURES 
POWER EFFICIENT
SNAPPY UEFI BIOS
CONS:
PRICING CLOSE TO BUDGET Z170 BOARDS
NO SLI & CROSSFIREX SUPPORT
AUDIO PERFORMANCE COULD BE BETTER
MSI B150M BAZOOKA
PERFORMANCE -

7/10

BUILD QUALITY -

8/10

FEATURES -

7/10

AESTHETICS -

8/10

VALUE -

8/10
Summary
The MSI B150M BAZOOKA retails for around 5, 000 Pesos in the Philippines. That's 1K above the SRP outside the country and there's a serious competition around this price point especially when there's a Z170 motherboard just a hundreds of Pesos above it. Regardless, the B150M BAZOOKA features all the necessary tools to gain the upper hand over the most basic boards out there swinging its full Gaming DNA with a twist here and there to appeal for this generation's gamers on a budget.