Back in the days, it's not that easy to find desktop class performance on notebooks – and when I mean notebooks, I mean portable ones that you could actually slid into a backpack without hurting your shoulders. Fast forward this 2016, we finally got a look at what we could describe as a proper desktop grade notebook. It is of course, no other than the MSI GE72VR 6RF Apache Pro gaming notebook.
The MSI GE72VR 6RF Apache Pro is under MSI's GE Series of notebooks which falls under the higher end of the spectrum both in price and performance. Our unit for example, touts a quad core Intel Core i7 Skylake CPU, with an Nvidia GeForce GTX 1060 to boot. Screen space is mighty fine at 17.3 inches which means that it is still within the portable range of things. Learn more about it HERE.
Digging a little deeper into the notebook's specifications, we can actually see a number of sub configurations for the GE72VR's display, graphics card, storage, memory, and operating system. For an instance, it is possible to have a model with a 4K UHD display (region). Even better, there is a 120Hz panel option which is what you'd want if you're looking forward to use this notebook for hardcore and competitive gaming.
The MSI GE72VR depending on specifications, will set you around 104, 995 PHP mark locally. No 4K UHD option this side of the world, but there is 120 Hz 1080P panel variant. Now the rest of the specifications are mandatory, with KILLER NIC for wired, and 802.11 AC for wireless connectivity. I/O are generous, with 2x USB 3.0 and a USB 3.1 Type-C for kicks. Storage drives on the other hand presents a combination of a 256GB SSD and a 1TB HDD, which is not bad to say at least.
DESIGN LAYOUT & CONNECTIVITY:
The MSI GE72VR sports a sleek aluminum body, with a black plastic under shell. It's a passive aggressive kind of look, accentuated by red strips to let the others know that it is indeed a proper gaming notebook without much exaggeration. I could totally bring this on a coffee shop and casually play games while I wait for my buddy without alerting the authorities.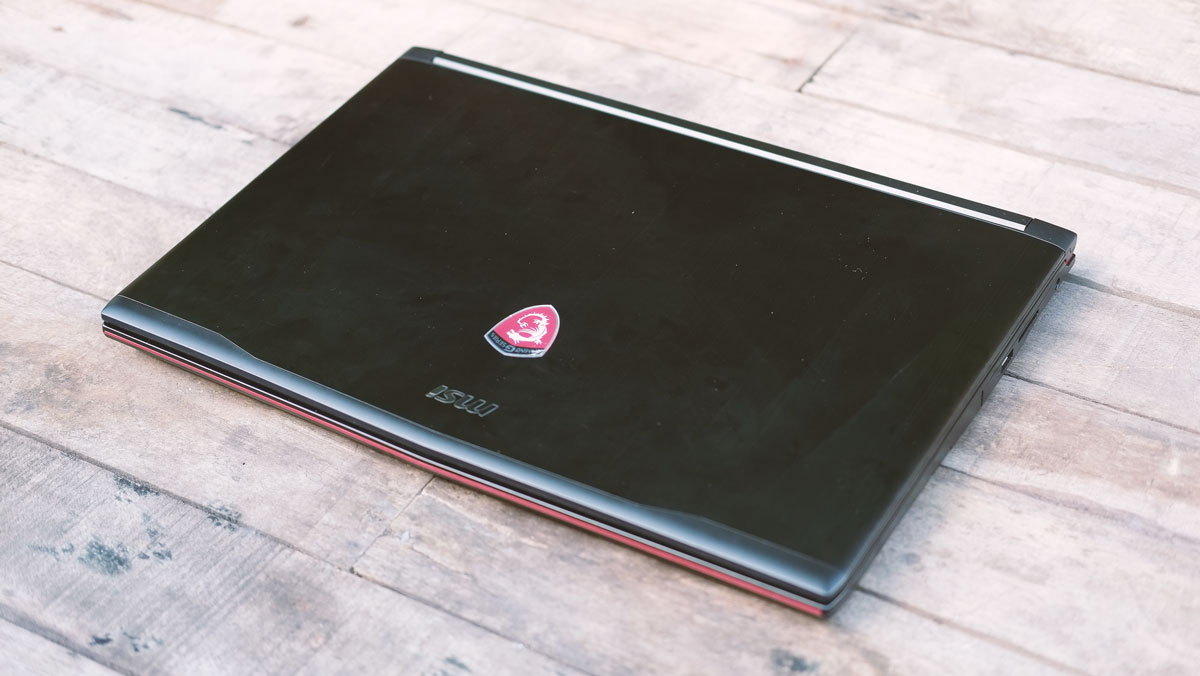 The notebook weighs in at 2.7 kilograms which is definitely not light, but still within the bounds of portability. The red accent continues at the back, providing a good contrast with aluminum body and the LED enhanced MSI gaming logo. Exhaust on the other hand is split into two – which is just proper for a gaming notebook.
MSI opted for an RGB enhanced 100% layout for the GE72VR. It is designed by their gear partner SteelSeries and features a 2mm travel distance from top to bottom, exactly what I would expect from a scissor key mechanism.
The left side of the GE72VR is full of connectivity options. You've got gold plated audio jacks here, a USB 3.1 Type-C port, 2x USB 3.0 ports, a Mini DisplayPort, HDMI, and a LAN port for the KILLER NIC. A Kensington lock is also in place.
The other side is pretty low on I/O, but I can see why it is the case due to the ODD bay and the fact that you're going to put your mouse right next to it. You'll get a peripheral port here though courtesy of a single USB 2.0 port, and a SD card reader. The power port for the 180W power brick is also situated here as well.
The build quality is robust, and there's hardly any creaking parts with the exception of the ODD's tray. Overall, the MSI GE72VR features a well thought of design, with a layout that just works.
MAINTENANCE & COMPONENT LAYOUT:
While it wont require you to take rocket science, the maintenance work with the MSI GE72VR isn't as easy as it looks. There's no hatch to easily upgrade parts, and you actually have to pop several screws in place. It's not that hard but it requires you to carefully push the bottom panel out so the plastic pins wont break off easily. Doing these sort of things will break the 2 year parts warranty so take that in mind.
With the internals in sight, we can actually see that MSI opted to isolate the aluminum body with another layer of plastic. This should ensure better thermals for your hands to work with, and we are going to check that out later. Now as for the components, we've got 5 audio drivers, with 4x3W stereo drivers at the front. This makes it easy for MSI to optimize their drivers really well under any type of surfaces. As for the core components, MSI utilizes a 6 heat-pipe approach with the CPU, GPU and VRM cooling. The CPU is cooled by 2 copper pipes, while the the GPU is cooled by 3 pipes. The VRM for both units has their own heat-pipes as well, and are cooled actively via the dual impeller fan cooling solution. You can also see the 3W bass unit here.
The notebook utilizes a dual SO-DIMM slot, and they are populated with dual 8GB DDR4 kits with 2133 MHz of frequency. As for storage, MSI opted with Kingston's 256 GB M.2 SATAIII SSD. The 5400RPM HDD on the other hand is provided by Western Digital with a 1TB of capacity.
DISPLAY PANEL:
MSI used the LG Philips LP173WF4-SPF1 panel with the GE72vr model we got. It's a 17.3 incher IPS panel with a typical brightness of 300 cd/m2 and has a typical contrast ratio of 700:1. This is an IPS panel alright, with a 60 Hz of maximum refresh rate. But, it is only a 6-bit panel with FRC to simulate the color depth of a true 8-bit panel. Probably a reason why MSI branded the panel as IPS level (but it is IPS). Colors are way saturated out of the box so calibrate it at your own will.
Out in the sun, the anti-glare coating of the panel works like a charm. We never really had any issues with it, and view angles are surprisingly good. Now onto the input devices.
INPUT DEVICES:
As said earlier, the MSI GE72VR sports a full layout keyboard with scissor switch keys designed by SteelSeries. It's not a 100% ANSI layout, but it has a slightly slimmer number pad that just works. Each key has a travel time of 2mm, with an actuation force of around 60 grams. The font style reminds me of Spiderman fonts floating around the web, but it suits well the RGB enhanced keys so take it or leave it.
Key illumination is superb – with a non straining glow from the side and the laser etched legends. As for gaming, I'd still opt for a proper mechanical keyboard but this is just fine for casual gaming needs. Now as for the touch pad, MSI had the GE72VR equipped with a 11×6 cm  muti-purpose variant. You can tap, scroll, and drag icons with it alone. As for the accompanying buttons? Well, they aren't that great tho.
BUNDLED SOFTWARES:
If you're looking for bloatwares, there's almost none to be found at the MSI GE72VR. Almost, since the Norton software suite are the only ones worth removing here as soon as you fire the system up. It hogs system resources, and you're actually better off with Windows Defender to be honest.

The MSI Dragon Center is actually one of the most important softwares bundled with the notebook. It houses all the things you need to get started tweaking, and comes with an app portal to access the other complimentary softwares installed.
The system monitor tab is self explanatory, featuring the current component usage, network speed, temperature and so on. Funny enough, the GPU sensor isn't working with the app. MSI said that this should work, maybe our driver is at fault here.
The LED wizard allows you tinker with the RGB enhanced keyboard of the MSI GE72VR. There are 5 presets here, with 3 zones of adjustable lighting. You cannot change individual key lighting option though.
The system tuner tab is where the magic is at, allowing you to optimize the MSI GE72 VR's components. That includes the fan speed of the coolers, storage interface speed boost, and the ability to maximize the notebook's performance via the shift function.
TEST SETUP & METHODOLOGY:
The MSI GE72VR 6RF Apache Pro is hands down, a desktop replacement by specifications alone. But, in true Tech Porn style, we shall test if it is indeed the case by comparing it to my desktop test system powered by an Intel Core i5 660K and an NVIDIA® GeForce® GTX 1060.
| | |
| --- | --- |
| PROCESSOR | INTEL CORE I5 6600K |
| MOTHERBOARD | ASUS Z170-A |
| CPU COOLER | CRYORIG C1 TOP FLOW |
| MEMORY | CRUCIAL BALLISTIX TACTICAL 16GB |
| GRAPHICS CARD | ASUS GTX 1060 STRIX OC 6GB |
| STORAGE | CRUCIAL MX100 256GB |
| POWER SUPPLY | CORSAIR RM850X 850W |
| DISPLAY | 27″ DELL U2715H WQHD IPS PANEL |
| OPERATING SYSTEM | MICROSOFT WINDOWS 10 PRO |
The CPU & GPU's combined performance should be expected to perform slower than our desktop test system. To elaborate, the desktop parts will stay at their respective turbo boost speed until you beg for it to slow down – especially with a nice cooler. That isn't saying that with a nice cooler, the 6700HQ will blaze past the 6600K as it is still a generally slower chip.
The MSI GE72VR 6RF Apache Pro's performance will be evaluated by various benchmarking tools, games, and commonly used applications. It is noteworthy to add that we are testing this notebook using the high performance settings throughout the benchmarking process. We are definitely stressing this baby out, and see if it can actually walk the walk.
TEMPERATURE NOISE & POWER:
The AIDA64 Extreme Edition System Stability Test is used to stress our system. We selected all the the stability test's options including the storage drives. AIDA64 has been chosen due to its inclusion of AVX, AVX2 and FMA – 3 important instructions that will help us push our CPU to its limits.
The ambient temperature is 27°C (±1°C), and the ambient sound level is 34dBA (±1dBA). The temperature of the system is logged with HWiNFO64, and is cross referenced with AIDA64. The sound level is measured by a sound level meter with a foot of distance from the cooler.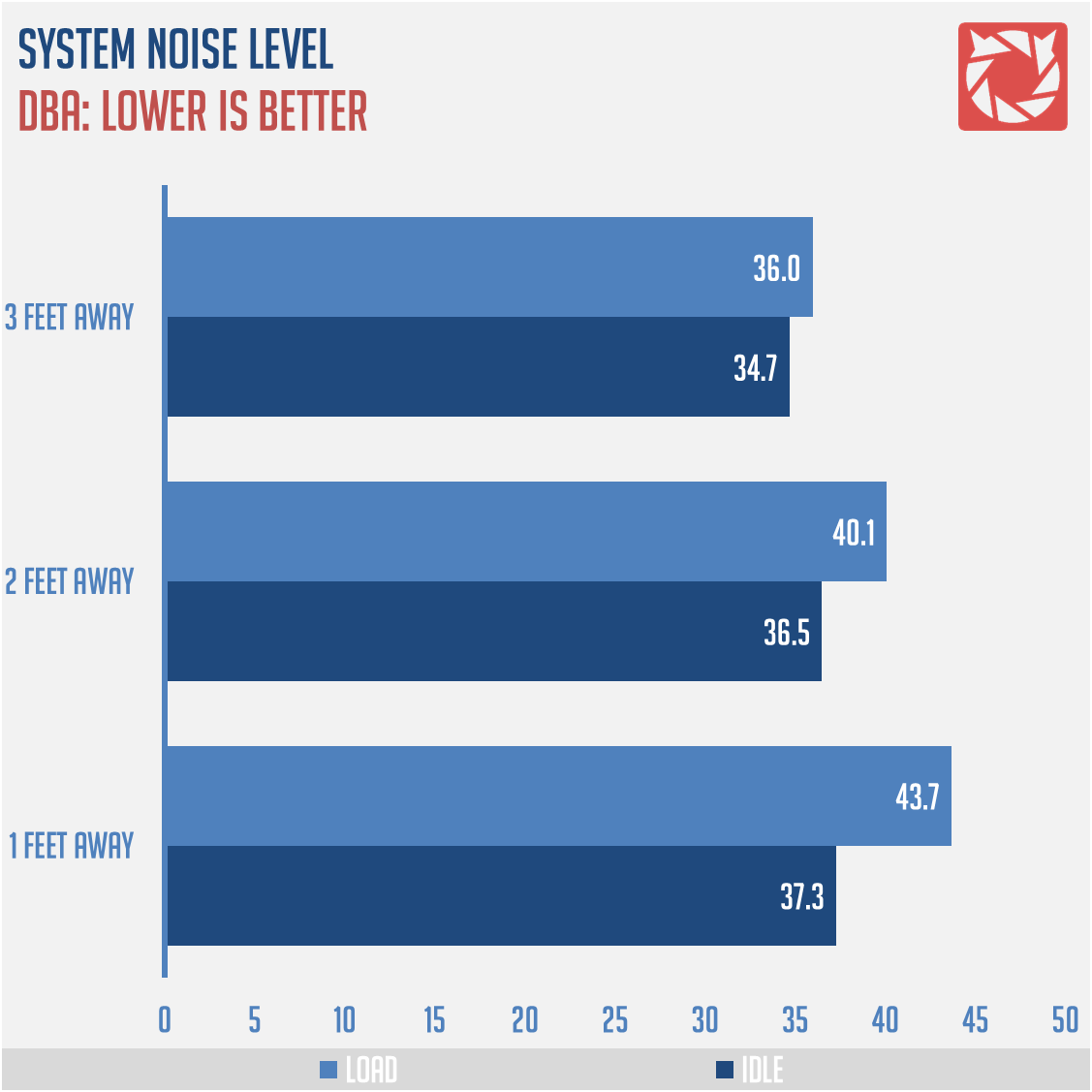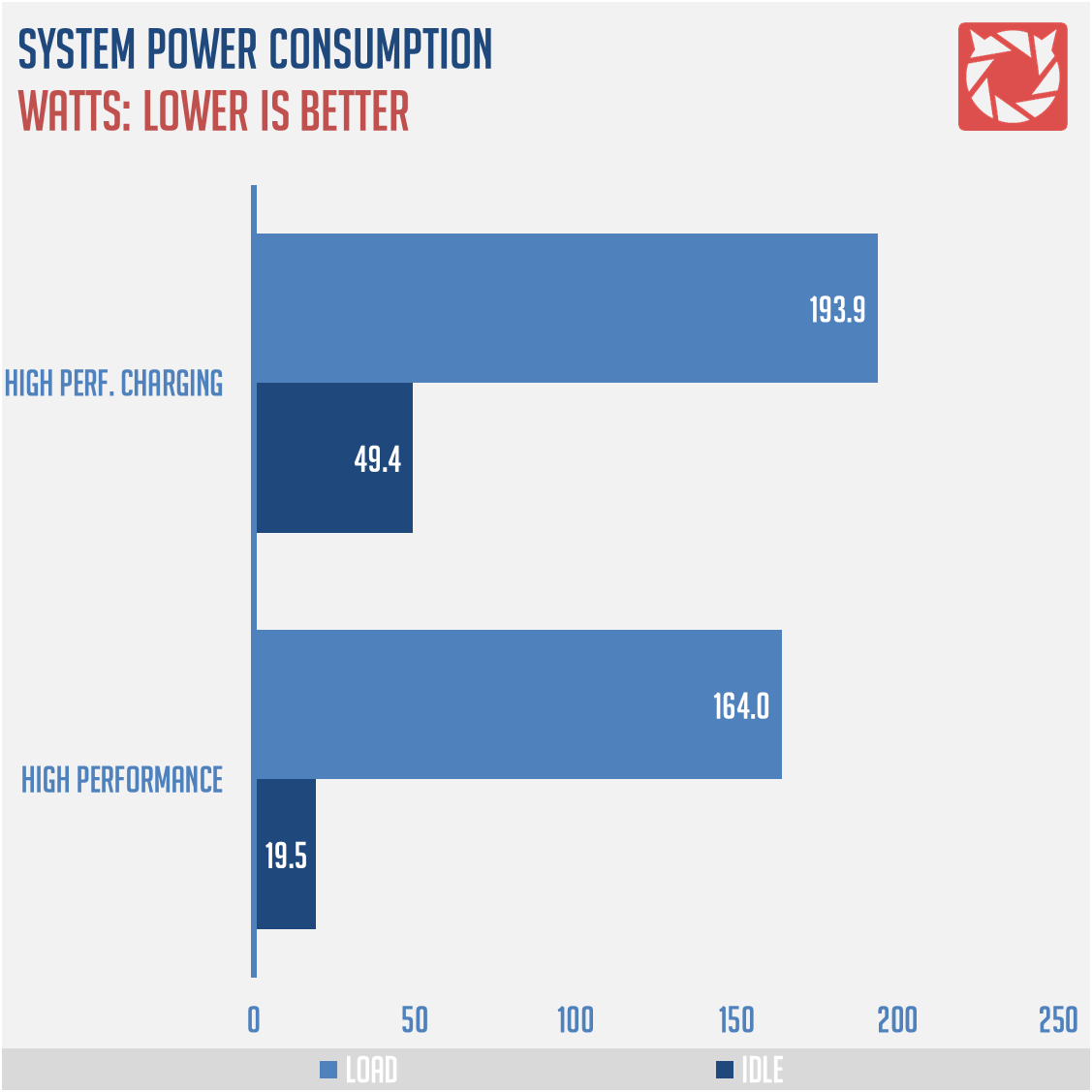 Taking the surface temperature is just as important as the internals, since you're working with your hands over the notebook. These figures are taken at idle, and at load via AIDA64 using our temperature gun aimed perpendicularly at the shell.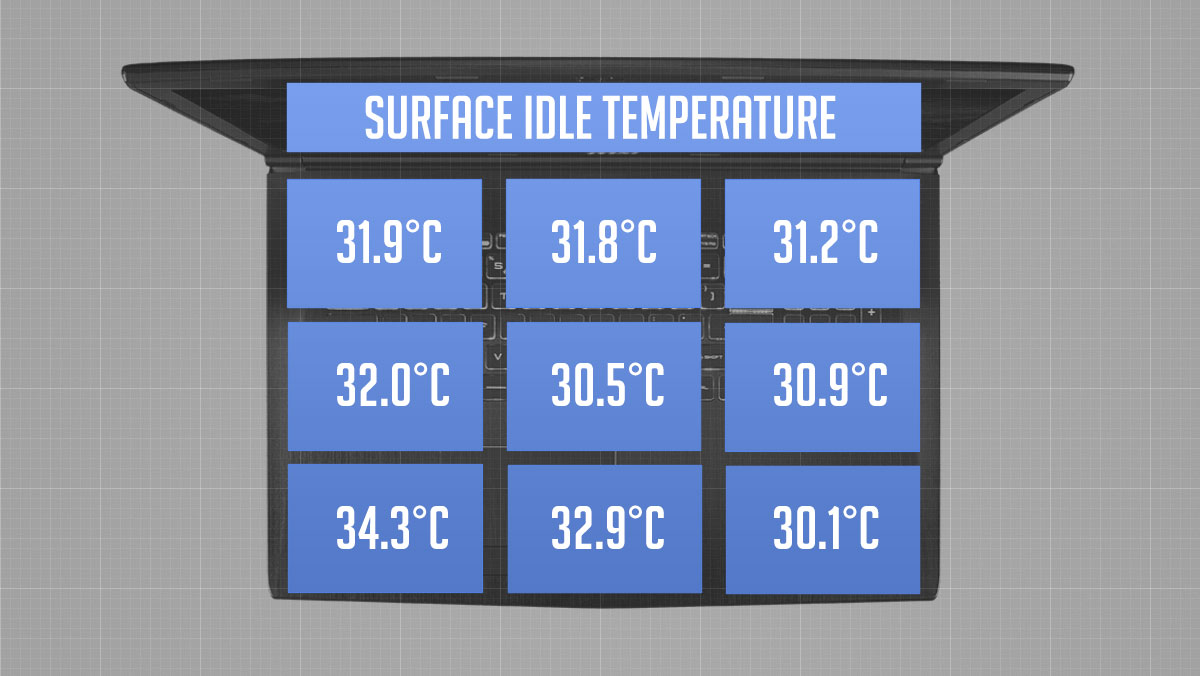 BATTERY LIFE:
The Battery Eater Pro is a freeware battery benchmarking tool developed by Batteryeater.com for Windows. It is designed to help users determine a notebook battery's minimum operation time.
CPU & MEMORY PERFORMANCE:
Super PI is a single-threaded benchmark that calculates pi to a specific number of digits. It uses the Gauss-Legendre algorithm and is a Windows port of a program used by Yasumasa Kanada in 1995 to compute pi to 232 digits.
wPrime is a multi-threaded benchmarking application designed to measure the raw computational power of a CPU. It can be configured to run on a custom number of threads to accommodate multi-core CPUs.
AIDA64 Extreme Edition is a streamlined Windows diagnostic and benchmarking software that home users can use to check computer performance with. It boasts a wide range of features to help with overclocking, hardware error diagnostics, stress tests, and sensor monitoring.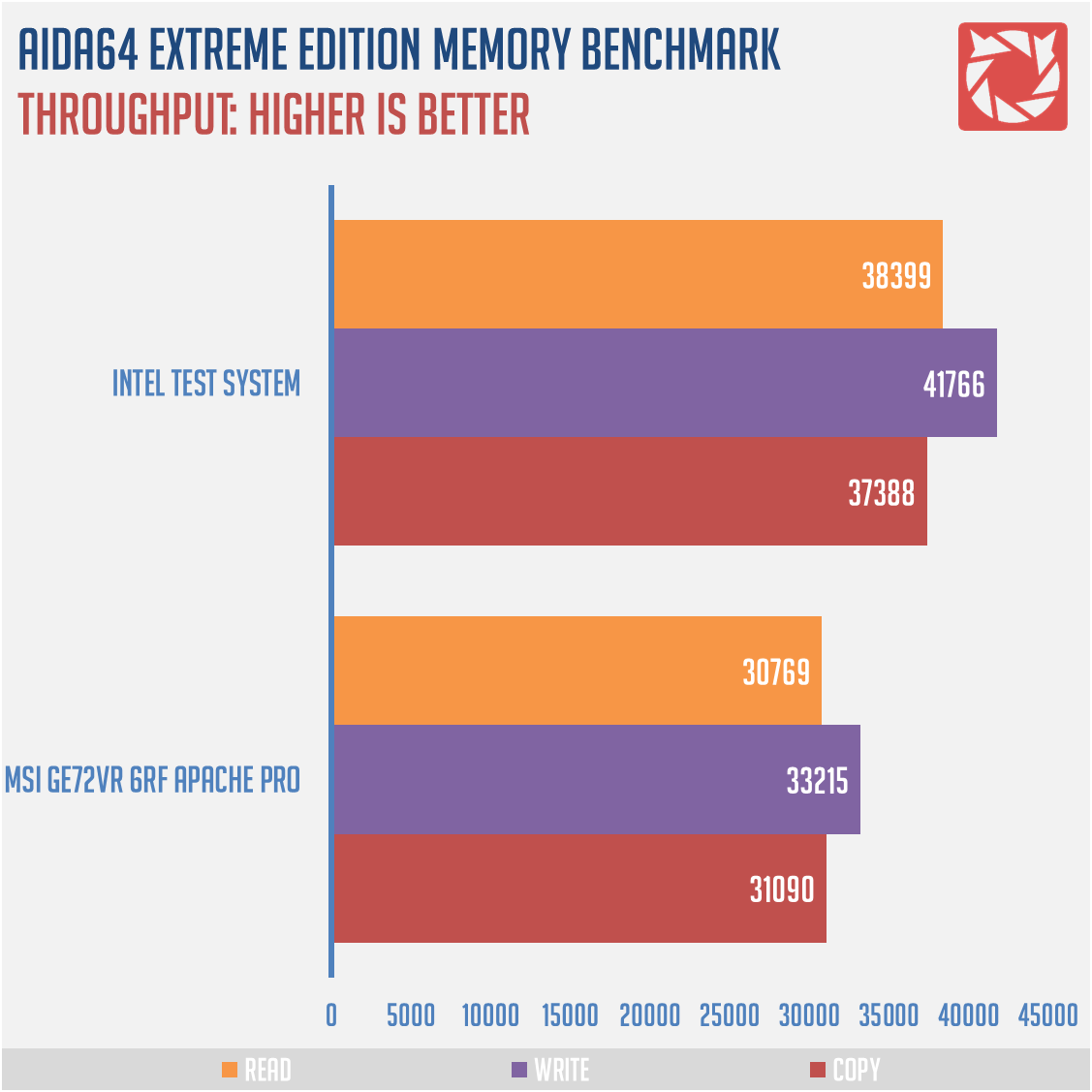 GAMING PERFORMANCE:
Overwatch is Blizzard Entertainment's critically acclaimed First Person Shooter, running on a custom game engine utilizing the DirectX 11 API. Settings are set to Ultra with a Render Scale set to 100%.
Battlefield 4 is Electronic Art's popular First Person Shooter, running on the Frostbite 3 game engine developed by DICE utilizing the DirectX 11 and the Mantle API. Settings are set to Ultra.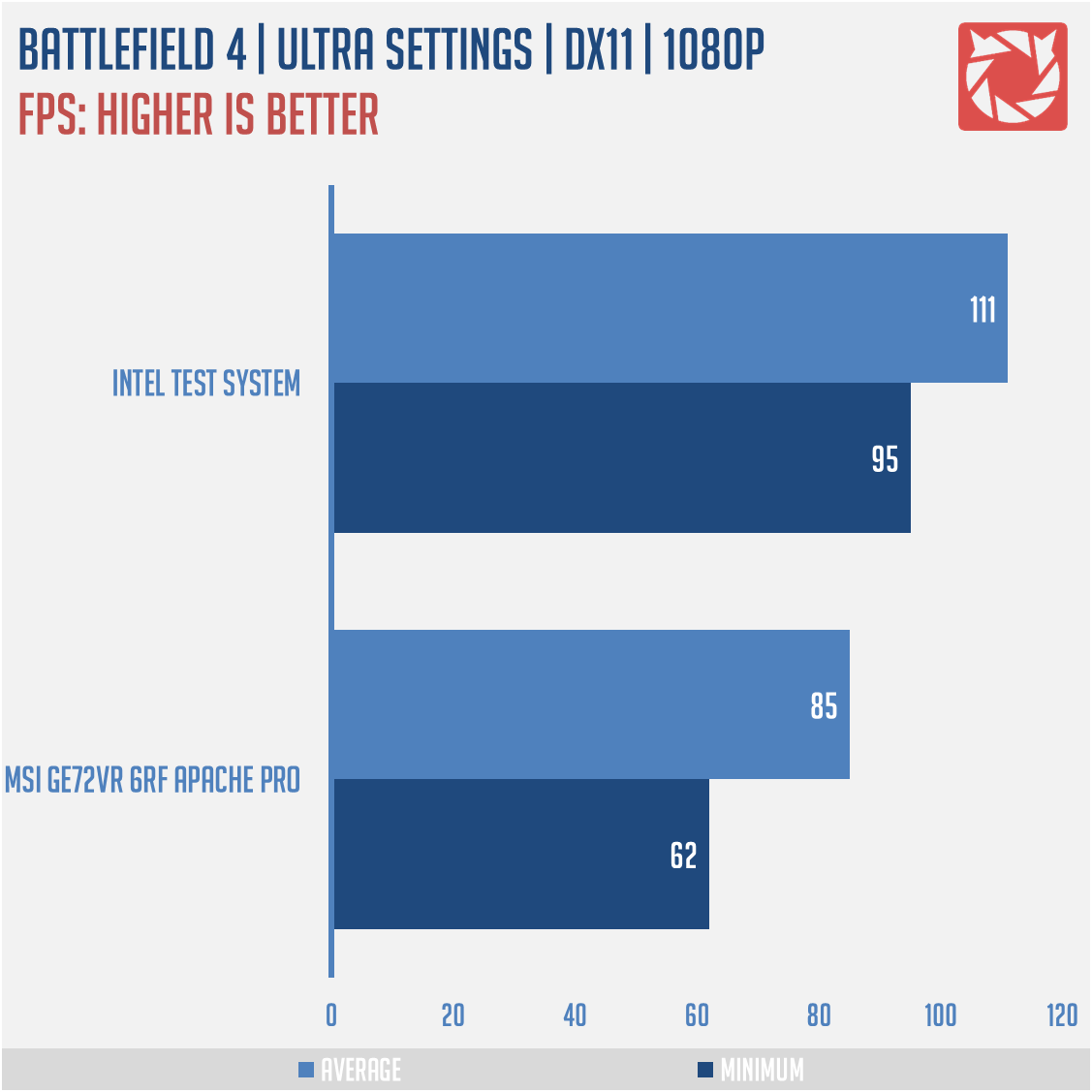 Starcraft 2 is Blizzard Entertainment's critically acclaimed RTS game, running on the HAVOC game engine utilizing the DirectX 9 API. Settings are set to Extreme.
DOTA 2 is VALVE's popular F2P MOBA game, running on the Source game engine utilizing the multi-API support. Settings are set to maximum with DirectX 10 only mode and FPS cap disabled.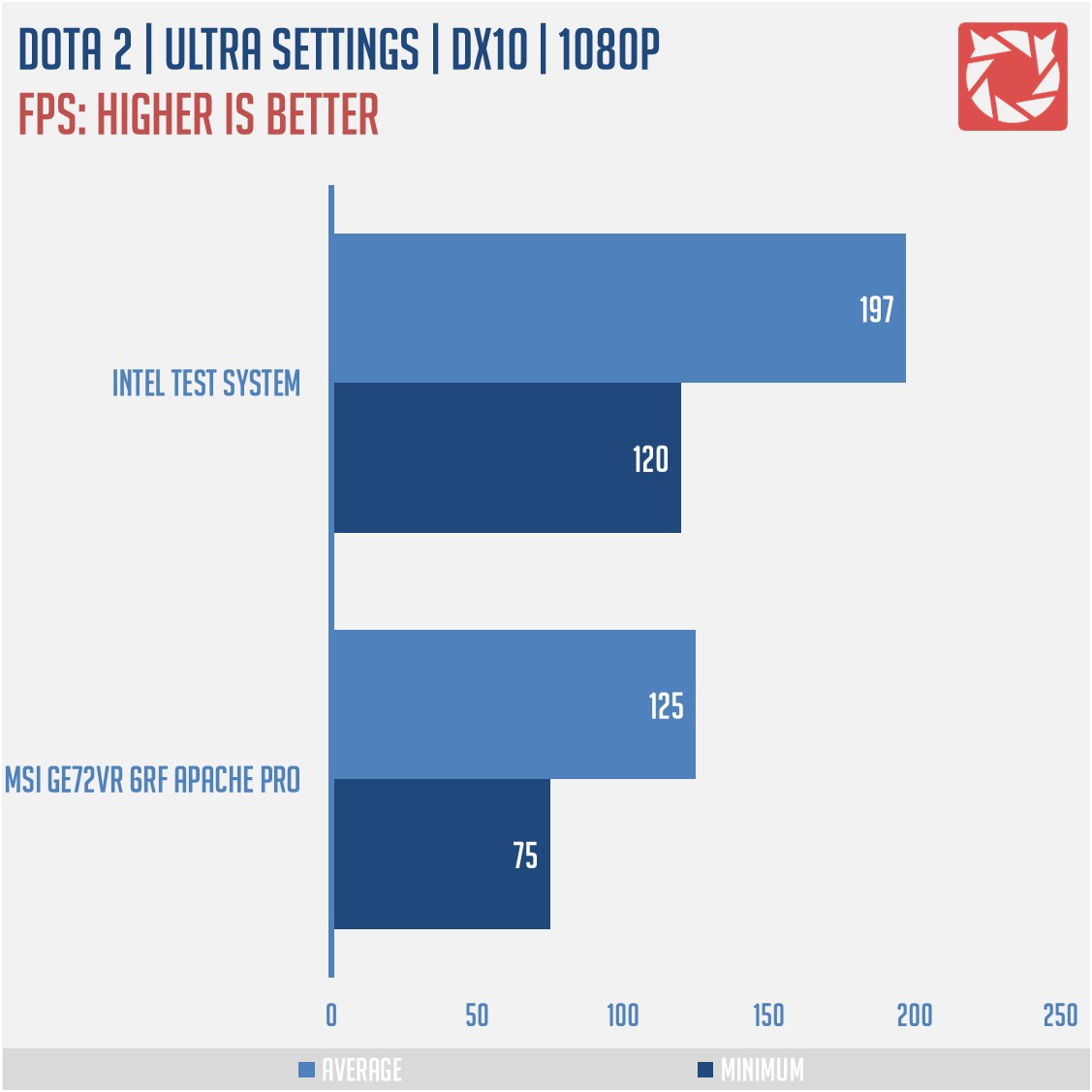 DIRT: Rally is CODEMASTER's take on the rally racing game genre. It utilizes the EGO game engine with support for the DirectX 11 API. Settings are set to Ultra.
Project CARS is Slightly Mad Studios' latest simulation racing game, running on the Madness game engine utilizing DirectX 11 support. Settings are set to maximum.
The Elder Scrolls V: Skyrim is Bethesda's critically acclaimed Action Adventure RPG. Skyrim utilizes the Creation Engine with DirectX 10 support. Settings are set to Ultra with V-SYNC turned off.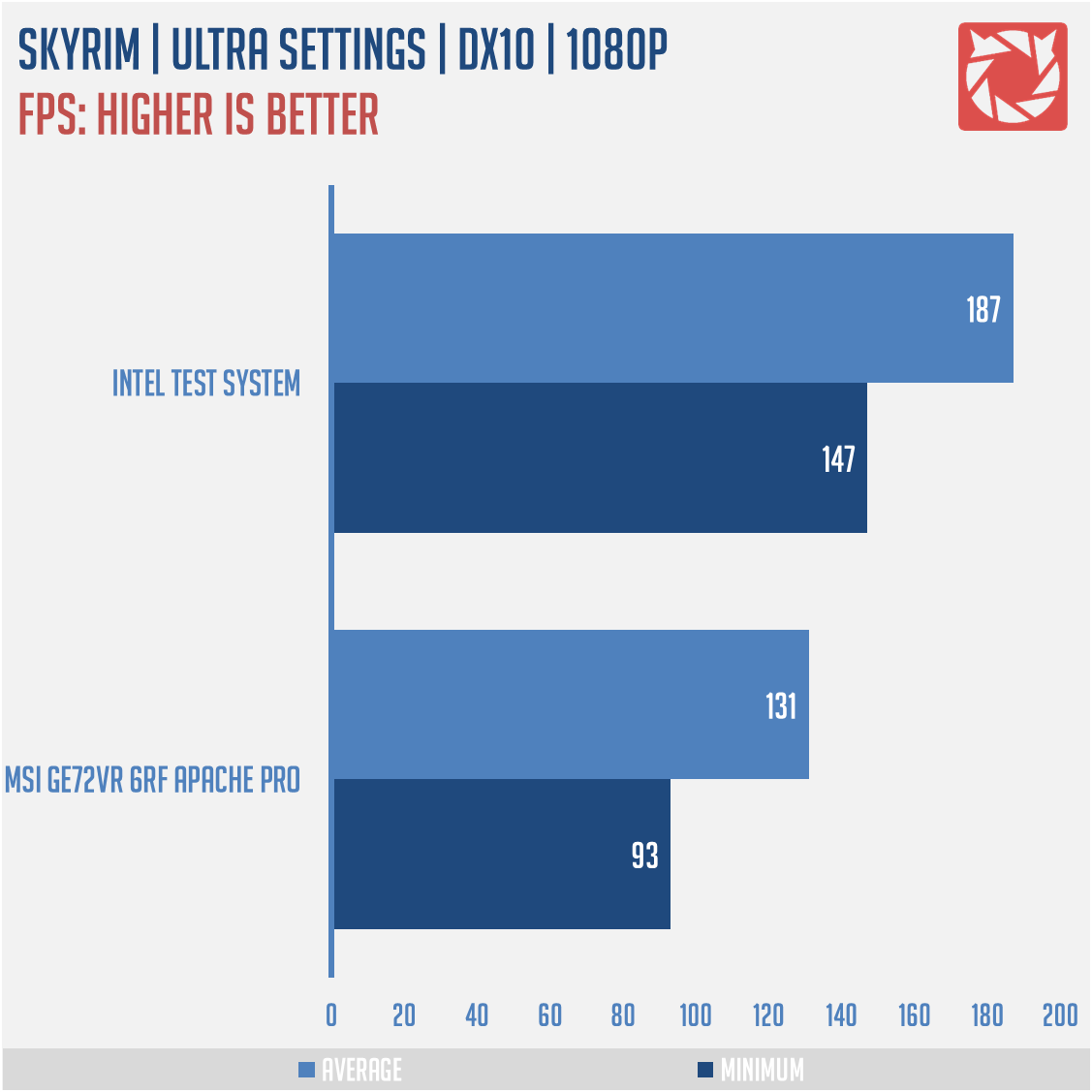 The Witcher 3: Wild Hunt is CDProjekt RED's award winning Action Adventure RPG. The Witcher 3 utilizes the REDengine 3 with DirectX 11 support. Settings are set to Ultra.
STORAGE PERFORMANCE:
Crystal Disk Mark is a storage benchmarking software widely used through the industry. It features four synthetic methods to test both read and write performances of any drive.
AUDIO PERFORMANCE:
RightMark Audio Analyzer (RMAA) is a suite designed for testing quality of analog and digital paths of any audio devices. The results are obtained by playing and recording test signals passed through the tested audio path by means of frequency analysis algorithms.
| | | |
| --- | --- | --- |
| Frequency response (from 40 Hz to 15 kHz), dB | +0.27, -4.06 | Poor |
| Noise level, dB (A) | -99.0 | Excellent |
| Dynamic range, dB (A) | 99.0 | Excellent |
| THD, % | 0.0033 | Very good |
| THD + Noise, dB (A) | -86.0 | Good |
| IMD + Noise, % | 2.069 | Poor |
| Stereo crosstalk, dB | -92.7 | Excellent |
| IMD at 10 kHz, % | 0.014 | Very good |
| General performance | | Good |
The MSI GE72VR 6RF could use an improvement when it comes to its audio solution. Frequency response in particular fell down to a maximum of -4 dB starting from 30 Hz, gaining ground until it reaches 500 Hz. This means you're treated to a roll-off from your sub-bass until the mid-ranges. IMD + Noise are not the best either, but I expected this due to the nature of the notebook's audio component's proximity to other hardwares.
Subjectively, the notebook lacks bass and mid-range presence for my liking. That said, make sure to bump your equalizer from the 30 – 500 Hz mark and play with it until you are satisfied with the output.
THE VERDICT – IS THIS NOTEBOOK ANY GOOD?
Let us make this quick, and easy by talking about the general performance of the MSI GE72VR 6RF Apache Pro. First off, do not expect this to go head to head with an Intel Core i5 6600K paired up with a GTX 1060. The comparison are just there for the sake of it, or as a baseline while we're looking for other vendors to send a sample of their own gaming notebook for us to test.
CPU performance is as expected for a notebook part Intel Core i7 with a maximum turbo boost of 3.5GHz. As for the GPU, this is a full GTX 1060 silicon alright under the hood of the GE72VR with a maximum boost clock of 1671 MHz. But, we are talking about notebooks here, still. That said, the SoC GTX 1060 has to be feed with less power, has to operate at specific clock speeds, and to conform with the thermal solution in place. These 3 suckers has to play the balancing game, whereas some desktop GTX 1060 models could pass 2025 MHz of clock speed like it's nothing. Again, I have nothing against the performance, it's just the nature of notebook components required to conform to specific requirements. The GTX 1060 is still great GPU even inside a notebook, and our benchmarks showed a desktop gaming PC class performance without the bulk.
Thermals on the other hand leaves me wanting for a better result especially with the CPU and GPU thermal outputs. We saw a maximum of 87°C with the 6700HQ which is kinda not bad, but not the best either. Well at least it's not throttling so everything's safe here. You wont stress the CPU like this with any real world usage anyway. As for the GPU, we saw an 84°C maximum load temperature. It's not bad but it prevents the GTX 1060 from performing its boost function efficiently.
As for great news, the body's thermals are just excellent, paired up with good acoustics even at load, and a power consumption that doesn't suck the life out of your wall socket. Software bundle is relatively nice too, with the MSI Dragon Center acting as a real center for your gaming needs with access to commonly used and bundled gaming applications.
As for the battery life, we get a maximum of 68 minutes on the clock at Battery Eater Pro. This notebook is a media sample, and its battery might already had a glimpse of the heavens so we can't accurately judge how good or bad the figures we actually got.
Now we could see where MSI wants to position the MSI GE72VR at. It is aimed for gamers who can't actually decide which kind of path are they going to take – a stationary or a mobile one? For sure, you can get a desktop with a better performance for exactly the same price, but if you really need both the performance and portability then the MSI GE72VR is what you require. For its merits and purposes, you can never go wrong with the MSI GE72VR. It is blazing fast, and has all the bells and whistles of a proper gaming device.
EXCELLENT DESKTOP CLASS PERFORMANCE
ACOUSTICS AND SHELL THERMALS
REALLY PORTABLE AT 17.3″ AND 2.7KG  
WELL BUILT & AESTHETICALLY PLEASING
RGB ENHANCED KEYBOARD IS LIT 
GOES AS LOW AS 84, 000 PHP

COMPONENT THERMALS COULD BE BETTER
AUDIO SOLUTION COULD BE BETTER 
MSI GE72VR 6RF Apache Pro
PERFORMANCE -

8/10

BUILD QUALITY -

7/10

AESTHETICS -

8/10

VALUE -

7/10
Summary
The MSI GE72VR 6RF Apache Pro is an excellent desktop grade solution made for the gamer with portability and performance in mind. A perfect companion that will keep you entertained with the latest titles at their maximum settings. This thing will not let you down.