The GTX 950 is Nvidia's latest foray into the mainstream graphics territory, aimed for MOBA gamers that upholds budget and their particular genre more than anything else. Released 18 months after the GTX 750 & 750 Ti, the GTX 950 could be called as the direct descendant of the very first Maxwell card.
A lot has happened between 18 months at Nvidia, with the release of the GTX 970, GTX 980, Titan X, and GTX 980 Ti among others. Successful as they are, these cards are aimed at the upper mid-range and enthusiast level crowd and it just happened that Nvidia required a new mid-range contender to tackle AMD's still competitive Pitcairn based GCN cards.
Specs-wise, this is no re-brand, as the GTX 950 features 768 CUDA cores backed by 2GB of GDDR5 with 128-bit bus interface & 6.6GBps memory clock speed making up a total of 105.6 GB/s Memory Bandwidth. Apart from those said specifications, the GTX 950 features a 2-Way SLI compatibility – meaning that you could slap two of these cards for an extra boost in performance. A feature missing on the GTX 750 series.
The card we got here is undeniably not a reference one, as it is the MSI GTX 950 GAMING 2G which is a factory overclocked graphics card featuring a non-reference cooler, plus higher clock frequencies. With the Twin Frozr V cooler, the GTX 950 GAMING 2G is able to achieve 1127 MHz core clock speed (1317 MHz boost), which is 103 MHz faster than the reference. Memory clock has been bumped up too, but the additional frequency bump is almost negligible to say at least.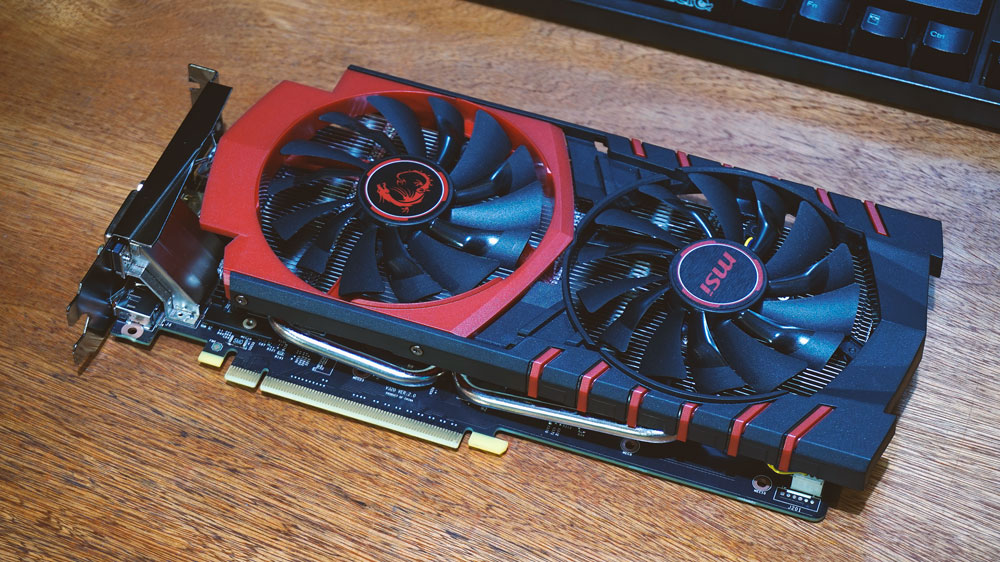 FEATURES & SPECIFICATIONS:

CLICK HERE



As usual for non reference cards, the MSI GTX 950 Gaming features non reference clock speeds, a beefy cooler, and a non reference PCB. The only thing that never undergo any changes are the display ports which still consists of a single DVI, 3x DP, and a single HDMI 2.0 output port.
The Military Class Components are staple features of any MSI gaming oriented graphics cards, with the inclusion of additional features such as 0dB fan technology (ZERO FROZR), as well as adding LED effects if the card supports it. The MSI Gaming App is also added to let the gamers easily choose between settings or predefined profiles.
UNBOXING THE CARD:
The GTX 950 Gaming 2GB comes in an old fashioned, gaming oriented packaging design from MSI. From the packaging alone it might be seen as an expensive toy with a neatly laid out presentation.
The back is full of elaborated graphical context from the TORX Fan (0dB feature) down to the gaming app. Nothing out of place here.
The card comes with a software DVD, a DVI to VGA adapter, and a quick user's guide. I expected a bit more honestly. So much for that fancy packaging, eh?
THE MSI GEFORCE GTX 950 GAMING 2G:
Out of the box, the MSI GTX 970 Gaming 2G seems to look similar to the recent MSI grahics cards that has been released, and that's due to the implementation of the Twin Frozr shroud and cooler combination. It's certainly not small with its 10.6 inches length, and 5.4 inches width so if you are looking forward to slap this on your ITX chassis, then it's better to take measurements right away.
The back is devoid of any kind of backplate which is understandable to keep the price within the expected margin. The card also appears that it could be 2-3 inches shorter without the excess PCB. Based on my experience with similarly designed cards, the extension is just there to cope up with the extra length of the card's cooler. Two of the four SAMSUNG based GDDR5 DRAM chips on the card are seen on the back, with part number K4G41325FC-HC28 rated to run at 7000 Mbps. These are not actively, nor passively cooled.
The fans are designed to complement the Twin Frozr, via the "Advanced Dispersion Blade" design. MSI stated that it should generate 19% more airflow without increasing drag for supreme silent performance. Basically the fan blades has a matte and smooth glossy coating combination.
I/O ports are a plenty, with DVI-D, 3x DisplayPort, and one HDMI port. There is also a small ventilation area situated here next to the SLI fingers.
Overall the card looks great and feels really solid. With a single 6-pin power connector, and SLI support, you could get away with a relatively good cable management even with 2 cards installed.
TEST SYSTEM & SPECIFICATIONS:
Graphics cards are no strangers in our labs, but providing a precise result usually needs a lot of time and effort on our end. Helping us to do those things is an updated copy of Windows 7 Ultimate x64 SP1 and wide selection of the popular games that most probably, will sate your appetite. The BIOS/UEFI, Chipset, and Video Card drivers of the test system will be updated too, as much as possible.
No other softwares should be running while the benchmarks are on going, unless it is needed, or stated. As for the gaming benchmarks alone, tests should include 720P (1280 x 720), 1080p (1920 x 1080), 1440p (2560 × 1440), and 4K QHD resolution results if permitted by the games, and benchmarking tools, or if necessary. Games without benchmarking tools of their own will have the results recorded with FRAPS. Below are the test system's specifications:
| | |
| --- | --- |
| CPU | Intel Core i5 4670K |
| MOTHERBOARD | ASUS Z97-PRO WiFi AC |
| CPU COOLER | Cooler Master Seidon 120XL |
| MEMORY | ADATA XPG V2 @2400MHz 16GB |
| GRAPHICS CARD | MSI GTX 950 GAMING 2GB |
| INT. STORAGE | Kingston HyperX Fury SSD 240GB |
| PSU | Cooler Master Silent Pro Hybrid 1300W |
| DISPLAY | 27″ DELL U2715H WQHD IPS Panel |
| OS | Microsoft Windows 7 Ultimate x64 SP1 (Updated) |
| SOUND CARD | Realtek ALC1150 |
| EXT. STORAGE | 2TB Western Digital My Passport |
WHAT IS FPS ANYWAY?
For refreshment purposes, let us talk for a moment about FPS or Frames Per Second. Also known as Frame Rate, FPS is the general unit of which we measure a graphics card's capabilities. Generally, the higher value, the smoother the gameplay should be, since higher FPS means higher frames are rendered each second. Higher FPS doesn't just improve your gaming experience, as it also helps you to react faster especially in First Person Shooter & Racing Games. Please do note that Resolution and in-game settings has a huge effect too in any system's frame rate.
SYNTHETIC/GPU COMPUTE PERFORMANCE:
3DMARK (2013) is a multi-platform benchmarking tool from FUTUREMARK, consisting of comprehensive tests that aims to gauge your gaming hardware; be it a smartphone, a tablet, a laptop, or a desktop PC.
CINEBENCH R11.5 is a real-world cross-platform test suite that evaluates the computer's performance capabilities. CINEBENCH is based on MAXON's award-winning animation software CINEMA 4D, which is used extensively by studios and production houses worldwide for 3D content creation.
Kishonti's CompuBench is an easy to use, no frills high performance suite of benchmarks. It compares the strengths and weaknesses of different hardware architectures such as CPUs, GPUs and APUs using a series of tests.
GAMING PERFORMANCE:
Dragon Age: Inquisition an action role-playing video game developed by BioWare and published by Electronic Arts. It is the third major game in the Dragon Age franchise, and utilizes the Frosbite 3 Engine with the SpeedTree technology.
The Witcher 3: Wild Hunt is an action role-playing video game set in an open world environment, developed by Polish video game developer CD Projekt RED. It utilizes the REDengine 3.
Battlefield 4 is one of EA and DICE's most recent first person shooters utilizing the all new Frostbite 3 game engine featuring better tessellation effects and destruction compared to its predecessor.
Dota 2 is a Multiplayer Online Battle Arena (MOBA) video game developed by Valve and is the stand-alone sequel to the Warcraft III based Defense of the Ancients (DotA) mod.
League of Legends is a multiplayer online battle arena similar to, and exactly as popular as Dota 2. It is developed and published by Riot Games for Microsoft Windows and Mac OS X.
Counter-Strike: Global Offensive is a popular online tactical first-person shooter developed by Hidden Path Entertainment and Valve Corporation, utilizing the Source Engine.
Grand Theft Auto V is an open world, action-adventure video game developed by Rockstar North and published by Rockstar Games. It was released for the PlayStation 4, Xbox One, and Microsoft Windows.
OVERCLOCKING PERFORMANCE:
MSI's Afterburner overclocking & GFX card statistics software is clearly what this card needs in order to reach our goals. With that said, we spared no idle time and went to overclocking the card right away. As expected, the GTX 950 Gaming 2G passed with flying colors, with an easily attained 1307 MHz core overclock (+180 MHz /13.8% Gain), and 1783 MHz memory clock (+240 MHz / 14.4% Gain). Power limit is set to max (118 %) and that's just about it.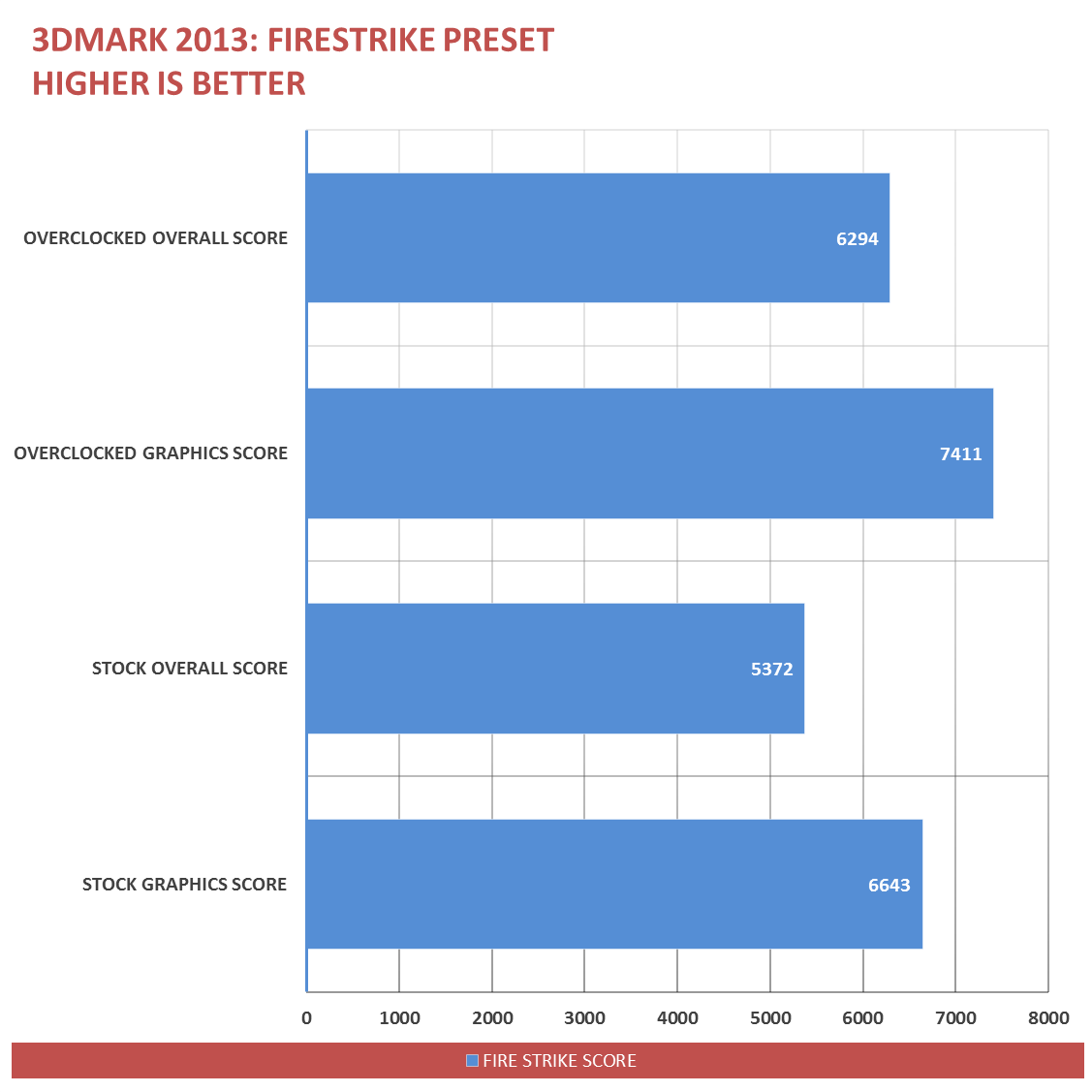 A maximum of 14.6 % performance increase is seen with the overall score from 3DMark 2013, while a maximum of  10.4 % increase is seen from the graphics score of the MSI GTX 950 GAMING 2G when overclocked. Very nice results.
TEMPERATURE & POWER CONSUMPTION:
FurMark is a very intensive OpenGL benchmark that uses fur rendering algorithms to measure the performance of the graphics card. To record the GPU's maximum temperatures, I will run Furmark's Fur Rendering Burn-in Test, and let it run for 30 Minutes. As always, we try to keep the results consistent by keeping the ambient temperature checked at 27ºC.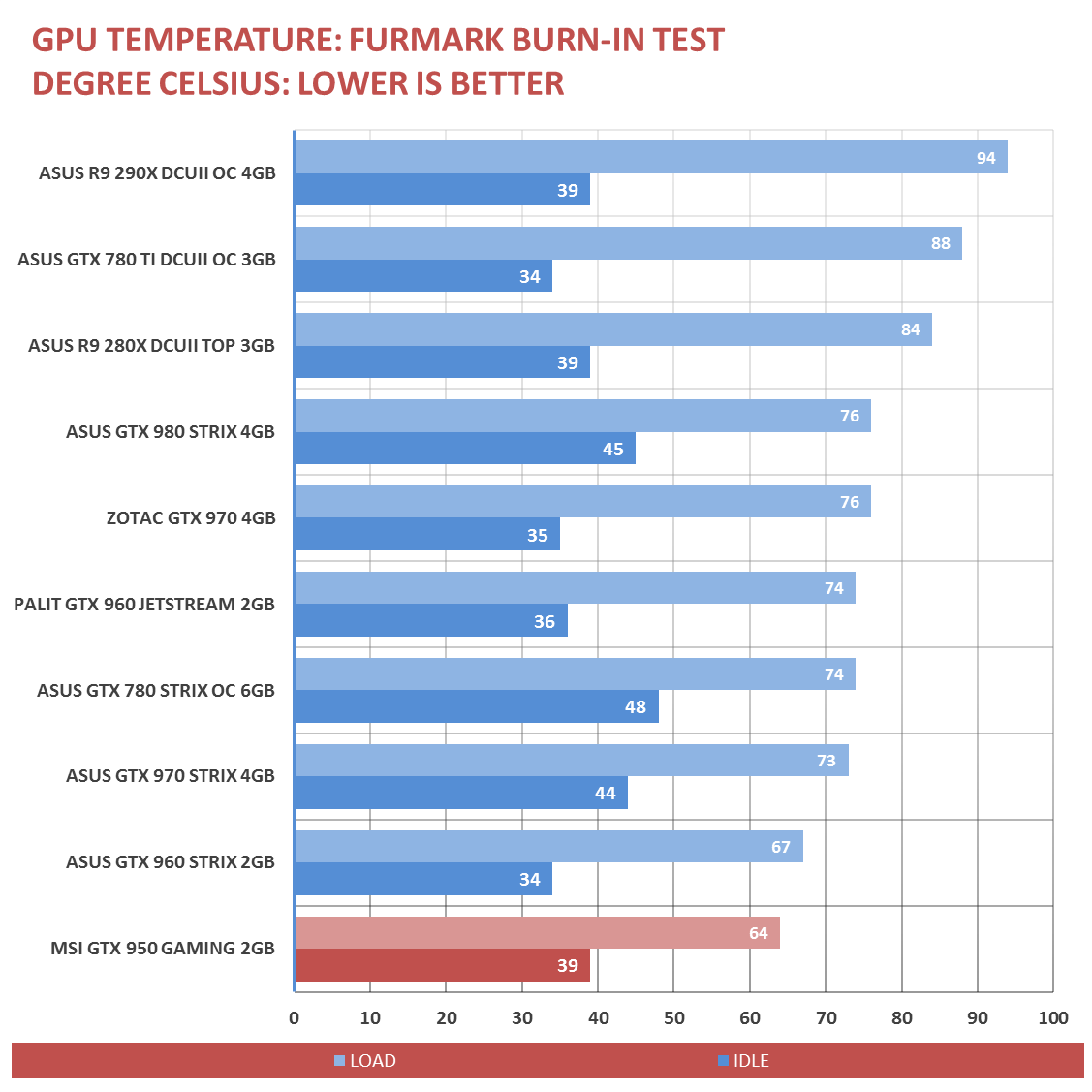 We also check to see how the GPU impacts power consumption. The system is left to idle for 30 minutes before readings are taken, and load data is taken 30 minutes while FurMark is running. Power readings are taken for the entire system from the socket.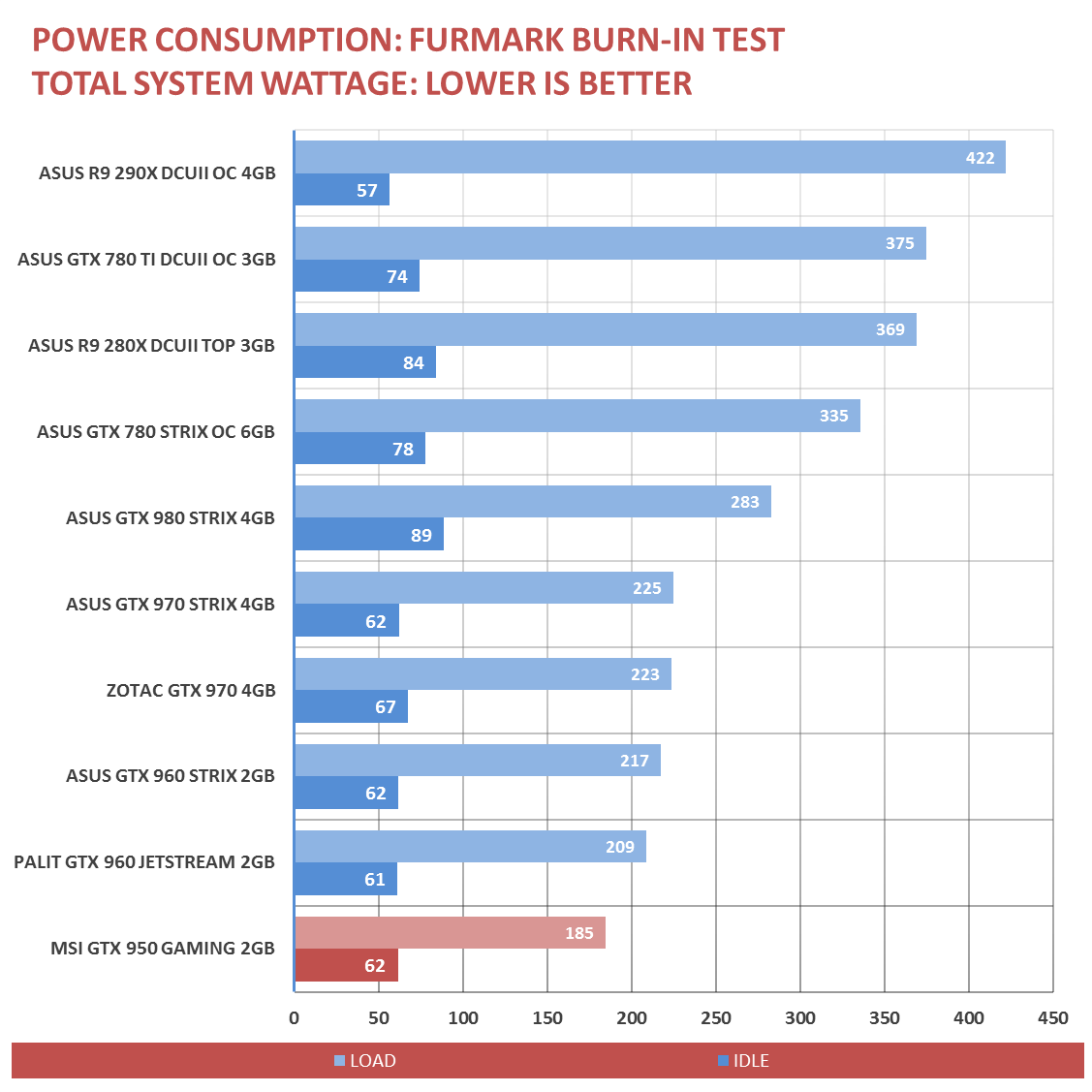 VALUE & CONCLUSION:
The MSI GTX 950 GAMING 2G is a solid, budget oriented mainstream graphics card that hits the sweet 1080P gaming screen hard. It's fast, even enough to push up to the 1440P landscape on some games especially when it comes to MOBA games such as DOTA 2, and the most popular FPS title in the market, which is CS: GO. Really, for 1080P gaming, this card will do its job fine.
Nvidia wants gamers with the GTX 650 and equivalent cards to upgrade to the GTX 950, which is reasonable, as most gamers (except for the budding enthusiasts) are upgrading their graphics cards every 3-4 years or until they breakdown. The GTX 950 and 650 also shares next to similar SRP at launch, so there's a reason why Nvidia decided to compare the GTX 950 the GTX 650 of the yesteryears.
The MSI GTX 950 Gaming 2G is a proper non-reference GTX 950, with an awesome cooler that not only showed a great cooling performance, but also showed utmost silence at full load. Mind you, the fans only need to run at 50% or at 1173 RPM to maintain a 64c load temperatures. That also shows that the cooling capabilities of the Twin Frozr is quite overkill for the card, unless of course if you're into overclocking.
With great results, awesome cooling performance, and overclocking potential, something must be off, and that's where the price jumps in. At 9, 080 Pesos, the MSI GTX 950 Gaming 2G is considered steep when it comes to pricing. Ridiculously steep, that it steps right in the GTX 960's pricing. If you're in the Philippines and you're considering to buy this product, you might want to check other options, but if you're not, at 159 USD, this is a solid contender.
THE VERDICT
PROS:
GREAT FACTORY OC PERFORMANCE
OVERCLOCKING POTENTIAL
GREAT BUILD QUALITY
3 YEAR WARRANTY
COOL & QUIET
CONS:
EXPENSIVE. AT LEAST LOCALLY.
MSI GTX 950 Gaming 2GB
PERFORMANCE -

8/10

BUILD QUALITY -

8/10

FEATURES -

9/10

AESTHETICS -

8/10
Summary
The MSI GTX 950 Gaming 2G is a proper non-reference GTX 950, with an awesome cooler that not only showed a great cooling performance, but also showed utmost silence at full load.