The latest NVIDIA Game Driver (511.23), released this January 14th, complements the much anticipated port of God of War to the PC. Optimization for the latest Sony port is not the only major stuff this driver brought to the table though, as it also introduced freestyle filters, DLSS and Reflex updates and of course the all new AI powered Dynamic Super Resolution technology, DLDSR.
What is NVIDIA DLDSR
DLDSR is short for Deep Learning Dynamic Super Resolution. This is essentially the NVIDIA DSR with AI support that intelligently uses spare GPU cycles to improve image quality in games.
Now like DSR, DLDSR is a driver-based feature so it runs separately from the game you want to use – similar to popular post-processing injectors. That means it could work with most games and shouldn't require any game side integration. With those in mind, DLDSR can also be combined with other in-game settings.
Last but not the least, DLDSR is exclusive to the NVIDIA GeForce RTX GPUs due to its capabilities to run the Deep Learning network required. With this in mind, it is the first RTX based feature to support a wide range of games out of the box.
When to Use DLDSR
You'd want to try DLDSR out if you have games that do not tax GPUs much. That means classics, eSport titles or even older AAA games such as Prey, Starcraft 2 and Diablo III to name a few. It's safe to say that well optimized games and those with more powerful RTX hardware could also benefit from this feature. You may even cap or limit your frame rate to improve GPU utilization.
You may check this out yourself using overlays such as NVIDIA's very own FrameView, GeForce Experience Performance Overlay or RivaTuner based applications. I'd suggest the GeForce Experience Performance Overlay for its simplicity and ease of use. Fire up your desired game, preferably something older or well optimized. Below is a screenshot from Control – an example using the overlay but with a high GPU utilization.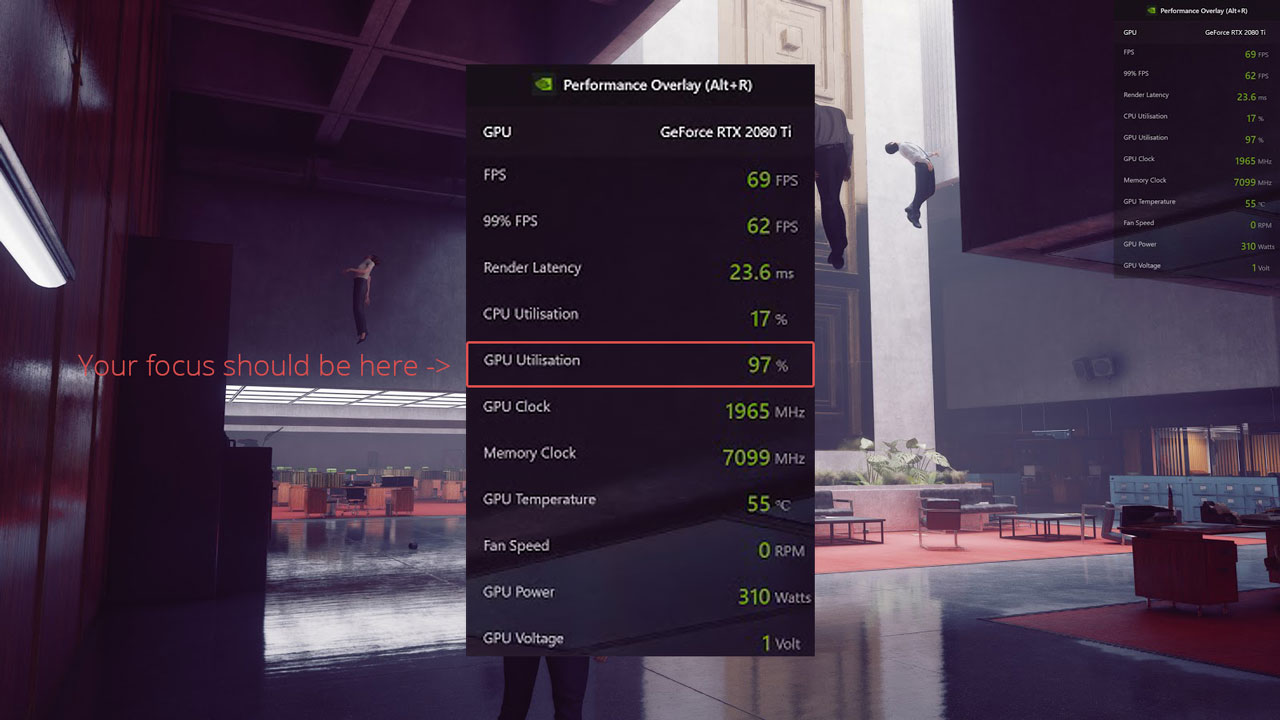 Now if your game is barely hitting 80% GPU utilization even at graphically intense scenes, that remaining 20% could be used to improve visual fidelity. A good example here is the comparison between Prey's native, DSR and DLDSR settings. Notice that the textures, particularly on the boxes are better than native – along with better defined edges and shimmer. This downsampling method also improves performance over 4x DSR which is its equivalent when it comes to image quality.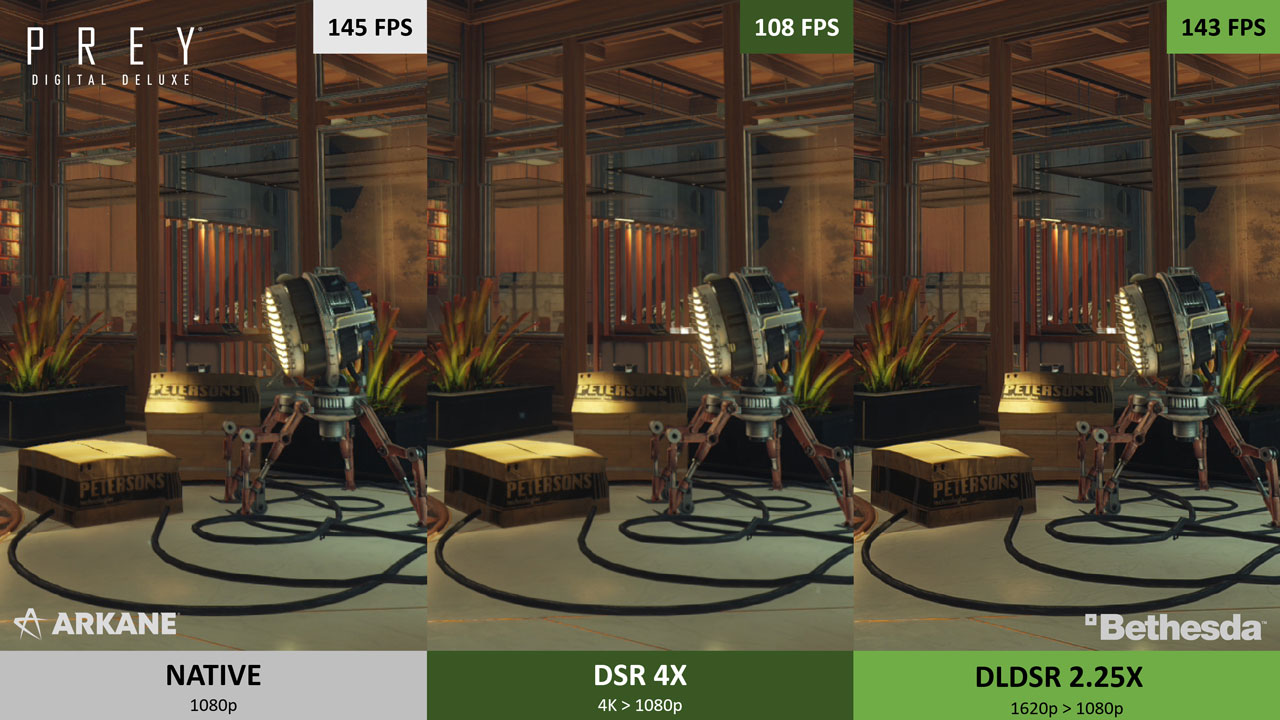 DLDSR is especially beneficial for gamers on 1080p or 1440p monitors with excess GPU headroom as they can improve visuals with less noticeable performance impact.
How DLDSR Works
In order to understand how DLDSR works, we first need to understand how DSR works. Basically, DSR renders a game at higher resolution then scales the result back down to the resolution of your monitor with larger sample points and use of gaussian filters. DLDSR on the other hand does the same thing but with the aid of Artificial Intelligence or technically speaking, the Tensor cores parked on RTX GPUs. It does this by using the Tensor core-accelerated AI network trained to recognize lines and edges to discriminate between aliasing and texture detail.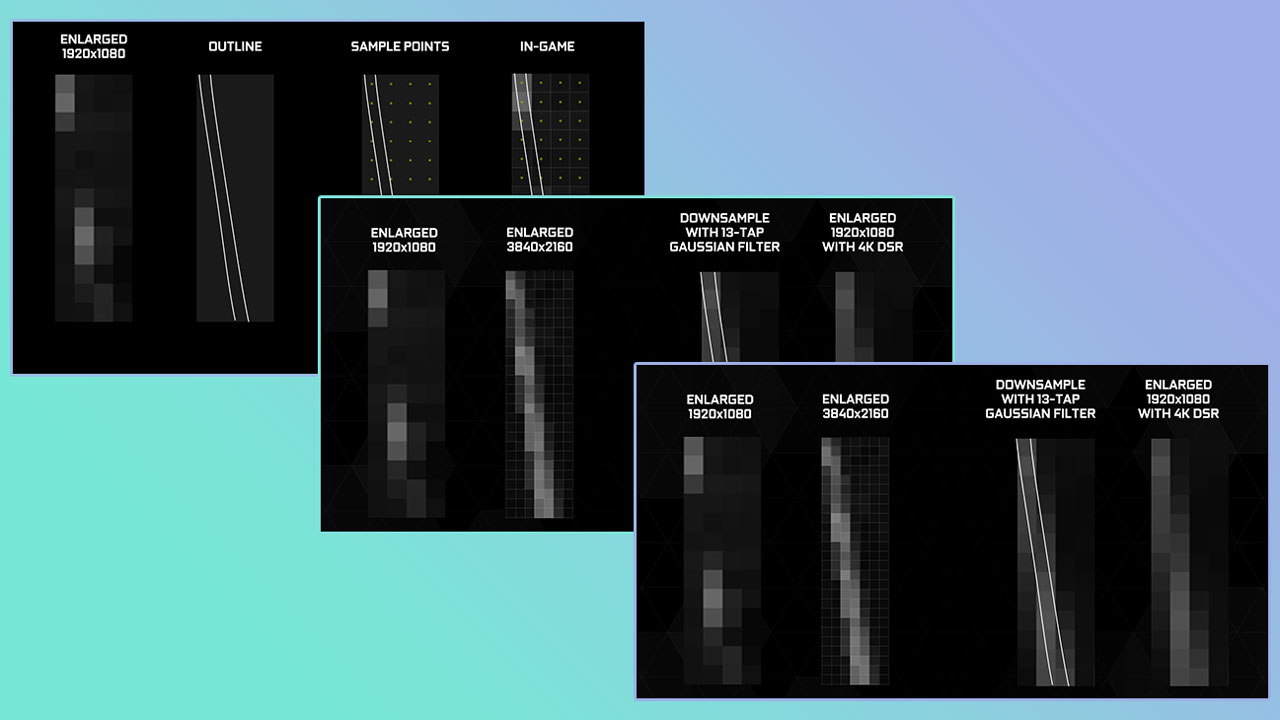 Due to the enhanced accuracy of this AI-based approach, DLDSR is able to improve image quality while requiring less pixels to be rendered compared to standard super sampling. For example, DLDSR set to 2.25x factor provides visually similar benefits to image quality (i.e. improved clarity and temporal stability) as DSR provides when set to 4x.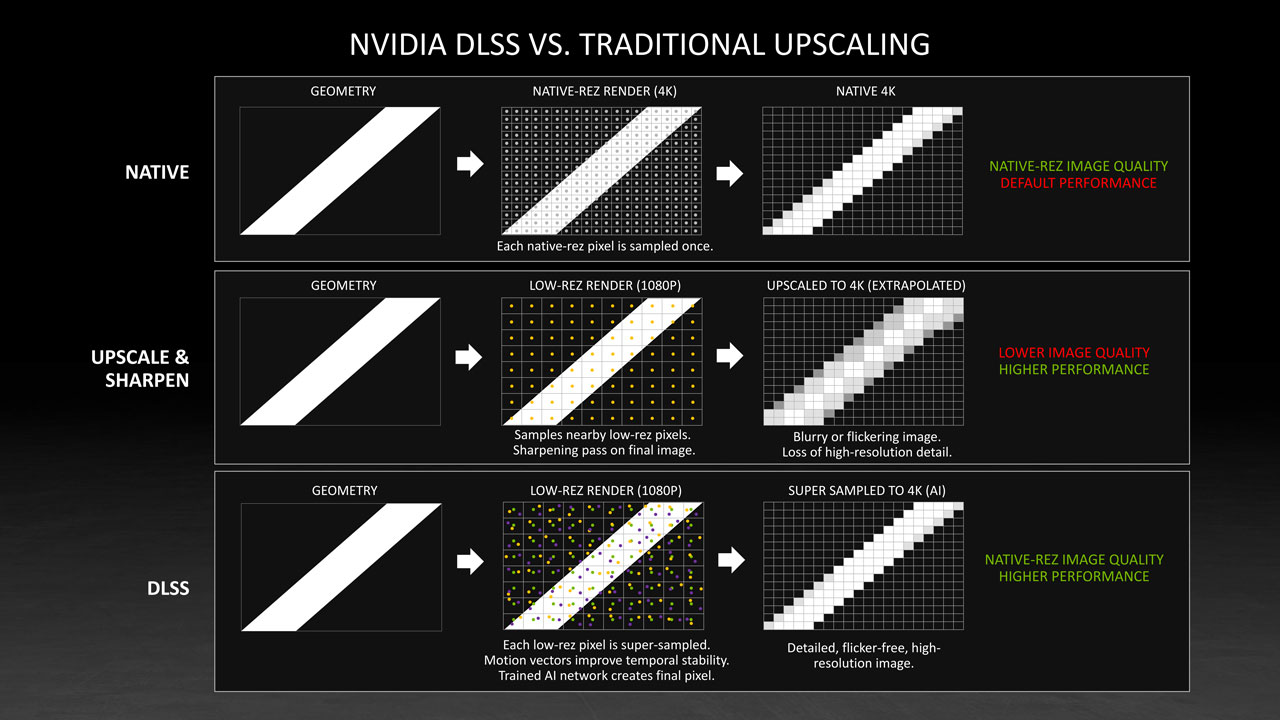 DLDSR does not replace DLSS if that's what on your mind – it actually works the opposite way. Again, like DSR, DLDSR renders at a higher resolution and scales to a lower resolution to gain image quality, whilst DLSS renders at a lower resolution and scales up to gain performance while maintaining image quality. Additionally, DLDSR is a spatial technique that works on a frame-by-frame basis whereas DLSS takes information from multiple frames to reconstruct a higher fidelity image. More information about DLSS could be found on our guide here.
How to enable DLDSR:
Enabling DLDSR is a simple matter. You just have to visit the venerable NVIDIA Control Panel and look for the DSR Factors settings under the Manage 3D Settings menu. Once enabled, remember the resolutions pertaining to the DLDSR settings you chose so you wont confuse it with the in-game resolutions for the titles where you want it disabled.
Launch NVIDIA Control Panel
Navigate to "Manage 3D Settings"
Scroll down to "DSR Factors"
Select either or both of the DL-based DSR factors (1.78x, 2.25x)
Click "OK" and then "apply"
New DLDSR resolutions will now be added to the system and available to select within the NVIDIA Control Panel, Windows Display settings, and in-game resolution settings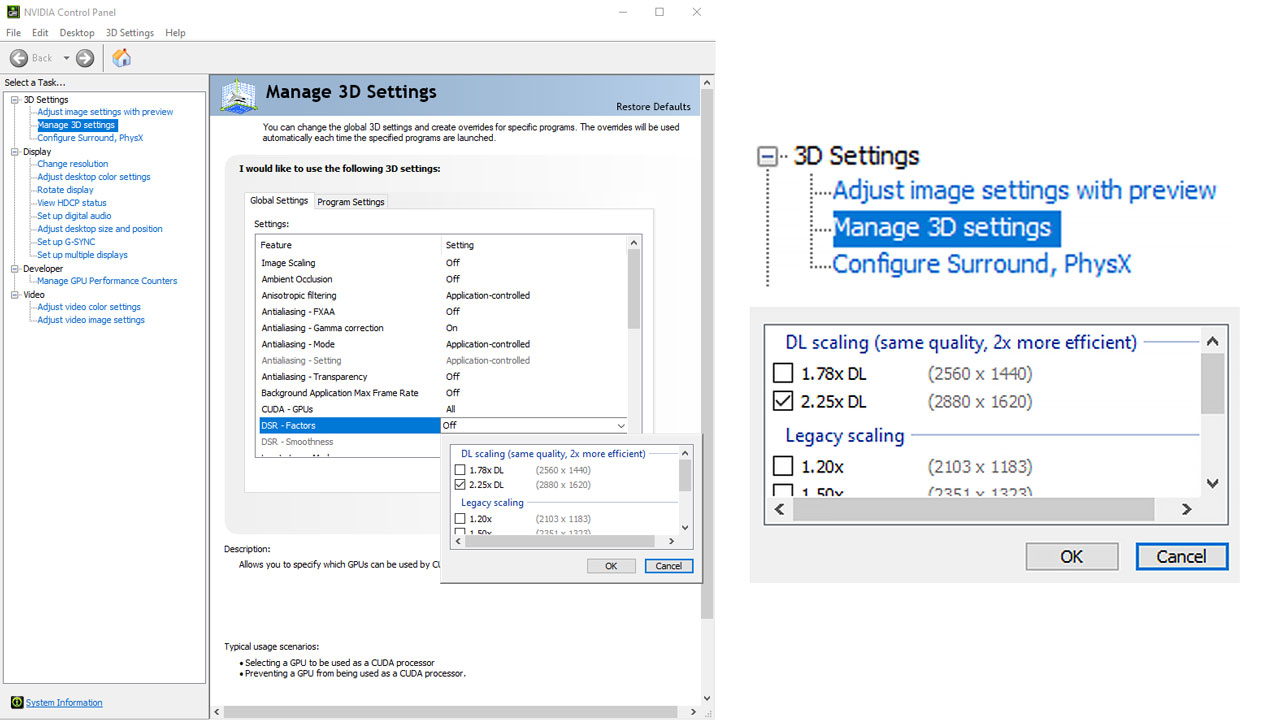 DLDSR and DSR factors are based on the maximum resolution of the connected display, thus different factor resolutions will be available when your system is connected to a 1080p, 1440p or a 4K monitor. To see the benefit of DLDSR vs. DSR, measure the performance of DLDSR at 2.25x vs. DSR at 4x. You will notice that image quality is comparable between these two settings, but DLDSR runs substantially faster. You may once again use the NVIDIA GeForce Performance Overlay to check this out.
Final Thoughts
DLDSR is a nice addition to the growing GeForce Experience and RTX feature set. NVIDIA intended this technology to let gamers enjoy older titles – in conjunction with the new freestyle filters but the benefits shouldn't end there. It is actually a viable visual fidelity and performance oriented option for those rocking an RTX graphics card while also looking for something more efficient over DSR or where DLSS compatibility is practically nonexistent.
That said, the NVIDIA DLDSR serves as a proper middle ground between the two settings. Heck, I even find it better compared to NVIDIA Image Scaling and DLAA – two other forms of scaling technology from NVIDIA, making DLDSR the fifth on the list and my personal favorite thus far.