The GTX 960 is the latest iteration of the Maxwell architecture, featuring all the technologies we love from the said architecture in an affordable mainstream price. Aimed to sate the 1080P gaming crowd, the GTX 960 is a fluid, 60 FPS capable GPU, and is the direct successor to Nvidia's GTX 660 and GTX 760.
The GTX 960 we got here is a courtesy of our friends at Palit Philippines, whom decided to let us play with their latest mainstream card in the form of the GTX 960 JetStream. The JetStream saw its introduction with the GTX 600 Series, retiring the good old Sonic & Platinum series for a more streamlined performance series. The JetStream primarily revolves around two figures: Performance & Cooling capabilities – so expect that every JetStream card will feature a factory overclocked specifications
| | | | | |
| --- | --- | --- | --- | --- |
| GFX CARD | GTX 660 | GTX 960 | PALIT GTX 960 JS | GTX 970 |
| NVIDIA CUDA® CORES | 960 | 1024 | 1024 | 1664 |
| BOOST CLOCK | 1033 MHz | 1178 MHz | 1266 MHz | 1178 MHz |
| BASE CLOCK | 980 MHz | 1127 MHz | 1203 MHz | 1050 MHz |
| MEMORY SPEED | 6.0 GBPS | 7.0 GBPS | 7.0 GBPS | 7.0 GBPS |
| TDP | 140 W | 120 W | 120 W | 145W |
FEATURES & SPECIFICATIONS: CLICK HERE
The GTX 960, being a Maxwell based GFX card boasts Nvidia's latest notable features. That includes support for 4K resolution and above, Dynamic Super Resolution, MFAA, and G-Sync. Dual SLI is supported, and GPU Boost 2.0 as well. To learn more about the Nvidia GeForce GTX 960, visit this microsite for details.
| | |
| --- | --- |
| Memory Amount | 2048MB |
| Memory Interface | 128bit |
| DRAM Type | GDDR5 |
| Graphics Clock | Base Clock : 1203MHz / Boost Clock : 1266MHz |
| Memory Clock | 3600 MHz (DDR 7200 MHz) |
| CUDA Cores | 1024 |
| Memory Bandwidth (GB/sec) | 115.2 |
| NVIDIA SLI-ready | 2-way |
| Bus Support | PCI-E 3.0 x 16 |
| Maximum Digital Resolution | 4096×2160 |
| Maximum VGA Resolution | 2048×1536 |
| Dual-Link DVI | Yes x2 |
| HDMI | Yes |
| DisplayPort | Yes |
| Height | 2.5 Slot |
| Board Length | 247mm |
| PCB Width | 247mm x 126mm |
| Graphics Card Power | 120 W |
| Minimum Recommended System Power | 400 W |
| Supplementary Power Connectors | 6-pin X1 |
| Accessory | Manual, Driver Disc, Power Cable, DVI-CRT Adapter |
UNBOXING THE PALIT GEFORCE GTX 960 JETSTREAM:
The GTX 960 JetStream from Palit might not be the most expensive GTX 960 out there but it sure will smack you in the face with its lux-like packaging usually seen on higher end offerings.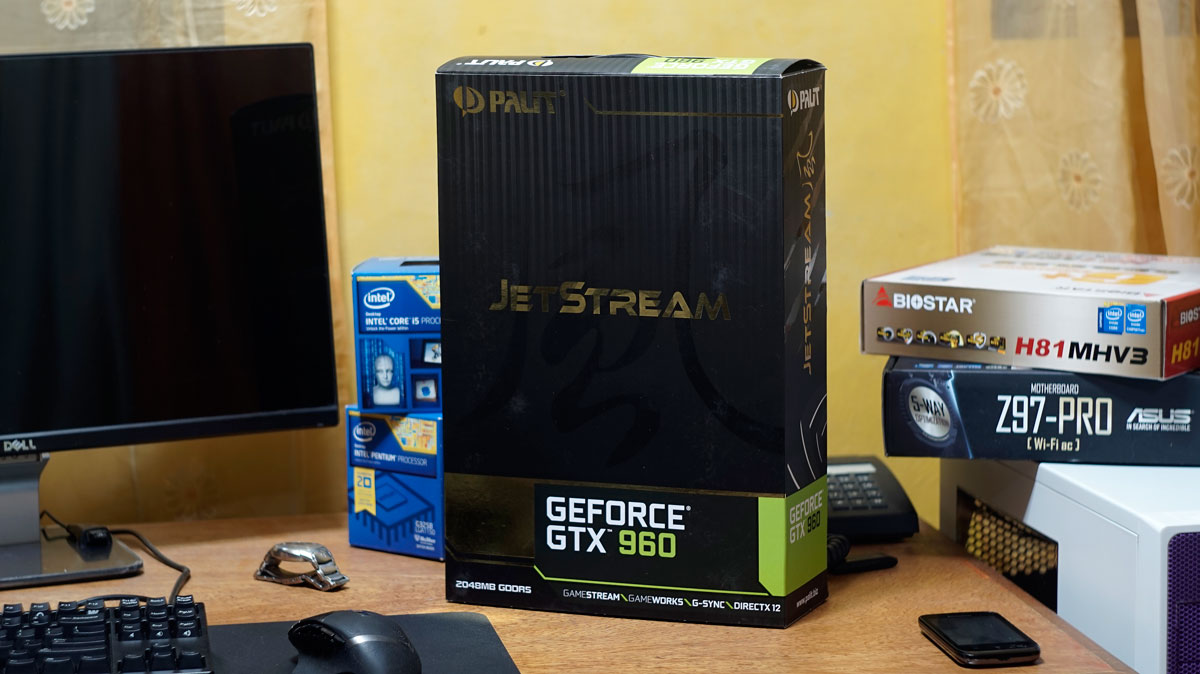 The back houses a mouthful of the GTX 970's features, including its specifications in different languages. It's nice to see Palit's cards presented in a multilingual way.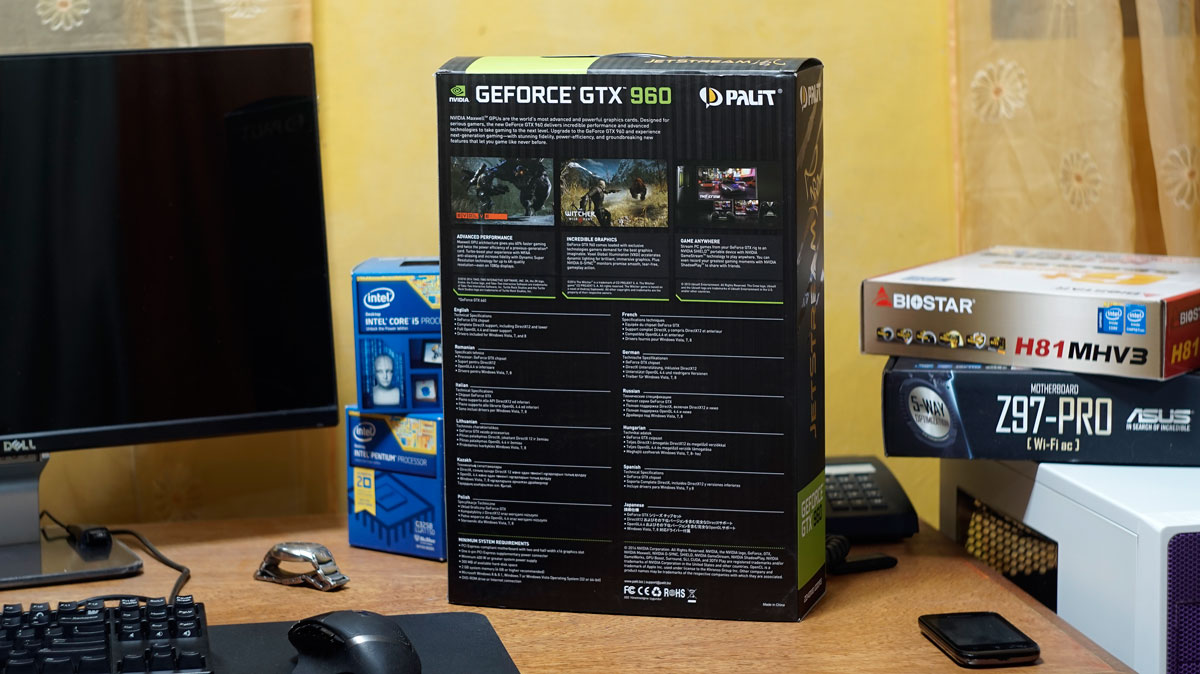 Opening the flaps reveals a clear cutout for the card so you could peek at the JetStream's design even before you buy one. The flaps side reveals more about the JetStream series, especially when it comes to its cooling features.
The Palit GTX 970 JetStream comes with a healthy amount of bundled accessories. That includes the software DVD, a manual, DVI to VGA adapter, a 2x Molex to 6-Pin PEG connector, and a JetStream sticker.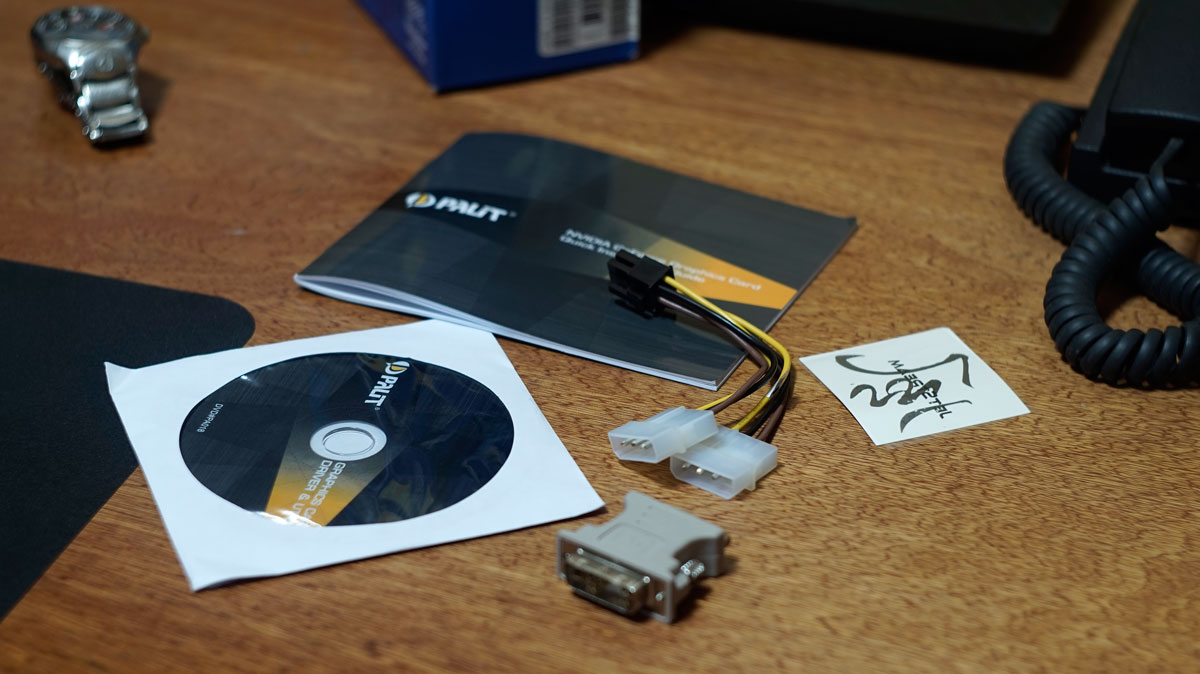 THE PALIT GEFORCE GTX 960 JETSTREAM:
The Palit GTX 960 JetStream is certainly not a small card, measuring at 247mm (9.72″) length, 126mm (5″) width and a 2.5 slot cooler to boot. Despite the size, Palit managed to keep the card's weight at a minimum of 1.2 Kilograms.
The card features a dual themed shroud, which is also made out of Two individual parts (aluminum & plastic). The face plate, which is Red coated aluminum, features a rather edgy design which could be easily removed and re-painted via screws if that's your thing. In addition, the cooling unit of this card is composed of Two 90mm fans with White LEDs (Palit says it's Blue) near the bearings for that elegant look, whilst the cooling fins are densely packed and is fully utilized via the Three copper heat-pipes.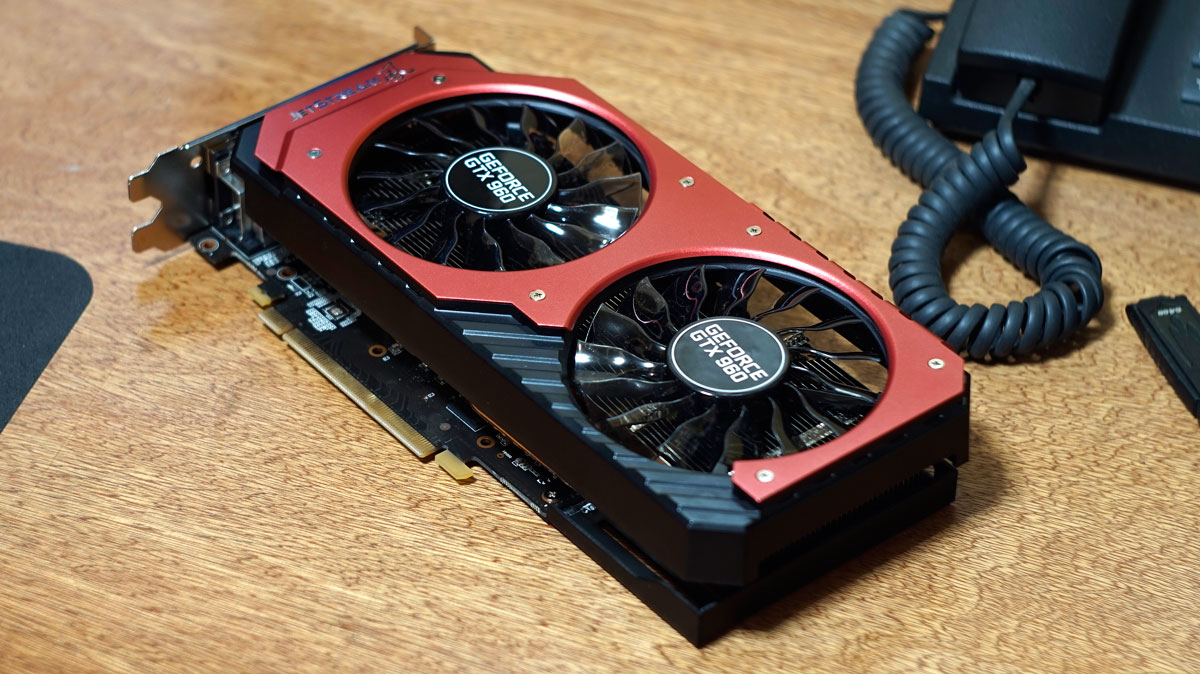 The back is clean and simple, yet it allows you to see how cute the card's PCB really is since the cooler actually makes up 1/3rd of the card's length.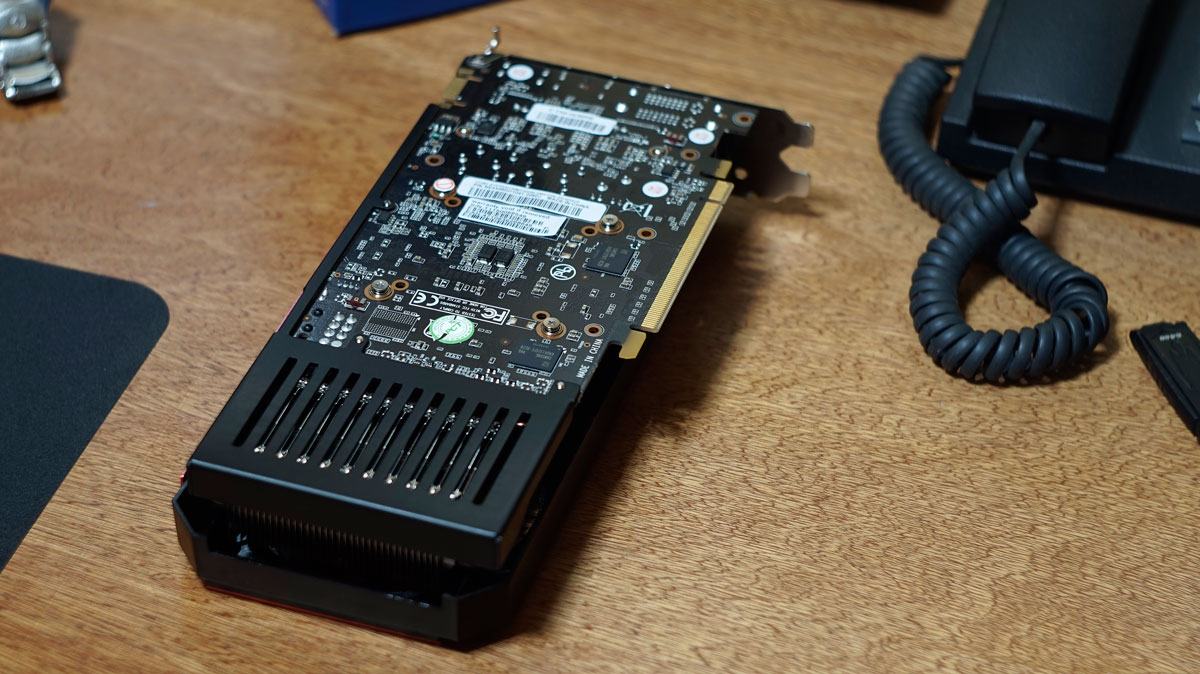 To avoid sagging, the card features a brace that runs along the side of the PCB which terminates as a shield / back-plate for the cooling fins. There is a single 6-Pin power connector on this side of the card, which theoretically means that this particular GTX 960 has a maximum TDP of 150W.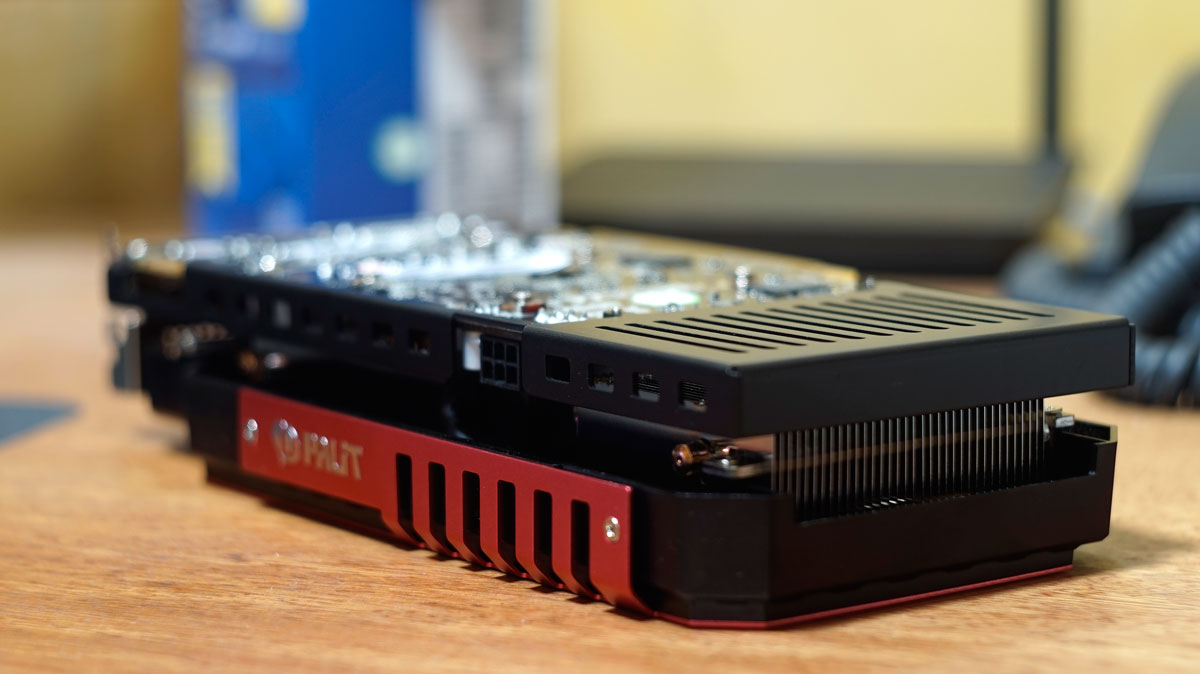 The display ports were pretty basic: Two DVI-D ports, one HDMI port and one DisplayPort. There is also an exhaust located on this side for better ventilation which is always a welcome sight.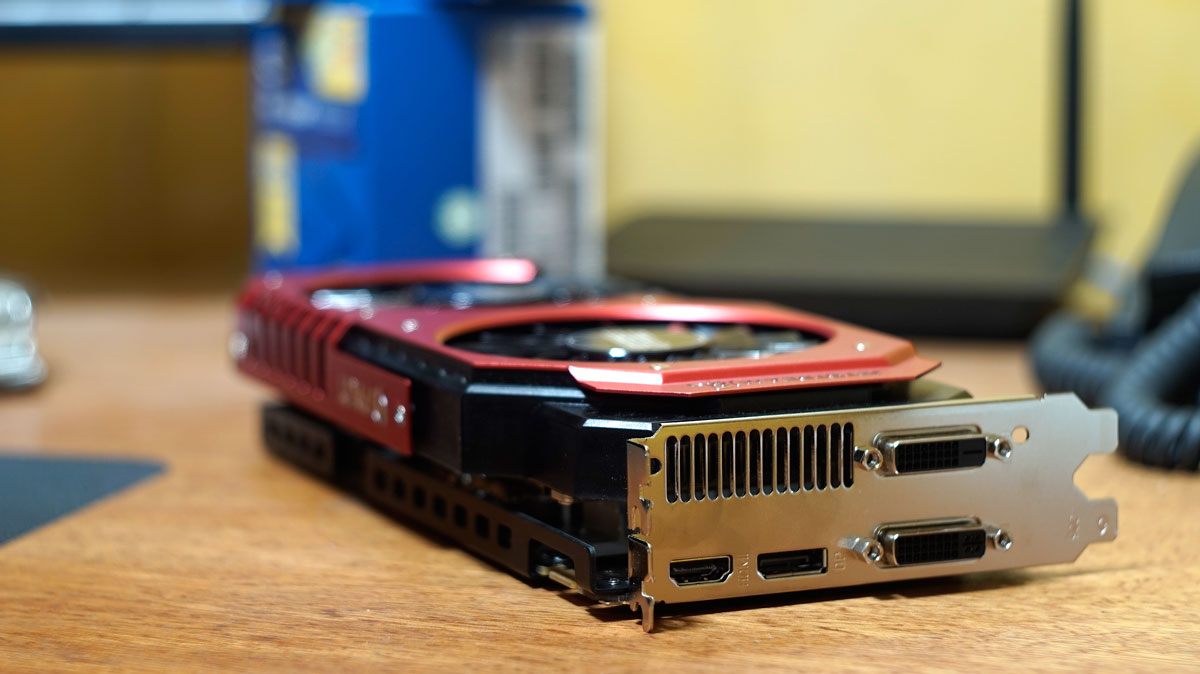 Since the GTX 960s on paper has only one SLI finger, the card only supports Dual SLI configuration.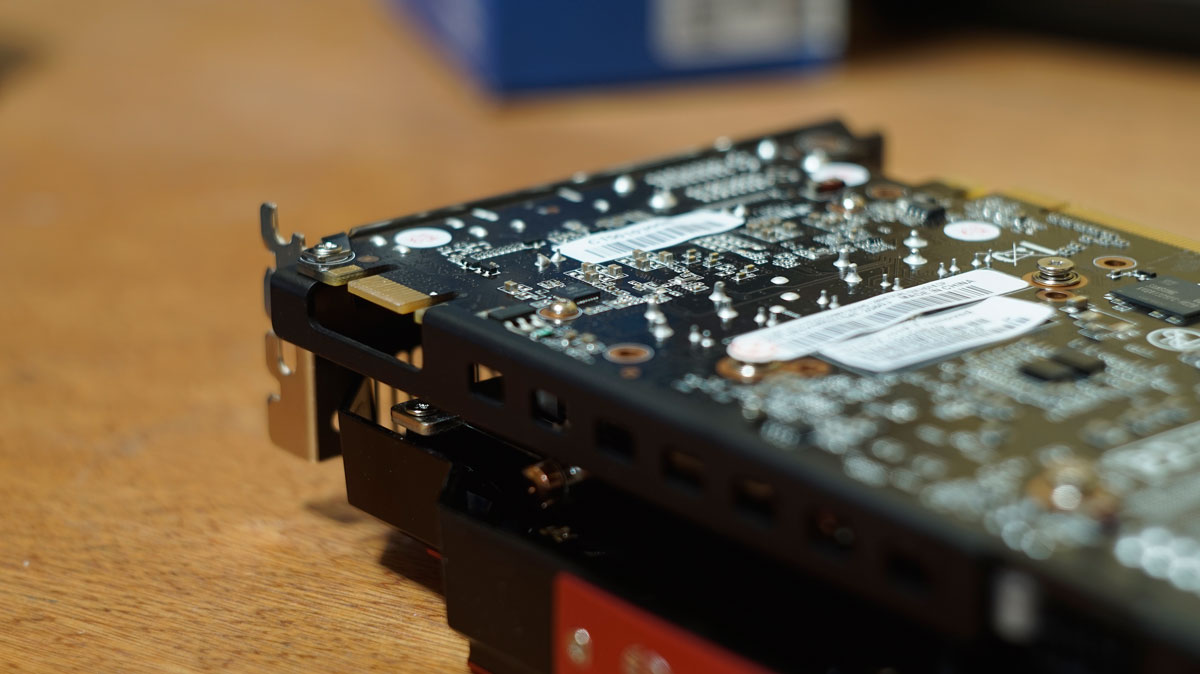 TEST SYSTEM & SPECIFICATIONS:
Graphics cards are no strangers in our labs, but providing a precise result usually needs a lot of time and effort on our end. Helping us to do those things is an updated copy of Windows 7 Ultimate x64 SP1 and wide selection of the popular games that most probably, will sate your appetite. The BIOS/UEFI, Chipset, and Video Card drivers of the test system will be updated too, as much as possible.
No other softwares should be running while the benchmarks are on going, unless it is needed, or stated. As for the gaming benchmarks alone, tests should include 720P (1280 x 720), 1080p (1920 x 1080), and 1440p (2560 × 1440) resolution results if permitted by the games, and benchmarking tools, or if necessary. Games without benchmarking tools of their own will have the frames per second recorded with FRAPS. Below are the test system's specifications: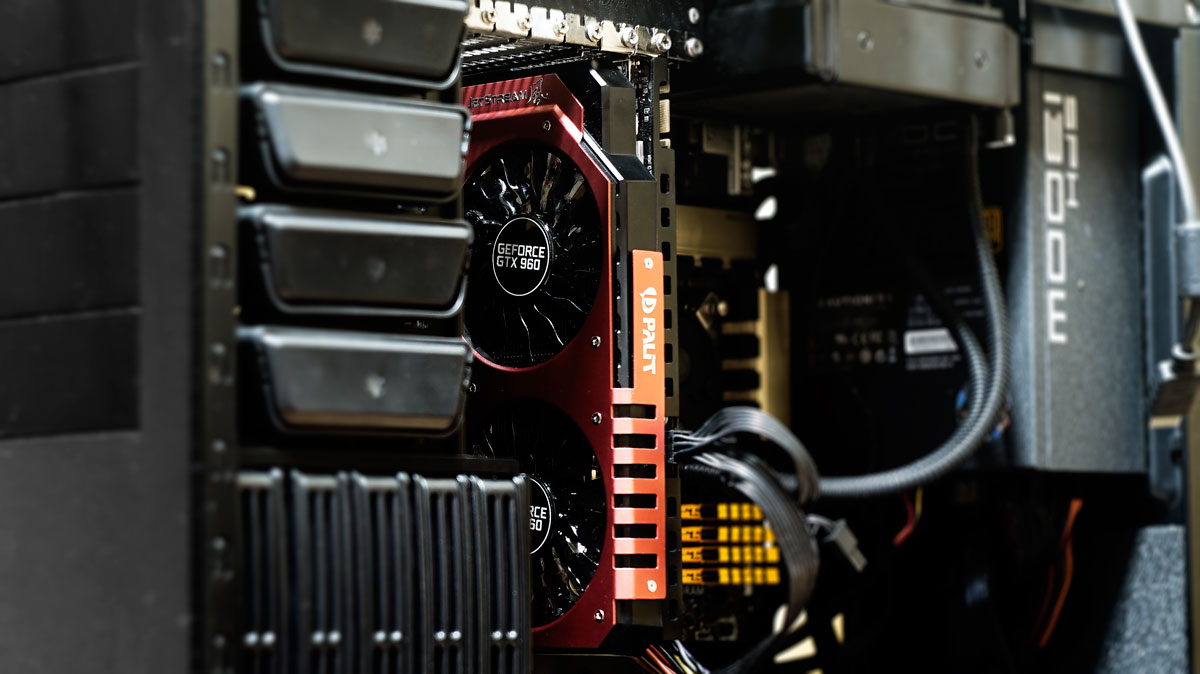 | | |
| --- | --- |
| CPU | Intel Core i5 4670K |
| MOTHERBOARD | ASUS Z97-PRO WiFi AC |
| CPU COOLER | Cooler Master Seidon 120XL |
| MEMORY | ADATA XPG V2 @2400MHz 16GB |
| GRAPHICS CARD | Palit GTX 960 JetStream 2GB |
| INT. STORAGE | Kingston HyperX Fury SSD 240GB |
| PSU | Cooler Master Silent Pro Hybrid 1300W |
| DISPLAY | 23″ DELL S2340L IPS |
| OS | Microsoft Windows 7 Ultimate x64 SP1 (Updated) |
| SOUND CARD | Realtek ALC1150 |
| EXT. STORAGE | 2TB Western Digital My Passport |
WHAT IS FPS ANYWAY?
For refreshment purposes, let us talk for a moment about FPS or Frames Per Second. Also known as Frame Rate, FPS is the general unit of which we measure a graphics card's capabilities. Generally, the higher value, the smoother the gameplay should be, since higher FPS means higher frames are rendered each second. Higher FPS doesn't just improve your gaming experience, as it also helps you to react faster especially in First Person Shooter & Racing Games. Please do note that Resolution and in-game settings has a huge effect too in any system's frame rate.
PERFORMANCE (SYNTHETIC/GPU COMPUTE):
3DMARK (2013) is a multi-platform benchmarking tool from FUTUREMARK, consisting of comprehensive tests that aims to gauge your gaming hardware; be it a smartphone, a tablet, a laptop, or a desktop PC.
CINEBENCH R11.5 is a real-world cross-platform test suite that evaluates the computer's performance capabilities. CINEBENCH is based on MAXON's award-winning animation software CINEMA 4D, which is used extensively by studios and production houses worldwide for 3D content creation.
Kishonti's CompuBench is an easy to use, no frills high performance suite of benchmarks. It compares the strengths and weaknesses of different hardware architectures such as CPUs, GPUs and APUs using a series of tests.
PERFORMANCE (GAMING):
Resident Evil 6, is a survival horror video game developed and published by CAPCOM. It's one of my favorite PC games, mainly because I'm a fan of the series. It also has a built-in benchmarking tool to measure your PC's performance. It's only DirectX 9.0 compatible at the moment, though.
Tomb Raider (2013) is the fifth game, and the reboot of the Tomb Raider series. It is developed by Crystal Dynamics, and published by Square-Enix. We disabled Tress FX for this benchmark.
GRiD 2 is a racing video game developed and published by Codemasters and is the sequel to the award winning Race Driver: GRiD. The game was released for Microsoft Windows, PlayStation 3 and Xbox 360 on May 2013.
Company of Heroes 2 is a WWII based real-time strategy video game developed by Relic Entertainment and published by Sega for the Microsoft Windows platform. It is the sequel to the critically acclaimed 2006 game Company of Heroes.
Battlefield 4 is one of EA and DICE's most recent first person shooters utilizing the all new Frostbite 3 game engine featuring better tessellation effects and destruction compared to its predecessor.
Dota 2 is a Multiplayer Online Battle Arena (MOBA) video game developed by Valve and is the stand-alone sequel to the Warcraft III based Defense of the Ancients (DotA) mod.
TEMPERATURE & POWER CONSUMPTION:
FurMark is a very intensive OpenGL benchmark that uses fur rendering algorithms to measure the performance of the graphics card. To record the GPU's maximum temperatures, I will run Furmark's Fur Rendering Burn-in Test, and let it run for 30 Minutes. As always, we try to keep the results consistent by keeping the ambient temperature checked at 27ºC.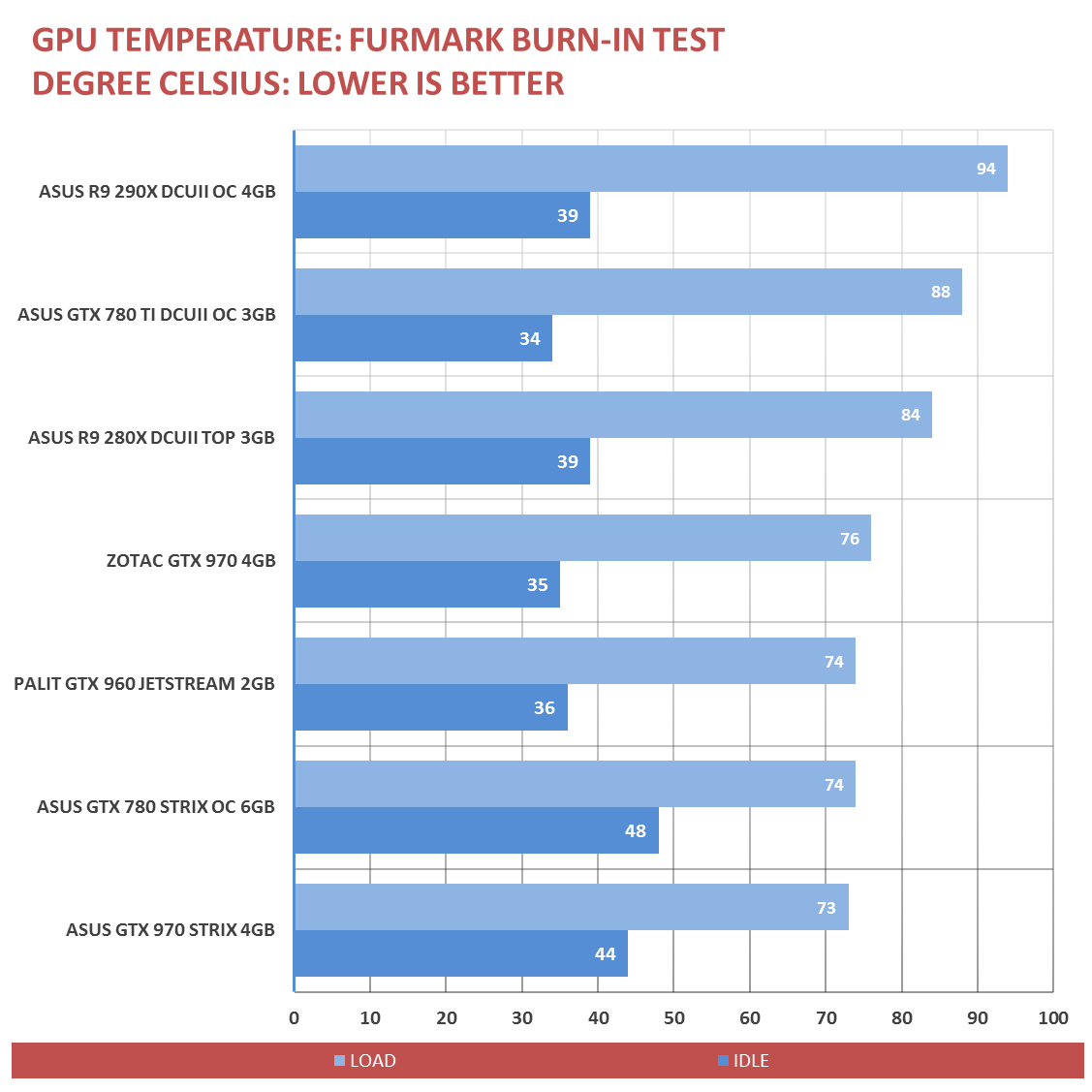 We also check to see how the GPU impacts power consumption. The system is left to idle for 30 minutes before readings are taken, and load data is taken 30 minutes while FurMark is running. Power readings are taken for the entire system from the socket.
VALUE & CONCLUSION:
The PALIT GeForce GTX 960 JetStream is a card with many praises. It is an endearing upgrade if you're coming from the lines  of the GTX 660, and even the GTX 760 by providing absolute 60 Frames Per Second performance and above on the most recent titles we tested even with heavy settings except for some so be ready to keep those settings checked especially MFAA. The GTX 960 is significantly better than AMD's Radeon R9 280X overall, and could provide a playable 1440P experience on selected games which is nice. Take note that the R9 280X / HD 7970 was once a flagship years ago.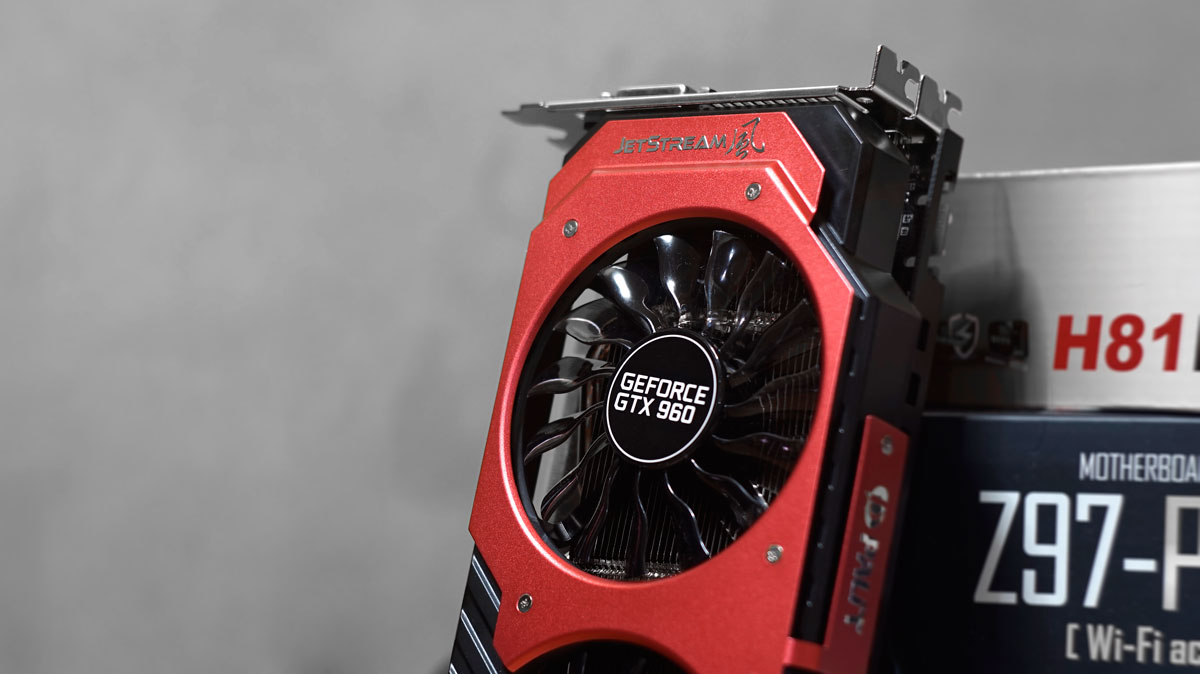 Arguably, the AMD Radeon R9 285 is this card's main nemesis, but Nvidia had the GeForce Experience, G-SYNC, improved thermals, and power consumption over it at around 10-20 USD price premium which is not bad considering the perks you will receive.
Maxwell indeed have matured slightly with this mid-range champion, but power figures if compared to its older brother, the GTX 970, isn't that astonishing. On a larger scale the difference in power compared to the last generation were actually good if not great. Perhaps one thing worth nitpicking is the 0dB feature implementation, which works but has its own caveats. Fans will spin up when the GPU hits 54c, but as soon as it gets there it will stay spinning even if you're on desktop mode / idle state (20% fan speed) which leads to a very low thermal threshold to keep the fans from spinning. Good thing is, the card stays silent most of the time but if you're nitpicky about these passive features, then we share the same sentiments. Another thing worth noting is the Triple slot configuration, and the overall bulk of the card. Clearly, If you're looking forward to build with a pair, then you'd better check your slot clearance. Mini PC users needs not apply.
The Palit GTX 960 JetStream cherry topped the GTX 960 family with its great factory overclocked performance, good build quality, and of course, the price-point which is close at 10, 700 Pesos at the moment. We have seen this particular GTX 960 model with prices below its SRP usually around the 9, 995 Peso mark so it's really a steal. Widely available through different retail stores, the Palit GTX 960 JetStream is hard to miss.
THE VERDICT
PROS:
GOOD FACTORY OC PERFORMANCE
GOOD BUILD QUALITY
2 YEAR WARRANTY
RUNS COOL & QUIET*
ENERGY EFFICIENCY
CONS:
ERRATIC 0DB FAN IMPLEMENTATION
3 SLOT COOLER
Palit GTX 960 JetStream
PERFORMANCE -

8/10

BUILD QUALITY -

8/10

FEATURES -

8/10

AESTHETICS -

8/10

VALUE -

8/10
Summary
The Palit GTX 960 JetStream cherry topped the GTX 960 family with its great factory overclocked performance, good build quality, and of course, the price-point which is close at 10, 700 Pesos at the moment. We have seen this particular GTX 960 model with prices below its SRP usually around the 9, 995 Peso mark so it's really a steal. Widely available through different retail stores, the Palit GTX 960 JetStream is hard to miss.