In coordination with the Intel 11th Gen CPU launch, we got the ASUS ROG Strix Z590-I Gaming Wi-Fi for review. This is a mid to high-end Mini-ITX motherboard model, featuring the Intel Z590 chipset at its core for 19,190 PHP.
Notable features includes support for Wi-Fi 6, 2.5G LAN, AI-based functions, USB 3.2 Gen 2×2 support and a new-to-me ALC4080 plus Savitech SV3H712 DAC and amp combo.
Disclosure: ASUS sent this motherboard as a media sample for the purpose of this review.
Technical Specifications
Processor
CPU Support
Intel 11th/10th Gen Core, Pentium Gold, Celeron Processors
Chipset
Intel Z590
Socket
Intel Socket LGA1200
Memory
SDRAM
DDR4 Non-ECC
Slot
2x DIMM
Channel
Dual Channel
Frequency
5133MHz (Max)
Capacity
64GB (Max)
Graphics
Display Output
1x HDMI 2.0
Multi-GPU
—
Expansion
PCI Express
1x PCIe 4.0 x16
Bifurcation
PCIe bandwidth bifurcation for RAID
Storage
SATA
4x SATA
M.2
2x M.2 (PCIe 4.0 x4, PCIe 3.0 x4)
RAID
RAID 0, 1, 10
Network
Wired
1x Intel 2.5Gb Ethernet
Wireless
1x Intel Wi-Fi 6E
Audio
DAC
Realtek ALC4080
Amp
Savitech SV3H712
Ports
3x 3.5mm Rear, 2x Front
USB
USB 2.0
4x Type-A Rear, 2x Front
USB 3.2 Gen 1
1x Type-A Rear, 2x Front
USB 3.2 Gen 2
1x Type-A Rear, 1x Front
USB 3.2 Gen 2×2
1x Type-C Rear
Thunderbolt 4
1x Type-C Rear
Headers
Fan
3x 4-pin (CPU, Pump, Chassis)
Dimensions
Length
170mm
Width
170mm
Height
45mm
Weight
—
Packaging and Accessories
ASUS packed the Z590-I Gaming in a compact dual compartment color box.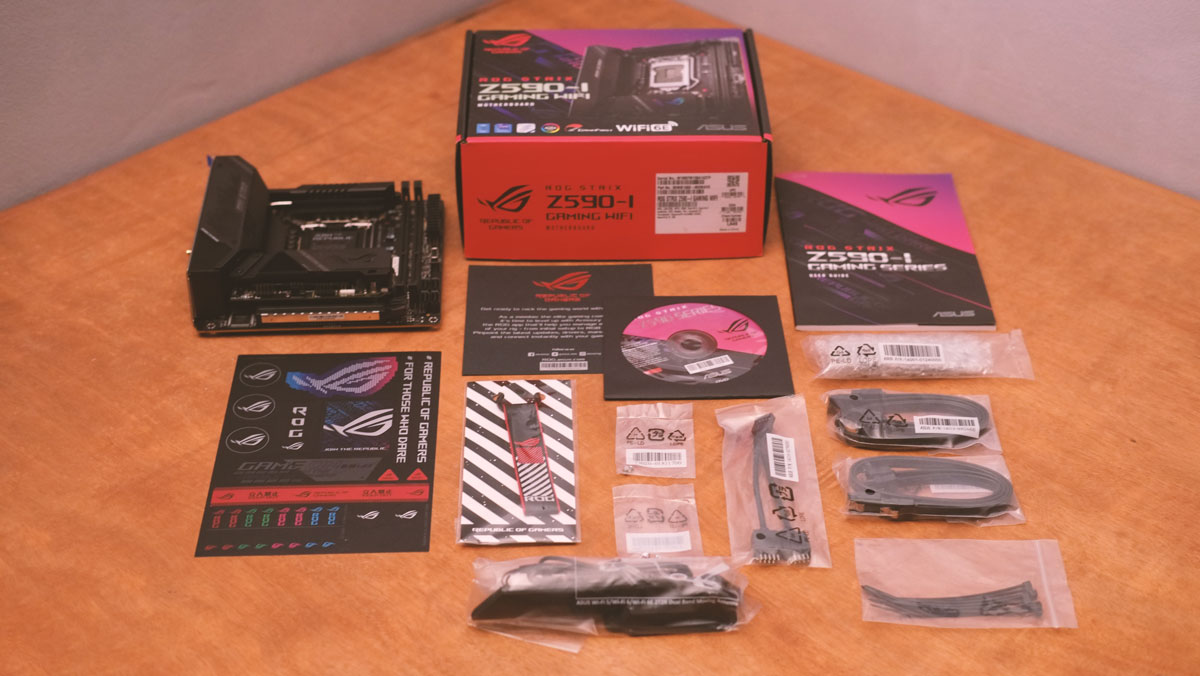 The product comes with the following items inside:
4x SATA 6Gb/s cables
Panel cable
ROG USB2.0 splitter cable
ASUS Wi-Fi moving antennas
Cable ties pack
2x M.2 SSD screw package(s)
ROG key chain
ROG Strix stickers
ROG thank you card
Support DVD
User manual
ASUS jammed this board with tons of accessories and extras – as usual with their higher-end products.
Design, Build and Connectivity
The Z590-I Gaming Wi-Fi follows the design ethos of the ROG products with obvious updates to better suit the new year – and of course, Intel's official entry to the PCIe 4.0 enabled interface. Nothing's out of place here with the board measured as your standard SFF / Mini-ITX dimensions. Notice the cooling solution though running in a C-configuration connected a single heat-pipe.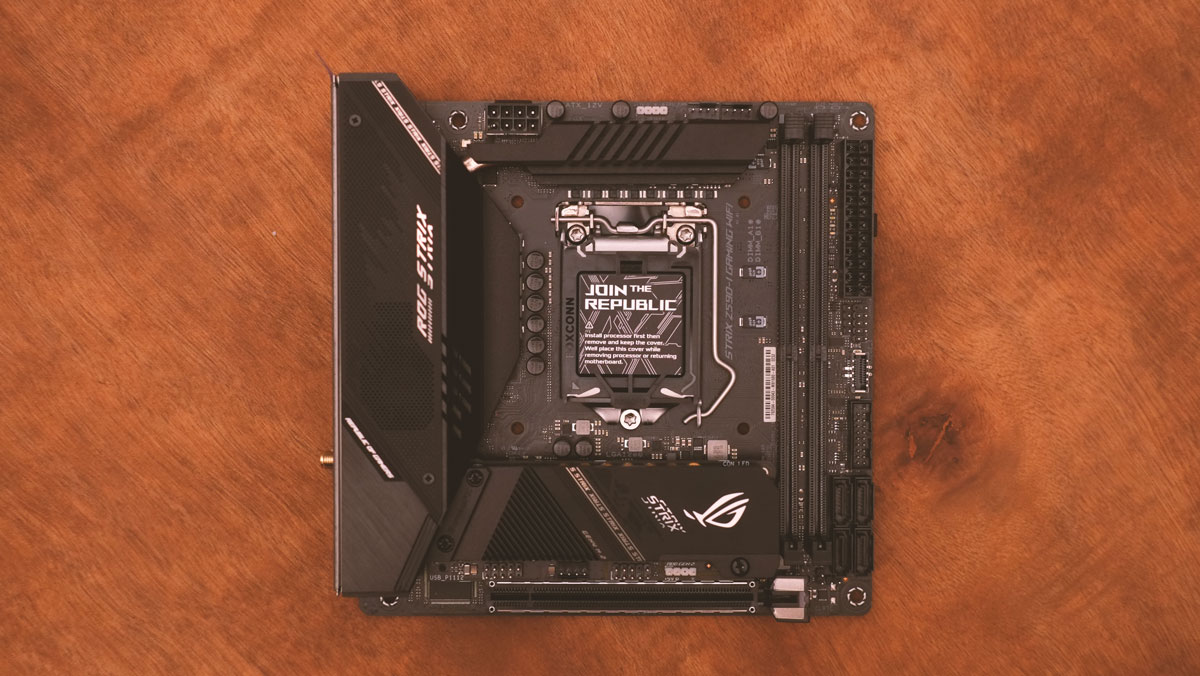 Solder job is as usual excellent from the guys at ASUS as seen from the the rear – that's on top of the thick 10-layer PCB. What's missing here though is the extra M.2 slot – which is now situated at the front along with the main M.2 interface.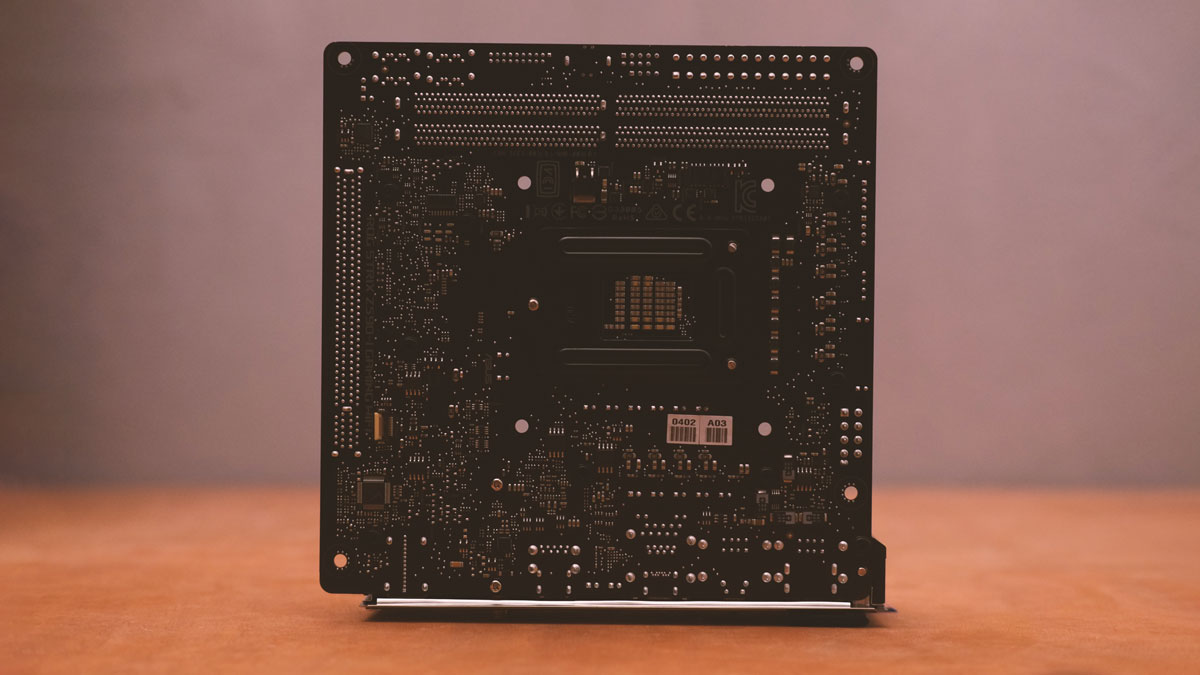 Powering the board is a digital 8+2+1 VRM pulling power from the reinforced 8-pin CPU power connector. The top most part of the board also houses the 4-pin CPU and PUMP fan headers along with a 4-pin LED header.
Now the right side of the board is busier with storage interfaces. Here, we have the SATA ports, USB 3.2 Gen1 header, a USB 3.2 Gen2 header and the front panel header together with the 24-pin power.
Down below is where the extra set of headers are located. These are the front panel audio, another 4-pin fan and LED header plus a USB 2.0 header. While I like that they crammed a lot of headers here with purpose, this could affect the audio solution of the board – on top of the dual M.2 slot in a sandwich configuration. Speaking, the Realtek ALC4080 and Savitech SV3H712 AMP combination is a first on the bench. Now as for PCIe 4.0 bifurcation, the board supports it but officially for storage devices alone.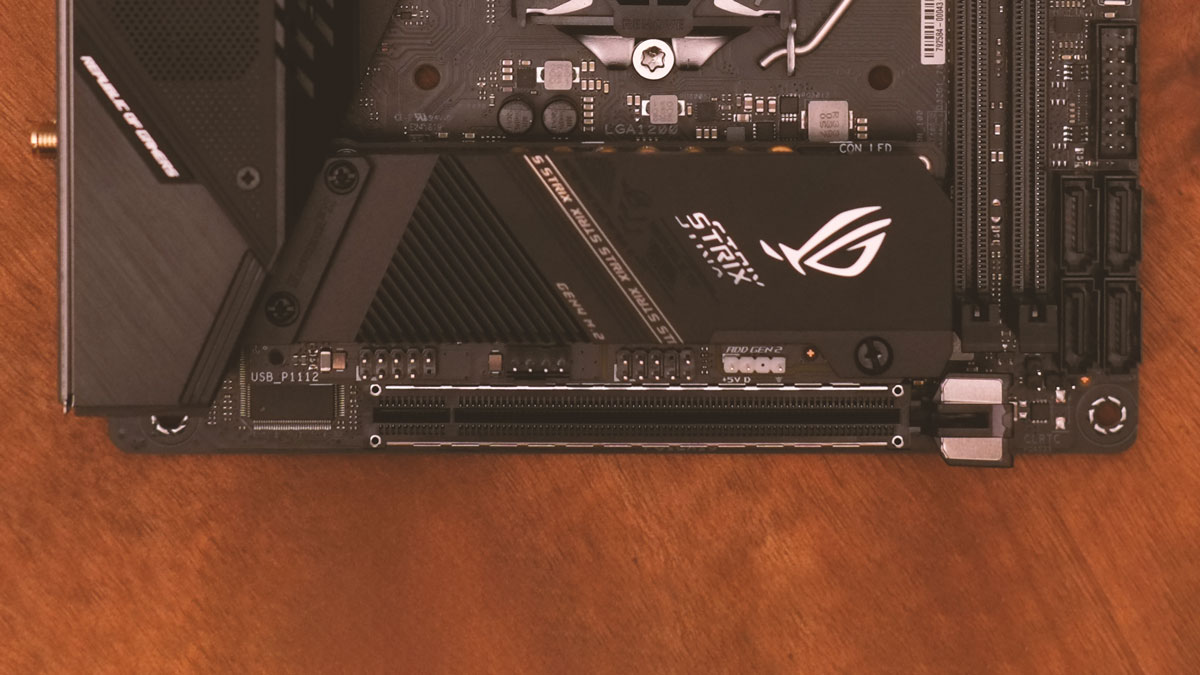 Back panel options are not bad at all for a flagship SFF board. We have Thunderbolt 4 and USB 3.2 Gen 2×2 Type-C ports here for blazing fast connectivity options. We also have the BIOS flash functionality here. As for network, we have an Intel I225-V 2.5GbE LAN and the Intel Wi-Fi 6E AX210 adapters in place.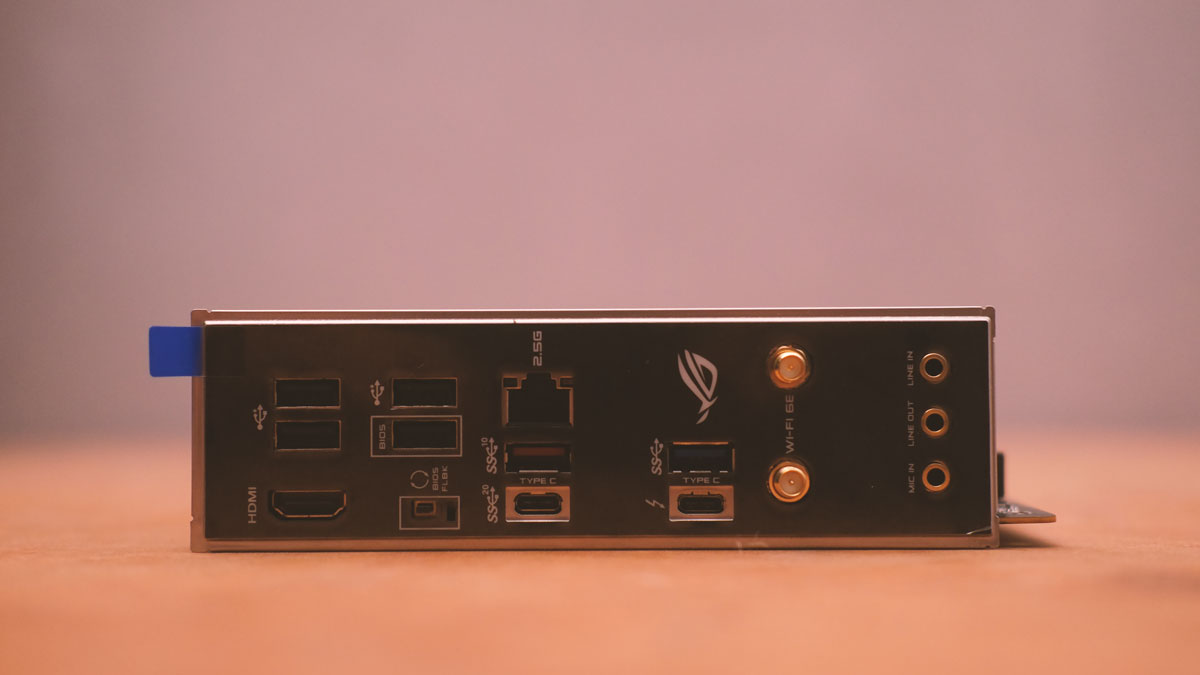 Overall, connectivity, build and design are exceptional. Yes, there are some quirky design choices here like the smorgasbord for the audio and M.2 interface but most of it is fine and even exceeds my expectations for a mini-ITX Z590 platform.
Firmware Interface
UEFI is the same as the ones used on previous models. That said, if you're coming from the ROG line-up, you'd feel at home with this interface. What they added here is the ReSize BAR support for Nvidia RTX GPUs and the onboard MemTest86 which is a fine addition.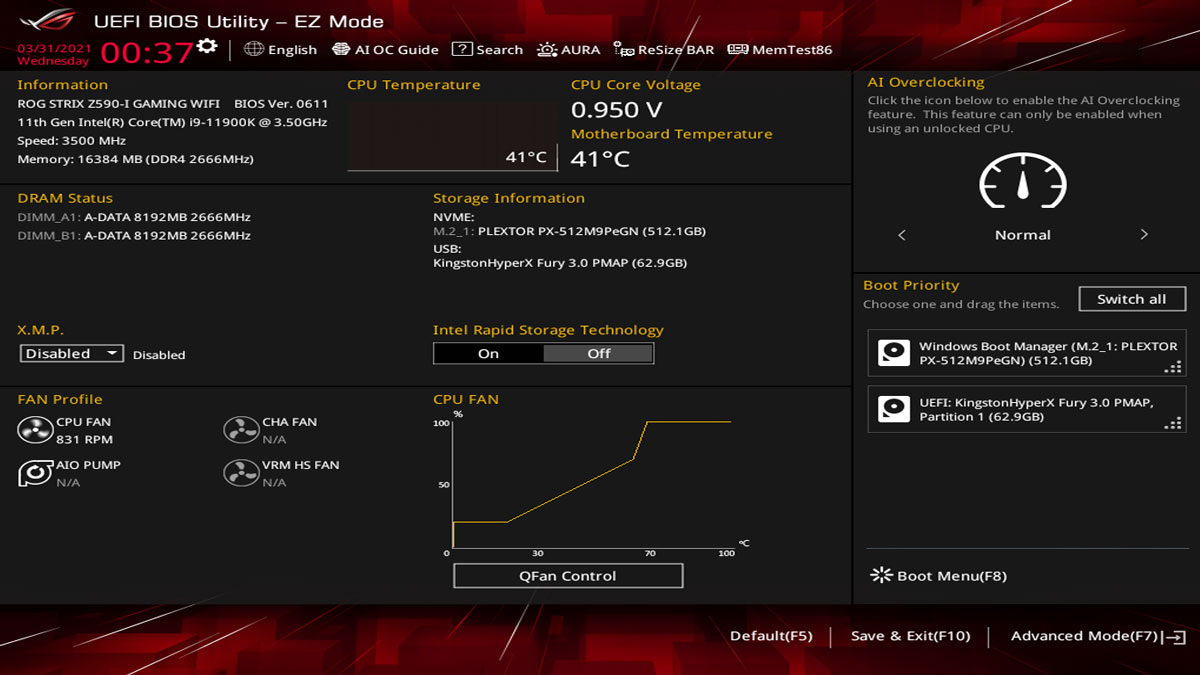 There are 8 main menus here with the Ai Tweaker as your go to option for overclocking. Tons of settings you could fine tune here with sub-menus or sections dedicated for the CPU and memory. Intel ABT is disabled by default here though so if you want to maximize your CPU's capabilities without tinkering with other options, enable it – especially with other manufacturers enabling it by default.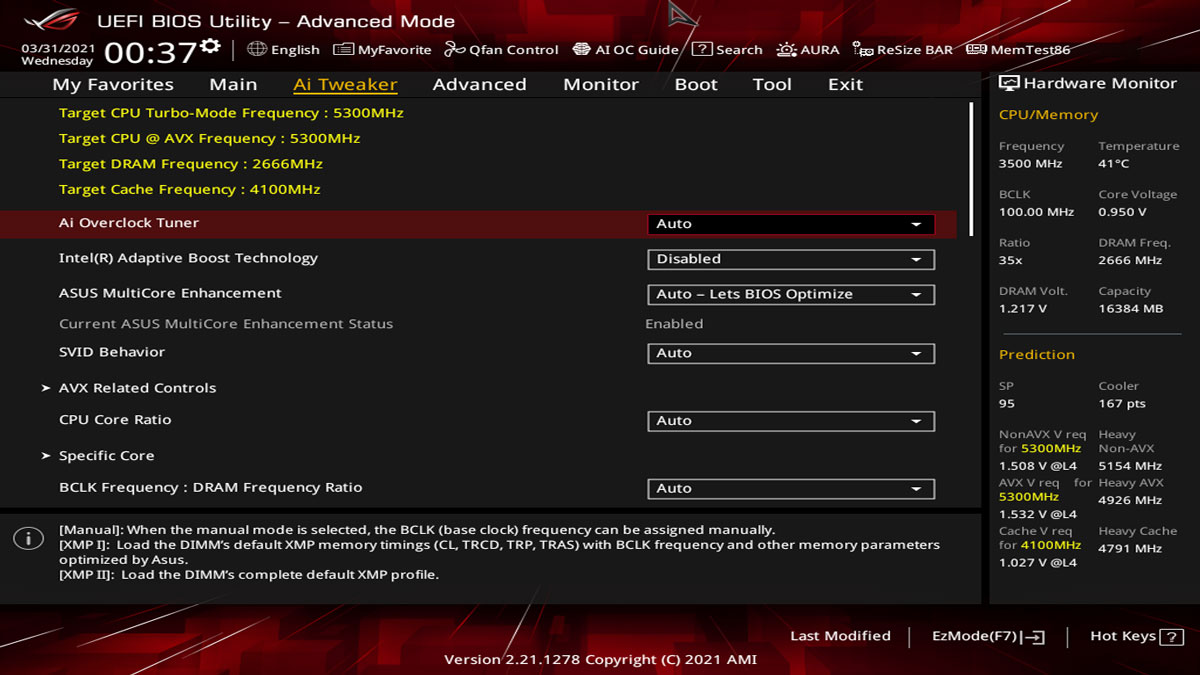 Advanced is where most of the chipset options could be found. This is where you could also enable bifurcation for storage devices. A shame we don't have official support for GPU bifurcation.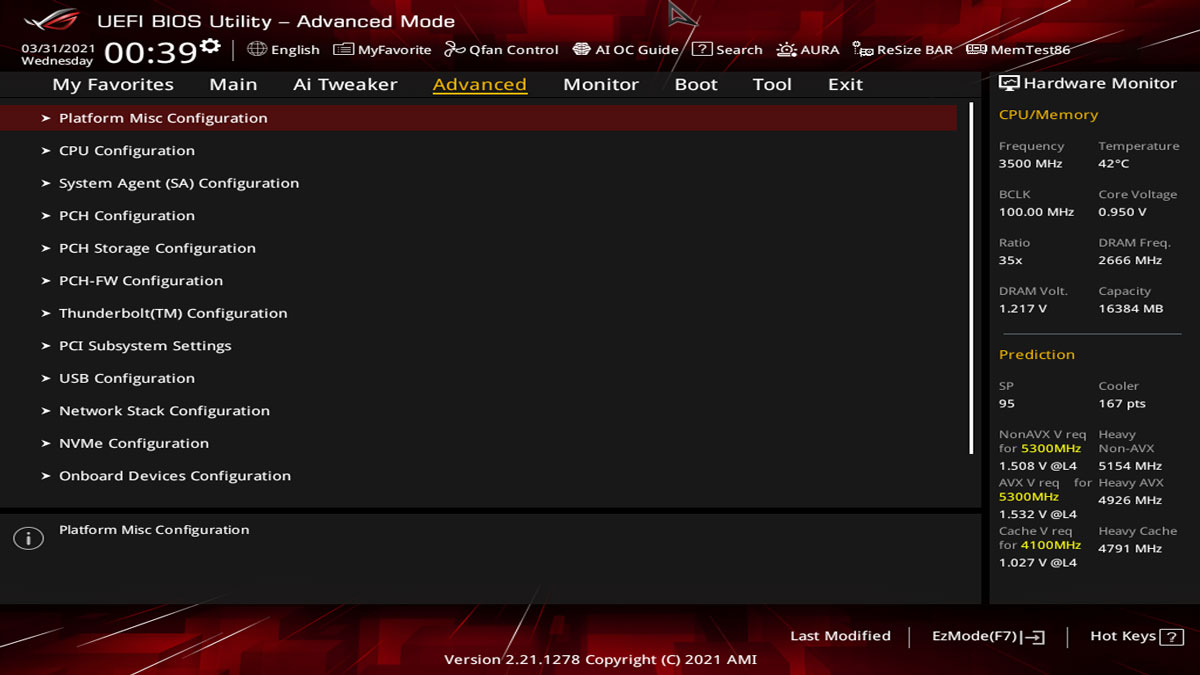 Monitor is nothing fancy but it does come with a number of sensors that you could access at any time.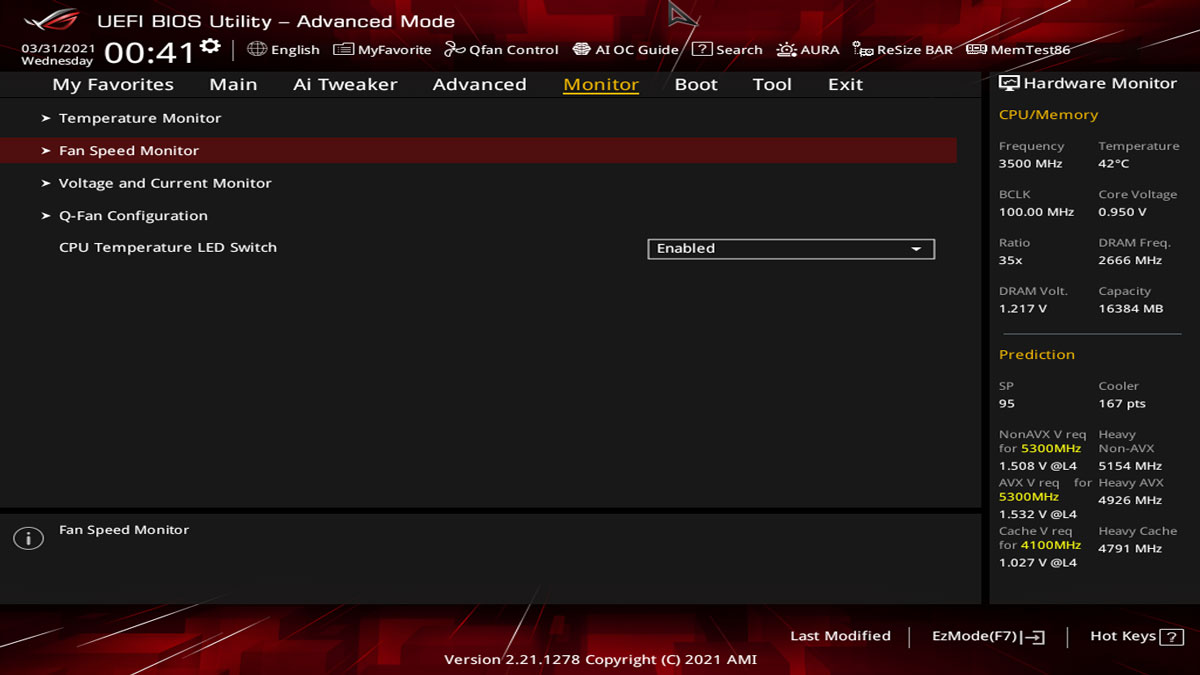 Boot is self explanatory – with the usual options present. To enable or disable fast boot along with the logo, you must enter the Boot Configuration sub-menu.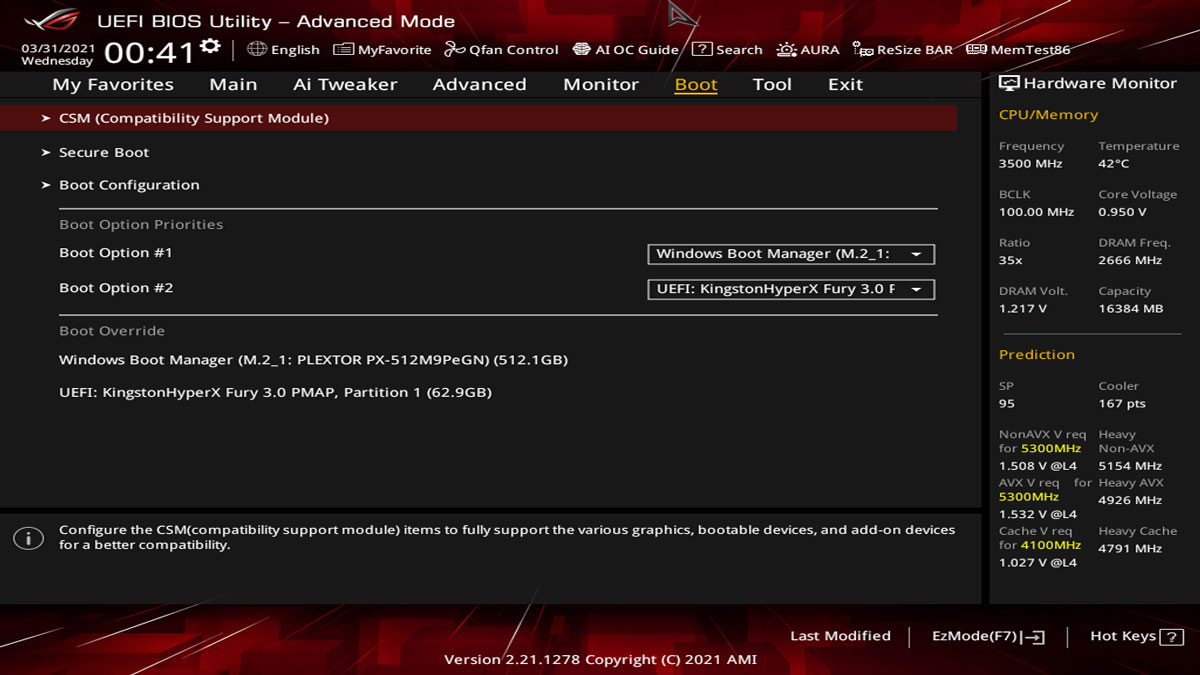 The Tool menu has been expanded with MemTest86, BIOS Image Rollback and Flexkey support.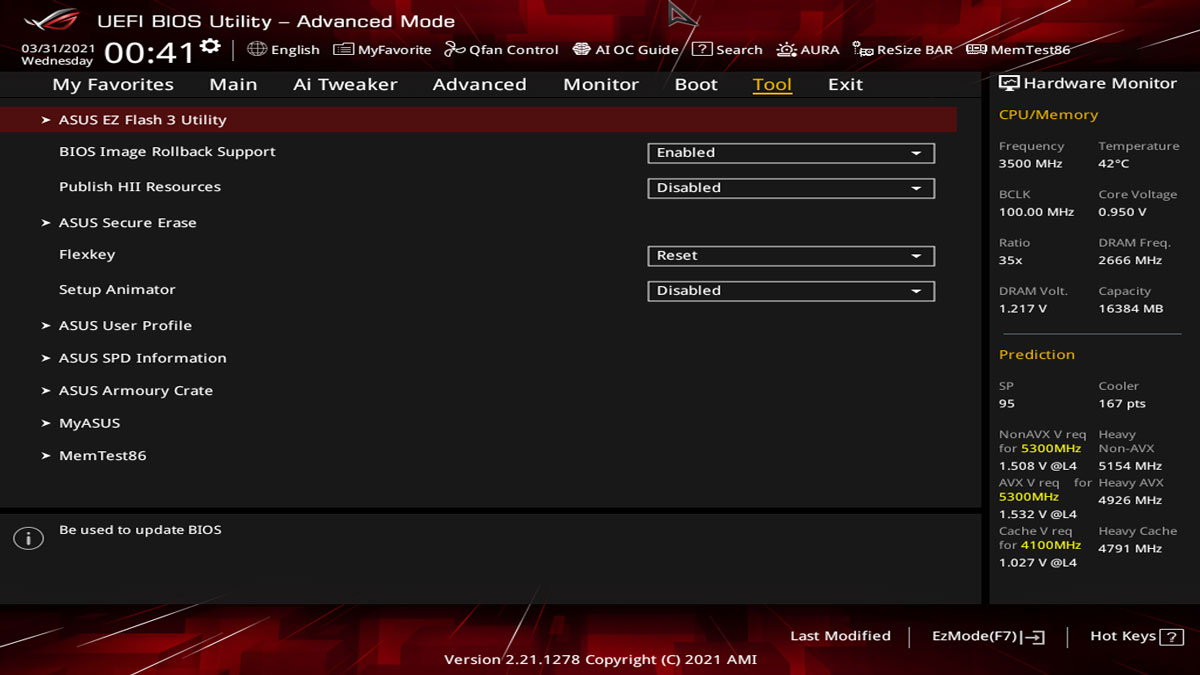 Q-Fan is the same old one we got but with the added support for the VRM's fan.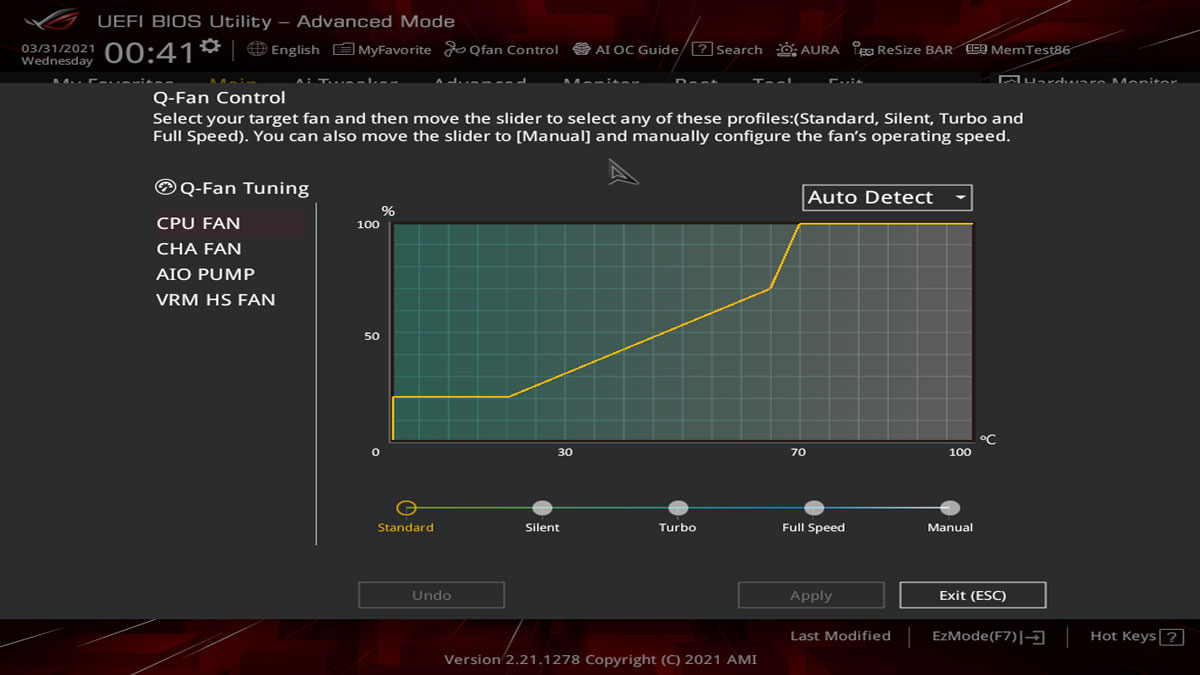 AI Overclocking is also present on this board. We didn't test its implementation with the Intel Core i9-11900K though.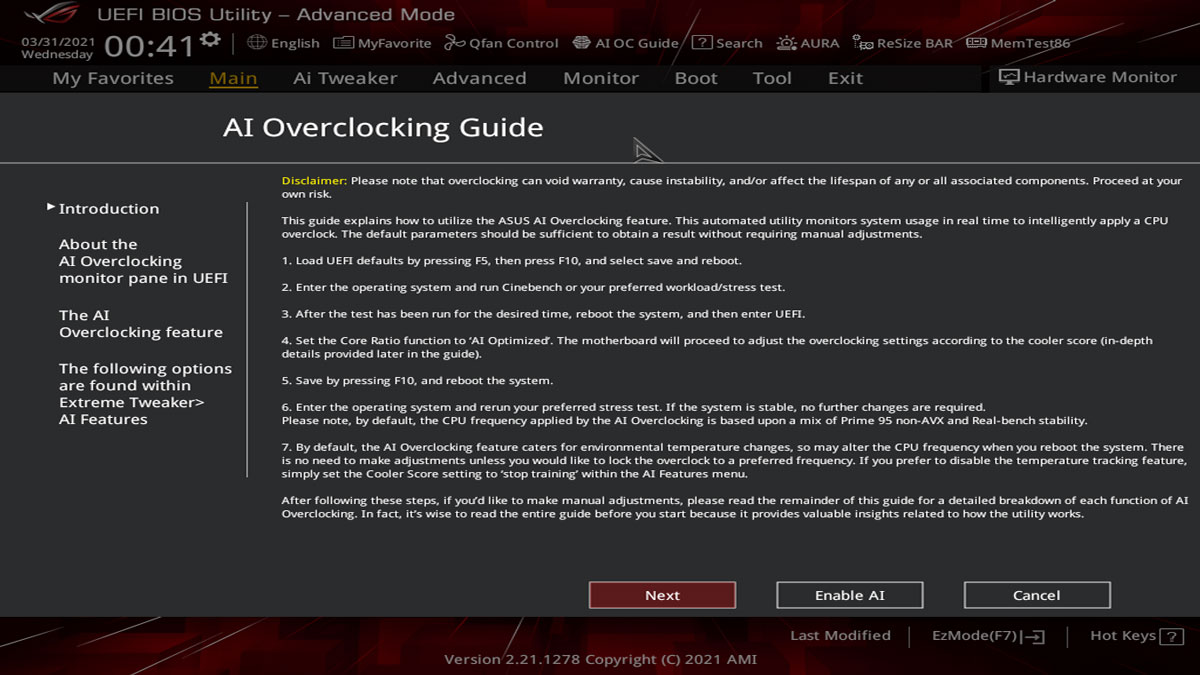 UEFI is excellent as usual. Nothing to complain here really so let us move on with the tests.
Test Setup and Methodology
System performance is evaluated by industry standard benchmark tools and real-world applications if required. The system is tested with the following software configurations:
UEFI configuration: Default
Windows Power Plan: Balanced
Windows Game Mode: Disabled
Windows Game Bar: Disabled
Windows Security: Disabled
Outlined below is the test system specifications as well as the software and or applications used for the review:
Test System Specifications
CPU
Intel Core i9-11900K
Motherboard
ASUS ROG Strix Z590-I Gaming Wi-Fi
Cooler
Noctua NH-U12S Redux
Memory
ADATA Premier 2666MHz 16GB
GPU
ASUS Phoenix GTX 1660 SUPER 6GB
Storage
Plextor M9Pe PCIe 3.0 NVMe 512GB
Case
Mechanical Library JXK-K3
PSU
Thermaltake Toughpower GF1 650W
Display
LG UF680T
OS
Microsoft Windows 10 Pro 64-bit
Temperature, Power and Noise:
AIDA64 Extreme Edition – System Stability Test
CPU, Memory and GPU:
AIDA64 Extreme Edition – Quick Report, Cache and Memory, GPGPU Benchmark
Storage:
CrystalDiskMark – Sequential Benchmark
Audio:
RightMark Audio Analyzer – Test Report
Network:
NetIO-GUI – Network Transfer Rate
Temperature, Power and Noise
We utilized the AIDA64 System Stability Test to check out how the system handles thermals. For this measurement, we loaded the stress test with the CPU as the only option enabled. Temperature readings are taken with HWiNFO with an ambient temperature of 27°C. CPU cooler used for this test is the Noctua NH-U12S Redux.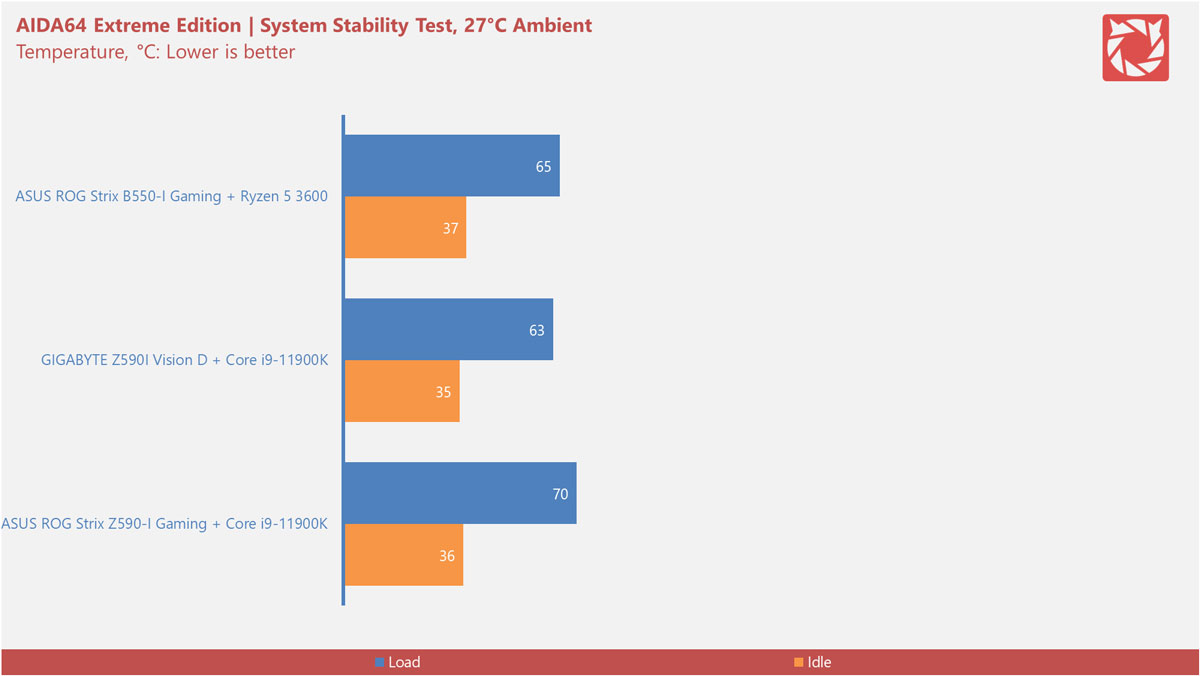 | | | | |
| --- | --- | --- | --- |
| Model | VRM, °C | Chipset, °C | M.2, °C |
| ASUS Z590-I Gaming | 40~49 | — | 56~62 |
| GIGABYTE Z590I Vision D | 39~42 | — | 54~64 |
| ASUS B550-I Gaming | 34~36 | — | 52~57 |
Total system power is also checked out. Power readings are then recorded with a watt-meter while voltage readings for the Vcore and the most common rails are taken via HWiNFO.
| | | | | |
| --- | --- | --- | --- | --- |
| Model | Vcore, v | +3.3, v | +5, v | +12, v |
| ASUS Z590-I Gaming | 0.746~1.225 | 3.376 | 5.040 | 12.096 |
| GIGABYTE Z590I Vision D | 0.744~1.296 | 3.344 | 5.070~5.040 | 12.096~12.024 |
| ASUS B550-I Gaming | 0.912~1.456 | 3.376~3.392 | 5.020~5.60 | 11.980~12.076 |
Noise level is also taken into consideration to check the differences between fan controllers. Decibel readings are taken with an industrial grade A-weighted sound-level meter. Ambient noise floor is ~30dB(A).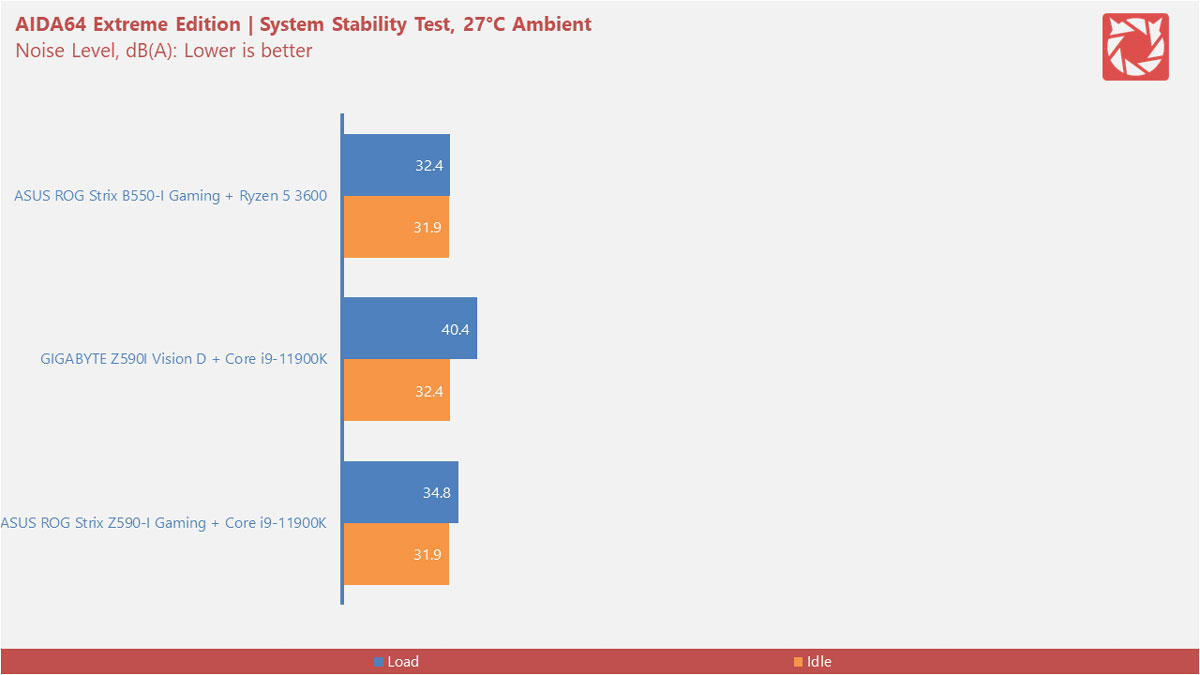 | | |
| --- | --- |
| Model | CPU Fan Speed, RPM |
| ASUS Z590-I Gaming | 677~1173 |
| GIGABYTE Z590I Vision D | 989~1687 |
| ASUS B550-I Gaming | 635~1141 |
Temperature level is substantially higher compared to the competition but that has something to do with its bias towards a more silent operation – by default. Note that you may always set this up to your liking. As it is right now, I am not even complaining.
As for voltage, Vcore is also less aggressive and rails are pretty much consistent without even a hint of droop. Power consumption is the highest though and it will be even higher with Intel IABT or MCE enabled.
CPU, Memory and GPU:
CPU performance is gauged via AIDA64's CPU Queen Benchmark. This simple integer benchmark focuses on branch prediction capabilities and misprediction penalties of the CPU. Simple, easy to run and replicate.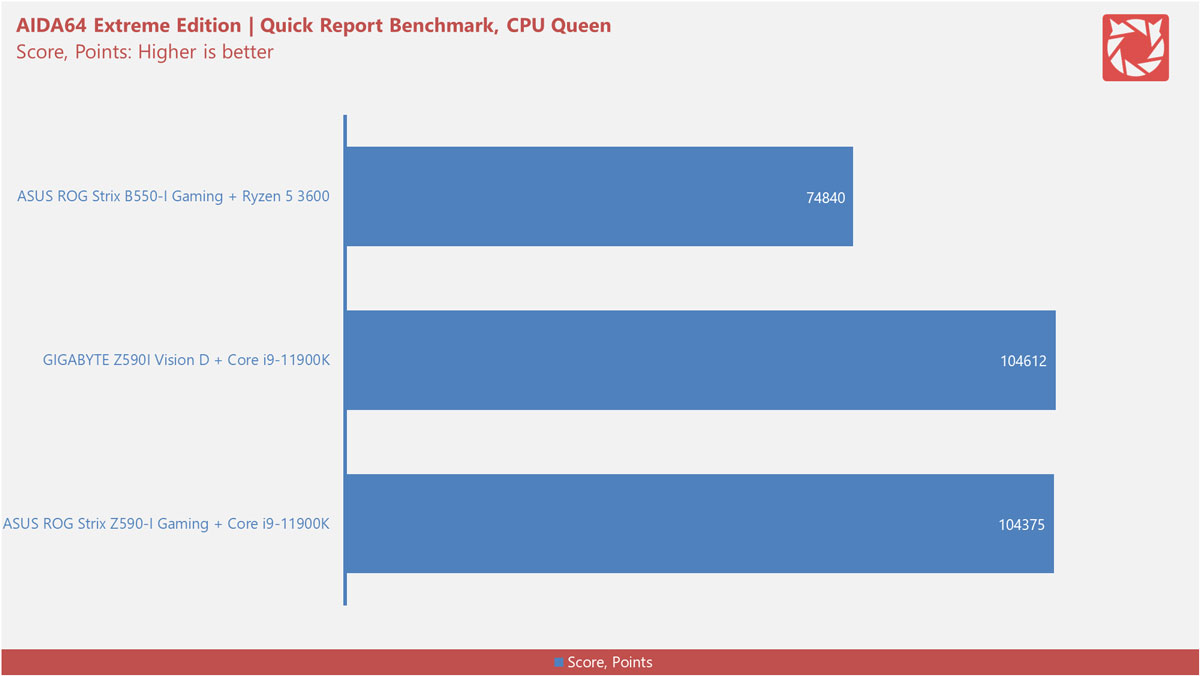 Memory latency is also tested with the Cache and Memory Benchmark built within AIDA64. Latency is what interest us here due to how motherboard designs could affect it.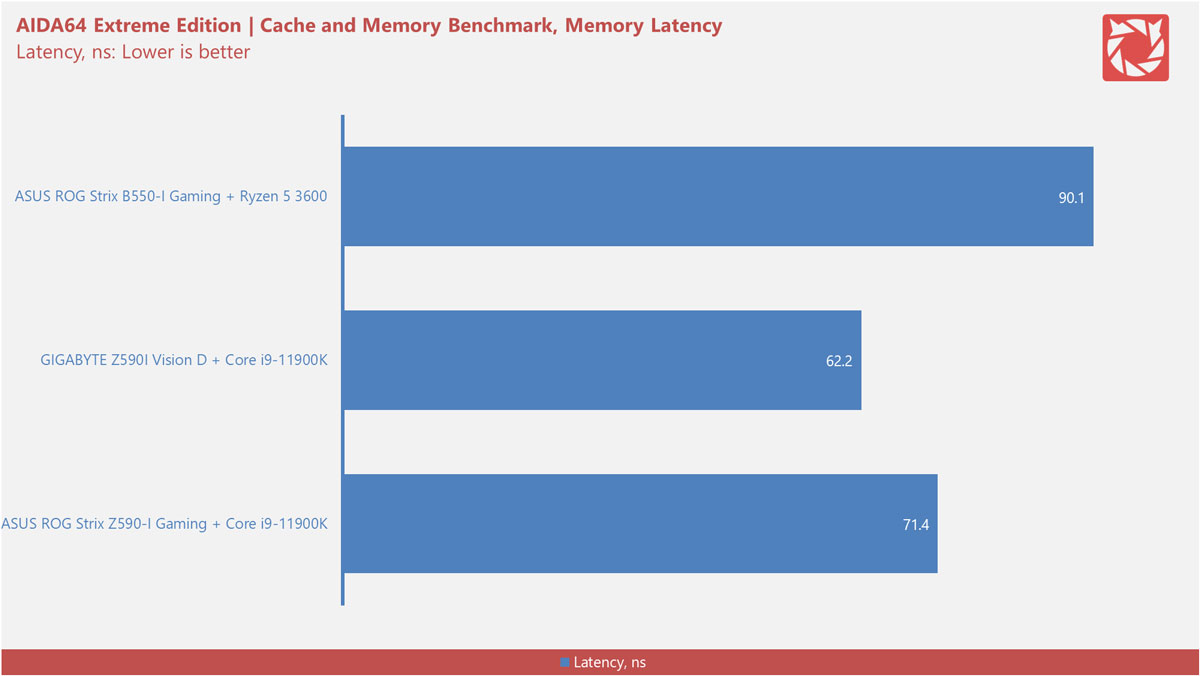 The graphics card and PCIe interface performance are also checked with AIDA64 using the GPGPU Benchmark. We selected the Single-Precision FLOPS benchmark for this test. Results are posted in GFLOPS.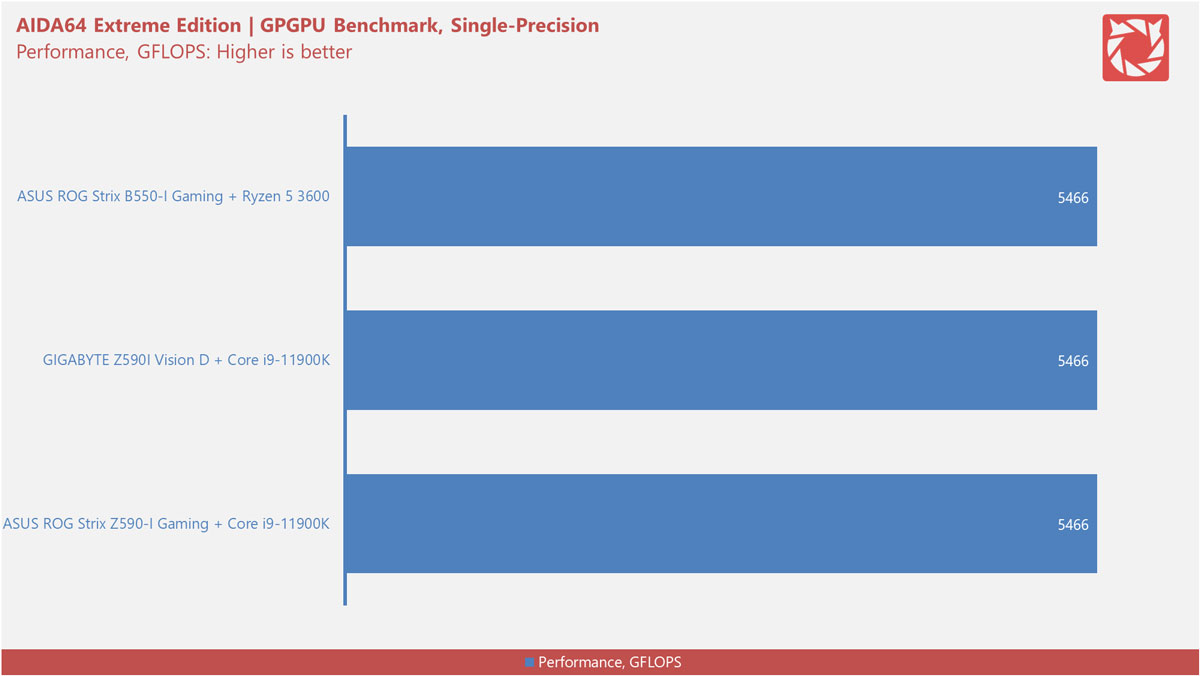 Nothing to complain here except for the memory latency at 71.4ns. This is high for a mini-ITX motherboard – by design. Games and applications with a more sensitive memory dependency should be affected by this one. Not by a huge margin though since we're still speaking here with double digit results and it is still lower compared to what AMD could offer.
Storage Interface
CrystalDiskMark is a simple storage benchmark widely used in the industry. For the storage test, we aim to check out the performance of the most commonly used interfaces found in a motherboard. The sequential read and write are the focus here. Storage devices used are the 256GB (External) and 512GB (Internal) Plextor M9Pe PCIe 3.0 NVMe SSDs.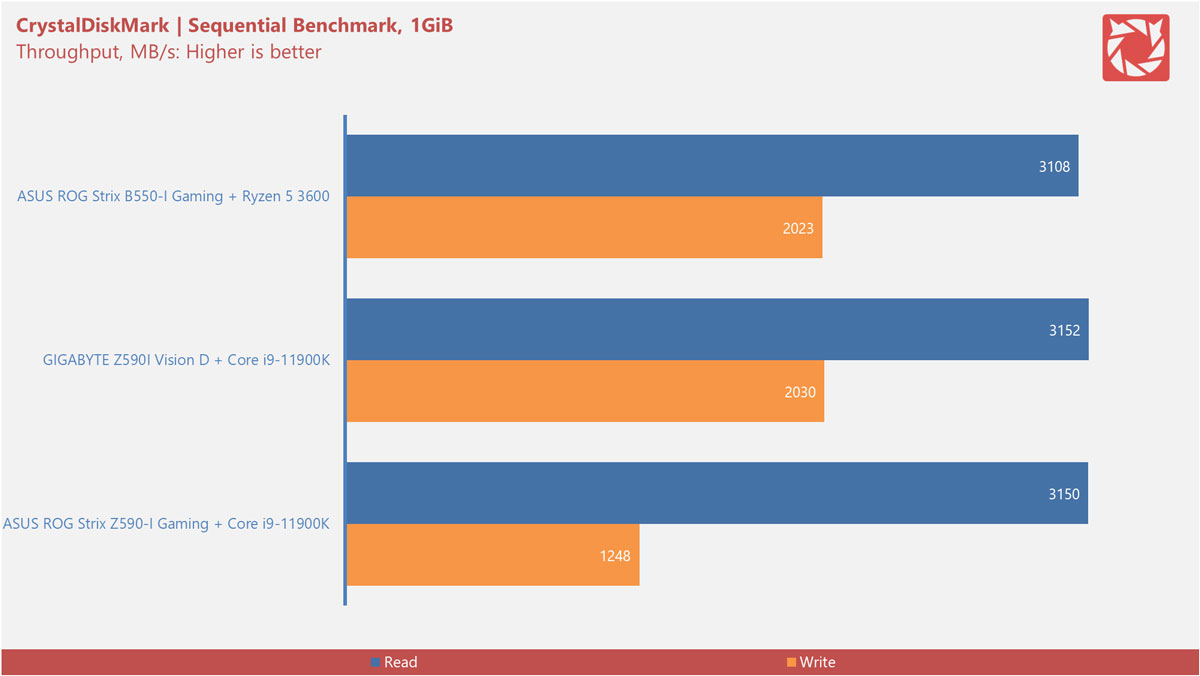 | | | | | |
| --- | --- | --- | --- | --- |
| Model | USB 3.2, MB/s | USB 3.0, MB/s | USB 2.0, MB/s | SATA, MB/s |
| ASUS Z590-I Gaming | 1062↓ 799↑ | 439↓ 450↑ | 38↓ 37↑ | 484↓ 451↑ |
| GIGABYTE Z590I Vision D | 1049↓ 802↑ | 440↓ 458↑ | 38↓ 38↑ | 481↓ 444↑ |
| ASUS B550-I Gaming | 1016↓ 794↑ | 444↓ 419↑ | 40↓ 41↑ | 481↓ 447↑ |
I have nothing to complain about the USB and SATA interfaces but the PCIe 3.0 M.2 performance could be better in terms of sequential write. This board also has an issue with its Thunderbolt 4 and Gen 2×2 ports. For some reason, it cannot breach the USB 3.2 Gen 2 bandwidth limit. Note that this could be anything like an underlying compatibility issue with my enclosure, an issue with the controller, drivers or the firmware itself.
Audio Interface
The RightMark Audio Analyzer is a nifty tool to measure the quality of the motherboard's audio interface. Our results are obtained by playing and recording test tones passed through the audio chain using the Focusrite Scarlett Solo as the ADC. Sampling rate and bit-depth are at 48KHz and 24-bit respectively.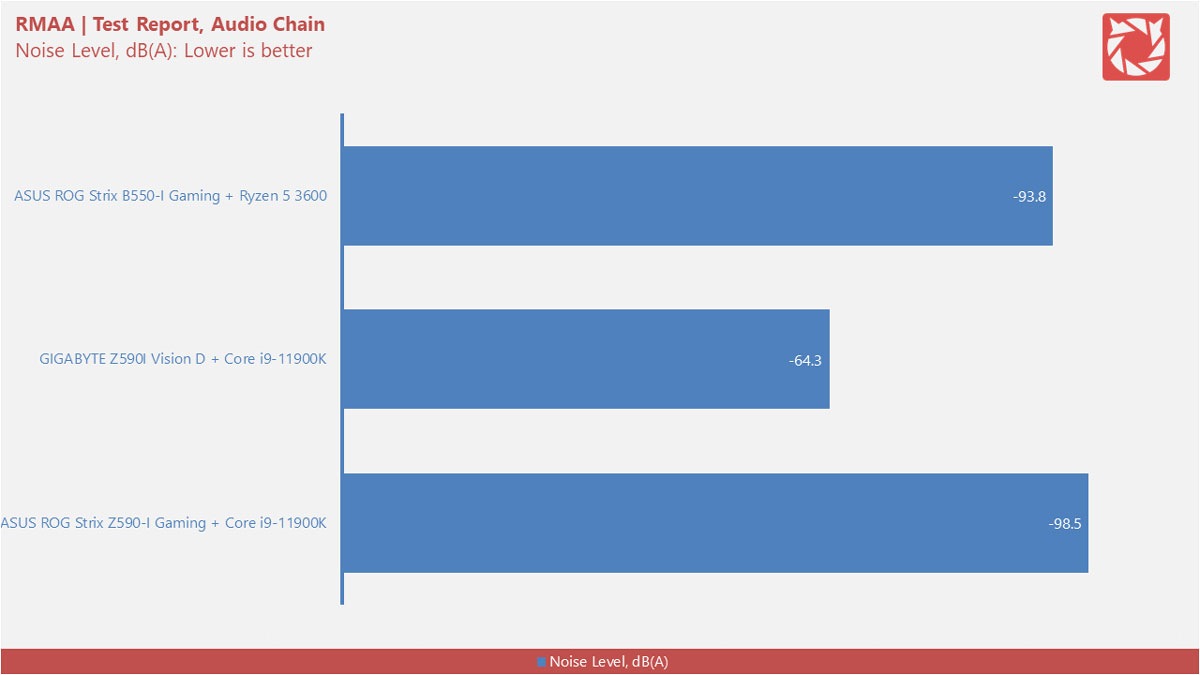 Frequency response should be as flat as possible with acceptable minor deviation across the frequency range of around +/-0.5dB. Test signal for the frequency range contains harmonics from 5Hz to 22KHz.
Now THD+N estimates the amount of harmonic distortion that takes place when a signal with large amplitude passes the testing chain. The test signal used here is a sine wave at 1kHz.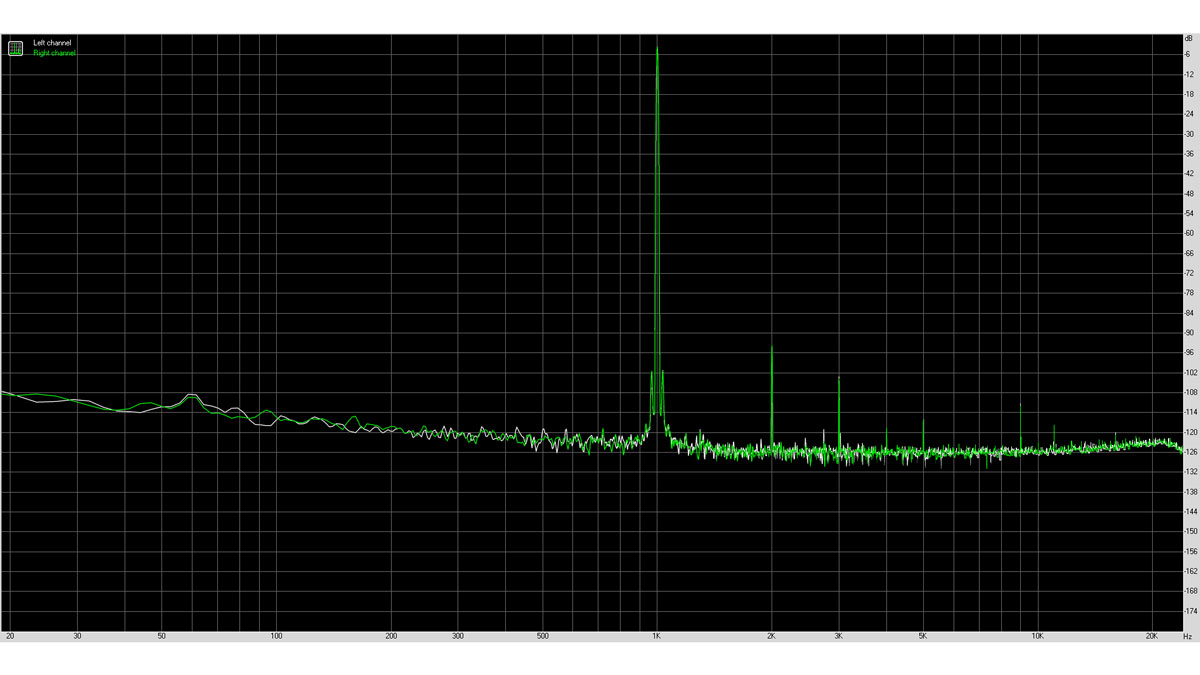 IMD on the other hand estimates amount of intermodulation distortions when a more complex signal passes through a test chain. Measurement uses a two sine wave test signal consisting of low frequency 60Hz tone linearly mixed with a high-frequency 7KHz tone.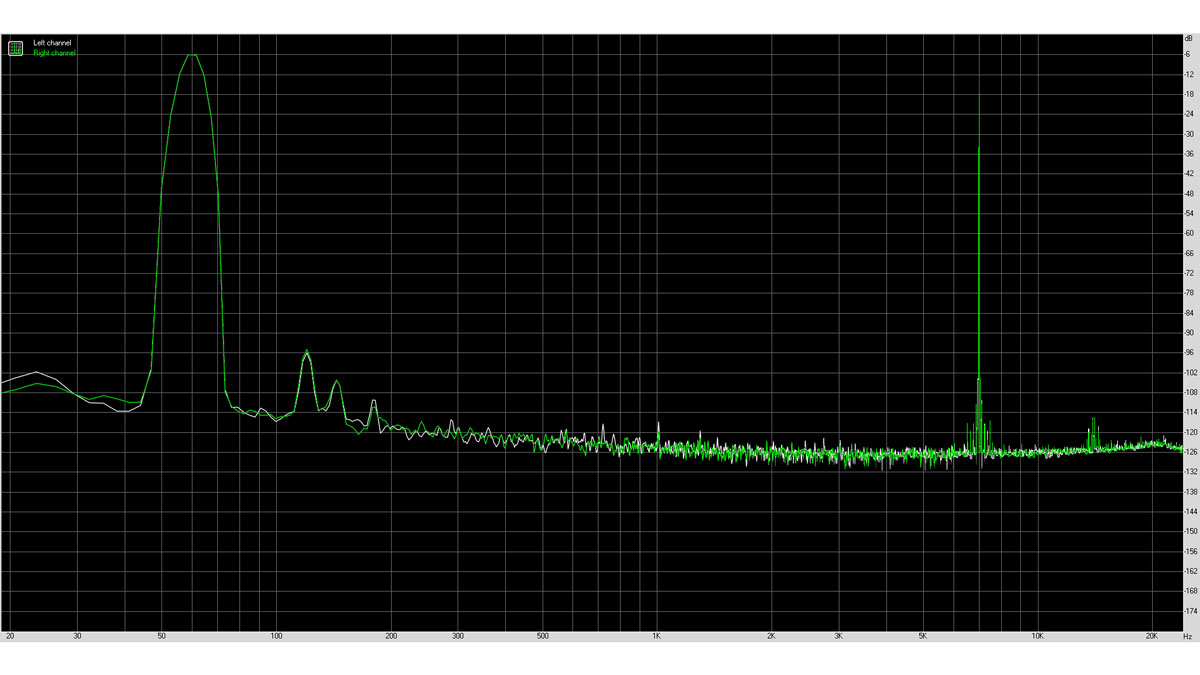 | | | | |
| --- | --- | --- | --- |
| Model | FR, dB(A) | THD+N, % | IMD+N, % |
| ASUS Z590-I Gaming | -0.01, -0.21 | 0.00329 | 0.00695 |
| GIGABYTE Z590I Vision D | +0.02, -0.18 | 0.00293 | 0.00147 |
| ASUS B550-I Gaming | -0.10, -0.18 | 0.026 | 0.00786 |
Objective performance from the audio chain is excellent based on RMMA's weighed scoring. Now frequency response is flat with minor deviations from the 0dB centered 1KHz frequency. As for THD, jitter is acceptable since the harmonics are well below audibility. IMD on the other hand also looks decent but the presence of harmonics at 100-200Hz worries me a bit. Shouldn't be audible.
Subjectively, this is one of the best DAC and Amp combo I have tested in recent times. The Realtek  ALC4080 and Savitech SV3H712 outputs an ESS like sound signature, providing good macro details, separation, stage and imaging. Amplification is excellent too, able to power up my Hifiman HE400i (94dBSPL/mW) at generous levels that would otherwise distort from other onboard solutions that just couldn't provide the current required to drive planars. It synergizes really well with the HD58X and the more power hungry HD600. Nothing to dislike here.
Network Interface
NetIO-GUI is a straight forward Windows frontend application for the "netio" command-line utility. This benchmark requires a client and server for it to work. The ASUS ROG Rapture GT-AC2900 is our router of choice here to test the Ethernet and Wi-Fi performance of our motherboard.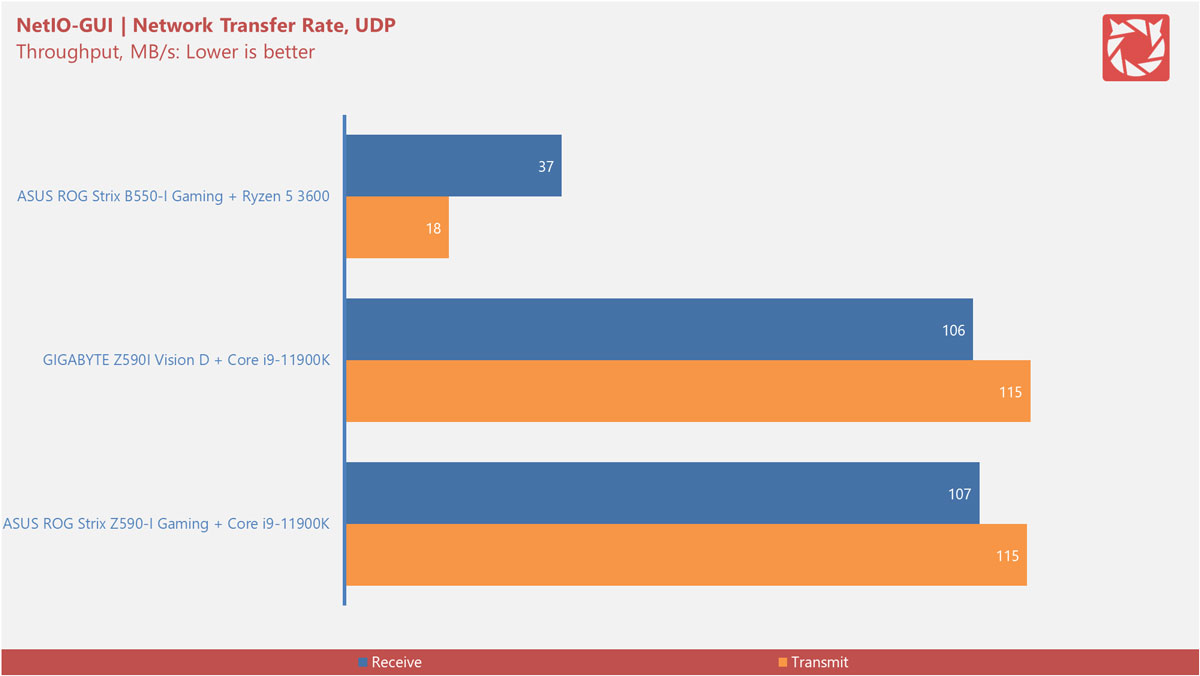 | | | |
| --- | --- | --- |
| Model | 2.4GHz, MB/s | 5GHz, MB/s |
| ASUS Z590-I Gaming | 11↓ 13↑ | 57↓ 57↑ |
| GIGABYTE Z590I Vision D | 11↓ 12↑ | 55↓ 36↑ |
| ASUS B550-I Gaming | 9↓ 10↑ | 42↓ 37↑ |
Network performance is pretty good. If averaged, this is the best on my test bed right now with an excellent 5GHz performance under its belt.
Software, Lighting and Special Features
ASUS had the ROG Strix Z590-I Gaming Wi-Fi bundled with a number of applications that should help you maximize your motherboard's potential. That should include the following software and or applications:
RAMCache III
ROG CPU-Z
GameFirst VI
Sonic Studio III + Sonic Studio Virtual Mixer
Sonic Radar III
DTS® Sound Unbound
Overwolf
Anti-virus software
Armoury Crate
AIDA64 Extreme (60 days free trial)
AURA Creator
AURA Sync
Two-Way AI Noise Cancelation
AI Suite 3
TPU
EPU
DIGI+ VRM
Fan Xpert 4
Turbo app
EZ update
MyAsus
WinRAR
That's a lot of software. Like really, a lot. Most of these are downloadable via the ASUS Armoury Crate. As for lighting, it is okay. I mean apart from the LED headers, you'll get an embedded light bar at the M.2 heatsink. For other special features, please refer to the official product page.
Final Thoughts
Feature rich is what the ASUS ROG Strix Z590-I Gaming appeals to be and it truly is with a price to match at a flagship level.
Highlights of the board are the network performance, its audio interface that could even match some $100 DAC + Amp combos and its flexibility that could even put larger motherboards to shame.
There are things to keep in mind though like the M.2 performance, a bit higher memory latency and a rather conservative balance between thermals and noise levels to name a notable few. Regardless, this is a board that I would totally recommend if you have the cash to spare.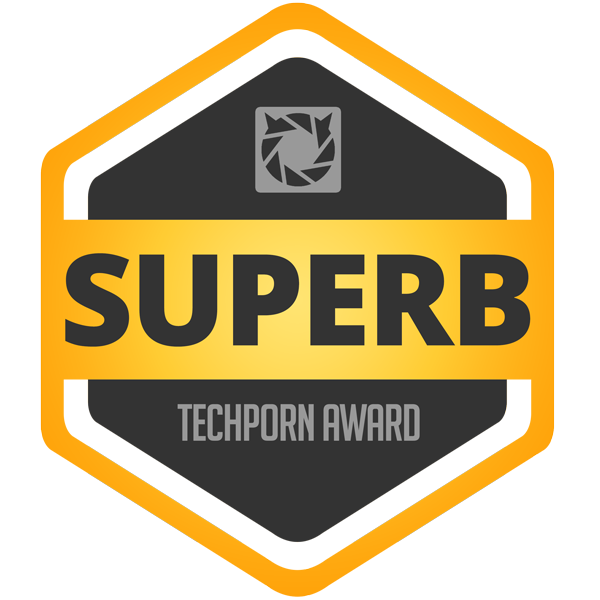 ASUS ROG Strix Z590-I Gaming Wi-Fi
Performance -

8/10

Build Quality -

9/10

Connectivity -

9/10

Thermals, Power and Noise -

9/10

Features -

9/10
Summary
The ASUS ROG Strix Z590-I Gaming Wi-Fi is a well-rounded Mini-ITX motherboard that could put larger models to shame. It is not perfect though so play along with its strengths if you fancy owning one.
Pros
Consistent power design
Balanced thermal and noise output – personal preference, could be adjusted
Excellent audio interface
Storage performance – for the most part
Network interface performance
Bundle and presentation
Cons
M.2 interface performance
Power consumption could be lower
Memory latency could be a little better