BIOSTAR's B550MH motherboard is perhaps one of the most value oriented AMD B550 chipset based motherboards in the local market right now with a price of 4,550 Pesos.
Now the board comes with all the B550 chipset has to offer. That of course includes PCIe Gen 4 support for both the PCIe and the M.2 slot. The board also comes with an 8-phase power design, power surge protection for LAN all within a mATX form factor.
Technical Specifications
Processor
CPU
AMD AM4 Socket for 3rd Gen AMD Ryzen and 3rd Gen AMD Ryzen with Radeon Graphics Processors
Chipset
AMD B550 Chipset
Memory
SDRAM
DDR4 Non-ECC
Slot
2x DIMM
Channel
Dual Channel
Frequency
4933MHz (Max)
Capacity
64GB (Max)
Graphics
GPU
—
Display Output
HDMI 2.1, VGA
Multi-GPU
—
Expansion
PCI Express
1x PCIe 4.0 x16, 2x PCIe 3.0 x1
Storage
SATA
4x SATA
M.2
1x M.2 (PCIe 4.0 x4, PCIe 3.0 x4)
RAID
RAID 0, 1, 10
Network
Wired
Realtek RTL8111H
Wireless
—
Audio
Codec
Realtek ALC887
Channel
7.1-Channel
USB
USB 2.0
2x Type-A, 4x FPC
USB 3.2 Gen1
4x Type-A, 4x FPC
USB 3.2 Gen2
—
Dimensions
Length
244mm
Width
208mm
Height
45mm
Weight
—
Packaging and Accessories
The BIOSTAR B550MH comes packed inside a standard motherboard packaging. The product comes with the following items inside:
Quick installation guide
I/O Shield
2x SATA 6Gb/s cable
Supporting DVD
AMD Ryzen 4000 "Renoir" Ready decal
Design, Layout and Connectivity
Practical is a word to describe the BIOSTAR B550MH. Everything here looks simple and standard. This is mATX board but with a height just a few millimeters off from a mini-DTX board.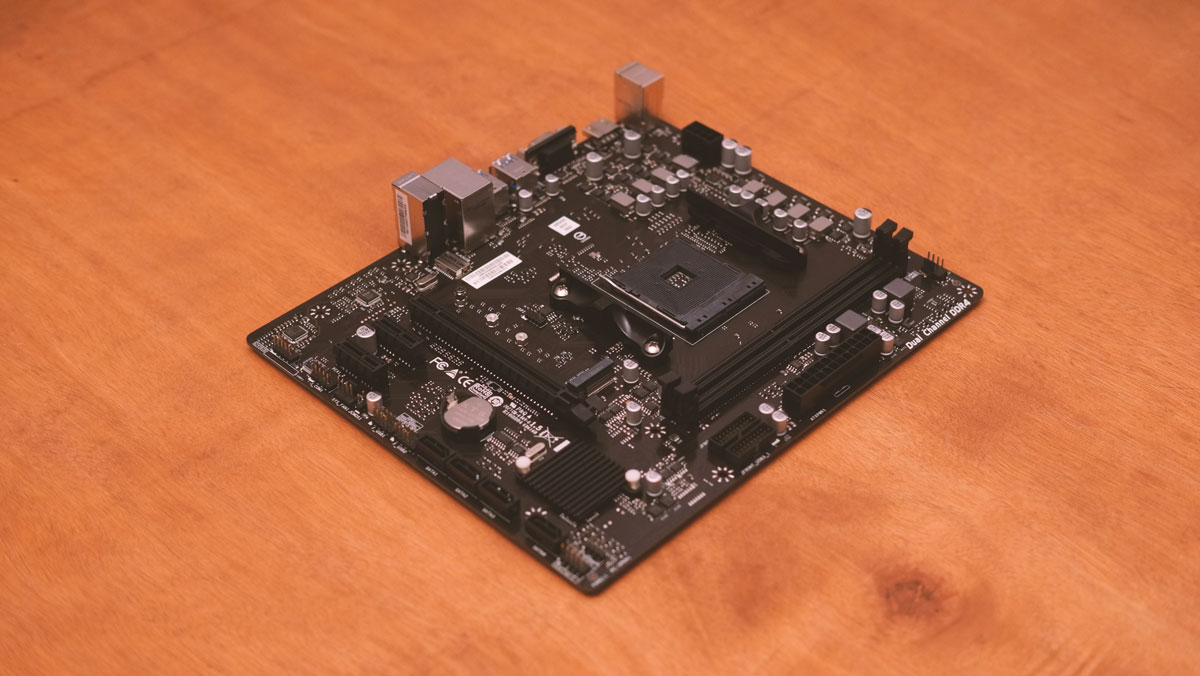 Overall, the layout is pretty decent. We only got two fan headers though which is definitely not good if you plan to use more than two fans without using a splitter. The lack of extra DIMM slots for its size and the use of conventional SATA layout are also its weakness – unless you really miss the early 2000's. If you want that 64GB, you outta buy a dual 32GB kit.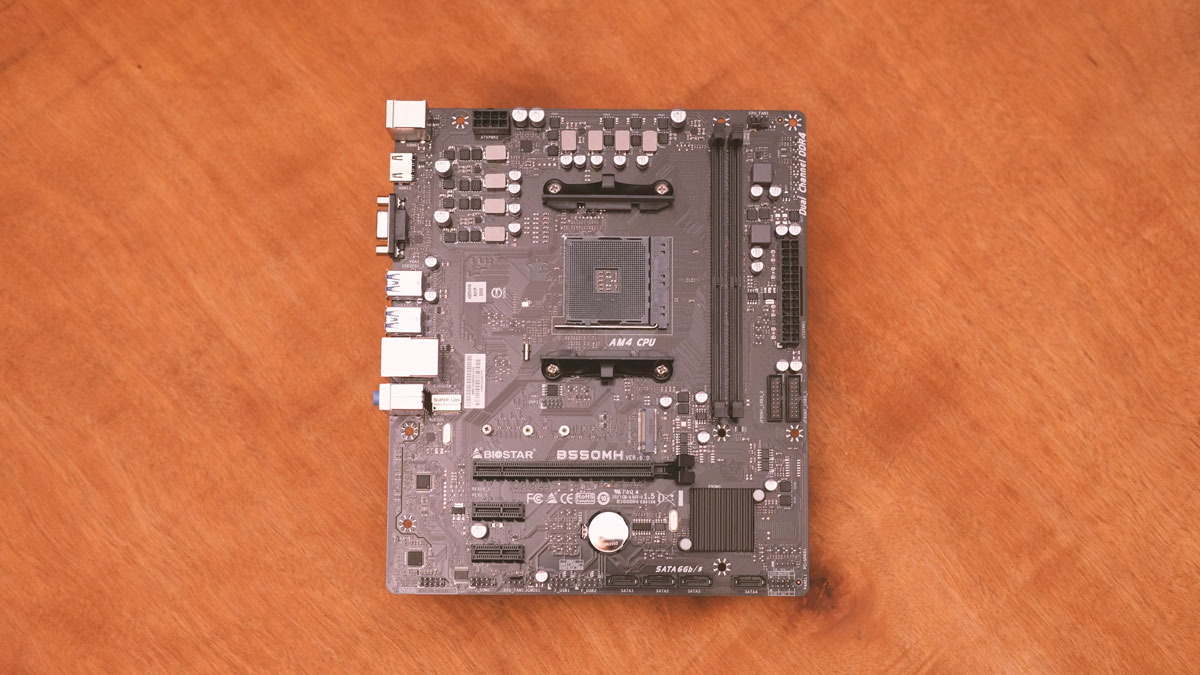 Solder job is excellent – which is something BIOSTAR really improved upon over the years. At this angle, we could also see the actual speed at which the PCIe slots operate. We have a single x16 here – obviously 4th gen capable, and dual PCIe x1 slots.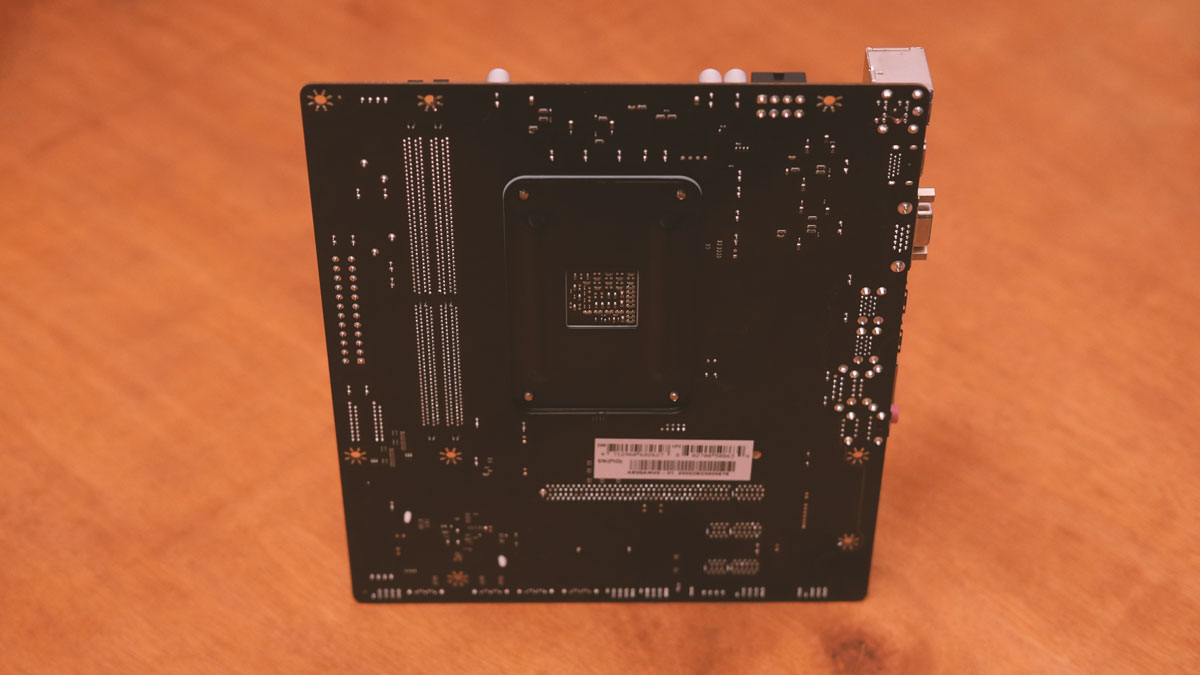 While BIOSTAR skimped on the extra fan headers, they never did on the power of the B550MH – at least on the delivery. What we got here is an 8-phase VRM but without a cooler. You could overclock with this but I recommend buying an adhesive cooling plate or a really good boxed/top-down CPU cooler.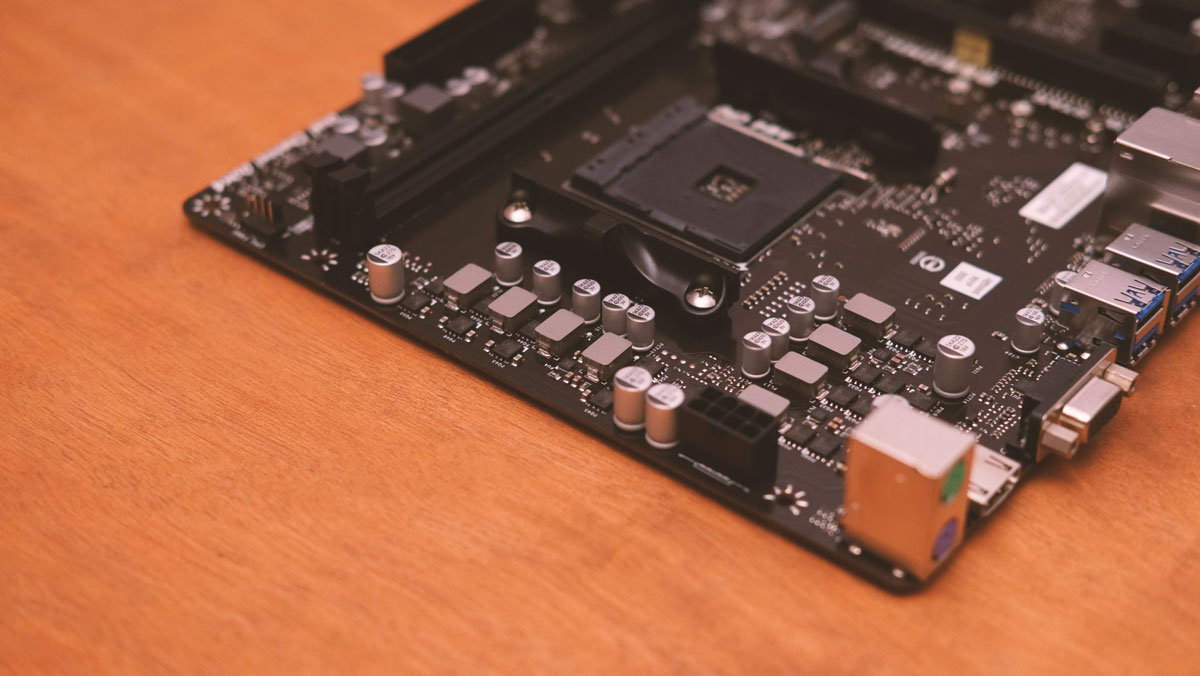 Now the right side of the board houses the usual headers for power, storage and connectivity. As for the memory, BIOSTAR specified a maximum capacity and frequency for the DRAM at 64GB and 4933MHz respectively.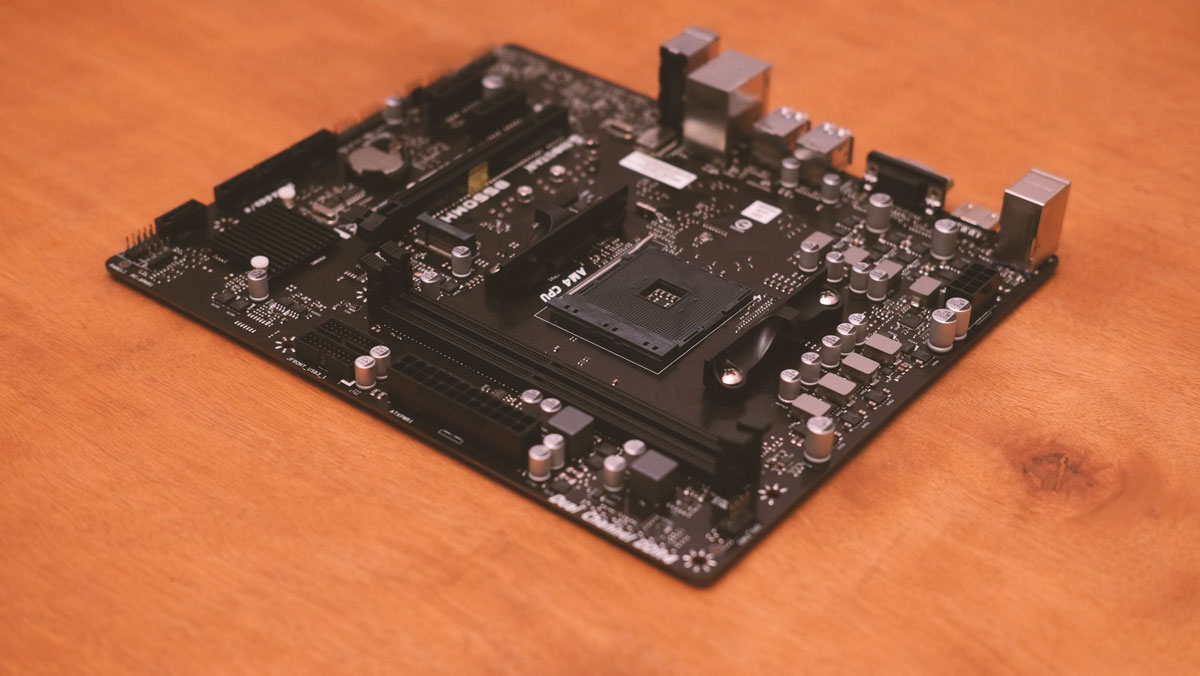 Back panel options are not bad. We have four USB 3.2 Gen1 here in quad Type-A ports. There are two USB 2.0 ports here below the LAN port and a few legacy ports too. This is a simple array of connectivity ports with an obvious space for some extras.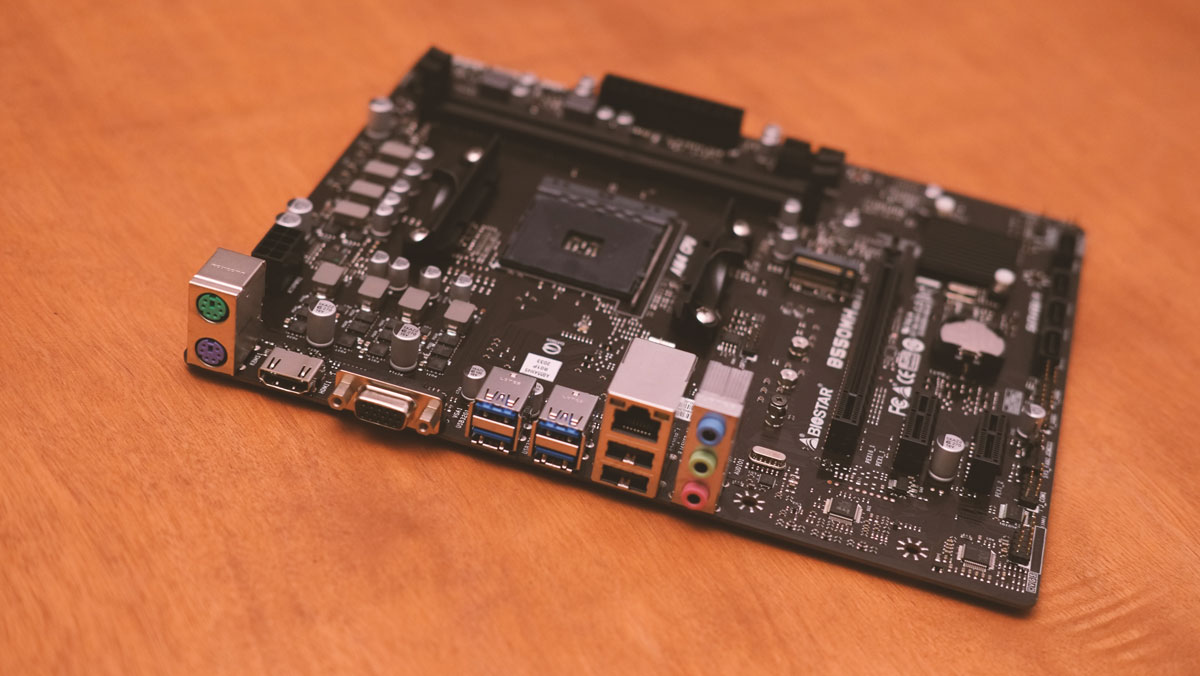 Firmware Interface
BIOSTAR's UEFI of choice is as simple as it gets for the B550MH. This is a 4:3 interface with no bling or whatsoever.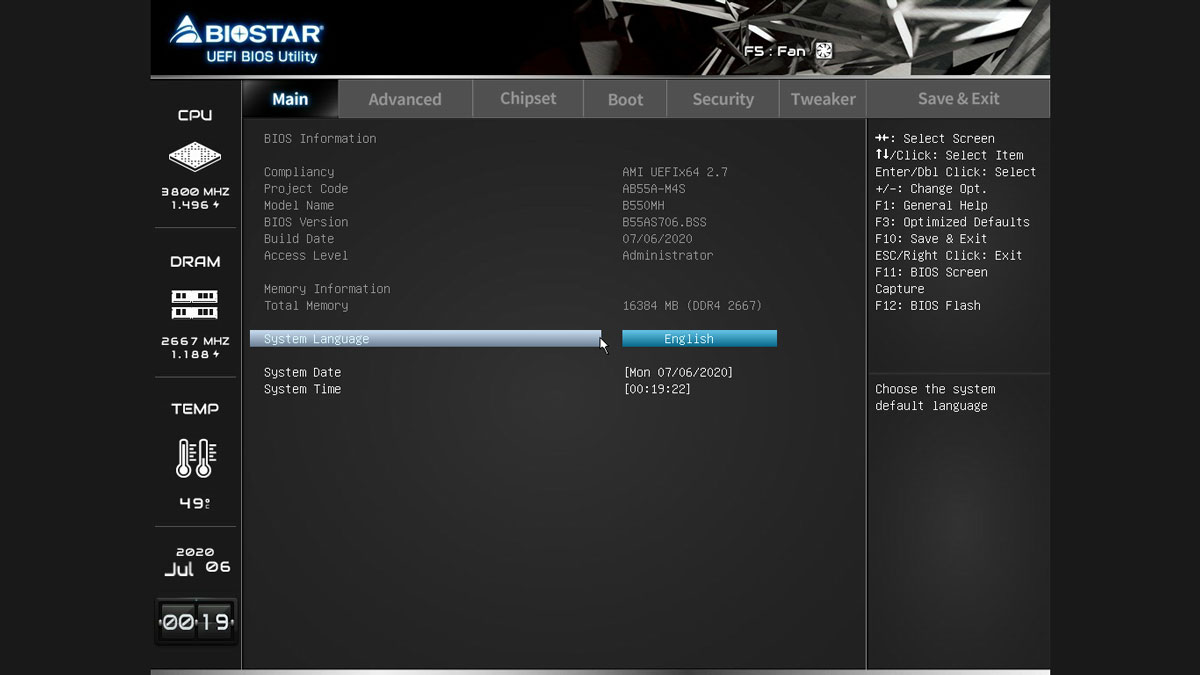 There are 6 main menus here but the most important one – at least for us, is the Tweaker menu. This is a simple CPU and memory overlocking feature found within the board. Nothing exceptional here really but at the very least we got LLC.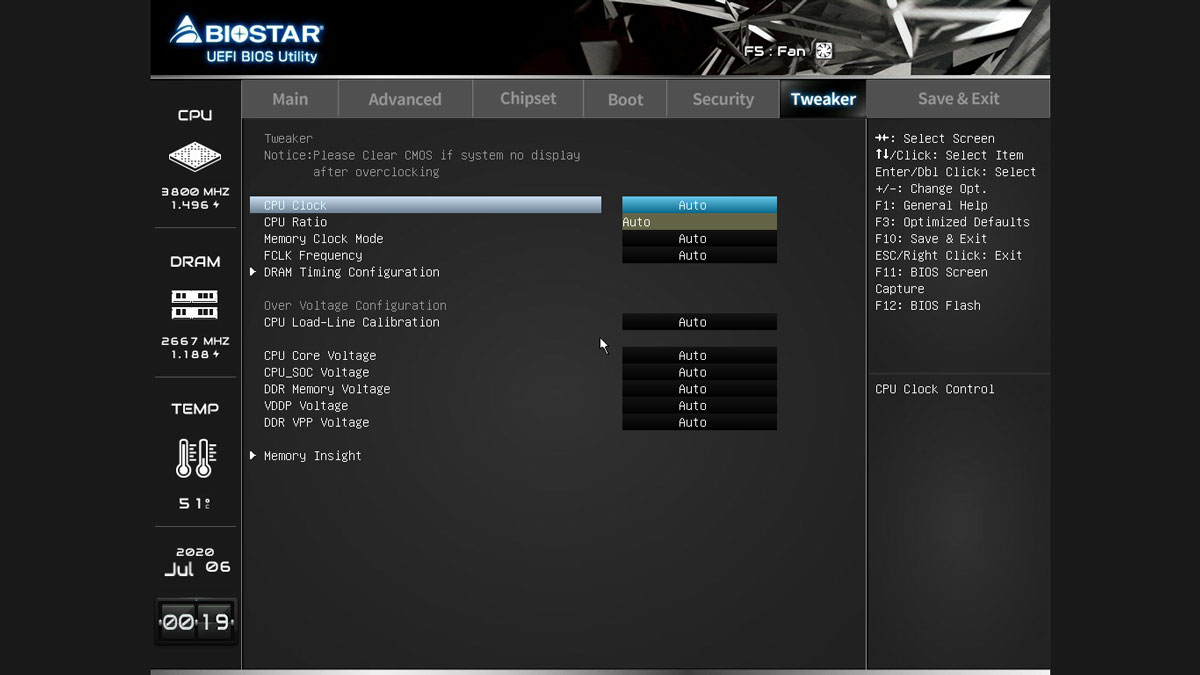 BIOSTAR also got a fan controller built within the UEFI. This is rather simple and works like many other fan controllers built within recent motherboards.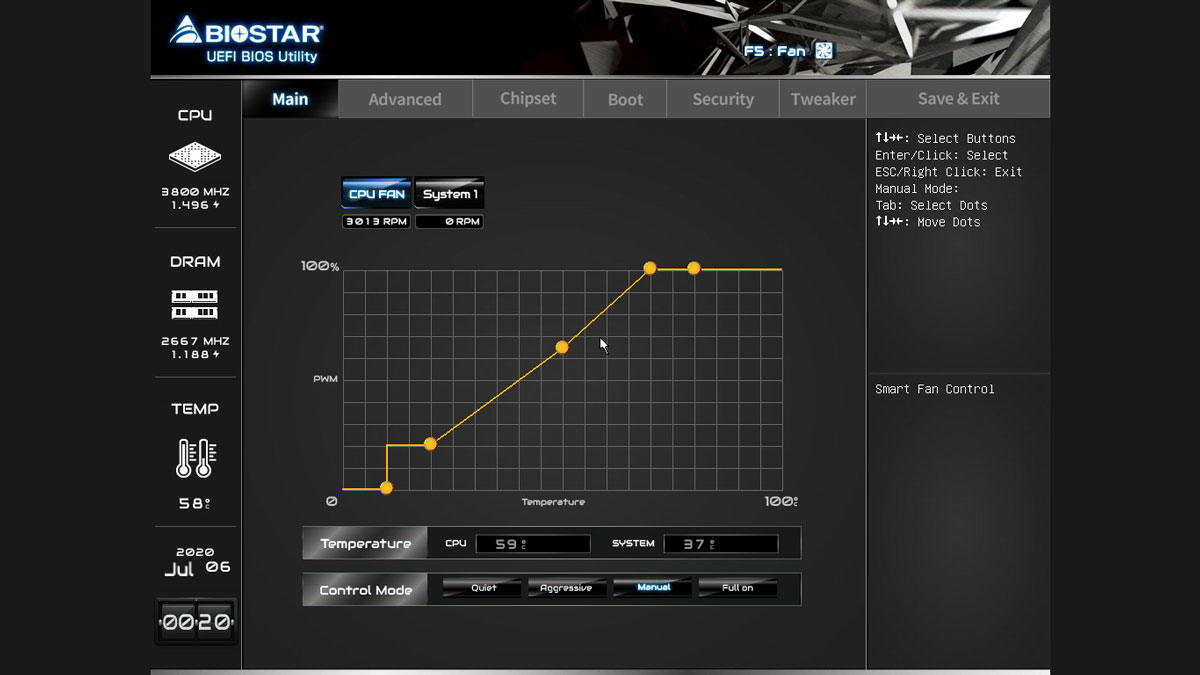 Overall the UEFI is as simple as it looks. Nothing's extravagant and in turn, it is as snappy as the good old white and blue BIOS of the yesteryear.
Test Setup and Methodology
System performance is evaluated by industry standard benchmark tools and applications. The system is tested with the following software configurations:
Windows Power Plan: Balanced
UEFI configuration: Default
Windows Game Mode: Disabled
Windows Game Bar: Disabled
Windows Security: Disabled
Outlined below are the test system specifications as well as the software and or applications used for the review:
Test System Specifications
CPU
AMD Ryzen 7 3700X
Motherboard
BIOSTAR B550MH
Cooler
AMD Wraith Stealth V2
Memory
ADATA Premier 2666MHz 16GB
GPU
ASUS ROG Strix RX 570 4GB
Storage
Crucial BX200 480GB
Case
Mechanical Library JXK-K3
PSU
Thermaltake Toughpower GF1 650W
Display
ASUS VP249QGR
OS
Microsoft Windows 10 Pro 64-bit
Synthetic Performance:
Super PI – 32M Calculation
wPrime – 1024M Calculation
AIDA64 Extreme Edition – Memory Benchmark
Productivity Performance:
GIMP – Image Processing
HandBrake – Video Encoding
WinRAR – Compression Speed
Gaming Performance:
CS:GO – Maximum Settings, V-SYNC off
DOTA 2 – Maximum Settings, V-SYNC off
Assetto Corsa – Maximum Settings, V-SYNC off
Miscellaneous:
AS SSD – Storage Performance
RightMark Audio Analyzer – Audio Performance
NetIO-GUI – Network Performance
Power Consumption:
AIDA64 – Stability Test, CPU, Memory and GPU
Synthetic Performance
Super PI is a single-threaded program that calculates pi to a specified number of digits after the decimal point. It is a widely used benchmark to check a single-core performance of any system.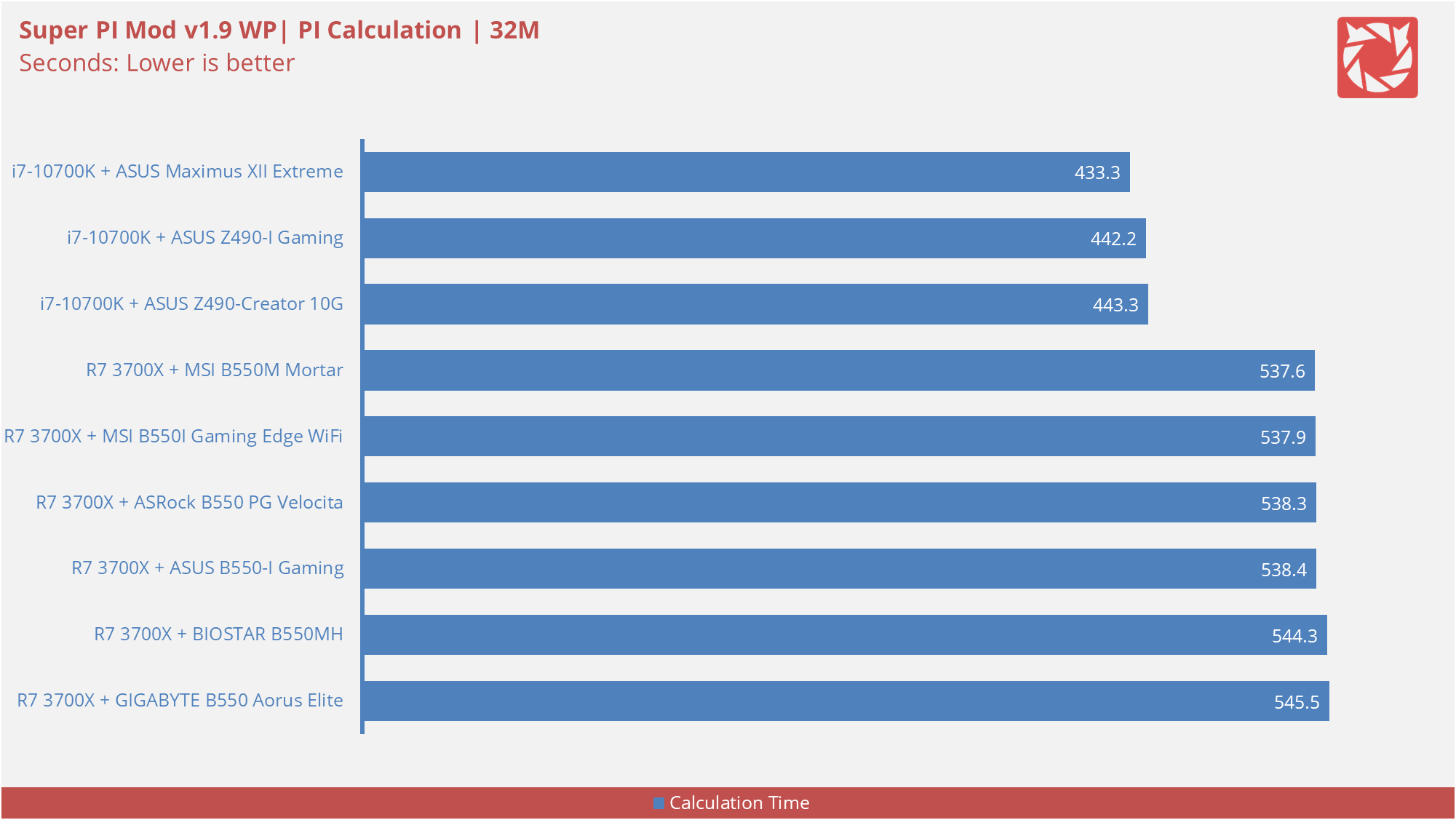 WPrime is a multi-threaded program that calculates a set number of square roots. A good application to check the multi-core performance of any system.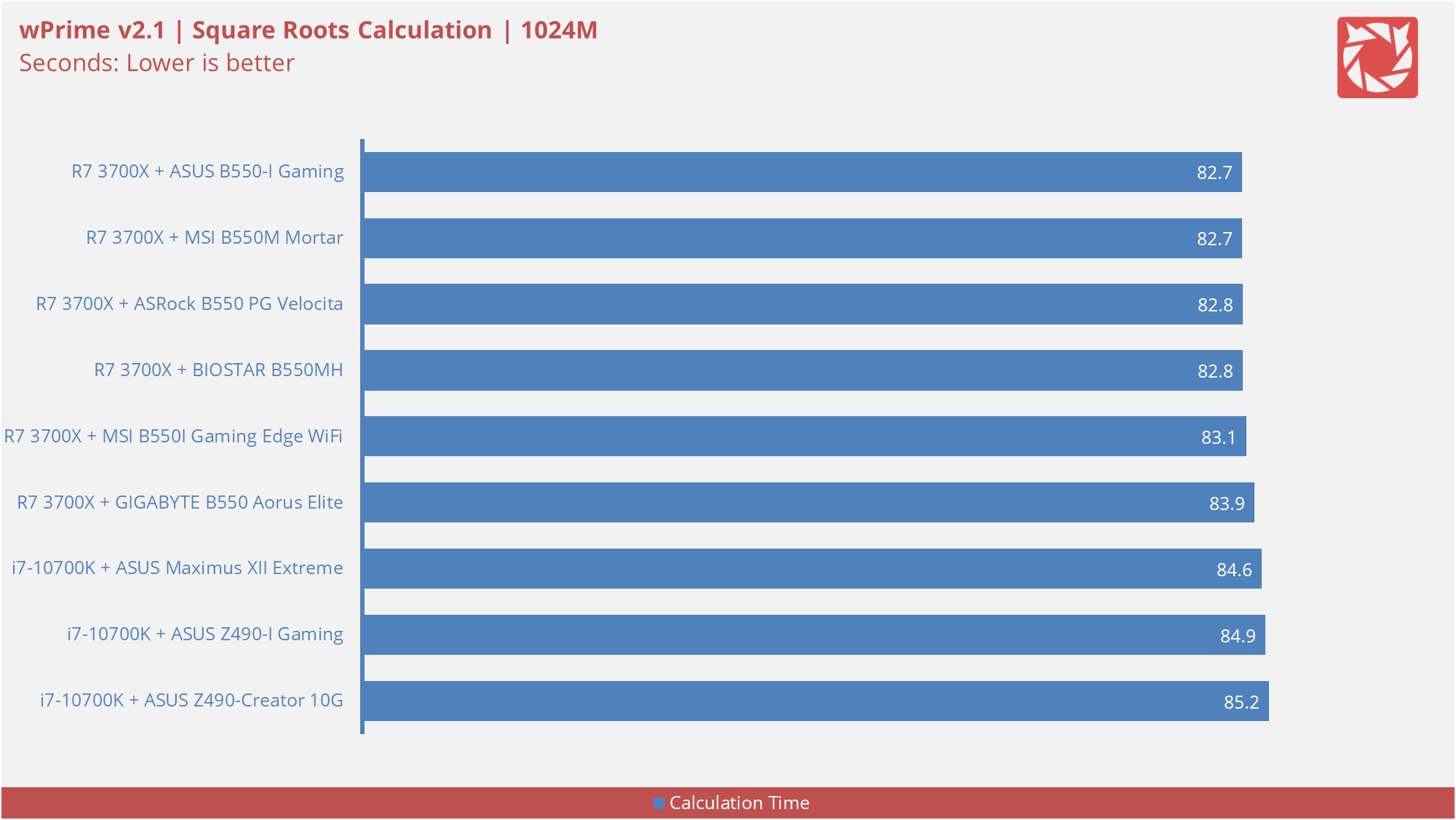 The AIDA64 Extreme Memory Benchmark measures the data transfer bandwidth and latency of the system memory. The latency is measured for this benchmark.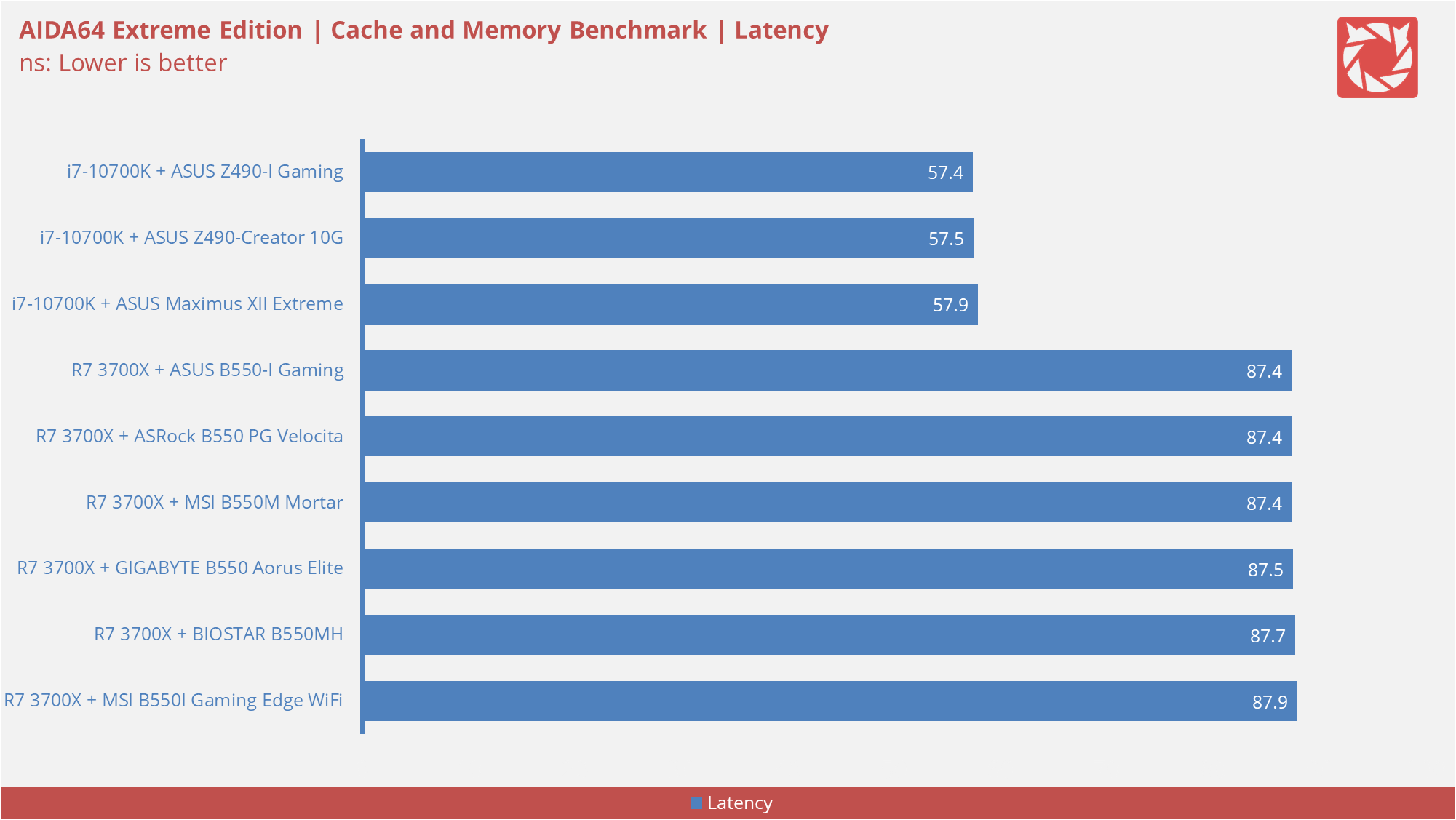 The B550MH's synthetic performance is comparable to other AMD B550 chipset based motherboards.
Productivity Performance
GIMP is a free and open-source image editing tool. 7MB worth of images are processed and converted for the benchmark.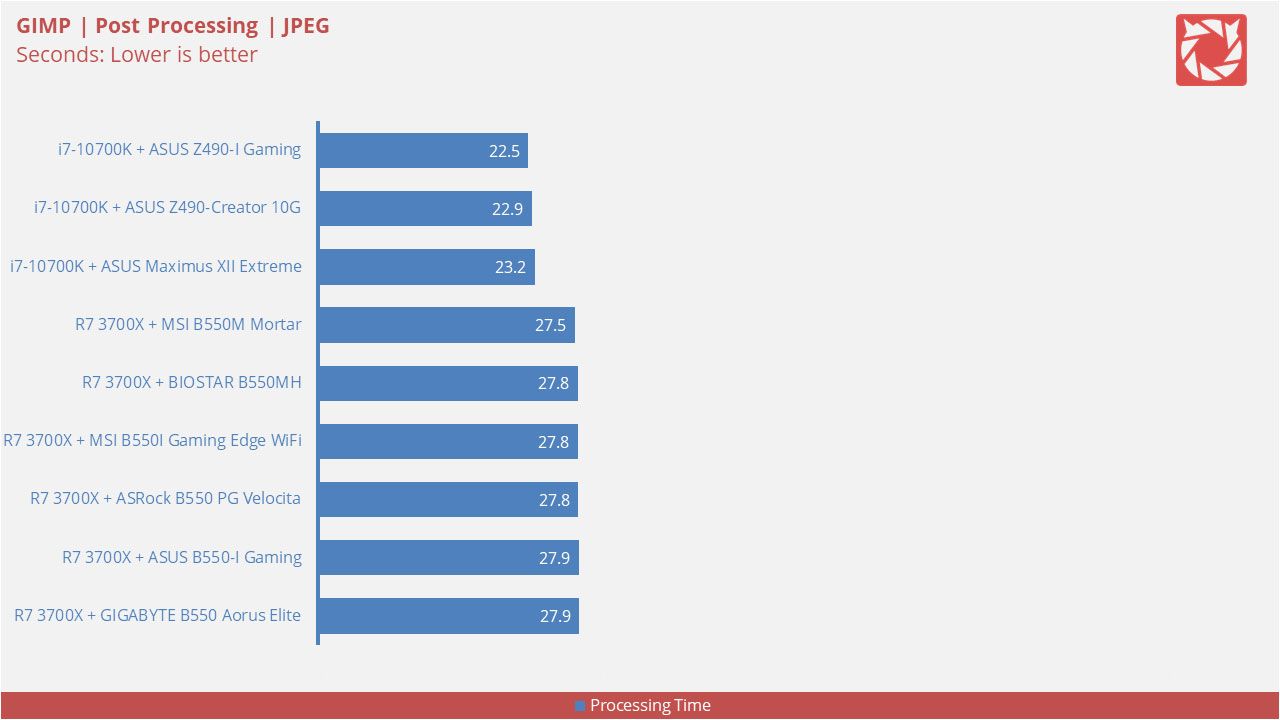 HandBrake is a free video encoding tool that supports a wide variety of media codecs. 150MB worth of MP4 video is converted using the H.264 codec for the benchmark.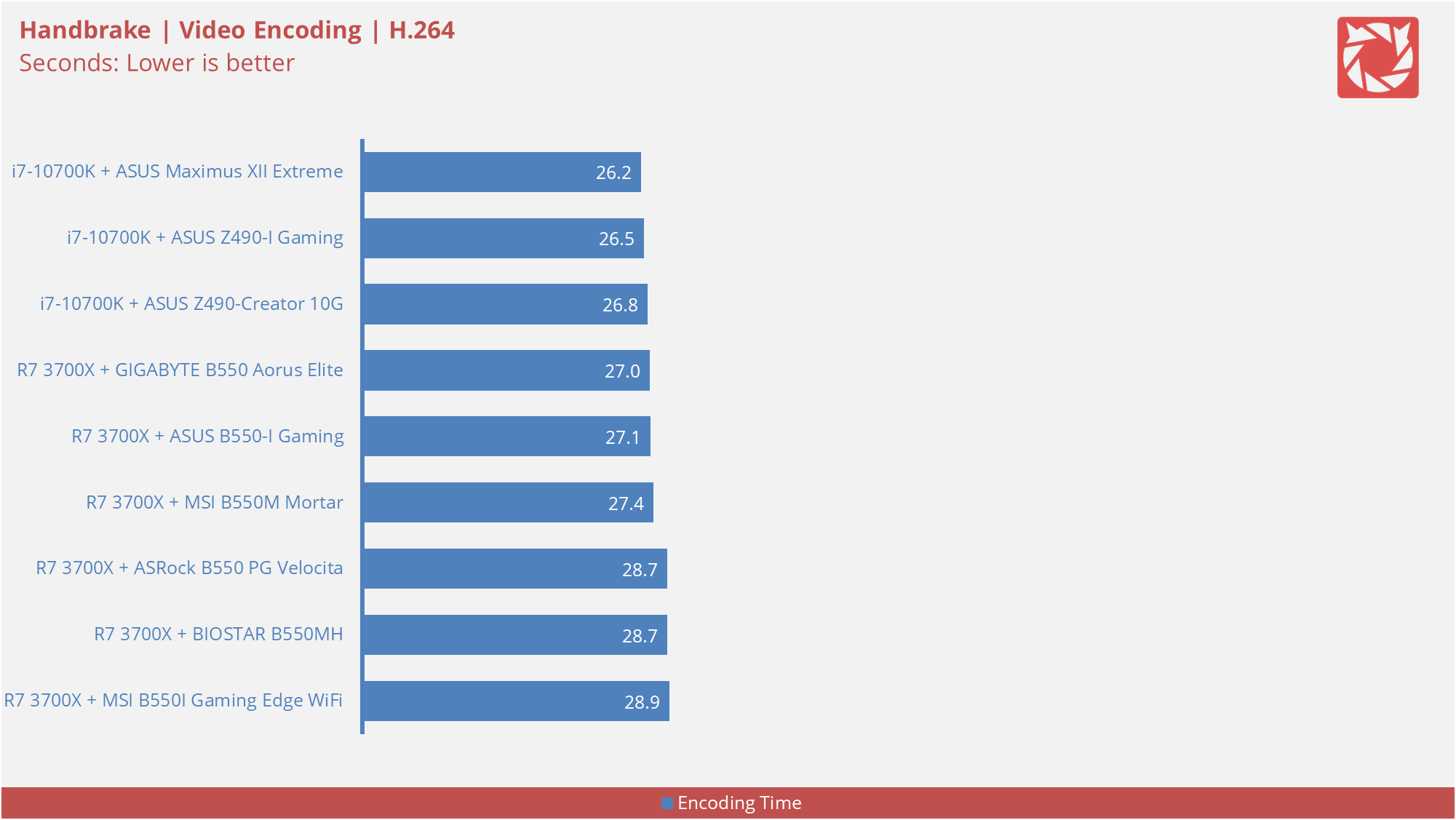 WinRAR is a file archive utility that creates, view and unpack numerous archive file formats. The built in benchmark tool is utilized to for the benchmark.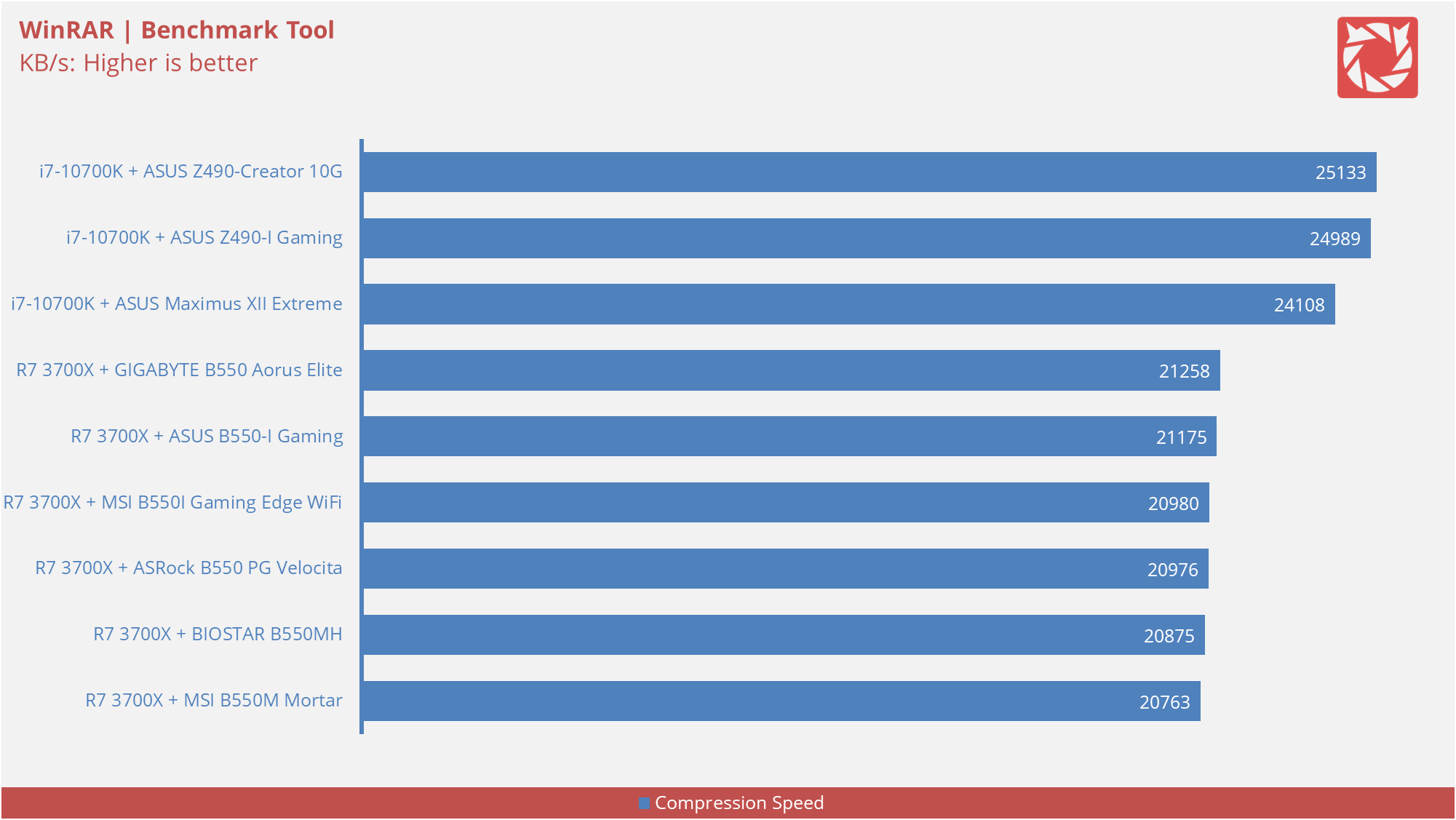 Great productivity performance we got here from the BIOSTAR B550MH. Not the best in class but damn close to the higher-end B550 boards.
Gaming Performance
Counter-Strike: Global Offensive or CS:GO is a multiplayer first-person shooter developed by Valve. Settings are set to their maximum with V-Sync and motion blur disabled.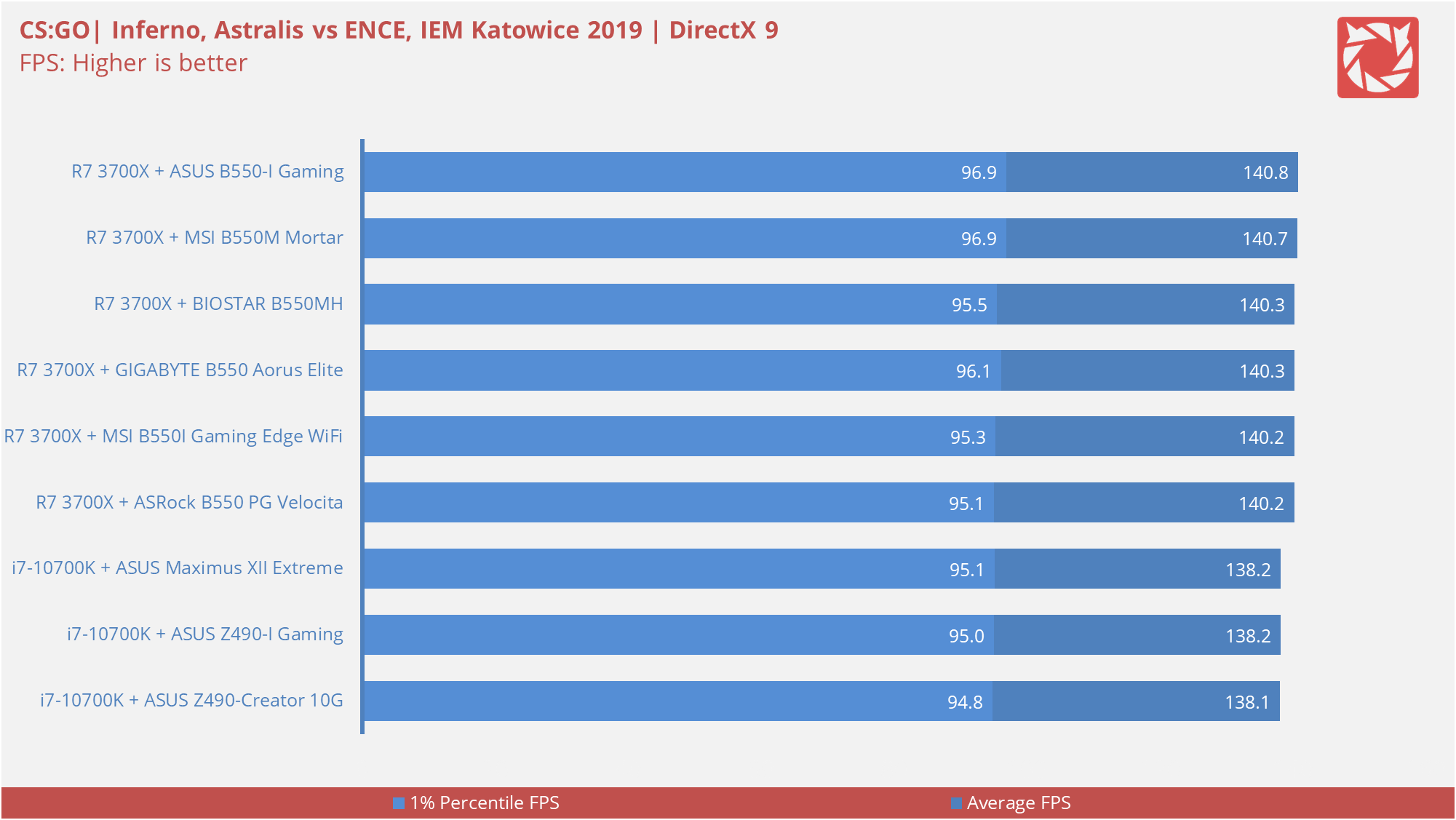 DOTA 2 is a multiplayer online battle arena game developed and published by Valve. Settings are set to their maximum with V-Sync disabled.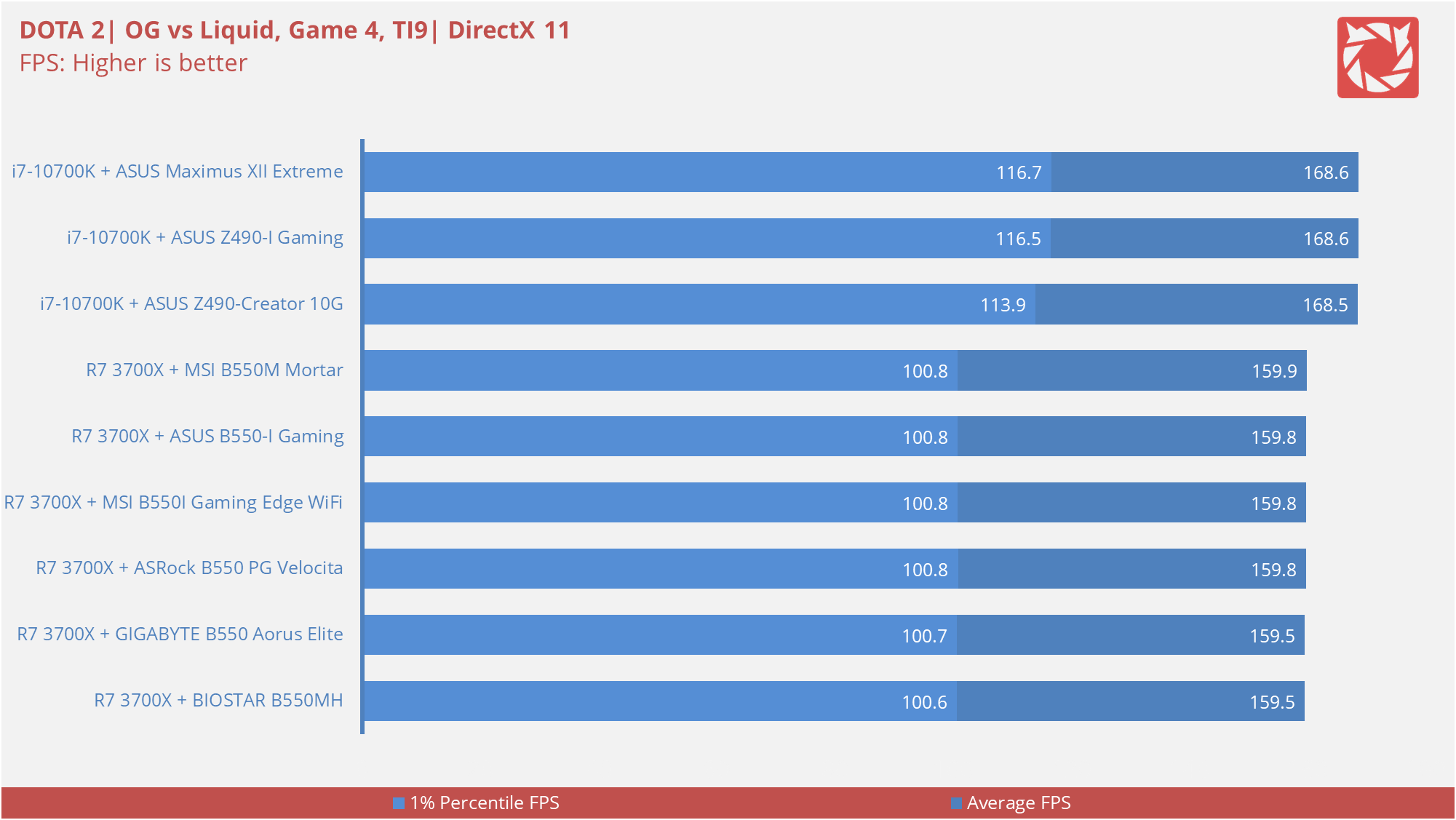 Assetto Corsa is a simulation racing game developed by the Italian video game developer Kunos Simulazioni. Settings are set to their maximum with V-Sync disabled.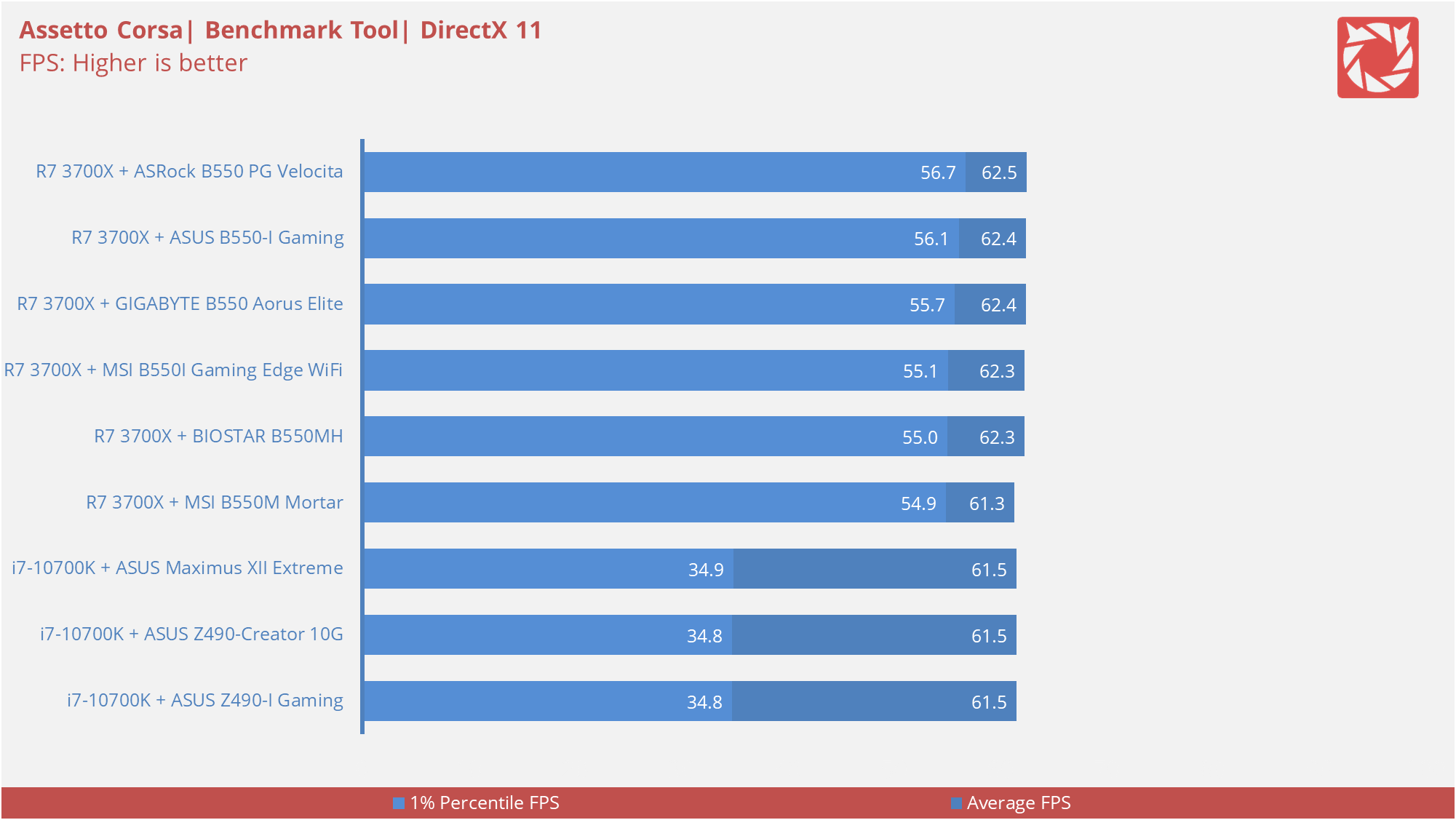 Gaming performance is great like the other B550 motherboards we got paired with a Ryzen 7 3700X. Nothing unusual thus far.
Storage Performance
AS SSD is a storage benchmark widely used in the industry. The total score is taken to evaluate the storage performance.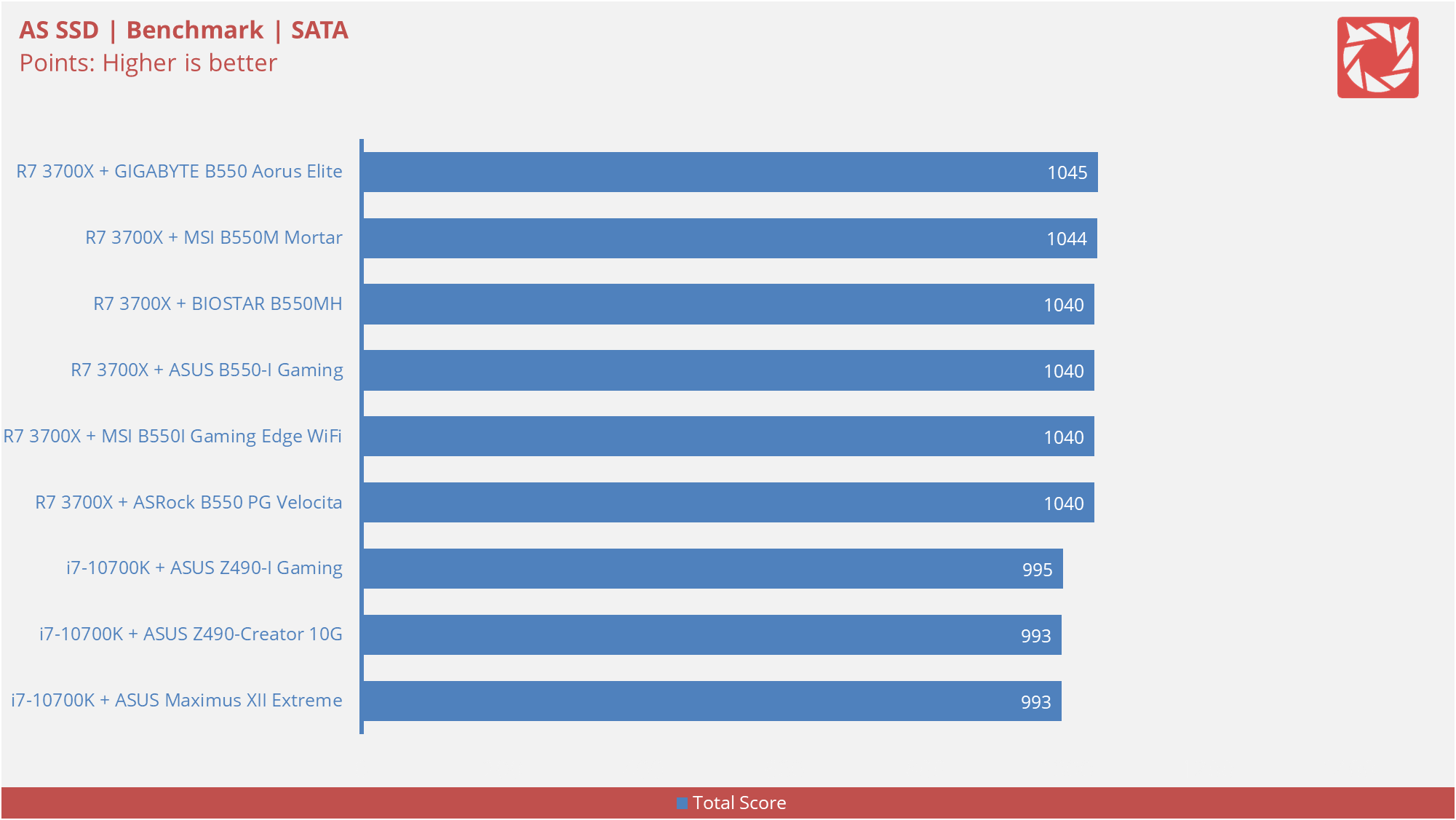 Storage performance is pretty good as far as SATA interface is concerned. Just like the other AMD B550 chipset based motherboards.
Audio Performance
RMAA is a tool designed to test the quality of audio devices. A loop-back is configured with a sampling rate of 24-bit at 48000Hz for the test. Our setup essentially tests the quality of the line-in and line-out of the audio solution.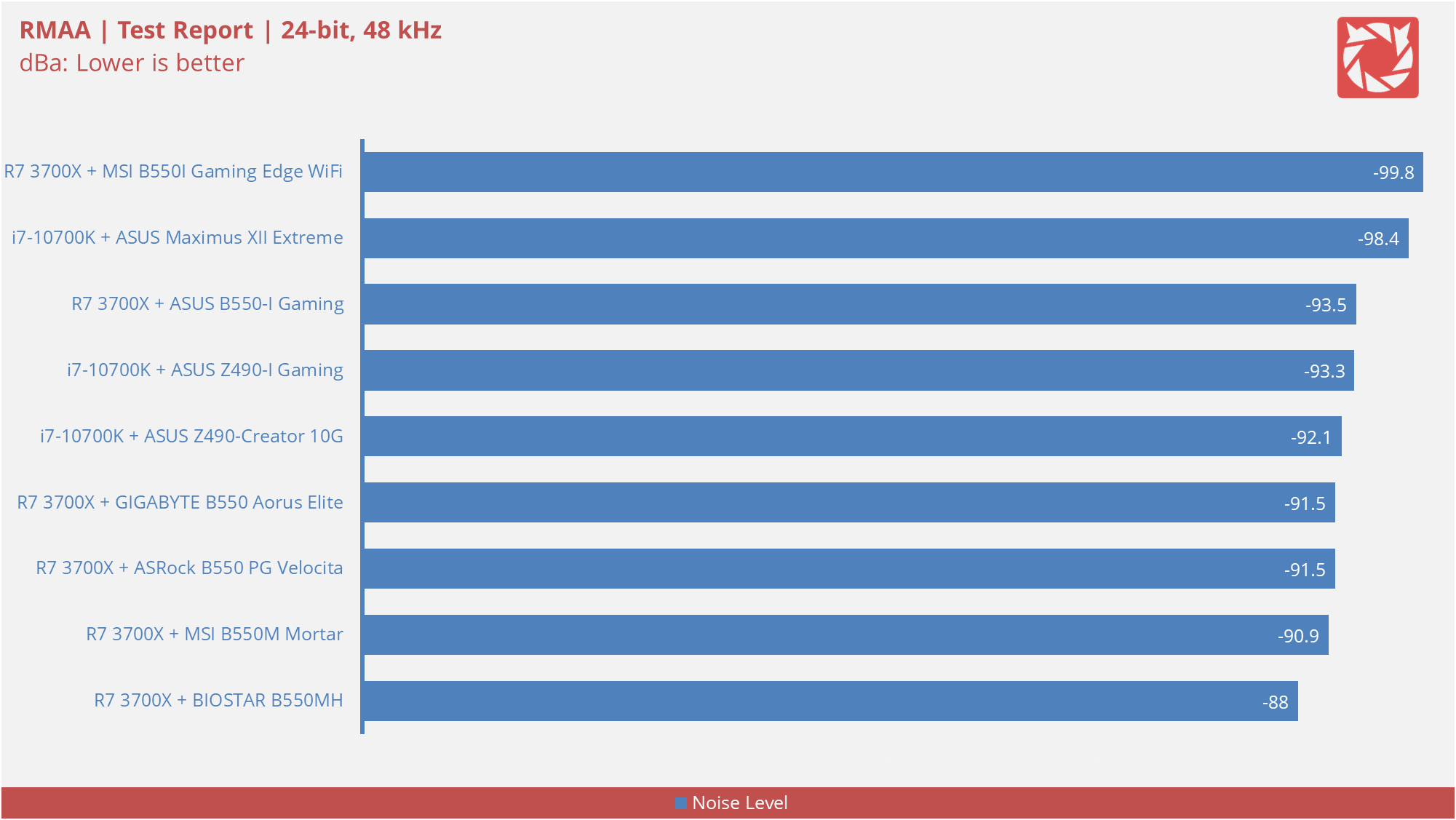 Noise Level is decent at -88dBA. Frequency response on the other hand is almost flat.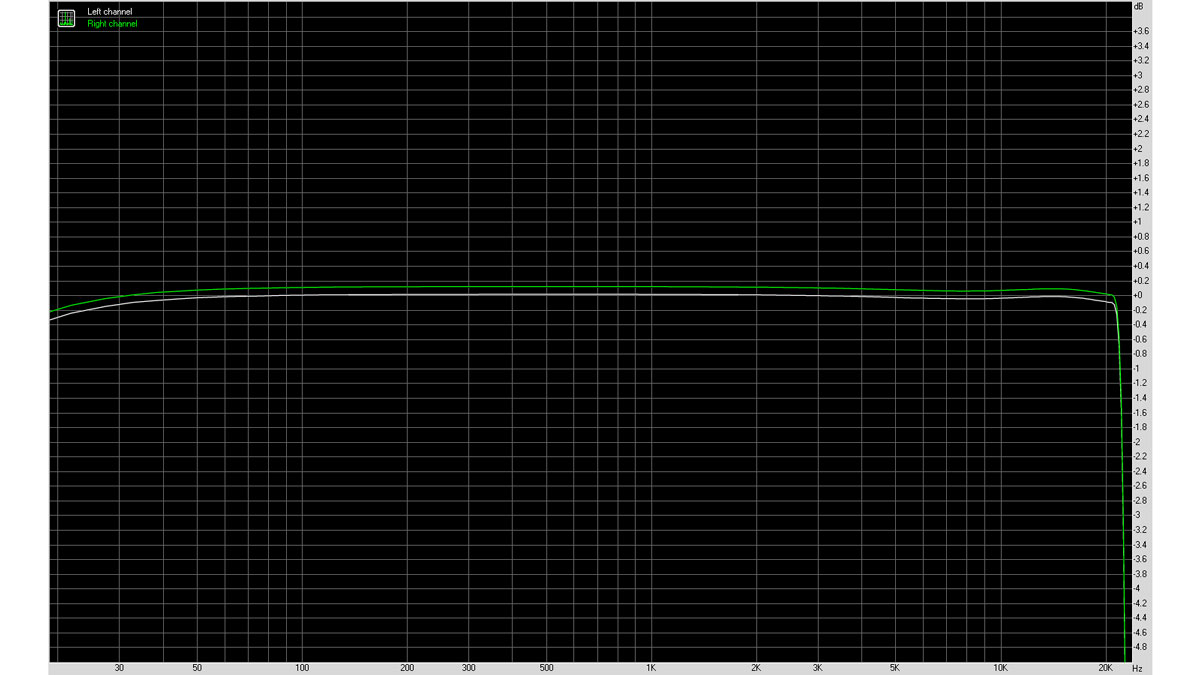 As for power, it could drive my head gears with impedance ranging from 16 to 64Ω. It could drive my 150Ω gear too but that's really pushing it.
Network Performance
NetIO-GUI is an application used to test the performance of a network. The LAN round trip time is our concern here, checking out latency anomalies if there are any. The client and server are connected on the home network via Cat 5e cables.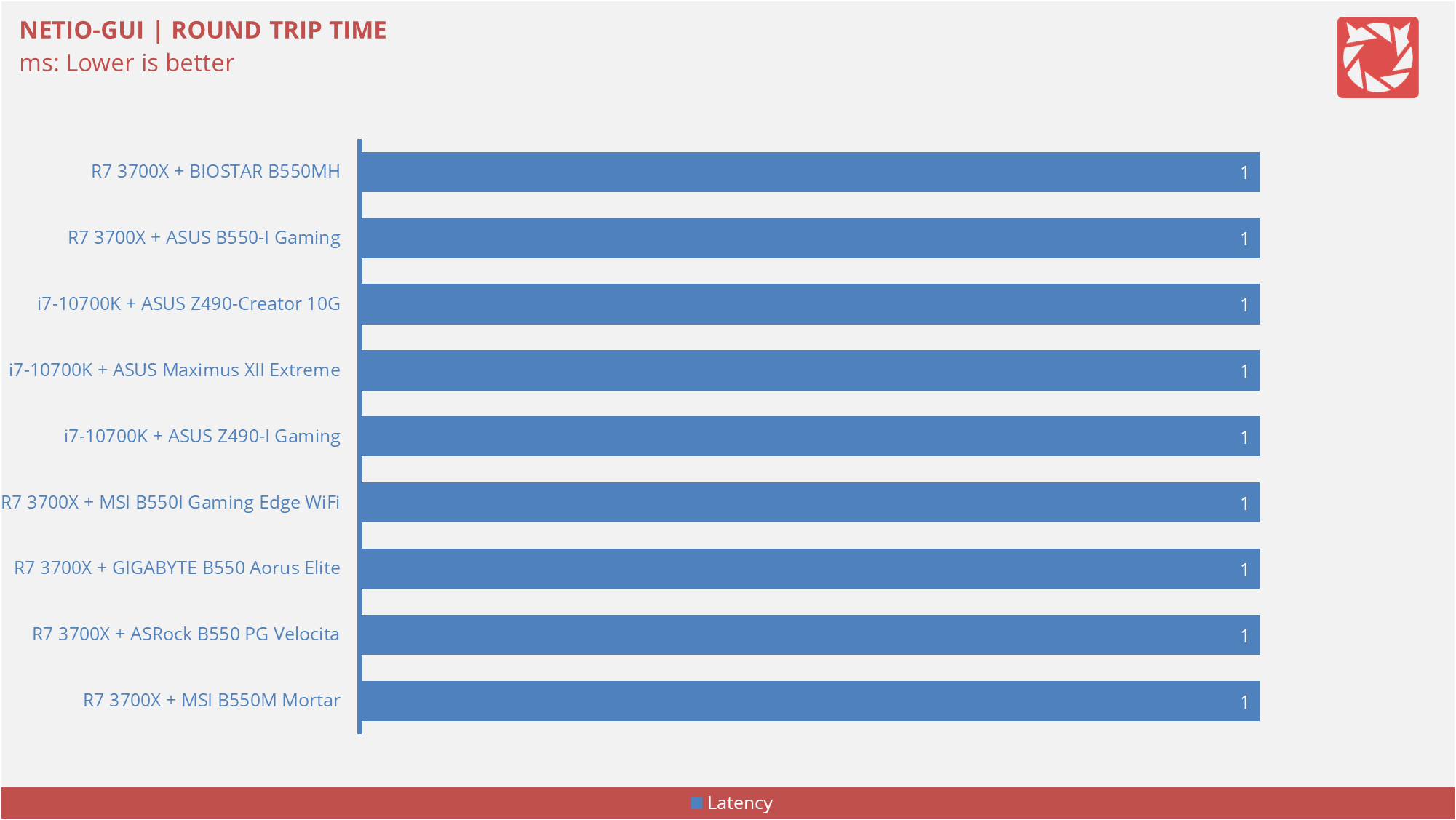 The B550MH motherboard has a wired network latency at 1ms on any packet sizes tested. Nothing's out of place.
Power Consumption
AIDA64 Extreme System Stability Test features 64-bit multi-threaded stress testing module to drive the system to its limits. Power readings are recorded with a watt-meter.
Now power draw is one of the board's highlights. With its simple and extra-less design, it is the least power hungry device out the bunch.
Overclocking and Underclocking
There are two ways to overclock and underclock any compatible unlocked AMD Ryzen processors on a B550 motherboard. One way is to do it within the UEFI and the other is via the AMD Ryzen Master. Both works well, but we prefer via UEFI since it is way easier to use.
Since this is not our test sample and it is a board without a VRM heat-sink, we didn't overclock the CPU over the suggested 1.325v Vcore.
Software, Lighting and Special Features
BIOSTAR had the B550MH Ver. 6.0 bundled with a number of applications that should help you maximize your motherboard's potential. That should include the following software and or applications:
Temperature Monitor Utility
AMD RAIDXpert Driver
BIOSCreen Utility
BIOS Update Utility
There isn't much to talk about the software nor the special features of the board. All we got here as an extra is the SUPER LAN which is basically a power surge protection feature for the LAN port.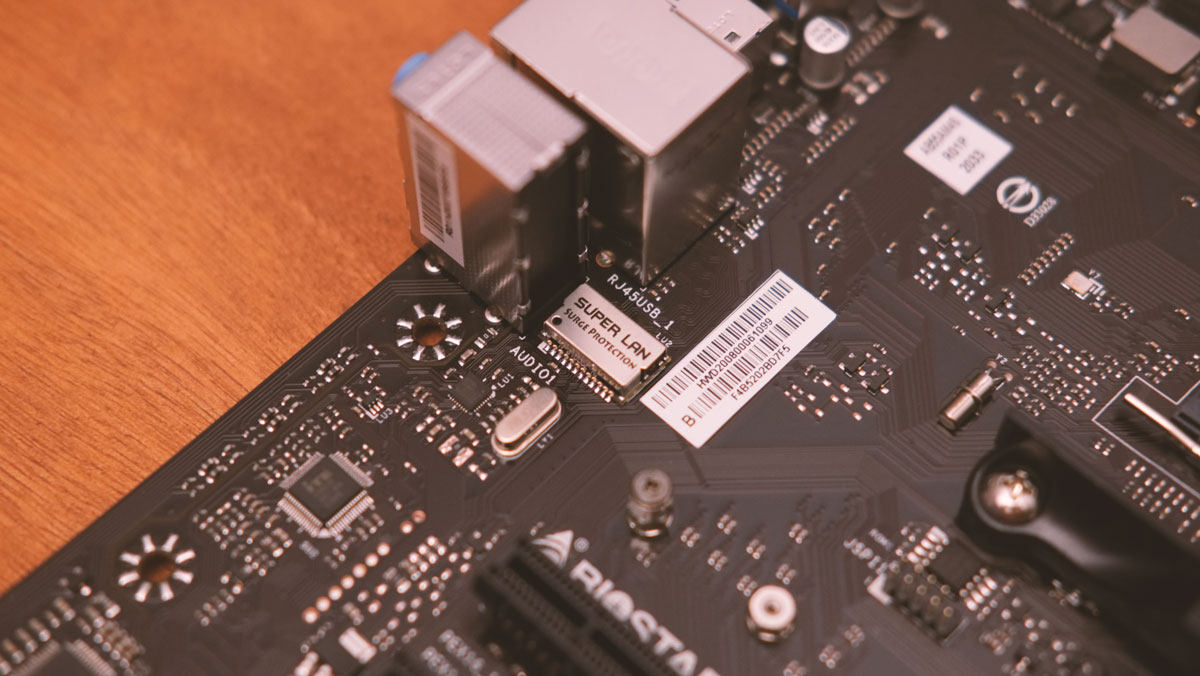 Final Thoughts
The BIOSTAR B550MH is simplicity in its most physical form – which means it should also appeal to system builders looking for the most basic motherboards to go with their build. Of course you still have to factor in the lack of extra DIMM slots, the lack of RGB lighting support out of the box and the limited number of fan headers.
At its heart is the B550 chipset and for half the price of other competing products with the same chipset, this is a steal – performance wise. I can't vouch for overclocking though since even the mightiest VRM requires a good cooling solution when in stress.
Build quality and layout wise, BIOSTAR products are one of the best at their respective price points. I think it's high time for consumers to quit thinking that lesser known brands have lesser quality components. The BIOSTAR TP67XE for example is one of the most iconic motherboards from the company and that is a decade old beast.
With a retail price of 4,550 Pesos the BIOSTAR B550MH Ver. 6.0 is simply put affordable. Something that most B550 motherboards should be in the first place. It comes with a few caveats though.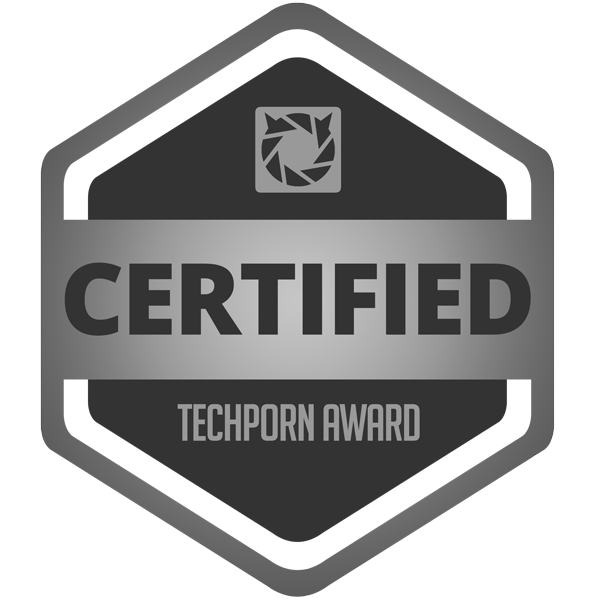 BIOSTAR B550MH Ver. 6.0
Performance -

8.5/10

Build Quality -

8.5/10

Features -

7.5/10

Design -

8/10

Value -

9/10
Summary
With a retail price of 4,550 Pesos the BIOSTAR B550MH Ver. 6.0 is simply put affordable. Something that most B550 motherboards should be in the first place. It comes with a few caveats though.