Another Intel Z590 based motherboard hits the deck with the GIGABYTE Z590I Vision D. This motherboard is priced at 17500 PHP. A few thousand Peso lower compared to the other brand's offering.
GIGABYTE markets this motherboard for creators and as such, it has been styled to fit the bill – features included too with proper connectivity options for the task. This board also comes with the Realtek ALC4080. I praised that codec on my last review so I have high hopes with the GIGABYTE motherboard.
Disclosure: GIGABYTE sent this motherboard as a media sample for the purpose of this review. The company did not pay me to say anything particular about it.
Technical Specifications
Processor
CPU Support
Intel 11th/10th Gen Core, Pentium Gold, Celeron Processors
Chipset
Intel Z590
Socket
Intel Socket LGA1200
Memory
SDRAM
DDR4 Non-ECC, ECC
Slot
2x DIMM
Channel
Dual Channel
Frequency
4600MHz (Max)
Capacity
64GB (Max)
Graphics
Display Output
1x DisplayPort 1.4, 2x Thunderbolt 4 USB Type-C
Multi-GPU
—
Expansion
PCI Express
1x PCIe 4.0 x16
Bifurcation
—
Storage
SATA
4x SATA
M.2
2x M.2 (PCIe 4.0 x4, PCIe 3.0 x4)
RAID
RAID 0, 1, 10
Network
Wired
1x Intel 2.5GbE LAN
Wireless
1x Intel Wi-Fi 6 AX200
Audio
DAC
Realtek ALC4080
Amp
—
Ports
1x Mic, 1x Line-Out
USB
USB 2.0
1x Header
USB 3.2 Gen 1
4x Type-A Rear, 1x Header
USB 3.2 Gen 2
2x Type-A Rear, 1x Header
USB 3.2 Gen 2×2
Via Thunderbolt 4
Thunderbolt 4
2x Type-C Rear
Headers
Fan
1x PWM (CPU)
LED
3x LED (PWM capable)
Dimensions
Length
170mm
Width
170mm
Height
45mm
Weight
—
Packaging and Accessories
GIGABYTE packed the Z590I Vision D in a compact dual compartment color box – just like one of the many recent SFF motherboards shipped out of the factory.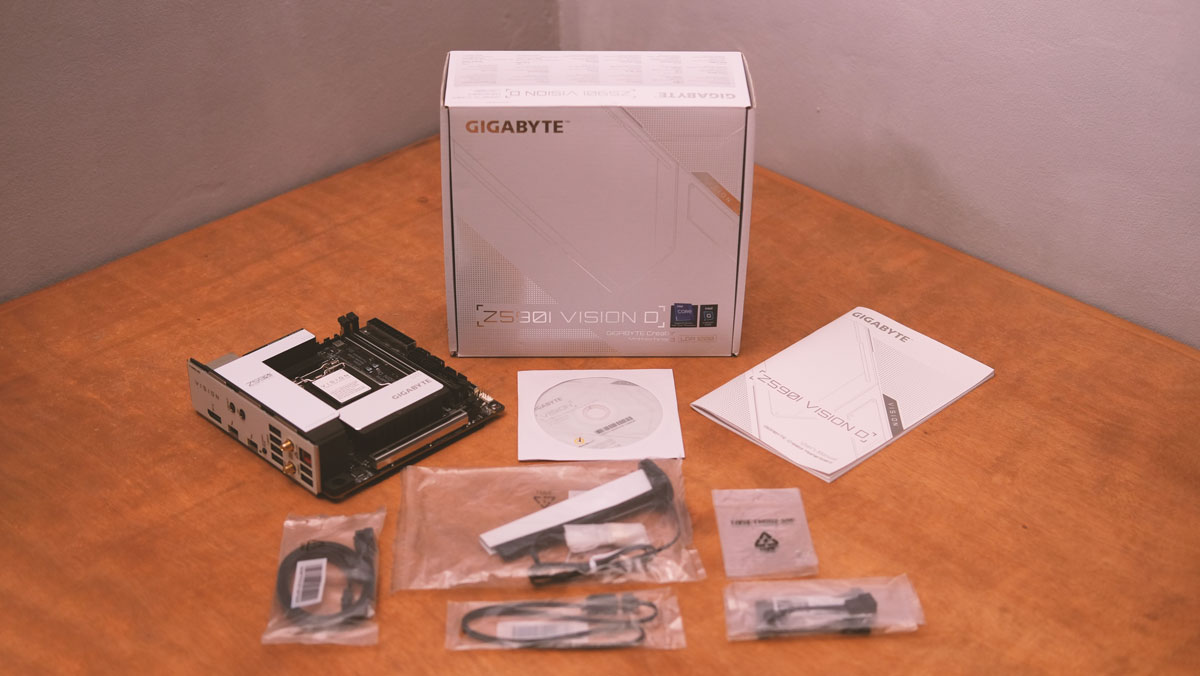 The product comes with the following items inside:
2x SATA cables
LED extension cable
3x PWM to LED cable
Wi-Fi antenna
2x M.2 SSD screw
Support DVD
User manual
What we got here are essential bundles for the motherboard.
Design, Build and Connectivity
GIGABYTE went with a white theme here with the Z590I just like the rest of the Vision line-up. This one is a Mini-ITX motherboard that will even put some ATX models to shame as far as its hefty build is concerned right out of the box. That is mainly due to the massive blocks of aluminum for the VRM, chipset and SSD.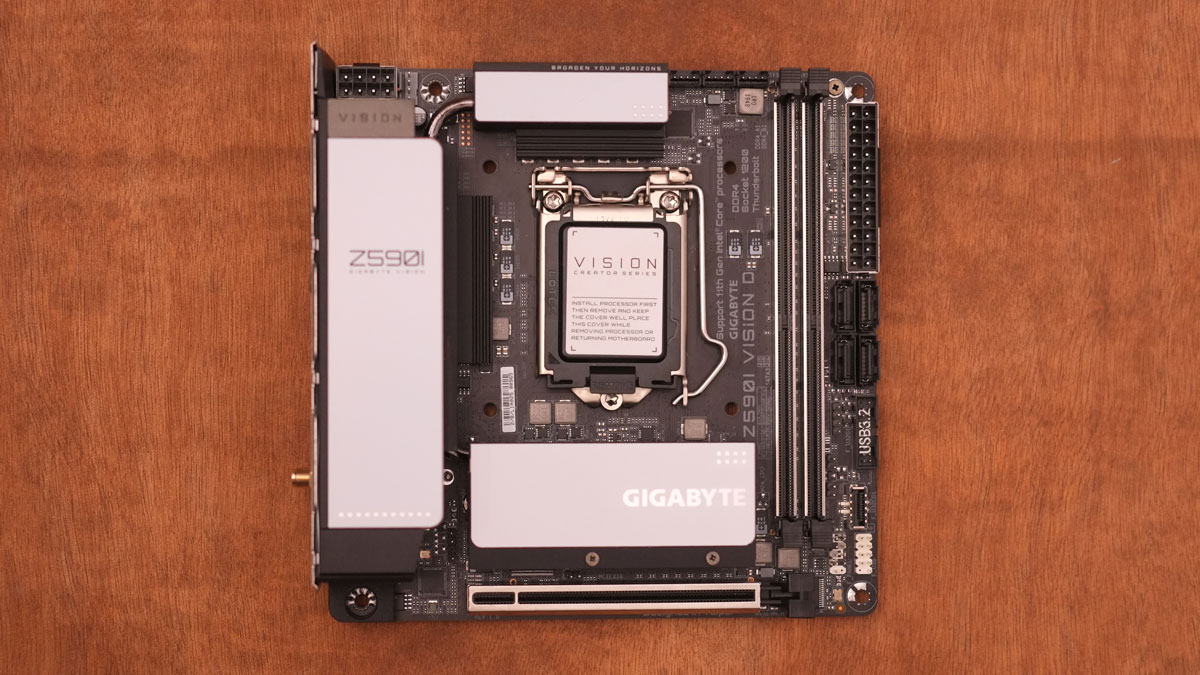 GIGABYTE is always one of the best when it comes to manufacturing quality and this board definitely shows it. As an added bonus, the motherboard comes with a backplate for added reinforcement and cooling. On this side lies the secondary M.2 slot – speed's at PCIe 3.0 x4, as opposed to initial reports with PCIe 4.0 x4 front and back.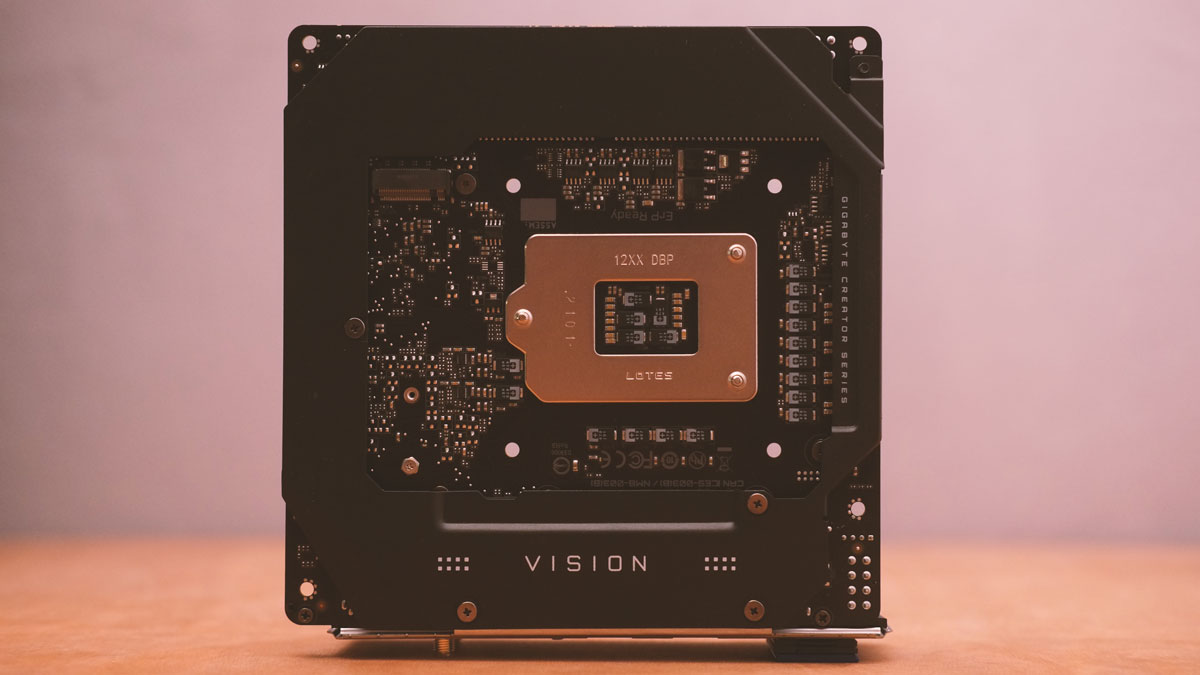 Powering the CPU is an 8+1 power design, hidden under the thick heatsinks connected by a single heat-pipe to aid dissipation. There are four fan headers here with the CPU fan as the only dedicated one for the function. The other three are LED and fan breakaway headers.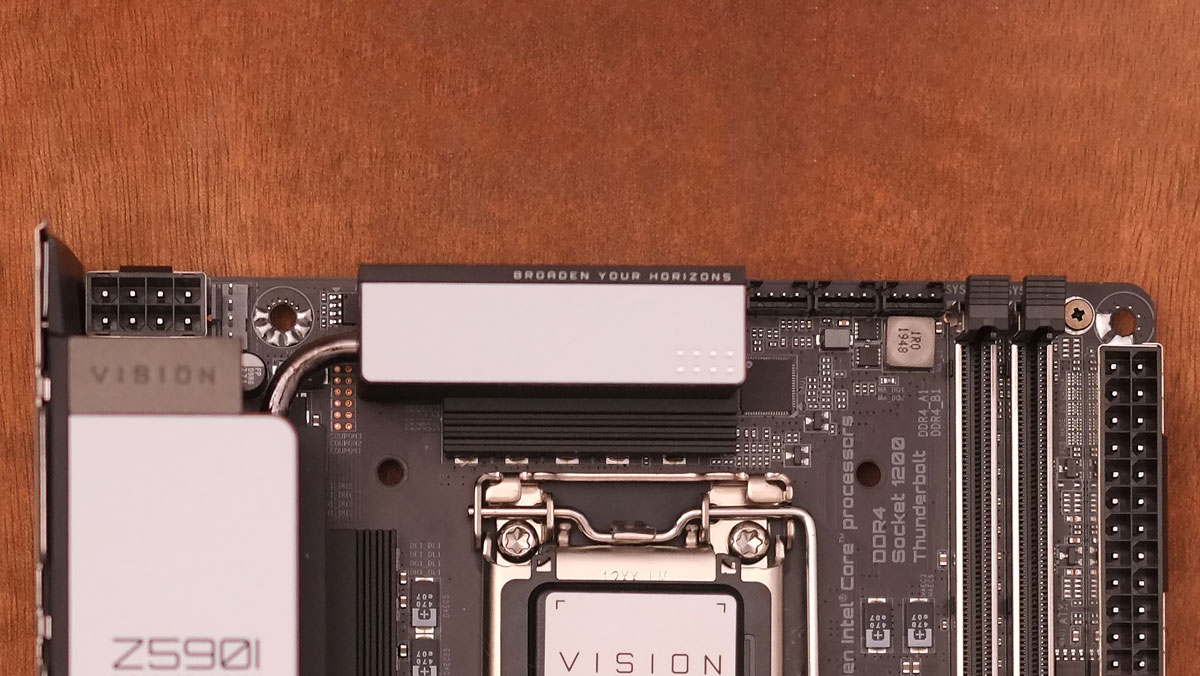 Now the right side of the board has your usual assortment of storage interfaces. Notice that most of the slots are reinforced. That even includes the 24-pin power.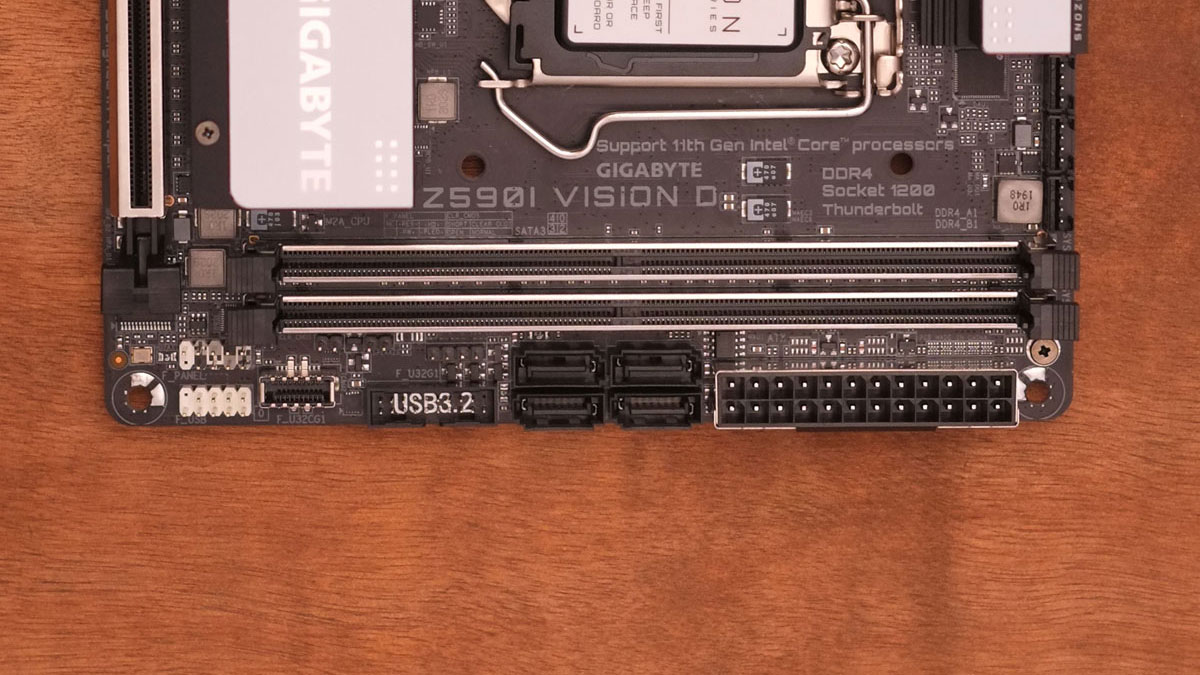 PCIe x16 expansion slot conforms to the latest PCIe 4.0 spec along with the main M.2 slot with a maximum speed of x4. Now what's missing here is the front panel audio header – which means we're bound to test the rear panel audio alone.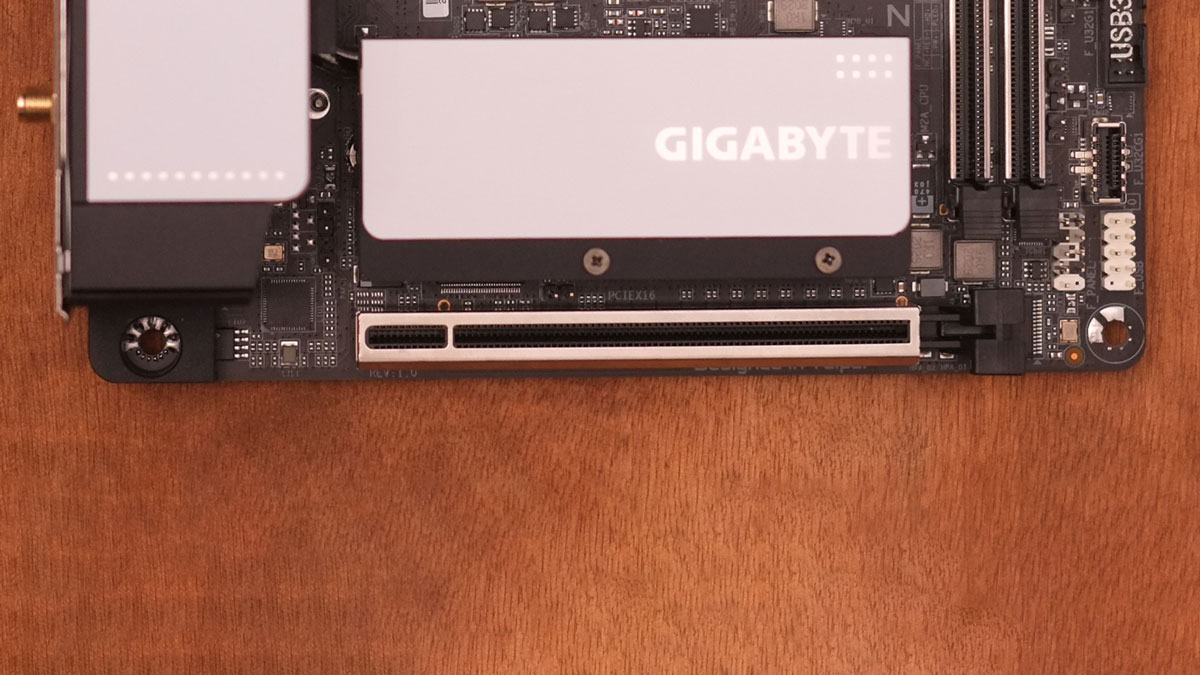 Rear I/O looks pretty good but we have an unconventional mic and line-out here. This placement will most likely introduce noise to the setup, more so with the shield-less approach of the Z590I Vision D when it comes to its audio implementation.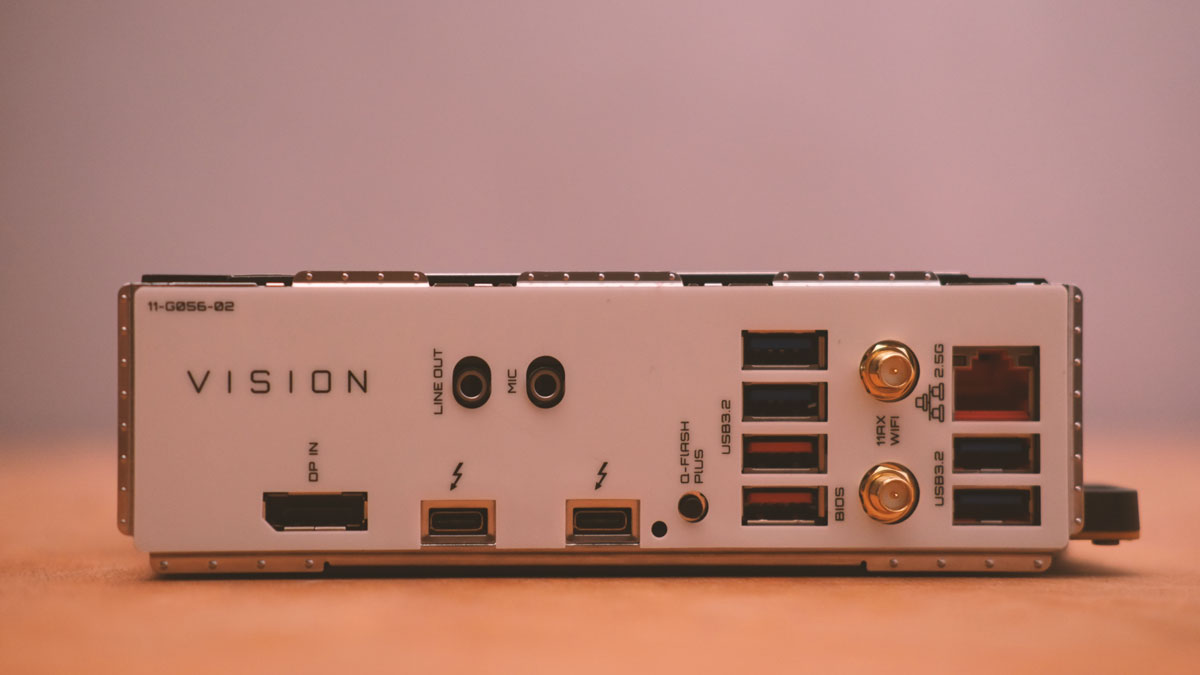 Board appears to be excellent in terms of its heftiness, layout and design. Now let us check out the firmware.
Firmware Interface
This is the first Vision product I've tested from GIGABYTE and I wasn't expecting this much white into their UEFI. In that regard, it is a refreshing sight over the more gaming oriented approach of the AORUS line.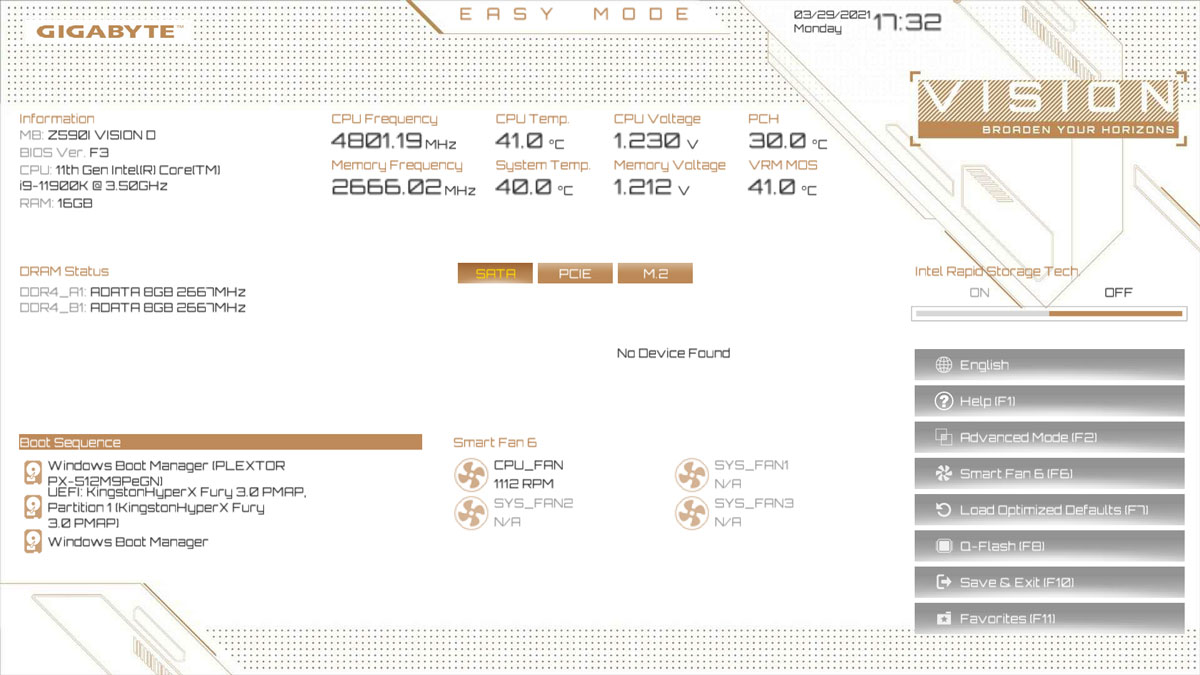 There are 6 main menus here with the Tweaker as the most important one for obvious reasons. There are sub menus here for CPU and memory settings.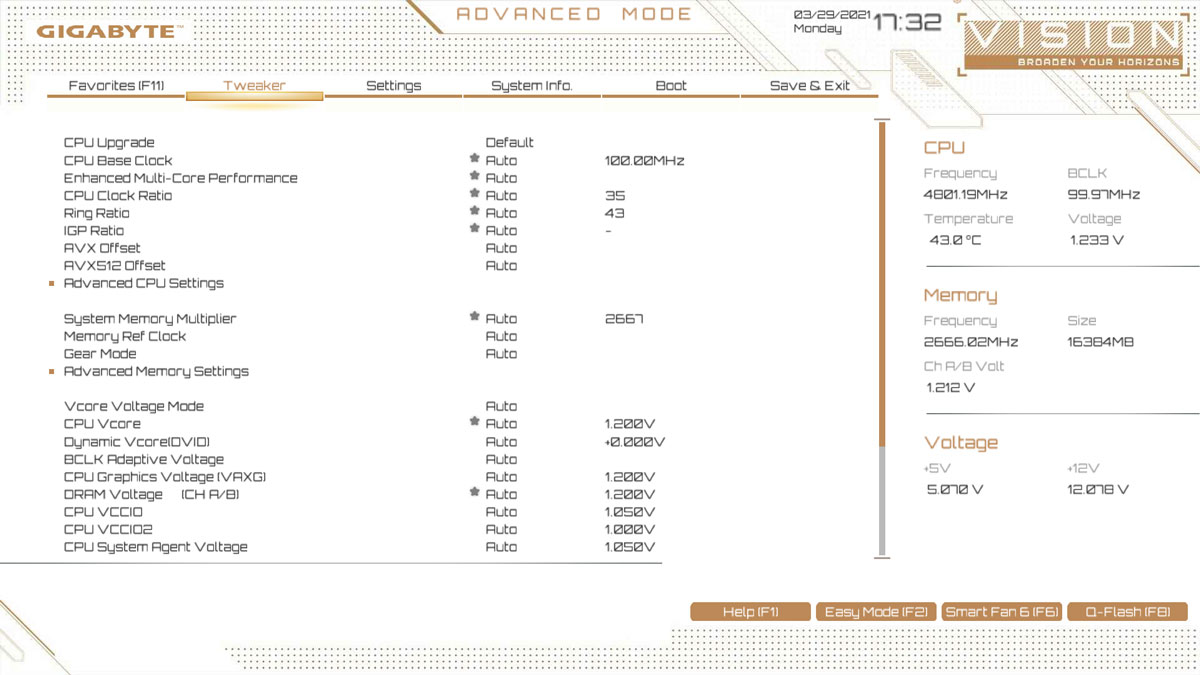 Settings is where the PCH or chipset options are located. Update: The motherboard supports PCIe bifurcation at x8/x8 to x8/x4/x4 configurations.
System Info is well, system information. Should've went with a monitoring menu here instead but I'll take this.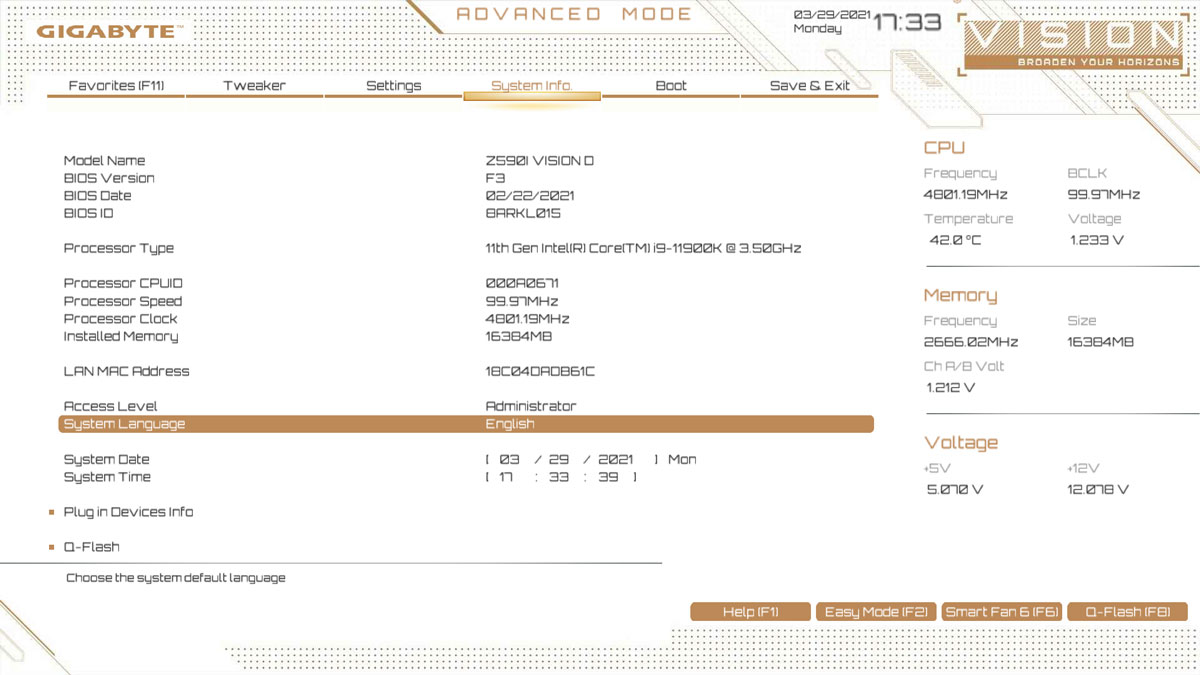 Boot is self explanatory – with the usual options present. I like that we got a mouse speed option here. By the way if your device has a pretty long name, it wont clip to the end of this menu. A small nuance to an otherwise good interface.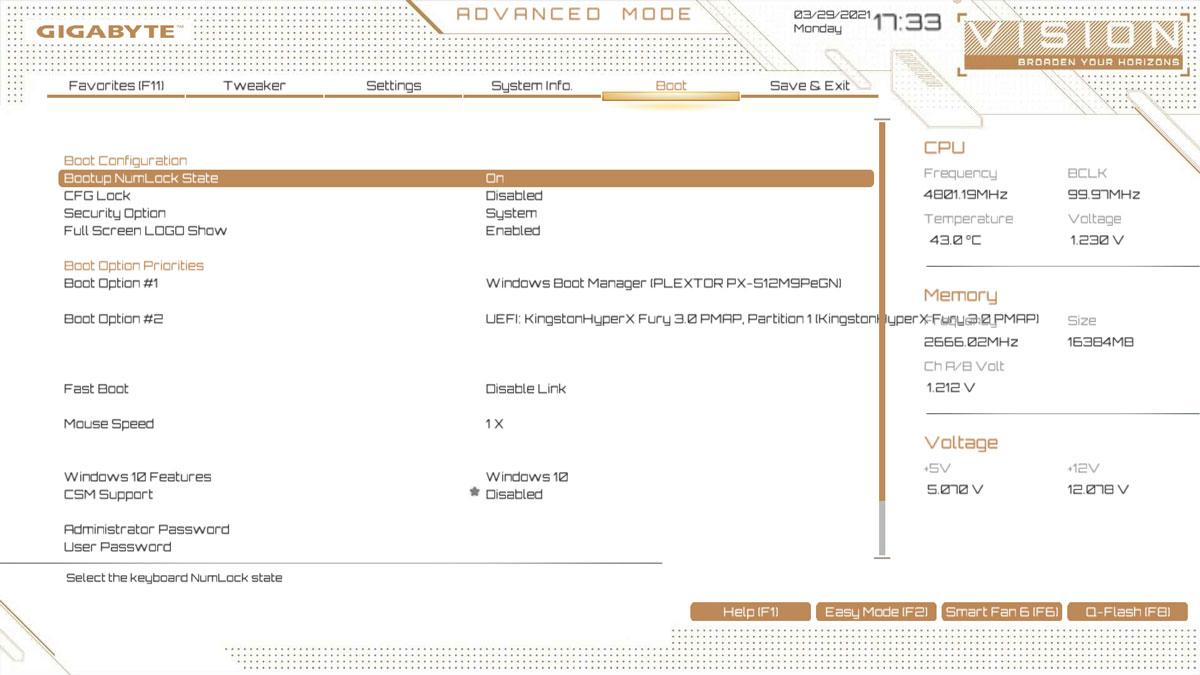 Smart Fan 6 allows you to change all the four controllable fan headers. We have 7 stage of PWM modes here along with a designated temperature limit for each. I like this one.
UEFI is excellent. Nothing to complain here really so let us move on with the tests.
Test Setup and Methodology
System performance is evaluated by industry standard benchmark tools and real-world applications if required. The system is tested with the following software configurations:
UEFI configuration: Default
Windows Power Plan: Balanced
Windows Game Mode: Disabled
Windows Game Bar: Disabled
Windows Security: Disabled
Outlined below is the test system specifications as well as the software and or applications used for the review:
Test System Specifications
CPU
Intel Core i9-11900K
Motherboard
GIGABYTE Z590I Vision D
Cooler
Noctua NH-U12S Redux
Memory
ADATA Premier 2666MHz 16GB
GPU
ASUS Phoenix GTX 1660 SUPER 6GB
Storage
Plextor M9Pe PCIe 3.0 NVMe 512GB
Case
Mechanical Library JXK-K3
PSU
Thermaltake Toughpower GF1 650W
Display
LG UF680T
OS
Microsoft Windows 10 Pro 64-bit
Temperature, Power and Noise:
AIDA64 Extreme Edition – System Stability Test
CPU, Memory and GPU:
AIDA64 Extreme Edition – Quick Report, Cache and Memory, GPGPU Benchmark
Storage:
CrystalDiskMark – Sequential Benchmark
Audio:
RightMark Audio Analyzer – Test Report
Network:
NetIO-GUI – Network Transfer Rate
Temperature, Power and Noise
We utilized the AIDA64 System Stability Test to check out how the system handles thermals. For this measurement, we loaded the stress test with the CPU as the only option enabled. Temperature readings are taken with HWiNFO with an ambient temperature of 27°C. CPU cooler used for this test is the Noctua NH-U12S Redux.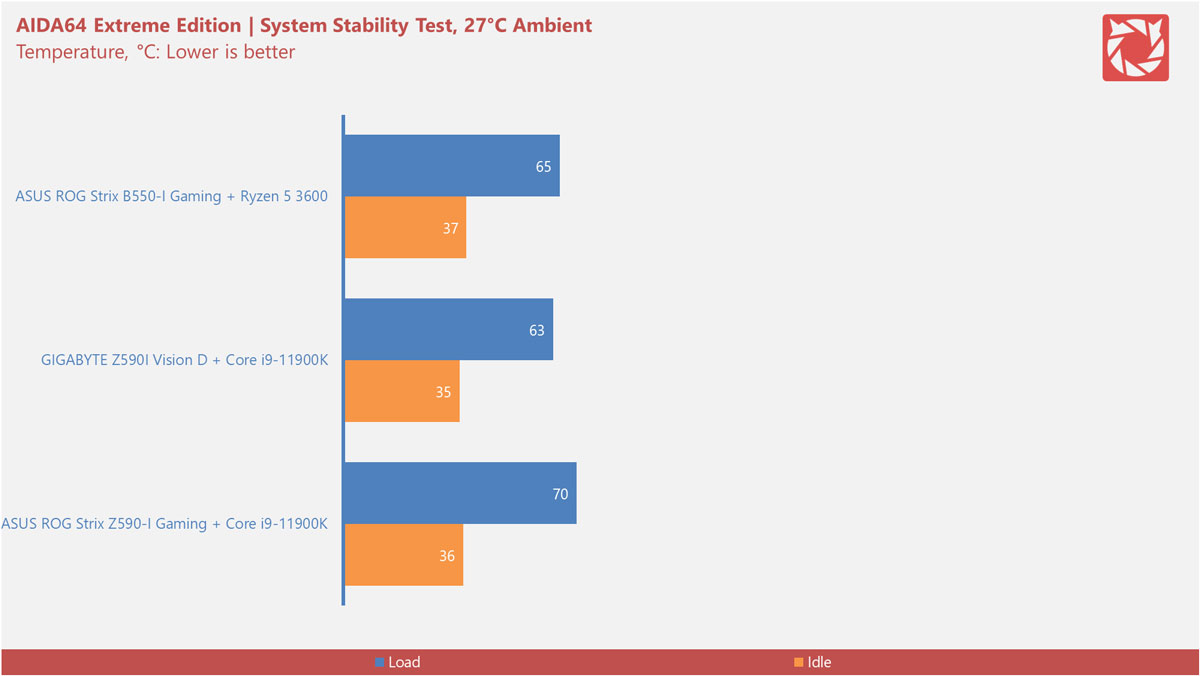 | | | | |
| --- | --- | --- | --- |
| Model | VRM, °C | Chipset, °C | M.2, °C |
| ASUS Z590-I Gaming | 40~49 | — | 56~62 |
| GIGABYTE Z590I Vision D | 39~42 | — | 54~64 |
| ASUS B550-I Gaming | 34~36 | — | 52~57 |
Total system power is also checked out. Power readings are then recorded with a watt-meter while voltage readings for the Vcore and the most common rails are taken via HWiNFO.
| | | | | |
| --- | --- | --- | --- | --- |
| Model | Vcore, v | +3.3, v | +5, v | +12, v |
| ASUS Z590-I Gaming | 0.746~1.225 | 3.376 | 5.040 | 12.096 |
| GIGABYTE Z590I Vision D | 0.744~1.296 | 3.344 | 5.070~5.040 | 12.096~12.024 |
| ASUS B550-I Gaming | 0.912~1.456 | 3.376~3.392 | 5.020~5.60 | 11.980~12.076 |
Noise level is also taken into consideration to check the differences between fan controllers. Decibel readings are taken with an industrial grade A-weighted sound-level meter. Ambient noise floor is ~30dB(A).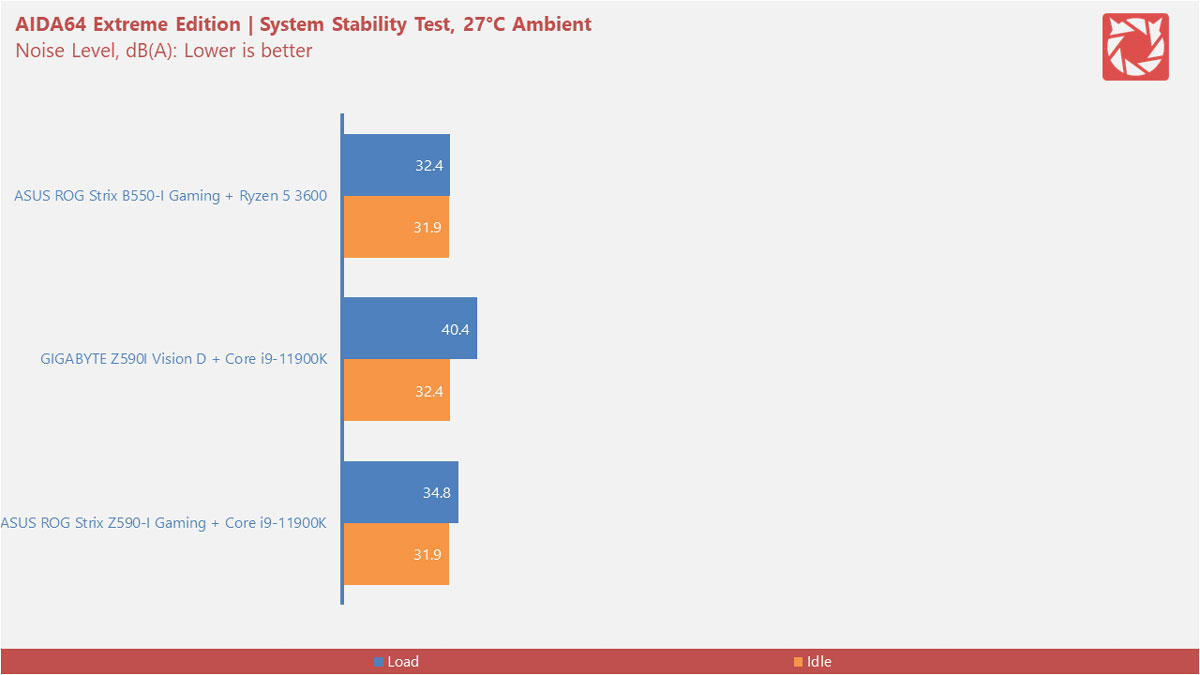 | | |
| --- | --- |
| Model | CPU Fan Speed, RPM |
| ASUS Z590-I Gaming | 677~1173 |
| GIGABYTE Z590I Vision D | 989~1687 |
| ASUS B550-I Gaming | 635~1141 |
Thermal performance is excellent but it is due to the more aggressive fan profile of the GIGABYTE Z590I. With such, acoustic performance is affected. Vcore is also the highest among the devices tested, peaking at 1.296v. Our stability test also found out that voltage for the +5 and +12 rails dropped at load but not at alarming figures. Regardless, power consumption is still better compared to the ASUS model.
CPU, Memory and GPU:
CPU performance is gauged via AIDA64's CPU Queen Benchmark. This simple integer benchmark focuses on branch prediction capabilities and misprediction penalties of the CPU. Simple, easy to run and replicate.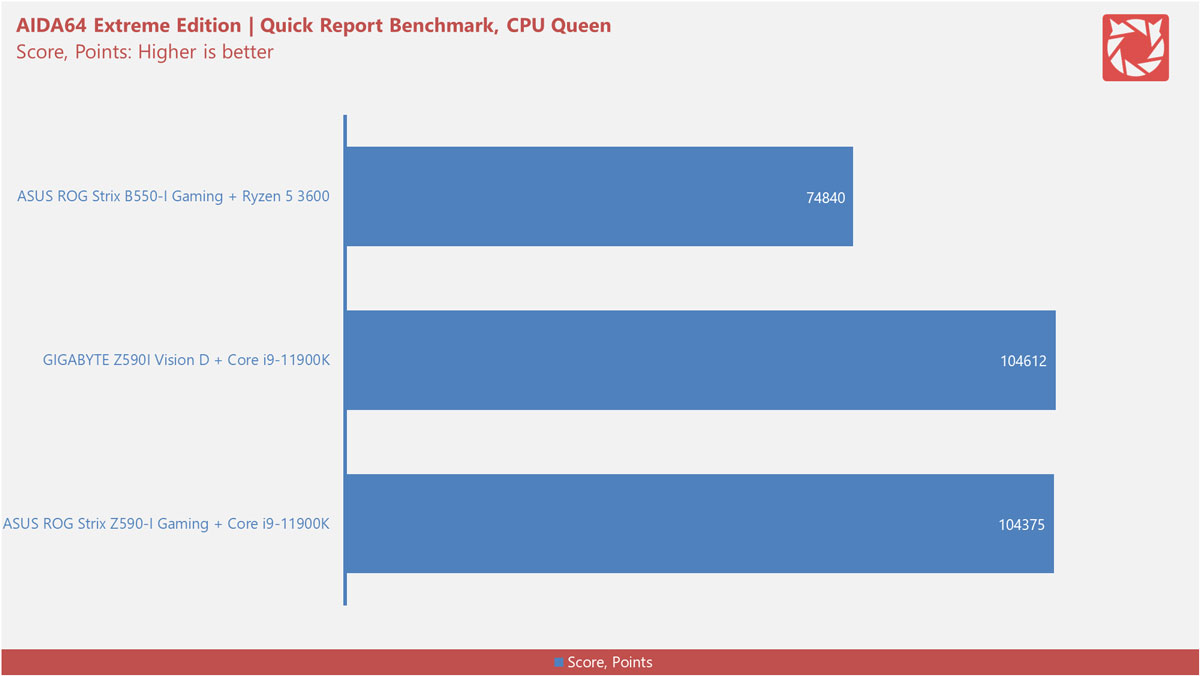 Memory latency is also tested with the Cache and Memory Benchmark built within AIDA64. Latency is what interest us here due to how motherboard designs could affect it.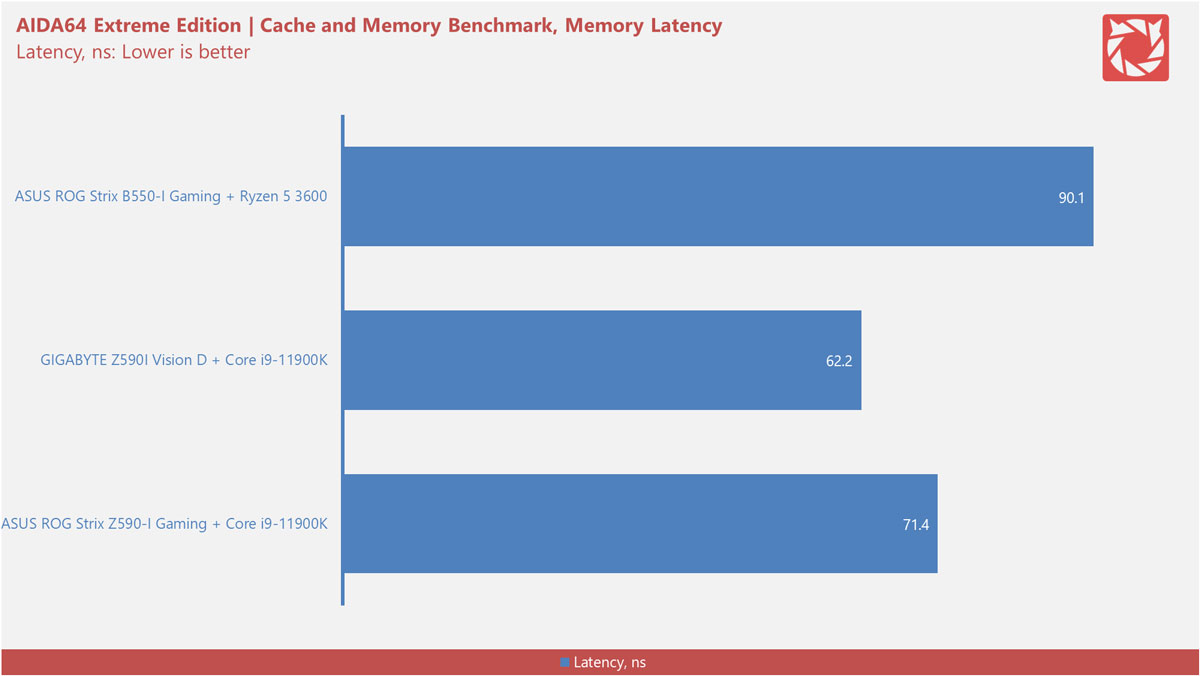 The graphics card and PCIe interface performance are also checked with AIDA64 using the GPGPU Benchmark. We selected the Single-Precision FLOPS benchmark for this test. Results are posted in GFLOPS.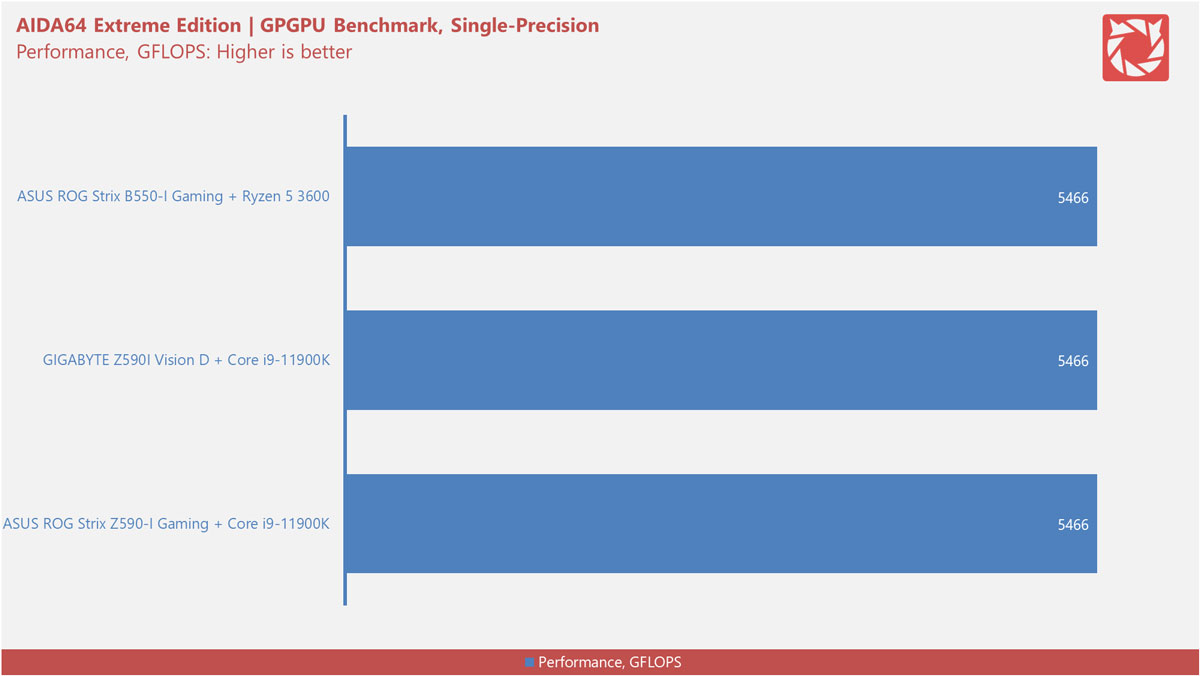 Excellent performance we got here from the GIGABYTE board – as expected especially for the memory latency performance at 62.2ns. Nothing to complain here really.
Storage Interface
CrystalDiskMark is a simple storage benchmark widely used in the industry. For the storage test, we aim to check out the performance of the most commonly used interfaces found in a motherboard. The sequential read and write are the focus here. Storage devices used are the 256GB (External) and 512GB (Internal) Plextor M9Pe PCIe 3.0 NVMe SSDs.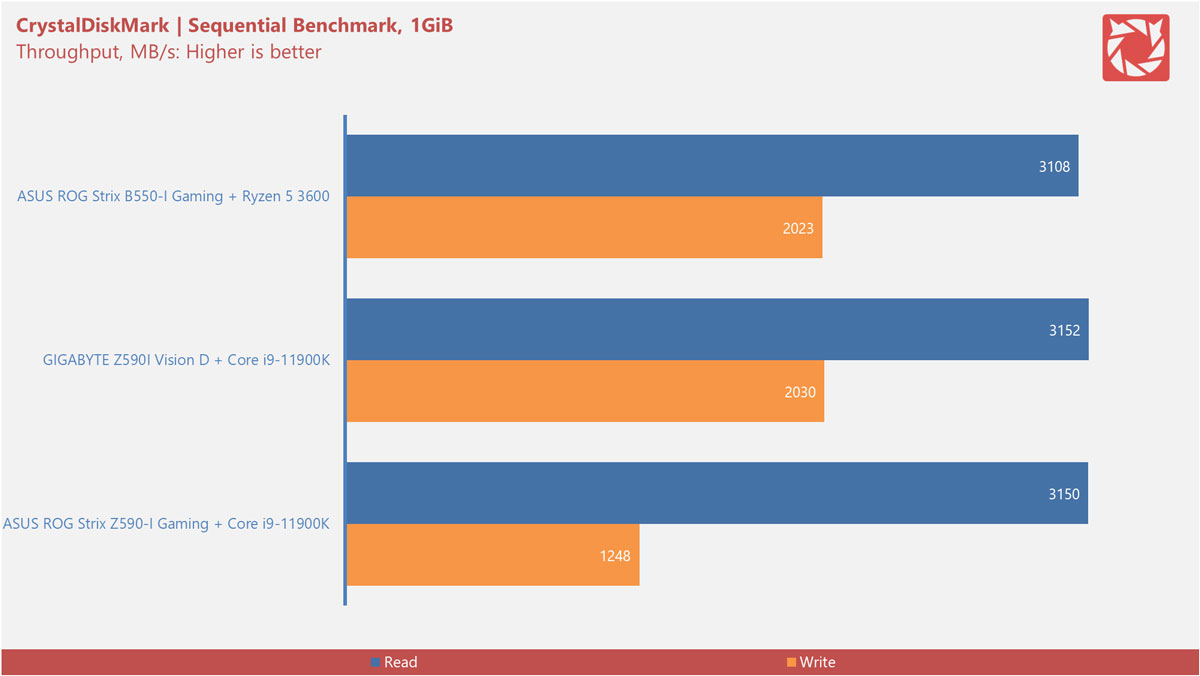 | | | | | |
| --- | --- | --- | --- | --- |
| Model | USB 3.2, MB/s | USB 3.0, MB/s | USB 2.0, MB/s | SATA, MB/s |
| ASUS Z590-I Gaming | 1062↓ 799↑ | 439↓ 450↑ | 38↓ 37↑ | 484↓ 451↑ |
| GIGABYTE Z590I Vision D | 1049↓ 802↑ | 440↓ 458↑ | 38↓ 38↑ | 481↓ 444↑ |
| ASUS B550-I Gaming | 1016↓ 794↑ | 444↓ 419↑ | 40↓ 41↑ | 481↓ 447↑ |
Another solid performance from the GIGABYTE board. Also while not on the results, Thunderbolt 4 or rather the USB Gen 2×2 performance is just excellent. My friend's 20Gbps enclosure got a 2171MB/s read and 2044MB/s write here which means it negotiated perfectly with the interface. It's not the same story with the other port though (near the DisplayPort) reading at the same Gen 2 performance like the rest.
Audio Interface
The RightMark Audio Analyzer is a nifty tool to measure the quality of the motherboard's audio interface. Our results are obtained by playing and recording test tones passed through the audio chain using the Focusrite Scarlett Solo as the ADC. Sampling rate and bit-depth are at 48KHz and 24-bit respectively.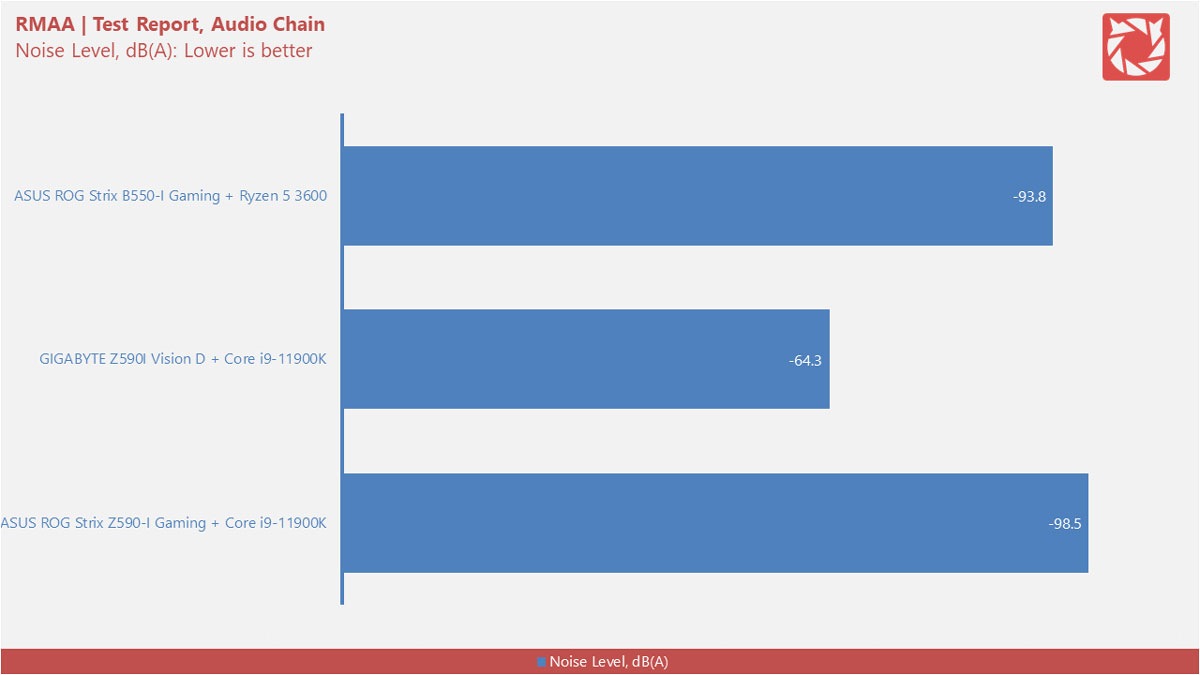 Frequency response should be as flat as possible with acceptable minor deviation across the frequency range of around +/-0.5dB. Test signal for the frequency range contains harmonics from 5Hz to 22KHz.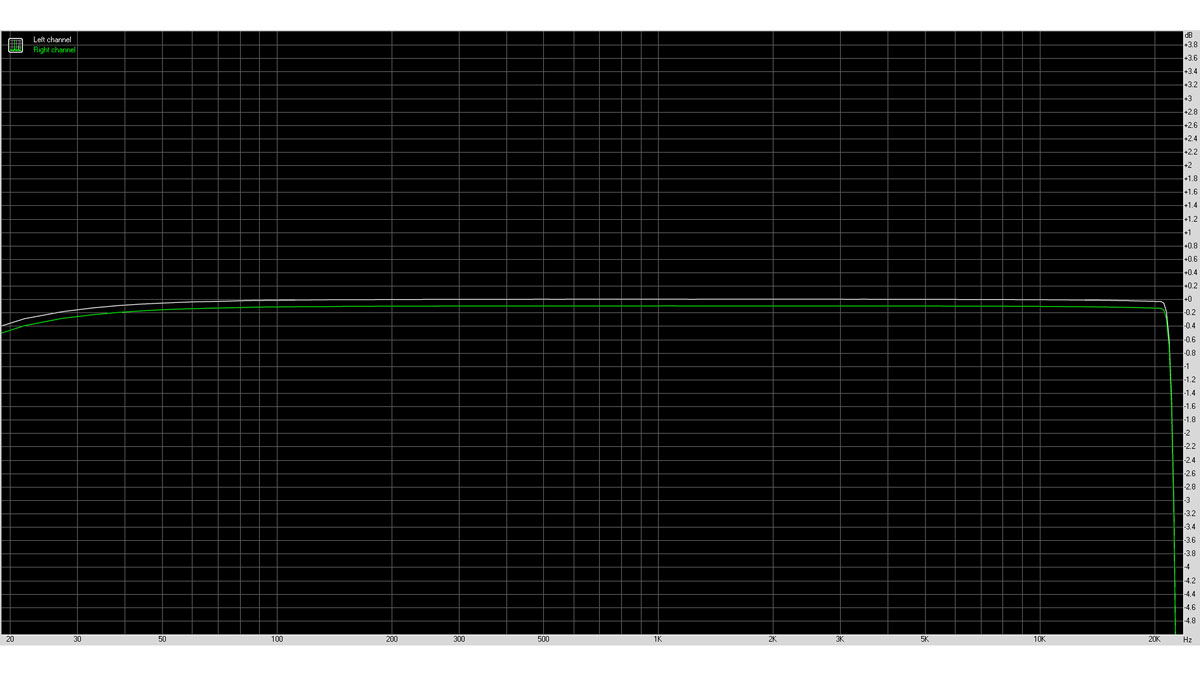 Now THD+N estimates the amount of harmonic distortion that takes place when a signal with large amplitude passes the testing chain. The test signal used here is a sine wave at 1kHz.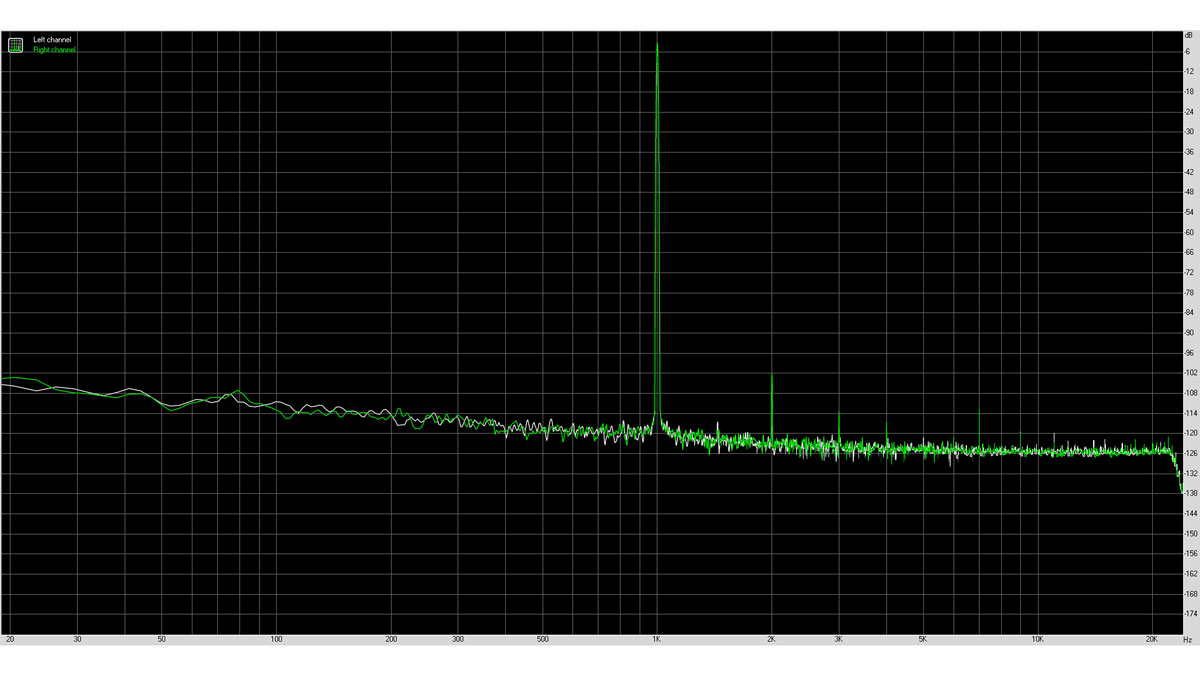 IMD on the other hand estimates amount of intermodulation distortions when a more complex signal passes through a test chain. Measurement uses a two sine wave test signal consisting of low frequency 60Hz tone linearly mixed with a high-frequency 7KHz tone.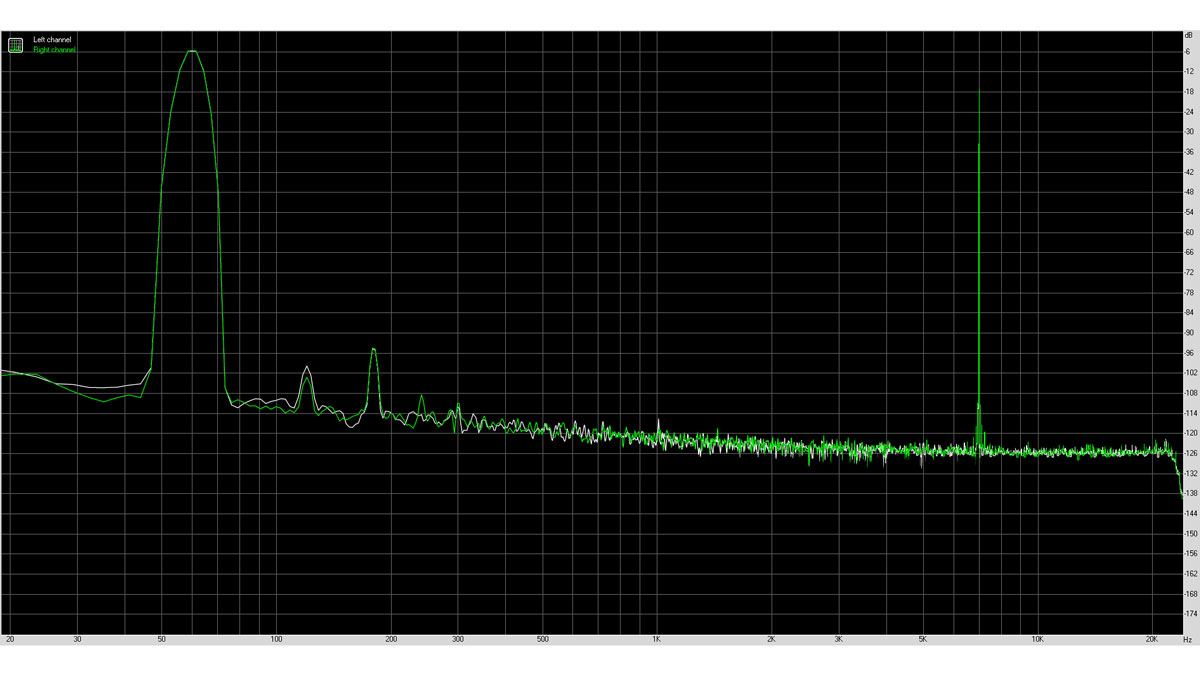 | | | | |
| --- | --- | --- | --- |
| Model | FR, dB(A) | THD+N, % | IMD+N, % |
| ASUS Z590-I Gaming | -0.01, -0.21 | 0.00329 | 0.00695 |
| GIGABYTE Z590I Vision D | +0.02, -0.18 | 0.00293 | 0.00147 |
| ASUS B550-I Gaming | -0.10, -0.18 | 0.026 | 0.00786 |
If there's something I'll have to complain about the Z590I Vision D, this is it – the noise level. THD+N is acceptable with the slight bass roll-off and I could say the same with the IMD performance as well.
Subjectively, this is a thin sounding audio solution and will not even power any of my headgear in a desirable level without introducing distortion. Output impedance is possibly high for headphones too in this regard since we only got a line-out next to the mic input instead of a dedicated headphone out.
This board doesn't have a front panel audio header so your only choice here are (A) to use the line-out to feed an AMP or (B) ditch the mediocre onboard audio and invest on a capable DAC and AMP.
Network Interface
NetIO-GUI is a straight forward Windows frontend application for the "netio" command-line utility. This benchmark requires a client and server for it to work. The ASUS ROG Rapture GT-AC2900 is our router of choice here to test the Ethernet and Wi-Fi performance of our motherboard.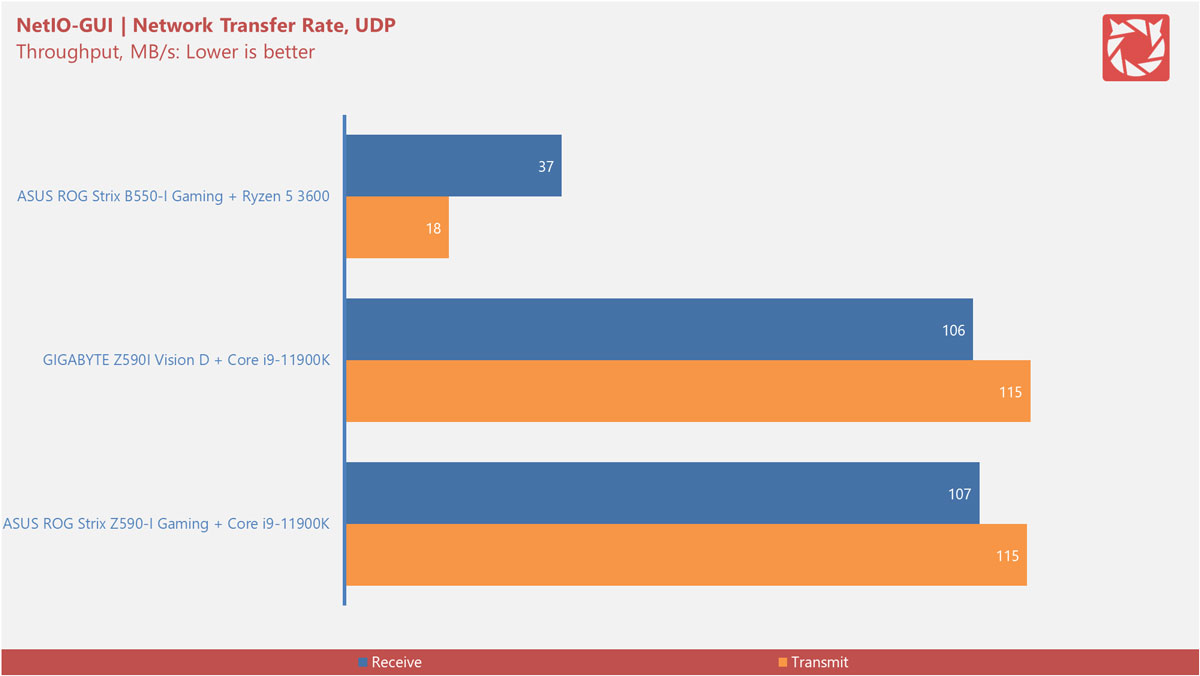 | | | |
| --- | --- | --- |
| Model | 2.4GHz, MB/s | 5GHz, MB/s |
| ASUS Z590-I Gaming | 11↓ 13↑ | 57↓ 57↑ |
| GIGABYTE Z590I Vision D | 11↓ 12↑ | 55↓ 36↑ |
| ASUS B550-I Gaming | 9↓ 10↑ | 42↓ 37↑ |
Network performance is pretty good except for the wireless 5GHz band's transmit rate. I noticed better performance here too with a third party SMA antenna so swap the cool looking one with a high gain unit of your choice.
Software, Lighting and Special Features
GIGABYTE bundled the Z590I Vision D with the following applications:
APP Center
@BIOS
EasyTune
Fast Boot
Game Boost
ON/OFF Charge
RGB Fusion
Smart Backup
System Information Viewer
To learn more about the board's features, head over to the official landing page linked at the review's introduction.
Final Thoughts
The Z590I Vision D is a welcome addition to the GIGABYTE Vision line-up. Connectivity is the greatest asset of this board along with its subtle styling, efficiency and thermals. Storage performance is also a highlight here with Thunderbolt 4 and USB 3.2 Gen 2×2 in tow.
Now where it fall short are the mediocre audio solution and acoustics. The latter could be remedied or adjusted without spending a buck but the former requires you to spend an additional to get it working at even a decent level. I would suggest buying an interface, really.
Keeping those things in mind, the Z590I Vision D is a capable yet also a bit of a flawed motherboard. If you could play on its strengths then I have no reason to object.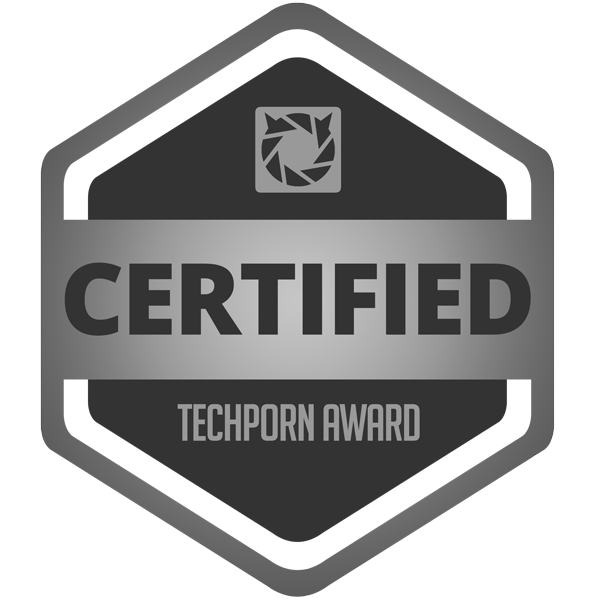 GIGABYTE Z590I Vision D Mini-ITX
Performance -

8/10

Build Quality -

9/10

Connectivity -

9/10

Firmware -

9/10

Features -

8/10
Summary
A beautiful and capable Mini-ITX platform hindered by its audio solution. Shell out for a good interface, will yah.