We're no stranger to the FURY Renegade series of memory kits so when the company asked us if we could check out the PCIe 4.0 NVMe SSD for a timely review, we happily obliged to do so. After all, this is Kingston's first graphene equipped SSD from the FURY product line. It is also launched in conjunction with their DDR5 memory for the Intel Z690 chipset.
Now what we have here specifically is the 2TB model which is among the top of the class. That said, it comes with 7,300MB/s read and 3,900MB/s write speed respectively. This PCIe 4.0 x4 NVMe SSD also comes with a 5 year warranty regardless of its model's varying storage capacity.
Disclosure: Kingston sent the FURY Renegade for the purpose of this review. The company did not pay me to say anything particular about it. That said, all thoughts and opinions are of my own.
Technical Specifications
Storage
Capacity
2TB (500GB, 1TB and 4TB models available)
Flash Memory
3D TLC
Form Factor
M.2 2280
Interface
PCIe 4.0 x4
Sequential Read
7300 MB/s
Sequential Write
7000 MB/s
Random Read IOPS
1,000,000 IOPS
Random Write IOPS
1,000,000 IOPS
Endurance
2PBW
Dimensions
Length
80mm
Width
22mm
Height
3.5mm
Weight
9.7g
Packaging and Accessories
Like many Kingston storage devices, the FURY Renegade is packed inside a simple blister packaging.
The packaging comes with the following item inside:
Kingston FURY Renegade 2TB PCIe 4.0 x4 NVMe SSD
We got no evidence of a screw here nor extra accessories offered so refer to your motherboard's own M.2 screws for installation.
Design, Build and Connectivity
The Kingston FURY Renegade looks like your typical M.2 2280 SSD. You wouldn't even notice that it is rocking a graphene sheet unless have been told so.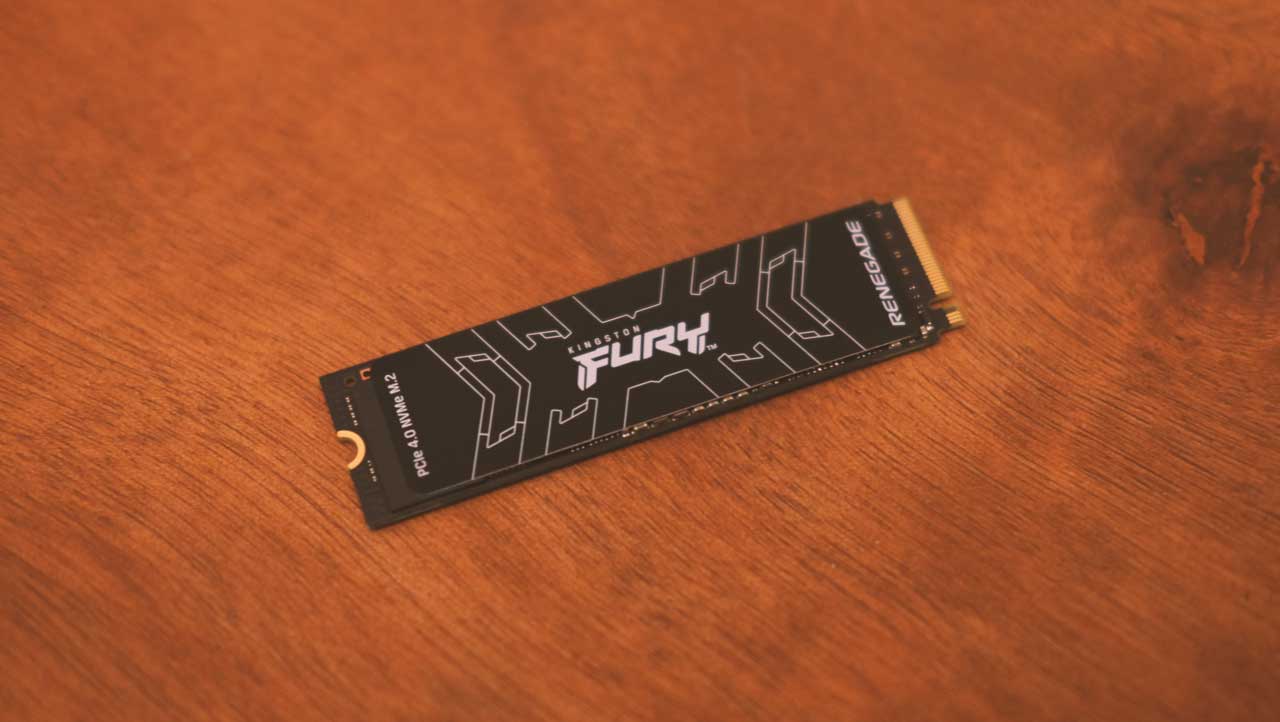 The back is devoted for the certifications, serial and power requirements. No graphene here though, just a sticker covering what appears to be a 3D NAND chip.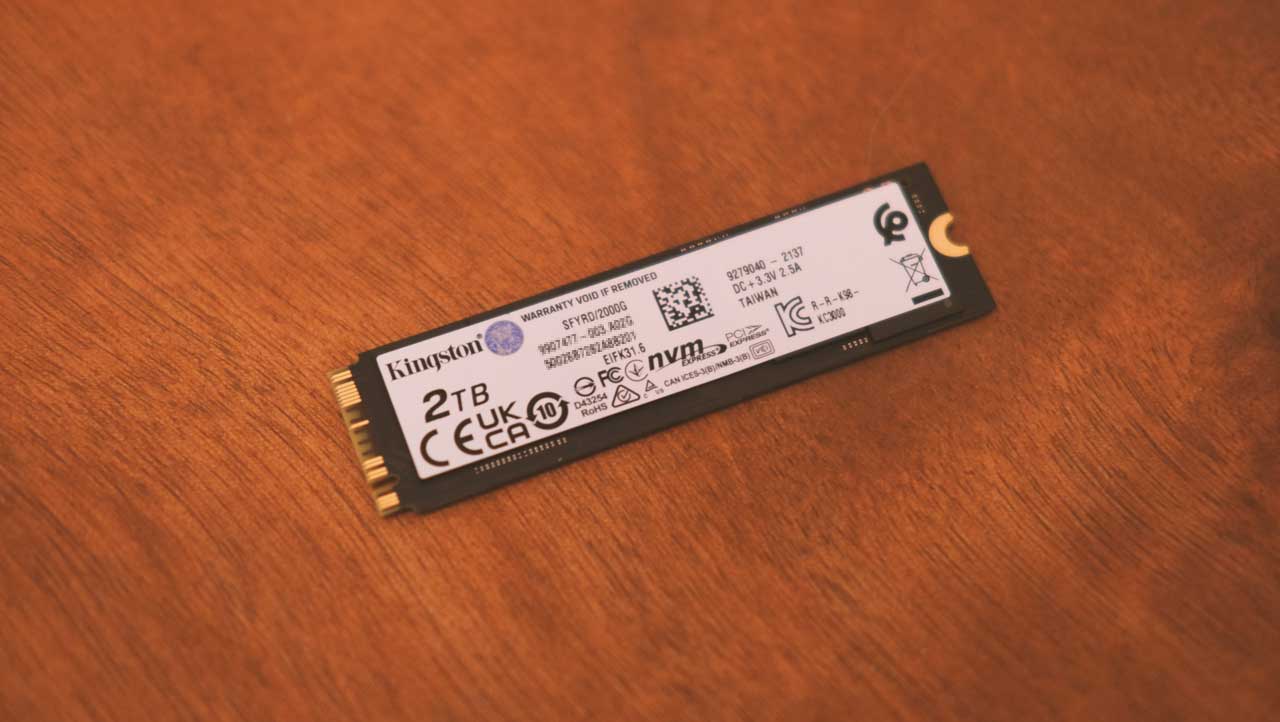 The SSD is pretty simple but I'd like to see double sided graphene here for good measure. Now as far as compatibility goes, this has been tested and certified to work with the PlayStation 5.
Test Setup and Methodology
Our test setup relies on the measurements taken from industry standard benchmark tools and real-world applications. It is important to note that we are testing the review sample after burn-in, with at least 24-hours of uptime. This is done so to negate the FOTB (fresh out the box) state of the DUT (device under test), yielding better benchmarking consistency.
Test System Specifications
CPU
Intel Core-i9 12900K
Motherboard
ASUS ROG Strix Z690-I Gaming
Cooler
ASUS ROG Strix LC II 360
Memory
Kingston FURY Beast DDR5 5200MHz 32GB
GPU
GALAX GTX 1650 EX 4GB
Storage
Kingston FURY Renegade 2TB
Case
Mechanical Library JXK-K3
PSU
Thermaltake Toughpower GF1 650W
Display
LG UF680T
OS
Microsoft Windows 10 Pro 64-bit
ATTO Disk Benchmark
ATTO Disk Benchmark is an industry standard freeware benchmark tool developed by ATTO. It measures storage performance with the option to set custom file sizes, I/O sizes and queue depth. For this benchmark, we decided to go with the default test setup.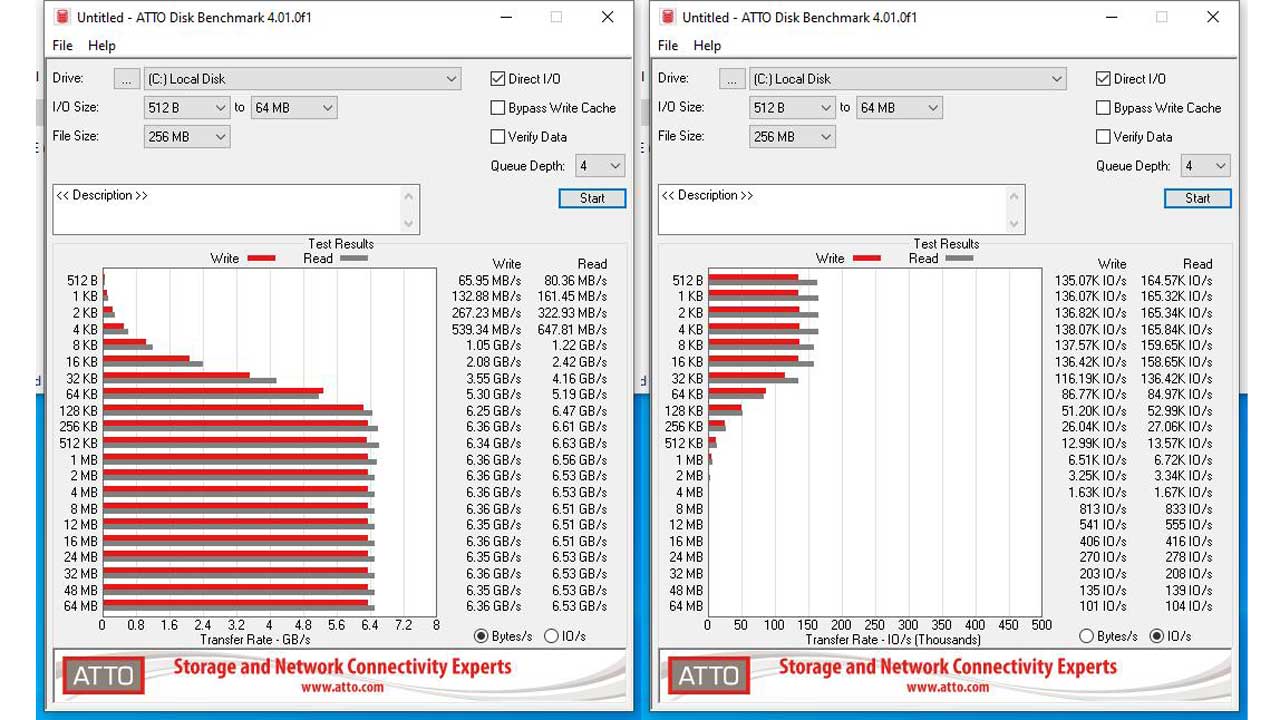 The Kingston FURY Renegade reached near peak performance at ATTO's 128 KB I/O Size benchmark. Additionally, the NVMe SSD starts to wither down its IOPS performance when it hits 32 KB samples and above.
CrystalDiskMark
CrystalDiskMark is an open-source benchmark tool developed by CrystalMark. It measures storage performance based on two sequential and random benchmarks with the option to set custom file sizes, number of runs per benchmark, profiles and the ability to toggle between default and NVMe mode. For this benchmark, we decided to go with the default profile and NVMe mode.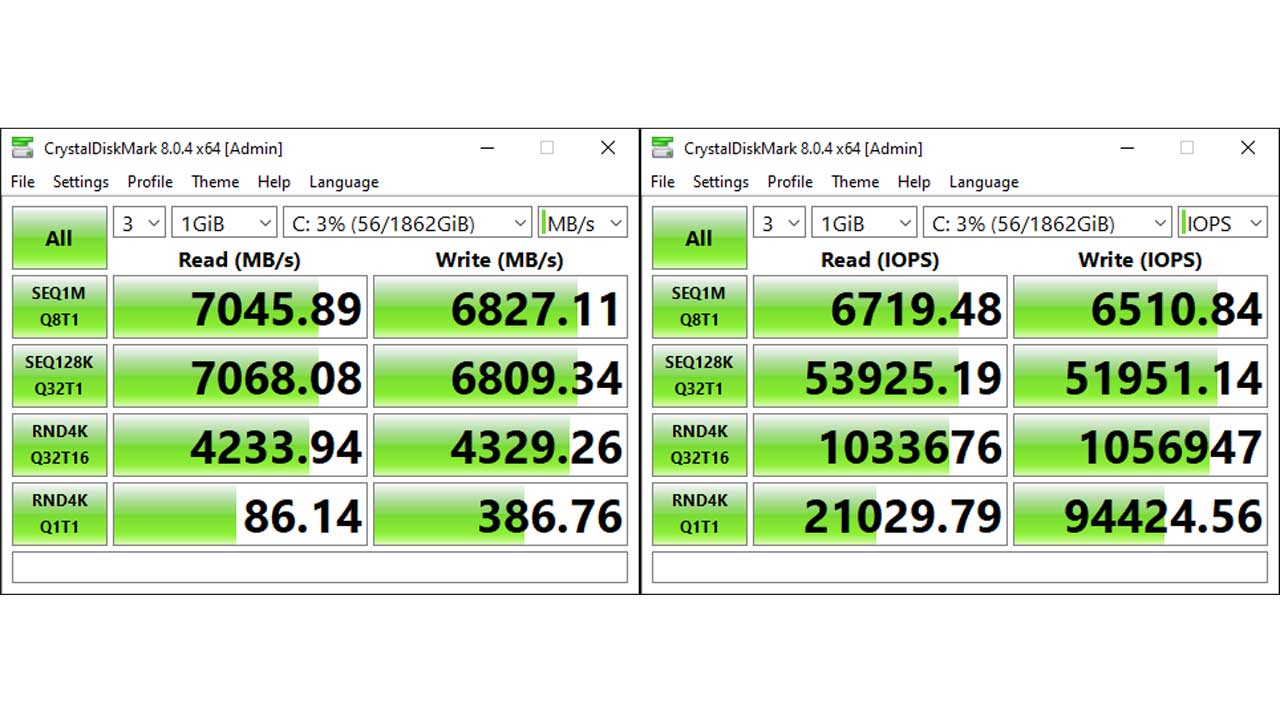 CrystalDiskMark performance breaches specifications across the board – except for the sequential write. This is a strong performance, as one should expect with this drive's caliber.
AS SSD Benchmark
AS SSD is a freeware benchmark tool developed by Alex Intelligent Software. It measures storage performance similar to CrystalDiskMark but with the ability to measure incompressible files.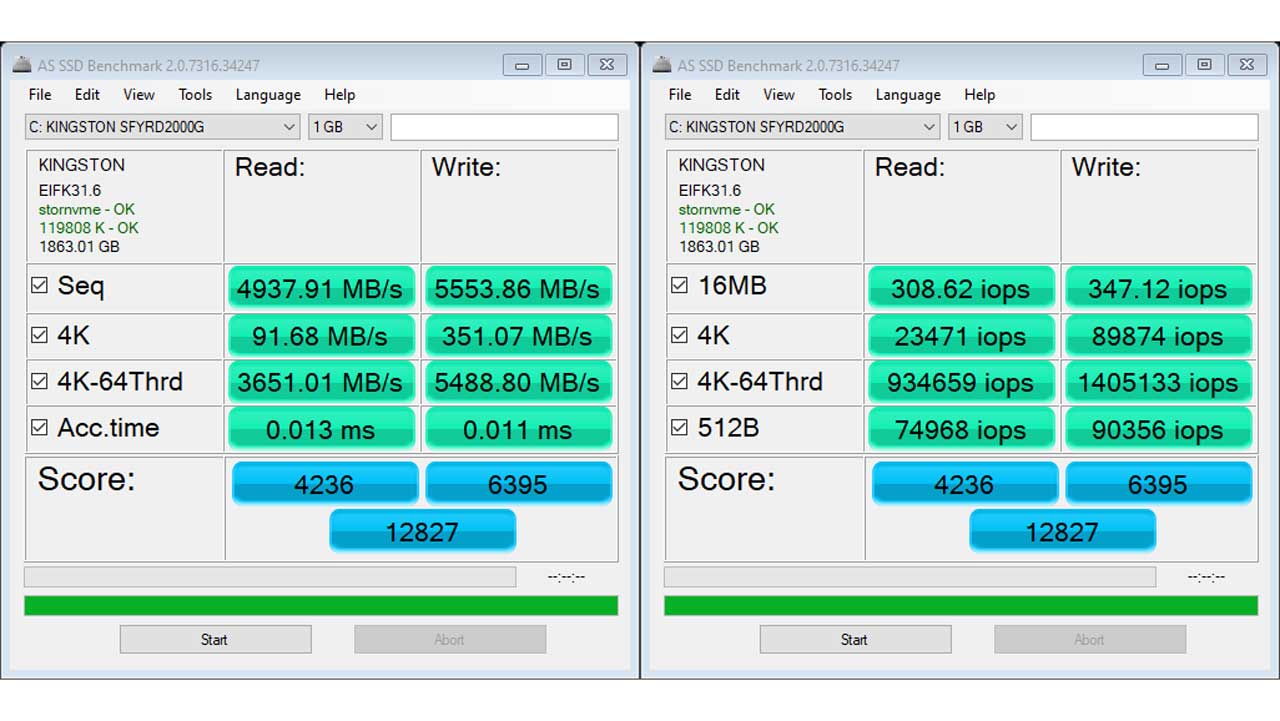 AS SSD is also capable of measuring theoretical file copy and compression performance with its supplemental benchmarks.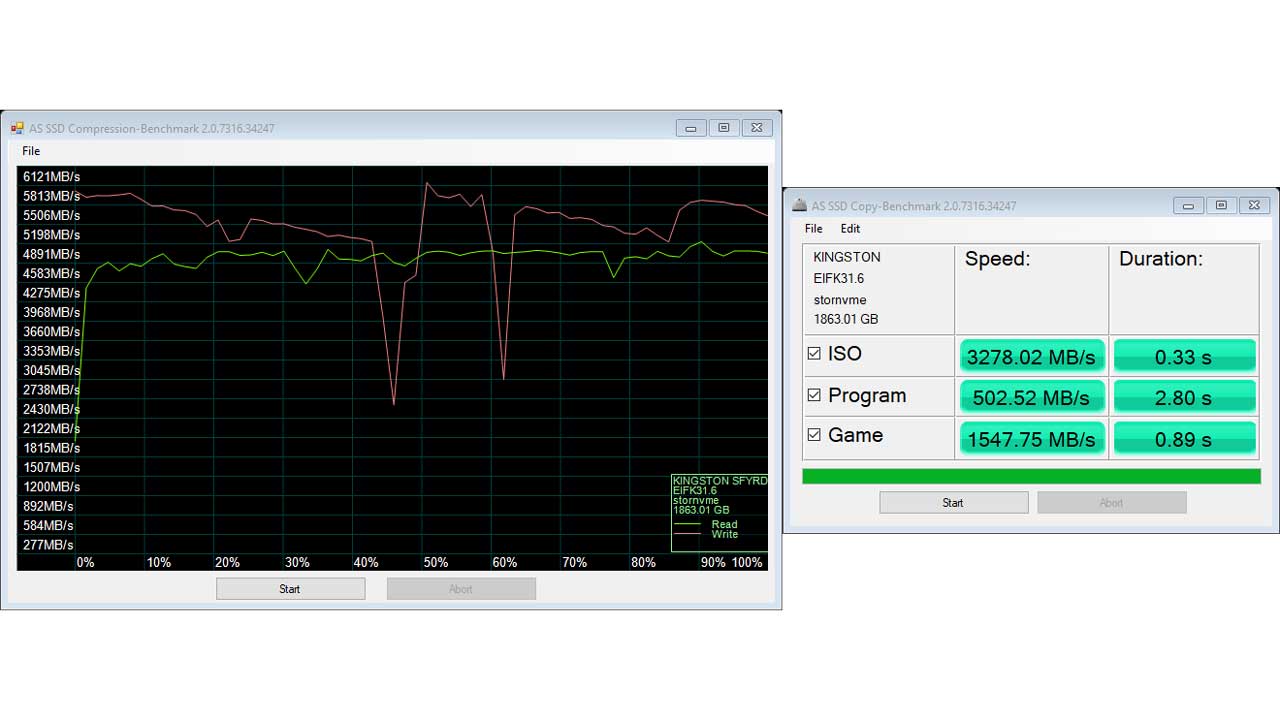 The Kingston FURY Renegade scored excellent at the AS SSD benchmark particularly at the 4K 64-thread write, enabling itself to reach 1,405,133 IOPS. No issues with the copy speed either, although the compression benchmark's write speed could be a little more linear. It is definitely faster compared to the read speed though.
Final Fantasy XIV: Endwalker Load Time
Final Fantasy XIV: Endwalker is a free-to-play MMORPG developed by Square Enix. Instead of focusing on the score and frame rate, the total loading time is our concern here.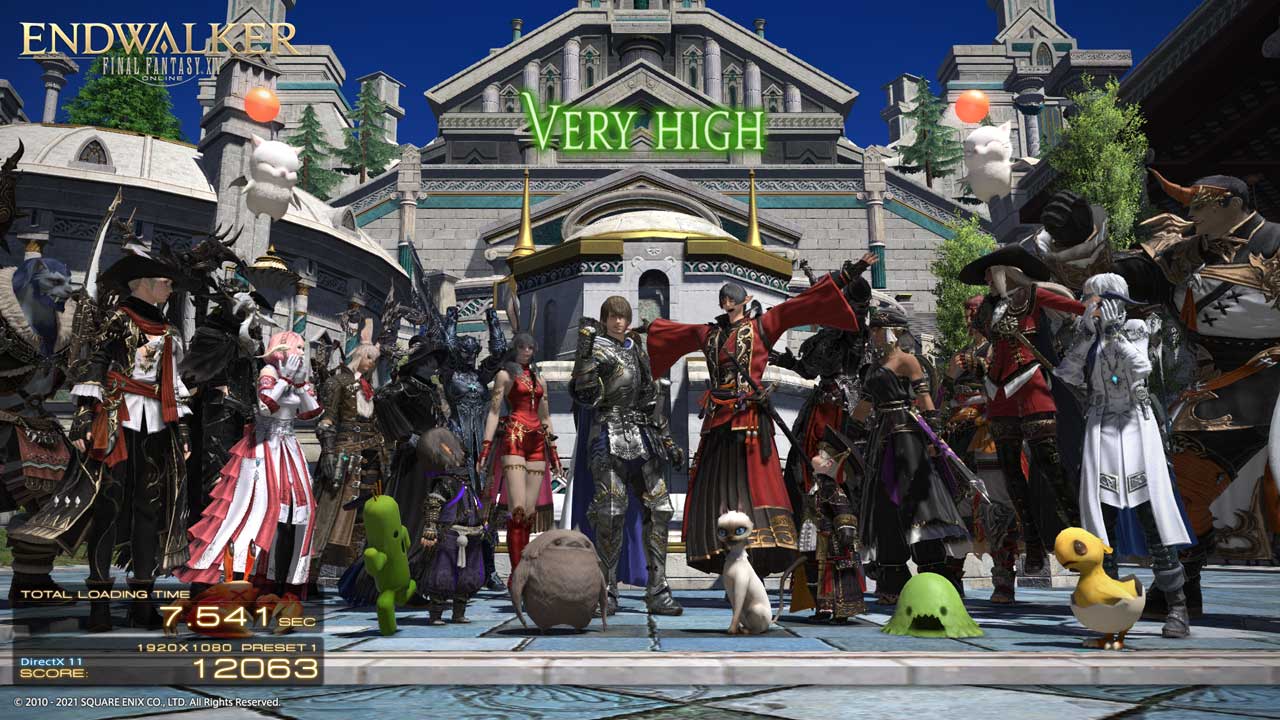 Total loading time is excellent at just under 7.6 seconds. That's all benchmark scenes combined. Pretty fast!
TeraCopy
TeraCopy is a freemium file transfer utility developed by Code Sector. For this particular application, we copied folders with varying file sizes and a transfer size of 4 GB each.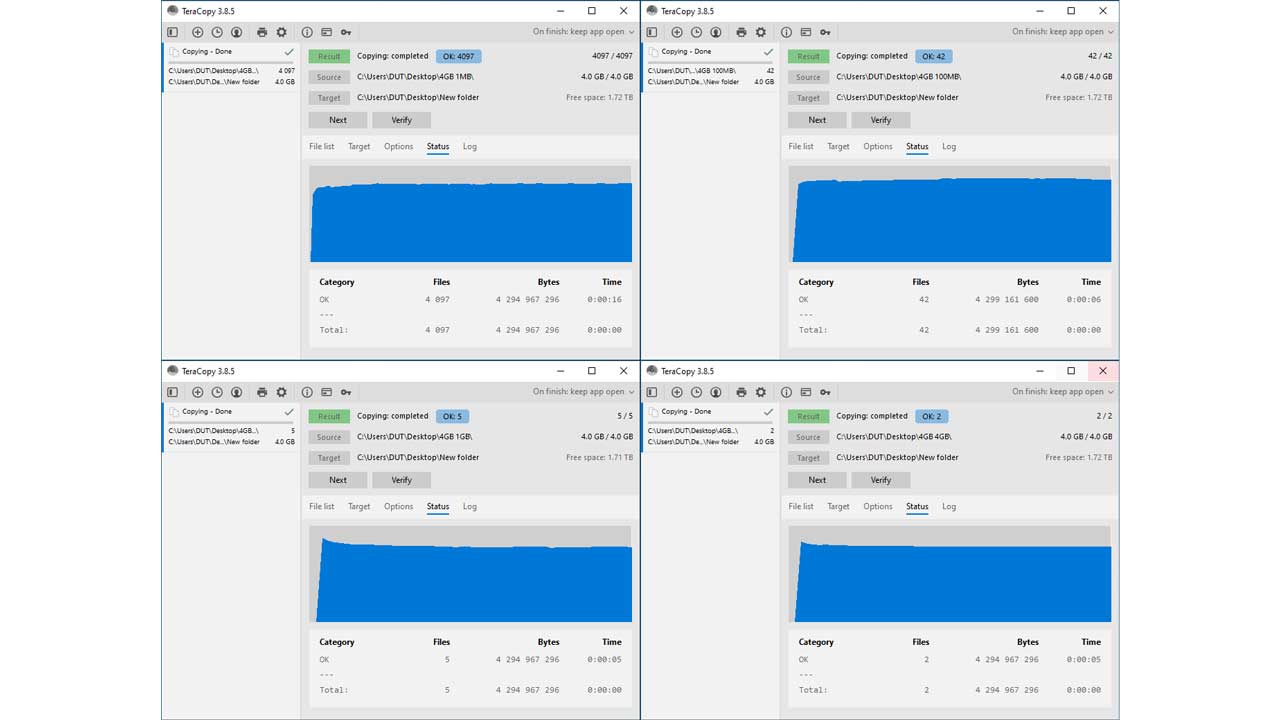 Excellent real world performance we got here from the FURY Renegade SSD. 4 GB is just within a blink of an eye.
Software, Lighting and Special Features
Except for the graphene and compatibility with the PlayStation 5, there's nothing else noteworthy to say outside the drive's performance. But since Kingston has been adding graphene sheets on their latest NVMe drives, let us dive into it a bit.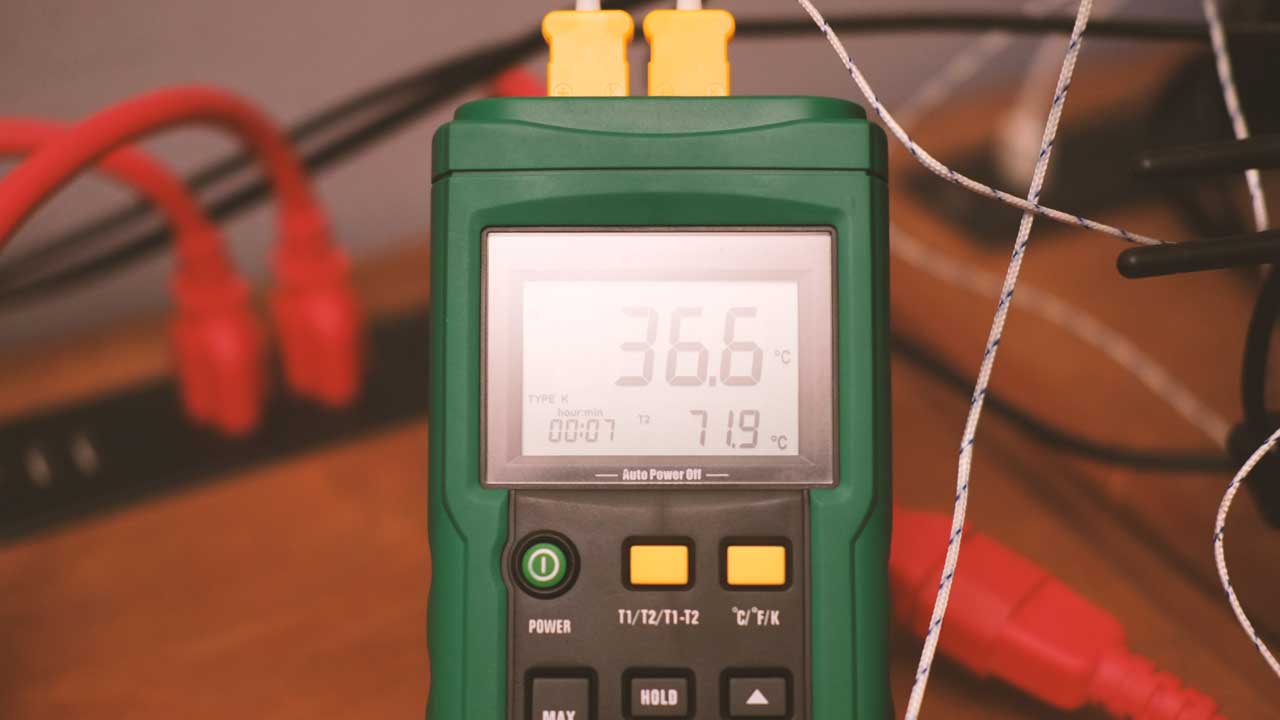 At stressing load, which is technically AIDA64 Extreme's Stability Test with the storage option checked, the Kingston FURY Renegade registered about 71.9 ºC. That is just under 7 minutes. Normal or should I say idle operating temperature hovers at around 59.6 ºC so this drive runs hot indeed. I advise you to get a heatsink to maximize the drive's performance.
Final Thoughts
The Kingston FURY Regenade in its 2TB flavor is a blazing fast drive – can't argue with that. It is perhaps one of the fastest drives I have tested so far and is a testament to Kingston's pursuit of performance at the cost of a higher entry point at more than $400 USD for this particular variant. If spending that much on a storage device is too much to swallow, then the budget oriented Kingston NV1 SSD will do wonder at a fraction of its price.
Now as far as the actual target audience is concerned, this drive is intended for the enthusiasts and competitive gamers wanting every bit of advantage they could get. Kingston nailed such an approach by providing TOTL performance across the board – at least on our benchmarks. Only issue I could see here is the operating temperature at full load – which is something the target audience could just shrug off. In my opinion, this is still a hindsight and could be addressed with a chunk of aluminum.
In closing, the FURY Renegade deserves to get recognized by enthusiasts and gamers alike. The performance is just chart topping with one caveat that could be easily rectified. Best of all, this drive comes with a legitimate 5 year warranty directly from Kingston Technology.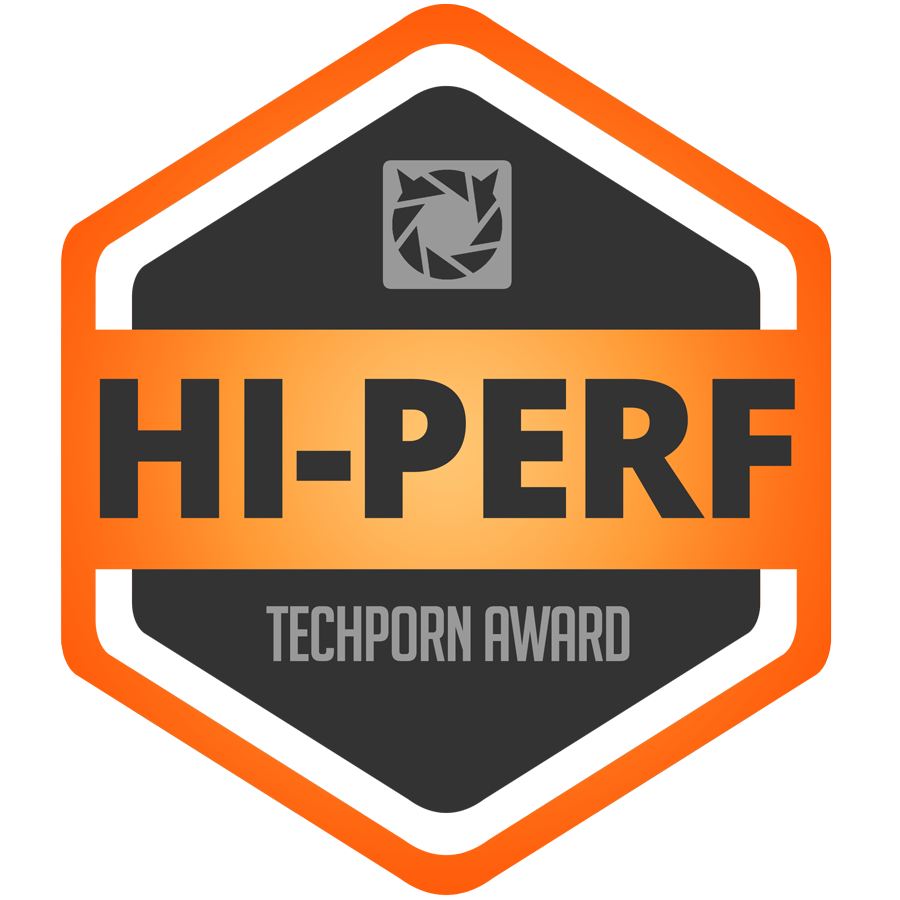 Kingston FURY Renegade 2TB PCIe 4.0 x4 NVMe SSD
Summary
The Kingston FURY Renegade 2TB PCIe 4.0 x4 NVMe SSD is a top of the line storage model, featuring excellent sequential and random access performance metrics. Make sure to get a heat spreader though, since this SSD runs hot out of the box.