Kingston sent us the NV1 SSD for a review. This is the latest addition to company's PCIe SSD product line, utilizing a PCIe 3.0 x4 controller and 3D NAND inside. Capacity ranges from 500GB, 1TB and 2TB – with price starting at 3,050 Pesos. Suffice to say this is a high capacity product line intended for systems that requires such – without sacrificing performance.
Our unit is the 1TB variant coming in at a modest 5,475 Pesos MSRP. Ours got a 240TBW endurance with a rated 2100 MB/s read and 1700 MB/s write performance figures. Comes with a 3 year warranty for peace of mind.
Disclosure: Kingston sent the SSD free of charge for the purpose of this review. The company did not pay me to say anything particular about it. That said, all thoughts and opinions are of my own.
Technical Specifications
Storage
Capacity
1TB, also available in 500GB and 2TB
Flash Memory
3D NAND
Form Factor
M.2 2280
Interface
PCIe 3.0 x4
Sequential Read
2100 MB/s
Sequential Write
1700 MB/s
Random Read IOPS
—
Random Write IOPS
—
Endurance
240TBW
Dimensions
Length
80mm
Width
22mm
Height
2.1mm
Weight
7g
Packaging and Accessories
Kingston had the NV1 packed inside a simple packaging.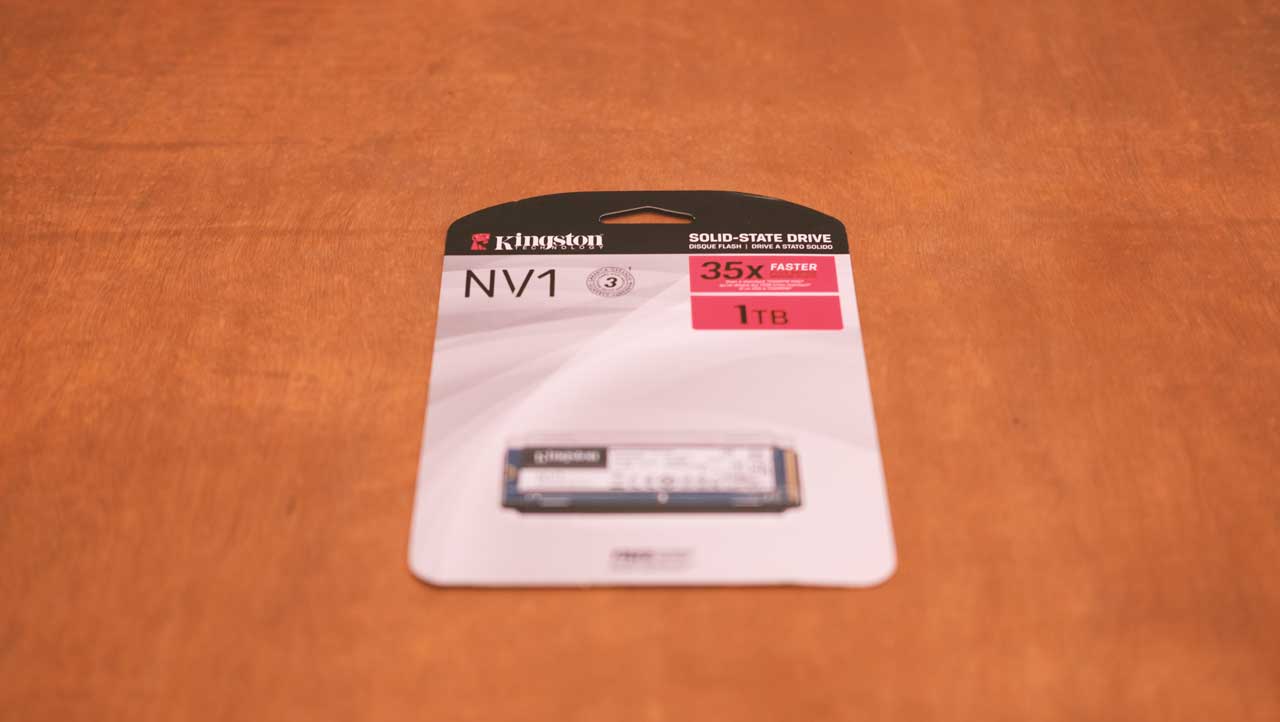 The product comes with the following items inside:
Make sure you got a screw kit for the M.2 drives. Otherwise, you'll have to hit the hardware store for a 2x3mm screw.
Design, Build and Connectivity
The Kingston NV1 looks like your usual M.2 2280 SSD – because it is. We got a sticker up front, covering the NAND and its controller. Would be nice to have a thin sheet of thermal interface here but nothing is perfect.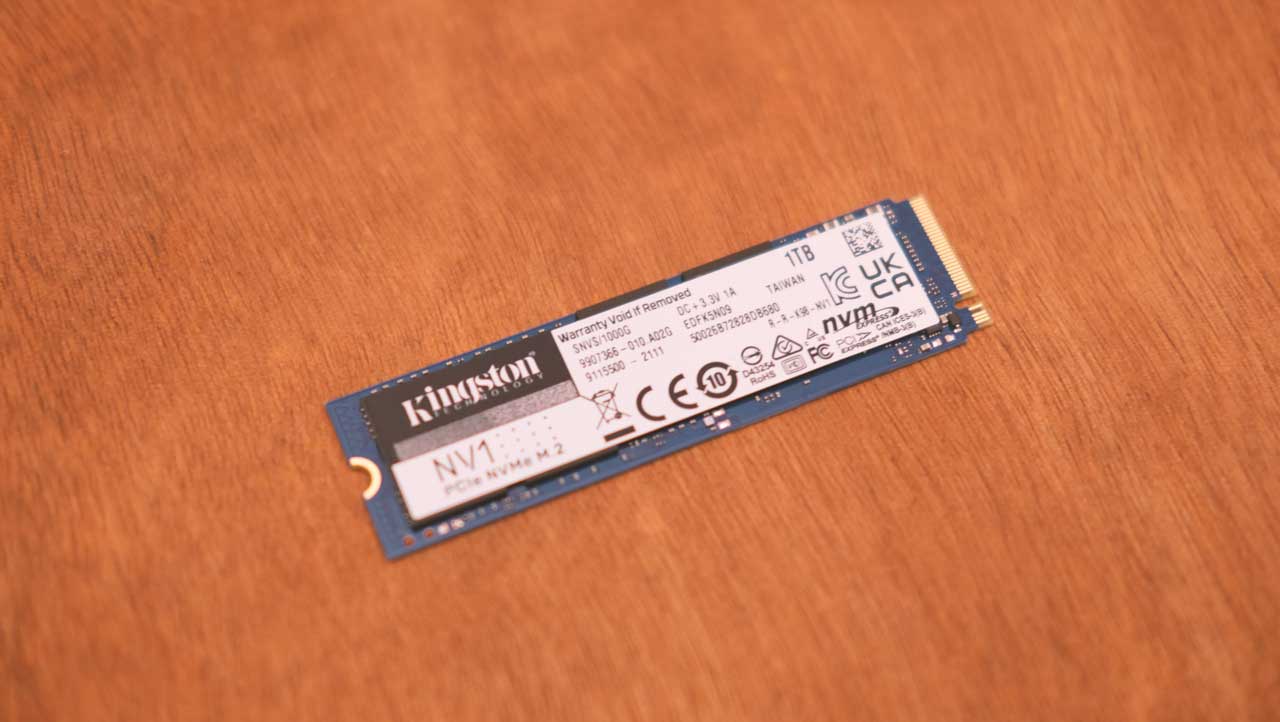 The back is a clean slate. No need to worry about anything that could get hot here. Perfect for motherboards with a sandwiched M.2 bays.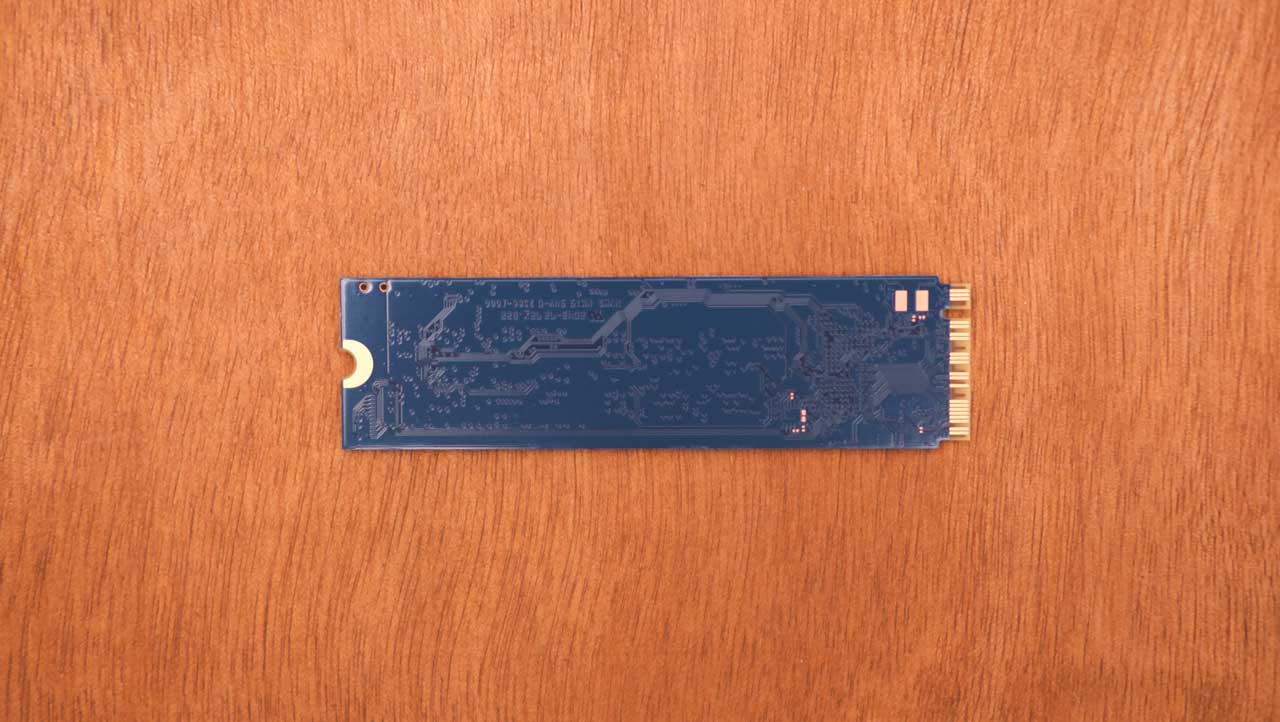 The drive is really simple – like many budget oriented models out there. This makes the drive really flexible, allowing you to add your own choice of cooling solution, while maintaining its compatibility with a wide range of setups. That of course includes enclosures built for M.2 2280 NVMe SSDs.
Test Setup and Methodology
Storage performance is evaluated by industry standard benchmark tools and real-world applications – if deemed necessary. It is important to note that we are testing the sample after burn-in, with at least 24-hours of uptime in the case of storage devices. This is done so to negate the physical FOB state performance of the unit, yielding better benchmarking consistency. The device is tested with the following configuration from our test system:
UEFI configuration: Default
Windows Power Plan: Balanced
Windows Game Mode: Disabled
Windows Game Bar: Disabled
Windows Security: Disabled
Outlined below is the test system specifications:
Test System Specifications
CPU
AMD Ryzen 5 3600
Motherboard
ASUS ROG Strix B550-I Gaming
Cooler
Noctua NH-U12S Redux
Memory
ADATA Premier 2666MHz 16GB
GPU
GALAX GT 710 1GB
Storage
Plextor M9Pe PCIe 3.0 NVMe 512GB
Case
Mechanical Library JXK-K3
PSU
Thermaltake Toughpower GF1 650W
Display
LG UF680T
OS
Microsoft Windows 10 Pro 64-bit
Throughput
Throughput performance measured in MB/s is measured with CrystalDiskMark. First up on the test is the Sequential read and write performance, measured with a block size of 1MB and a 1GB transfer size at 8-Queue Depth. This test is more in line with large file transfers; similar to watching a movie.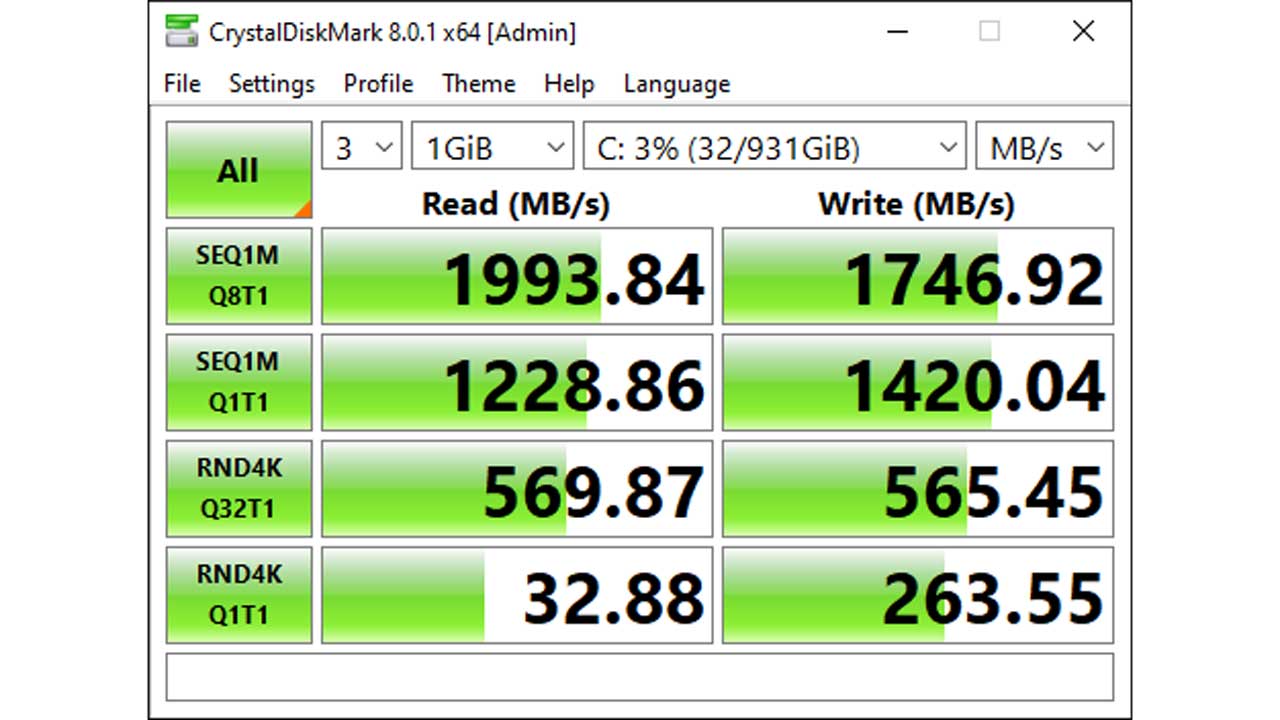 The second one is the Random 4K read and write performance, measured with a random block size of 4KB and a 1GB transfer size. This test is more in line with small file transfers; similar to transferring documents and images.
IOPS
Input/output operations per second is measured with AS SSD. The Random 4K-64Thrd read and write benchmark is used for this test. Performance is measured with a random block size of 4KB, a 1GB transfer size and 64-thread IO requests. This tests the storage medium's ability to use Native Command Queuing (NCQ) at higher Queue Depth. A Useful metric for server side applications.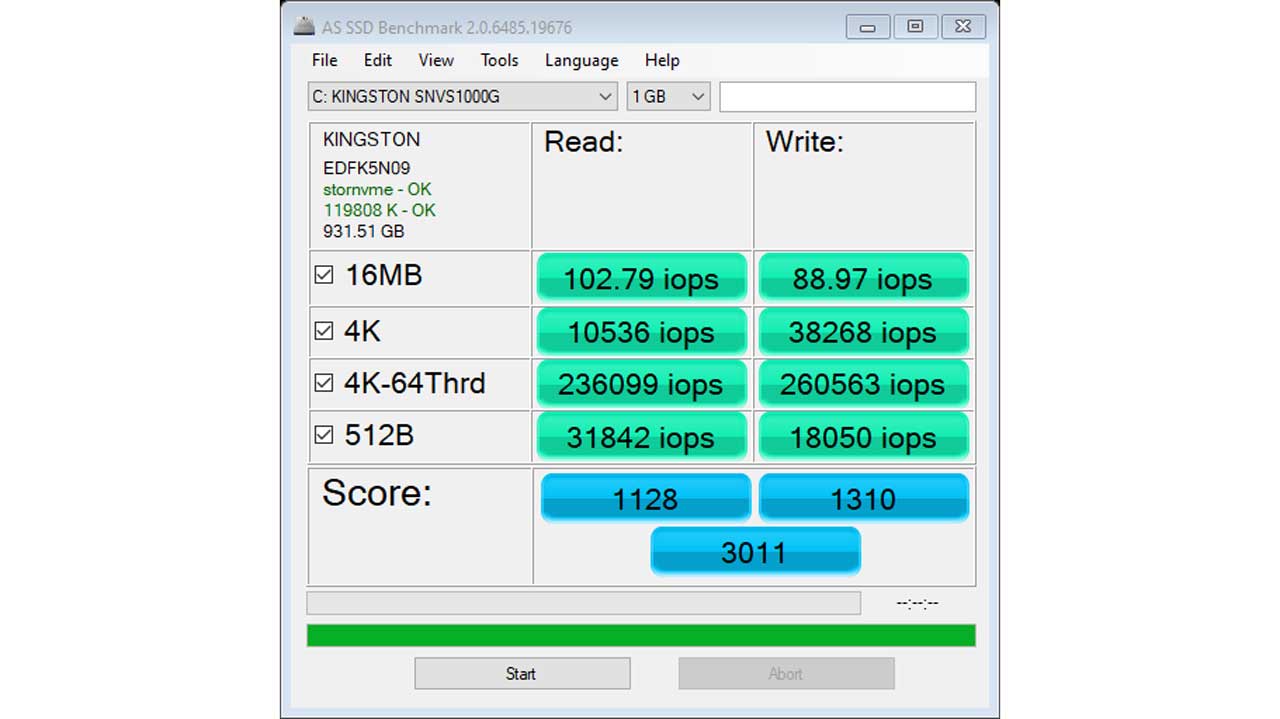 Random 4K performance in IOPS is excellent. 5 years ago this would be a TOTL product.
Copy
Our file copy performance test is courtesy of the AS SSD Copy-Benchmark. This basically emulates copying a few big files, a lot of small files and a mixture of file sizes by using the cached copy functions of the OS.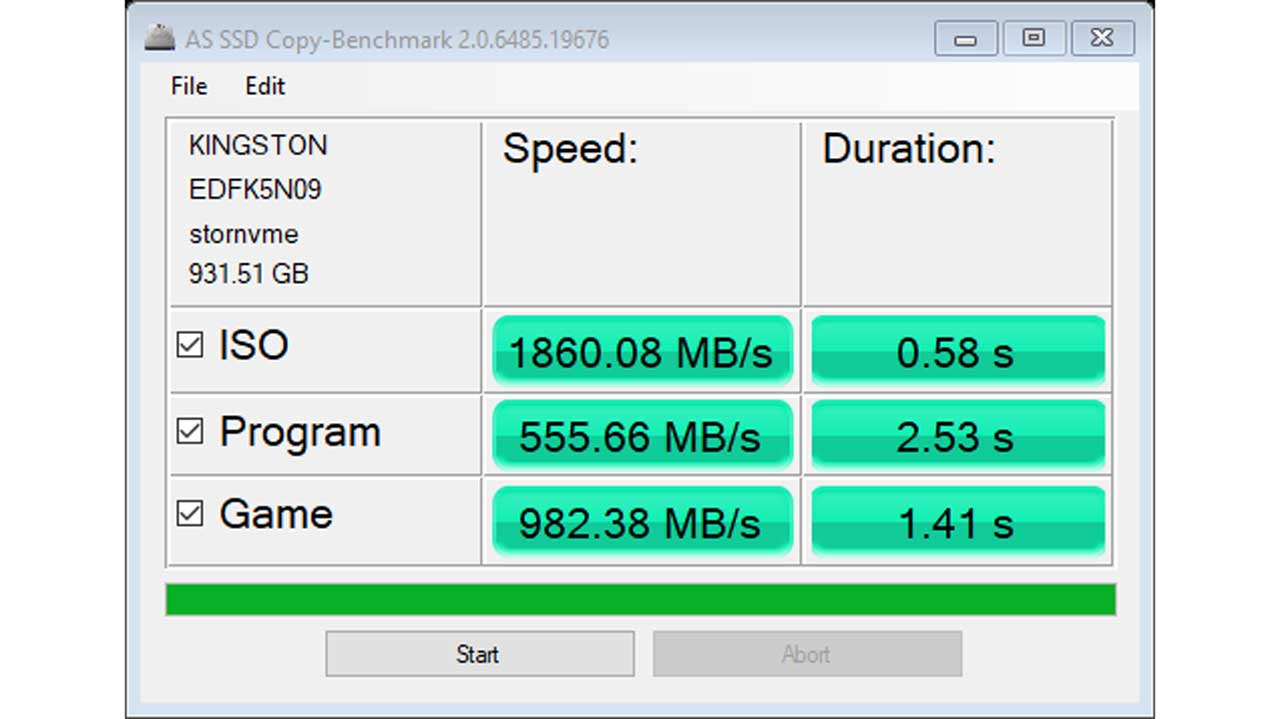 Proper performance metrics here for an NVMe SSD. Nothing to complain here really.
Access Time
The read and write access time is measured with AS SSD using a 512KB block size. Latency is just as important as the throughput and IOPS performance of the drive; allowing us to peak into how fast or slow a storage medium can access a given data.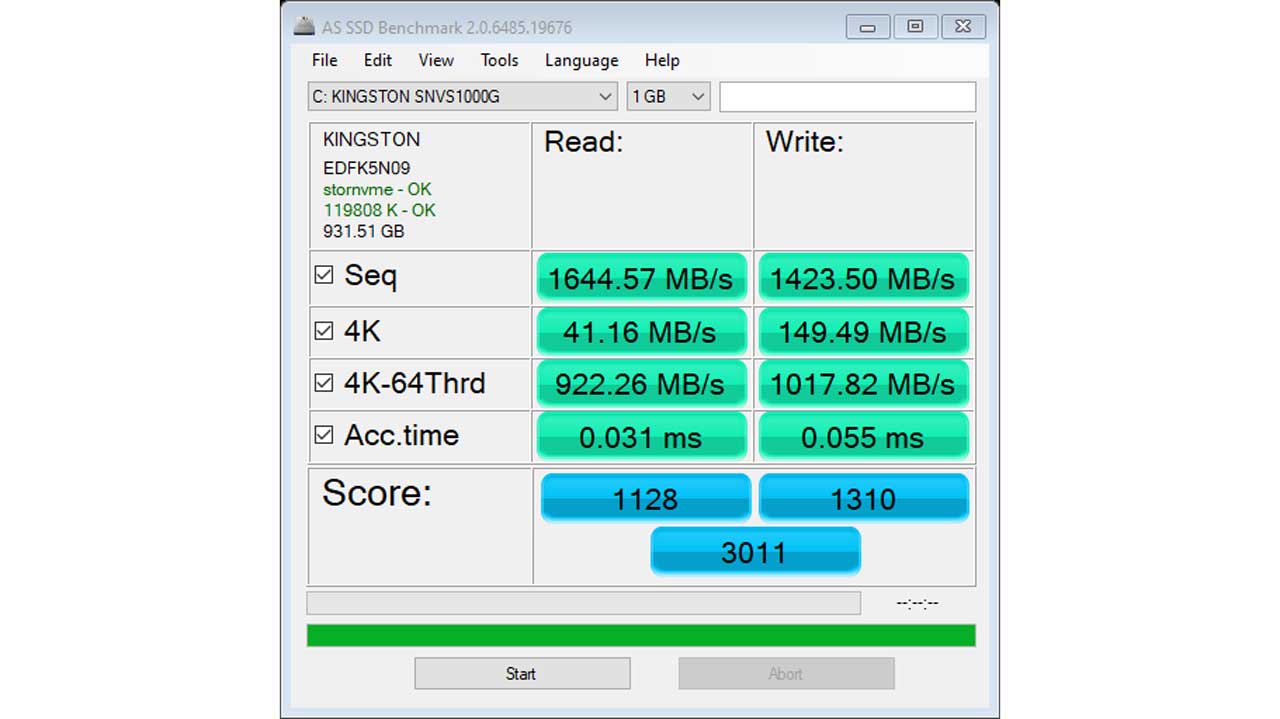 Latency is excellent. We're looking at 0.031ms and 0.055ms of access times here for both the read and write.
Compression
AS SSD is once again used with its Compression-Benchmark. This test measures how fast the storage device can compress data.
Compression speed is linear for both read and write.
Software, Lighting and Special Features
Nothing, nada. This is a bare drive so there's nothing else to gawk at.
Final Thoughts
The Kingston NV1 appears to be an excellent SSD featuring NVMe class performance with a price to match, ultimately making it a truly flexible product – exactly where Kingston wants to position it.
This drive is quite possibly one of the faster yet still budget friendly options out there right now, making it a great deal for those who are looking for a storage upgrade. I could see this being used as an external storage solution via an enclosure, a drive for laptops and of course for desktops as well – especially with more and more motherboards featuring at least two M.2 bays.
The Kingston NV1 is not the pinnacle of PCIe 3.0 x4 interface SSDs but it is a really good value oriented option for the $60, $100 and $200 price brackets – with a 3 year warranty attached.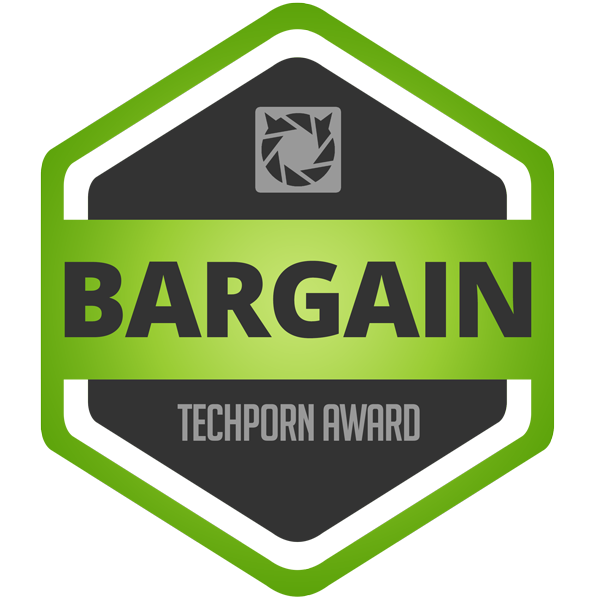 Kingston NV1 1TB PCIe 3.0 x4 NVMe SSD
Read -

8/10

Write -

8/10

Copy -

8/10

Latency -

9/10

Compression -

8/10
Summary
The Kingston NV1 is not the pinnacle of PCIe 3.0 x4 interface SSDs but it is a really good value oriented option for the $60, $100 and $200 price brackets – with a 3 year warranty attached.
Pros
Excellent price points for all variants
Available in 500GB, 1TB and 2TB models
NVMe class read and write performance
Excellent access times
Good file copy performance
Cons
Pretty bland packaging – really bare
Cooling solution is on you