When I think about performance oriented cooling solutions, Noctua is one if not, the best name that pops up on my mind. The Austrian company truly deserve the praise due to their performance oriented mantra.

Now what we have here is the Noctua NH-L12S. A low profile, high performance CPU cooler built for compact systems. This is by no means a cheap alternative to your stock cooler; perfectly capturing the premium vibe of Noctua's line-up.
TECHNICAL SPECIFICATIONS:
Cooler
Socket Compatibility
Intel LGA 2066, 2011-0, 2011-3, 1156, 1155, 1151, 1150 / AMD AM2, AM3, FM1, AM4
Height
70mm
Width
128mm
Depth
146mm
Weight
390g
Heatsink Material
Copper, Nickel, Aluminum
TDP
140W
Fan Compatibility
2x 120mm mount fans
Fan
Model
Noctua NF-A12x15 PWM
Speed
450-1800RPM
Noise
16.8-23.9dBA
Airflow
70.8-94.2CFM
PACKAGING AND ACCESSORIES:
When you see this color scheme along with tons of information to gawk at, you'd know immediately that it is indeed a Noctua product. This is the company's design for years and it just works; like a premium wine on a shelf.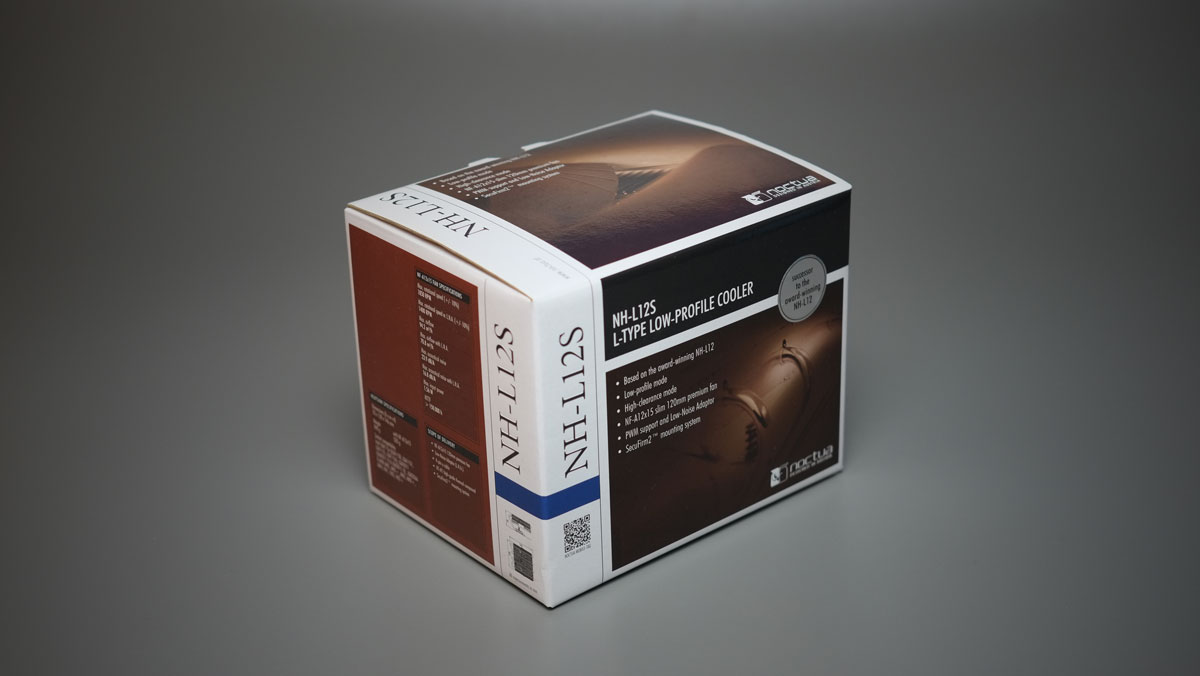 Inside, you'll find three paper works for each popular sockets, a slew of mounting options and accessories neatly tucked within a separate internal packaging. In true Noctua fashion, we also got the NT-H1 TIM, a case badge, a screw driver and the low noise adapter.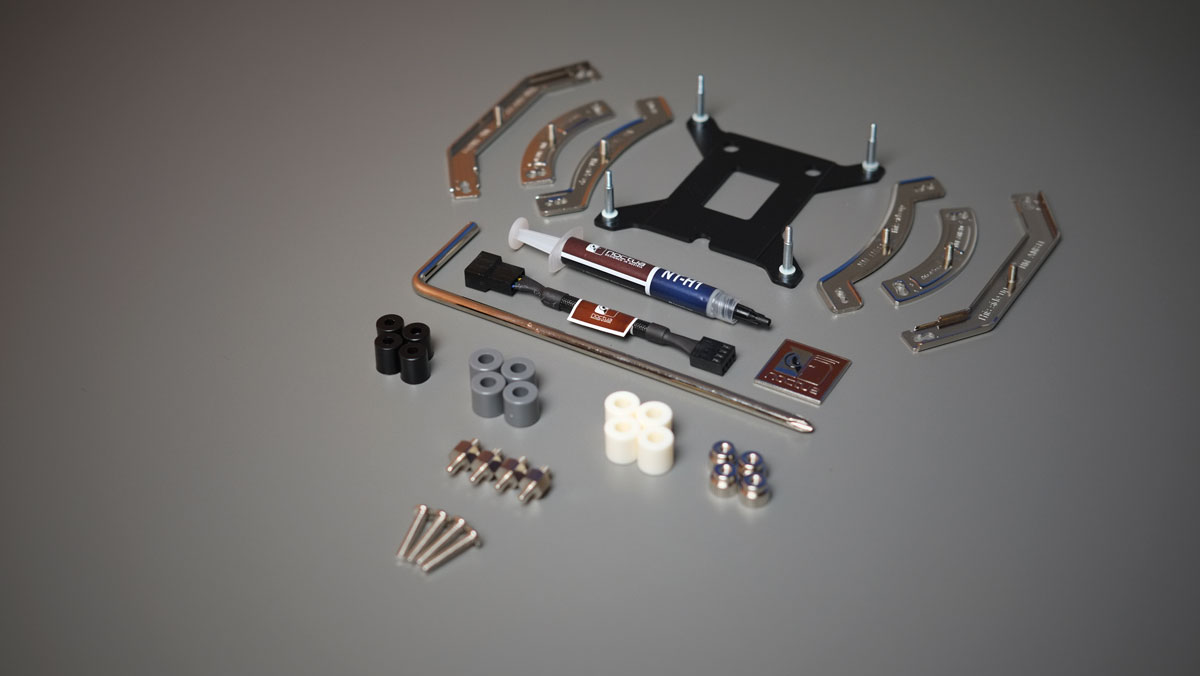 DESIGN, LAYOUT AND BUILD QUALITY:
The NH-L12S is the update from the tried and tested NH-L12 with more emphasis on SFF compatibility. That said, while the NH-L12 comes with a 120mm and a 80mm; the NH-L12S comes with a slim 120mm fan.
Dimensions are exactly 70 x 128 x 146mm. Memory kits with clearance below 35mm should fit in nicely without any trouble using the low profile mode. A maximum clearance of 48mm could be achieved via the high profile mode.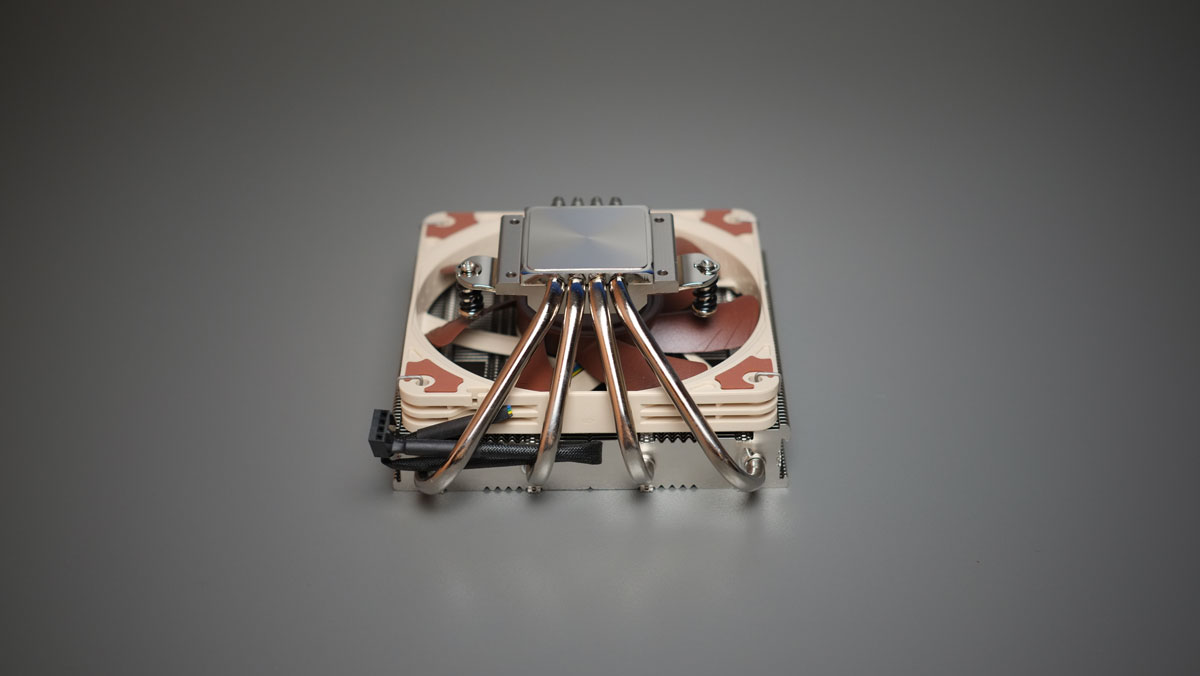 The copper base is not mirror finished but it is nickel plated together with the heat-pipes.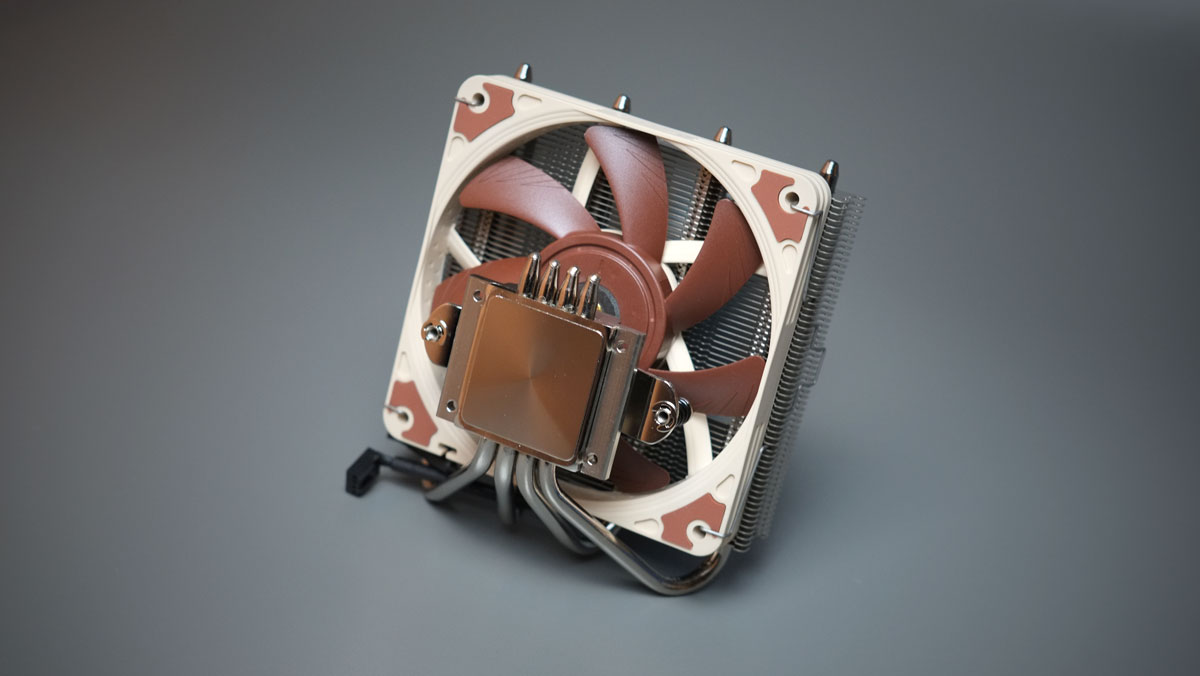 There are four soldered heat-pipes stretching out to the last heat fin. Overall cooler design is symmetrical with an impressive emphasis to build quality.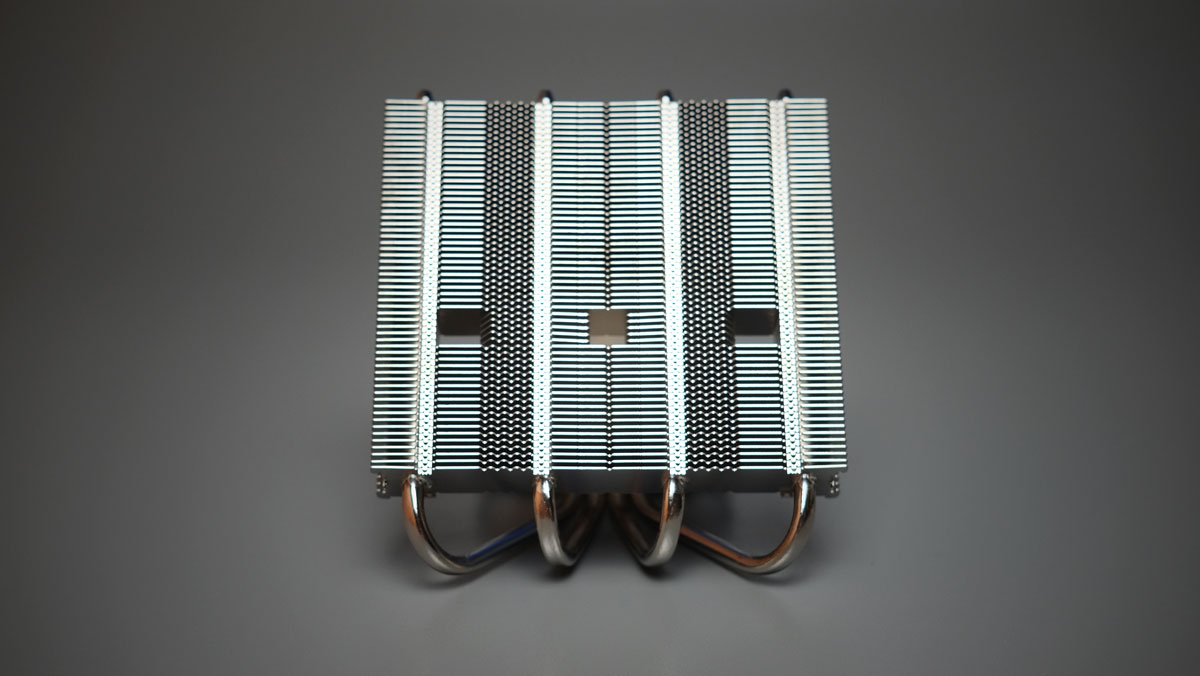 Again, Noctua had the NH-L12S bundled with their own NF-A12x15 PWM fan. It is a 15mm slim spinner with a rated noise level of 16.8-23.9dBA. This fan also features Noctua's patented Flow Acceleration Channels. Those are the serrated designs on each fan blades that truly serves a purpose. MTBF is around 150, 000 Hours. That should be enough for the cooler's lifespan.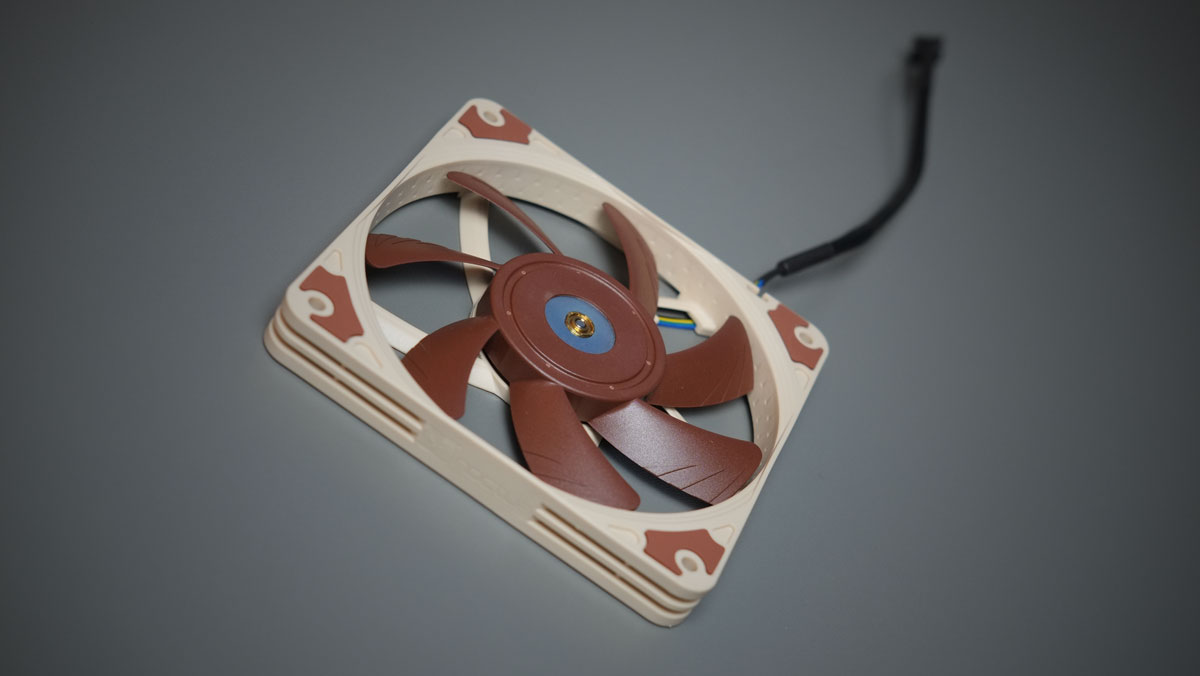 The NF-A12x15 PWM also houses dampeners to minimize vibrations and noise. Should you require lower operating speeds to further enhance the acoustics, the Noctua LNA will get the job done.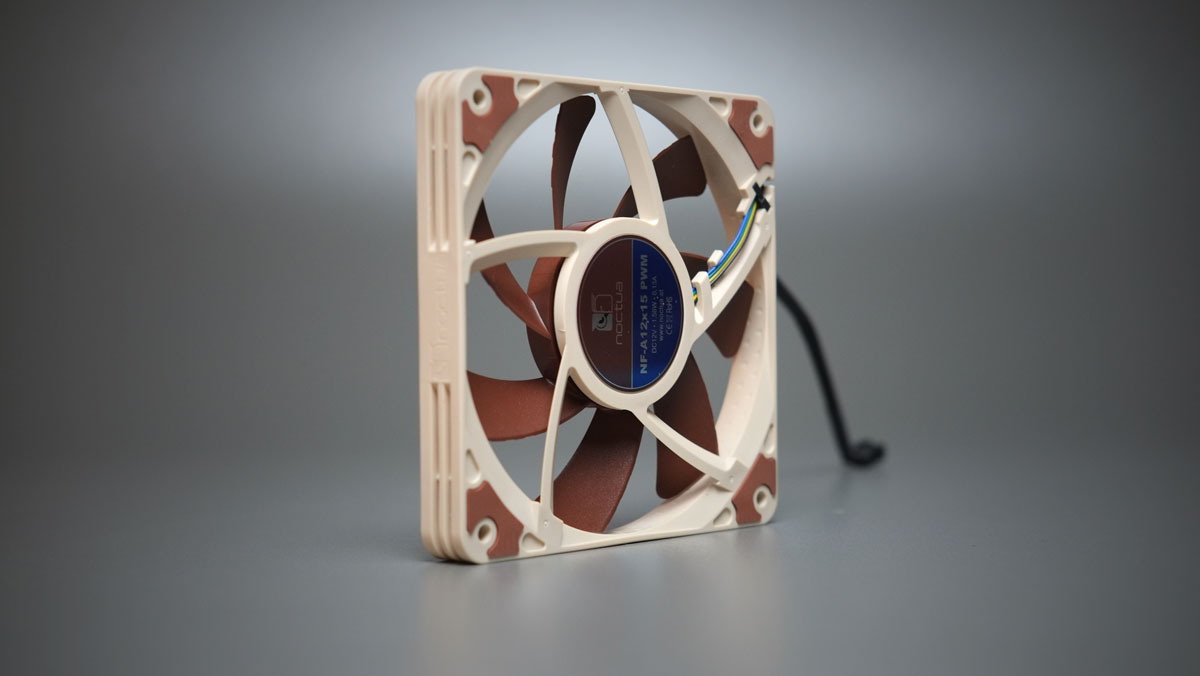 CLEARANCE AND INSTALLATION:
The Noctua NH-L12 comes with the SecuFirm2 mounting kit. This is a tried and tested mounting solution built from the ground up by Noctua. It is easy to work with and the build quality is just excellent.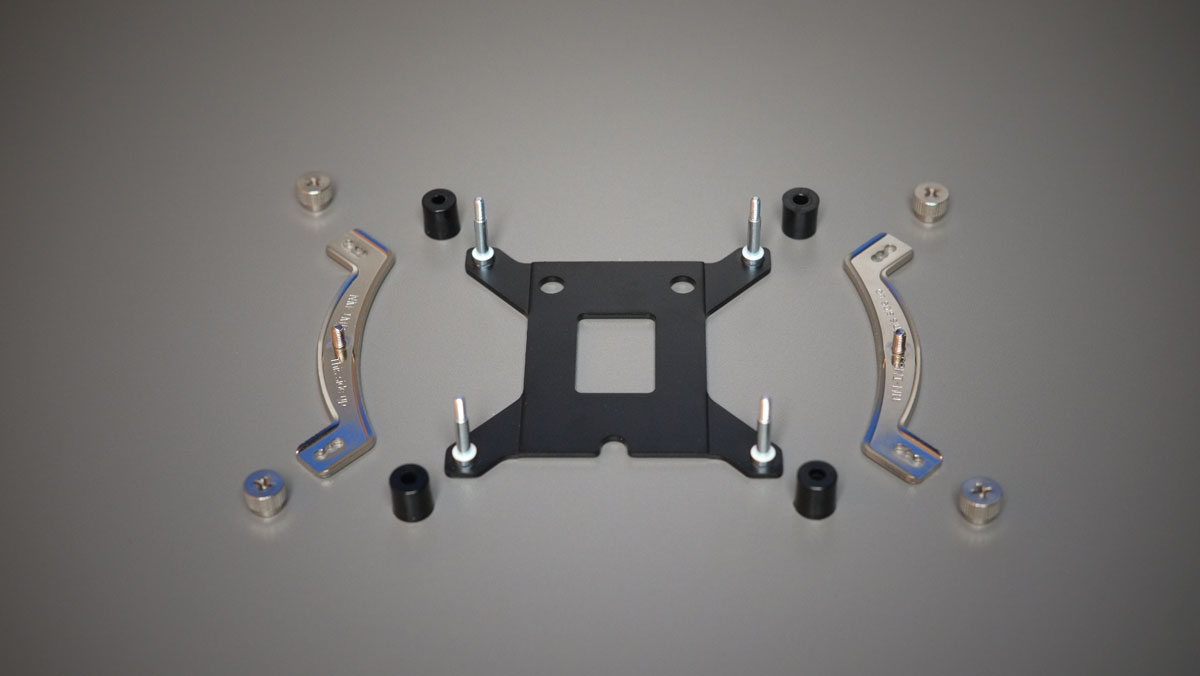 A few screws, spacers and brackets here and there requires seconds to install. Noctua recommends a force of 0.6Nm though for the cooler to sit perfectly in place.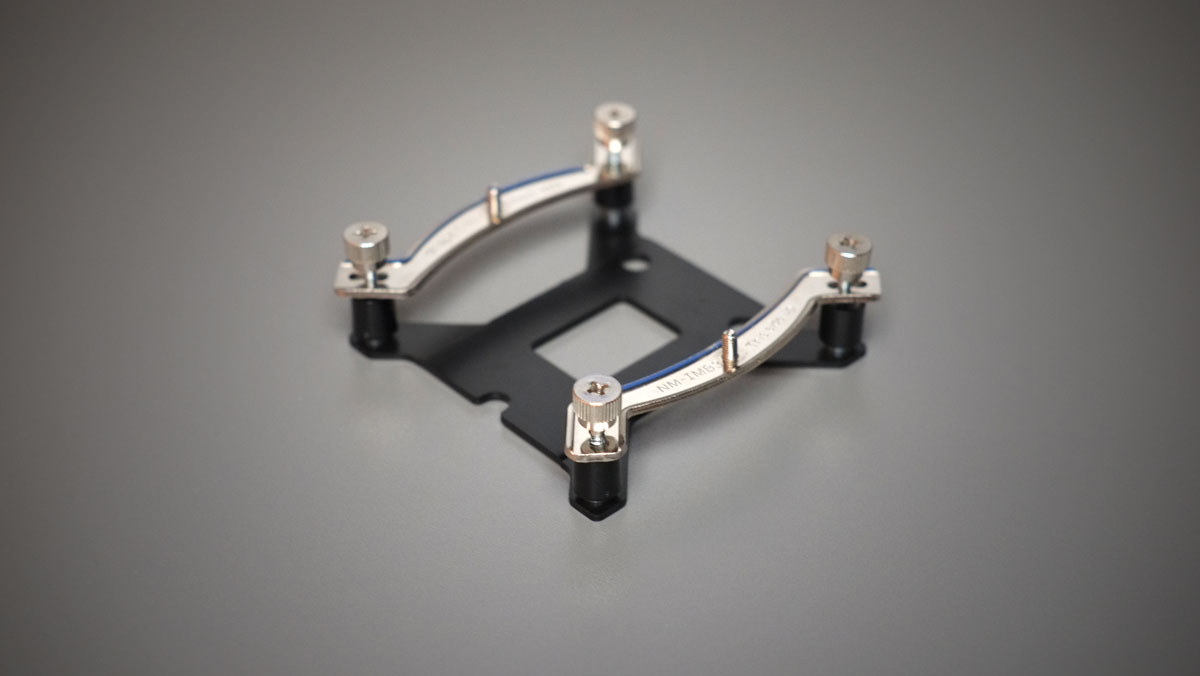 The NH-L12S could be mounted with four positions, with a top and bottom mounting options for the fans. Noctua suggests a top mounted fan for maximum performance.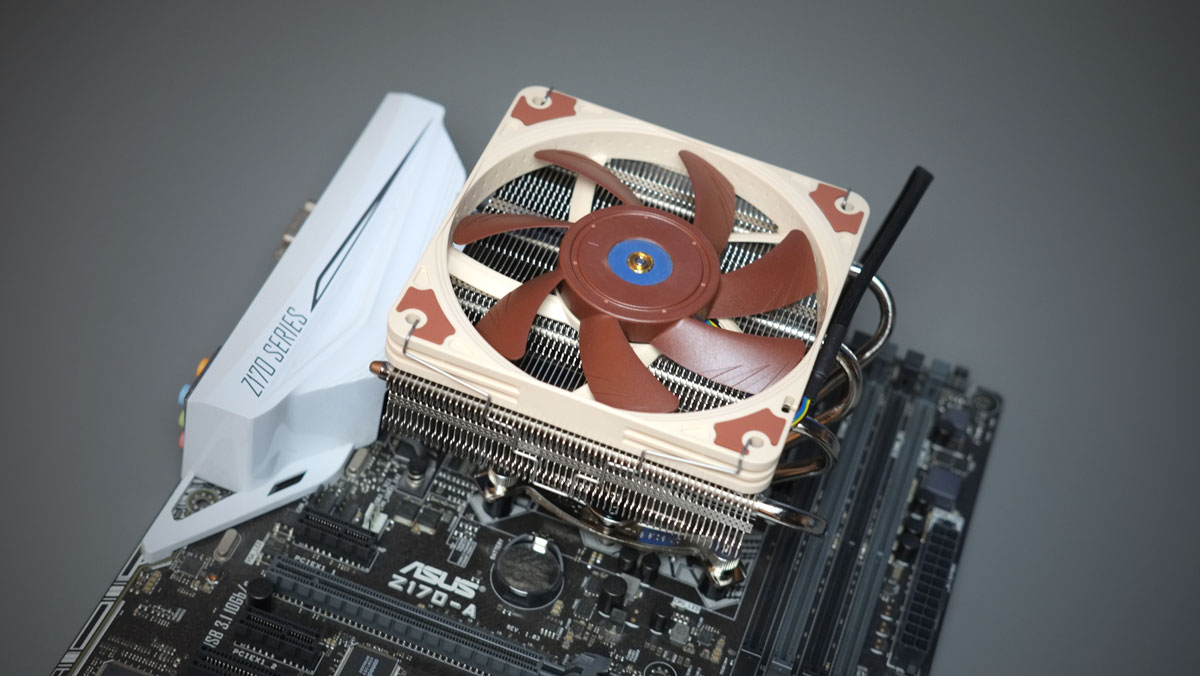 The Noctua NH-L12S should fit most SFF systems even with the NF-A12x15 PWM fan above it. I have tested this on my ITX boards both for Intel and AMD and it slots in just fine. Make sure to plan ahead prior to installation.
TEST SETUP AND METHODOLOGY:
Coolers are far from the hardest components to test, but it doesn't mean they are easy enough to deal with since there are multiple factors to take into account while benchmarking. Factors includes the ambient noise, ambient temperature, the enclosure, and the test system's overall configuration.
TEST SYSTEM SPECIFICATIONS
PROCESSOR
Intel Core-i5 6600K
MOTHERBOARD
ASUS Z170-A
COOLER
Cryorig C1 Top Flow
MEMORY
Crucial Ballistix Tactical DDR4 @ 2666MHz 2x4GB
GRAPHICS
ASUS GTX 1060 STRIX OC 6GB
STORAGE 
Crucial BX200 480GB
POWER
CORSAIR RM850X 850W
DISPLAY
DELL U2715H
OS
Microsoft Windows 10 Pro
The AIDA64 Extreme Edition System Stability Test is used to stress our Intel Core i5 6600K. The CPU, FPU, Cache and Memory are selected at the options. AIDA64 has been chosen due to its inclusion of AVX, AVX2 and FMA – 3 important instructions that will help us push our CPU to its limits.
Ambient Temperature – 27°C (±1°C)
Ambient Sound Level – 34dBA (±1dBA)
Stock Profile – 3.9GHz (1.088v)
Overclocked Profile – 4.4GHz (1.248v)
TEMPERATURE:
Temperatures are tested with attainable CPU clock speed configurations that should resemble common systems. To measure the cooler's capabilities, the CPU temperature is logged with HWiNFO64 and is cross referenced with AIDA64.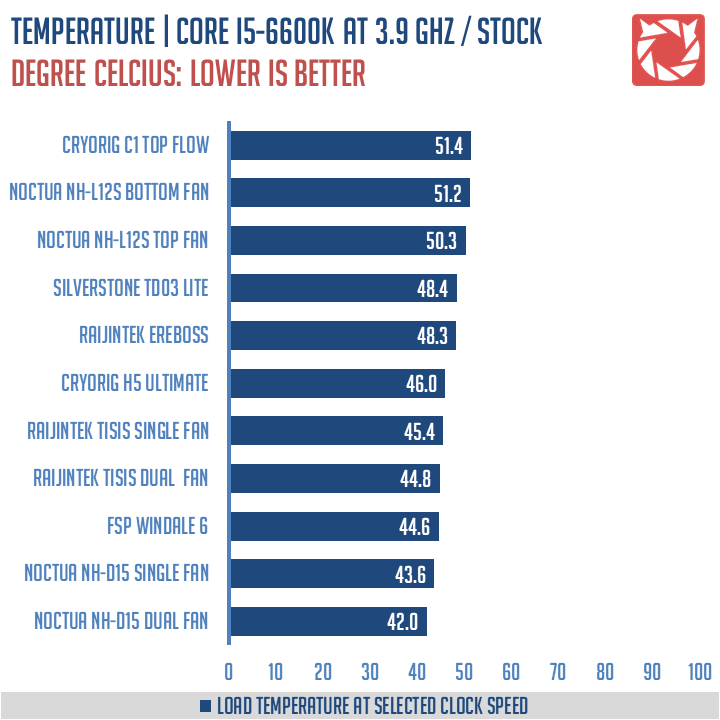 The Noctua NH-L12S is not the best cooler when it comes to sheer cooling performance. Although to be fair, the stock results are not even bad at all with an average of 50.3°C at load with the fan at the top. Bottom fan configuration gave us a result of 51.2°C. Not that far off from the recommended setup.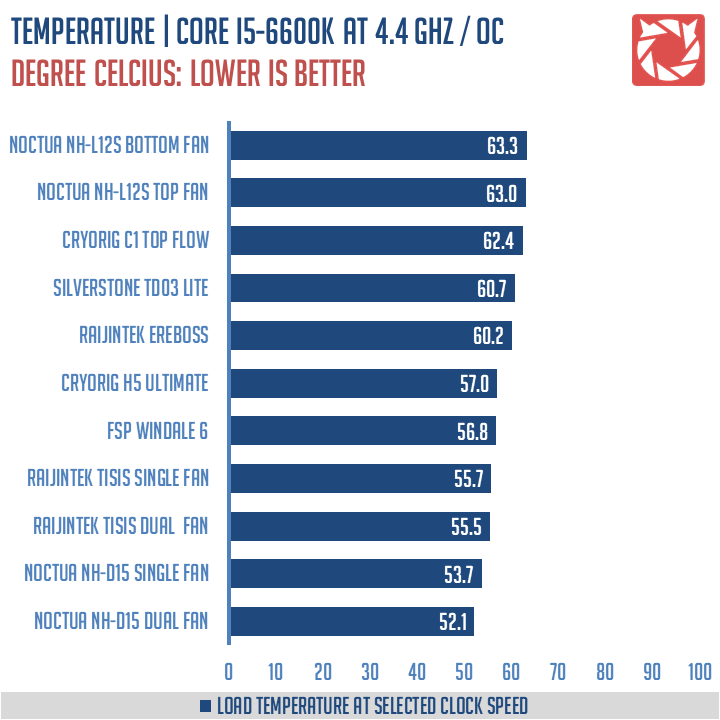 With our CPU overclocked at 4.4GHz, the Noctua NH-L12S gave us decent results for both the top and bottom fan setups. Nothing breathtaking here but remember that this is a cooler geared for both acoustic and cooling performance.
NOISE LEVEL:
Noise levels are tested on a variety of fan duty cycle settings available thru our motherboard. To measure the levels, a sound level meter is secured on a tripod with a foot of distance away from the cooler.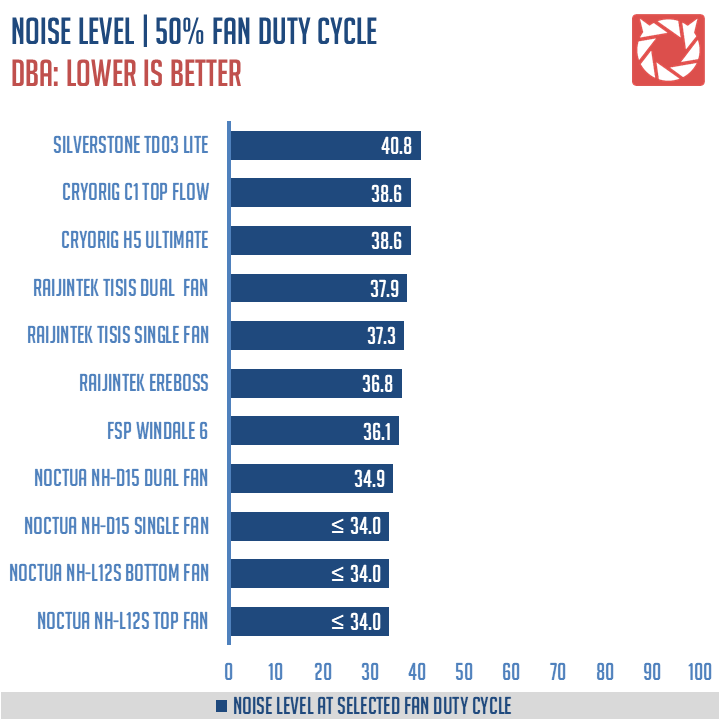 The Noctua NH-L12S with the NF-A12x15 PWM fan at 50% is the quietest we've seen so far. We cannot even measure its acoustic performance to the fullest due to the ambient noise levels.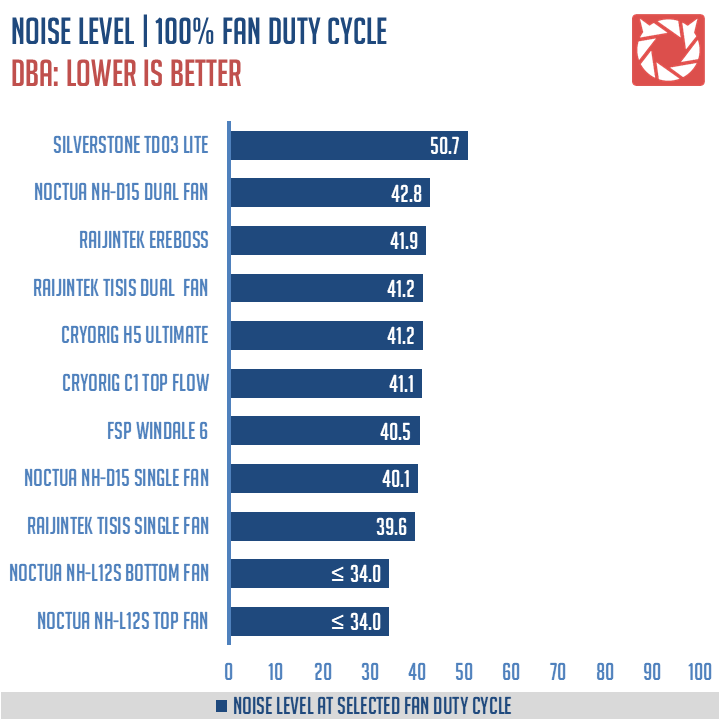 The NF-A12x15 PWM fan's performance holds true even at 100% fan speed. Nothing to dislike here.
SOFTWARE, LIGHTING AND SPECIAL FEATURES:
The Noctua NH-L12S doesn't feature any software nor lighting effects. You may use it passively, but that's only recommended if you have a CPU with a low TDP. It is however, capable of housing dual 120mm fans top and bottom.
FINAL THOUGHTS:
The Noctua NH-L12S is a well thought-out low profile CPU cooler for the small form factor crowd. It comes with a balanced set of features catering both the acoustic and cooling requirements of the end users without much compromise. That's something Noctua should be proud of when designing this cooler.
Build quality, presentation and everything else just screams premium. That even holds true to the bundled NF-A12x15 PWM fan. The slim fan is a true value added change over the dual fan based NH-L12 predecessor.
The Noctua NH-L12S is a hard to beat low profile premium cooler. That's with a warranty of 6 years and an SRP of $50 USD to boot. Easily one of the few acoustic and cooling performance oriented products made for the SFF enthusiasts.
GOOD COOLING PERFORMANCE
AMAZING ACOUSTIC PERFORMANCE
PREMIUM BUILD QUALITY
FOOL PROOF INSTALLATION
EXCELLENT PRESENTATION
6 YEAR WARRANTY

 ORIGINAL NH-L12 STILL HOLDS UP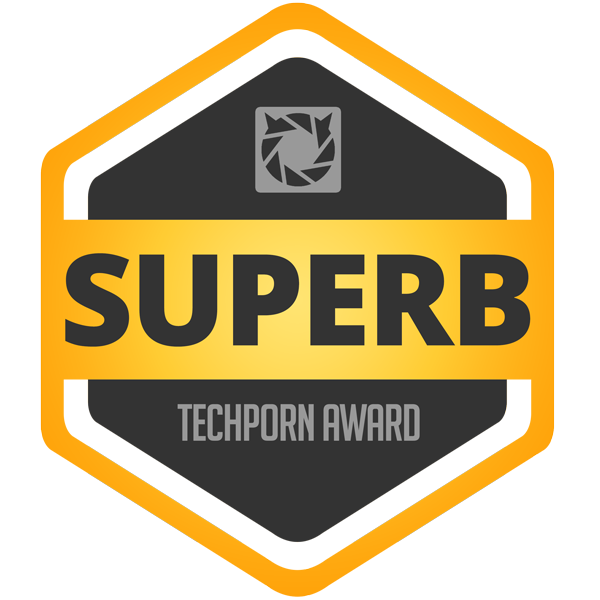 Noctua NH-L12S Low Profile CPU Cooler Review
PERFORMANCE -

8/10

BUILD QUALITY -

9/10

FEATURES -

9/10

AESTHETICS -

9/10

VALUE -

7/10
Summary
The Noctua NH-L12S with the NF-A12x15 PWM fan is a fine example of what a premium CPU cooler should be. A $50 USD value product with a good cooling performance cherry topped with amazing acoustics and build quality.