The PC gamer's couch device is here
Hamburg, June 2016 – ROCCAT Studios, makers of high-quality gaming peripherals and software is extremely proud to announce the retail debut of its first entry into the ROCCAT Sova Gaming Board family. For decades the living room has been the near exclusive domain of console gaming. Millions have enjoyed playing on the couch, experiencing the casual ease of plug-and-play fun that comes with it. While smaller PCs and various streaming technologies have cracked the door slightly over the years, Sova kicks that door wide open.
Finally, truly bridging the gap between desk-and-chair PC gaming and living room play, Sova provides the final, vital key ingredient every gamer lacks who wants to bring their playing experience to the comfort of their couch or favorite chair via PC or Steam machine.
The Sova will come in both membrane and mechanical keyboard varieties, with all of the exceptional features gaming in the living room demands. Two USB ports, a convenient mouse cable channel for your favorite gaming mouse, an exchangeable built-in mousepad, a variety of user-integrated options, and deep attention paid to providing the most comfortable gaming experience available.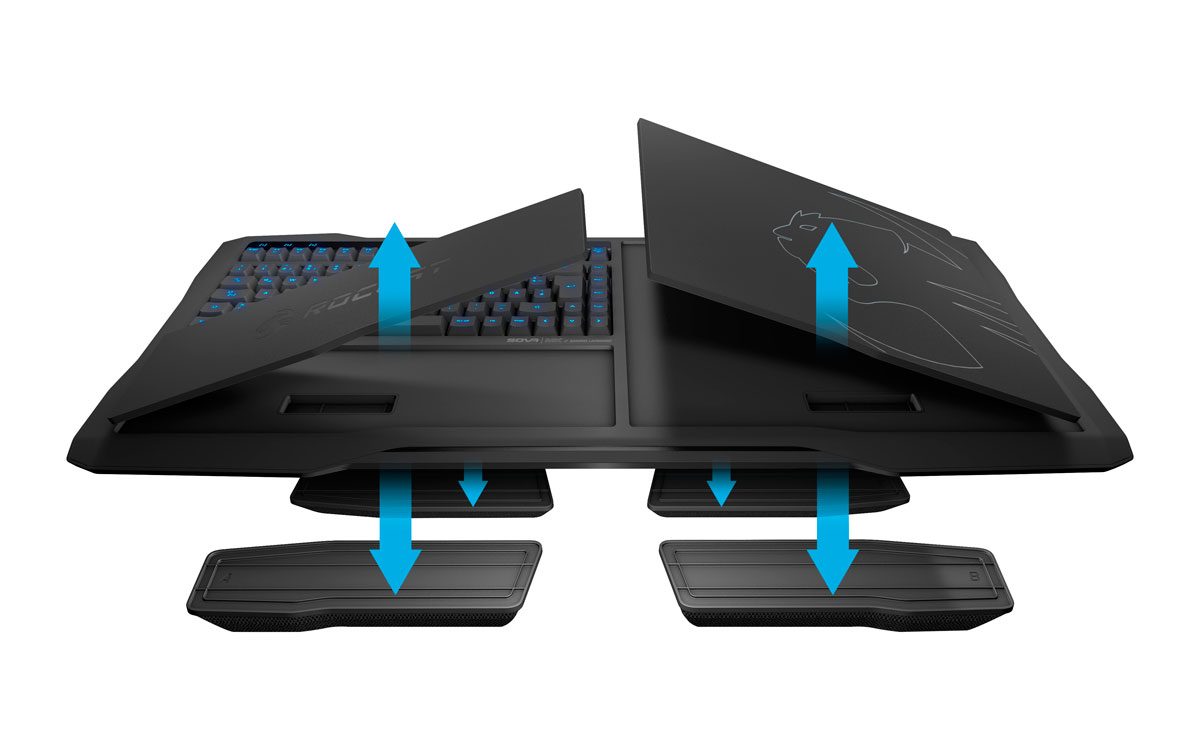 René Korte, CEO and founder of ROCCAT Studios says, "It's relatively easy to design a gaming lapboard. Follow our industry and you will see peripherals attempting to bridge that gap between table PC gaming and living room play. For us, it wasn't enough to create a gaming board with dynamic playing features and great software under the hood; the Sova had to be the most comfortable long-term use product of its type on the market. We feel we have accomplished the mission of not only making owning your couch as easy as possible, but have designed an ergonomically superior, comfort-rich feature gaming peripheral that feels effortless to use over the longest play sessions."
From the cushioned padding beneath, to its tried and tested ergonomic palm rest, and its ideal weight distribution and size, the ROCCAT Sova Gaming Board is designed to help you forget you're using it. Continues René, "You don't want to bring your gaming experience to the living room, and be reminded you're balancing a peripheral on your lap. You don't want to worry about mousing off a small pad, clicking too hard and shifting the weight of the board in the middle of play, having to adjust to an awkward ergonomic design and most importantly, feeling pain or tiredness in your wrists and back. When people tested the Sova, the overwhelming response was how easy it was to forget you were using it at all. It was so simple and effortless to interact with. Testers could simply concentrate on their game. We're very proud of that."
In addition to the extreme comfort the ROCCAT Sova Gaming Board affords players, it is also packed with fan favorite ROCCAT software features. In a sea of products laying claim to bringing the gaming experience out of the desk-and-table era and into the living room, we had to be certain Sova was in a class of its own. Ever Future Ready, ROCCAT has done just that.
ROCCAT offers a preorder bundle for both Sova versions:
Sova Membrane + all new ROCCAT Kova – 149,99 Euro/USD
Sova Mechanical + all new ROCCAT Kova – 199,99 Euro/USD
Preorder for the ROCCAT Sova is available now in the following countries:
Germany/Austria (Amazon)
France (Amazon)
Scandinavia (Komplett)
Switzerland (WOG)
Australia (EB Games)
About ROCCAT Studios
Founded in 2007 in Hamburg, ROCCAT designs the best gaming products in the world. We combine detail-loving German innovation with a genuine passion for what we do. The result is a forward-looking product portfolio adaptable to the gaming trends of tomorrow. The industry-leading experiences we develop are born of a deep affinity with gaming community that we ourselves are very much a part of. We achieve this by having an outstandingly talented team comprised of gamers, visionaries and industry experts.
[button color="red"] PRESS RELEASE[/button]