The SUORA series is a new family of gaming keyboards from ROCCAT. They feature a streamline and elegant design which is a timely departure from ROCCAT's current line-up of gaming devices. That being said, the SUORA FX is still a proper gaming device – with NKRO support, macro keys, 100% mechanical switches, and of course the RGB lighting. These features are wrapped in a compact and sturdy aluminum body.
Now this is not a Cherry MX based mechanical keyboard, featuring mechanical switches from the company, TTC. You probably never heard of TTC before but this Chinese company has been manufacturing switches since 1998. Their latest clients are Logitech, GAMDIAS, iBuyPower and of course, ROCCAT. The use of TTC switches is a huge departure from what we used to see from ROCCAT's devices so I'm pretty interested as to what the SUORA FX could offer.
FEATURES & SPECIFICATIONS:
The ROCCAT SUORA is available in 2 variants, with 2 switches to choose from. The SUORA FX is the RGB variant, while the SOURA alone is the non RGB Blue LED lit model. The SUORA features an MSRP of 99 USD, while the SUORA FX features a 139 USD MSRP. Both keyboards are identical in features with the exception of the lighting. Both variants also features the same aluminum top body. Lean more from the product page.
PACKAGING & BUNDLED ACCESSORIES:
The SUORA FX is packed tight inside a slim rectangular packaging that features the SUORA FX in all of its glory together with its main features. The back of the packaging reveals more about the keyboard's features in a contextual manner.
The ROCCAT SUORA FX comes with a quick installation guide, and another paper work. There are no key-cap pullers nor any other set of accessories. For 139 USD, I expected more from ROCCAT.
ROCCAT SUORA FX DESIGN & BUILD QUALITY:
Classy is a good word to describe the ROCCAT SUORA FX. It is as indicated, a frameless keyboard with virtually no real estate wasted. That said, it is a little more compact at 17 x 5 inches compared to other full sized mechanical keyboards. That's with the extra media keys as well.
The back of the keyboard is neat, and features a cable guide for the 3 primary directions. This is a a great feature since you can tidy up your cables even more, and cable jerking will never stress the main connector. The adjustable footing adds 0.5 inch of height by the way.
The keyboard is based on a 100% ANSI layout with extra media keys. Without the cable, this thing weights in at approximately 820 grams which is not light by any means. That aluminum top shell is a main factor I must say.
The keyboard profile is contoured which is similar to other mechanical keyboards we've tested so far. At its lowest, the keyboard features a height of around ~3 cm. The maximum height at the far end is at around ~4 cm, and can be adjusted further by a centimeter via the extended rubberized footing. These measurements were taken from bottom row to the top row keys.
The stabilizers used on the larger keys of the SOURA FX are wired ones – commonly known as costar style stabilizers by many. Compared to Cherry MX's leveling stabilizers, this one is a little trickier to maintain if you want to clean or change the key-caps yourself.
Connection is provided by a thick 6 foot long braided cable. It terminates with a USB 2.0 connector, together with a Ferrite Bead to prevent interference.
The dedicated media keys are situated at the top right of the keyboard together with the game button that will disable the windows key, enable the macro keys, and secondary key mapping when activated. The 6 macro keys are located at the navigation keys, while the profile / lighting mode keys are located at the function keys. The brightness button is located on the print screen. You are required to press the function key to activate them.
THE TTC BLUE SWITCHES:
The TTC Blue features an actuation force of 60 ± 15 cN across the board, with a tactile click and a minimum to maximum travel distance to actuation of 2.2 – 4.0 mm. This switch is undeniably TTC's own version of the Cherry MX Blue.
| | | | | | | | |
| --- | --- | --- | --- | --- | --- | --- | --- |
| BRAND | SWITCH | ACTUATION (cN) | LINEAR | BUMP | CLICK | MAX TRAVEL | MIN TRAVEL |
|  Cherry |  MX Blue |  50 cN |  No | No | Yes |  4.0 mm |  2.2 ± 0.6 mm |
|  TTC |  Blue |  60 ± 15 cN |  No | No | Yes |  4.0 mm |  2.2 ± 0.5 mm |
If you love the Cherry MX Blue, then you'll feel at home with the TTC Blue. They feature the same clicky tactile feel but pressure required to actuate them are a little higher. It feels more like a blend between the Blacks and Blues to be honest, and I quite like it. Switch reliability on the other hand is yet to be tested so time shall tell us.
THE KEYCAPS:
The SOURA FX features a normal Cherry MX keycap profile from top to bottom row, with a bold serif style font paired with a center-top alignment. The key-cap material is most likely ABS, has virtually no visible runner marks, and feels quite alright to touch.
The key-caps are light, thin, and definitely not on par with higher quality materials such as PBT and POM. Printing method is also not the best, but major players in the industry follows this method since it's cheaper than double shot printing. Not really complaining but I hope that the major gaming gear companies are listening.
SOUND PROFILE:
No two or three keyboard sounds the same, even if they feature the same keys. This is due to factors including the switch itself, the key-cap materials, and the overall construct of the keyboard. Listen to the profile below to get an idea of the keyboard's sound signature.
The SUORA FX with the TTC Blue switches are just music to my ears. Nothing to complain here.
KEYBOARD ERGONOMICS:
The SUORA FX, with its 3 cm profile is comfy enough on its own, even without the extra padding support. Its frameless design adds up to the comfort factor, together with the contour of the keys.
THE ROCCAT SWARM:
The ROCCAT SWARM is a unified software for ROCCAT's gaming devices. It is a sub 100 MB download so it is pretty light. To get started, you are required to download the SUORA FX's firmware, which is an easy task to deal with.
After the update, you will be greeted by a number of tabbed menus. You can even access everything if you pinned all the settings you require to the pinned tab. Now as for the settings tab, here you can set a sound feedback whenever you press any keys – as if the MX Blues aren't already noisy on their own. The character repeat, and the key reaction time can also be fiddled with here.
The key assignment tab is where you can set each of the key's secondary function when the SUORA FX enters game mode. The key selection are limited, but these are enough of a selection. Macro mapping is only available on the corresponding macro buttons by the way.
The key illumination tab houses all the lighting effects for the SUORA FX. There are 11 presets here, and all of them are unique on their own. You can even change the flow of the colors, their speed, and brightness. Yes, you can use a per-key or even zone based illumination as your own custom setup.
The profile manager is where you could automatically enable your custom keyboard settings. You can see that I have Overwatch and Photoshop profiles already at auto switch mode. Work hard, play harder.
Remember the 6 macro keys? This is where you could load and create presets for them. The macro manager is easy enough to use, but I encountered a bug where saving your first macro set deletes your profiles. It never happened since then.
ROCCAT is at the apex of gaming gear software engineering, and the SWARM just made it official. There are just tons of options and settings to play with this software, and best part is – it is intuitive enough without requiring the end user to put much effort into studying how it works. The Talk FX, Alien FX, and SWARM Connect are also great tools within the SWARM but we never had the chance to use them since the SUORA is not compatible to begin with.
While the SWARM is great, there are things that could be improved upon. Changing profiles takes a while to be implemented, and you're better off manually applying the settings with the auto apply switch's slow update rate. Nothing major to complain, really.
NKRO GHOSTING & MISCELLANEOUS:
PassMark's KeyboardTest and Microsoft's Keyboard Ghosting Demo are used to test the keyboard's KRO feature, anti-ghosting, input lag time, and depress time. Now all keys are working and NKRO functionality is tested to pass. Ghosting is also not a problem with this keyboard, and there's no lag time between key presses. There is basically nothing to complain here.
WRAPPING IT UP:
The ROCCAT SUORA FX is a gaming keyboard with Two faces. On one side, it is a simple yet elegant looking mechanical keyboard, boasting a frameless aluminum body design. The other side however shows that it is a serious mechanical gaming keyboard built truly for the gamers and gamers alone regarding its features. The game mode for an instance, transforms every available key into a remapped function of your own – with just a push of a button. RGB lighting is crazy good as well – and colors are accurate to the SWARM's representation.
I am a great nitpicker, so I must say that there are small things that caught my attention. First off at its price point, I expected a double shot key-cap set, instead of the current configuration. It's not bad, but I've seen cheaper keyboards with the said caps by default. Second, bundle could be a little better. I mean even a key puller isn't included. The SUORA FX doesn't also feature an onboard memory so you really have to use the SWARM to fully utilize it.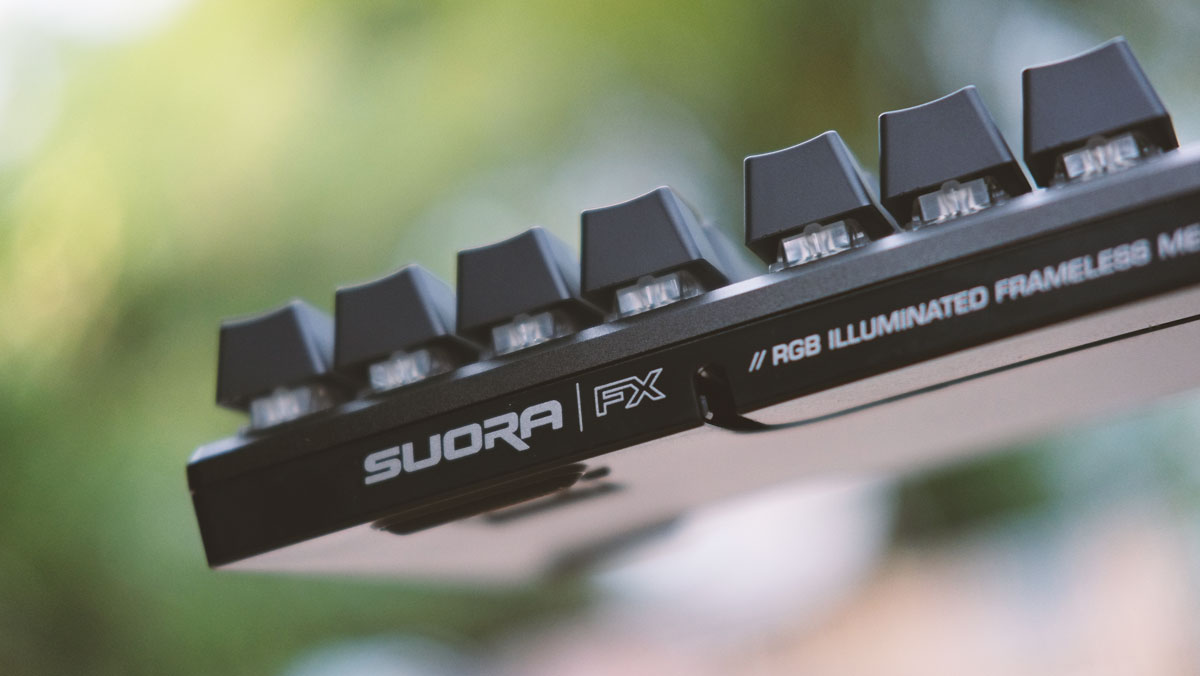 Overall, there isn't much to hate about the SUORA FX, with the pros outweighing its downsides by a ton. At 139 USD, this is one solid proposal from ROCCAT. A true gaming keyboard with an elegant facade that should look mighty fine on whatever desk you got.
TTC BLUE SWITCHES ARE NOT BAD!
WIDE RANGE OF RGB LIGHTING CUSTOMIZATION
BEST IN CLASS ROCCAT SWARM SOFTWARE  
ALUMINUM TOP PANEL IS A HUGE PLUS
SCREEN ACCURATE RGB LIGHTING COLOR DISPLAY
DEDICATED GAME MODE BUTTON
COMFORTABLE – FEELS REALLY NATURAL

NON DOUBLE SHOT CAPS
NO BUNDLE – EVEN A CAP PULLER
NO ONBOARD MEMORY
ROCCAT SUORA FX RGB
PERFORMANCE -

8/10

BUILD QUALITY -

8/10

AESTHETICS -

9/10

VALUE -

8/10
Summary
At 139 USD, the SUORA FX RGB mechanical gaming keyboard is one solid proposal from ROCCAT. A true gaming keyboard with an elegant facade that should look mighty fine on whatever desk you got.