ViewSonic Corp., a leading global provider of visual solutions, is introducing its latest wireless presentation display (WPD) solution, which comprises of the 4K slim bezel commercial display CDE20 series.
To enhance sharing, collaboration, and management, the CDE20 series comes with rich software tools, including myViewBoard Display, ViewBoard Cast, and myViewBoard Manager. The total solution allows all participants to share information easily and swiftly, bolstering collaborative endeavors and enabling administrators to manage devices more efficiently. It pushes the bring your own device (BYOD) user experience to the next level and transforms the digital workspace.
ViewSonic CDE20
The ViewSonic CDE20 series features 4K resolution and a narrow frame design, delivering a sharp, clear, and broad viewing experience without overwhelming modern office interior design. The CDE20 series displays come in three different sizes: 43", 55", 65″, 75″, and 86″. They can be integrated into most AV systems, including Crestron, Extron, and AMX, enabling fast system deployment and easy system management.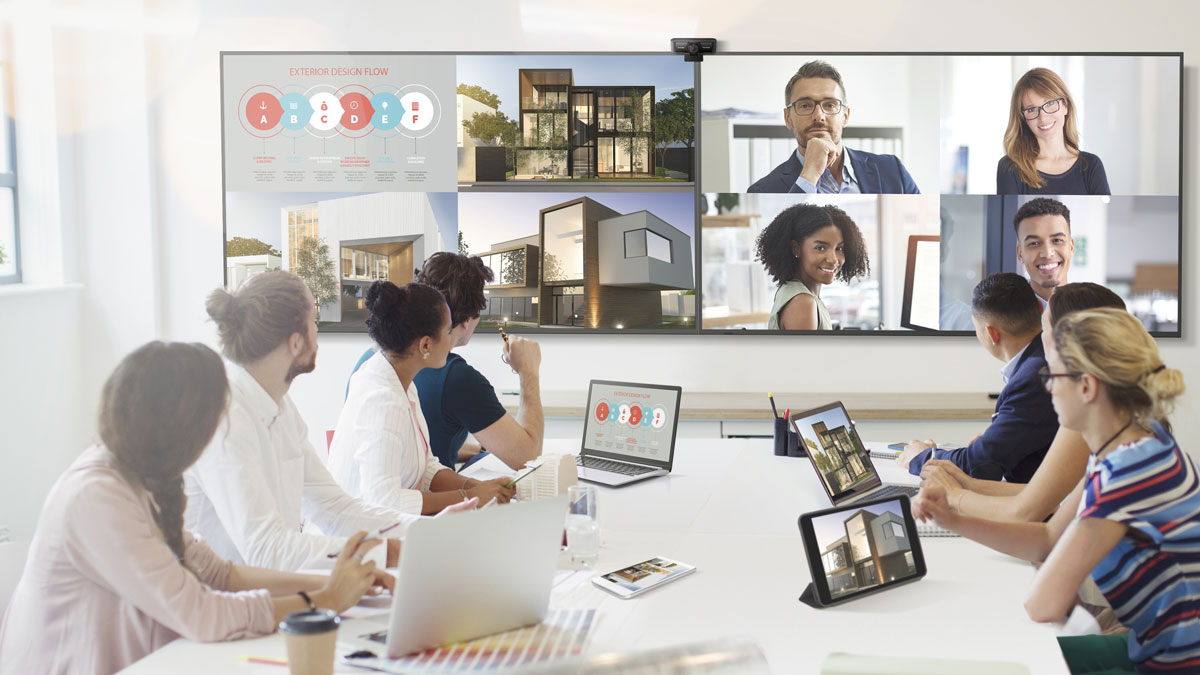 The ViewSonic CDE20 series comes with built-in media player software and can be equipped with an Intel Unite Certified Slot-in OPS (Open Pluggable Specification) PC to transform into a dynamic content hub. It also supports remote configuration and content management systems, while WiFi modules offer smooth wireless content transmission*.
myViewBoard Display
Flexible working and telework have become the new normal. Through myViewBoard Display, even a first-time user can share content from his or her device wirelessly without the need for dongles or downloading any app. By using myViewBoard Display, meeting participants can mirror their desktop to their WPD by just using a browser and synching to the display's ID and one-time password. Sharing thereby becomes easy and efficient in a BYOD environment.
ViewBoard Cast
ViewBoard Cast provides complete sharing and collaboration functions to satisfy different scenarios, e.g., broadcasting to synchronize content or split-screen to consolidate results. ViewBoard Cast makes presentations, meetings, and workshops more interactive and collaborative to unleash the power of BYOD.
For instance, in a big meeting room with a central display for the presenter and large displays for different groups, the presenter can synchronize the screen of the central display to the other displays, making sure everyone can see the same content clearly. During group discussions, members can share content from their own devices, such as laptops and smartphones, with the larger display. Moreover, the screens of multiple devices can be shown on the partitioned WPD simultaneously.
myViewBoard Manager
myViewBoard Manager is a powerful tool that allows for efficient remote management of multiple displays in the same or in different offices. With Manager, IT administrators can power on/off, restart, and adjust the volume of their ViewSonic devices, including the new CDE20 WPD. Administrators now have the ability to control devices remotely and even display content and emergency broadcasts, all from a single dashboard. An added value to the WPD solution is that these can be grouped and remotely updated, making it even easier to install software on several groups of devices simultaneously.
For example, by using the message broadcast and remote video functions, administrators can broadcast messages and play multimedia files on multiple WPDs. When something urgent happens, an emergency notice can be immediately displayed.
PRESS RELEASE