The GTX 900 Series has been out for quite a while, and reviews along with the testament from various end-users proved that these new line of GFX cards from Nvidia are astonishingly good, especially the GTX 970s. Since we're fond of "astonishing" products, we decided to buy one, and check out if the claims were true.
Scouring the local interwebs for a good GTX 970 deal isn't an easy feat, as you could find these cards locally retailing above their designated international price point. Luckily, we snagged a deal at a local online retailer, and with a voucher, we got ours at an all time low price of 14, 800 Pesos. Still above the desired price point (299 USD @ AMAZON) but for a local purchase with free delivery, it's already a steal. The card we got here is the ZOTAC GeForce GTX 970 featuring a non reference cooler, with slightly higher clocks and most probably, a reference PCB design. Now what sets this card apart from every GTX 970s out there with similar price point, is the inclusion of a metal shroud, a damn good matte black PBC that we all love, and a 2+3 year warranty period. Can't wait to check this babe's performance so let us take it for a spin right away!
FEATURES & SPECIFICATIONS: CLICK HERE
Bearing a Maxwell GPU, the GTX 970 features Nvidia's latest breakthrough when it comes to power efficiency. In addition, all GTX 900 Series cards came equipped with the latest Nvidia proprietary features, including Multi-Frame sampled Anti-Aliasing (MFAA), Dynamic Super Resolution (DSR), and Voxel Global Illumination (VXGI). The GTX 970 sits between the GTX 780 and GTX 780 Ti when it comes to performance, which is enough to sate any gamer's appetite considering that it has a great power efficiency to performance ratio. To learn more, visit this micro-site for the Nvidia Maxwell GPUs: LINK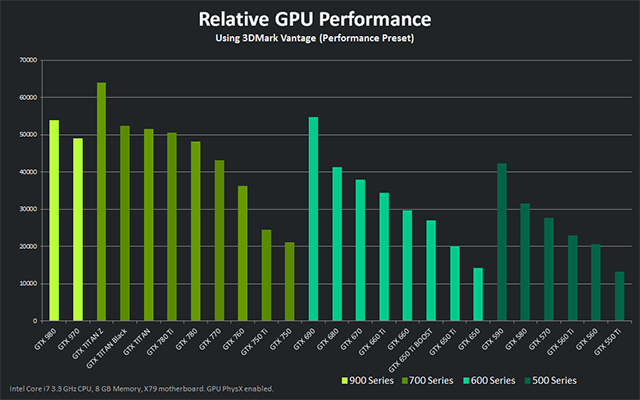 Specifications were slightly higher compared to the stock / reference GTX 970 so I am expecting an almost GTX 780 Ti performance from this card. Reference wise.
| | |
| --- | --- |
| Model | ZT-90101-10P |
| Interface | PCI Express 3.0 x16 (Compatible with 1.1) |
| ChipsetChipset Manufacturer | NVIDIA |
| GPU | GeForce GTX 970 |
| Core clock | 1076 MHz (base) 1216 MHz (boost) |
| Cores | 1,664 |
| Shader Clock | N/A |
| MemoryMemory Clock | 7010 MHz |
| Memory Size | 4GB |
| Memory Interface | 256-bit |
| Memory Type | GDDR5 |
| 3DDirectX | DirectX 12 |
| OpenGL | OpenGL 4.4 |
| PortsDVI | 2 (2560×1600) |
| HDMI | 1 (4K @ 60 Hz) |
| DisplayPort | 1 (4K @ 60 Hz) |
| VGA | (with included adapter) |
| GeneralTuner | N/A |
| RAMDAC | 400 MHz |
| Max Resolution | 4K |
| RoHS Compliant | Yes |
| SLI Supported | 3-way |
| Cooler | Dual-fan |
| Dual-Link DVI Supported | Yes |
| Supported OS | Certified for Windows 8 / 7 / Vista |
UNBOXING & BUNDLED ACCESSORIES:
The ZOTAC GeForce GTX 970 came in a huge box, which is a surprise. There is a thick internal packaging with molded foam for protection, and that said, nothing will wobble inside. It's not that impressive, but coming to think that it is one of the least expensive GTX 970s out there, it is a feat.
The back shows the card's features and specifications, along with ZOTAC's FireStorm overclocking application that you could use to well, overclock the card, and check out its status.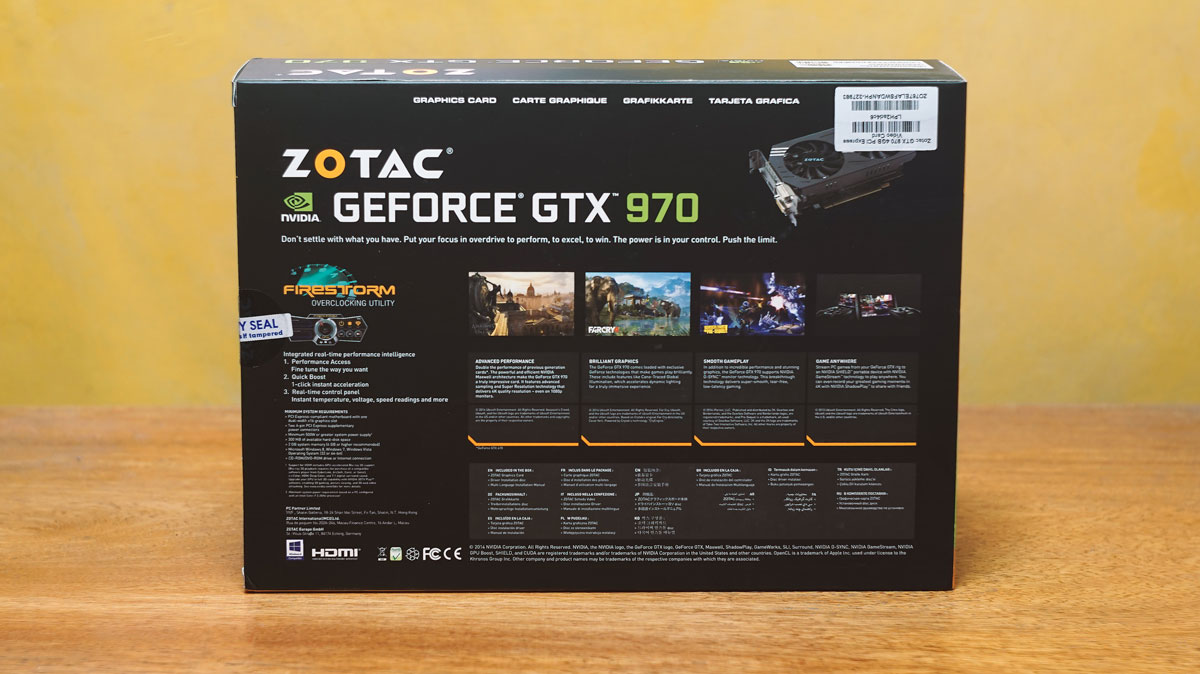 Again for the price, ZOTAC continues to surprise us with an abundant amount of accessories for the card. We;ve got the usual installation guide and manuals here, along with Two 2x Molex to 6-pin power adapter, and a DVI to VGA adapter. ZOTAC sweetened the deal with a custom made medium size mouse pad which is quite nice to use. Nvidia had the promo "Pick Your Path" from Ubisoft by the way, and if you happen to buy the card with it, you'll be a happy chap.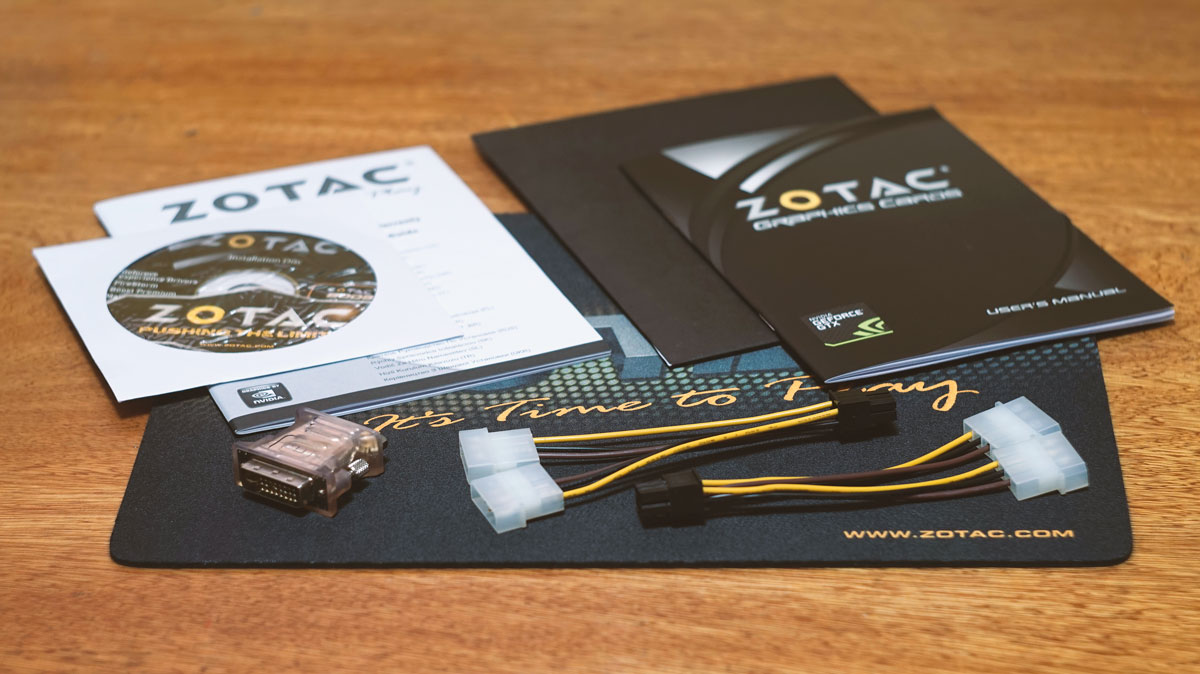 THE ZOTAC GEFORCE GTX 970 IN FLESH:
Out of the box, the ZOTAC GeForce GTX 970 seems to be a card that boasts quality build overall. Well it should be, since its shroud is made out of metal. Styling is pretty okay to me, as it's not too flashy even in comparison to the blower type GTX 670 of the yesteryear.  Seriously, this card will most likely complement your build with its neutral color scheme.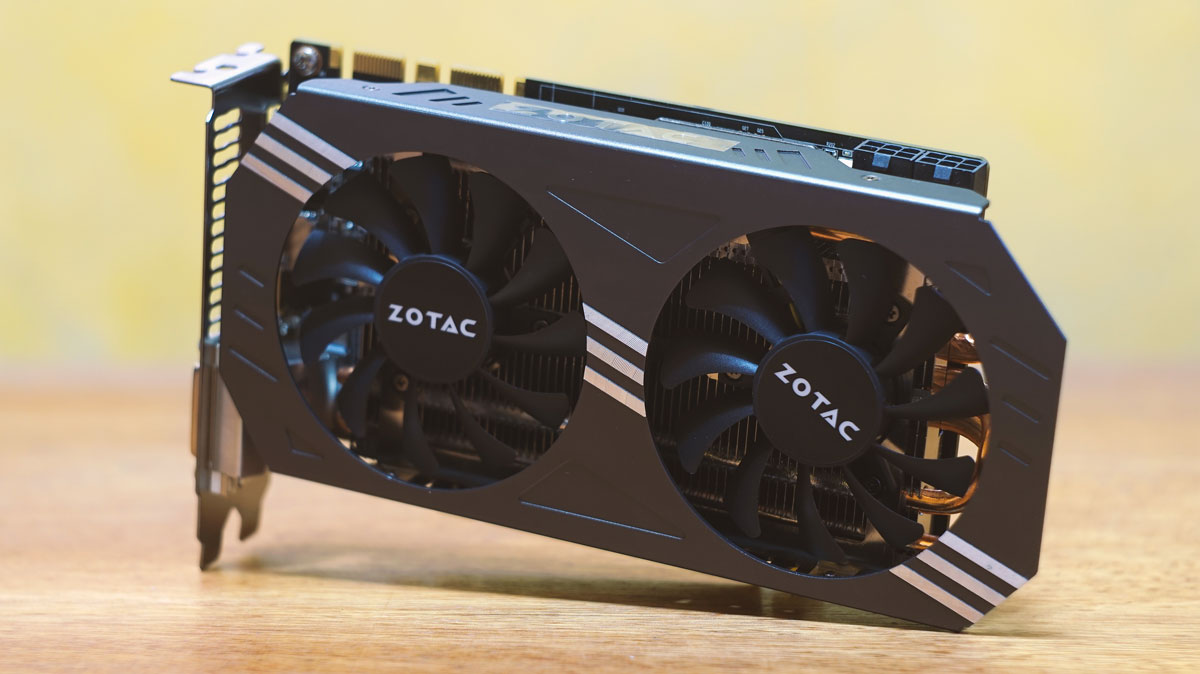 The card is cooled by a dual 80mm fan configuration, each utilizing a 10 blade design which should be enough to blow a good amount of air to the dense heat fins.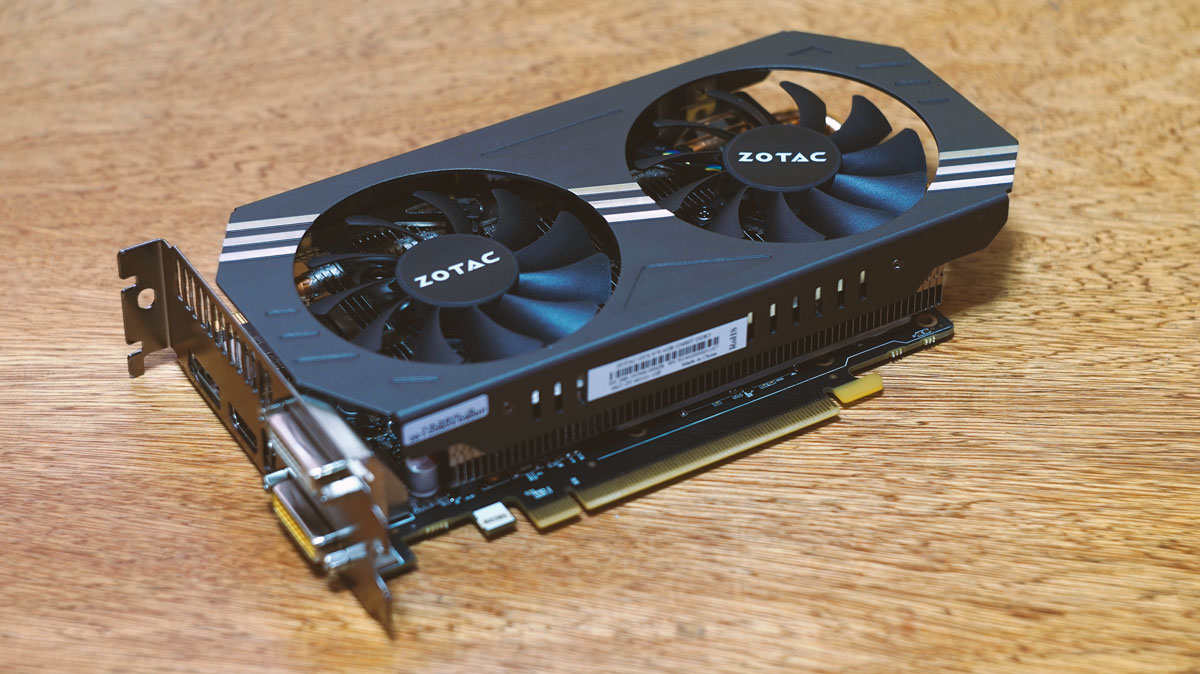 The card's PCB  is actually petite, at around 7.9 Inches. Its surface is coated in matte Black, which is a personal favorite. The back of the card is void of any extra memory modules, so cooling the VRAMs wont be an issue without a backplate. As you can see below, the 3 heat pipes curves its way from the GPU core to the heatsink nicely.
The card is powered by a dual 6-pin power connector, which is rated to pump in 75W each. In theory, the card could consume a maximum of 225W of power. Please do note that the 2x 6-pin power connectors doesn't feature a gap between them, so if you have a dual 8-pin cable (not 6+2), then you're out of luck.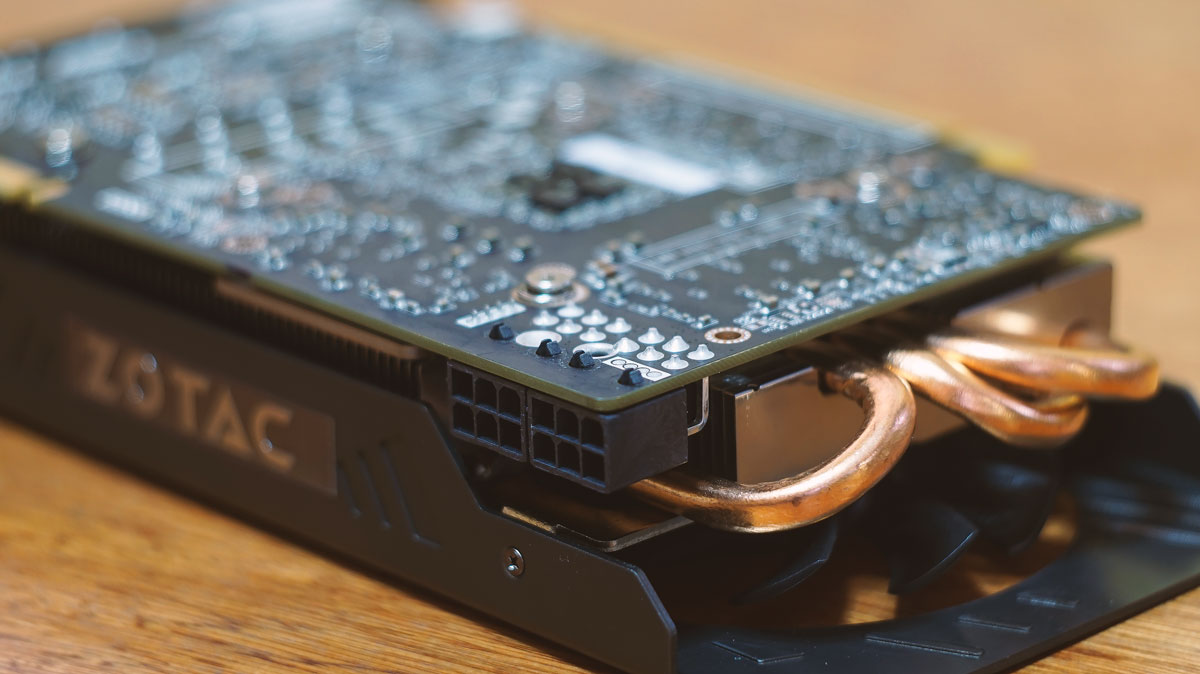 This card is 3-way SLI capable, but it's an overkill so 2-way SLI config should be your maximum for gaming.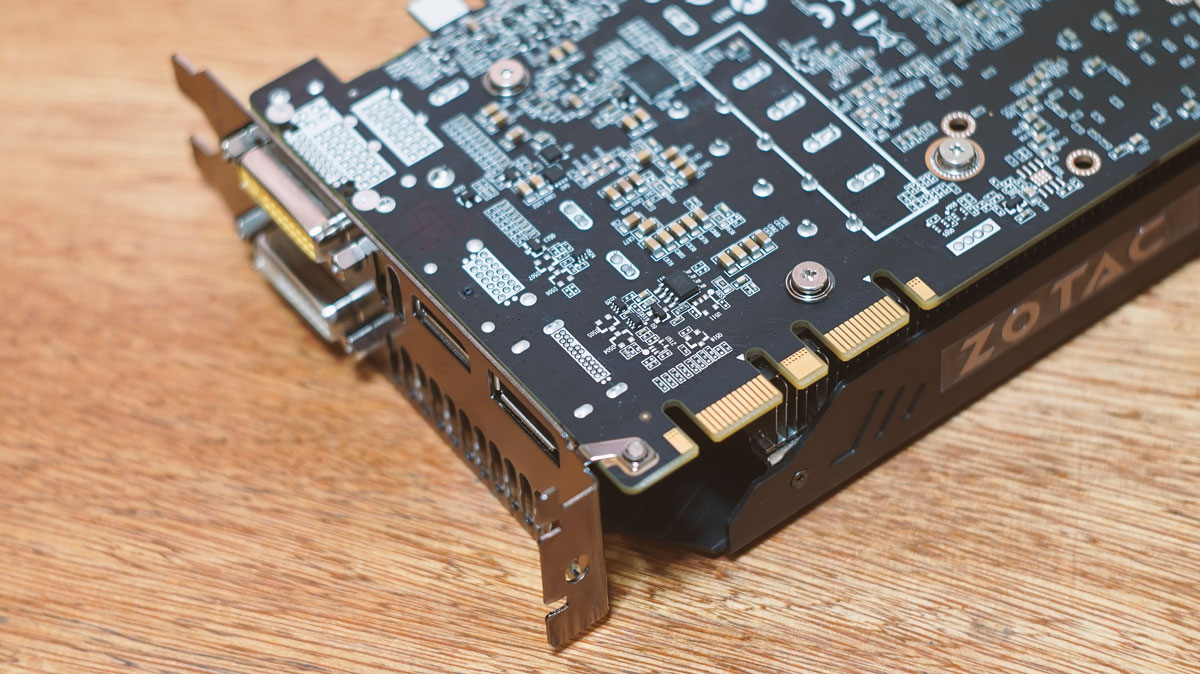 Display output is a courtesy of dual DVI ports, a full size display port, and a single HDMI port. Both DVIs supports 2560×1440 resolution, while the HDMI & Display Port supports a maximum of 4K resolution at 60Hz.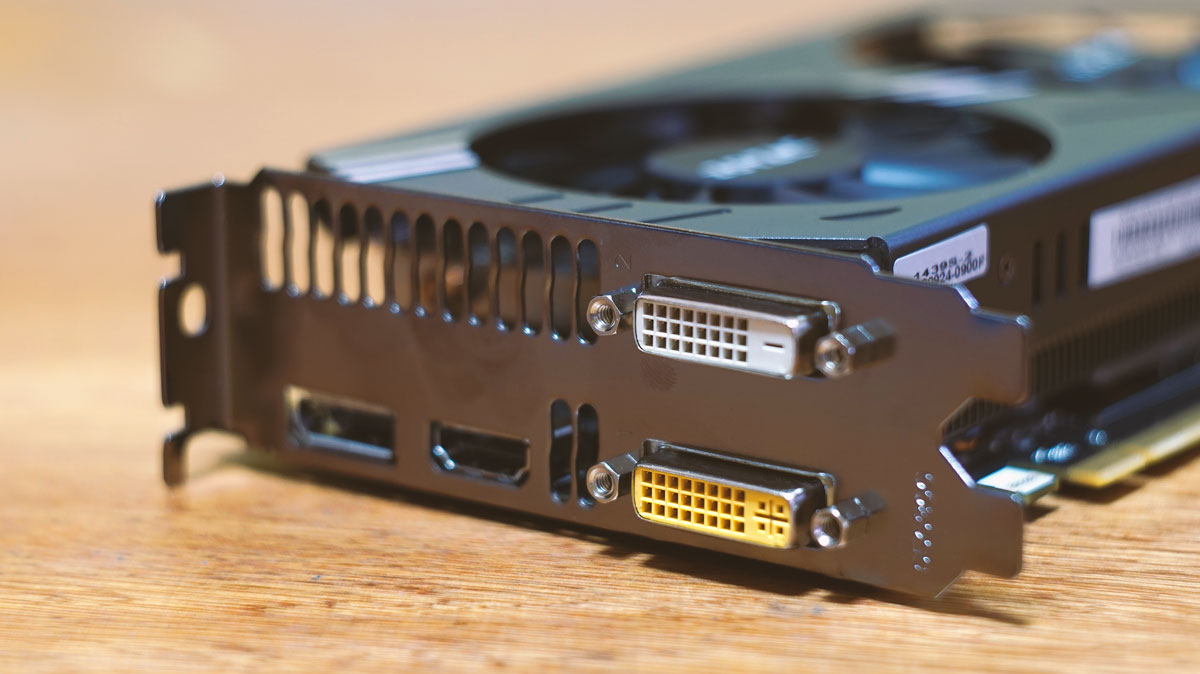 TEST SYSTEM & SPECIFICATIONS:
Graphics cards are no strangers in our labs, but providing a precise result usually needs a lot of time and effort on our end. Helping us to do those things is an updated copy of Windows 7 Ultimate x64 SP1 and wide selection of the popular games that most probably, will sate your appetite. The BIOS/UEFI, Chipset, and Video Card drivers of the test system will be updated too, as much as possible.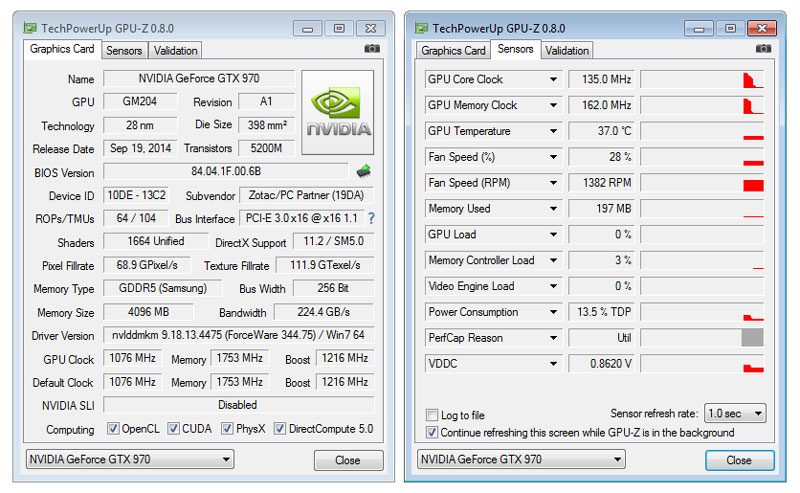 No other softwares should be running while the benchmarks are on going, unless it is needed, or stated. As for the gaming benchmarks alone, tests should include 720P (1280 x 720), 1080p (1920 x 1080), and 1440p (2560 × 1440) resolution results if permitted by the games, and benchmarking tools, or if necessary. Games without benchmarking tools of their own will have the FPS recorded with FRAPS. Below are the test system's specifications:
| | |
| --- | --- |
| CPU | Intel Core i5 4670K |
| MOTHERBOARD | ASUS Z97-PRO WiFi AC |
| CPU COOLER | Cooler Master Seidon 120XL |
| MEMORY | ADATA XPG V2 @2400MHz 16GB |
| GRAPHICS CARD | ZOTAC GeForce GTX 970 |
| INT. STORAGE | Kingston SSDNow V+200 128GB |
| PSU | Cooler Master Silent Pro Hybrid 1300W |
| DISPLAY | 23″ DELL S2340L IPS |
| OS | Microsoft Windows 7 Ultimate x64 SP1 (Updated) |
| SOUND CARD | Realtek ALC1150 |
| EXT. STORAGE | 2TB Western Digital My Passport |
WHAT IS FPS ANYWAY?
For refreshment purposes, let us talk for a moment about FPS or Frames Per Second. Also known as Frame Rate, FPS is the general unit of which we measure a graphics card's capabilities. Generally, the higher value, the smoother the gameplay should be, since higher FPS means higher frames are rendered each second. Higher FPS doesn't just improve your gaming experience, as it also helps you to react faster especially in First Person Shooter & Racing Games. Please do note that Resolution and in-game settings has a huge effect too in any system's frame rate.
PERFORMANCE (SYNTHETIC/GPU COMPUTE):
3DMARK (2013) is a multi-platform benchmarking tool from FUTUREMARK, consisting of comprehensive tests that aims to gauge your gaming hardware; be it a smartphone, a tablet, a laptop, or a desktop PC.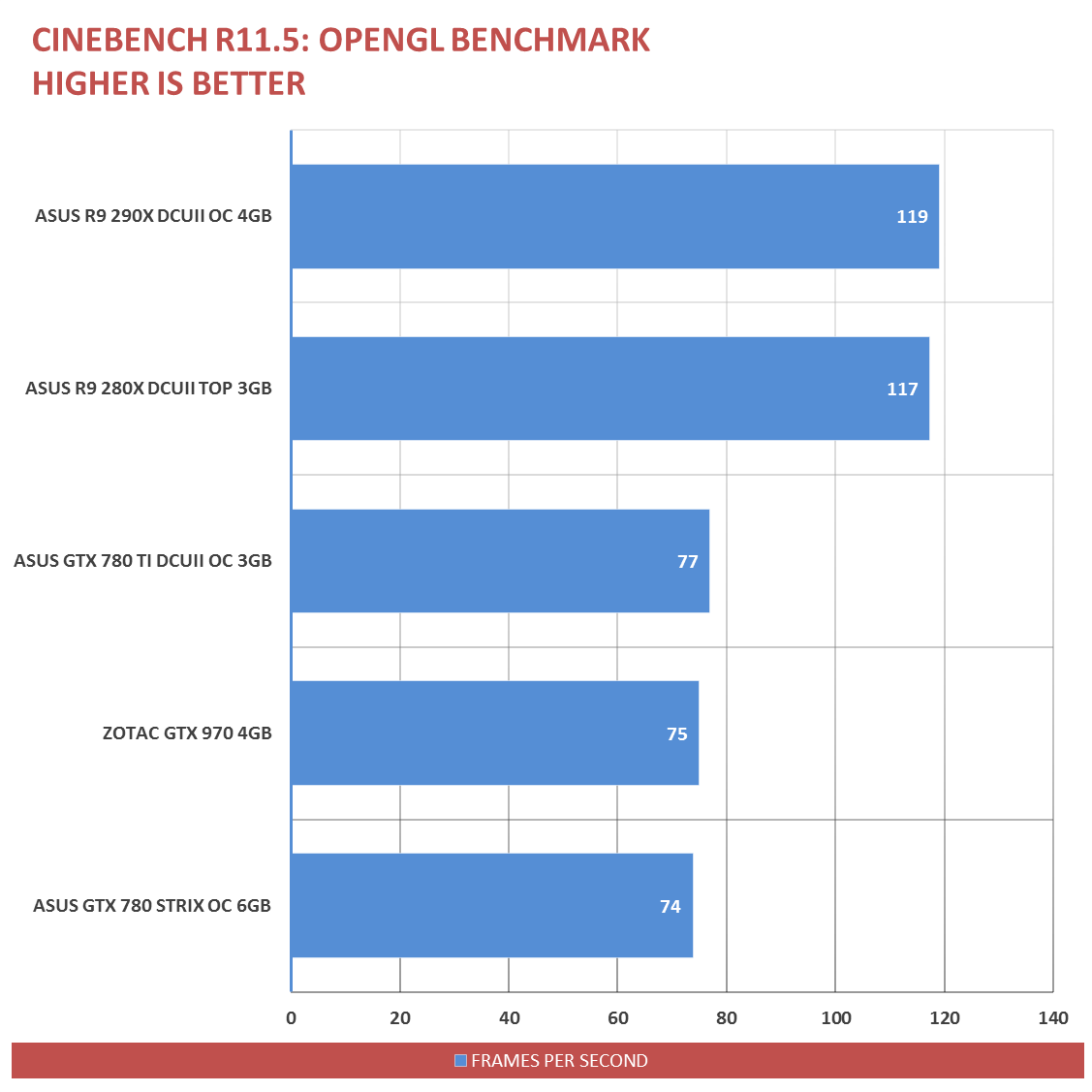 CINEBENCH R11.5 is a real-world cross-platform test suite that evaluates the computer's performance capabilities. CINEBENCH is based on MAXON's award-winning animation software CINEMA 4D, which is used extensively by studios and production houses worldwide for 3D content creation.
Kishonti's CompuBench is an easy to use, no frills high performance suite of benchmarks. It compares the strengths and weaknesses of different hardware architectures such as CPUs, GPUs and APUs using a series of tests.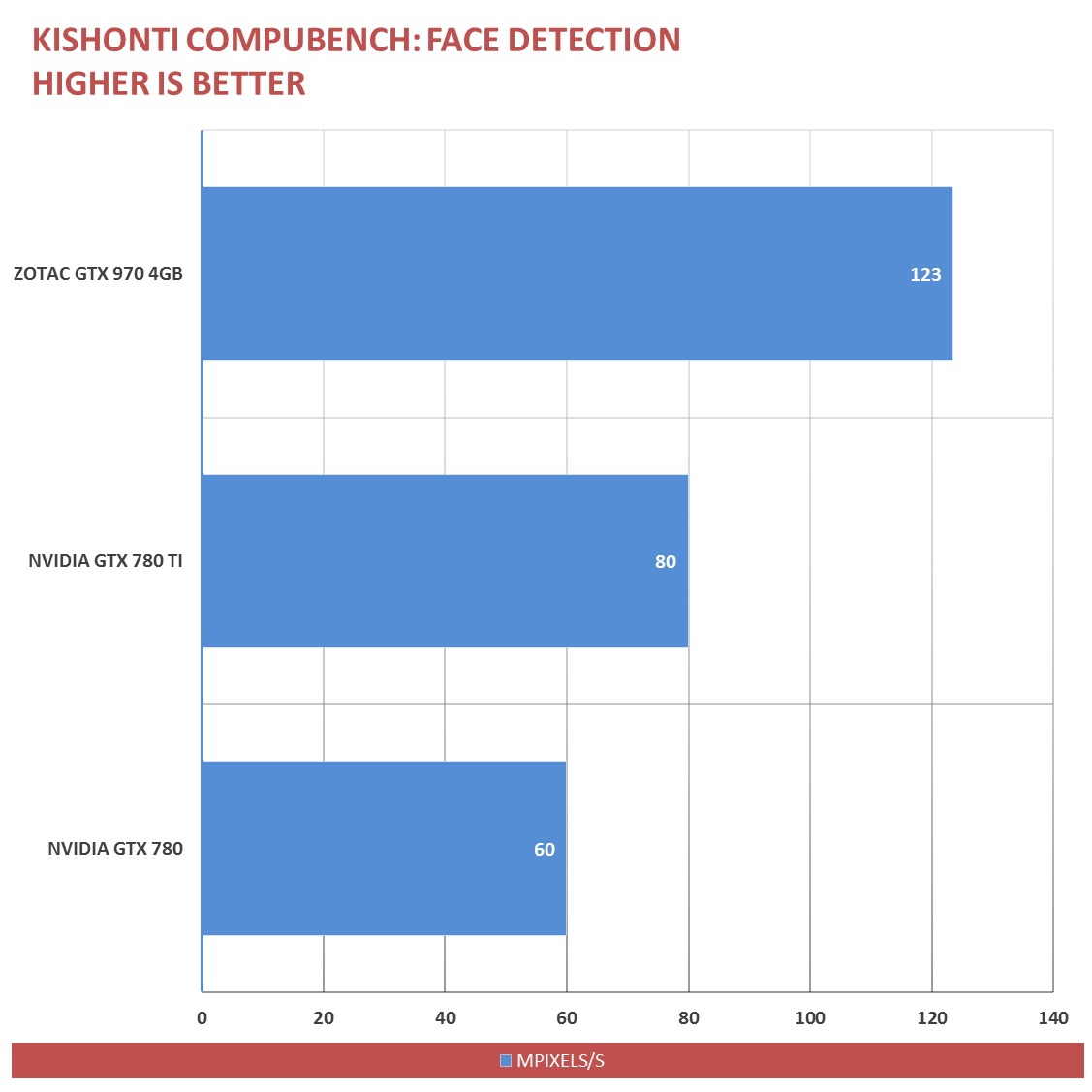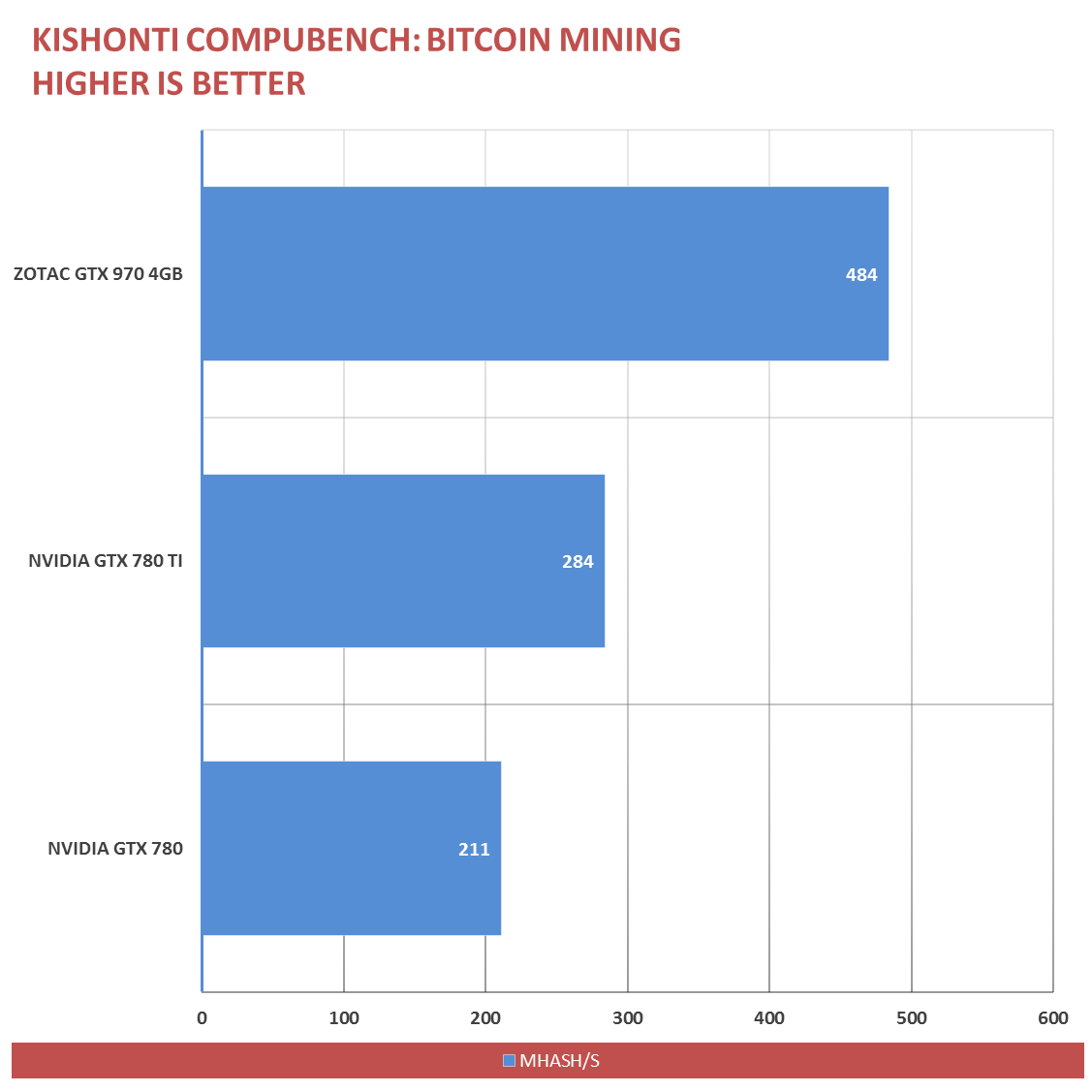 PERFORMANCE (REAL WORLD):
Resident Evil 6, is a survival horror video game developed and published by CAPCOM. It's one of my favorite PC games, mainly because I'm a fan of the series. It also has a built-in benchmarking tool to measure your PC's performance. It's only DirectX 9.0 compatible at the moment, though.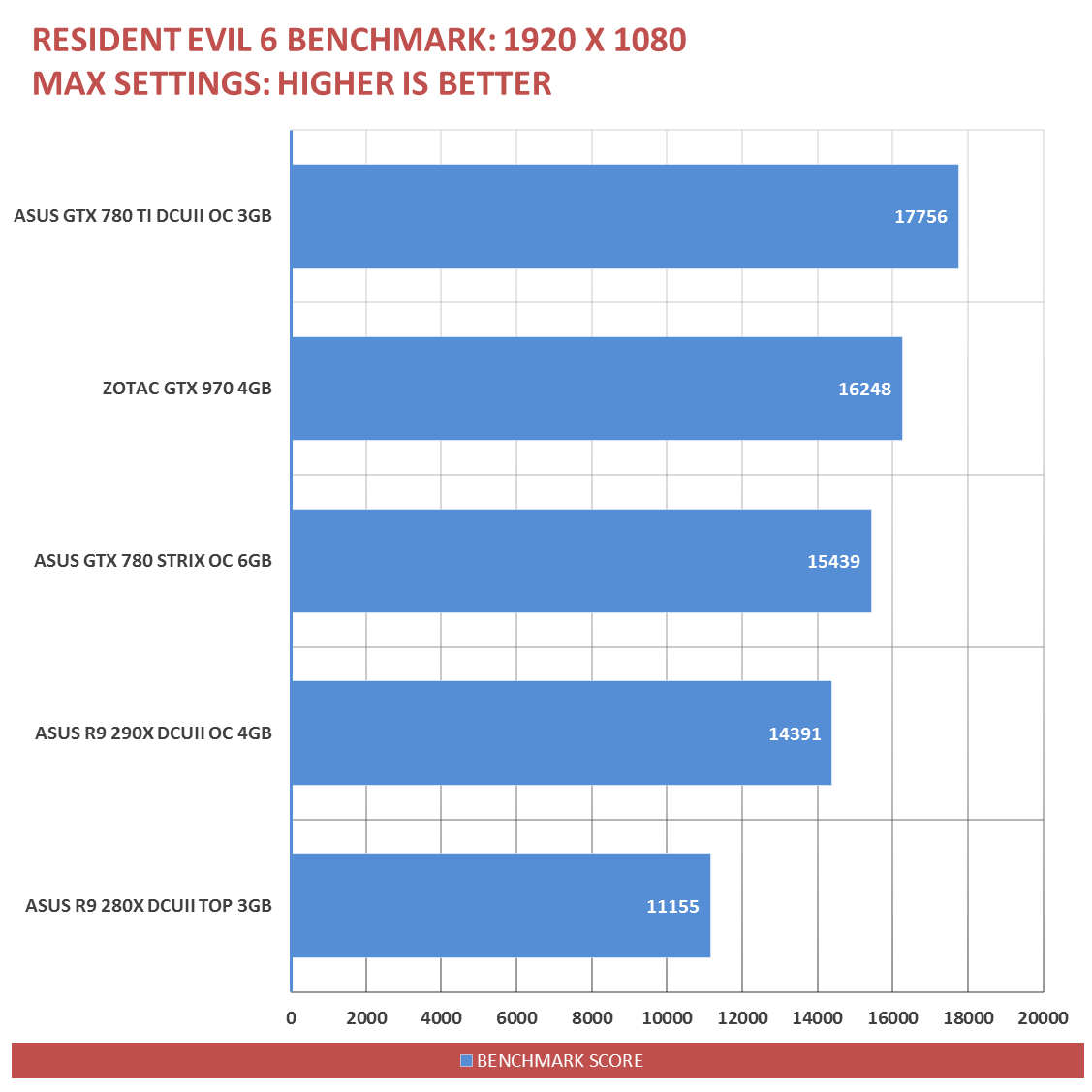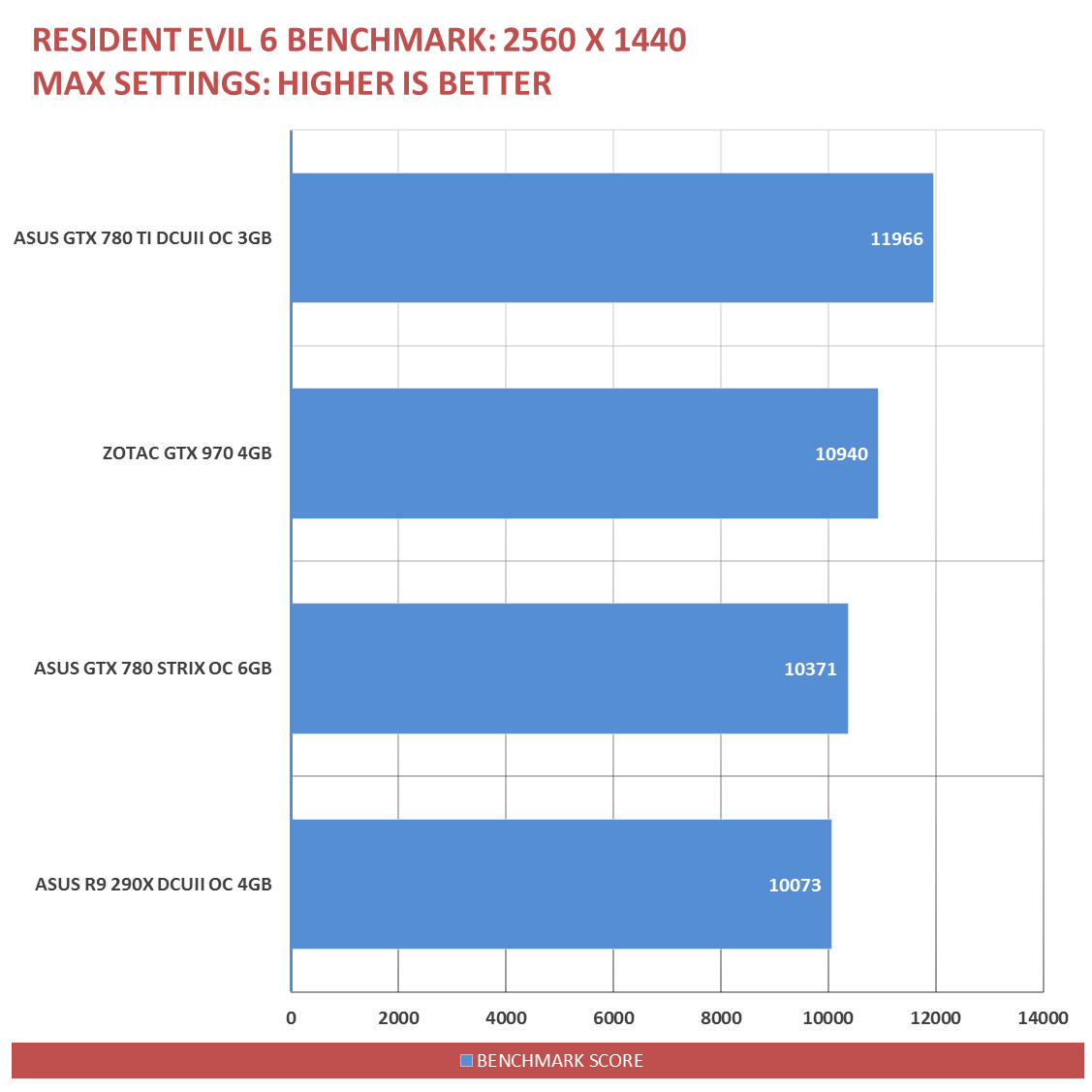 Tomb Raider (2013) is the fifth game, and the reboot of the Tomb Raider series. It is developed by Crystal Dynamics, and published by Square-Enix. We disabled Tress FX for this benchmark.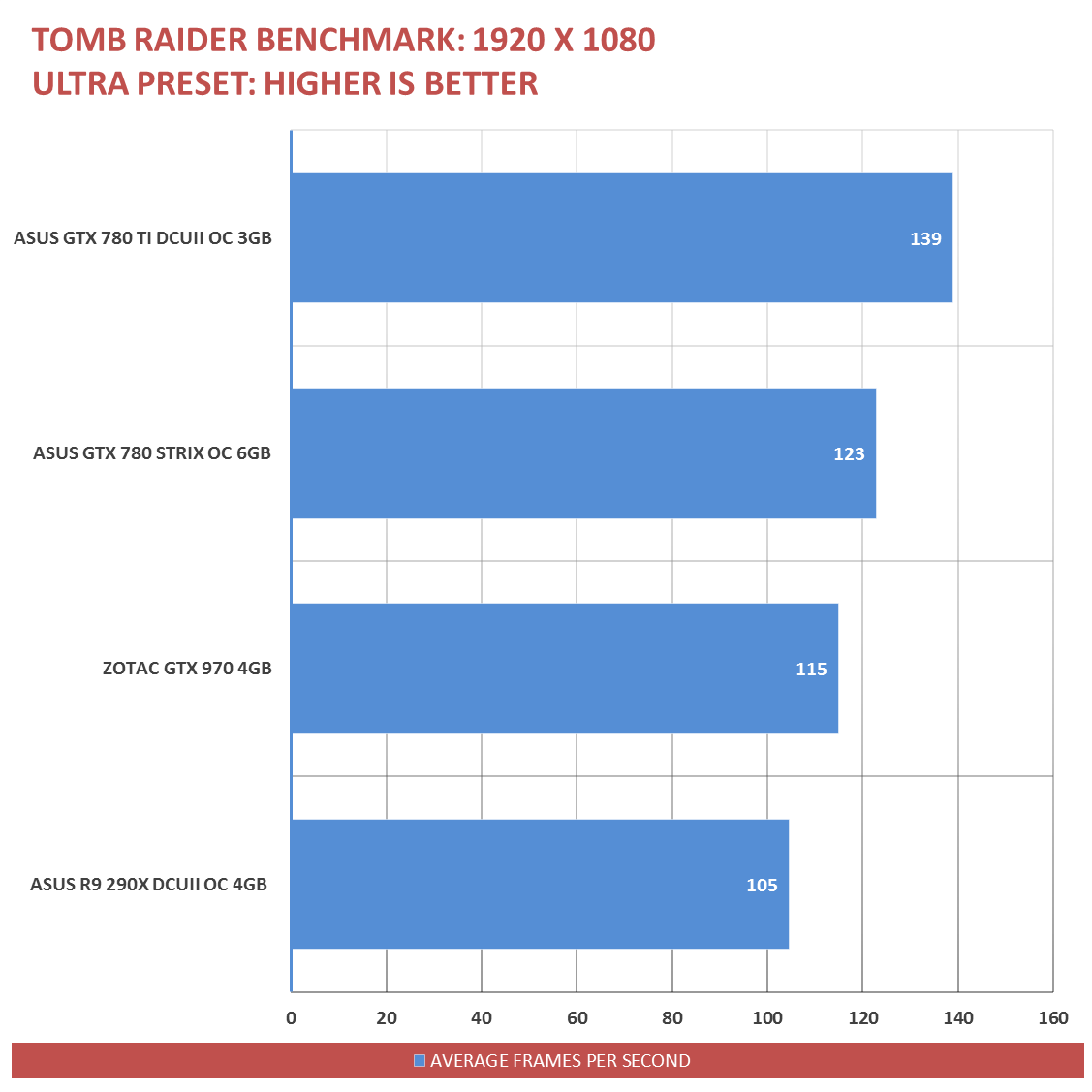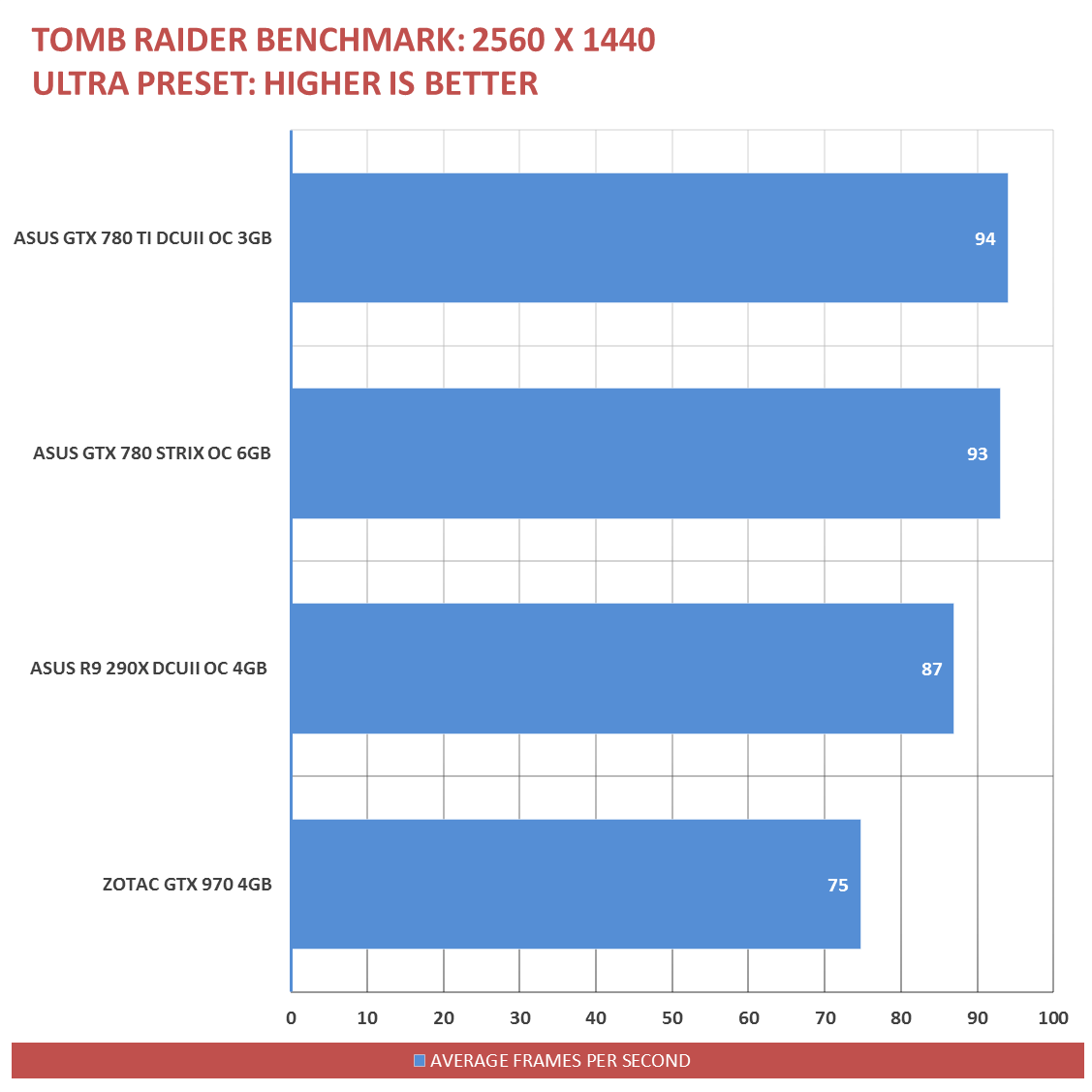 GRiD 2 is a racing video game developed and published by Codemasters and is the sequel to the award winning Race Driver: GRiD. The game was released for Microsoft Windows, PlayStation 3 and Xbox 360 on May 2013.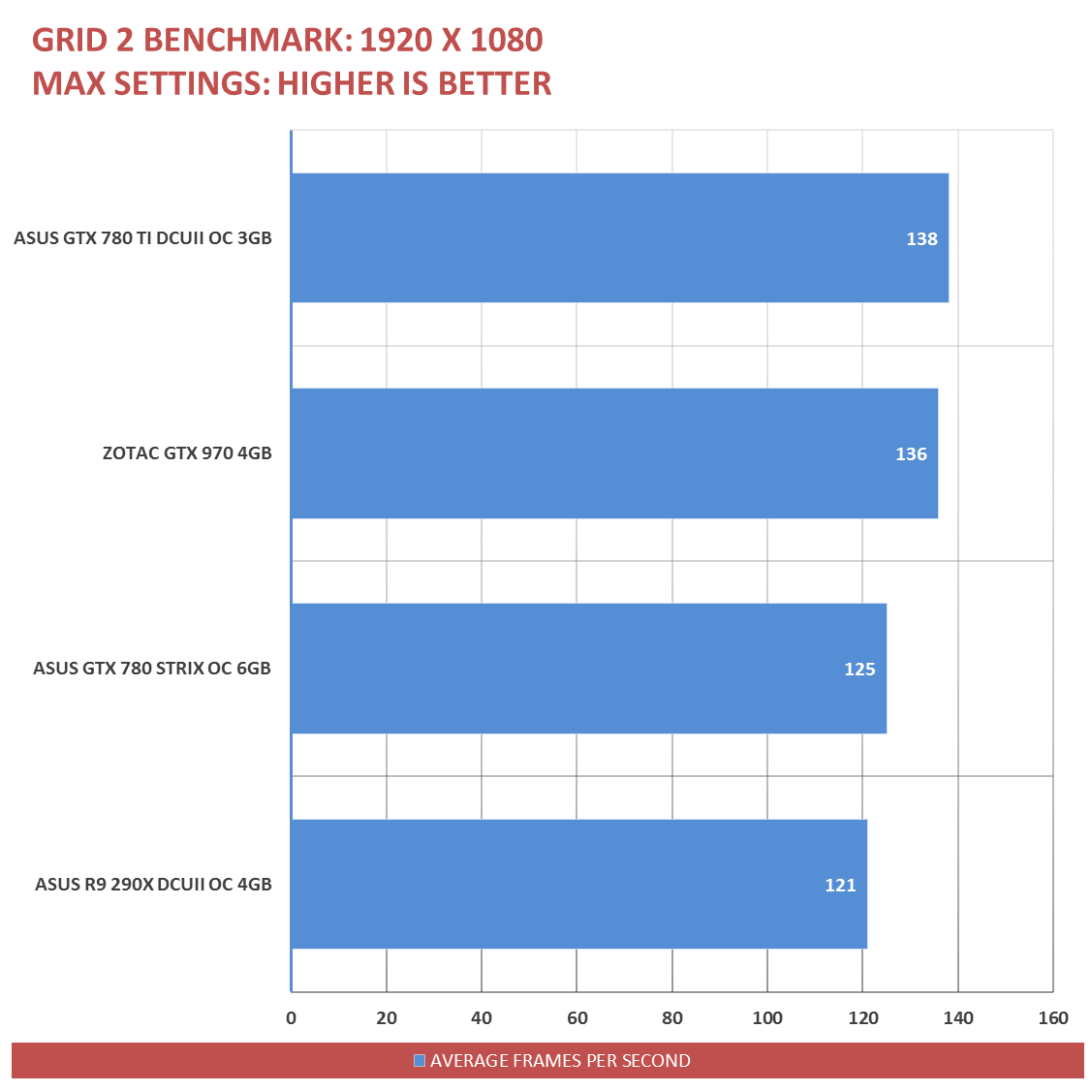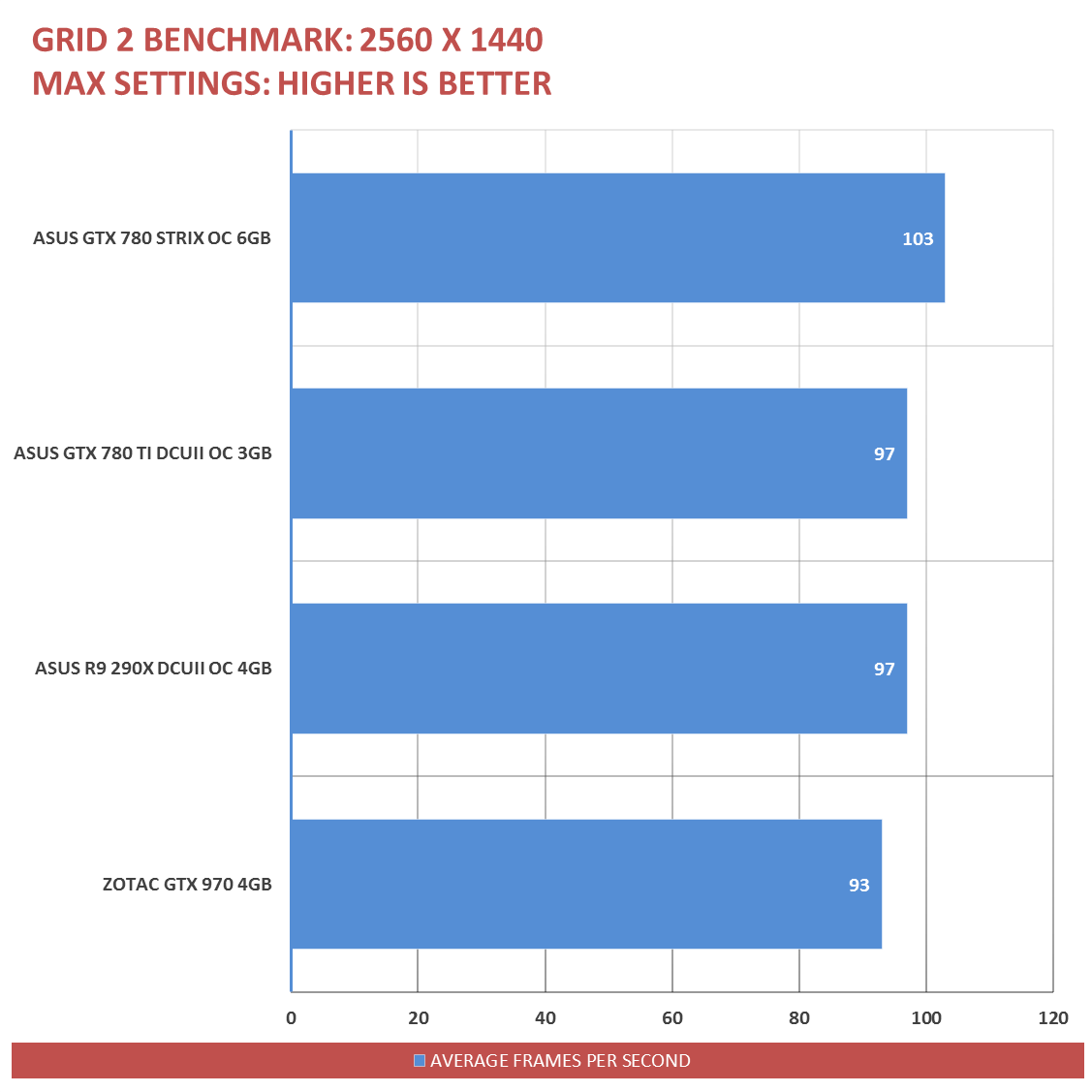 Company of Heroes 2 is a WWII based real-time strategy video game developed by Relic Entertainment and published by Sega for the Microsoft Windows platform. It is the sequel to the critically acclaimed 2006 game Company of Heroes.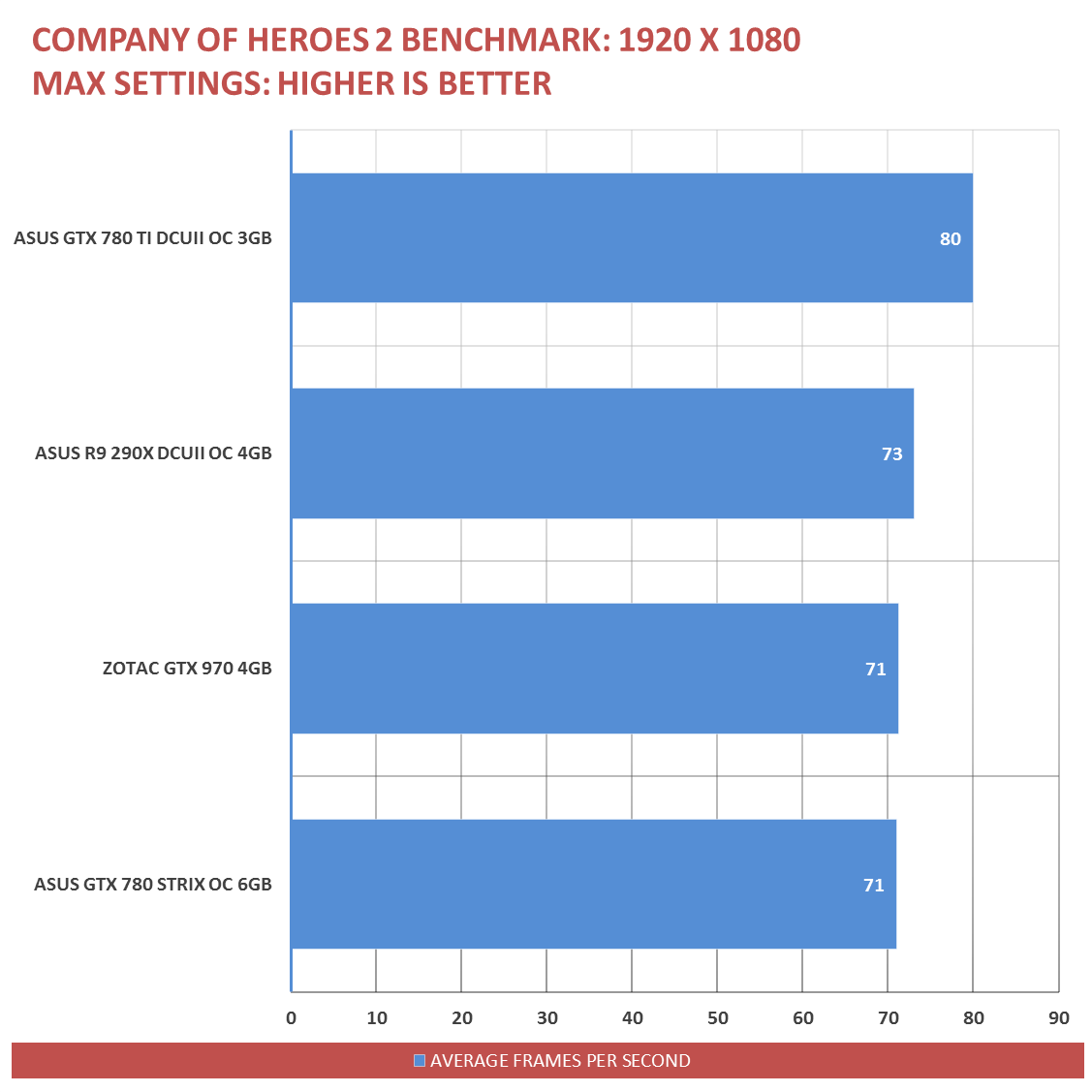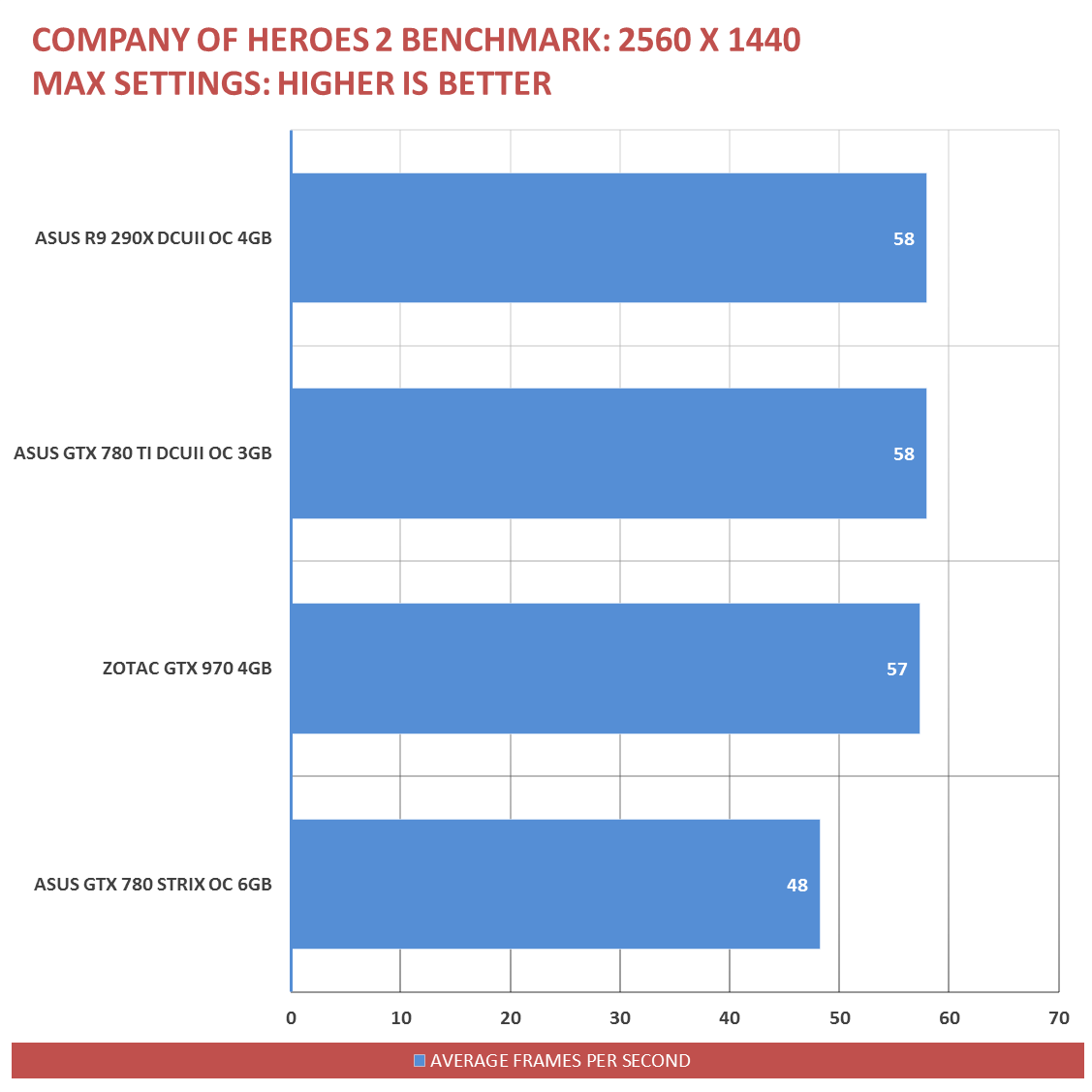 Battlefield 4 is EA and DICE's latest first person shooter utilizing the all new Frostbite 3 game engine featuring better tessellation effects and destruction compared to its predecessor.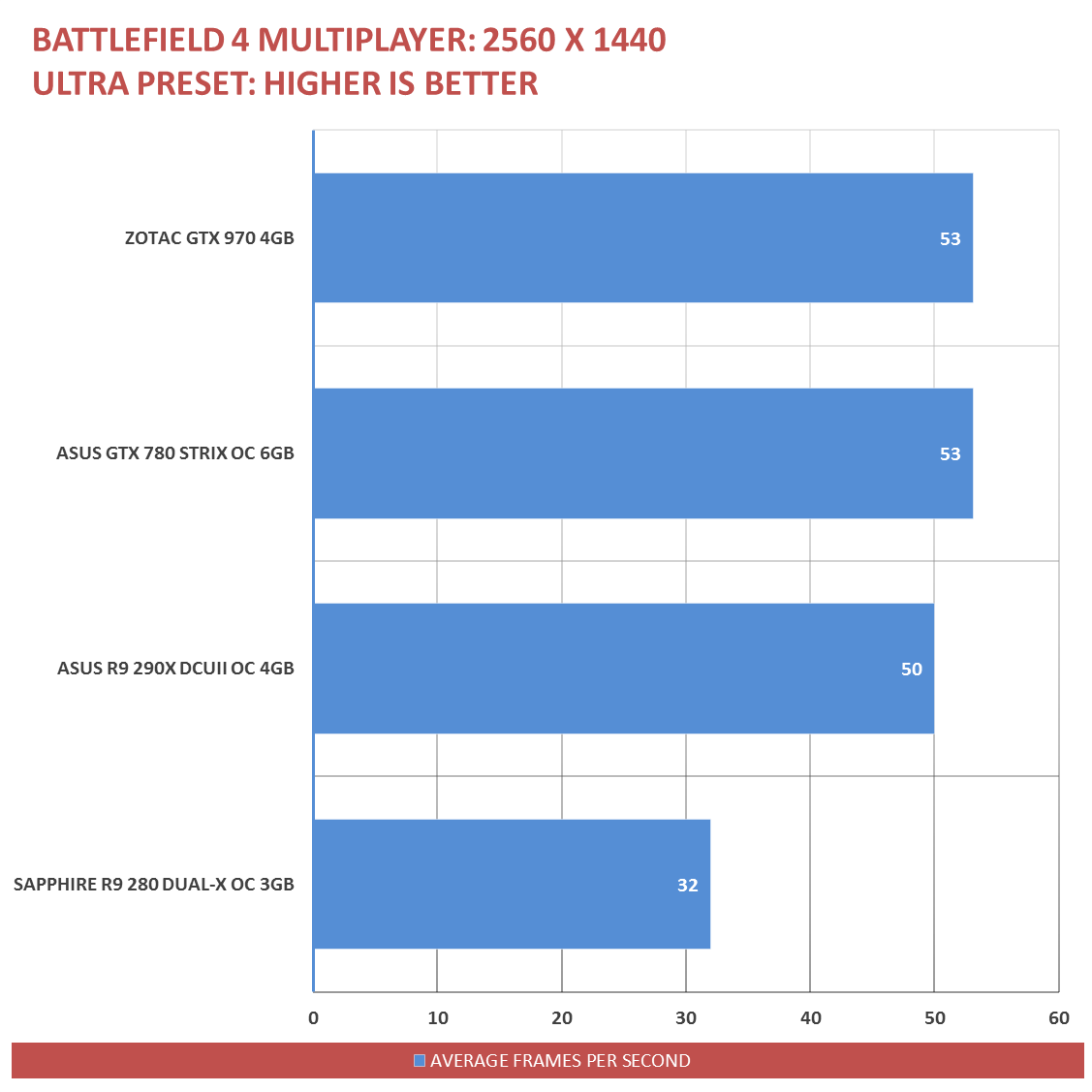 Dota 2 is a Multiplayer Online Battle Arena (MOBA) video game developed by Valve and is the stand-alone sequel to the Warcraft III based Defense of the Ancients (DotA) mod.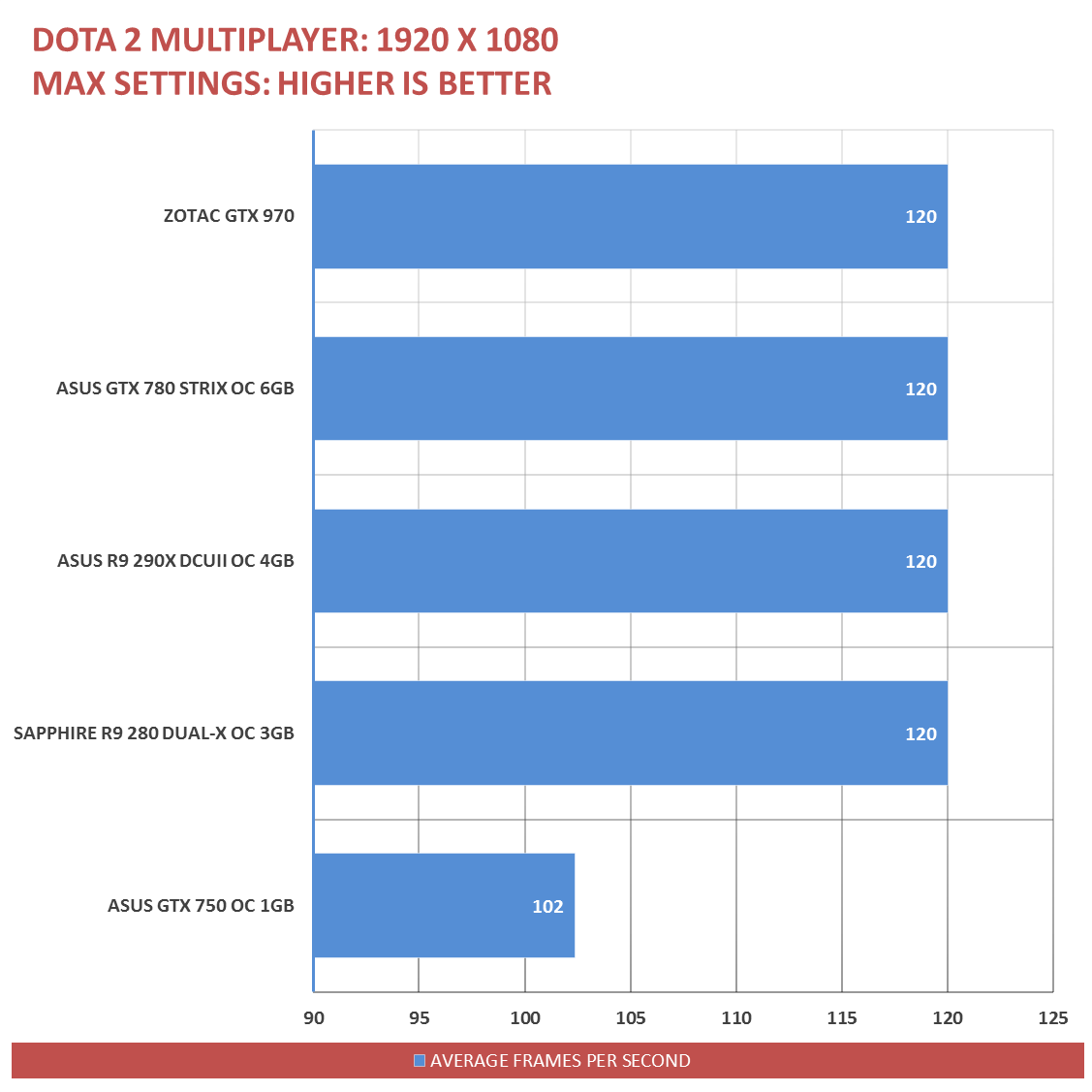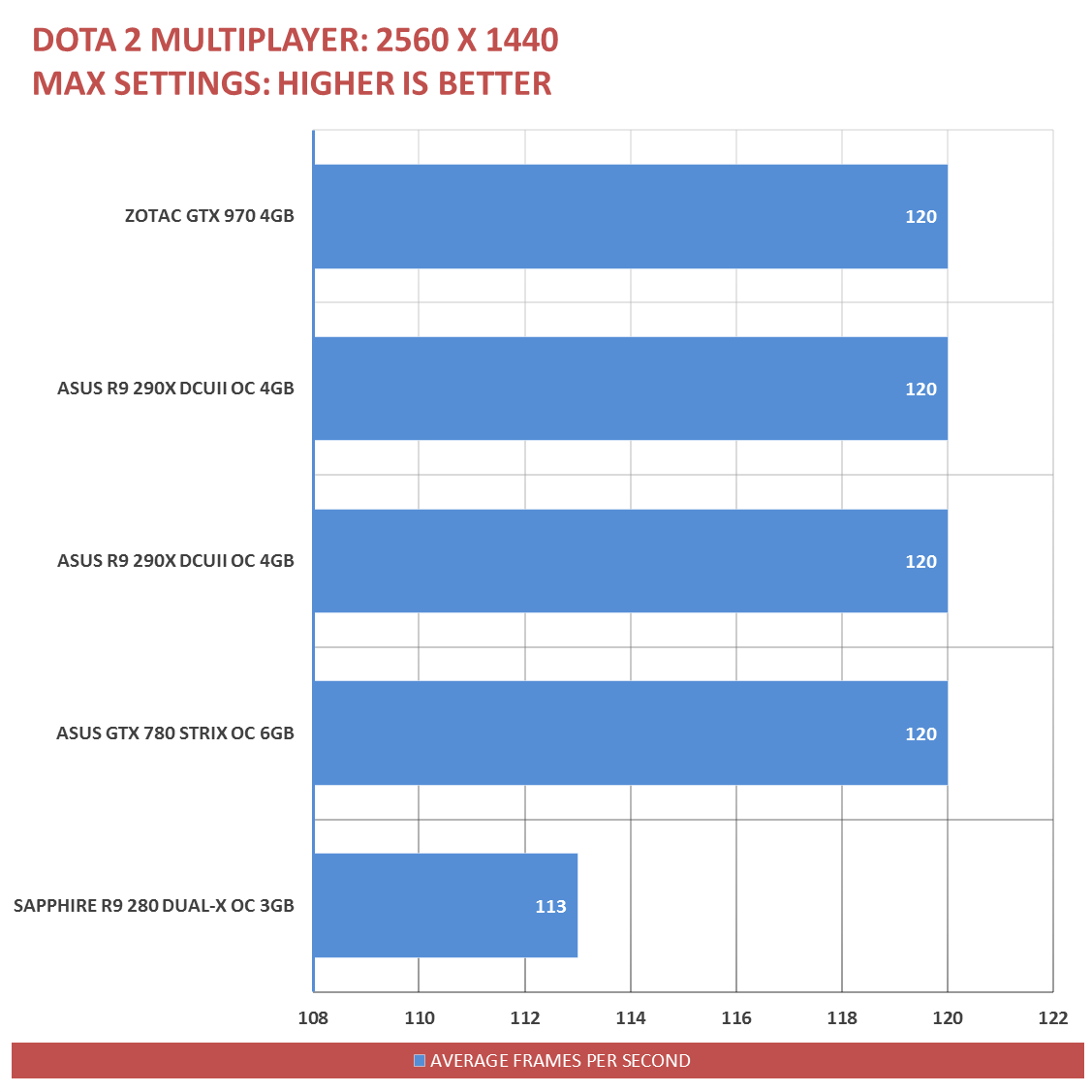 TEMPERATURE & POWER CONSUMPTION:
FurMark is a very intensive OpenGL benchmark that uses fur rendering algorithms to measure the performance of the graphics card. To record the GPU's maximum temperatures, I will run Furmark's Fur Rendering Burn-in Test, and let it run for 30 Minutes. As always, we try to keep the results consistent by keeping the ambient temperature checked at 27ºC.
We also check to see how the GPU impacts power consumption. The system is left to idle for 30 minutes before readings are taken, and load data is taken 30 minutes while FurMark is running. Power readings are taken for the entire system from the socket.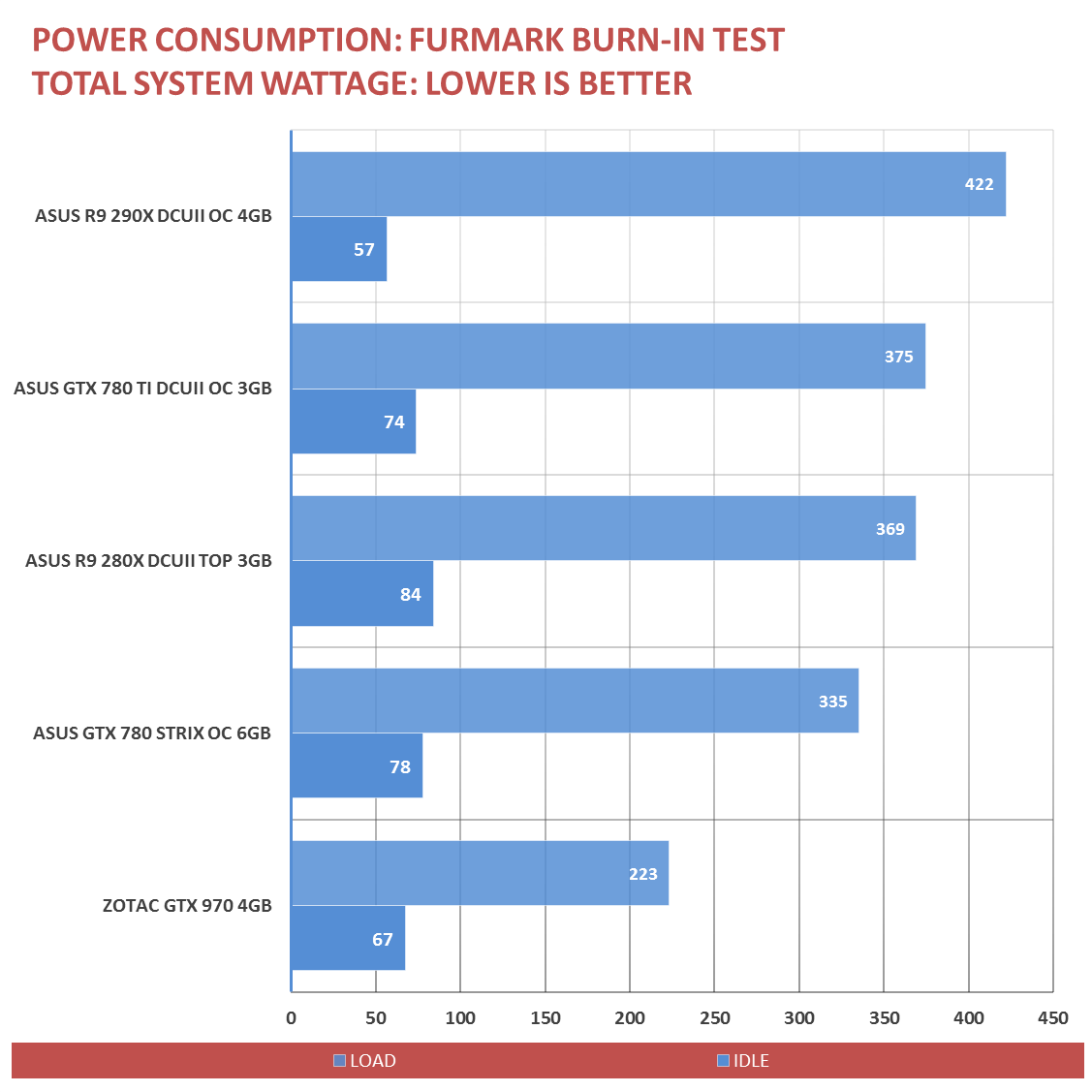 VALUE & CONCLUSION:
First and foremost, I expected the GTX 970 to perform faster than its predecessor, and by predecessor, I mean the GTX 770 and the 780 alone. Now what surprised me with this particular GTX 970 from ZOTAC is that it could actually go head to head when it comes to gaming performance against the pricier yet older factory overclocked GTX 780 Ti we got at some games, and compute benchmarks specifically at Kishonti's CompuBench test suite where it decimated the said card. Now what's really endearing about the ZOTAC GTX 970, is that it does that level of performance for a fraction of its predecessor's power output. At 223W full system load, and 67W idle, you'd think that this card is just your average mid-range GFX card from the yesteryear. The card's temperature also benefited from the efficient Maxwell core. Nothing to dislike so far.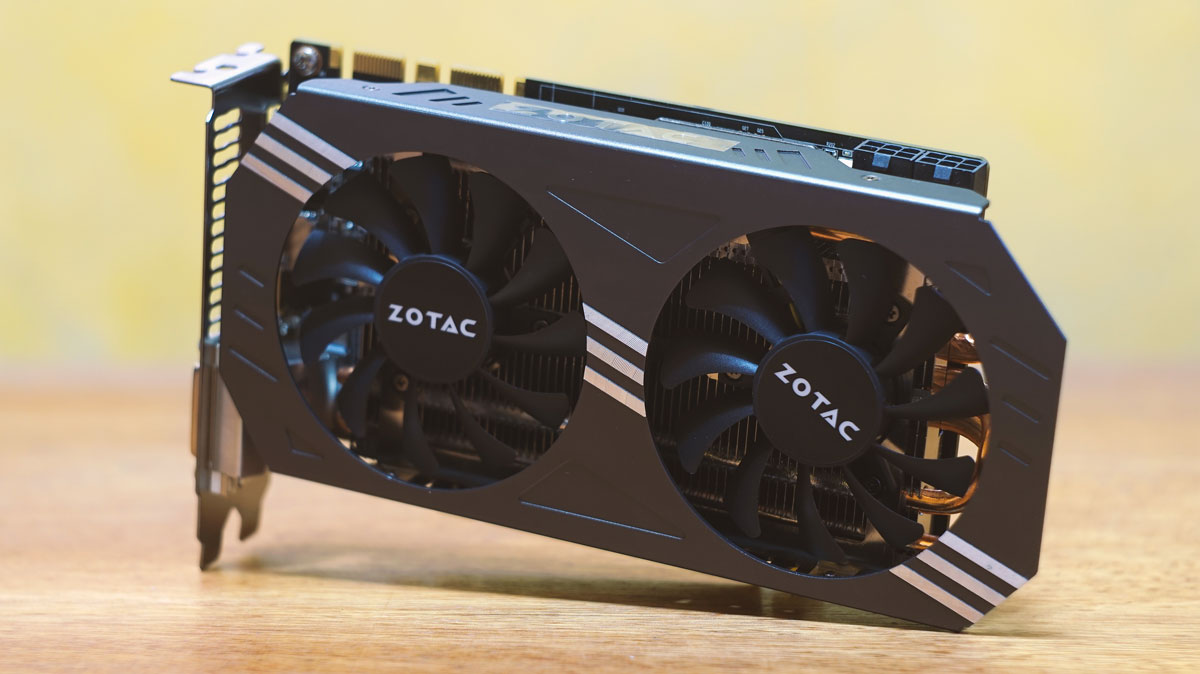 Gaming at 1080P is not a question, and WQHD gaming isn't too, albeit you have to fine tune some games to exceed 60 Frame Per Second. Perhaps what I'd like ZOTAC to improve is the steep fan curve as the card really gets noisy when under load. As if it's trying to catch up to the heat suddenly, without notice. We had this card installed on our Silverstone FT02 w/ sound dampeners so I'm all good. But, for cases without dampeners, you're going to have a hard time concentrating on your game if you're not wearing headphones. I love the ZOTAC GTX 970. It's a fast factory overclocked card that could easily slice most games that we throw at it. Priced locally at around 15, 499 Pesos as of this writing (299 USD), the ZOTAC GeForce GTX 970 is really a tempting card to nab. Couple it up with a maximum of 5 Year Warranty, provided that you have registered it within 28 days upon purchase, the ZOTAC GeForce GTX 970 will surely provide you a lasting gaming grin for a lifetime.
THE VERDICT
PROS:
GREAT OUT OF THE BOX PERFORMANCE
BEATS GTX 780 FOR MOST BENCHMARKS
SUPERB BUILD QUALITY
GREAT BUNDLE OF ACCESSORIES
OUTSTANDING 5* YEAR WARRANTY
OH SO ENERGY EFFICIENT
CONS:
FAN CURVE NEEDS IMPROVEMENT
ZOTAC GeForce GTX 970
PERFORMANCE -

9/10

BUILD QUALITY -

8/10

FEATURES -

8/10

AESTHETICS -

8/10

VALUE -

9/10
Summary
Priced locally at around 15, 499 Pesos as of this writing (299 USD), the ZOTAC GeForce GTX 970 is really a tempting card to nab. Couple it up with a maximum of 5 Year Warranty, provided that you have registered it within 28 days upon purchase, the ZOTAC GeForce GTX 970 will surely provide you a lasting gaming grin for a lifetime.