AMD had just unveiled the Radeon RX 7800 XT and the RX 7700 XT during Gamescom 2023. The new graphics cards are slated for 1440P gaming, which is growing 44% in adoption, year-over-year.
Better than the RTX 4070?
Now, the AMD Radeon RX 7800 XT is slated to go head-to-head with the RTX 4070, featuring a massive 16 GB VRAM over the latter card's 12 GB capacity. It also boast a 256-bit memory interface, as opposed to the green team's 192-bit memory bus. Memory bandwidth is also higher – at 624 GB/s. It is worth noting that despite AMD's higher memory size, bus width and bandwidth, the RTX 4070 has a higher core count and comes with a much faster GDDR6X memory.
| | AMD Radeon RX 7800 XT | NVIDIA GeForce RTX 4070 |
| --- | --- | --- |
| GPU | Navi 32 | AD104 |
| Core Count | 3840 | 5888 |
| Memory Size | 16 GB GDDR6 | 12 GB GDDR6X |
| Memory Interface | 256-bit | 192-bit |
| Memory Bandwidth | 624 GB/s | 504 GB/s |
Still, these translates to a higher performance rating over most recent titles, most notably at Call of Duty: Modern Warfare 2 and Cyberpunk 2077, featuring a lead of 23% at both games. This has been tested at 1440P and at maximum settings. It is also worth to note that Cyberpunk 2077 is an NVIDIA GameWorks title, among many others tested at AMD's internal benchmarks.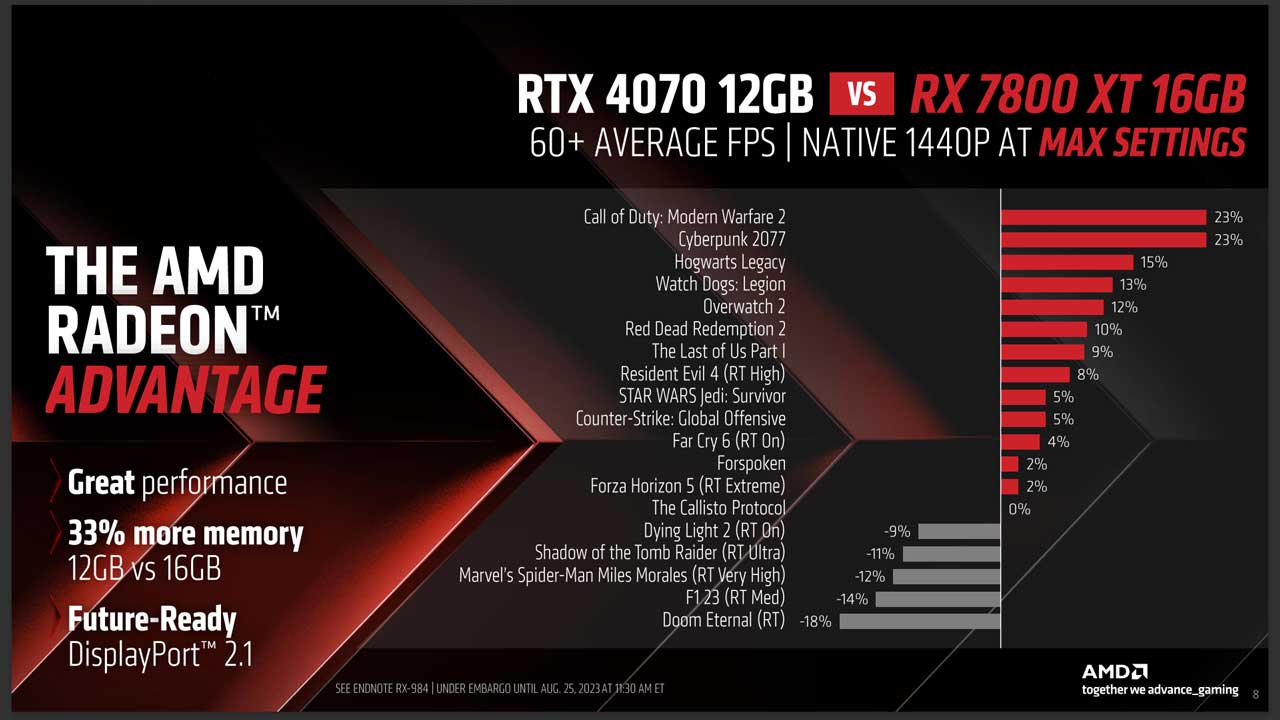 5 out of 19 titles tested still belongs to the RTX 4070, with Doom Eternal at +18% for the said card in relation to the RX 7800 XT.
AMD FSR 3
AMD also unveiled the Fidelity Super Resolution 3 at Gamescom 2023. FSR 3 comes with the much anticipated frame generation technology for team red along with a native anti-aliasing feature. Forspoken for example gained a massive boost in framerate with the AMD FSR 3 enabled.
FSR 3 along with the Anti-Lag+ is a part of the AMD Hypr-RX. This is a set of features that allows gamers to boost their game's frame rate and improve its latency with just a push of a button.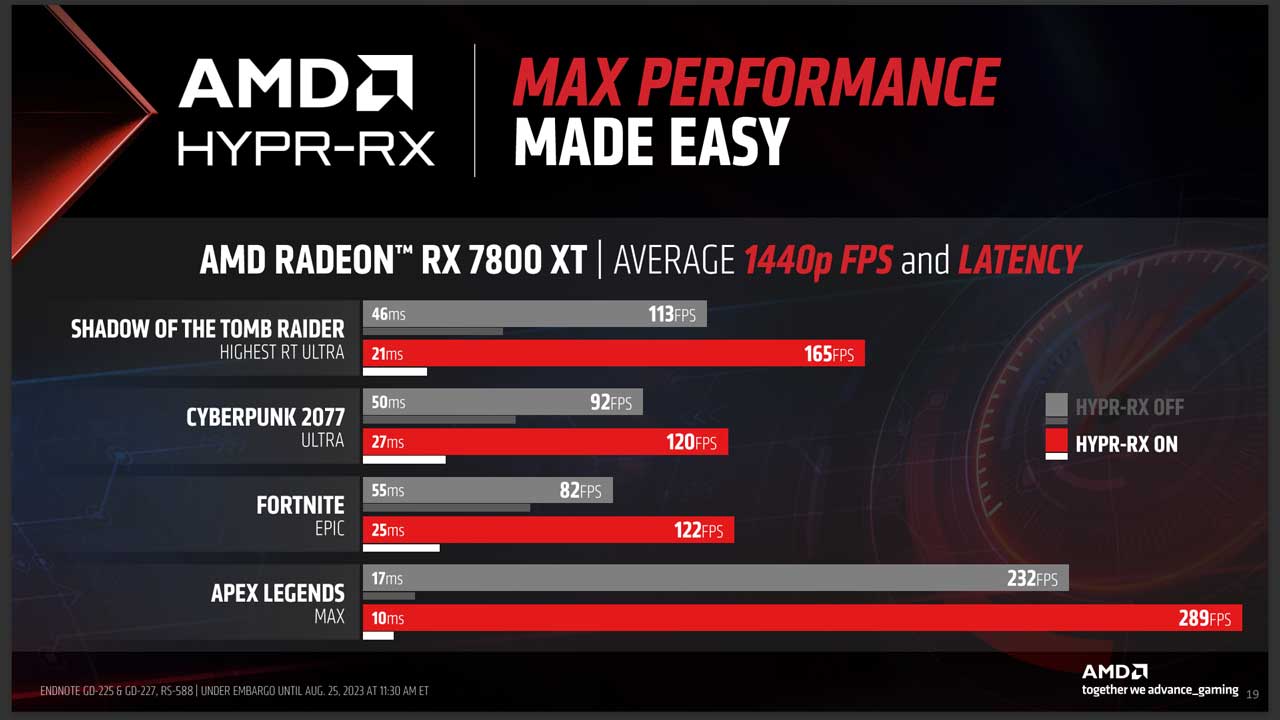 Availability and Pricing
As for the pricing, multiple news outlets reports an MSRP of $499 USD for the AMD Radeon RX 7800 XT. It is slated for release this coming September 6th of 2023.