Today, we are going to take a look at the ASUS B150I PRO GAMING WIFI AURA ITX motherboard. Sporting the B150 chipset, this LGA 1151 motherboard is jam packed with goodies found at higher-end full size models. That includes M.2 support, a souped up VRM, enhanced audio solution, RGB lighting (because it's 2016), and loads of softwares built to enhance your gaming experience. There's just a lot going on with this 7, 000 PHP (124 USD @ Amazon) board so let us find out what's in store for you.
The Intel B150 chipset is an interesting specimen, more so with the ASUS B150I PRO GAMING WIFI AURA. Basically, it has the native B150 chipset's features, and ASUS just slapped a lot of extra into it. This board might still be a B150 in nature, meaning it doesn't support memory overclocking over 2133 MHz, nor CPU overclocking so you're better off with a non-K CPU should you pick up this one.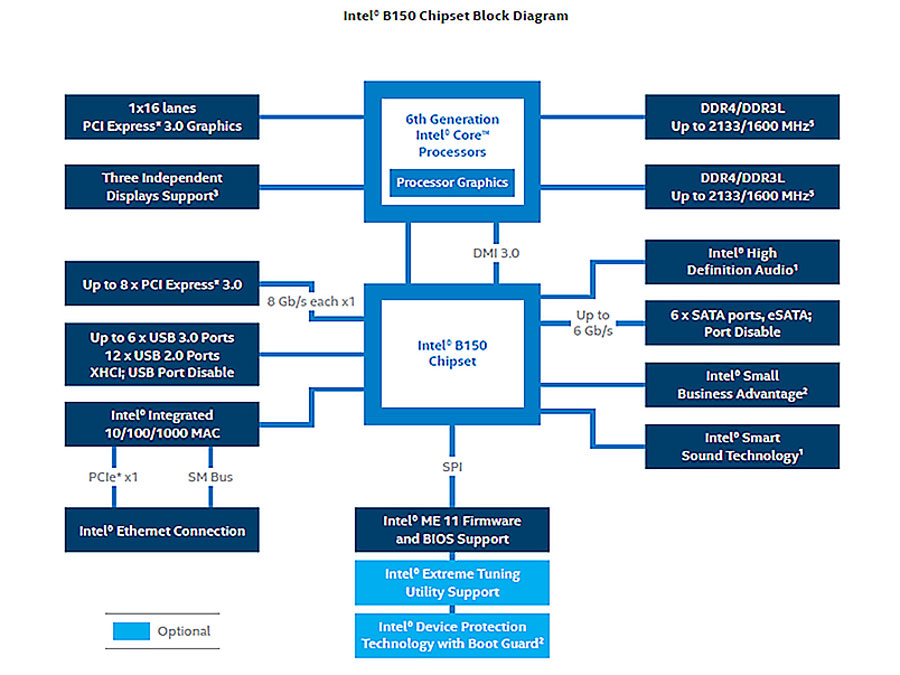 Base specification shows that the Intel B150 chipset doesn't feature M.2 support, a WiFi + BTmodule, nor a souped up audio solution. Lucky for you, ASUS got these features covered. To elaborate, the B150I PRO GAMING WIFI AURA has a M.2 Socket 3, a Dual Band 802.11 WiFi, and a SupremeFX powered by a Realtek ALC1150 audio chip. There's also a USB Type-C at the back for kicks. Shame it's not a USB 3.1 device. Learn more about the board HERE.
Price wise, this thing will set you back at around 7, 000 PHP. It's a price point where a lot of entry level H170 and Z170 boards could be found. But then again, those are full sized boards and are not really fit for the job that this particular B150 board is able to do.
PACKAGING AND BUNDLED ACCESSORIES:
The packaging is just as small as the B150I PRO – at least when it comes to the length, and height. It's not the flashiest we've seen so far from ASUS, but it does its job very well by lining up the board's features back to back. There's also an included promotional stuff with the board but I guess that depends on the region.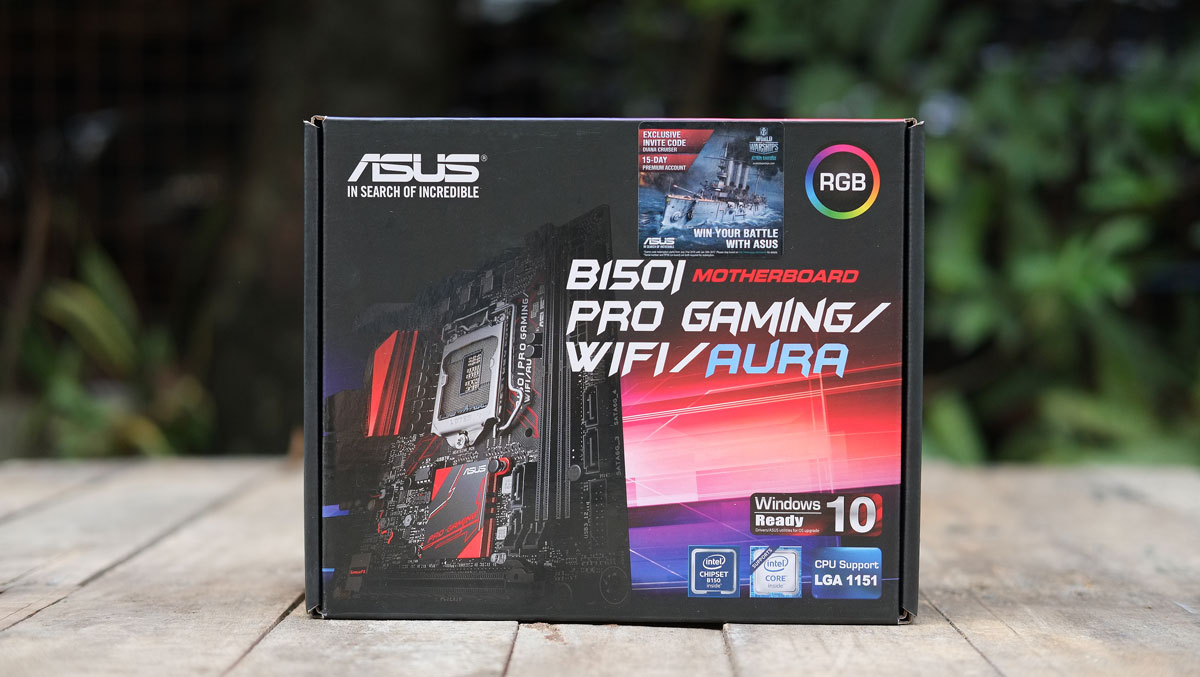 Paper works included are your standard issued user's guide, two multi-lingual pamphlets, a software DVD, and a case badge. There's also a set of novelty cable labels.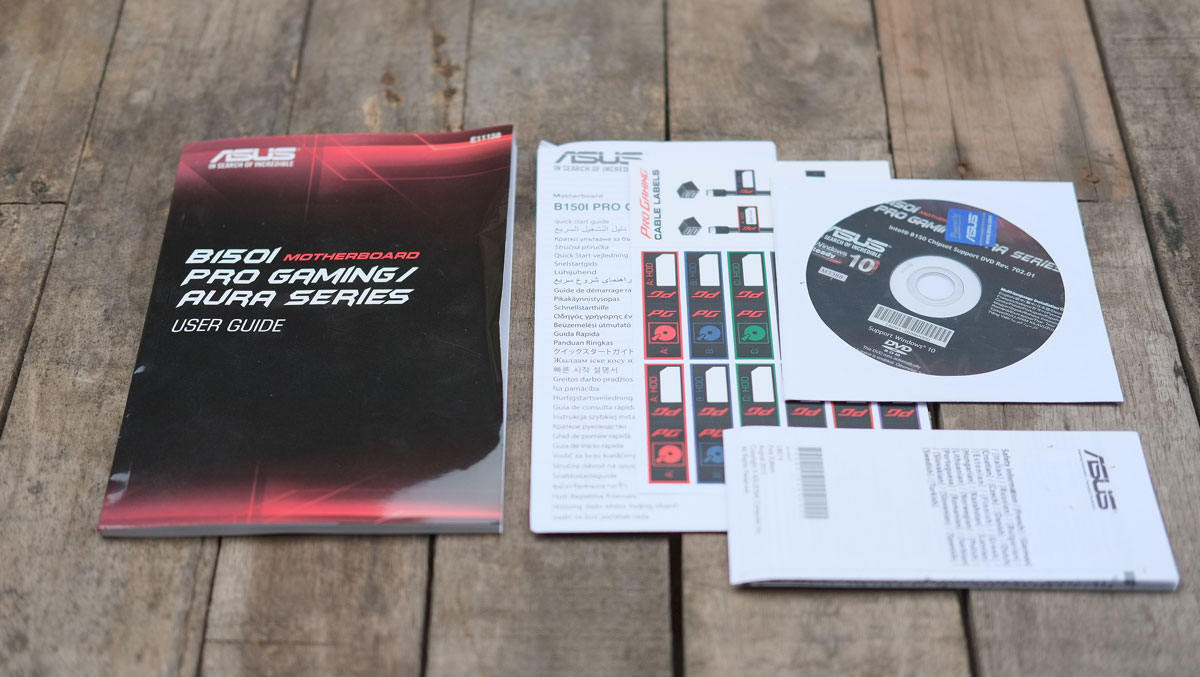 There are tons of bundled accessories with the ASUS B150 PRO, and we've got basically no time to open them all. What you'll get are the following: ASUS Q-connector, M.2 2242 mounting kit, 2 x SATA 6Gb/s cable(s), 1 x M.2 Screw Package, 1 x pack of cable ties, the I/O shield, a CPU mounting tool, and the ASUS 2T2R wireless antenna. A solid set of bundle I must say.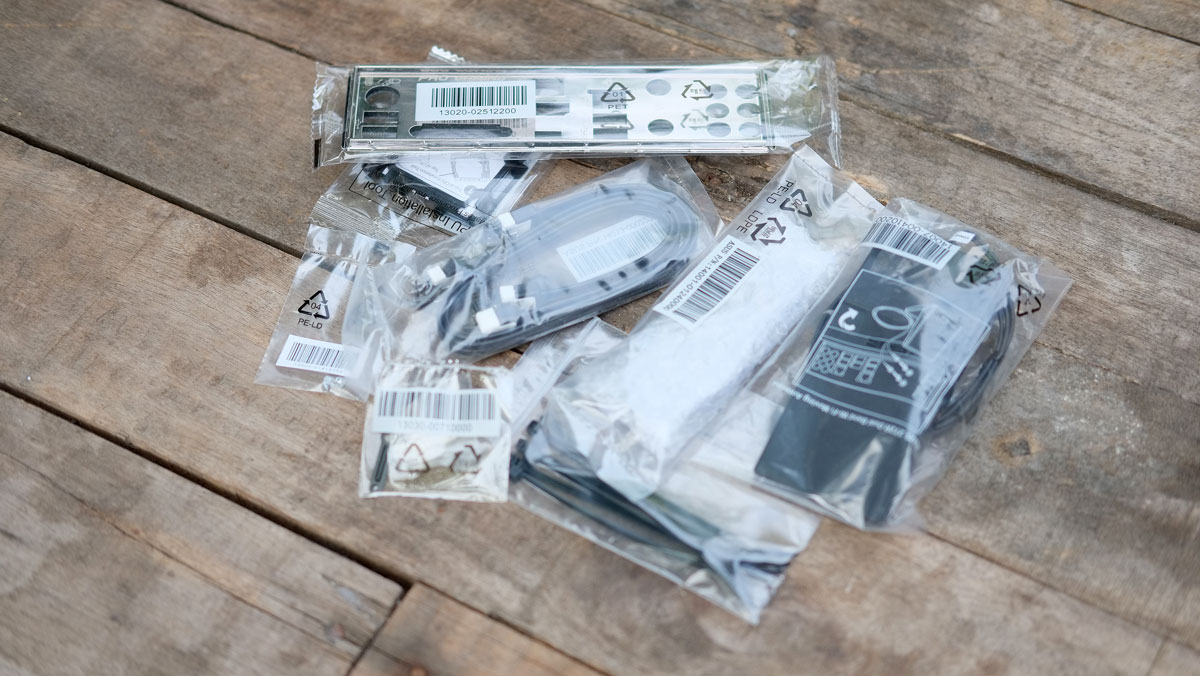 ASUS B150I PRO GAMING WIFI AURA DESIGN LAYOUT & CONNECTIVITY:
The ASUS B150I PRO GAMING WIFI AURA is a standard ITX motherboard with game centric aesthetics that follows the ASUS ROG's DNA. The PCB is matte black, with traces of red, accentuated further by a rosy red heatsink design. This is as close as you get to an ROG board without sacrificing cost in the process. Now expansion is provided by a single full speed PCI-E 3.0 slot. Just above it are the TPM header, the extra 4-pin PWM fan header and the USB 2.0 header.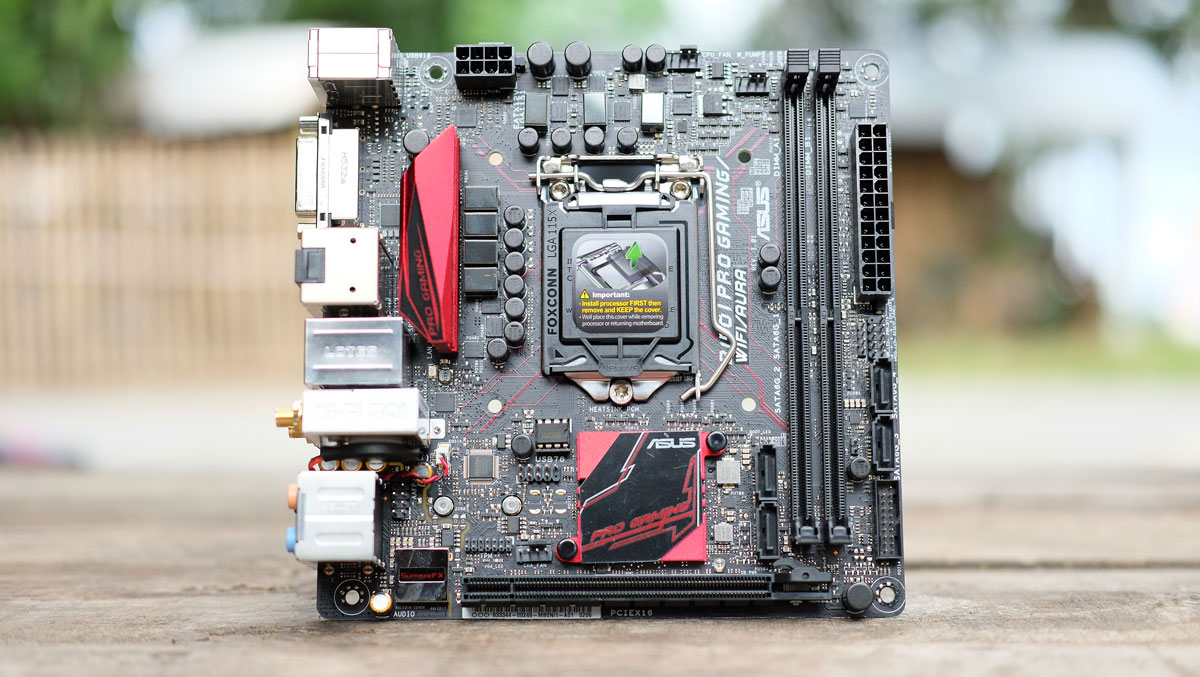 The back features the M.2 slot capable of housing type 2242/2260/2280 M.2 Socket 3 storage devices. The LED devices for the ASUS AURA RGB functionality are visible here, together with the PCB trace that separates the SupremeFX audio components for better isolation. That thing lights up too!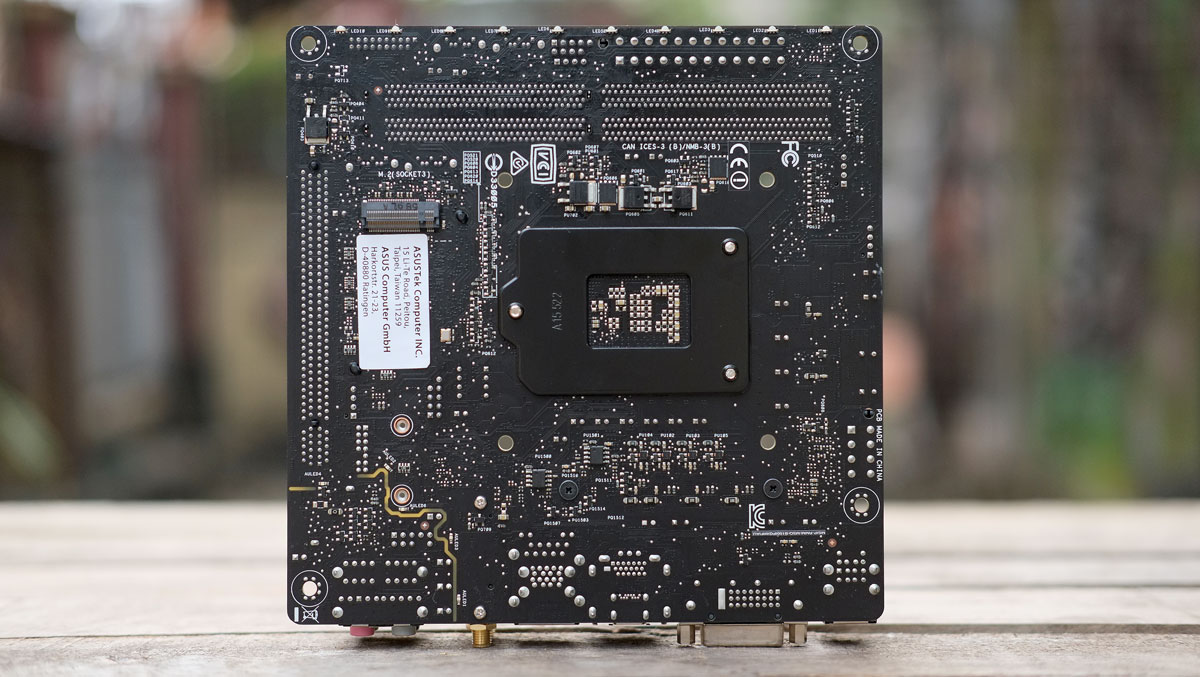 Power to the CPU is provided by an 8-pin ATX 12V connector, going all the way through the 6+1 phase VRM design. This is an all solid capacitor motherboard from top to bottom, with ferrite chokes, and more than enough power to feed any Skylake CPUs.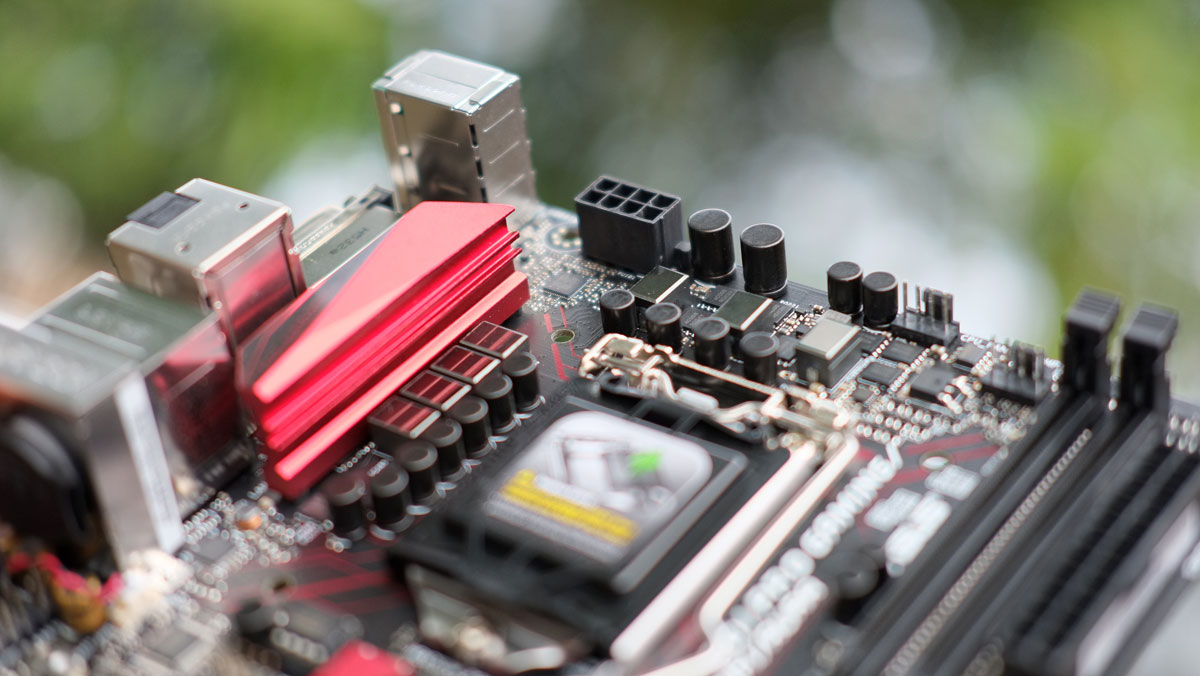 Internal I/O consists of 4x SATA III ports, a USB 3.0 header, the front panel header, Clear CMOS jumper, and an internal speaker header. The main 4-pin PWN fan headers for both the CPU and the pump are also located on this area.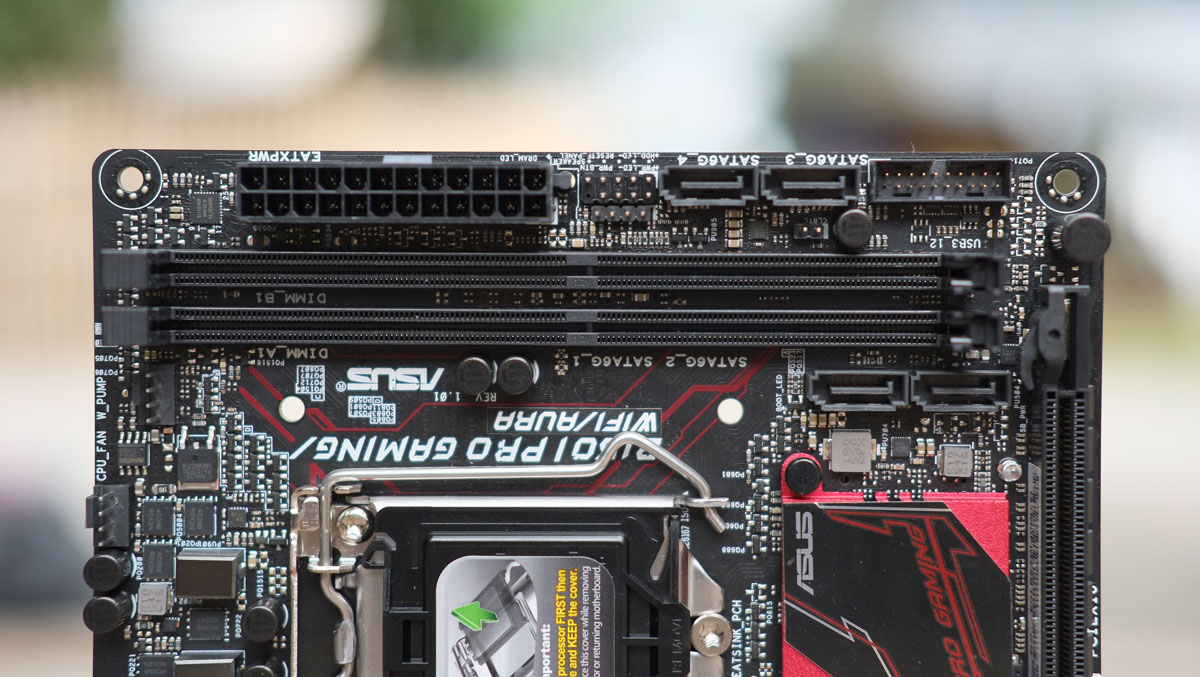 External I/O are not lavish but are definitely ample. We've got 2x USB 2.0 ports here together with the legacy PS/2 port, DVI and HDMI port for the display, and a USB Type C port that runs at USB 3.0 spec. The rest of the I/O consists of the NIC port, 2x USB 3.0 ports, the WiFi + BT module, and the 8 channel audio. An optical out is also added as an extra for easy home theater integration.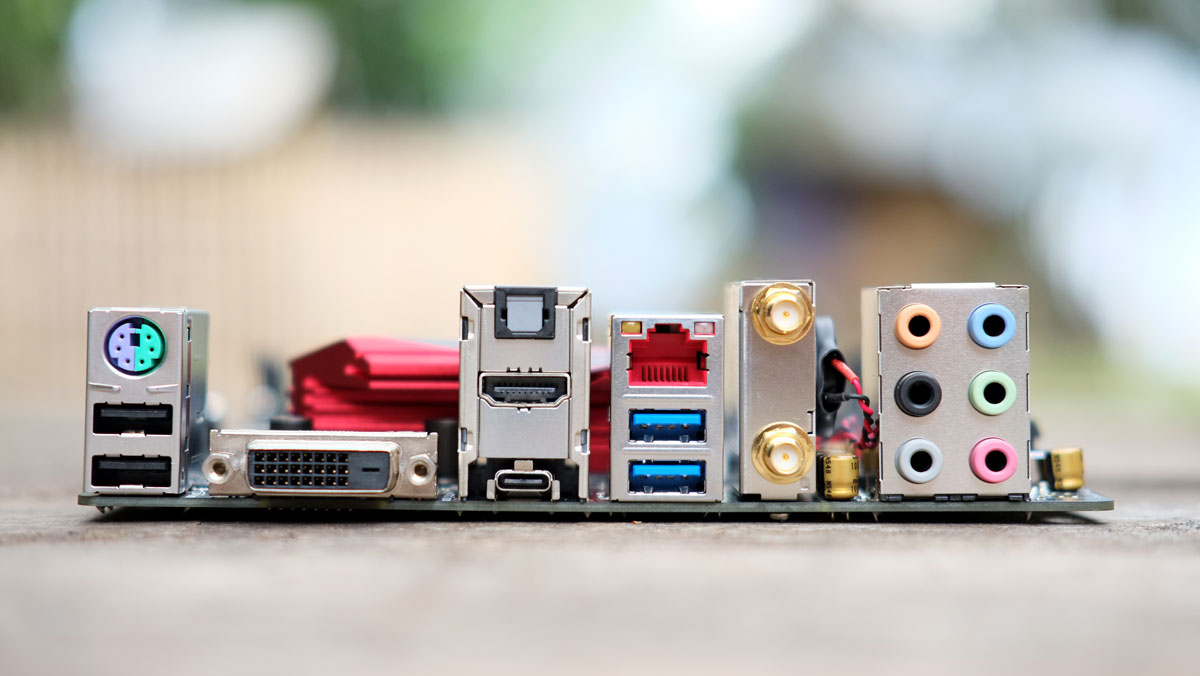 ASUS B150I PRO GAMING WIFI AURA UEFI WALK-THROUGH:
Like the many ASUS boards before it, the B150I PRO GAMING WIFI AURA features a Unified Extensible Firmware Interface. If you're coming from the likes of the ASUS Z97 boards, then the facade will feel right at home.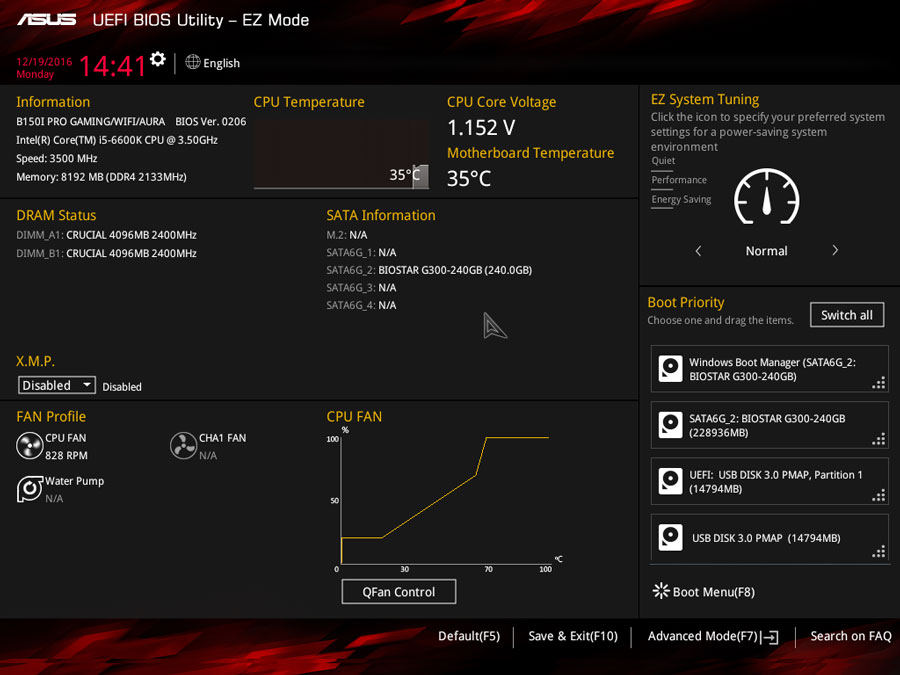 There are 8 main menus found within the UEFI, with the main menu and the EZ mode acting as your system status providers, as well as an easy gateway for the board's extra features. That includes the EZ System Tuning, the QFan Control, and boot priority options.
The AI Tweaker is where you could overclock the CPU, Memory, and fine tune your voltage setting. But since this is a non OC board, you cannot do any adjustments at all, with the exception of using the XMP values and setting up your memory kit's JEDEC specifications. Go further than that, and your board wont POST at all. Almost forgot that you could also sync all CPU cores here.
The advanced menu features your usual PCH options. You could disable or enable storage devices, USB devices, and other features that you do not require to save up resources.
The monitor menu is where you could disable or enable the sensors found within your board. I suggest leaving this alone by default.
Overall, the ASUS B150I PRO GAMING WIFI AURA's UEFI is a solid chunk of firmware. It's easy to use, easy to navigate, and just works. Nothing to complain here.
ASUS B150I PRO GAMING WIFI AURA SOFTWARES:
ASUS bundled a lot of softwares into this board and they makes up almost half of the board's features. First off on the list is the ASUS AI Suite 3. This is basically your command center where you could adjust power, and performance settings.
The ASUS AI Suite 3 houses tons of extra features. It includes a software based QFan control similar to the board's UEFI QFan feature. This thing has its own settings so I don't recommend using this if you prefer the UEFI QFan setup. The AI Suite also features a storage cleaning app, USB Boost, System Info, Mobo Connect, and a whole lot more.
The ASUS GameFirst III is a feature that works together with the Intel NIC aboard the B150I PRO. You can use it to control your software's bandwidth usage, set priorities, and test the bandwidth of the network you're connected to.
Now the Sonic Radar is a UI based in game sound detector. Using this will provide you an unfair advantage over titles that features pin-point audio positioning. Imagine playing CS:GO without a headset and still accurately point out where the enemies are coming from.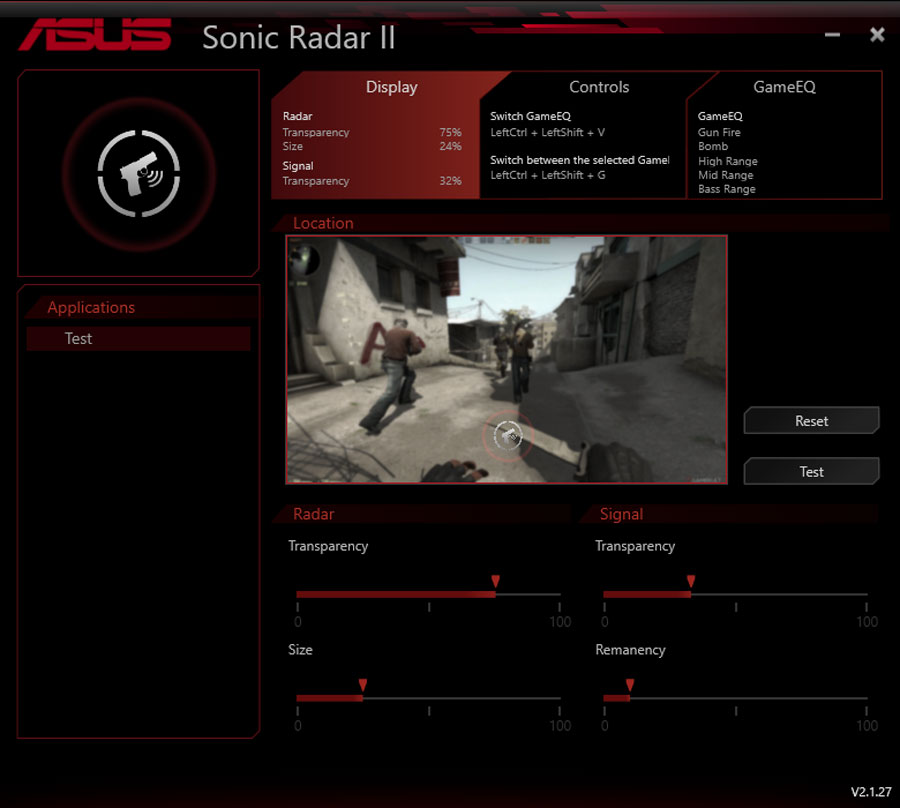 The ASUS RAMCache is well… a RAM Cache software. Basically, you can use this to cache your frequently used data onto the RAM for a better performance and access time. This is useful if you've got more than 8GB of memory capacity, and if your applications are stored on a mechanical drive.
The ASUS HyStream will let you stream your connected iOS or Android devices directly onto your PC. You can stream up to 2 devices with this software.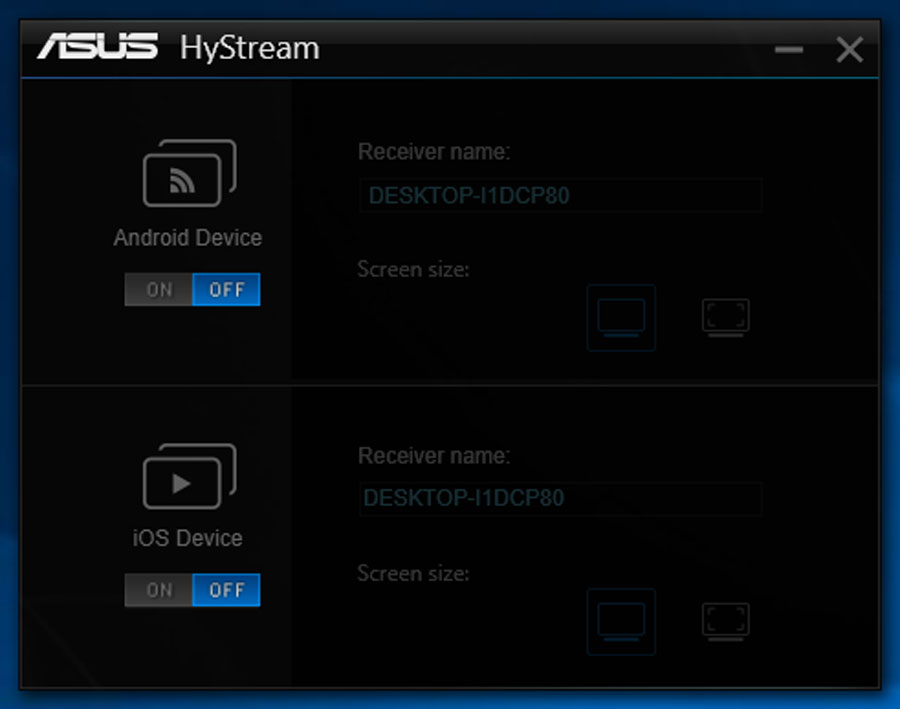 Finally we get to check the ASUS AURA RGB. Apologies for the lack of software screenshot but basically, you can set the B150I PRO GAMING WIFI AURA's RGB LED modes within this software. You can set 6 lighting modes from static, breathing, strobing, cycle, CPU temperature, and even music based lighting effect. Sadly, this board doesn't have one of those AURA LED headers but overall, it's not shabby!
TEST SETUP & METHODOLOGY:
The motherboard's performance will be evaluated by various benchmarking tools, and applications with the CPU, memory, storage, and audio performance being the focus of the tests. We are testing this motherboard with the high performance settings enabled at the OS, with the default UEFI configuration. No bundled softwares are installed during the benchmarking process.
| | |
| --- | --- |
| PROCESSOR | INTEL CORE I5 6600K |
| MOTHERBOARD | ASUS B150I PRO GAMING WIFI AURA |
| CPU COOLER | CRYORIG C1 TOP FLOW |
| MEMORY | CRUCIAL BALLISTIX TACTICAL 16GB |
| GRAPHICS CARD | ASUS GTX 1060 STRIX OC 6GB |
| STORAGE | BIOSTAR G300 240GB |
| POWER SUPPLY | CORSAIR RM850X 850W |
| DISPLAY | 27″ DELL U2715H WQHD IPS PANEL |
| OPERATING SYSTEM | MICROSOFT WINDOWS 10 PRO |
Please do note that we are in the process of rebuilding our motherboard benchmark database. The charts that you will see here will be updated from time to time.
CPU & MEMORY PERFORMANCE:
Super PI is a single-threaded benchmark that calculates pi to a specific number of digits. It uses the Gauss-Legendre algorithm and is a Windows port of a program used by Yasumasa Kanada in 1995 to compute pi to 232 digits.
wPrime is a multi-threaded benchmarking application designed to measure the raw computational power of a CPU. It can be configured to run on a custom number of threads to accommodate multi-core CPUs.
AIDA64 Extreme Edition is a streamlined Windows diagnostic and benchmarking software that home users can use to check computer performance with. We are going to use the memory benchmark tool built within the software to gauge the system performance.
Raw CPU and memory performance seems to be inline with your average Intel Core i5 6600K based setups. We've got results from our Z170 board here but we've decided not to include it due to the difference in memory settings and components used.
REAL WORLD PERFORMANCE:
GIMP is a free and open-source raster graphics editor used for image retouching, drawing, editing, and conversion. A 7 MB worth of images will be processed, and converted to gauge the system performance.
HandBrake is a tool for converting video from nearly any format to a selection of modern, widely supported codecs. A 150MB worth MP4 video will be converted using the H.264 codec to gauge the system performance.
WinRAR is a file archive utility for Windows. It can create, view archives in RAR or ZIP file formats, and unpack numerous archive file formats. We are going to use the archiver's built in benchmark tool to gauge the system performance.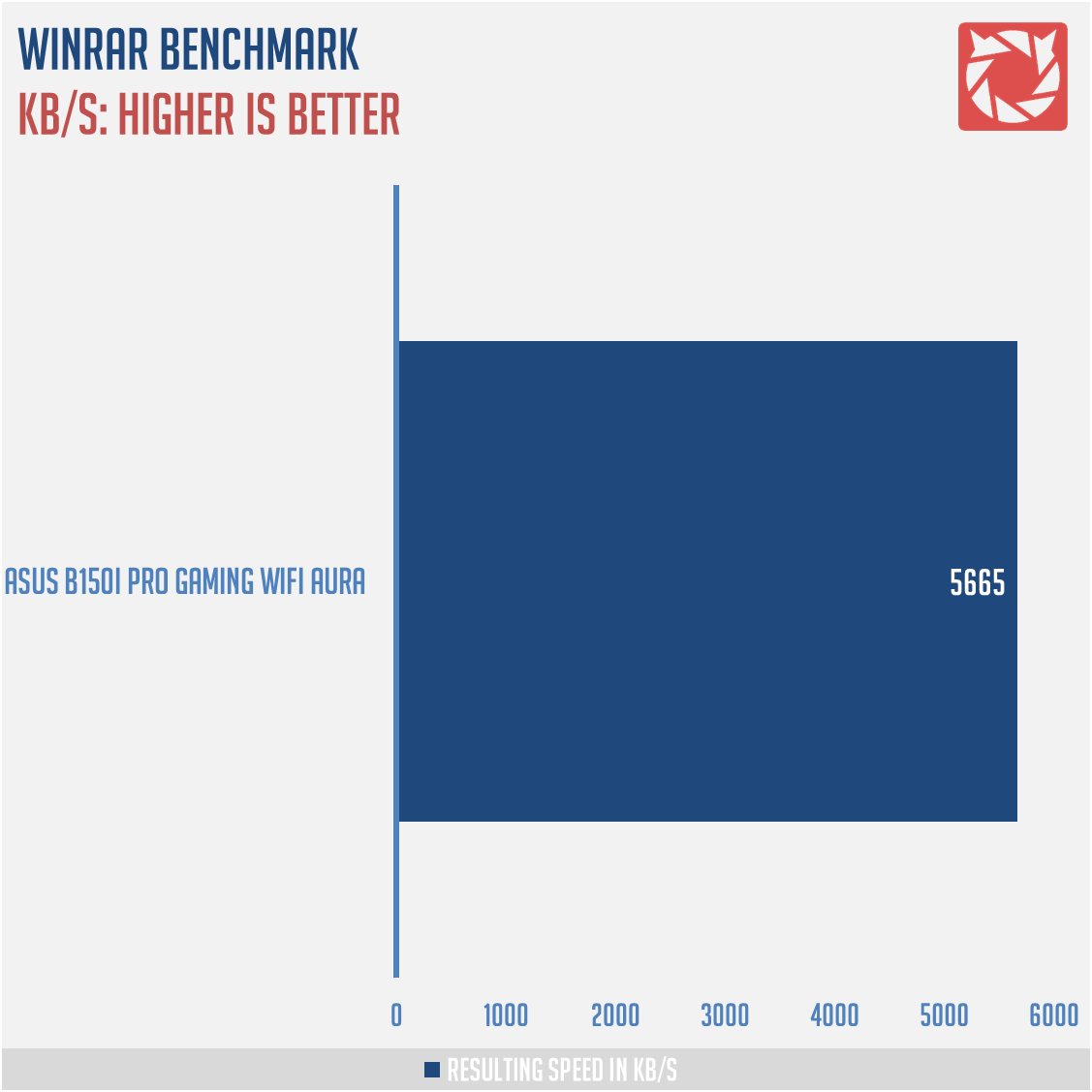 A rather strong performance output we got here from the ASUS B150I PRO GAMING WIFI AURA. Nothing to complain so far.
STORAGE PERFORMANCE:
Crystal Disk Mark is a storage benchmarking software widely used through the industry. It features four synthetic methods to test both the read and write performances of any drive.
Storage performance is just proper for a board this side of 2016. Do note that our USB Type C device is not the best thumb drive so the poor write performance is just natural.
AUDIO PERFORMANCE:
RightMark Audio Analyzer (RMAA) is a suite designed for testing quality of analog and digital paths of any audio devices. The results are obtained by playing and recording test signals passed through the tested audio path by means of frequency analysis algorithms. A high quality 3.5mm male to male audio cable is used to connect both the audio in and out of the solution.
| | | |
| --- | --- | --- |
| Frequency response (from 40 Hz to 15 kHz), dB | +0.27, +0.22 | Excellent |
| Noise level, dB (A) | -94.3 | Very good |
| Dynamic range, dB (A) | 94.2 | Very good |
| THD, % | 0.0081 | Very good |
| THD + Noise, dB (A) | -78.8 | Average |
| IMD + Noise, % | 0.0086 | Very good |
| Stereo crosstalk, dB | -92.1 | Excellent |
| IMD at 10 kHz, % | 0.0093 | Very good |
| General performance | | Very good |
The THD + Noise performance of the audio solution could be better, but I can't really say anything bad about this board's audio performance. The SupremeFX and the ALC1150 codec's good combination really shines here.
POWER & REGULATION:
The AIDA64 Extreme Edition System Stability Test is used to stress our system. We selected all the the stability test's options including the storage drives. The run time is exactly 5 minutes.

The Skylake CPUs are impressive enough when it comes to power efficiency, and so does this little B150 board from ASUS. Now as far as voltage regulation goes, the B150I PRO manages to deliver a stable +3.3v, +5v, and +12v of power to the core. Not bad.
WRAPPING IT UP:
The ASUS B150I PRO GAMING WIFI AURA – the name suggests, is a small board with tons features aimed to satisfy the gamer in you. It's not the most expensive in its class, but that doesn't mean it has to sacrifice performance nor features. ASUS really took advantage of the the B150 chipset by slapping their hardwares and softwares to make this thing work.
This board, being a B150 chipset by nature, doesn't have all the native bells and whistles of the Z170 chipset. That said, it doesn't feature CPU nor memory overclocking. Back in the days, you could get away with B series overclocking but this time around, Intel dropped the hammer to the board makers. That doesn't mean that this board is not an ideal choice for gaming though, as you could always get an equivalent non-K CPU for less.
Feature set is what separates this board from the rest. You'd get RGB lighting, WiFi and BT connectivity, USB Type-C, and a souped up audio solution that just works. If I'm to nitpick, I'd like this board to feature USB 3.1 connectivity, another fan header, or even a USB 3.0 header in exchange of the dubious USB 2.0 header. But then again, this is an ITX board so those extra set of features might prove little use inside a small chassis. You can't go wrong on this one really, more so with the included softwares.
The ASUS B150I PRO GAMING WIFI AURA is a 7, 000 PHP board with ATX features crammed in a tiny ITX package. If you're looking to build that perfect mid-range mini ITX gaming system with RGB lighting, WiFi connectivity, and gaming oriented features, then this one is rightfully for you.
SOLID OVERALL PERFORMANCE
RGB ENHANCED WITH CUSTOMIZATION
GOOD AUDIO QUALITY 
ROG INSPIRED AESTHETICS
GREAT BUILD QUALITY
WIFI + BT CONNECTIVITY
GOOD BUNDLE OF ACCESSORIES

B150 CHIPSET LIMITATIONS
COULD USE AN EXTRA USB 3.0 PORT
ASUS B150I PRO GAMING WIFI AURA
PERFORMANCE -

8/10

BUILD QUALITY -

8/10

AESTHETICS -

8/10

VALUE -

9/10
Summary
The ASUS B150I PRO GAMING WIFI AURA is a 7, 000 PHP board with ATX features crammed in a tiny ITX package. If you're looking to build that perfect mid-range mini ITX gaming system with RGB lighting, WiFi connectivity, and gaming oriented features, then this one is rightfully for you.