The ASUS Republic of Gamers (ROG) remains as the top-end gaming, and enthusiast level line-up from ASUS. The words affordable, and budget oriented are not practically the best words to describe the line-up. The ASUS STRIX family isn't even near the budget line, #FFS. To make things a little better, ASUS introduced the Cerberus gaming line-up. Which is basically the budget gaming oriented offering from ASUS. At the moment, the ASUS Cerberus consists of 4 core products: The Cerberus headset, gaming mice, mouse pad, and gaming keyboard.
We got 2 out of 4, specifically the ASUS Cerberus Gaming Keyboard and Gaming Mouse. These products are aimed towards budget conscious gamers offering LED lighting, braided cables, appears to be solid pieces of gears, and a few other quirks here and there. Based on those alone, ASUS is not compromising the quality standards that they have set through the years. But is that so? Well, there is one way to find out.
PACKAGING, BECAUSE WHY NOT:
While they may not be lavish, ASUS is kind enough to use a simple yet effective packaging to market and ship the products in good shape which is what we always wanted. Up front, ASUS really gave this "in your face" vibe with both products, showing their prominent features in an aggressive passion.
The back, as usual, features the product's elaborate specifications, along with the layout of the products. Serials are also located here for reference and don't you dare trash these guys because you might be needing them in the near future. Just in case. Contents are nothing special, excluding the products of course. We've got a user manual for the keyboard, a warranty card, and that's just about it. No paper works for you, Cerberus Mouse.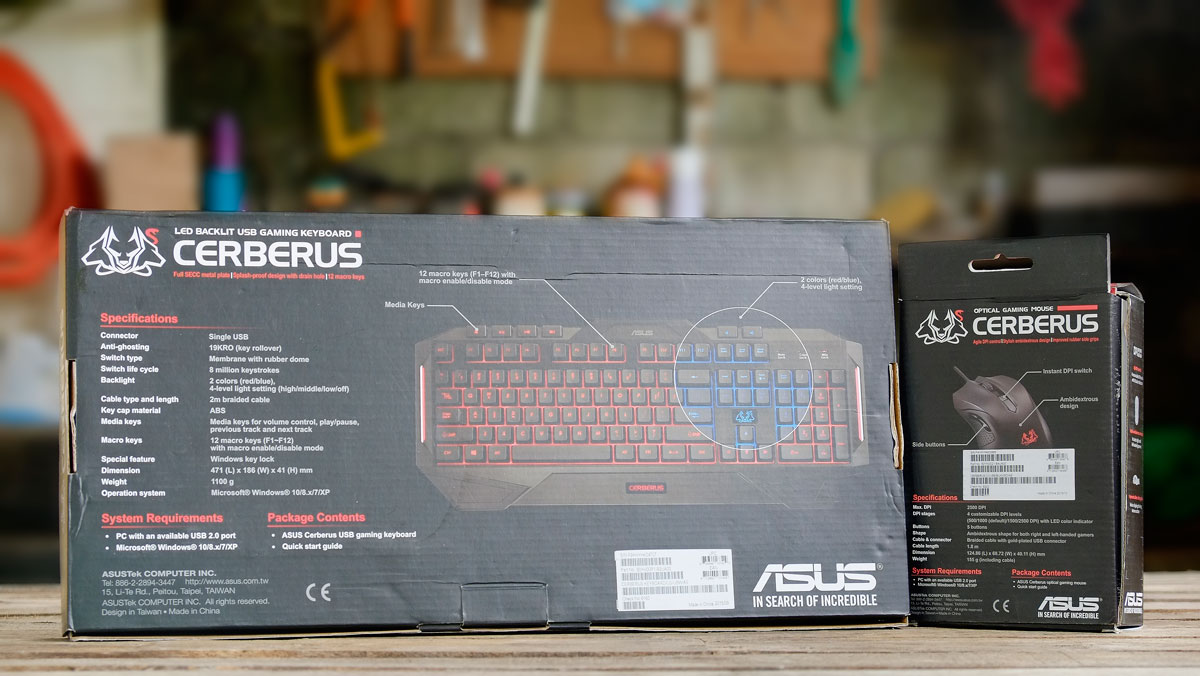 ASUS CERBERUS KEYBOARD TOUR: SPECS HERE / 1,560 PHP
The ASUS Cerberus Gaming Keyboard is a full sized 108 + 6 key gaming keyboard. Aggressive is what the styling would be, and it sure looks familiar with the rest of the recently released gaming keyboards from the likes of CoolerMaster. Both keyboard shares the same styling, and is probably from the same OEM too. This thing weighs in at 1.1 kilograms by the way.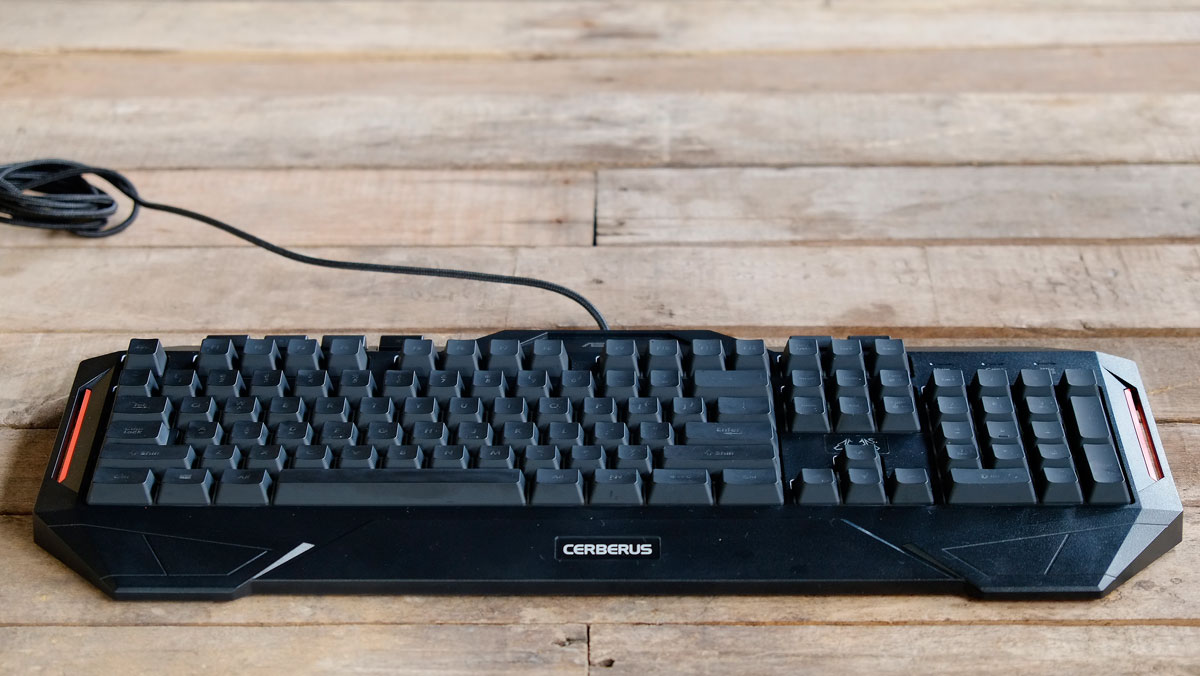 Full size, yet extended, the ASUS Cerberus Gaming Keyboard features an approximately 18.5″ x 7.5″ of foot print. It's not huge, certainly not compact either – and will most probably sit happily on your desk. At the top lies the extra multimedia keys, with the 12 hybrid Function and Macro keys below.
Key switches are definitely dome-switch membranes, and don't expect them to feature a satisfying mechanical-like feel. However, I find them better over your average membrane keyboards especially with the inclusion of a 19KRO anti-key ghosting. They are snappier, has better resistance, and bounces faster than the average ones around the 1000 PHP mark. Membrane keyboards are known to wear over the course of time by the way, so we are not sure how these characteristics will last. Individual key lifespan is at around 8 Million strokes.
Key caps are made out of ABS material, with a stem that enables the keys to travel top to bottom in a consistent linear pattern. The key caps are actually transparent in nature, with a matte coating that is not really great for sweaty gamers – definitely not the best on my book. Based on our measurements, the key caps appears to feature around 4mm of travel time.
This keyboard is quite heavy for a membrane based one, and it's mainly due to the inclusion of a galvanized steel plate underneath. It is added for the rigidity of the gear and sure does add up. Together with the braided USB cable, the Cerberus Keyboard features an extendable rubber footing. There isn't much to talk about the gear on this side but there are drain holes situated here should the keyboard got spilled with liquid during an accident.
ASUS CERBERUS MOUSE TOUR: SPECS HERE / 899 PHP
The ASUS Cerberus Gaming Mouse is one of the most affordable gears from the Cerberus series. It features a semi-ambidextrous body, lighting effects to distinguish the DPI levels, and a set of side buttons at the left side. Hence, the semi-ambidextrous nature. The DPI button is situated at the middle most part of the mouse which is kinda hard to utilize due to its position. Not that hard compared to the Zowie ZA11 I got though.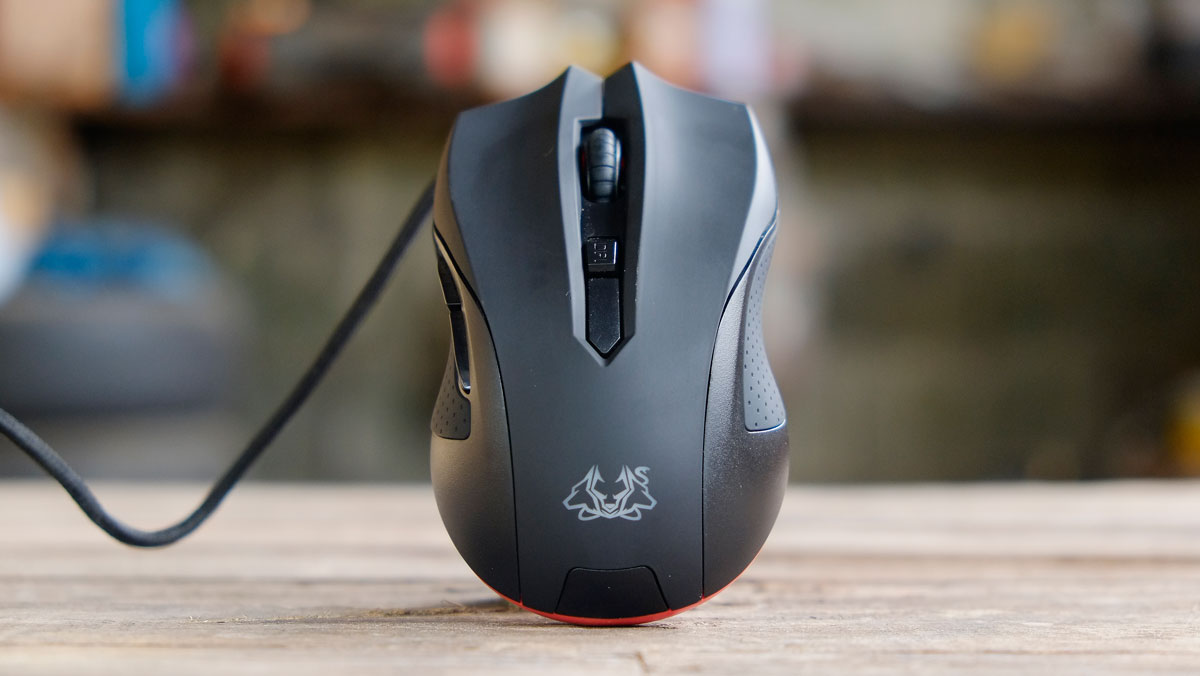 The texture is a combination of hard plastic, rubber coated plastic for the top shell, and a pair of rubber thumb grips on both sides. The overall feel of the mouse is just alright, not the best on my book, but it is certainly not on the cheapest side of things. The weight is substantial, yet the mouse is not heavy at all. Passing quality so far, but not with flying colors.
The sensor used is an optical one, but ASUS never disclosed what optical sensor model is used specifically. One thing I know though is that the damn thing's so bright, we might as well just call it the Sun. On a more serious note, ASUS opted to use a generic set of mouse footing, as opposed to a larger set commonly found on major gaming mice out there. I'm glad they braided the cable though.
WOMBO COMBO FOR 2, 500 PHP?
Overwatch is one of the most recent IP at the FPS gaming industry today, and with that said, it is one of the best shooters to test the gears with its fluid fast paced gameplay. We spent more than a week of testing with it, figuring out the pros and cons of the setup for such title. For a second opinion, I frequently swap gaming hours with my siblings during the testing – trying their own games (DOTA2 & CS:GO) so we could get an idea on how the Cerberus Gaming Keyboard and Mouse works with different play styles and genres.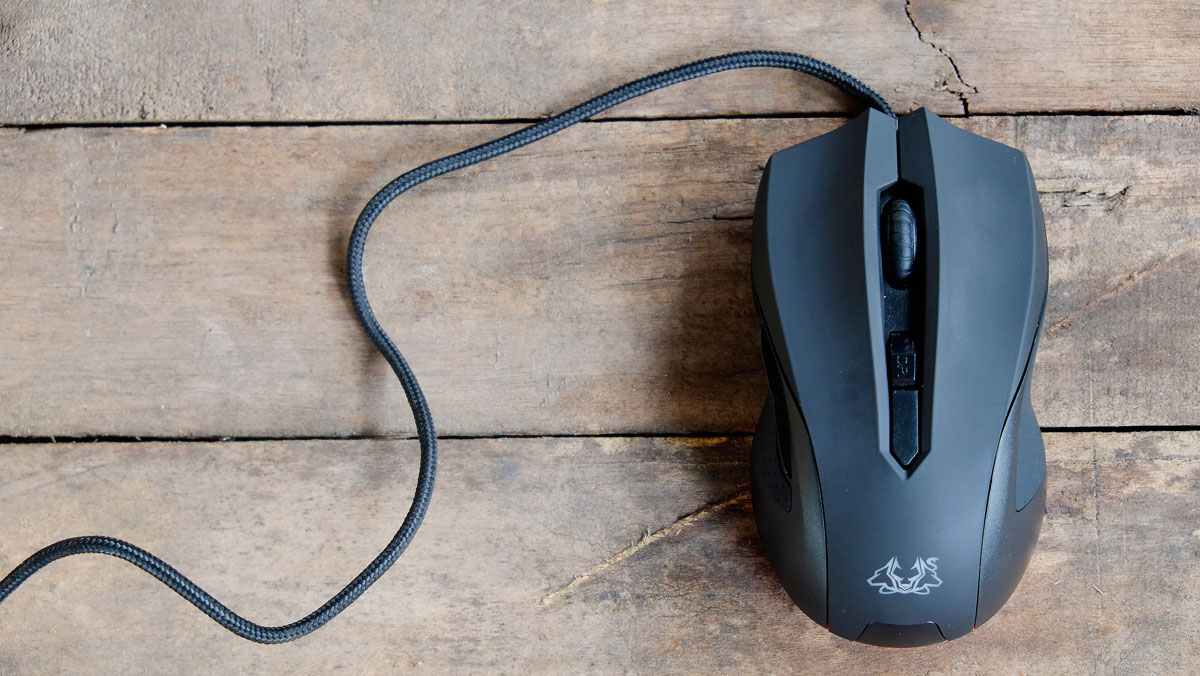 First off, let us talk about the Cerberus Mouse, particularly with its lift off distance. To be honest, this is what I hate the most about the Cerberus Gaming Mouse. For a gaming oriented device, I expected it to feature a lower LOD value – somewhat around the 2 mm mark. Far from that value, the Cerberus Gaming Mouse actually features around 6-8 mm of LOD – meaning that it continues tracking until that distance. For starters, gaming on a high LOD device is unforgivable due to the sensor's inaccuracy when you lift it off – continuing to track starting from the time you lift it up, until you landed it. To make matters worse, it gets messier when you increased the DPI beyond 1000 DPI.
Buttons are wobbling a bit, especially the main mouse button / top shell construct but they are within the passable mark so they are alright, I guess. The Cerberus Mouse is certainly larger than what I am used too, but it is comfortable enough for both palm and claw grip style gamers. But then again, comfort is practically useless in gaming if the sensor keeps ruining your experience.
Going over to the brighter side of things, let us now talk about the Cerberus Keyboard. I have literally nothing major against this one, except that it is membrane of course but that too is hardly a complaint – since the Cerberus is not really your average membrane-domed switch keyboard. It features good feedback, with keys registering smoothly all the way down and back.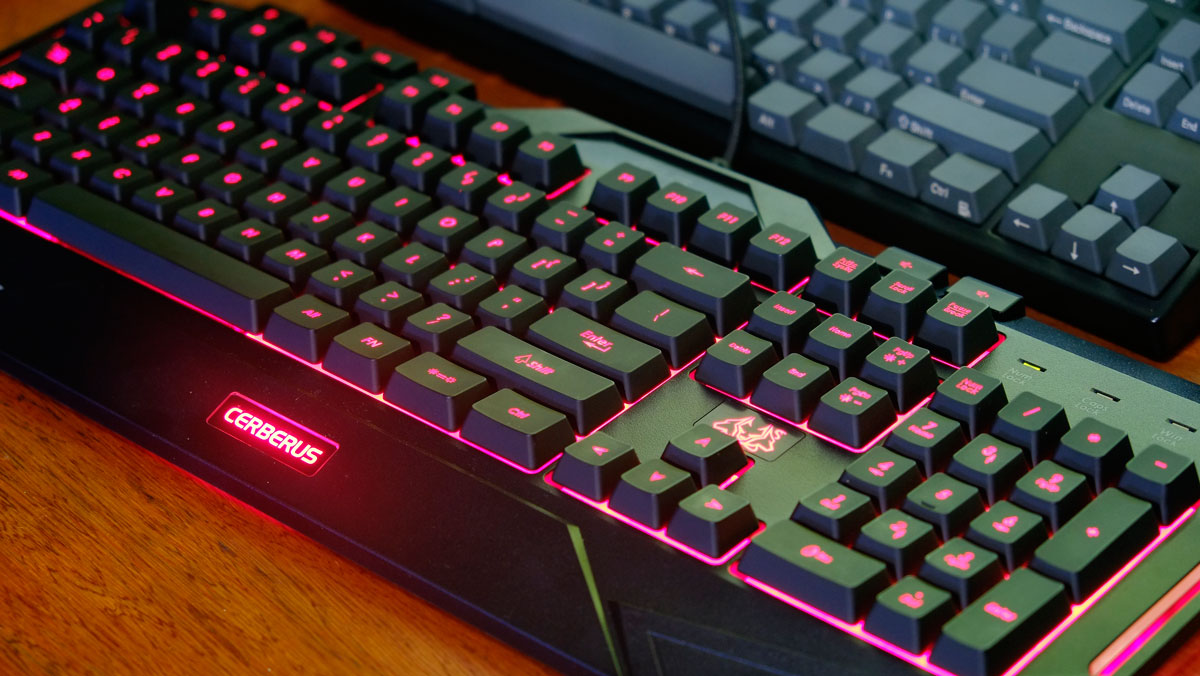 There's no need to argue that it is styled aggressively, but the dual LED back lighting shows that it could appeal to gamers that requires either a Red or Blue themed gear to go with their systems. Lighting that comes from the keys are not that bad either, featuring an even amount of glow through the keys and the translucent plating. Do note that with the Blue LED mode, you cannot use the key swapping and the Macro feature.
The Macro functionality built within the keyboard is not really all that awesome for intense gaming since they are only available for the function keys. Meaning that you have to stretch your fingers in order to use them. This is a personal complaint and I'm sure that keyboards with such Macro features located at the function keys are commonly used to store chatter and pressure-free in-game commands.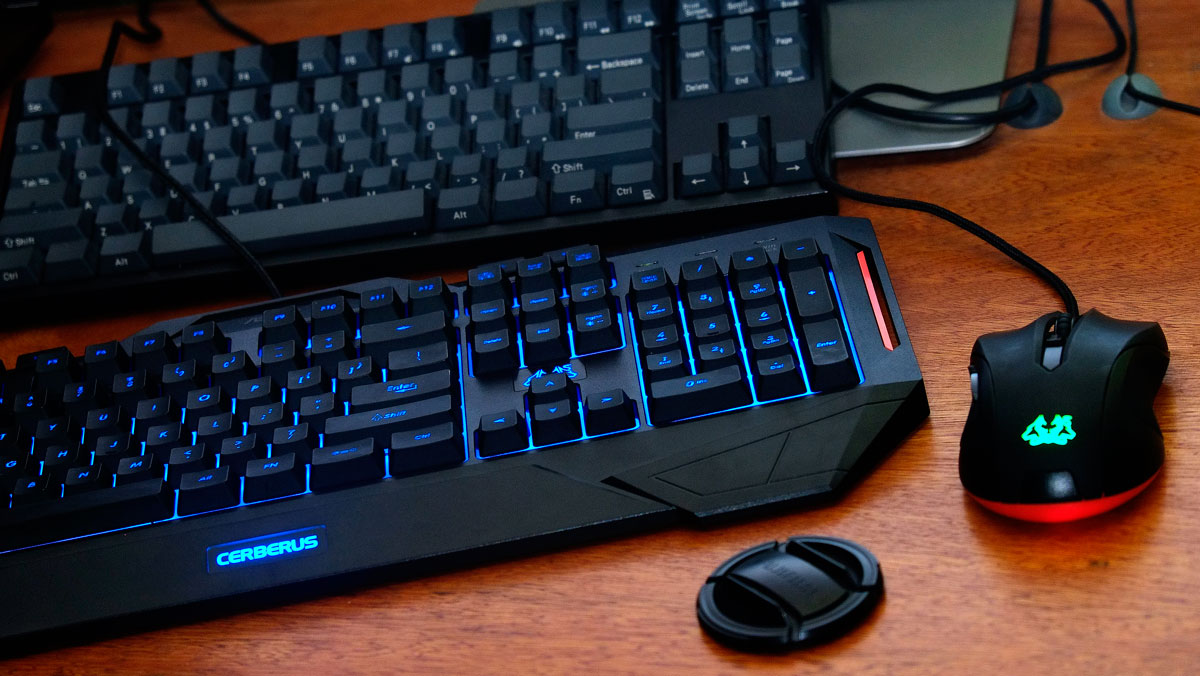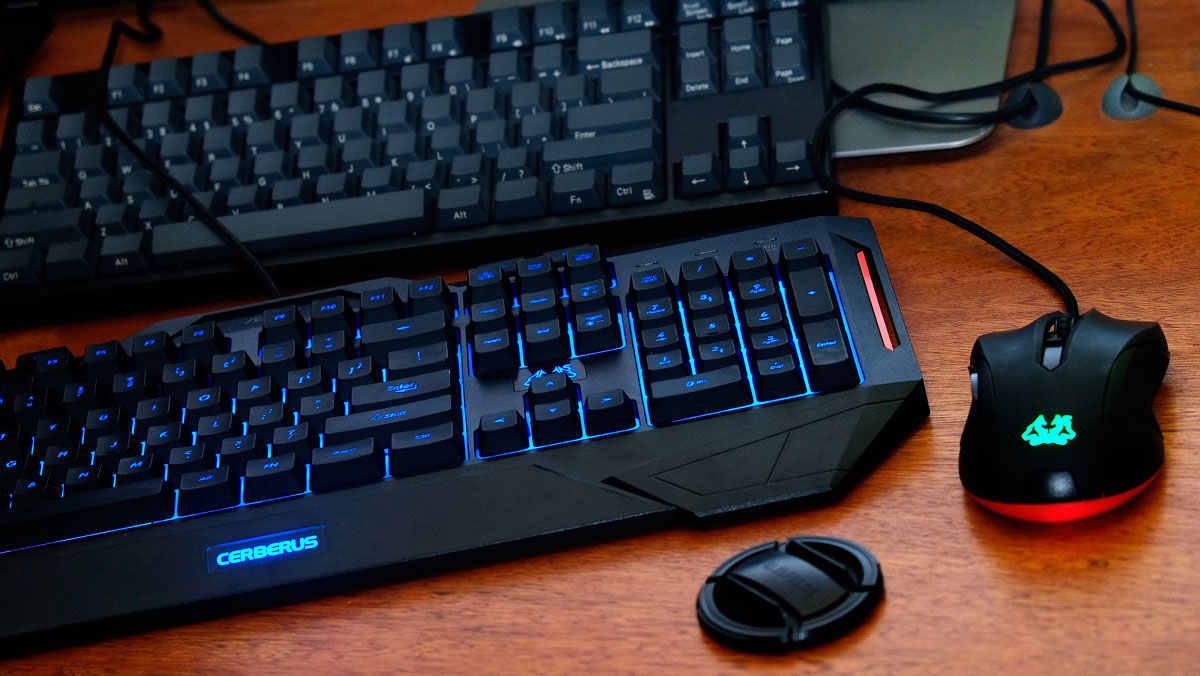 At 1, 560 PHP the ASUS Cerberus Keyboard is a symbol of what a budget gaming keyboard should be – with good features commonly found on higher end models. I'd say it is one of the best membrane based gaming oriented keyboards around the 1, 500 price bracket, and is a great starting point for gamers who wishes to expand their experience with features made strictly for them.
As for the Cerberus Gaming Mouse, I cannot simply recommend it. It may be comfortable, has braided cables, and is semi-ambidextrous but make no mistake that its high LOD sensor serves no purpose in competitive gaming that requires precision. At around 899 PHP you have to look for other options. Skip this one.
ASUS Cerberus
PERFORMANCE -

6/10

BUILD QUALITY -

6/10

FEATURES -

7/10

AESTHETICS -

6/10

VALUE -

8/10
Summary
At 1, 560 PHP the ASUS Cerberus Keyboard is a symbol of what a budget gaming keyboard should be – with good features commonly found on higher end models. I'd say it is one of the best membrane based gaming oriented keyboards around the 1, 500 price bracket, and is a great starting point for gamers who wishes to expand their experience with features made strictly for them.