What we have for review is the ASUS ROG Strix GeForce RTX 4080 OC graphics card. It retails for about ₱98,899 PHP locally but could be had elsewhere for $1,364.99 USD.
The card is one of the largest in ASUS' arsenal, featuring a massive custom cooler in a 3.5-slot design. This in turn allows the card to have a boost clock of 2655 MHz while also considering acoustics.
Disclosure: ASUS sent the ROG Strix GeForce RTX 4080 OC for the purpose of this review. The company did not ask me to say anything particular about it. All thoughts and opinion are of course my own.
Technical Specifications
GPU
Cores
9728 SU, 304 TMU, 112 ROP, 76 CU/RT
Core Clock
2625 MHz (Default), 2655 MHz (OC)
Architecture
Ada Lovelace
Manufacturing Process
5 nm
TDP
320 W
Memory
Memory Clock
1400 MHz
Memory Bus Width
256-bit
Memory Capacity
16 GB
Memory Type
GDDR6X
Bandwidth
716.8 GB/s
Connectivity
Display
3x DisplayPort 1.4a, 2x HDMI 2.1a
Power
16-pin
Dimensions
Length
357.6 mm
Width
149.3 mm
Height
70.1 mm
Weight
2400 g
Packaging and Accessories
Like many ASUS products of its class, the Strix RTX 4080 OC comes in a extravagant packaging.
Scope of delivery are as follows:
ASUS ROG Strix GeForce RTX 4080 OC
Collection Card​
Speedsetup Manual​
Adapter Cable​
ROG Graphics Card Holder
ROG Velcro Hook & Loop
Thank you Card
ASUS really went in deep with the bundled accessories. I do not mind the adapter nor the screw and GPU support combo but they have to dial down the use of paper.
Design, Layout and Build Quality
If there is a word that could perfectly describe the ROG Strix 4080 OC, then that would be gargantuan. While it is huge, it doesn't feel delicate or unwieldy which is due to its rigid diecast shroud, frame and backplate design. There's quite nothing like it that I have tested from recent memory. Like many high-end graphics card, it is quite heavy though, tipping the scales at 2.4 kilograms.
As opposed to the PCB mounted backplate designs, the one from this particular ROG Strix model is one huge chunk of metal. This not only provides necessary rigidity but it also completes the unibody design of the card.
Now connectivity options are plenty. We have 3x DisplayPort 1.4a here and dual HDMI 2.1a ports. Still no DisplayPort 2.0 interface here but I could get by with this configuration.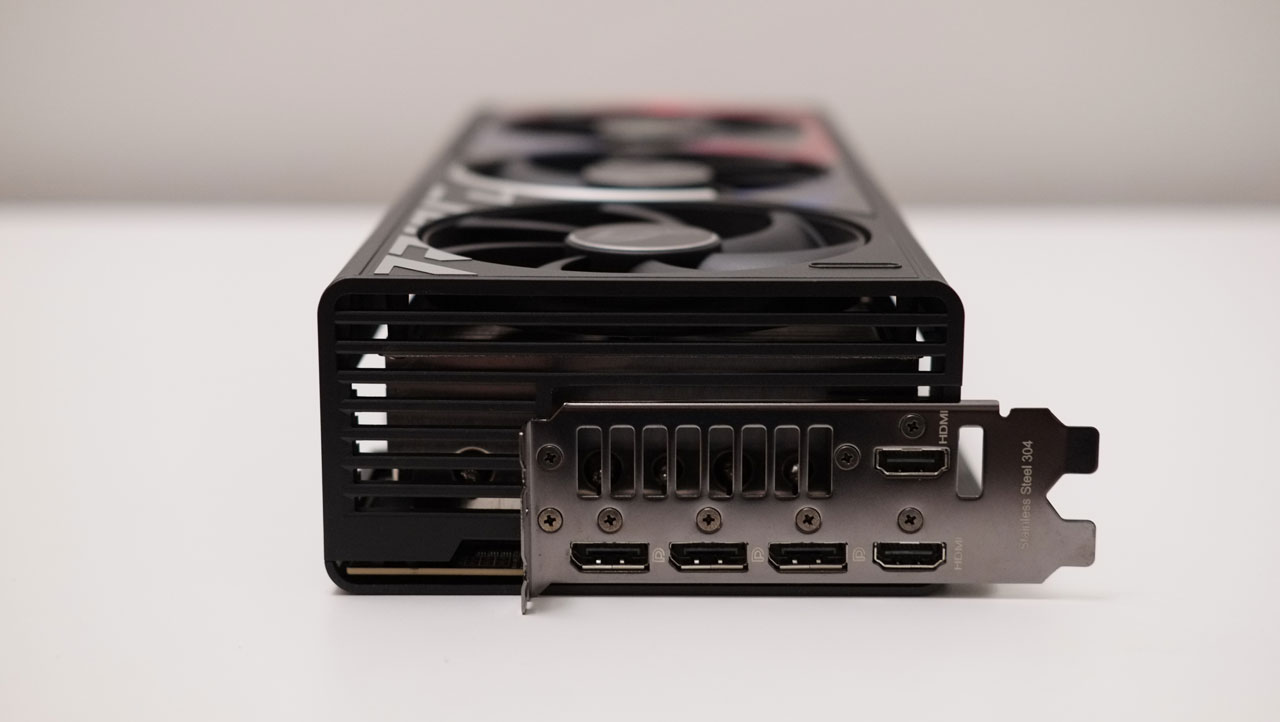 The Strix RTX 4080 OC is a fitting card into the hierarchy of ASUS ROG products. It looks and feel on par with the rest of the line-up so let us check out if the performance does.
Synthethic
3DMark performance is right on the money with good Fire Strike (DX11), Time Spy (DX12) and Port Royal (DX12 RT) results. Speed Way (DX 12 Ultimate) is of course a bit more straining but the RTX 4080 still managed to push through here with ease.
At VRMark, the RTX 4080 OC passed with flying colors. The Blue Room results in particular is the most strenuous here yet we still have ample of wiggle room over the target (203.6 vs 109 FPS) based on the results.
3D Rendering
Blender performance is awesome, at least compared to the RTX 4060 we've tested a few weeks back. We can't really compare both cards though.
Gaming
CS:GO is a piece of cake for the RTX 4080 OC at all resolutions tested. Now while the game is one of Valve's best titles when it comes to scaling, particle effects such as those from the dreaded smoke grenades will still tank your frame rate. Lucky enough, it shouldn't be that bad under 1440P. I assume that's the maximum resolution that most of you will play the game competitively.
Cyberpunk is still straining even at 1080P but it is very much playable at 1440P and even at 2160P. Now if you want a butter smooth performance with ray tracing turned on, your best bet is to enable DLSS.
Assetto Corsa runs smooth across all tested resolutions. Since the RTX 4080 OC also has plenty of frames to spare even at 2160P, I would recommend it for racing sim enthusiasts looking for a graphics card that could output the necessary amount of frame on a wide screen display. This card should be plenty enough for a 3440 × 1440 panel.
Yet another well optimized title, Forza Horizon 5 is no challenge to the Strix RTX 4080 OC – even at 2160P.
The RTX 4080 OC at Endwalker outputs similar performance at 1080P and 1440P but that could be due to the card hitting the game engine's frame cap.
With GTA V, the RTX 4080 had no trouble offering smooth gameplay experience through the resolutions tested.
Civilization is yet another passing title for the RTX 4080 OC. The card made it look easy to hit the game engine's ceiling.
Now Total War: Warhammer III is a different beast – like many Creative Assembly games before it. Still, the ROG Strix RTX 4080 OC managed to pull itself through even at 2160P.
Temperature
The ASUS ROG Strix RTX 4080 OC maxes out at 64 ºC via OCCT. That's the highest the card could reach on average.
Power
Now power figures are looking pretty good for the RTX 4080 OC. We have an average idle power consumption of 17.76 W, while we got an average load power consumption at 349.31 W.
Noise
The card remained composed during load, featuring a maximum of 39 dBA on average. I expected such feat from its capable cooling solution.
Final Thoughts

The GeForce RTX 4080 needs no introduction and with that said, what you'd get with this particular model is its beefy cooling solution, along with two profiles that you could toggle with a flip of a switch. We of course do not see the reason why we should choose the quieter profile since the card is intended to run with this particular profile from the get go.
Now the card also supports the ASUS Armoury Crate where you could tweak its lighting options. Not really a fan of such but it is there for you to play with. It also comes with support for GPU Tweak III which is useful if you want to further tweak the card's power or even the fan profile. Speaking, the Strix RTX 4080 OC comes with two 4-pin fan headers that could power your extra set of chassis fans.
The RTX 4080, more specifically the ROG Strix variant is truly worthy of its flagship status. This is a card is full to the brim with features, has an excellent build quality appropriate for the series and comes with an unapologetic performance wrapped in a rather elegant package. It perfectly capsulates what it meant to own an ASUS ROG product.
Now it is not perfect. The card is expensive (at least locally), with an MSRP around $1,800 USD. Elsewhere, you could get this card for about $1,365 USD so it really puts the card in a position where you are almost always certain to look for alternatives even at checkout. Again, at least locally.
With all said and done, I still find the ROG Strix RTX 4080 OC worthy of its current global market price. It is just a great card with the necessary grunt along with the NVIDIA Tensor core enhanced features that could back it up for years to come.
ASUS ROG Strix GeForce RTX 4080 OC
$1,364.99 USD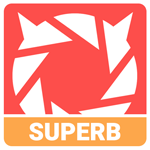 Product Name: ASUS ROG Strix GeForce RTX 4080 OC
Product Description: The ASUS ROG Strix GeForce RTX 4080 16GB GDDR6X comes with DLSS 3 support and chart-topping thermal performance.
Brand: ASUS
Summary
The ASUS ROG Strix RTX 4080 OC is a high-end graphics card capable of unleashing the full grunt of the GeForce RTX 4080 GPU. It is current-gen 4K gaming ready with enough headroom to spare especially with its Tensor core enhanced features enabled.