In for review is the Palit GeForce RTX 4060 Dual. This is the smaller brother of the RTX 4060 Ti, featuring a price point of $299 USD.
The Palit RTX 4060 Dual is a non-reference design graphics card that we've seen before at COMPUTEX Taipei. It comes with dual 95 mm fans, blowing air into Palit's custom made cooler. This configuration should allow the card to comfortably reach its boost clock rated at 2460 MHz.
Disclosure: Palit sent the GeForce RTX 4060 Dual for the purpose of this review. The company did not ask me to say anything particular about it. All thoughts and opinion are of course my own.
Technical Specifications
GPU
Cores
3072 SU, 96 TMU, 32 ROP, 24 CU/RT
Core Clock
1830 – 2460 MHz
Architecture
Ada Lovelace
Manufacturing Process
5 nm
TDP
115 W
Memory
Memory Clock
2125 MHz
Memory Bus Width
128-bit
Memory Capacity
8 GB
Memory Type
GDDR6
Bandwidth
272.0 GB/s
Connectivity
Display
3x DisplayPort 1.4a, HDMI 2.1
Power
6-pin
Dimensions
Length
245 mm
Width
124 mm
Height
40 mm
Weight
648 g
Packaging and Accessories
Pretty simple packaging we got here for the Palit RTX 4060 Dual.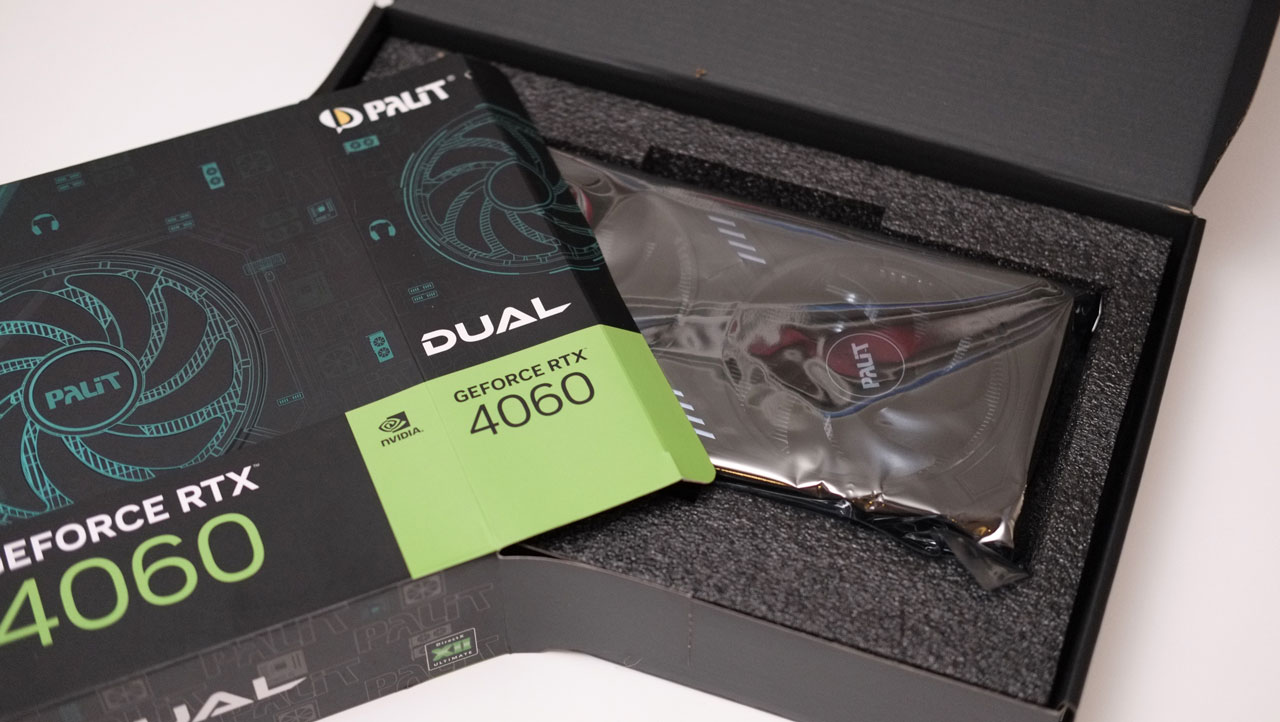 Scope of delivery are as follows:
Palit GeForce RTX 4060 Dual
Not even a whiff of a piece of paper – but I appreciate the sustainability gesture.
Design, Layout and Build Quality
Palit designed the RTX 4060 Dual with simplicity in mind. Immediately, you'd notice that this card comes with a PCIe 4.0 x8 interface. While it has less available bandwidth compared to full-sized slots, it shouldn't hurt the card's theoretical performance. This is however debatable if you have an older motherboard with PCIe 3.0 slots so keep that in mind. To add, it is impossible to secure the card via a latch so make sure to fasten the brackets tight.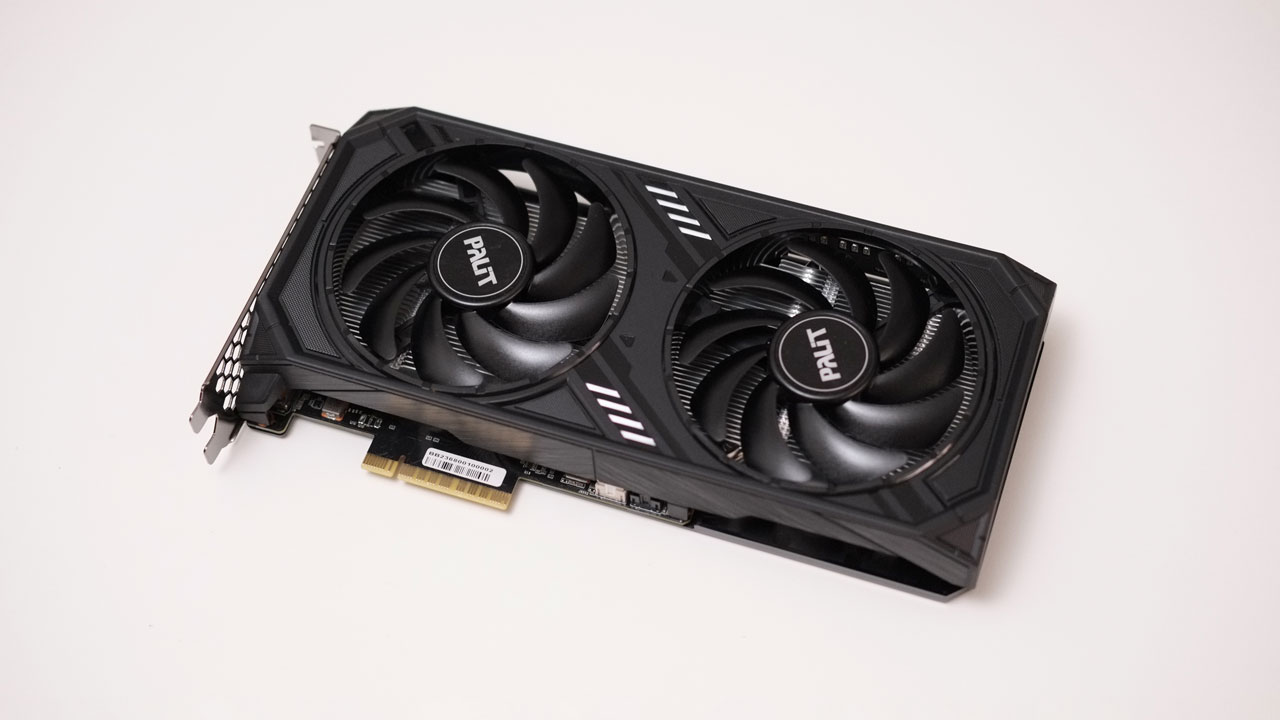 Like many RTX graphics cards nowadays, the Palit RTX 4060 comes with a short PCB, allowing manufacturers to be creative with their cooling solutions. For an instance, this particular model has a backplate with a large cut-out area for a more efficient heat dissipation via one of its 95 mm fans.
Connectivity options are plenty. We have 3x DisplayPort 1.4a here and a single HDMI 2.1 port. I would love to see a DisplayPort 2.0 interface here but it is what it is.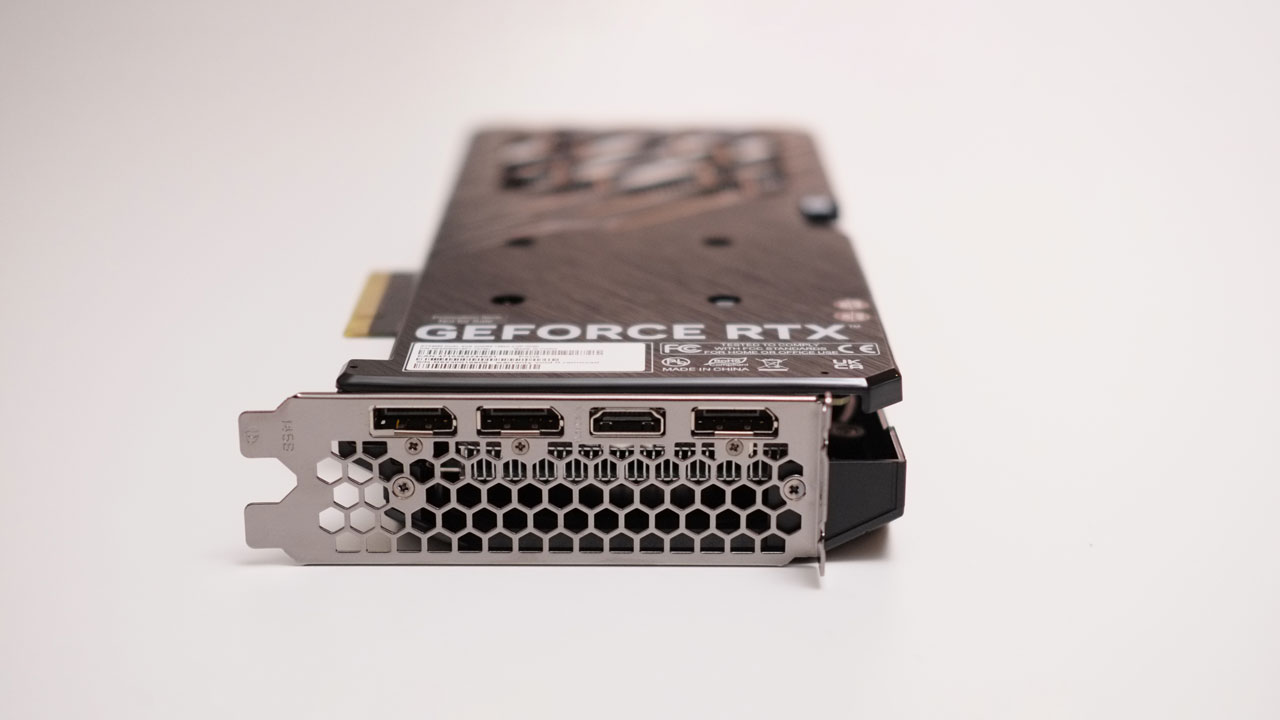 The graphics card is stout and looks proper for its price. Got nothing else to say here so let us get on with the benchmarks.
Synthetic
3DMark performance is right on the money with good Fire Strike (DX11), Time Spy (DX12) and Port Royal (DX12 RT) results. Speed Way (DX 12 Ultimate) is of course a bit more straining compared to others but the card pushed through regardless.
At VRMark, the RTX 4060 Dual passed with flying colors with the exception of the Blue Room. 64 FPS is definitely decent for normal titles but for VR ones, it is best to have at least 90 FPS on average.
3D Rendering
Now Blender's three main benchmarks shows that the RTX 4060 is faster or at the very least on the same level with the RTX 3060 Ti.
Gaming
The Palit RTX 4060 performed well at CS:GO which is many of you would not question considering the title's age or rather, the amount of optimizations it received through the years even with its impending sequel. We have excellent average FPS through the resolutions tested and with that I could confidently say the RTX 4060 could handle it smoothly even at 4K with a few caveats. I.e., the 1% and 0.2% percentile results.
Now Cyberpunk 2077 is actually playable at 1080P. For 1440P however, it requires a bit of tinkering if you want to breach 60 FPS. Lucky enough, the RTX 4060 supports DLSS 3, opening up a whole new option for gamers to boost gaming performance with such a demanding title.
Assetto Corsa runs smooth across all tested resolutions. The RTX 4060 sweeps this game and it should considering how light the game is compared to more recent sim racing titles.
The RTX 4060 also performed well at Forza Horizon 5 – even at 4K. This title also supports NVIDIA's latest AI-based features so if you want to get more frames, you may do so with much gusto.
At Final Fantasy XIV: Endwalker, the RTX 4060 performed well across most resolutions. It struggled a bit at 4K UHD so I would consider lowering the game's resolution or its settings.
At GTA: V, the 1080P and 1440P results are almost identical due to how easy the RTX 4060 could reach its frame cap. Regardless, the card could perfectly play this title even at 4K UHD.
The GeForce RTX 4060 has nothing to sweat for at Civilization VI. Game's pretty much smooth at all resolutions tested.
Now Total War: Warhammer III is a different beast – like many Creative Assembly games before it. 1080P is the only resolution I would be confident to play here at our preferred settings – benchmark results considered.
Temperature
The Palit RTX 4060 Dual maxes out at 78 ºC via OCCT, peaking right at the start of the load test. This means the fan curve could use some tweaking. Now, once the fans starts spinning, the GPU temperature simmers down to around 64 ºC.
Power
Now power figures are looking pretty good for the RTX 4060. We have an idle power consumption of around 15 W, while it hoovers around 115 W at full load. These are again, good numbers to see – as expected from the 5 nm Ada Lovelace architecture.
Noise
SPL readings checks out according to its aggressive fan profile. You'd only get annoyed with the Palit RTX 4060 when it spins up but it will quiet down to around 39 dBA soon enough. For reference, that is still very much audible but much more acceptable compared to anything beyond 40 dBA.
Final Thoughts
The Palit GeForce RTX 4060 is a simple card and that's what I like about it. It has a simple yet stylish RGB on the side shroud, has dual 95 mm 0 dB fans and a 3D printing friendly design via Palit's Maker Project. Now as for the software, this particular card comes with the Palit Thunderstorm. It is basically Palit's overclocking, lighting and monitoring software in one. You may also adjust the fan curve here – a feature I am thankful for due to how strange the default fan curve is.
Now as for specifics, the NVIDIA GeForce RTX 4060 comes with full support for DLSS 3 and of course, ray tracing. That said, it unleashes a slew of options for gamers to tinker with – considering the games that supports it. At Cyberpunk 2077 for example, we could gain as much as 175% in frame rate (4K UHD) allowing us to play the title at that resolution comfortably.
While enabling RT alone is suicidal, with DLSS 3 that is not the case. That said, DLSS 3 allowed us to play Cyberpunk 2077 with ray tracing up to 1440P with decency. Graphics anomalies are nowhere to be found too which points us out to how good the frame generation feature works.
Now the RTX 4060 also supports AV1 encoding which means it is the cheapest graphic card at MSRP to natively support such via its built-in NVENC (NVIDIA Encoder).
NVIDIA poised the RTX 4060 as a "gateway drug" into the world of ray traced games and we got to thank DLSS 3 for that. I think this is where the RTX 4060 slots right in along as a possible upgrade path for gamers with an RTX 2060 graphics card (or equivalent) and below.
Now if you have an RTX 3060, you should probably skip this card. I do not have direct comparisons here yet but based on my older data with the said card and with a bit of educated guess, the raster gaming performance you will receive is most likely negligible. That is, unless you consider power efficiency and the investment into the AI enhanced gaming features as huge metrics, then and there you are welcome to side grade.
In closing, while I felt that the RXT 4060 should be slated as a card at $250 USD, it is actually a decent option for $299 USD – if you are 100% willing to play along its strengths – no in-betweens. That means you must be also willing to bet on NVIDIA's future GeForce titles. An investment many have already been made.
Palit GeForce RTX 4060 Dual
$299 USD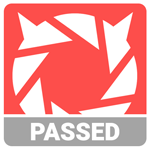 Product Name: Palit GeForce RTX 4060 Dual
Product Description: The GeForce RTX 4060 Dual Series is covered by sleek black finish. With two 95mm large fans and wide opening on the back plate, the graphics card offers competitive cooling and acoustic performance. The subtle RGB lighting on the rear also adds a sense of stylishness to the pc station without being too much as a distraction.
Brand: Palit
Summary
The Palit GeForce RTX 4060 Dual made ray traced gaming obtainable at a price of $299 USD. Had this been priced a little lower, I would gladly recommend it to anyone. Where it stands right now is a bit tricky though, considering the current price of the last generation graphics cards and their raw raster performance.