In a fortunate turn of events, ASUS and Palit decided to send us Two of their flagship Nvidia GeForce GTX 780 Ti Graphics cards for review. That said, since both cards shares the same GPUs inside, we'll go with a different approach this time with a head to head review plus, GTX 780 Ti SLI performance .  Aww yiss.
If you're not keeping a tab on the latest technological advancements this side of the industry, the GeForce GTX 780 Ti is Nvidia's flagship gaming graphics card that sits at the top of the chain when it comes to eye watering pricing and much importantly, gaming performance. The ASUS card we got here, along with the Palit card features all the bells and whistles of the 780 Ti but with an added extra OHMP! when it comes to cooling, styling, and clock speed specifications. Check out the chart below.
Shader Units
Core Clock (MHz)
Memory Clock
(MHz)
Memory Amount
Memory Width
Max Power (W)
ASUS GTX 780 Ti DirectCU II OC
2880
954/1020+
1750
3072
384-bit GDDR5
250
Palit GTX 780 Ti JetStream
2880
980/1046+
1750
3072
384-bit GDDR5
250
Nvidia GeForce GTX 780 Ti
2880
875/928+
1750
2072
384-bit GDDR5
250
ASUS GTX 780 TI DIRECTCU II OC: BULKY BUT SEXY
The ASUS card came in a rather usual packaging. Helps keep the cost down by a bit to be honest and I do not mind. It kept the card nice and safe from harm so it's not a biggie.
Accessory wise, the card came with a rather light bundle. We'd love to see some display adapters here but sadly, all we got is a dual 6-pin to 8-pin adapter which is utterly useless. Good thing ASUS included some adhesive accents in case you want to dress the nekkid DirectCU II cooler with your preferred flavor.
Out of the box, the ASUS GTX 780 Ti DirectCU II OC sure looks amazing even without the added accents. You could add those adhesive accents later but the whole Black thing about this particular GTX 780 Ti is just marvelous.  Similar to their R9 280X DirectCUII, this one also employs an impeller fan and axial fan combo. The shroud itself is made out of aluminum I must add, which is astounding. Clearly, ASUS sacrificed the packaging stuffs and focused on their product's build quality.
Even with a glorious matte Black PCB, ASUS still employed a GPU backplate to aid the card's weight and to be honest, it added another bit of coolness. This particular card, as said earlier, is a non-reference edition card with an in house PCB design by ASUS. Check your case's clearance though since it's pretty bulky at 11.3″ long, and 5.8″ wide.
Though long and wide, the ASUS GTX 780 Ti we got here still conforms to the 2 slot standard. Meaning, you just saved another slot if your motherboard has a limited space to run dual GFX card configurations. At the image below, we could see that the ASUS DirectCU II OC also conforms to the Nvidia's standard with 2x DVI ports, a single HDMI port, and a Display Port.
The ASUS card is powered by a 2x 8-pin GPU power connector. This card is expected to have atleast 250W of TDP so you'd better use a capable PSU to keep it in a leash.
PALIT GTX 780 TI JETSTREAM:  3 SLOT CLASSY
Compared to the ASUS card, this very GTX 780 Ti from Palit has a much more premium feelin' packaging combined with a hard shell inner one that cradles the graphics card itself.
Inside, we've got the usual paperworks, DVI to HDMI Adapter, VGA to DVI, and a Dual 6-pin to 8-pin adapter. We've also got Two premium game keys included in the mix which is a huge plus. Awesome.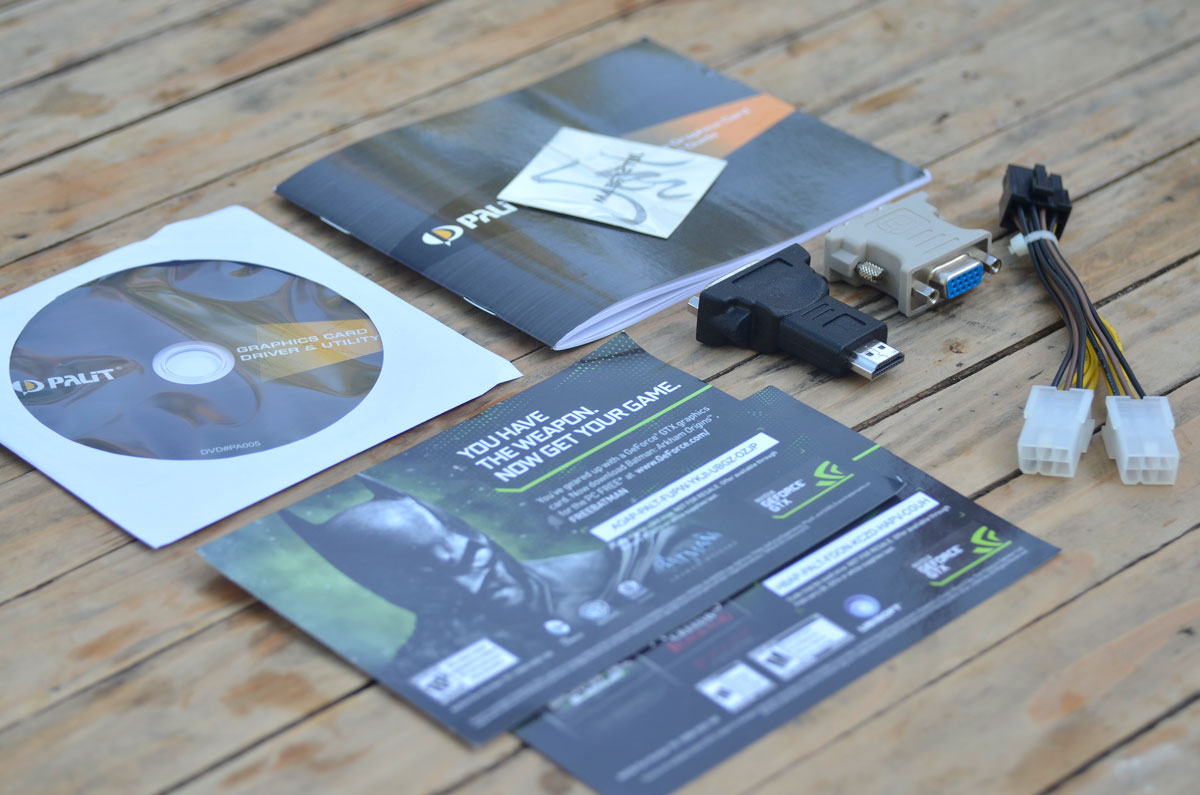 Compared to the ASUS card, the Palit one looks plastic-ey everywhere we look at it. Probably because the shroud is made out of plastic. Good thing is, it's not that heavy compared to the ASUS GTX 780 Ti. The Palit GTX 780 Ti JetStream is a long card but makes up for it's 3 fan configuration which should give the other GTX 780 Ti a good show when it comes to cooling performance. The card is also 26Mhz faster than the competition but we'll see about that.
Palit's GTX 780 Ti has no backplate or what so ever. Doesn't matter anyway since it's not bending into oblivion. However, PCB color isn't my type but it's still ok. See that extra shroud bulge there? Palit could easily slice the size of that thing in half for better enclosure compatibility. I wonder why they decided to do that.
2 SLI bridge connector means that you could configure this card in a 2-way, 3-way, or a 4-way SLI configuration.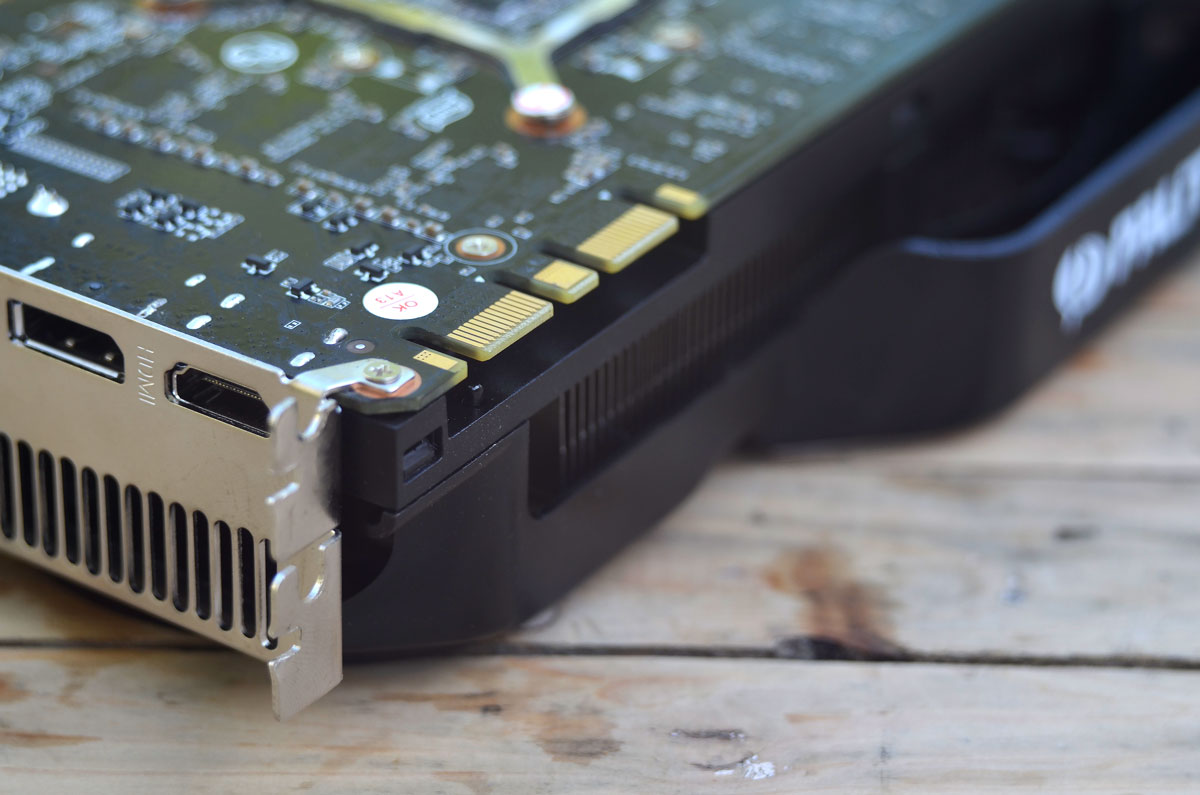 The card is somewhat between the 2 slot and the 3 slot PCI territory. That said, even with a 2 slot bracket, this card will occupy 3 of your board's slot. Output wise, the card has 2x DVI ports, a single HDMI port, and a Display Port for your convenience.
2x 8-pin power connectors supplies power to this behemoth. Nothing to dislike here. Now onto the testing!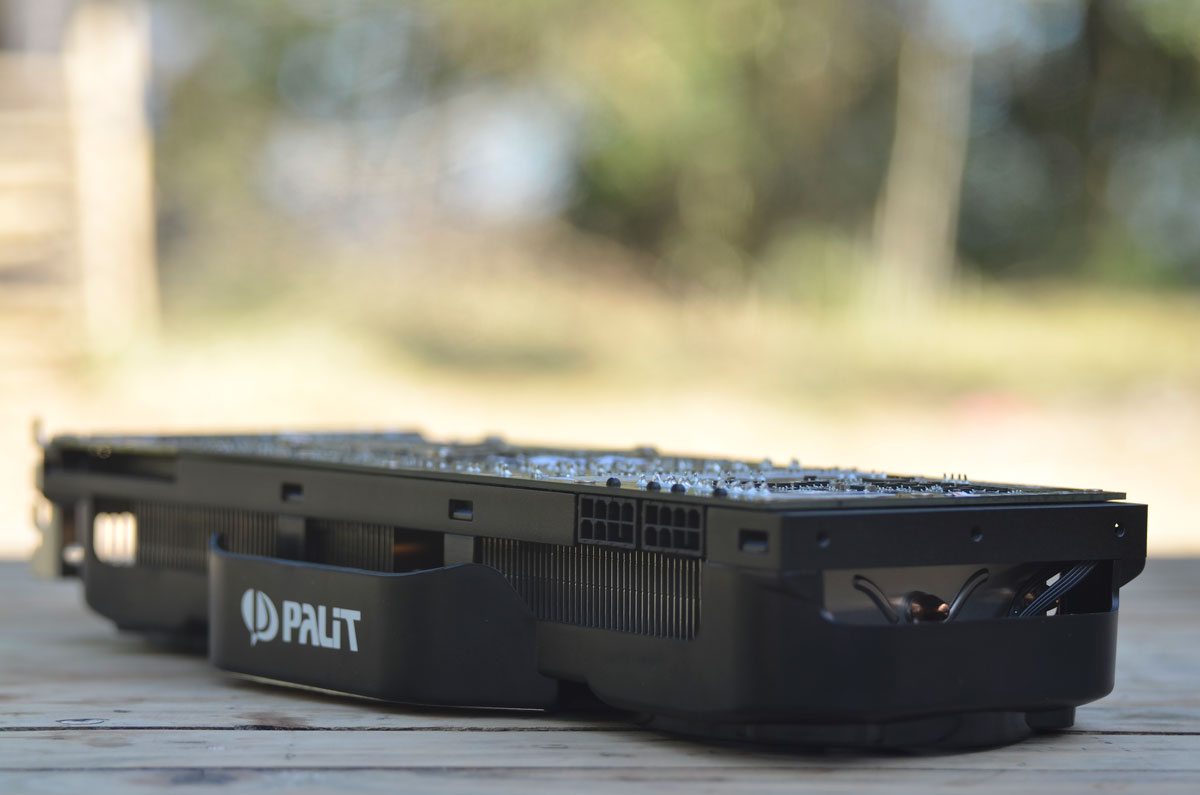 TEST SYSTEM / SPECIFICATIONS:
We have been selling stuffs here, so the usual test system of ours has been updated. As usual, to provide precise test results, the test systems will run on an updated copy of Windows 7 Ultimate x64 SP1. The BIOS/UEFI, Chipset, and Video Card drivers of the test system will be updated too, as much as possible. No other silly forms of softwares should be running while the benchmarks are on going, unless it is needed, or stated. As for the gaming benchmarks alone, tests should include 720P, 1080p, and 1440p (2560×1440) resolution results if permitted by the games, and benchmarking tools, or if necessary. Games without benchmarking tools of their own will have the FPS recorded with FRAPS. Below are the test system's specifications:
| | |
| --- | --- |
| CPU | Intel Core i5 4670K |
| MOTHERBOARD | GIGABYTE Z87X-OC |
| CPU COOLER | Prolimatech Megashadow |
| MEMORY | AVEXIR Core Series @2666MHz 16GB |
| GRAPHICS CARD | ASUS & Palit GTX 780 Ti |
| INT. STORAGE | Kingston SSDNow V+200 128GB |
| PSU | Cooler Master Silent Pro Hybrid 1300W |
| DISPLAY | LG FLATRON E2290 22″ LED |
| OS | Microsoft Windows 7 Ultimate x64 SP1 (Updated) |
| SOUND CARD | On board |
| EXT. STORAGE | 2TB Western Digital My Passport |
PERFORMANCE (SYNTHETIC/GPU COMPUTE):
3DMARK (2013) is a multi-platform benchmarking tool from FUTUREMARK, consisting of comprehensive tests that aims to gauge your gaming hardware; be it a smartphone, a tablet, a laptop, or a desktop PC.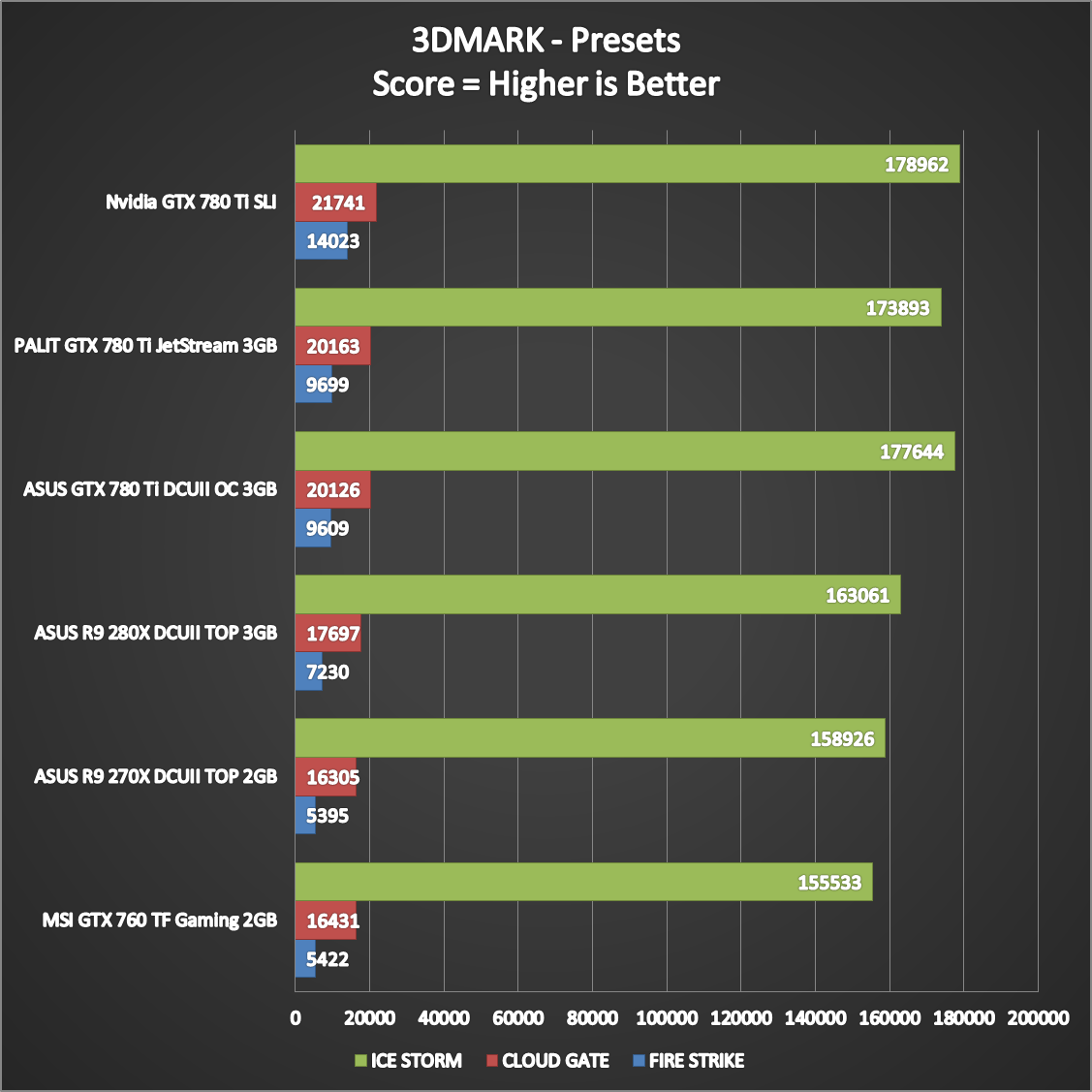 Heaven Benchmark is a DirectX 11 GPU benchmark based on advanced UNIGINE™ engine. It reveals the enchanting magic of floating islands with a tiny village hidden in the cloudy skies. This benchmarking tool heavily relies on tessellation, and that's what we're after.
Valley Benchmark is a GPU stress-testing tool from the developers of the very popular and highly acclaimed Heaven Benchmark. This non-synthetic benchmark powered by the state-of-the art UNIGINE Engine showcases a comprehensive set of cutting-edge graphics technologies with a dynamic environment and fully interactive modes available to the end user.
CINEBENCH R11.5 is a real-world cross-platform test suite that evaluates the computer's performance capabilities. CINEBENCH is based on MAXON's award-winning animation software CINEMA 4D, which is used extensively by studios and production houses worldwide for 3D content creation.
CLBenchmark is an easy to use, no frills high performance compute benchmark. It compares the strengths and weaknesses of different hardware architectures such as CPUs, GPUs and APUs.
RESULTS: As expected, both of the GTX 780 Tis on our test bench performed well when it comes to the synthetic benchmarks, trading blows with each other without a conclusive winner. The SLI performance on the other hand, is bittersweet since it doesn't scale that great on most benchmarks due to poor SLI support. We saw great scaling from 3DMark 2013's FireStrike, and Unigine's benchmarks though.
PERFORMANCE (REAL WORLD):
Metro: Last Light is a first-person shooter and horror video game developed by Ukrainian studio 4A Games and published by Deep Silver for Microsoft Windows, PlayStation 3 and Xbox 360. It was released in May 2013. The game is set in a post-apocalyptic world and features a mixture of action-oriented and stealth gameplay.
Resident Evil 6, is a survival horror video game developed and published by CAPCOM. It's one of my favorite PC games, mainly because I'm a fan of the series. It also has a built-in benchmarking tool to measure your PC's performance. It's only DirectX 9.0 compatible at the moment, though.
Tomb Raider (2013) is the fifth game, and the reboot of the Tomb Raider series. It is developed by Crystal Dynamics, and published by Square-Enix. We disabled Tress FX for this benchmark.
GRiD 2 is a racing video game developed and published by Codemasters and is the sequel to the award winning Race Driver: GRiD. The game was released for Microsoft Windows, PlayStation 3 and Xbox 360 on May 2013.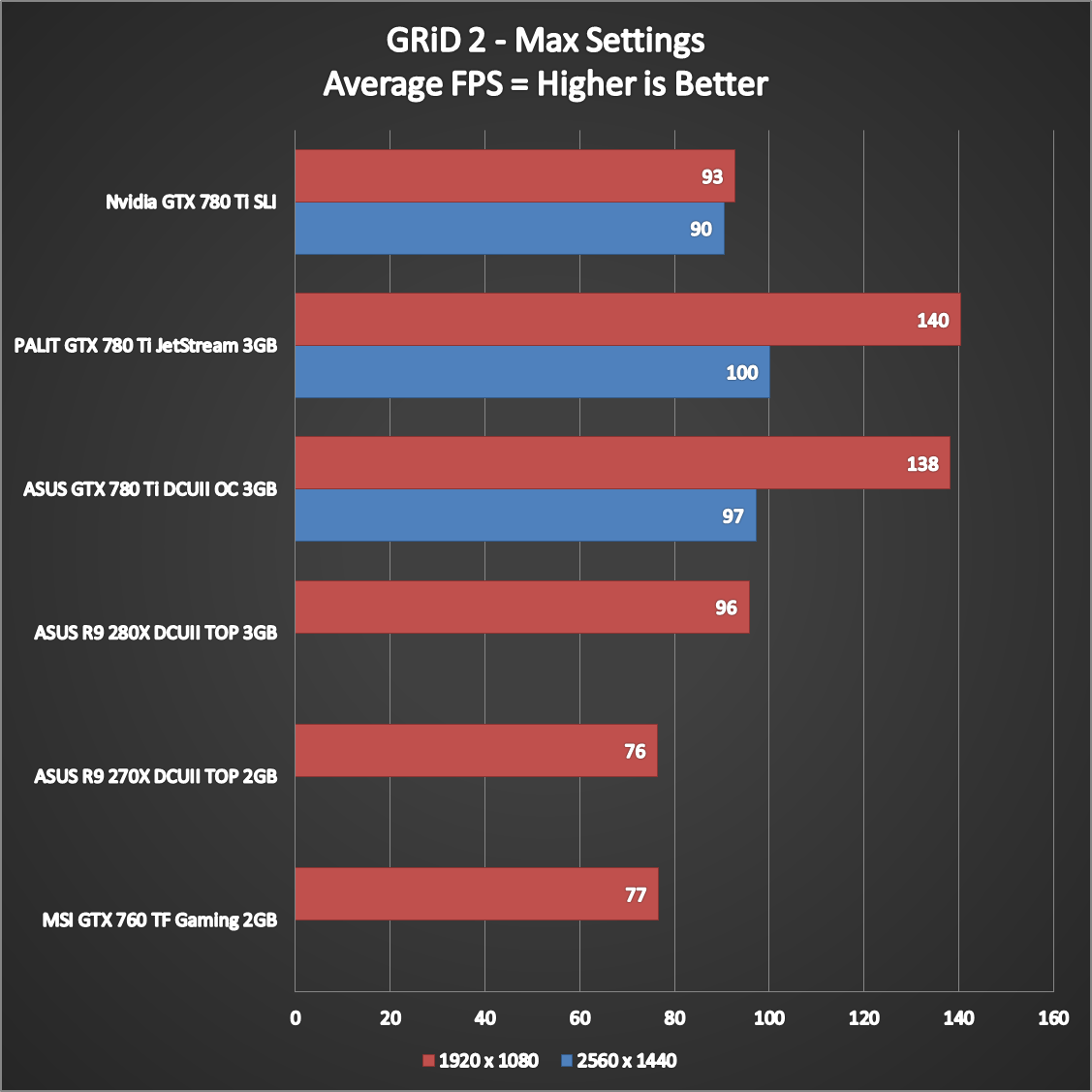 Sleeping Dogs is an open world action-adventure video game developed by United Front Games in conjunction with, and published by Square Enix for Microsoft Windows, PlayStation 3, and Xbox 360. Sleeping Dogs takes place in Hong Kong and focuses on an undercover operation to infiltrate the Triads.
Company of Heroes 2 is a WWII based real-time strategy video game developed by Relic Entertainment and published by Sega for the Microsoft Windows platform. It is the sequel to the critically acclaimed 2006 game Company of Heroes.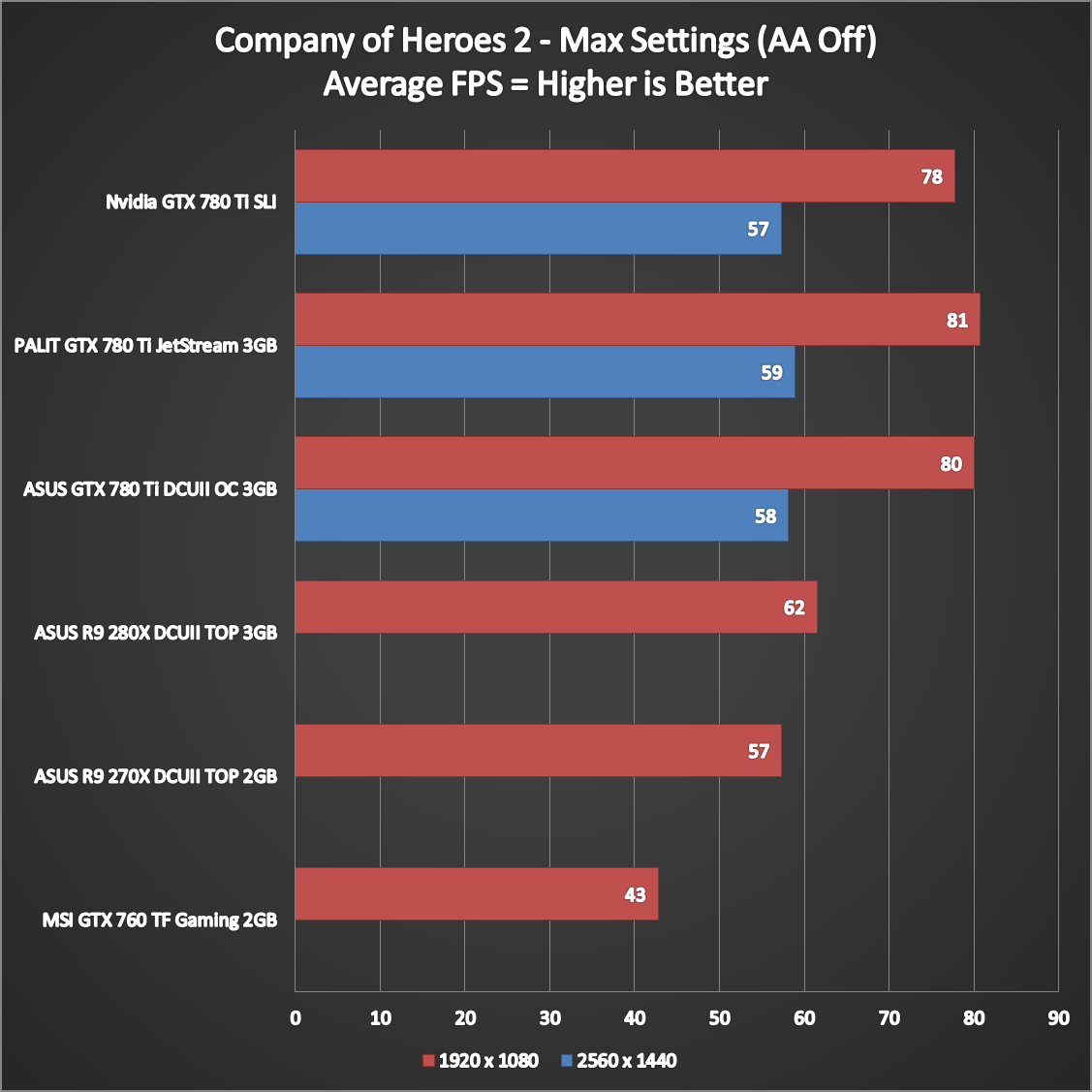 RESULTS: Gaming performance wise, it is evident that the Palit GTX 780 Ti JetStream got the upper compared to ASUS which is most probably due to its more aggressive stock clock frequency. Difference weren't night and day though as the ASUS card trails by just a small amount of FPS behind, and sometimes, performs on par with the Palit card. – Palit's GTX 780 Ti is still faster overall.
SLI performance on the other hand is mixed. We saw some great dual GFX card scaling performance on some of our games specifically Resident Evil 6, Sleeping Dogs, and Tomb Raider whose showed around 30% to 86% performance gains. Other games didn't benefited with SLI around though, even showing less performance at SLI mode. We also noticed that the games scaled better with a higher resolution (WQHD) compared to the usual HD 1080P.
PERFORMANCE (OVERCLOCKING):
Both cards are non reference GTX 780 Ti designs with beefier VRMs and coolers so the overclock-ability of these cards should be an action, rather than a question. First up to overclock is the ASUS GTX 780 Ti DirectCU II OC with a 954MHz core clock. Upping the ante to 1080MHz is no sweat with this card, as well as the memory clock upped at 1900MHz. That's equal to 13% OC for the core clock and around 9% for the memory clock which is nice. We could set it up until 1100MHz / 1950MHz but we're looking at clock per clock performance scores.
The Palit card on the other hand could keep up with  the competition when it comes to overclocking, but, we find it scary to get past the 1080MHz mark that has been set by the ASUS card mainly because of the coil whine we have experienced when it is at full load, similar to the Palit GTX 770 we reviewed before. Clearly, overclocking this card sure does showed some caveats.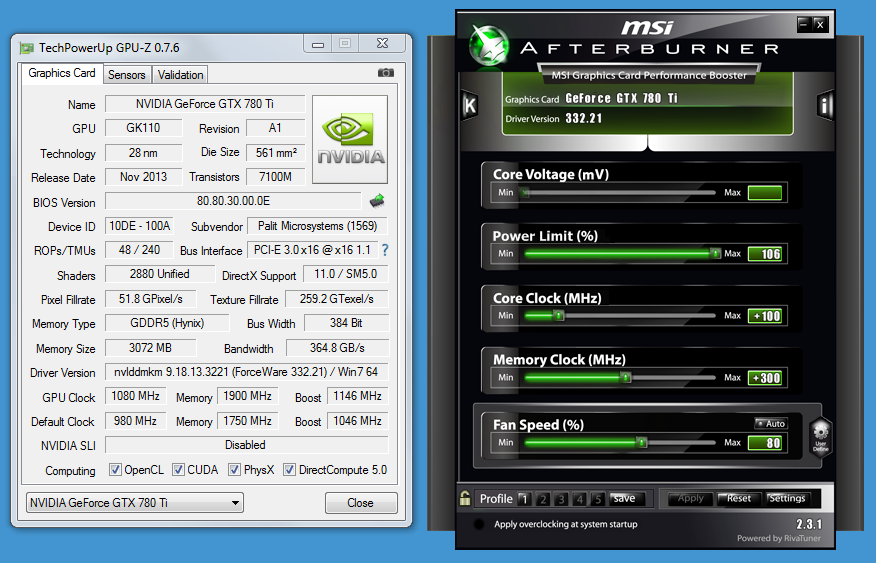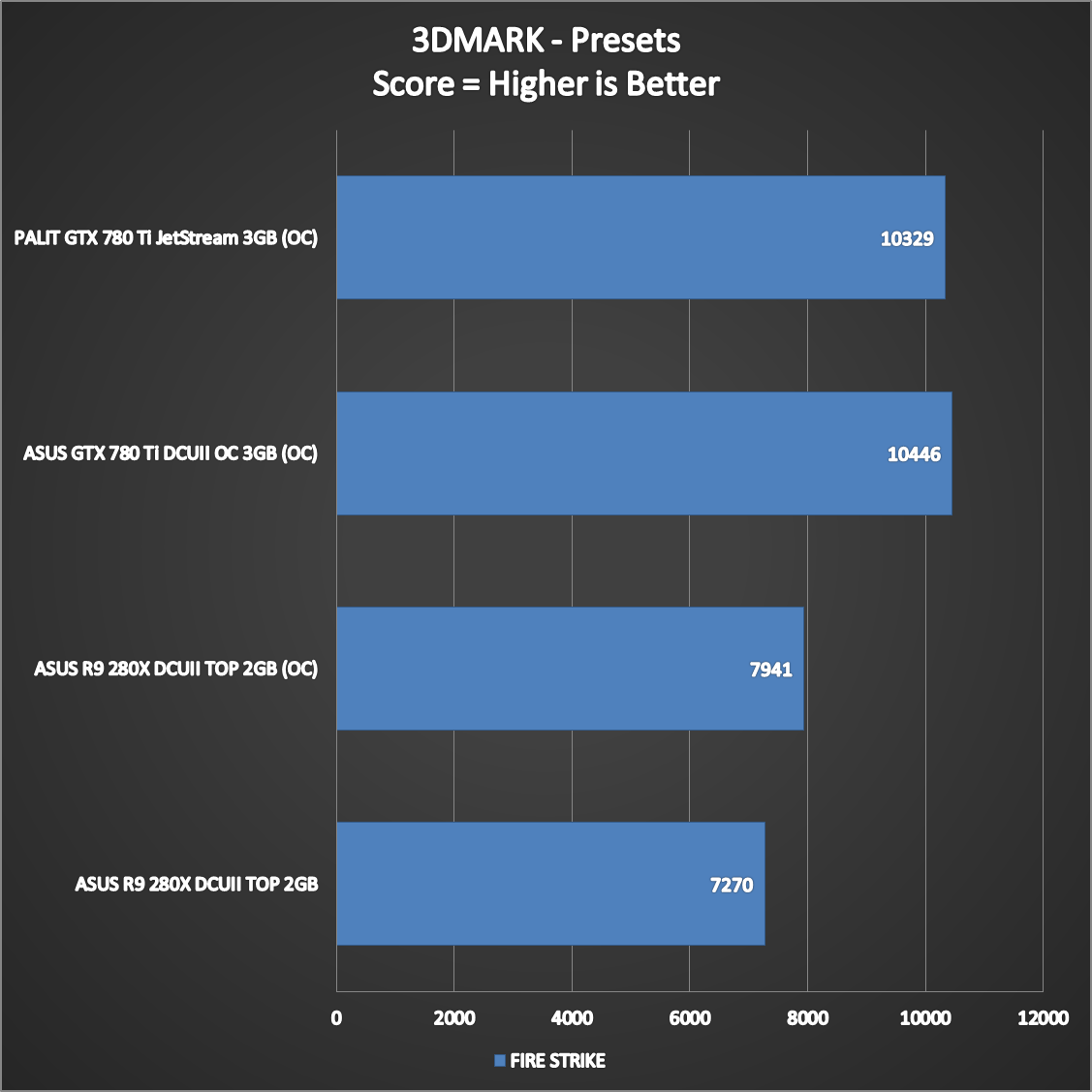 RESULTS: Overclocked, the ASUS GTX 780 Ti DirectCU II now truly showed what it's all about and that's overclocking and clock per clock performance. Clock per clock I say? Yes. Even though it has the same chip under the hood, ASUS has a tad better VRM components and cooler which we will talk about later. GPU Boost certainly benefited the most in this case. On another note, I can't really say much about the Palit card but it does the job done albeit a little scarier with the coil whine.
TEMPERATURE/POWER CONSUMPTION:
FurMark is a very intensive OpenGL benchmark that uses fur rendering algorithms to measure the performance of the graphics card. To record the GPU's maximum temperatures, I will run Furmark's Fur Rendering Burn-in Test, and let it run for 30 Minutes. As always, we try to keep the results consistent by keeping the ambient temperature checked at 27ºC. We also check to see how GPUs impacts power consumption. The system is left to idle for 30 minutes before readings are taken, and load data is taken 30 minutes while FurMark is running. Power readings are taken for the entire system from the socket.
RESULTS: The Palit GTX 780 Ti features a tad better power efficiency compared to the ASUS one. Maybe it's because about the components used since Palit has an 8 Phase one compared to ASUS' 10 Phase VRM. Temperature wise, this is where things gets interesting. First off, ASUS has a wonderful fan configuration hardware speaking, but the temperature curve is somewhat on the lighter side of things. For example, the ASUS card's fans wont speed up over 50% even though the temperature/load of the card went gaga. Even though we could tweak the ASUS card to match that of the GTX 780 Ti from the competition, the card from Palit is still a clear winner. Dual GTX 780 Ti power consumption on the other hand is expected to show a tad amount of power consumption at 600W.
VALUE & CONCLUSION:
Both of the GTX 780 Ti(s) we got here are fabulous pieces of gaming hardware, able to slice through benchmarks and games like a hot knife through butter. But, there has to be a winner and that my friends is not an easy task to do since both cards has their own market segments regardless of their similar chips under the hood. Lemme tell you why.
Starting off with ASUS GTX 780 Ti DirectCU II OC, one cannot simply disregard its sheer build quality. Everywhere you look at it, it just screams with it. Looks alone it is a tad better compared to the Palit card but it's just me being subjective. Even though it's slightly slower (I mean hairline slower) compared to the competition due to its lower clock speed, clock per clock it cannot be bested as seen on our overclock benchmarks. This means that you have to overclock this card to get the most out of it, and I guess ASUS already figured that out with its SKU (DirectCUII OC, duh!).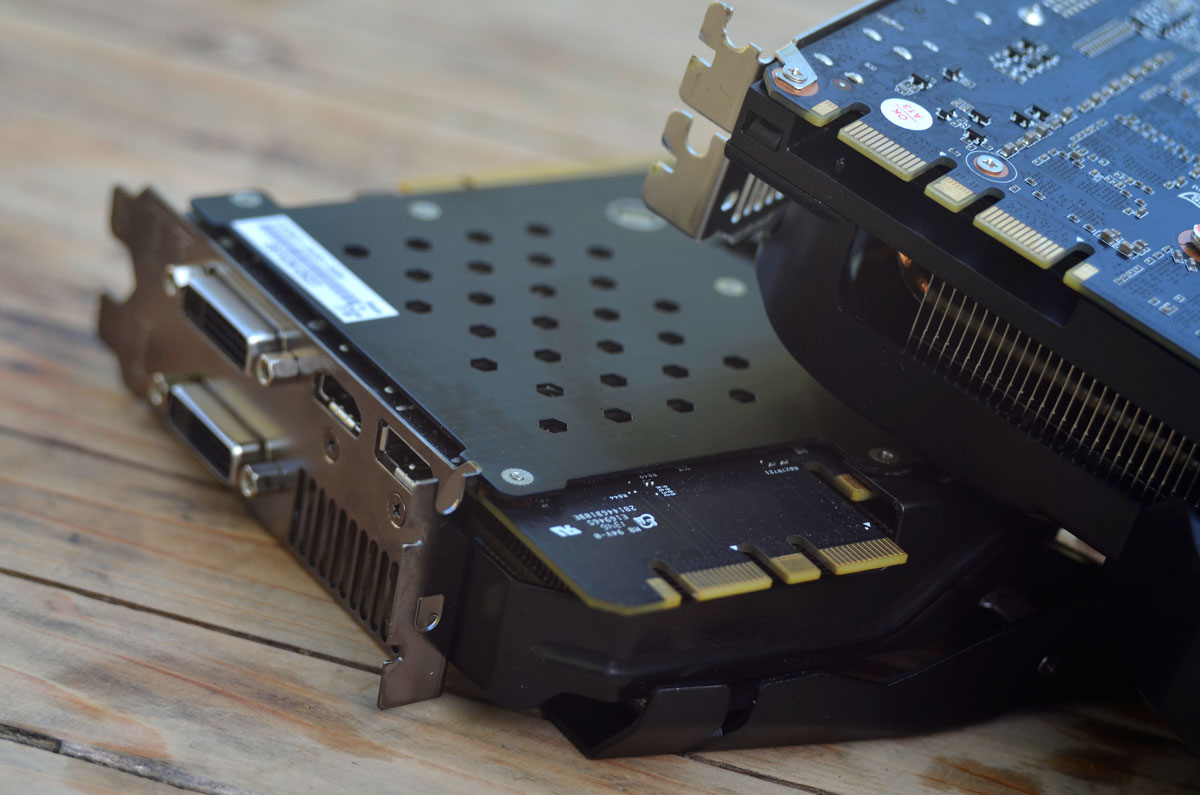 That said and done, the ASUS GTX 780 Ti DirectCU II OC is geared towards the power users and enthusiasts that doesn't want to conform to the standards – those who wants to push their machines to the limit without worrying about the price. I would also like to point out the flaw of its fan curve staying put at 50% regardless of the temperature but that's okay if you're willing to add another manual touch to this card. PRICE: 49, 500 Pesos | WARRANTY: 3 Years
ASUS GTX 780 Ti DirectCU II
PROS:
Looks freakishly awesome
Excellent build quality
Overclocks like a champ
Custom accent(s) is a plus
3 Year manufacturer warranty
CONS:
Bundled accessories lacking
Expensive. Damn.
The Palit GTX 780 Ti JetStream is somewhat the mainstream equivalent of the latter. With a nice factory overclocked chip, this should be enough for those wanting a blazing fast card without worrying too much about overclocking. Surely, you'll get more mileage with the competition when it comes to overclocking but this one offers the sweet spot for gamers who just wants to slap the card, and enjoy gaming ASAP. Just make sure that you have 3 slots available on your board if you're leaning towards this card.
My only complaint about this card is the rather questionable build quality since it features coil whine at full load when overclocked. Temperature and power consumption though, coupled up the bundled items and price, this card is surely a winner. Just don't overclock it too much. PRICE: 39, 100 Pesos | WARRANTY: 1 Year
Palit GTX 780 Ti JetStream
PROS:
Out of the box performance
Bundled games and accessories
Excellent temperature
Power consumption
Price is just right
CONS:
Eats up 3 slots
Coil whine when overclocked
ASUS vs Palit: Non-Ref Nvidia Geforce GTX 780 Ti
PERFORMANCE -

8/10

BUILD QUALITY -

8/10

FEATURES -

8/10

AESTHETICS -

8/10

VALUE -

7/10
Summary
The Palit GTX 780 Ti JetStream is somewhat the mainstream equivalent of the latter. With a nice factory overclocked chip, this should be enough for those wanting a blazing fast card without worrying too much about overclocking.