Our adventure with gaming headsets seems to never end as we got another one in for review. This time though, what we've got is the AXGH1V1 gaming headset from Axgon. This is a relatively new gaming brand from Singapore but with genes that could be traced back to AOC. Yes, that world renowned monitor brand.
Now the AXGH1V1 is a gaming headset with a price point of ₱1,559 PHP. It comes with a pair of 50 mm dynamic drivers and allegedly has 7.1 virtual surround baked into its USB interface. Of course it also has the gamer prerequisite RGB lighting.
Disclosure: Axgon sent the AXGH1V1 for the purpose of this review. The company did not ask me to say anything particular about it.
Technical Specifications
Headphone
Design
Over-ear, Closed-back
Transducer
50 mm, Dynamic
Frequency Response
20 Hz – 20 kHz
Impedance
20 Ω (±15%)
Sensitivity
103 dB (±3 dB)
Connectivity
USB Type-A
Microphone
Transducer
Dynamic
Polar Pattern
Uni-directional
Frequency Response
100 Hz – 10 kHz
Sensitivity
-38 dB (±3 dB)
Dimensions
Length
—
Width
—
Height
—
Weight
342 g
Packaging and Accessories
The Axgon AXGH1V1 comes in a simple packaging.
The box should come with the following items:
Axgon AXGH1V1 Gaming Headset
Documentation
I am not surprised to see next to nothingness at its price point.
Design, Build and Connectivity
The Axgon AXGH1V1 is a peculiar looking headset. It is also a bulky looking pair with oversize couplers topped with the seemingly indestructible microphone. This thing weighs about 342 grams so it is relatively decent by that metric alone.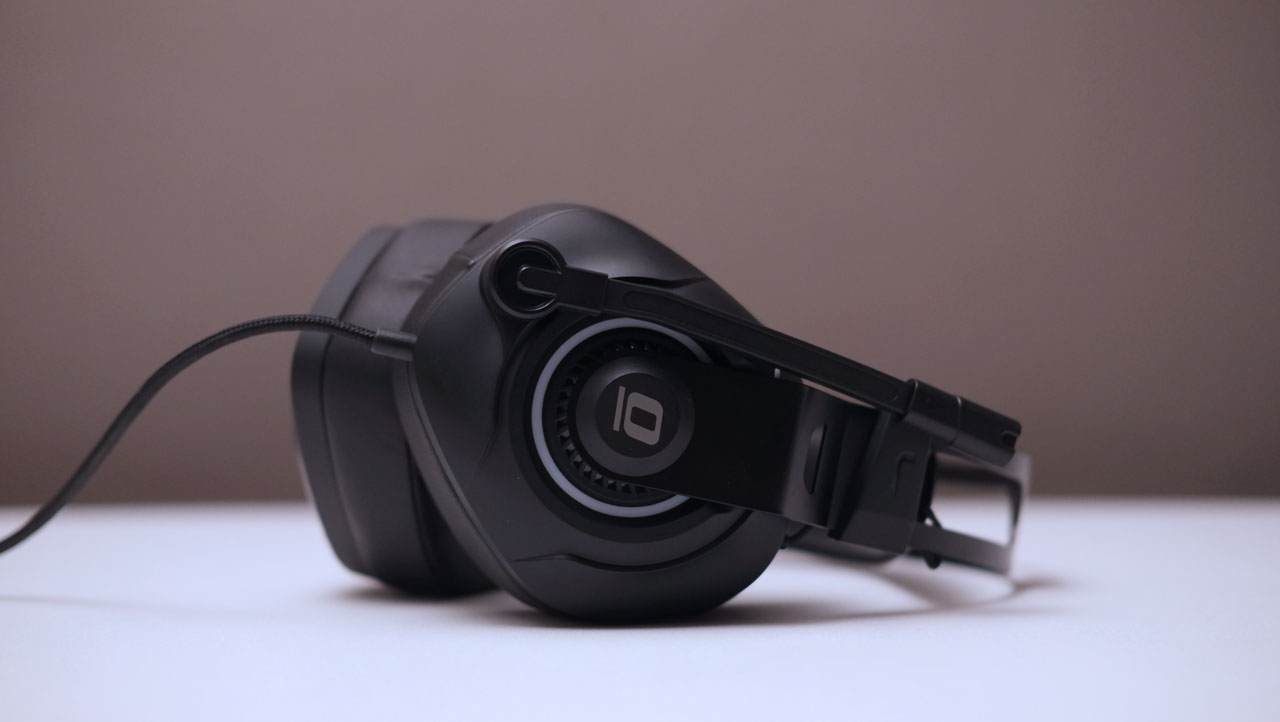 Since the coupler's shape is unconventional by design, Axgon had to use proprietary pads as well. These are deep artificial leather pads with memory like foam material. They are removable just so you know.
Function wise, everything you could tinker with the AXGH1V1 is located at its control box – or coffin rather. Jokes aside, the in-line controls are pretty basic. Even the DAC and ADC are basic stuff with 16-bit sampling rates.
While perceived build quality is debatably not its strong point, it is commendable when it comes to durability. That includes the somewhat pliable braided cable. I would still very much prefer non-braided ones but oh well, this will suffice.
Ergonomics
The Axgon AXGH1V1 features a self adjusting strap over a static metal headband design. Clamping force is actually pleasant yet the bias could still use some improvement. That said, it clamps slightly tighter at the top of the pads, creating an imperfect seal if you do not wish to readjust it every now and then. For your reference, my head's circumference measures at around 56cm (small-medium) so yours may vary.
Now if you're like me who hates amplified mechanical vibrations, then this gaming headset may upset you – more specifically its steel headband and or the coupler's mounting design. Without any sort of dampening material in place, the couplers will amplify anything you do at the headband.
Test Setup and Methodology
Our test setup relies on the measurements taken from Room EQ Wizard paired with the MiniDSP EARS headphone test fixture. Audio chain has been made simple with the Topping DX7 Pro and Topping A90 for balanced and single-ended devices. It is important to note that we are testing the review sample after burn-in, with at least 24-hours of uptime. This is done so to negate the FOTB (fresh out the box) state of the DUT (device under test), yielding better benchmarking consistency.
Test Setup
Headphone Test Fixture
MiniDSP EARS
Measurement Microphone
MiniDSP UMIK-1
DAC
Topping DX7 Pro
Amplifier
Topping A90
Resolution
24-bit, 48 Hz
Sound Pressure Level
84 dBA
Due to a number of factors including the test equipement and its limitations, the measurements obtained here are not meant to be compared from various results you may find online.
Note: This is a USB gaming headset so no measurements has been made with our usual audio chain.
Frequency Response vs Target
Sound pressure level is measured in decibels (dBA). The test aims to evaluate the frequency response and its compliance with a Harman inspired target curve.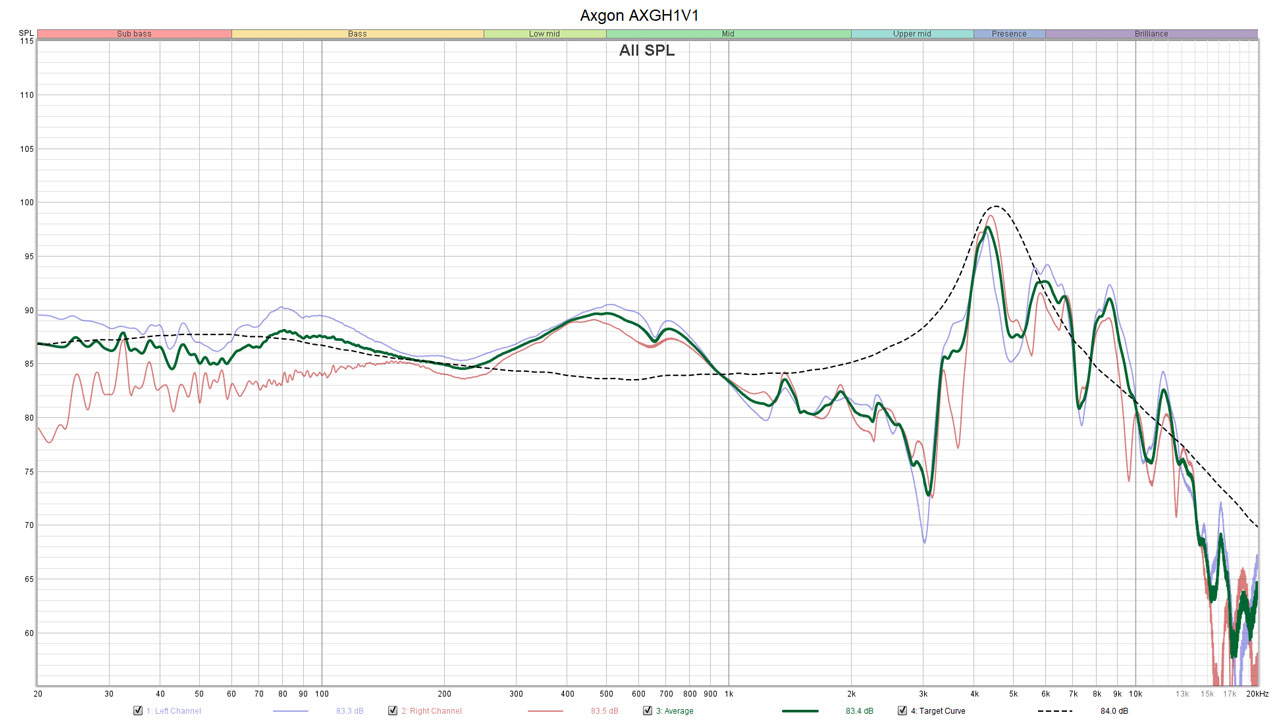 The Axgon AXGH1V1 is actually a pretty decent gaming headset (for its price) as far as its averaged frequency response is concerned. We've got a resonant but still acceptable bass response followed by a midrange hump. Upper mids are recessed but we got proper ear gain towards the treble. Stock form, this is a mid forward gaming headset with enough energy from the low-end and a bit of spiciness into the treble (brilliance) area. This actually beats the recently reviewed ASUS ROG Delta S Wireless for a fraction of its slated MSRP.
Bass: Again, based on the averaged response, the bass region has an appropriate amount of energy. Not so much when it comes to quality though which is most likely a combination of channel imbalance, driver limitations and maybe even the coupler design itself.
Midrange: Could really use an improvement via equalization to minimize the energy around 500 Hz. At stock form this could be described as honky, hollow and even nasal. The dip around 3 kHz accentuated this but it also gave the AXGH1V1 a good sense of scale – honestly sounds wider compared to my Sennheiser HD600.
Treble: Has that bit of spiciness due to the extra energy around 8-9 kHz and a dip around the presence area but other than those two, it is where it should be. You could equalize this but its the least of my concern since these are on narrow bands and would require finesse just to get right without butchering the other frequency ranges.
Now channel balance is yet another weakness – particularly at the bass region. Mind you, these measurements from the left and right channel were already made with perfect fit and seal. As for stereo imaging, it is acceptable for the most part – again for its price.
Total Harmonic Distortion
THD level is measured in percentage (%). The test aims to evaluate the total harmonic distortion.
Elevated right channel distortion indicates there's an issue from the driver itself. We could still equalize the right channel to match the left but it will definitely add more distortion. Update: Actually scratch that, I tried it and it sounds like it is clipping to kingdom come.
Group Delay
Signal time delay is measured in microseconds (μs). The test aims to evaluate the group delay.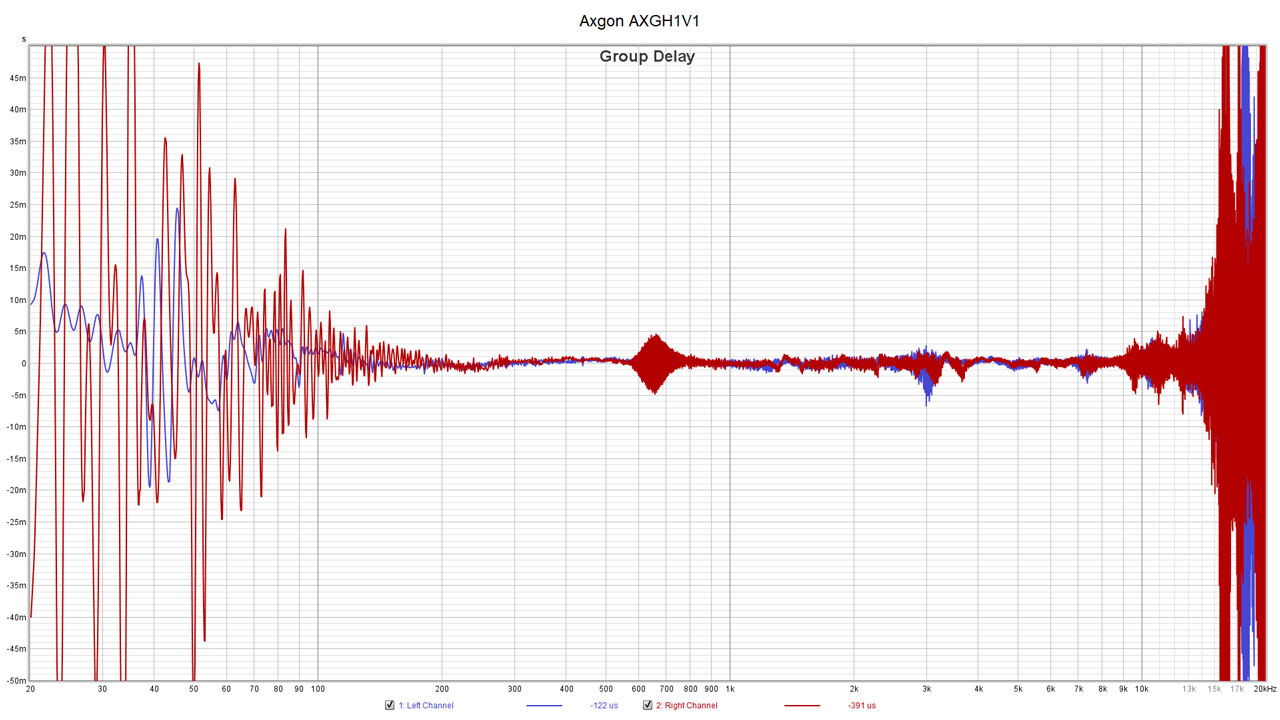 Group delay suggests weak transients from the right driver – bass region wise. This sort of performance or lack there of, together with the distortion level could explain the massive channel mismatch and the smeared low-end.
Cumulative Spectral Decay
Signal time decay is measured in milliseconds (ms). The test aims to evaluate the cumulative spectral decay.
Both left and right channels exhibited long lasting resonance around the bass region. We also get some residual energy around the midrange proper.
Features
The AXGH1V1 is kinda light on features for a gaming headset but I do mind that at its price point. You'd still get the bare minimum for "gaming" and that includes the RGB lighting. There's this toggle for ACG at the microphone's properties but it seems to do nothing but add extra background noise with listen mode turned on. This is not virtual 7.1 surround nor noise reduction. No information could be found from the manual too so it could be something else.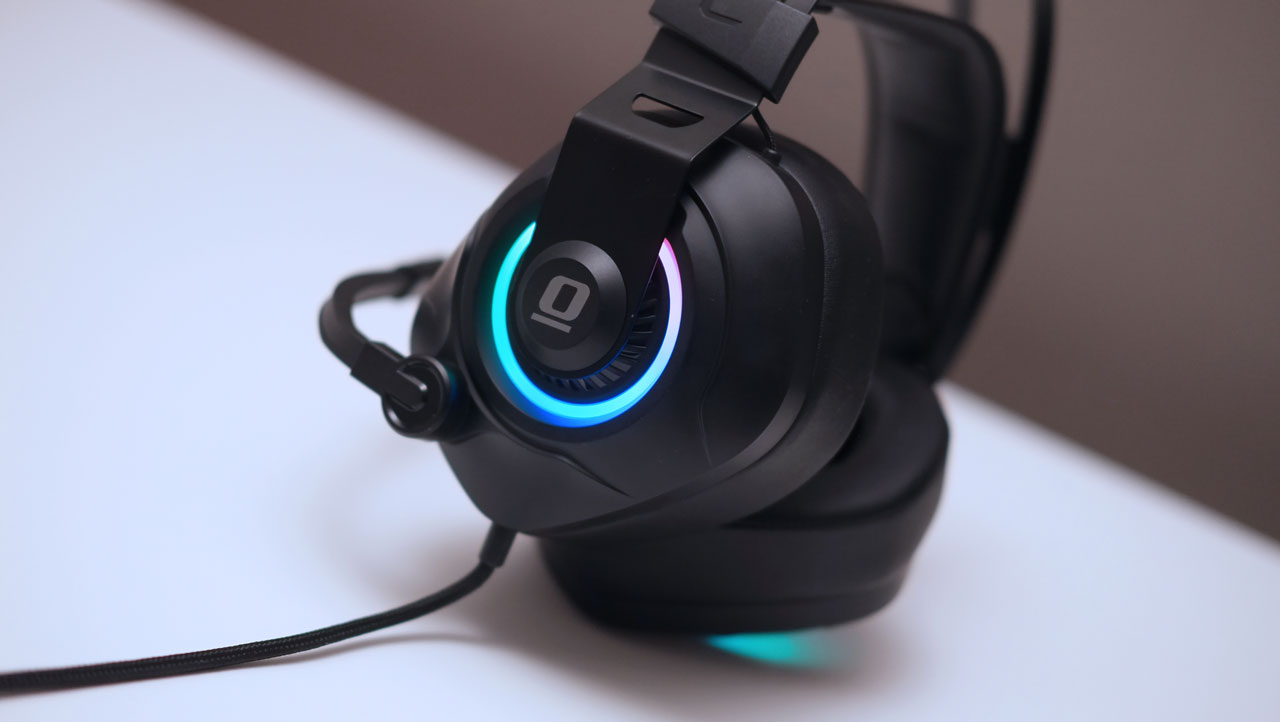 Anyway, I said extra background noise because there is an audible noise from the microphone. Though decent for its price (check it out here), I wouldn't suggest using it as an open microphone. If that is not possible, have the gain adjusted to a lower level and compensate by raising your voice. Even then, there will be noise but it will be a little bit more manageable.
Final Thoughts
The Axgon AXGH1V1 is a decent gaming headset for its designated price point. Tonality could be better but it is actually better compared to the majority of the gaming headsets I have tested – fixable too with minor EQ filters. What's sad though is the audible channel mismatch down low so quality control is something that I would like Axgon to iron out.
The question is, would I buy the AXGH1V1? Personally speaking, I would not due to a number of good reasons. Now if I am looking for a beater that I could just give away whenever I am done with it then this is something I would consider.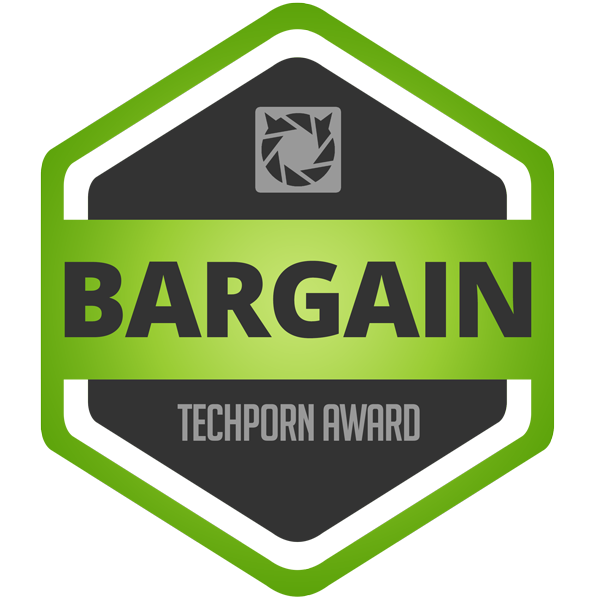 Axgon AXGH1V1 Gaming Headset
Summary
Quality control issues aside, the Axgon AXGH1V1 Gaming Headset is actually one of the decent gaming headset offerings you could get at around $25 USD.