It has been a good while since we've posted an audio gear review so here we are with the ASUS ROG Delta S Wireless as a prime candidate for our musings. This is a sub $200 USD/ ₱10,000 PHP gaming headset, featuring a built-in microphone into its coupler along with AI enhanced features.
Like many wireless gaming headsets, it also comes with a 2.4 GHz dongle for improved latency. It still sports that distinct ROG Delta coupler design so if you like the previous headsets of the same series, then this could be a worthy upgrade.
Disclosure: ASUS sent the ROG Delta S Wireless for the purpose of this review. The company did not ask me to say anything particular about it.
Technical Specifications
Headphone
Design
Over-ear, Closed-back
Transducer
50 mm, Dynamic
Frequency Response
20 Hz – 20 kHz
Impedance
32 Ω
Sensitivity
—
Connectivity
2.4 GHz + Bluetooth, USB Type-C
Microphone
Transducer
—
Polar Pattern
Bi-directional
Frequency Response
100 Hz – 10 kHz
Sensitivity
-37 dB
Dimensions
Length
—
Width
—
Height
—
Weight
310 g
Packaging and Accessories
The Delta S Wireless comes in the usual ROG packaging.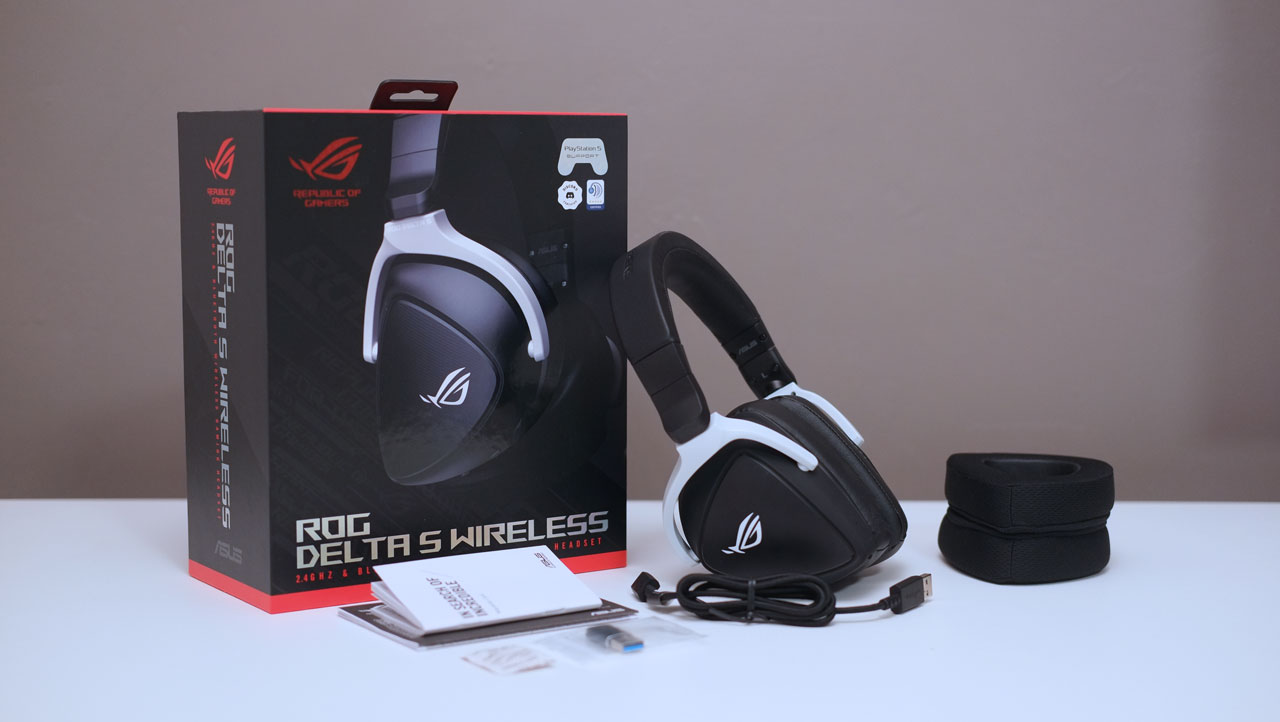 The box should come with the following items:
ASUS ROG Delta S Wireless Gaming Headset
ROG Hybrid ear cushion
1 meter USB Type-C to Type-A cable
USB Type-C to Type-A adapter
Documentation
Decent bundle of accessories we got here. ASUS even went out of their way with an extra pair of pads. To be honest it has to be expected since they've been doing it with the Delta series for a long time but you get the point.
Design, Build and Connectivity
As said earlier, the Delta S Wireless follows its brethren's design but with obvious differences. Such includes the now embedded microphone for a more streamlined look and the somewhat out of place hinges in white. Still relatively light at around 310 grams.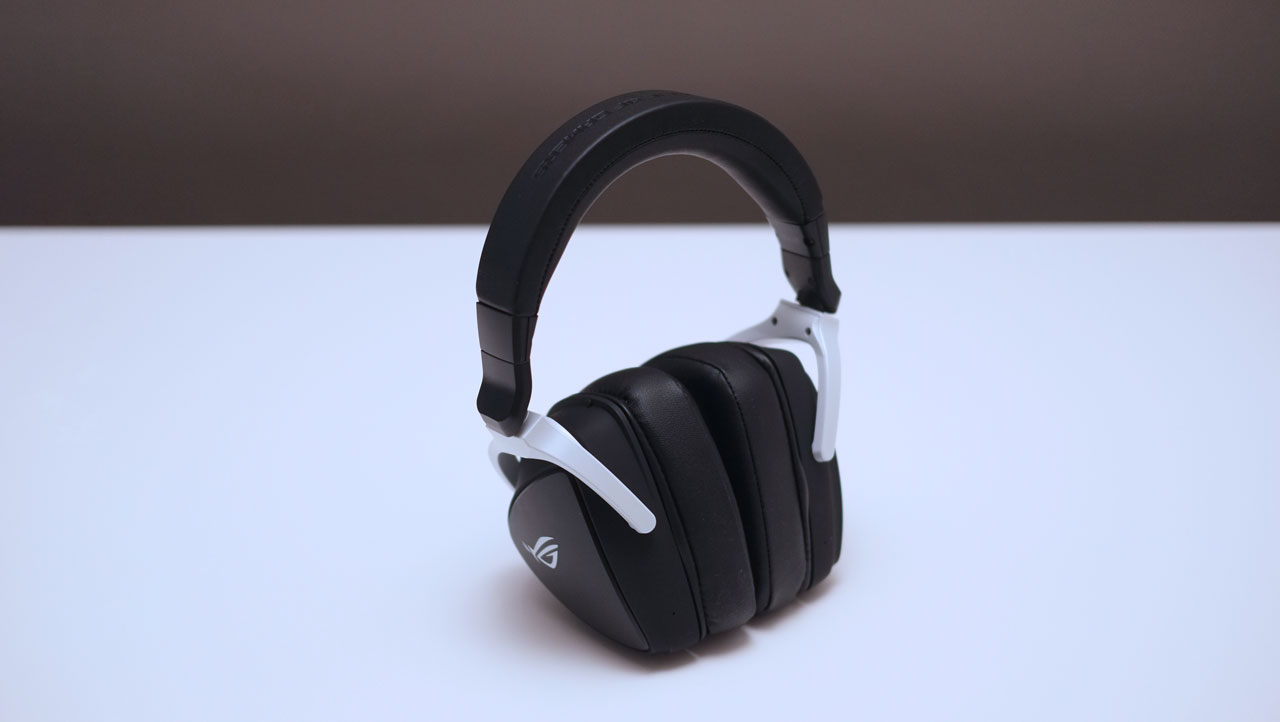 ASUS decided to go with the tried and tested protein leather pads as the default padding material for the Delta S Wireless. If you want a firmer yet also breathable pads, ASUS also got your back – or ears rather with the bundled hybrids.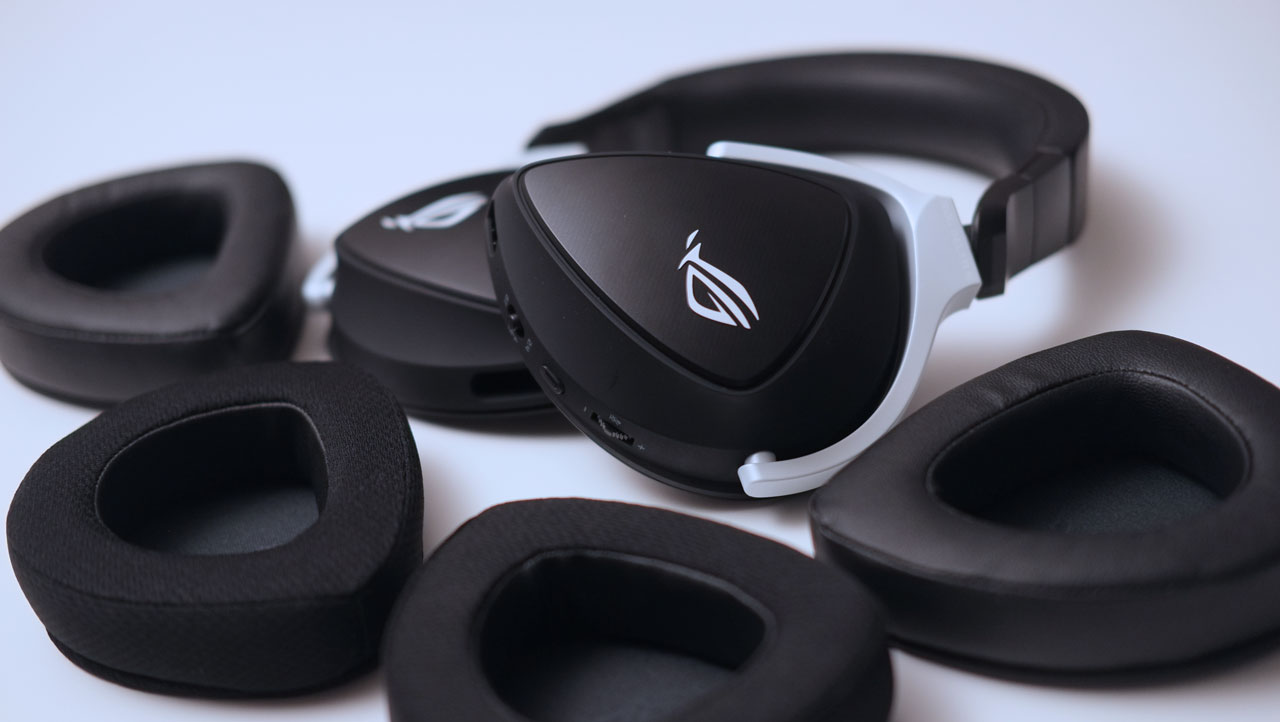 Function wise, the Delta S Wireless comes with almost everything it predecessors has to offer. That said, it comes with in-coupler controls you would normally see on gaming headsets. What's new though are the bi-directional microphones. We actually got two here and I am not sure which one is used for input and noise cancellation – maybe both does the same.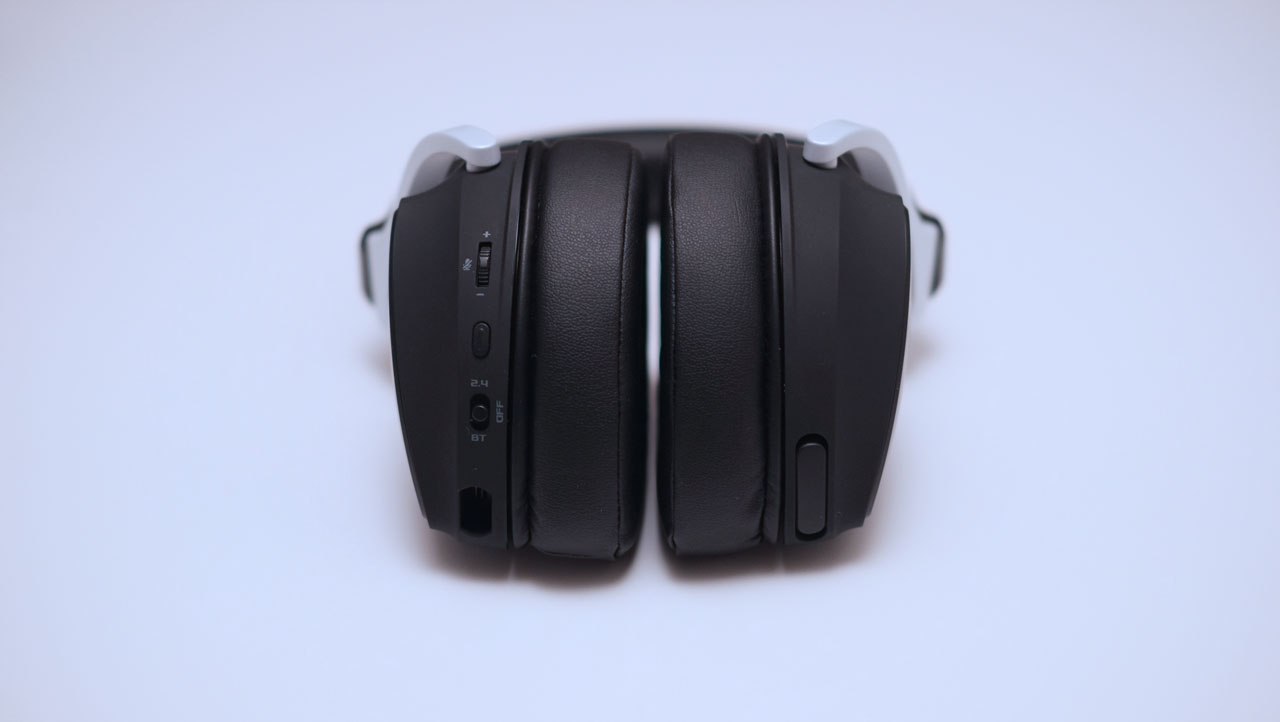 Since the headset is bulky enough to house the dongle, ASUS made good use of the extra girth. Just so you know, this is also a Bluetooth headset so you could pair it with any device that supports the said wireless interface.
Ergonomics
The ASUS Delta S Wireless remains as a bulky headset even with its decent weight of about 310 grams. That said, it has the same clamping bias at the top of the pads with a "sitting on your head" experience. The half-heart/delta shaped pads are also not the best for demographics with larger head and most likely ear sizes especially with the thicker hybrid pads – harder to get a perfect seal with it. For your reference, my head's circumference measures at around 56cm (small-medium) so your comfort may vary.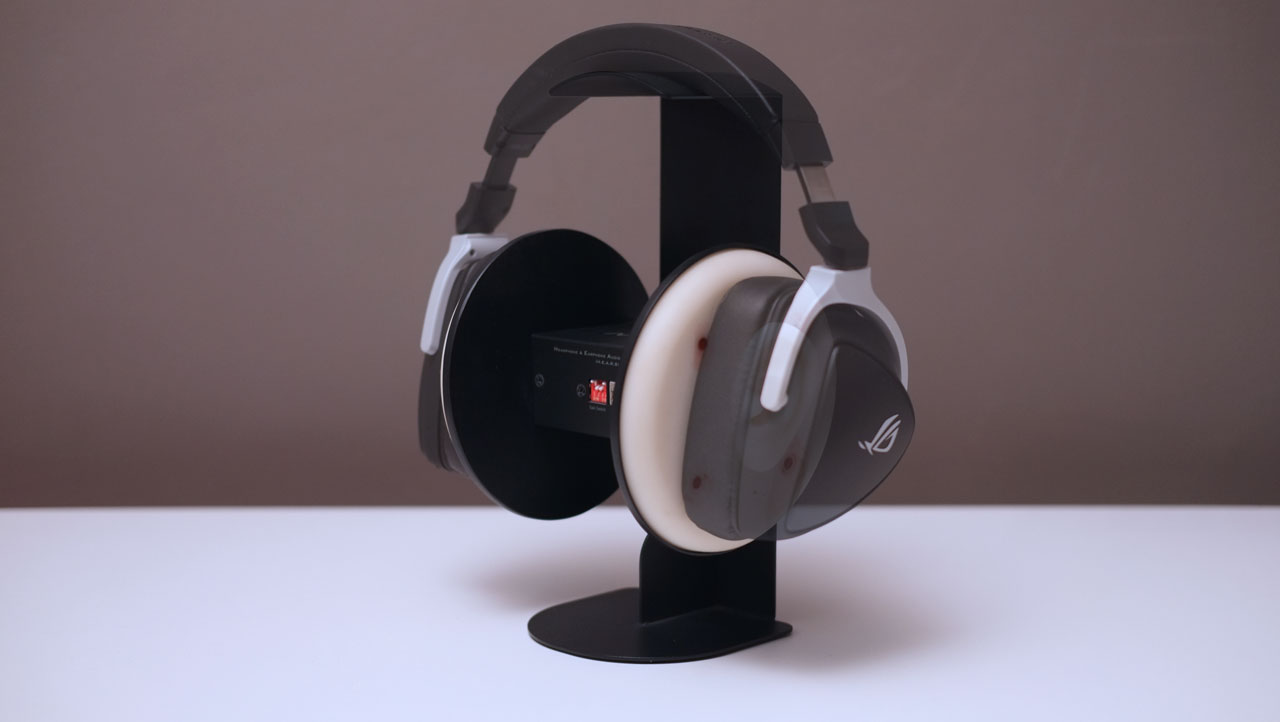 Now what I'm thankful for is the zero RGB lighting approach. That means I wont look like a Christmas tree when it is worn. Another bonus is that it wont heat-up like an ear warmer compared to its predecessors.
Test Setup and Methodology
Our test setup relies on the measurements taken from Room EQ Wizard paired with the MiniDSP EARS headphone test fixture. Audio chain has been made simple with the Topping DX7 Pro and Topping A90 for balanced and single-ended devices. It is important to note that we are testing the review sample after burn-in, with at least 24-hours of uptime. This is done so to negate the FOTB (fresh out the box) state of the DUT (device under test), yielding better benchmarking consistency.
Test Setup
Audio Chain
Topping DX7 Pro -> Topping A90 -> DUT
Test Fixture
MiniDSP EARS
Sampling Rate
24-bit, 48 kHz (PCM)
Software
Room EQ Wizard
Due to a number of factors – including the test fixture and its limitations, the measurements obtained here are not meant to be compared from various results you may find online.
Note: This is a wireless gaming headset so no measurements has been made with our usual audio chain. We also tested it extensively with its default flat preset which is spoiler alert, not flat at all.
Frequency Response vs Target
Sound Pressure Level is measured in Decibels (dB SPL). The test aims to check the frequency response and its adherence to the Harman inspired target curve from MiniDSP.
The ASUS Delta S Wireless comes with a familiar frequency response – but not in a good way. It still has that Delta S series wonkiness, peaks and deficiencies from which I'm afraid are not doing this gaming headset any favor. The Delta S Animate for example is actually smoother over all at the grand scheme of things. Note that this is the default preset and is personally what I found the best out of the eight tested.
Bass: Has no business to peak at 7 dBA around 100 Hz along with a shelf that extends towards the lower mids. This is by far my least favorite frequency range due to it being too unnatural and or overbearing compared to the rest of the frequency range. I couldn't really say anything positive here.
Midrange: Not the best but definitely not the worst either. It has this bump around 700 Hz, some kinks and deficiencies towards the upper mids but I'd take this over the bass any time of the day. It is undeniably a mid forward presentation yet you will definitely find this out of place with the bass boost and treble deficiencies in mind.
Treble: Comes with a deficiency around the presence region, giving off a detached treble impression. It also comes with a huge 9 kHz peak but I am not worried about that since I do not find it piercing – just a tad sharp and sibilant for trailing ends of tones compared to what I am used to hear from my reference audio gears. Anyway, I trust my ears 100% on this one since the peak could very well be a measurement artifact.
Now channel balance is acceptable with the exception of the area around the sub bass, midrange, and the presence region. Most of what you hear from music, games and everything in general are actually located within these regions (sans sub bass) so I cannot praise the Delta S Wireless when it comes to this metric. Not the worst I've seen but it could definitely be better for a more accurate stereo imaging.
Total Harmonic Distortion
Distortion is measured in Percentage (%). The test aims to check the difference between the fundamental signal and the harmonic distortion.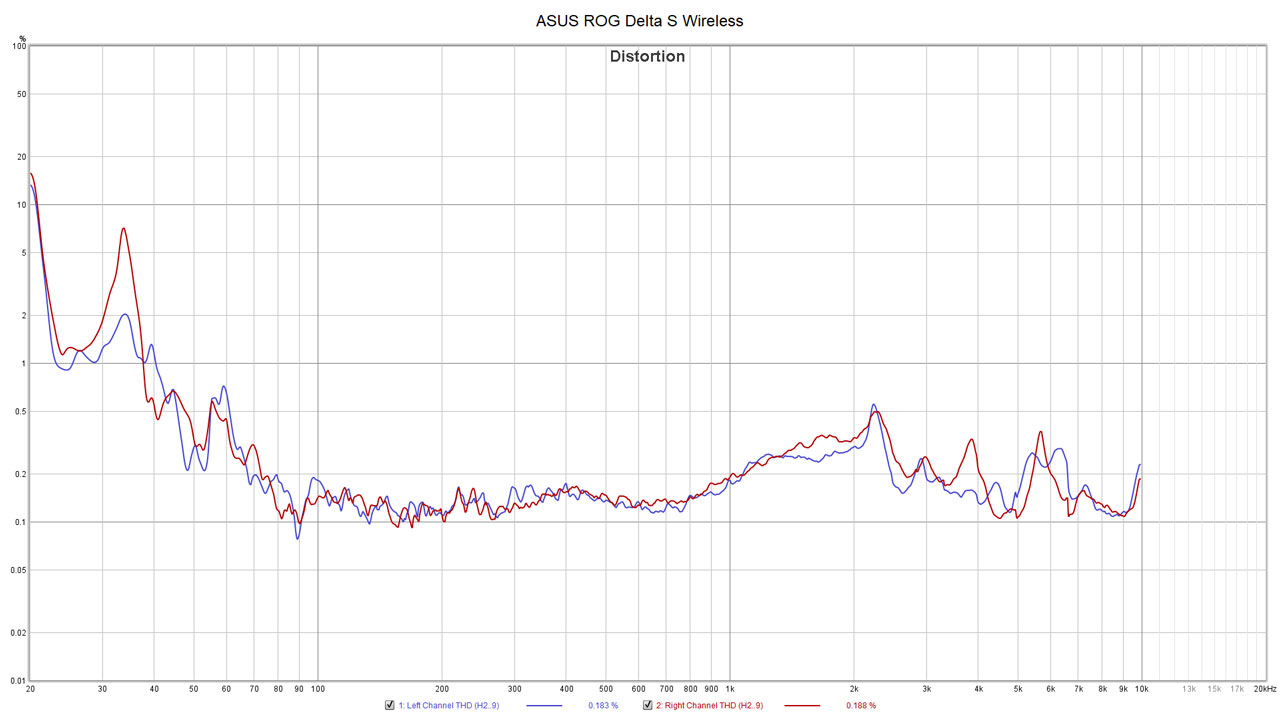 Distortion is wholly present at the sub bass region, shooting at 5% THD as far as the right channel output is concerned. Luckily, the rest checks out fine.
Group Delay
Delay is measured in Milliseconds (ms). The test aims to check the amplitude over time across the frequency range.
Group delay suggests that the bass region clearly has some issues. Many things could explain this but it does not matter; what does though is if such delay is actually audible enough to cause a problem. In the case of the Delta S Wireless, it really is since the bass felt like it is lagging behind – smeared even.
Cumulative Spectral Decay
Decay is measured in Milliseconds (ms). The test aims to check the energy content over time across the frequency range.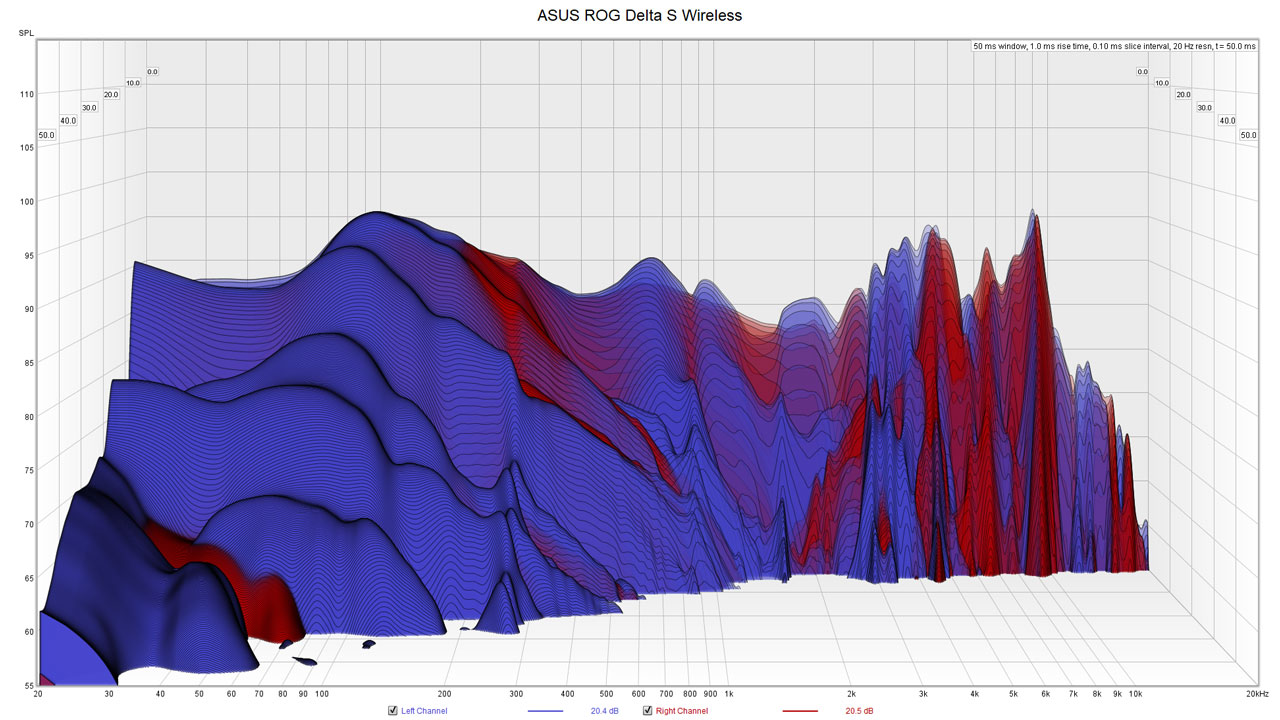 Frequency response over time shows that there's actually a lot of unwanted resonance and or reflections going on with this gaming headset. This should also explain why the bass sounds overbearing.
Noise
Sound Pressure Level is measured in Decibels (dBA). The test aims to check the noise isolation and leakage of the headphone.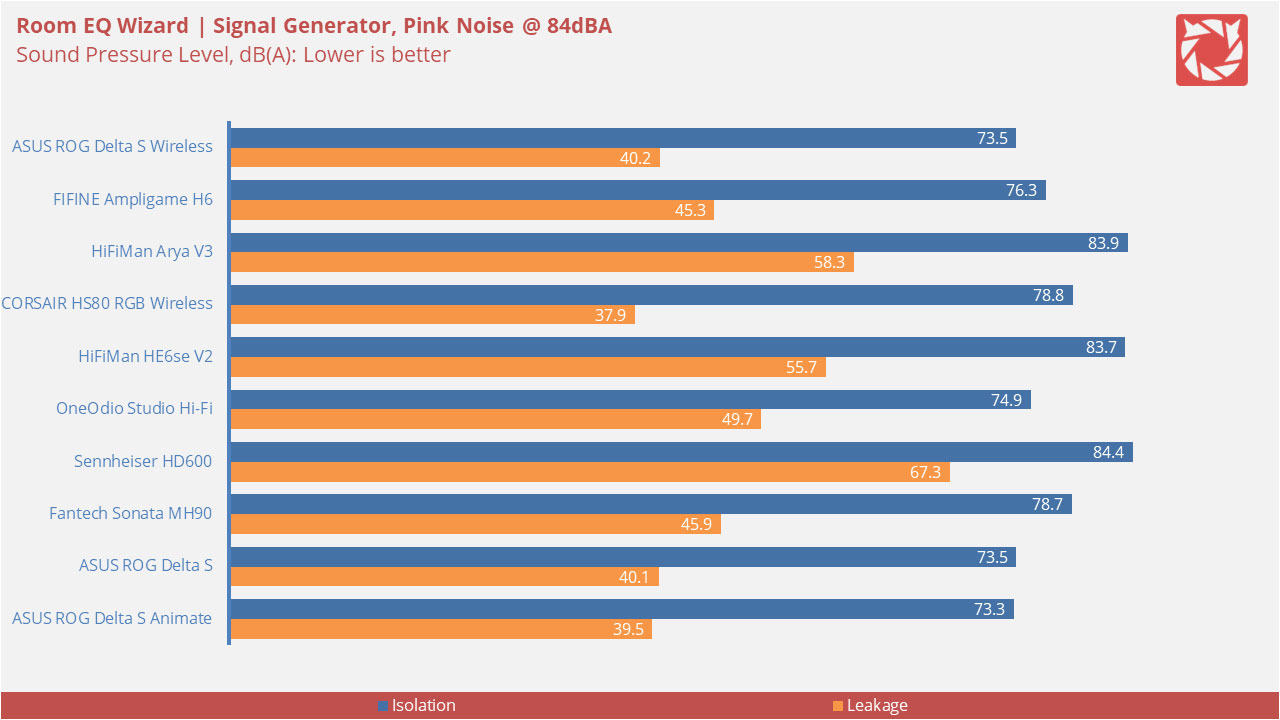 Isolation performance is typical of the ASUS ROG Delta's coupling design. If you fancy the hybrid pads, expect isolation and leakage at a higher level.
Features
Like many ASUS products, the ROG Delta S Wireless supports the Armoury Crate software. No other way to use its extra features but to install the application. Now as for these features, you'd get presets that controls the headset's sub-features. Such includes what's shown below but I'm going to call it now – some of these are redundant or completely clashes with another. I.e., the bass boost, voice clarity and the equalizer.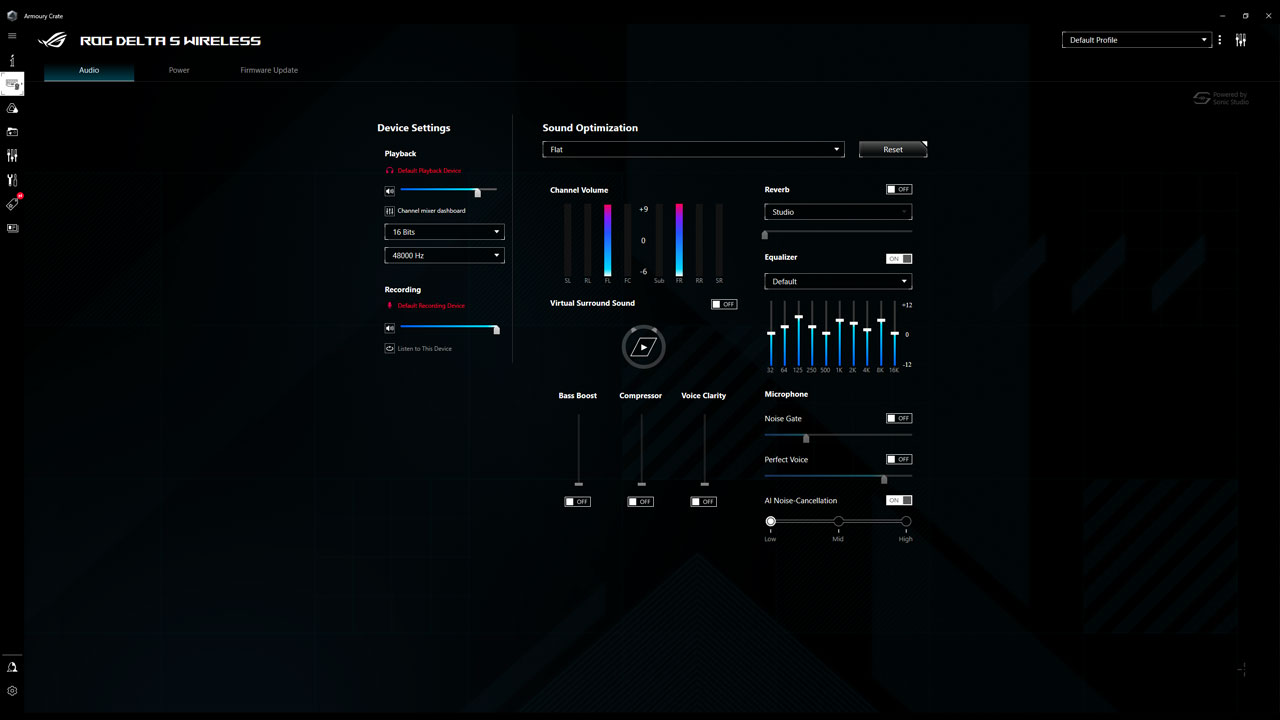 Now the presets are basically useless with minor and even unpleasant changes into the frequency response. What irks me the most here is the flat preset's equalizer settings. It has to be disabled in the first place unless they are trying to compensate. This is insulting to be honest.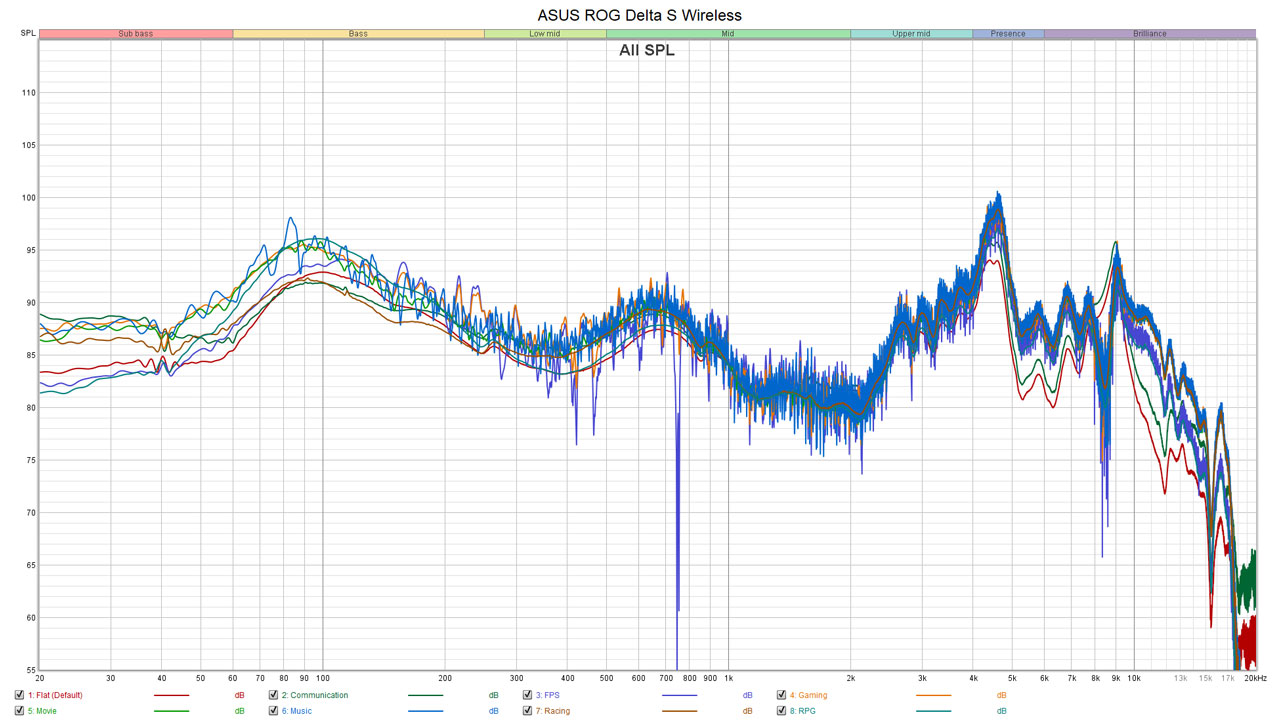 We've also tested the built-in microphone, indicating that it is actually decent but not exactly game changing for coupler mounted microphone designs.
Final Thoughts
Over the course of months, we've tested the Delta S, Animate and the Wireless, all featuring their own unique take on the ROG Delta design. That said and with those features out of the way, I felt like ASUS really need to up the ante here as the Delta failed to yet again deliver.
For the lack of better word, I would say the Delta design has to go or at least ASUS has to find a way to make it work. I mean I've tested three models already, all featuring the same wonky frequency response and issues – all pointing out to its core design elements. If the company cannot improve this, then there's no reason to spend time and effort to test such devices only to end up receiving the exact same thing but with X set of features attached. I wouldn't even bother nitpicking this model's battery life nor its 16-bit wireless interface – it is that sad.
Anyway, the ASUS ROG Delta S Wireless comes with a price point of ₱9,890 PHP. Buy this if you wanna cut the wires and identified yourself accustomed to the tuning of the Delta S headsets.
ASUS ROG Delta S Wireless Gaming Headset
Summary
Think of the ASUS ROG Delta S without the RGB but with a wonkier frequency response and make it wireless. That's just it for the most part.