With the power of friendship, ASUS sent us the much anticipated ROG Delta S Animate for a proper review. This is a much appreciated follow up to the last year's model that didn't fare all that well on our measurements.
The ROG Delta S Animate comes with everything the Delta S has to offer from top to bottom. That of course includes the quad DAC implementation, AI noise cancelling microphone and the distinct delta shaped ear couplers. Bearing the Animate moniker, this gaming headset comes with the ROG AniMe Matrix – a feature that sets itself apart from the rest of the line-up.
Disclosure: ASUS sent the ROG Delta S Animate for the purpose of this review. The company did not ask me to say anything particular about it. All thoughts and opinion are of course my own.
Product Page: ASUS ROG Delta S Animate
Price: $199 USD (RP, Amazon) / ₱16,500 PHP (MSRP, Local)
Release Date: Q1 2022
Technical Specifications
Headphone
Design
Circumaural, Closed
Transducer
Dynamic, 50mm
Frequency Response
20-40000Hz
Impedance
32Ω
Sensitivity
—
Connectivity
USB
Microphone
Transducer
Dynamic
Polar Pattern
Uni-directional
Frequency Response
100-10000Hz
Sensitivity
-40dB
Dimensions
Length
—
Width
—
Height
—
Weight
310g, without cables
Packaging and Accessories
The ASUS ROG Delta S Animate comes in a familiar displayable packaging.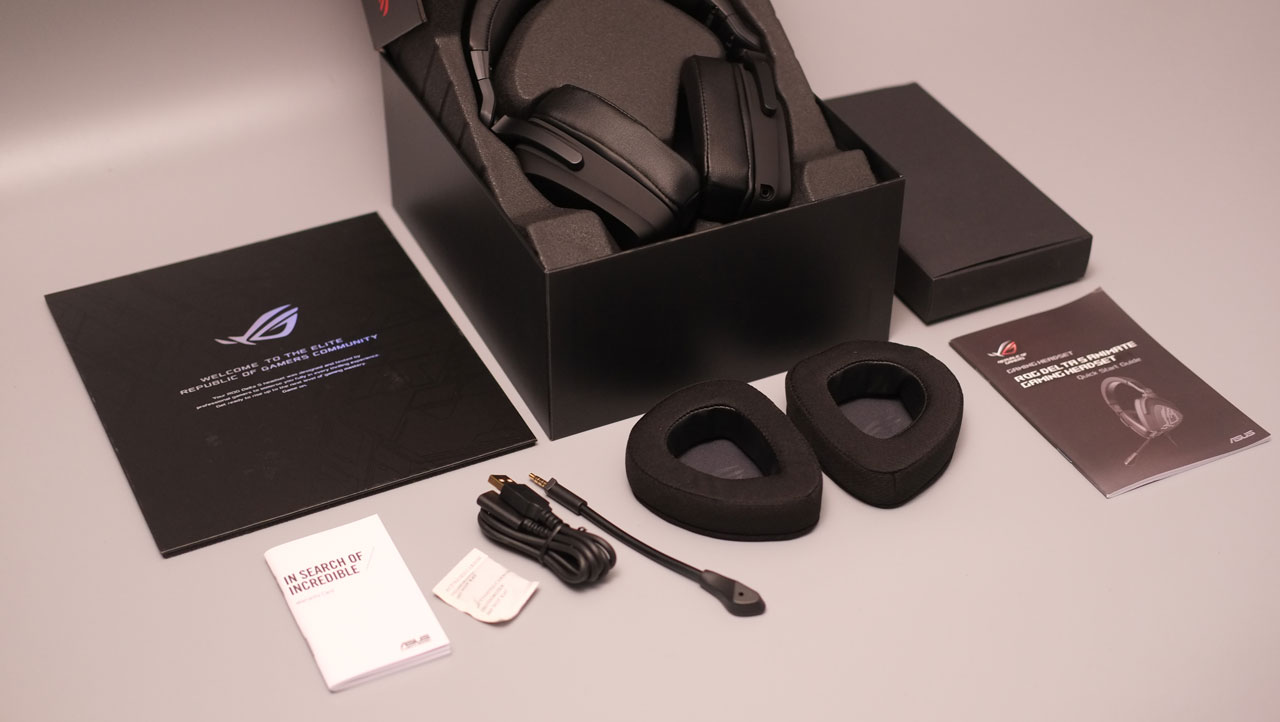 The product should come with the following items inside:
ASUS ROG Delta S Animate
Detachable microphone
User guide
ROG Hybrid ear cushion
USB-C to USB-A adapter
As usual, good bundles we got here – appropriate for an ROG product.
Design, Build and Connectivity
There isn't much difference between the older Delta S and the Delta S Animate. This is no surprise, given they're from the same family. Main take away here is the ROG AniMe Matrix support – which is basically a combination of programable LEDs first seen on ASUS' gaming laptops.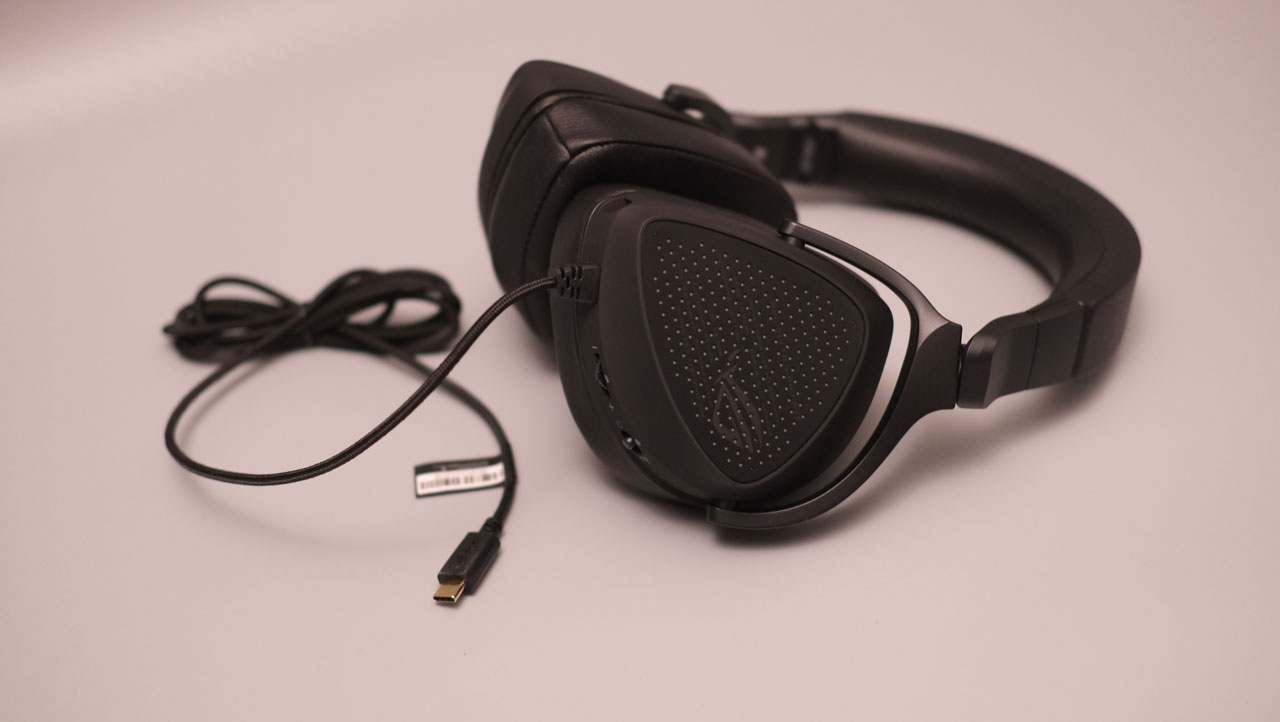 The Delta S Animate also comes with soft protein leather pads. These are swappable with also included hybrids if you fancy a more breathable option. Headband on the other hand appears to be using a memory foam for padding.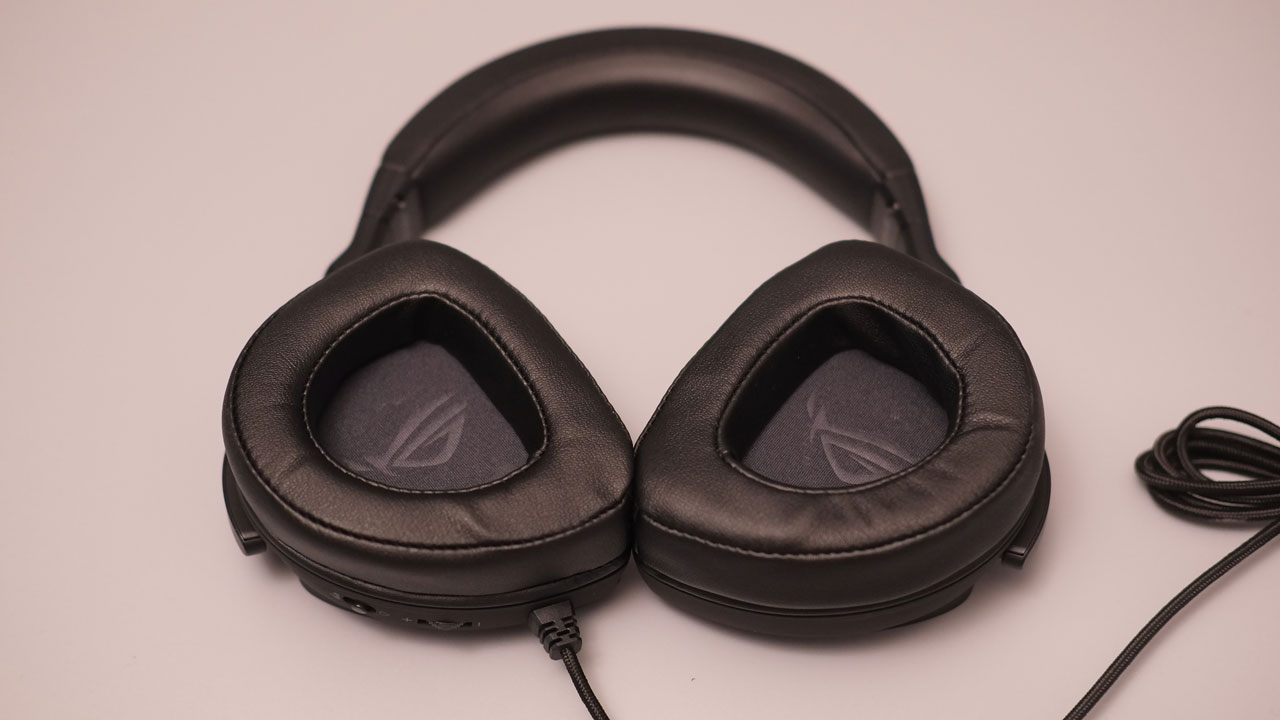 Connectivity wise, the headset comes with a fixed braided cable. This is unfortunately microphonic and is also prone to kinking. Controls are also located at the left cup.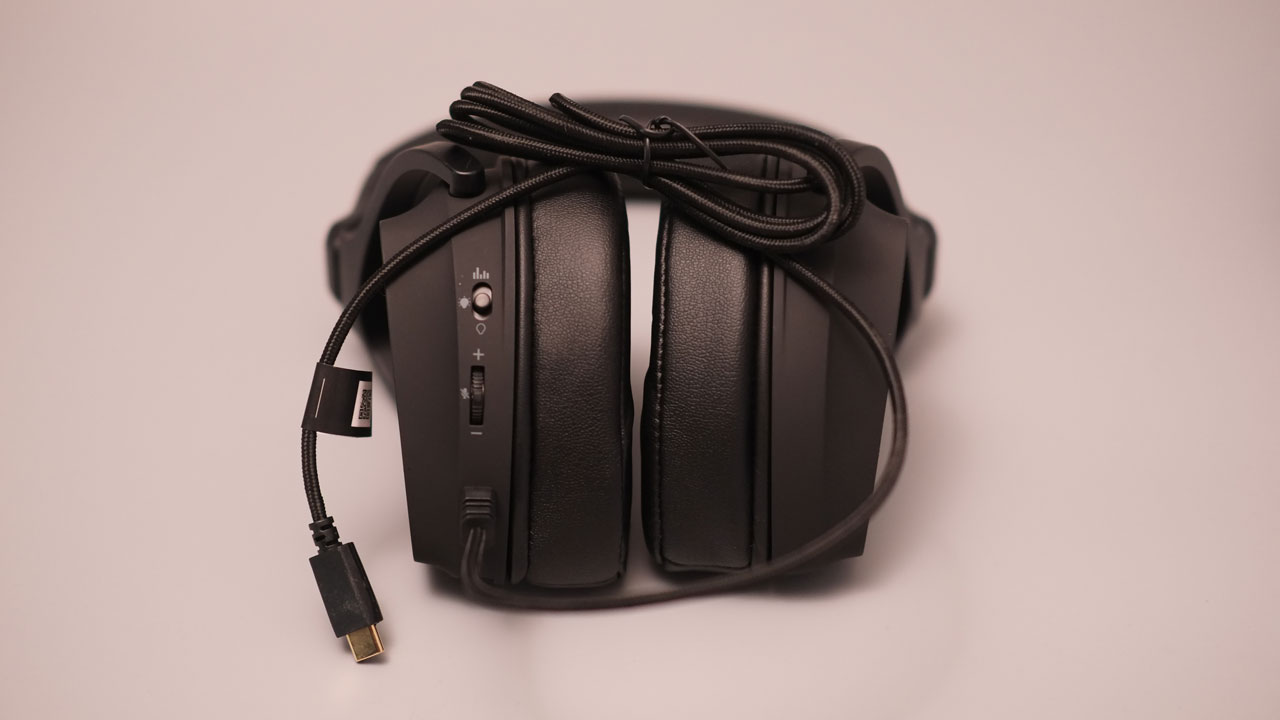 Overall build quality is decent but it could be better honestly. This is a headset made mostly out of plastic like the rest of the Delta models and comes with this matte black coating that I am not sure, if could stand the test of time.
Ergonomics
The ASUS ROG Delta S Animate is a light gaming headset weighing in at around ~312.4 grams without its cable. Clamp force is about ~339 gram-force so the combination of both suggested this is a really comfortable set. This is not the case here as it shares the same problems with its predecessor. That said, it has the same clamping bias at the top of the pads with a "sitting on your head" experience. The half-heart/delta shaped pads are also not the best for various ear sizes combined with the angled transducer that could potentially warrant an unpleasant feel. For your reference, my head's circumference measures at around 54cm (small-medium) so your comfort may vary.
Heat is also unfortunately an issue with this headset – at least at the left cup where most electronics are located. It's not as hot as the ROG Delta S so I guess that's an improvement.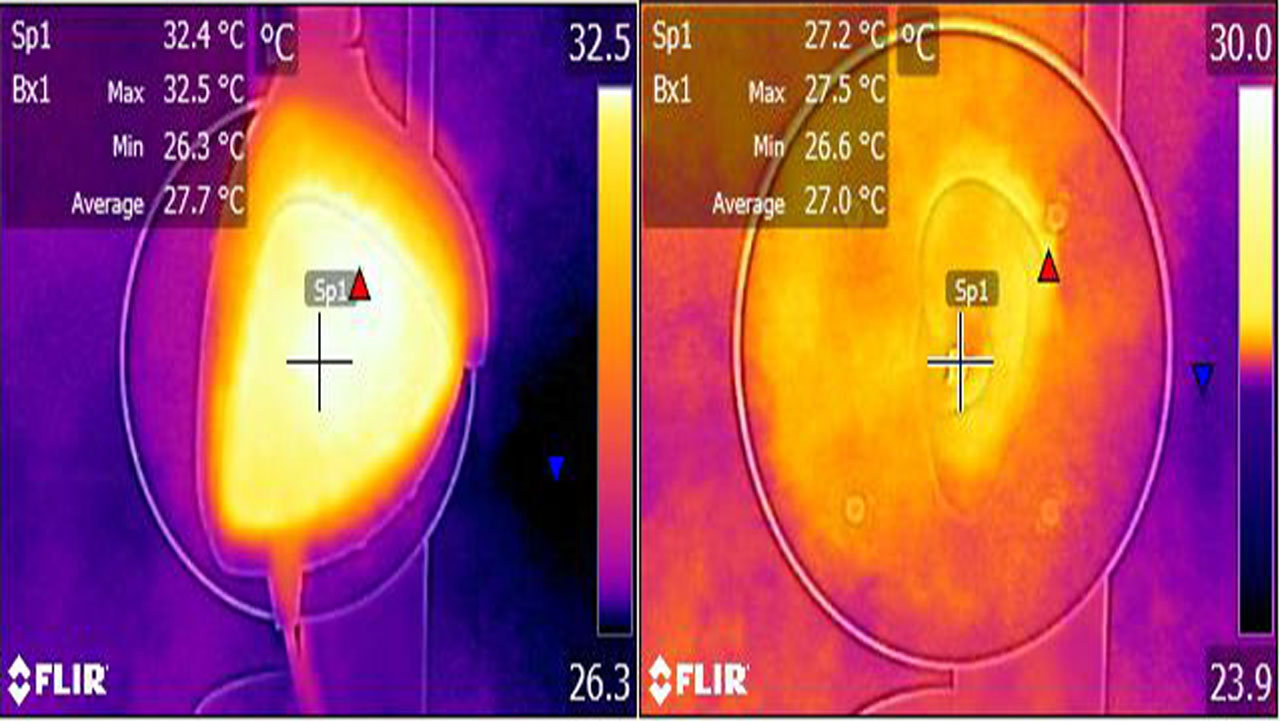 Test Setup and Methodology
Our test setup relies on the measurements taken from Room EQ Wizard paired with MiniDSP EARS headphone test fixture. Audio chain has been made simple with the Topping DX7 Pro and Topping A90 for balanced and single-ended devices. It is important to note that we are testing the review sample after burn-in, with at least 24-hours of uptime. This is done so to negate the FOTB (fresh out the box) state of the DUT (device under test), yielding better benchmarking consistency.
Test Setup
Audio Chain
Topping DX7 Pro -> Topping A90 -> DUT
Test Fixture
MiniDSP EARS
Sampling Rate
24-bit, 48 kHz (PCM)
Software
Room EQ Wizard
Due to a number of factors – including the test fixture and its limitations, the measurements obtained here are not meant to be compared from various results you may find online.
Frequency Response vs Target
Sound Pressure Level is measured in Decibels (dB SPL). The test aims to check the frequency response and its adherence to the Harman inspired target curve from MiniDSP.
The ROG Delta S Animate comes with a wonky frequency response as if ASUS is deliberately gunning for a W-shaped sound signature. Nothing much has change compared to its predecessor from the bass to the mid-range with the exception of more pronounced dips and peaks. It still has the prominent shelf in-between 60Hz and 1KHz making it sound truly unnatural followed by a gentle dip towards the boosted upper mid ranges. What's new though is the extra energy around 9KHz. Could just be an issue with my test fixture since I do not find it piercing nor that much different. Now this actually has better channel balance over the standard Delta S – definitely an improvement.
Bass: Has good sub-bass extension despite the gradual dip at 50Hz. This headset has proper rumble but is severely lacking control due to the shelf. Still, it has a bit more decent sense of punch when the song calls for it so it's a fun range depending on the genre. Actually better response compared to the older model – but not far off.
Midrange: Almost within the muddy territory if I'm being modest due to the shelf. It is honky for sure and could definitely use a dip filter. This hurts vocal timbre the most, especially for artists with distinct nasal resonance. Now the dip between 1-2KHz gave it a more laid back experience, attributing to its kinda-spacious yet still cuppy characteristics. The older model did this area a bit better.
Treble: Everything around this range is similar compared to the predecessor but with a little bit more energy between 7KHz to 13KHz.
Total Harmonic Distortion
Distortion is measured in Percentage (%). The test aims to check the difference between the fundamental signal and the harmonic distortion.
The right channel has higher distortion levels but it is inaudible. Overall, these results are certainly better compared to the previous model.
Group Delay
Delay is measured in Milliseconds (ms). The test aims to check the amplitude over time across the frequency range.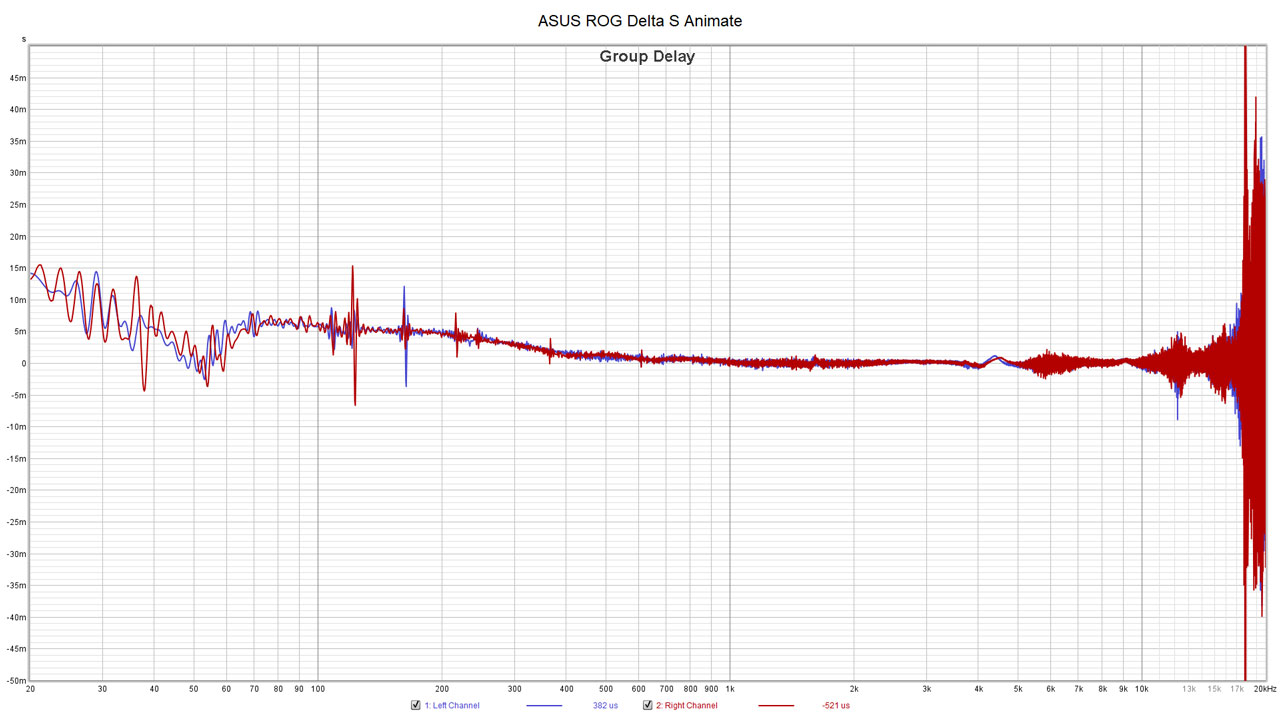 Group delay performance is acceptable, except for the weird deviation from the amplitude's supposed starting point around the bass region. This could be one of the reasons why the bass felt loose. Now the upper treble also took a considerable amount of time to reach its maximum amplitude but that's pretty much inaudible.
Cumulative Spectral Decay
Decay is measured in Milliseconds (ms). The test aims to check the energy content over time across the frequency range.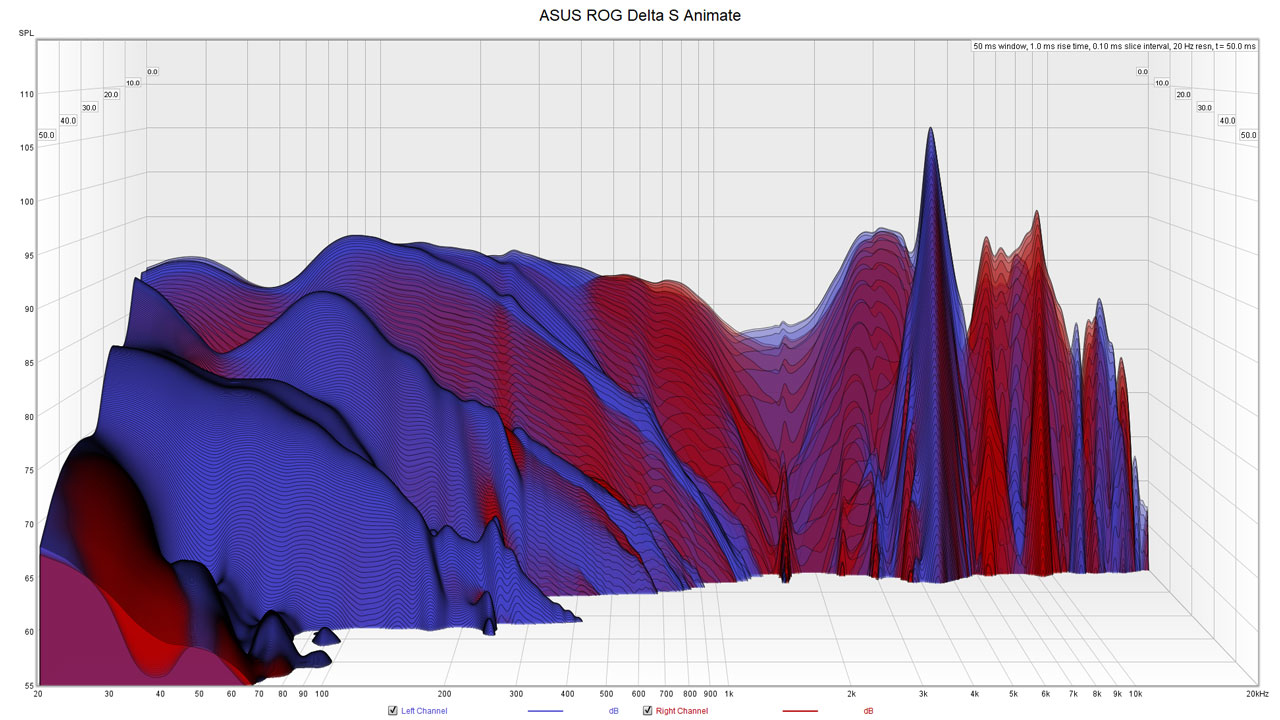 The transducer took a considerable amount of time to loose energy below 700Hz particularly at the bass region. Looking at the bigger picture, this slow decay that doesn't strongly follow the frequency response is not desirable.
Noise
Sound Pressure Level is measured in Decibels (dBA). The test aims to check the noise isolation and leakage of the headphone.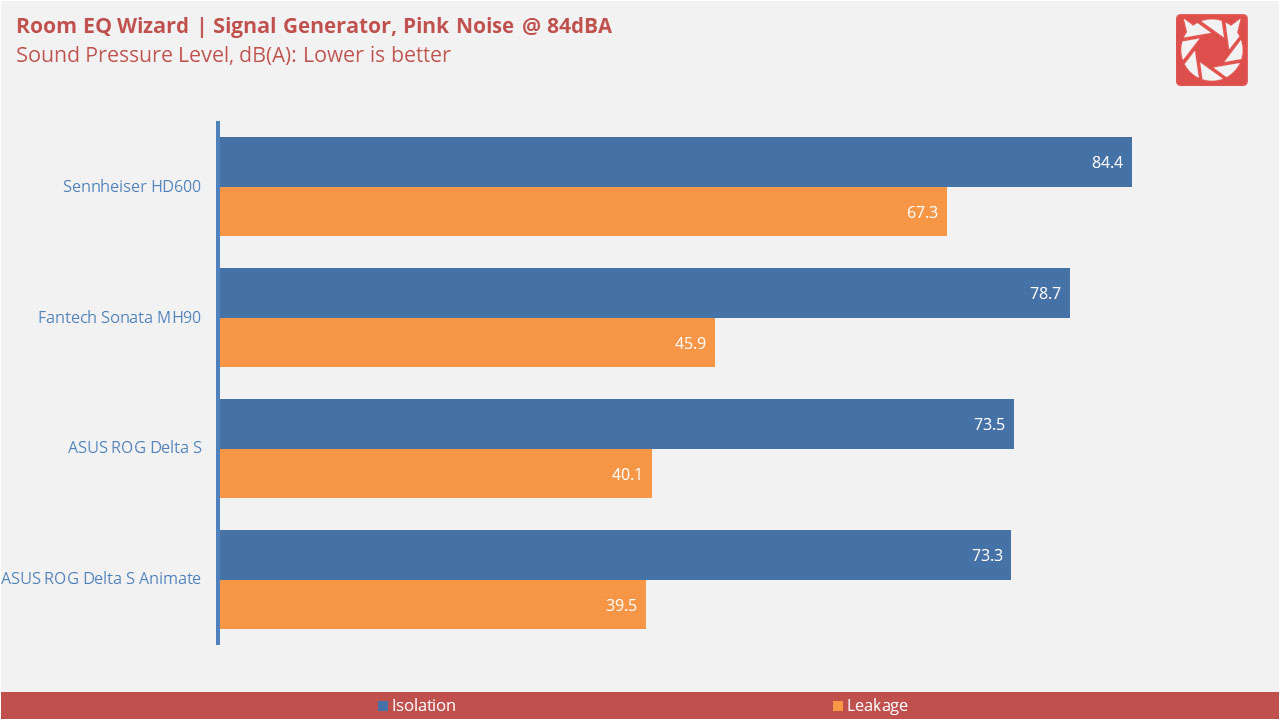 Isolation and leakage performance are excellent. The Delta S Animate actually bested everything we've pitted against it.
Software, Lighting and Special Features
Like many ROG devices before it, the Delta S Animate supports the ASUS Armoury Crate software. This is a requirement to maximize headset's features. First off is the Audio menu. This is where you could apply various presets and settings. There's a lot of stuff going on here but the main take away here is just use the flat preset and make sure to disable the equalizer. ASUS botched this preset with that setting enabled.
Based on our measurements below with the stock protein leather pads, the communication preset actually adheres more to my target response with a tamer bass to midrange shelf. If you're wondering why some of the frequency response graphs looks like grass, this is what happens when virtual 7.1 surround sound is enabled.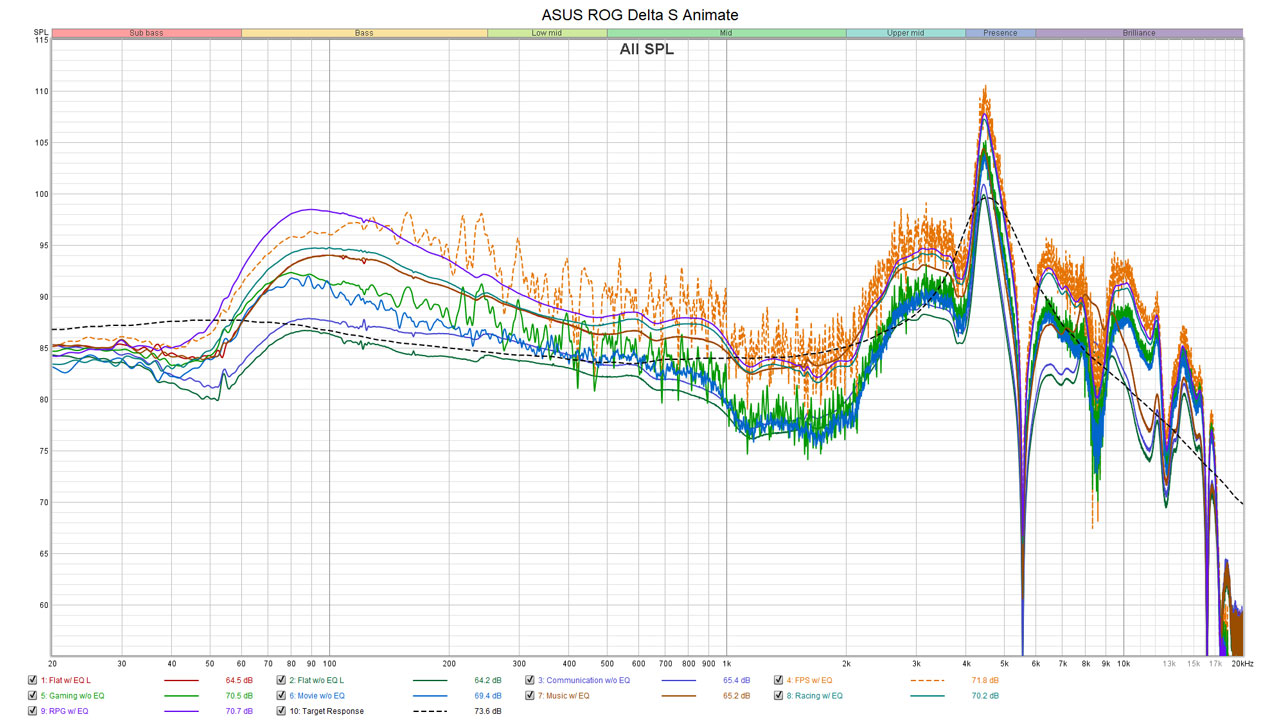 Now the AniMe Matrix menu is where you could configure this headset's major selling point. This is an awesome feature with the ability to choose from preloaded effects together with the ability to create your own.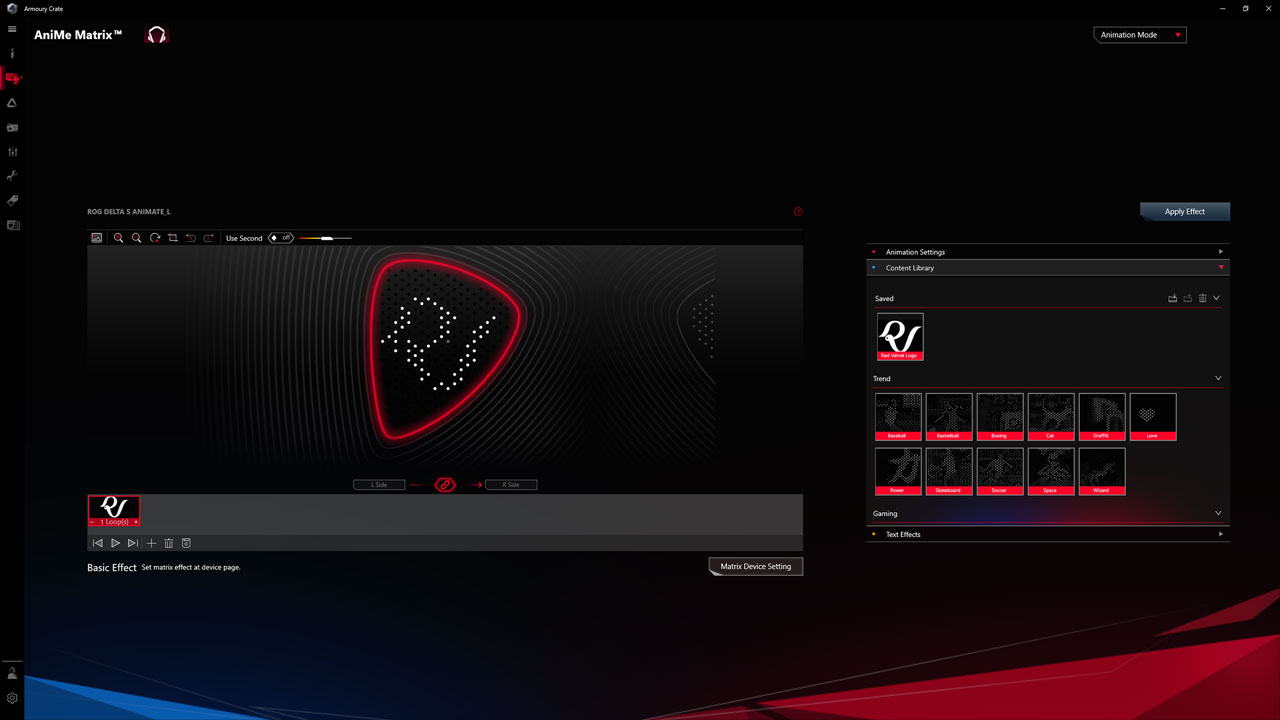 The effect looks great, fluid even – but it has limitations. It's not RGB and there are not enough LEDs to display a more complicated file. Logos and icons are fine but for faces, better use an emoji.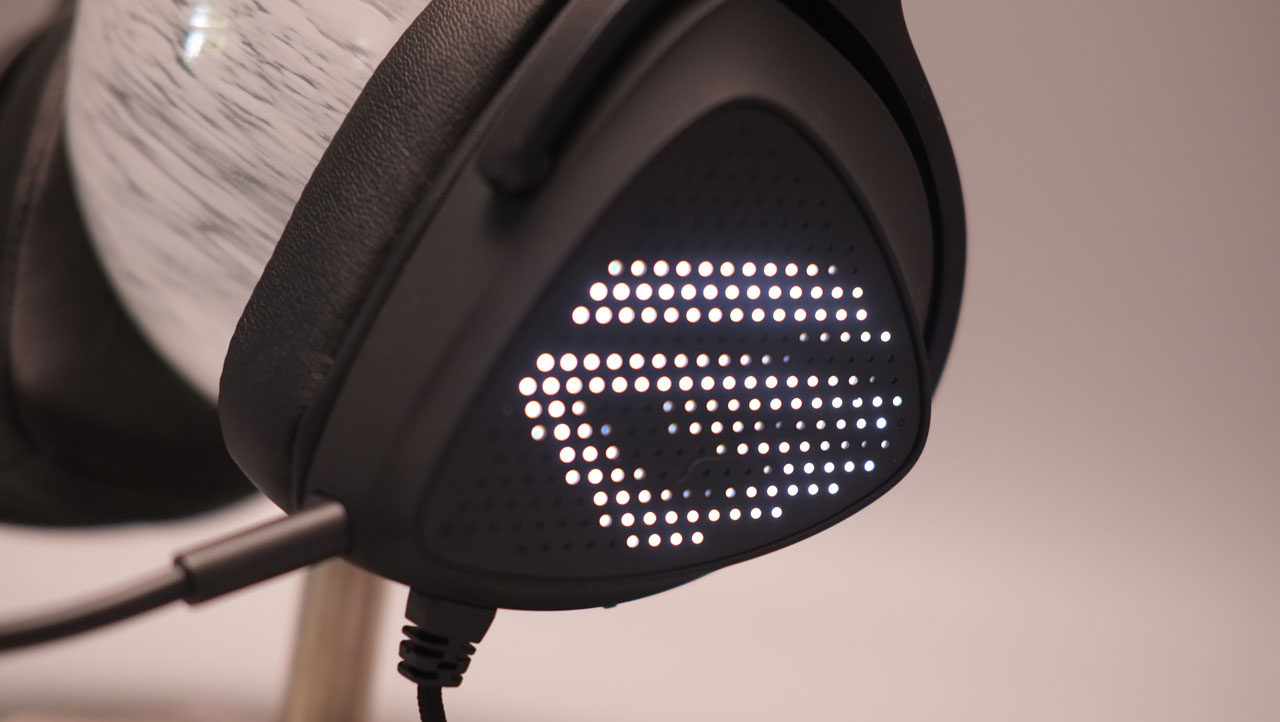 Since the coupling's design is proprietary, ASUS really had to include a set of extra pads just in case you want to experience a different sound signature or if you managed to wear the old ones. I'm not a huge fan of proprietary yet wear-and-tear prone design – especially when ear pads are concerned.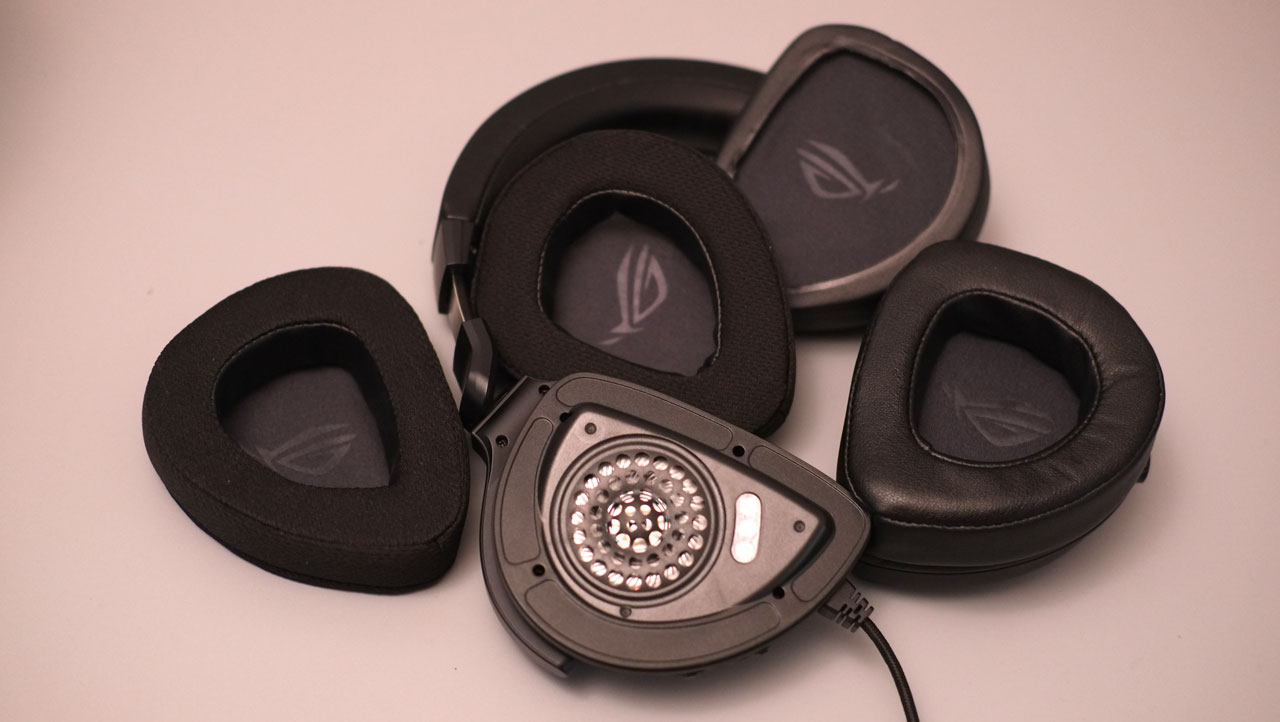 The hybrid pad is the one to go with if you want a tamer bass response. Be careful as it is prone to sealing issues when the headset is worn haphazardly – loosing sub bass quantity in the process. Now as for the microphone quality, I have uploaded samples with and without the AI Noise Cancellation feature on my SoundCloud account. You may check them out here. Microphone performance wise, you're better off with any of the 3 AI Noise Cancellation options depending on your environment. I find even the lowest setting able to block around ~50dBA of background noises pretty well.
Final Thoughts
ASUS refuses to change what needs to get changed with the ROG Delta S Animate. First off, let us discuss the most important thing – how it sounds. This is essentially the same with the Delta S but with an improved bass and treble along with a much better channel balance. It is still a wonky sounding headset not gonna lie so prepare to remedy this issue with proper equalization.
Most electronics, including the DAC and AMP section of the ESS 9281 are situated at the left cup – similar to the previous model. While it doesn't affect weight distribution, it does affect comfort due to thermal transfer. I've told ASUS they could try an in-line design to possibly mitigate the issue but they just wont listen.
Build quality wise, the headset is made mostly out of plastic. I don't find this an issue but the combination of the matte coating and multiple failure points at the headband structure sure is not looking good for long term use. Reliability is also one of the many factors I consider at its price point.
Now what I like about this gaming headset are the following: Noise attenuation, microphone quality, customization options and its looks. Sadly, these are not enough to warrant its asking price – personally speaking.
ASUS ROG Delta S Animate
Summary
ASUS improved the ROG Delta S formula with the Animate model yet it is still not enough – price tag considered.