The BIOSTAR B550M-Silver is a relatively budget friendly AMD B550 chipset based motherboard. This is a $150 USD mATX (microATX) model with all the expected standard issued features of the said AM4 platform.
Such features includes the now standard PCIe 4.0 support for both expansion and storage devices, support for the AMD Ryzen 5000 series CPUs and high frequency DDR4 memory kits. Now notable in-house features includes a dedicated row of LED headers, surge protected 2.5GbE LAN, auto overclocking and support for an additional M.2 2230 Wi-Fi card.
Disclosure: BIOSTAR sent the B550M-Silver for the purpose of this review. The brand did not ask me to say anything particular about it so all thoughts and opinion are of my own. I've had this motherboard for months so the measurements you'll see here are way past the product's FOB (fresh out of the box) state.
Technical Specifications
Processor
CPU Support
AMD Ryzen 3rd Gen (Matisse/ Renoir), Ryzen 4th Gen (Vermeer)
Chipset
AMD B550
Socket
AMD AM4
Memory
SDRAM
DDR4 (ECC, Non-ECC)
Slot
4x DIMM
Channel
Dual Channel
Frequency
4400 MHz (OC)
Capacity
128 GB (max)
Graphics
GPU
—
Multi-GPU
AMD CrossFire Technology
Expansion
PCI Express
1X PCIe 4.0 x16, 1x PCIe 3.0 x16, 1x PCIe 3.0
Bifurcation
—
Storage
SATA
6x SATA III
M.2
1x PCIe 4.0 x4, 1x PCIe 3.0 x4
RAID
RAID 0/1/10 (SATA III)
Network
LAN
Intel 2.5Gb Ethernet
WLAN
Add-on via M.2 2230 slot
Bluetooth
—
Audio
DAC
ALC1150
ADC
ALC1150
Amplifier
—
Channel
7.1
Rear IO
USB
2x USB 3.2 Gen 2, 4x USB 3.2 Gen 1, 4x USB 2.0
eSATA
—
Thunderbolt
—
LAN
RJ-45
Audio
3x 3.5mm
Display
DisplayPort 1.4, HDMI 2.1, DVI-D
Front IO / Internal
USB
USB 3.2 Gen 1, 4x USB 2.0
SATA
6x SATA III
M.2
3x M.2
Audio
AAFP
Fan
4x 4-Pin
LED
4-Pin RGB, 2x 3-Pin RGB
Dimensions
Length
244mm
Width
244mm
Height
45mm
Weight
—
Packaging and Accessories
BIOSTAR had the B550M-Silver packed inside a standard motherboard packaging. Nothing fancy about it.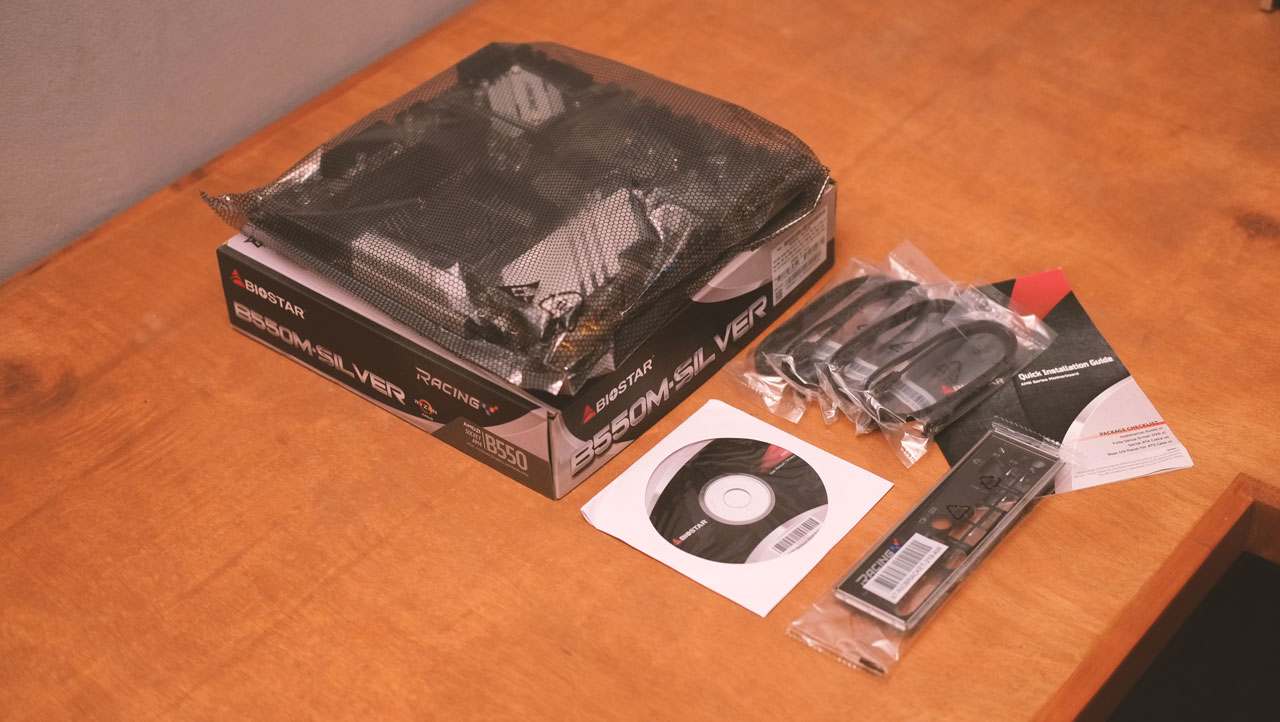 The packaging should come with the following items inside:
BIOSTAR B550M-Silver
4x SATA III cable
Driver and software DVD
Back plate
Quick installation guide
Pretty standard scope of delivery we got here. Not whole a lot else going on here.
Design, Build and Connectivity
The BIOSTAR B550M-Silver is, for the lack of better word, a motherboard designed with simplicity in mind – with a bit of edginess in tow. Layout is simple and we've got proper heat-sinks for the most important components. This is a microATX motherboard featuring four memory slots and two full size PCIe slots, along with support for three M.2 expansion devices – one of which is dedicated for a Wi-Fi card.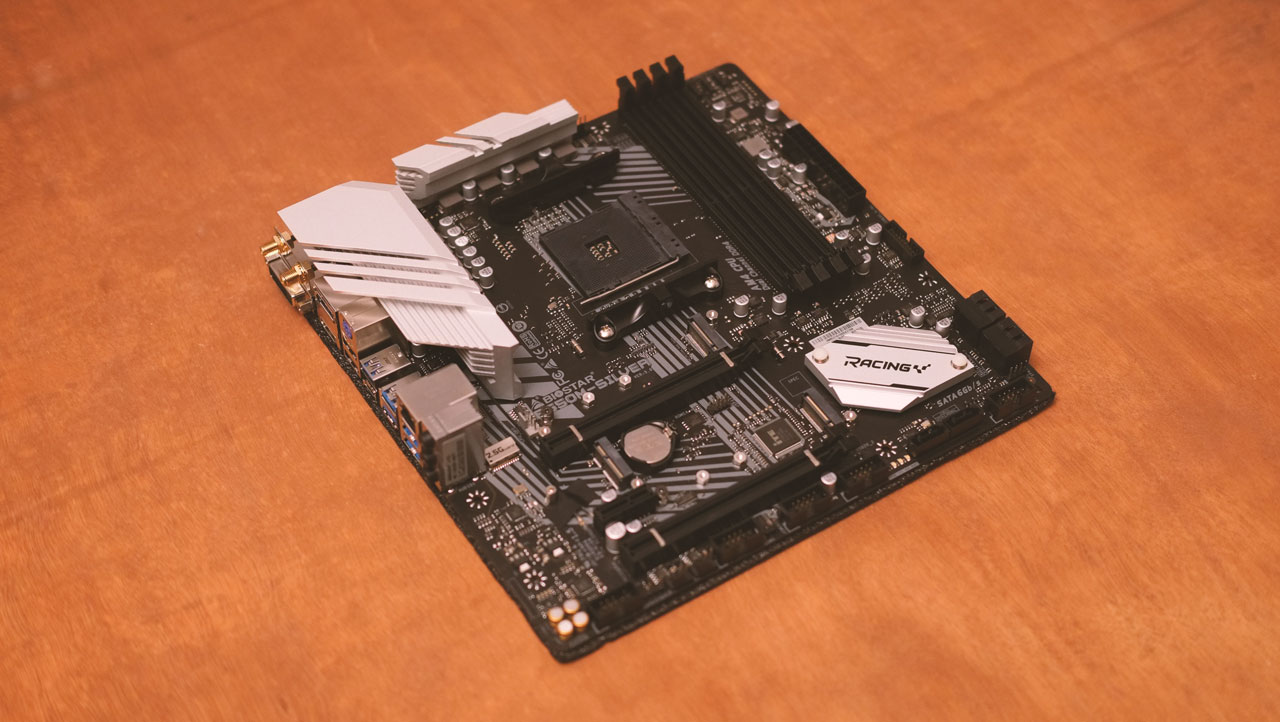 The back shows more about the soldering job involved into making the motherboard. No issue to see here – as with many electronic products designed at Taiwan.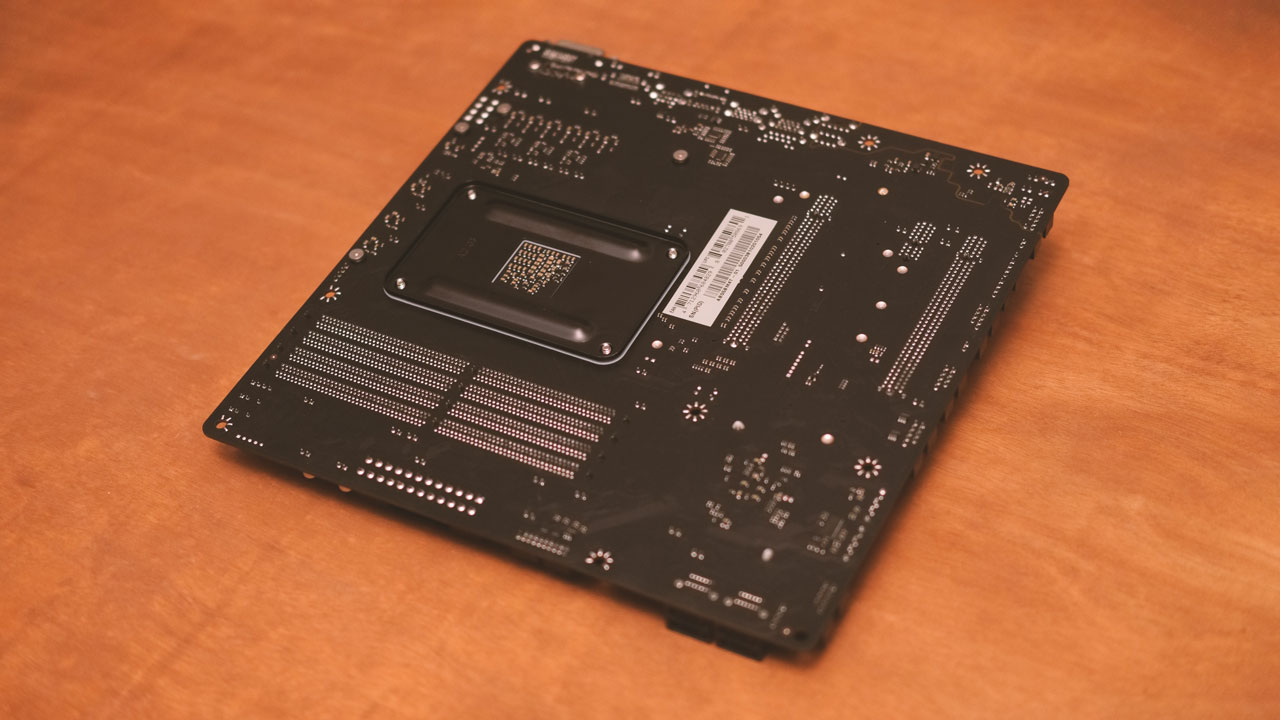 I am not entirely sure about the power phase configuration of the motherboard but it appears it comes with at least 6 power phases plus another one for the memory. We of course have the 8-pin power connector here, the 4-pin fan header and three LED headers.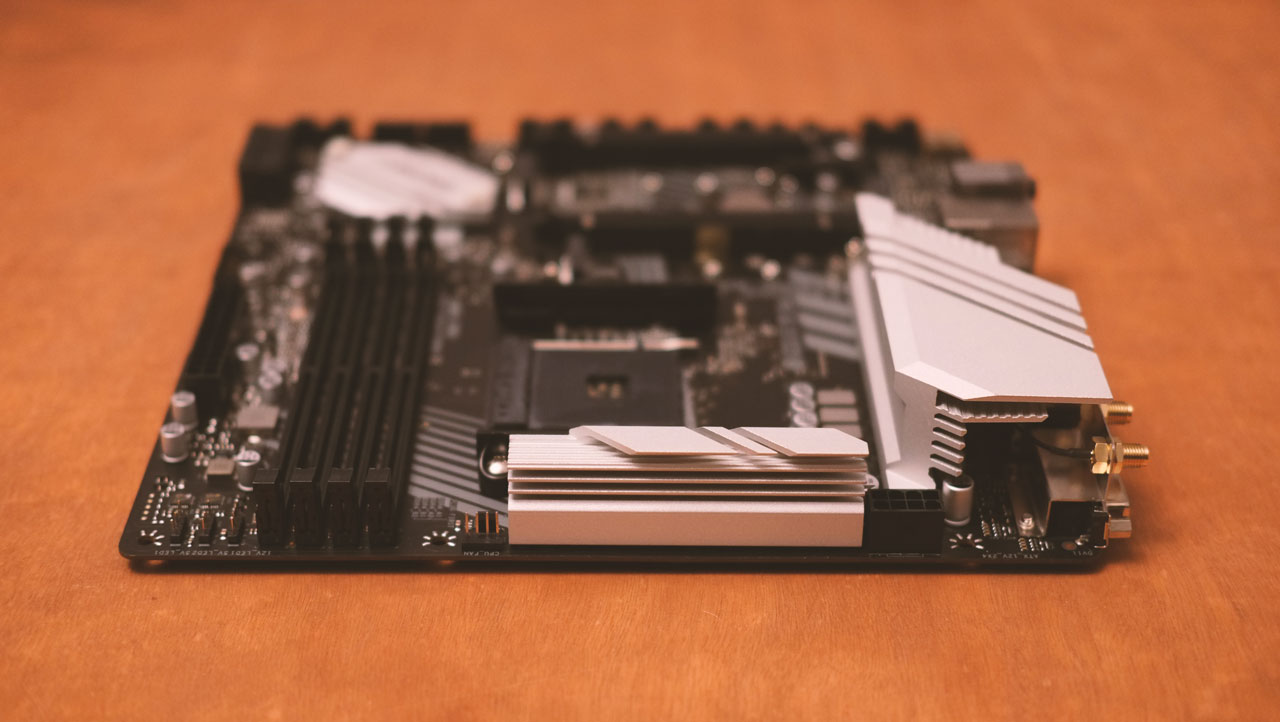 Internal storage ports are decent enough this side of the board. We have four of the 6 SATA III ports here, an internal USB 3.2 Gen1 header and the 24-pin power connector for the motherboard.
We have the usual assortment of headers down below along with the remaining 4-pin fan, SATA and USB headers. We also get a glimpse of the reinforced full size PCIe slots here.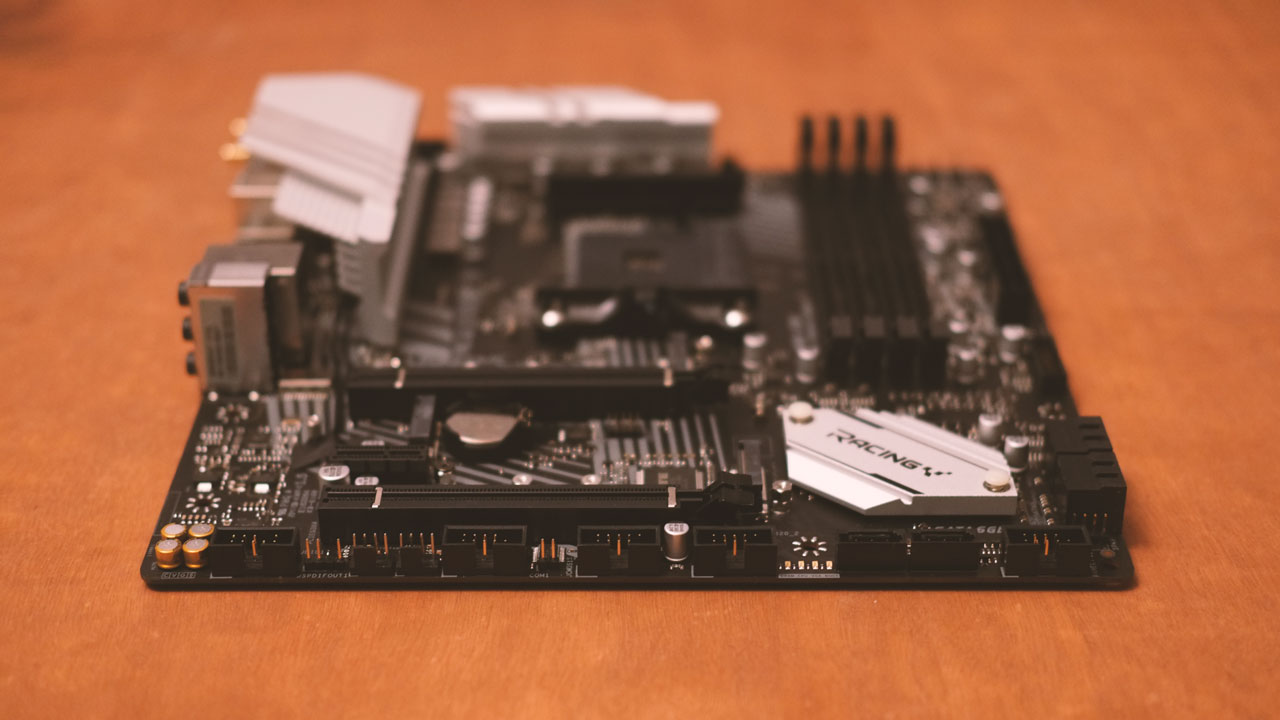 Rear I/O port configuration is more than adequate – with added support for legacy devices (combo PS/2, DVI-D, USB 2.0). We also have dual SMA terminals here for a Wi-Fi or Bluetooth add-on.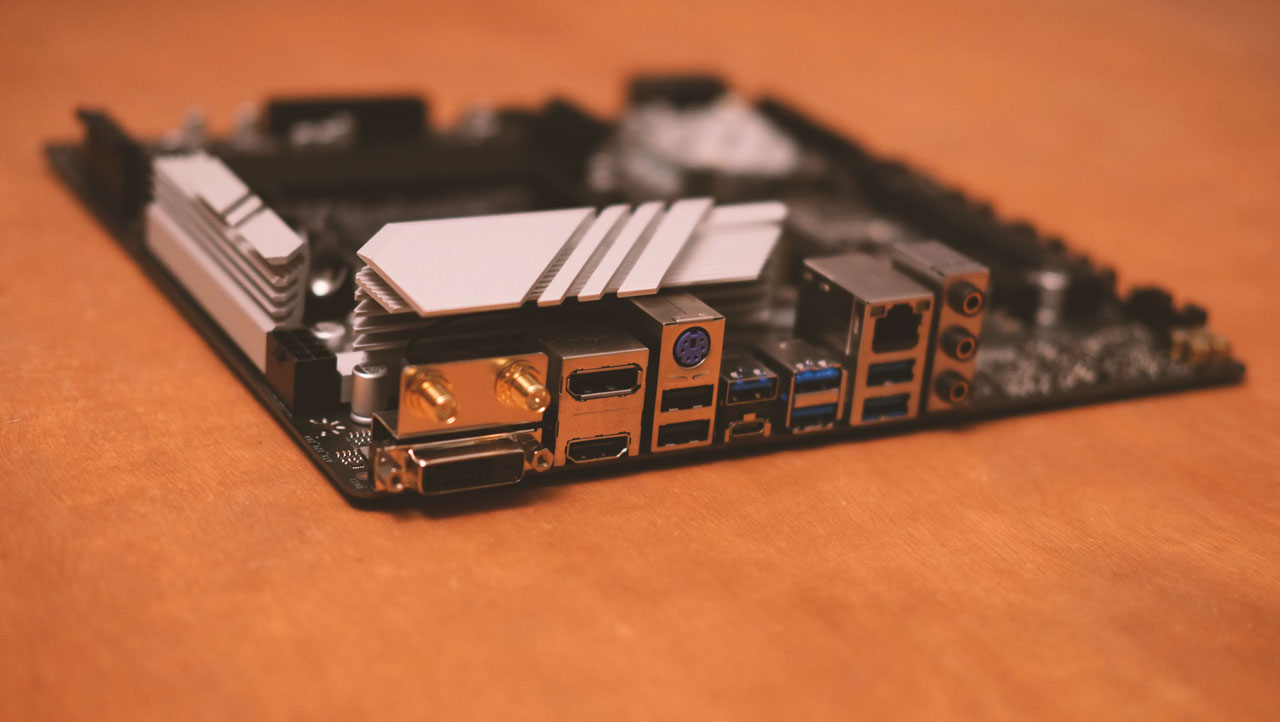 I don't have much to complain with the B550M-Silver's design, build quality and layout – yet. Perhaps a nitpick would be the CMOS battery location.
Firmware Interface
BIOSTAR had the B550M-Silver shipped with their firmware interface dubbed as the UEFI BIOS Utility. It comes with two modes like most motherboard interfaces nowadays – EZ and Advanced mode. EZ mode is a simplified UI where the most important options are already laid out for you to get started.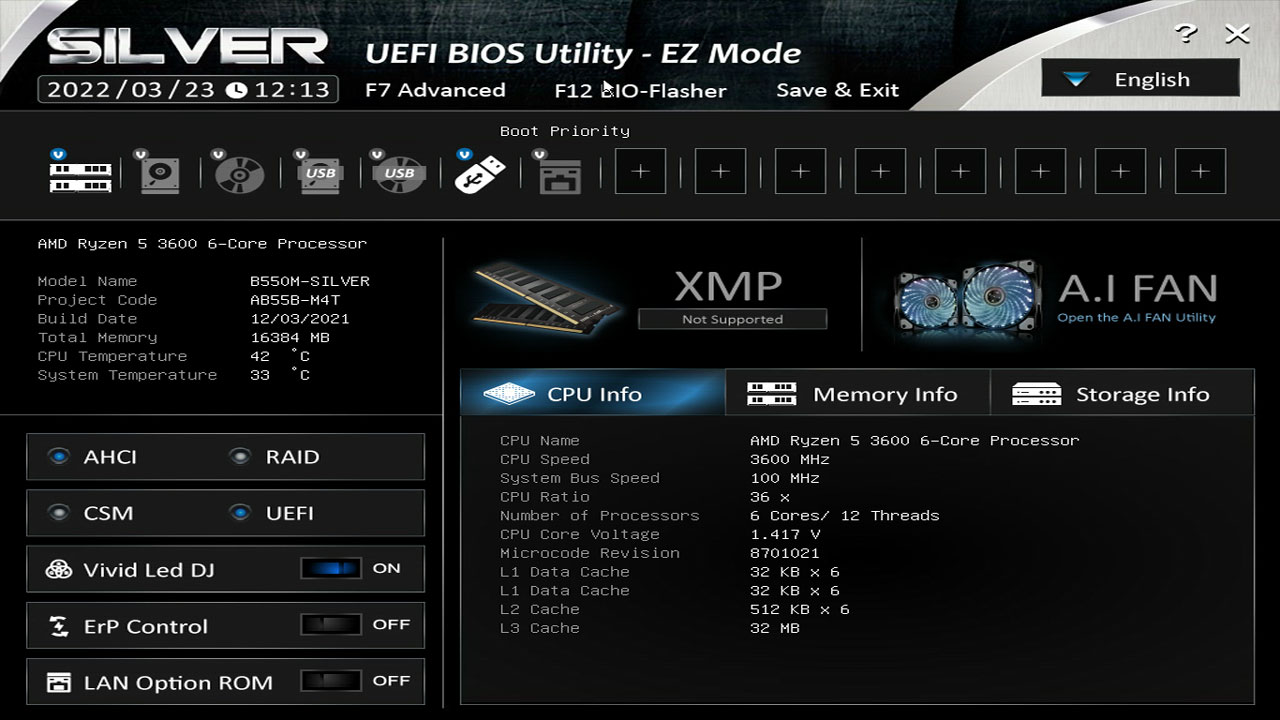 Advanced mode is where the money is at if you want to maximize this motherboard's potential – especially if we're going to talk about the Tweaker menu. CPU and memory overclocking could be configured here with ample enough control over the voltage and frequency.
The B550M-Silver also comes with a dedicated menu for fan control. Nothing's A.I. about this but I appreciated BIOSTAR's decision to provide full control up to 100% PWM Duty Cycle. Well known motherboard vendors has limitations here for safety reasons but for those who knows what they were doing, this is awesome.
Not sure why a lighting option is called Vivid LED DJ but BIOSTAR added such feature to the plate. Not particularly fond of RGB lighting stuff but you get firmware support for such customization if you wish to use the LED headers.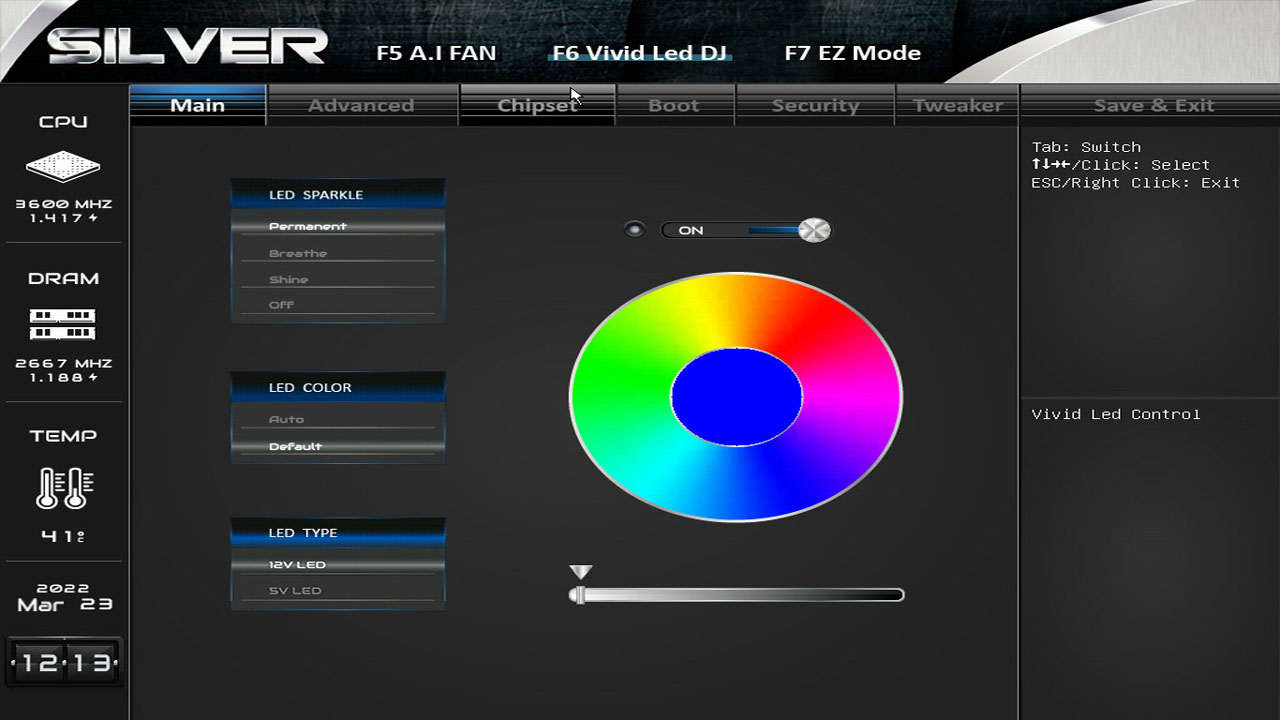 Aside from the 4:3 screen ratio, a somewhat finicky mouse support and fan profiles saving on their own even if you don't, I have no other complaints with this board's UEFI.
Test Setup and Methodology
Our test setup relies on the measurements taken from industry standard benchmark tools and real-world applications. It is important to note that we are testing the review sample after burn-in, with at least 24-hours of uptime. This is done so to negate the FOTB (fresh out the box) state of the DUT (device under test), yielding better benchmarking consistency.
Test System Specifications
CPU
AMD Ryzen 5 3600
Motherboard
BIOSTAR B500M-Silver
Cooler
Noctua NH-U12S Redux
Memory
ADATA Premier 2666MHz 16 GB
GPU
GALAX RTX 2060 EX White 6 GB
Storage
Plextor M9PE NVME 512GB
Case
Mechanical Library JXK-K2
PSU
Thermaltake Toughpower GF1 850 W
Display
LG UF680T
OS
Microsoft Windows 10 Pro 64-bit
The DUT is tested with the following configuration from our test system:
UEFI configuration: Default
Windows Power Plan: Balanced
Arithmetic
Pi calculation speed is measured in Seconds (s). This is done via SuperPI.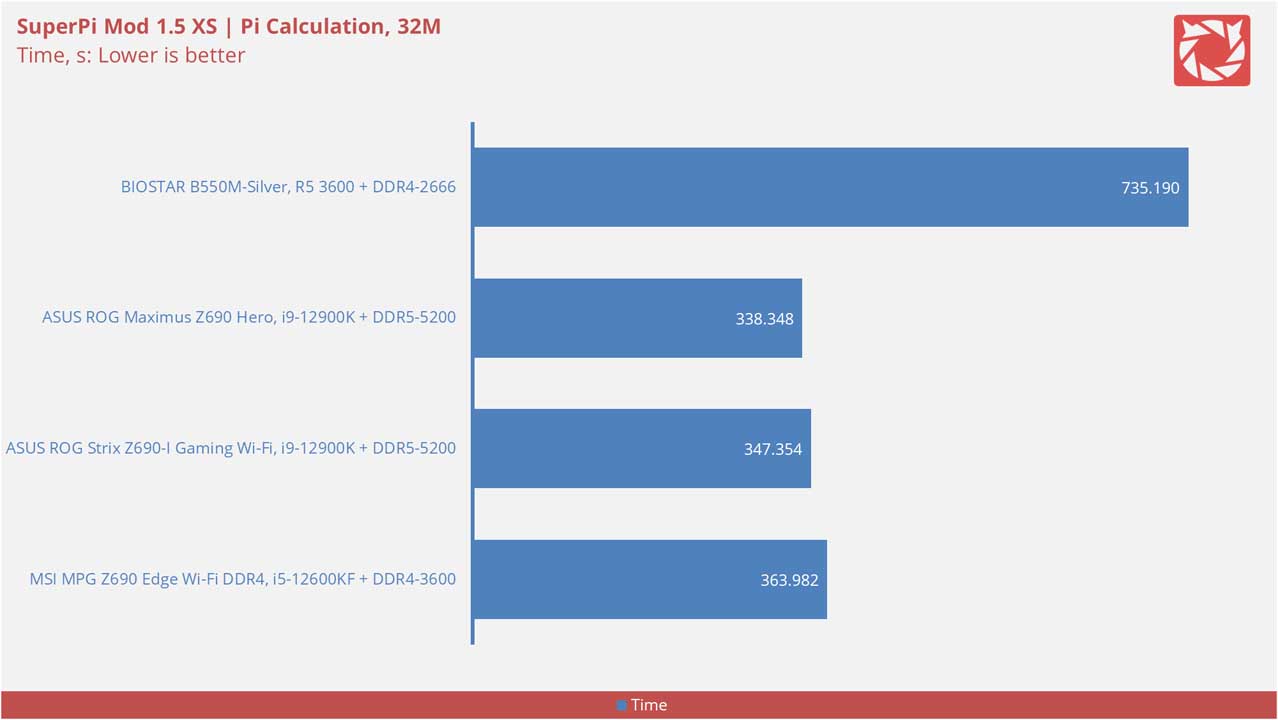 Roots calculation speed is measured in Seconds (s). This is done via WPrime.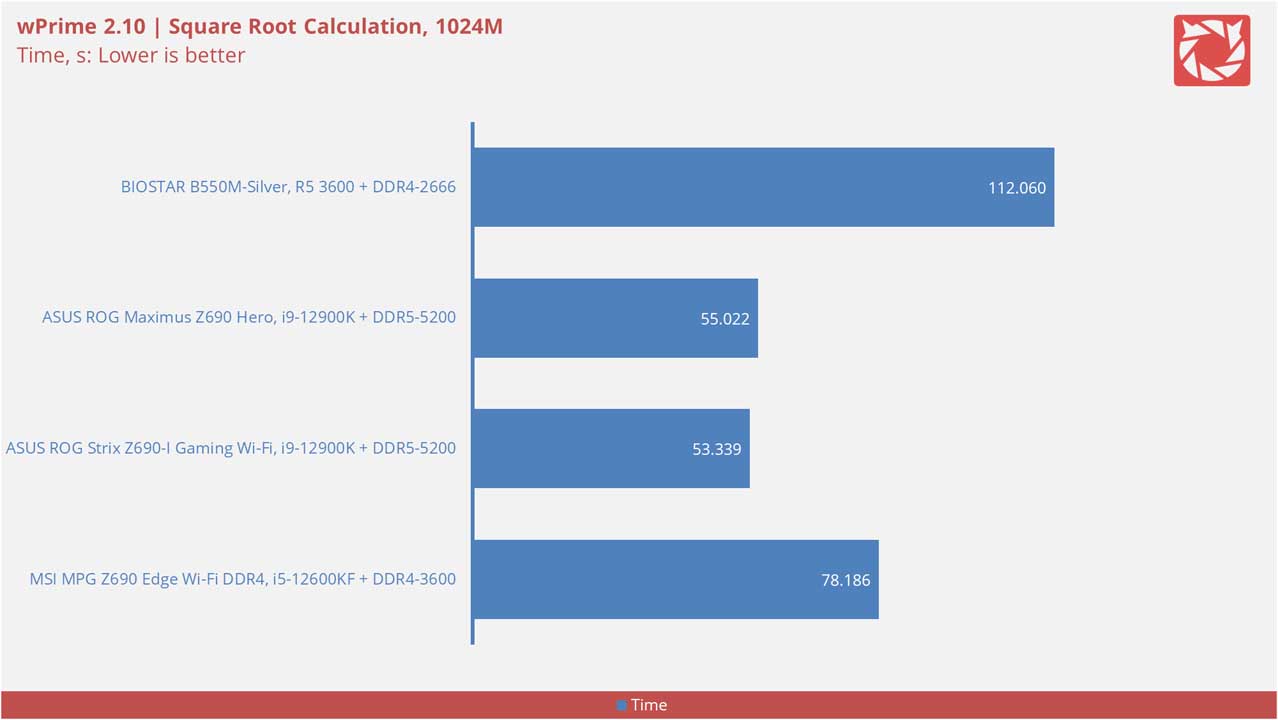 No surprise here. The Ryzen 5 3600 equipped BIOSTAR B550M-Silver is the slowest system on the arithmetic benchmarks. You'd see this trend on most benchmarks simply due to the fact that everything else we measured with the same parameters are expensive TOTL products from their categories – respectively.
3D Rendering
Cinema 4D score is measured in Points (pts). This is done via Cinebench R20.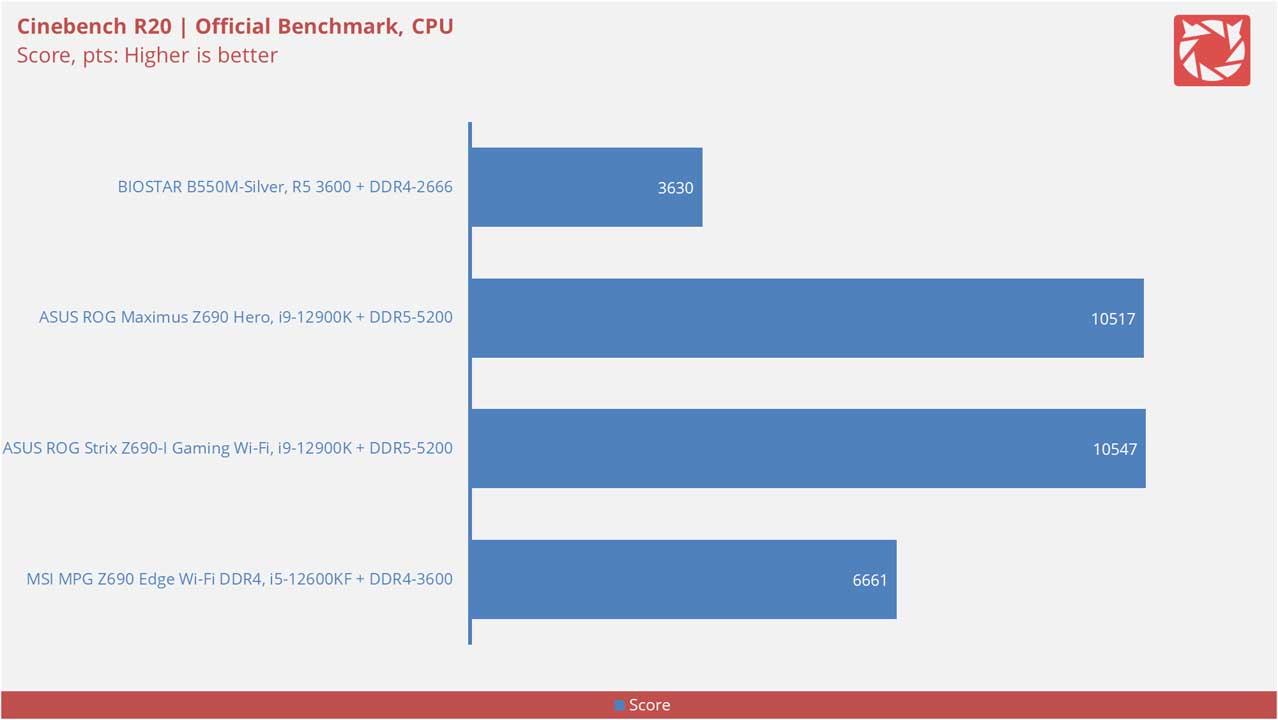 V-Ray 5 score is measured in V-Ray samples (vsamples). This is done via V-Ray 5 Benchmark.
Same trend we got here on the rendering benchmarks. Not a bad result though.
Digital Content Creation
Image editing speed is measured in Seconds (s). This is done via RealBench and its built-in GIMP benchmark.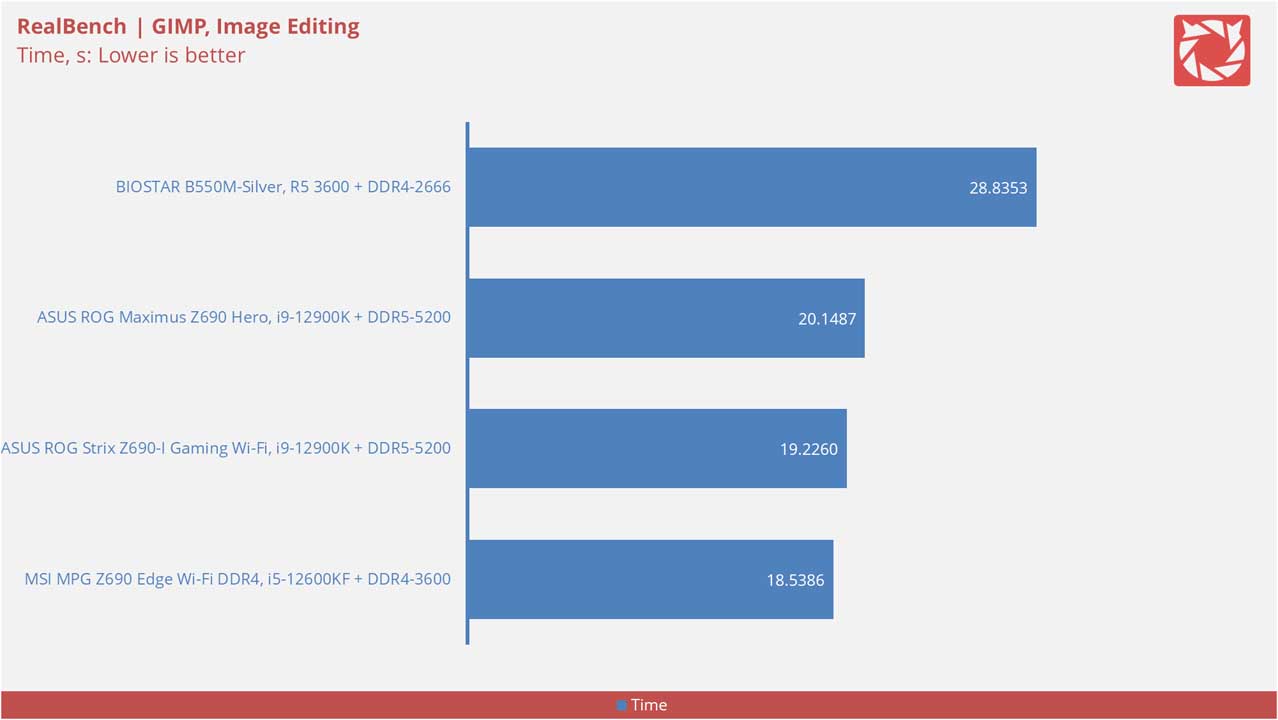 Video encoding speed is measured in Seconds (s).This is done via RealBench and its built-in HandBrake benchmark.
While the Core i5-12600KF is a newer processor and is paired with a faster DDR4 kit, the Ryzen 5 3600 with the B550M-Silver is actually faster – HandBrake benchmark considered.
Web Browsing
Web browsing speed is measured in Seconds (s). This is done via PCMark 10 and its built-in Chromium benchmark.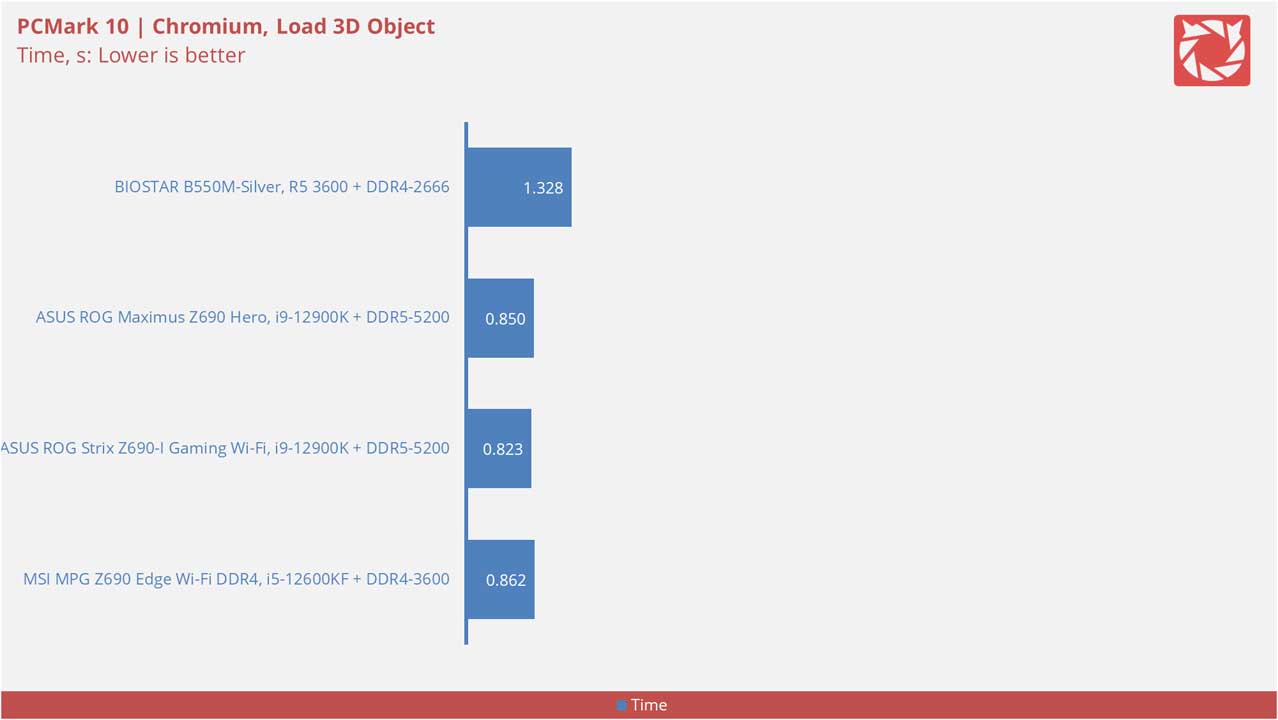 Web browsing speed is measured in Seconds (s). This is done via PCMark 10 and its built-in Firefox benchmark.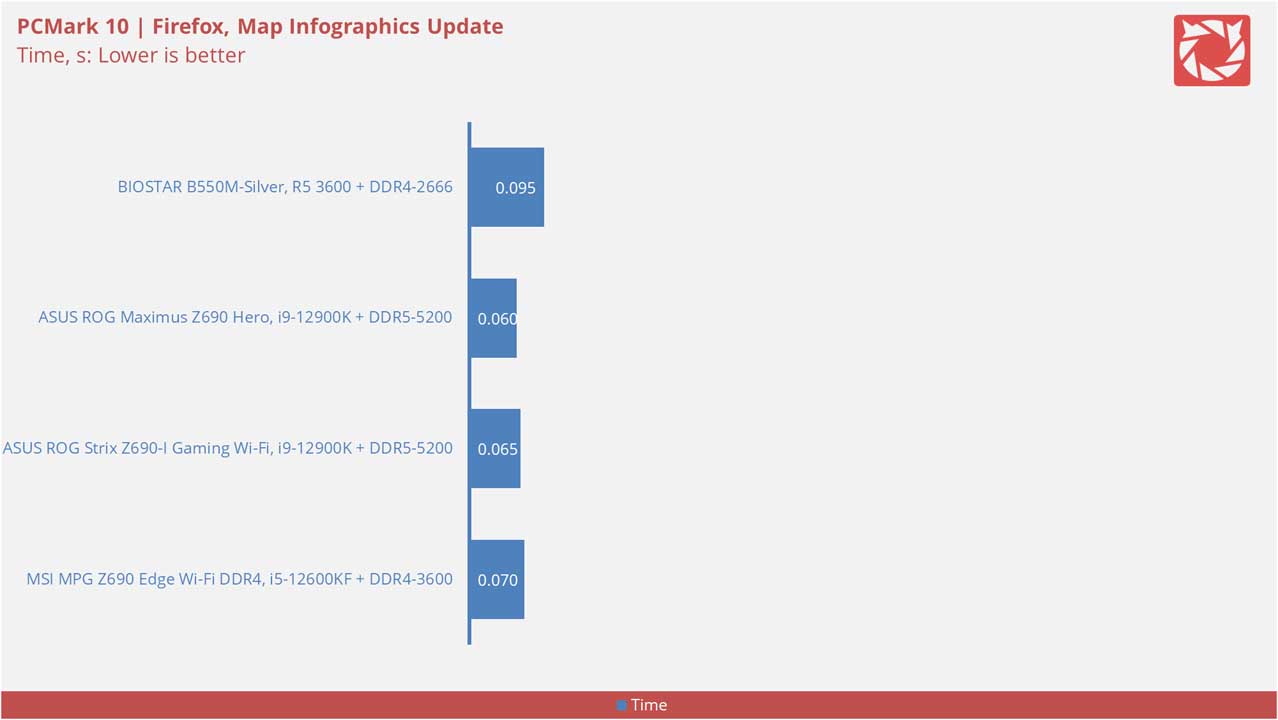 As for browser performance, I don't see any reason to castrate the B550M-Silver from the rest. It is slower but not that it would matter – unless you're working on script heavy pages.
Office Productivity
Productivity speed is measured in Seconds (s). This is done via PCMark 10 and its built-in LibreOffice Writer benchmark.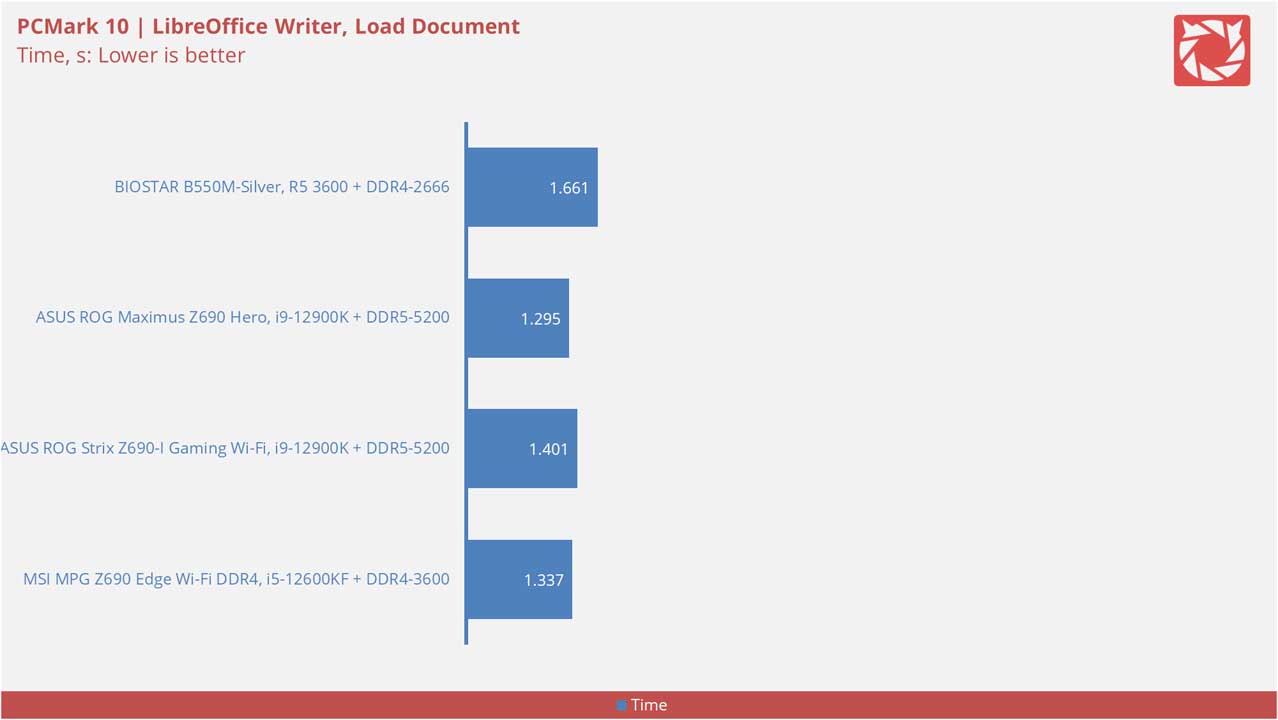 Productivity speed is measured in Seconds (s). This is done via PCMark 10 and its built-in LibreOffice Calc benchmark.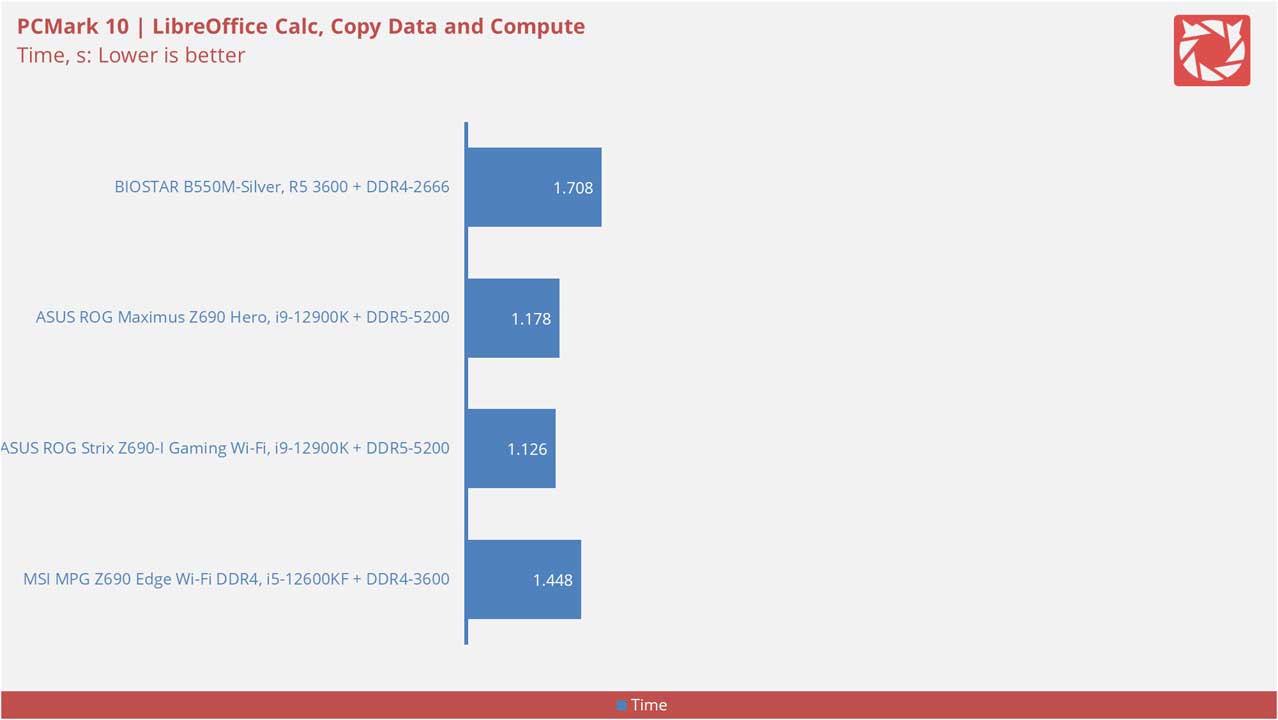 Same thing could be said for the office productivity benchmarks.
Compression
Compression speed is measured in Kilobytes per Second (KB/s). This is done via WinRAR and its built-in benchmark.
Instruction speed is measured in Giga-Instructions per Second (GIPS). This is done via 7-Zip and its built-in benchmark.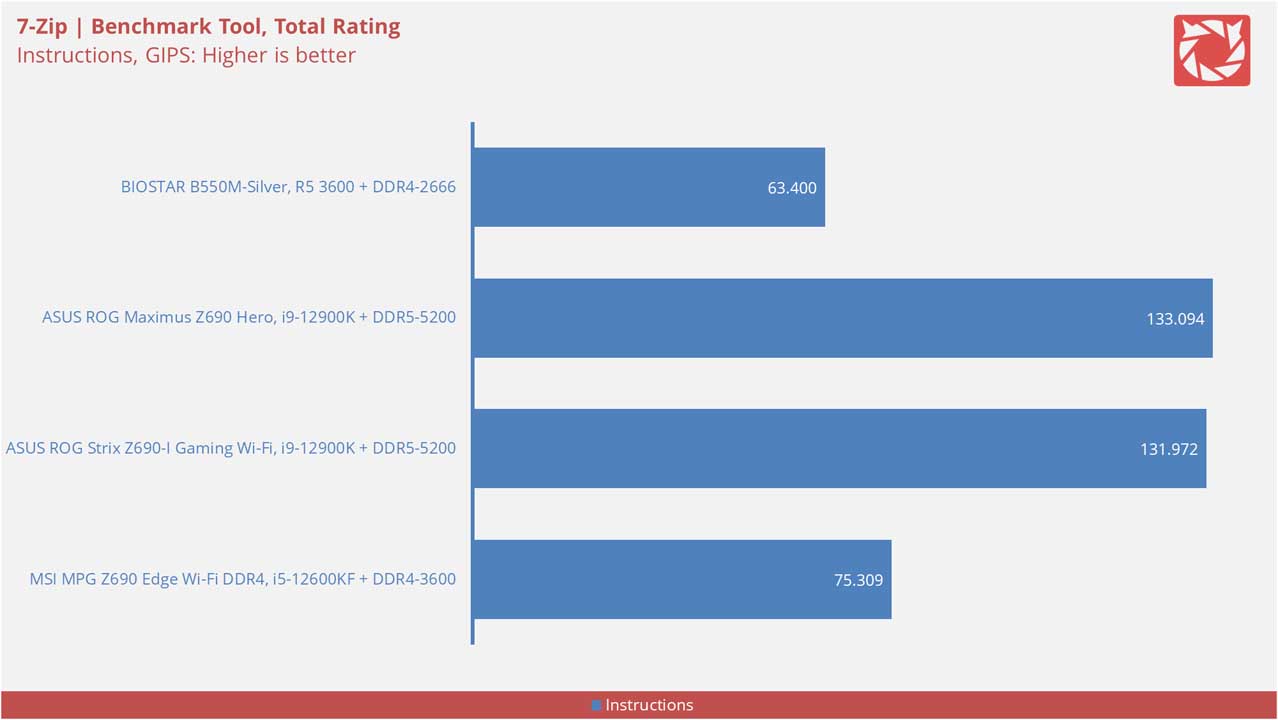 Trend continues here. Nothing to complain.
Gaming
Frame rate is measured in Frames per Second (FPS). This is done via Final Fantasy XVI: Endwalker and its official benchmark.
Frame rate is measured in Frames per Second (FPS). This is done via Sid Meier's Civilization VI and its built-in benchmark.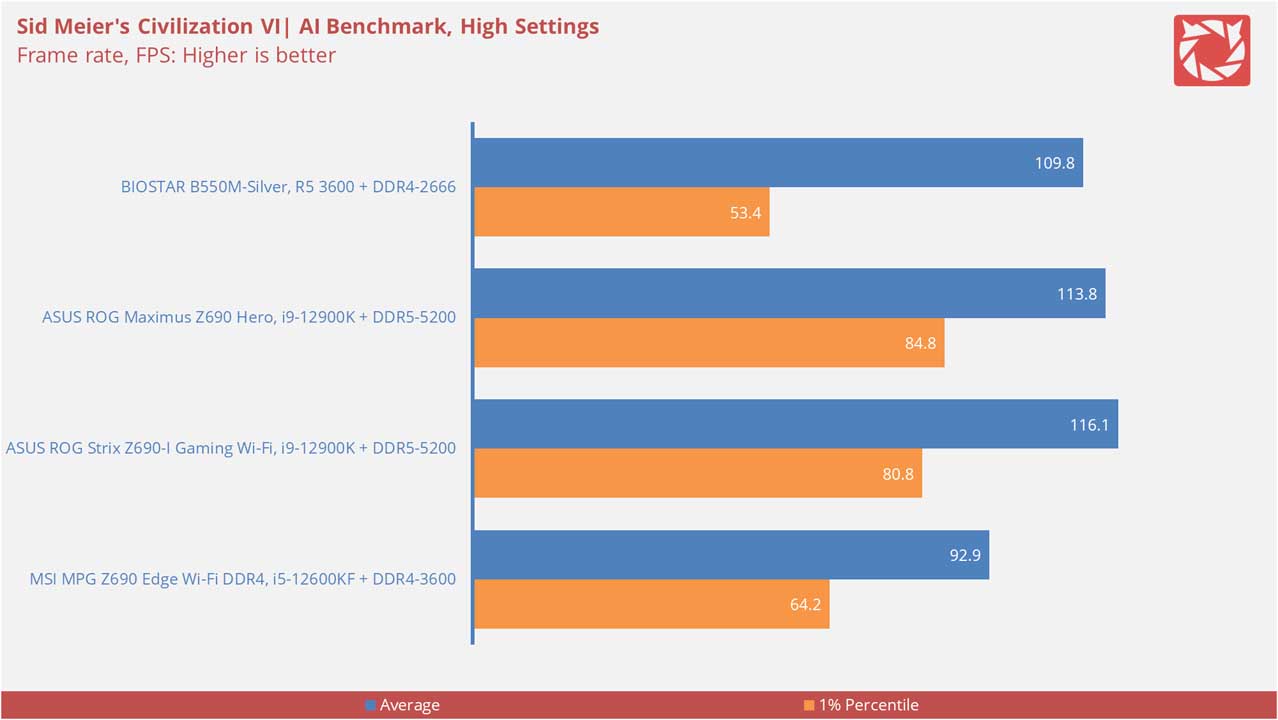 Gaming performance is acceptable for the setup. Now let us move on to motherboard specific benchmarks and or measurements.
POST Speed
Time to finish POST is measured in Seconds (s) at warm and cold boot. This is done via Windows Task Manager and its Last BIOS Time feature.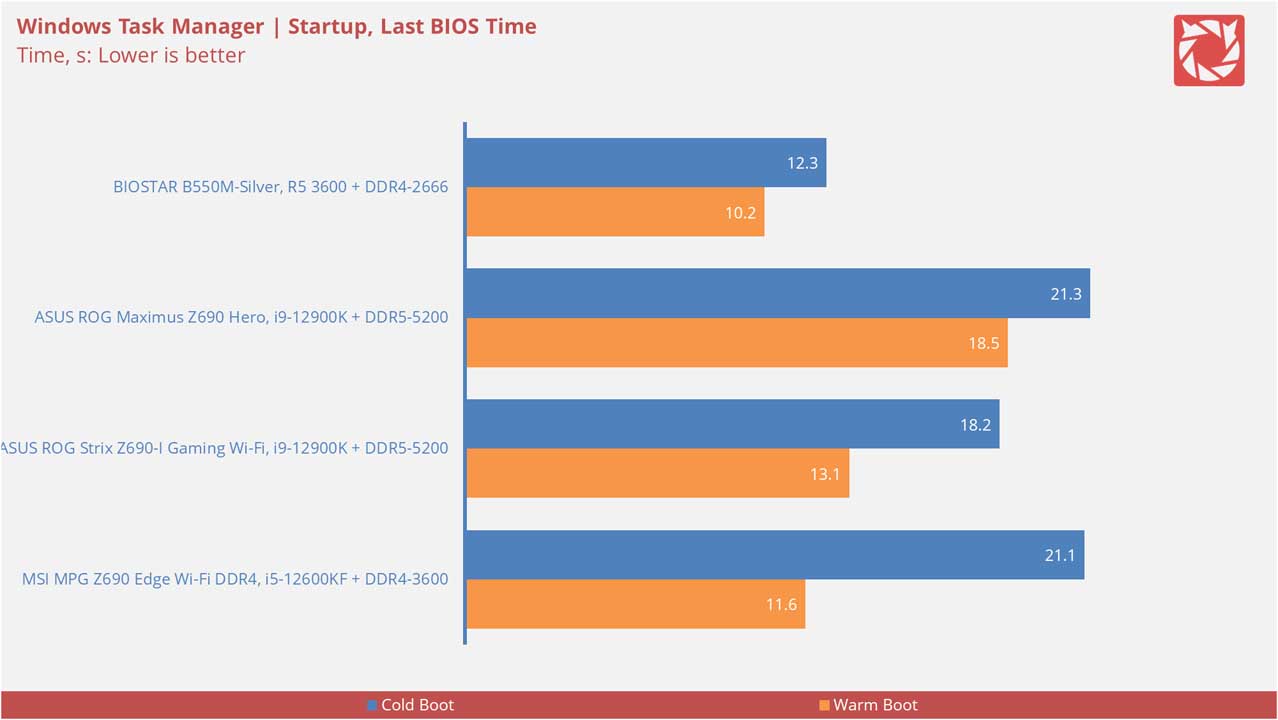 Last BIOS Time performance is the best so far among the boards tested. This is most likely due to efficiency or how easy the UEFI loads the required resources.
DPC Latency
Kernel timer latency is measured in Microseconds (μs) at current and highest. This is done via LatencyMon.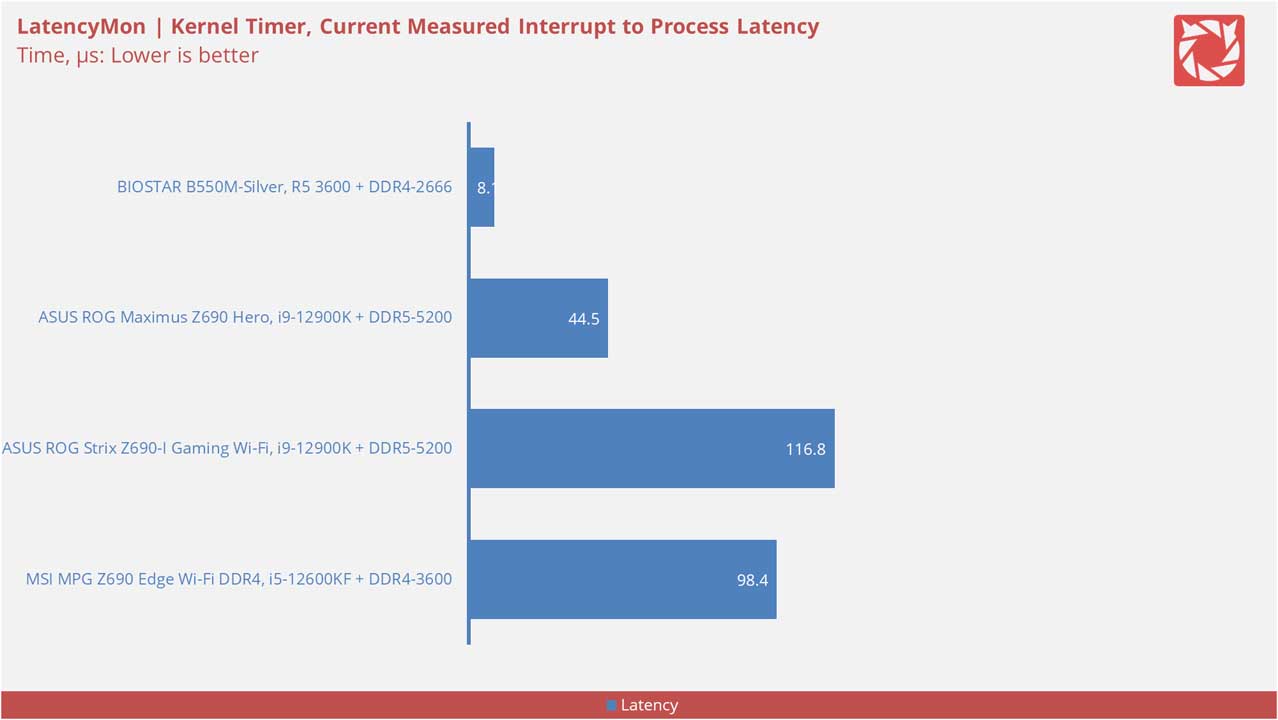 DPC latency is the best out of the bunch. This could be due to the latest Windows update but it is definitely surprisingly good. If you're working in a music production environment, then this is a motherboard to consider.
Memory Latency
Memory latency is measured in Nanoseconds (ns). This is done via AIDA64 Extreme and its Cache and Memory Benchmark.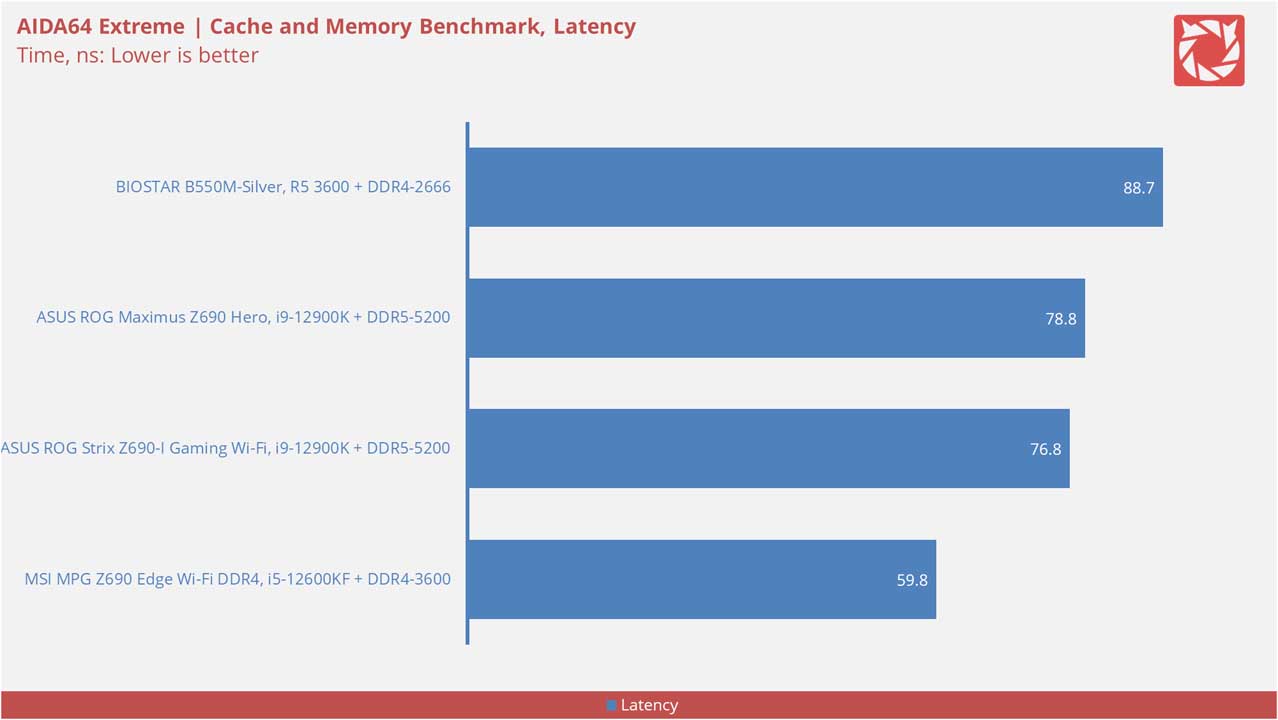 Memory latency is the weakest out of all the boards tested but that's a given since we're comparing it to up to date systems.
Storage Performance
Storage throughput is measured in Megabytes per second (MB/s) at read and write. This is done via CrystalDiskMark and its sequential benchmark.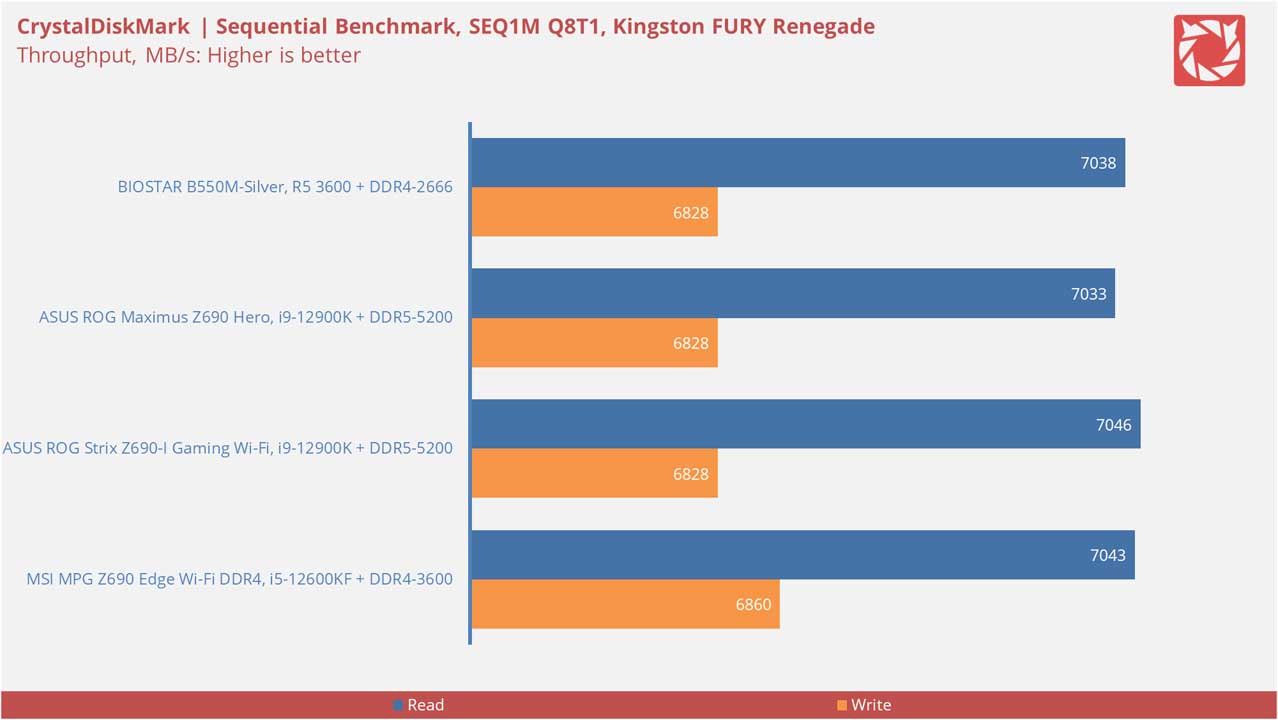 Pretty good storage performance we got here for the B550M-Silver.
Audio Performance
Sound level is measured in decibels, A-weighting (dB, A). This is done via the RightMark Audio Analyzer and its Test Report.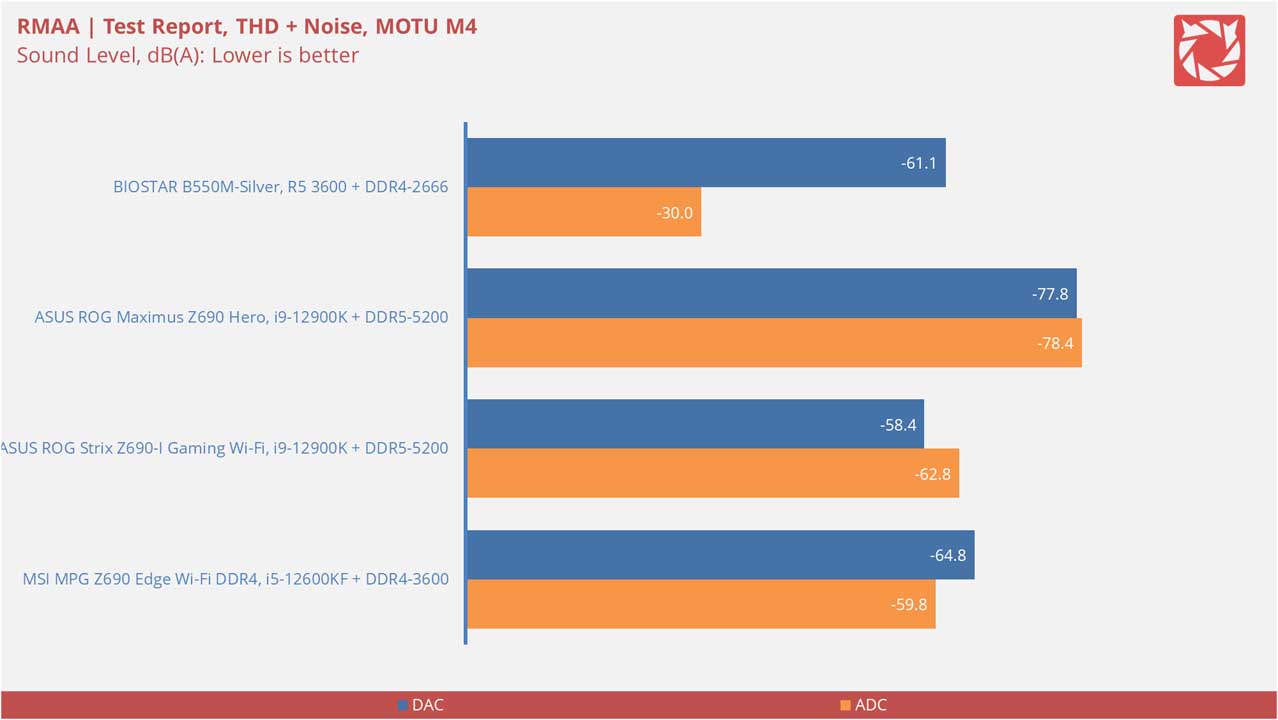 Now while the BIOSTAR B550M-Silver is capable of driving my Sennheiser HD600 to loud enough levels, it is sadly lagging behind when it comes to technical performance – both for the DAC and ADC. The DAC and its amplifier is actually still usable for high impedance headphones but it is just not a good solution for powered monitors due to the noise. It is also not enough to satisfy other low impedance devices such as planar magnetic headphones.
Network Performance
Network throughput is measured in Megabits per second (Mbps) at download and upload. This is done via LAN Tester.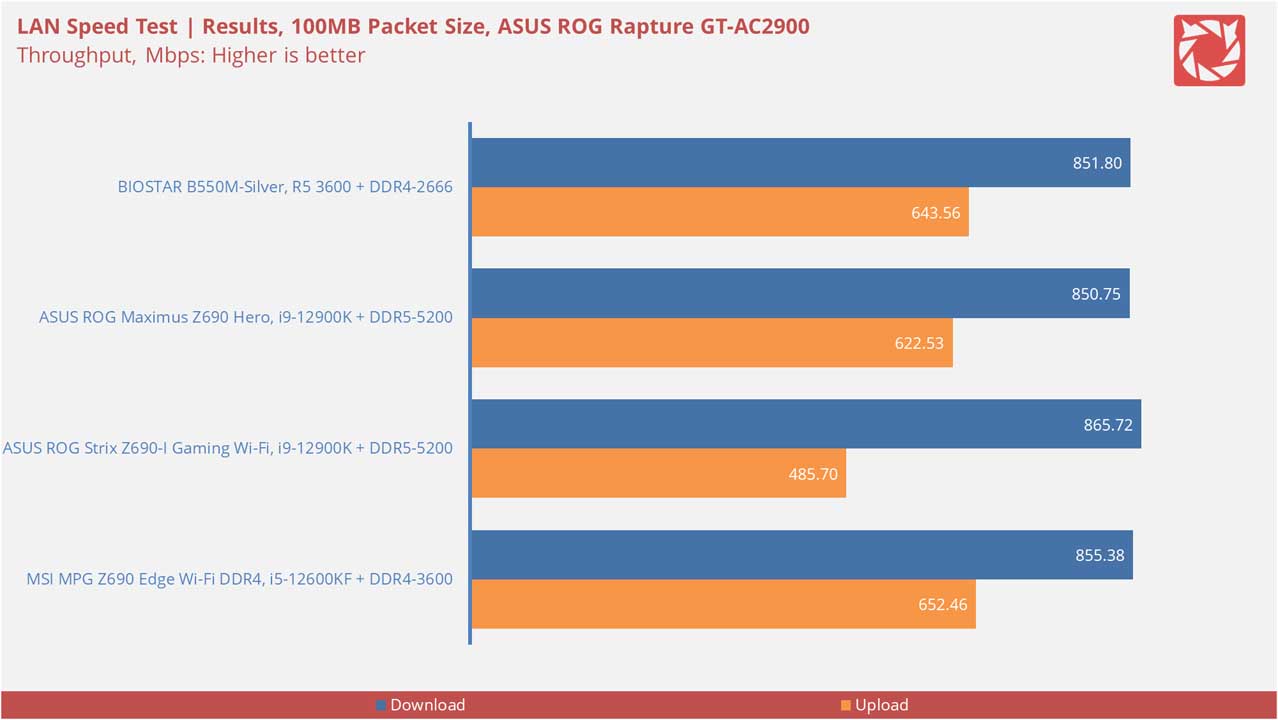 Good results we got here for the LAN adapter.
Thermals
VRM temperature is measured in degree Celcius (ºC) at system idle and load. This is done via AIDA64 Extreme and its System Stability Test.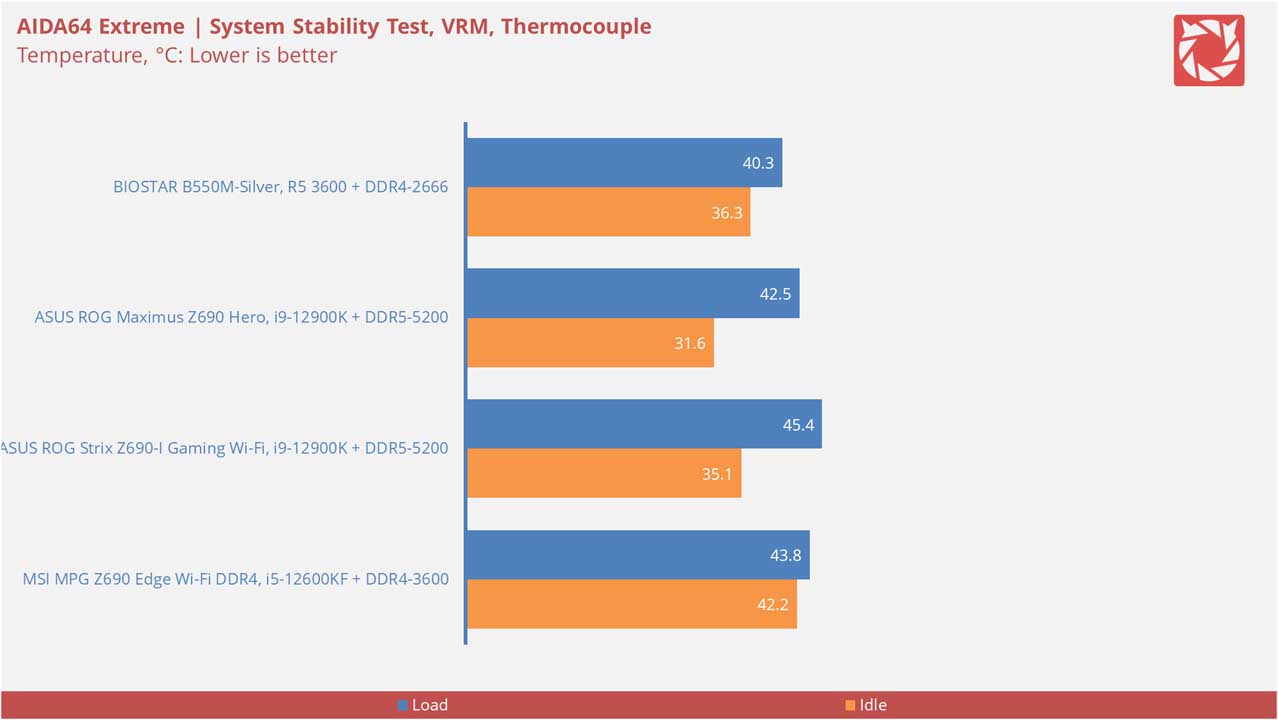 VRM's thermal performance checks out just on the warmer side – same thing with the PCH.
Power Consumption
System power consumption is measured in Watts (ºC) at system idle and load. This is done via AIDA64 Extreme and its System Stability Test.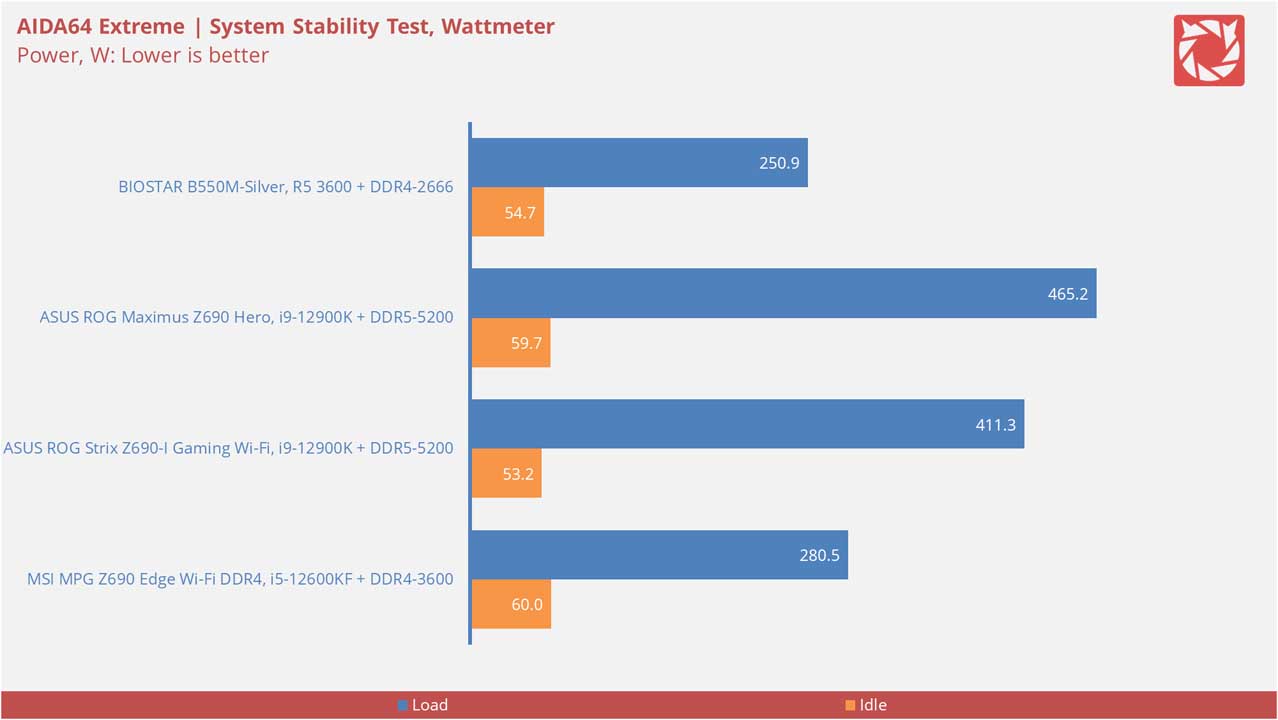 Now power consumption is considerably lower compared to the other systems tested. This is no surprise since the Ryzen 5 3600 comes with a TDP of 65 W. Couple that with an almost bone stock motherboard and you'd get this kind of power efficiency.
Software, Lighting and Special Features
BIOSTAR is not known for their software suite but they've got some downloadable stuff on the product page – aside from the usual assortment of drivers and BIOS updates. These are the BIOSCreen Utility, BIOS Update Utility and the RACING GT EVO Utility. I did not test them simply because most of the functions you could adjust on these utilities are also found within the UEFI.
Now what's note worthy to add in this section is the ability to add an M.2 2230 card for a Wi-Fi or Bluetooth adapter. An IPX to SMA cable has been installed already so you just need to purchase your desired wireless adapter and an SMA compatible antenna to get started. We also have the 2.5Guard here which is basically a surge protector for the LAN port.
Final Thoughts
The BIOSTAR B550M-Silver is a simple B550 motherboard. it comes with the bells and whistles expected for the chipset with added bonuses just to make sure it is not a 100% bone stock motherboard with BIOSTAR's brand name on it.
General performance is good but if I were to nit pick, its audio performance could be better. This wont matter much though if you're going to use the said components casually – like with most onboard solutions actually.
Luckily, the rest of the board's performance checks out on a positive note. I like how fast it boots, how its fan controller is implemented and its super low DPC latency – on top of the abundant input and output options.
For the price of around $150 USD, the BIOSTAR B550M-Silver is actually a rock solid motherboard to start with. I just wish they added a wireless adapter in the first place. But then again, nothing is perfect.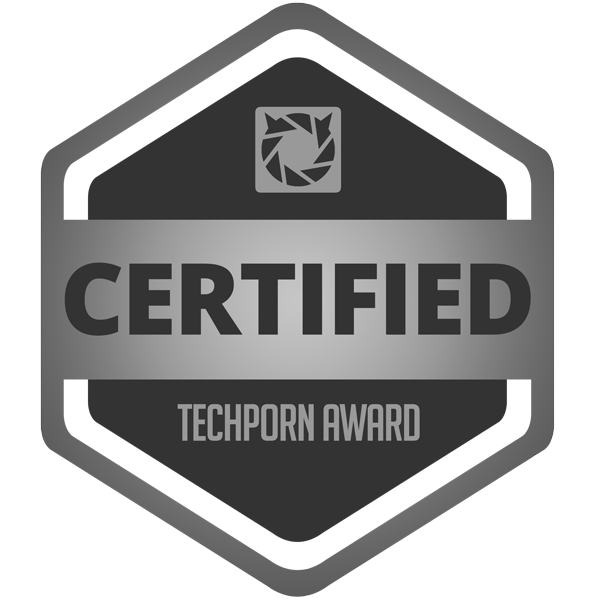 BIOSTAR B550M-Silver Motherboard
Summary
The BIOSTAR B550M-Silver is a good motherboard to start with for a Ryzen powered build. Sadly, the audio performance is a weak spot for production purposed. So, if you're planning to do some work with it, best invest on a proper audio interface.