CableMod got in touch with us to promote their custom keyboard and PSU cables. As a softie for premium products – and a customizable one at that, dear me immediately obliged.
This is also a highly needed opportunity (excuse) to get away from my usual programming, i.e., attending unfinished reviews that I find a bit burning out. Don't worry though, I received enough samples of different kinds, sizes, shape and form to ignite my curiosity once again – just like these cables!
Note: CableMod has an exclusive promotion for the Philippines. Use the promo code Philippine40 at checkout to give yourself a mighty 40% off and a flat $10 USD shipping rate on custom cables. It doesn't matter be it a cable for a PSU or a keyboard.
About CableMod
Now CableMod's humble beginnings originated way back in 2014 at Hong-Kong, initially offering custom made PSU cables for the three major brands at that time. Back then, you could only find such service from boutique system builders and modders – at a staggering fee. For reference, I had a custom Cooler Master V1200 Platinum PSU cable made for about $175 USD. That said, their ability to provide a set of custom cables for a decent sum was truly a novel idea at the time.
Fast forward today, CableMod now offers direct replacement cables for the top 10 PSU manufacturers. Not only that, they've also recently added custom keyboard cables, LED lighting kits and other accessories. That also includes cable management boxes, cable combs, memory modding kits, AIO cooler sleeves and so much more.
How to use the CableMod Configurator
So CableMod basically works like your usual online shop. You may order premade cables for your brand and model without much fuss and just check out the items on your cart – easy peasy. Now the CableMod Configurator is where you could step-up, featuring tons and tons of customization for your order, be it a PSU, keyboard, phone or even a mouse cable. Here's how to use it:
Step 1: Select the custom cable you need
This is self explanatory but to get started, you have to select what cables you need. Mine for example is a custom set of SFF cables. I chose this not only because I actually have an SFX PSU, but I also like the looks, flexibility and the price of these custom cables. Don't worry though if you have an ATX PSU – you could also use this to order sleeveless cables for them just fine. I think CableMod could just change this selection's name for the better.
Step 2: Select the PSU brand and model
Easy enough, but don't screw this up even if you know that an X PSU cable will fit into Y PSU's cable. I selected the Corsair SF450 (Gold) here since this is my power supply unit's specific model. If your brand and model is not on the list, you may contact CableMod to check it out for you.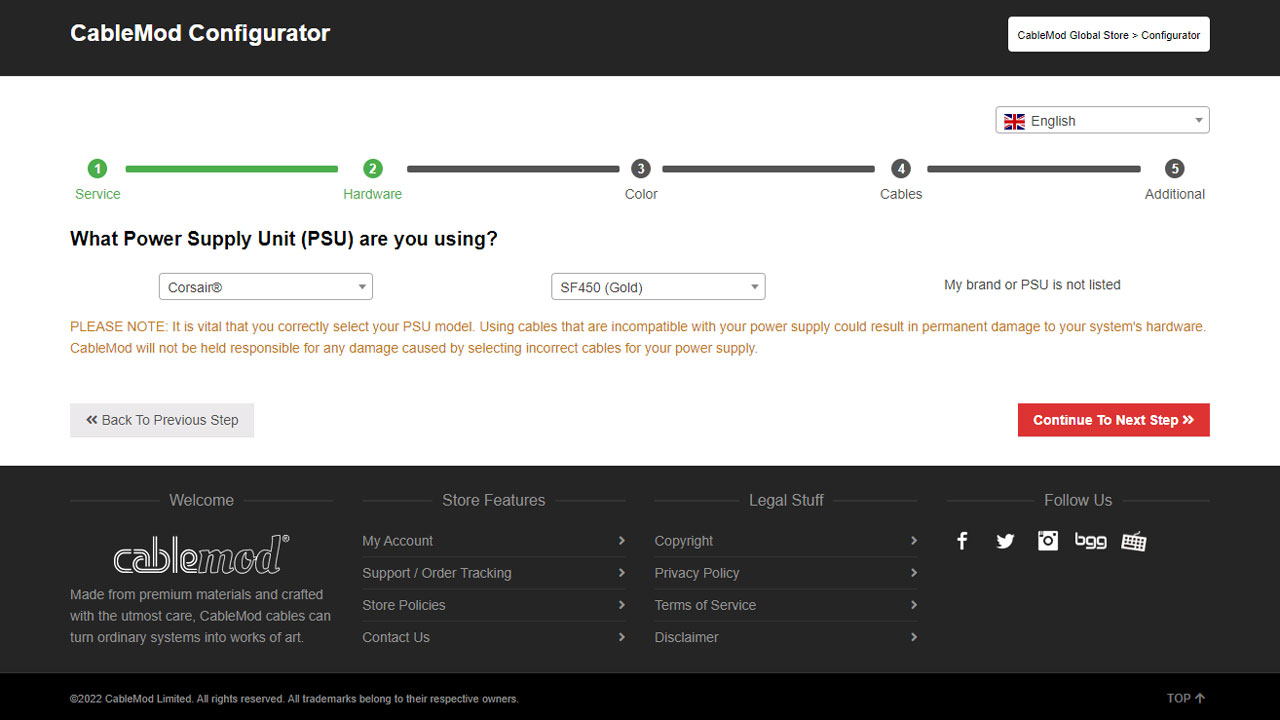 Step 3: Choose the cable color
Only two choices here: Black and Silver for sleeveless cables. Since I already got a custom white cable for my PSU from Taobao, I went in hard for the Black. If you chose the non SFF route, you'd get more colors and even cable comb colors to choose from.
Step 4: Configure cables and their length
Arguably the most important section, this is where you should pay a little bit more attention. If you don't want to mess this up or if you want to make sure you just get the right amount of slack, get a piece of thread and have it routed in your case. If you are confident that it is enough, measure the thread and select the length. Since the configurator only comes in 50 mm increments, it is best to get a longer cable over the one you measured – unless it is really close and you do not need much slack at all.
Step 5: Extras and checkout
Actually skipped the extras here since I only need the cables. Such add-ons includes sleeved SATA cables, LED lights and other accessories that CableMod has to offer. In total, my regular order is at $93.60 USD shipped. With the coupon Philippine40 in place though, we now have a discounted total price of $60.16 USD.
Shipping from Hong Kong to the Philippines is just a matter of waiting for a week at most – if not for a few days. Geographically this is not surprising.
CableMod PSU Cables:
With shipping out of the way, let us look at the cables. First off here are the PSU cables I've ordered. They came in a pouch along with of course, the custom keyboard cables.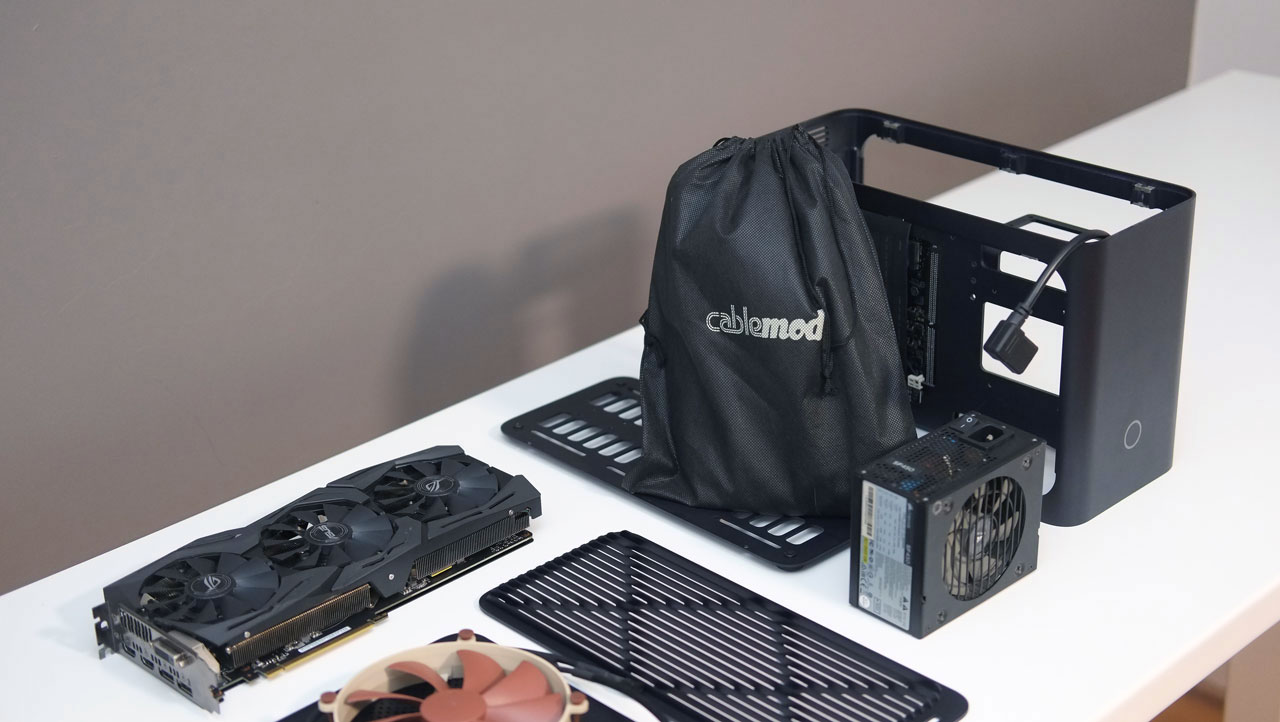 What I ordered are rather short and simple – but perfect for my needs. I ordered these exact cables to fit my build and they do well just fine in that regard. I also like the fact that I could order a single SATA cable just to power up my case's front panel USB Type-C port.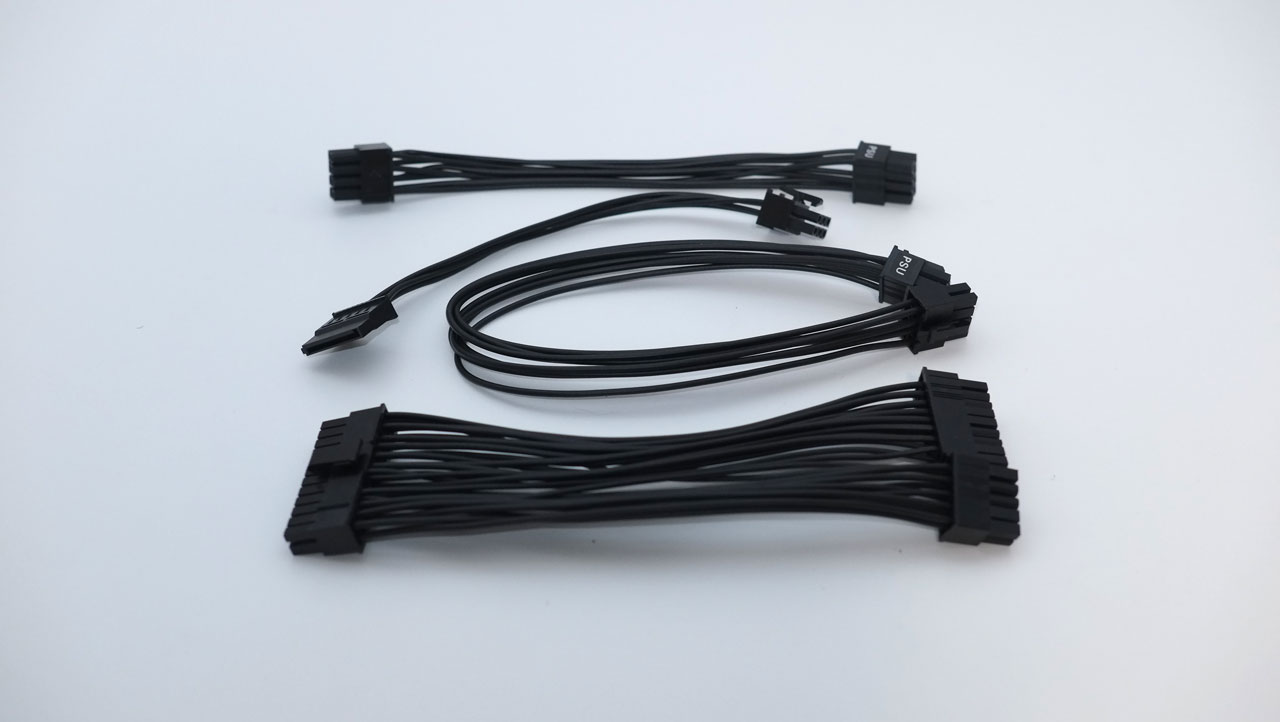 Black looks neat especially without the sleeve. It should be more pliable too compared to sleeved models. I like that the wire gauge seems on par with the original cables as well.
Installation is rather easy – I mean these are just PSU cables to begin with. Nothing fancy to do here but your mileage may vary depending on your case.
Who needs cable management if your cables are made to order, right? Well technically, this is also a part of cable management so that statement is already out of the window. Kidding aside, I actually ordered the wrong cable length for my graphics card so I ended up using a small extension. I told CableMod about this prior to shipping and they are willing to amend the order right away. Stupid me still went ahead with my initial selection so don't be me I guess.
All in all, pretty impressive set of custom PSU cables we got here from CableMod – for the price. Now if you are actually looking for something fancy, then the brand recently announced their custom PSU cables for the NVIDIA GeForce RTX 40 series. These are 12VHPWR cables available in standard trims and extensions.
CableMod Keyboard Cables:
Now this one is totally not what I am expecting to see. CableMod truly went above and beyond with their custom keyboard cables – down right to its packaging and accessories.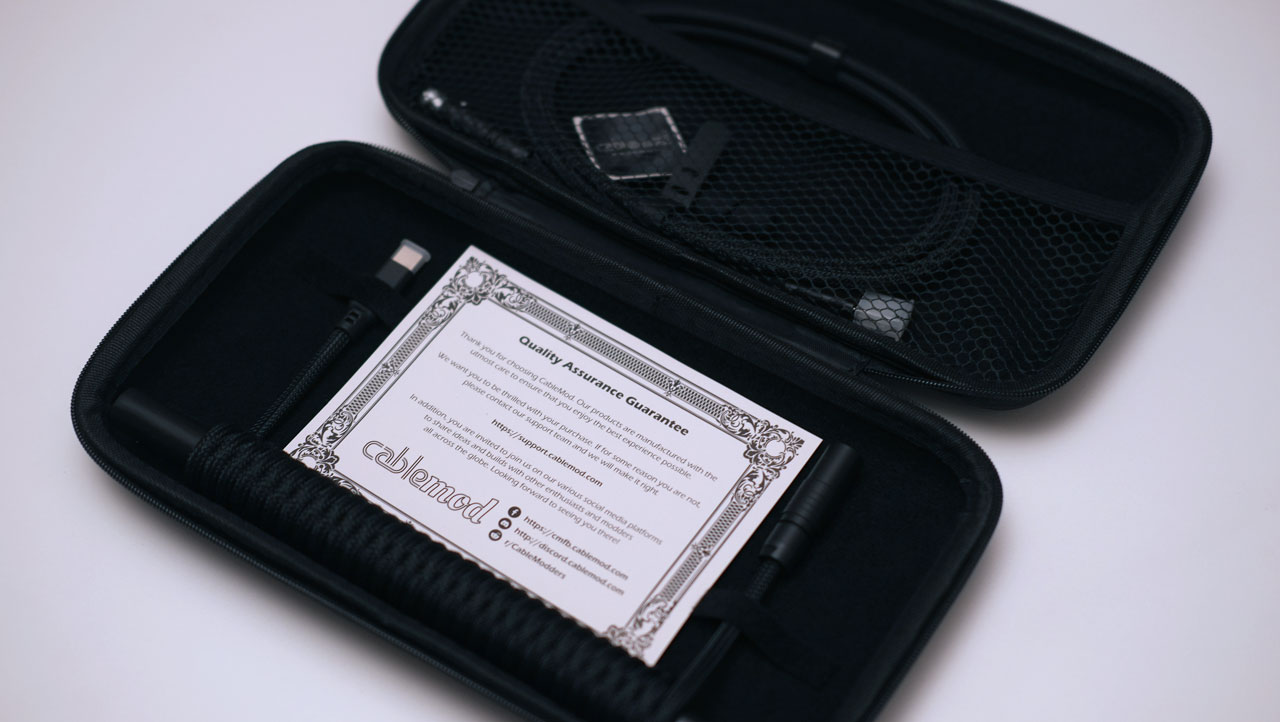 What I ordered are again simple by design – but no naked cables here since CableMod doesn't have an option that isn't sleeved – at least for the time being. To add, the configurator for the keyboard cables is a different beast on its own. Basically almost everything you could see are customizable. That includes the ports, the LEMO connectors, coating of choice and of course the cables themselves.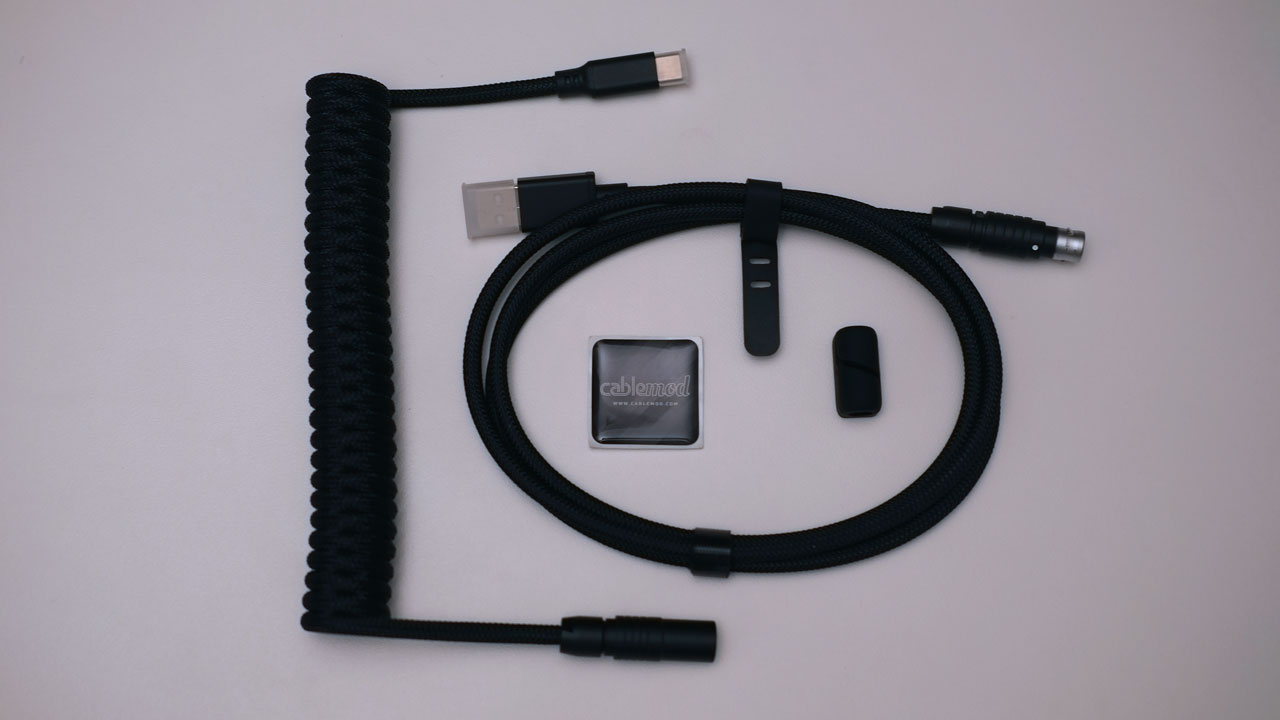 If you're a sucker for simple and clean setups, then this very configuration is for you. Personally, I do not like sleeved cables on anything but this one is truly an exception due to its build quality and presentation. It is just that good.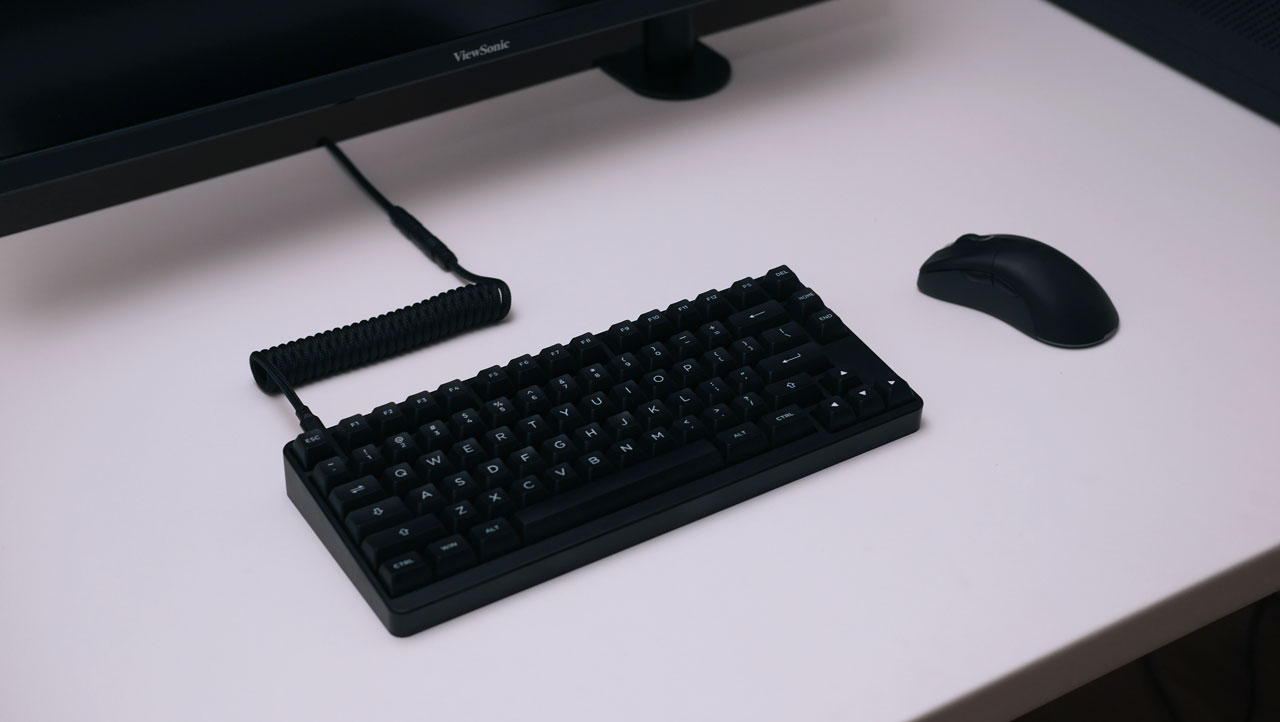 Is CableMod for you?
There are a lot of custom cables out there ranging from pre-made to boutique ones. CableMod sits right in between, featuring enough customization options while at the same time, keeping a good turn around time for consumers. That said, if you cannot wait for the longer TaT from boutique builders and or cannot stand the pre-built customs, then their service really is made to cater for you.
This sums up my experience with CableMod. Again, you may use the promo code Philippine40 at checkout for a 40% off discount and a flat $10 USD shipping rate on custom cables. This only applies to Philippine based customers so better check out CableMod for timely promotions.