GIGABYTE officially launched the AORUS CV27F Tactical Monitor at Computex 2019. The new AORUS CV27F uses a 27 inch FHD VA panel with a 1500R curvature which is essentially more similar to the natural curve of the human eye.

GIGABYTE states that this is a true 1500R curved panel. That basically means it isn't your run of the mill panel curved into 1500R as what other brands have reportedly done in the past.
1ms, 165Hz with 90% DCI-P3
The AORUS CV27F also features a 1ms (MPRT) response time and 165Hz refresh rate, plus a DCI-P3 compliance rated at 90%. Along with those comes the support for AMD'd Radeon FreeSync 2 HDR technology.
Loaded with features
The AORUS CV27F provides a metal stand for better ergonomics. It also comes with a built-in power board design saving a lot of space compared to conventional external power designs.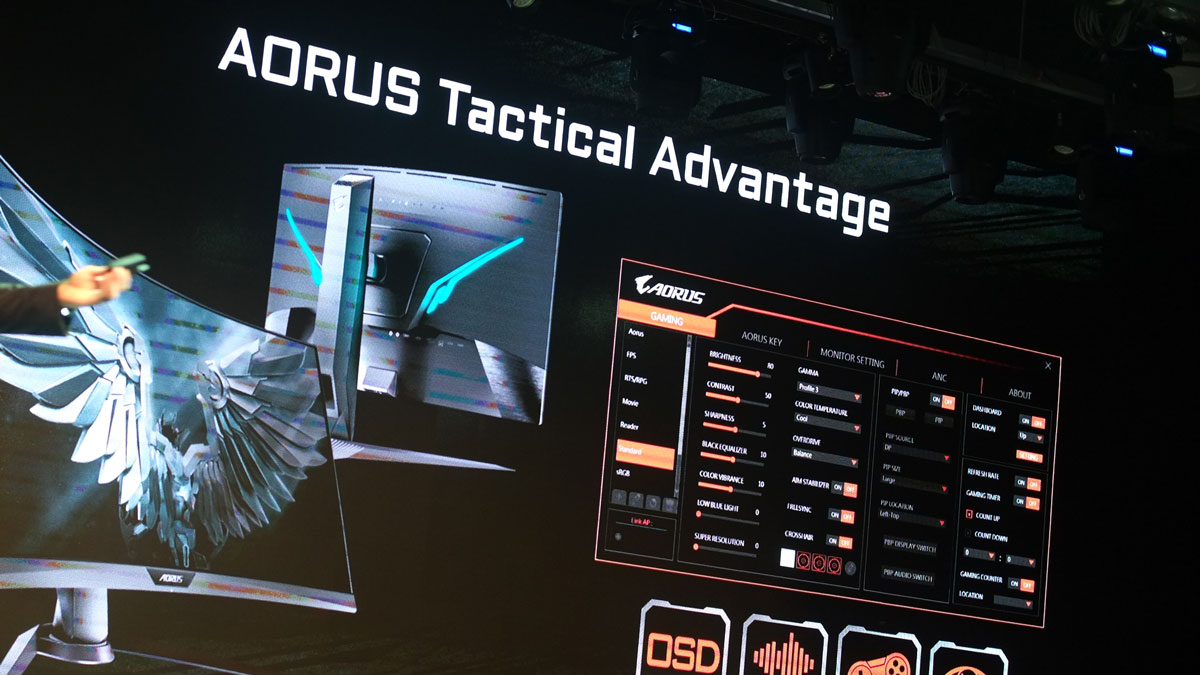 The CV27F also has the same innovative tactical features as the other AORUS tactical monitors. Listed below are its notable features:
Black Equalize: Brightens up the dark parts in the picture for better visibility in dark areas.
Aim Stabilizer: This feature will help you reduce the blurriness of the recoil effects while you are shooting in an FPS game. It can also help you trace moving enemies much easier.
GameAssist: This is a kit of OSD functions that helps you in game. It includes a customizable crosshair, a counter, a timer, and multi-screen alignment lines.
AORUS Dashboard: We can display hardware information directly on screen, such as mouse DPI and GPU/CPU information.
OSD Sidekick: You can now control the monitor through this software and control your OSD with mouse and keyboard. A much easier way to adjust your monitor.
Active Noise Cancelling(ANC): When you plug your mic into the monitor, it can help you cancel the noise around you. The only thing that goes through the mic when you are communicating with your teammate is your voice.
Pricing and availability
The AORUS CV27F is still not available in the market and pricing has yet to surface.