Thermal Interface Materials, or TIMs for short, are among the less products when it comes to the mainstream computing industry. Part of the reason why is the huge availability of TIMs to choose from, and the consumer's knowledge about the said products. Really, I have seen some buyers at retail shops picking up a thermal paste based on the size of the syringe and price alone. It's sad, since there's so much more to TIMs. First off, TIMs are the work horse of your CPU, GPU, or whatever that is to transfer heat from, and to the heatsink. Without a capable TIM, your cooler wont work effectively or as expected.
Now what we have here is the D9000 Nano Diamond. A Thermal Interface Material from our friends at JunPus Taiwan. It sports a thermal conductivity @ 8.9w/m-K, temperature stability @ -50 to 150℃, electrically non-conductive, and Four full years of usability, safely stored in a 3 gram packaging. Without further ado, let us see what it can do.
FEATURES & SPECIFICATIONS:
Product name

JP-D9000

JP-D8000

JP-DL700

JP-DL600

Color Appearance

Gray

Gray

Gray

Gray

Viscosity(mPa. s)

5,500,000

3,000,000

7000,000

600,000

Specific Gravity(g/cm3)

2.7

2.2

1.9

1.8

Thermal Conductivity(w/m-K)

8.9

5.5

4.5

3

Thermal Resistance

(℃*cm2/w)60Psi

0.08

0.103

0.147

0.151

Dielectric Constant

14.5 at 1MHz

14.5 at 1MHz

14.5 at 1MHz

14.5 at 1MHz

Volatile matter(%)120℃@96hrs

0.18

0.24

0.21

0.22

Out Gasing(%),200℃@96hrs

0.01

0.02

0.01

0.02

Temperature Stability(℃)

-50 ~ 150

-50 ~ 180

-50 ~ 250

-50 ~ 250

Shelf Life

3 years

3 years

3 years

3 years
PACKAGING & BUNDLED ACCESSORIES:

Our sample came from a small envelope straight from JunPus Taiwan and arrived weeks later unscathed. If you're looking forward to purchase a product from them, worry not about custom fees and taxes. Our local alligators just don't give a damn about thermal interface materials.
The JunPus D9000 came in a familiar blister pack but there's no surprise there since JunPus is also manufacturing packaging materials for other companies such as ARCTIC Cooling if memory serves me right. Up front, we've got a classy Brownish themed packaging, along with some of the TIM's notable features.
The back is busier with the D9000's descriptions, features, specifications, and application instructions. Do note that on this side of the packaging, the D9000 is actually listed to feature a 9.6w/m-K thermal conductivity, and a 250℃ high peak temperature. I dunno what to believe but let us guess that this one is the real deal compared to what's written on JunPus' website. The JunPus D9000 is non-conductive, by the way.
CLOSER LOOK:
The JunPus D9000 came in a simple yet effective syringe assembly, along with a flexible spatula to easily spread the paste in case spreading TIMs is your kind of thing.
The D9000's syringe is no different than others, hinting that JunPus might be the supplier of assemblies used by other companies who specializes in Thermal Interface Materials.
THERMAL GREASE APPLICATION:
Installing, or applying the JunPus D9000 is no sweat. You just have to remove the cap of the syringe and press it out. We find the D9000 a bit harder to apply compared to other compounds out due to its thicker/denser physique. A spatula is really needed if you want to spread the TIM across the processor.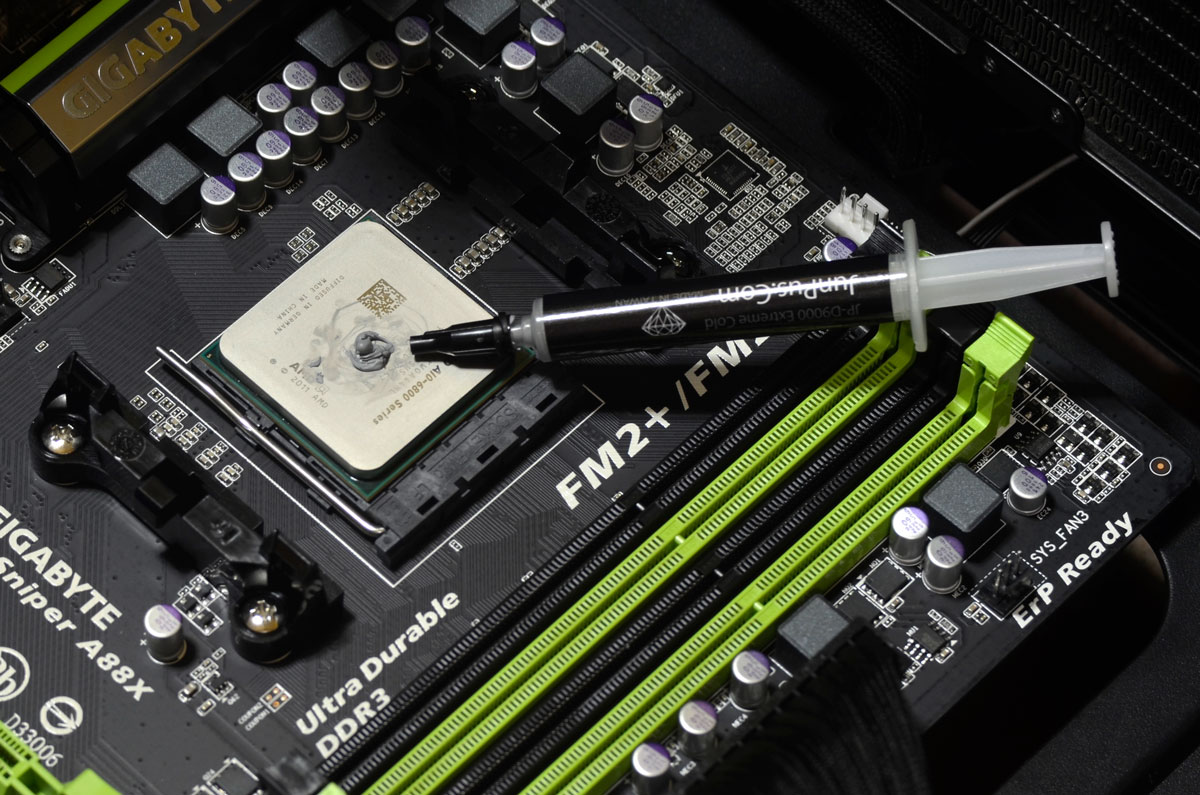 We didn't bother using the spatula since our application method is the Pea Size Method which is enthusiastically demonstrated by TekSyndicate. This method requires far lesser work compared to applying the TIM and spreading it out, and is scientifically a better method due to its simplicity and the nature of the paste to spread out evenly when the cooler is being placed.
PERFORMANCE & CONCLUSION:
We initially tested the JunPus D9000's performance with an AMD APU setup, but we find the system's thermal monitoring chips as a dud. We decided to go with an alternative from Intel, in the form of an Intel Core i5 4670K retail chip.
Now thing is, we initially have a 3570K here, along with an engineering sample of the 4670K. We never had the chance to use them since we already sold the 3570K, and have already returned the engineering sample. That said, when we got our retail 4670K, we were underwhelmed by its overclocking headroom, compared to what the engineering sample, and our older processor has to offer. We can't get past 4.4GHz with safe voltages, nor achieve a faster clock speed without breaking the thermal throttling barrier.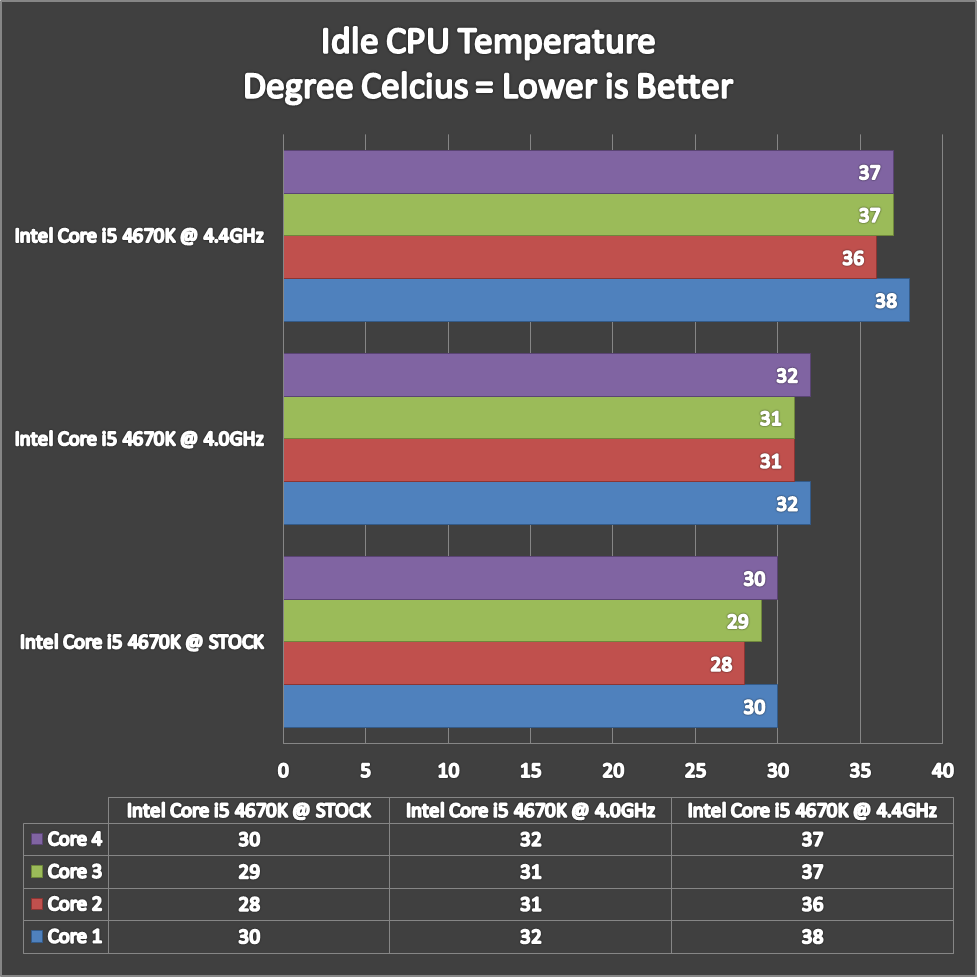 Rant aside, and with the JunPus D9000 on our chip, we still ran a series of tests with the retail i5 4670K at 3 different settings. First up is the stock config which is 3.8GHz, second one is a rather light 4.0GHz with a 1.1v vCore, and a 4.4GHz setup with 1.31v vCore which is yikes! The cooler is a Corsair H100i with a push setup, directly feeding its own radiator with fresh air coming from the top of our COSMOS II chassis with a positive air pressure configuration. AIDA64's System Stability Test is used to load the whole system and record the temperature readings, along with Core Temp. Ambient temperature is 27 ℃.
Performance wise, the JunPus D9000 showed some pretty good results particularly in the stock, and light OC department. Sure, at 4.4GHz, the CPU is reaching an almost toasty temperature, with the 4th core running with an all time high 87 ℃, but remember that we are feeding the 4670K with 1.31v vCore with this setting.
Overall, the D9000 Nano Diamond proved to be a worthy TIM from the guys at JunPus, featuring a performance that is absolutely needed in today's demanding hardwares. With an SRP of 10 USD, or at around 440 Philippine Peso directly converted, it is a very enticing product with an aim to improve your computing experience with a relatively good price. The only thing we could criticize about it is the availability, which is the Achilles' Heel of any good-value oriented product. The JunPus D9000 Nano Diamond is available only at Performance-PCs.com at the moment.
JunPus D9000 Nano Diamond
PERFORMANCE -

8/10

VALUE -

8/10
Summary
Overall, the D9000 Nano Diamond proved to be a worthy TIM from the guys at JunPus, featuring a performance that is absolutely needed in today's demanding hardwares.