What we have here for review is the Kingston FURY Beast DDR5 RGB memory in 32 GB capacity. This is kit of two 16 GB memory modules in a white colorway and is slated at $169 USD.
The FURY Beast RGB series has been around for quite some time now, adding the white variants later on early this year. Specifications hasn't changed so you are still expected to see 4800, 5600 and 6000 MT/s kits – which is what we have here.
Disclosure: Kingston sent the FURY Beast DDR5 RGB for the purpose of this review. The company did not ask me to say anything particular about it.
Technical Specifications
Memory
SDRAM
DDR5
Interface
LO-DIMM
Capacity
32 GB (16 GB x2)
Speed
6000 MT/s (XMP)
Timings
40-40-40-80 (XMP)
Voltage
1.35 V (XMP)
Dimensions
Length
133.35 mm
Width
7.11 mm
Height
42.23 mm
Weight
68.2 g
Packaging and Accessories
The DDR5 memory comes in a simple clamshell packaging.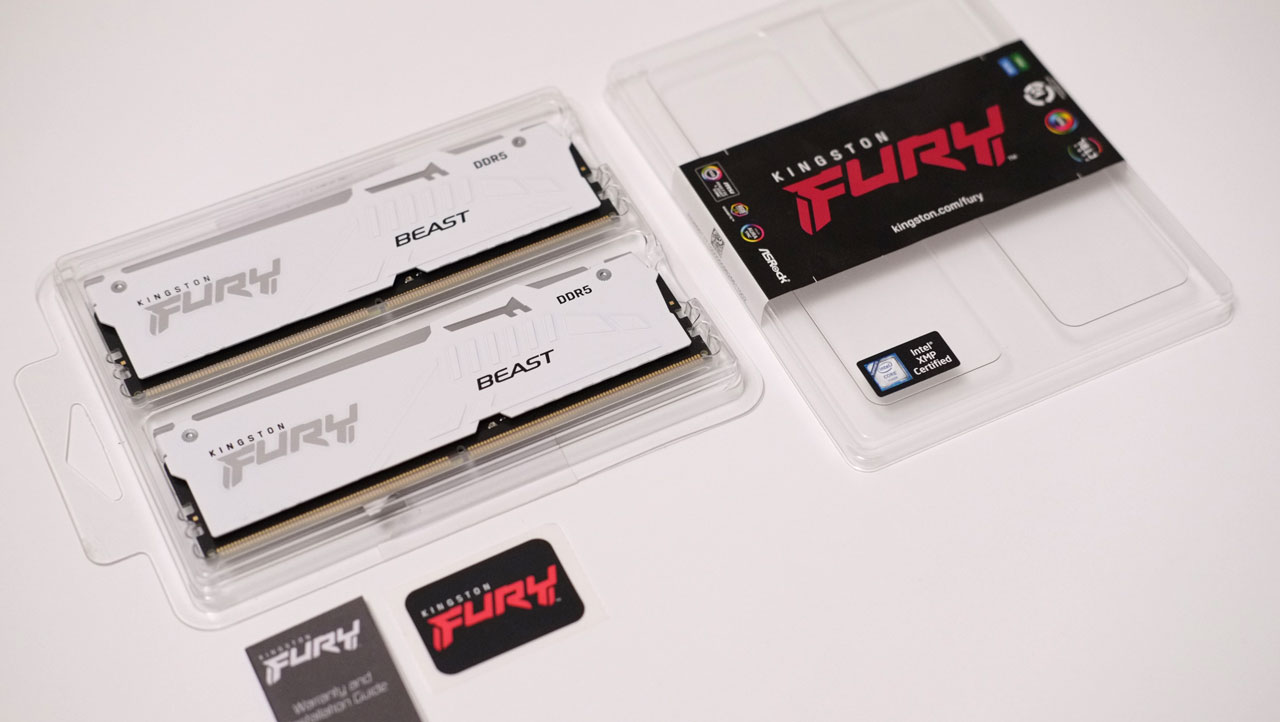 Scope of delivery are as follows:
2x Kingston FURY Beast DDR5 RGB
Kingston FURY case badge
Documentation(s)
Nothing extraordinary as far as the bundle is concerned.
Design, Layout and Connectivity
The Kingston FURY Beast DDR5 RGB is a somewhat edgy memory kit to look at with serrations and sharp lines all over its white heat-spreader. I would normally shrug such design but since this is white, and an immaculate one at that, it dialed down the edginess to a degree that I felt comfortable enough for me. This is a tall kit, measuring at around 42 mm so there is a possible clearance issue with some tower coolers.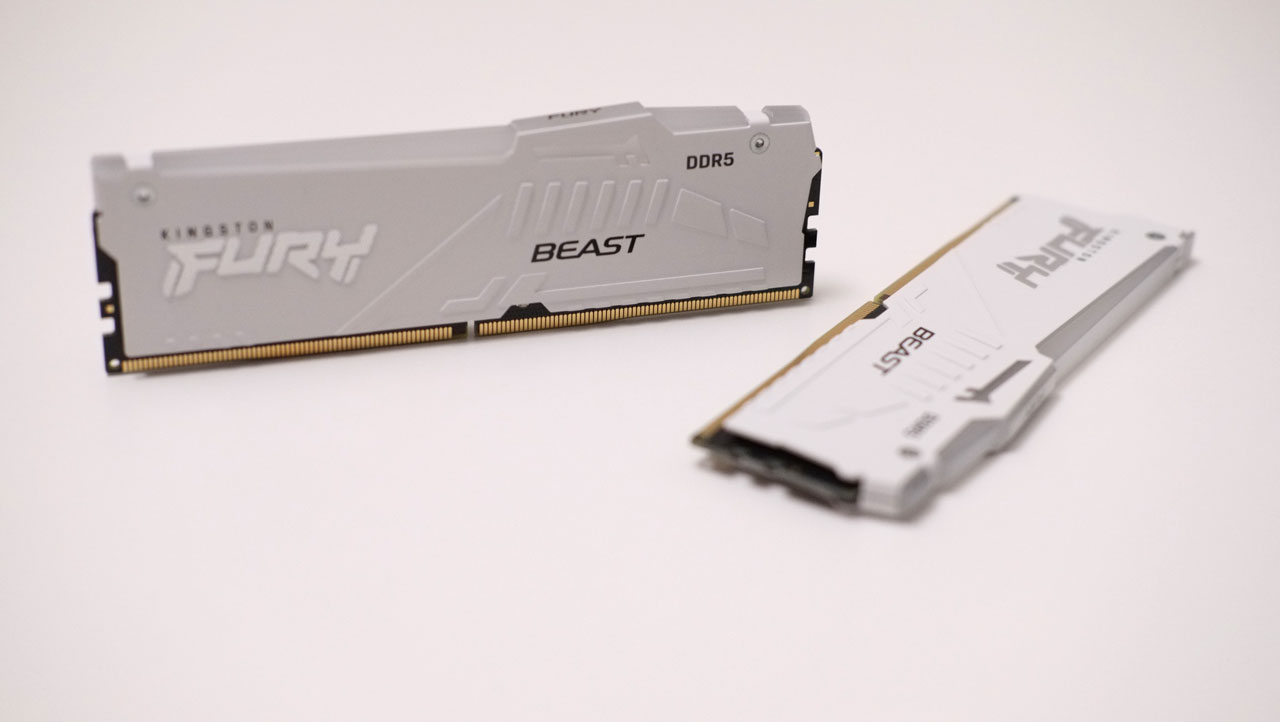 The FURY Beast RGB White features the same IR sensor found on the FURY Renegade kits. This means each module's lighting could be synced via these sensors with the Kingston FURY CTRL software.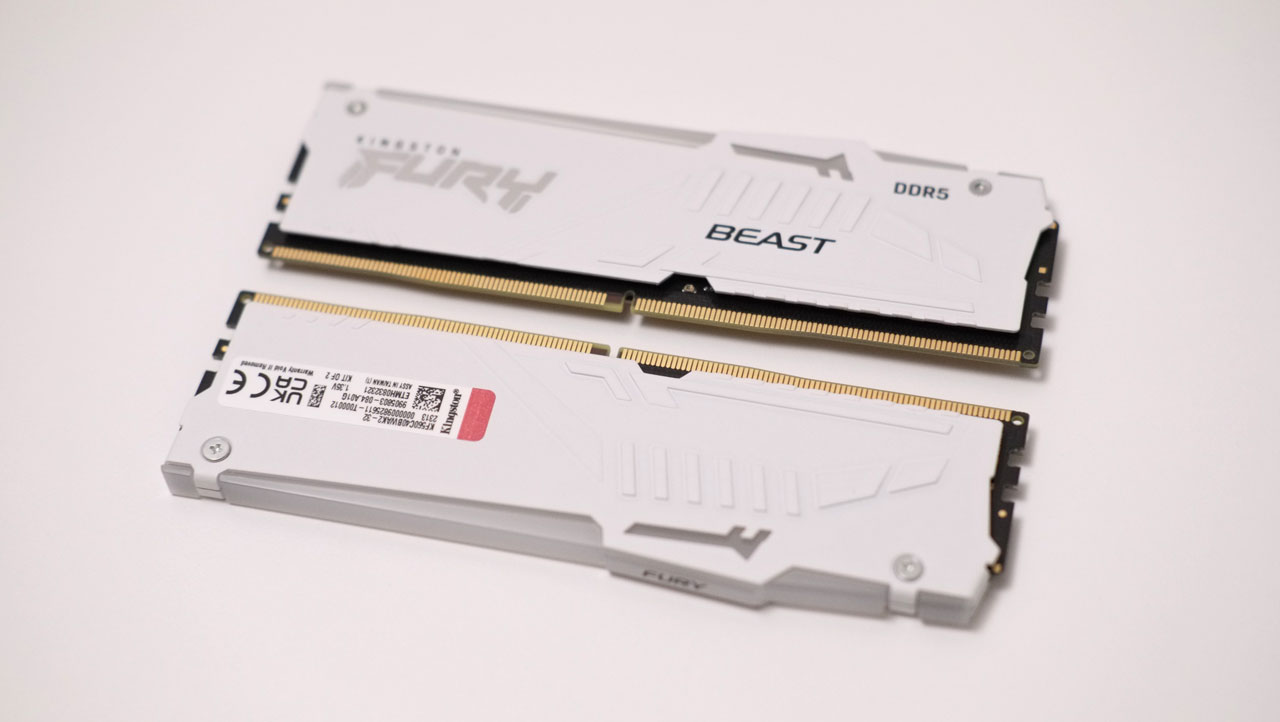 The FURY Beast DDR5 RGB features a single rank module design with 8 memory ICs – each with 2 GB of capacity for a total of 16 GB per stick. The PMIC, which is responsible for power management, is located at the same substrate located near the notch and the IR sensor. It is also passively cooled by the heat-spreader – or so I thought.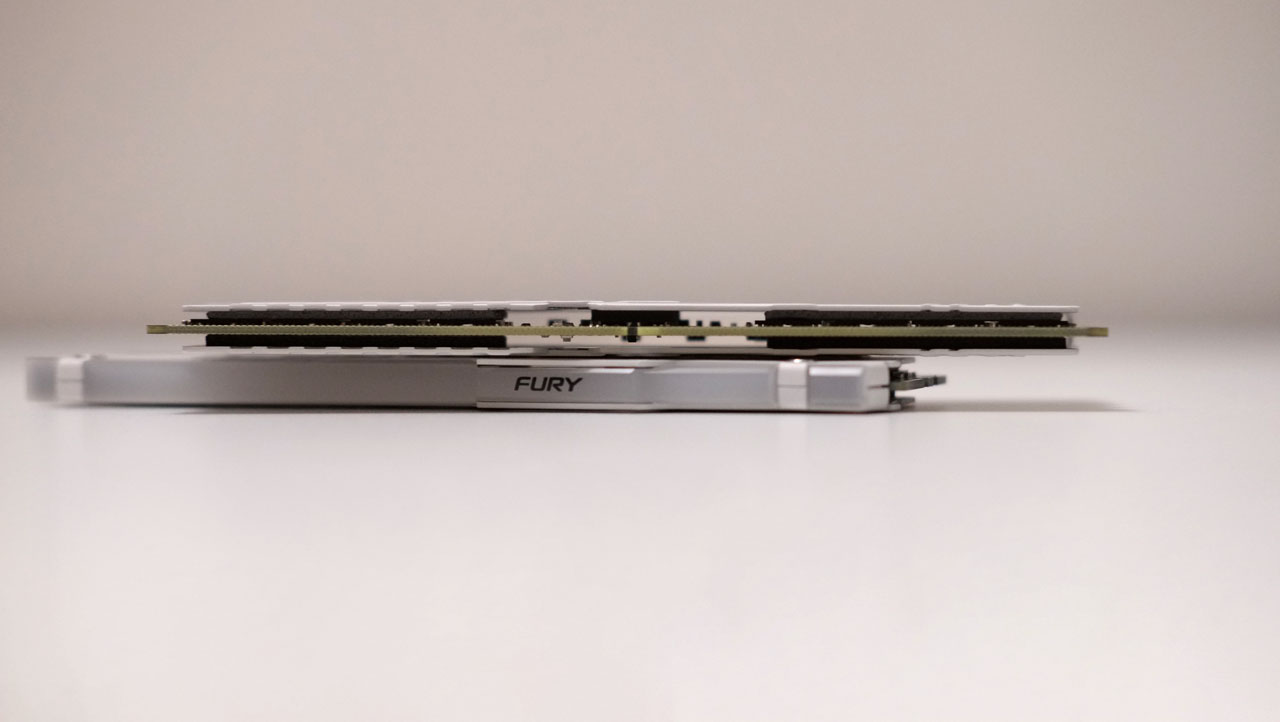 This memory kit comes with the part number KF560C40BWAK2-32, which is basically made for the Intel platform. It comes with four profiles: DDR5-4800 (JEDEC), DDR5-6000 (XMP 1), DDR5-5600 (XMP 2) and another DDR5-4800 profile (XMP 3). While it is not made for the AMD platform, our X670E motherboard and Ryzen 5 7600 processor had no issue enabling the DDR5-6000 profile under DOCP.
Throughput
AIDA64's Cache and Memory Benchmark suggest that the DDR5-6000 profile we got is indeed faster than its JEDEC counterpart, featuring higher throughput and lower latency.
Latency
Latency is definitely lower with the DDR5-6000 profile compared to the JEDEC one.
Arithmetic
The JEDEC spec pulled ahead of the 6000 MT/s profile when it comes to wPrime's 32M and 1024M benchmarks.
Results at AIDA64's CPU Queen are almost identical, with the DDR5-4800 beating the DDR5-6000 profile by a few points.
Encryption
ZLib performance is also almost identical between the two profiles.
Same thing couldn't be said at the AES benchmark's results. Here, the DDR5-4800 is definitely the faster profile – though not by a mile.
3D Rendering
At Cinebench, the JEDEC spec 4800 MT/s profile has a better score at both multi and single core results.
At V-Ray, the 6000 MT/s profile finally redeemed itself. This may look like a run variance but average results of three benchmarks checks out.
Improvements were also seen at Blender – though not that huge.
Content Creation
At Procyon's automated Photoshop benchmark, the 6000 MT/s profile clearly beats the JEDEC standard by about 5.7%.
We also saw gains from Lightroom's batch processing benchmark but it is somewhat negligible at a 2.1% improvement over an average of three runs.
An average of 4.9% improvement could be had with Premier Pro at 6000 MT/s vs 4800 MT/s.
Productivity
A 3.1% improvement could be had with Microsoft Word based on the PCMark 10 Application benchmark.
While definitely an improvement, what we got at the Excel benchmark isn't exactly what I would call tangible.
Now PowerPoint is where the JEDEC spec outshined the "faster" 6000 MT/s profile – actually by 9.5%.
Compression
The FURY Beast at 6000 MT/s is back with a lead of 8.3% at WinRAR, which is what I expected (performance, not the lead) due to its throughput savvy nature.
7-Zip is yet another benchmark where the 6000 MT/s profile takes the lead – though not that far at 5.7%. It is worthy to note that the gain is from the compression benchmark – in contrast to the negligible decompression results.
Gaming
Small they may seem, the gaming performance gained with the 6000 MT/s profile is enough to warrant the jump at Assetto Corsa, especially if we are looking at the 1% and 02.% percentile results.
The same thing could be said at Civilization VI but with even better gains.
Temperature
Temperature output seems inline with other DDR5 memory kits I've tested in the past yet it is baffling that we got a lower idling thermal output with the overclocked modules – at just 46.85 ºC on average – when idling.
Power
Each memory modules will sip on average about 3.9 W at load with the overclocked profile. It also sits at 1.31 W on average when idling.
Final Thoughts
The Kingston FURY Beast DDR5 RGB in its 6000 MT/s model is a fast kit – like many that dwells around a similar specifications sheet. Got good results over all both with the available profiles on our benchmarks of choice and with a matching price tag to boot.
Now, we've tested it with an AMD Ryzen system which is definitely not its optimal platform – being an Intel XMP certified memory from the get go. This shouldn't give you an impression that it is not compatible though, as brands like ASUS has their own methods (DOCP) to enable XMP profiles to work with other platforms. Still, it is at your best interest to buy a specific memory for your platform to ensure 100% compatibility. For reference, the AMD equivalent part number for this particular model in the FURY Beast DDR5 RGB line-up is the KF560C36BWEAK2-32.
Minor gripes aside, AMD's Infinity Fabric worked its magic with the FURY Beast DDR5 RGB. DDR5-6000 is after all, the sweet spot for AMD memory overclocking – Zen 4 architecture considered.
At $169 USD, it is not hard to recommend the FURY Beast DDR5 RGB in its DDR5-6000 variant. A rock solid DDR5 memory kit with a lifetime warranty attached.
Kingston FURY Beast DDR5 RGB
$169 USD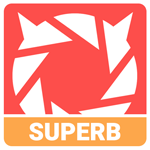 Product Name: Kingston FURY Beast DDR5 RGB
Product Description: Kingston FURY Beast DDR5 RGB lets you overclock in style on next-gen gaming platforms with cutting-edge technology. Experience the superior speed advancements of DDR5 with double the banks and double the burst length.
Brand: Kingston
Summary
The Kingston FURY Beast DDR5 RGB in its DDR5-6000 and dashing white variant is a good option if you are looking to jump into the latest Intel and AMD platforms.