Wireless charging is slowly becoming the next big thing and it should be, as there are real world applications that I see fit for its usage. For an instance, wireless charging could easily charge your electric vehicle once it's parked, or even when you're driving it on a road with induction technology, which is going to be tested soon by UK's government.
Before receiving its future merits, wireless charging is now available and tested using small platforms, in which mobile phones are the most popular medium. I find wireless charging a better replacement of microUSB cable interface as they do not offer the same amount of annoyance, and are not that cumbersome to use on certain situations.
Wireless chargers, such as what we have here – The LUXA2 S100, works via the principle of electromagnetic induction. Basically, there are coils of wire in the charging plate that creates a magnetic field every time a current passes through. The receiver on the other hand, also has the same coil of wire, inducing electrical current as it reacts to the source wirelessly. What we've got here is the S100 Wireless Charger & Receiver Kit, thus enabling wireless charging capabilities to non-wireless charging compliant devices with 3mm-7mm of effective wireless range. Will this kit pass with flying colors? Be the judge!
FEATURES & SPECIFICATIONS: CLICK HERE
Universal Android & IOS wireless charging receiver
Immensely simple and easy to use
Ultra thin, compact and lightweight design
Supports simultaneous charging
Compatible with other Micro-USB devices
World's thinnest and lightest UniQi mobile charging design
Wireless charging pad included
1 year warranty
UNBOXING & BUNDLED ACCESSORIES:
The LUXA2 S100 comes protected inside a slim packaging which is designed in a way to let consumers to take a peek at the device. Labels are well thought-out too so by standers or anyone who'd take a glance at the product will immediately know what it is about.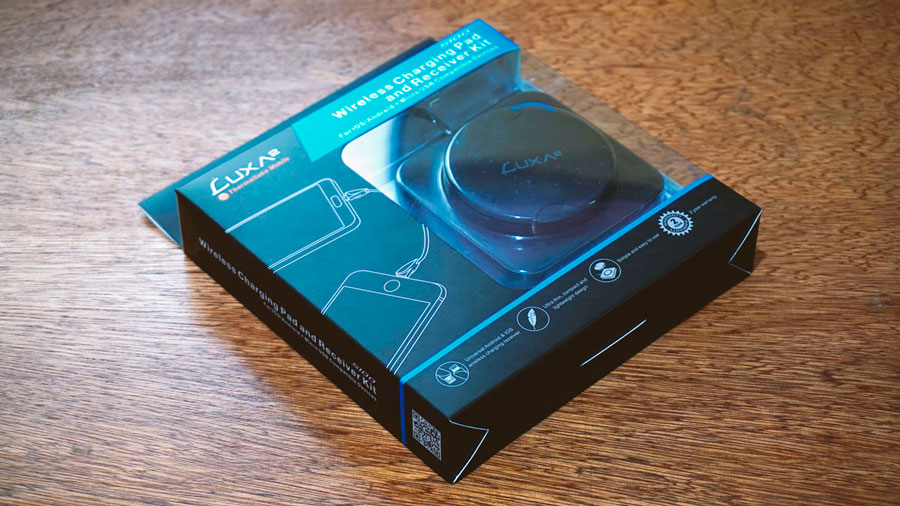 The back reveals more about the product, and that includes the specifications, as well as the features of both the charging pad and receiver.
Once unpacked, you will be greeted by a user's guide, and the LUXA2 S100 wireless charging kit itself.
THE S100 WIRELESS CHARGER & RECEIVER KIT:
The S100's charging pad resembles that of the LUXA2's TX100 wireless charging pod, although it is slightly thicker and wider. The charging pod also appears to be 30% made out of rubber, as it could be flexed and stretched in any direction. Although we don't advise you to do it in a strenuous manner. Ill-advised, I must say.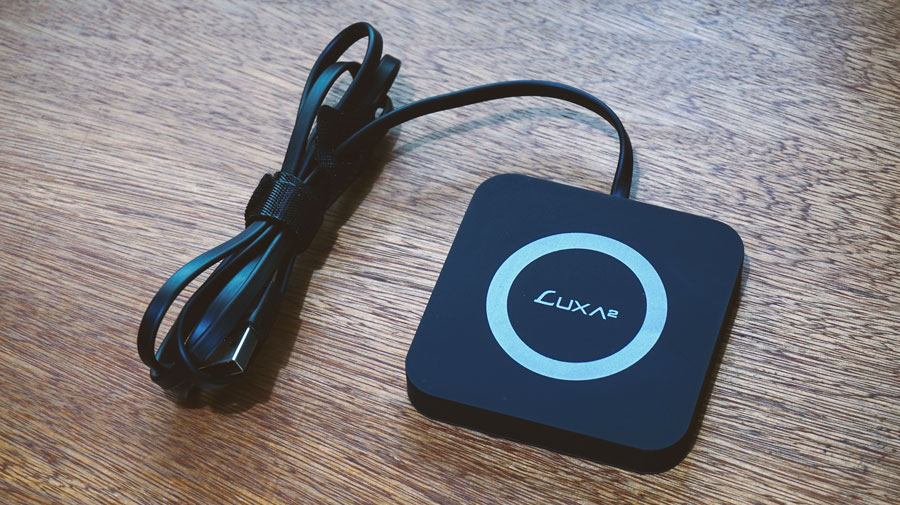 The USB cable is long enough to stretch from one end of my table to another, and is easy to manage thanks to its flat nature coupled up with a Velcro enhanced  cable tie. The same manageable trait could be applied to the receiving end as well, with a dish like shape that is no wider than the average human's palm.
Both MiceoUSB, and Lightning cable ports are well hidden if the receiver is not in use, and could be easily attached to any devices that they are compatible with. Cable length for both ports are okay, and promotes tidy usage so there's not much to concern here.
The receiver is certainly small at 2.3 inches in diameter, and is fairly thin at 0.3 inches of 7.5mm. Although small, we wished that it could be thinner so we could hide it behind a rubber based smartphone casing.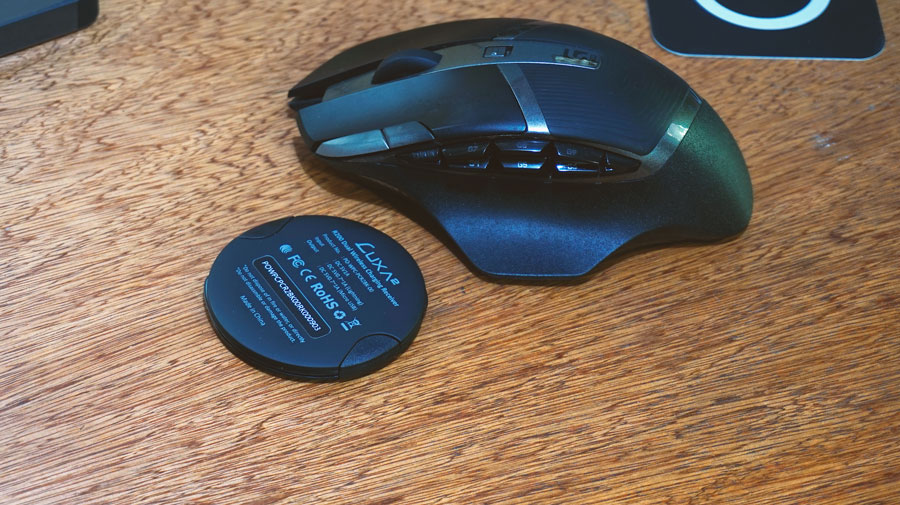 HOW DOES IT WORK?
As said earlier, wireless charging devices works via the use of electromagnetic induction which is in layman's term uses an electromagnetic field to transfer energy from one source to another. The Wireless Charging Pad acts as the base induction coil, while the receiver acts as a secondary induction coil taking power from the electromagnetic field generated and then transmits it to the connected device.
A Red light means that the charger and receiver is not in contact.
Using the S100 kit is easier than understanding the explanation on how they work, as you only need the charging pad to be connected on any powered USB port, and then have the receiver's end connected to any device capable of charging via a microUSB or an Apple Lightning port compatible device. Once both are connected via their respective ports to the devices, the induction starts and electricity will be transferred wirelessly once the pad and receiver comes into contact.
Green means a successful contact between the charger and the receiver.
If you have a wireless charging capable device, such as the SAMSUNG Galaxy S6 Edge, then there's no need to use the receiver, as the charging pad conforms to the Wireless Power Consortium's Inductive Power Standard which is simply known as Qi. Other Qi wireless charging compatible devices could be found HERE (2015 release). The wireless charger, compared to conventional wall plugged and USB powered chargers, takes longer to charge any device. For example, charging via a wall outlet could take my device 2 hours to be fully charged, and with the S100, it requires 30 more minutes which is not bad. Take note that wireless chargers typically exhibits this kind of performance.
VALUE & CONCLUSION:
Some, or even most of you might think that the S100 Wireless Charger Kit is such a bizarre item, given that most consumers are already used to wired charging. This goes well to the fact that wireless charging has yet to penetrate the mainstream, as not all phone manufacturers could enable such feature on their devices. That said, even though wireless charging could be enabled by certain amount of consumers, mainstream are still left with the good old cabled solution.
Nothing's wrong with cabled charging too, and it's cheaper than to implement a device capable of wireless charging. Although considering the pros and cons of both, we are almost at the turning point of embracing wireless – as it features zero corrosion, safe to use for powered medical implants, and it is non radiative. You could also make use of its resonance feature – charging without physically placing the receiver a-top the charging pad. We tested this feature with the charging pad behind a 7mm thick sticky pad and it just works.
Now going back to the S100 wireless charging kit, it could be seen as a gimmick by others, but if you have devices capable of using it with and without the receiver, then it's going to have a viable use for you. If you solely wanted to experience wireless charging before it becomes globally accepted then no one is stopping you either. After all, this product is also made for that reason. Backed up with a year of manufacturer warranty, good build quality, and features, the LUXA2 S100 at 50 USD is a wireless charging kit that should be within the range of those who requires a good wireless charger to pair up with their devices. Buy it HERE.
THE VERDICT
PROS:
DUAL CHARGING CAPABLE
GOOD BUILD QUALITY
EASY TO USE
QI DEVICE COMPATIBILITY
RESONANT FEATURE
CONS:
LUXA2 S100 Wireless Charger Kit
PERFORMANCE -

7/10

BUILD QUALITY -

7/10

FEATURES -

8/10

AESTHETICS -

8/10

VALUE -

7/10
Summary
Backed up with a year of manufacturer warranty, good build quality, and features, the LUXA2 S100 at 50 USD is a wireless charging kit that should be within the range of those who requires a good wireless charger to pair up with their devices.