When it comes to gaming, MSI is one of the brands that should hit your mind. They offer gaming products ranging from motherboards, graphics card, AIO PCs, and notebooks. Speaking, the company just locally launched the MSI GT80 Titan SLI – A notebook that some of you might already know due to its popularity, featuring a mechanical keyboard and desktop grade stuffs to boot.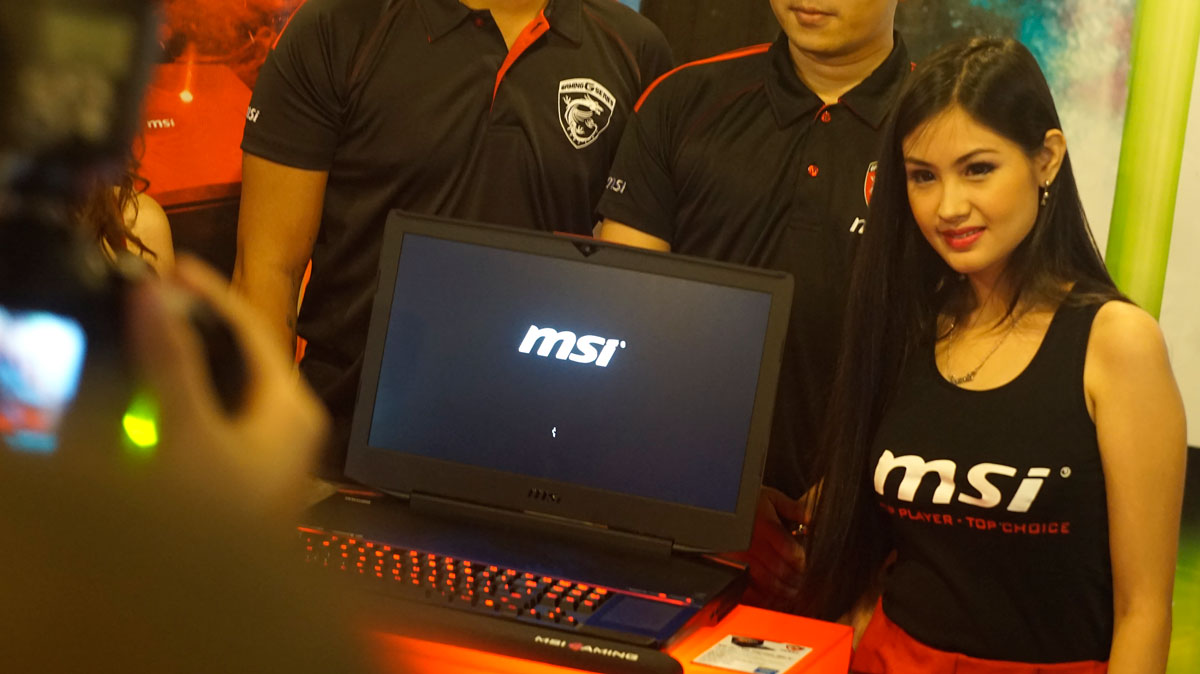 The local launch was held at one of San Juan's finest restaurant, with other MSI gaming oriented products present too on the table. That includes the MSI GS30 Shadow, and it GamingDock that err… docks together to form a desktop performance PC. You wont be able to appreciate it with the price though if you're the practical kind.
The MSI 100M Edition graphics card, and their X99 motherboards are also on display to keep us desktop loving folks occupied.

THE MSI GT80 Titan SLI
And now we are here, with the MSI GT80 Titan SLI – the creme of the crop of MSI gaming notebooks. Looks alone, it sure does scream muscle, and that is just proper since it is indeed all muscle beneath that hideous clam shell design.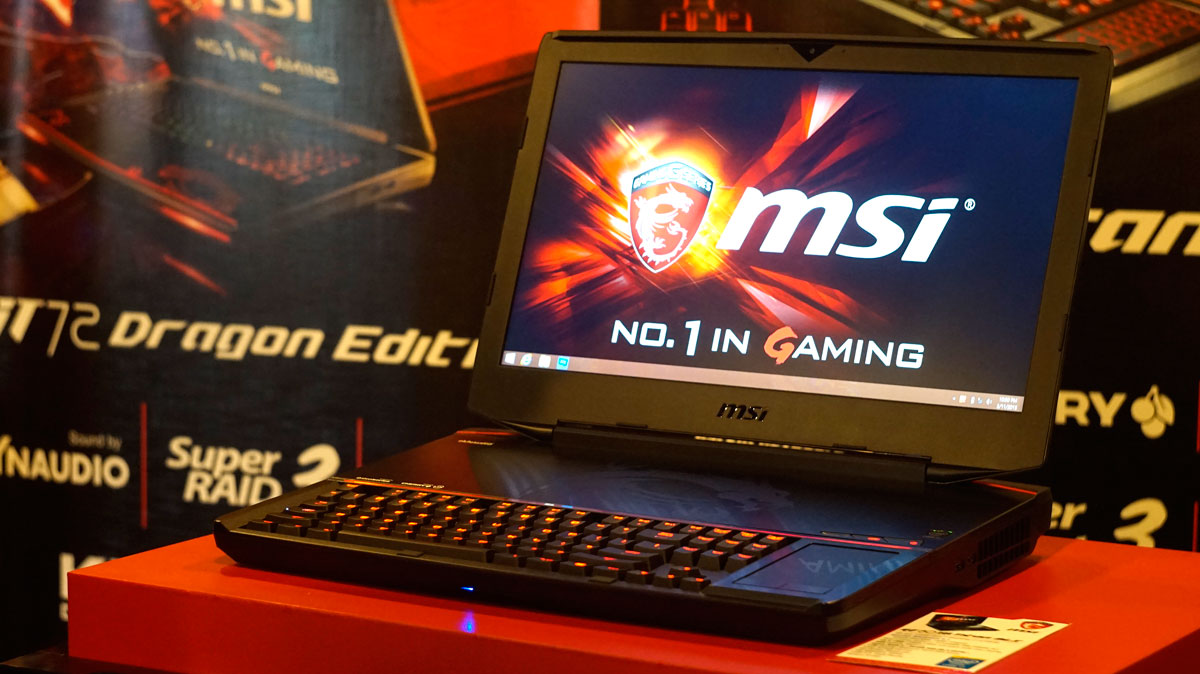 The GT80 Titan SLI sports a 4.5 kilogram body, and that's excluding the power brick. The thing sure is heavy, not exactly portable, and is thick enough to be considered as a reminder of the old IBM Thinkpads… Only more stylish so to speak.
Display quality is good for an 18.5 Incher, which should be expected for an IPS panel. Sadly, it only sports 60 Hz refresh rate, with an unknown response time at gawd-knows-what milliseconds. Since the information is vague, we could assume that MSI didn't particularly invest a good amount of R&D time on the screen space. On this side, we could see the I/O ports that consists of 3x USB3.0 ports (another Two at the right side), a card reader, and Two gold-plated audio ports. Screen articulation seems to be at 145 degrees maximum. This notebook should feature at least a 2560 x 1440P display though.
Since the GT80 Titan SLI features dual GTX 980M, MSI added an option to extend the screen space in a multi display configuration via an HDMI Port, and Two Mini DisplayPort(s). The KILLER NIC's LAN Port is also located here along with the power adapter port.
The sought after, hyper-factor of the GT80 Titan is the inclusion of a 60% TKL mechanical keyboard. It is designed in collaboration with SteelSeries, and sports a brown switch alone. MSI said that brown switch is the optimal choice for gaming and typing but we would be more than happy to see an option with multiple switches to choose from. SteelSeries just debuted the APEX M800 mechanical keyboard too that features  a custom, slightly slimmer switches which is a much more plausible option to keep the weight and profile down.
Now what's cool with this gaming notebook is the touch panel touch pad that doubles up as a numeric keypad. It is situated at the far-right side so it's an ergonomic choice.
Due to the massive mechanical keyboard, most of the components had to be situated at the top of the notebook, which MSI took advantage to make the usually upgradable components easy to access. Here we could see the speakers from DynaAudio, the WiFi + BT combo card, Two DDR3L SO-DIMMs, the mechanical drive, optical drive, and the four M.2 SATA SSDs in RAID configuration.
The back features a removable cover with ventilation holes, and once opened, you will see another pair of DDR3L SO-DIMMs underneath, plus the array of cooling pipes that goes to the dual blower type fan. The battery is situated underneath the touch panel. That explains its peculiar "embosed" design. There is another DynaAudio speaker here which we suspect to be the bass-ey one.
The power brick is… literally a brick to begin with, and it's just as heavy. It is reported to output a maximum of 350W which is way higher than my gaming PC's maximum output. You could also warm a slice of pizza there.
When it comes to bundles, the MSI GT80 Titan SLI features its own backpack in MSI colors, a wrist-rest, an MSI branded mice, a plush dragon key-chain, and a set of gold plated key caps. For the price, I am expecting a mouse mat and a headset.
PERFORMANCE & FINAL THOUGHTS:
The MSI GT80 Titan SLI we got is the "GT80 Titan SLI-009" model but it is slightly modified with a 32GB DDR3L SO-DIMM @ 1600 MHz as opposed to the 24GB capacity it should have. In addition, the SSDs in RAID 0 mode appears to feature a 128GB capacity in four compared to the 128GB x2 found on the said model. With that said, the performance results you'll see here should vary if compared to the retail unit. MSI for some reason, never stated this to us.
Each of the GT80 Titan's GTX 980M features 8GB GDDR5 of frame buffer, 1038MHz core clock speed and a boost of 1127MHz if thermals permits it. As far as specification goes, this notebook is already a monster which is nice to go along with its multi-display setup capability.
Since the notebook features an Intel Core i7 4890HQ (4th Gen) with 4 cores and 8 threads, multi-tasking performance should be a breeze. At CINEBENCH, rendering a scene is as fast as a stock Intel Core i7 3770K, which is a milestone for a mobile CPU given that ages ago, mobile CPUs can't hardly keep up with their desktop counterparts.
Featuring the GTX 980M in SLI configuration, this gaming notebook's overall 3D performance is almost similar to that of a system that is running an Intel 4790K @ 4.0GHz, with a single GTX 980. Looking at the graphics score alone, shows that it is 1, 000 Points faster compared to the same system which is quite nice. Average gaming notebooks usually scores around 3, 00 Points at Fire Strike so this system is a total beast.
With four 128GB SSD in RAID 0 configuration, we could see that the storage performance of the drive is undoubtedly fast, especially when it comes to sequential read & write performance. A performance that someone who manages a lot of files on a daily basis could use. This is just way faster than your conventional single SSD setup.
The MSI GT80 Titan SLI is an impressive product, and we could say that even though we tested the unit only for a couple of hours. Its ridiculous performance for an instance, rivals that of those mid to high-end gaming desktops, which frankly, put even my test system to shame.
Impressive as it is, the GT80 comes with daunting traits as well. It's heavy – practically not a mobility oriented notebook anymore, and it seems that it's using a simple mechanical keyboard implementation which is the reason why it looks so bulky and uninspiring when its lid is popped up. Its design overall is stylish enough to pass my judgement though. In addition, there is no option for a different switch, as well as a bundled headset to boot. Good thing is, the notebook could be upgraded easily and if you need another extra graphical oomp! some years after its debut, upgrading its graphics card is possible via its graphics adapter's MXM compliance. I doubt you need to upgrade it for the next 5 years. You don't have to, really.
Build quality is definitely up to MSI's military grade standards, with a tough plastic and aluminum body that refuses to budge. Cooling is adequate, albeit the fans are really noticeable under full load. Those air suckers spins up really fast which speaks of confidence. You'd better have a cool PC than a silent one that could fry your fingers, right?
Functionality is a Two lane highway, since it is frankly, a mobile desktop to begin with. That said, it is a device that is not meant for the practical traveler and gamer. It is for the persons who doesn't want a desktop PC but needs its capabilities. Speaking, this notebook is also well suited as a back-up for professionals – And by that, we mean professionals who might be working on a project that needs the horse power of their workstation even on a business trip. Impressing your clients in style has never been this good.
MSI's aim with the GT80 Titan SLI is rather simple – all they wanted in the first place is to become the first company to embed a mechanical keyboard on a gaming notebook, and make it as fast as possible for the ultimate bragging rights appeal. That's just it. However, it becomes complex, if we put the term "best gaming notebook" at play because honestly, its DNA is between the discerning line of notebooks and desktops. It's both, but cannot be classified as any of the Two because it would just destroy the definition.
How about the price? Well for starters, we've got the 001 model with a whooping 3, 399.99 USD MSRP, and the one closer to the over-spec'ed GT80 we got, the 009 model, retails for aroun 3, 799.99 USD. That's a whooping 168, 000 Pesos if converted directly and if MSI is going to sell this particular gaming notebook here in the PH with the exact specifications that we have experienced, then prepare to shell out at least along the lines of 200, 000 Pesos.
If you are serious about gaming, a professional who needs a powerful desktop replacement, or a LAN party goer that despises the desktop's gritty nature, then this one is for you provided that you have the cash to spare. If you're simply a practical person, looks somewhere else as there will be a better choice for you. Simply put, for the ultimate bragging rights and notebook redefining performance, the MSI GT80 Titan SLI will blow the competition out of the water. For more information about this beast, check out this LINK.
Babe Tax For The Long Post