Netac, an established esoteric flash storage company, sent us the NV7000-t for review. This is an NVMe SSD keyed in a M.2 2280 form factor with a price of $66.99 USD at Amazon (1 TB).
The NV7000-t is available in 512 GB, 1 TB and 2 TB models. Our sample is the 1 TB variant, featuring sequential read and write speeds of 7,300 MB/s and 6,600 MB/s respectively.
Disclosure: Netac sent the NV7000-t NVMe SSD for the purpose of this review. The company did not ask me to say anything particular about it.
Specifications
Storage
Capacity
1 TB (also available in 512 GB and 2 TB)
Cache
N/A
Flash Controller
N/A
Flash Memory
3D NAND
Form Factor
M.2 2280
Interface
PCIe 4.0 x4
Sequential Read
7,300 MB/s
Sequential Write
6,600 MB/s
Random Read
1000 K IOPS
Random Write
700 K IOPS
Endurance
MTBF
2,000,000 Hours
TBW
640 TB
Dimensions
Length
80 mm
Width
22 mm
Height
2.3 mm
Weight
8 grams
Packaging and Accessories
The Netac NV7000-t comes in a simple packaging.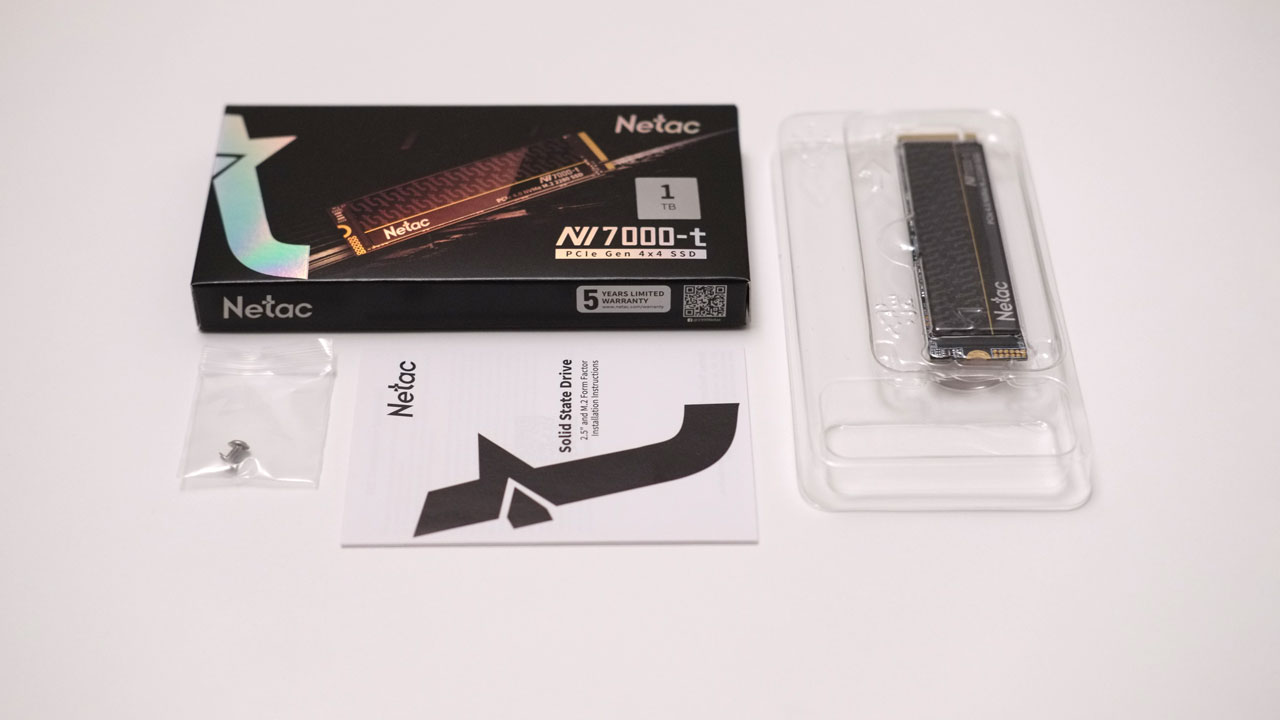 Scope of delivery are as follows:
Netac NV7000-t
Aluminum heat-spreader
Screw set
Documentation
Basic stuff we got here. I am surprised to see the heat-spreader still detached though.
Design, Build and Connectivity
The NV7000-t comes in an all back appearance. Now without the heat-spreader attached, we could clearly see the NAND flash ICs, each featuring 512 GB of capacity. The controller is also located in this area of the drive which makes sense. Pretty basic to its core, but nothing to nitpick at – especially with its enticing price-point considered.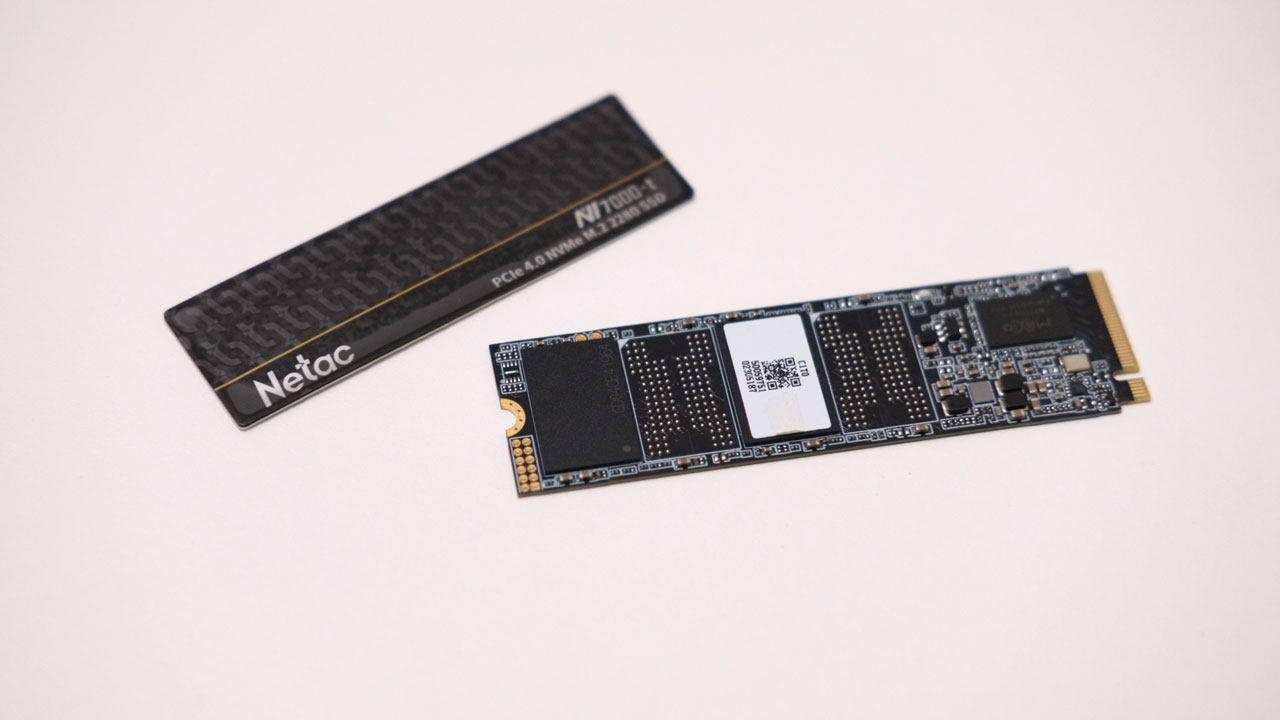 The rear houses the SSD's label. Nothing much to see here folks.
This is a PCIe 4.0 x4 NVMe SSD and is also keyed in the popular M.2 2280 form factor.
Throughput
On our throughput benchmarks, the NV7000-t is about 11% slower on read and 21% slower on write – if compared to Netac's claimed sequential speeds.
AS SSD is no better but this is still a set of strong numbers for the budget oriented drive.
IOPS
The NV7000-t scored well at CrystalDiskMark's IOPS benchmarks. At its RND4KQ32T16 test, the Netac SSD scored 1050K IOPS and 552K IOPS for the read and write respectively.
AS SSD's 4K-64Thrd benchmark outputs 596K IOPS read and 627K IOPS write.
Access Time
Results from Anvil Storage Utilities are excellent. Everything is under a second.
File Copy
Now file copy performance is where this drive shines the most or at least at the ISO copy test with its 5571.40 MB/s output. Copying files similar to a program's structure nets a measly 509 MB/s while game is measured at 1660 MB/s.
Above translates to 0.19, 2.76 and 0.83 seconds. Suffice to say, it is a fast drive when copying a large chunk of file.
Compression
AS SSD's compression benchmark showed strong results for the NV7000-t. Read speed is at 5644 MB/s while write speed is at 4496 MB/s on average.
Cache
It took 128 GB of data to fully saturate the write cache of the NV7000-t. That said, it is safe to assume that its SLC cache's capacity is around that figure.
Temperature
Thermal output is excellent. The bundled heat-spreader is enough for this drive's well-being.
Final Thoughts
We've seen many winning SSD designs these past few months and it seems that the Netac NV7000-t will join the fray. It does actually, featuring great throughput, I/O speed, latency and decent enough write cache. That's on top of its incredible price of $69.99 USD.
The only thing you need to worry about is its TBW rating which is acceptable at 640 TB. Still, I would prefer to see something around the thousand mark. Granted, it does come with its own health check and utility tool in the form of the Netac SSD Tool Box and a 5 year warranty – which ever comes first.
In closing, the Netac NV7000-t is a value oriented storage device no doubt. A great SSD to check out if you need the speed at a very affordable price.
Netac NV7000-t (1 TB)
$66.99 USD
Product Name: Netac NV7000-t (1 TB)
Product Description: Netac 1 TB PCIe Gen4 x4 M.2 SSD Up to 7,300 MB/s NVMe Internal SSD with Aluminum Heatspreader High-Performance Storage for Desktop and Laptop PCs Works with PS5.
Brand: Netac
Summary
The Netac NV7000-t (1 TB) is a value oriented NVMe SSD that excels at its given price. Give it a try if you have the penny to spare.