Since we reviewed the GeForce GTX 950 graphics cards from GIGABYTE & MSI, we had the chance to pair em up in SLI to check if the performance is worth the trouble. What we have here specifically are the MSI GTX 950 GAMING, and the GIGABYTE GTX 950 WINDFORCE which are both overclocked cards but with different frequencies. Since enabling SLI requires both card's frequency to SYNC at the same clocks, the higher clocked card is required to run at a lower frequency.
This is going to be a simple yet a fast performance review of two different GTX 950 cards against a single  GTX 970. A card which is twice the price of a single GTX 950. If you already have a GTX 950 and planning to buy another for SLI, then this quick performance guide is for you. Without further ado, let us check both cards out!
THE CARDS:
We did a review of the MSI GTX 950, and the GIGABYTE GTX 950. Both cards are great, has their strengths and weaknesses, and are just a thousand pesos away from each other's price-point with the GIGABYTE card being the least expensive one. As a rule of thumb, if both cards are not identical in terms of clock speeds, be it the core clock or memory clock, the clock speed of the lower card should be the baseline for Nvidia's SLI configuration.
| | | |
| --- | --- | --- |
| MODEL NAME | GIGABYTE GEFORCE GTX 950 | MSI GEFORCE GTX 950 |
| GPU NAME | GM206 | GM206 |
| CLOCK SPEED | 1102 MHZ | 1127 MHZ |
| SHADING UNITS | 768 | 768 |
| TEXTURE MAPPING UNITS | 64 | 64 |
| RENDER OUTPUT PROCESSORS | 32 | 32 |
| PIXEL RATE | 36.1 GPIXEL/S | 36.1 GPIXEL/S |
| MEMORY CLOCK SPEED | 1653 MHZ | 1663 MHZ |
| MEMORY BUS | 128 BIT | 128 BIT |
| MEMORY | 2,048 MB | 2,048 MB |
| MEMORY TYPE | GDDR5 | GDDR5 |
THE SLI CONFIGURATION:
If you're still in the dark when it comes to SLI configurations, Nvidia's Quick SLI Guide should be your best bet to learn how to setup one. Basically, and for optimal compatibility, you have to take 3 things into account. First up is the board, as you require an SLI Certified motherboard. A board with 2 PCI-E slots wont just do it, since that board might only be AMD Radeon CrossFire capable. So, it is important to check your motherboard's vendor if your board indeed supports the feature. It is also noteworthy to check for the PCI-E slot's clearance. Next up is the GPU – where it is required to sought 2 identical GPU models. It is best to acquire the same brand plus the model for optimum compatibility. Last but not the least, check if your PSU could handle Two or more video cards. Basically, if a single card's TDP is 120W, then you should be prepared for a 240W of extra capacity. A 500W PSU might cut it, but also do check out for available 8 or 6-Pin Power Connectors.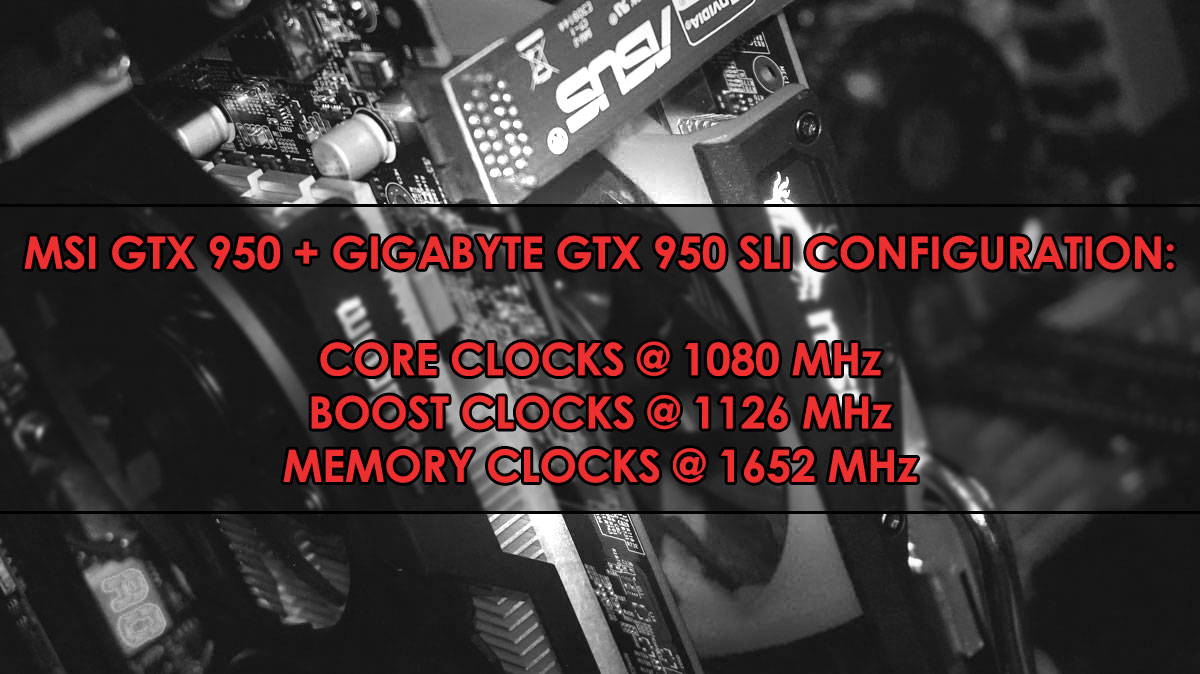 Since the GIGABYTE GTX 950 is the slowest card out of the two, we thought the Nvidia SLI profile will take the card's clock speeds as the baseline. Turns out we were wrong, as the SLI profile defaults both card's speeds at 1080 MHz (core clock) with a boost clock at 1126 MHz. Memory clock is 1652 MHz which is alright. Now it's time for testing!
TEST SYSTEM & SPECIFICATIONS:
Graphics cards are no strangers in our labs, but providing a precise result usually needs a lot of time and effort on our end. Helping us to do those things is an updated copy of Windows 7 Ultimate x64 SP1 and wide selection of the popular games that most probably, will sate your appetite. The BIOS/UEFI, Chipset, and Video Card drivers of the test system will be updated too, as much as possible.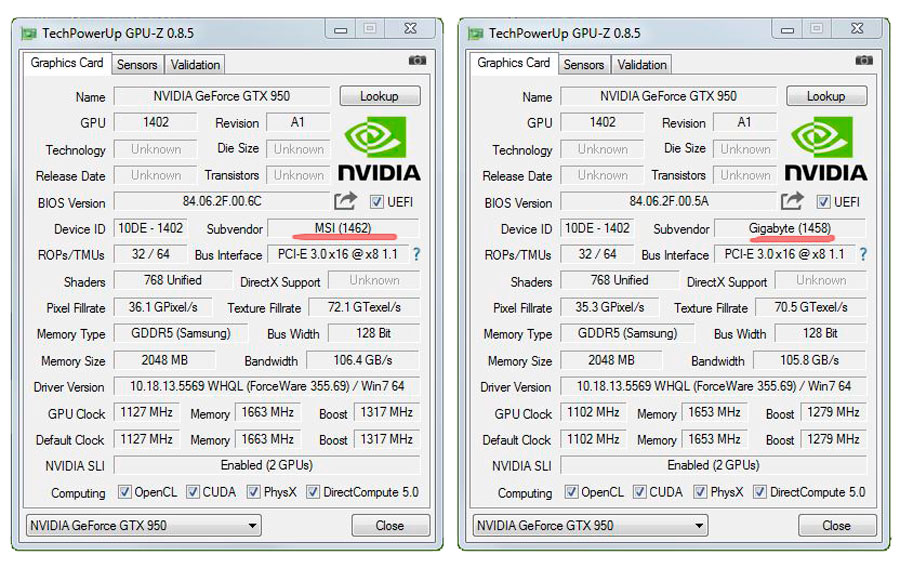 No other softwares should be running while the benchmarks are on going, unless it is needed, or stated. As for the gaming benchmarks alone, tests should include 720P (1280 x 720), 1080p (1920 x 1080), 1440p (2560 × 1440), and 4K QHD resolution results if permitted by the games, and benchmarking tools, or if necessary. Games without benchmarking tools of their own will have the results recorded with FRAPS. Below are the test system's specifications:
| | |
| --- | --- |
| CPU | Intel Core i5 4670K |
| MOTHERBOARD | ASUS Z97-PRO WiFi AC |
| CPU COOLER | Cooler Master Seidon 120XL |
| MEMORY | ADATA XPG V2 @2400MHz 16GB |
| GRAPHICS CARD | GIGABYTE GTX 950 2GB + MSI GTX 950 2GB |
| INT. STORAGE | Kingston HyperX Fury SSD 240GB |
| PSU | Cooler Master Silent Pro Hybrid 1300W |
| DISPLAY | 27″ DELL U2715H WQHD IPS Panel |
| OS | Microsoft Windows 7 Ultimate x64 SP1 (Updated) |
| SOUND CARD | Realtek ALC1150 |
| EXT. STORAGE | 2TB Western Digital My Passport |
WHAT IS FPS ANYWAY?
For refreshment purposes, let us talk for a moment about FPS or Frames Per Second. Also known as Frame Rate, FPS is the general unit of which we measure a graphics card's capabilities. Generally, the higher value, the smoother the gameplay should be, since higher FPS means higher frames are rendered each second. Higher FPS doesn't just improve your gaming experience, as it also helps you to react faster especially in First Person Shooter & Racing Games. Please do note that Resolution and in-game settings has a huge effect too in any system's frame rate.
GTX 950 SLI PERFORMANCE:
3DMARK (2013) is a multi-platform benchmarking tool from FUTUREMARK, consisting of comprehensive tests that aims to gauge your gaming hardware; be it a smartphone, a tablet, a laptop, or a desktop PC.
Dragon Age: Inquisition an action role-playing video game developed by BioWare and published by Electronic Arts. It is the third major game in the Dragon Age franchise, and utilizes the Frosbite 3 Engine with the SpeedTree technology.
The Witcher 3: Wild Hunt is an action role-playing video game set in an open world environment, developed by Polish video game developer CD Projekt RED. It utilizes the REDengine 3.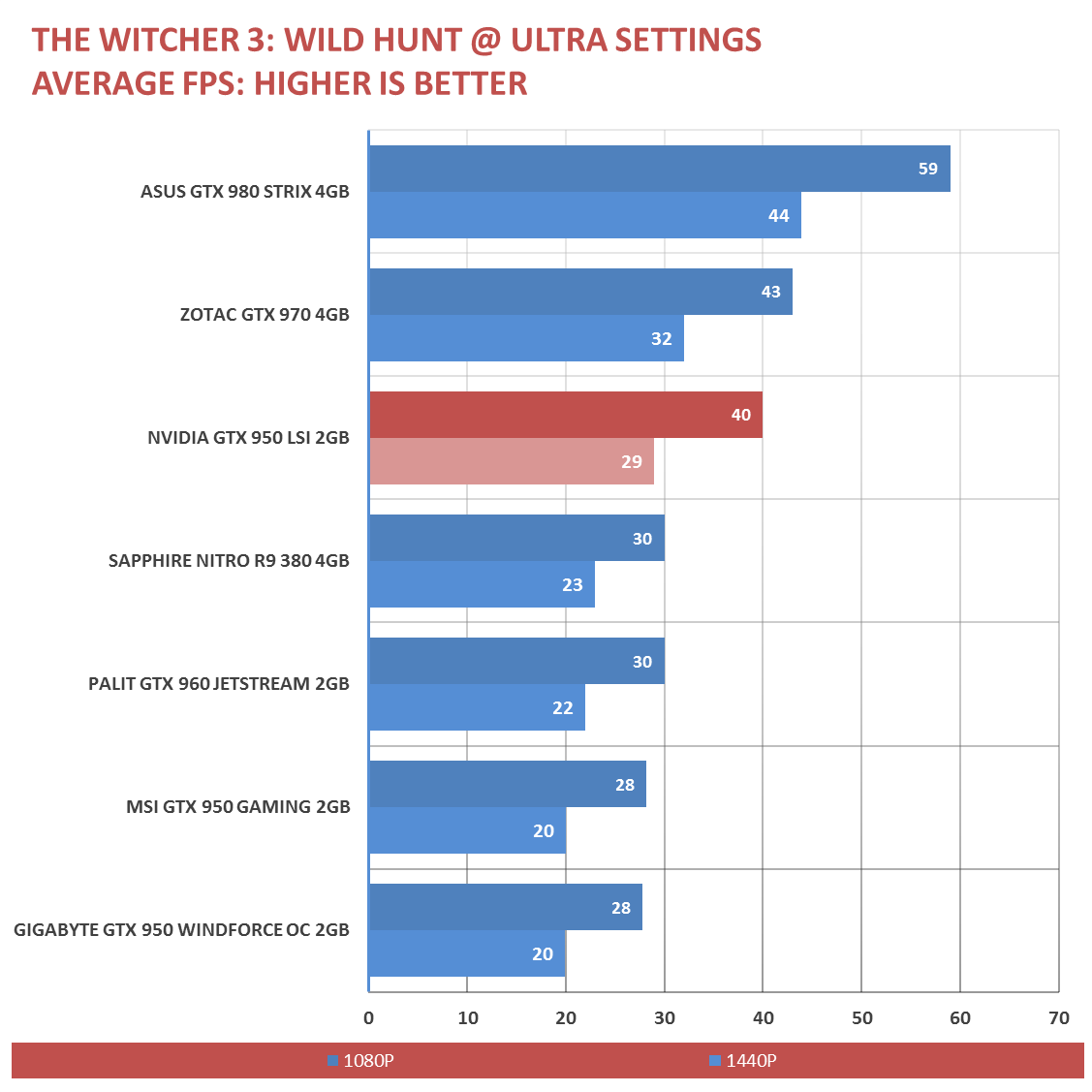 Battlefield 4 is one of EA and DICE's most recent first person shooters utilizing the all new Frostbite 3 game engine featuring better tessellation effects and destruction compared to its predecessor.
Dota 2 is a Multiplayer Online Battle Arena (MOBA) video game developed by Valve and is the stand-alone sequel to the Warcraft III based Defense of the Ancients (DotA) mod.
League of Legends is a multiplayer online battle arena similar to, and exactly as popular as Dota 2. It is developed and published by Riot Games for Microsoft Windows and Mac OS X.
Counter-Strike: Global Offensive is a popular online tactical first-person shooter developed by Hidden Path Entertainment and Valve Corporation, utilizing the Source Engine.
Grand Theft Auto V is an open world, action-adventure video game developed by Rockstar North and published by Rockstar Games. It was released for the PlayStation 4, Xbox One, and Microsoft Windows.
TEMPERATURE & POWER CONSUMPTION:
FurMark is a very intensive OpenGL benchmark that uses fur rendering algorithms to measure the performance of the graphics card. To record the GPU's maximum temperatures, I will run Furmark's Fur Rendering Burn-in Test, and let it run for 30 Minutes. As always, we try to keep the results consistent by keeping the ambient temperature checked at 27ºC.
We also check to see how the GPU impacts power consumption. The system is left to idle for 30 minutes before readings are taken, and load data is taken 30 minutes while FurMark is running. Power readings are taken for the entire system from the socket.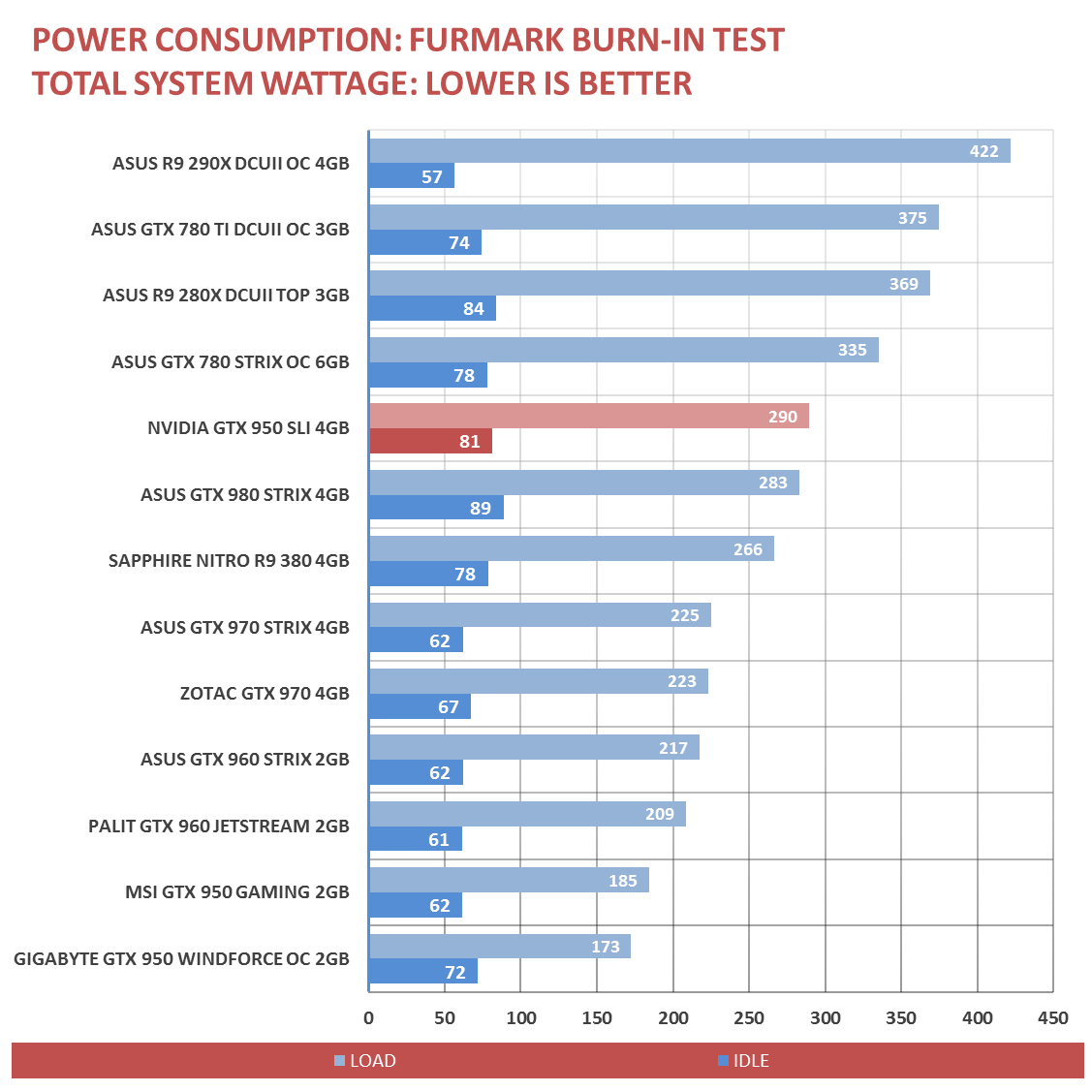 IS THE GTX 950 IN SLI WORTH-IT?
A single GTX 950 could be had for around 7, 500 Pesos, while a GTX 970 could be had around 14, 500 Pesos. Do the math, and you're going to spend 15, 000 Pesos for both cards which is already around the GTX 970's price-point. Performance wise, the GTX 950 in SLI beats the GTX 970 on some of our benchmarks, and we're happy to report that performance scaling with the GTX 950 in SLI is quite impressive to say.
Although great, I still consider the GTX 950 in SLI as a situational decision to do, since you could always get away with a single GTX 970 with a better power efficiency, and thermals. As a rule of thumb, one should always get a single card over a dual graphics card if both configurations has almost identical performance. Adding to that, not every games and benchmarking tools out there benefits from dual GPU configurations – even some apps that supports GPU compute. The frame-buffer of the GTX 950 is also limited to 2GB, so a 4GB card like the GTX 970 will provide you more bang for your buck when it comes to VRAM intensive games.
Now since we said it is situational, the GTX 950 in SLI should only be considered if you already bought a GTX 950, doesn't have enough budget to spend on a single GTX 970 or equivalent, or you like the looks of an SLI setup. Other factors such as your resolution, and if your PSU could support SLI setup should be factored in as well. Overall the GTX 950 in SLI is worth-it, yet requires a meticulous decision making on your part. Just make sure you fit the bill based on the situation.