With the advent of the next generation graphic's release this year from both AMD and Nvidia, it might seem logical to wait for the initial batches of these GPUs and see if performance scaling is better than the older ones to make a decision. That is a good decision to make, however if you are itching to play the most recent games in 4K resolution, chances are you are looking for the best graphics card to date to handle the task and this is where the GTX 980 Ti in SLI comes to the rescue.
Why the GTX 980 Ti SLI you ask? Simple. 4K gaming with a single GTX 980 Ti isn't exactly smooth as you would expect. Games are playable, but exactly not on the level of "competitive gaming playable" so to speak. If you already have a GTX 980 Ti, or wanted to see performance gains from a GTX 980 Ti SLI without spending some cash yourself to find out, then you have come to the right place.
GRAPHICS SPECIFICATIONS
MAKE & MODEL
NVIDIA GTX 980 Ti
ZOTAC GTX 980 Ti AMP! EXTREME
ZOTAC GTX 980 Ti AMP! OMEGA
GPU
GM200
GM200
GM200
CORES
2816 (CUDA)
2816 (CUDA)
2816 (CUDA)
CORE CLOCK
1000 MHZ – 1075 MHZ
1253 MHZ – 1355 MHZ
1178 MHZ – 1279 MHZ
VRAM
 6 GB GDDR5
 6 GB GDDR5
 6 GB GDDR5
MEMORY BUS
 384-BIT
 384-BIT
 384-BIT
MEMORY CLOCK
 1750 MHZ
 1805 MHZ
 1755 MHZ
This is going to be a simple yet a fast performance review of two different GTX 980 Ti graphics cards in an SLI configuration featuring 1080P, 1440P, and 4K UHD gaming performance results. The cards featured are from ZOTAC, namely the GTX 980 Ti AMP! OMEGA and and the GTX 980 Ti AMP! Extreme that we reviewed. Both cards are almost identical, especially when it comes to the physical design and cooling, but are different in clock speeds and some minor features. Refer to our previous reviews for differences.
THE SLI CONFIGURATION:
If you're still stumbling in the dark when it comes to SLI configurations, Nvidia's Quick SLI Guide should be your best bet to learn how to setup one. Basically, and for optimal compatibility, you have to take 3 things into consideration. First up is the board, as you require an SLI Certified motherboard that hosts good expansion slot placements. So, it is important to check your motherboard's specifications and layout – especially since we are dealing with Two Triple-Slot behemoths. Next up is the GPU – where it is required to sought 2 identical GPU models. It is best to acquire the same brand plus the same model for optimum compatibility and performance. Last but not the least, check if your PSU could handle Two or more video cards. Basically, if a single card's TDP is 120W, then you should be prepared for a 240W of extra capacity. A 500W PSU might cut it, but also do check out for available 8 or 6-Pin Power Connectors. In our case, we require a PSU with more than 600W of power (GTX 980 Ti with 258W*2 = 516W), and a PSU with 4x 8-Pin Power Connectors.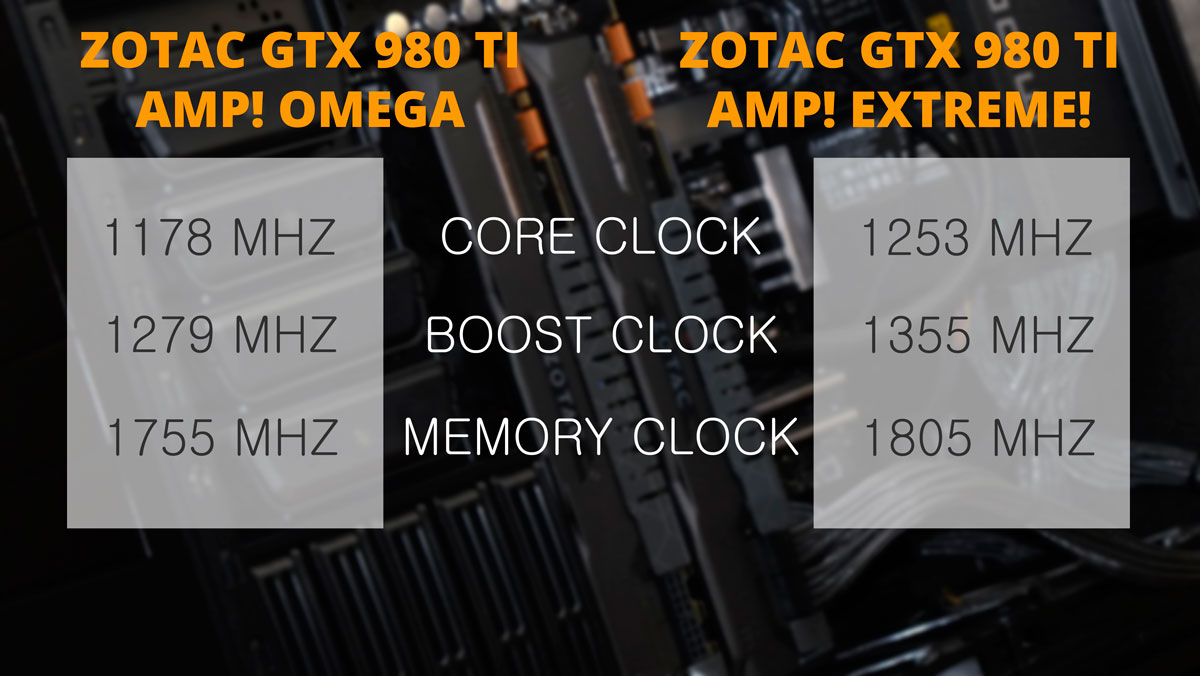 Since the ZOTAC GTX 980 Ti AMP! OMEGA is the slowest card out of the two, we thought the Nvidia SLI profile will take the slowest card's clock speeds as the baseline. Turns out we were wrong, as the SLI profile takes the difference in clock speed into account, effectively using both graphics at their full potential. Correct me if I'm wrong, but Afterburner reports the same findings.
HOW WE TEST: AVERAGE FRAMES PER SECOND & 1% MINIMUM
For refreshment purposes, let us talk for a moment about FPS or Frames Per Second. Also known as Frame Rate, FPS is the general unit of which we measure a graphics card's performance. Generally, the higher value, the smoother the gameplay should be, since higher FPS means higher frames are rendered each second, except when high latency between frames are present (See Frame Time Variance). Please do note that Resolution and in-game settings has a huge effect in any system's frame rate. Better yet, check out the difference of 30 and 60 FPS HERE & ON THIS LINK.
Frames Per Second will be recorded by FRAPS in game using a linear gameplay method at each titles for consistency. Results will include the Average FPS and 1% Minimum FPS – The most important things to check  out in any FPS related results. The 1% Minimum FPS is an important addition because it represents the negative spikes in FPS in-game which is sufficient enough for a gamer to notice.
FRAME TIME VARIANCE & 99TH PERCENTILE:
Frame Time Analysis is another thing worth diving into when it comes to testing games with GPUs, as FPS alone wont directly measure the smoothness of a game. What we are looking for here are the variances (in ms) between frames rendered, and consistency between them is the key to a smooth gameplay experience. Basically, what we want to see are nice graphs of the Frame Times from start to finish, with little variances (less spikes) between each. Spikes from the graphs represents that it took more than enough time for a frame to render, and this is not bad if it's not happening every now and then.
Another thing worth noting is the "99th Percentile Frame Time Variance" which is basically the lowest Frame Time you should expect 99% of the time. Here's an example below from the same results we gathered above:
Based on the results above, you should expect the Nvidia GeForce GTX 980 Ti in SLI, to render frames faster  than 16.1 ms 99% of the time at the Dragon Age: Inquisition. On our 1440P test above, that is already a good result.
SYNTHETIC/GPU COMPUTE PERFORMANCE:
3DMARK (2013) is a multi-platform benchmarking tool from FUTUREMARK, consisting of comprehensive tests that aims to gauge your gaming hardware. Fire Strike is our selected benchmark preset.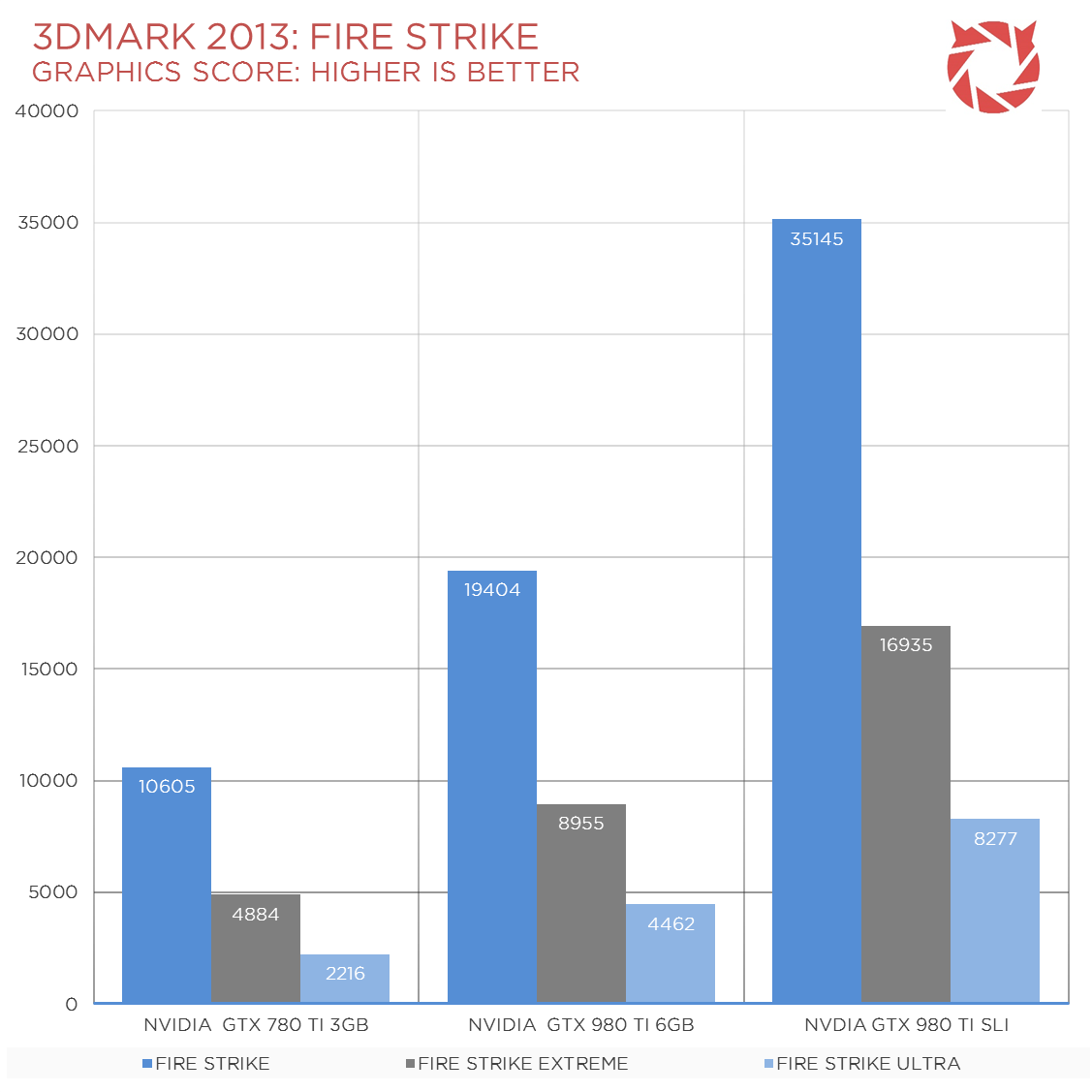 GAMING PERFORMANCE:
Dragon Age: Inquisition an action role-playing video game developed by BioWare and published by Electronic Arts. It utilizes the Frosbite 3 Engine with the SpeedTree technology. VSync is off.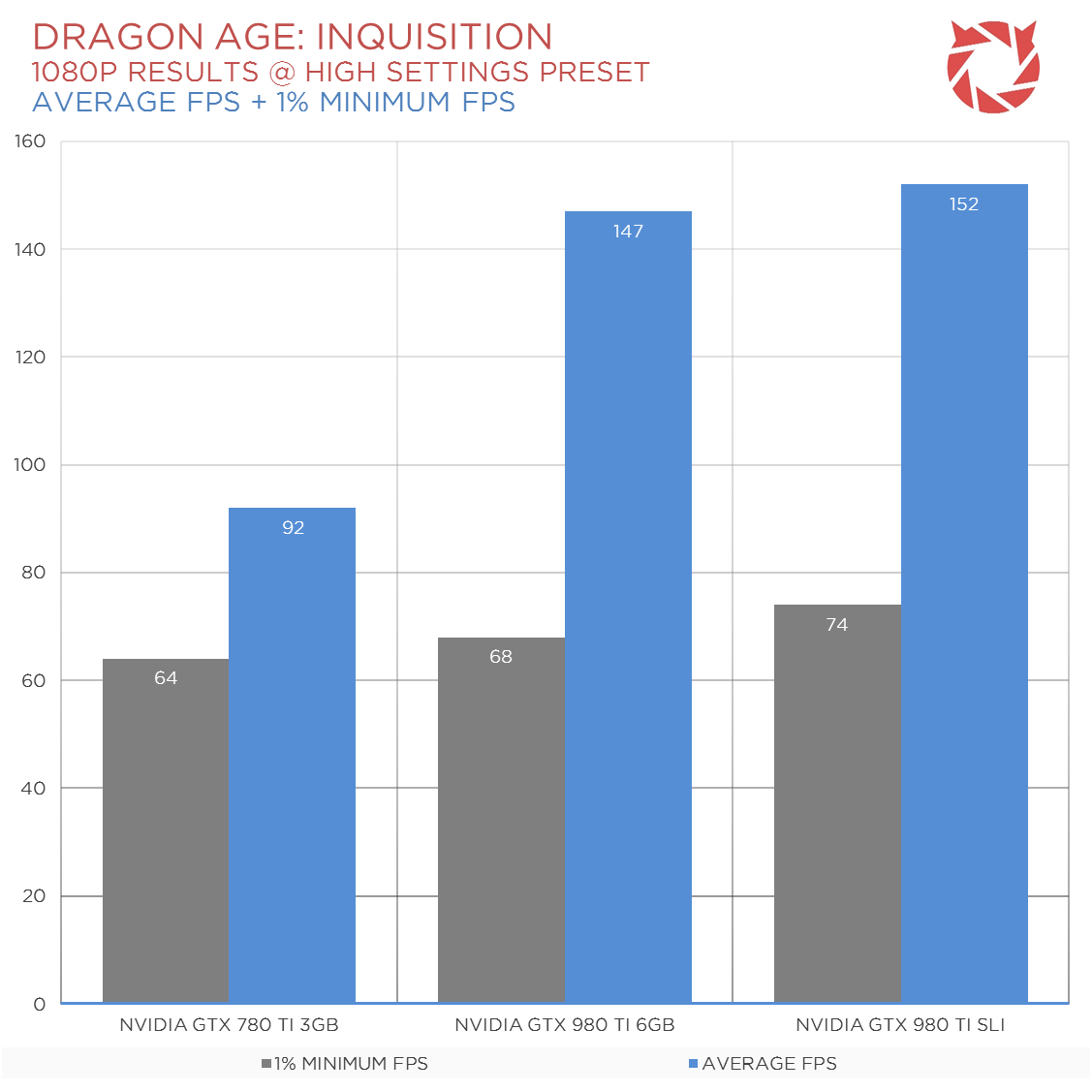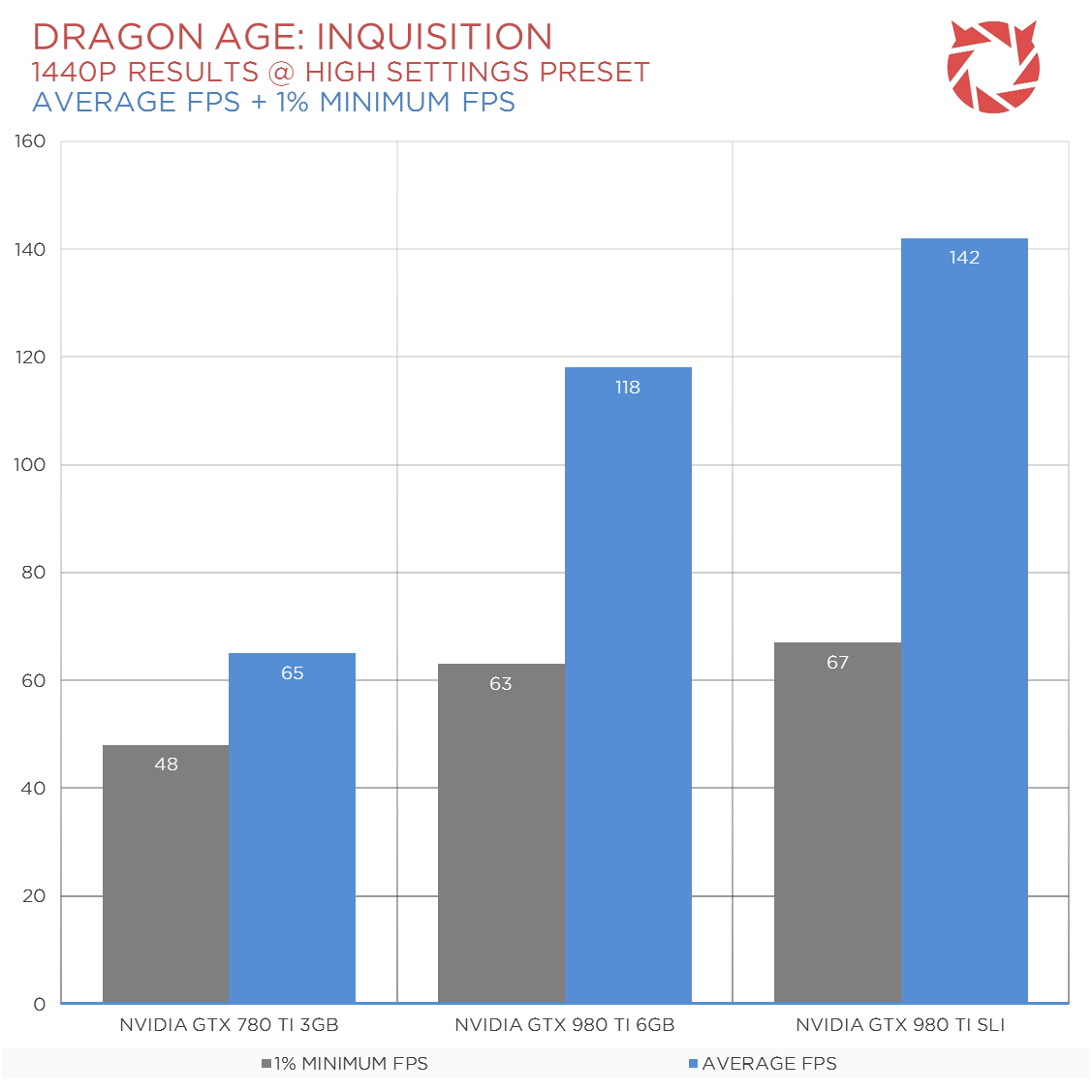 The Witcher 3: Wild Hunt is an action role-playing video game set in an open world environment, developed by Polish video game developer CD Projekt RED. Nvidia HairWorks is disabled, and VSync is off.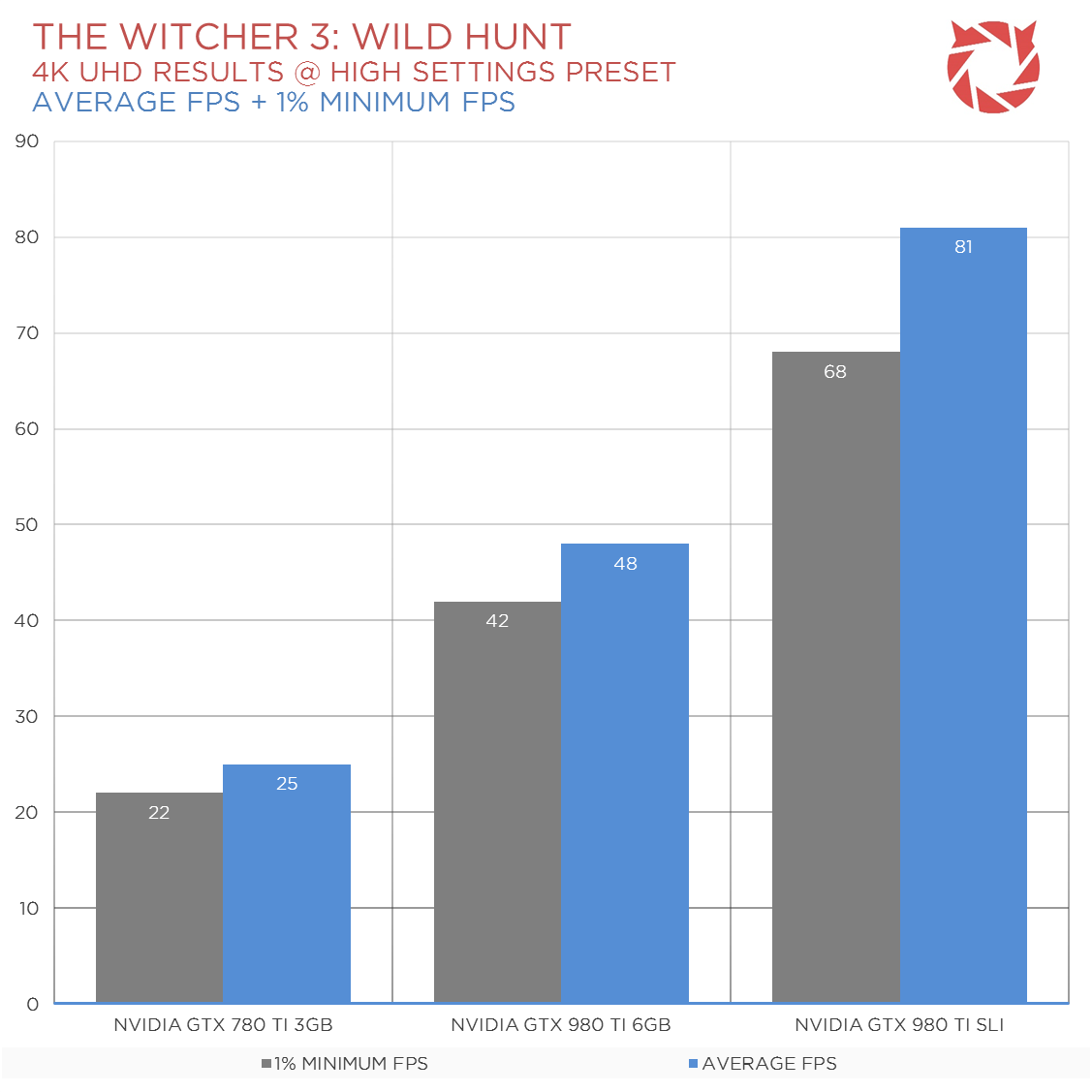 Battlefield 4 is one of EA & DICE's first person shooters utilizing the Frostbite 3 game engine. It features greater tessellation effects and destruction compared to its predecessor. VSync is turned off.
DOTA 2 is a Multiplayer Online Battle Arena (MOBA) video game developed by Valve and is the stand-alone sequel to the Warcraft III based Defense of the Ancients (DotA) mod. VSync is off, and we are using DOTA 2's OpenGL Engine for the benchmark.
Counter-Strike: Global Offensive is a popular online tactical first-person shooter developed by Hidden Path Entertainment and Valve Corporation, utilizing the Source Engine. Vsync is off as well as FXAA.
THEORETICAL & IN-GAME TEMPERATURE:
FurMark is a very intensive OpenGL benchmark that uses fur rendering algorithms to measure the performance of the graphics card. It's not the best tool to measure a graphics card's horse power, but it excels at displaying the theoretical heat output of the card using its stress test feature. To record the GPU's maximum temperatures, I will run Furmark's Fur Rendering Burn-in Test, and let it run for 30 Minutes. The Witcher 3: Wild Hunt is our chosen game for this task, and we will gather our temperature results roaming Velen's (No Man's Land) outskirts. 15 minutes of hacking and slashing should be enough for our Witcher senses. As always, we keep the results consistent by keeping the ambient temperature checked at 27ºC.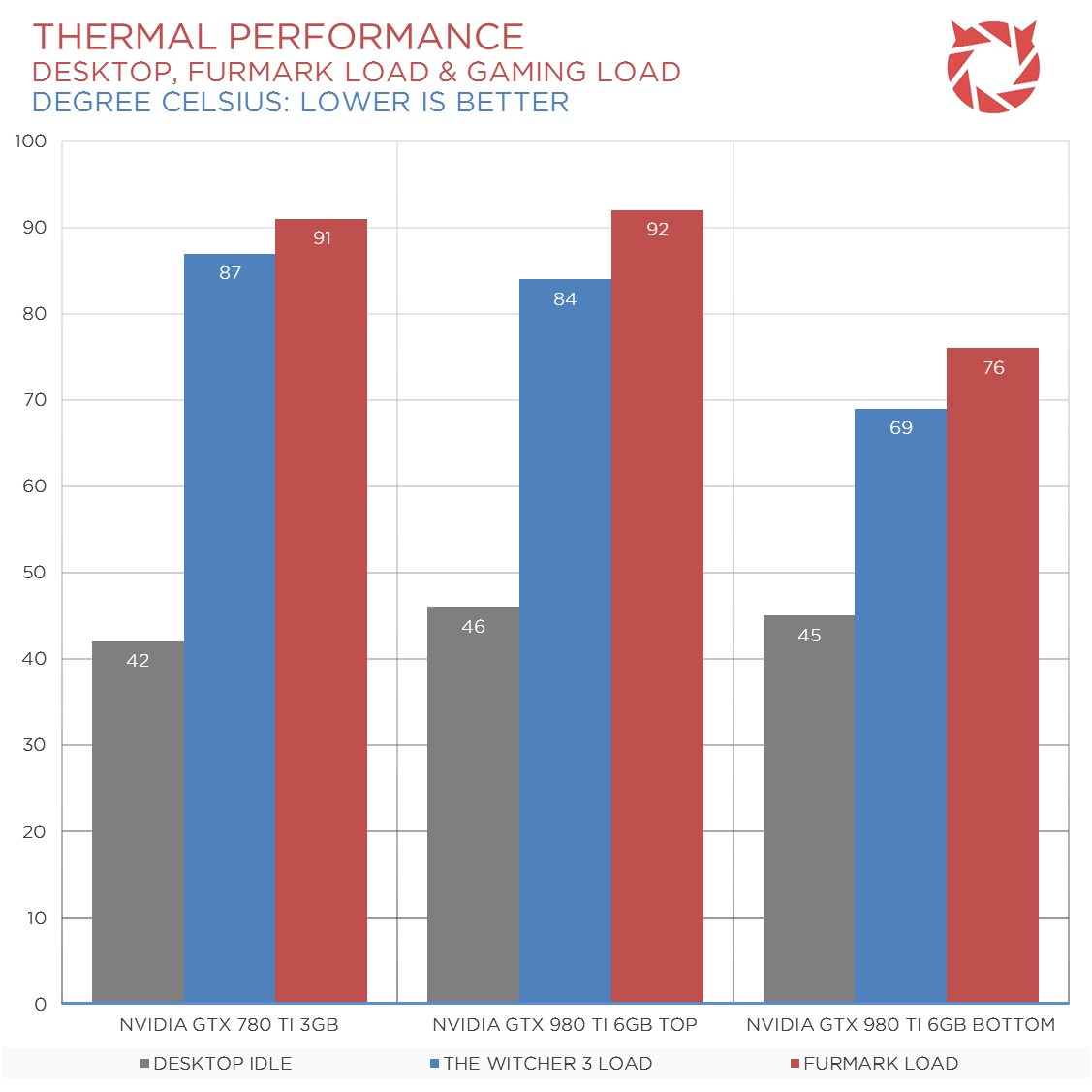 THEORETICAL & IN-GAME POWER CONSUMPTION:
We also check to see how the GPU impacts power consumption using FurMark. The system is left to idle for 30 minutes before readings are taken, and load data is taken 30 minutes while FurMark is running. The Witcher 3: Wild Hunt is our chosen game for this task, and we will gather our power consumption results roaming Velen's (No Man's Land) outskirts. 15 minutes of hacking and slashing should be enough for our Witcher senses. Power readings are taken for the entire system from the socket.
THEORETICAL & IN-GAME ACOUSTICS/NOISE:
Using FurMark, The Witcher 3: Wild Hunt, and our handy Sound Level Meter, we will take sound level measurements while the system is idling and at load. Our rooms ambient noise levels are around 37 dBA (-1/+1) which is somewhat between a quiet library and a public library. Refer to the chart below for comparison.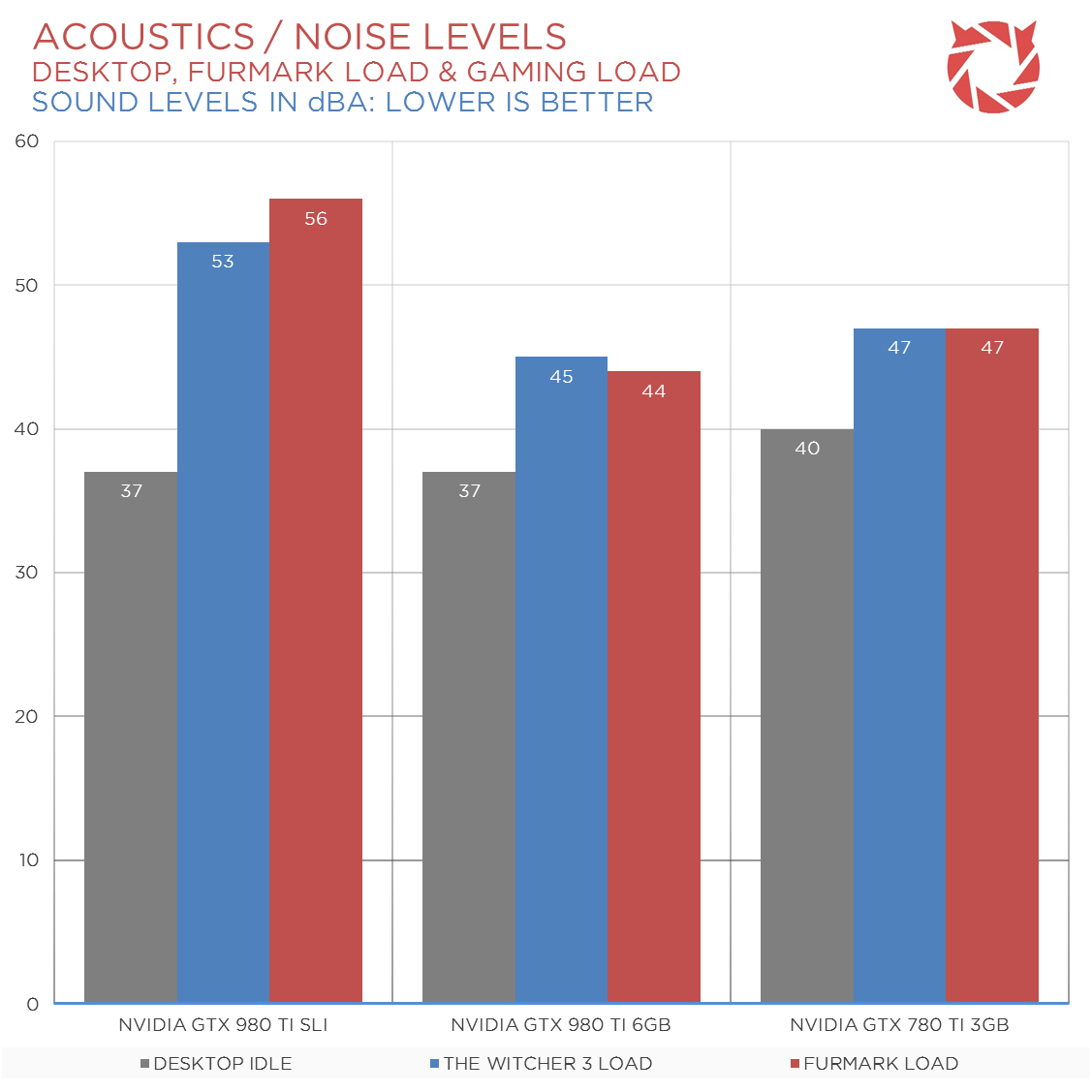 GTX 980 TI SLI ANY GOOD?
Let us make this fast. Is the GTX 980 Ti in SLI worth it especially when it comes to 4K gaming? Yes it is – and SLI is a requirement for an actually smooth 4K gaming across the majority of titles. Starting off with the graphics performance, 1080P is a no-no for this SLI configuration with almost negligible performance differences across the titles tested with the exception of Battlefield 4, and The Witcher 3 – titles that are really taxing for the GPU regardless of resolution. We saw good improvements at 1440P, and suffice to say the difference is significant at 4K UHD where the additional GPU power and memory shines the most as expected. Overall, we can see gains from 3% to 85% at the average FPS results, while there is 6% to 67% gains at the 1% minimum FPS results.
TITLE
1% MINIMUM FPS GAINS
AVERAGE FPS GAINS
FIRE STRIKE 1080P

81%

FIRE STRIKE 1440P

89%

FIRE STRIKE 4K UHD

86%

DA: INQUISITION 1080P
9%
3%
DA: INQUISITION 1440P
6%
20%
DA: INQUISITION 4K UHD
14%
81%
THE WITCHER 3 1080P
40%
12%
THE WITCHER 3 1440P
32%
44%
THE WITCHER 3 4K UHD
62%
69%
BATTLEFIELD  4 1080P
7%
20%
BATTLEFIELD 4 1440P
37%
67%
BATTLEFIELD 4 4K UHD
38%
85%
DOTA 2 1080P
51%
2%
DOTA 2 1440P
-8%
-2%
DOTA 2 4K UHD
-3%
3%
CS: GO 1080P
11%
-20%
CS: GO 1440P
67%
9%
CS: GO 4K UHD
58%
33%
Power is always something that you need to consider when it comes to dual card configurations, and that's the only hindrance of such systems with high end SLI configurations. We can see a maximum of 746W total power draw on our stress test here, while on gaming the system swallows a whole 665W of power from the socket. That means you require a PSU unit above 800W which is quite far from our projected 600W+ total system load. Temperatures are also hampered as expected since the cards are pushing their cooling solutions to the fullest especially the card at the top. That said, acoustics from the said card are soaring high as well – requiring to push the fans to spin faster due to the small breathing room. Load distribution is also a factor.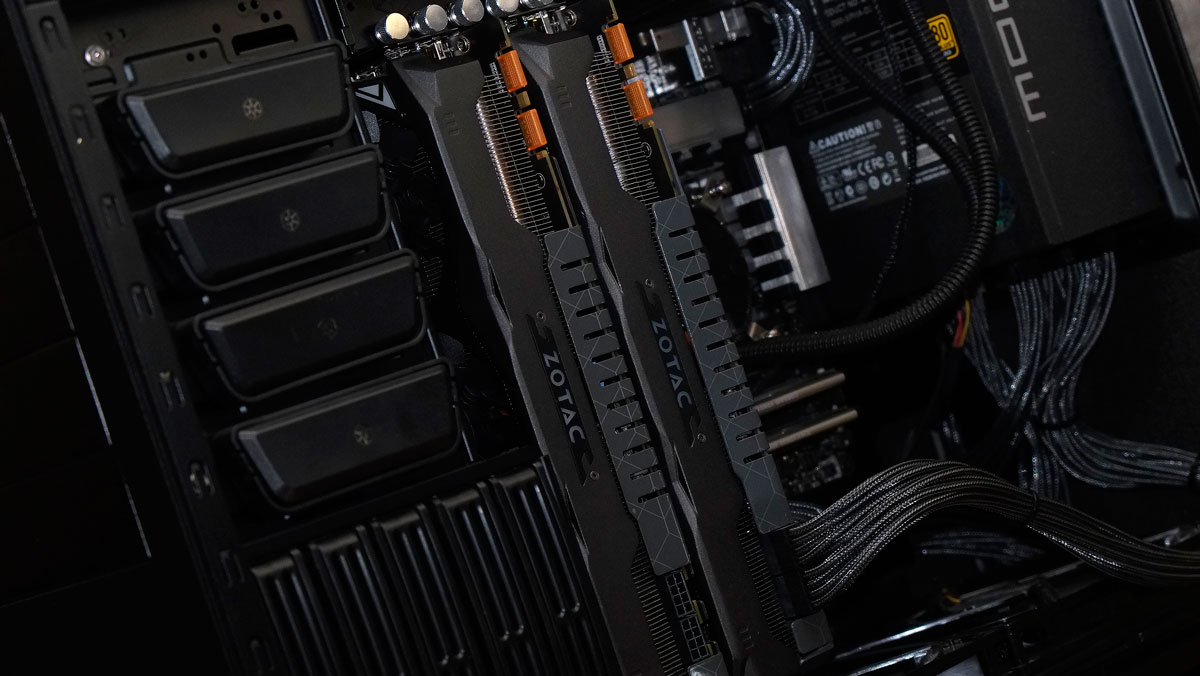 SLI configurations has been around for quite some time now, specifically since 2004. The technology continues to improve, and there is no denying that the GTX 980 Ti performed extremely well on most cases except for the Valve titles on our list of titles. The setup is VR ready, and is perfectly 4K UHD compliant so you should expect great performance from the system under those circumstances. The only drawbacks are heat, noise, and power – but most system builders knows the work around around these issues by slapping in a custom liquid cooling solution. The GTX 980 Ti SLI setup is expensive, requiring you to shell out approximately 1200 USD for the cards alone but the performance is there when you need it.
Nvidia GTX 980 Ti SLI
PERFORMANCE -

9/10

BUILD QUALITY -

9/10

FEATURES -

9/10

AESTHETICS -

9/10

VALUE -

9/10
Summary
SLI configurations has been around for quite some time now, specifically since 2004. The technology continues to improve, and there is no denying that the GTX 980 Ti performed extremely well on most cases except for the Valve titles on our list of titles.