By the end of 2021, Shenzhen based OneOdio contacted me if I could review a sample of the OneOdio Studio Hi-Fi Headphones. Curios me took the opportunity, but never got the chance to release the review on time due to a self inflicted injury called procrastination.
Jokes aside, the Studio Hi-Fi is one of the many audio solutions from OneOdio's portfolio. It comes with a pair of 50mm drivers encased inside a closed-back circumaural coupler design. This also comes with a sharing port, removable set of cables and an inline microphone for calls.
Disclosure: OneOdio sent the Studio Hi-Fi via Buyandship for the purpose of this review. The company did not ask me to say anything particular about it other than sharing the information about their buy-one-take one promotion which is conveniently stated at the product/store page below. You could also get this at $5 USD less if you choose the models with an older colorway before checkout.
Price: $84.99 USD (RP, OneOdio) / $49.99 USD (Promo, OneOdio)
Release Date: Q4 2020?
Technical Specifications
Headphone
Design
Circumaural/Over-ear, Closed
Transducer
Dynamic, 50mm
Frequency Response
20-40000Hz
Impedance
32Ω
Sensitivity
110dB/mW (±3dB)
Connectivity
1.5m 3.5mm cable w/ microphone, 3m 6.35mm coiled cable
Microphone
Transducer
Dynamic
Polar Pattern
—
Frequency Response
—
Sensitivity
—
Dimensions
Length
—
Width
—
Height
—
Weight
296g, without cables
Packaging and Accessories
The OneOdio Studio Hi-Fi comes in a simple boxed packaging with goodies inside.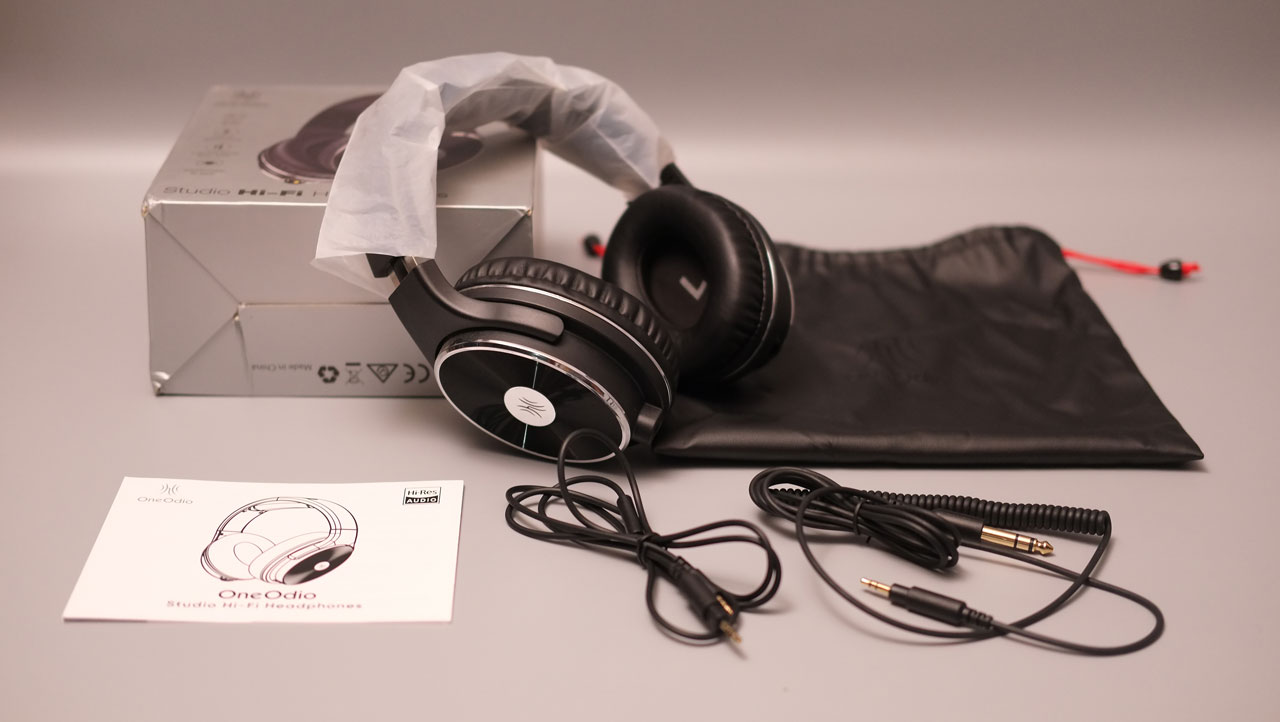 The product should come with the following items:
OneOdio Studio Hi-Fi
1.2m straight cable with built-in microphone
3m coiled cable
Protein leather bag
Quick user guide
Actually pretty good bundle of accessories for its price. Impressive to say at least.
Design, Build and Connectivity
The OneOdio Studio Hi-Fi is a simple looking circumaural headphone. Size and general design philosophy is similar with the Sennheiser HD6XX models, but with thicker pads and of course a closed back design.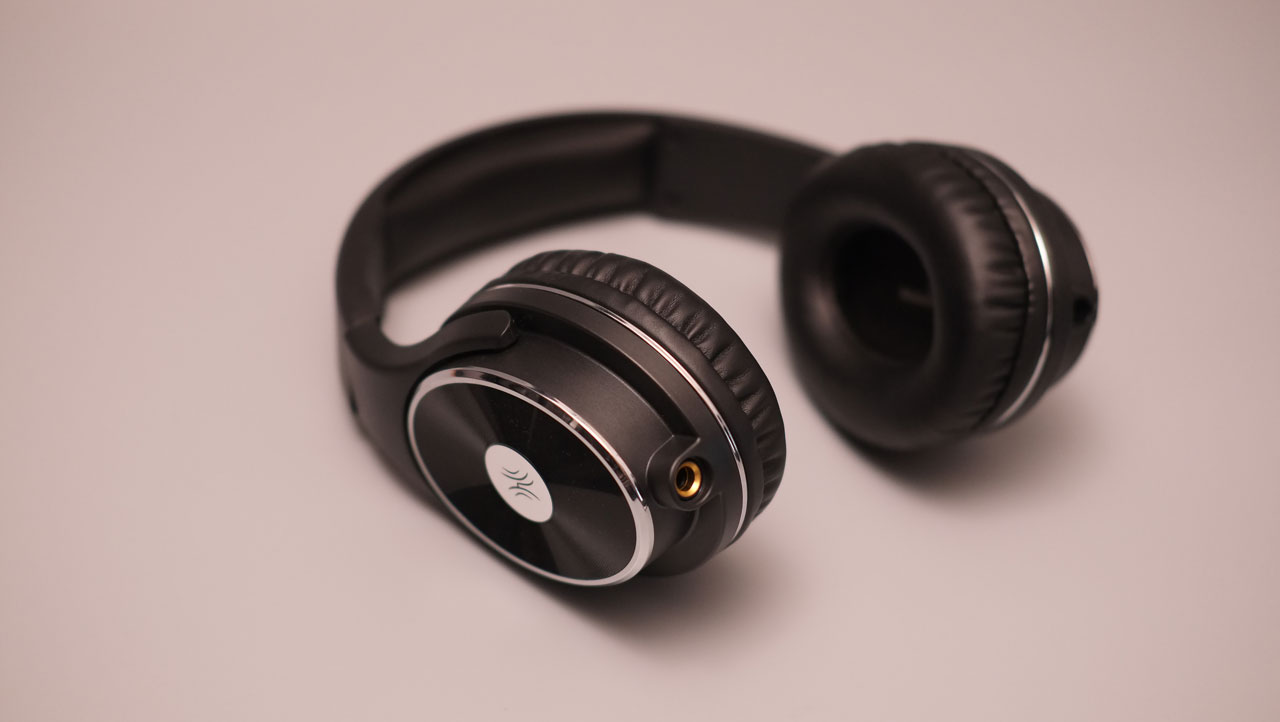 The Studio Hi-Fi comes with protein leather pads and a not so soft foam internal padding. These are swappable and should be compatible with the majority of oval shaped pads from various third party brands. Headband seems to use the same material – in and out.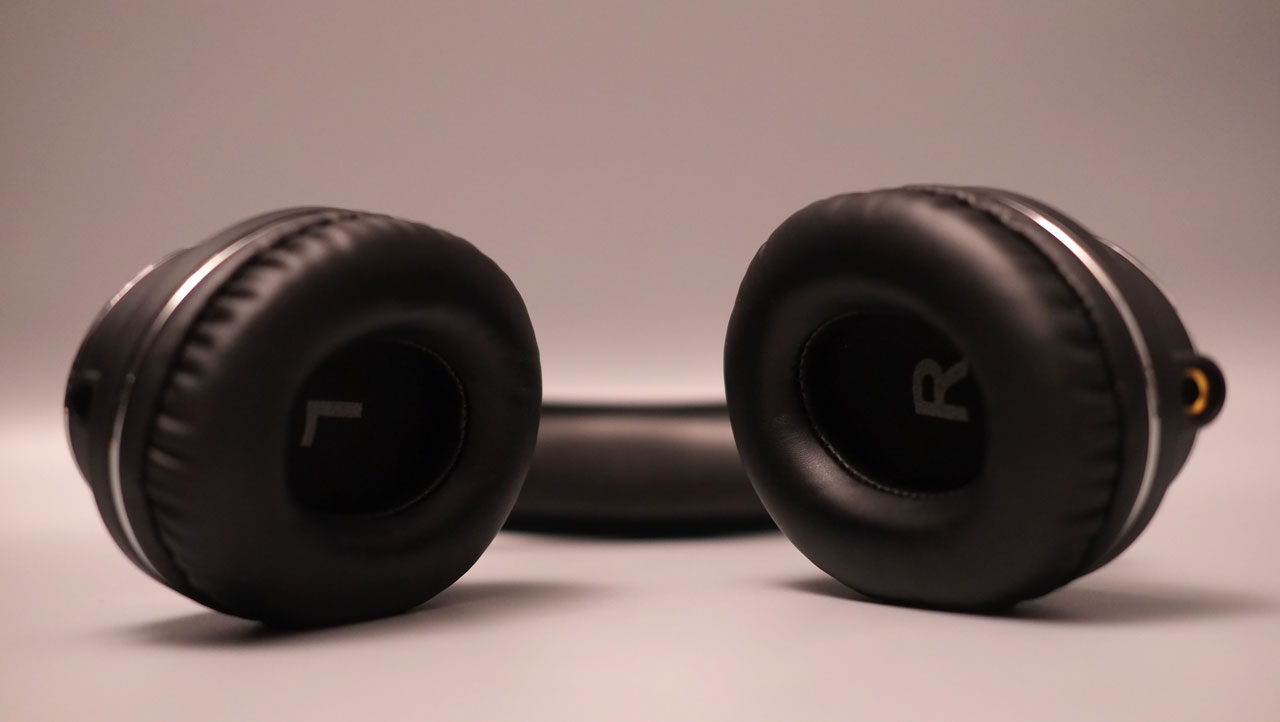 Connectivity wise, the headphone comes with two different set of cables and ports. These are the 3.5mm to 3.5mm cable and the 6.35mm to 3.5mm coiled cables. You could use both cables for the audio input but the 6.35mm is the one required for music sharing.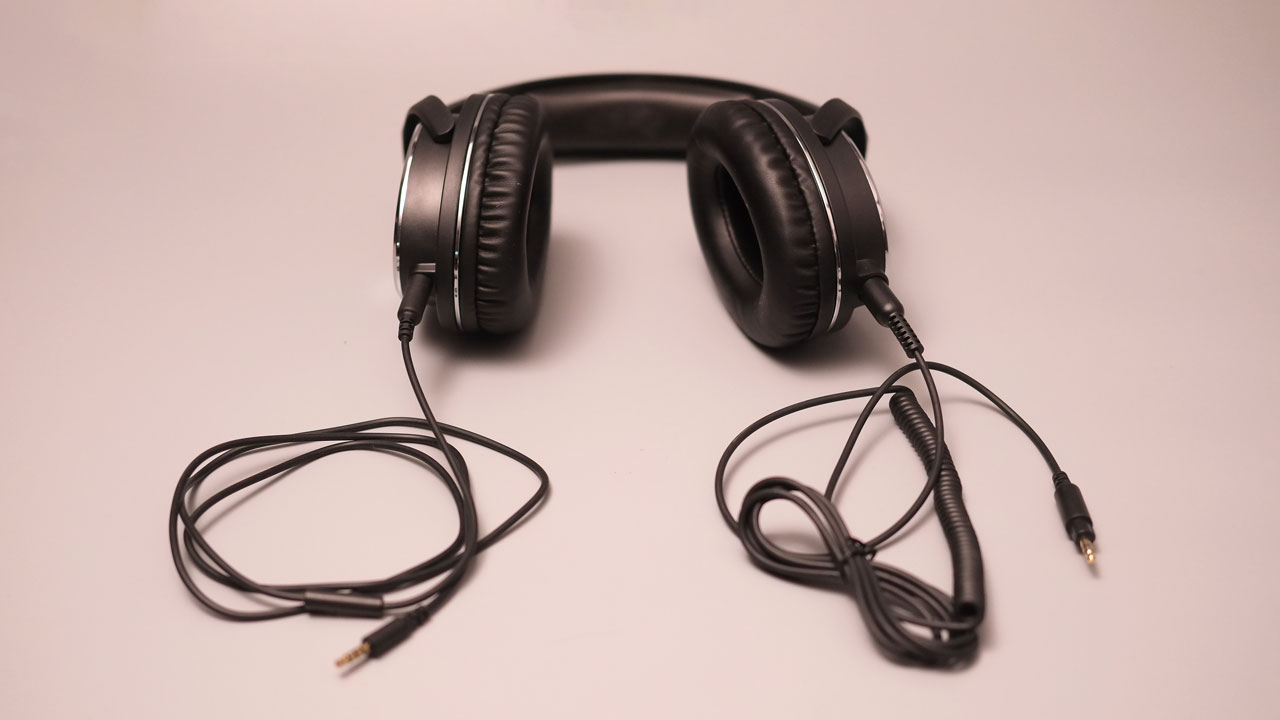 Overall build quality is decent but I like the older design or colorway much better. Both the older black and silver models are still available for purchase so this technically comes in three colorways as of this review.
Ergonomics
The OneOdio Studio Hi-Fi is a light headphone weighing in at around ~296.5 grams without its cable. Clamp force is a little tight – perhaps at the region of Sennheiser's HD6XX series of headphones. Pressure is not 100% evenly distributed across the coupler but this is better compared to most headphones and headsets I've tested – at least for my 56 cm circumference head. To visualize, the clamp force is biased around the hinge area up to the top.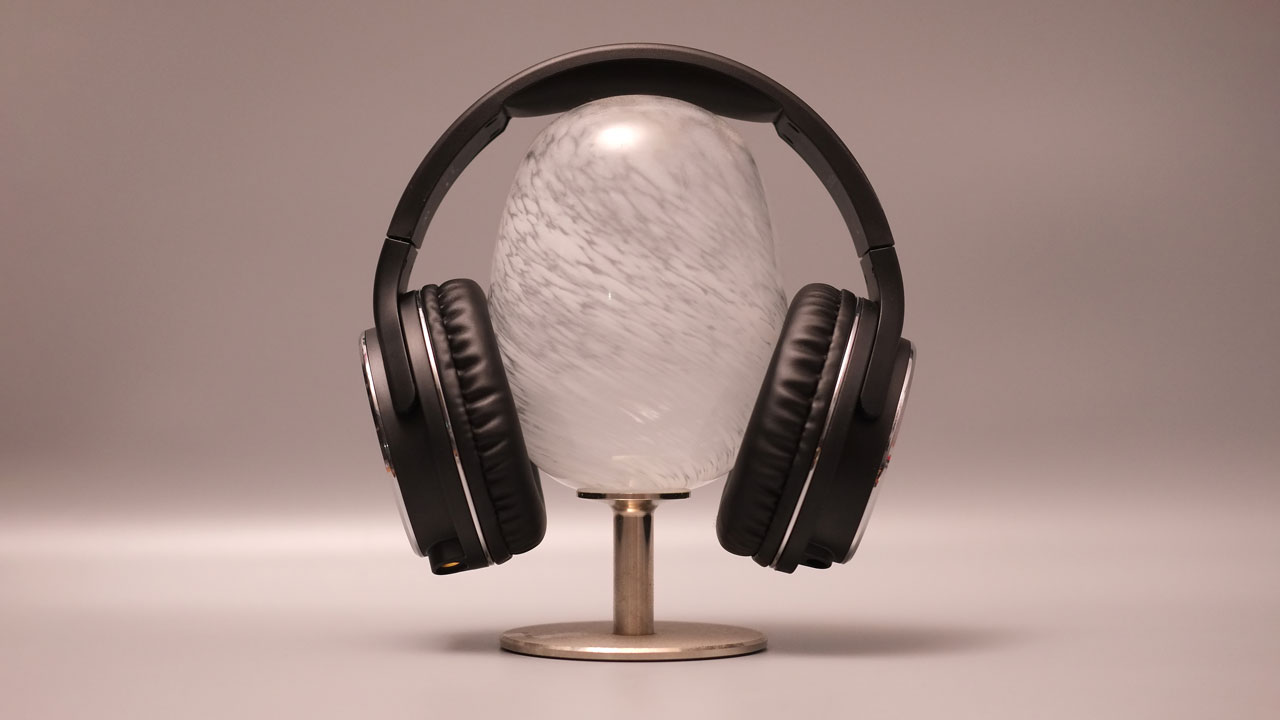 Now the pads were not the best I've worn, but it is not the worst either. You wouldn't get a perfect seal with its pleather and foam material combined if you're wearing glasses so that's something to consider. I wager comfort could be better with softer inner padding material but that's a story I will touch once I start modifying this unit.
Test Setup and Methodology
Our test setup relies on the measurements taken from Room EQ Wizard paired with the MiniDSP EARS headphone test fixture. Audio chain has been made simple with the Topping DX7 Pro and Topping A90 for balanced and single-ended devices. It is important to note that we are testing the review sample after burn-in, with at least 24-hours of uptime. This is done so to negate the FOTB (fresh out the box) state of the DUT (device under test), yielding better benchmarking consistency.
Test Setup
Audio Chain
Topping DX7 Pro -> Topping A90 -> DUT
Test Fixture
MiniDSP EARS
Sampling Rate
24-bit, 48 kHz (PCM)
Software
Room EQ Wizard
Due to a number of factors – including the test fixture and its limitations, the measurements obtained here are not meant to be compared from various results you may find online.
Frequency Response vs Target
Sound Pressure Level is measured in Decibels (dB SPL). The test aims to check the frequency response and its adherence to the Harman inspired target curve from MiniDSP.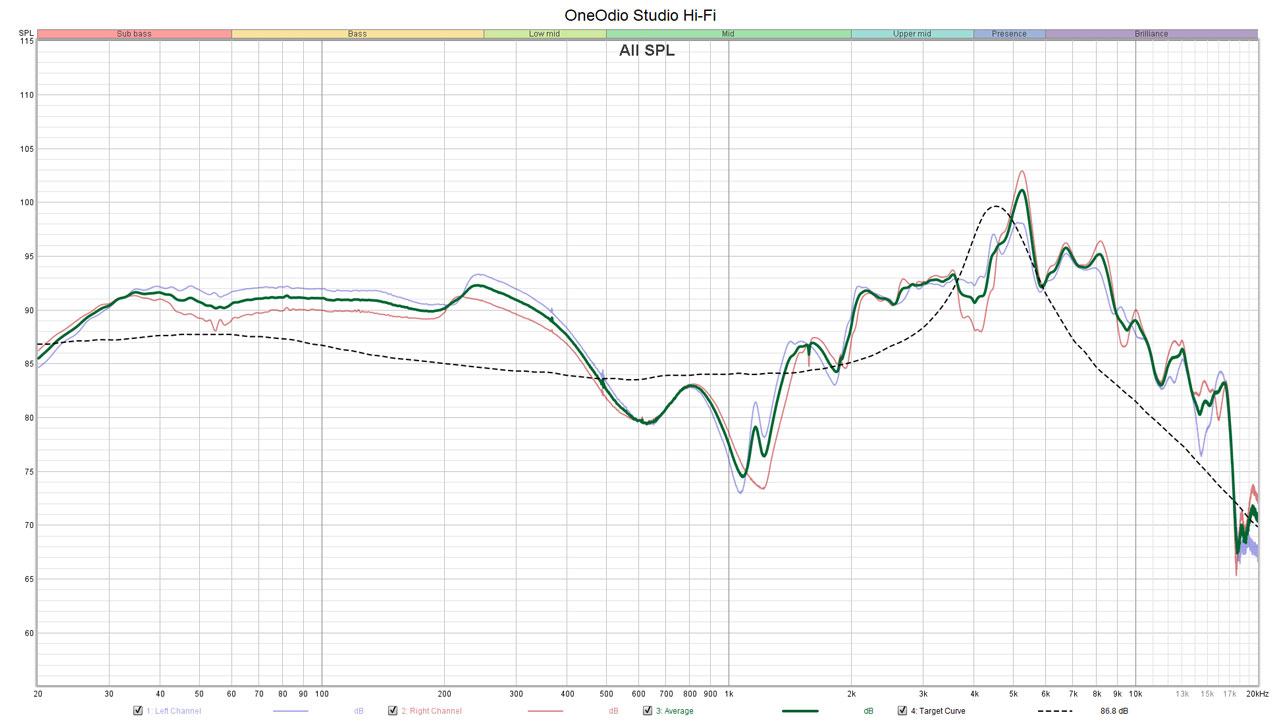 The Studio Hi-Fi's frequency response is definitely not an output geared for neutrality. This is no doubt a bass boosted yet also a bright headphone which is more in line with a V or even a W shaped sound signature – accounting for the extra upper midrange energy.
Bass: Boosted and has this shelf that extends into the lower mids – making this region boomy and fat. Definitely fun with some songs and even genres but to be honest, quantity is just too much for my liking. It drowns the middle ranges which is not what you'd want for a studio headphone.
Midrange: Borderline hollow and cuppy – with a more laid back presentation. The upper midrange energy compensated for this but still, this is not the kind of sonic performance I expected to see when it comes to studio use. You want this area to be flat as much as possible.
Treble: Starts with a dip between 4KHz and 5KHz, totally avoiding sibilance but at the expense of a detached treble characteristic – as seen with the elevated upper treble energy. A number of studio headphones actually accentuates this area including the Sony MDR-7506 but not to this extent. Still, I find this range a little better over the middle ranges.
Channel balance across the audible range is also not its strong suite but it is not as bad as some of the gaming headsets I've tested prior.
Total Harmonic Distortion
Distortion is measured in Percentage (%). The test aims to check the difference between the fundamental signal and the harmonic distortion.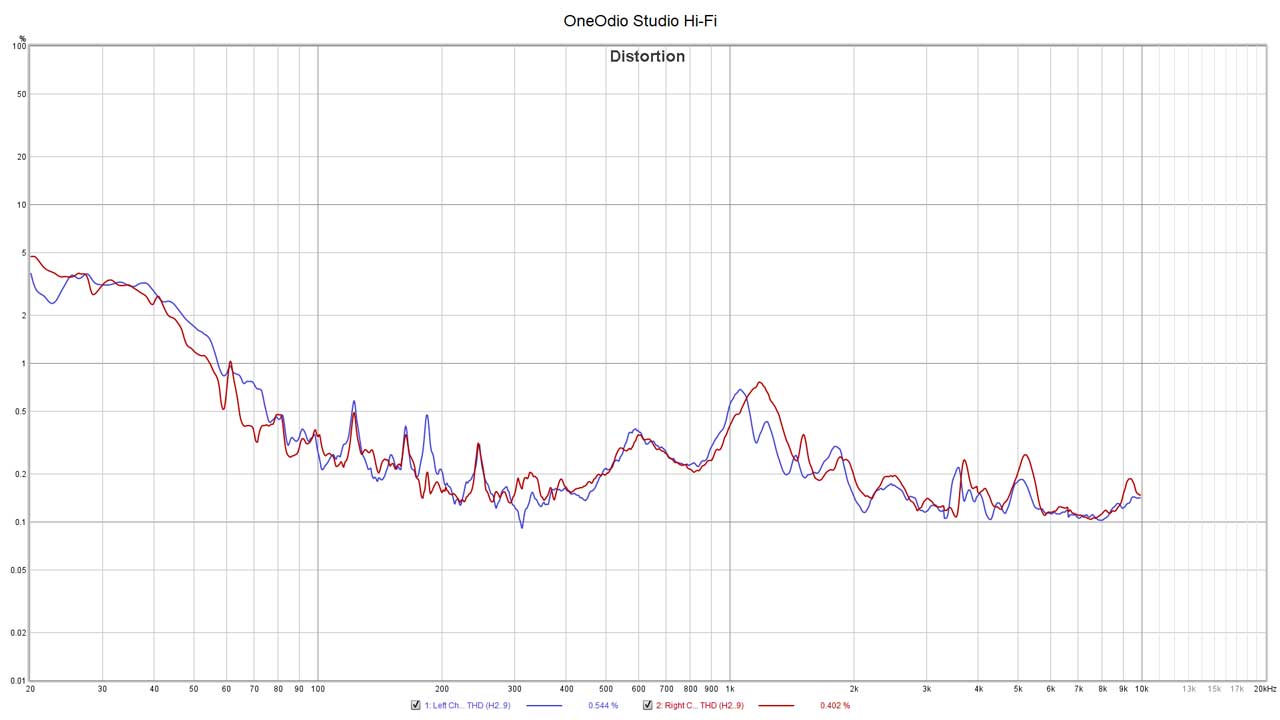 Good results we got here despite the near 1% elevation around the 1KHz region. This could be a potential problem if you want to apply EQ by boosting the said frequency band to match the bass shelf. A safer approach is the combination of low and high shelf filters instead to improve the overall response.
Group Delay
Delay is measured in Milliseconds (ms). The test aims to check the amplitude over time across the frequency range.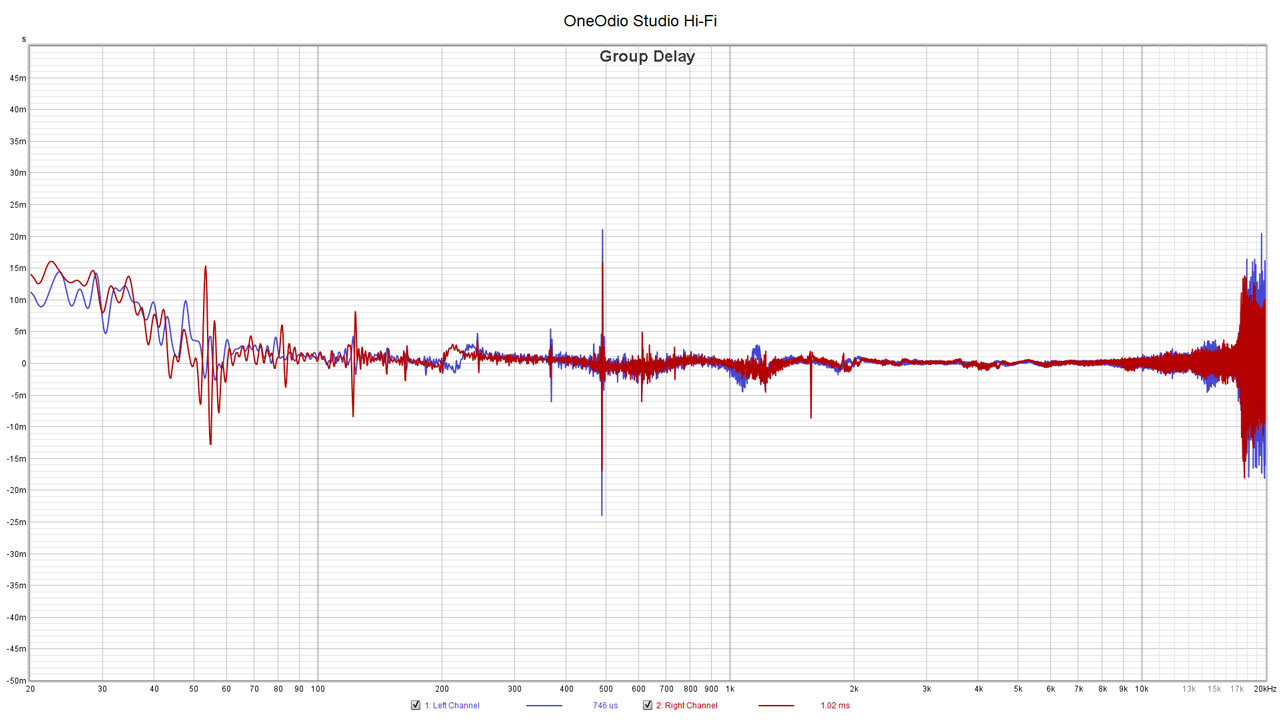 Group delay performance is acceptable, except for the weirdness around 500Hz. You could see this at the frequency response but not at the CSD.
Cumulative Spectral Decay
Decay is measured in Milliseconds (ms). The test aims to check the energy content over time across the frequency range.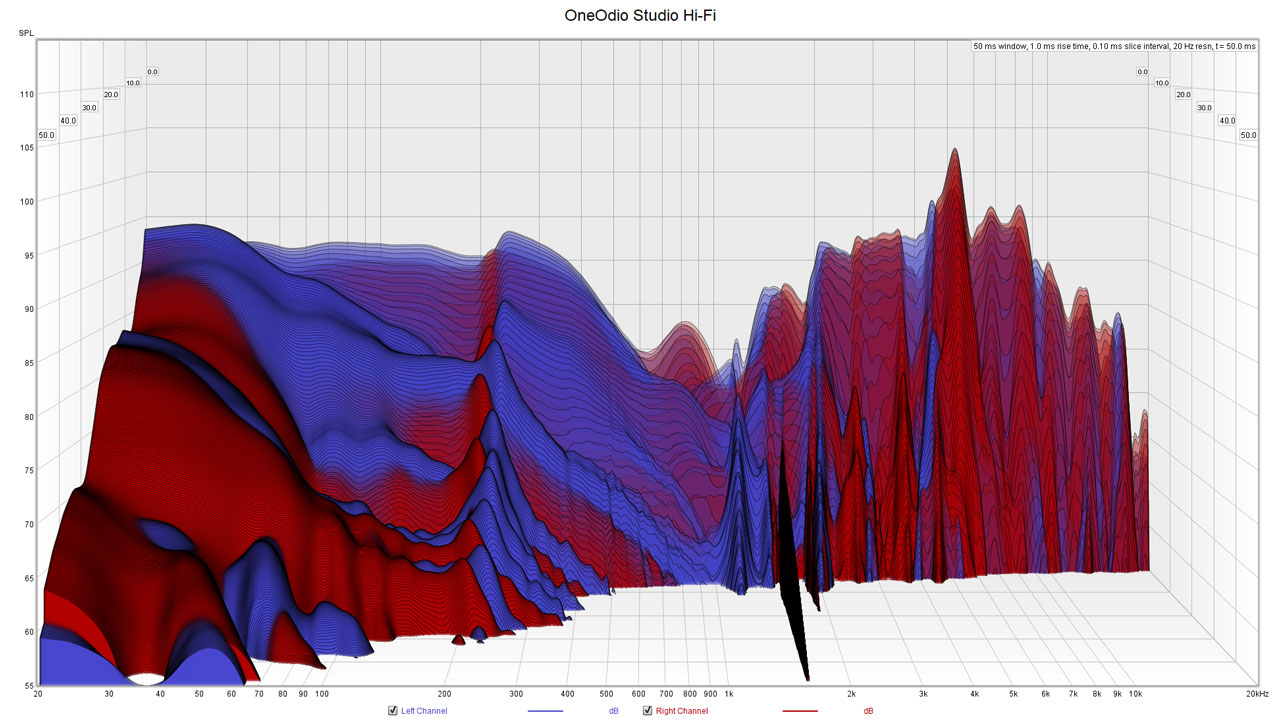 Now as for decay, we have a few problem areas here. First up would be the long-lived resonance between 200Hz and 300Hz. This could be seen at the frequency response graph as a sudden rise toward the lower mids. Next would be the delay at 1.5KHz. Luckily, the latter is only present at the right channel and is too narrow to be perceived.
Noise
Sound Pressure Level is measured in Decibels (dBA). The test aims to check the noise isolation and leakage of the headphone.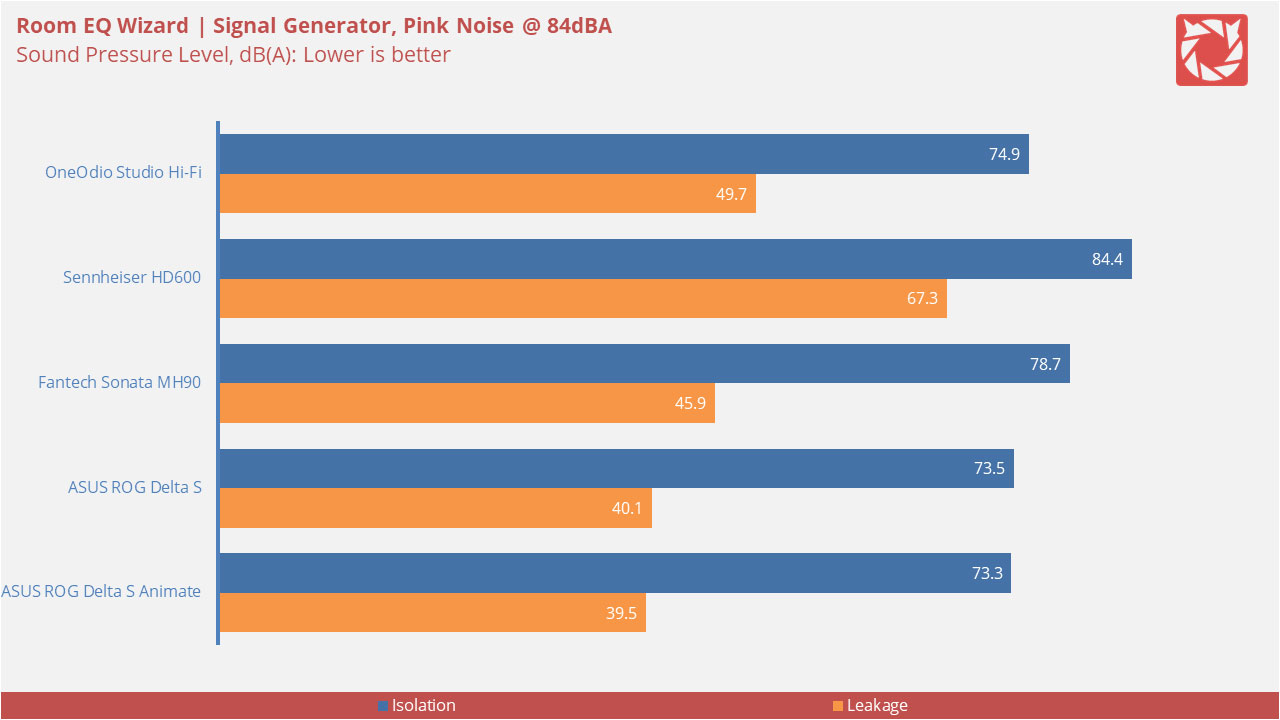 Isolation performance is excellent, along with a decent leakage output.
Features
This is no gaming headset, but it is a feature rich headphone for its price. That includes the bundled accessories, in-line microphone and its music sharing feature.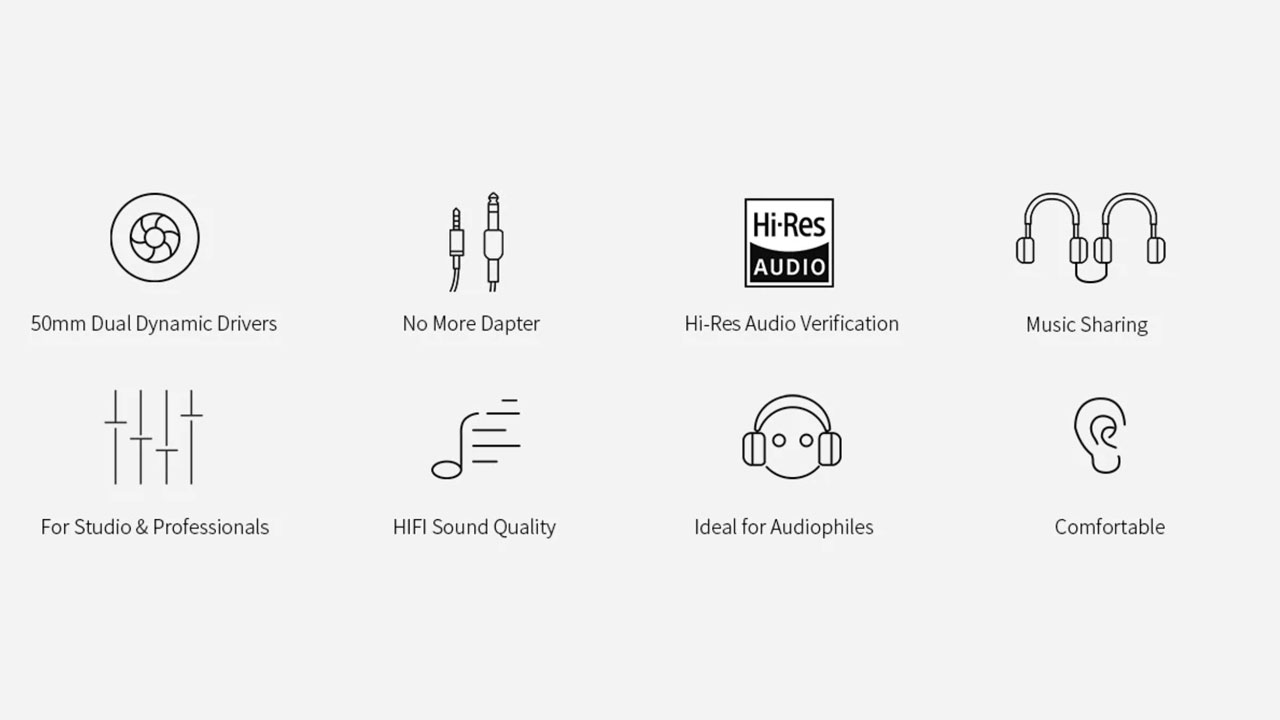 I usually test the microphone whenever a product comes with it but I didn't with this unit – it's usable at best. An okay addition though, considering how easy to drive this headphone is. A decent smartphone will power this up.
Final Thoughts
The OneOdio Studio Hi-Fi is a wonky fun headphone to listen with yet it is not fitting for a studio environment based on its sonic characteristics. But, for the price of $49 USD and two units at that, I could safely let it pass. I mean that's technically $25 for each pair so I can't complain much – especially with my recent experience with the latest "premium" gaming headsets.
Build quality wise, the headset is made mostly out of plastic. I don't find this an issue but I wish its has softer and better padding materials. That leads us to the comfort which is just so-so from the get go. A few stack of books will surely loosen this one up and the potential to upgrade with softer pads are worthy to consider.
Now while it doesn't have the flat accentuated frequency response of studio monitors, it does come with excellent isolation and a decent leakage output together with an extra coiled 6.35mm cable.
If wonky fun halfway there to the studio land is to your liking then this is a budget pair of headphones I could easily recommend. For those with preference towards neutrality, better look elsewhere.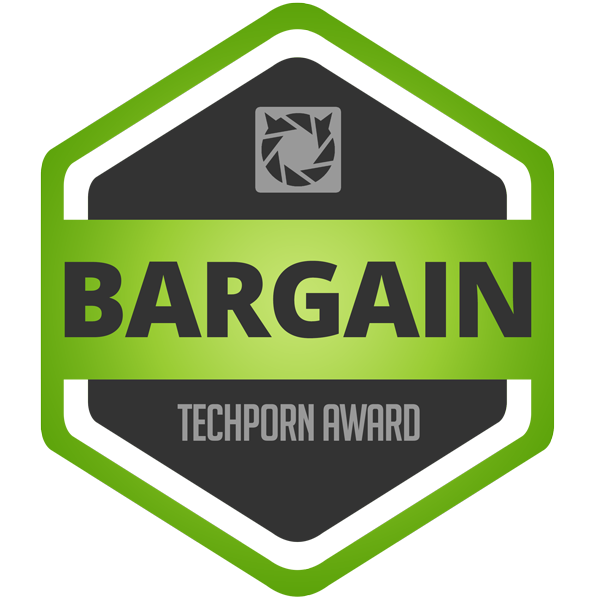 OneOdio Studio Hi-Fi Headphones
Summary
Relative to its price, the OneOdio Studio Hi-Fi is a fun sounding headphone with its wonky sound signature considered. Its no studio headphone for sure so best look for something else if that's what you're actually looking for.