In for review is the Razer BlackShark V2 Pro wireless gaming headset. This is the 2023 edition, featuring an MSRP of $199.99 USD or about ₱13,990 PHP at official Razer outlets nationwide.
This year's Razer BlackShark V2 Pro comes with a multitude of upgrades over its predecessor. That includes Bluetooth 5.2 support, a new "Super Wideband" microphone and up to 70 hours of battery life – massive improvements over the latter model.
Disclosure: Razer sent the BlackShark V2 Pro for the purpose of this review. The company did not ask me to say anything particular about it.
Technical Specifications
Headphone
Design
Over-ear, Closed-back
Transducer
50 mm, Dynamic
Frequency Response
12-28,000 Hz
Impedance
32 Ω
Sensitivity
100 dBSPL/mW @ 1 kHz
THD
N/A
Connectivity
RF 2.4 GHz, BT 5.2
Microphone
Transducer
Electret (?)
Polar Pattern
Uni-directional
Frequency Response
10-10,000 Hz
Sensitivity
-42 dBV/PA @ 1 kHz
Dimensions
Length
N/A
Width
N/A
Height
N/A
Weight
320 g
Packaging and Accessories
The BlackShark V2 Pro comes in a well padded packaging. I like that they are using soy ink for the color box's familiar palette as well.
Scope of delivery are as follows:
Razer BlackShark V2 Pro wireless gaming headset
Removable Razer HyperClear Super Wideband microphone
USB Type-A wireless dongle
USB Type-A to USB Type-C charging cable
USB Type-A-F to USB Type-A-M charging cable
Microphone windscreen
Razer decal(s)
Documentation(s)
Out of the box, we got an ample amount of bundled accessories with the BlackShark V2 Pro. This has to be expected at its price point.
Design, Build and Connectivity
Given my minimal exposure with the Razer BlackShark family, I felt like it hasn't changed much through these years. That said, the iconic line still sports the distinct aviation style couplers – which is industrial by design – in its most basic form.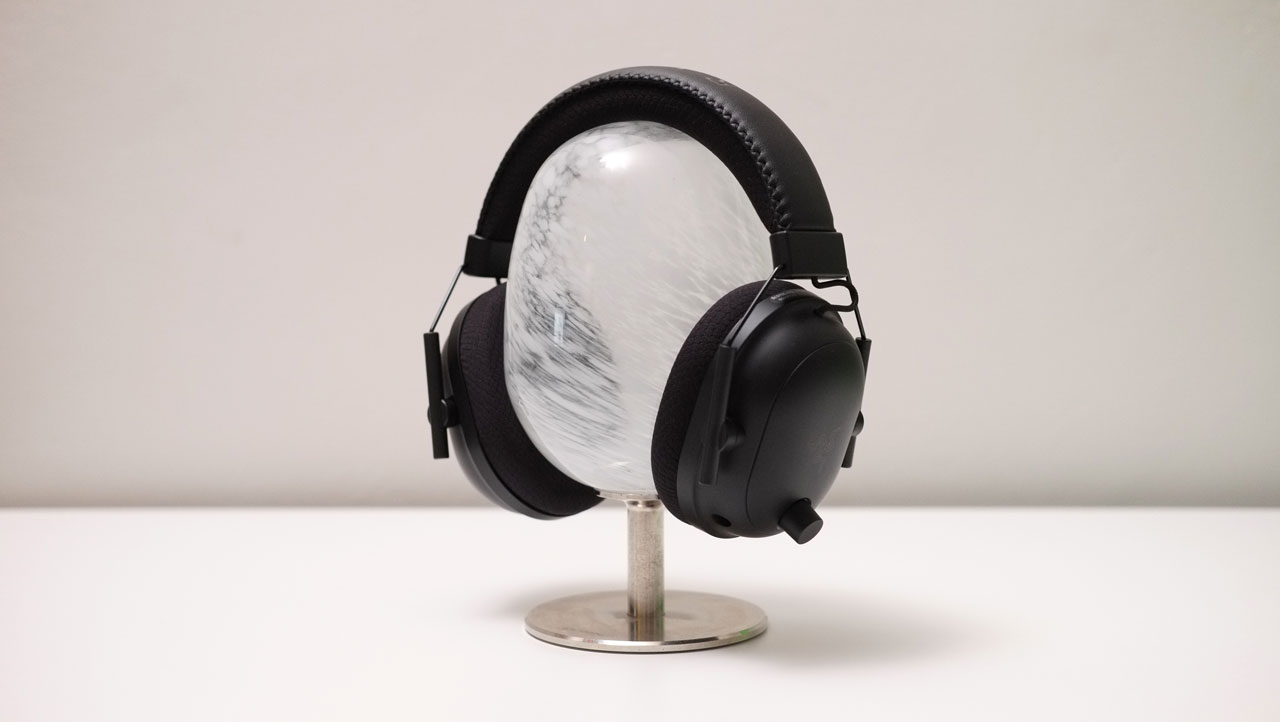 Plush is what I would describe the pads on the BlackShark V2 Pro. Dubbed as the FlowKnit pads, these are made out of breathable exterior along with a memory foam internal cushion. They are also removable, so replacing them should not be a daunting task.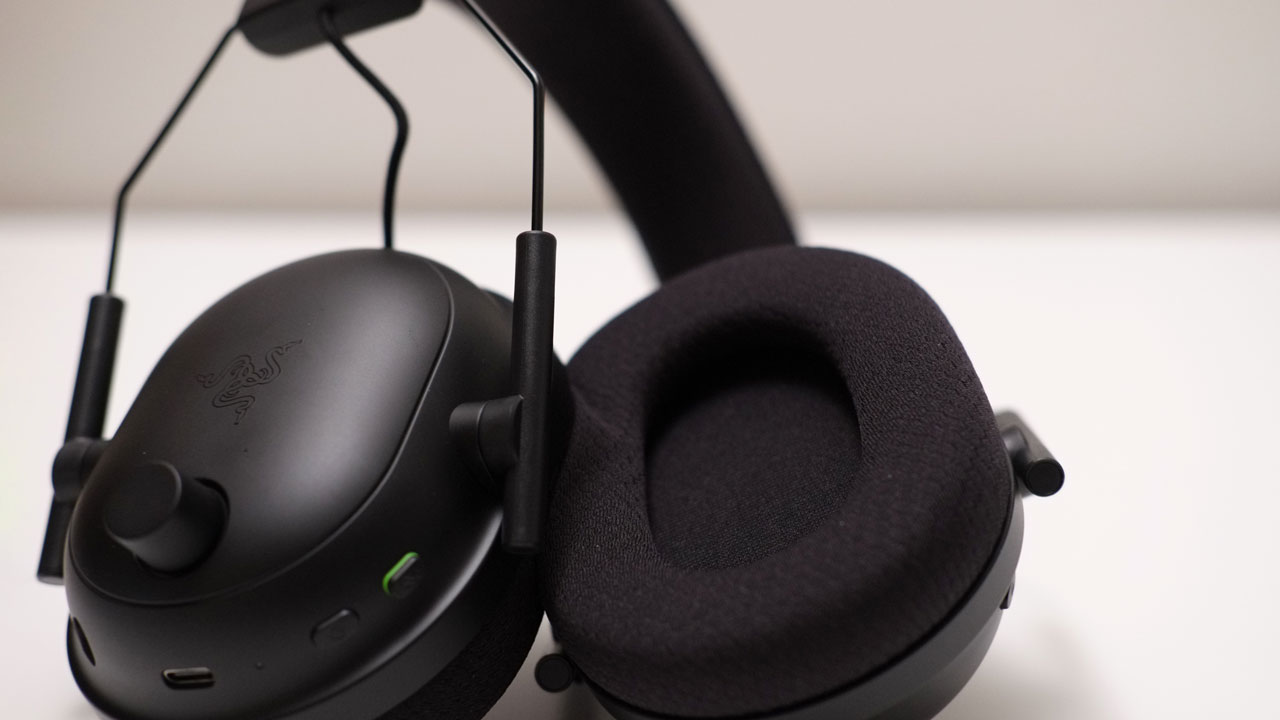 Now, the Razer HyperClear Super Wideband microphone is one of the notable feature updates for this year's BlackShark model. This is a uni-directional cardioid microphone with a flexible boom, noise-cancelling capabilities and even presets via the Razer Synapse. It also comes with a windscreen which is a plus.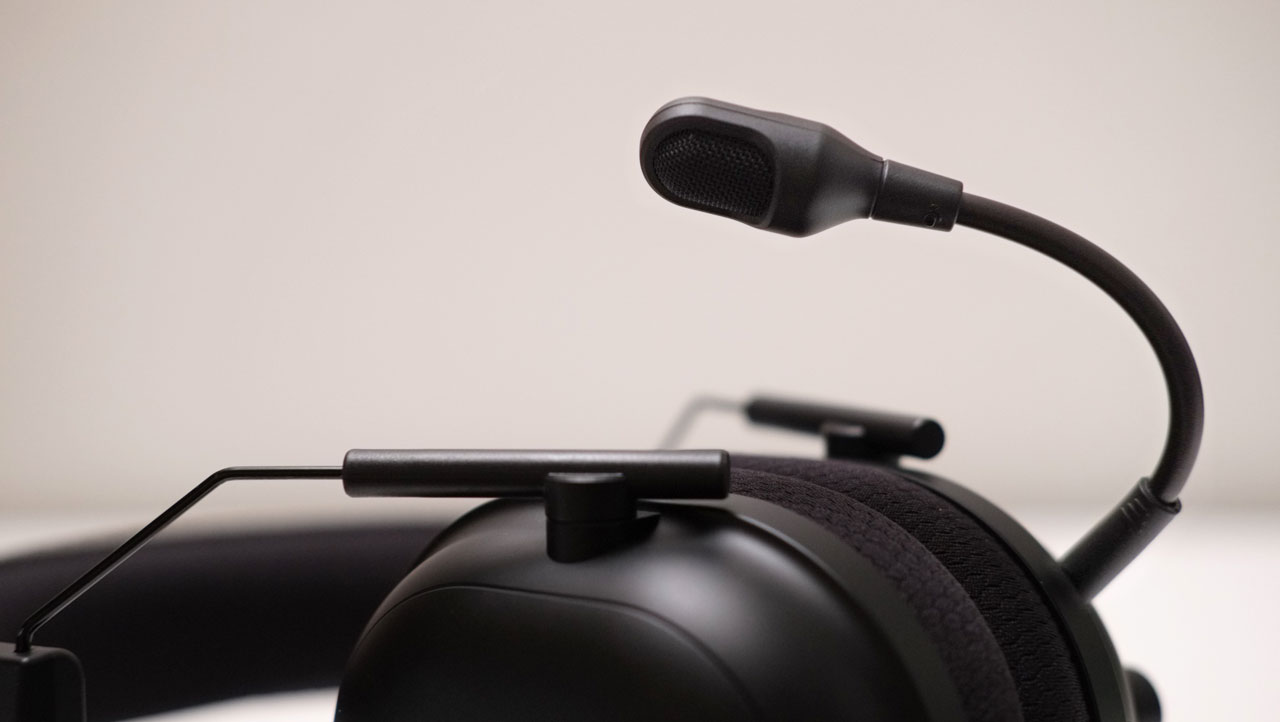 Headset controls and connectivity options are housed mostly on the left coupler – with the exception of the Razer SmartSwitch situated at the right. This makes sense from an ergonomic perspective as you could control the volume, mute the device and power it on or off with a single hand. If there is one I could nitpick to this design, then it would be the volume knob's rotary encoder or its inability to adjust the level in steps of one.
The Razer BlackShark V2 Pro comes with a thumb drive size wireless dongle – most likely designed that way for better range. Razer also added two braided USB cables: one for charging (Type-C) and another (Type-A) for extension.
Overall, the BlackShark's build quality seems to be appropriate for its price. If there's one thing I'd like to see improved, it would be the thin yokes – but that may stiffen the couplers in return and doing so may drastically affect comfort.
Ergonomics
The Razer BlackShark is one of the most comfortable gaming headsets I've worn thus far for a variety of reasons. That includes the weight (320 grams), the breathable and plush paddings, light clamping force and its flexible yokes that conforms to the majority of head sizes.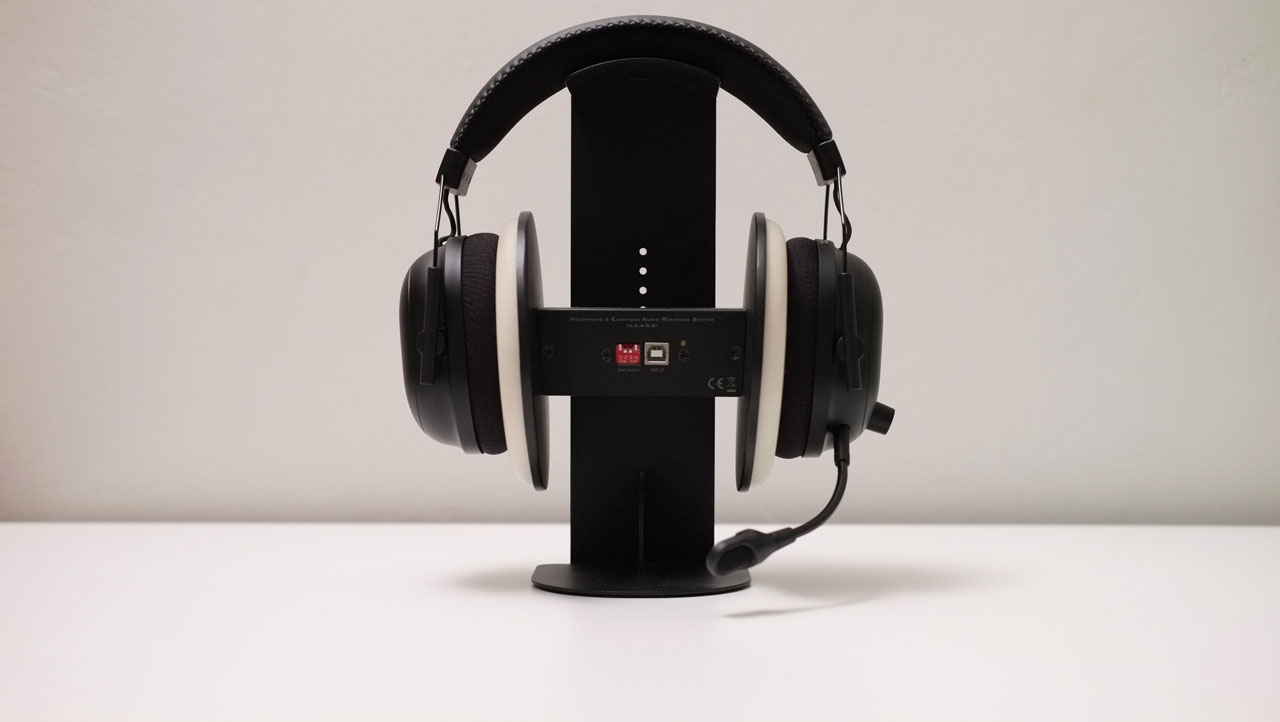 Like many products, the BlackShark is still not perfect. That said, the padding could be deeper – just measuring at about 23 mm on average. That means your ears will most likely touch the resonator or the driver's protective cover.
Frequency Response
Upon successful installation with the Razer Synapse and a swift firmware update, the BlackShark V2 Pro defaults to the Music preset, which is what I felt the most pleasant out of the bunch. It is also the best preset that I could find that somewhat follows our target curve – especially at the treble region. Now, the Razer BlackShark V2 Pro is what I could say a fun and engaging gaming headset – albeit mid-forward at times – and with a few quirks here and there.
As far as presets goes, Game is quite possibly the next best thing, only due to its wonkier bass region. It is also "grainy" in comparison to the Music preset so I'd rather use that over the former. The Music preset is also less focused on the midrange and again, conforms well to our target at the treble region. That's one less area to worry about if you are keen to use an equalizer. Other presets checks out as overbearing so I wouldn't recommend them at all.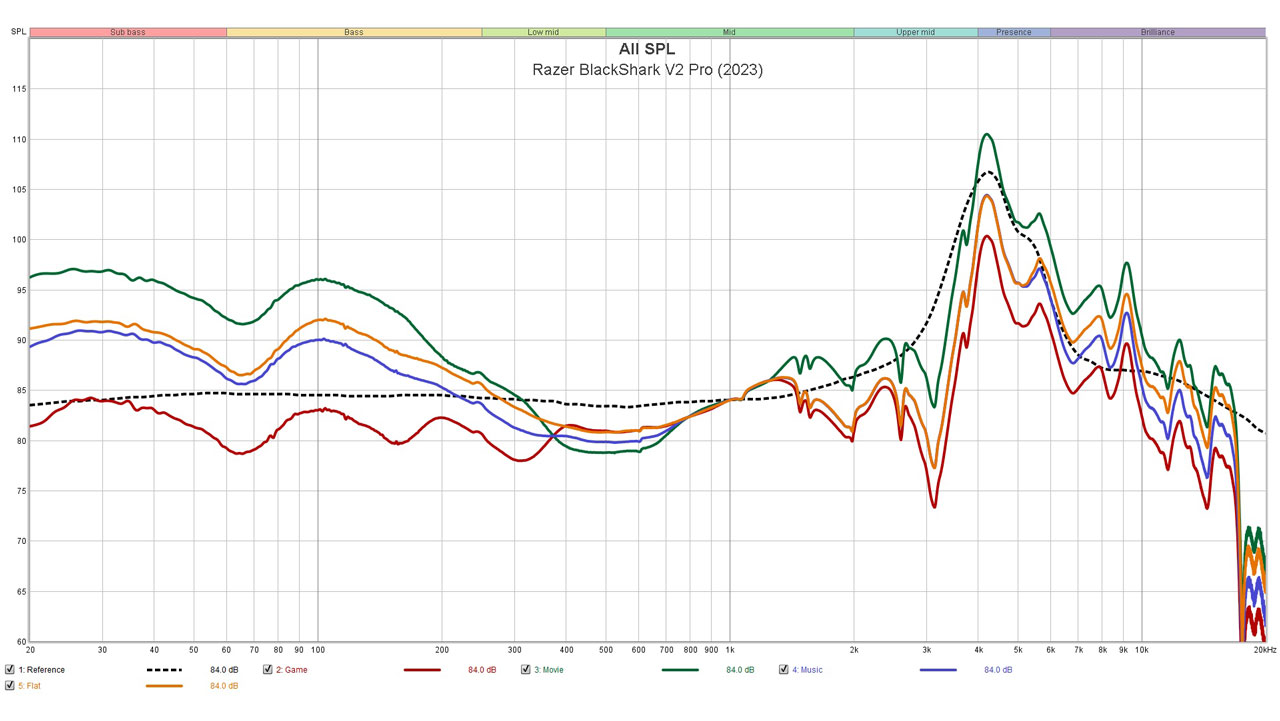 Now on to the tinniest of details (Music preset), the bass region has a wonky response. I wouldn't mind the boost here but the deficiency around 50-90 Hz is a bit unsettling since it is effectively a gap in the spectrum. Still, the bass response in general is acceptable especially for its intended purpose – which is gaming and entertainment in general.
As for the midranges, the headset sports a dip around 200-1,000 Hz. This is followed by a rise in amplitude that peaks at around 1.5 kHz and then proceeds to get messy with more dips and peaks up until the 4 kHz mark. In any case, the midrange may sound shouty – grainy even – at certain recordings due to its wonkiness. This is quite possibly the most problematic area of the headphone – hold that thought.
If there is something I like the most about the BlackShark V2 Pro, it has to be the treble region. While it has its fair share of dips and peaks, it has ample amount of amplitude at the area where the ear gain matters the most. It is also more controlled or rather forgiving over the rest of the frequency band.
Distortion
Distortion is mostly negligible with the exception of the 2-3 kHz region. This is even more apparent at the left channel, shooting over 2% THD. This could explain the anomalies we've seen at the measurement sweeps.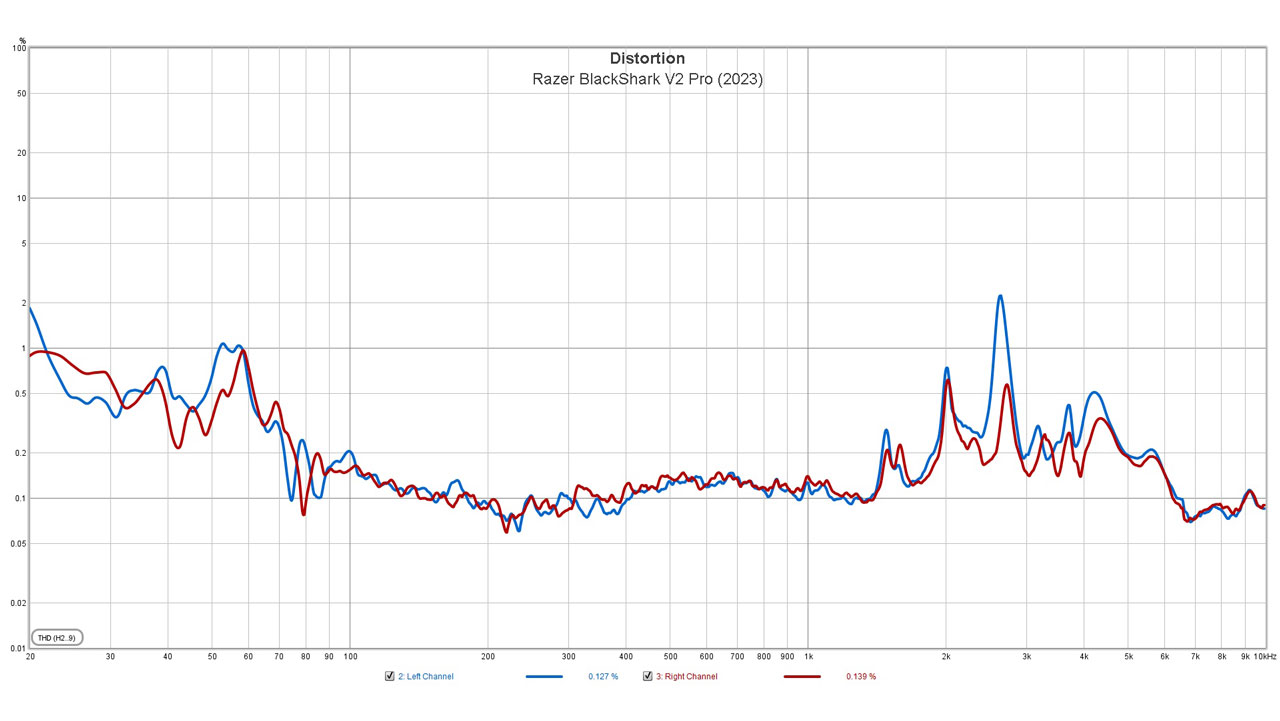 As for the possible reasons, it could be the drivers (similar rise) and or a combination of that and the differences in the coupler's internal design. The latter could be the culprit since the left channel has more stuff packed inside. I could be wrong though since the headset appears to be well dampened based on the spectrogram results down below.
Spectrogram
Time trace (gray dashed line) is mostly flat for both channels with the exception of the sub-bass region. This means it took a considerable amount of time for the signal to reach its peak amplitude at the said region.
As for the spectrogram itself, the left and right channel features lingering energy levels at the sub-bass region, particularly at the boosted areas (prominent on the right channel). This actually translates to our listening experience but it is not as bad as a rear ported pair of speakers against the front wall. If you know, you know.
Attenuation
As for attenuation, we got a 27.5 dBA average noise reduction across the audible band which is great. This is definitely better compared to the last gaming headset I've tested. It has to be expected though since Razer based the BlackShark's design on an aviator headset. It would be hilarious if it does not impress in this regard.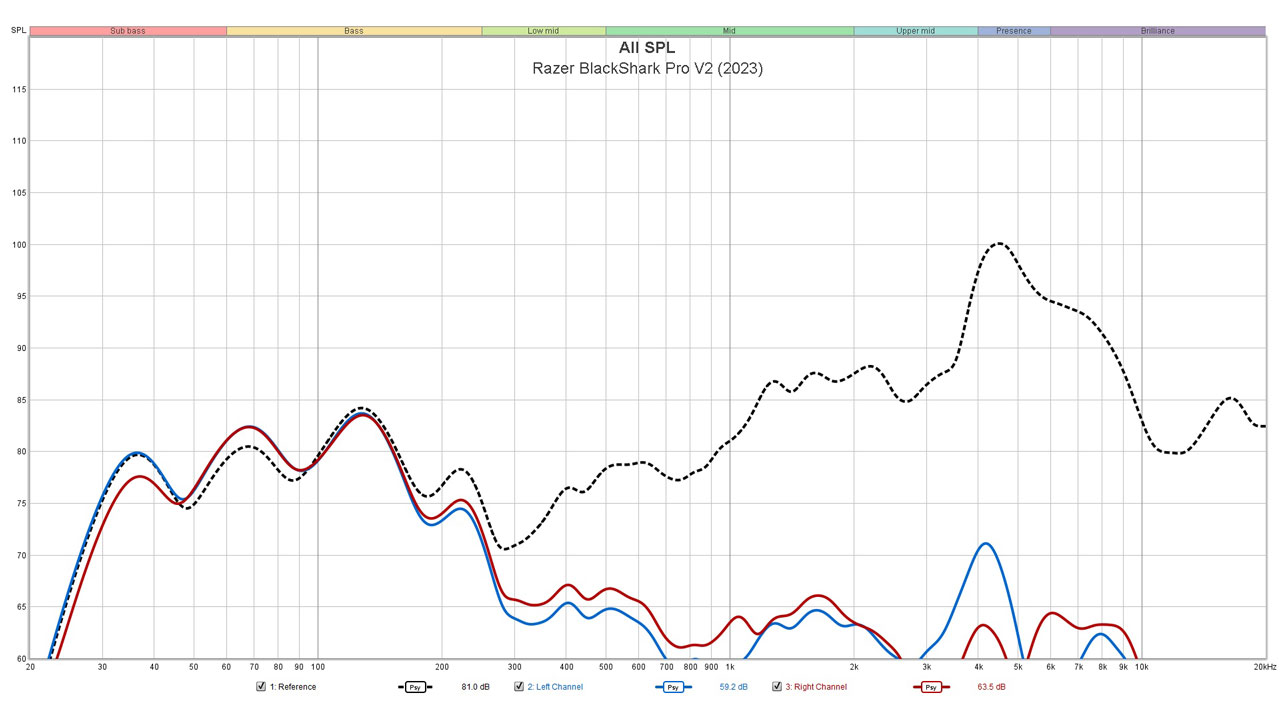 Microphone
On-axis, the HyperClear Super Wideband microphone is mostly flat using the Mic Boost preset – a bit funny considering its name.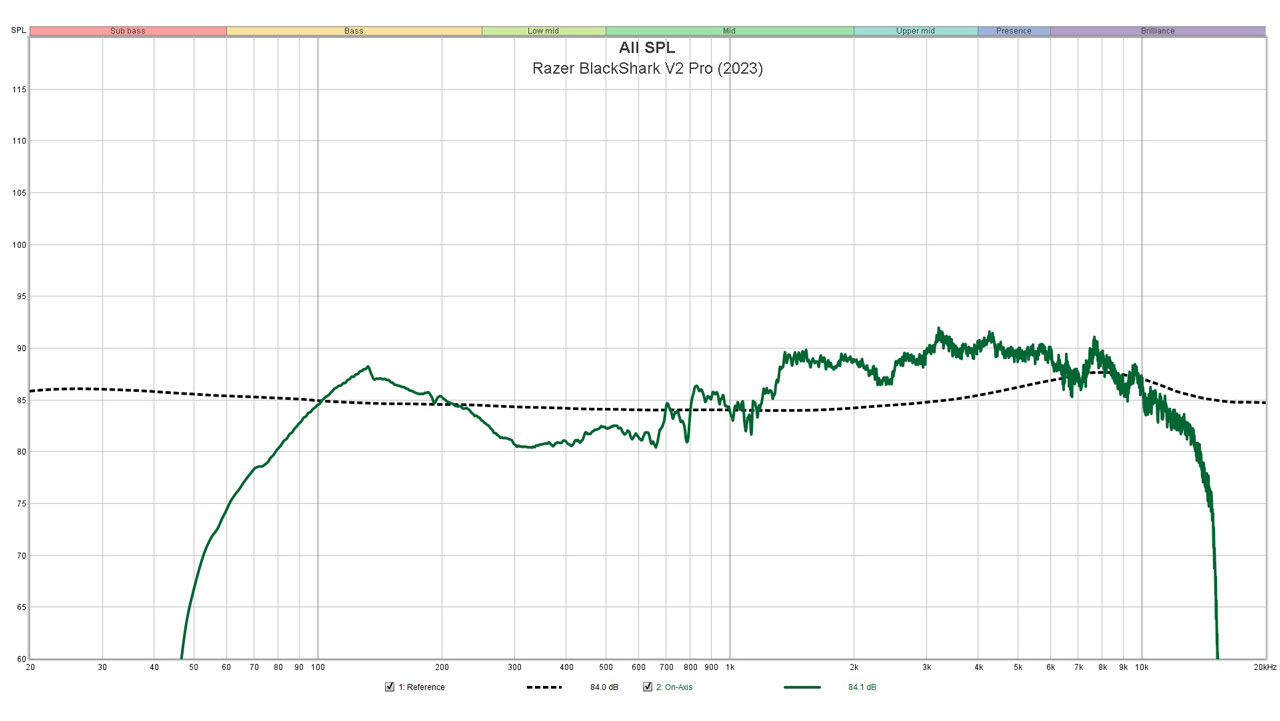 I find the said preset flatter compared to the rest as it handles plosives and lisps better than any other presets – both taken into account. I have heard better (dedicated mics), but this is definitely one of the best as far as gaming headsets are concerned.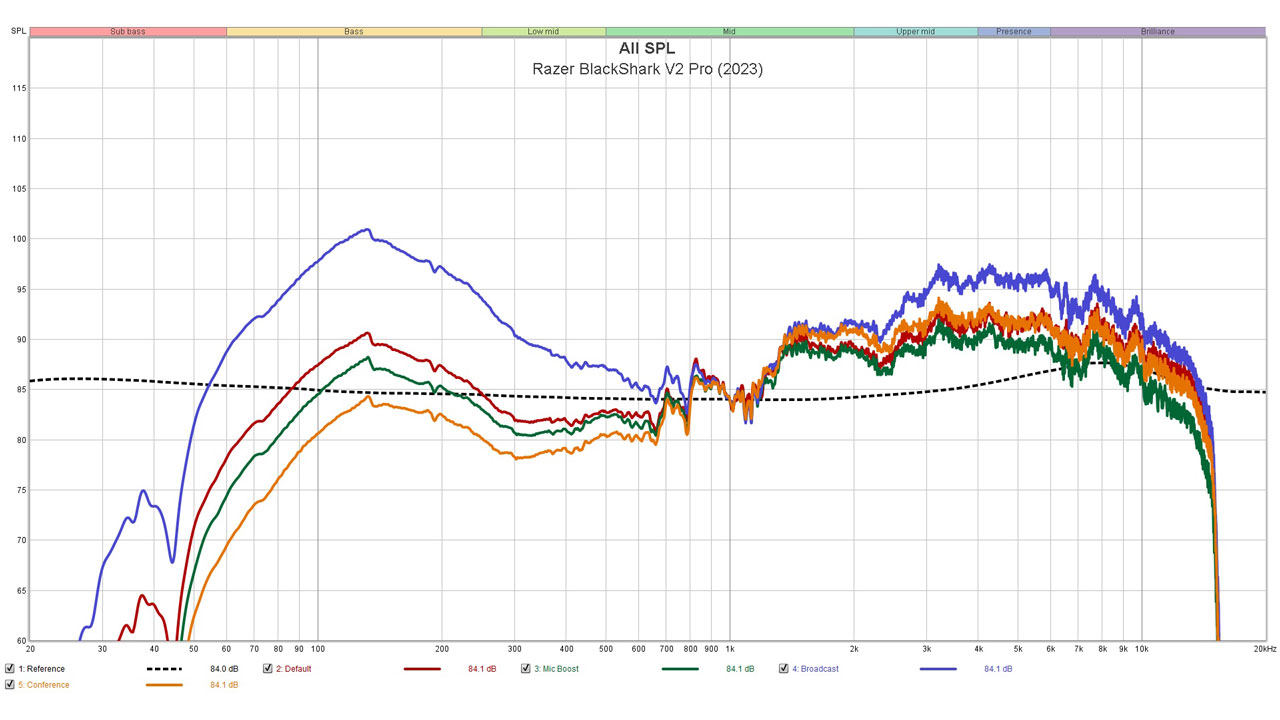 If you want to hear what the microphone sounds like in an ideal or an office environment, please refer to the embedded audio clips below.
Razer's noise cancellation technology appears to dial down the input level whenever there is a background noise or chatter nearby. This is not even worth complaining.
Final Thoughts
The BlackShark family of gaming headsets has been around for years, surpassing each generation with a multitude of improvements. Again, I had little experience with the series, with the last one from a forgotten year model. With that said, I cannot provide a meaningful comparison between the two.
Fast forward to 2023, we now have the latest BlackShark model in the form of the V2 Pro and with proper measurements to boot. This is an expensive headset and with not so favorable experience with older Razer gears (Kraken, Chimaera, Electra), I had my expectations set to middling proportions.
Now as far as audio performance is concerned, I was in for a surprise. It sounds pleasant, has that massive bass boost that most gamers would love and it isn't actually shrill at the top-end. Just don't expect it to beat similarly priced reference headphones (Sennheiser HD6XX) so curb your enthusiasm. The BlackShark V2 Pro is after all, a gaming headset that does more – midrange wonkiness aside.
For starters, what you are going to receive is not just a simple gaming headset. It comes with support for Razer's eco-system and that includes 3rd party applications aside from Synapse. Speaking, the Razer Synapse offers tons of customization options, granting its owners the capabilities to call the headset truly of their own. I am even surprised to see presets for games that you could, of course, toggle with a push of a button.
The microphone is yet another win for this BlackShark model. Razer even went the extra mile to add EQ presets for it as well.
The good stuff doesn't end there as it supports Bluetooth 5.2. That means you could use it with any compatible devices. Now with enough juice, it is also able to run for at least a week – completely destroying my go to wireless headphones (Bose 700) in that metric. It actually replaced a bunch of stuff that would otherwise still loiter on my desk.
In closing, the Razer BlackShark V2 Pro is a complete package. We could say that it is a jack of all trades – something that I never though I would say for a Razer product. Times have changed for the better, I guess!
Razer BlackShark V2 Pro (2023)
$199.99 USD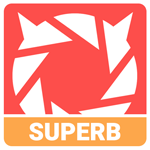 Product Name: Razer BlackShark V2 Pro (2023)
Product Description: If esports is your calling, answer it with the ultimate wireless headset for competitive play, designed in collaboration with top esports pros. Engineered for pure performance, get the complete package of crystal-clear audio, advanced noise isolation, and all-day comfort with the multi-award-winning Razer BlackShark V2 Pro.
Brand: Razer
Summary
The Razer BlackShark V2 Pro (2023) is not perfect, has its fair amount of quirks – be it positive or negative. Still, for what it offered in return, color me impressed.