HyperX sent us the Cloud Stinger 2 Core for a much needed review. It comes with a $30 USD price point or about ₱1,790 PHP locally, making it an ideal candidate for budget conscious gamers.
The Cloud Stinger 2 Core is basically the Stinger 2 but without the cup swivel mechanism and with a smaller pair of drivers, measuring at 40 mm in diameter. Now while the Core model is definitely "cheaper" due to the changes made, it does not automatically translate into an inferior product.
Disclosure: HyperX sent the Cloud Stinger 2 Core for the purpose of this review. The company did not ask me to say anything particular about it.
Technical Specifications
Headphone
Design
Over-ear, Closed-back
Transducer
40 mm, Dynamic
Frequency Response
10-25,000 Hz
Impedance
32.5 Ω
Sensitivity
95 dBSPL/mW @ 1 kHz
THD
≤ 2%
Connectivity
3.5 mm (TRRS)
Microphone
Transducer
Electret
Polar Pattern
Bi-directional
Frequency Response
100-15,600 Hz
Sensitivity
-40.5 dBV
Dimensions
Length
N/A
Width
N/A
Height
N/A
Weight
272 g
Packaging and Accessories
The Cloud Stinger 2 Core comes in a simple two-part boxed packaging.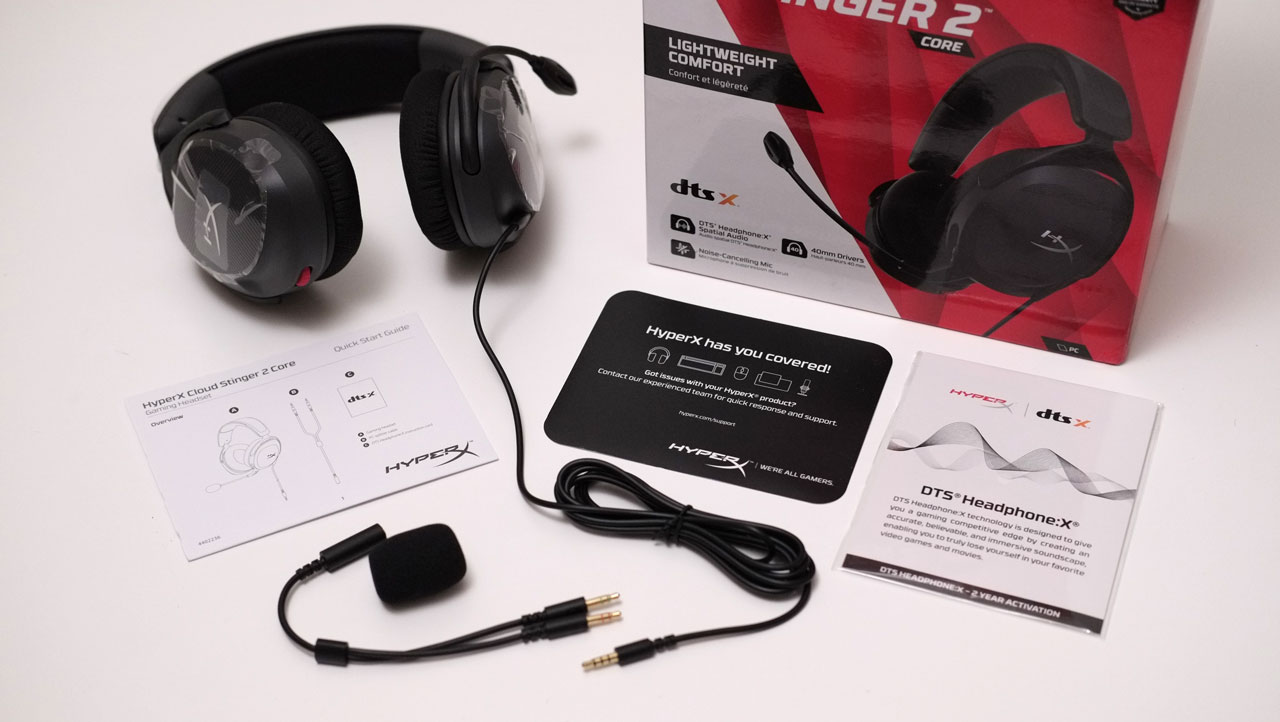 Scope of delivery are as follows:
HyperX Cloud Stinger 2 Core gaming headset
TRRS-F to 2x TRRS-M splitter cable
Microphone windscreen
Documentation(s)
The Stinger 2 Core has a decent amount of bundled accessories. That includes a 2-year subscription of DTS Headphone:X.
Design, Build and Connectivity
The HyperX Cloud Stinger 2 Core is a sleek looking headset, featuring a much needed facelift over its predecessor's now aging looks. This comes in a single colorway which is gunmetal grey with a dash of black.
Since they share the same branding, It makes sense that the Stinger 2 series follows the design elements of the Cloud III – down to its coupler design. I am not entirely sure if the perforated cloth pads are of the same size though so please do not quote me on that one.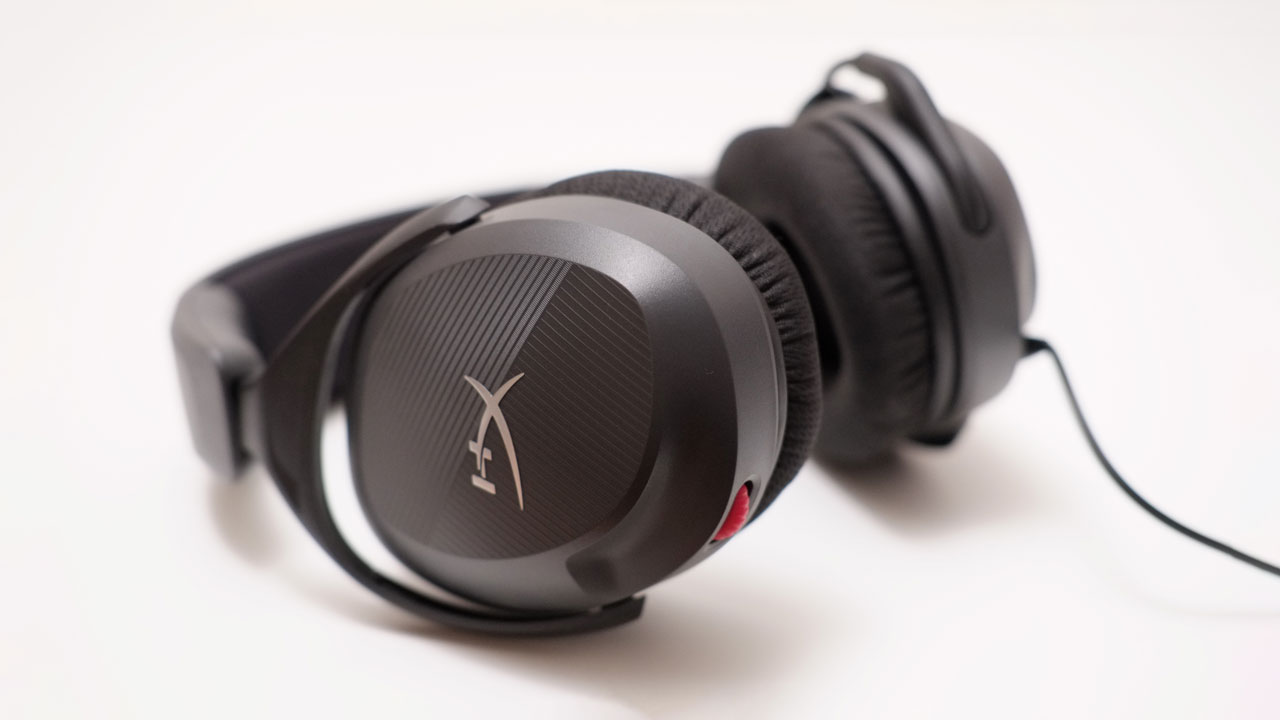 HyperX opted for a bi-directional electret condenser for the Stinger 2 Core's microphone. This design should help with noise cancellation and yet it is non-removable. In exchange, it supports a flip-to-mute function and comes with its own windscreen from the factory. There is no in-line control for the microphone though – but you do get one for the output via a volume control wheel.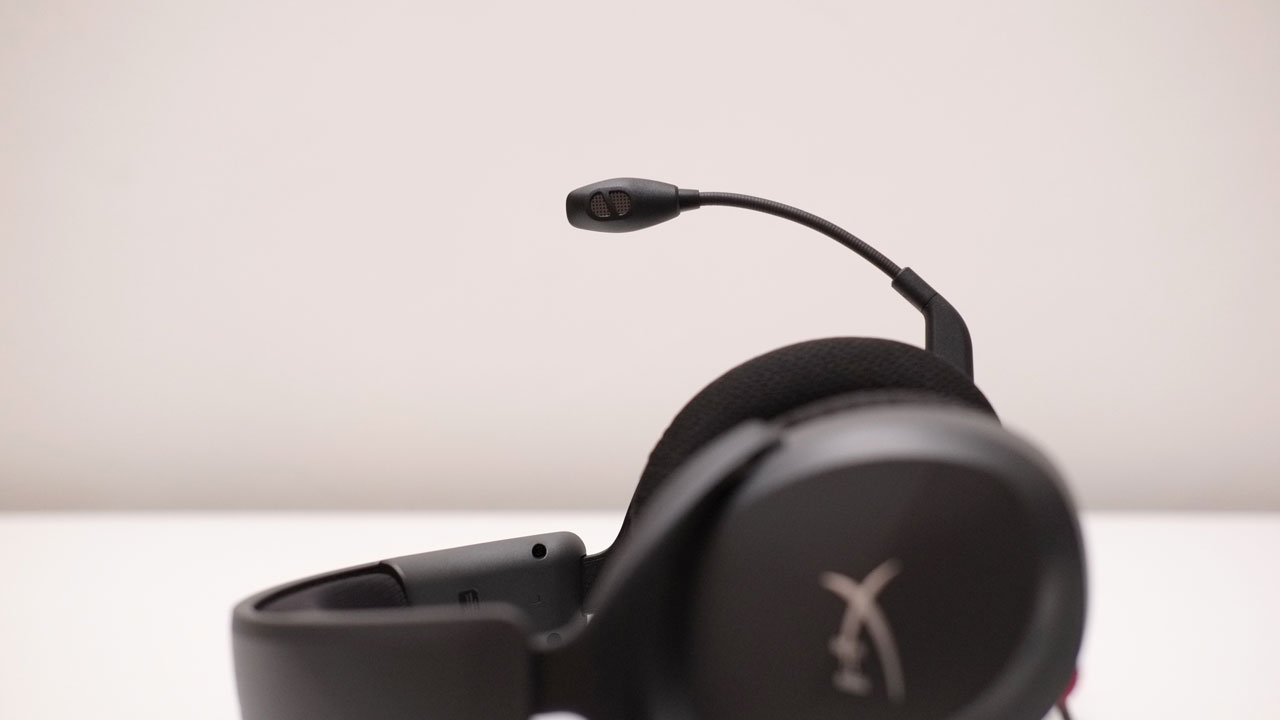 The cable is also non-removable but that is expected at its price-point. Regardless, it is a two meter long cable (+20 cm with the splitter) so you have plenty of length to play with. I also like that it is simple, doesn't kink much and has minor microphonics.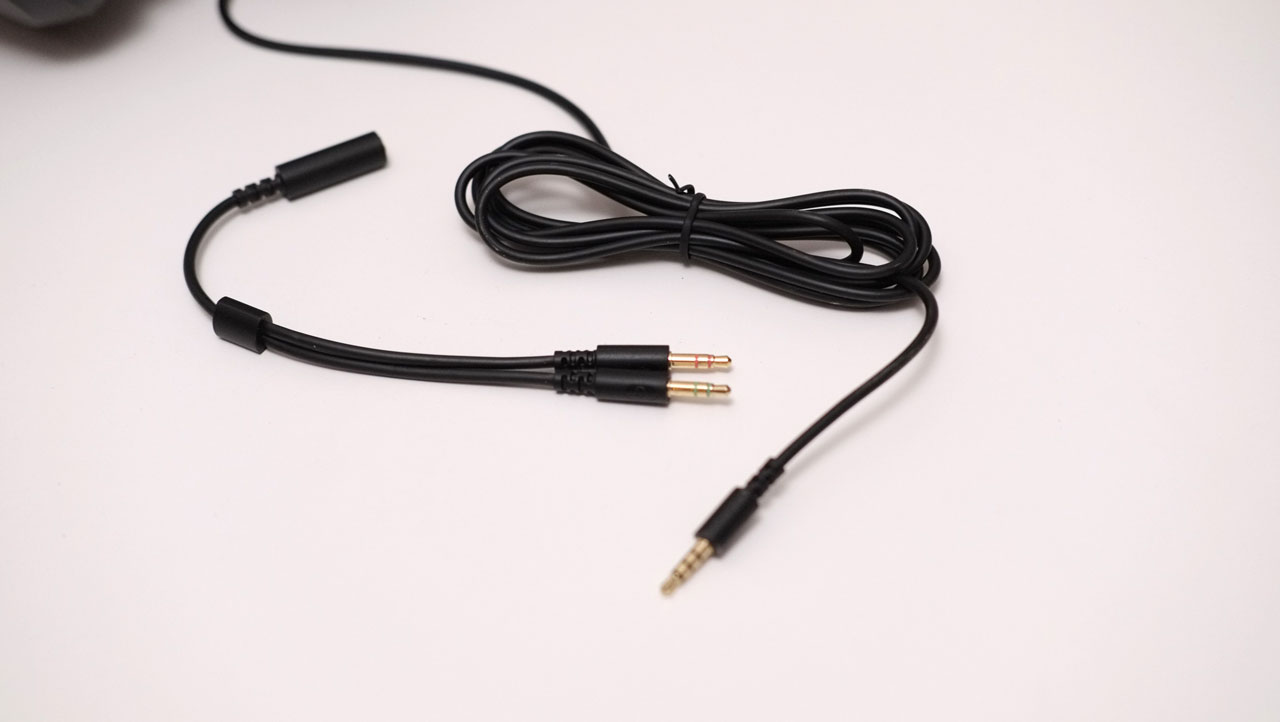 The Cloud Stinger 2 Core is a major overhaul over its predecessor's design. Build quality is better too – except maybe for the skinnier plastic hinges. Other than that, I have no extras to complain.
Ergonomics
Comfort or lack-there-of could make or break a headset. On that note, I am happy to report that the Cloud Stinger 2 Core is pleasant enough for my 56 cm noggin. The headset achieved this due to its sub 300 gram weight, together with a light clamping force and a bit of swivel – all by design. Now, the only things you need to watch out for are the pad's depth and materials. They measure about 25 mm at their deepest but they do get shallower towards the center, peaking at 20 mm due to the driver's frame/cover design. The materials used are also not suited for gamers with glasses as the rather stiff foam do not sit well with them – breaking the seal required for the sub-bass.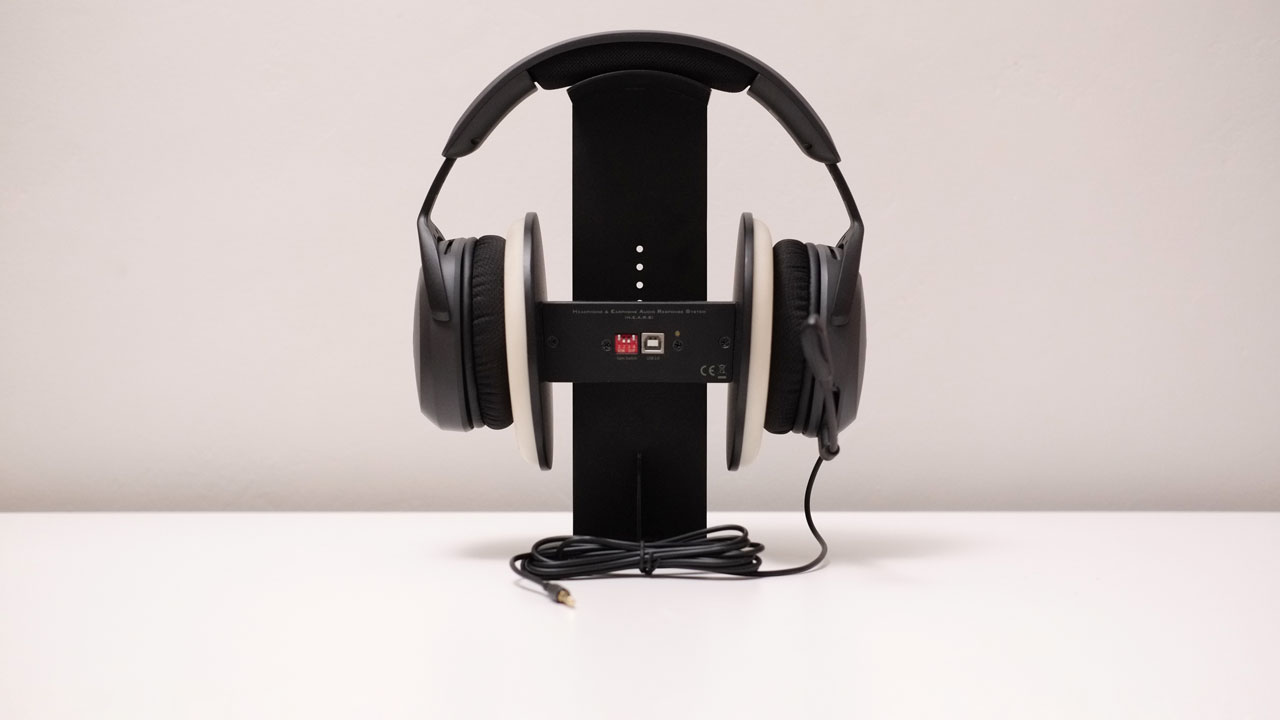 As for mechanical vibrations, they are very minimal. Definitely not even close to insanity like some gaming headsets I've tested prior.
Frequency Response
The HyperX Cloud Stinger 2 Core follows our reference target curve but in a loose manner. We see dips and peaks all over the frequency band, along with boosted bands and deficiencies. This is not a bad frequency response, as it will definitely sound pleasant at the expense of accuracy. I.e., the combination of bass boost, smooth treble and a bit of spice towards the limit of our hearing range.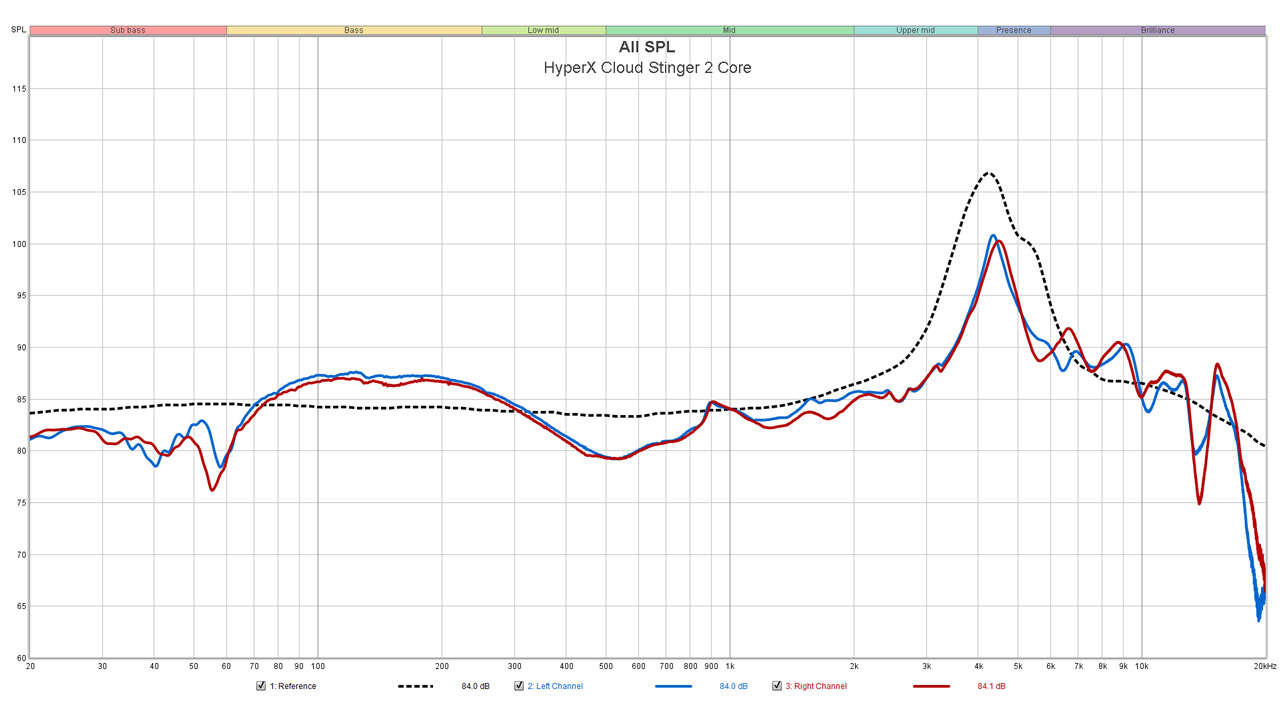 The bass region has a boost extending all the way to the lower midranges which might sound pleasant to some, if not most. It also comes with a decent sub-bass frequency response but it is rather inconsistent and lacks control for my liking. The said band also has a dip between 50 Hz and 60 Hz; a possible resonance brought by its coupler's closed-back design.
As for the midranges, I have no major complaints other than the massive dip at the lower mids, the peak at 900 Hz and the deficiency at the upper mids. The dip accentuates the bass at the expense of possible hollowness, while the peak may introduce a bit of nasality or even forward sounding vocals due to the tame 4.5 kHz response.
Now the lower treble is relatively smooth with a couple of decibels down at the ear gain, similar to the upper midrange – completely ruling out sibilance. This is followed by peaks at the upper-treble region, adding airiness without sounding harsh, nor piercing; a quality you wouldn't find on most sub $30 USD gaming headsets.
Distortion
Compared to the left, the right channel has higher distortion levels, yet these differences are negligible. That said, THD is mostly under 2% which is in-line with HyperX's claimed specifications.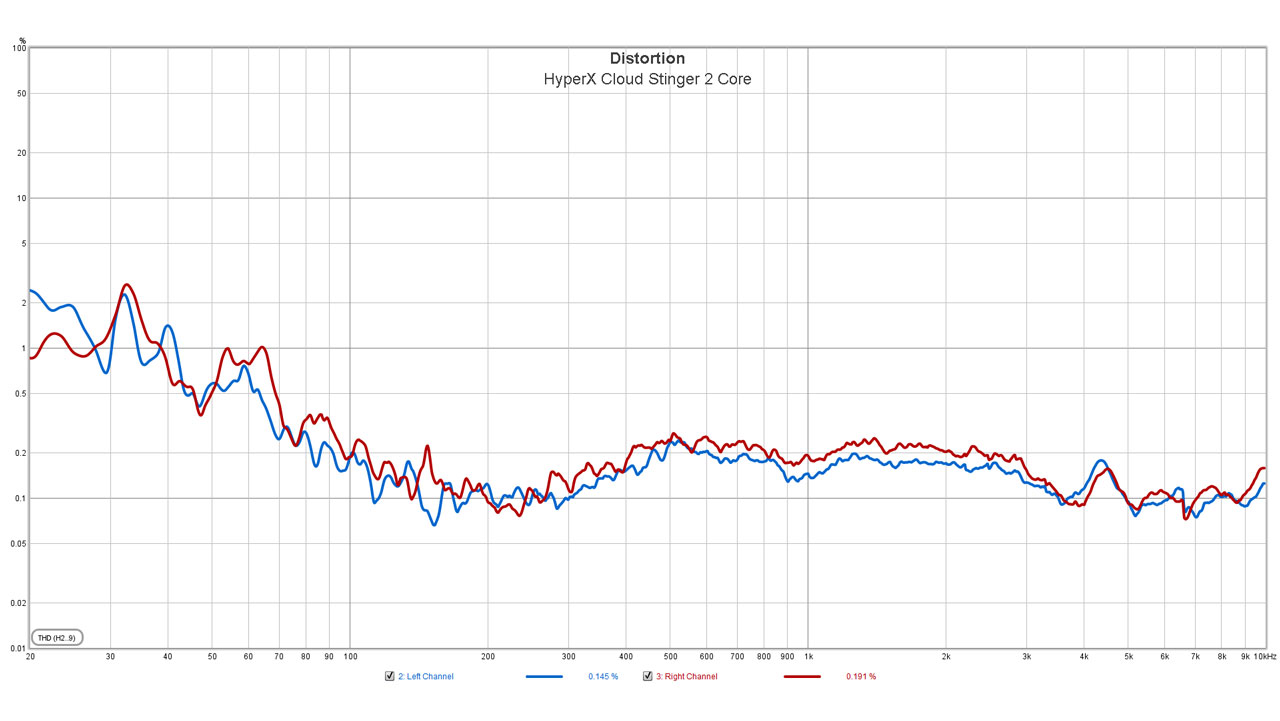 Spectrogram
Starting with the spectrogram's peak energy time, the HyperX Cloud Stinger 2 Core comes with a relatively flat time trace (gray dashed line) for both channels. This means that it is almost ideal across the frequency band with the exception of the bass region – possibly due to resonance.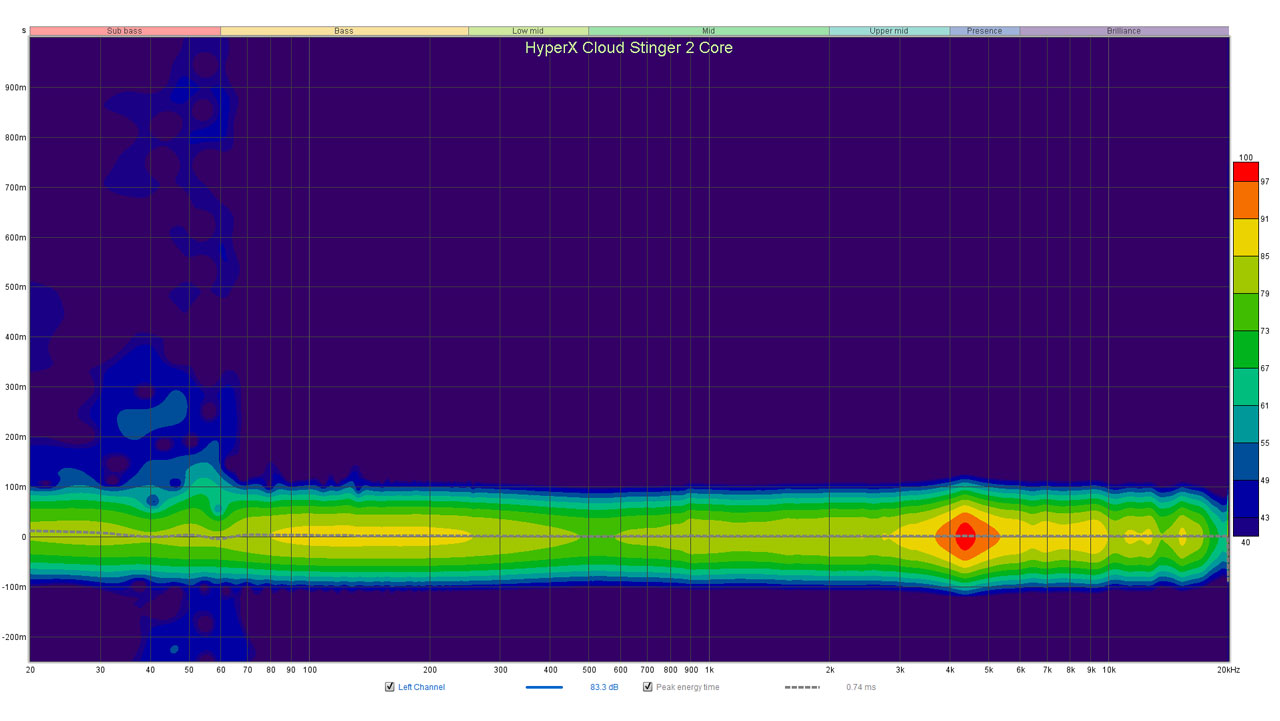 Now we could see a lot of amplitude patches (especially at the left channel) from the sub-bass range at the time domain axis, even stretching out to 1000 ms. Where we want to put our focus though are the pockets where the signal should have already decayed. I.e., the area surrounding the pockets at the 30-60 Hz region under the 400 ms time domain. These could be a by-product of the driver, the coupler, materials used, dampening or all of the above. This is definitely my main gripe about the Stinger 2 Core but still, look at the rest of the response!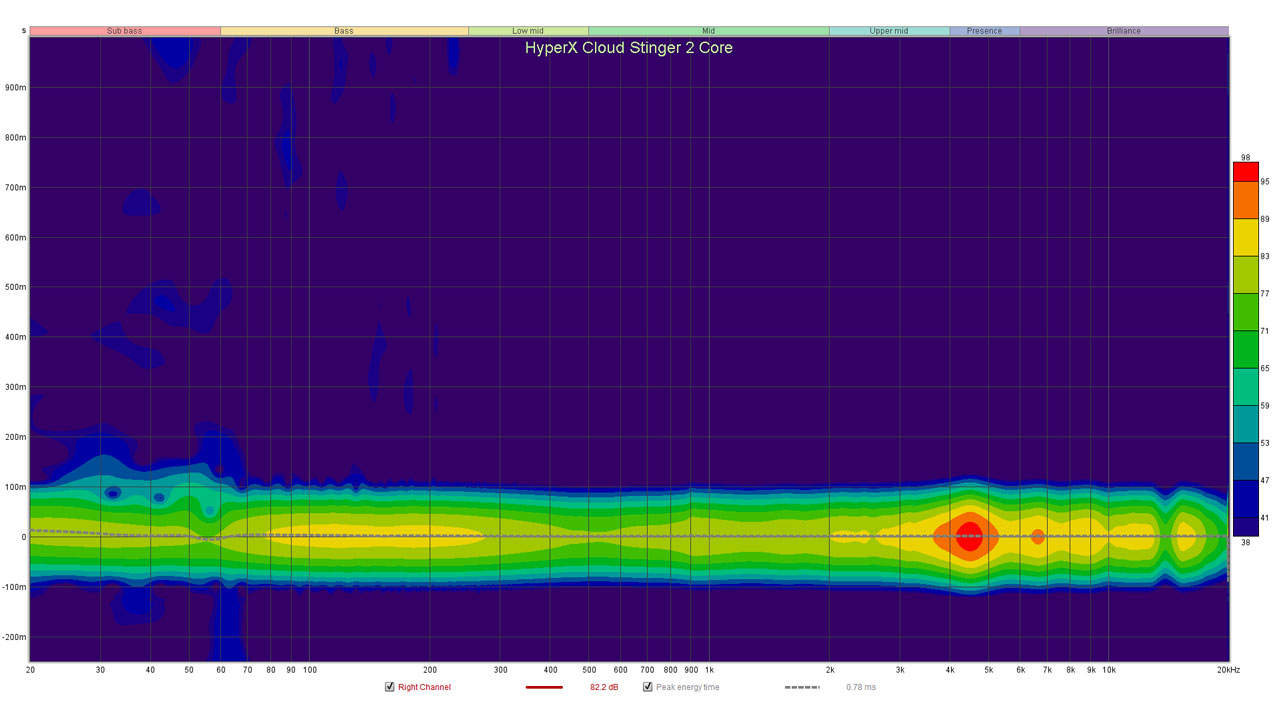 Attenuation
Now as far as attenuation is concerned, we got a 20.1 dB average noise reduction throughout the audible band. I expected such passive noise-cancellation performance from a closed-back gaming headset. That said, the Stinger 2 Core passed with flying colors in this particular test.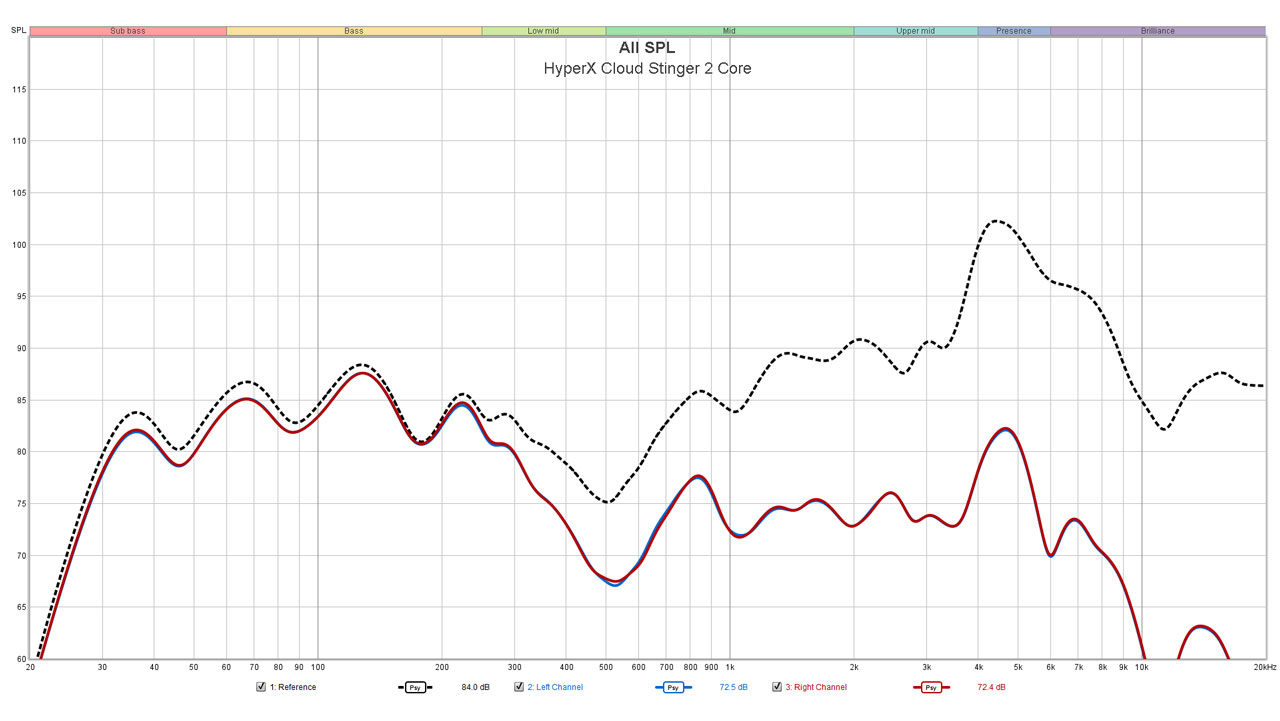 Microphone
Out of all sub $30 USD gaming headsets I've tested, the bi-directional electret microphone from the Stinger 2 Core is probably the best I have heard so far – but with a small caveat. On-axis, it comes with an accentuated midrange and treble area, providing a bit of sibilance and more bite into those ranges. Now as for the caveat, the microphone has a relatively low output compared to other sets due to its sensitivity. This is fine for the majority as microphone inputs nowadays do feature gain controls and even automated adjustments via impedance sensing.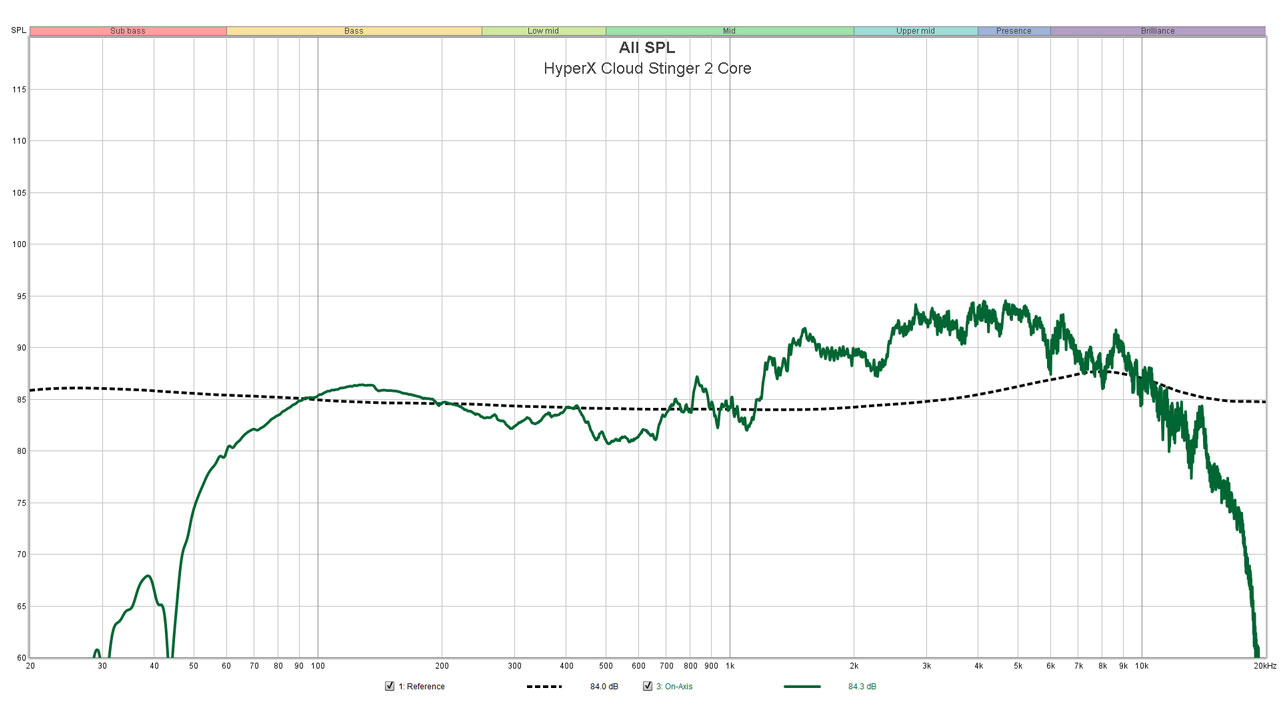 If you want to hear what the microphone sounds like in an ideal or an office environment, please refer to the embedded audio clips below.
Final Thoughts
The HyperX Cloud Stinger 2 Core means business. This is a sub $30 USD gaming headset that comes with enough oomph (actually more than enough) at the low-end, has an acceptable midrange and butter smooth upper midrange up to the lower treble area along with a bit of airiness. For a budget oriented gaming headset – and a closed-back design at that – this is sorta unheard of. The microphone's performance is also surprisingly good which is not what I expected at all. Apologies HyperX, as I have set my expectations low.
Like many products though, the Stinger 2 Core is not perfect. For starters, it is not ideal for gamers with glasses so you have to buy a compatible pad with softer materials just to keep the seal. HyperX also boosted the bass, made both the upper midrange and lower treble deficient (but with proper ear gain) for smoothness – all at the expense of accuracy. Lucky for us, parametric EQ do exist.
In closing, the HyperX Stinger 2 Core at $30 USD (₱1,790 PHP) is one of the best gaming headsets that you could get at its bracket. A true a gem in an arena full of dumpster fire inducing products.
HyperX Cloud Stinger 2 Core
$29.99 USD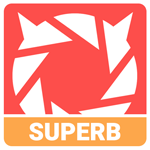 Product Name: HyperX Cloud Stinger 2 Core
Product Description: The HyperX Cloud Stinger 2 Core is the essential entry-level headset at an affordable price.
Brand: HyperX
Summary
The HyperX Cloud Stinger 2 Core is definitely set to sting at $30 USD, featuring a performance and build quality appropriate for products at least twice or maybe even thrice its price. It sets a new standard for budget oriented gaming headsets.