Continuing our review of the AMD B550 chipset motherboards is the ASRock B550 PG Velocita. A sub $300 USD (13, 800 PHP locally) motherboard catered for the latest and next generation AMD Ryzen CPUs.

The ASRock B550 PG Velocita is an ATX motherboard with a lot to offer. That includes a beefy VRM with appropriate cooling to match, RGB lighting on-board, 2.5Gbps LAN and a number of USB 3.2 ports for blazing fast connectivity.
Technical Specifications
Processor
CPU
AMD Ryzen 3rd Generation
Chipset
AMD B550
Memory
SDRAM
DDR4 (ECC, Non-ECC)
Slot
4x LO-DIMM
Channel
Dual Channel
Frequency
3200MHz (4733MHz OC)
Capacity
128GB
Graphics
GPU
Ryzen 3rd Generation
Display Output
1x HDMI
Multi-GPU
4-Way AMD CrossFire
Expansion
PCI Express
1x PCIe 4.0 x16, 2x PCIe 3.0 x16,  2x PCIe 3.0 x1, 1x M.2 2230
Storage
SATA
6x SATA
M.2
1x PCIe 4.0 x4, 1x PCIe 3.0 x2
RAID
RAID 0, RAID 1, RAID 10
Network
Wired
1x Dragon RTL8125BG
Wireless
N/A
Audio
Codec
Realtek ALC1220 Codec
Channel
7.1
USB
USB 2.0
4x External, 4x Internal
USB 3.0
2x External, 2x Internal
USB 3.2
2x External, 1x Internal
Dimensions
Length
305mm
Width
244mm
Height
45mm
Weight
N/A
Packaging and Accessories
The ASRock B550 PG Velocita comes packed inside the usual dual compartment, foam reinforced packaging exclusive for ASRock. It comes with the following accessories and documentations inside:
Quick Installation Guide,
Support CD
4x SATA Data Cables
3x Screws for M.2 Sockets
2x Standoffs for M.2 Sockets
Nothing really fancy here. Just your usual motherboard stuff.
Design, Layout and Build Quality
ASRock designed the B550 PG Velocita with cooling in mind – as far as the eyes could see. This is a beefy ATX motherboard with a visible overclocking pedigree attached.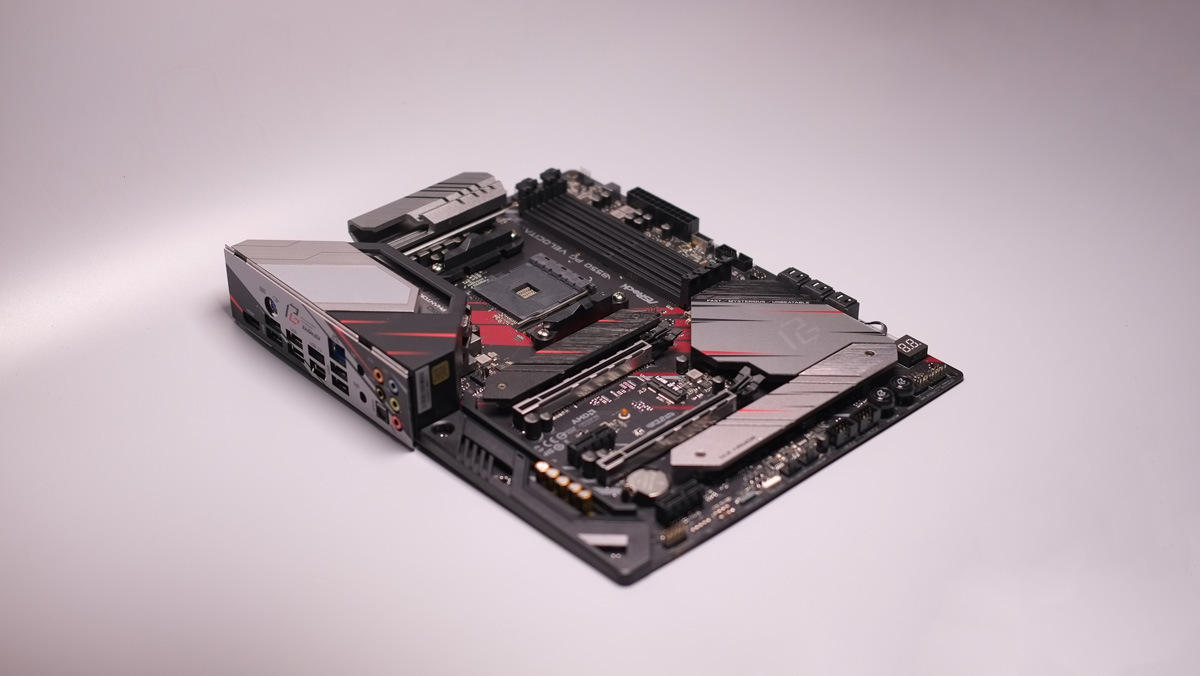 Motherboard layout is pretty good – which is something you should expect at this form factor and price point. VRM area in particular is devoid of any headers or anything that would compromise cooling in general. Pretty clean and spacious, actually.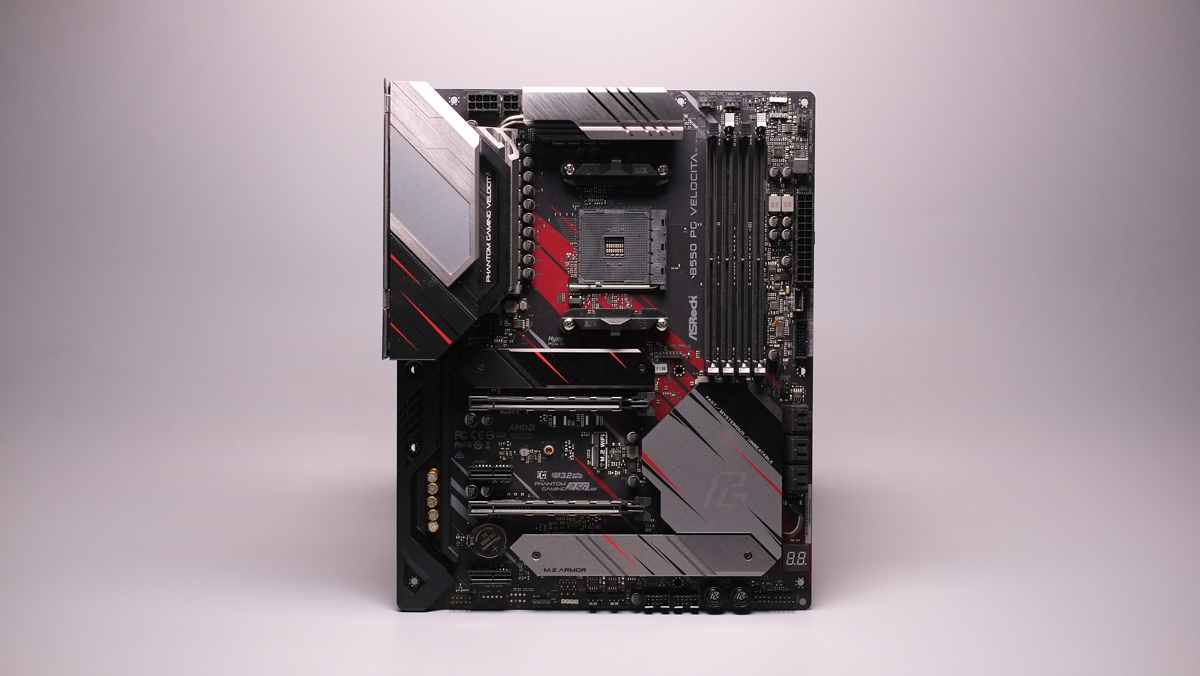 The back of the board features a steel brace for the self adjusting IO shield. At this area, we could also see the electrical layout of the PCIe slots. We have the PCIe 4.0 x16, PCIe 3.0 x1, PCIe 3.0 x4 and another PCIe 3.0 x1 all in order.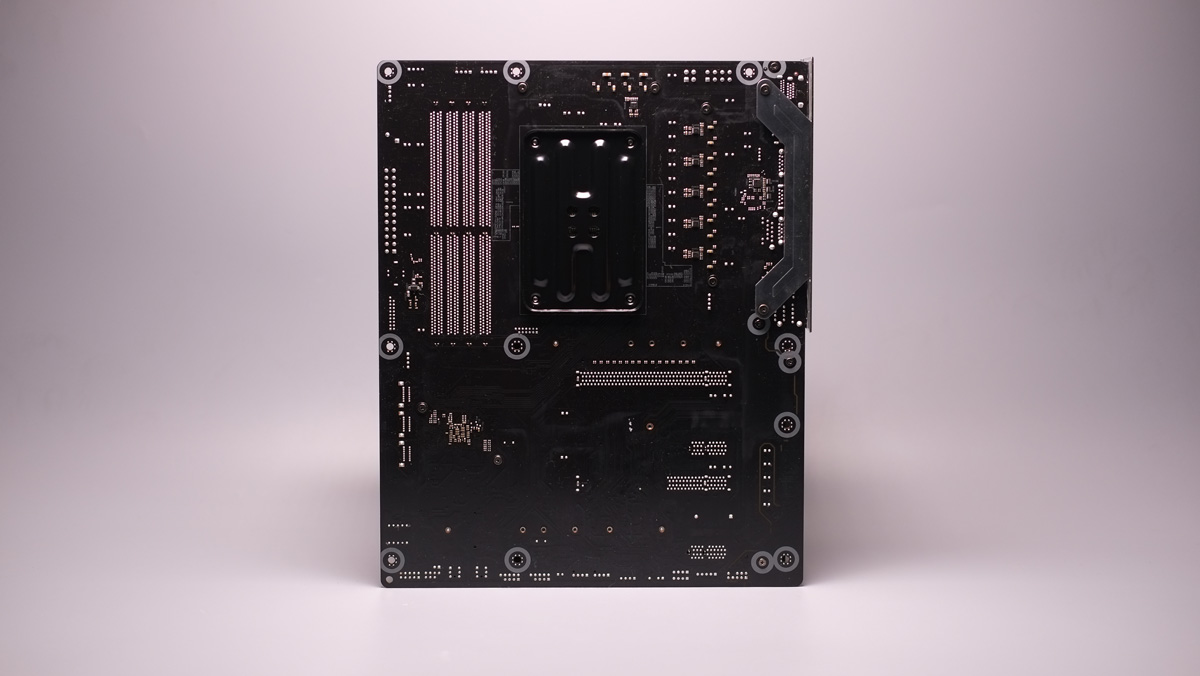 The ASRock B550 PG Velocita is a cut above many B550 motherboards with a souped up power delivery, featuring 14 phases of power supplied by a combination of 8 and 4 pin EPS.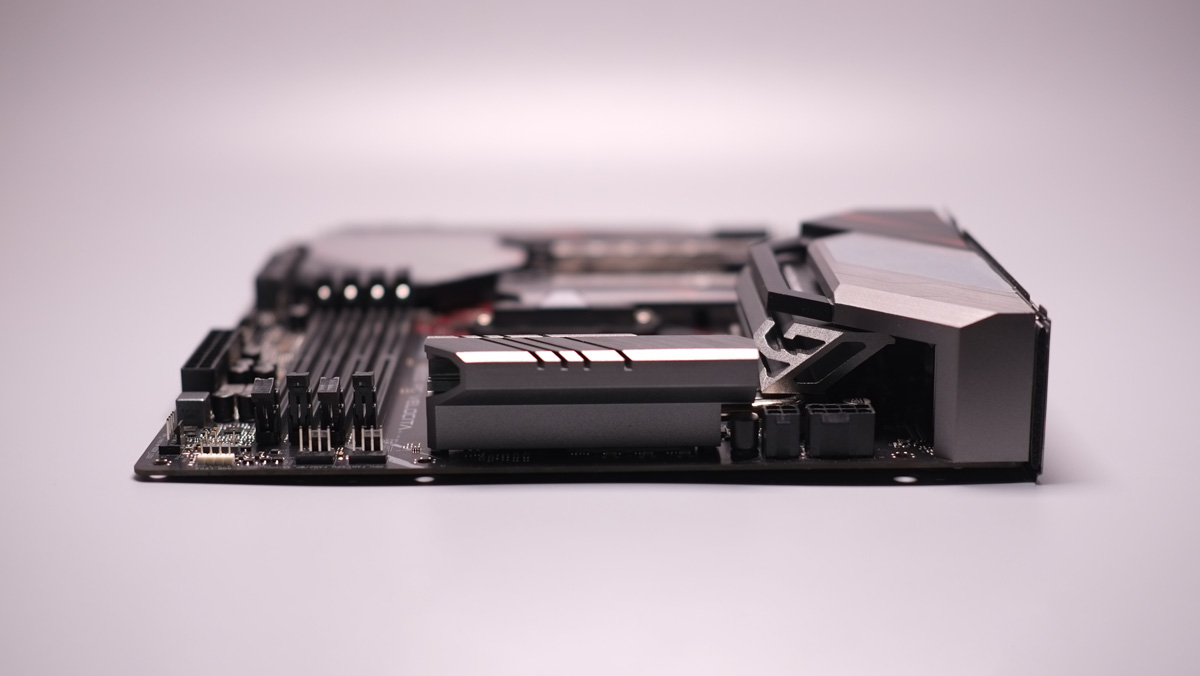 The right side of the board houses the usual storage interface related stuff but with a debug LED and a much appreciated USB 3.2 header.
As usual, the bottom part is jam packed with the usual assortment of headers with reset and power buttons for test benches and open air cases.
Back panel options are great, although ASRock should've just included a Wi-Fi module in the first place. You have the option to do so via the M.2 slot around this area. Note that it supports M.2 cards in 2230 form factor.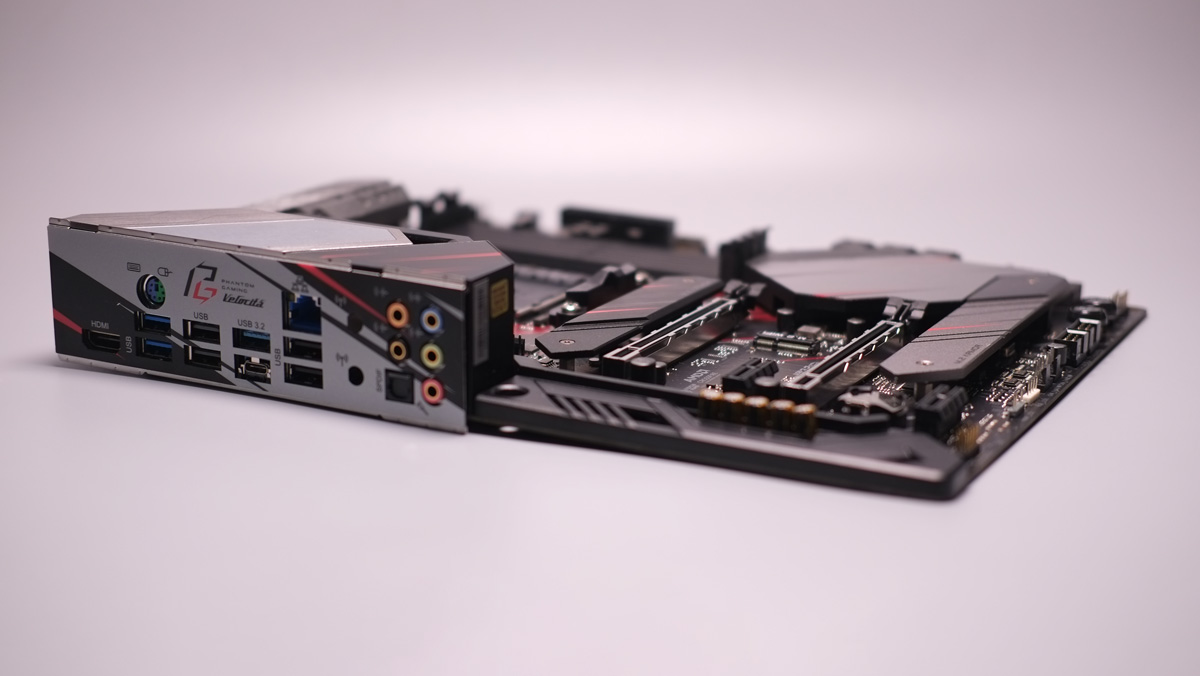 Firmware Interface
ASRock went classic with the UEFI of the B550 PG Velocita. It supports 16:9 which is always a plus and is pretty smooth to use with the mouse.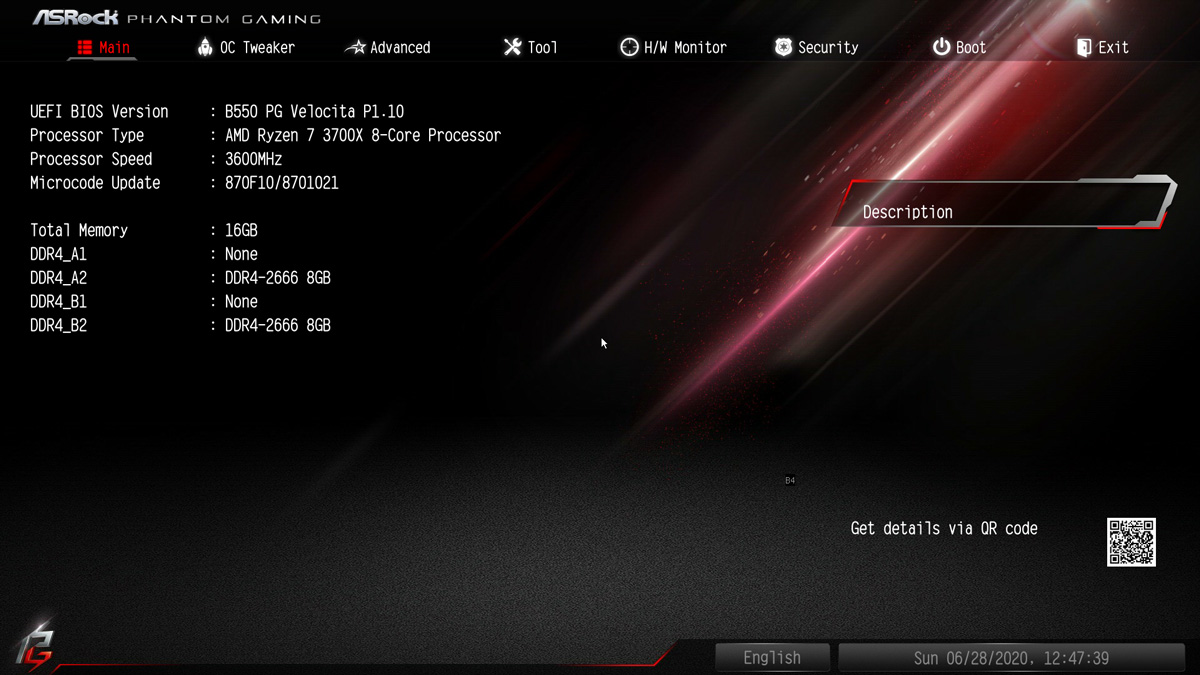 There are 8 main menus here with the OC Tweaker as the most important one for overclocking and fine tuning purposes. ASRock even made the option to tinker with AMD's Infinity Fabric/Architecture within this menu very much accessible.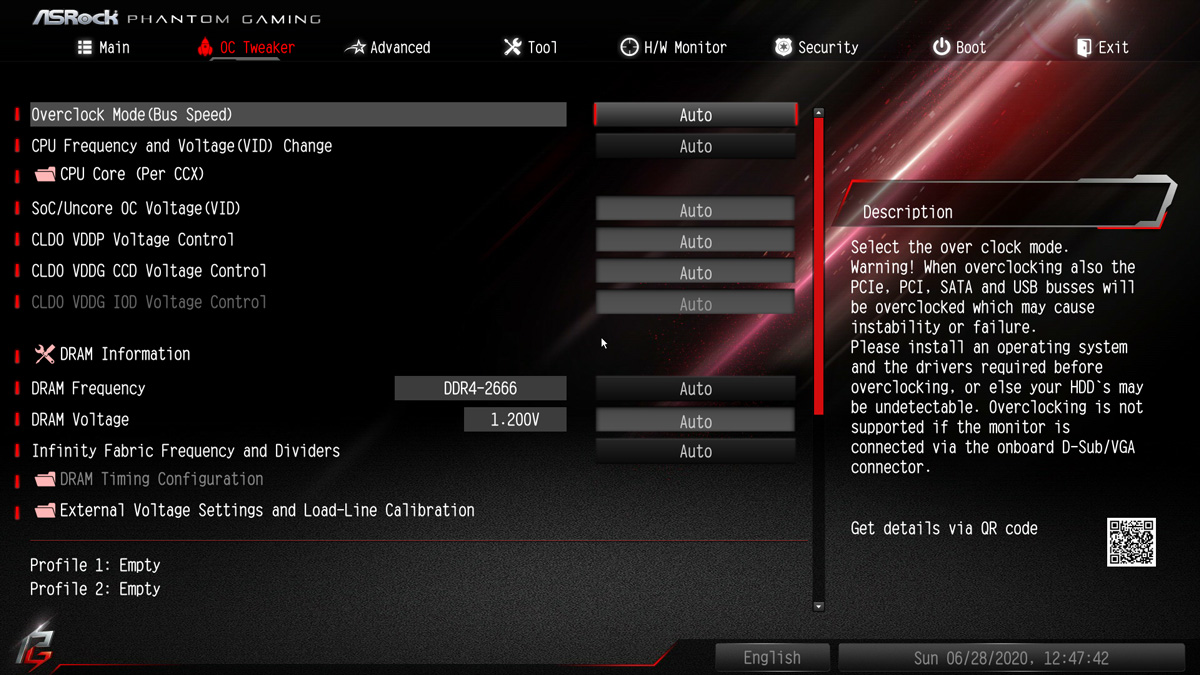 CPU config and other chipset options are located on the Advanced menu. AMD overclocking and AMD CBS are also located here.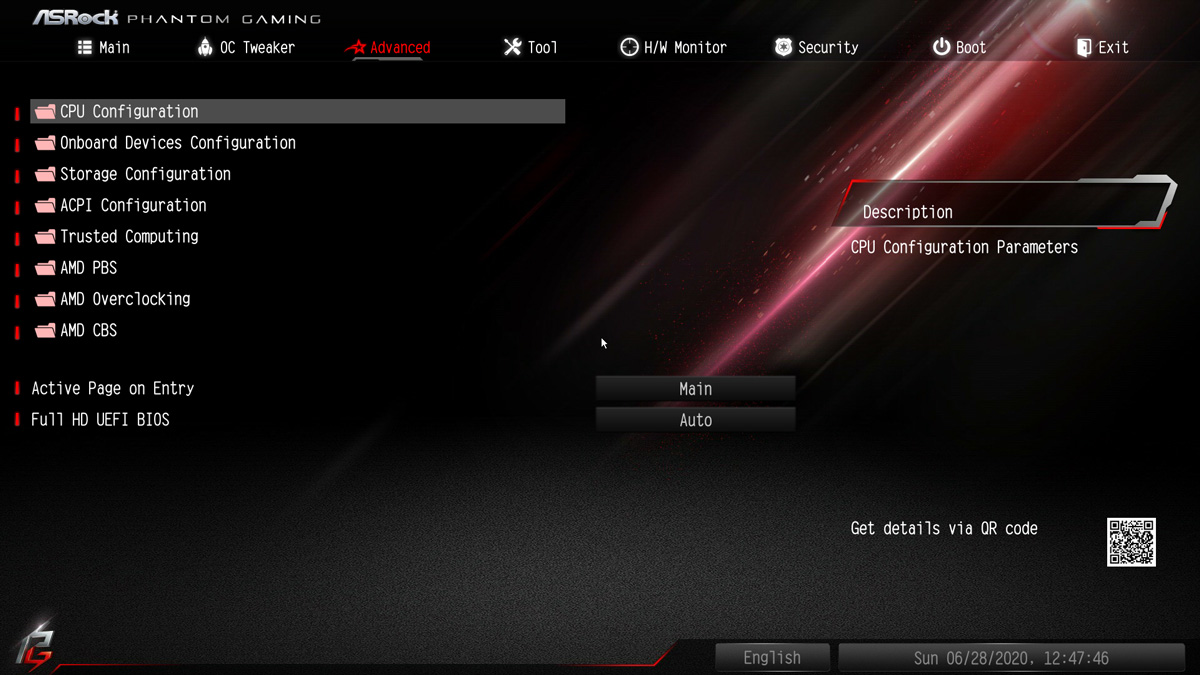 Test Setup and Methodology
System performance is evaluated by industry standard benchmark tools and applications. The system is tested with the following software configurations:
Windows Power Plan: Balanced
UEFI configuration: Default
Windows Game Mode: Disabled
Windows Game Bar: Disabled
Windows Security: Disabled
Outlined below are the test system specifications as well as the software and or applications used for the review:
Test System Specifications
CPU
AMD Ryzen 7 3700X
Motherboard
ASRock B550 PG Velocita
Cooler
MSI MAG CoreLiquid 240R
Memory
ADATA Premier 2666MHz 16GB
GPU
ASUS ROG Strix RX 570 4GB
Storage
Crucial BX200 480GB
Case
Thermaltake Core P3
PSU
CORSAIR RM850X
Display
DELL U2715H
OS
Microsoft Windows 10 Pro
Synthetic Performance:
Super PI – 32M Calculation
wPrime – 1024M Calculation
AIDA64 Extreme Edition – Memory Benchmark
Productivity Performance:
GIMP – Image Processing
HandBrake – Video Encoding
WinRAR – Compression Speed
Gaming Performance:
CS:GO – Maximum Settings, V-SYNC off
DOTA 2 – Maximum Settings, V-SYNC off
Assetto Corsa – Maximum Settings, V-SYNC off
Miscellaneous:
AS SSD – Storage Performance
RightMark Audio Analyzer – Audio Performance
NetIO-GUI – Network Performance
Power Consumption:
Synthetic Performance
Super PI is a single-threaded program that calculates pi to a specified number of digits after the decimal point. It is a widely used benchmark to check a single-core performance of any system.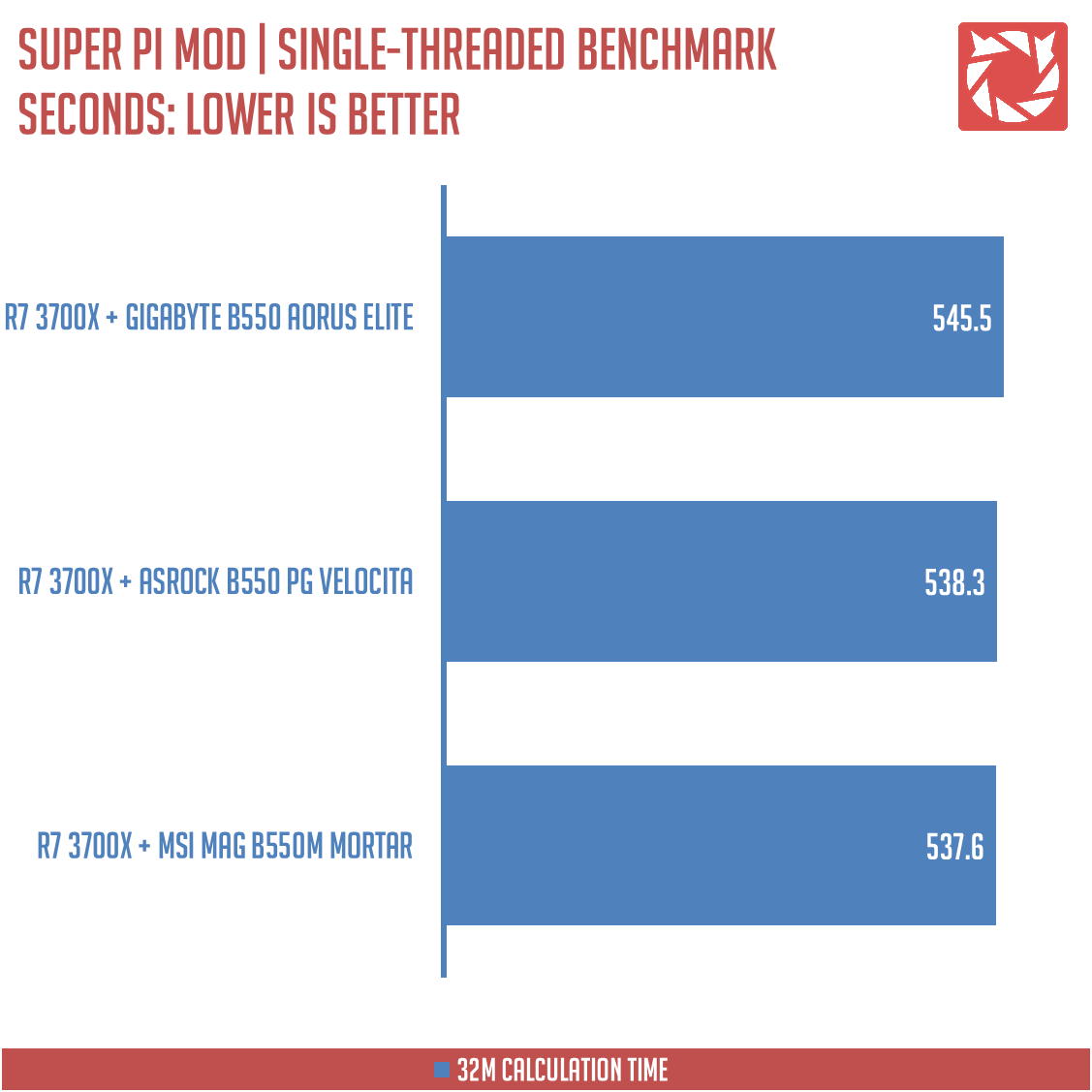 WPrime is a multi-threaded program that calculates a set number of square roots. A good application to check the multi-core performance of any system.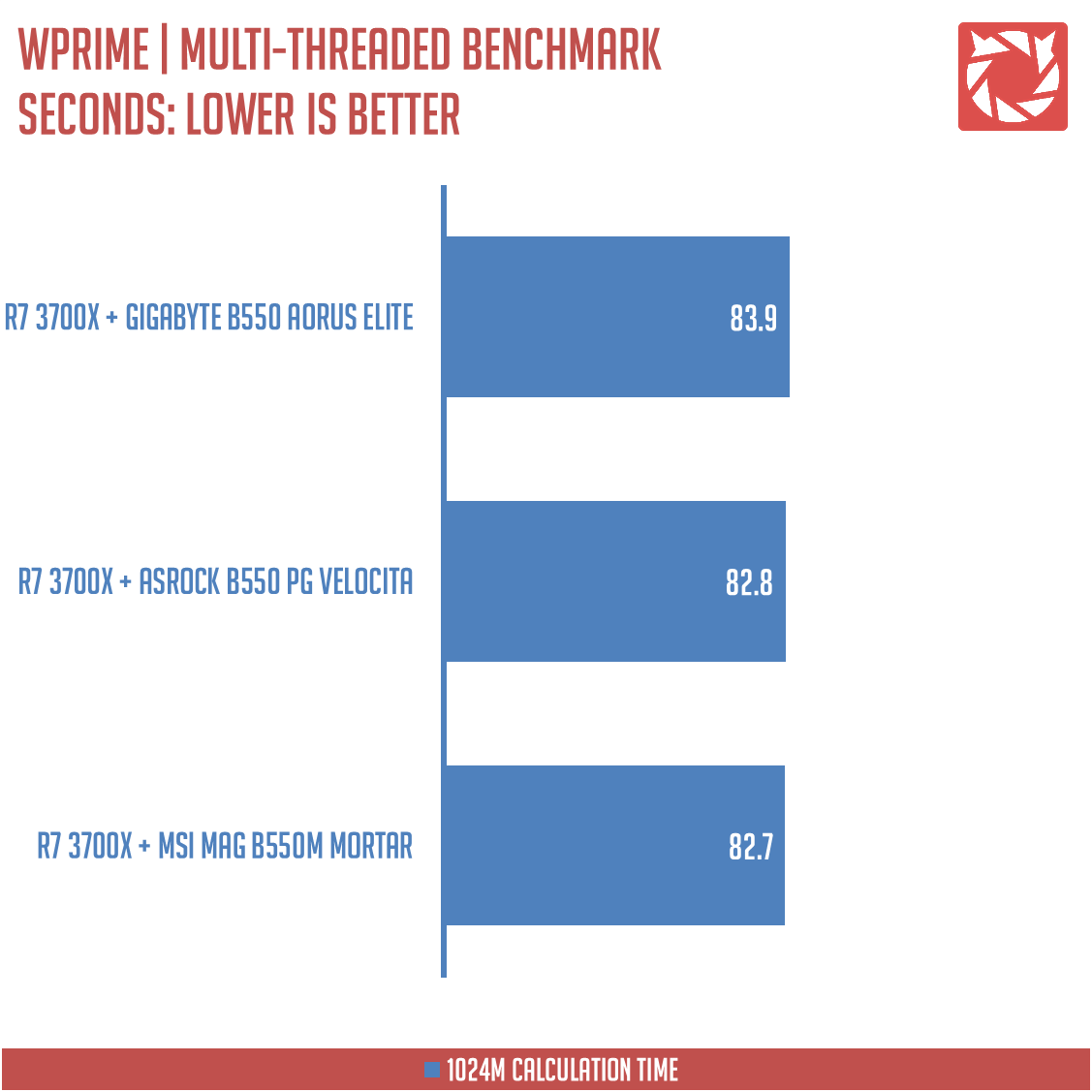 The AIDA64 Extreme Memory Benchmark measures the data transfer bandwidth and latency of the system memory. The latency is measured for this benchmark.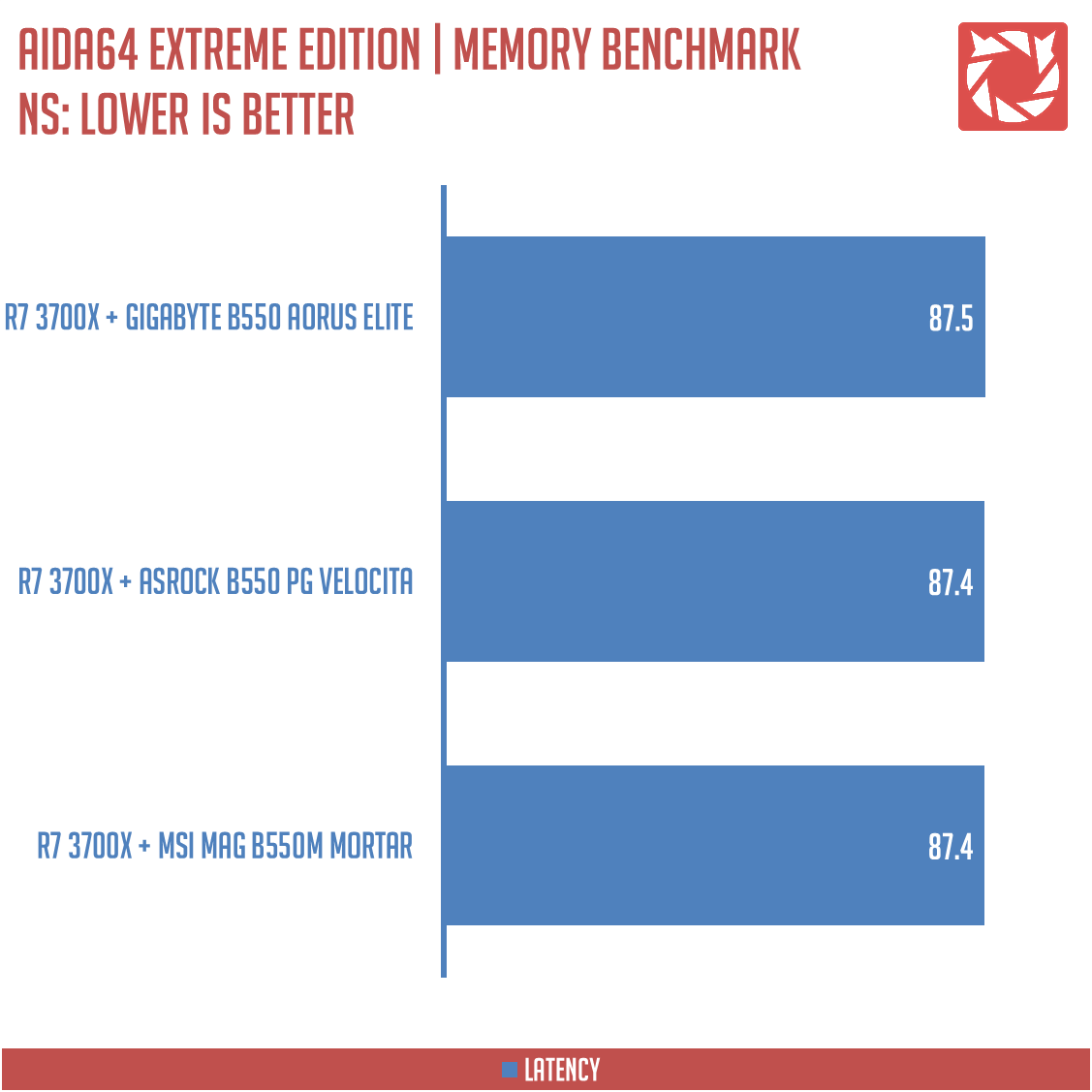 Synthetic performance is pretty much inline with other AMD 500 boards we've tested.
Productivity Performance
GIMP is a free and open-source image editing tool. 7MB worth of images are processed and converted for the benchmark.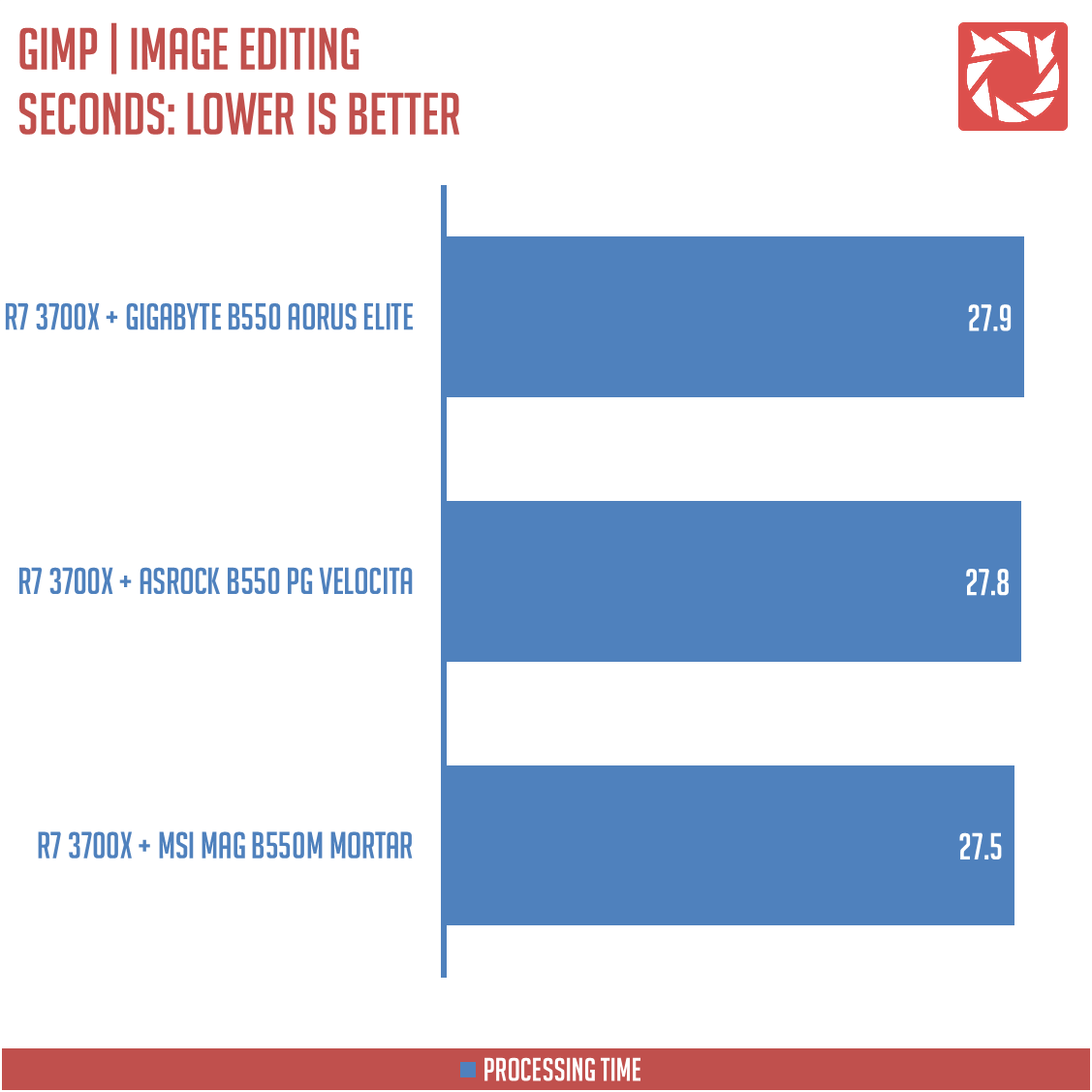 HandBrake is a free video encoding tool that supports a wide variety of media codecs. 150MB worth of MP4 video is converted using the H.264 codec for the benchmark.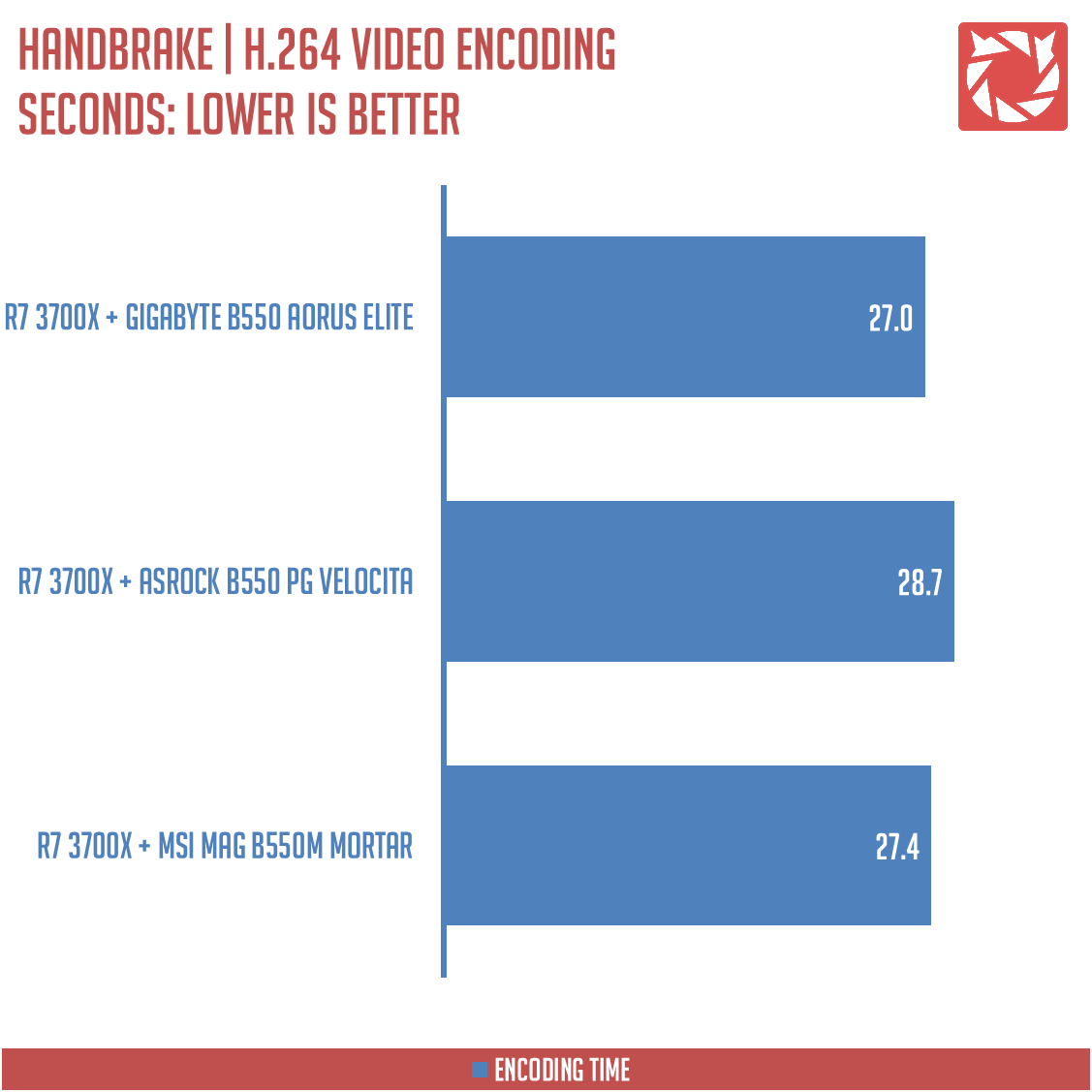 WinRAR is a file archive utility that creates, view and unpack numerous archive file formats. The built in benchmark tool is utilized to for the benchmark.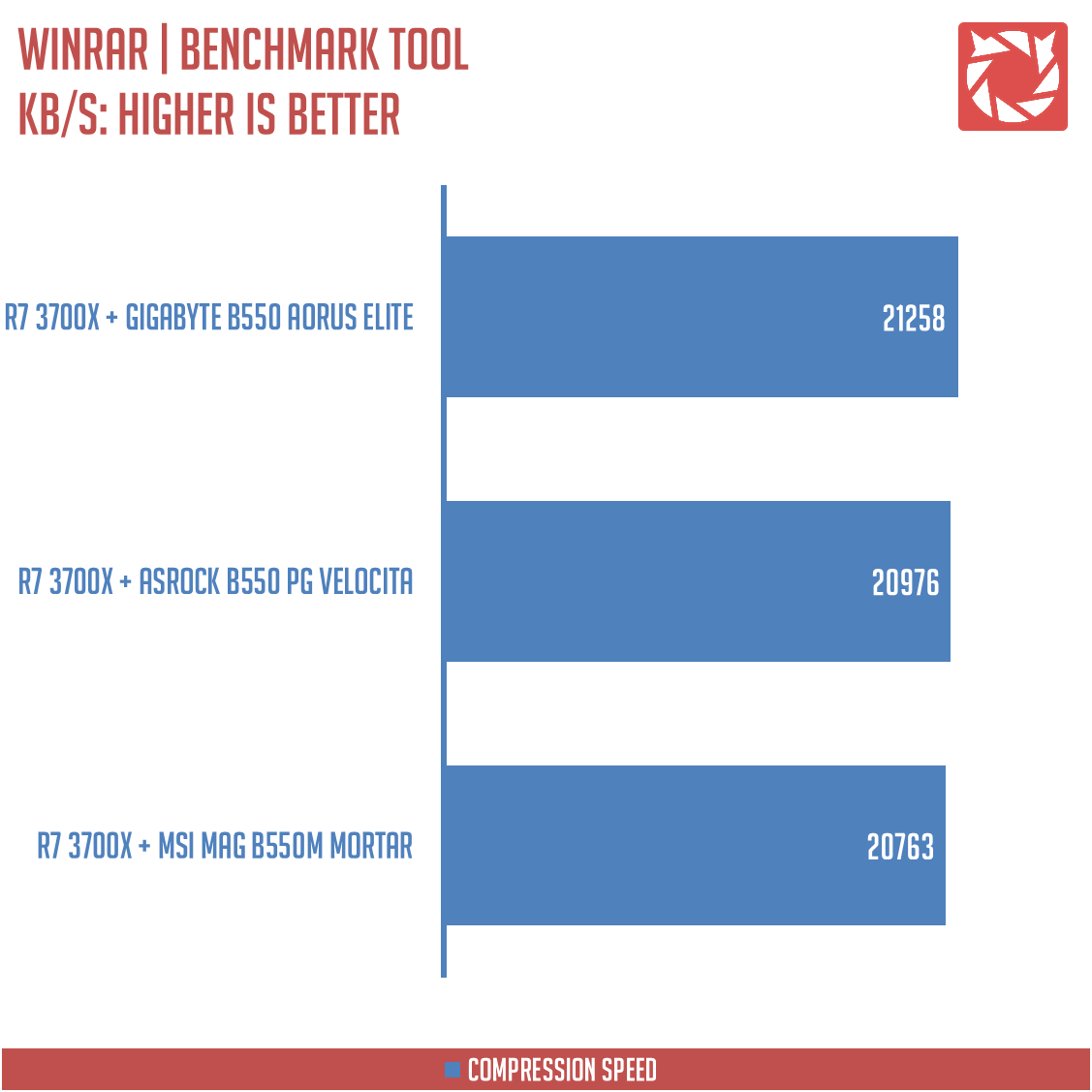 Nothing peculiar out of these productivity tests. The ASRock B550 Pg Velocita passed with flying colors here.
Gaming Performance
Counter-Strike: Global Offensive or CS:GO is a multiplayer first-person shooter developed by Valve. Settings are set to their maximum with V-Sync and motion blur disabled.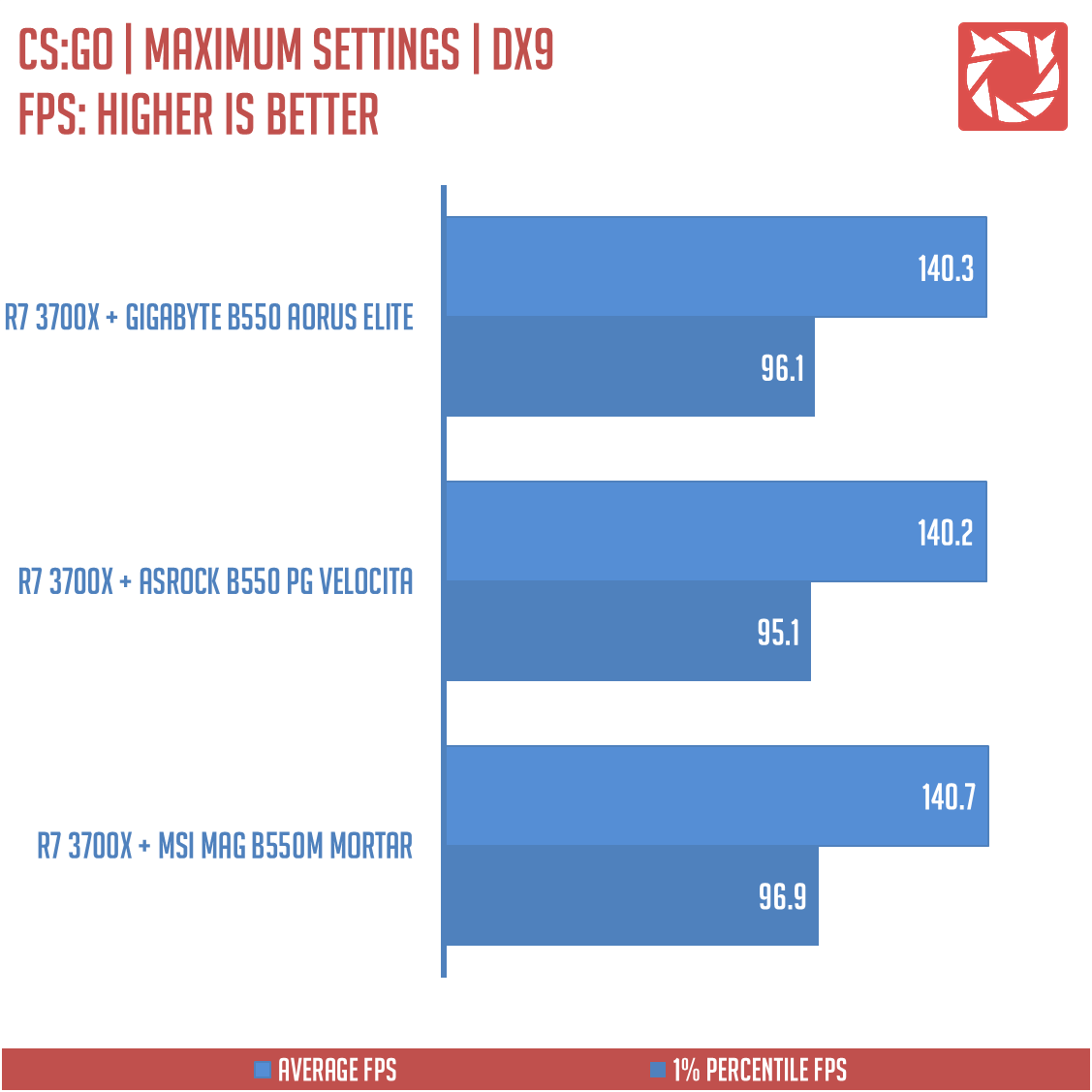 DOTA 2 is a multiplayer online battle arena game developed and published by Valve. Settings are set to their maximum with V-Sync disabled.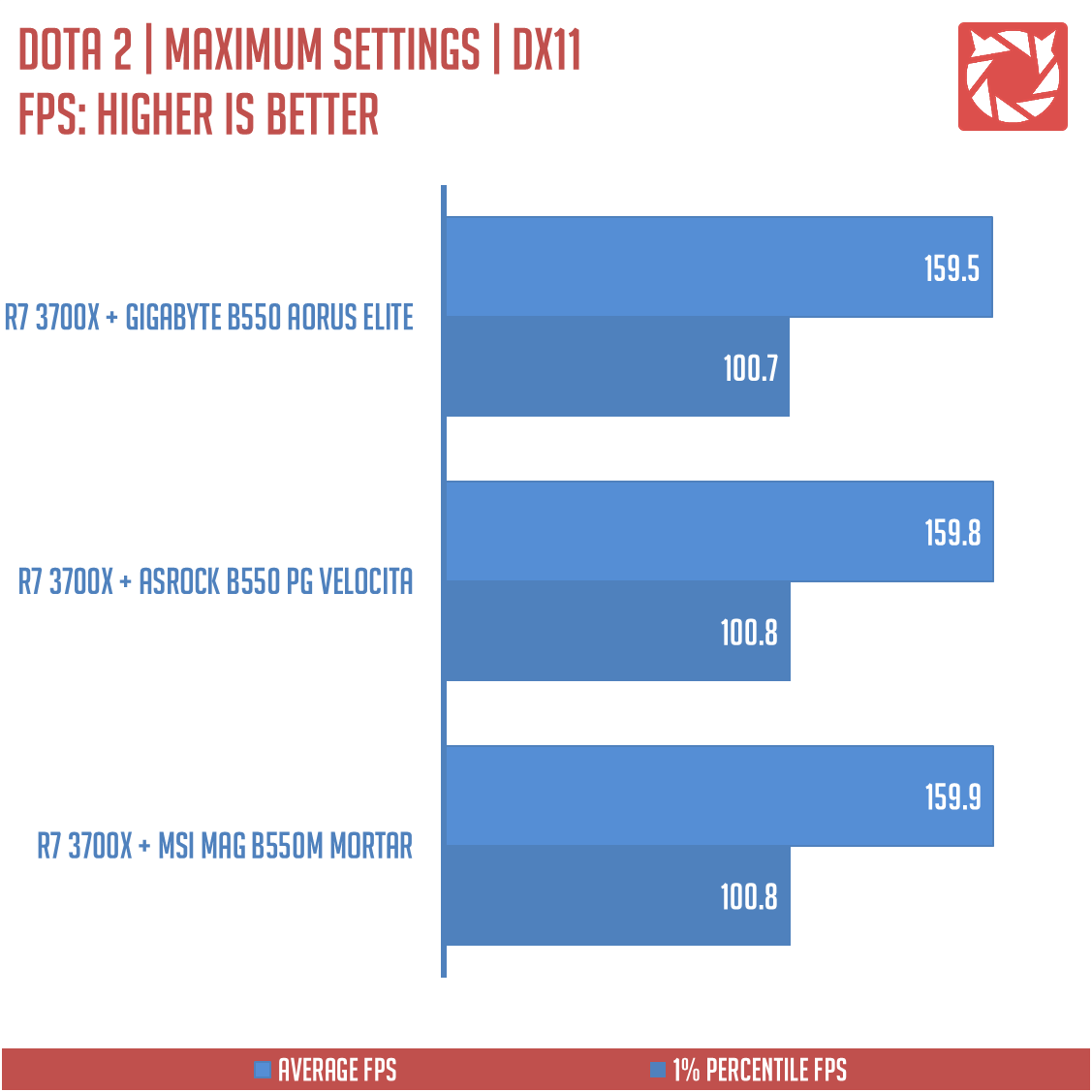 Assetto Corsa is a simulation racing game developed by the Italian video game developer Kunos Simulazioni. Settings are set to their maximum with V-Sync disabled.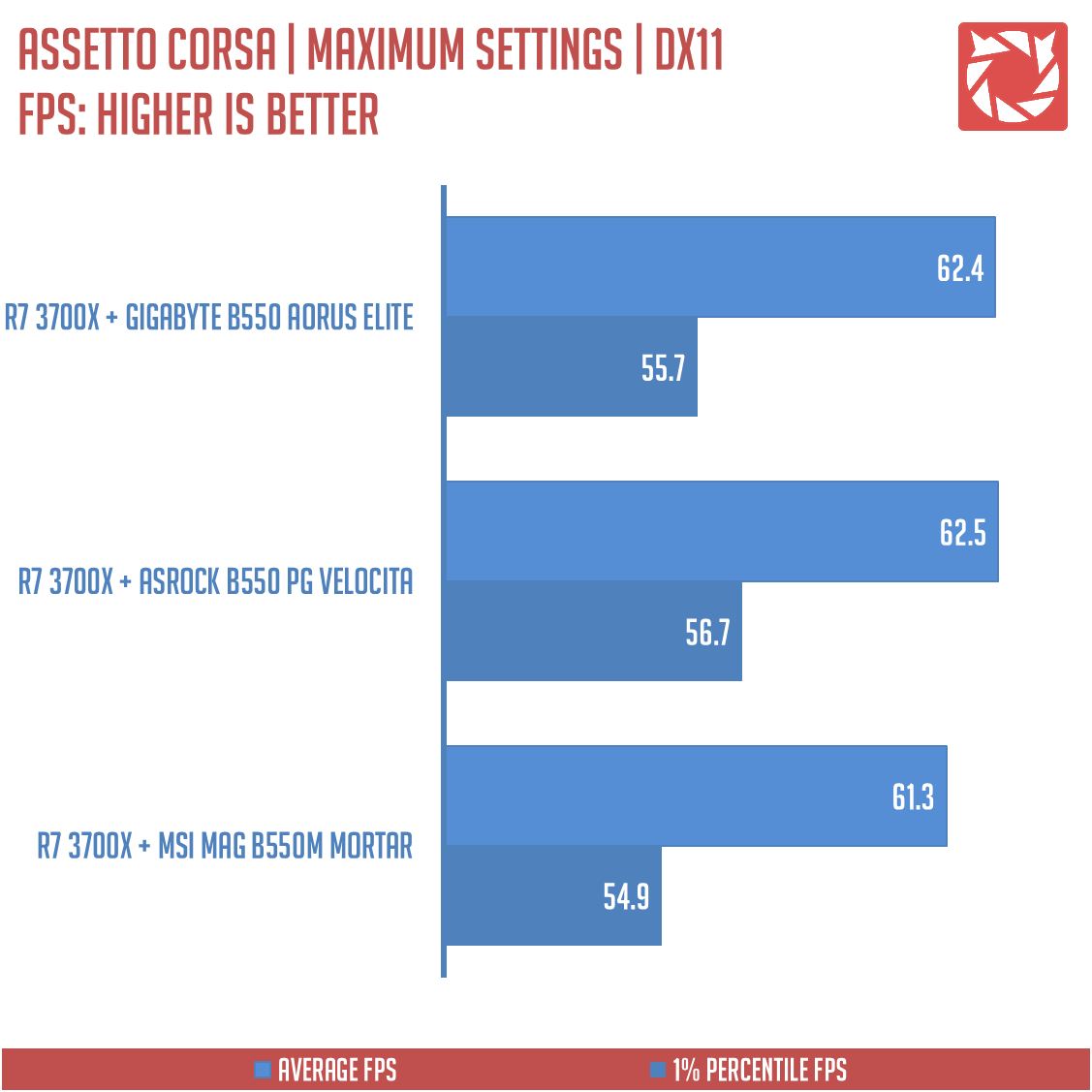 Gaming performance just a bit slower than the MSI B550 we've tested – nothing to worry about since it is within the 3% margin.
Storage Performance
AS SSD is a storage benchmark widely used in the industry. The total score is taken to evaluate the storage performance.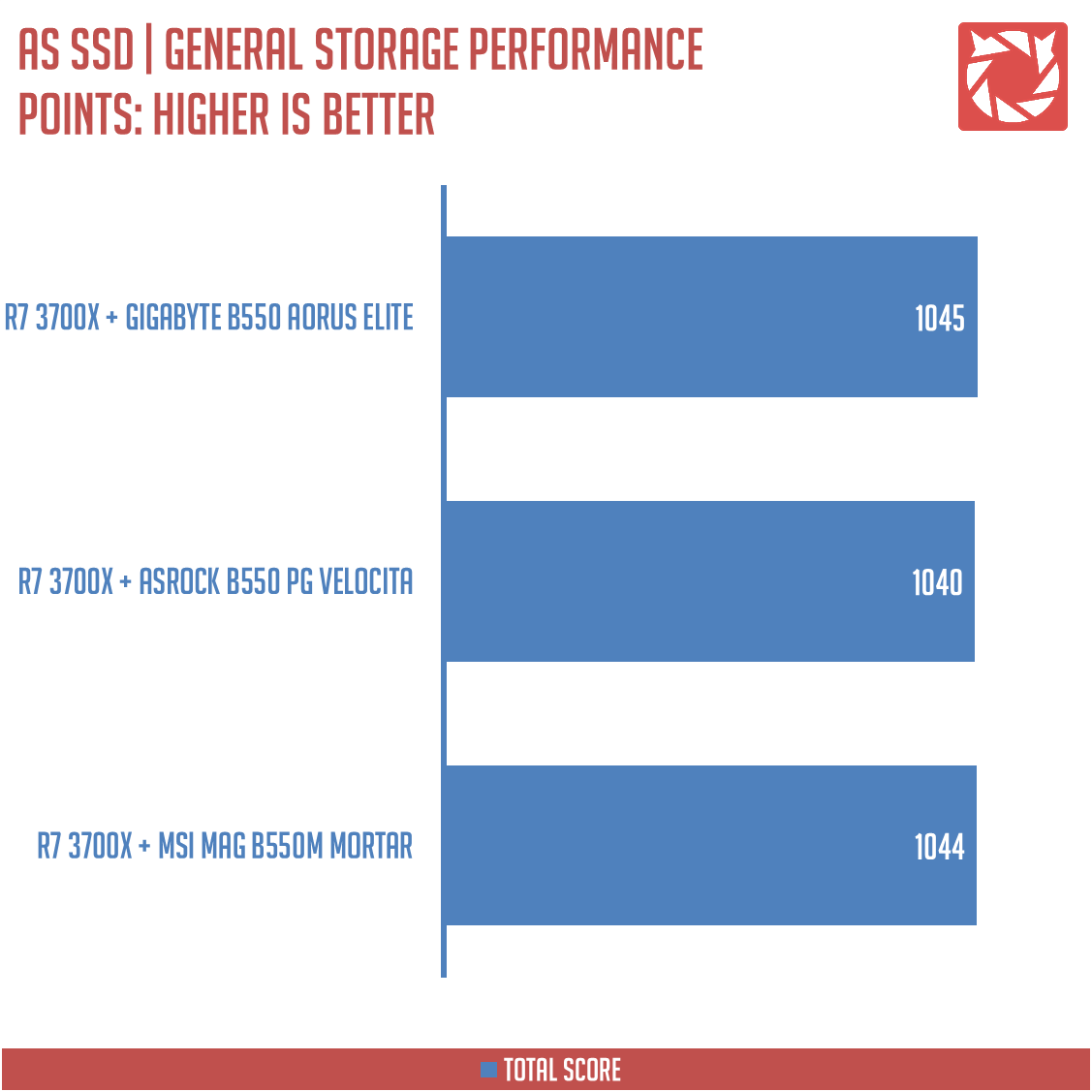 Storage performance is pretty good – as far as SATA performance is concerned.
Audio Performance
RMAA is a tool designed to test the quality of audio devices. A loop-back is configured with a sampling rate of 24-bit at 48000Hz for the test. Our setup essentially tests the quality of the line-in and line-out of the audio solution.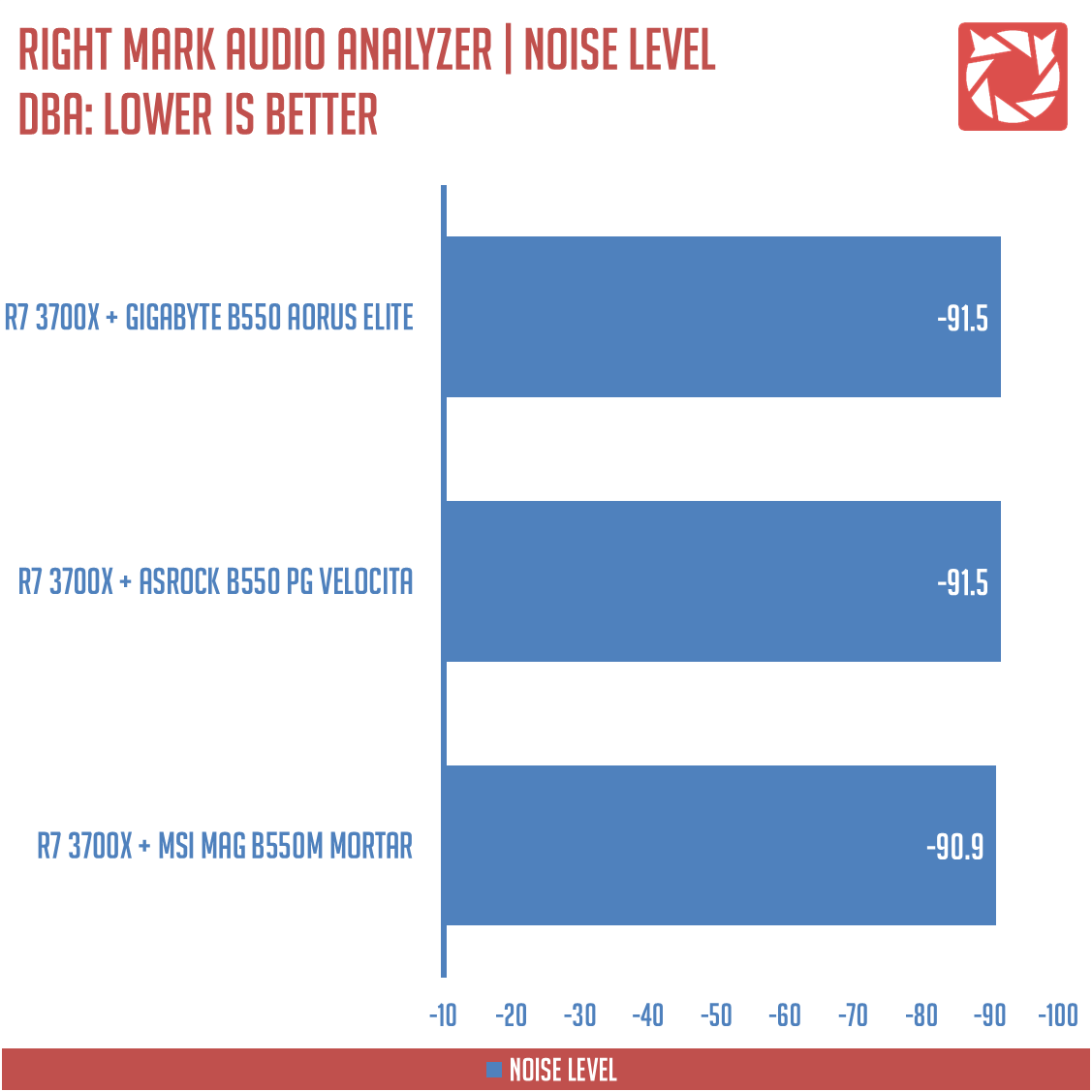 Audio performance is something I always praise about ASRock ever since the Intel Z77 days. I'm glad they are still releasing motherboards with the same mindset.
Network Performance
NetIO-GUI is an application used to test the performance of a network. The LAN round trip time is our concern here, checking out latency anomalies if there are any. The client and server are connected on the home network via Cat 5e cables.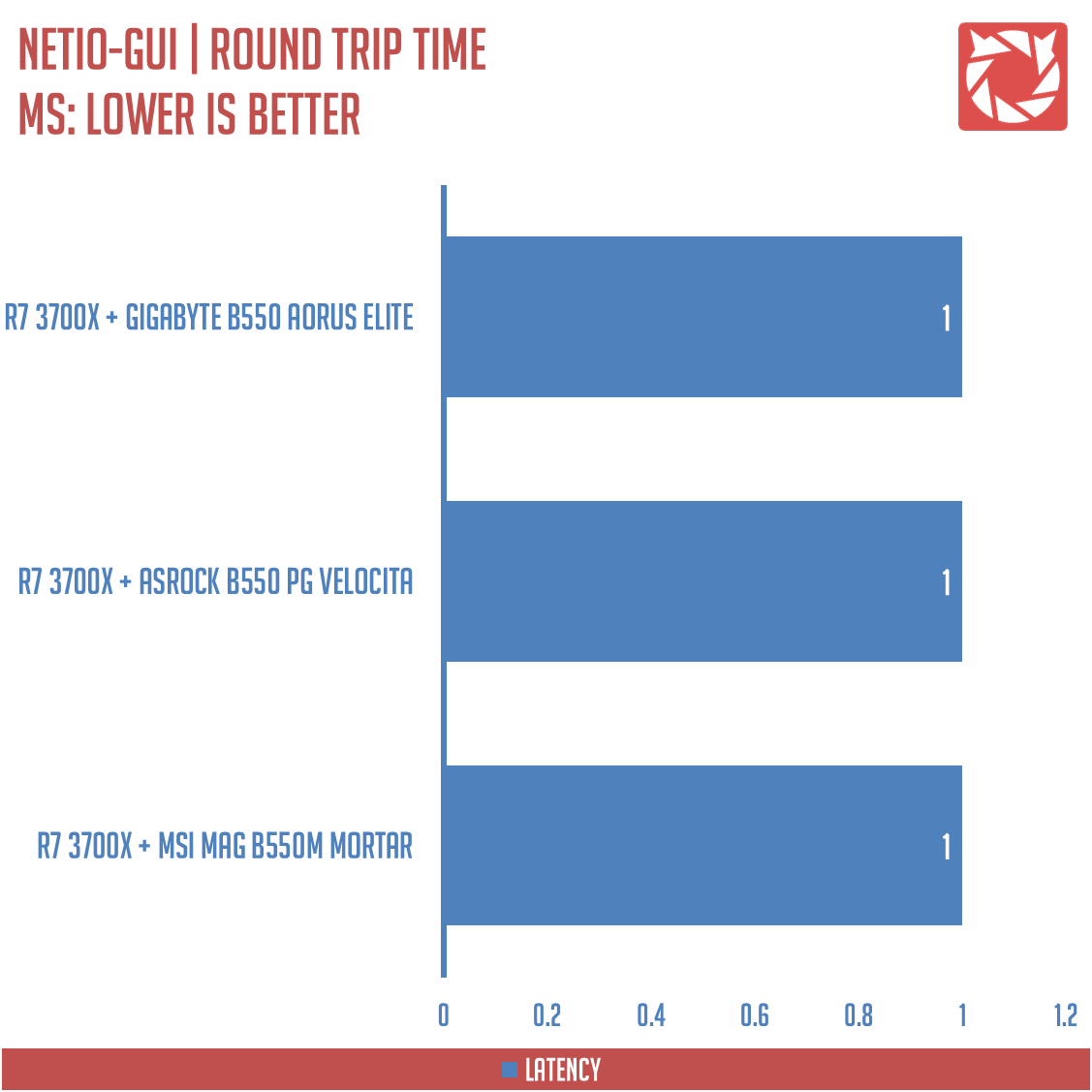 The motherboard has a wired network latency at 1ms on any packet sizes tested.
Power Consumption
AIDA64 Extreme System Stability Test features 64-bit multi-threaded stress testing module to drive the system to its limits. Power readings are recorded with a watt-meter.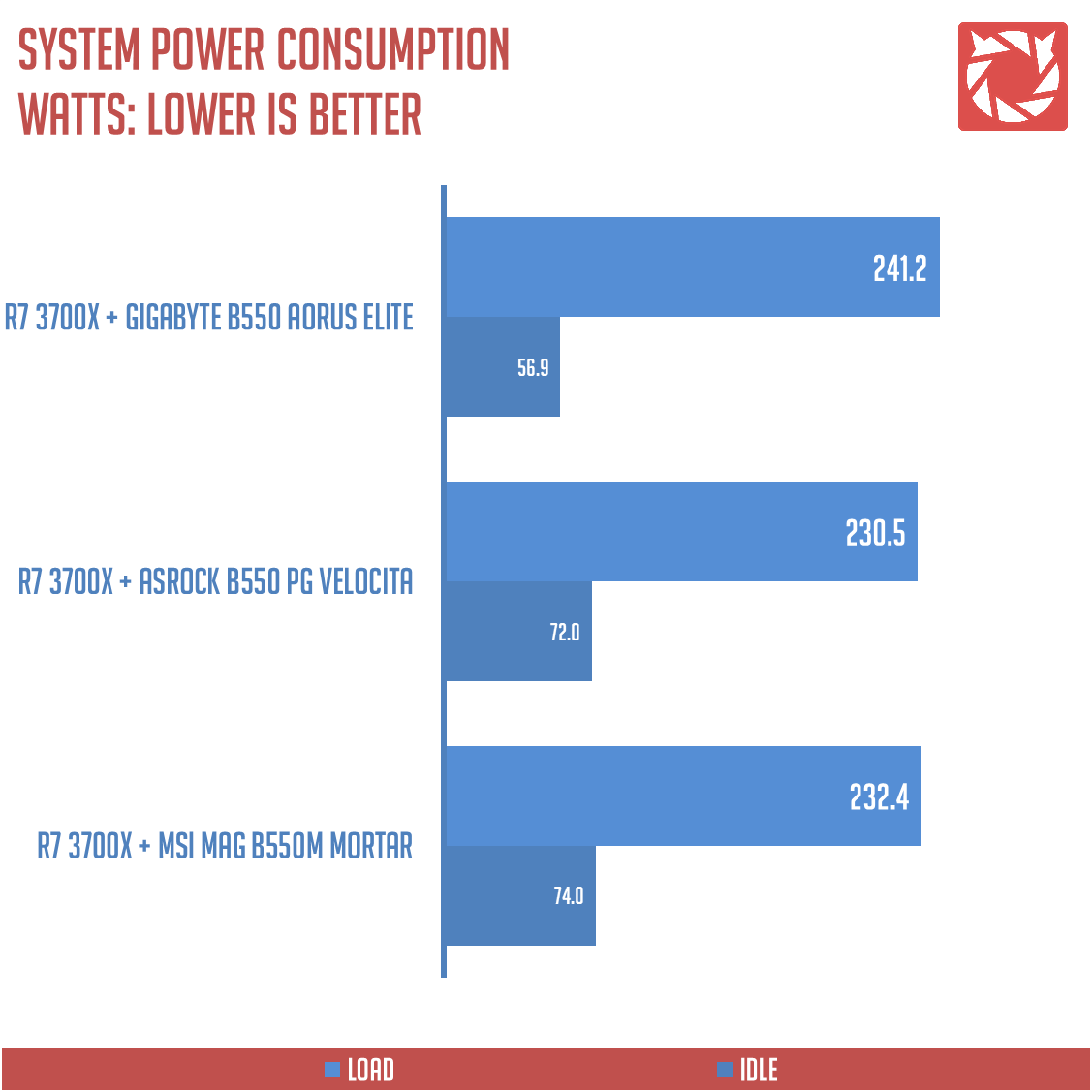 The ASRock B550 PG Velocita features a 72.0W idle and 230.4W of load power consumption.
Overclocking and Underclocking
There are two ways to overclock and underclock any compatible unlocked AMD Ryzen processors. One way is to do it within the UEFI and the other is via the AMD Ryzen Master. Both works well, but we prefer via UEFI since it is way easier to use.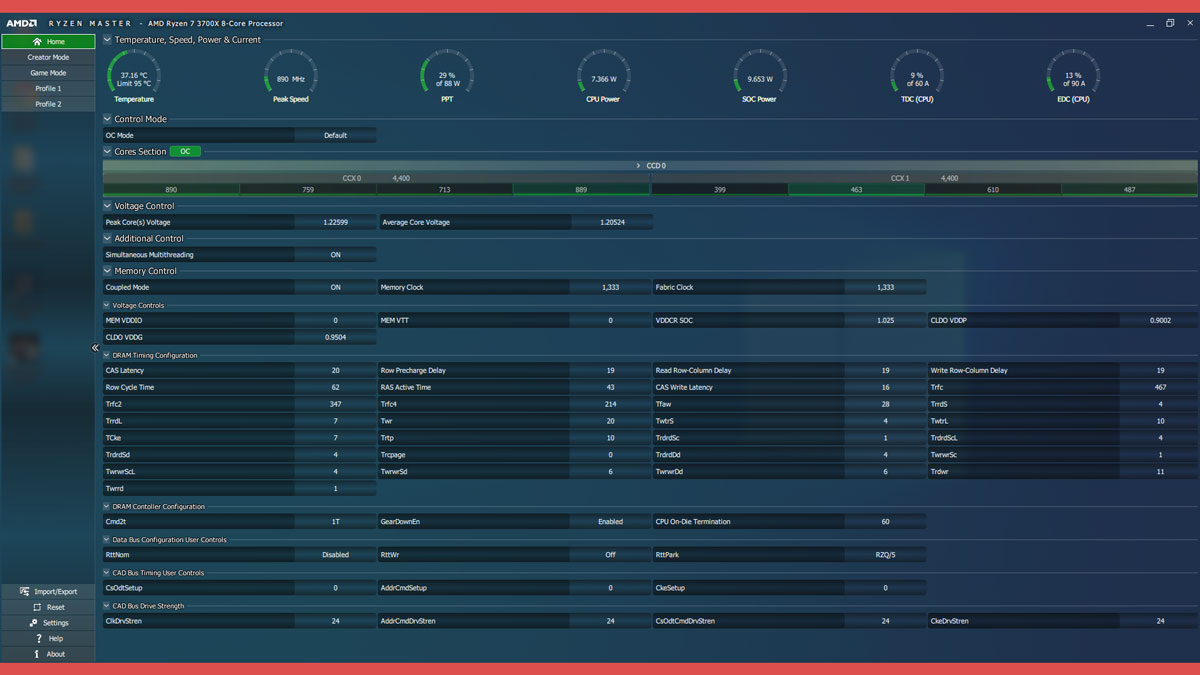 Since this is not our test sample, we didn't overclock the CPU over the suggested 1.325v Vcore. Tried 4.1GHz at all cores though with a x41 multiplier.
Now I had one concern with this board which is stability. Out of all the samples I've tested, the B550 PG Velocita with the Ryzen 7 3700X is the first to randomly display BSOD (not frequent, maybe one in 24 hours). I've tried everything, even approaching ASRock for help. Fix I did here is to pump a consistent amount of vCore – undervolting it even and it works.
ASRock is very much aware of this issue and promised that it wouldn't reflect onto the retail boards.
Software, Lighting and Special Features
ASRock had the B550 PG Velocita bundled with a number of applications that should help you maximize your motherboard's potential. That should include the following software and or applications:
ASRock Motherboard Utility (Phantom Gaming Tuning)
ASRock Phantom Gaming LAN Software
ASRock Polychrome SYNC
ASRock Key Master
As for lighting, the PG Velocita features the Polychrome SYNC, which is the replacement for the AURA SYNC software. This is a more refined version of that one.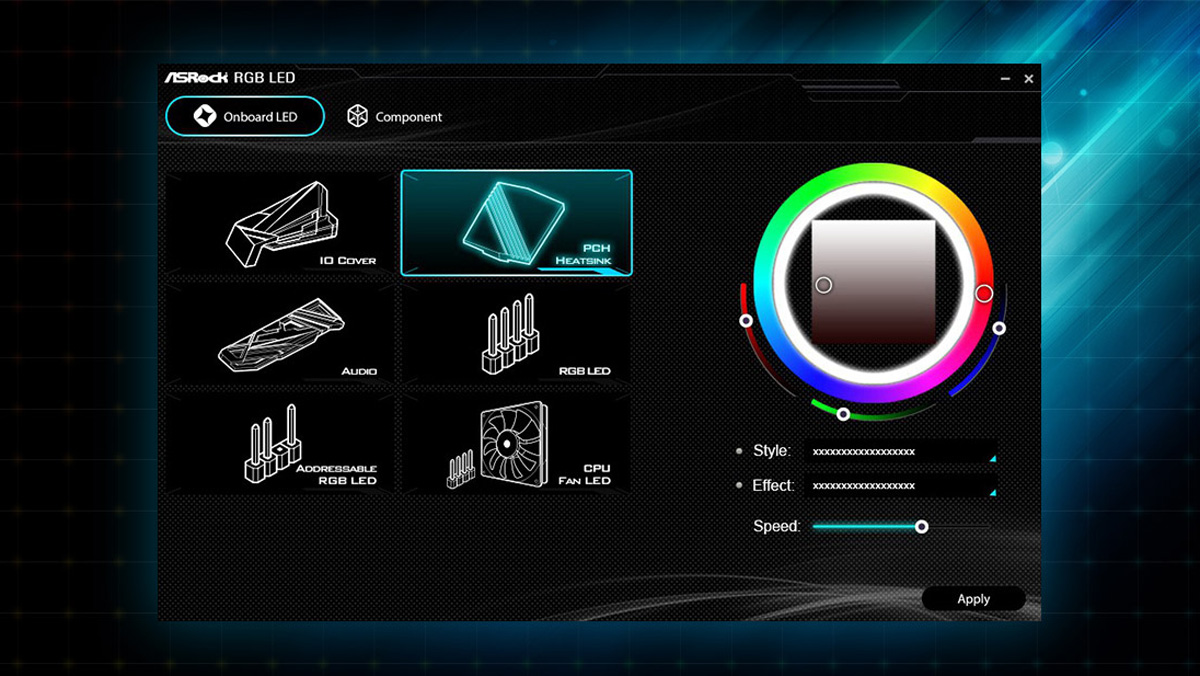 The board comes bundled with the Phantom Gaming LAN Software. This is a software based traffic shaping tool similar to ASUS Game Boost.
Final Thoughts
The ASRock B550 PG Velocita is a proper ATX motherboard for the AMD B550 platform featuring 2.5Gbps LAN, a good audio solution and connectivity options to get you started with your 2020 AMD build.
Quality is something the PG Velocita is proud of and the motherboard clearly have shown that as a fact. We even have abundant amount of IO ports in and out, plus overclocking options are abundant too – paired with a beefy VRM to boot.
The ASRock B550 PG Velocita is a very good motherboard at its designated price point. Would be excellent if they could throw in a Wi-Fi module from the get go.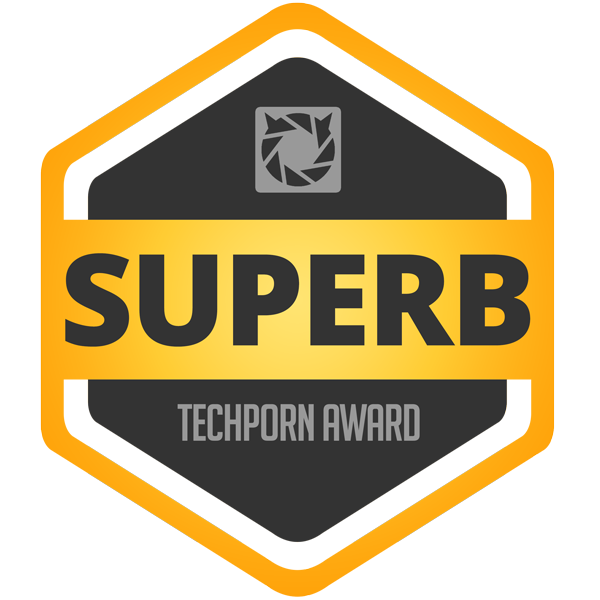 ASRock B550 PG Velocita
Performance -

9/10

Build Quality -

9/10

Features -

8.5/10

Design -

9/10

Value -

8.5/10
Summary
The ASRock B550 PG Velocita is a very good motherboard at its designated price point. Would be excellent if they could throw in a Wi-Fi module from the get go.