Network devices are no stranger to ASUS and remained as one of the company's strongest assets when it comes to their ecosystem. Now with AC WiFi, MIMO and Mesh becoming the norm, ASUS took the initiative to incorporate them into their gaming series of routers with the ROG Rapture GT-AC2900.

The ROG Rapture GT-AC2900 is a proper dual band mesh gaming router straight out of ASUS. It also comes equipped with a 1.8 GHz dual-core processor and 512MB of RAM to keep it from bogging down due to its wide range of features. Some of these features includes Triple-level Game Accelerator, GeForce Now certification, ASUS AiMesh support, the TrendMicro based AiProtection Pro and the AURA lighting.
Technical Specifications
Hardware
CPU
1.8GHz 64bit dual-core processor
Memory
256MB Flash, 512MB RAM
Transmitter
MIMO
Software
Firmware
ASUS ROG Gaming Center
Management
UPnP, IGMP v1/v2/v3, DNS Proxy, DHCP, NTP Client, DDNS, Port Trigger, Port Forwarding, DMZ, System Event Log
Network
Wired
Gigabit (1000Mbps)
Wireless
802.11a/b/g/n/ac (2.4GHz+5GHz), 1024QAM (2.4GHz+5GHz)
Encryption
64-bit WEP, 128-bit WEP, WPA2-PSK, WPA-PSK, WPA-Enterprise , WPA2-Enterprise , Radius with 802.1x, WPS support
Guest Network
Yes
3G/4G
Yes
Maximum Connection
NA
Internet connection
Automatic IP, Static IP, PPPoE(MPPE supported), PPTP, L2TP
Operating mode
Wired Router, Wireless Router
DHCP
NA
VPN
Yes
Parental Control
Yes
Traffic Control
Yes
Connectivity
LAN
Gigabit (4x RJ-45)
WAN
Gigabit (1x RJ-45)
USB
USB (1x 3.0, 1x 2.0)
Dimensions
Length
221mm
Width
169mm
Height
111mm
Weight
780g
Packaging and Accessories
The ASUS ROG Rapture GT-AC2900 comes in a rather huge packaging for a router. Somewhat similar to your usual ASUS ROG graphics card. The packaging comes with the following bundles inside:
Dual-purpose stand / wall-mount
Power adapter
Plug adapters
High gain antennas
RJ-45 cable
Screwdriver
Quick start guide
Installation guide
Design, Layout and Build Quality
The ROG Rapture GT-AC2900 will probably pass as a centerpiece on your gaming lounge out of the box. It features a gaming centered design which is synonymous with other ROG products. Even the triple high gain antennas received a proper ROG look.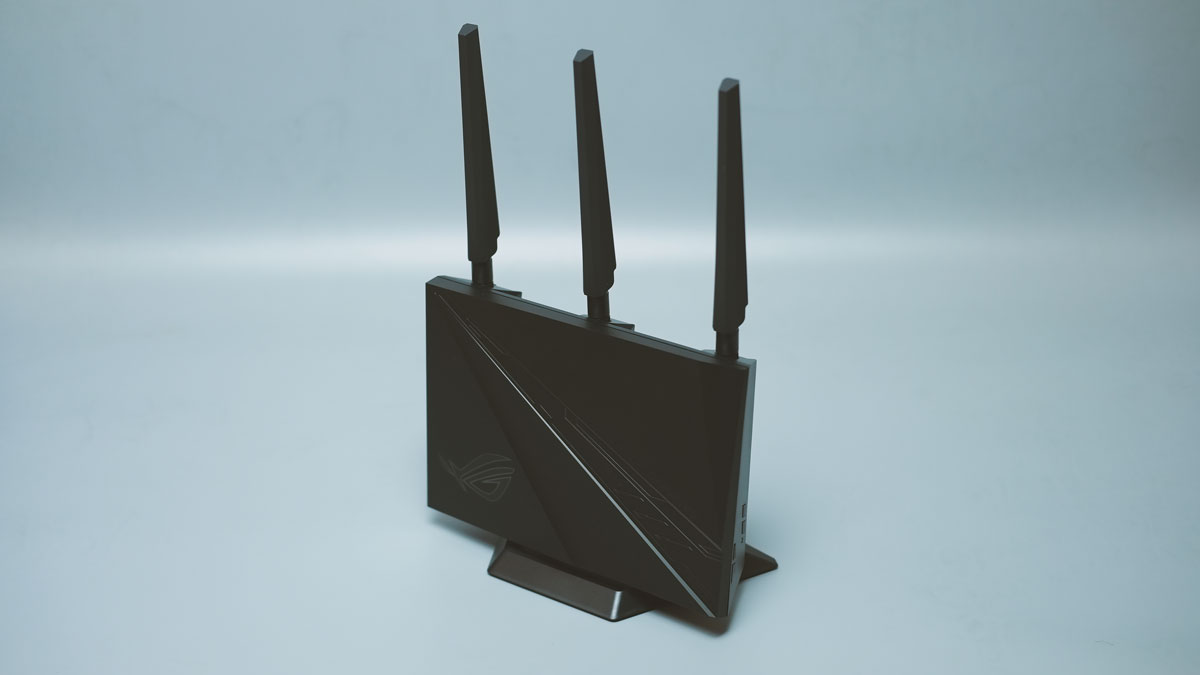 Most routers feature about two to three buttons, yet the GT-AC2900 houses six. We have dedicated buttons for lighting, WPS, WIFI, reset, power and even a bindable button called the Boost Key.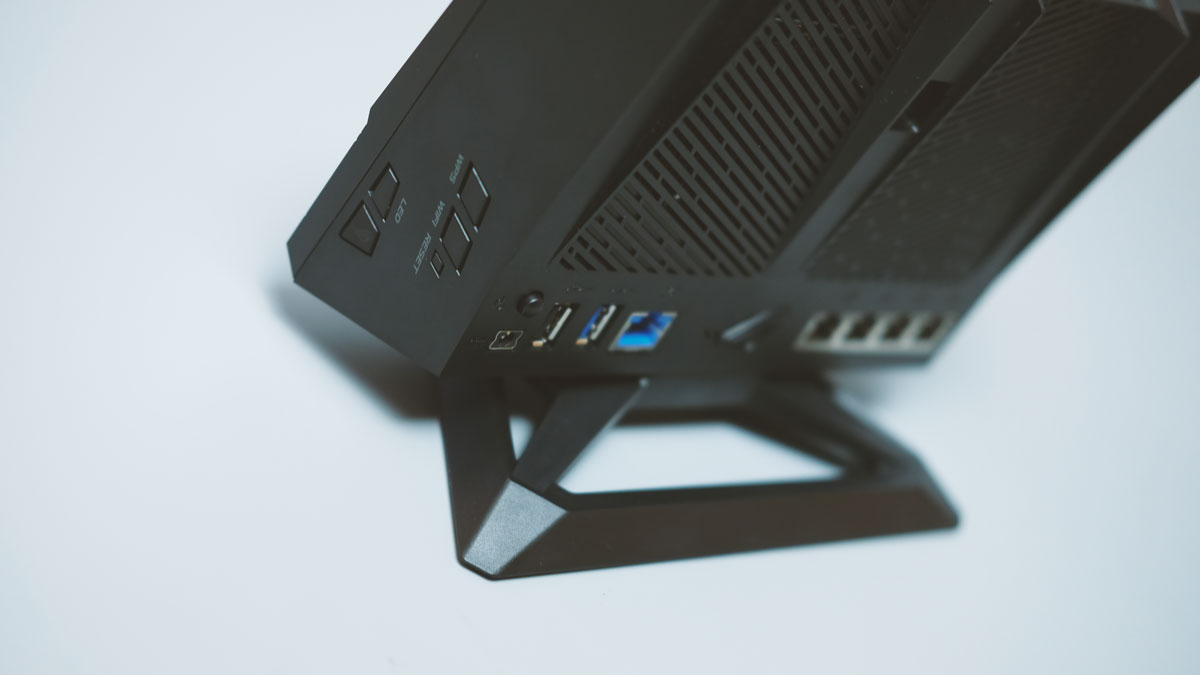 The other side of the gaming router is definitely busy looking. The left side houses the power button, the port for the external power adapter, two USB ports (2.0 and 3.0) and the WAN port. These USB ports supports external devices with any capacity (4TB tested) and supports UPnP and DNLA as well. Right side on the other hand houses the LAN ports. Relative amount of ports we got here.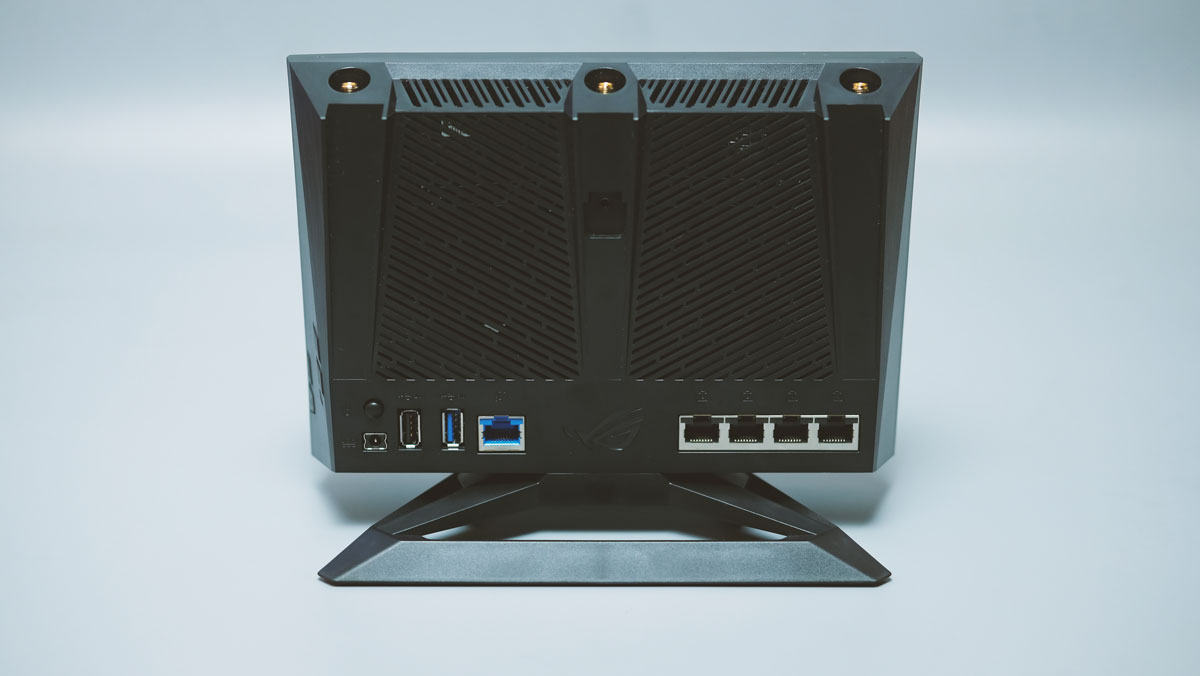 Cooling is provided by perforations at the back of the router's shell allowing the heatsinks to naturally dissipate heat away from the router. With 3 mounting options available, it is best to have it standing right up. It gets a little warmer with the flat down "naval gun style" approach.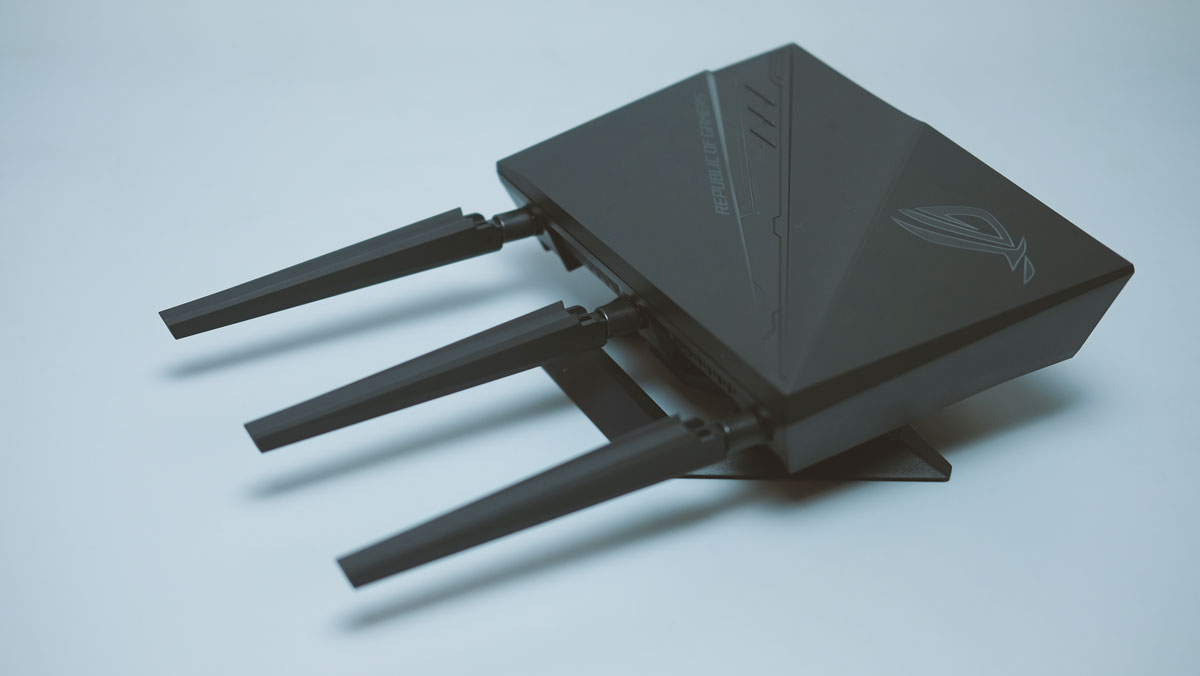 Power, like most routers is externally supplied by an adapter. It is dinky enough, with about 2 meters of cable length.
Firmware Interface
The ASUS ROG Rapture GT-AC2900 is easy to setup out of the box. You just have to follow a few fool proof instructions.
There are five main operations mode built within the ASUS ROG Rapture GT-AC2900 although there should be another one here for the LTE mode. You could always set that one up later by choosing the default mode.
Once everything has been taken care of, the gaming router will ask you what you want to do with the Boost Key. You have three options here. Number one is to use it as a channel selector or activator rather. Second, you may use it to control the ASUS AURA lighting. Third is to bind it with the GeForce Now feature of the router.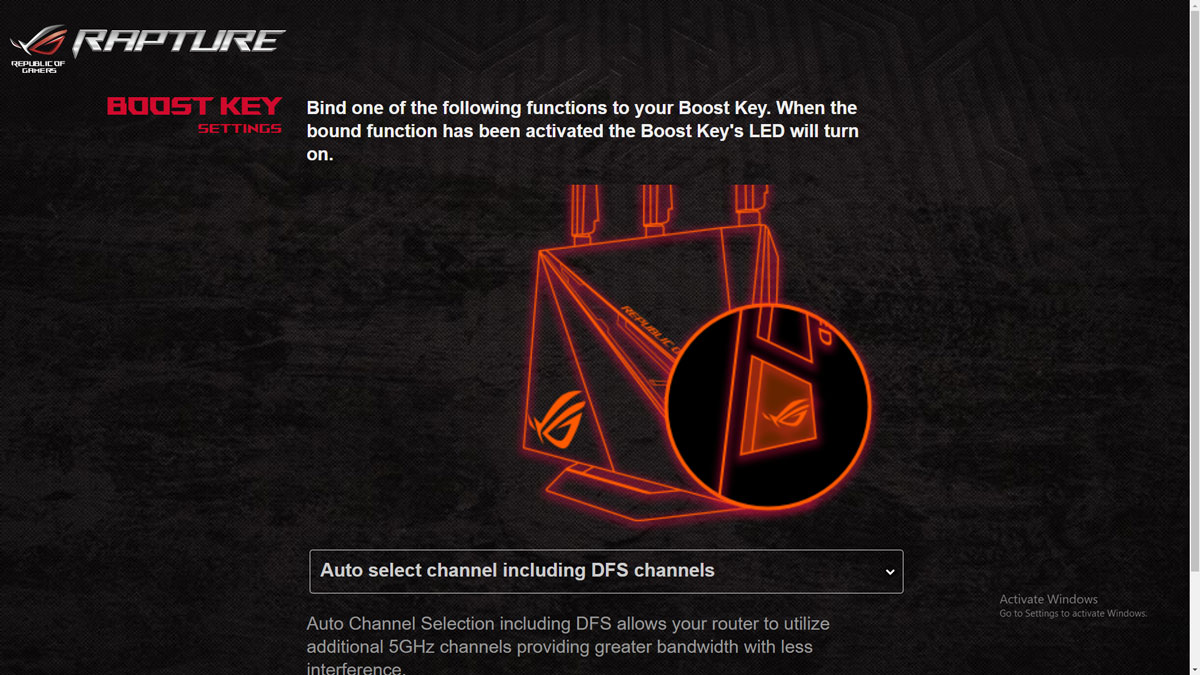 Now that we're over the quick setup guide, let us now check out the dashboard. This one is brimming with features under an ROG inspired UI. We have a total of 8 sub menus here for the general features and that's what we are going to explore.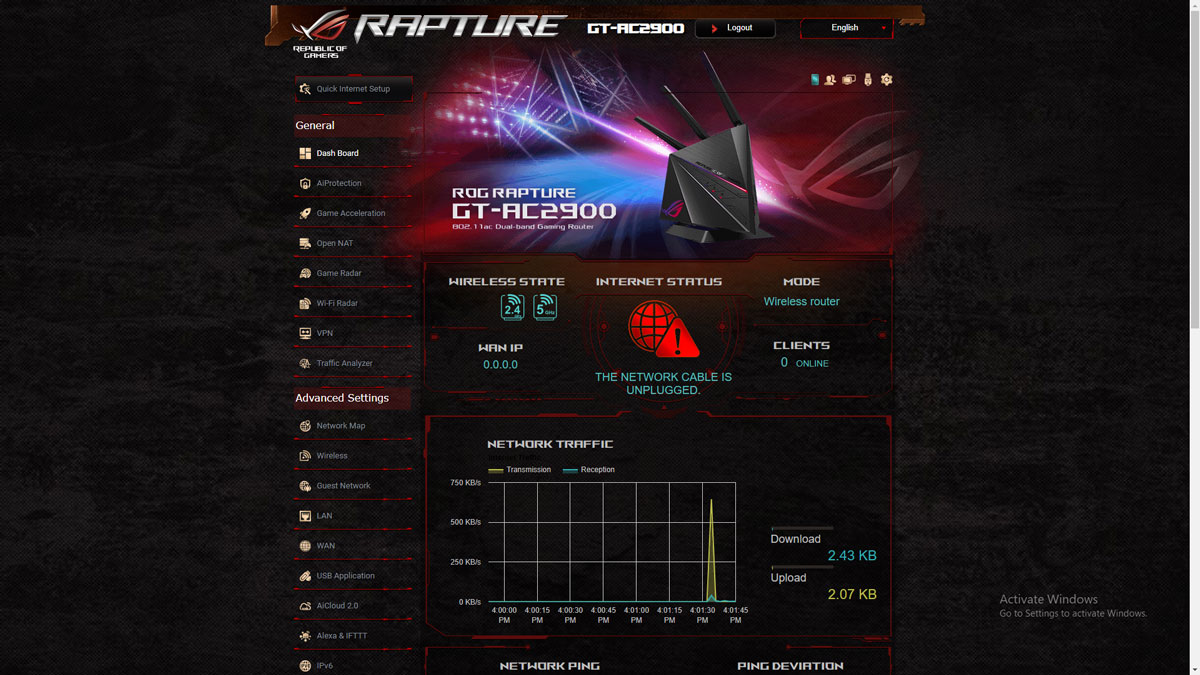 AiProtection is a combination of real time protection and parental controls. The former is powered by Trend Micro, allowing you to asses the current status of your network's security. It also allows you to automatically block any infected devices connected onto the network. The latter on the other hand is your usual parental control with time scheduling and web filters. What's new for me here though is the app filter.
The Game Acceleration menu is technically a combination of ASUS GameFirst, Game Boost and Gamers Private Network. GameFirst allows ASUS compatible products to take priority within the network, while Game Boost allows traffic related to gaming to take priority. Gamers Private Network is technically WTFast. It allows the gaming router to take the shortest route between your home network and the game server.
The ASUS ROG Rapture GT-AC2900 also offers Open NAT which is an easy way to create your own port forwarding rules. Popular games already had their own profiles within the router so it is just a matter of selecting what you need.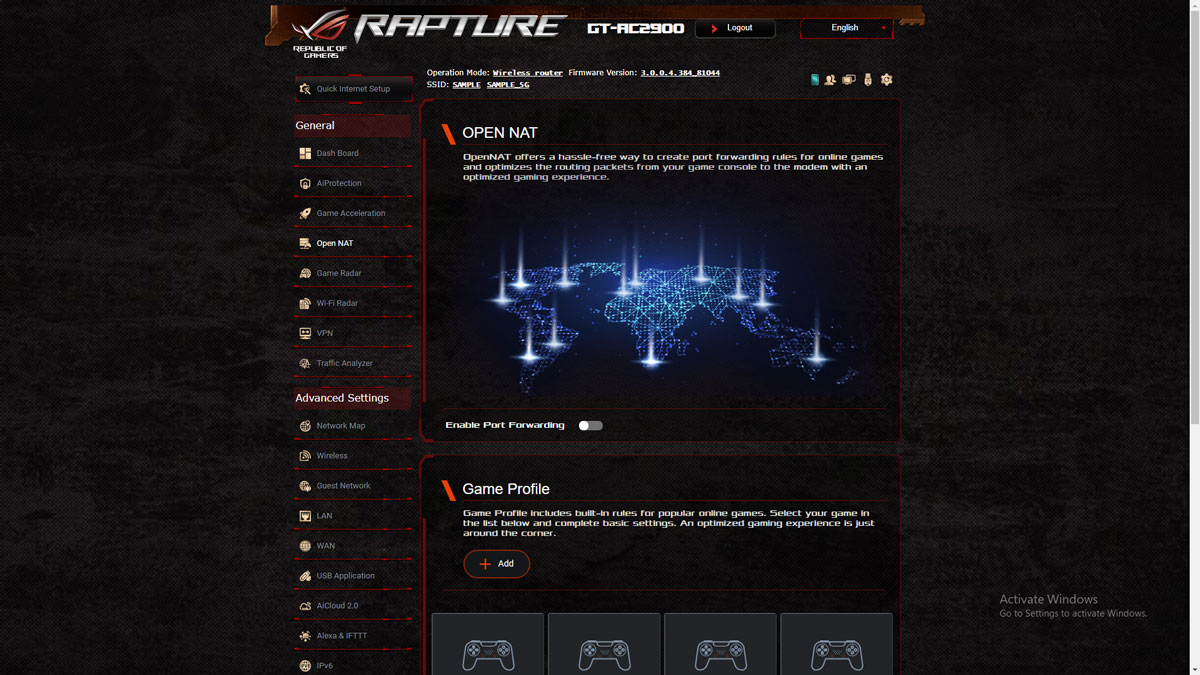 Game radar is a simple tool built within the GT-AC2900 to check any supported game's regional latency. This is extremely helpful if you want to check and connect to a certain region's game server. I hope that ASUS will continue supporting this feature with more titles as well.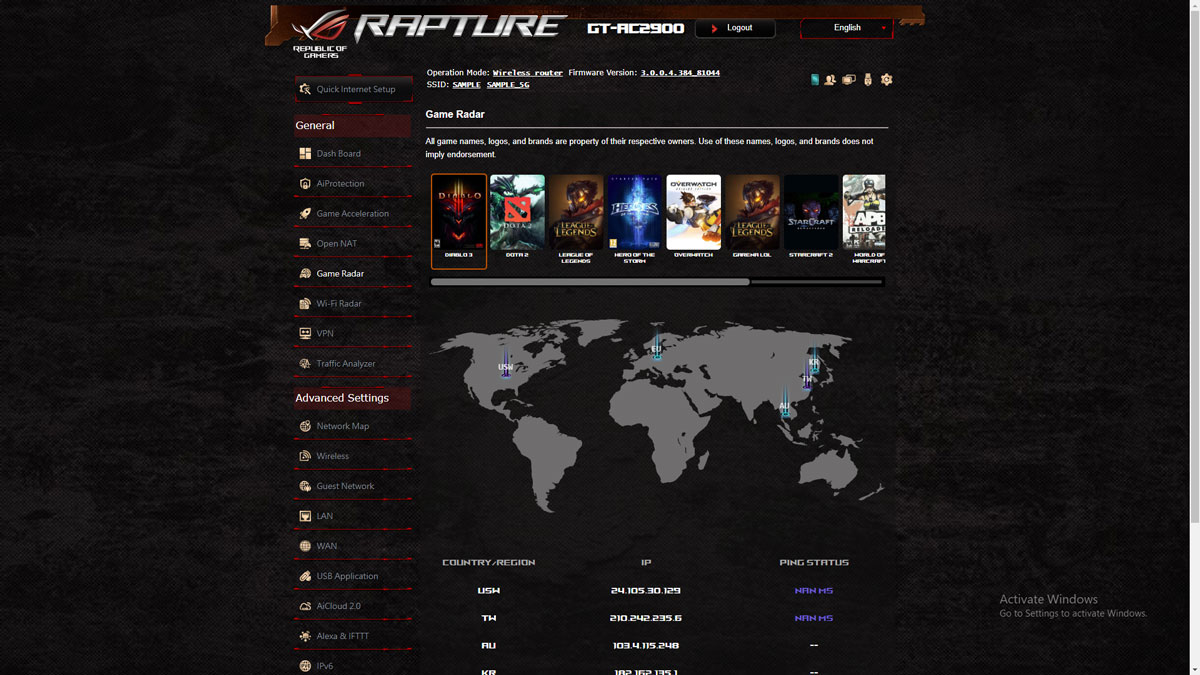 Wi-Fi Radar is a combination of four feature sets. It allows you to discover nearby wireless access points, show stats for nearby wireless signals, troubleshoot wireless issues and set parameters for Wi-Fi Radar itself.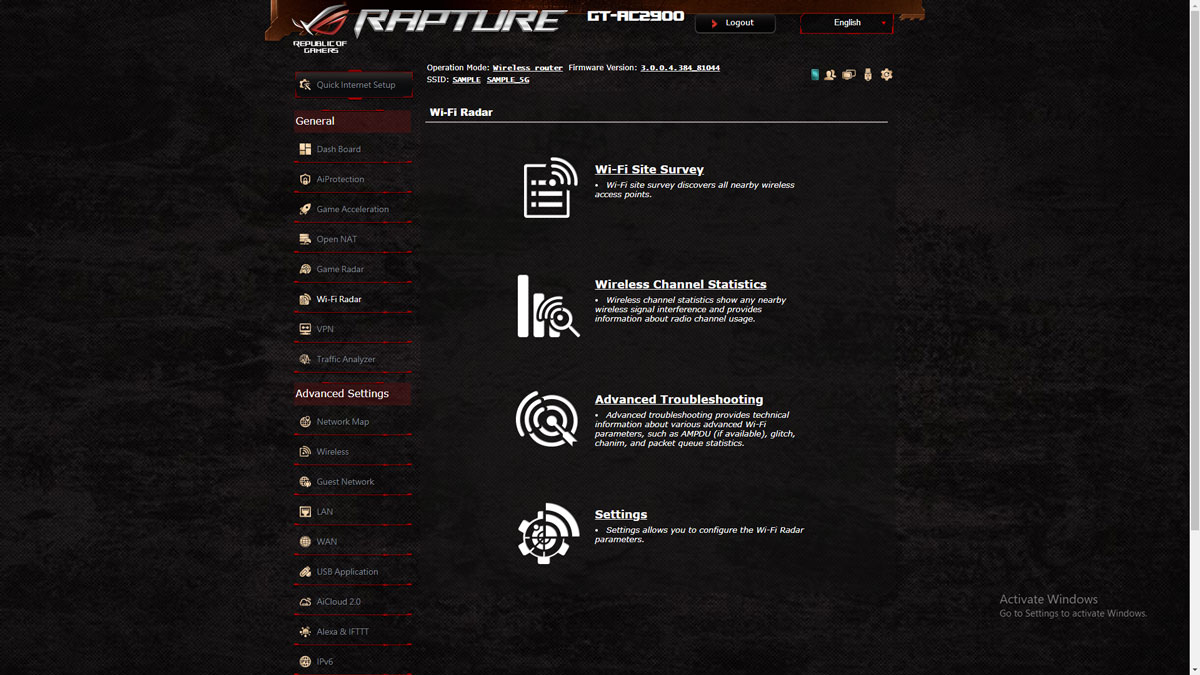 The VPN menu is self explanatory and we appreciated the support for OpenVPN out of the box.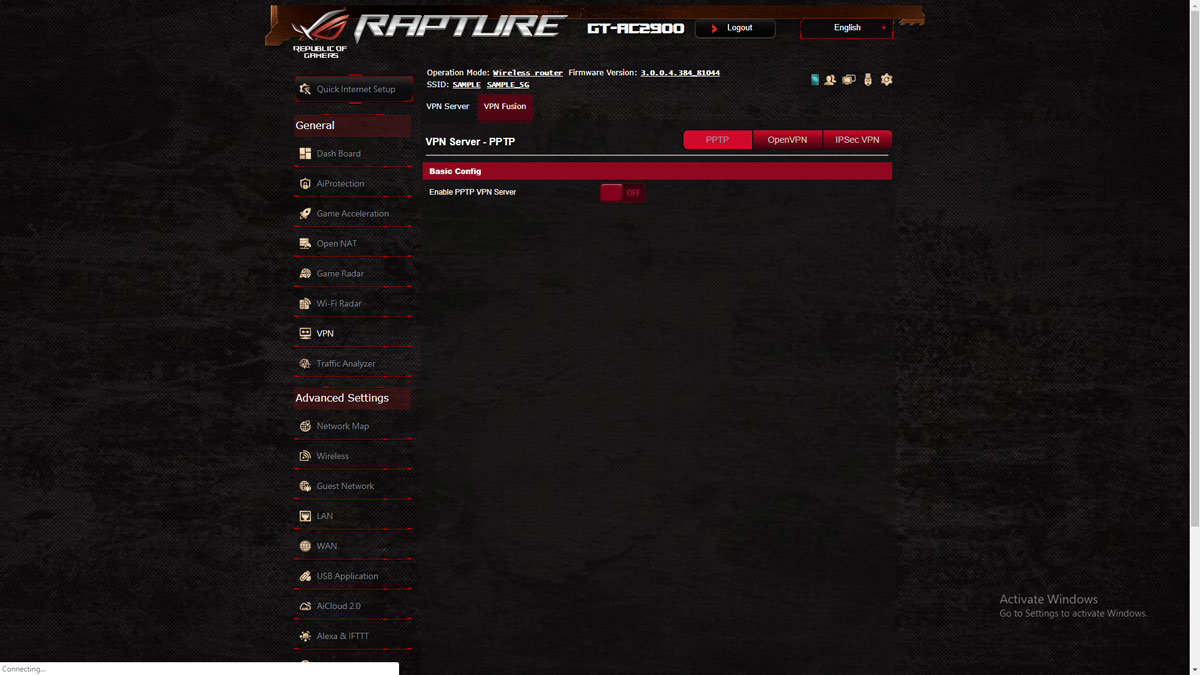 Traffic Analyzer records network traffic usage on an hourly basis. This is useful if you want to set parameters for devices or apps that consumes a lot of resources.
Test Setup and Methodology
Routers are far from the hardest components to test, but it doesn't mean they are easy enough to deal with since there are multiple factors to take into account while benchmarking. Factors includes the floor layout, wall thickness, interference from other wireless devices and the client and server's overall configuration.
Test System Specifications
CPU
Intel Core-i5 6600K
Motherboard
ASUS Z170-A
Cooler
Noctua NH-L9i
Memory
ADATA Premier DDR4
GPU
ASUS ROG Strix GTX 1060 OC
Storage
Crucial BX200 480GB
Case
Thermaltake Core P3
PSU
CORSAIR RM850X
Display
DELL U2715H
OS
Microsoft Windows 10 Pro
The NetIO-GUI is used to test our network configuration. NetIO-GUI has been chosen due to its ability to test TX/RX throughput and ping under various packet sizes.
Test system 1 – Desktop, Server, Wired
Test system 2 – Laptop, Client, Wireless
Network Performance
Network performance is again tested via the NetIO-GUI. We start with a 5 meter distance under the 2.4GHz and 5GHz frequency. Line of sight is maintained under this distance.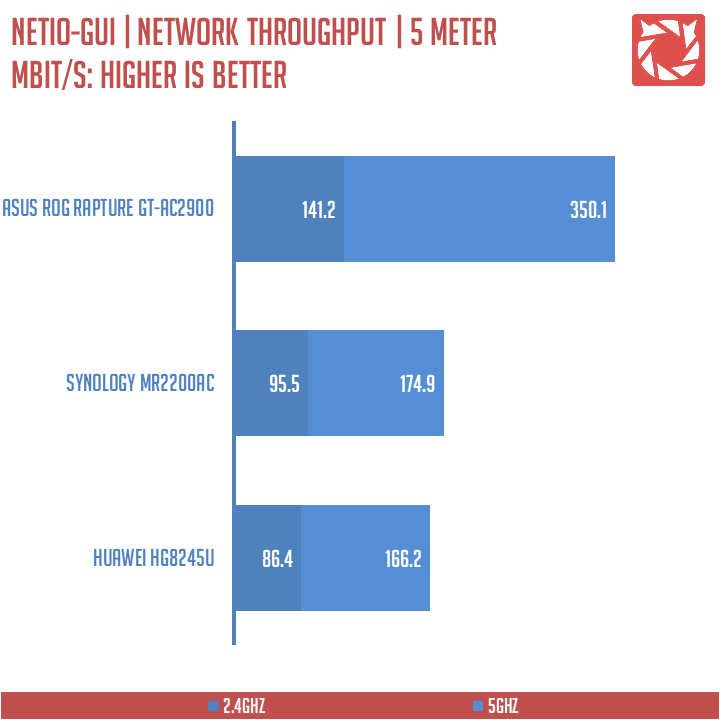 Next, we proceed with a 10 meter distance under the 2.4GHz and 5GHz frequency bands. This is more in line with your usual home studio apartment setup. Line of sight is also maintained under this distance.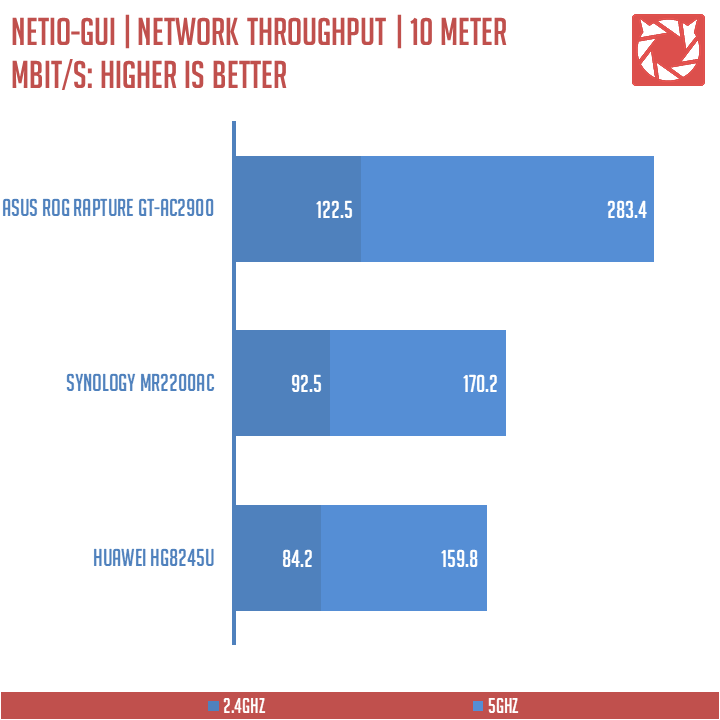 We then proceed with a 15 meter distance under the 2.4GHz and 5GHz frequency bands. This is more in line with standard housing dimensions. Line of sight is also maintained under this distance.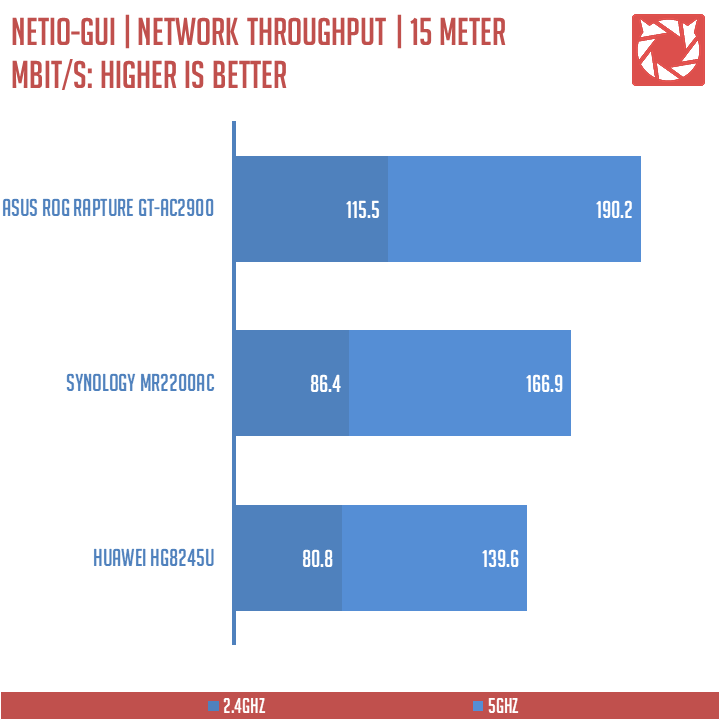 The ASUS ROG Rapture GT-AC2900 is quite possibly the fastest router we've tested to date at the tested ranges. It comes blazing with a maximum of 350.1 Mbps at the 5GHz band. We also got good results for the 2.4GHz band at 141.2 Mbps.
Software, Lighting and Special Features
Again, the ROG Rapture GT-AC2900 features the Triple-level Game Accelerator. It optimizes your online gaming packets all the way from your PC to the game server via three levels of function. Level 1 is the gaming port prioritization and comes with Level 2 prioritization if paired with any ASUS GameFirst compatible devices.
The ASUS ROG Rapture GT-AC2900 is also a GeForce Now Recommended router, which means it has been tested and approved by Nvidia on their cloud based gaming platform. If you have a minimum of 25Mbps connection (50Mbps recommended), then this router is required to enjoy the upcoming subscription.
AiMesh is also supported and it works with ASUS AiMesh compatible routers regardless of series and or models.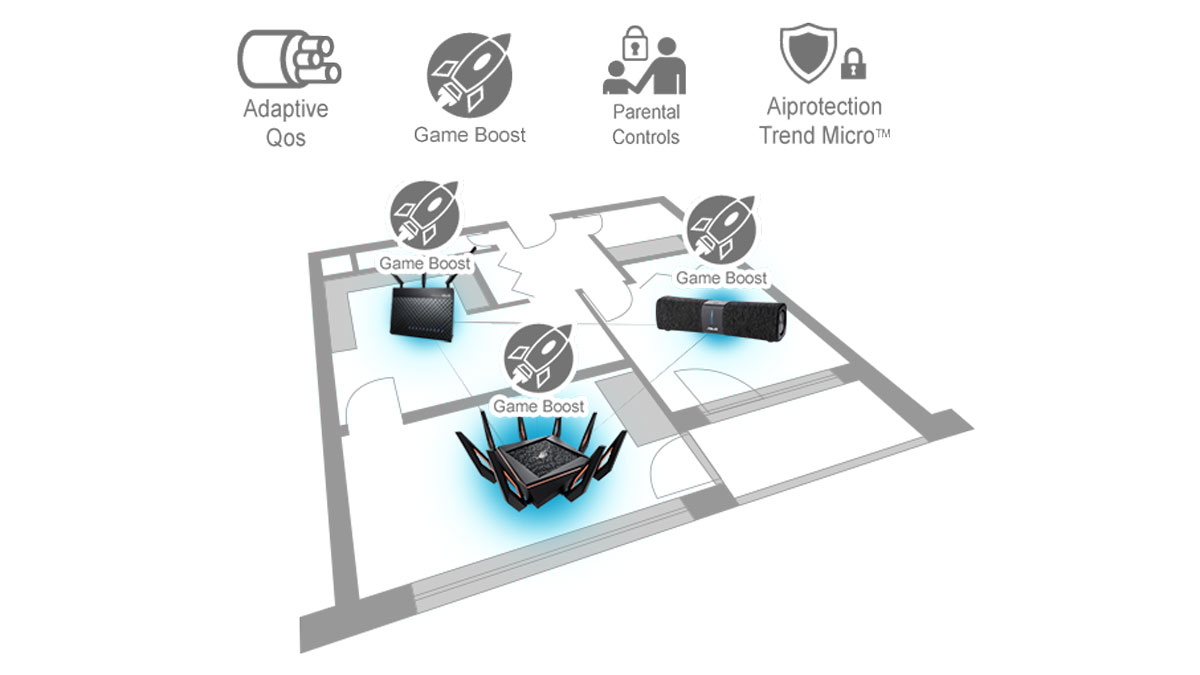 A subscription-free AiProtection Pro is also one of the router's highlights. It basically performs in-depth scans of inbound and outbound internet data to block all common attacks. The ROG Rapture GT-AC2900 updates its own database via Trend Micro's cloud based data centers so you'll be up to date whenever there is a new patch.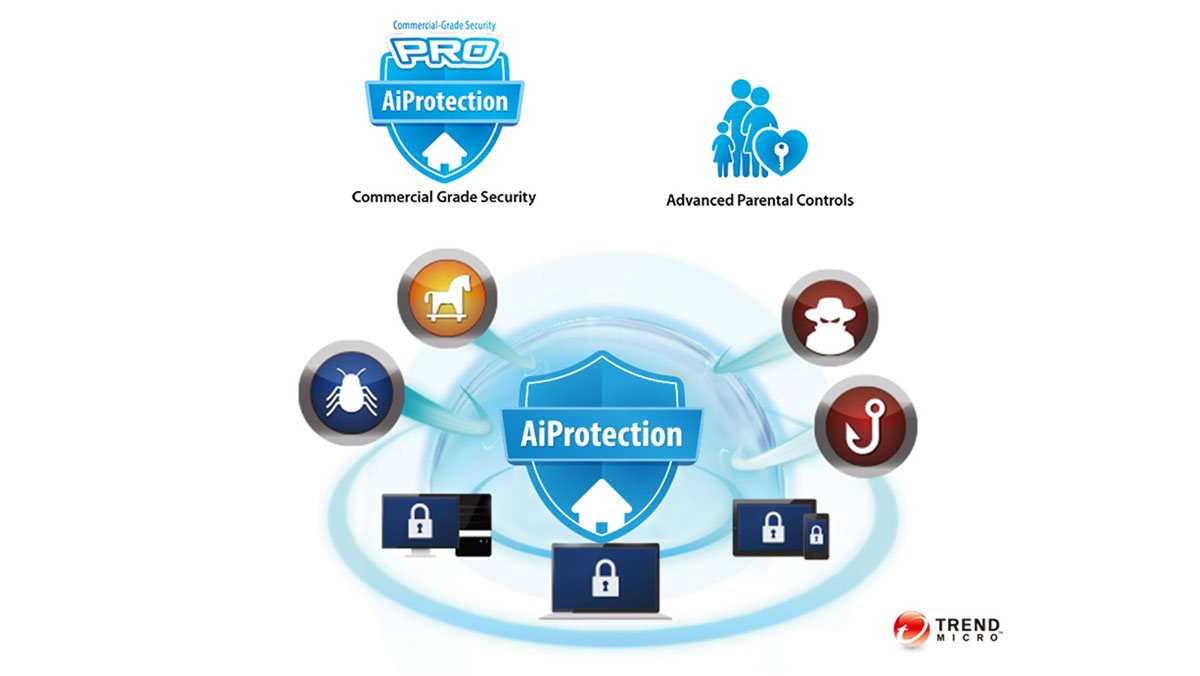 ASUS AURA Lighting is also supported with lighting effects easily bindable via pressing the Boost Key. Supported effects include Event, Static, Breathing, Rainbow, Comet, Flash, Glowing yoyo, Color cycle, Starry-night, Strobing and Wave.
Final Thoughts
The ASUS ROG Rapture GT-AC2900 is a proper gaming router with a set of features cut above the rest. We have OpenNAT, onboard WTFast support and prioritization made easy for gamers to configure. This benefits all sorts of gamers – mobile gamers even, to an extent. This comes with support for LTE dongles as well so if you're planning to stick somewhere remote then the GT-AC2900 is a must to pack along.
Performance wise, nothing really beats routers with external antennas. The Rapture GT-AC2900 is one fine example, extending both the 2.4GHz and 5GHz bands in our household with convincing results compared to other offerings we've tested.
The ASUS ROG Rapture GT-AC2900 comes with a price point of 14500 Pesos (ASUS Official Store). A cut above the beloved ASUS RT-AC86U when it comes to features and pricing. The better choice should budget allow it.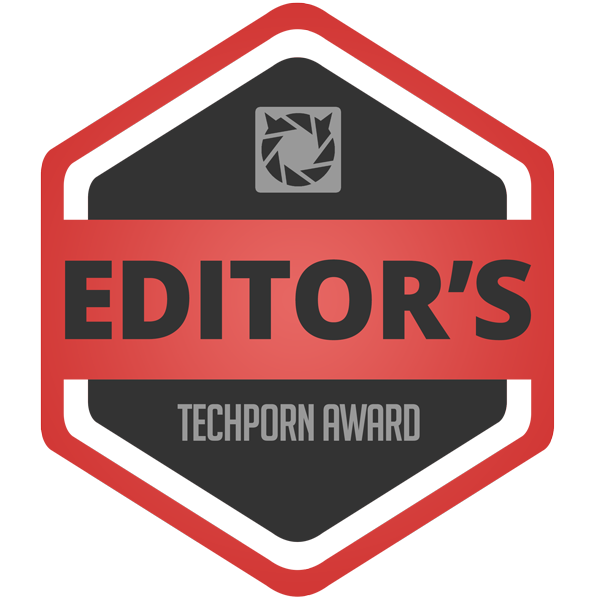 ASUS ROG Rapture GT-AC2900 Wireless Gaming Router
Performance -

9/10

Build Quality -

9/10

Features -

10/10

Design -

9/10

Value -

8/10
Summary
The ASUS ROG Rapture GT-AC2900 comes with a price point of 14500 Pesos (ASUS Official Store). A cut above the beloved ASUS RT-AC86U when it comes to features and pricing. The better choice should budget allow it.