In for review is the recently previewed ASUS ROG Strix Z690-I Gaming Wi-Fi. This is a flagship small form factor motherboard featuring the best that ASUS and Intel's Z690 platform has to offer at ₱ 24,210 PHP.
Notable features of the ITX motherboard includes an improved daughterboard an interconnect – also a daughterboard, a 10+1 power design in conjunction with a beefy cooling solution and a few more things we'll touch up with later.
Disclosure: ASUS sent the ROG Strix Z690-I Gaming Wi-Fi for the purpose of this review. The company did not ask me to say anything particular about it.
Technical Specifications
Processor
CPU Support
Intel 12th-generation Core, Pentium Gold, Celeron Processors
Chipset
Intel Z690
Socket
Intel Socket LGA1700
Memory
SDRAM
DDR5
Slot
2x DIMM
Channel
Dual Channel
Frequency
6400MHz (Max)
Capacity
64GB (Max)
Graphics
GPU
DisplayPort 1.4 via Intel Thunderbolt 4, HDMI 2.1
Multi-GPU
—
Expansion
PCI Express
PCIe 5.0 x16
Bifurcation
—
Storage
SATA
SATA III
M.2
SATA III, NVMe PCIe 4.0 x4
RAID
RAID 0/1/5/10 (SATA III), RAID 0/1/5 (NVMe)
Network
LAN
Intel 2.5Gb Ethernet
WLAN
Intel Wi-Fi 6E
Bluetooth
Bluetooth Version 5.2
Audio
DAC
Realtek ALC4080
ADC
Realtek ALC4080
Amplifier
Savitech SV3H712
Channel
7.1
Rear IO
USB
2x 3.2 Gen 2, 3x 3.2 Gen 1, 2x Legacy
eSATA
—
Thunderbolt
2x Thunderbolt 4
LAN
RJ-45
Audio
3x 3.5mm
Display
2x DisplayPort 1.4 via Thunderbolt 4, HDMI 2.1
Front IO / Internal
USB
USB 3.2 Gen 2×2, USB 3.2 Gen 1, USB 2.0
SATA
4x SATA
M.2
2x M.2
Audio
AAFP
Fan
3x 4-Pin
LED
Addressable Gen 2, AURA RGB
Dimensions
Length
170mm
Width
170mm
Height
50mm
Weight
—
Packaging and Accessories
ASUS had the ROG Strix Z690-I Gaming Wi-Fi packed inside their usual double compartment motherboard packaging.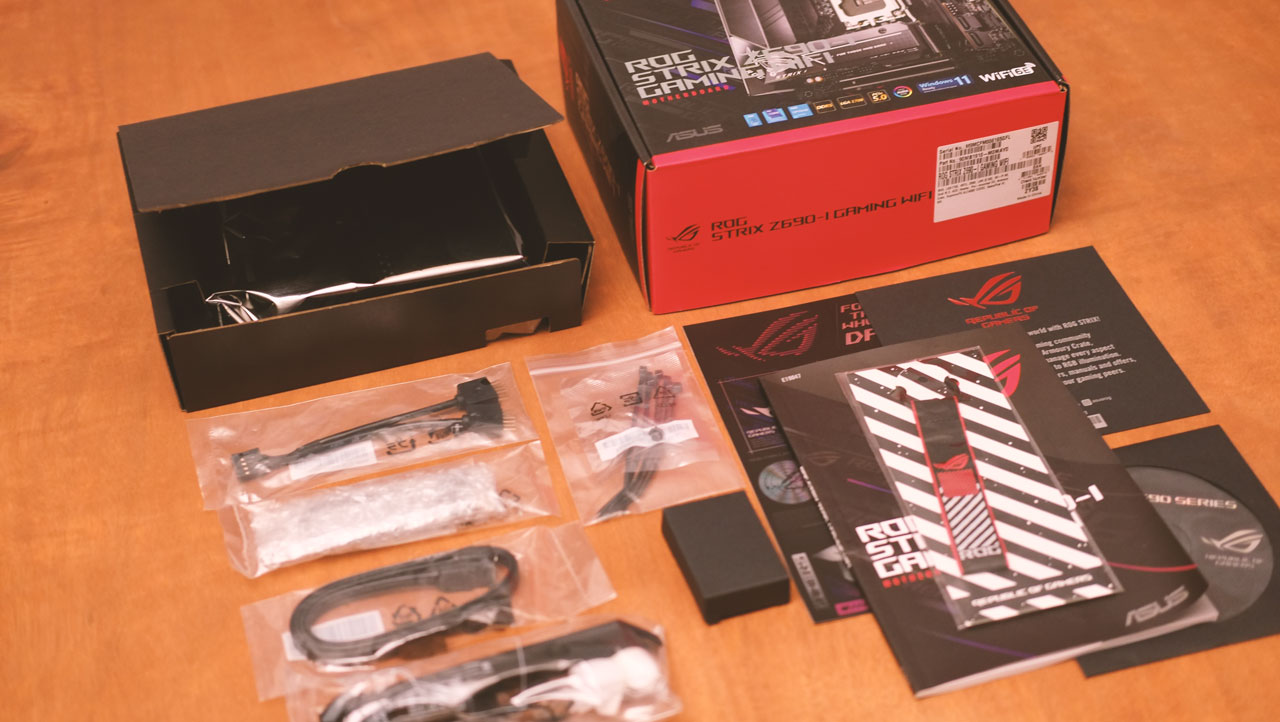 The product should come with the following items inside:
ROG USB2.0 splitter cable
Panel Cable
SATA 6Gb/s cables
ASUS Wi-Fi moving antennas
Cable ties pack
M.2 Q-Latch package(s)
ROG key chain
ROG logo plate stickers
ROG Strix stickers
ROG Strix thank you card
Support DVD
User guide
Pretty awesome bundle we got here – there's just a lot to unpack. Appropriate for a high-end motherboard model.
Design, Build and Connectivity
ASUS went with the tried and tested design element with the Z690-I Gaming Wi-Fi. That means the board is black and edgy, yet is more refined compared to the outgoing models. It's even taller by 5mm over the outgoing model due to the revised daughterboard design. That said, this is still a heavy motherboard with a lot of metal to aid cooling and aesthetics combined.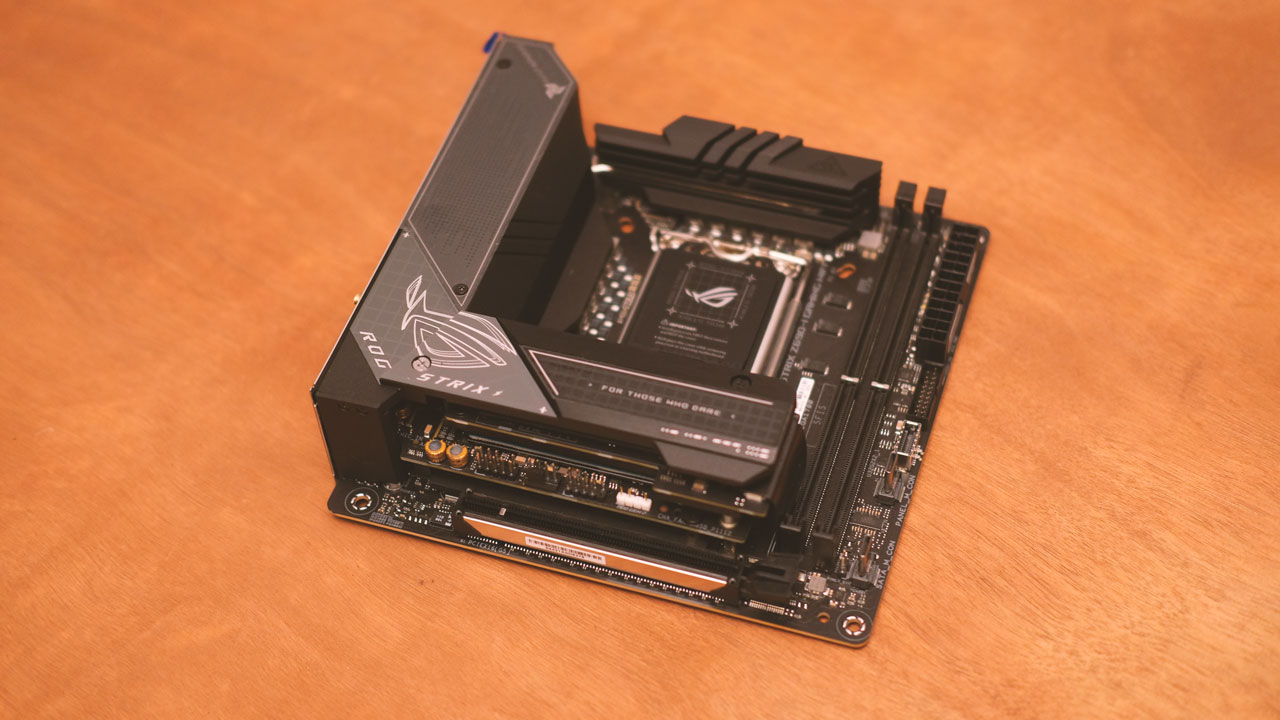 The back shows more about the soldering job involved into making the motherboard along with some extra PCB detailing in ROG styling. Compared to other motherboards of this caliber, the Z690-I Gaming doesn't come with passive cooling or braces here. No worries there though as the bulk of components needed to be cooled are located on the top side.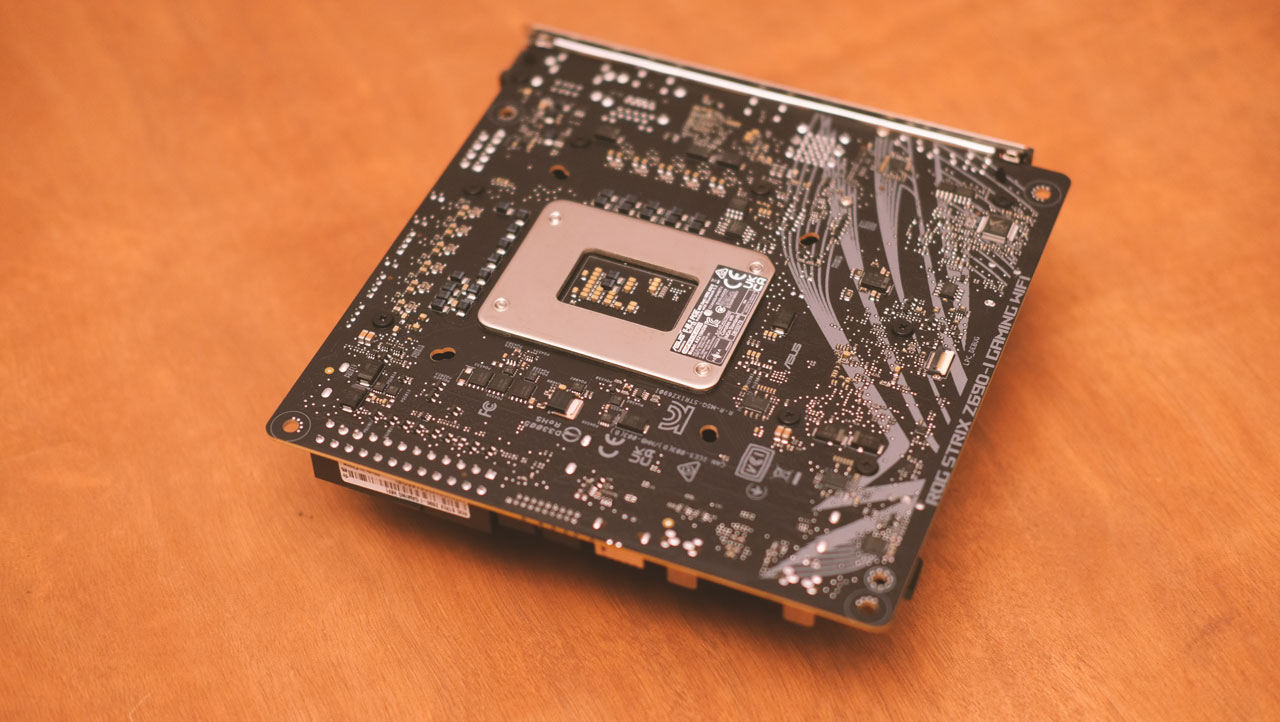 Powering the CPU is a 10+1 power stage design via a reinforced (ASUS ProCool II) 8-pin CPU power connector. Cooling the VRM (north) is a courtesy of a decent slab of aluminum connected to a larger one (west) via a heat-pipe that goes all the way to the PCH. The CPU fan, AIO pump header and a +12v RGB LED header are also located here. For reference, maximum rated power is 12W @ 1A for each.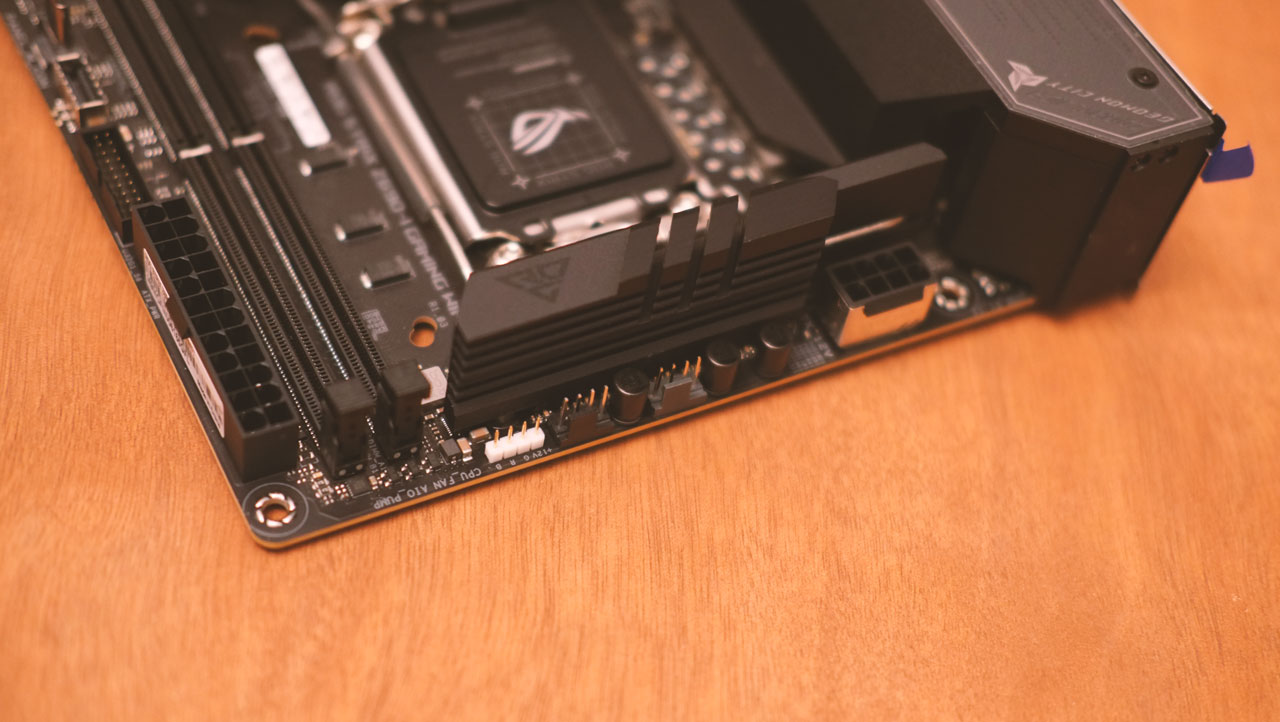 We got the usual suspects here when it comes to storage headers but we also got a new interconnect for the SATA interface. ASUS touts this as the ROG Front Panel SATA Card. This is basically a combination of four SATA ports, one ARGB lighting header and connectors for a front panel header and a PC speaker. It uses a dual USB Type-C male header yet isn't electrically functioning as one. This is optional, since you could start the motherboard with a separate power button header next to the interconnect.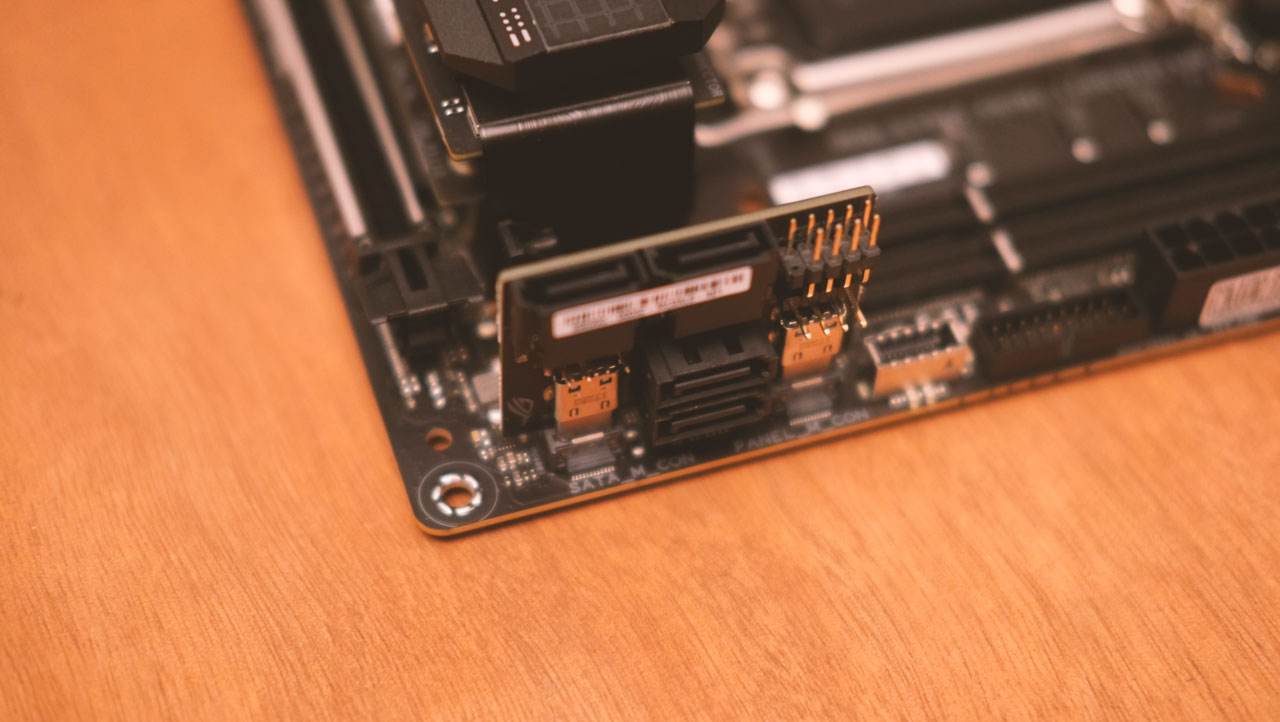 Bottom row is pretty clean since most of the stuff that needs connecting are already on the daughterboard. We got the chassis fan header here though, another RGB LED header (ROG Gen 2), a USB header and a front panel audio header. This daughterboard is actually a smorgasbord with the PCH, dual M.2 slots (PCIe 4.0 NVMe) and the audio solution sharing one real estate in a property complex fashion. This is a nice idea but I had trouble mounting my usual cooling setup here. The larger socket area, daughterboard and VRM cooling solution could be the suspects here. Finally, we get to see the PCIe 5.0 x16 slot. This supports bufircation according to the website but I can't find more information about it on the manual.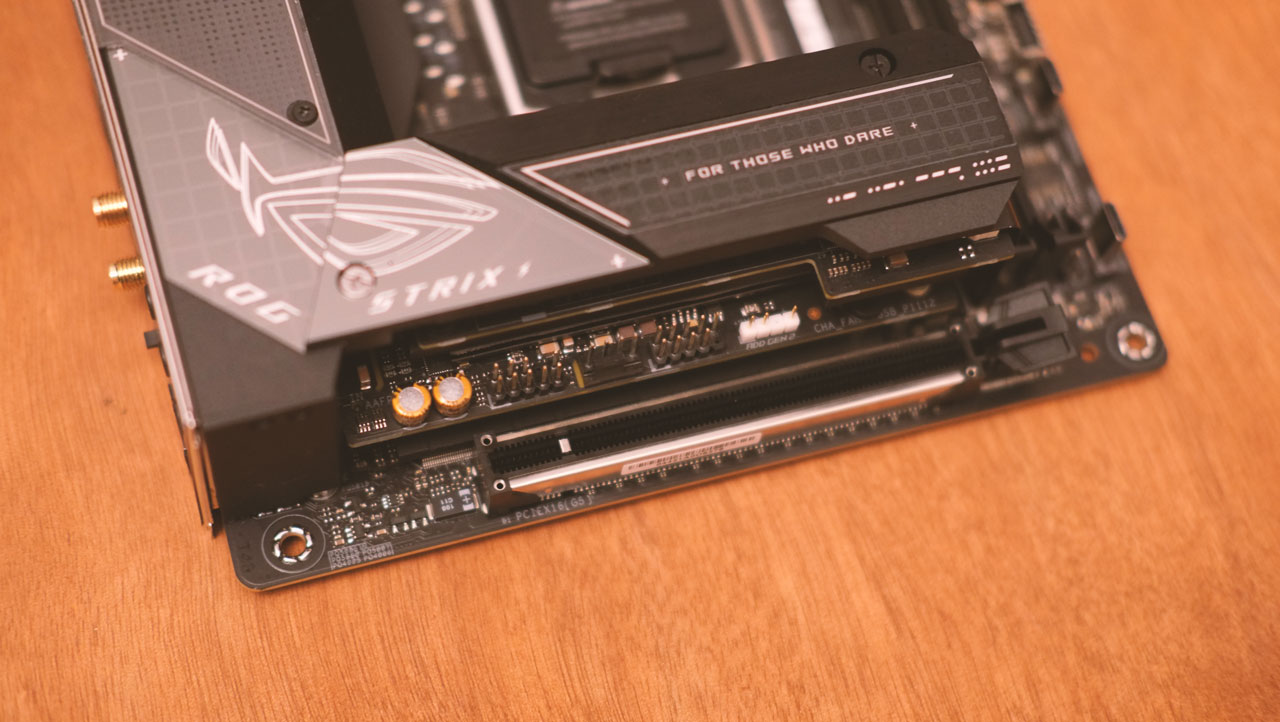 Rear I/O ports are excellent both in density and layout. We have a line out here for speakers and amplifiers so if you got setup for that, then I guess you just could. This also works with headphones via Realtek's jack detection. We also have dual USB Type-C ports here for the Intel Thunderbolt interface. Finally, we have the BIOS fall back button here along with the Clear CMOS.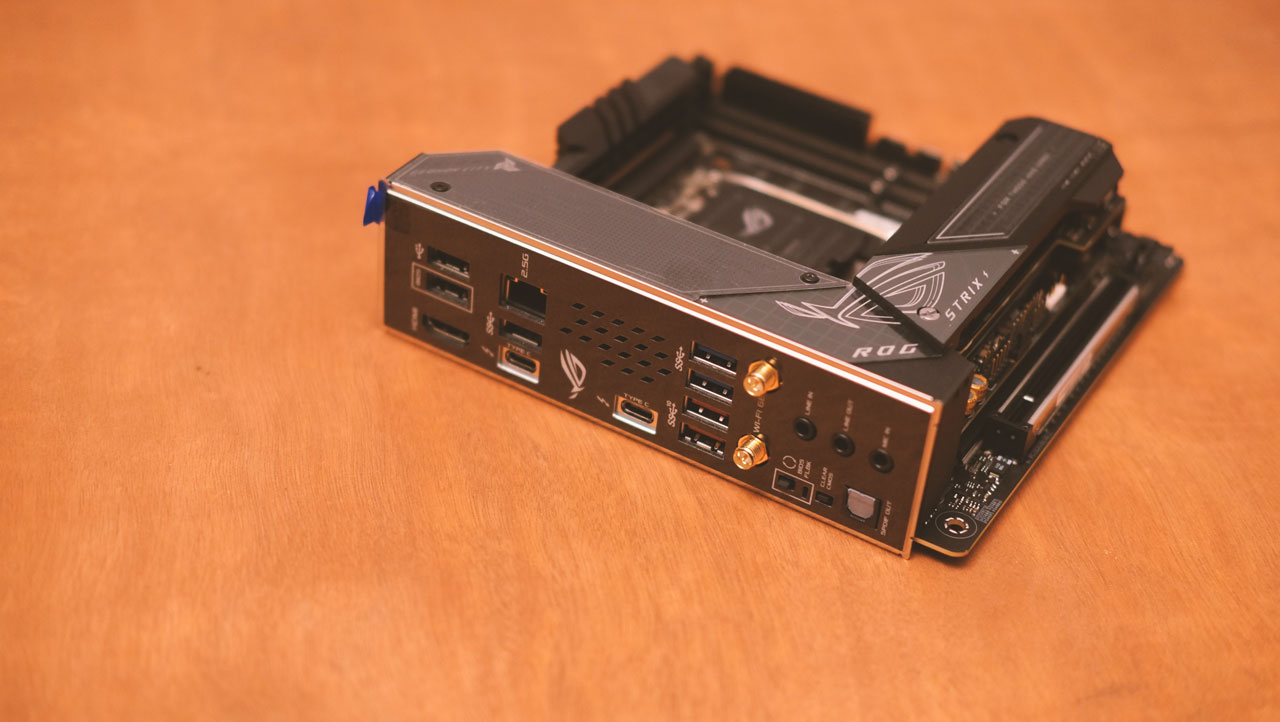 The board is jam packed with features and there's little to scrutinize. Perhaps an easier access to the battery bay and a removable Wi-Fi card would be an ideal setup. The issue with some tower coolers is something you should consider too. In ASUS' defense, the Intel 12th generation processors runs hotter compared to the last generation so a liquid cooler is most definitely recommended – for the flagship models at least. Regardless, I find this board's amount of I/O port appealing to the point where it could put some ATX motherboards to shame.
Firmware Interface
The ASUS ROG Strix Z690-I Gaming Wi-Fi comes with a modern UEFI like many motherboards do these days. It has a nice look and feel to it despite only capable of outputting a 4:3 aspect ratio – hence the stretched images below. There's the EZ Mode where you could adjust the Intel XMP, IRST and even enter overclocking mode with just a push of a button – along with some monitoring tools on display. For some, this dashboard is enough.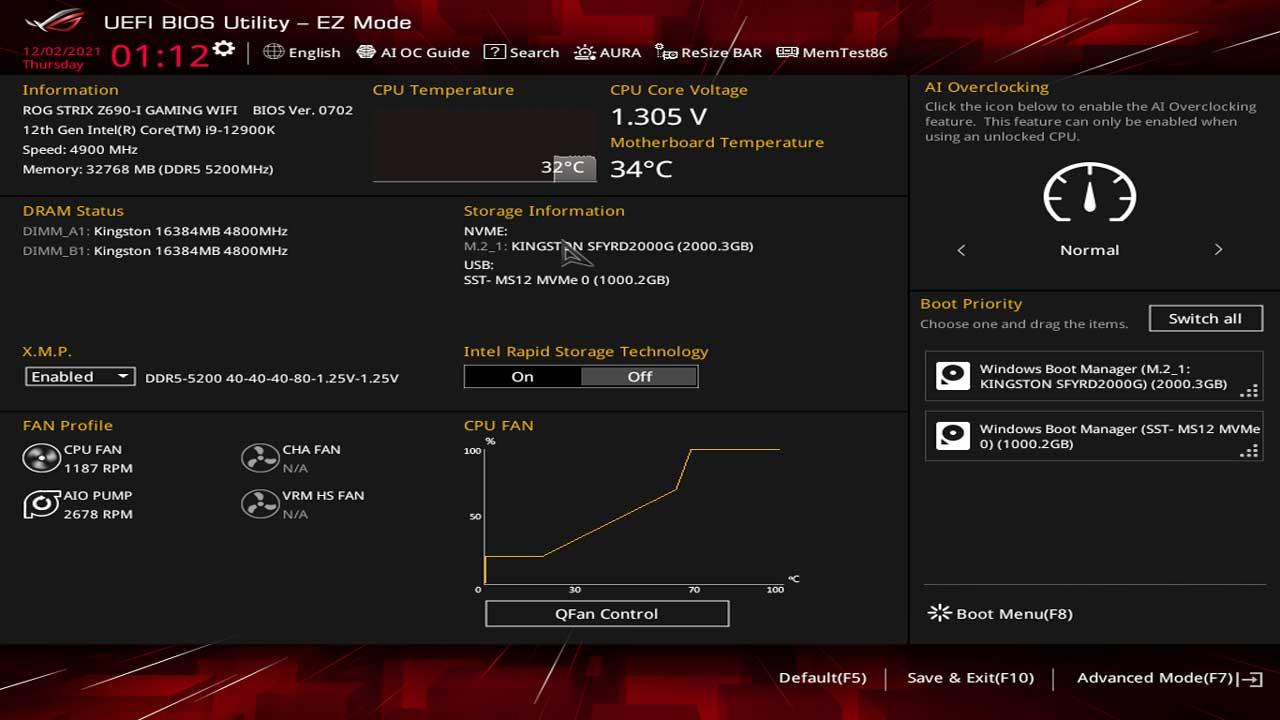 If you're feeling adventurous, the Ai Tweaker is where you could do what the EZ Mode could but on steroids with settings upon settings to play with. Like many flagship ASUS motherboards, the Z690-I Gaming Wi-Fi is capable of adjusting minute parameters for your CPU and memory. That includes frequency, timings and voltages to name a few. ASUS MCE is also located here – a feature we've enabled throughout this review. It basically overrides Intel's power limits and syncs all cores to reach the maximum frequency. You are now at the mercy of ASUS and your cooler with this mode enabled.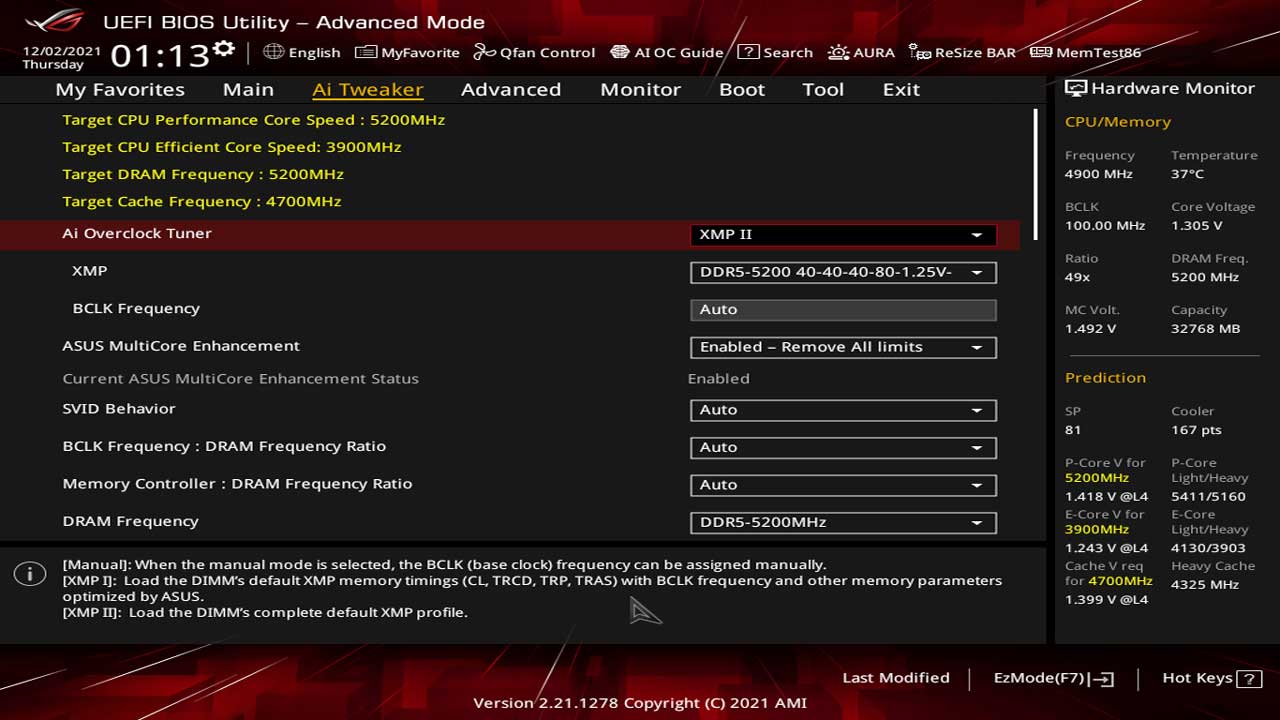 Advanced is where most PCH/chipset stuff are located. Nothing fancy here but this is where you could also turn off the P/E-Cores. Pretty useful for games or applications where the E-Cores are literally messing them up. Intel, please patch this up ASAP.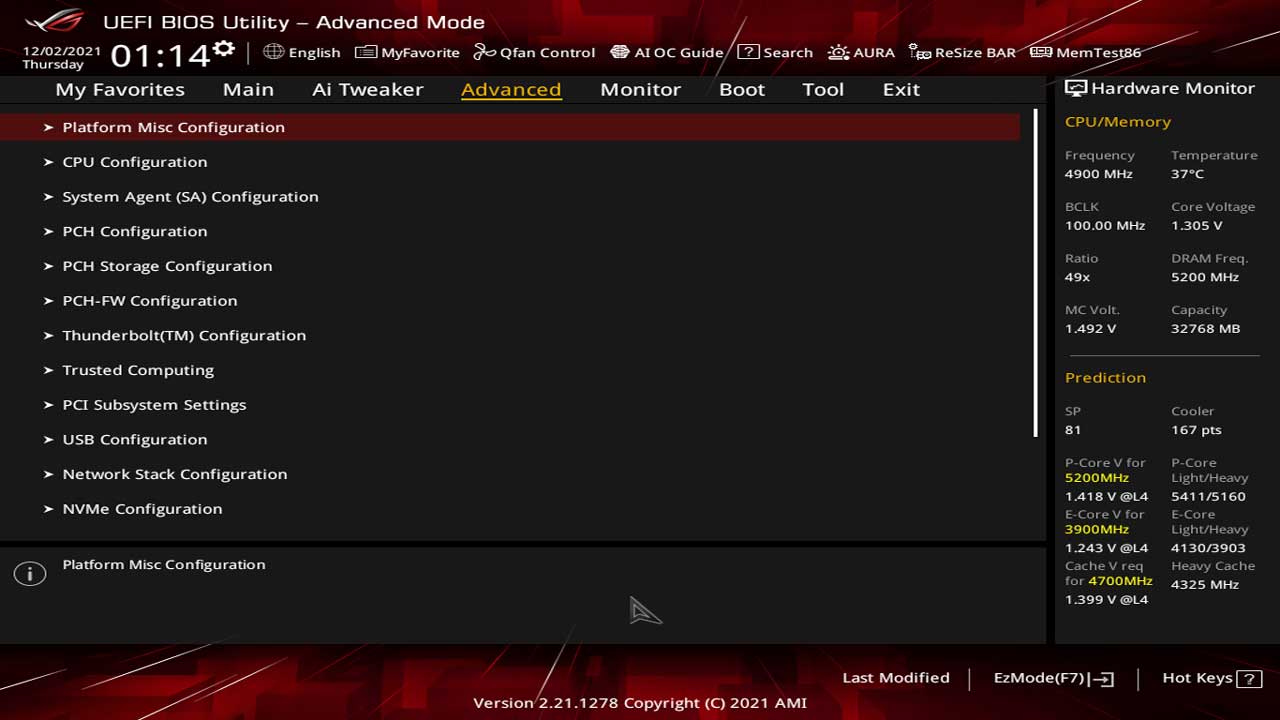 Monitor is self explanatory. I appreciate the number of sensors on this board though – in relation to its size.
ASUS didn't even skimped on the built-in tools of the Z690-I Gaming. We have the MemTest86 here, EZ Flash Utility and Image Rollback support to name a few. Not sure why there's a Flexkey support here though – since that requires an actual Flexkey installed. Perhaps this bypasses the reset button on the front panel header?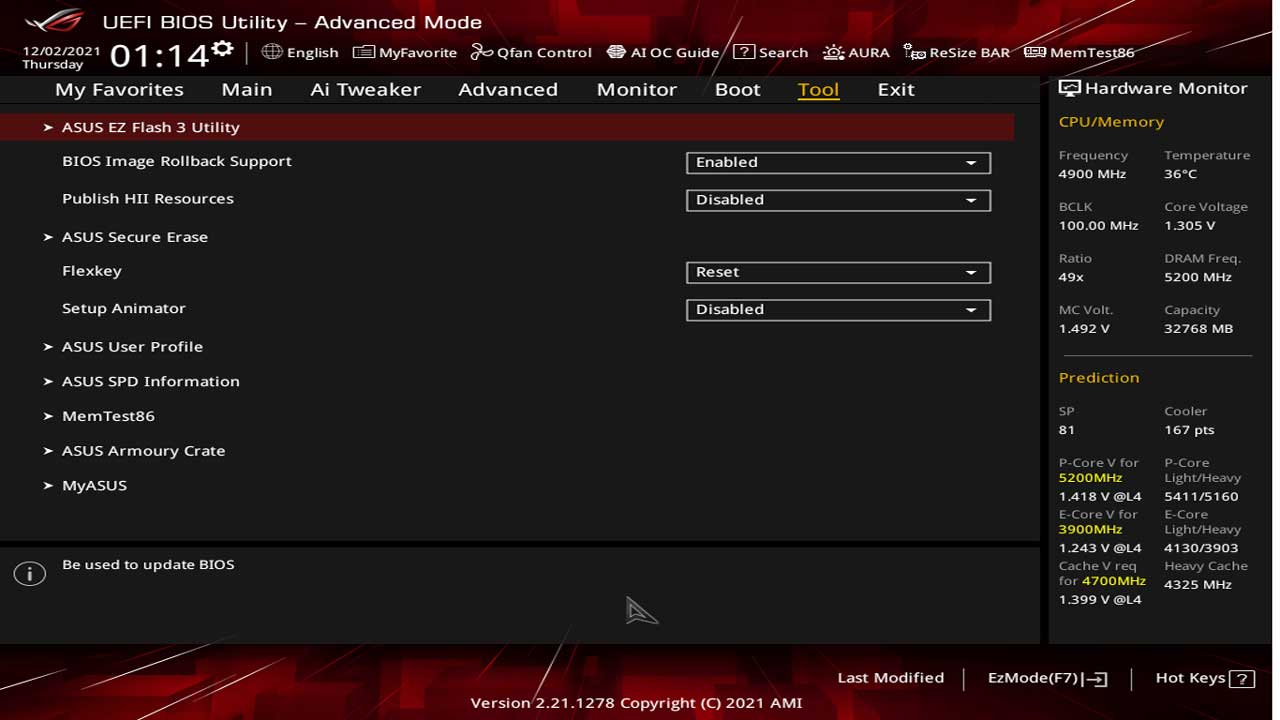 Overall, the UEFI has a good layout and is easy to work with. It's not perfect though with its pre-HD era aspect ratio and a dated mouse support.
Test Setup and Methodology
Our test setup relies on the measurements taken from industry standard benchmark tools and real-world applications. It is important to note that we are testing the review sample after burn-in, with at least 24-hours of uptime. This is done so to negate the FOTB (fresh out the box) state of the DUT (device under test), yielding better benchmarking consistency.
Test System Specifications
CPU
Intel Core-i9 12900K
Motherboard
ASUS ROG Strix Z690-I Gaming Wi-Fi
Cooler
ASUS ROG Strix LC II 360
Memory
Kingston FURY Beast DDR5 5200MHz 32GB
GPU
GALAX RTX 2060 EX White 6GB
Storage
Kingston FURY Renegade 2TB
Case
Mechanical Library JXK-K3
PSU
Thermaltake Toughpower GF1 650W
Display
LG UF680T
OS
Microsoft Windows 10 Pro 64-bit
The DUT is tested with the following configuration from our test system:
UEFI configuration: Default
Windows Power Plan: Balanced
Note: This motherboard has been tested with the ASUS MCE set to auto (default), enabled and disabled. Since this is also based on a custom test system featuring the ASUS ROG Strix LC II 360 cooler, we'll have to make do with the incomparable results – hence, the lack of comparisons with the previous reviews.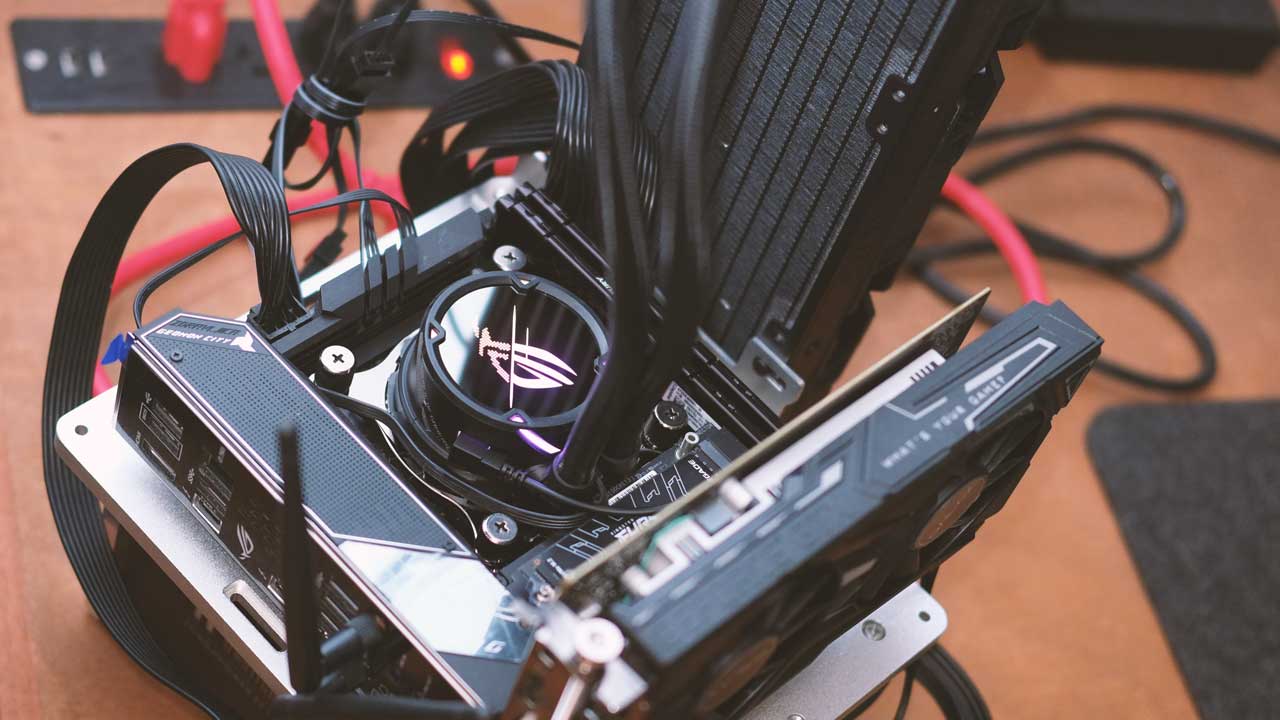 Clock Speed
CPU frequency is measured in Megahertz (MHz) at system idle and load. This is done via AIDA64 Extreme and its System Stability Test. Readings are then taken from the core sensor using HWiNFO.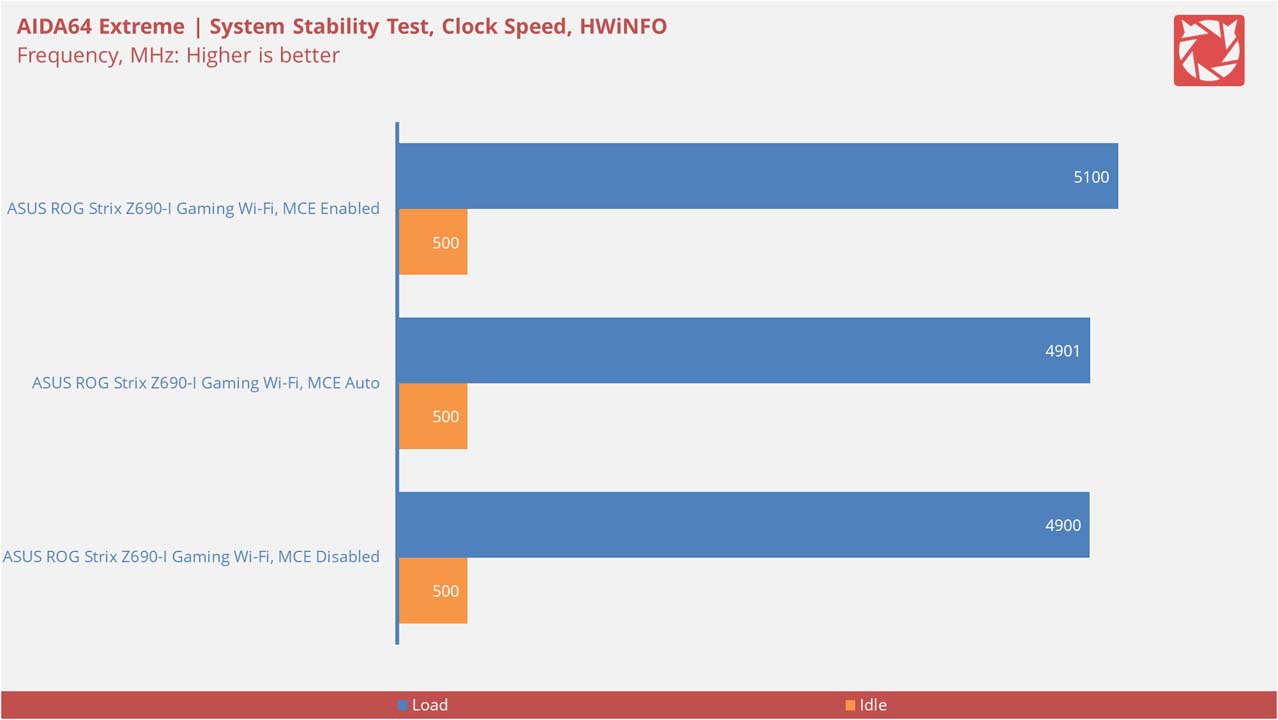 ASUS MCE when enabled, enables the Core i9-12900K to reach 5100MHz (Core#3) but goes into 4900-5000MHz after 5 minutes of sustained load. Other profiles peaks at around 4900MHz but the MCE at auto sustains the frequency better compared to it turned off.
Core Voltage
Core Voltage is measured in Volts (v) at system idle and load. This is done via AIDA64 Extreme and its System Stability Test. Readings are then taken from the vCore sensor using HWiNFO.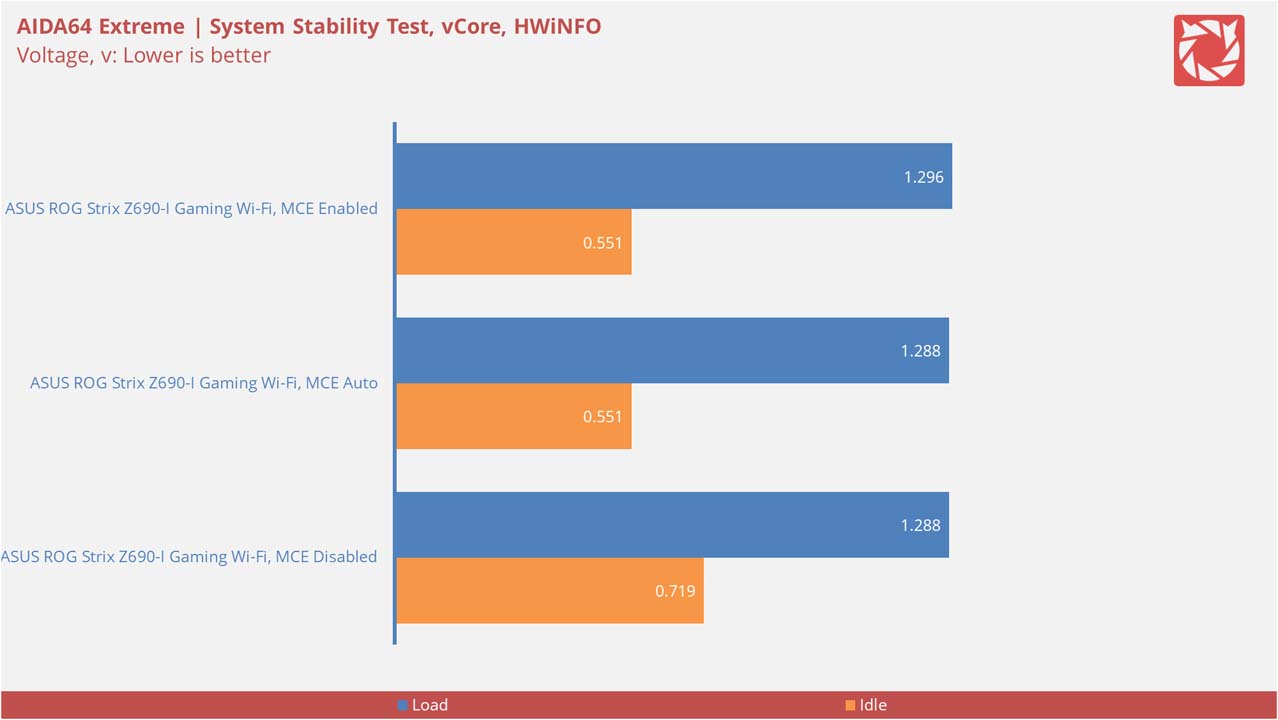 No surprise here, MCE requires a bit more voltage to reach the x51 multiplier set by ASUS – not too far off from auto. Both profiles actually has better core voltage requirement at idle compared to Intel's specified limits – which is MCE turned off.
POST Speed
Time to finish POST is measured in Seconds (s) at warm and cold boot. This is done via Windows Task Manager and its Last BIOS Time feature. The test aims to measure the amount of time time taken by the UEFI to initialize the hardware prior booting to Windows.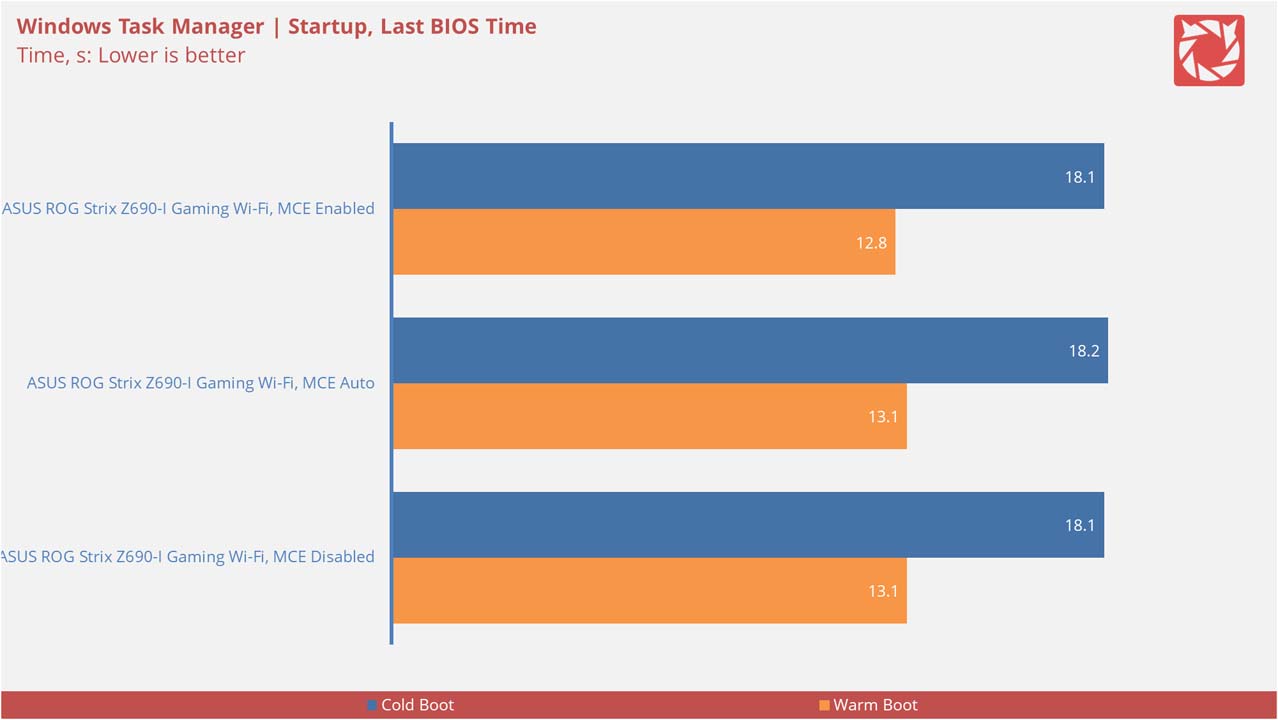 Last BIOS Time for all profiles are almost identical to each other. This is within a margin of error. Still high though compared to what I'm used to.
DPC Latency
Kernel timer latency is measured in Microseconds (μs) at current and highest. This is done via LatencyMon. The test aims to check if a system is suitable to process real-time audio and other tasks.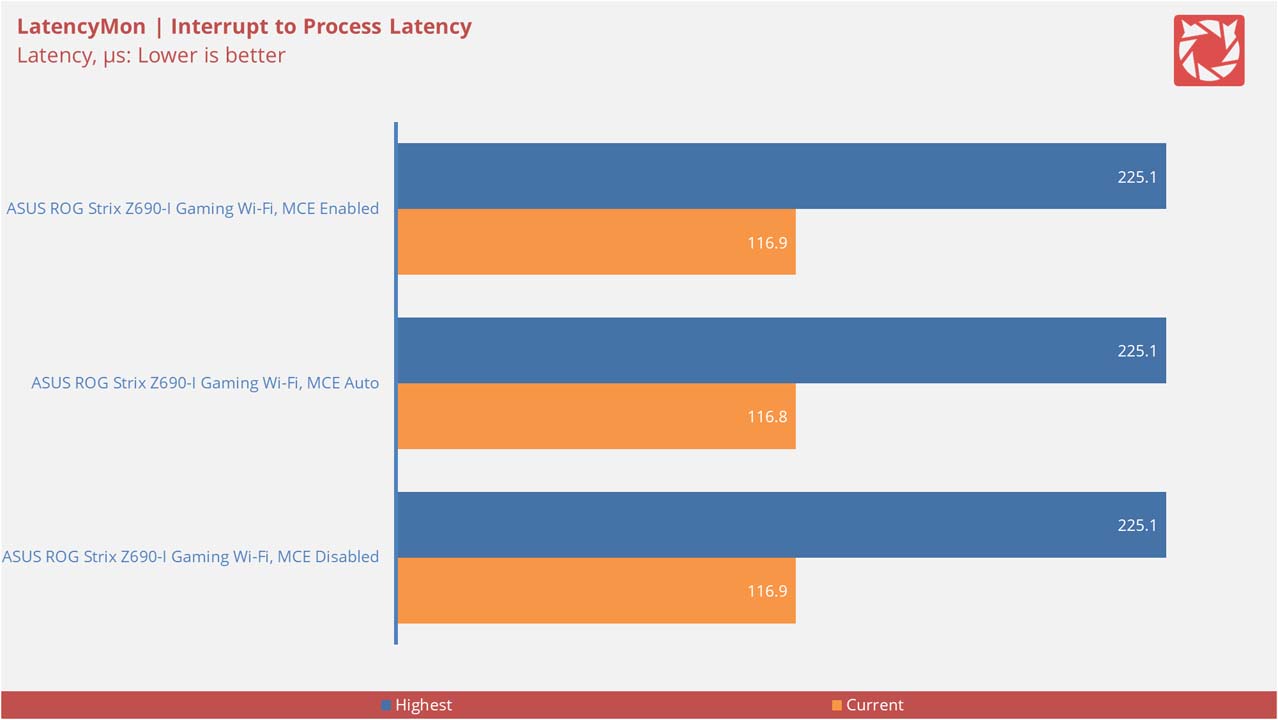 DPC latency is nothing to worry about. A bit high versus my personal PC but that's still low and should be absolutely fine.
Memory Latency
Memory latency is measured in Nanoseconds (ns). This is done via AIDA64 Extreme and its Cache and Memory Benchmark. The test aims to check the motherboard trace routing design for the memory.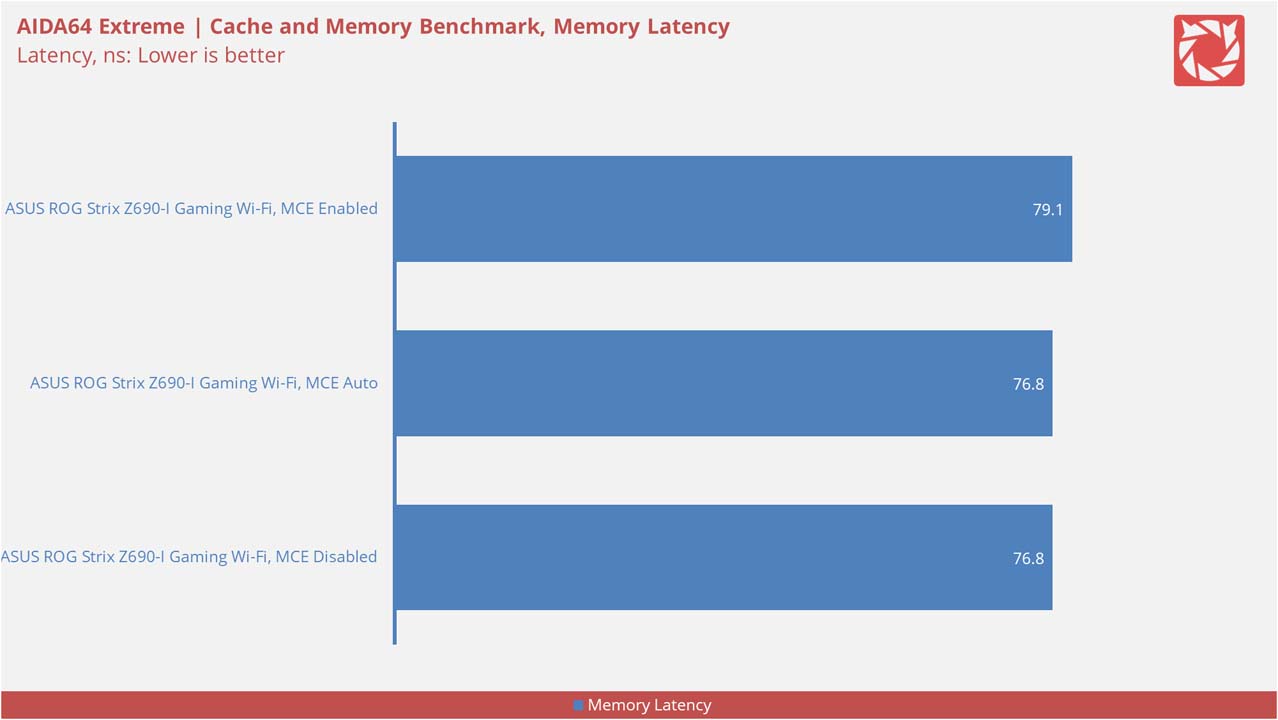 Memory latency leaves me wanting more. 79.1ns is pretty high with MCE enabled – and for an ITX motherboard too. Maybe this is just what we should expect from DDR5 memory.
Storage Performance
Storage throughput is measured in Megabytes per second (MB/s) at read and write. This is done via CrystalDiskMark and its sequential benchmark. The test aims to check the performance of the common storage interfaces found within the motherboard.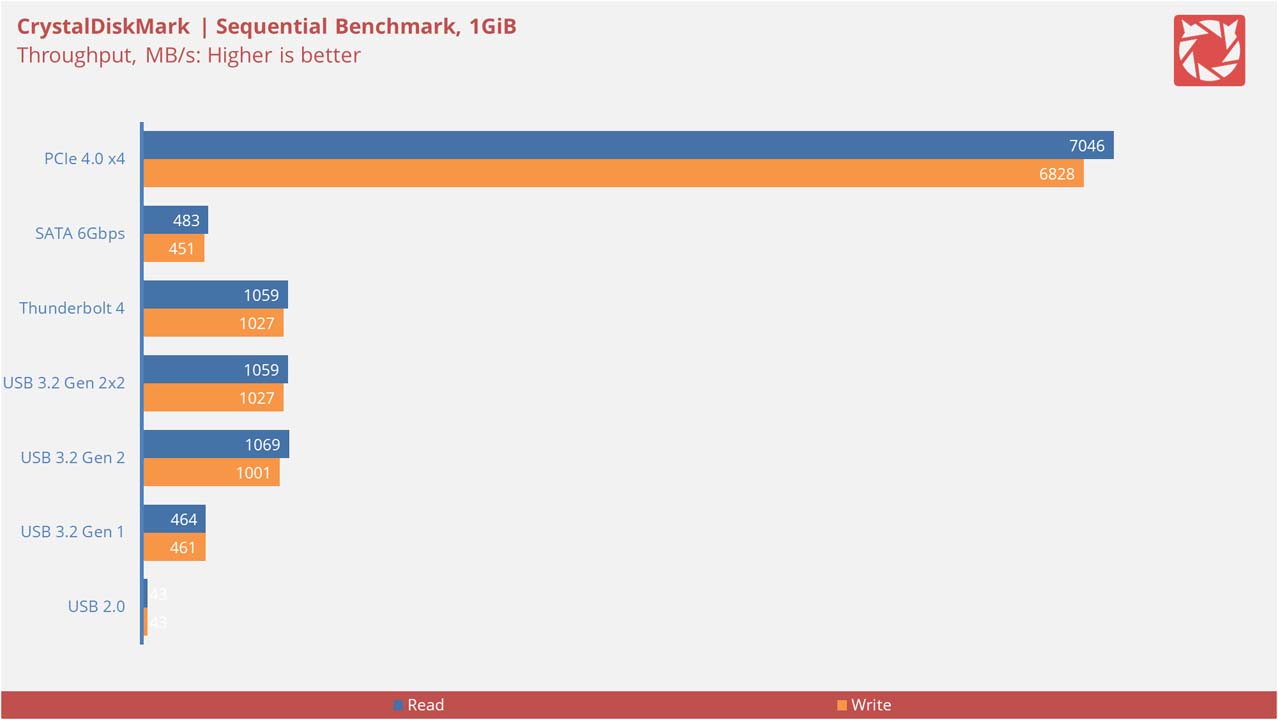 So, pretty stellar performance we got here but I had trouble handshaking my 20Gbps external drive to the USB 3.2 Gen 2×2 interface of the board. Hence, the USB 3.2 Gen 2 speed. Could be a compatibility issue with Intel's drivers.
Audio Performance
Sound level is measured in decibels, A-weighting (dB, A). This is done via the RightMark Audio Analyzer and its Test Report. The test aims to check the quality of the audio solution with the help of the MOTU M4 audio interface.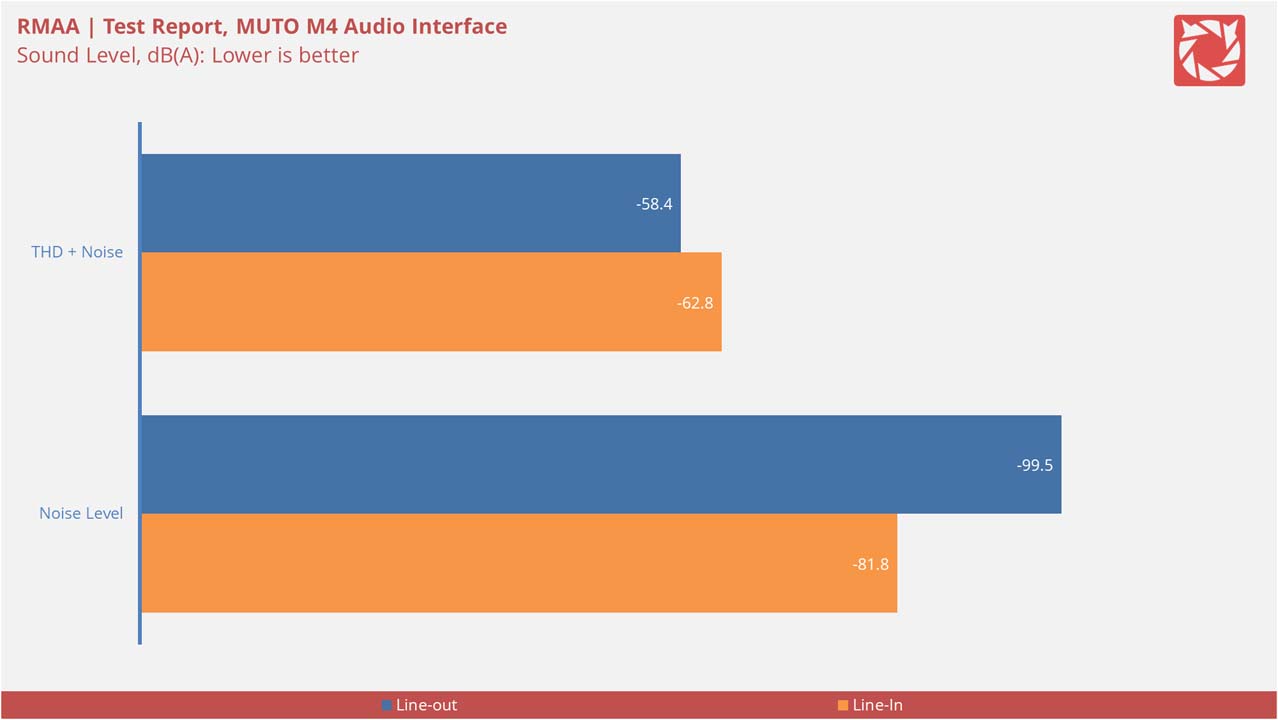 While noise level is good for both the line-in and line-out, THD + Noise leaves us with a sour performance for both the DAC and ADC. Also measured is the Dynamic Range which is above 99.5dB for the DAC so we're cool with the transparency stuff sans the noise. Both line-in and line-out measures flat too at the frequency response graphs from the benchmarks. The Savitech amp along with the Realtek Codec is a nice combination too. This audio solution could power my Sennheiser HD600 to deafening levels without introducing audible distortion – least to my ears.
Network Performance
Network throughput is measured in Megabits per second (Mbps) at download and upload. This is done via LAN Tester. The test aims to measure the Ethernet and Wi-Fi performance of the motherboard with the help of a flash drive hooked to a router.
Let's use this as a baseline until we get to test solutions from the other manufacturers.
Thermals
VRM temperature is measured in degree Celcius (ºC) at system idle and load. This is done via AIDA64 Extreme and its System Stability Test. Readings are then taken from the VRM using a thermocouple.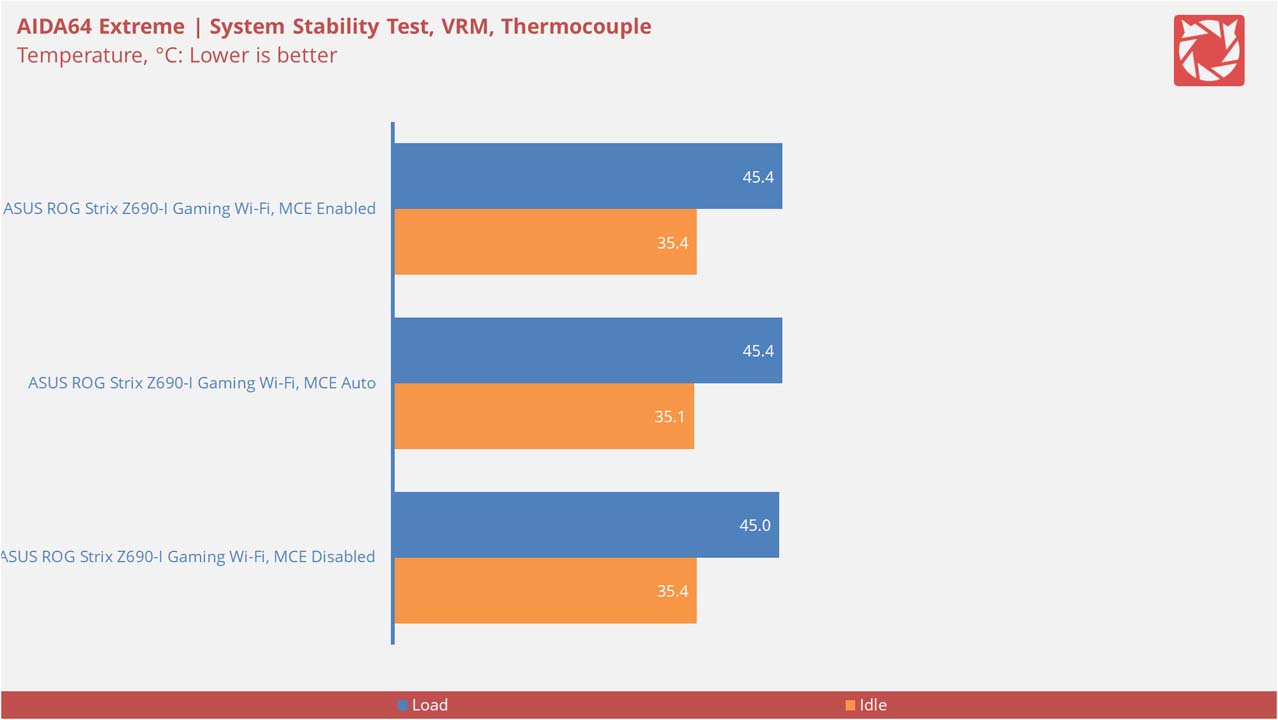 VRM thermal performance checks out just on the warmer side. No red flags here – although your mileage may vary with manual overclocking.
Power Consumption
System power consumption is measured in Watts (ºC) at system idle and load. This is done via AIDA64 Extreme and its System Stability Test. Readings are then taken using a wattmeter.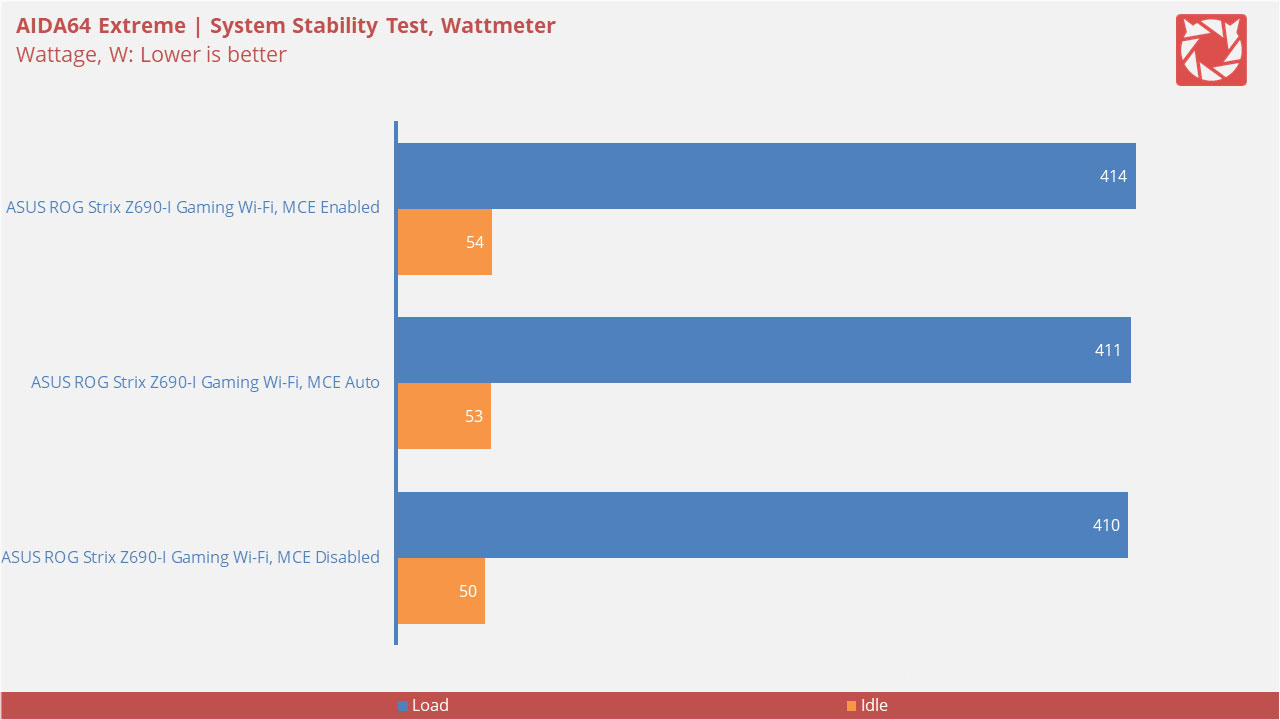 Over 410W sustained at load is something you don't see often on an ITX motherboard.
Software, Lighting and Special Features
If you like stuffing your OS with software, ASUS got you covered. It comes with the notorious Armoury Crate from which you could check the status of compatible ROG or Strix product. This also allows AI OverClocking  and AI Cooling on desktop.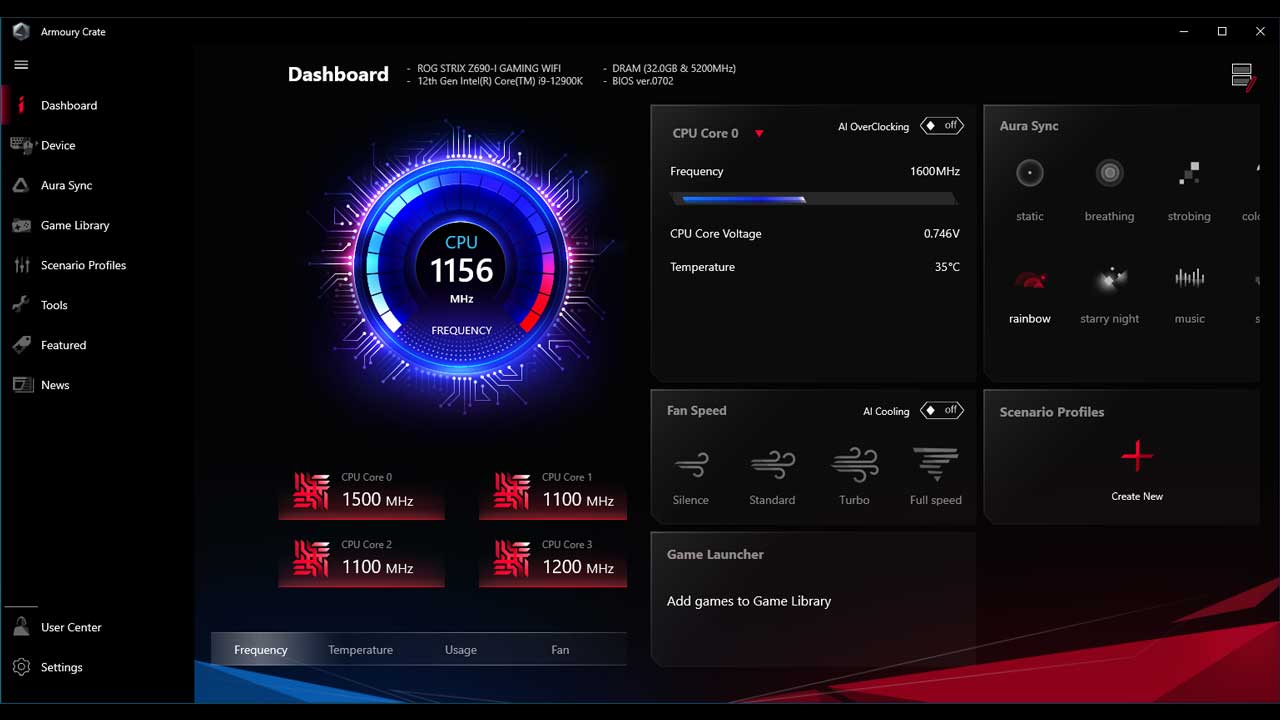 For lighting,  you could choose between Gen1 and Gen2 for both headers. I'm not wholly familiar with ARGB lighting interfaces so I'll leave this to the experts.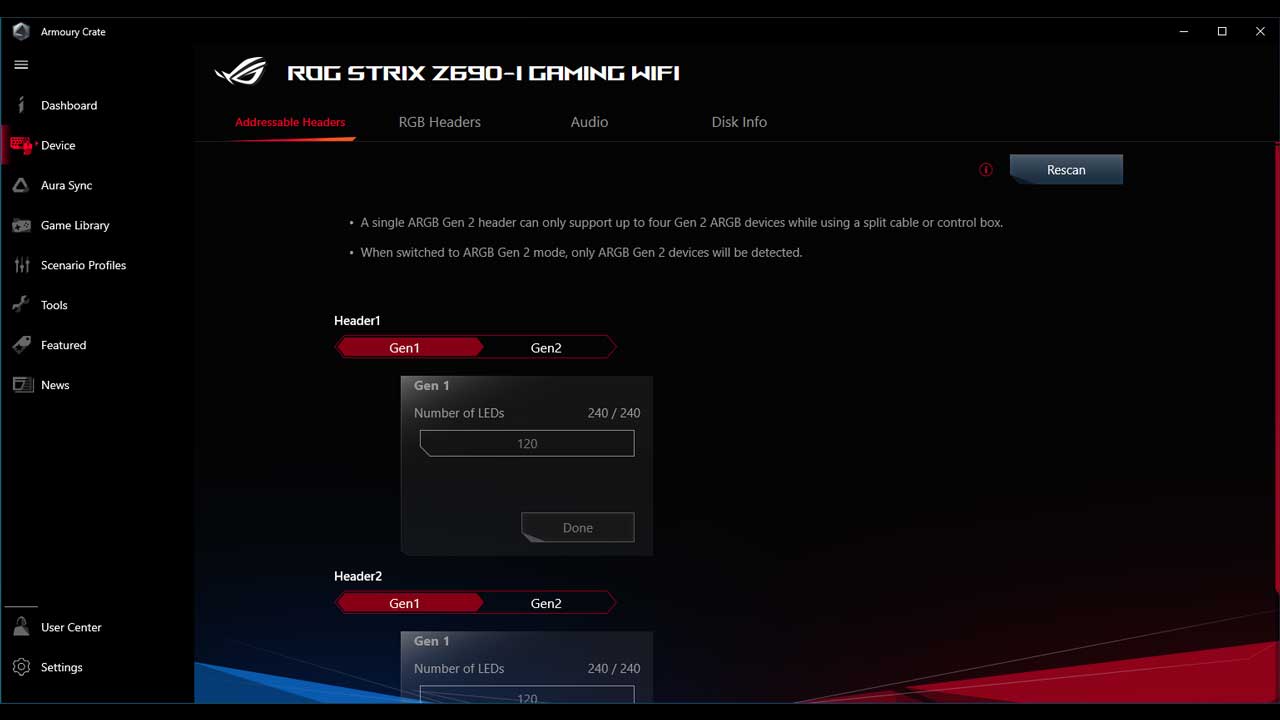 The Armoury Crate comes with more tools and nifty features. You may download device drivers within it – along with tools and or utilities that ASUS deemed fit for the end user.
Final Thoughts
The ASUS ROG Strix Z690-I Gaming Wi-Fi is once again a rock solid approach to a high-end SFF build. It comes with all the bells and whistles of the Intel Z690 chipset with a touch of its own to maximize its worth. It's a fancy yet dinky motherboard with full size features and specifications.
If I were to nitpick, I would love ASUS to improve its audio solution – as seen on our THD + Noise measurement. Cooler compatibility is also an issue with this board so make sure to ask your manufacturer or check the specification sheet twice. Granted, the new processors runs hotter compared to the outgoing generation so you'll most likely use a liquid cooler with higher end 12th generation models.
The ASUS ROG Strix Z690-I Gaming Wi-Fi retails for around ₱24,210 PHP. That's a huge amount of money so I would only recommend this motherboard for seasoned builders looking for a small form factor platform with full size features and performance in tow.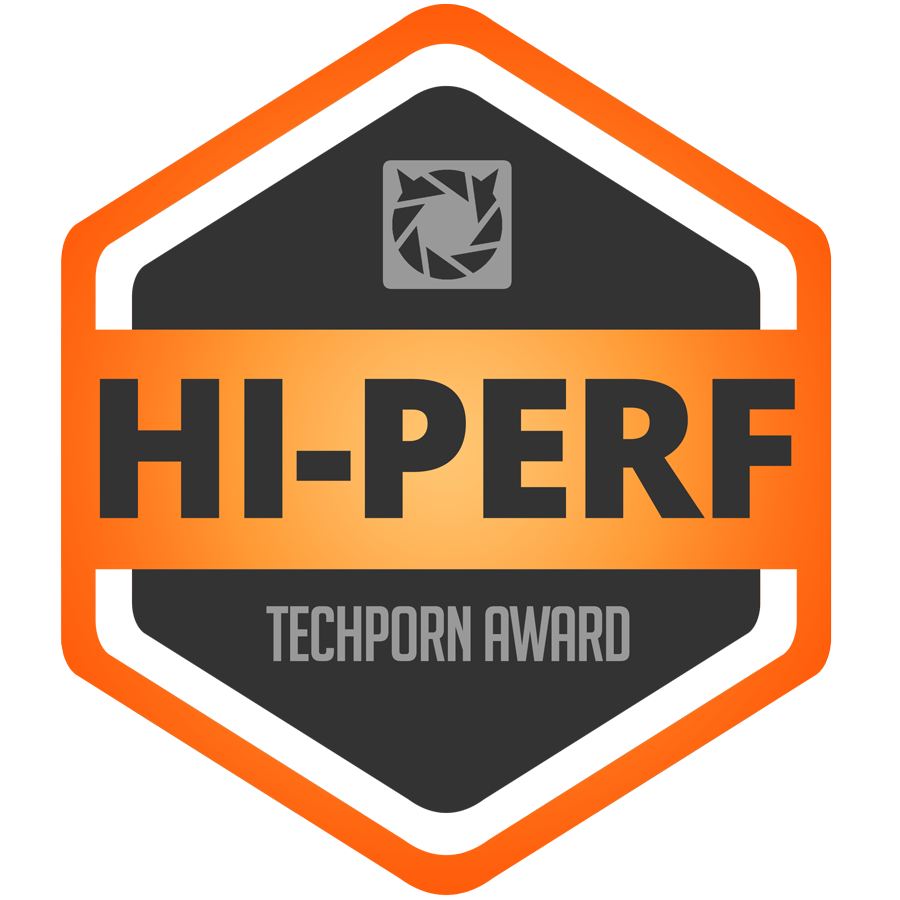 ASUS ROG Strix Z690-I Gaming Wi-Fi
Performance -

9/10

Build Quality -

9/10

Connectivity -

9/10

Ergonomics -

8/10

Features -

9/10
Summary
The ASUS ROG Strix Z690-I Gaming Wi-Fi is an expensive introduction to the Intel Z690 platform. I would only recommend this motherboard for seasoned builders looking for a small form factor platform with full size features and performance in tow.