On this review, we are checking out the ASUS TUF Gaming FX504. A gaming notebook with an Intel Core i5 CPU, paired with the Nvidia GTX 1050 outputting its gaming prowess on a 120Hz display. At just above 50000 Pesos, the ASUS TUF Gaming FX504 seems to be a winner – but it is exactly not the case.
The ASUS TUF Gaming FX504 may feature budget oriented yet capable components, yet it only comes with a single stick of 4GB RAM underneath its edgy shell. But is 4GB that bad? Sadly, it is the case. Read more about our findings on this review.
TECHNICAL SPECIFICATIONS:
 ASUS TUF Gaming FX504
CPU
Intel Core i5 8300HQ
CHIPSET
Intel HM370 Express
MEMORY
4GB DDR4 2666MHz SO-DIMM
GRAPHICS
NVIDIA GeForce GTX 1050 4GB, Intel HD Graphics 630
DISPLAY PANEL
15.6″ (16:9) LED backlit FHD (1920×1080) 120Hz Anti-Glare Panel with 94% NTSC
DISPLAY OUTPUT
HDMI 2.0
WEBCAM
HD Web Camera
INPUT DEVICE
Backlight Keyboard, Touchpad
AUDIO SOLUTION
DTS Headphone X, 2x 3.5W Speaker
LAN
Gigabit Ethernet
WLAN
802.11ac, Bluetooth v4.0
STORAGE
1TB 5400RPM SATA HDD
I/O PORTS
1x Combo audio jack , 2x USB 3.0 port(s) Type A, 1x USB 2.0 port(s), 1x RJ45 LAN, 1x HDMI
COOLING
Dual 12V Fan + Heatpipe (Shared)
BATTERY / POWER
48Whr, 120W Power Adapter
OPERATING SYSTEM
Microsoft Windows 10 64-bit
The ASUS TUF Gaming FX504 with the specifications above will set you at around 54995 Pesos. This featured a 4GB RAM, which is definitely going to be a setback.
PACKAGING AND ACCESSORIES:
Our unit doesn't come with any official packaging though ASUS noted that the TUF FX504 will come with the following:
Laptop cover
120W power adapter
Software DVD
Usual paper works
DESIGN, LAYOUT AND CONNECTIVITY:
The ASUS TUF Gaming FX504 sports an edgy modern look under a 2.3 kilogram package. Nothing fancy, just a proper looking notebook for your average gamer. This model is the Premium Steel one, which is my favorite out of the four design choices.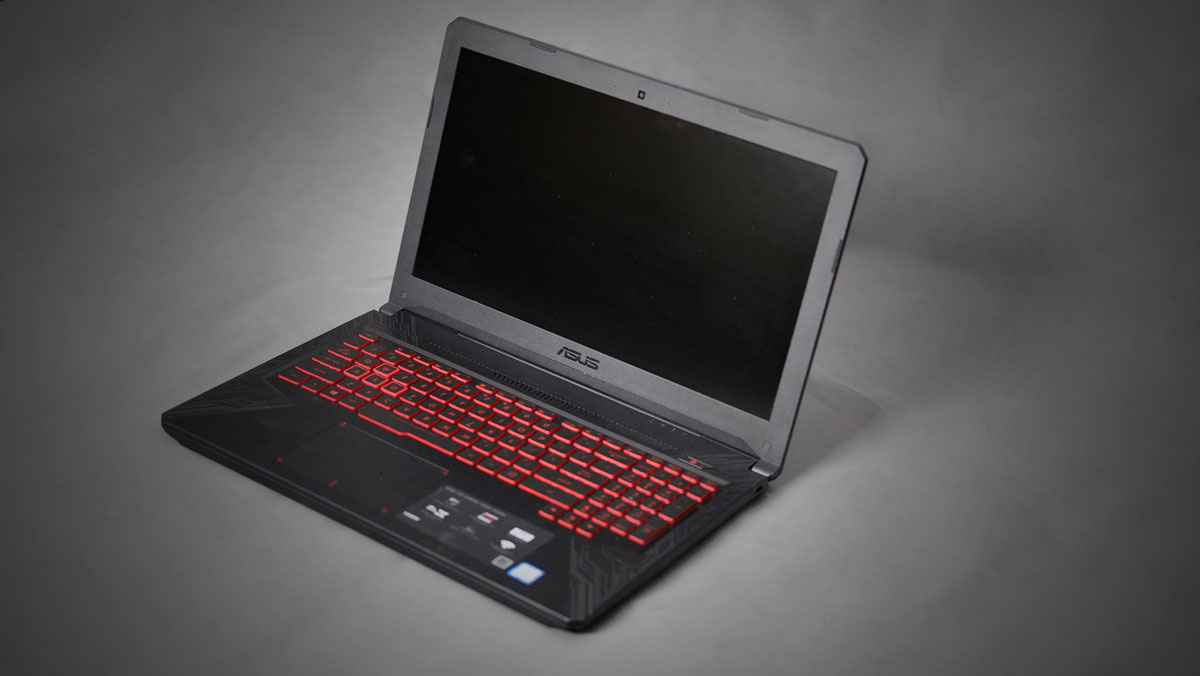 At 25mm thick, the ASUS TUF Gaming FX504 is still within the realms of easy to stow devices. The notebook is also one of the first one to feature the 802.11AC WAVE 2. A MU-MIMO compliant standard. As for cooling, ASUS integrated a dual fan and a shared heat-pipe design.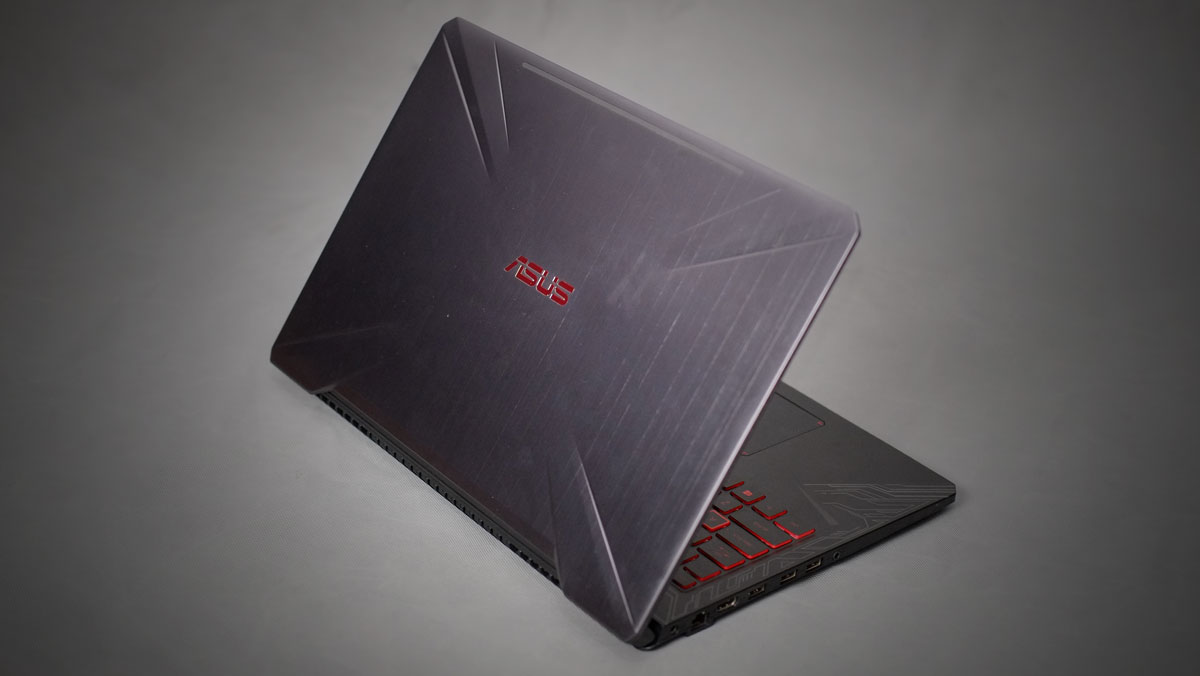 The right side of the notebook features a Kensington lock alone. Nothing else is around this area.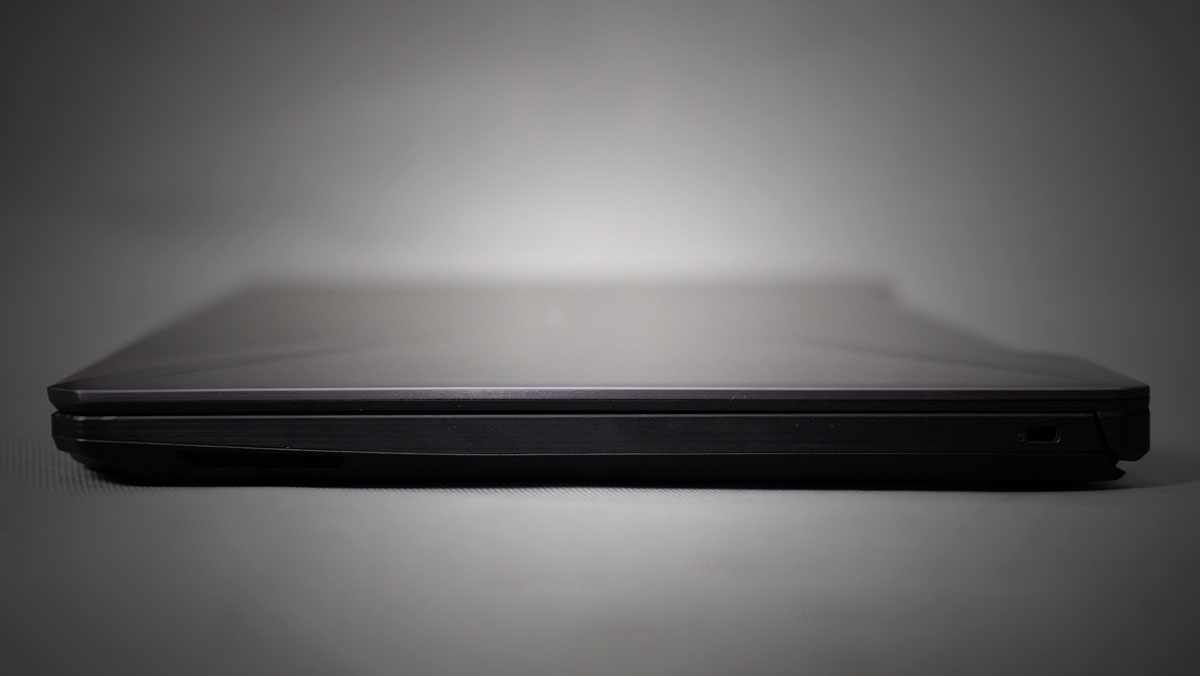 The left side on the other hand had most of the I/O ports. This is expected for a well designed gaming notebook. While I don't hate the combo jack, ASUS should've thrown in a splitter. Makes it easier for those who owns a gaming headset already.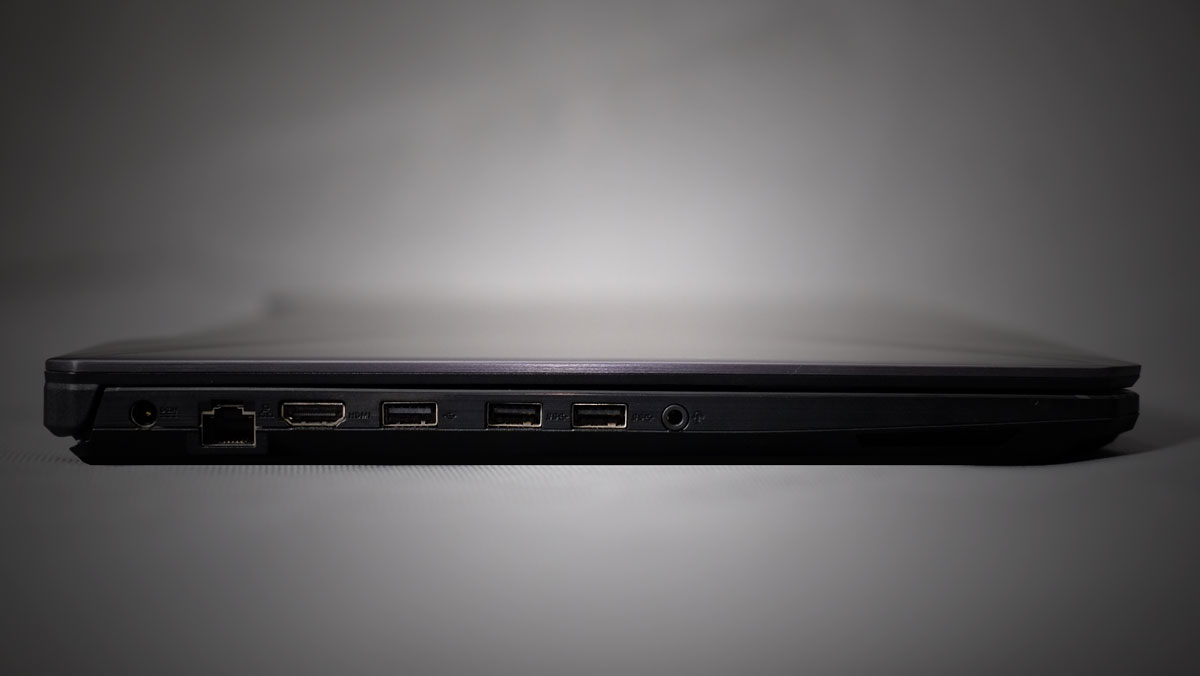 MAINTENANCE AND COMPONENTS:
Maintaining and or upgrading is somewhat a chore with the ASUS TUF Gaming FX504. A tedious process that involves patience and a lot of prayers not to break the clips once you removed the screws.
DISPLAY PANEL:
The ASUS TUF Gaming FX504 comes equipped with a 15.6 inch 1080P panel with a refresh rate of 120Hz. It is perhaps my favorite feature of the notebook. A much appreciated feature when it comes to competitive gaming.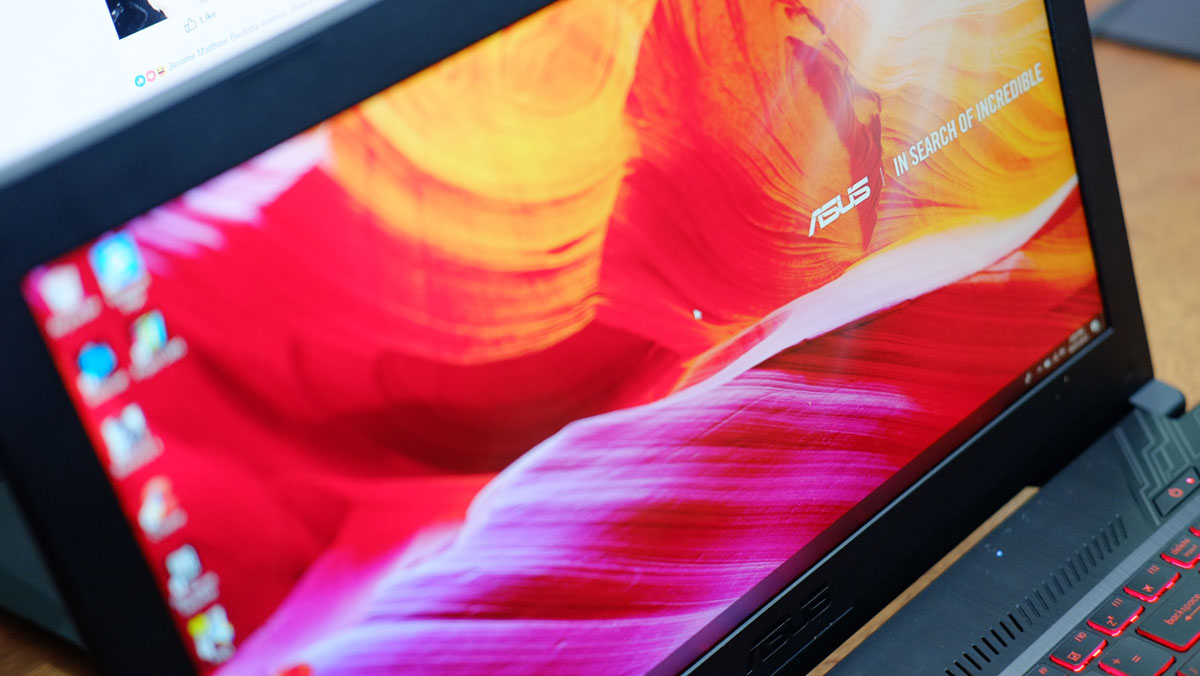 The panel also features a matte coating, while the color gamut is 130% sRGB according to the specifications. That should be equivalent to 94% NTSC coverage. Response time is rated at 3ms, which is enough to get my approval.
INPUT DEVICES:
The ASUS TUF Gaming FX504 sports a full layout keyboard with scissor switch keys. Key spacing is excellent which is not what I expected for a notebook of this size. The key travel distance is around 1.8mm and the lifespan is rated at 20 million clicks.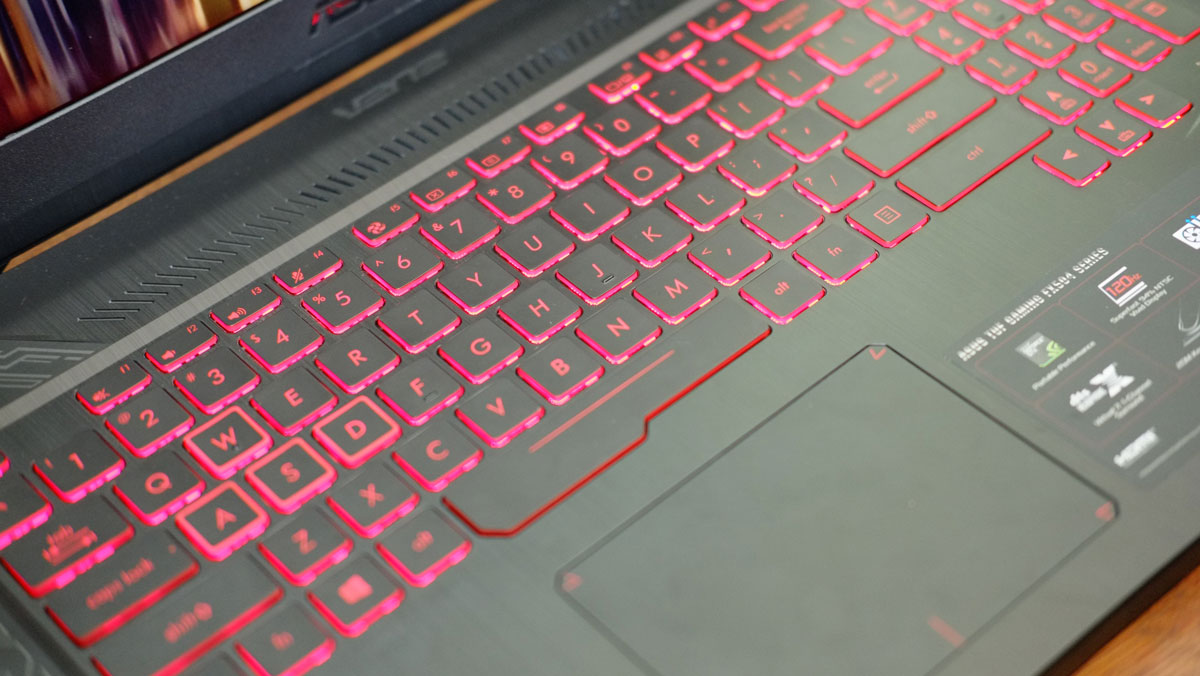 The keyboard is somewhat similar to the ASUS ROG Strix GL503VD, yet it felt a little more different.
BUNDLED SOFTWARE:
Like any other ASUS notebooks we've tested, the ASUS TUF Gaming FX504 comes with bloat load of applications. Feel free to remove everything McAfee.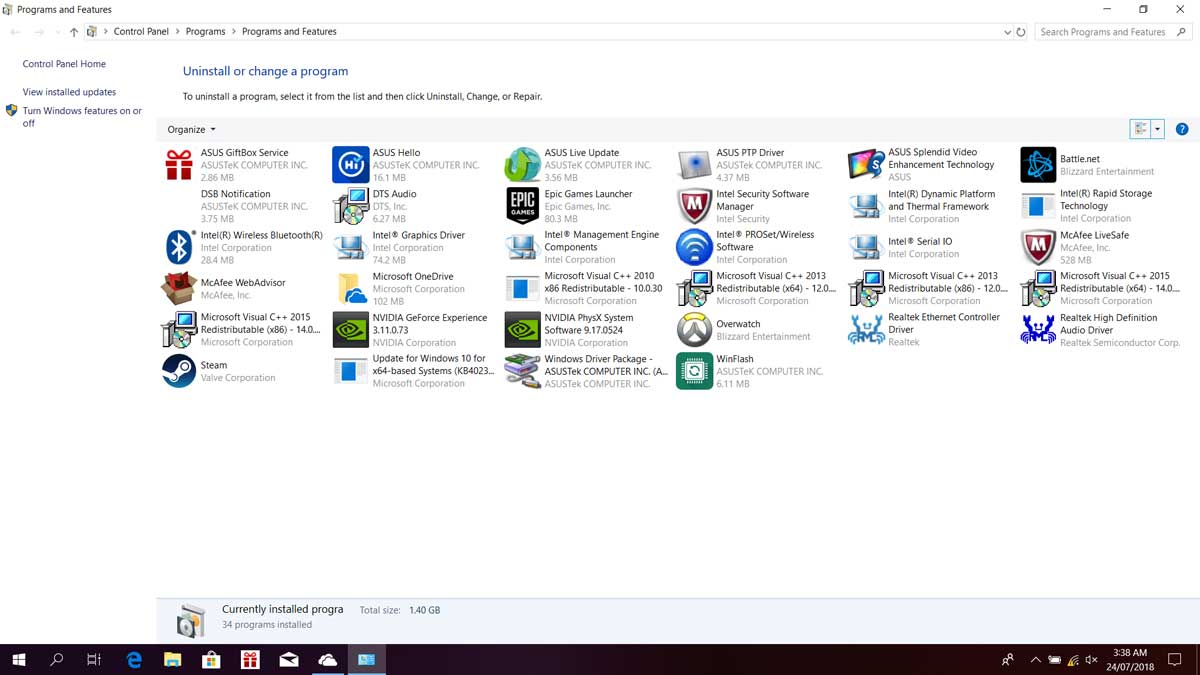 TEST SETUP AND METHODOLOGY:
The system performance shall be evaluated by various benchmarking tools and applications. We are testing this system with the high-performance settings enabled at the OS, with the default UEFI configuration. Background processes such as anti-viruses and third-party applications are disabled as well. Outlined below are the applications and benchmark tools for reference:
CPU AND MEMORY PERFORMANCE:
Super PI – 32M Calculation
wPrime – 1024M Calculation
AIDA64 Extreme Edition – Memory Benchmark
PRODUCTIVITY PERFORMANCE:
GIMP – 7 MB worth of image processing
HandBrake – 150 MB MP4 to H.264 video encoding
WinRAR – Compression speed
GAMING PERFORMANCE:
Overwatch – Ultra Settings | V-SYNC off
Battlefield 4 – Ultra Settings | V-SYNC off
DIRT: Rally – Ultra Settings | V-SYNC off
Project CARS – Maximum Settings | V-SYNC off
The Elder Scrolls V: Skyrim – Ultra Settings | V-SYNC off
The Witcher 3: Wild Hunt – Ultra Settings | HairWorks off | V-SYNC off
MISCELLANEOUS:
AS SSD – Storage performance
RightMark Audio Analyzer – Audio performance
AIDA64 Extreme Edition – Temperature, Power, Noise
NetIO-GUI – Network Performance
TEMPERATURE, POWER AND NOISE:
System power consumption is evaluated during idle and a 15-minute load via the AIDA64 System Stability Test. Power readings are recorded with a watt-meter.
The AIDA64 System Stability Test is also used to evaluate the system thermals. Readings are taken with AIDA64 and is cross-referenced with HWiNFO.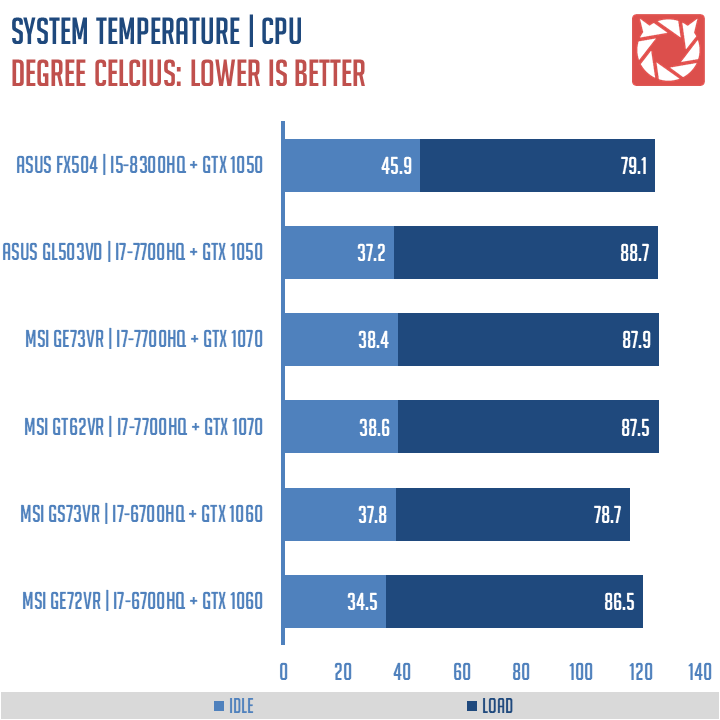 System noise level is also evaluated during idle and a 15-minute load via AIDA64's Stress Test. The noise measurement is taken by a sound level meter.
The FX504 got the best power output we've seen on the list of notebooks we've tested. Temperatures and acoustics however are not the best yet both are not deal breakers in any way.
BATTERY LIFE:
The System battery life is evaluated via the Wh/W formula with readings taken from our power consumption test. This is to ensure a leveled result across the systems.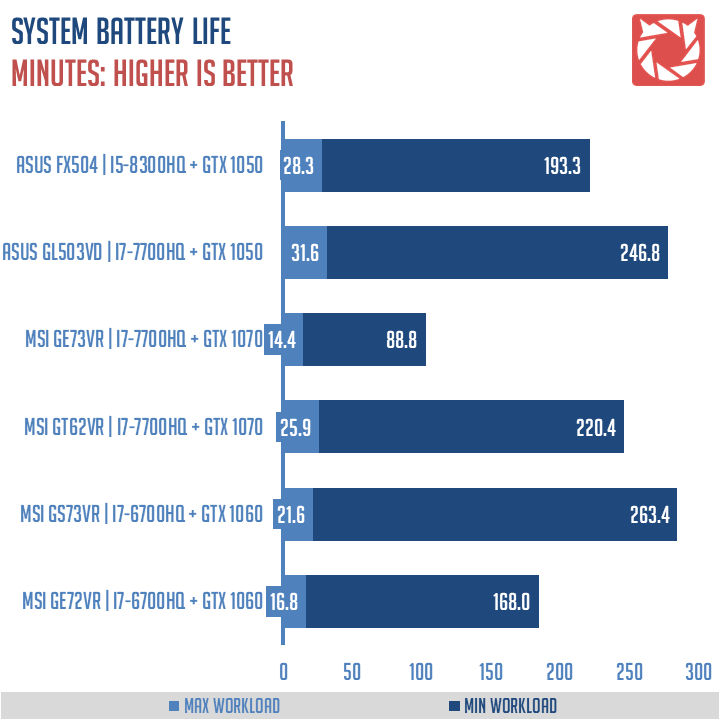 Battery life is more than decent with ~193 minutes of run time at minimal workloads and almost 30 minutes of run time at maximum load.
CPU AND MEMORY PERFORMANCE:
Super PI is a single-threaded program that calculates pi to a specified number of digits after the decimal point. It is a widely used benchmark and stress test within the industry.
WPrime is a multi-threaded program that calculates a set number of square roots for estimating functions.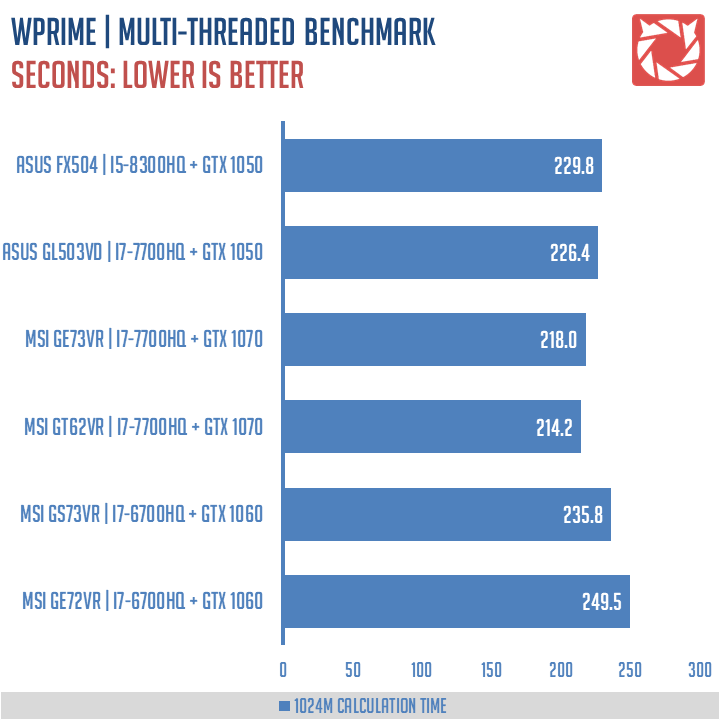 The AIDA64 Memory Benchmark measure the maximum achievable data transfer bandwidth of the memory. That includes the Read, Write, Copy and Latency performance.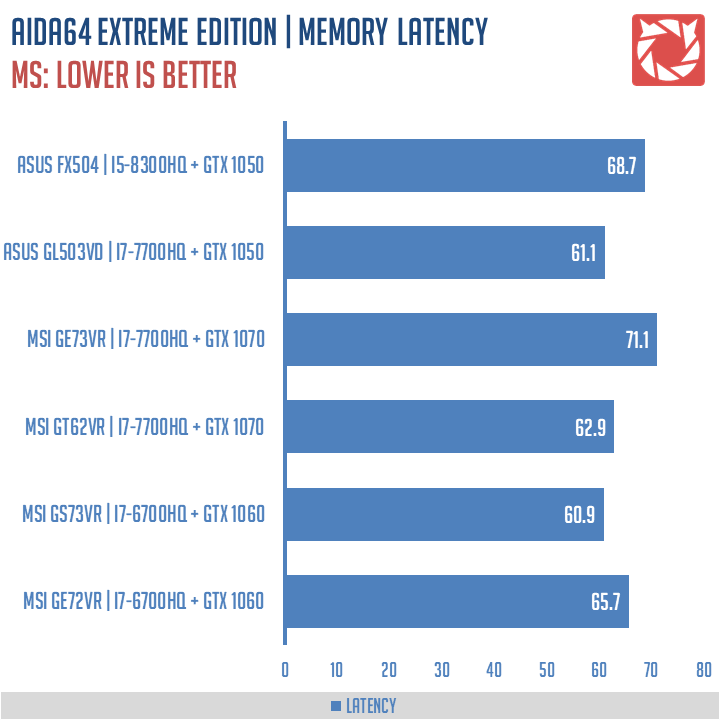 Based on our benchmarks, the FX504 showed a not so favorable result on our single threaded benchmark, while it featured a decent performance on our multi-threaded benchmark. Technically, the Core i5-8300HQ should feature a better performance over the i7-7700HQ, yet the 4GB RAM definitely held the laptop's performance.
PRODUCTIVITY PERFORMANCE:
GIMP or GNU Image Manipulation Program, is a free and open-source image editing tool. A 7 MB worth of images is be processed and converted to gauge the system performance.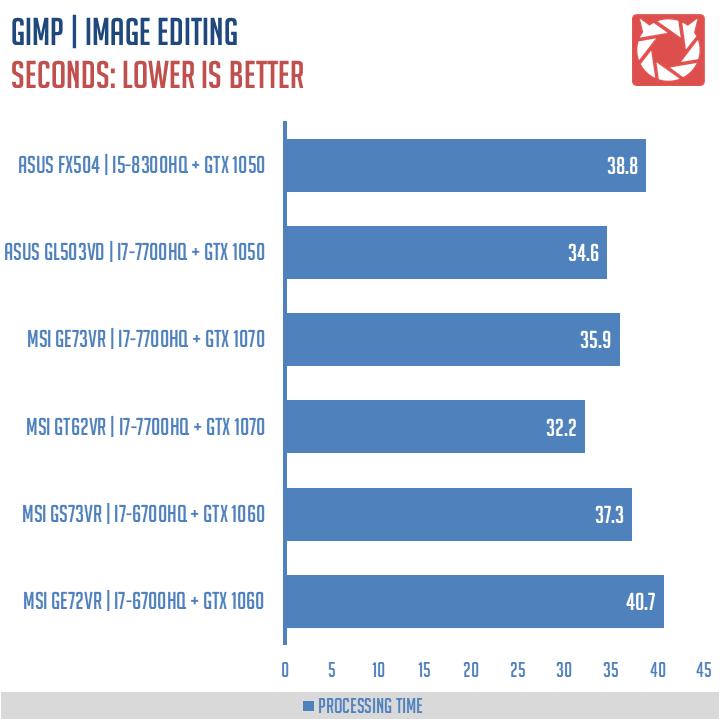 HandBrake is a free video encoding tool that supports a wide variety of media codecs. A 150MB worth MP4 video is converted using the H.264 codec to gauge the system performance.
WinRAR is a file archive utility that can create, view and unpack numerous archive file formats. The software's built in benchmark tool is utilized to gauge the system performance.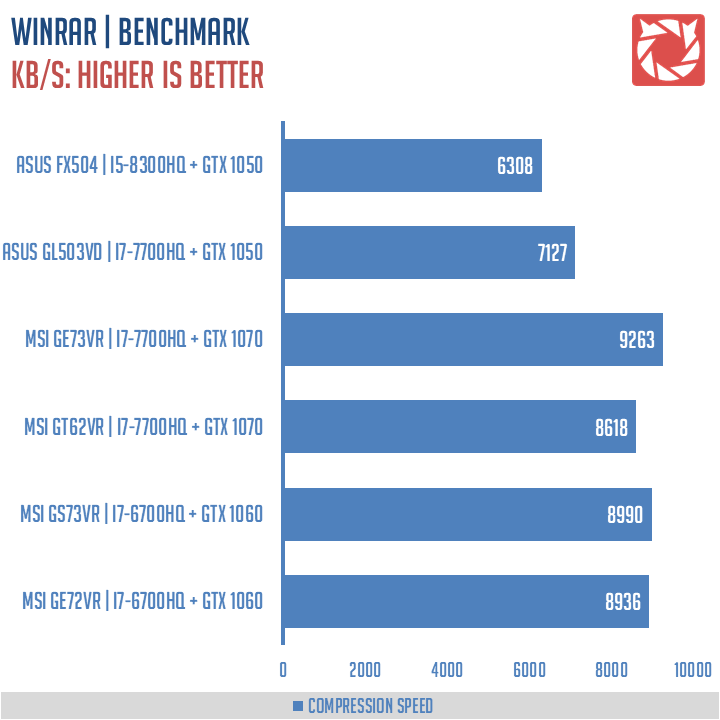 Productivity performance is decent, though it could use another SO-DIMM to make up for its lower scores. Again, the 4GB RAM is taking its toll on this gaming notebook.
GAMING PERFORMANCE:
Overwatch is Blizzard Entertainment's critically acclaimed First Person Shooter. The game runs on a custom engine utilizing the DirectX 11 API.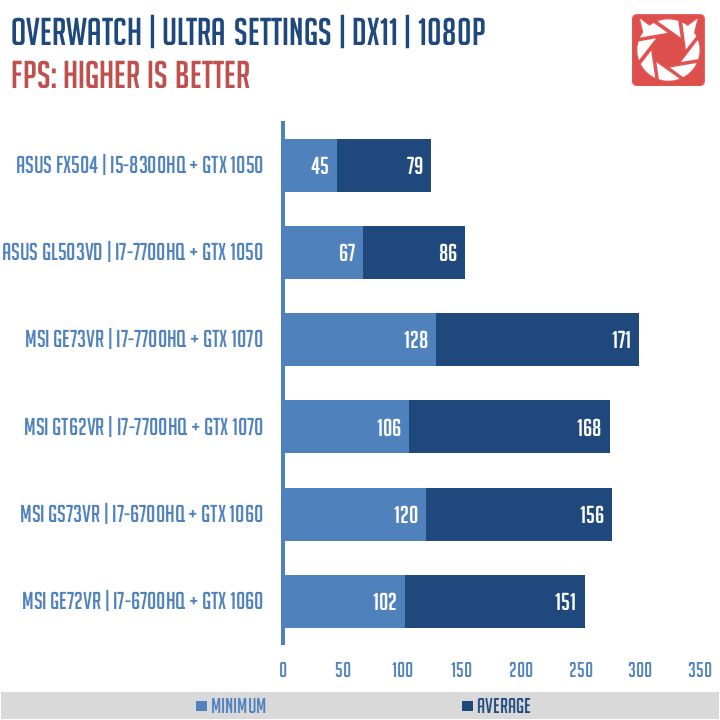 Battlefield 4 is Electronic Art's popular First Person Shooter, running on the Frostbite 3 game engine developed by DICE. It utilizes the DirectX 11 and the Mantle API.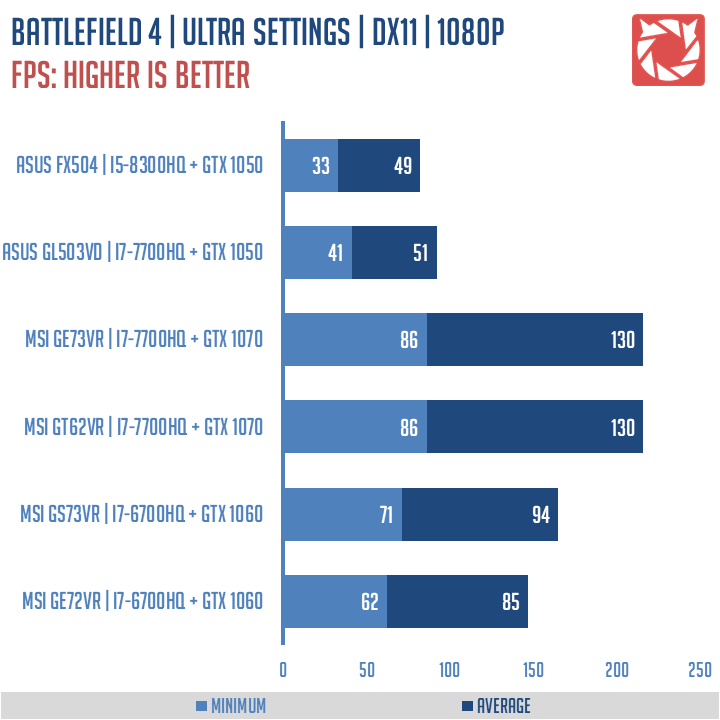 DIRT: Rally is CODEMASTER's take on the rally racing game genre. It utilizes the EGO game engine with support for the DirectX 11 API.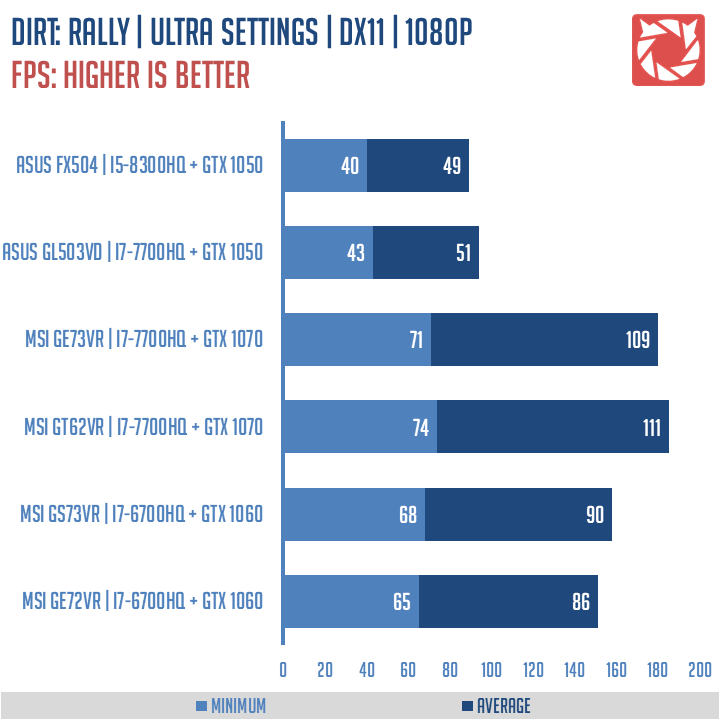 Project CARS is Slightly Mad Studios' latest simulation racing game, running on the Madness game engine utilizing DirectX 11 support.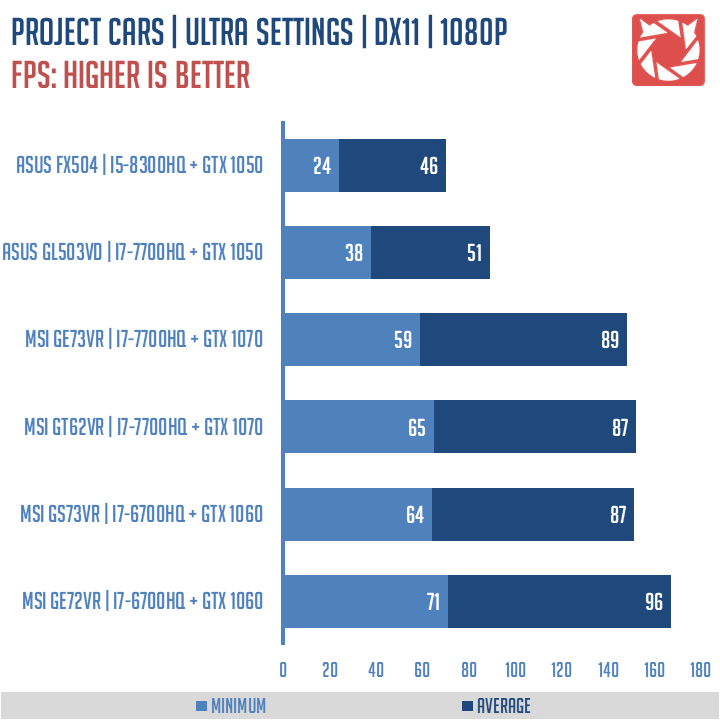 The Elder Scrolls V: Skyrim is Bethesda's critically acclaimed Action Adventure RPG. Skyrim utilizes the Creation Engine with DirectX 10 support.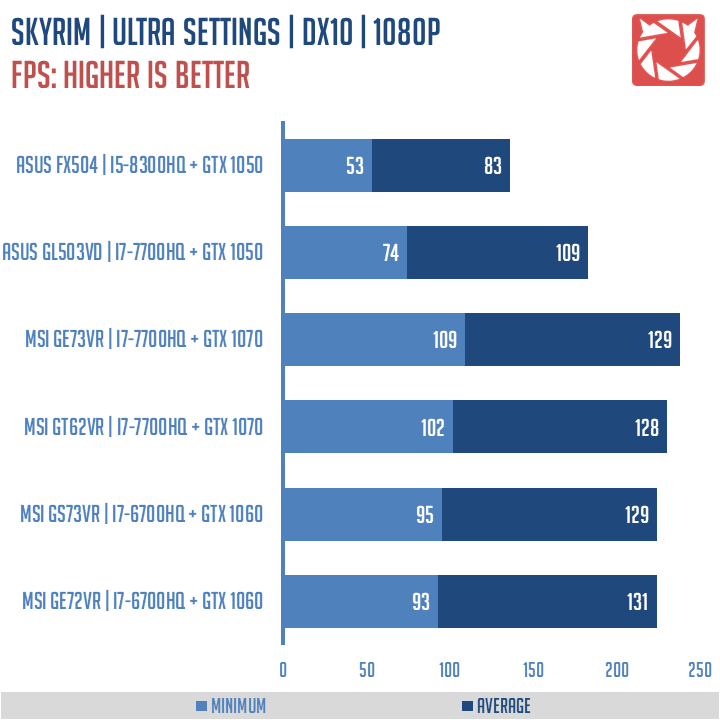 The Witcher 3: Wild Hunt is CDProjekt RED's award-winning Action Adventure RPG. The Witcher 3 utilizes the REDengine 3 with DirectX 11 support.
Gaming results compared to the outgoing CPU model with the same GPU is as expected, slower than the norm.
STORAGE PERFORMANCE:
AS SSD is a storage benchmarking software widely used throughout the industry. The scoring system is then used to evaluate the system.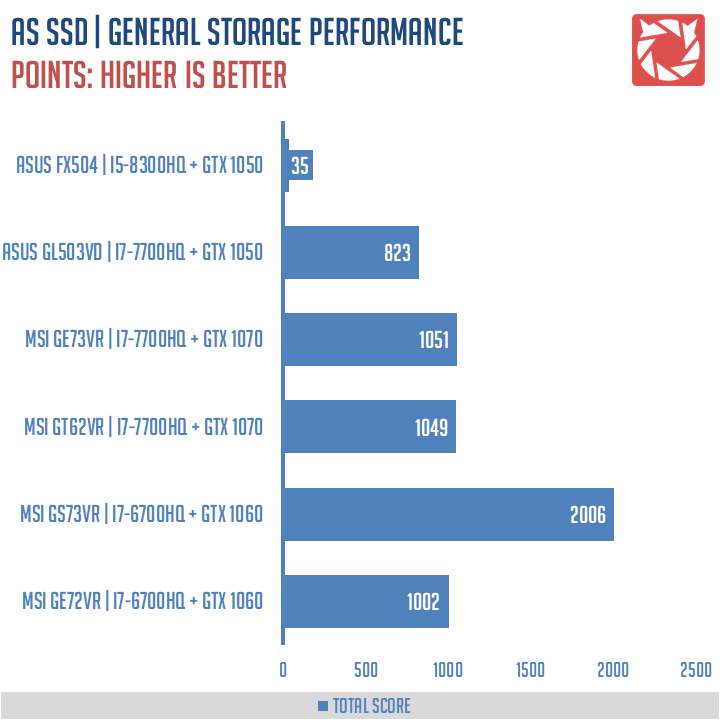 The FX504 features the FireCuda SHDD inside – which is actually fast for what it is. On our benchmark though, it refused to show its performance, mainly due to the nature of the benchmarking tool.
AUDIO PERFORMANCE:
The RightMark Audio Analyzer (RMAA) is a tool designed to test the quality of audio devices. We used a sampling rate of 24-bit at 48000Hz for the loopback test. We are essentially testing the noise level of the audio solution.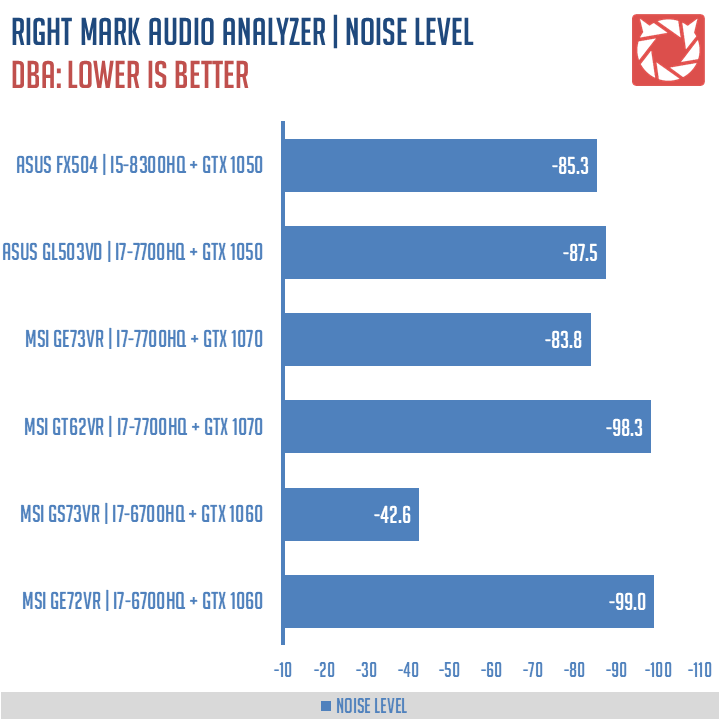 Good results here from RMAA. Can't say the same for the speakers though. Well, most of the gaming notebooks on the test featured lackluster performance on this area.
NETWORK PERFORMANCE:
The NetIO-GUI is a good application to test any network's performance. The LAN round trip time is our concern here, checking out latency anomalies if there are any.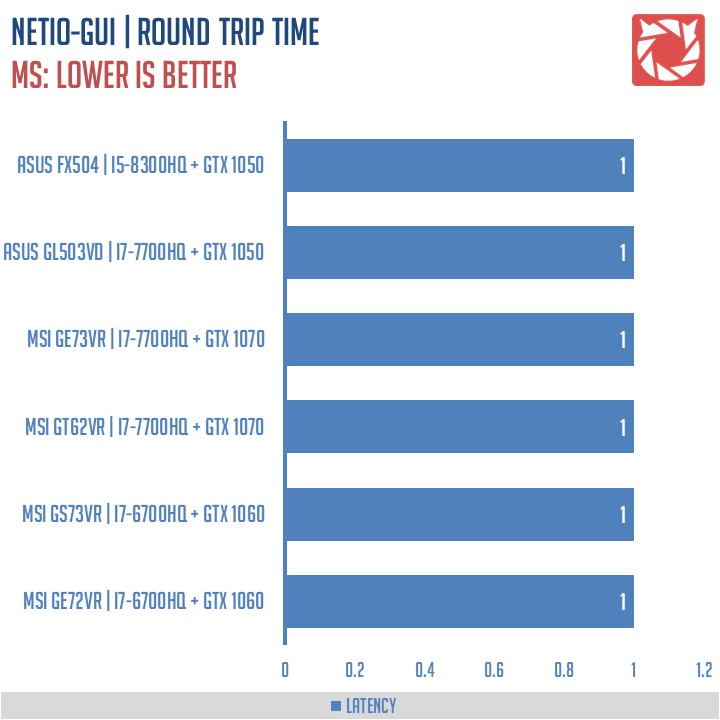 LAN round trip time will get you an average of 1ms, while wireless will get you around 4ms of latency.
WRAPPING IT UP:
The ASUS TUF Gaming FX504 is almost a proper gaming notebook by default. Almost, since the 4GB RAM really held its performance. On this day and age, 8GB is the bare minimum, even with select competitive games. The same goes for daily use, especially with the bloat wares around. Imagine shaving 10 seconds of startup time just with the McAfee products installed.
Luckily, we have the option to upgrade the RAM to 8GB, or go 16GB in one swoop for future proofing. Might as well check the possibility to replace the drive with a high capacity 1TB SSD. The priority here is still the RAM upgrade though, since we need every bit of performance to make the 120Hz panel a little more useful outside the desktop.
While we are busy nitpicking the model's downsides, the FX504 is not that bad at all on other fronts. Audio for example featured good noise levels, while the wireless range is superb. The 20 million rated keystroke keys are excellent addition as well. Those, together with the 120Hz panel, made the TUF Gaming FX504 a value oriented choice. Even with the measly 4GB RAM around.
GOOD OVERALL PERFORMANCE
120HZ PANEL IS LIT
MU-MIMO WIRELESS INTERFACE
GOOD INPUT DEVICE
POWER EFFICIENCY

4GB RAM BARELY CUTTING IT
MAINTENANCE COULD BE BETTER
BATTERY LIFE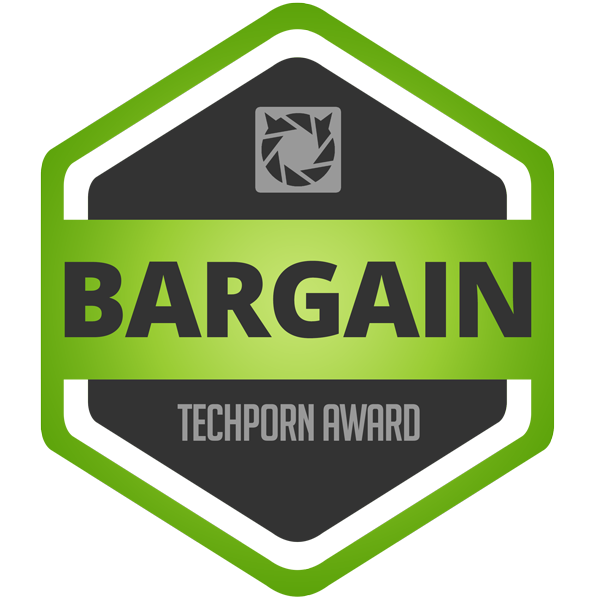 ASUS TUF Gaming FX504
PERFORMANCE -

7/10

BUILD QUALITY -

8/10

FEATURES -

8/10

AESTHETICS -

7/10

VALUE -

8/10
Summary
The ASUS TUF Gaming FX504 is a capable gaming notebook, yet it is shadowed by the measly 4GB memory. An upgrade is a total requirement.