The ASUS TUF RTX 3080 is one of the latest iterations of the recently released Ampere based graphics cards from Nvidia. This exact model is a triple fan monster featuring ASUS' Axial-tech fan design, Dual Ball fan bearings and military-grade capacitors. That's on top of the six heat-pipe 2.7 slot cooler design.
This is our first look into the RTX 3080 series of cards and suffice to say I am excited to have a go on this one for a review.
Technical Specifications
GPU
Model
NVIDIA GeForce RTX 3080
Cores
8704 (Cuda), 68 (RT)
Core Clock
1440MHz
Boost Clock
1740MHz, 1815MHz OC
Architecture
Ampere
Manufacturing Process
8nm
TDP
320W
Memory
Memory Clock
1188MHz, 19Gbps
Memory Bus Width
320-bit
Memory Capacity
10GB
Memory Type
GDDR6X
Connectivity
Display
2x DisplayPort 1.4a, 3x HDMI 2.1
Power
2x 8-Pin
Dimensions
Length
299mm
Width
127mm
Height
51mm, 2.7 slot
Weight
1390g
Packaging and Accessories
ASUS used the typical graphics packaging for the TUF RTX 3080. The product should come with the following items inside:
1x Collection card
1x Speedsetup manual
1x TUF certificate of Reliability
Nothing fancy here folks. Just your usual GPU bundles.
Design, Layout and Build Quality
ASUS went a bit nuts with the overall design of the TUF RTX 3080 10G Gaming. The thing is just huge, heavy and oozes with gaming oriented elements on top of a more industrial design.
The back plate, like its facade is no joke either, featuring a thick aluminum plate. There are key perforations here for the air to pass through – showing that the cooler actually extends over the length of the PCB.
According to Nvidia, the RTX 3080 has a TDP of 320W and it shows. The card we got has dual 8-pin PCIe power and combined with the PCIe slot itself, it could theoretically handle 375W of load.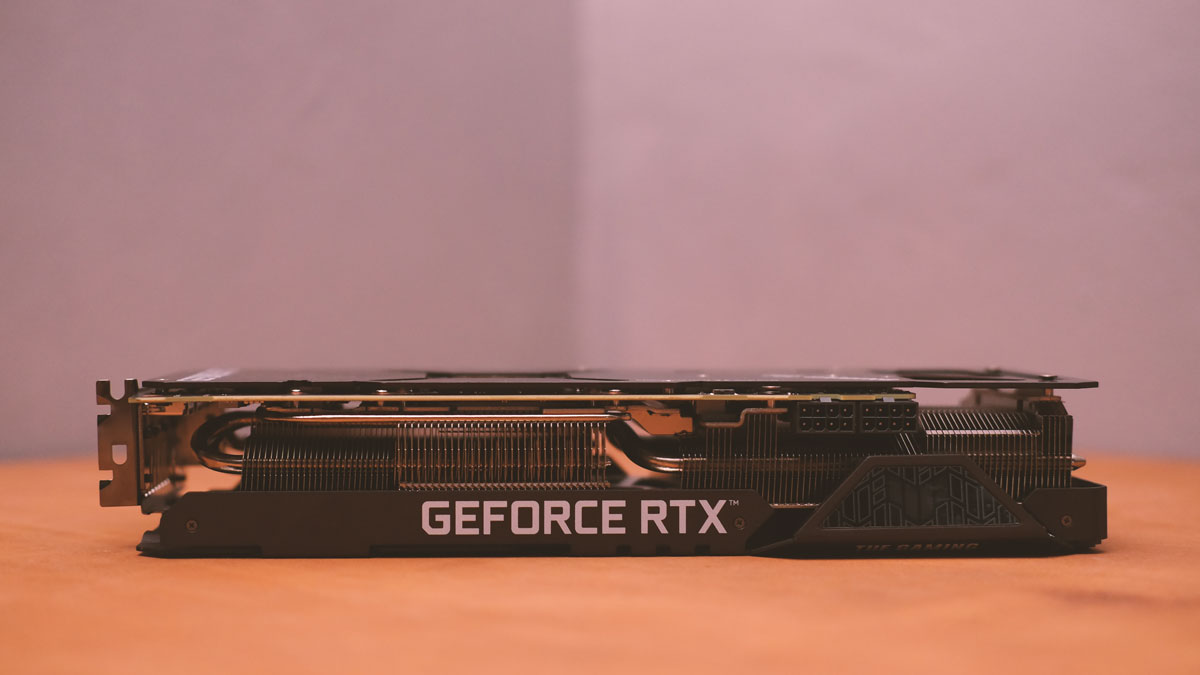 Now cooling is provided by triple Axial-tech fans blowing air into the dense array of heatsinks with 6 heat-pipes. It is worth to note that this card also comes with a separate memory cooler. The larger array cools the Ampere chip and the VRM.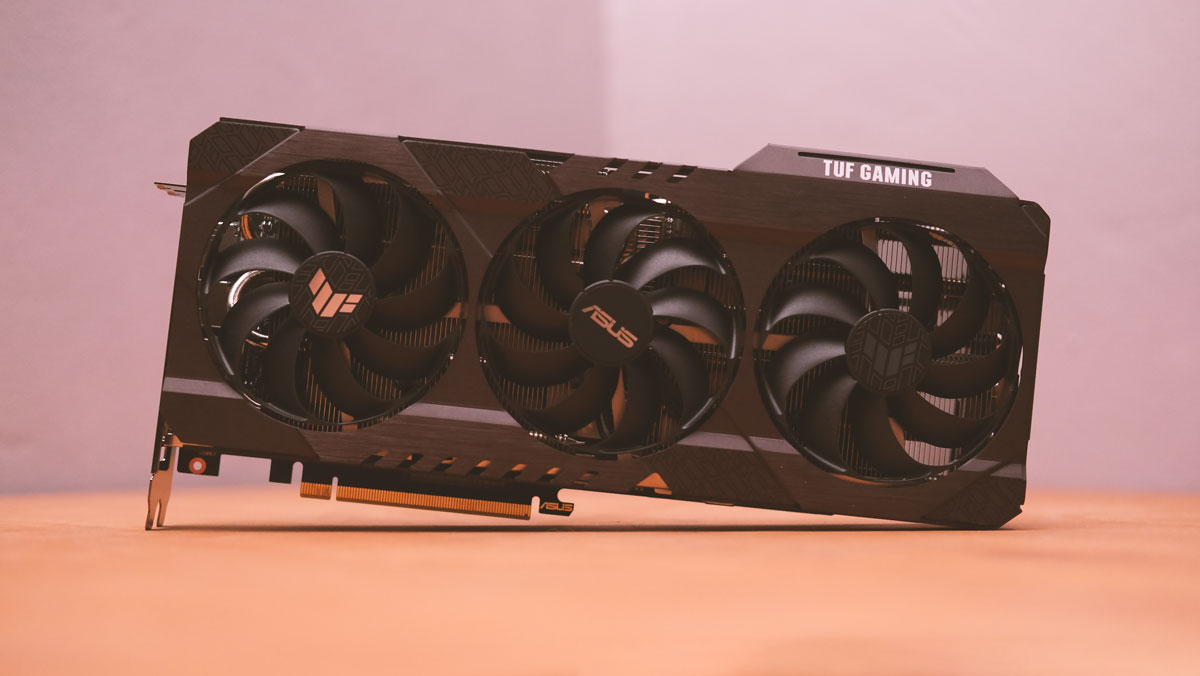 Connectivity wise, ASUS managed to stuff this RTX 3080 with 3x DisplayPort 1.4a and 2x HDMI 2.1 ports.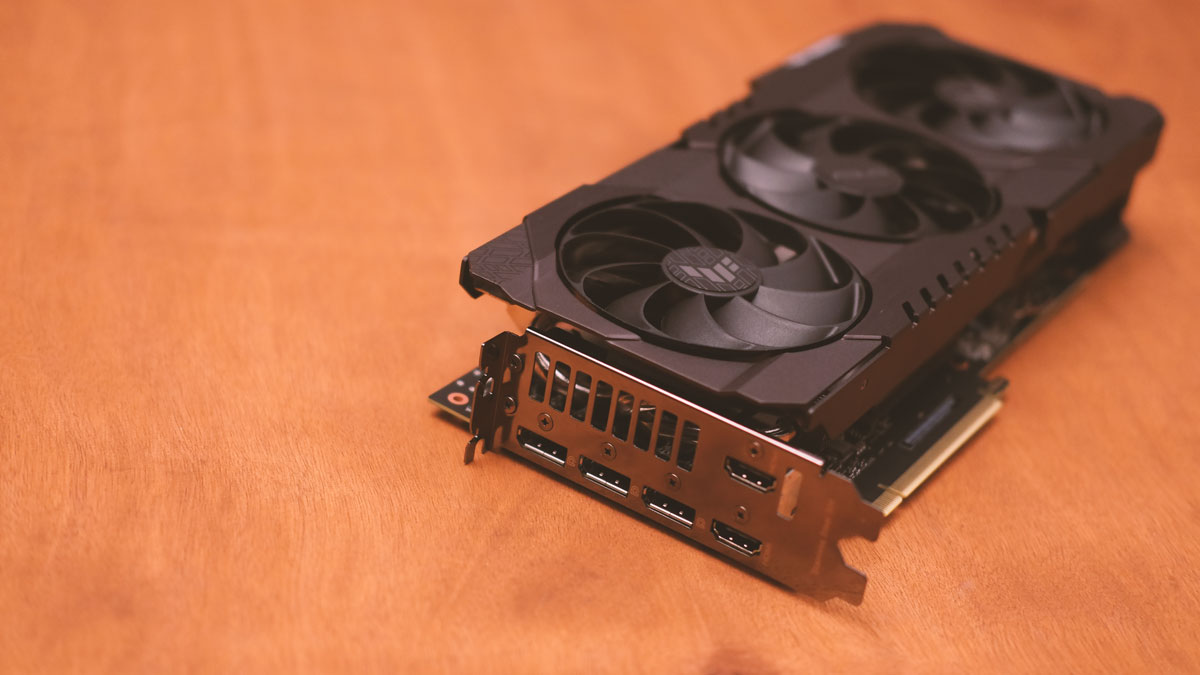 Test Setup and Methodology
System performance is evaluated by industry standard benchmark tools and applications. The system is tested with the following software configurations:
UEFI configuration – Default
Windows Power Plan – Balanced
Windows Game Mode – Disabled
Windows Game Bar – Disabled
Windows Security – Disabled
Outlined below is the default test system specifications as well as the software and applications used for the review:
Default Test System Specifications
CPU
AMD Ryzen 5 3600
Motherboard
ASUS ROG Strix B550-I Gaming
Cooler
AMD Wraith Stealth V2
Memory
ADATA Premier 2666MHz 16GB
GPU
ASUS ROG Strix RX 570 4GB
Storage
Crucial BX200 480GB
Case
Mechanical Library JXK-K3
PSU
Thermaltake Toughpower GF1 650W
Display
LG UF680T
OS
Microsoft Windows 10 Pro 64-bit
Compute Performance:
AIDA64 Extreme Edition – GPGPU Benchmark, Single-Precision
LuxMark v3.1 – LuxBall HDR, OpenCL
Gaming Performance:
CS:GO: DirectX 9, Maximum Settings, 8x MSAA, FXAA
Tom Clancy's Rainbow Six Siege: Vulkan, Ultra Preset, TXAA, 16x AF
League of Legends: DirectX 9, Very High Preset
DOTA 2: DirectX 11, Best Looking Preset, AA
Assetto Corsa: DirectX 11, Maximum Settings, 4x AA, FXAA, 16x AF
F1 2020: DirectX 12, Ultra High Preset, TAA, x16 AF
Final Fantasy XIV: Shadowbringers: DirectX 11, Maximum Preset, FXAA, x16 AF
Shadow of the Tomb Raider: DX12, Highest Preset, TAA, 8x AF
Temperature, Power and Noise:
OCCT v5.0: 3D and VRAM Test
Benchmarks for the review are recorded via CapFrameX and in full screen mode. Motion-blur and V-SYNC are turned off unless otherwise stated.
Temperature, Power and Noise
Graphics card thermal figures are taken during a 15 minute idle and a 15 minute load via OCCT's 3D stress test. The ambient temperature is checked at 27 °C (±1 °C), with values extracted via HWiNFO and GPU-Z.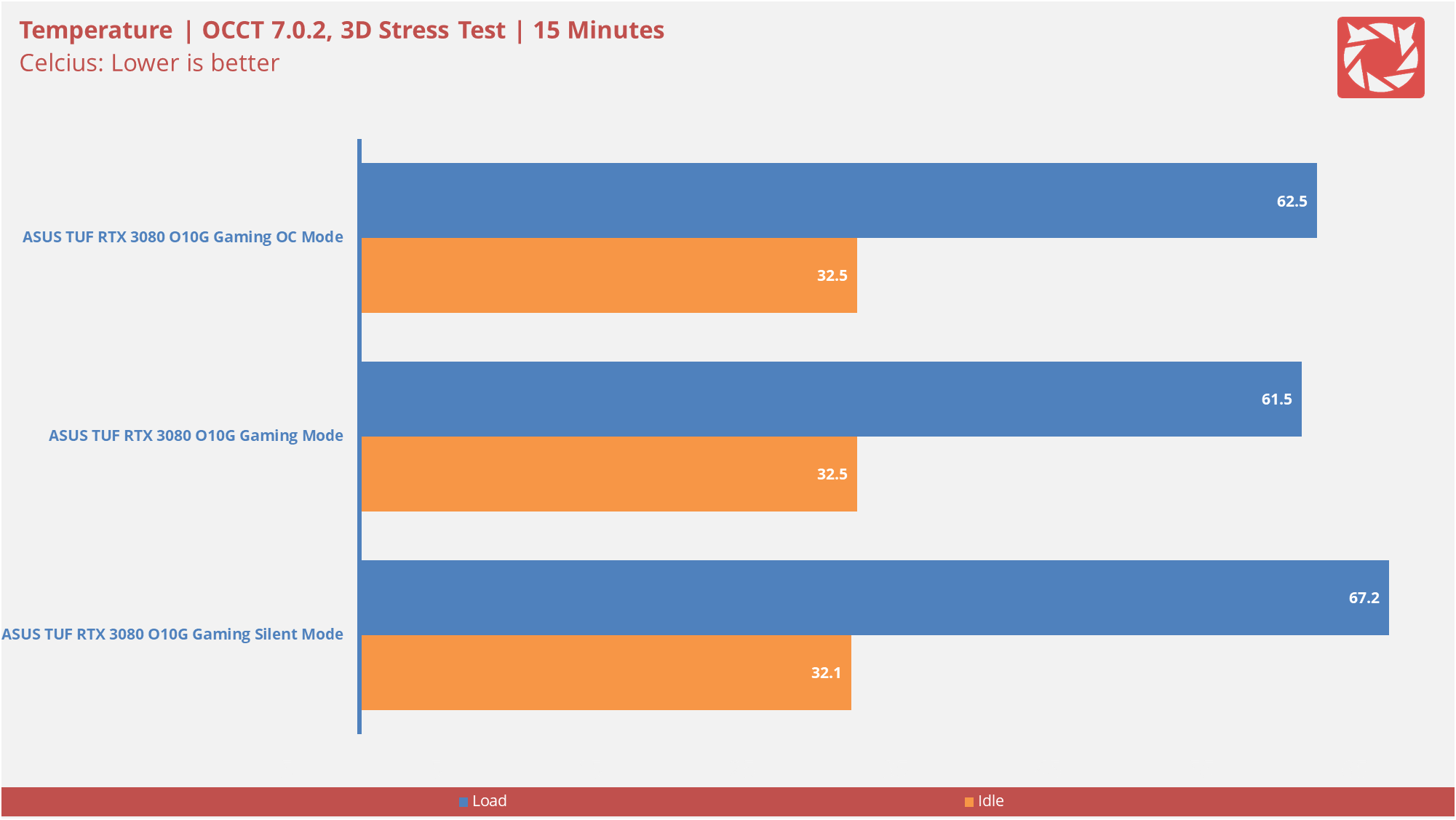 Now total system power consumption are also noted during the stress test. The measurements are then taken by a watt-meter.
Graphics card noise levels are also measured via the OCCT 3D stress test. The ambient sound level or noise floor is about 34 dBA (±1 dBA). Measurements are then taken via a sound level meter situated exactly 12 inches away from the card.
The ASUS TUF RTX 3080 is off from a good start although Nvidia is not joking when they said a 750W is required for this card. All profiles considered, the particular model performed the best with the default mode (Gaming) enabled.
Synthetic Performance
The Aida64 Extreme Edition GPGPU Benchmark is designed to measure GPGPU computing performance via different workloads. Our choice here is the Single-Precision benchmark to check out the floating-point performance of the card.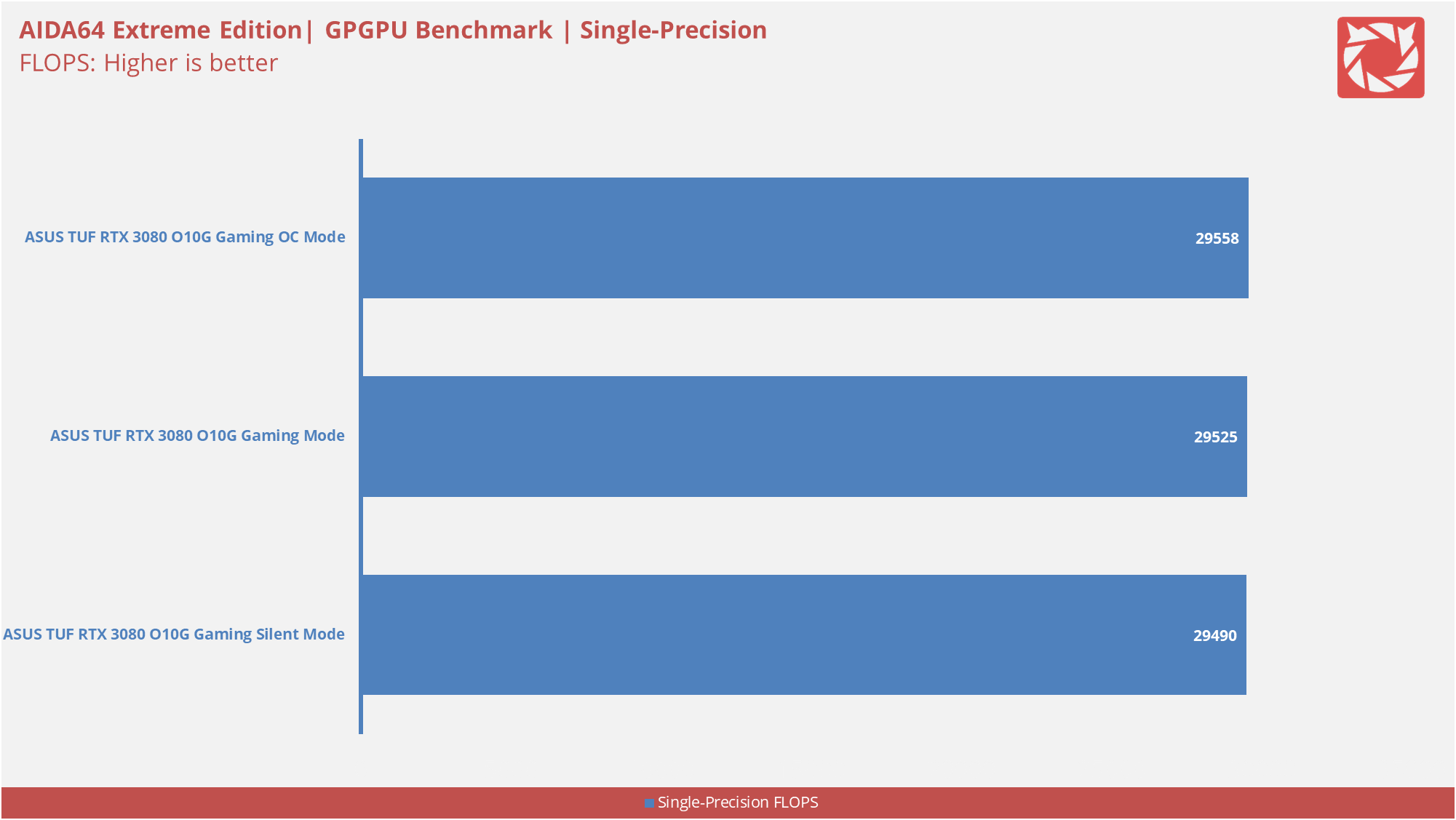 LuxMark is an OpenCL cross-platform benchmark tool. Scene of choice is the LuxBall HDR. It is a benchmark with a total of 217K triangles required to render.
Synthetic benchmark performance are excellent. We promise to update this section once we got more cards to test for our updated test system.
Gaming Performance
CS:GO is Valve's critically acclaimed FPS game, running on the Source engine utilizing the DirectX 9 API. Demo used is the grand finals match between Astralis and ENCE at IEM Katowice 2019.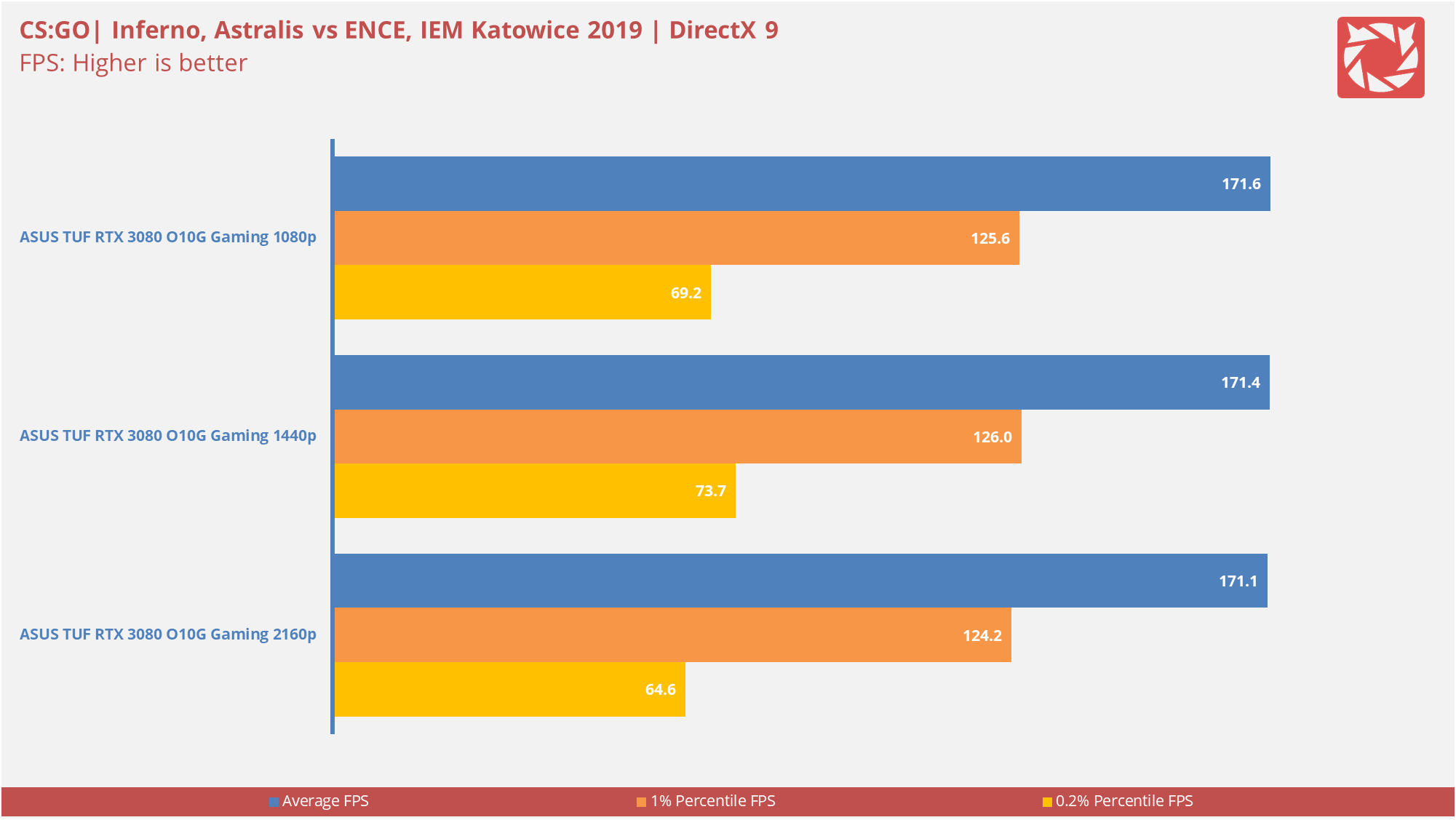 Tom Clancy's Rainbow Six Siege is a popular FPS title developed by Ubisoft utilizing the AnvilNext 2.0 engine with DirectX 11 and Vulkan API support. The benchmark tool within the game is used for this run.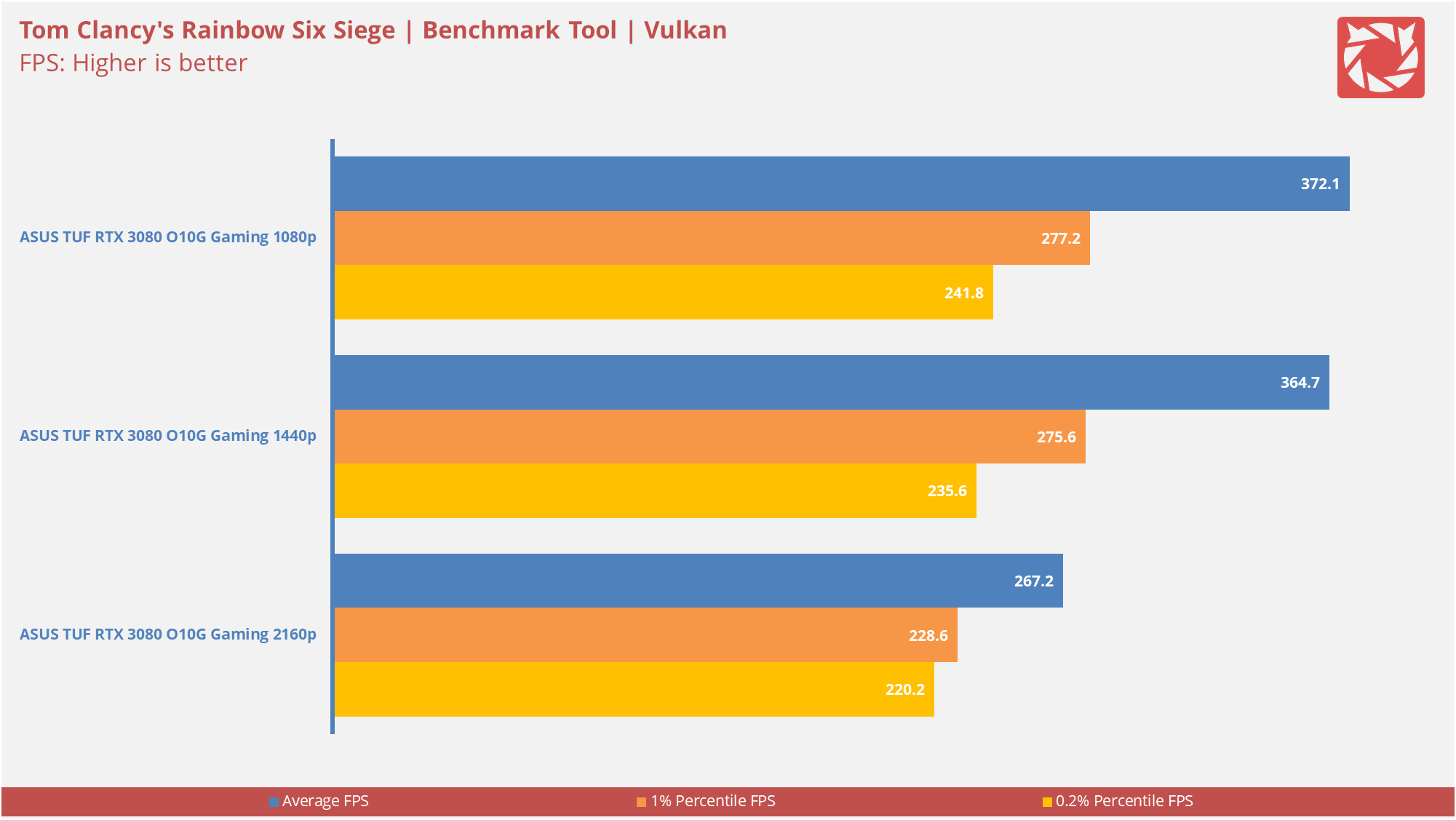 League of Legends is one of the genre defining MOBA games in the industry. It utilizes RIOT Game's in-house engine written in C++ with support for the DirectX 9 API. Demo of choice is a Summoner's Rift replay via the ROFL-Player.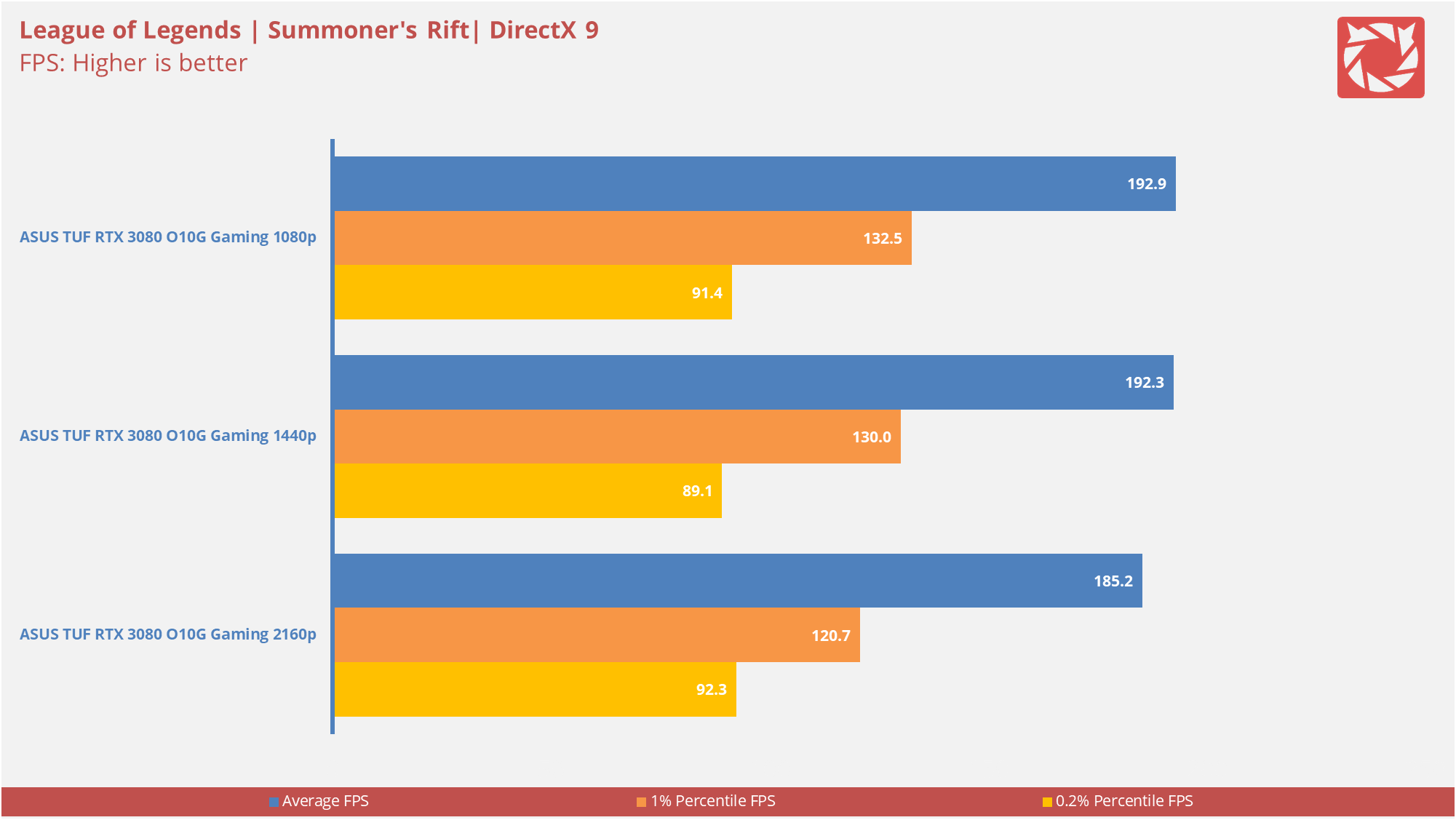 DOTA 2 is yet another popular MOBA game featuring Valve's Source 2 engine with support for a number of APIs. Benchmark of choice here is a demo from OG and Liquid's grand finals match at The International 2019.
Assetto Corsa is a sim-racing game developed by Kunos Simulazioni with extensive support for customization. The game runs on a in-house engine with support for DirectX 11. The built-in benchmarking tool is used for the run.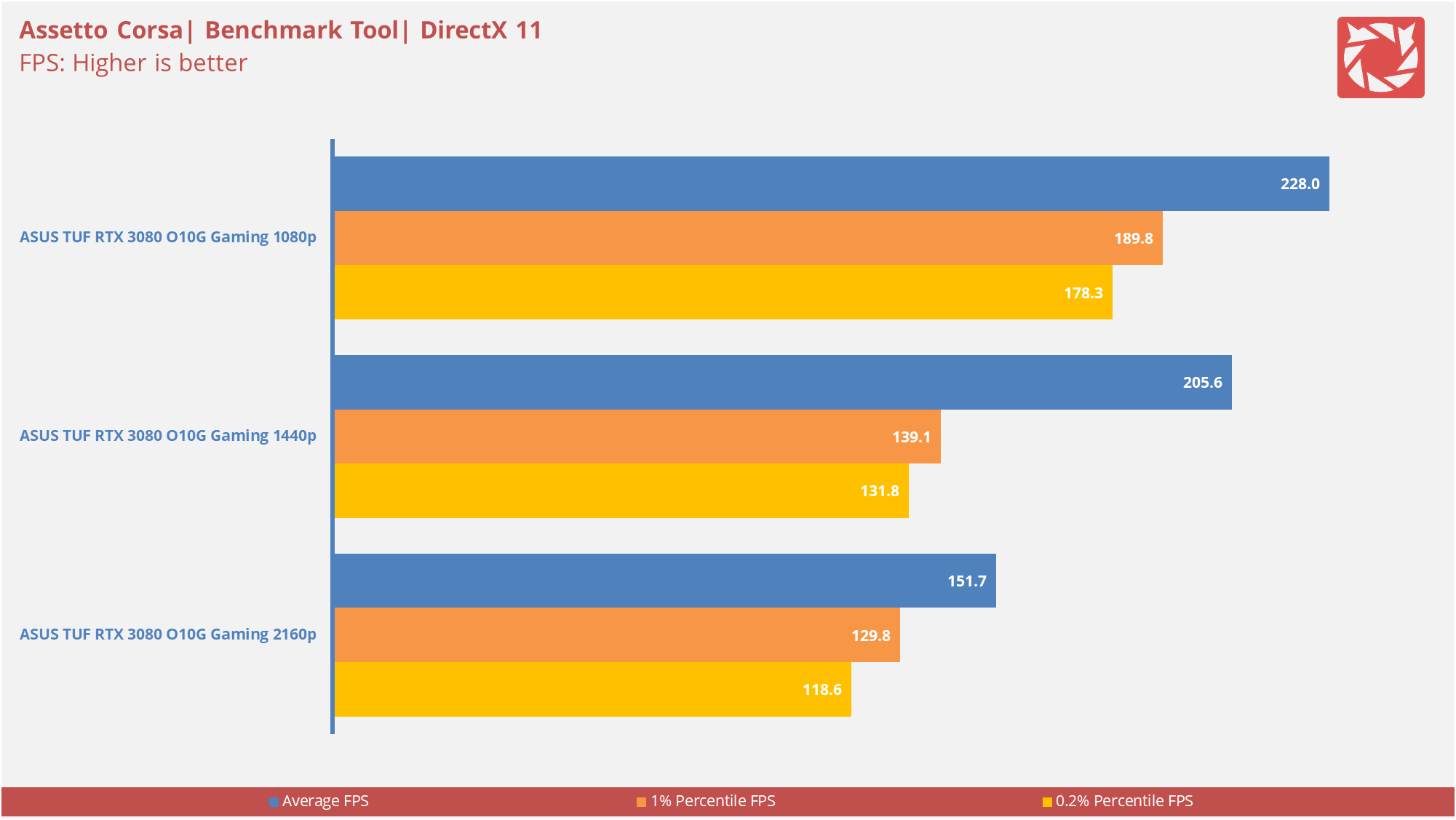 F1 2020 is the official F1 racing game developed by Codemasters utilizing the Ego Engine 3.0 with support for DirectX 11 and DirectX 12. API of choice is DirectX 12 with the built-in benchmarking tool utilized for the review.
Final Fantasy XIV: Shadowbringers is an MMORPG created by Square Enix. It uses the tried and tested Crystal Tools game engine with support for DirectX 11. The built-in benchmark tool is used for this run.
Shadow of the Tomb Raider is the third installment for Eidos-Montréal's reboot of the original series. The updated Foundation game engine is featured in this game with support for DirectX 11 and DirectX 12. The first few scenes from the built-in benchmark tool is used for this review.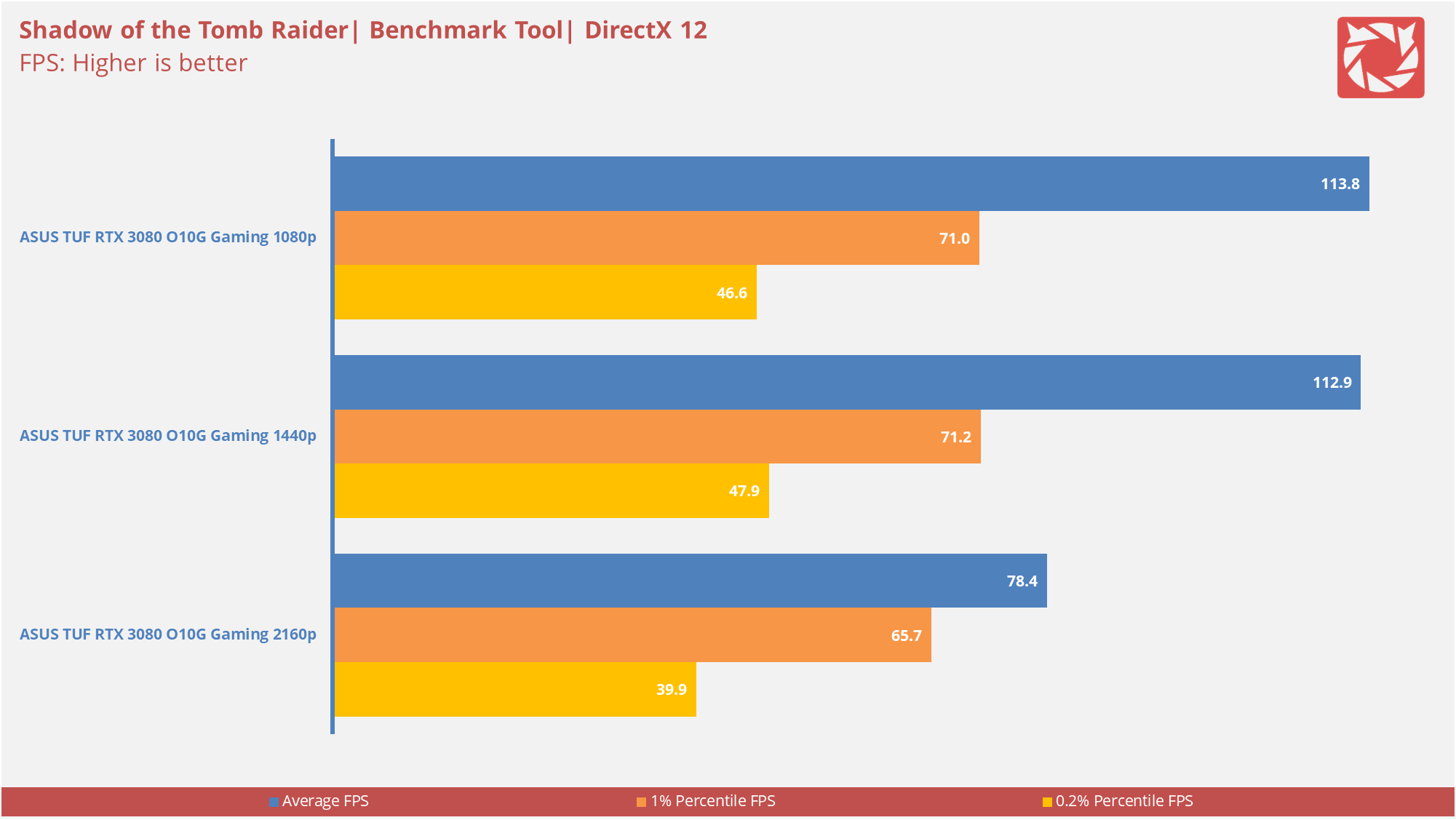 Gaming performance wise, there's no denying that the RTX 3080 is a monster on AAA tiles, reaching more than 60 FPS on average at 4K UHD. With no cards to go against with at the moment, we'll focus our attention to the issues I had during my time with this card – the GPU usage at the lighter titles.
At DOTA 2, CS:GO and LoL, the card starts at 90-100% GPU utilization. A few minutes in and it will start to stabilize at 30-40% GPU usage which is not really helping when it comes to benchmarking and maximizing the use of the card.
Going by the book, we tried to change drivers, re-install Windows, change components and played with a number of power and software options. Nothing helped so here we are with the gimped lower resolution, lower GPU usage results.
Anyway, I expected a lot from this card – especially with 360Hz monitors inbound. I wager this could be fixed with a simple driver update or with an actually useful Power Management Mode and Max Frame Rate slider at the NVCP.
Software, Lighting and Special Features
Apart from the obvious support for GeForce Experience, real-time ray tracing, DLSS and other AI enhanced Nvidia solutions, the TUF RTX 3080 from ASUS supports the latest iteration of the GPU Tweak II. It comes with a three profile presets, an onboard GPU-Z and available set of tools ready to download such as a timed copy of Xsplit, FurMark and the QuantumCloud mining software.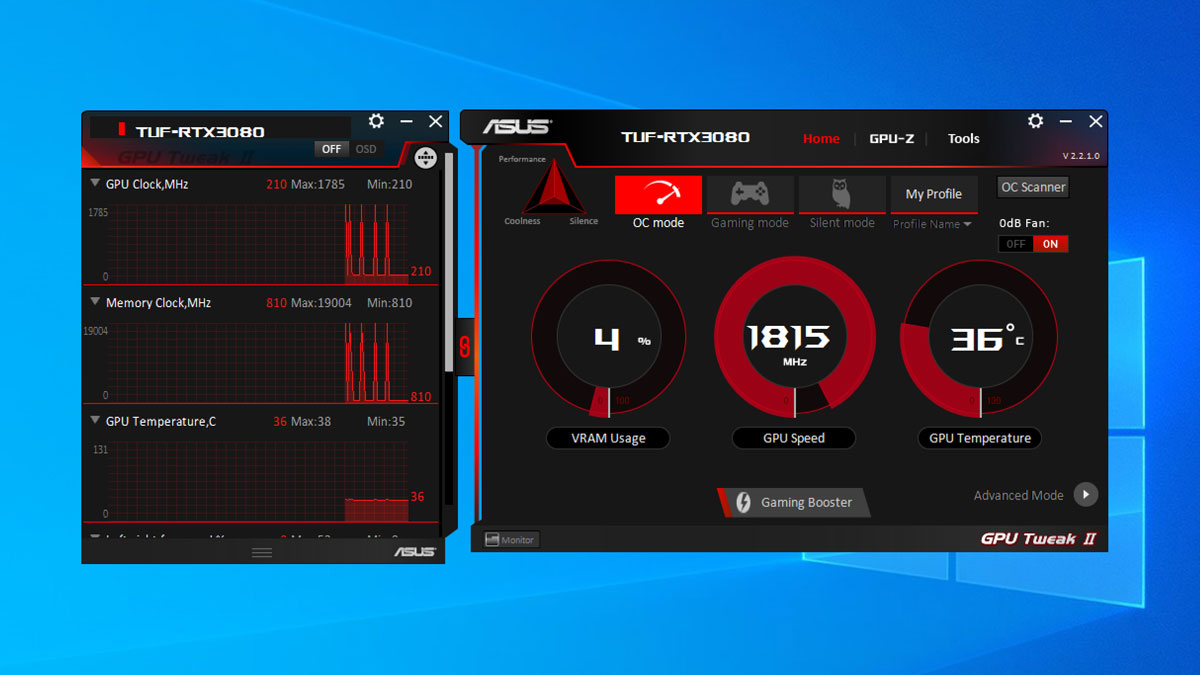 The ASUS TUF RTX 3080 also comes with a physical BIOS switch. This allows you to switch from a the default Performance Mode to the Quiet Mode with a more aggressive temperature curve for the fans. This thing will run about ~10°C higher with the quieter mode so we prefer performance all the way.
Final Thoughts

Awesome is a fitting word to describe the RTX 3080. It is a huge step-up from the Turing architecture, allowing gamers to play demanding titles that otherwise would require the equivalent of a much more expensive model from the yesteryear.
As for the card specifics, the ASUS TUF RTX 3080 O10G Gaming is one hulking beast and it should be, just to tame Ampere's 320W TDP. Power and noise are ideal for gaming and there's no need to worry about the card's thermal at all even with small enclosures. One small issue here is the card's quiet mode but who needs to use that anyway especially with the two better modes around? I say just wing it with the OC mode because the card could handle it just fine.
The ASUS TUF RTX 3080 model that we got retails for about 49,490.00 Pesos. A price that many of you are willing to pay for. Go get it if all you want is a far superior card that could slice through AAA titles like butter.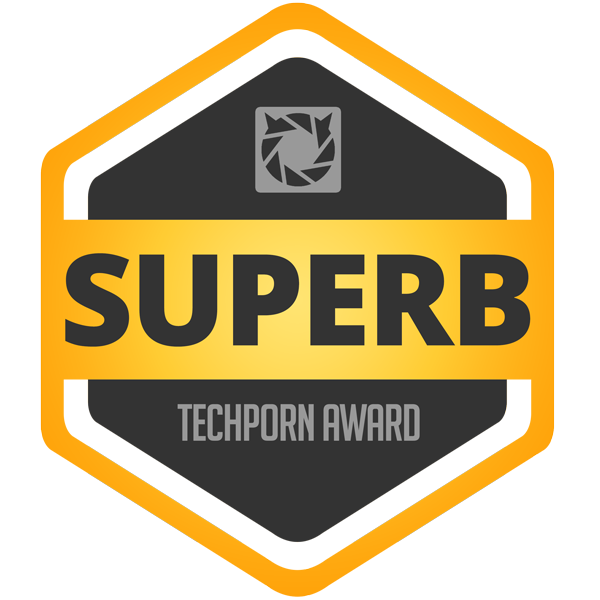 ASUS TUF RTX 3080 O10G Gaming
Performance -

9/10

Build Quality -

9/10

Features -

9/10

Design -

8.5/10

Value -

8.5/10
Summary
Awesome is a fitting word to describe the RTX 3080. It is a huge step-up from the Turing architecture, allowing gamers to play demanding titles that otherwise would require the equivalent of a much more expensive model from the yesteryear.